By now, we all know that a helmet is the single most important piece of gear you can have. It's no use being badass if you come off your bike and smack your head on the road or something else with no helmet on because you'll either be off to the highway in the sky or have a brain injury that you might never recover from. Wearing a badass helmet takes nothing away from being a badass; it just keeps the badassery safe!
Helmets are also one of the most technologically advanced bits of kit we all wear. Every year, there is a new development, a refinement, a new type of energy dissipation material, or a new helmet maker that combines a lot of those into one. This is why some of the top helmet makers – Bell, Arai, Shoei, Schuberth, and the like – never stop innovating, and never stop asking for feedback about their helmets.
This constant drive towards making the best, safest helmet possible is what we are looking at today. We're not going to rate or rank these helmets, but what we are going to do is explore why each and every one belongs on a list of the best helmets introduced since January 1, 2021.
Scorpion EXO-T520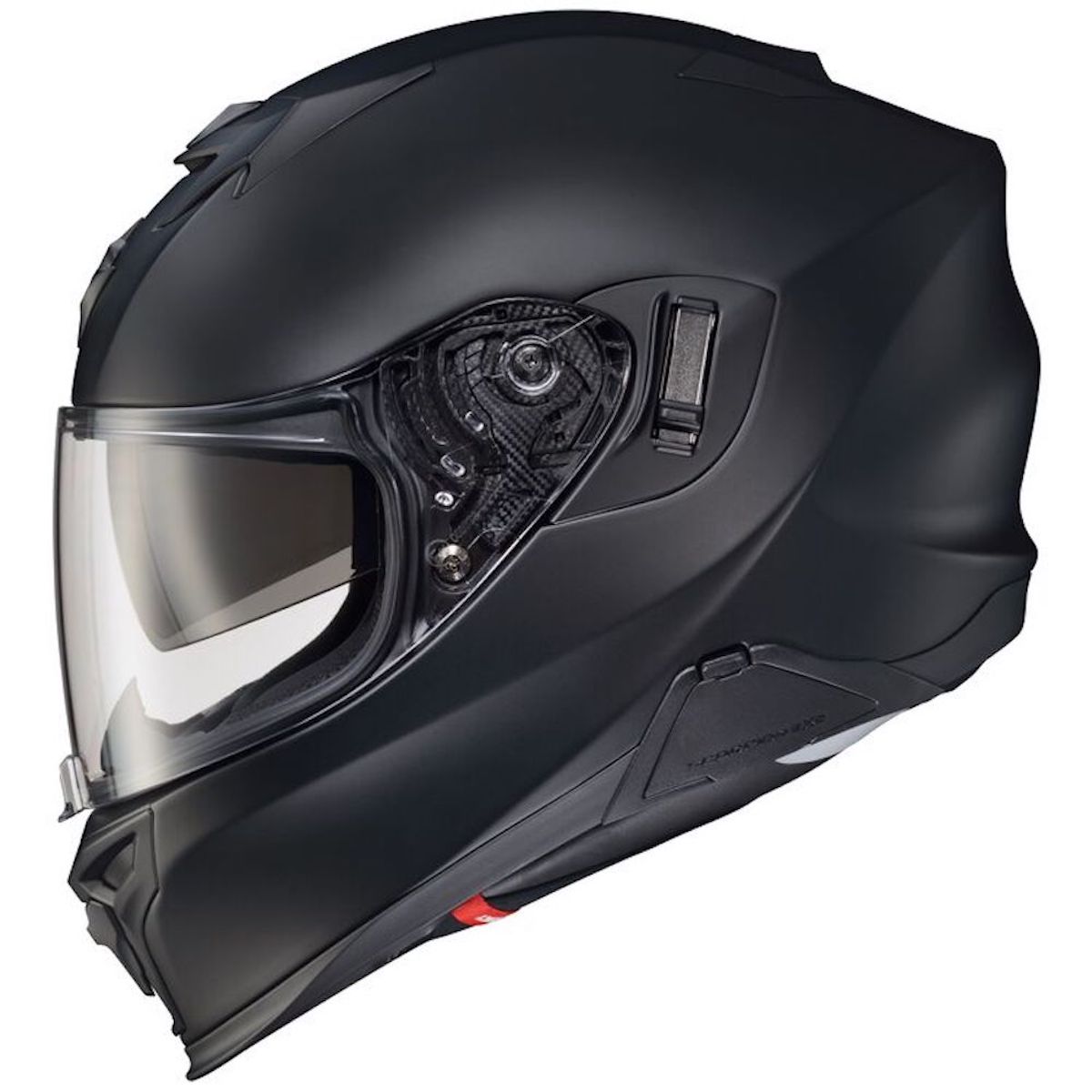 Price: $199.95
Head Shape: Intermediate Oval
Weight: ??? pounds
Buy: RevZilla
Scorpion rocked the street sports helmet market in 2020 with the EXO-R1 Air, a helmet that took the latest and greatest from the new EXO-R1 GP helmet used in MotoGP and brought it to the street. One of the most important things learned with the making of those helmets was the benefit of a lower-profile helmet in terms of noise reduction and aerodynamic efficiency.
Being who they are, it's almost a guarantee that a year or two after a top market helmet comes from Scorpion, a mid-budget model emerges; for the R1, that is the T520. Replacing the beloved EXO-R420, at this point still the lowest-priced, fully SNELL-certified racing helmet you can buy, the T520 aims to surpass it in every way.
The first, and most important difference is the new shape. The R420, while effective in what it did, had a front profile that literally stuck two scoops high up into the air. This, when used as a regular helmet on the street, added noise that passed through the shell of the helmet. By removing the tall scoops and moving the intakes forward and down so that they are over the crown of your head, the T520 is both quieter and more efficient at intaking cooling air.
Borrowing from the R1 Air, the T520 comes equipped with the AirFit inflation system. What this does is allow for a common fit to be made that will satisfy 90% of heads out there but also allows you to pump up the cheek pads so that they sit tighter to the cheek and jaw, guaranteeing the perfect fit. Those cheek pads, it should be mentioned, also use the new KwikWick C type liner that was first used in the R1 Air, a super absorbent liner, and hypoallergenic to boot.
To top off the innovations and systems brought forward from the R420 and over from the R1 Air, the cheek pads have emergency removal tabs, as well as being shaped so that a full comms system will fit behind them without the need to trim or modify the liner in any way. This is because the T520 is built ready for the new Scorpion EXO-COM system that is releasing later this year. The T520 has also passed both ECE 22.05 and DOT classification tests with flying colors, and the only reason it does not have a SNELL rating is because of the integrated sun visor.
Arai Quantic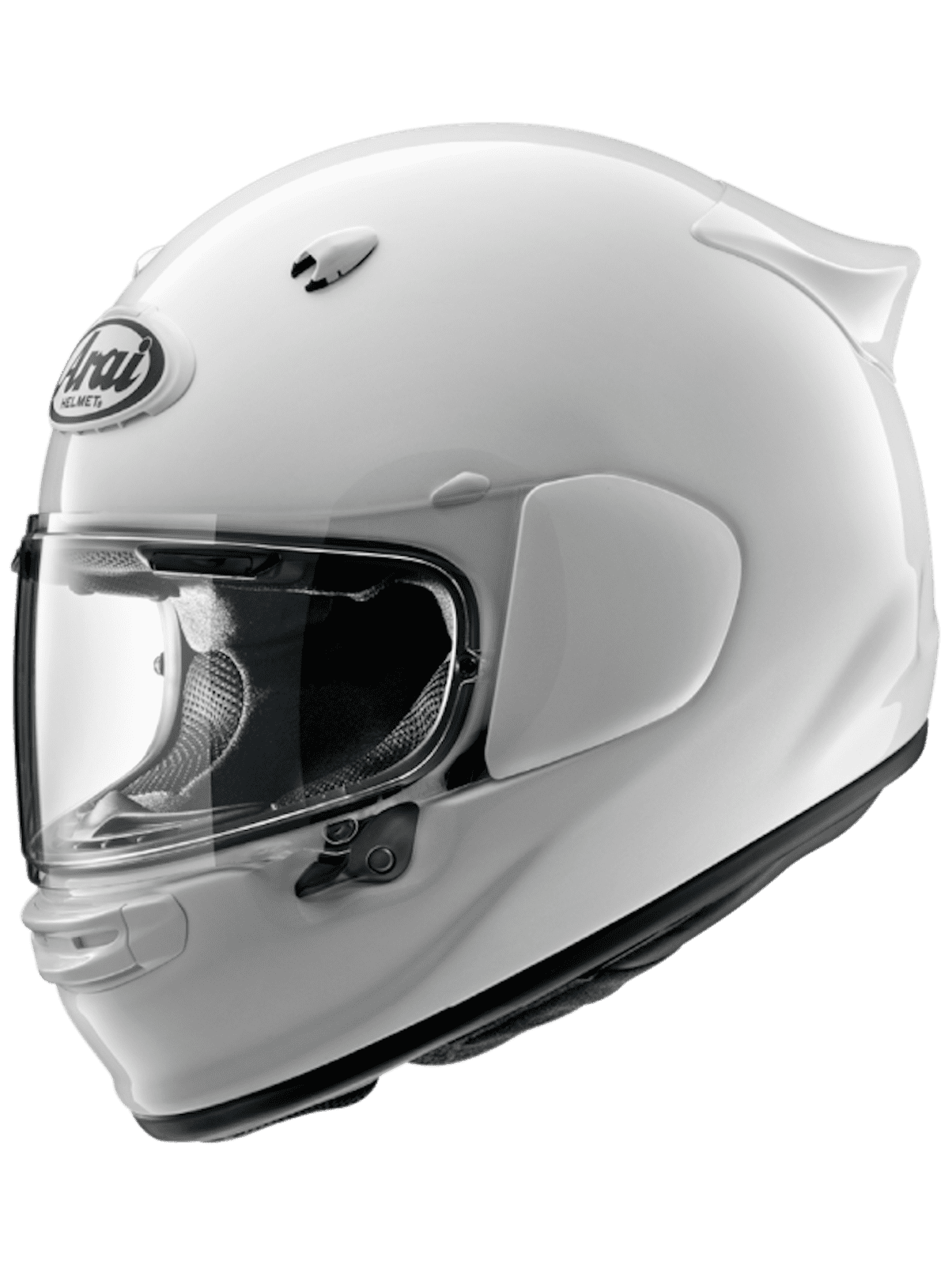 Price: Unknown
Head Shape: Intermediate Oval
Weight: ??? pounds
Buy: Not yet on the market
You know a helmet is brand spanking new when it isn't even on the market yet, with plans for a Q4 2021 release in the EU and Asia, and a 2022 release in North America. However, since it will be released in 2021 in some areas of the world, it counts as a new 2021 helmet!
The Quantic is the first totally new shape of helmet from Arai since the RX-7V (known in the USA as the Corsair-X) made it to market, and is designed for an entirely new audience of riders that may not have thought of buying an Arai before. The Quantic, quite simply, is designed for use in long-haul riding. It still has the traditional Arai rounded-egg shape, but it is longer than most of the Japanese company's helmets. This is because it features a distinctly longer spoiler on the back than any of their previous helmets, as the longer, smoother shape both reduces wind noise and allows for more stable airflow off the back of the head.
In terms of protection, the Quantic is on par with every other Arai helmet. The shell is the same lightweight, super-strong fiberglass with organic fibers that all models sport, as well as the Quantic having the Facial Contour System (FCS) from racing Arai helmets. This makes sure that the helmet is eminently comfortable, and will be suited to a wide range of riders. Wind noise on long trips is reduced by having a 5mm neck roll flare to seal under the jaw and against the neck, and the cheek pads feature an emergency release system in case of an accident.
The Arai Quantic's biggest claim however is that it is one of the first helmets, and many sources say possibly the first helmet, to pass ECE R22.06, the new, much tougher standard that replaces ECE R22.05. The new R22.06 allows for much less G-load transmission than the previous standard, and, taking a page from the FIM/FIA homologation tests, also accounts for random rotational impact forces, as well as angular anvils in standard drop tests instead of just flat anvils.
Shoei RF-1400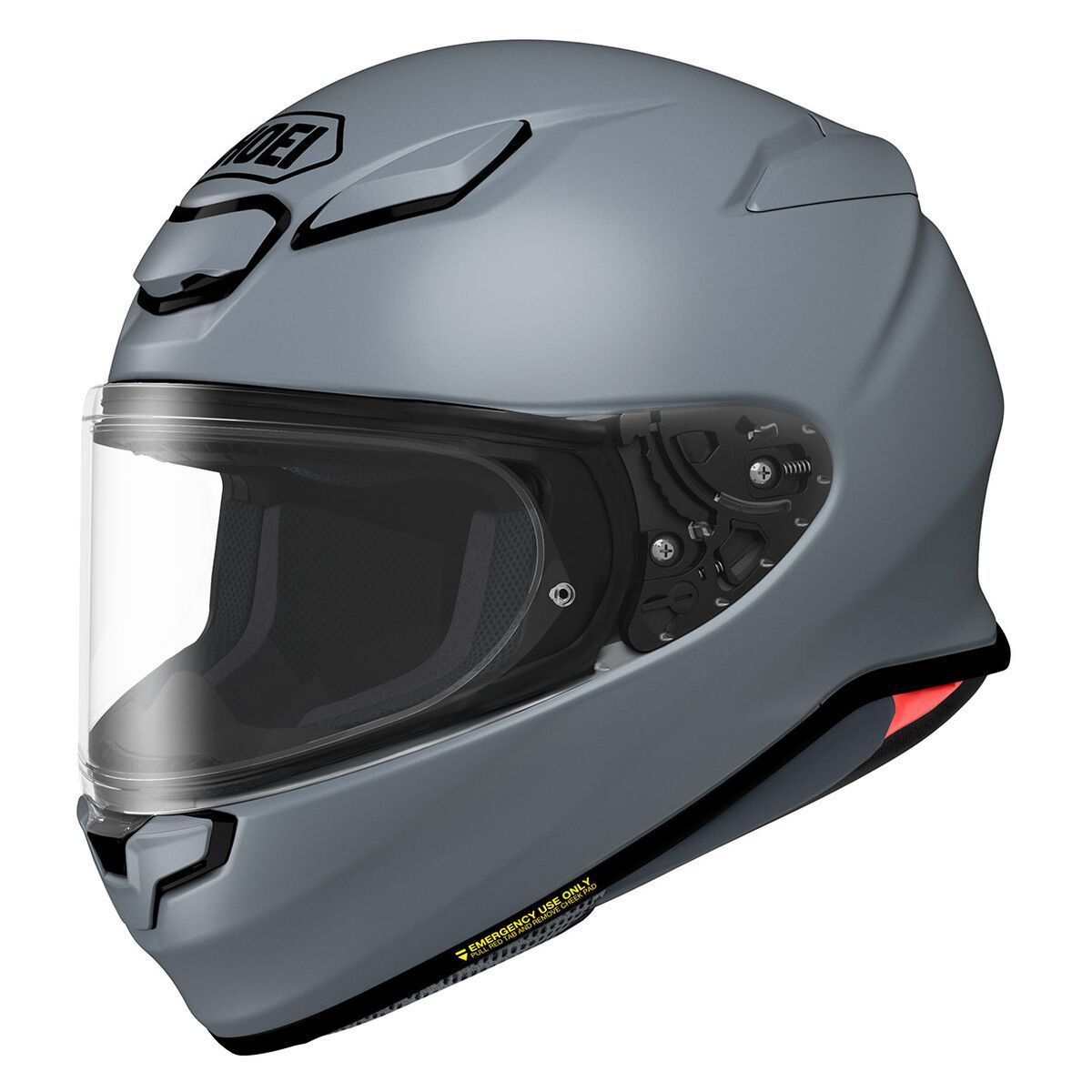 Price: $529.99+
Head Shape: Intermediate Oval
Weight: Approx 3.62 pounds
Buy: RevZilla
Shoei is a name that will pop up in any conversation about the best-rated helmets on the market. We didn't say best fitting, as it is known that their helmets prefer a slightly slimmer head, but their safety technology and continuous research into new and better ways to protect a rider's head is on par with their fiercest competitor, Arai. So, it's only fitting (pun intended!) that as soon as Arai has an ECE 22.06 qualified helmet, Shoei has one as well. More importantly, Shoei has their helmet on the market right now.
After the years of success and rave reviews that the original Shoei RF-1200 enjoyed, the changing standards for safety and racing-developed technology were destined to meet. From the racing side, both multiple MotoGP world champion Marc Marquez and his little brother, Moto3 and Moto2 world champion Alex, provided input, feedback, design ideas, and also thoroughly tested both helmets on the street and on the track.
Using Shoei's Advanced Integrated Matrix+ (AIM+) shell material, the helmet is fitted with their recently released crown liner that has been labeled the "3D center pad." It is a memory foam-type material that conforms to the shape of the crown of your head, from the flattest to the most prominent cranial ridges. This is accompanied by the usual high-quality, sweat-wicking liners and pads of Shoei renown.
Where both of the Marquez brothers provided the most important input, however, is in helping redefine the ventilation of the helmet. The original Shoei RF-1200 had adequate venting, yet had somewhat boxy sliders over the vents, and the crown vent switch caused a high-pitched whistling as it stuck out into the air. The new Shoei RF-1400 does away with the switch and replaces it with a streamlined slider, as well as reshaping the spoiler at the back of the helmet to extract more hot air.
The Shoei RF-1400 has passed every certification test it has been entered in, named DOT, ECE 22.06, SNELL M2020d and M2020r, and SHARP UK testing with 4 stars (very good).
LS2 Thunder Carbon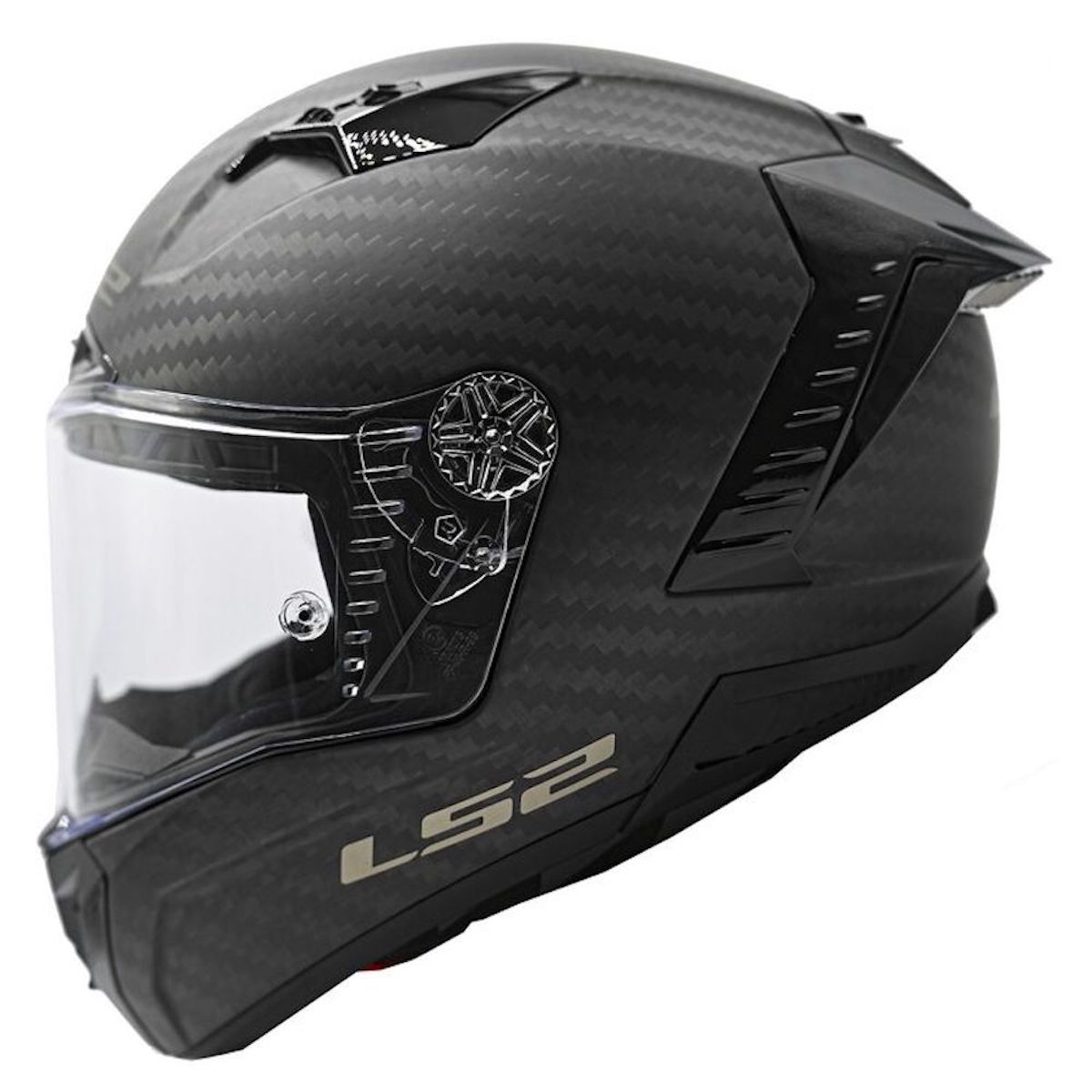 Price: $699.98+
Head Shape: Long Intermediate to Long Oval
Weight: Approx 3.2 pounds
Buy: RevZilla
LS2 is a name that is not commonly heard in the USA and Canada, seeing as the company is based out of China and has a good foothold in the EU and UK markets. There is a US headquarters, and they are present on the market, but oddly, their helmets are often passed over for other brands. This is something that LS2 has decided to change, and starting in 2020, they have started to push promotion in North America just as hard as they do in the EU.
The LS2 Thunder Carbon is the very tip of the spear of that push in 2021, and it is one hell of a helmet. Because of LS2's EU presence, they have been sponsors and equipment providers for all forms of FIM motorcycle racing for about five years now, and the LS2 Thunder C GP, designed in 2018 for the 2019 season, was granted FRHPe-1 homologation. The plan was to release the street-going homologated variant in 2020, but with the global pandemic, things got pushed back.
So, in 2021, we received the LS2 Thunder Carbon helmet with all its racing tech and aerodynamics. Part of that technology is the shell material, which is carbon fiber strands interwoven with Kevlar to give it strength, lightness, and some elasticity to absorb high-speed impacts. This is backed by a multi-density, multi-layer EPS foam that is shaped and designed to distribute impact forces instead of focusing them on one point, part of the FIM homologation requirements due to the speeds that riders can come off and what they may impact as they slide, roll, or tumble.
The visor is also made of racing-grade materials, which LS2 labels as "3D A-ClassPolycarbonate," which is used in the lining of bulletproof glass, so it's safe to say that it's pretty impact resistant. The visor also comes with tear-off stands for racing and is Pinlock MAX compatible. Of course, the lining inside, behind that visor, is of the highest grade as well, with laser-cut foam, hypoallergenic liner material, and a massive amount of airflow through the helmet to wick away sweat and heat.
From such a high-quality helmet, all the certifications are in place, including DOT, ECE 22.05, SNELL, and the coveted FIM FRHPe-1 homologation.
Quin Design Quest Modular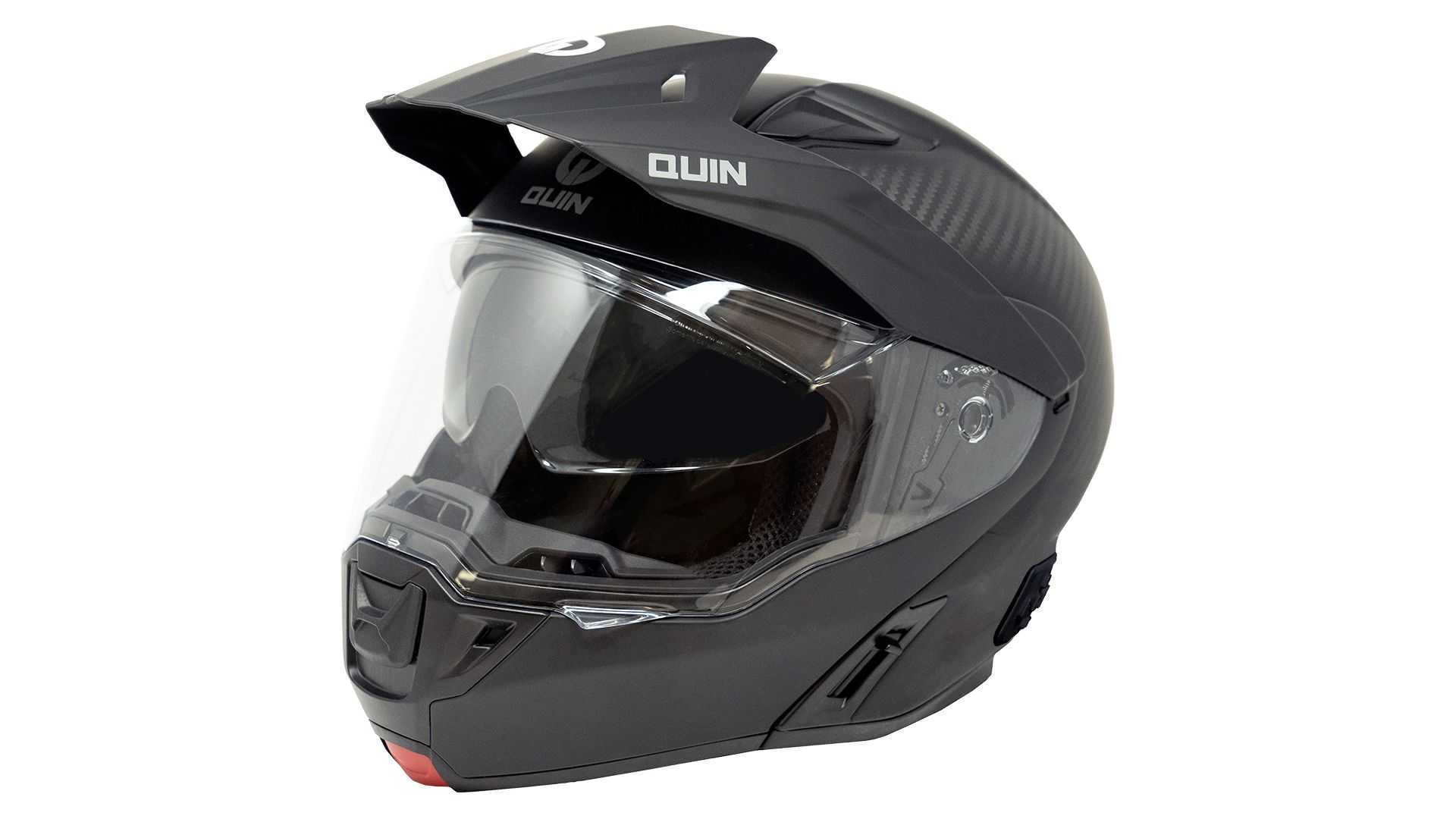 Price: $719.00
Head Shape: Intermediate Oval
Weight: Approx 3.86 pounds
Buy: Quin Design Website
If you like your helmets to be researched, designed, built, and shipped from within the good ol' U.S. of A., then Quin Design out of Texas has the helmet for you, and it's a doozy! For a while now, the term "smart helmet" has been tossed around without any actual definition about what it really means. Does it mean it has a Bluetooth comm system built it? Does it mean it tracks certain metrics that are not immediately a priority to the rider?
The Australian brand Forcite has the best definition, we think, in that a smart helmet includes a comms system, a recording camera or mounting availability for one, and most importantly, GPS tracking that ties in with your smartphone to keep you aware of hazards ahead and to automatically reroute you in case of dangers. Quin Design, it seems, agrees with that definition, and the Quest is their carbon ADV helmet that includes most of those things.
What sets the Quin Design Quest apart is that it borrows heavily from Forcite's SOS system idea while putting its own spin on things. The Forcite SOS system tracks movement with accelerometers, and if you don't move your head at all after a strong enough acceleration, it sends out an SOS call. Quest's IntelliQuin system also uses a six-axis accelerometer system mixed with a g-meter. If there is a sudden movement/stop of the helmet accompanied by a strong enough g-load, it immediately sends out the SOS call instead of waiting, as the rider may be unconscious.
Both the sun peak and visor are quick release, and there is a drop-down sunshield inside the visor. The helmet also has three crown intakes, a chin intake that also directs some of the air over the electronics in the chin guard to keep them cool, and one massive exhaust vent at the back. The shell is made of K6-spacing carbon fiber/kevlar mix and is backed by multi-layer, multi-density EPS foam.
The helmet charges in about 2 hours from dead, and depending on how many systems you use, lasts about 6 to 8 hours per battery charge. There is a full stereo Bluetooth comms system built-in, as well as GPS tracking that ties in with most mapping apps on smartphones to detect hazards, dangers and allow for rerouting. The Quin Design Quest is DOT and ECE 22.05 rated.