LS2 VERSO Mobile Helmet Review Summary
Review Summary
The LS2 VERSO Mobile is a great three-quarter style helmet with lots of obvious and some not so obvious features…
Pros
Lightweight
Very good detail & finish
Comfortable liner
Quiet
Effective venting
Distortion-free visor
Easy sun visor activation
Snug in spots, still all day comfortable
Well-priced for value received
Cons
Peak not included
Sun visor not very effective
Sun visor raises automatically with face visor, an unwanted action
LS2 VERSO Mobile Helmet Image Gallery
Introduction
In seeking a replacement for a well-aged Bell Mag 9 Sena (less the Sena) three-quarter helmet that was used primarily to testing Bluetooth systems, we were on the lookout for something similar but with some updated features and a better build.
And in checking the wBW review listings, coverage of LS2 products has indeed been sparse – the last one found was the FF394 helmet done by Rick in March of 2013. It was time to address this issue as well.
A couple of local dealers have been stocking various LS2 helmet products, so between the selection, most of the (currently) available models were looked at and tried on; the different helmet shapes available was one of the first (positive) features recognized.
LS2 is a company that is driven by R&D (Research and Development). One of their statements, "Investing in R&D is like stepping on the gas…" certainly piqued my interest as one who has been involved in R&D throughout the years. The expression is an apt one.
LS2 – A Brief History
Long before LS2 came into being, a gentleman named Arthur Liao created a home-based business making helmets in China and in 1992 a new plant was opened, with the product sold under the FENGXING brand name.
With continued success, in 1997, FENGXING adopted the 'MHR' brand for entry into the international market. With ISO 9000 certification in 2000, MHR was on a roll and by 2005 they were manufacturing two million helmets a year.
Leveraging their excellence in OEM (original equipment manufacturer) and ODM (original design manufacturing) products, MHR wanted to sell directly to consumers under their own brand name. The LS2 brand was created and registered worldwide in 2007.
The global head office was established in Barcelona, Spain and the first LS2 branded helmets exhibited at EICMA that year. In 2010, LS2 set up operations in Chicago IL USA with a new team to market LS2 helmets to US and Canadian consumers and that same year it became the number one selling brand in Europe.
Despite their global success, especially in sheer numbers of helmet products produced, not a lot is seen or heard regarding LS2. It doesn't seem to have a big footprint (or its pretty subdued), at least up here in Canada. Although admittedly, more LS2 products are being seen on the shelves, however seeing an LS2 helmet on a motorcyclist is infrequent.
And coming back to the present, the LS2 helmets looked at and worn make good first impressions regarding build, features, and finish. As such the LS2 VERSO Mobile seemed to offer up a good investment.
LS2 VERSO Mobile Features
(Compiled from LS2 Media)
Three-quarter open face
Two shell sizes with Adult Sizing XXS to XXL, and Junior Sizing S to XL
Intermediate Oval shape
KPA shell meets both ECE 22.05 and DOT requirements
Weight listed as 1250gr or 2.75lbs (+/- 0.11lb)
3D Optically Correct 'A Class' Polycarbonate visor, scratch/impact resistant
Lower Air Diffuser and top side Vortex Generator moldings on visor
Top sides of visor have smaller air diffuser moldings
Large knob (wheel) on left side for using the drop-down sun visor
Sun-visor raises automatically when face shield (visor) is lifted (over 50%)
Peak that interchanges with the face shield for added versatility
Meets or exceeds DOT requirements
LinkIn Ride Pal 3 by Sena is an optional accessory
The VERSO Mobile
First impressions are always good, and this first impression was indeed good. The LS2 VERSO Mobile is a 2017 release from the Urban (Downtown) collection (UK listing), whereas the North American listing has it as an 'open face' helmet.
The helmet is formed of KPA, a patented energy-absorbing outer shell material (more on this later) and the helmet appears and feels lightweight. a fact subsequently verified during use and of course, in putting it on the Pelouze scales, the medium helmet came in at 1462gr or 3.22lbs.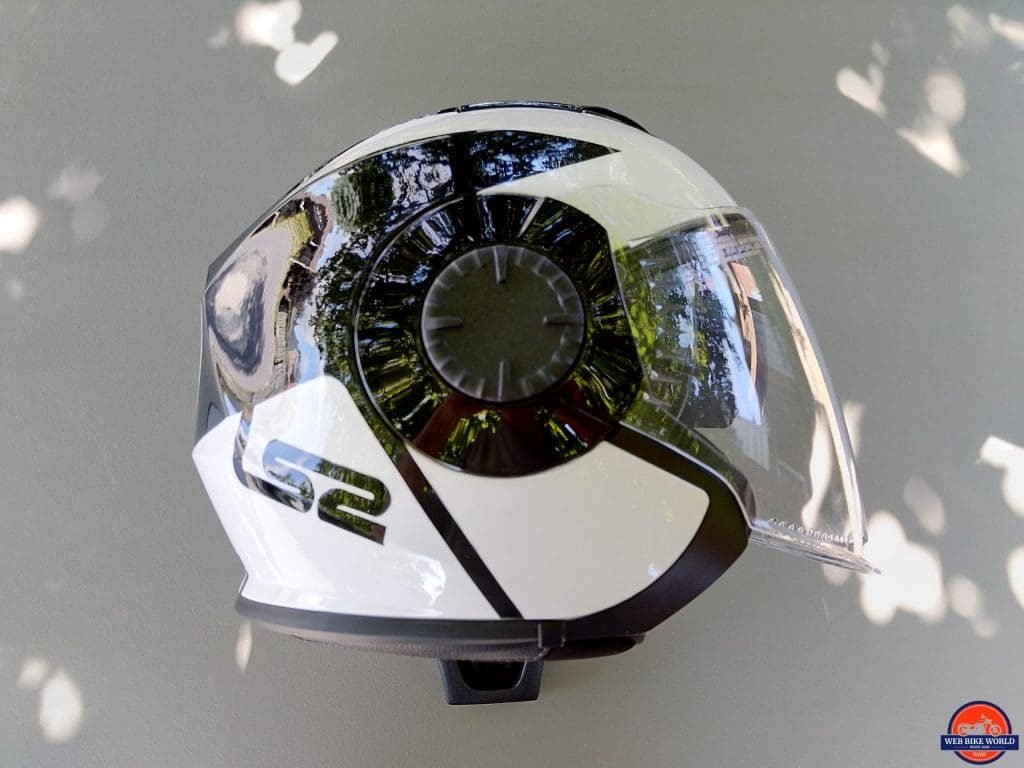 Its basic Gloss White with Black color scheme is eye-catching and quite conspicuous – one of the objectives of course. It has a full face coverage clear visor with a distinct swoop or lower rounding for increased coverage of the chin and upper neck areas.
A lightweight but quite functional drop-down sun-visor is activated by a cleverly integrated rotating inner wheel on the left visor mechanism trim cover.
While overall ventilation is always considered to be first and foremost for a three-quarter or open-face style helmet, the LS2 VERSO Mobile has a dual-port top intake and slim rear exhaust with inner channeling to flow and distribute air over and around the top of the head.
The VERSO Mobile is Intermediate Oval shaped and available in XXS to 3XL for adults and S to XL in Junior sizing. It has ECE22.05 and DOT certification.
Colorway & Graphics
For the 2017 releases, which are the latest one shown for the US and Canada markets, the options are Gloss White, Matte Black, and Matte Titanium. A fourth option is shown, 'Floral' but it is listed for the Brazilian market, although one wBW partner, RevZilla, has it listed…
The newer model year releases offer a wider range, but we don't seem to be getting them here.
LS2 Helmet Technology
LS2 helmets utilize an innovative R&D technology-driven solution with the shell material formed of a proprietary blend of polycarbonate, space age thermoplastics, and additional materials specifically formulated by LS2, known as KPA.
KPA stands for Kinetic, Polymer, Alloy, and offers ultra-lightweight and high penetration resistance, with some flexibility built in for energy absorption and dispersion. Think of it as 'crumple zone technology', an expression identified in this informative LS2 overview video.
The LS2 VERSO Mobile feels light and strong, but as mentioned above it also has inherent flexibility… but it hasn't been tested to see how much, so we'll try and avoid that.
Exterior View
White Gloss finish with Black panels – all well laid out with no rough points or blemishes observed anywhere. The white and black segments are well done and clean. The finish has absorbed a few minor bumps without any marks – so far, so good.
Rear Stickers
Stickers are sometimes the downfall regarding what is an otherwise well-finished helmet, and the LS2 VERSO Mobile suffers from some of this in its alignment of them. The reflective DOT sticker is off-center, as is the KPA sticker, and the ECE certification sticker is just plain stuck on, at an angle.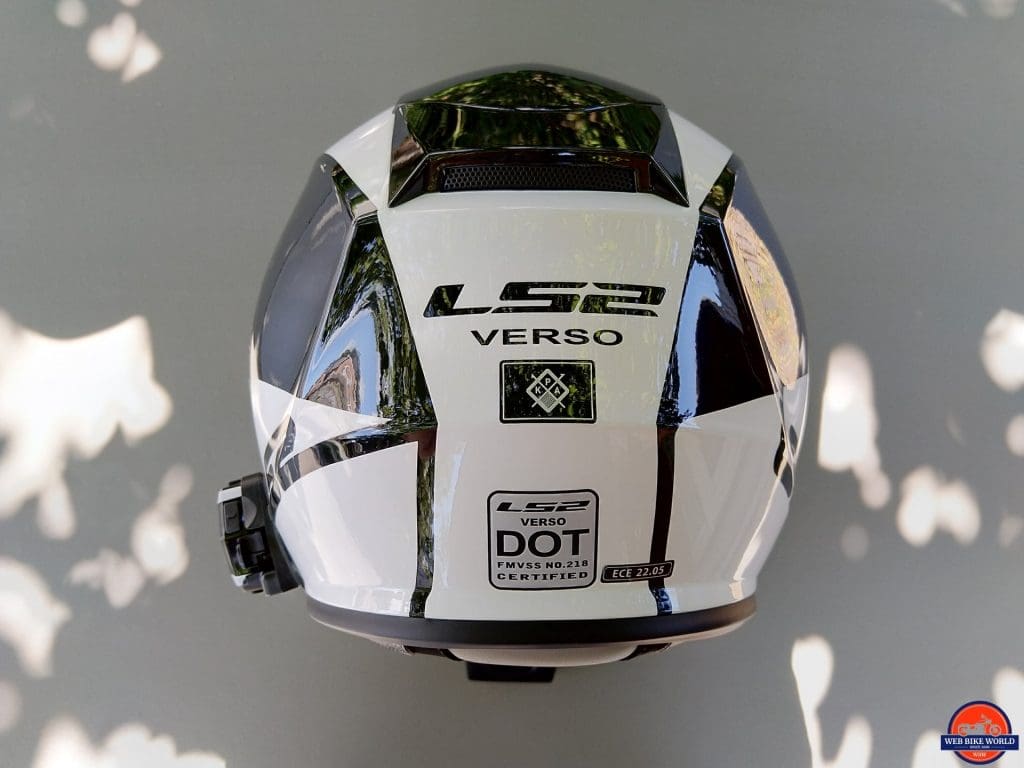 Bottom
The bottom edge molding fits tight – it has a slight spoiler shaped ridge along its top that fits perfectly in with the matching edge on the bottom of the shell – very clean and probably very effective aerodynamically.
Top
The top black center insert extends from the front to the rear section, with the front intake and rear spoiler/exhaust pieces inserted in place.
The top front and top rear fitted pieces are styled well but don't fit precisely with the center segment. An overhead view reveals a bit of misalignment on each side, although the pieces fit tightly.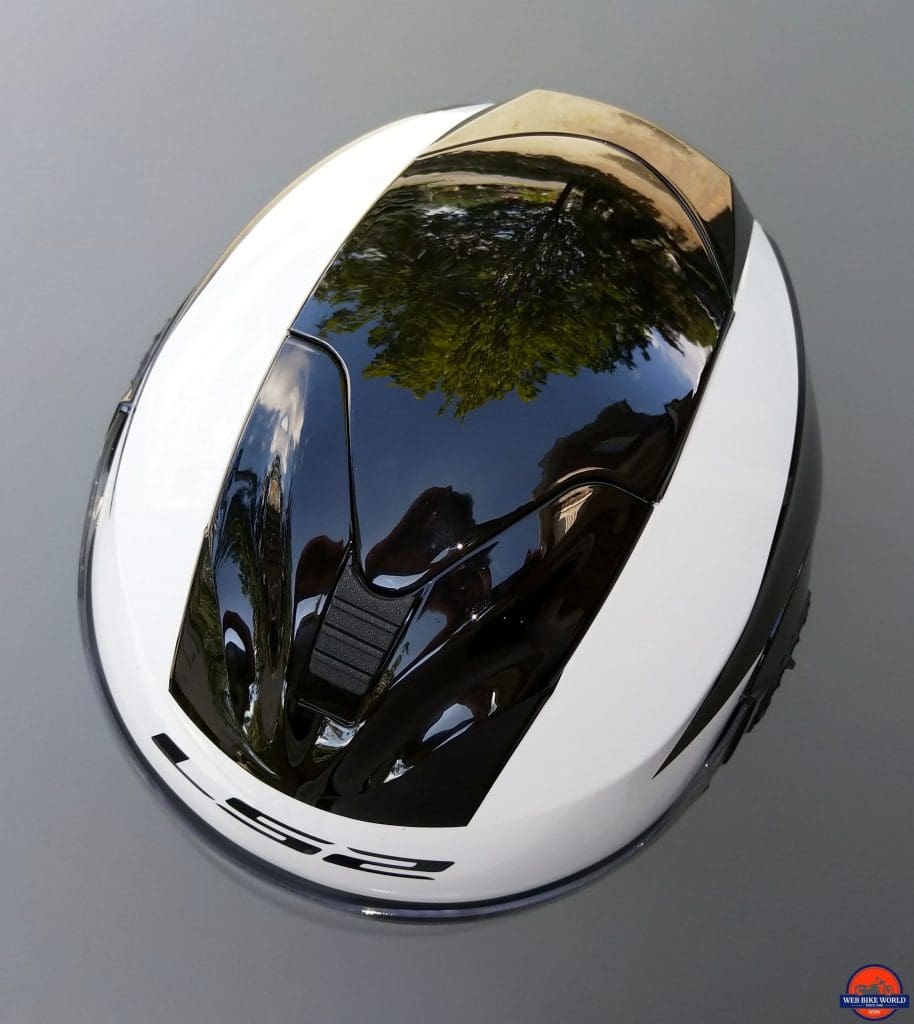 A slight misalignment like this is hard to see on a single color helmet, but on the White and Black scheme of this model, it's more noticeable. Although not a deal-breaker by any means.
Front & Rear
At the front is the top air intake, a dual-port low profile piece well sculpted to be part of the aerodynamics with a matching low profile Open (back) or Closed (forward) slider control. The rear exhaust port is wide and narrow and integrated into the rear spoiler piece.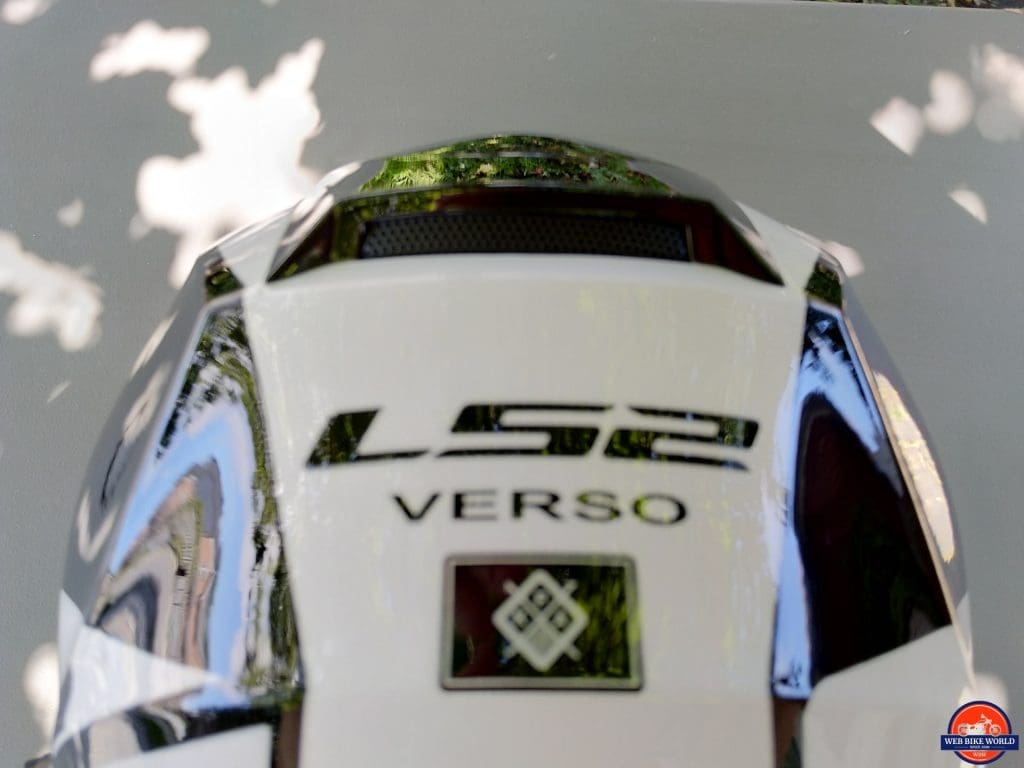 Overall Rating – Very Good. Outside of the visible alignment of stickers, especially the DOT one, and some misalignment with the top pieces, the rest is well laid and well finished. Between the gloss White and Black layouts and finishing coat, the result is a smooth styled look.
Interior View
All the pieces utilize a laser-cut foam that is breathable and hypoallergenic. They are also fully removable and washable. Replacement pieces are available including the cheek pads.
The foam pieces have a smooth cushiony feel with minimal friction making it easy to put the helmet on and slip it off. Ergo – minimal hair disruption.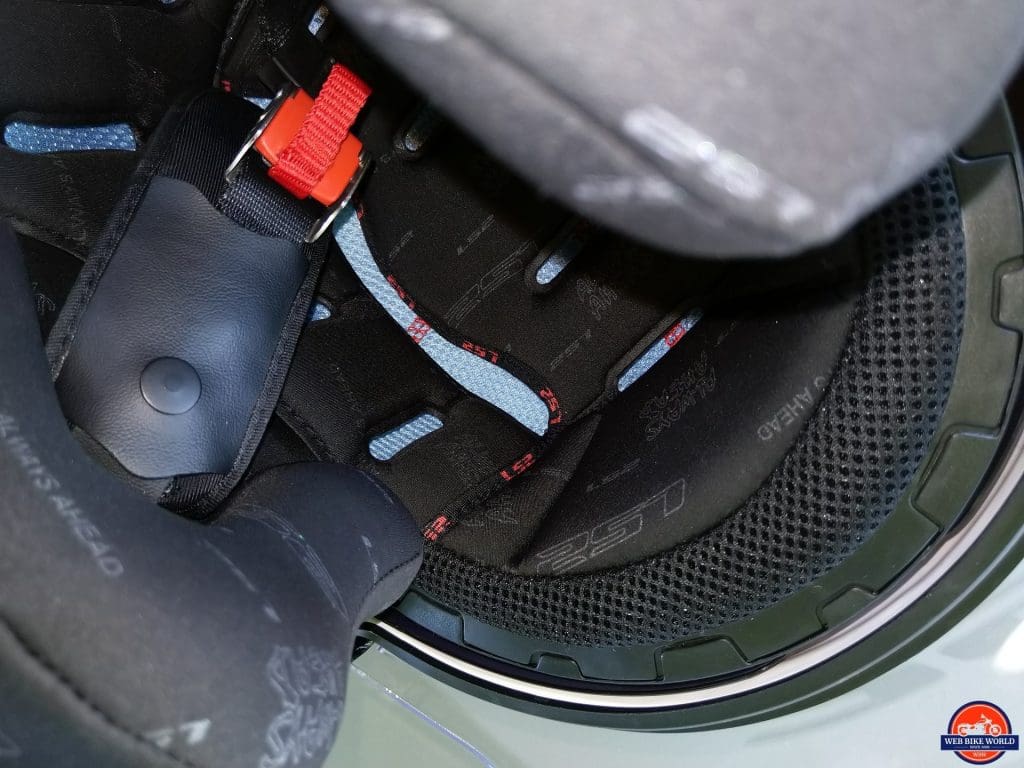 Bluetooth
There were no issues with the liner when installing the interior components of the Bikecomm BK-T1 BT headset that was also being evaluated with the LS2 VERSO Mobile acting as a host. All the interior helmet pieces fit well together and snap back into place securely with the familiar Red pressure tabs.
The top of the head section is dimensionally thick (well-padded) with lateral cut-outs for comfort, pressure management and of course, air circulation between the head, the light mesh liner, and the EPS layer. The thin blue mesh liner is very visible as well and has some cushioning.
A steel Quick-Release buckle is used rather than double D-rings. The chin straps are reinforced and have thick padded removable covers.
The left strap cover has an access pocket to house the control strip for the (optional) LinkIn Ride Pal 3 System by Sena.
Without the optional LinkIn Ride Pal 3 Bluetooth system installed, the straps are somewhat intrusive as the extra padding that really isn't needed in the first place just makes an already close-fitting environment that much tighter.
However, for smaller face and jaw builds, the extra padded approach, with or without the Bluetooth system fitted, is likely to add some overall comfort.
Neck Roll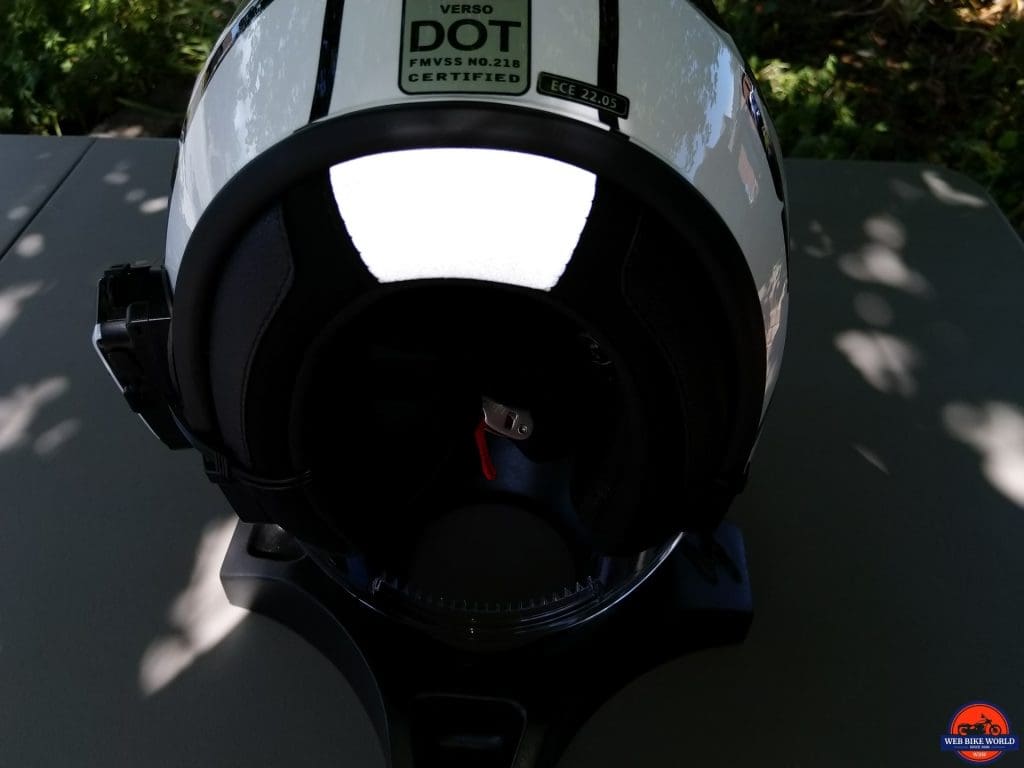 A full bottom neck roll section is well padded and provides a very good neck seal; a positive step as part of overall helmet noise management. The back section of the neck roll has a small reflective patch.
Overall Rating – Very Good. Less the narrowing at the front and in that the helmet is a bit snug overall. The interior is well-formed, well-made, and comfortable. It's likely to be very comfortable for some face styles.
Fit & Feel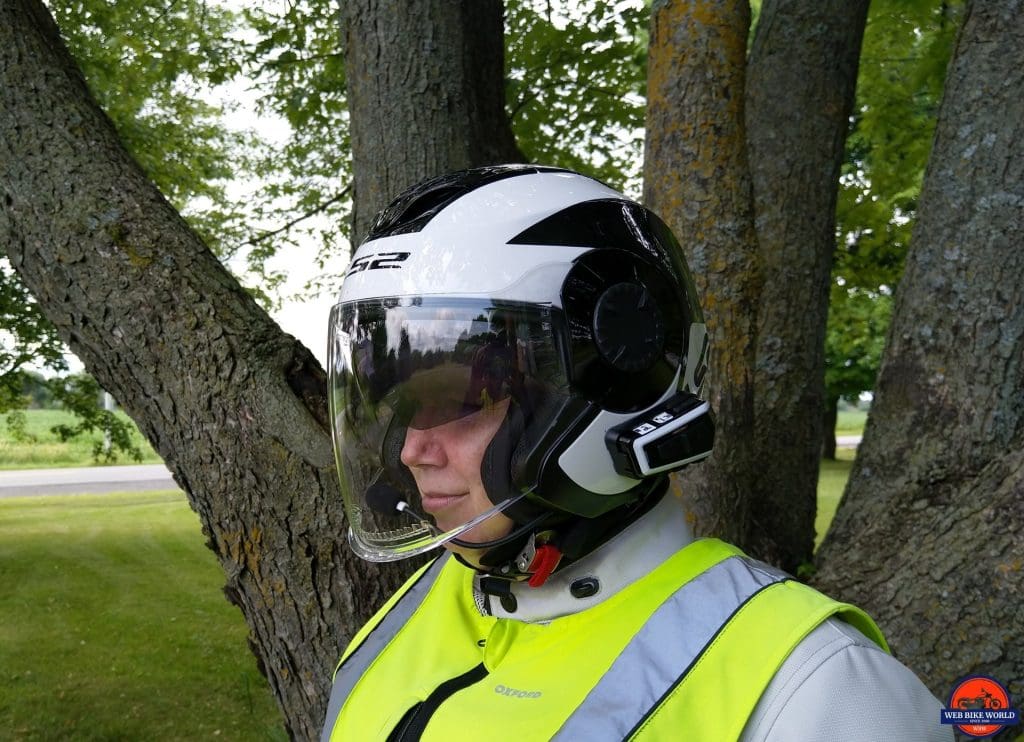 The LS2 VERSO Mobile is an intermediate oval (per the North American listing) whereas in the UK it is listed as 'oval'. But whether there is a physical difference or its just a market listing differential, the helmet fits like and as well as other intermediate oval helmets in use.
Overall, the Medium (57-58cm) or 22.4 to 22.8in, is a bit snug in places, but the Large in the same model is 'loose' with too much room or clearance where it should sit better and fit tighter. All to say that the medium is the best overall sizing for, by the other helmets in use, a medium-sized head.
LS2 lists the VERSO Mobile as weighing 1250gr (50gr variation). Our Pelouze scales provided a reading of 1450gr or 3.19lbs for the medium helmet. This seems to be well within the range of most three-quarter/open-face helmets evaluated by wBW.
Balance or bias related to on-the-head feel or impact is very good – virtually no undue pressure or strain when it is being worn, even when moved out into the air stream.
Comfort
Comfort-wise, the LS2 originally exhibited a couple of pressure points, but with time and use it has bedded in nicely, although a bit of cheek pressure remains that isn't likely to go away. This is due to where the frontal sections of the helmet sit in relation to the upper jaw/cheekbone. The pressure is there, but it's not a discomfort factor regarding day-long use.
Eyeglass and/or sunglass wearers are kind of out of luck – there isn't a visible thruway or cut-out in the liner to facilitate slipping eyewear on and off. The pads actually need to be compressed slightly to slip glasses in and of course, then wiggled so the arms sit properly.
This can also be an issue in the alignment of the glasses on the face and overall comfort and its an issue that should not exist, not in this time and market-space. There is no excuse for it.
But putting the helmet on and taking it off takes little effort, thanks to the low friction finish on the padded lining pieces.
Overall Rating – Very Good, but just. The limitation regarding accommodation for glasses isn't something that sits well and its an obvious 'look-for' item regarding possible LS2 forays. A bit of a snug fit, but a Large would be oversized – still comfortable for all day use.
Climate Control
Like all LS2 helmets, the VERSO Mobile features dynamic flow-through ventilation – and yes, even open-face style helmets need air-flow and ventilation management.
The helmet has a top mounted double-intake vent with a simple two-stage control – Open (back) or Closed (forward), along with an integrated spoiler and wide slim exhaust port.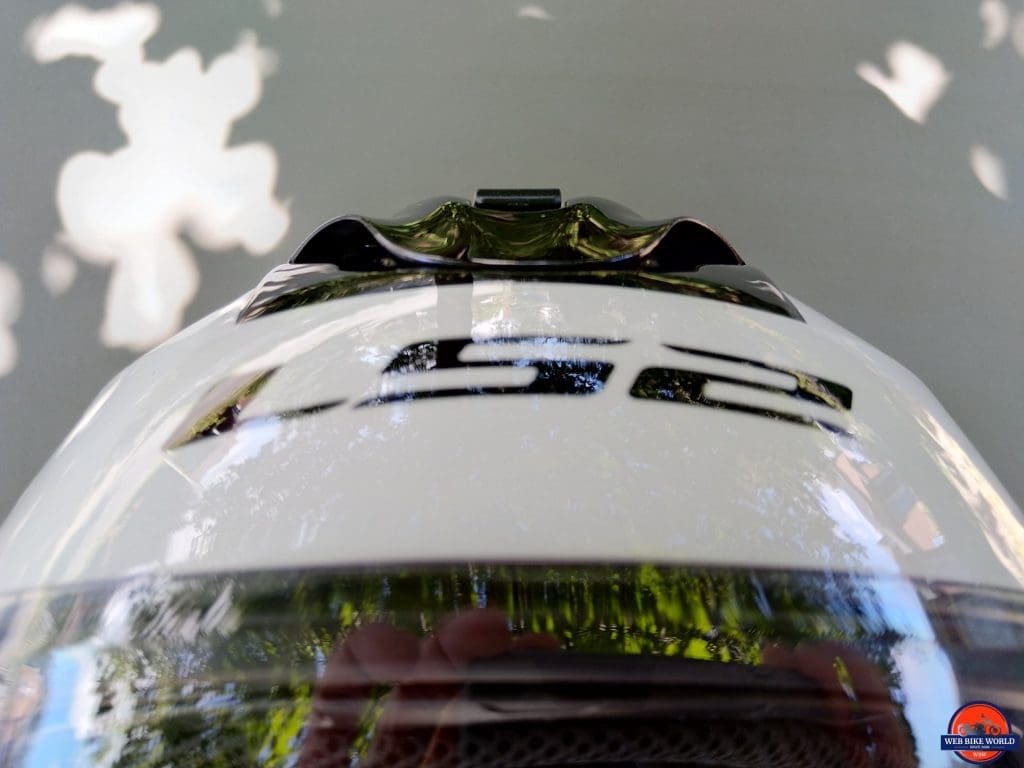 And this approach is good as the VERSO Mobile helmet, with its full face visor down, is a pretty tight environment and even with (expected) airflow within the cockpit and around the lower neck area, the direct ventilation and exhaust scheme of the helmet is effective.
Air entering via the top vent is funneled into interior EPS liner channels that direct the air over and around the headspace with the shape and cut-outs of the removable liner. This contributes to better overall airflow through the helmet and into the channels at the back for the exhaust port.
The liner's hypoallergenic technical fabrics wick moisture away from the head, further aiding in the cooling of the rider's onboard processor.
Overall Rating – Very effective. Even with cooler morning temps, the top vent is left open. But in looking ahead with cooler weather on its way (already…), the top vent might need closure at some point – we shall see.
Visors & Vision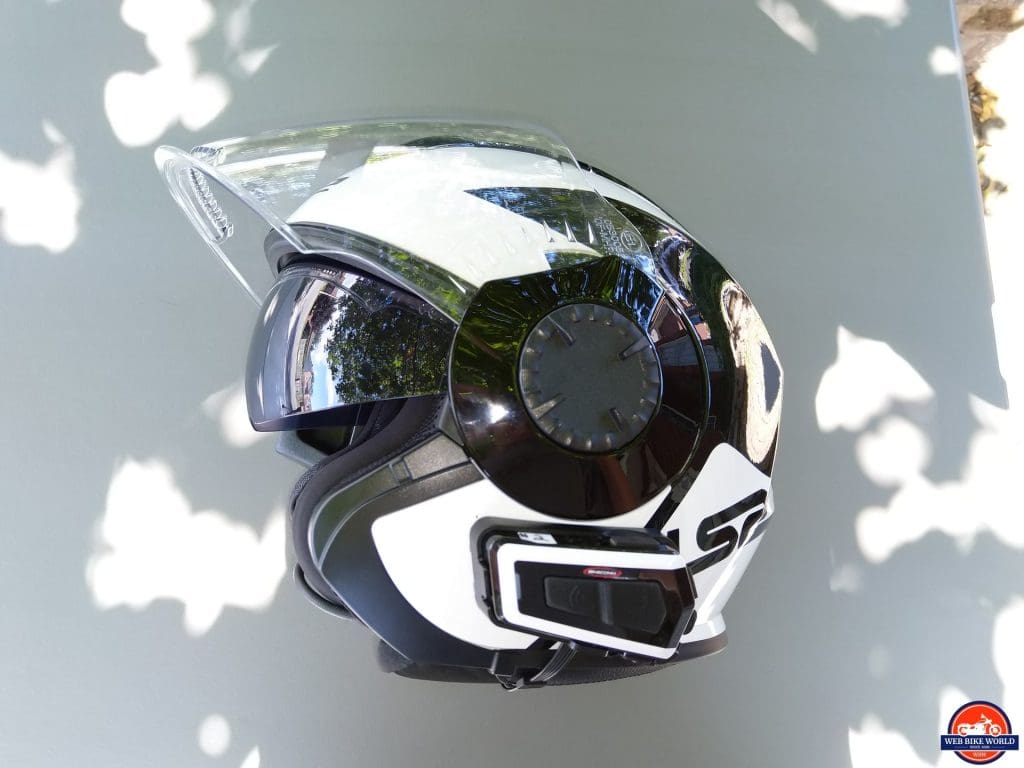 As a three-quarter helmet, eye-port shaping isn't applicable per se in that most three-quarter helmets have decent shaping, providing a wide cut-out or viewing area. Peripherally the front pieces of the LS2 VERSO Mobile helmet can be seen, but they are not obtrusive in any way.
Full-Face Visor
The 3D Optically Correct 'A Class' full-face visor that is formed of polycarbonate, material that has high resistance to impact and scratches with minimal distortion for optimum clarity. It is also UV resistant.
The visor provides excellent frontal coverage with its distinctive downward lower swoop. Centered on the lower edge is an effective air diffuser (heavy ribbed section) on the outside lower lip.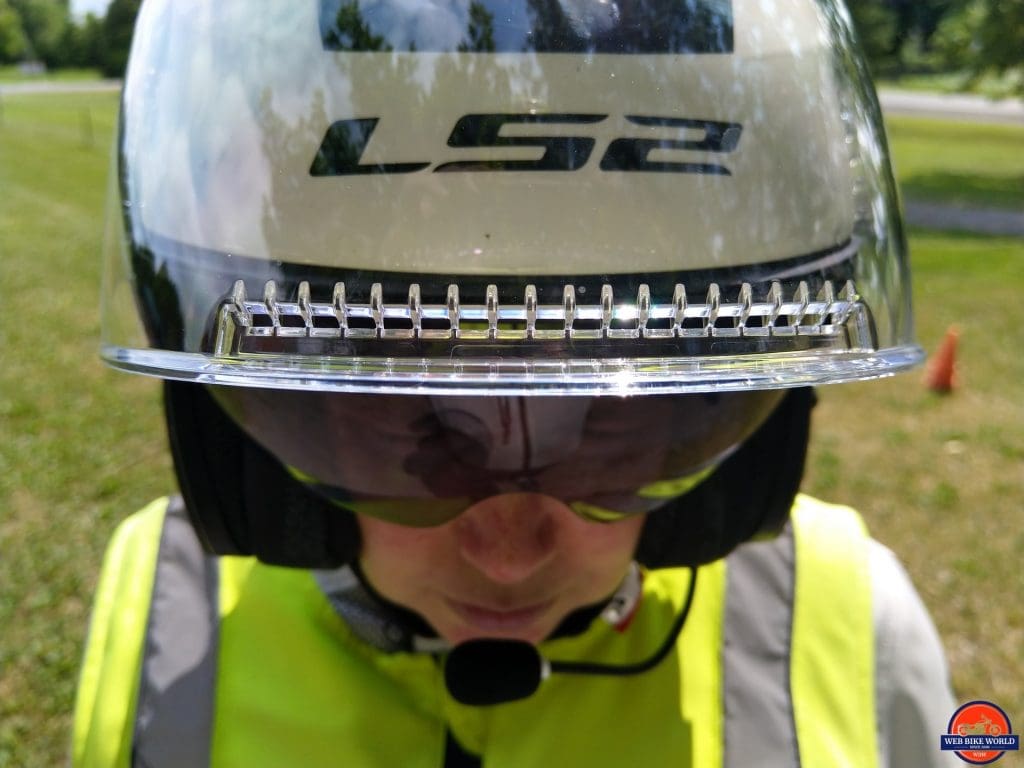 The upper sides of the visor have short raised moldings (8 per side) identified as the 'vortex generator' that would seem to also aid in (side) airflow over and around the frontal section of the helmet – all to manage airflow and noise.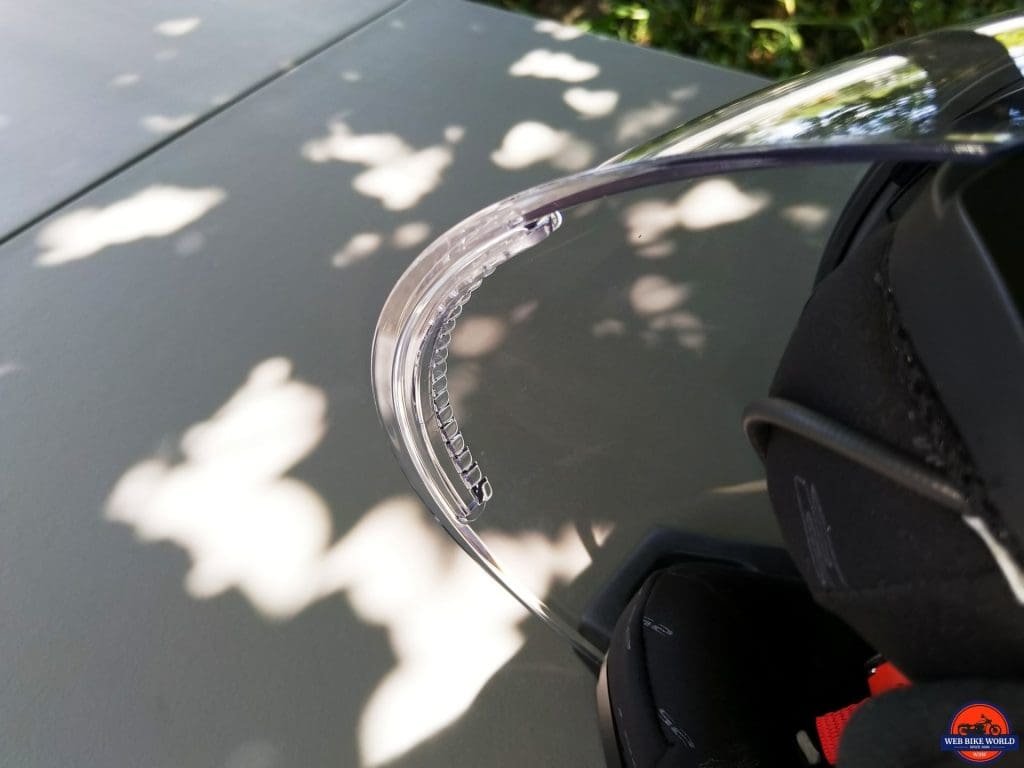 A dark smoke visor is also available, along with a peak component that was supposed to be in the box but wasn't. The sale person wasn't sure if it was supposed to be included or not (the box does not identify the piece) even though all the marketing material does. We are now trying to source one…
The limitation here though is that if the peak is to be used, the front face shield can not, given design and/or resultant play of the visor, so it's the visor or the peak. Unfortunate.
Visor adjustability is good overall. There are two, possibly three steps on the side mechanism. Fully down, at about the 25 percent raised point (a rest level) and when fully raised.
But the visor is solidly engaged in the side pieces and as such has good friction (or stiction) and can be left in almost any height setting – although this somewhat depends on cockpit airflow.
The full-face visor has a 'C' tab cut-out on each side. With the visor in its fully open position the visor can be held and one side at a time can be pulled directly out of the spring-loaded pressure fitting on each side.
To install the visor, align the 'C' tab cut-outs with the upper inner piece of the visor mechanism and push down until the visor engages and locks in to place on each side – always make sure the visor work properly afterwards.
Sun Visor
The drop-down sun visor is less good. It is a lightweight and pliable insert that provides some shielding, but it won't replace a good pair of sunglasses and its nowhere as effective as the same feature in most other helmets so equipped.
The drop-down sun visor activates by twisting the left side inner rotator wheel that is clearly housed as part of the visor side cover pieces. The raised 'spokes' are easy to find with gloved hands.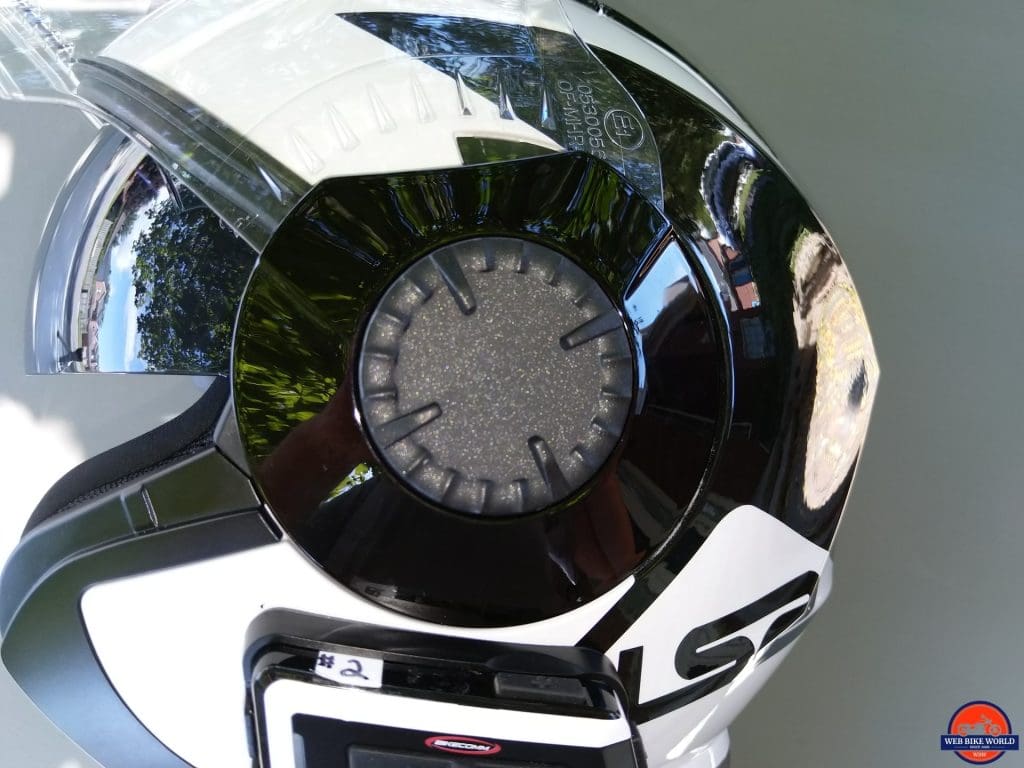 Turning the wheel forward drops the sun visor down fully and rotating it to the rear raises the visor up, there are no intermediate settings. When deployed, the sun visor curves inwards more than expected and the bottom edge, depending on where the helmet rides on the head, can sit close to the face.
Visor Function Issue
An issue, or observations, arises when the sun visor is down and the clear outer visor is raised above 50 percent, at which time the sun visor automatically retracts in step with the main face visor… this is unexpected and unwanted.
LS2 identifies this 'feature' as being done for 'social reasoning' – so that the person wearing the helmet can be fully seen.
We don't find this to be sound reasoning really. The user ends up not having control over this and in raising the main face visor you automatically lose any (continued) protection provided by a deployed sun visor, unless the sun visor is again lowered – an action that should not be needed.
This situation makes little sense and detracts from what could be a well-laid out and useful double-visor construct contributing to rider comfort and continued safety.
Overall Rating:
Face Visor – Excellent. Full-face extended coverage, well fitted, quiet.
Sun Visor – Poor. The drop-down visor is fair for its intended function, but by virtue of it automatically retracting when the face visor is lifted, it won't get a passing grade.
Noise Assessment & Management
Without the needed test and measurement equipment, assessing noise, and management features are all subjective… but experience has to count for something, right?
So, in our subjective assessment, the LS2 VERSO Mobile is a very quiet three-quarter helmet. This rating is due in large part to its thick encompassing liner, a full-coverage face visor with its slight drop shaping, and overall helmet shaping.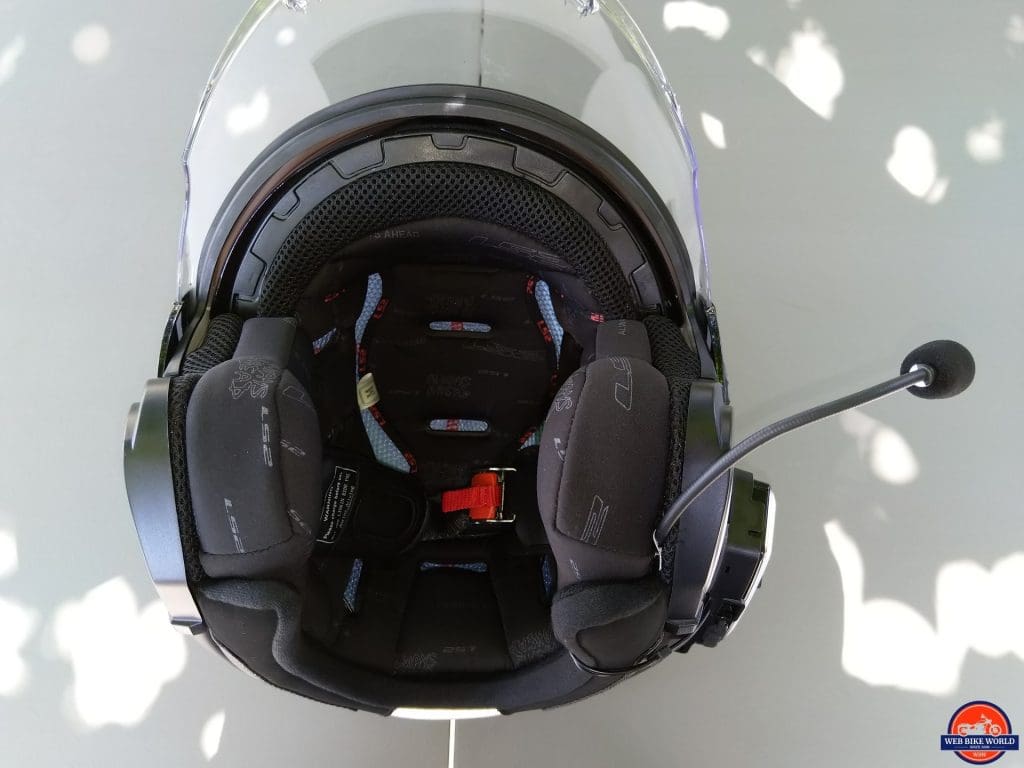 On the 2018 R1200GSW with the windscreen in the middle setting, the LS2 is not as quiet as the Schuberth C3 Pro, but it's close, even at highway speeds.
And in that the helmet is indeed a bit tight-fitting, there is no denying how well it copes with cockpit and ambient noise. Turning the head or moving it slightly out more into the air stream does not result in major airflow disruption or increased interior helmet noise – all good.
Overall Rating – Very good/quiet. Effective noise management, comfortable for all-day use…
Conclusion
The LS2 is a surprisingly good three-quarter helmet. We liked its look, feel, and features from the start and after a couple of months of use, the good feelings about investing in the VERSO Mobile are still present.
There are some good information and instructional videos on the LS2 VERSO covering the helmet in general, along with 'how-to' videos for the liner, peak, sun visor, and main face shield visor.
We acknowledge it was a lesson learned regarding how the sun visor automatically retracts when the visor is raised (something we missed and shouldn't have). It can be lived with, but it does sour things a wee bit.
Bottom Line: With lots of Pros and few Cons, it isn't hard to recommend this helmet based on its features and what it delivers overall. Great value for the investment.
Pros
Lightweight
Excellent detailing and finish
Well-formed comfortable liners & pads
Effective venting
Great full-face distortion free visor
Sun visor control is well placed, easy to use
Snug fit, but still comfortable for all-day use
Well priced for value received
Cons
Peak not included (at least in ours)
Sun visor not very effective
Sun visor raised automatically with visor – an unwanted action
Specs
Manufacturer: LS2 Helmets
Price: $129.98 USD / $159.99 CAD (discounts seen)
Made In: China
Colors: Gloss White, Matte Black, & Matte Titanium
Sizes: Adults XXS to 3XL, Junior Sizing S to XL
Shell Shape: Intermediate Oval
Warranty: 2 years from purchase or 3 years from the date of manufacture, some new models have a 5-year warranty (introductory offer), identified on the original package
Review Period: July/August 2019