Motorcycle technology continues to change and innovate – and so does gear technology, specifically helmets. Modern helmets are safer, more comfortable, easier to use and enjoy, and more versatile than ever before, but there are more innovations coming. Enter the smart helmet.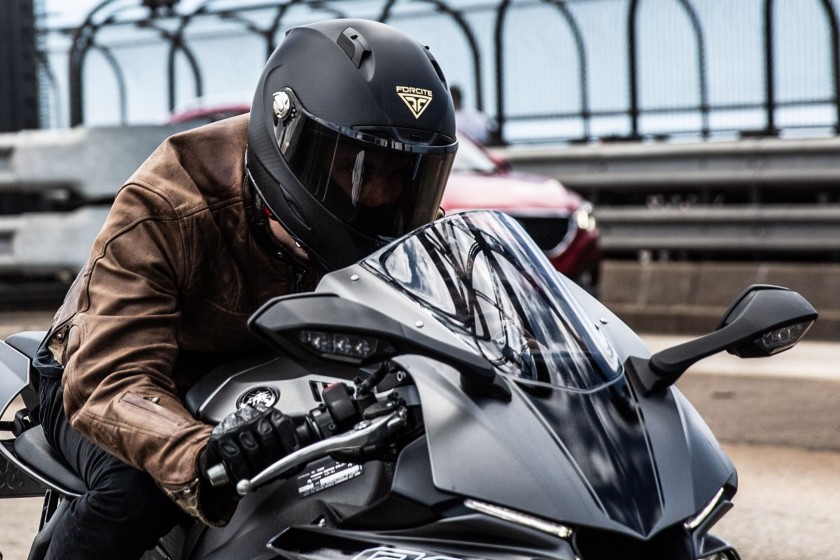 Okay, so the idea of a smart helmet has been around a while, but we're just now really getting to the point where all this technology is coming together and helmet manufacturers are really starting to apply these technologies to the helmets from the factory floor.
With all this in mind, I thought it best to take a moment or to and define what a smart helmet is and showcase what we can expect, what's out there right now, and what's to come. So, without any further babbling from me, let's get into it.
What Qualifies as a Smart Helmet?
It might seem obvious, but we'd better define what we're talking about here. A smart helmet at its most basic level is a motorcycle helmet that has some kind of electronic technology connected to it.
This technology can take many different forms from Bluetooth connectivity devices, cameras, microphones, speakers, and much more. This kind of technology essentially transforms the helmet from being something simply that you wear into a wearable device.
The technology on smart helmets can enable riders to do things like listen to music, get GPS turn-by-turn directions, take phone calls, communicate with other riders, record videos of rides, cancel out road noise that makes its way into the helmet, and more.
The goal of a smart helmet is to make your ride safer, more comfortable, and ultimately more enjoyable. Some basic features are currently already available on helmets for sale, but the smart helmet will get more and more advanced as time moves on and more innovations are developed.
What Kind of Technology is Included on Smart Helmets?
Smart helmets can do all kinds of things. The most basic ones have basically a Bluetooth headset pre-installed in the helmet. This allows for music, phone calls, rider-to-rider communication, GPS audio directions, and more.
Additionally, cameras are being added to smart helmets, this makes it easy to record your rides so you can share them. This can become particularly handy in the event of an accident. Having a video of the event is always nice. Cameras are also great for Vloggers. You can record your ride and upload it whenever you want.
Cameras can also help provide riders with views behind them or in their blind spots while riding. Of course, this also means the helmet will need a head-up display (HUD) or some kind of display for the camera. A lot of the new smart helmet prototypes and products on sites like Kickstarter have these innovations.
Lights are another way smart helmets can keep you safe. There have been helmets designed with lights on them, giving riders another brake light to alert people in cars that they are slowing or stopping.
Last and certainly not least, smart helmets can interface with your phone or another system to send out for help in the case of an emergency. This system can be integrated with your cameras and other technology like GPS to not only get you some help but show how and where the event happened.
Another type of technology that I've seen is climate controlled helmets. This type of feature is interesting. Right now it adds some weight an overall size to the helmet, but It's interesting nonetheless.
What Kind of Technology & Capabilities Are on the Horizon?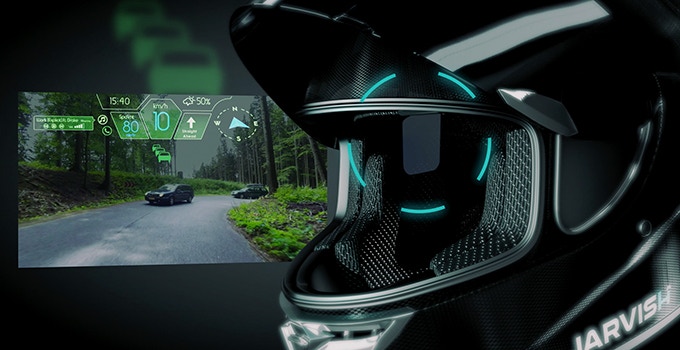 The sky is really the limit on smart helmet technology for the future. A lot of it will be centered around augmented reality. The HUDs used in some of the newer smart helmets on Kickstarter will only become more advanced as time goes on and as new developments are made.
The augmented reality stuff will likely be focused on helping riders stay safe and reach their destination more efficiently. It will be interesting to see how this technology develops. At the moment there are a lot of questions.
Who Are the Key Players in the Smart Helmet Space Right Now?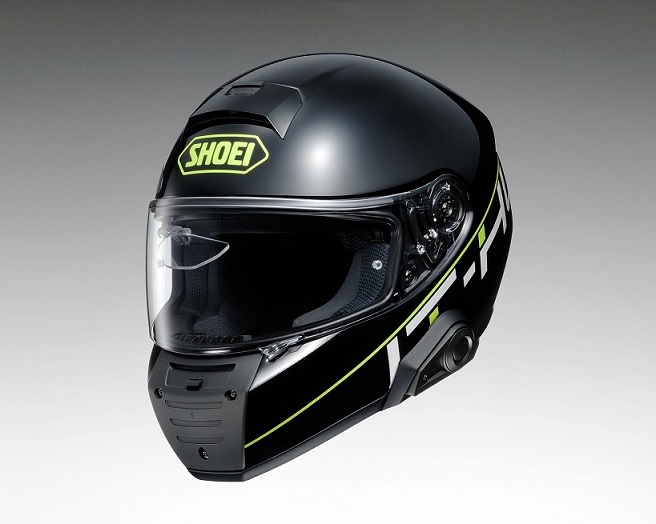 I kind of see the smart helmet space a lot like the electric motorcycle space right now. There are efforts being made by some of the typical big helmet companies, and there are a ton of new upstarts seeking to usurp the big boys with their fancy new technology.
Some of the upstarts that stand out include Forcite, Jarvish, and Skully. All three of these companies have interesting products with unique features and rider alert systems. They all have a big following and a lot of buzz around them at the moment. It will be interesting to see if their helmets are as well-received as many people want them to be.
Then you have the helmet companies that have been around a long while—Arai, Shoei, Sena, Nexx, Nolan. Many of them have been experimenting with smart helmet technology, mainly integrated Bluetooth communication headsets, for a little while now.
In 2018, Shoei showed off its IT-HT at CES and that got me thinking about these companies working on legit smart helmets with HUD and all sorts of other built-in goodies. You can bet your buns that Shoei and Arai and the others have smart helmet designs in the works. When these companies perfect their designs and release them, I would expect them to dominate the market.
Which Ones Can You Buy Right Now?
Here's a list of the smart helmets you can buy right now. There are a lot of Bluetooth helmets out there. I have chosen to keep those helmets out of this list. If you want to see a good list, click here.
Otherwise, head over to Revzilla's helmet section and just type in "Bluetooth helmets" into the search bar, you'll get plenty of results and should be able to find a nice Sena, Sedici, Bilt, Nolan, or NEXX lid that has what you're looking for. You can also just add a Bluetooth comm system to basically any helmet you currently own. Here's a link to all of our reviews of comm units.
Quin Helmets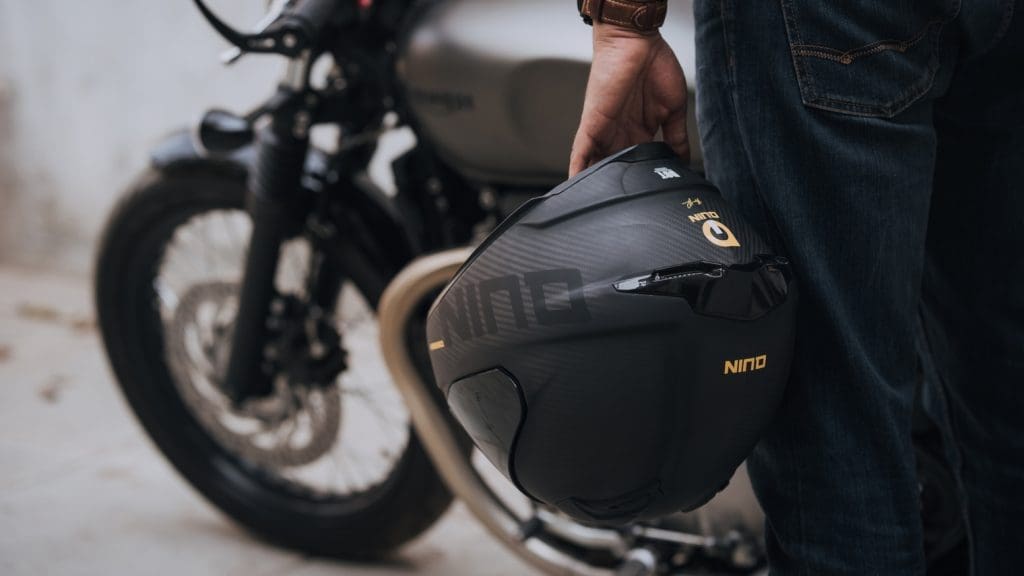 The Quin Helmets are about putting safety first and using technology to do it. The helmets feature the company's Intelliquin Crash Detection System. This system automatically sends for emergency help when a motorcycle crash is detected.
In addition to the safety features, the company has also integrated maps, voice assistant compatibility, hands-free calling, and music capability. The entertainment and basic communication features aren't all that different from the Bluetooth comm system enable helmets out there. It's the special SOS feature that sets this helmet company apart. Its helmets range in price, from $300 to about $600.
Here's a quick rundown of the company's models.
The Quin McQ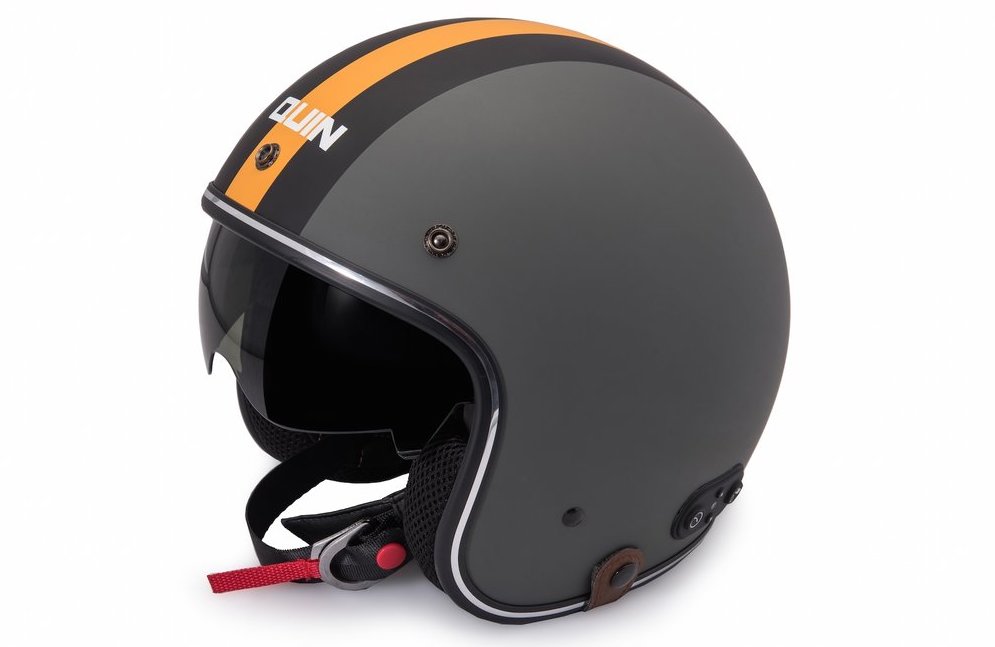 The McQ is the company's open face helmet. It offers a classic style that we've all come to expect from a standard open-face lid. It has a three-snap design so you can add an aftermarket visor if you want. The helmet comes with all the tech of the full-face lids and is DOT approved. There's also a drop-down sun visor, and the helmet comes in three unique color combinations. It has a $300 price tag.
The Quin Ghost Carbon Edition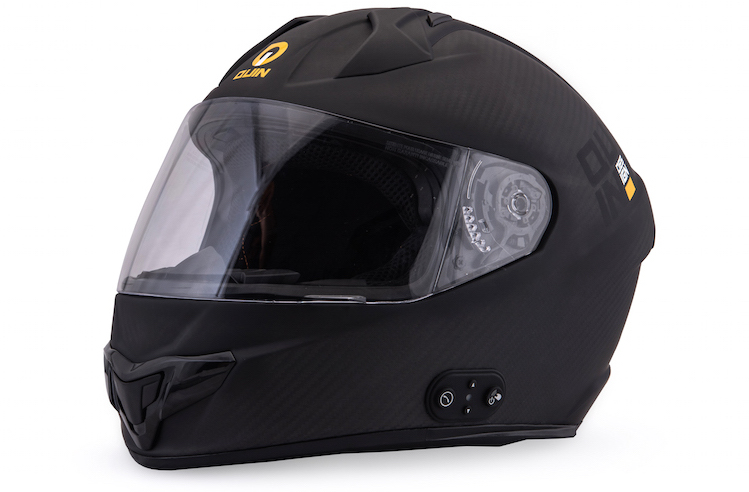 Quin says the Ghost Carbon Edition is the world's lightest smart helmet. The helmet features all the technology the company brings to its other helmets. It features a sleek carbon fiber shell, plenty of venting, and a clear face shield. The helmet comes in what Quin calls nude carbon fiber, meaning there are no other color options at this time. The helmet is certified for DIT, ECE, AMA, CRMC, FIM, and RACE. This helmet comes with a $580 price tag.
The Quin SpitFire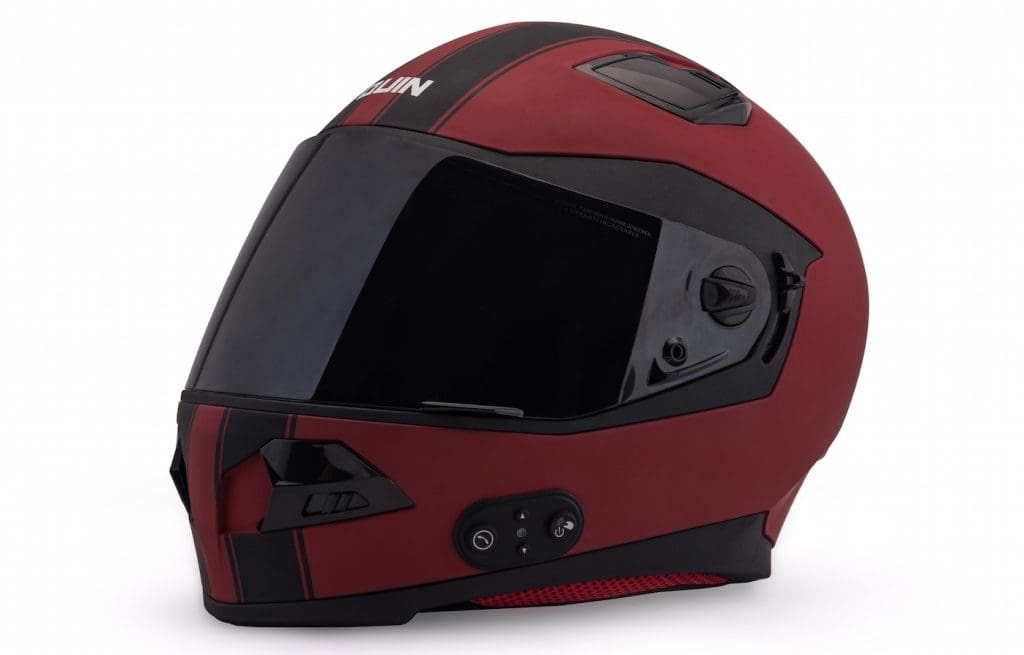 The SpitFire is another full-face option from the company. It features an aggressive and sleek design with Quin's fancy safety tech integrated right into the helmet. The helmet features plenty of vents and a clear or tinted face shield. The helmet comes in two color options and is both DOT and ECE approved. It comes with a $360 price tag.
Skully Fenix AR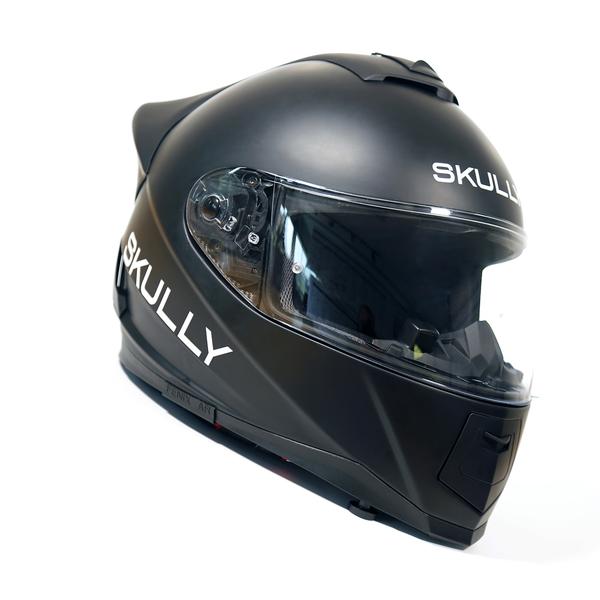 Skully famously went under once, but the company is back with the Fenix AR. The helmet comes with a huge price tag of $1,800. You do get some of the best features out there at the moment for that sky-high price tag, though.
With the Fenix AR, you're looking at a head-hp display, turn-by-turn navigation, connected audio, and voice command control. The helmets are currently only DOT approved. ECE certification may come at a later date. The HUD is the thing that sets this helmet apart from the other smart helmets out there.
The company has a note on its website that shipping is seven weeks from the time that you order your helmet. There's also a financing option for those of you who don't have $1,800 to drop. That's good of them to offer, but I can't imagine financing a helmet.
Forcite Smart Helmets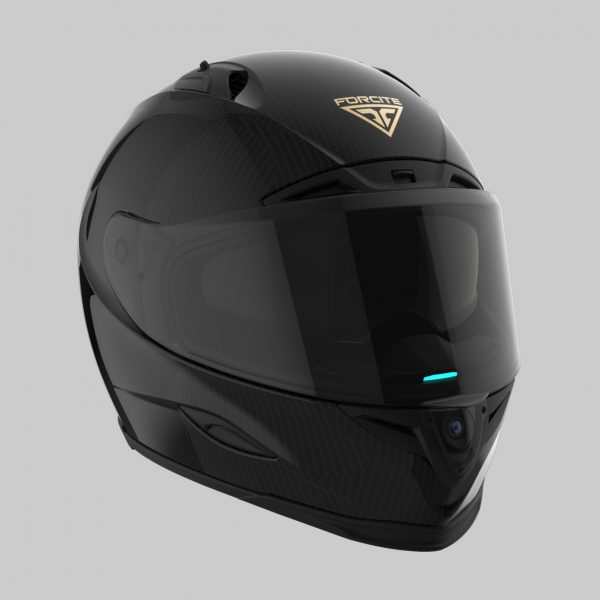 I've reported on Forcite before. The Australian company finally has a finished product and has it for sale on its website. It will come to more markets and at various price points at a later date, I believe. Currently, the Founder Edition lid costs $1,599 AUD (about $1,000 USD) and is only available in Australia. The company will expand to the U.S. and Europe soon.
What do you get for your money? You get an ECE and DOT certified helmet with a carbon fiber shell. The helmet gets a dual-density EPS, an anti-bacterial and anti-odor liner that's removable and washable, an interactable visor with a UV400 rating, an internal sun visor, eight different vents for airflow, an adjustable rear spoiler, D-loop chin strap, and anti-fog (not Pinlock) inserts.
In terms of tech, the helmet offers Bluetooth connectivity and all of the good things that come with that. There's also navigation. Cameras for video with a 166DFOV lens and 1080p resolution and an information lighting system instead of a HUD. The helmet comes with a four to six-hour battery life depending on the use, and it takes about an hour and a half to charge it. The wireless connectivity is dual bad BLE, Bluetooth 4.0. There's also Wi-Fi integration for video streaming and downloading. Features of the helmet can be controlled through the smartphone app. The app is avaliable for both Apple and android phones.
This is one of the most promising helmets out there, but I'll have to test it before I can give it the smart helmet crown.
Feher ACH-1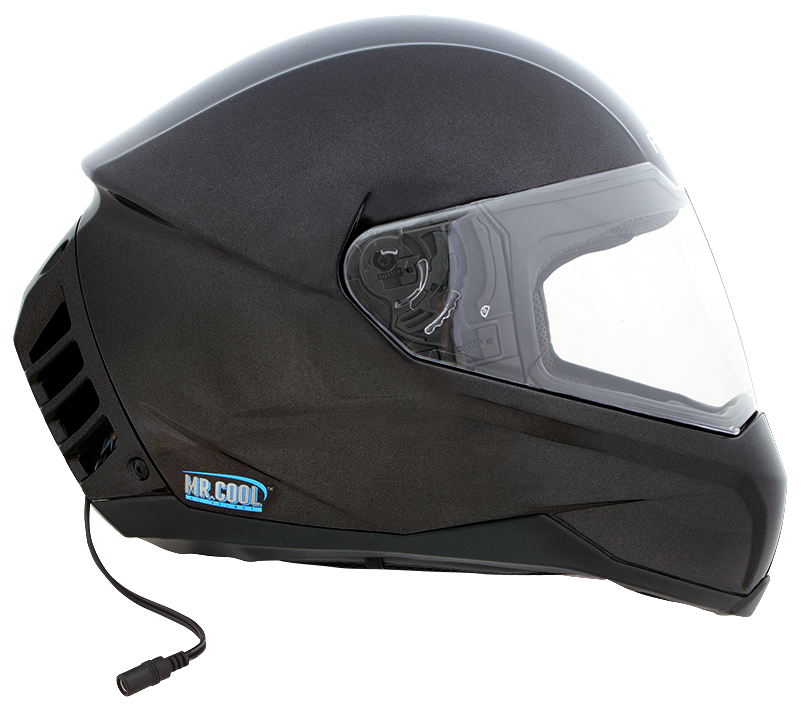 This one is a little different. Instead of focusing on convenience and safety. The Feher ACH-1 focuses on comfort. The helmet has a built-in air conditioning system that can keep the air inside your helmet 10 to 15 degrees cooler than the air outside.
The helmet does not have a battery. You will need to connect it to your bike for power. However, this helps keep the weight down to just over three pounds. While this is an interesting thought, it's also lacking some of the other smart helmet features many people have come to expect. This makes it a bit of an outlier. At $549, the helmet is wildly outrageous, but it's definitely not at the top of my list of future possibilities.
Helmets You Can Preorder or Buy on CrowdFunding Sites
Here's a list of helmets on websites like Kickstarter and Indiegogo. There's no guarantee these will come to fruition, and there are some pretty lofty claims here. Still, there are some that will most definitely yield something, like Jarvish. The company seems to have the most promising of the helmets here and should deliver on its promises later this year.
LiveMap Helmet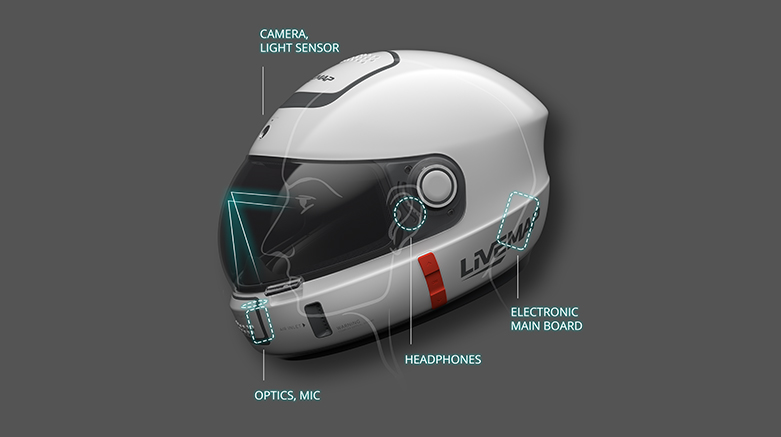 The LiveMap helmet will be an augmented reality helmet if it ever comes to fruition. The helmet features a HUD that displays all kinds of information, including speed, turn-by-turn navigation, and other customizable information. The company likes to say it's three devices in one helmet. It packs cameras, a Bluetooth com system, and a navigation system into one unique piece of tech.
The helmet features microphones and speakers to do the whole Bluetooth comm system thing. The HUD system is supposed to adjust automatically depending on the world outside, so it looks different at night or during bad weather than it does during the day or when the sun is shining. The head-up display will project at least 20 meters out in front of the rider to give them plenty of time to see things and react accordingly.
There's also a built-in camera for capturing your ride and any accidents. While the helmet is still in the development stage, the company says it will come with a $2,000 price tag.
CrossHelmet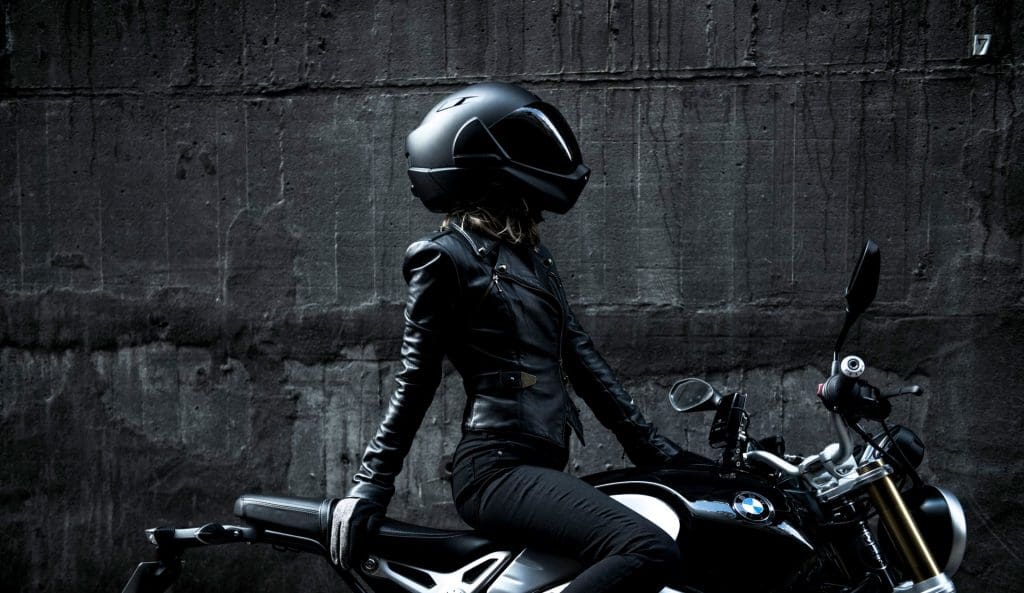 The CrossHelmet X1 looks funky, but it packs quite a lot into its oddly-shaped package. The helmet features a flip-down HUD with a 360-degree field of view, ambient sound control, and Bluetooth connectivity for all of the good things that come with that, like phone calls, music, etc.
The big news here is the camera at the rear of the helmet that gives 170-degrees of rearward vision. This eliminates blind spots and lest you see directly behind you all at once. The other bit of big news is noise cancellation technology. The sound control feature could also be a big game-changer if it really kills the excessive noise that many helmets experience. There's also an interesting touch panel for controlling the features of the helmet. Depending on how well this works, it could make the CrossHelmet X1 something special.
The CrossHelmet gets DOT, ECE, and JIS approval. It features a lithium-ceramic battery that the company swears won't burst into flames if it hits something really hard. The price? $1,799 if it ever comes to fruition.
Jarvish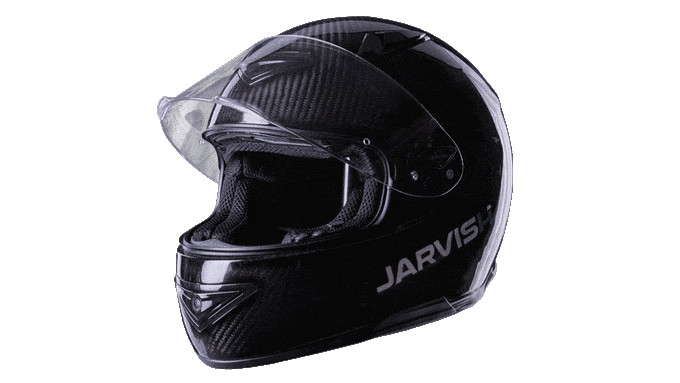 You've probably heard of Jarvish. The company has had a helmet design for a while and offers a few different versions. The top-dog Jarvish comes with a HUD, surround sound speakers, noise reduction system, cameras, Bluetooth (and all of the good things that come with a Bluetooth comm system), and GPS Navigation.
It also gets voice activation and interfaces with Siri, Amazon Alexa, and OK Google. The front and rear cameras offer a full 360-degree view of what's around you, making for better visibility than basically any other helmet out there. Also, there's noise reduction technology. If this noise tech works well, it could be an important feature.
The company also offers a unique Tron-like lighting system for the exterior of the helmet if you want that. The price for the base model is $699 and the price for the top X-AR is $1,599. Jarvish raised a ton of money on Kickstarter and Indigogo, and deliveries of the products should come later this year.