The Breakdown
The Sedici Viaggio Parlare SENA Bluetooth ADV Helmet is both a positive and negative reflection of where we are regarding product availability, features, and pricing within the specific motorcycle and more broadly, the Powersports industry. This helmet, at its price point, delivers almost all the essentials that consumers are looking for in an entry-level ADV or dual-sport helmet: styling – check; functional protective face shield and sun visor – check; large stylish protective peak – check; good sizing and overall fit comfort - check; good noise management – check; integrated BT system – check; decent build quality – check; all except effective helmet ventilation. Multiple positives but the one or two negative feature assessments are telling, especially regarding quality control. If it had a fully functioning ventilation system and better QC, this helmet would be a contender regarding functionality for the price point.
Design and Innovation
–
92%
Noise Levels/Noise Management
–
93%
Bluetooth Function & Performance
–
95%
Value for Money (Helmet & BT Combination)
–
90%
Pros
Great overall shell and peak styling / Matte Black finish is durable, easily cleaned / Intermediate oval shaping and sizing (large) is bang on / Multipurpose peak component is distinctive with decent air management / Integrated SENA DWO-5 BT works well / BT Intercom ranges of 400m+ the norm in open terrain / Good list of features / Has lots of potential
Cons
Ineffective air intake and ventilation system / Peak catches a lot of air, needs better shaping for flow-thru / Lower front of helmet shaping is narrow – may impact jaw area with some users / No positive positioning steps for face shield / BT speakers and microphone pieces poorly mounted / Potential and value not realized given design and quality control issues.
Introduction
Ah, my first helmet review for 2021 and the timing is perfect, with the up and down spring weather seemingly morphing into a more stable warmer environment; next thing you know we'll all be complaining about the heat and humidity.
One thing that hasn't yet disappeared of course is our COVID-19 pandemic environment, although there is hope, lots of it, as we, at least on many fronts, begin to return to or think about returning to a more normal world – it's going to be awhile yet.
It is truly a new year and another riding season is upon us here in the northern climes and thankfully, in appreciating ongoing restrictions, most of us can still get out riding to varying degrees; substance for the mind and body.
And for 2021, wBW is pursuing an even more aggressive helmet review program, so readers will indeed be treated to lots of helmet reviews, including this one about the Sedici Viaggio Parlare SENA BT ADV Helmet.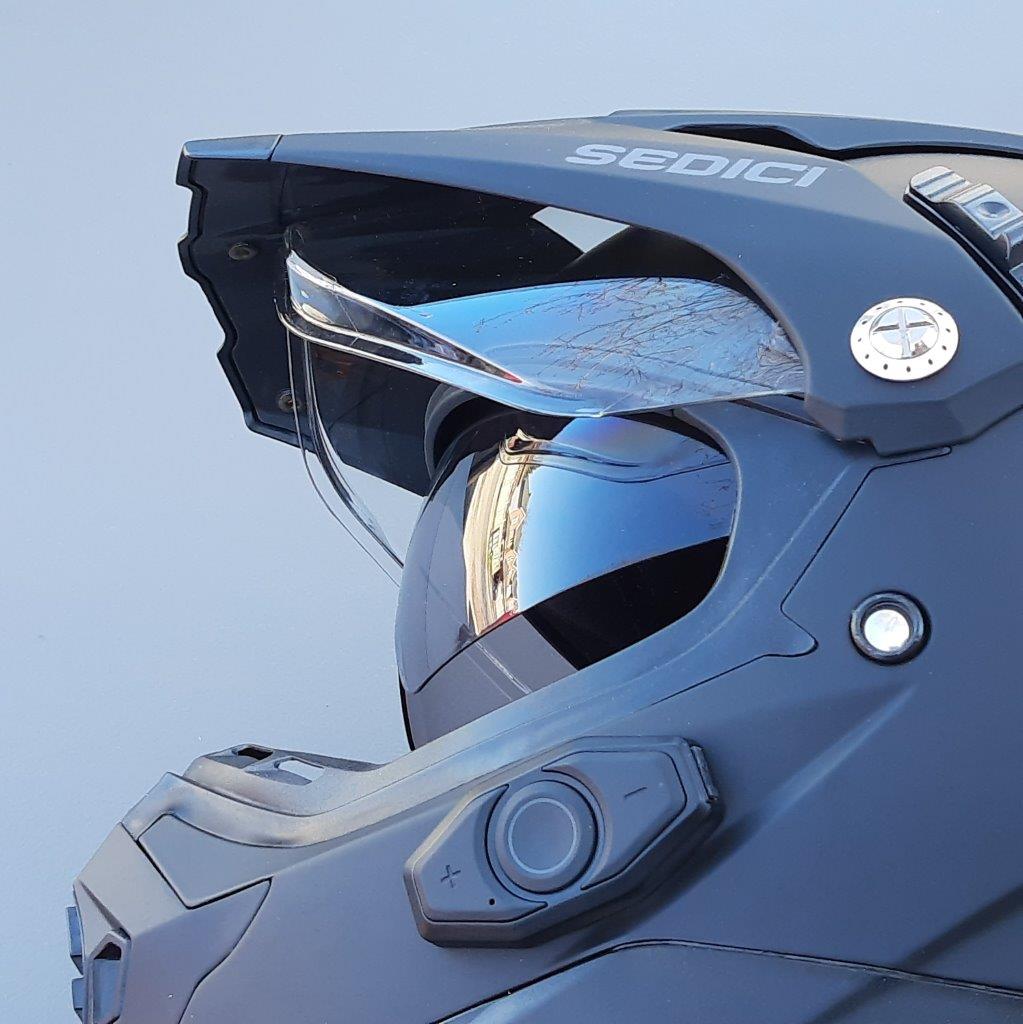 Shopping Now? We Recommend:
webBikeWorld works closely with Revzilla and Amazon to provide our testers with quality products to review. While we have an affiliate relationship and receive a commission from items purchased, this addition comes at no additional cost to you. It is the primary way we pay for our site and reviewers.
RevZilla

Free shipping on orders over $40
30-day no-nonsense return policy
Excellent selection of all major brands
Awesome pricing
Amazon

Free shipping (with Amazon Prime)
30-day return policy
Excellent selection
Competitive pricing
Sedici – Revzilla – Comoto
The Sedici line of helmets is marketed exclusively by Comoto, the parent company of Revzilla, Cycle Gear and J&P Cycles.
Comoto is the largest Powersports aftermarket retailer in the US, serving motorcyclists through Cycle Gear, J&P Cycles and Revzilla, with 150 stores nationwide, 90 years of combined experience and hundreds of gear experts to provide support.
Revzilla has been a key player in this industry segment for a long time, establishing a great reputation before becoming part of the Comoto family.
Revzilla continues to build on this reputation thanks to its outstanding marketing and service, evolving media activities, enthusiastic gear experts and sale staff and, the combined synergies of Comoto and the other companies.
Throughout the years Revzilla has been and remains a key supporter of wBW. A lot of Revzilla provided gear has been reviewed since the relationship was established early on and the relationship has continued to evolve.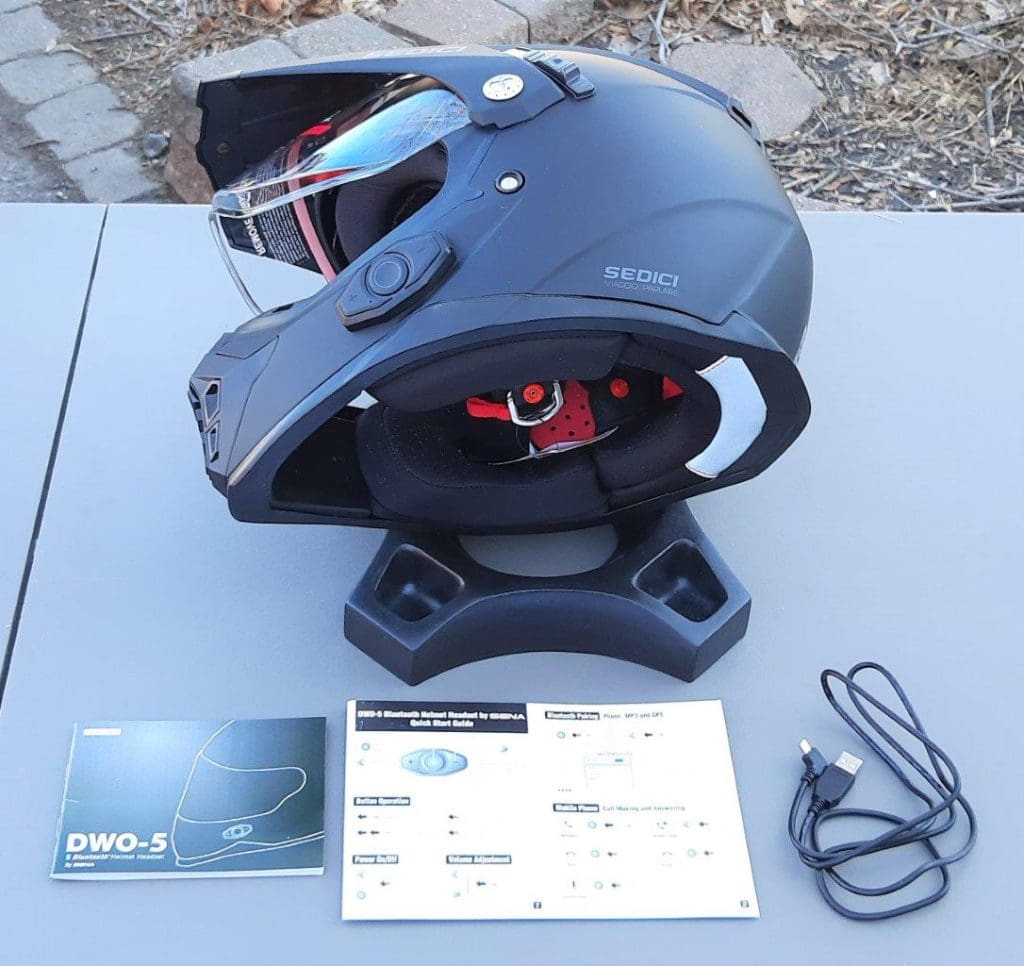 The Sedici Viaggio Parlare Sena BT ADV Helmet
First Impressions
The standard Sedici Viaggio Adventure Helmet without the integrated SENA BT system is available in Matte Black, Pearl White and Hi-Viz Yellow – a colourway that is always sought out by this rider but unfortunately, the Sena equipped BT version is only available in Matte Black or White – così è la vita.
The Sedici Viaggio (travel or trip) Parlare (speak) or 'travel talk', is an ADV style helmet with an integrated Sena DWO-5 BT headset system.
It comes packed in its own lightweight black helmet bag and the only item packed is the small Sena package containing the DWO-5 documentation and micro-USB charging/data cable.
Paint & Colourways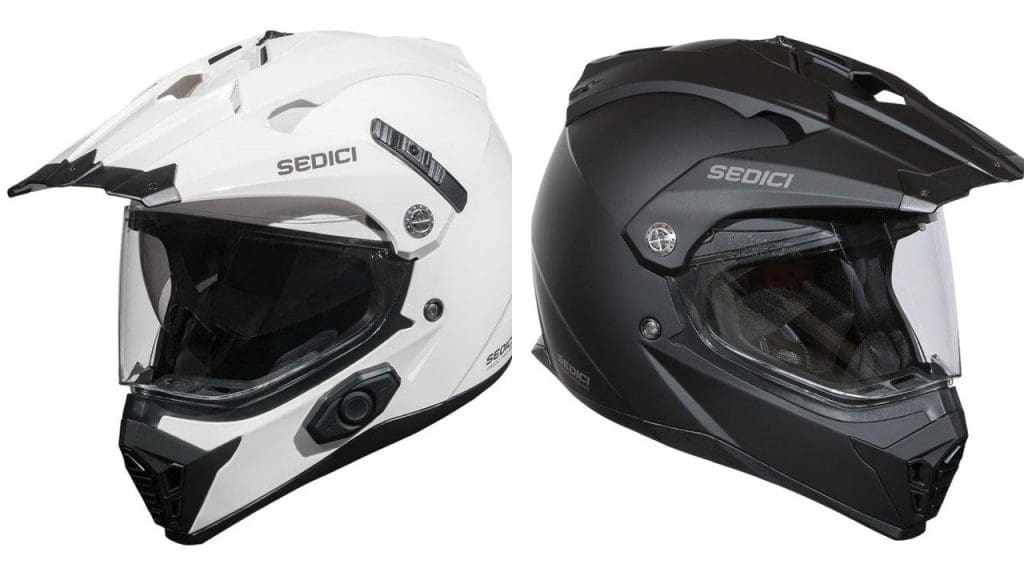 The matte black helmet in Large provided by Revzilla for this review has a solid impressive presence, as matte black typically provides visually. It is well-finished, feels and is solid with a noticeable weight bias to the rear and, has many of the usual ADV or dual-sport attributes clearly visible and seemingly well integrated.
Helmet & Bluetooth System Features & Specifications
Sedici Viaggio Helmet Specifications
Injection molded ABS full-face shell, two different sizes
Quick release clear shield
Separate and removable flip-down tinted sun visor
Removable (but integral) injection molded peak/visor
Chin bar airflow vent with metal mesh grille and inner slide control
Removable air-flow comfort padded comfort liner
Double D-Ring safety fastening
Meets or exceeds DOT standards
SENA DWO-5 Bluetooth System Specifications
Bluetooth v3.0 system
BT Intercom range of 400m or 1300ft (437yds)
Use with three other BT headsets (see applicable section)
Support for Universal Intercom communications
Hands free mobile phone communication
Automatic audio boost in noisy environments
Noise cancelling technology eliminates/minimizes wind and exhaust noise for voice clarity
Multi-device/Multipoint pairing (smartphones & devices, GPS, onboard systems, etc.)
Media Selective Pairing for customized tailoring of audio services
Smartphone music sharing between compatible BT systems
Up to eight (8) hours of talk time with seven (7) days standby
Firmware upgradeable using Cycle Gear Device Manager
Paint & Graphics
Outside of the metal rivets and silver/aluminum coloured hardware for the peak and face shield mechanism and peak hardware, a reflective insert on the back top of the peak component and another lesser-reflective DOT sticker on the back, the shell, and all the insert pieces are finished in the same unsealed matte black.
The matte black is the finish as there is no overcoat (as expected) and while it can be marked up with a hard knock or some abrasion of sorts, the finish is extremely durable. A good cleaning with mild soap and water followed by a hard rubbing with cotton or microfibre cloth has most of the minor marks minimized and the surface looks restored.
Shell
The full-face shell of the Sedici Parlare Adventure Helmet is formed of injection molded ABS with a fitted multi-part EPS (crushable foam) inner liner. The outer chin bar sections are not covered but most of the inner sections have a black finish or covered with material, such as along the brow. The chin vent insert is a shaped plastic piece that fits in with the liner sections.
Both external inserts and fittings, along with the internal pieces, are well-shaped and well fitted, although the air intake and exhaust openings in the inner liner are not precisely placed for effectiveness regarding the outer pieces – more on this later.
The slider for the sun visor sits immediately behind the back edge of the peak and mounting hardware on the left side and is quite easy to reach.
A shaped spoiler component is the bottom edge or finishing piece on the helmet, with a small lip at the front and larger edge shaping at the rear and it does indeed provide an aggressive but aerodynamic look to the overall helmet.
Removing the peak component reveals three holes or ports (one at the front, two at the back) in the shell, positioned for synergistic use with the peak-based intake and exhaust vents.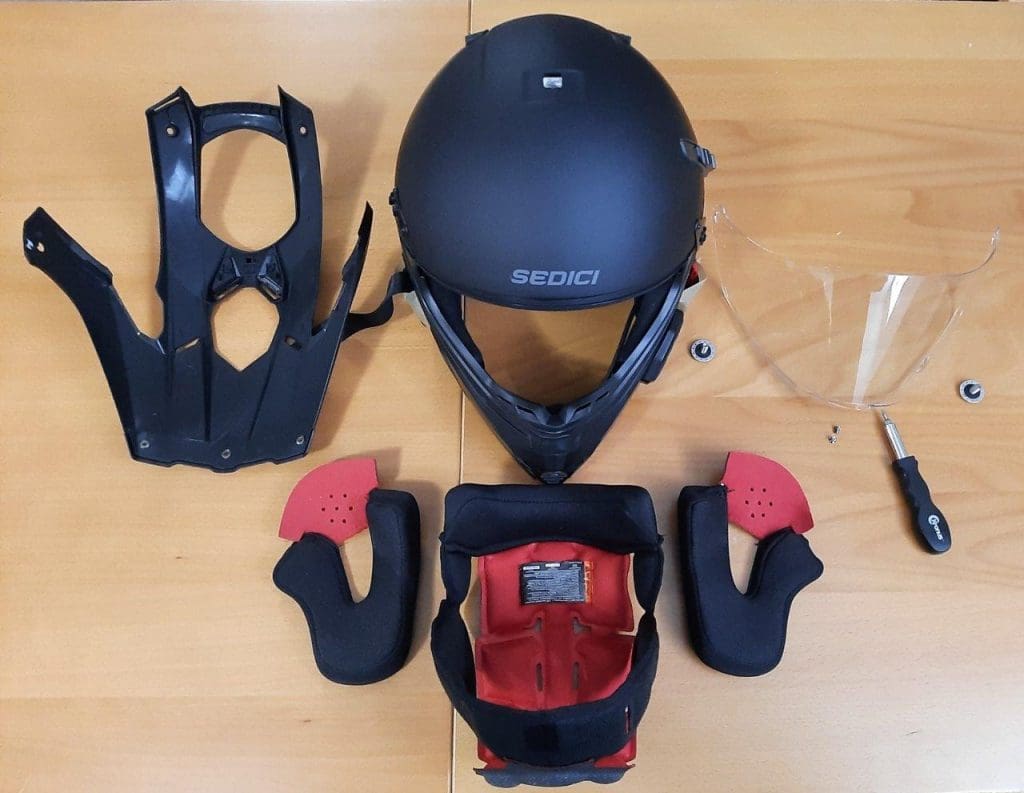 Sedici Viaggio Parlare Style, Sizing & Fit
Whether this 'classic ADV' styling is a true standard or not could be debated but it is widely emulated and popular. The Sedici Viaggio helmet features the (usual) large shell ADV build with relatively sleek shaping that is interrupted by the overly extended chin guard, a well-shaped deep eye port and the pre-requisite large overhanging visor.
It is worth noting that many (but not all) ADV style or oriented helmets are based on or adapted from existing proven designs providing great aerodynamics and ventilation through shell shaping and feature layout; for most ADV helmets (where possible), removing the seemingly pre-requisite overhanging visor turns the ADV helmet into a well-performing street and highway piece.
My normal helmet size is Large (~59-60cm) and the Sedici Viaggio Parlare in Large is a good fit, so I suspect that the Sedici Adult Helmet Sizing Chart is reliable and should be a good guide for most sizing purposes.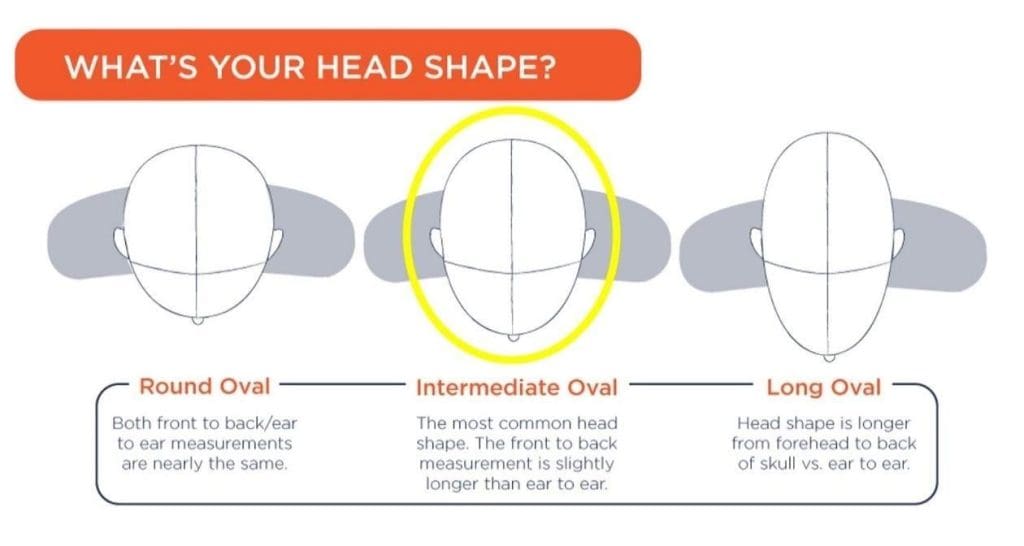 A properly sized intermediate oval-shaped helmet, no matter the style, usually fits my head quite well and with break-in, the pieces tend to become even more comfortable for long-term use; but the Sedici Viaggio hasn't.
The primary and (intrusive) issue, at least for my face and shaping (mandible) is the pressure exerted by the inner EPS lining along with the lower front areas that bulge out slightly and this pressure is also (somewhat) intensified by the removable padded inserts.
Adjusting the positioning of the helmet so it sits down well over the brow or pushed up higher on the brow makes for discomfort in either position and reduces effectiveness and efficiency of the helmet overall, especially regarding the shield, sun visor and venting, etc.
And, these adjustments don't mitigate the issue, but simply move it up higher, or lower, on the jaw. As such, optimal positioning of the helmet for use is not tolerable for more than an hour or so and continued use has not and is not likely to minimize this shaping and rigidity of the EPS layer and components.
This is unfortunate as the helmet size and shaping, less the lower front sections, does indeed make for a (very) comfortable, helmet.
There is no clear channel evident on the front edge and interior layout of the helmet and only the slight gap between the removable head and side pad sections allows temple pieces for lightweight glasses to be wiggled in, although with some force (for more wear n tear) and resistance; heavier frames are or could be more problematic.
Summary – Good. Overall styling of both exterior and interior fitted pieces could have earned Sedici a very-good rating with a few points deducted for the slightly thick removable cheek or side pads. But big marks are lost regarding front side fitment (at least for my face) and two other riders due to the pressure created on the mandible from the lower front shaping/finishing. Some narrowing of the side layout and thinner cheek pads might help, although replacement cheek pads don't seem to be an option. 
Weight & Balance
The Sedici Viaggio Parlare ADV helmet comes in at 1700gr or 3.75lbs on the calibrated Pelouze scales and almost exactly what the identified or quoted weight is for the BT-equipped model. piece. This puts the helmet in pretty good territory relative to many other ADV or dual-sport helmets.
Balance is slightly biased to the back of the helmet, and it is noticeable when being handled but it does not overcome the rest of the helmet when it is being handled; the extended chin guard section, although by itself not that heavy, helps to minimize the bias.
So yes, the slight weight distribution bias is felt but it does not result in undue strain on the neck or shoulders even with head on or side air flows, although this is a very subjective assessment as strength and endurance and conditioning of the individual user are huge factors here – as is the impact and pressure loading of the overhanging visor – more on this later.
Summary – Very Good. Despite some weight bias, which may or may not be a factor for users, overall weight and distribution are very good. Sedici has obviously used the right shell and managed the overall weight of the Viaggio helmet as opposed to many other economically priced units that can be hefty.
This helmet provides an Intermediate Oval shaping, as identified in the diagram below.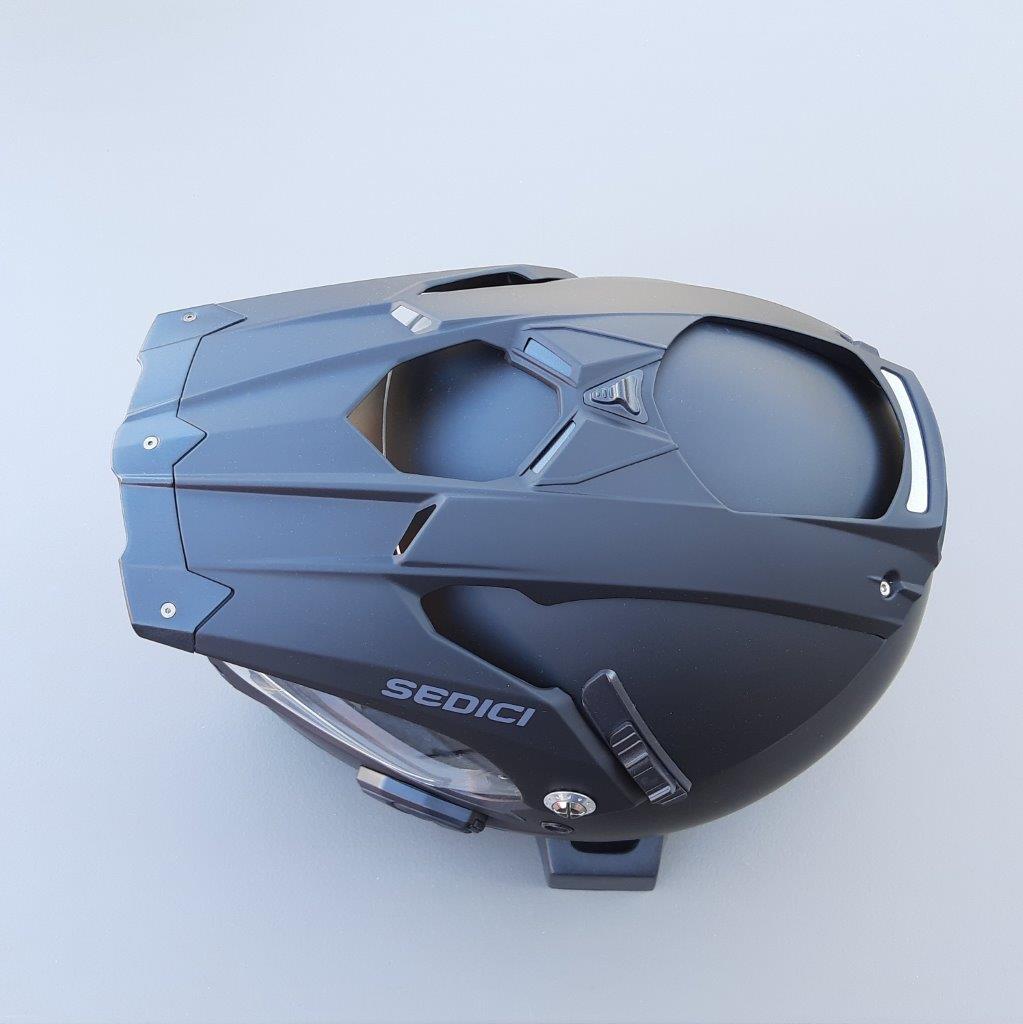 The Multifunction Peak
A very prominent but nicely styled component, the long-shaped peak mounts to the outer shell at the upper back with two recessed screws, and at the sides as part of the face shield mounting assembly – nice look and simple fitment.
The long-styled peak also houses the top open/closed intakes and rear exhaust vents. With this design and layout approach the peak component becomes an integral and important part of the overall and if removed or damaged for some reason the helmet ventilation strategy would be very much impacted.
For simplicity of design, to reduce the number of fitted pieces on the helmet itself and optimize overall build effort the approach can be (somewhat) understood. But while the 'look' may be there, functionality is not; and this issue is only exacerbated when factoring in other parts of the overall helmet ventilation strategy.
The peak is quite large length-wise but not overly wide along the front. It does add style, shade and (some) protection from flying things, but it also adds or can add a fair bit of pressure from air flows and this air pressure is not always positive – on some motorcycles, at speed, it is a very disruptive piece.
Below highway speeds though, as when trolling through traffic, along the back roads or working your way through the soft stuff it works just as intended – providing a deflective surface for both unwanted bright light (including sunshine) and harder things that may or may not be under guidance control.
Removing the peak only takes one more step than the ones described above for removing the face shield, and that is to use a small 2.5mm Allen tool to remove the short screws from the back recessed mounting points for the peak – don't lose the hardware.
Eye-port size and shaping on the Sedici Viaggio is very good – not of the same depth and height as my favourite the NEXX X-Patrol, but better than one or two other dual-sport oriented helmets on hand. As such, peripheral vision is good as is the vertical field of view; there are no sightline issues experienced in using the helmet – face shield open or closed.
A thin pliable silicone piece, the perimeter seal does its job quite well when the shield is fully lowered and seated – there is no positive détente or 'locking' piece. Outside of some sporadic seepage that gets through when wind pressure was lifting the shield a bit (not often), nothing else gets past the perimeter seal and face shield combination.
The perimeter seal insert has two elongated cutouts on either side of the nose bridge shaping that act as directional vents. When the face shield is slightly raised these vents deflect air up towards the eyes or glasses to help minimize fogging and these same cut-outs also serve to pull air up from the (open) front chin vent to minimize fogging and provide circulating facial airflow.
Removing the face shield for goggle use – regular frame or face goggles should be OK with the Viaggio given eye-port sizing and shaping, but oversize or MX-style are not likely to be usable.
The angular eight-sided BT DWO-5 BT module with bevelled edges is securely fitted to the left side of the helmet and sits 10mm above the surface of the helmet for a low profile layout; everything else is hidden inside the helmet.
The only other BT helmet systems that occupy less footprint or less profile than the DWO-5 module are systems (usually also SENA pieces) that are perhaps more modular and are styled to fit into the lines and flow of their respective hosts.
A full rundown on the SENA DWO-5 BT system integrated into the Sedici Viaggio Parlare is provided in a later section.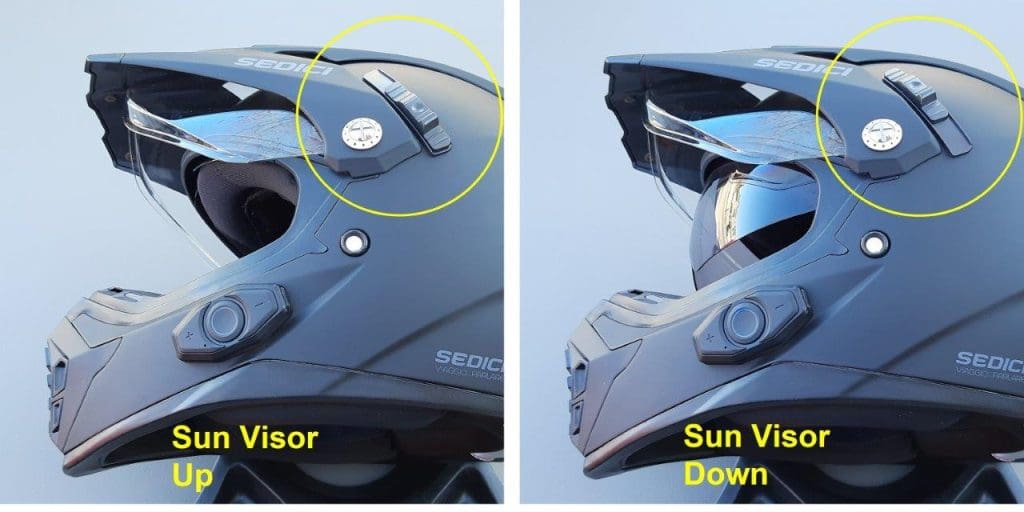 Face Shield & Sun Visor
The clear and distortion-free face shield is large and well sealing against the eye port perimeter seal although there are no détente or locking steps for the face shield and adjustment or positioning of the shield is based on friction rather than positive steps.
And this approach can see the face shield lifted (slightly) by air pressure, due to the bottom shaping of the face shield that works as both a spoiler of sort but also as a pressure edge. If the air flow is direct and not buffered around the helmet, then air pressure will or can lift the front of the shield.
But by the same token, this shaping also works well in redirecting air around the helmet; much depends on the cockpit environment, or lack of. But in averaging out the riding experiences on different motorcycles, the face shield is quite effective.
With the peak and face shield pieces removed, some minor adjustment steps in the mounting points of the face shield are evident, but the setup is not effective, and one needs to rely on friction to keep the shield up in any position, which is possible in a quiet air environment. Positive functional steps should be a given on any helmet face shield assembly.
Removing the face shield and/or the extended peak component is straightforward; pivot the shield to fully open, loosen off and remove the upper left and right large-cap cross-head (Phillips-style) screws along with the recess washers and the small flat silicone washers sitting against the shield.
The sun visor is effective with good depth of coverage without being close to the nose, although your experience of course may vary. But the well-placed slider control sitting on the left side sitting behind the angled peak piece is a bit cranky and requires some effort.
Pushing it up to lower the sun visor is easier as there is a positive push surface but reversing the process to raise the sun visor sometimes takes two or three attempts – not ideal.
Summary – Very Good. Outside of no positive adjustment steps for the face shield or a positive lift point and, the somewhat cranky sun visor slider, everything else fits and functions just fine thank you.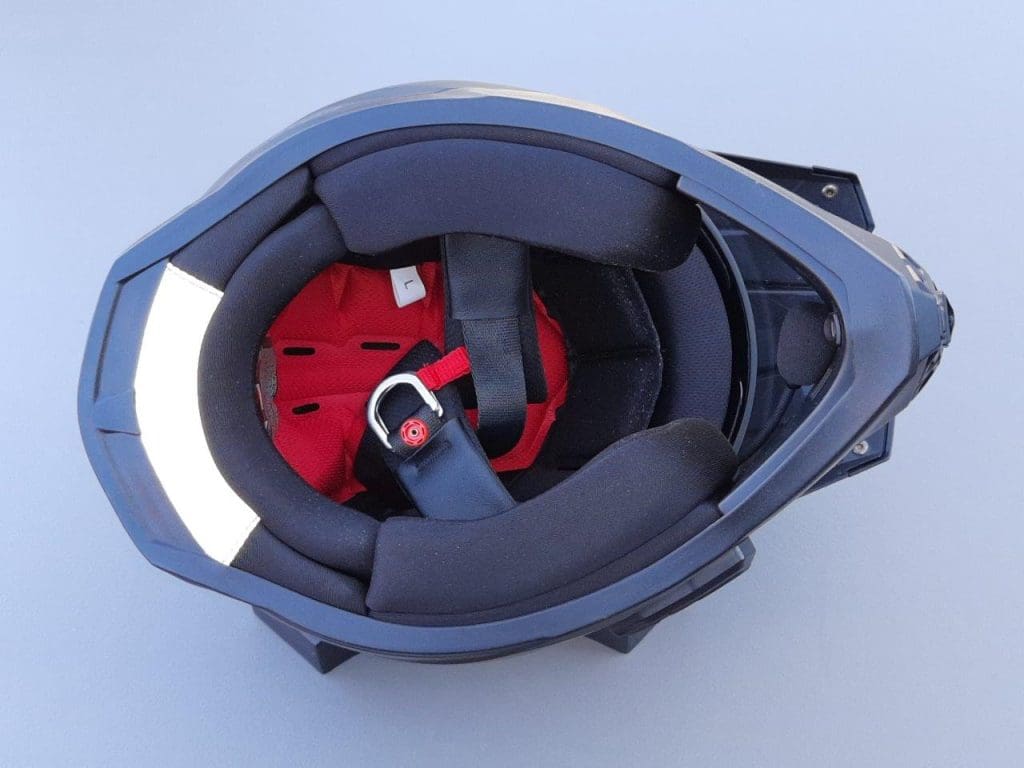 Shopping Now? We Recommend:
webBikeWorld works closely with Revzilla and Amazon to provide our testers with quality products to review. While we have an affiliate relationship and receive a commission from items purchased, this addition comes at no additional cost to you. It is the primary way we pay for our site and reviewers.
RevZilla

Free shipping on orders over $40
30-day no-nonsense return policy
Excellent selection of all major brands
Awesome pricing
Amazon

Free shipping (with Amazon Prime)
30-day return policy
Excellent selection
Competitive pricing
Sedici Viaggio Parlare Interior
EPS Liner
Appears to be the standard EPS-based multi-part lining, although there are more sections than seen on other comparative helmets, something that (possibly) contributes to lower costs for moldings and ease of assembly. But the pieces are well laid in and fit well with inserts like the shaped front plastic chin intake piece on the inside.
With use, the EPS liner is beginning to shift more in the shell with more resultant noise, not a new issue with many budget-based offerings and some of this movement can be directly attributed to the needed shaping for and clearance accommodation for the sun visor and sun visor mechanism.
Cheek Pads
Not complex or overly large, although a bit thick and firm, but well formed and easy to access. Three positive (red) snap fasteners keep them securely in place while making removal for cleaning or (replacement) a simple task. Well-shaped cut outs for the straps also aid in removal and reinstallation of the pads.
However, the shaping and firmness of the cheek pads, along with the layout and shaping of the helmet liner sections contributes to the discomfort experienced between the helmet and the jaw and the presence of this shaping is very much felt through the pads after an hour or so – more on this in the Helmet in Motion section.
Speaker Recesses
Available with or without an integrated BT system, preparation for such a system in the Sedici Viaggio seems more after-thought than anything.
The EPS lining has very rough recesses (not well shaped or cut) although there is minor rounding of the front edge and a slight angulation along the top to identify what could be (is) the approximate placement for speakers; it could be done better.
Neck Roll/Head Piece
This fully removable section is secured with two positive snap fasteners along with the heavy duty back or neck roll area of this piece, while three rectangular sections of hook-material are positioning on the outer sides and front along the brow and when the piece is fitted, these three sections finish securing the piece into place. No frills, but effective.
EPS Air Channels
There are two shallow channels running left and right of centre the length of the inner liner with two small adjunct channels angled off to the rear exhaust vent holes; the layout appears to be and is minimalist regarding overall functionality – only when it's cold outside can air movement into and through the helmet be felt, but it's limited.
The shell openings or ports to the interior are small and not optimally shaped/angled or placed to be as effective as they could or should be for air management vis-à-vis the EPS channels.
And two vertical holes or channels at the front of the EPS liner don't seem to be used for the Sedici Viaggio model but are possibly utilized for other Sedici helmet models using other ventilation intake layouts or, to provide some pressurization to facilitate air movement, an unknown to be explored down the road.
Chin Curtain
Unlike so many other ADV-style helmets that feature an elongated chin-guard layout but also provide a chin curtain of some sort, this piece is not provided.
A small thing physically, a chin curtain can have a big impact if well designed and easy to use. It is effective in managing overall helmet air flow, important for circulation of air to and around the head (at all levels), managing noise levels, and minimizing intake of dust and dirt. And when it's cold outside or in a driving rain, let me list the positives.
Retention Strap
The strap is the standard double D-Ring layout with a short D-ring section with pull and retention snap on the left and a long pass-through strap on the right. The individual side straps are not adjustable (not really needed) and fit through padded pieces for a comfortable fit.
Sedici Viaggio Parlare Quality Control Issues
In removing the cheek pads and the head liner pieces and giving everything a close inspection, the cause of the noise around and movement of the right speaker was due to the speaker not being secured in the (minor) recess – the hook-n-loop fastener pad had pulled away from the (EPS) lining.
Moving over to the left side revealed that this speaker and boom microphone assembly was also pulling away as well – between the thin weak hook-n-loop pieces used and the flexing of the unsupported boom microphone this left side assembly wasn't going to sit in place long either.
With new larger rounds with better adhesive installed into the EPS recesses the speakers are securely mounted and a small rectangular piece of Gorilla Tape over the boom just behind the upper snap fastener secures the piece to minimize flex while allowing full adjustment of the microphone end of things. One of the small SENA boom microphone mounts would work also.
The point to be made here – in knowing what to look for and knowing what needs to be done the issues are easily addressed; but these issues should not be found, no matter the helmet price point. And the boom microphone layout really does need the extra support.
Summary – Good, but barely. The fully removable head liner and cheek pad pieces fit well, although the chin pads are overly thick and firm. The minimalist air channel layout and shell holes is not an effective combination for air circulation around the head. And finally, the weak speaker mounts and equally weak boom microphone support really detracts.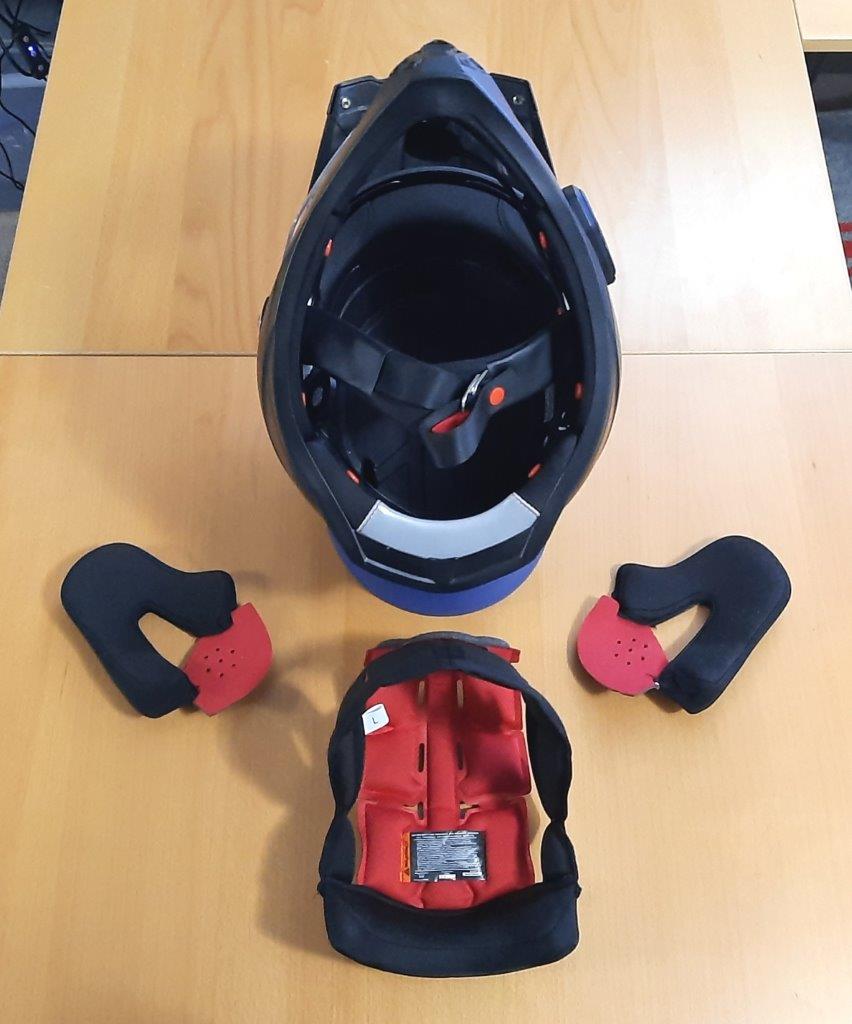 Sedici Viaggio Parlare Safety Features
The chin strap is a double D-ring and a long strap with a retainer snap that mate to its counterpart on the short D-ring fastener section. The retention strap is easy to use, although as usual with many (many) helmets, the pass-through strap is far too long, even when looped and secured with the snap.
There is a reflective insert on the back of the removable head piece that, depending on helmet angulation, could be effective, although putting it on the back section of the lower spoiler would make it totally reflective at almost any angle.
Another small reflective strip sits in a recess on the back of the peak component but unless the helmet is angled somewhat up (more so than with normal use), it isn't optimally placed for multi-angle viewing, which all reflective markings should be. Sometimes I just shake my head at the 'solutions'.
Summary – Good. The chin or retention strap works as it should. The two back of helmet reflective inserts are minimalist and appreciated, but visually for other road users, ineffective due to poor layout.
Sedici Viaggio Parlare Noise Management
Notwithstanding previous comments, noise levels along the outside and inside the Sedici Viaggio are, overall, quite good. On the F 850 GSA, under similar riding conditions, the helmet is no noisier than two of the four other ADV style helmets used and all of them, are priced significantly more than the Sedici.
Summary: Very Good. The sum of the parts might not lead one to think that this helmet could have good noise management, but overall, it does.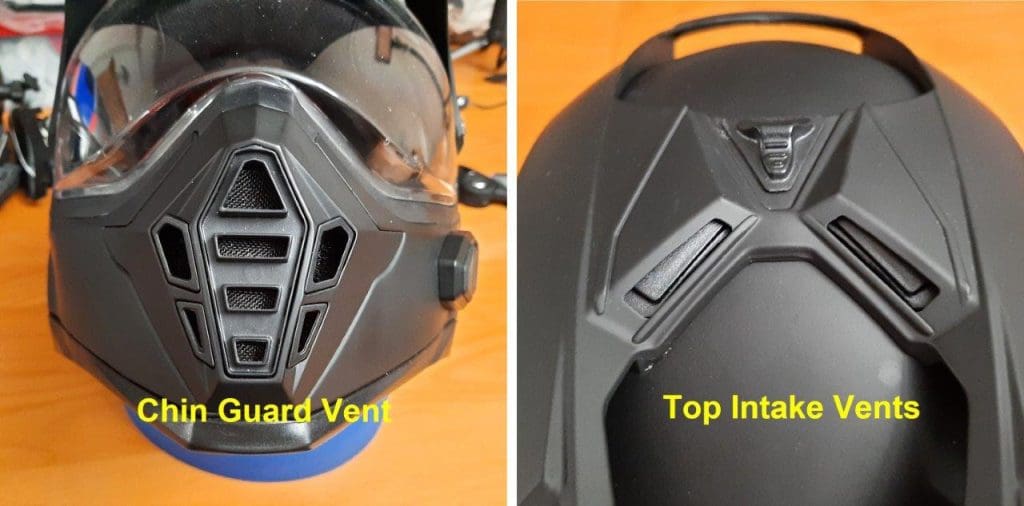 Sedici Viaggio Parlare Ventilation
Despite a stylish and low profile external approach to providing front and back intakes, these intakes don't work well. The top adjustable (open or closed) front horizontal intakes are not well placed for optimal air capture, do not seal completely nor open fully (a couple of millimetres) or directly channel air into the port in the shell.
This minimalist situation, when coupled with the flush vertical hole in the shell and shallow channeling in the EPS layer does not result in much air flow into or through the helmet. In cooler temperatures some air can be felt moving through the helmet, but otherwise, virtually nothing.
On the other hand, the front intake is well placed, with multiple intake ports and when open it flows far more air than the top intakes. Unfortunately, the middle fine-mesh layer that works to keep pieces out also blocks the free flow of air into the helmet – this needs to be fixed and will be, locally. The Up = Open and Down = Closed control is on the inside but accessible.
The two exhaust ports and peak-mounted exhaust vents should work well, but it's hard to assess given poor performance from intake and circulation perspectives.
Summary – Poor. Poorly placed and minimalist components are the culprits here.
Sena DWO-5 Integrated Bluetooth System
Overview
Sedici Viaggio Parlare Sena BT ADV Helmeteeing and getting to use the integrated SENA DWO-5 BT system with the Sedici Viaggio Parlare ADV helmet is like visiting an aging reliable friend. The DWO-5 system is one of the original collaborative efforts from SENA in designing and integrating their BT features into many different brand and model helmets including the BILT and Sedici helmets.
The system runs with BT v3.0, but thanks to Bluetooth's outstanding legacy support it pairs with and supports almost anything, old or new, offered up. It does not have all the bells n whistles and it's not as agile or as fast as newer systems, but it has lots of functionality thanks to SENA's continued device support and firmware features.
Maintaining and using the DWO-5 remains simple as well by using the downloadable Cycle Gear Bluetooth Device Manager application and referencing the SENA DWO-5 User Guide for familiarization and then use as needed (download and keep it on any paired smart device).
Form & Fit
The SENA DWO-5, less the external BT module, is pretty much invisible inside the helmet, with the combined left speaker and boom microphone secured (now properly) to the minimal EPS liner shaping, and the right speaker (now also fully secured) mounted on the right side.
Using the left speaker/boom microphone component is (possibly) a stipulated configuration that is expedient and effective but with full-face helmets the boom microphone could or should be replaced with a flexible thin wire piece especially given the integrated nature of the system.
Function
The SENA DWO-5 BT system is about as easy to use as it gets, although it doesn't offer up the automatic activation pairing mode, etc., as newer systems do. Given this ease of use and the excellent instructions provided in the User Guide, only the basic setup and interaction information is provided here; bottom line – read the guide and learn the system.
The micro-USB port on the back edge of the module has a weatherproof silicone cap – keeping it fully seated maintains the water-resistant integrity of the system as everything else is well sealed or found inside the helmet.
When connected for its initial pre-use charging using the provided micro-USB charging/update cable, it took the full 2.5 hrs for the centre LED to go Blue which indicates a full charge.
To turn the system ON and OFF, press both the Centre and front Plus (+) controls for a second, and listen for the "Hello" greeting, then one or two beeps and the slow rhythmic Blue pulsing of the LED indicating that the system is in standby mode and ready to use.
Intercom Pairing
The DWO-5 is usable with three other compatible BT systems, although only one user to user conversation can be conducted at a time. To initiate intercom pairing with the DWO-5, press and hold the Centre button for 6-7 seconds until the LED flashes Red and you hear "Intercom pairing".
Presuming the other device is in its pairing modes as well, tap the Centre button of the DWO-5 or the pairing button of the other headset once and once the LEDs on both headsets go Blue the connection is made and it should be live. Follow this procedure for the other two systems. Remember, for this serial-based connection, it's Last-In, First-Out or LIFO for switching.
Device Pairing
The Centre button press and hold the Centre button for 12 seconds until "Configuration Menu" is heard, tap the Plus (+) button to get the "Phone Pairing" announcement, which initiates the Red/Blue LED pairing indicator sequence.
Search for the "BiLT DWO-5 v1.0.2" (current firmware) and wait for the two devices to pair and connect services, usually Calls and Audio.
Using some legacy devices may require entry of '0000' for the PIN to complete the pairing. Once the headset is paired and ready to go, the "Your headset is paired" is heard.
Volume Control
Use the stylized Plus (+) or Minus (-) controls, a beep announces when max or min volume is reached. The volume is set and maintained for each discrete audio source when the system is turned Off and back On.
Note – once set, these discrete or separate audio source volume levels will not be impacted if you adjust the output volume on the paired BT-enabled device. However, if you adjust the volume when the DWO-5 is in standby mode, it will affect the levels of each audio source. 
Specific Device Pairings
There is a lot of functionality and flexibility in the SENA firmware and multiple device support is provide through the Multipoint (2nd phone or GPS or SENA SR10) and Advanced Selective Pairing features (assigning discrete A2DP streaming or Handsfree audio connectivity between separate devices).
The User Guide provides step-by-step instructions on how to get the most from the DWO-5 system using the "Configuration Menu" and its sub-menu options.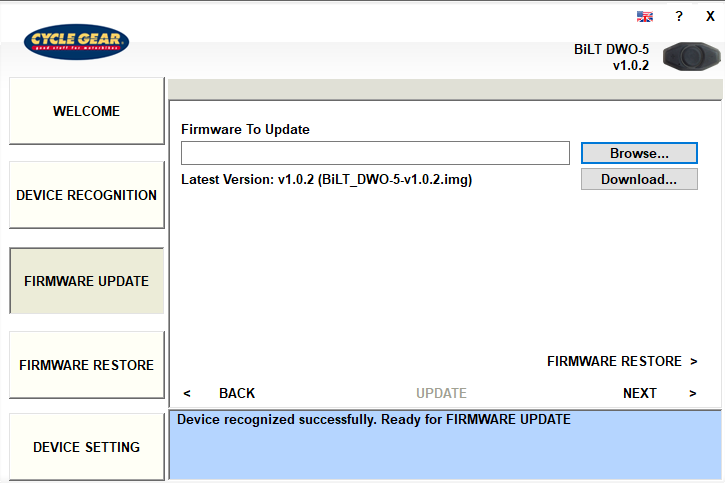 On the Road Function & Performance
Putting the helmet on and taking it off is easy, although sometimes on the way in, the ears catch a bit and needed to be repositioned, then the D-ring strap is done up and secured and the BT system powered up and connected to the smartphone – a snug encompassing fit.
Or at least for a half-hour or so until the side pressure issue starts to be felt and after an hour or so it's time to stop and take a break – with the helmet off so the jaw and related moving parts can work without the pressure.
I thought perhaps it was just my face and (overly) sensitive jaw area, but not so as two other users have commented on the same issue and unfortunately right now there is no at-hand solution; too bad as I really do like the Sedici Viaggio helmet.
Between its styling and relatively smooth exterior less the prominent peak component the helmet is about middle of the scale regarding overall noise levels; although this does depend on how much air the helmet is sitting in, including cockpit environments. Out in the stream, the helmet is probably at its best – but when behind the shield, it's noisier.
On occasion the helmet and/or peak generates some resonance that is most audible, adding to the overall noise levels within the helmet. This condition is particularly acute within a cockpit environment at speed. A new ongoing (subjective) test is to see how and when the resonance occurs to provide more data.
Proof of the Sedici's ability to handle noise is that even with the bare bone speakers found with the DWO-5 system, clarity and output volume remains quite good or at least until highway speeds are resumed and noise essentially overcomes everything except the intercom; another reason to use ear protection, of some form, when riding.
Summary: Good to Very Good. A pleasant surprise actually; the Sedici Viaggio copes quite well with most riding environments, although speed and turbulent cockpit environments do impact its performance.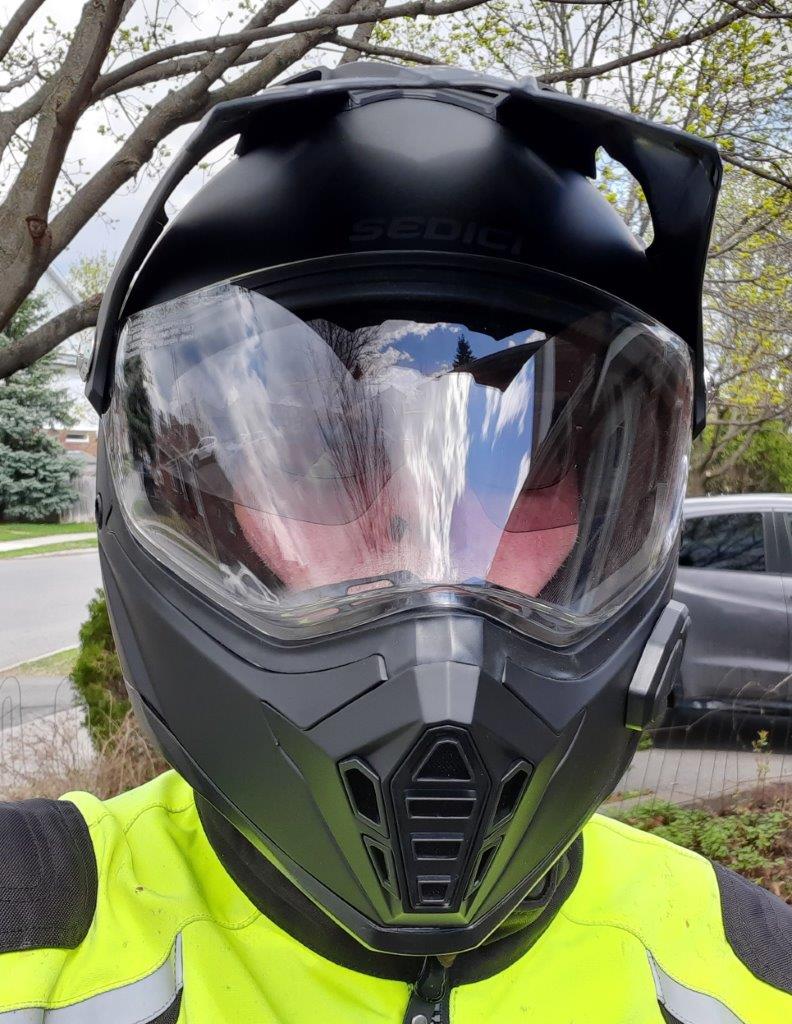 Verdict
The Sedici Viaggio helmet is a good well-priced ADV-style helmet with all the basics including its aging but full functional BT system. The helmet has the potential to achieve a much higher rating in the scheme of things, but not until the whole ventilation feature is brought up to code; as temperatures rise, this shortfall becomes even more noticeable.
And unfortunately, for this user, the omnipresent front shaping issue just makes the helmet unusable for anything but short periods of time; a helmet that I hoped would be a keeper, won't be.
Less those already clearly identified, the helmet does have a few minor rough edges including the cranky controls, but no more than are found on similar helmets and even some that are priced much higher.
With an efficient and effective ventilation layout – intake, circulation, and exhaust, in place, this helmet would be a real contender, class and price point. Relatedly, some research to see if this shortfall is common to the Sedici helmets or certain models; it just bears investigating.
Bottom Line
I really like this basic no-frills helmet as almost (everything) about it works well and although the integrated SENA DWO-5 BT system is showing its age it still puts value-added icing on the cake. Acknowledging that fitment in the lower jaw area may be isolated to certain face types, if the lack-lustre ventilation is fixed this ADV helmet would be one of my favourites (although in White). The Sedici Viaggio Parlare SENA BT ADV Helmet has potential, but unless your user experience is different than mine, it needs some work.
Pros
Great overall shell and peak styling
Matte Black finish is durable, easily cleaned
Intermediate oval shaping and sizing (large) is bang on
Multi purpose peak component is distinctive with decent air management
Integrated SENA DWO-5 BT works well
BT Intercom ranges of 400m+ the norm in open terrain
Good list of features
Has lots of potential
Cons
Ineffective air intake and ventilation system
Peak catches a lot of air, needs better shaping for flow-through
Lower front of helmet shaping is narrow – may impact jaw area with some users
No positive positioning steps for face shield
BT speakers and microphone pieces poorly mounted
Potential and value not realized given design and quality control issues
wBW Specs
Exclusive Supplier: Comoto Group including Revzilla 
Price (when tested): $249.99 USD
Made In: China
Colours: Matte Black or White
Sizes: XS, S, M, L, XL and 2XL
Safety Designations: DOT FMVSS No 218
Warranty: Two (2) Year guarantee on materials and workmanship
Review Period: March to May 2021
Review Submission Date: 17 May 2021
Important Links
Shopping Now? We Recommend:
webBikeWorld works closely with Revzilla and Amazon to provide our testers with quality products to review. While we have an affiliate relationship and receive a commission from items purchased, this addition comes at no additional cost to you. It is the primary way we pay for our site and reviewers.
RevZilla

Free shipping on orders over $40
30-day no-nonsense return policy
Excellent selection of all major brands
Awesome pricing
Amazon

Free shipping (with Amazon Prime)
30-day return policy
Excellent selection
Competitive pricing
Sedici Viaggio Parlare Sena BT ADV Helmet Photo Gallery