There are few things more satisfying than ripping down a trail through the woods on a dirtbike. Riding at a motocross track or any other venues that are off-road, is equally as enjoyable. However, you can't just jump on a bike and head off, you need to get geared up.
Gear not only keeps you safe, but it helps keep you comfortable while you ride, too. The proper off-road riding gear is all about two things: protection and airflow.
Riding off-road is usually a lot more active and exhausting than riding on the street (depending on where and how your ride, of course), and that means you need gear that can move some air and keep you from getting too sweaty and hot.
On the protection side of things, you need something that will cover your joints and any high-impact areas. There are armored jackets for off-road riding, specialized dirt bike gloves, and pants with padding and armor specifically designed for off-roading, too.
In terms of gloves, protection will be a bit different because you're not going to skid across the pavement. The same can be said for boots. They're designed to be worn over your pants and will most often provide protection for your ankle and shin. All of these things are a little different than your street gear, and having the right off-road gear matters.
So, with that in mind, let's take a look at full sets of gear at three different price points. Without further ado, let's dive in.
Entry-Level Gear for Off-Road Riding
The gear showcased here may be the bottom in terms of price for what you can spend on off-road gear, but it's far from being of low quality. You'll find Fly Racing and O'Neal gear fits into this category often. Both brands have been putting out the good stuff, and below you'll find some of my top picks.
Helmets
Fox Racing Dirt Kinetic Thrive Helmet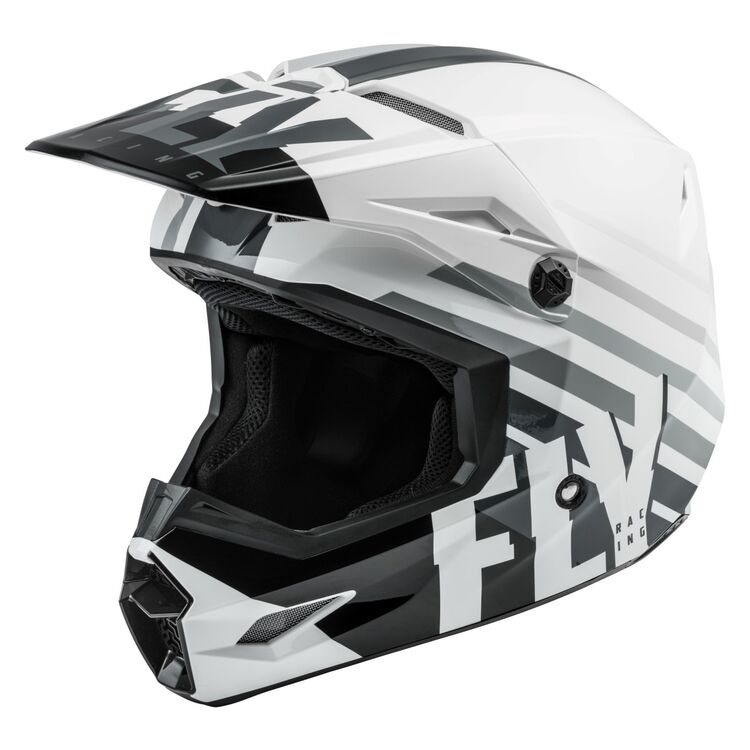 We'll kick things off with the Fly Racing kinetic Thrive Helmet. For not too much over $100 you get a lightweight polymer shell construction, dual-density EPS foam, multiple intake and exhaust vents that keep your head cool while riding even in hot weather, a comfort liner that's also designed for superb airflow, and a nose guard. The interior liner is removable for washing and the helmet is DOT approved.
Shift Whit3 Label Helmet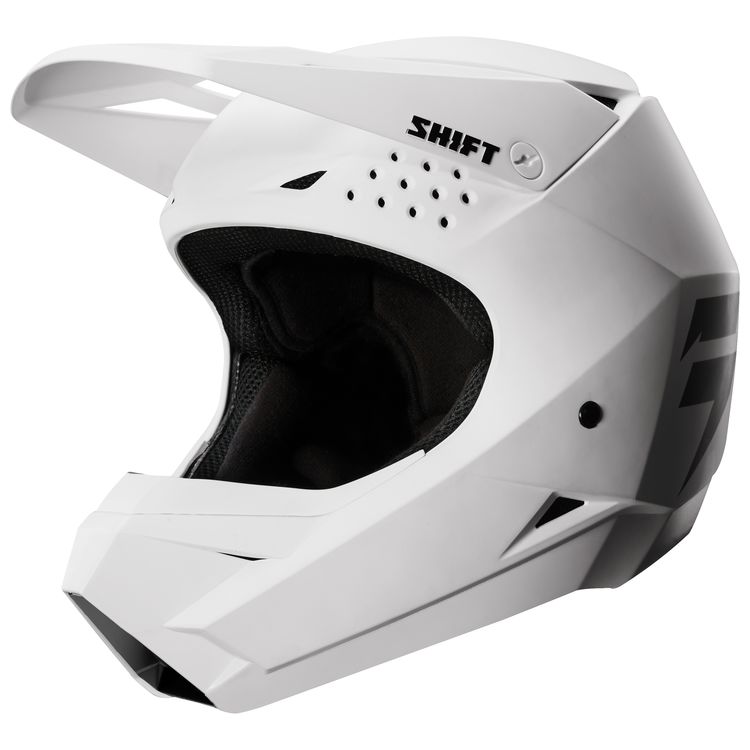 The Shift Whit3 Label Helmet is another good off-road helmet for the person who's shopping on a budget. While it's a bit more than the Fly Racing lid, the Shift one is worth it. The helmet provides some of the best airflow at this price point and features an injection-molded ABS/PC shell, a dual-density EPS layer, D-ring chinstrap closure, a removable and washable interior, and DOT approval.
Goggles
Biltwell Moto 2.0 Goggles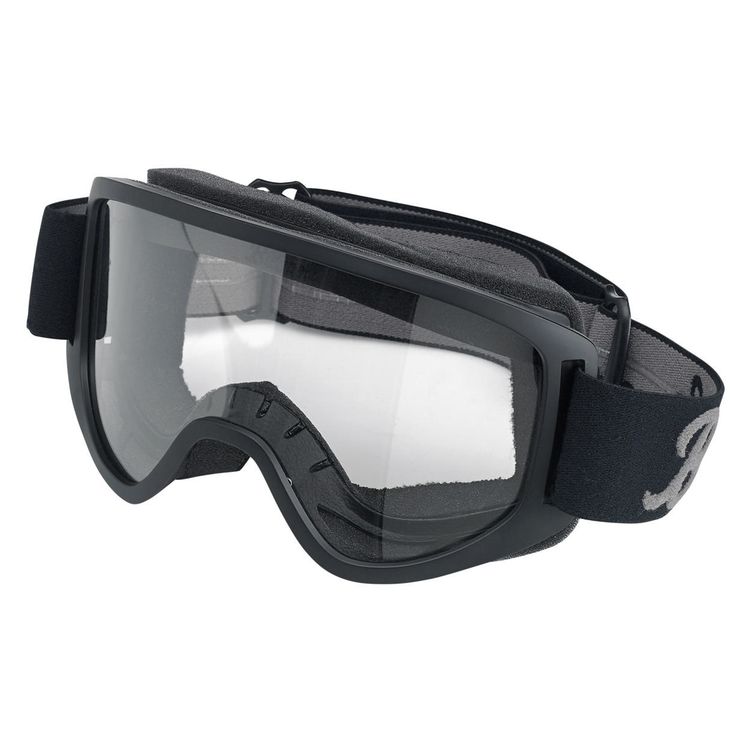 Biltwell's Moto 2.0 Goggles are a must-own. They're top-quality goggles for the price. They feature an impact-resistant clear anti-fog polycarbonate lens, injection-molded frame, comfy two-stage foam with fleece outer layer, and a woven heavy-duty strap that's adjustable. The lens in these is removable so you can easily clean it.
Moose Racing Qualifier Agroid Goggles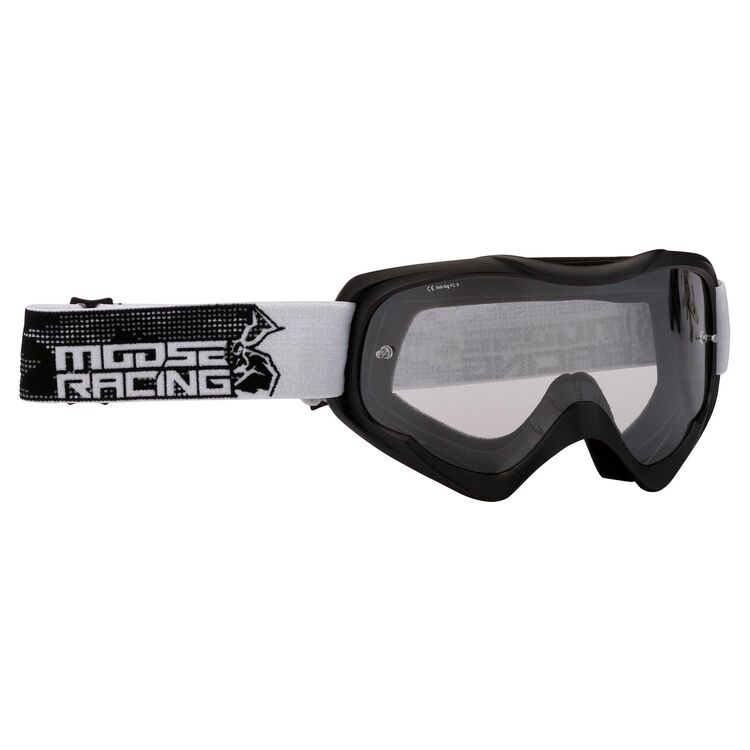 The Fox Racing Main II Race Goggles are another great pair of goggles. These goggles offer a best-in-class viewport, a variable lens system (complete with a Lexan lens for excellent UV protection), triple-layer face foam with a fleece liner, non-slip silicone strap, and a microfiber goggle bag included. The goggles also feature an additional lens.
Protection
Troy Lee 7850 Hot Weather Armored Short Sleeve Shirt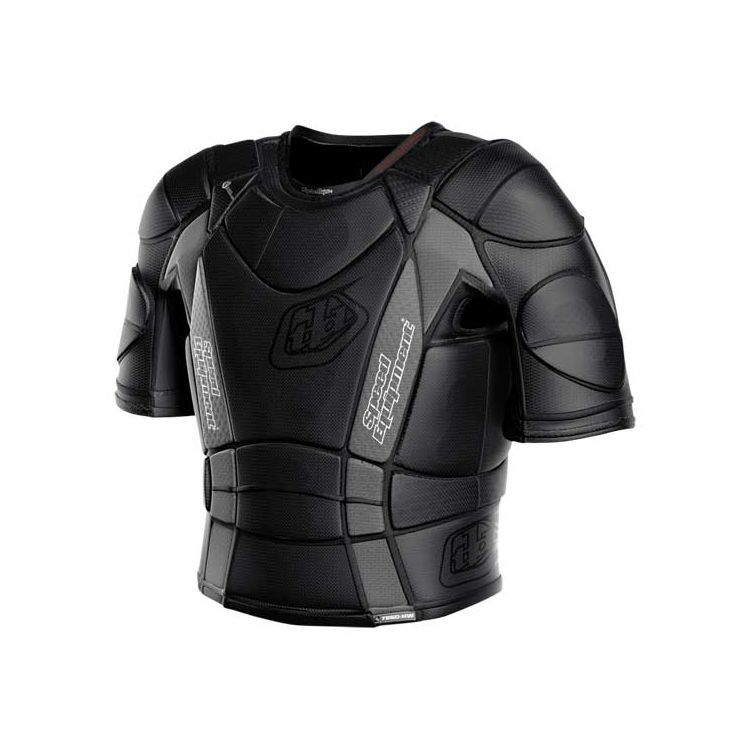 On the lower end of the spectrum when it comes to protection, you'll be hard-pressed to do better than the Troy Lee 7850 Hot Weather Armored Short Sleeve Shirt. This shirt was designed for hot weather and features Shock Doctor technology, neck brace compatibility (not included), articulated foam, Vent-trak air channels, Hex mesh impact protection, and open armpit design so you don't get too hot and can move easily.
Leatt Roost Tee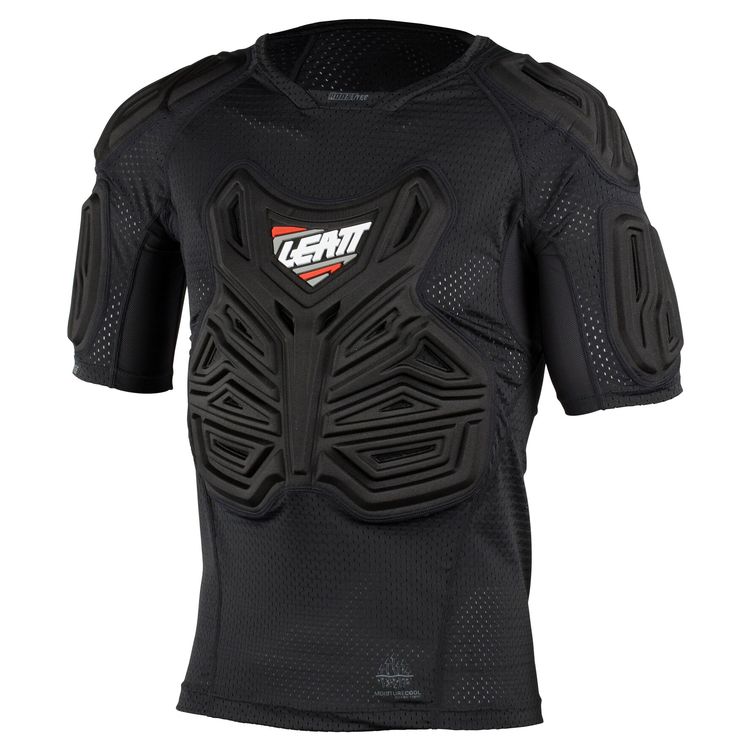 Some riders will say the Roost tee from Leatt isn't enough protection, and I do have to admit this is on the softer side when it comes to motorcycle protection. It can also be used by mountain bikers, so it's not going to be as good as other options, but it's also a bargain for the price and does provide some protection from roost and other debris. You get shoulder padding, a chest pad, and a tight-fitting shirt. It's not the most protection you can buy but for its very reasonable price, you can't complain too much.
Jerseys
Fly Racing Dirt F-16 Jersey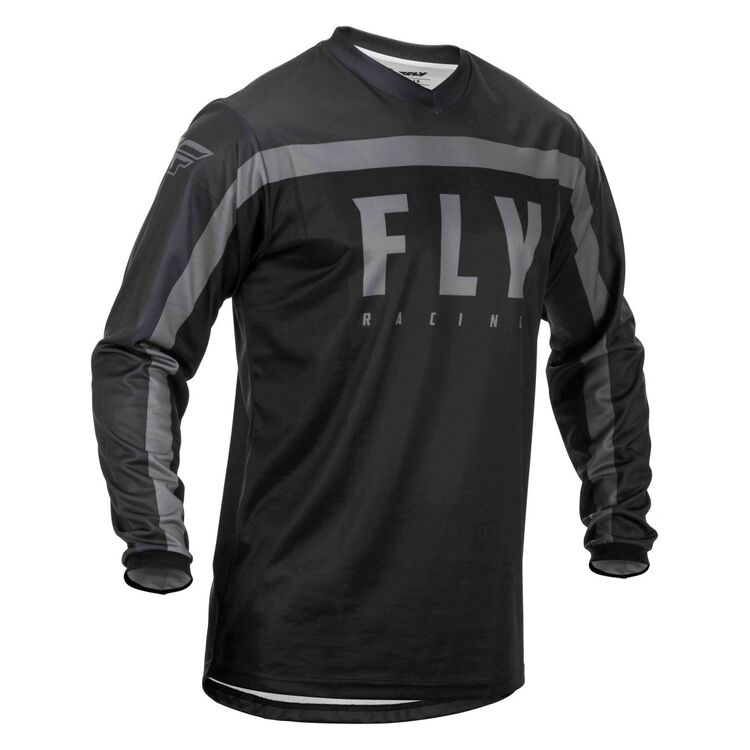 Your outer layer when dirt riding is all about airflow. This Fly Racing Dirt F-16 Jersey gives you everything you need. The shirt offers a polyester multi-panel construction, sublimated graphics, elastic cuffs, and a stretch collar. The goal here is comfort, and this jersey delivers on that
O'Neal Element Attack Jersey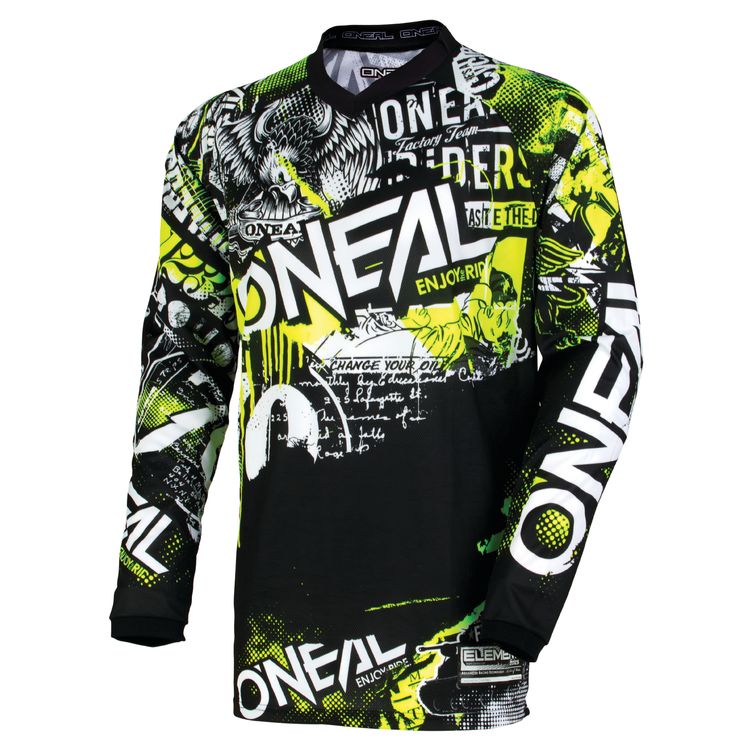 The O'Neal Element Attack Jersey is a great option for riders who want a quality jersey but don't want to spend an arm and a leg. This jersey features a bright and busy print. It has breathable and moisture-wicking material, sublimated graphics, an extended tail, sewn-in elbow padding, and a V-neck collar.
Pants
Fly Racing Dirt F-16 Pants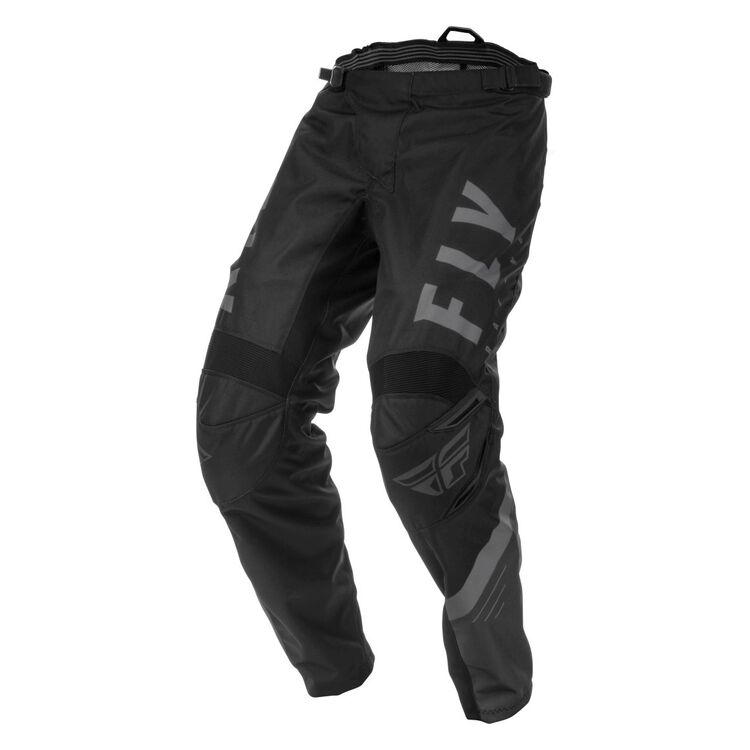 Want some pants to go with your jersey? Check out the Fly Racing Dirt F-16 Pants. These pants feature 600D construction, waist adjustment, Ratcheting Fly closure provides additional adjustment, YKK zippers, stretch material in key areas, a mesh comfort liner, thermoplastic rubber badges, pre-shaped knees for added comfort, extra 600D panels for protection inside the legs from hot engines and exhausts, and stretch leg cuffs.
O'Neal Element Racewear Pants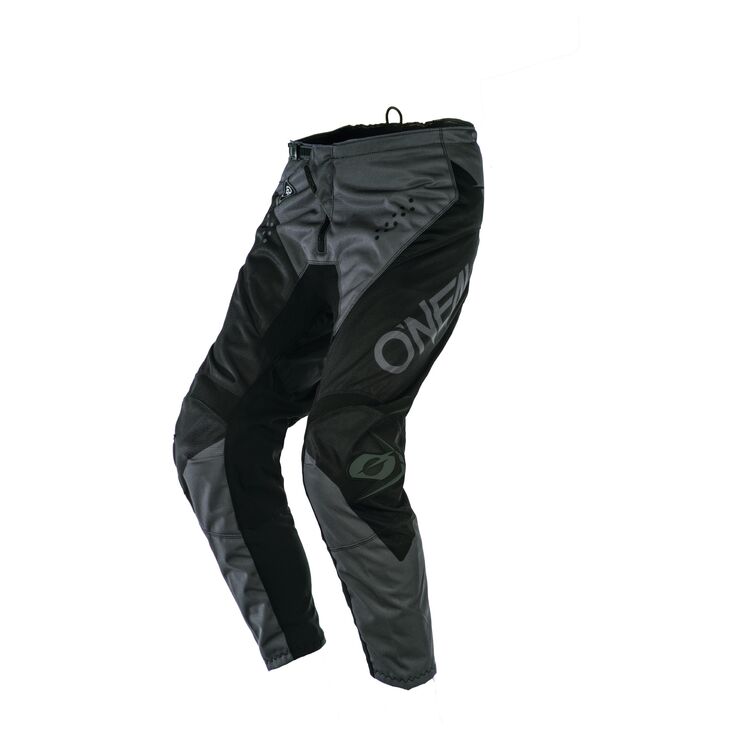 Another good pair of pants at this price point is the O'Neal Element Racewear Pants. These feature heavy-duty but breathable denier fabrics, wear-resistant panels in key areas, stretch panels for maneuverability, a full lining, and removable internal EVA foam hip protectors. There are also lighter weight panels designed for airflow next to the reinforced ones.
Boots
Fly Racing Dirt Maverik Boots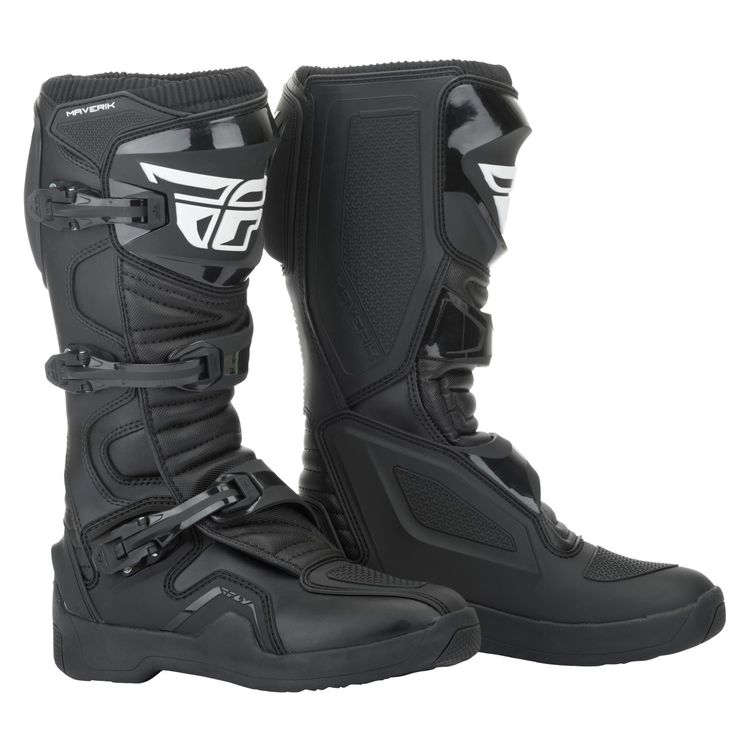 We'll stick with Fly Racing for the boots, too. The company has some really nice Maverik Boots. These off-road boots offer leather and polyester construction. There's a 3D plastic shift panel, pre-shaped molded plastic 3D shin protector, high-grip rubber soles, articulated rear ankle, single-piece plastic injected fishbone midsole, flexible plastic in the inner ankle, and an adjustable quick-lock 3 buckle closure system. These boots are also CE certified.
O'Neal Rider Boots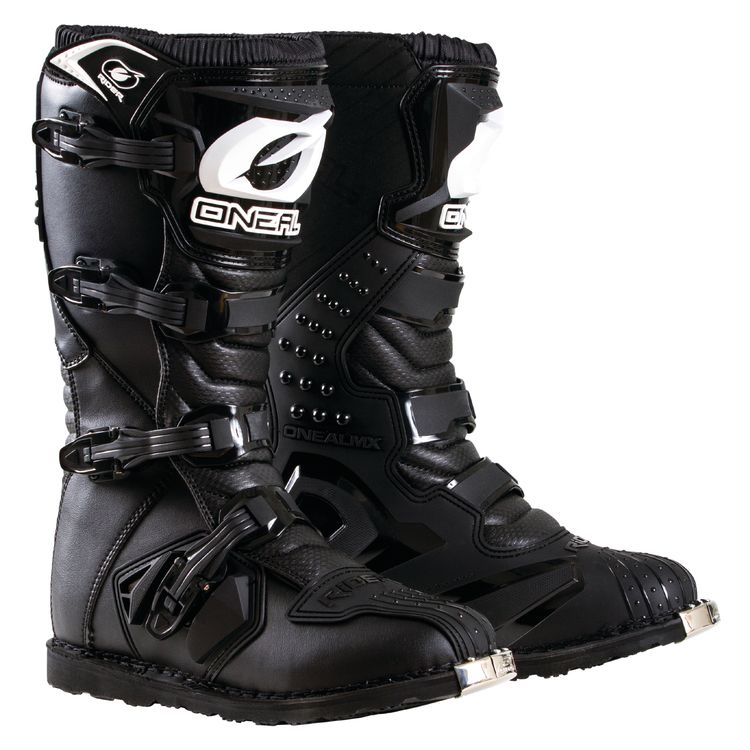 If you're looking for a different pair of boots than the Fly Racing ones, check out these O'Neal Rider Boots. The boots feature Injection molded plastic plates for protection, a metal shank for reinforcement, a Snap-Lock adjustable four buckle closure system, a Durable Goodyear welt sole, metal toe guard to protect the sole, mesh interior, generous heel support, and a cushioned insole.
Gloves
Shift Whit3 Label Air Gloves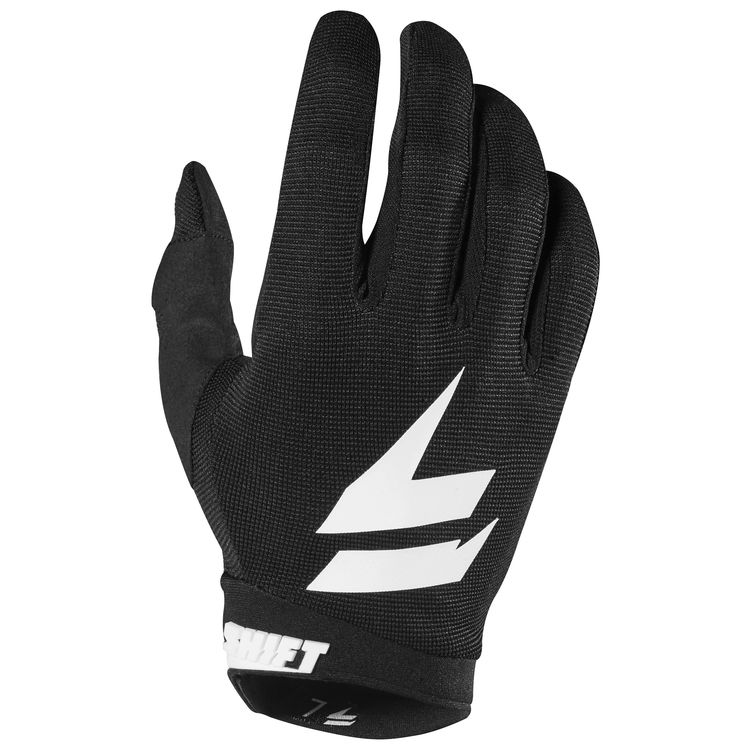 Fly Racing Dirt F-16 Gloves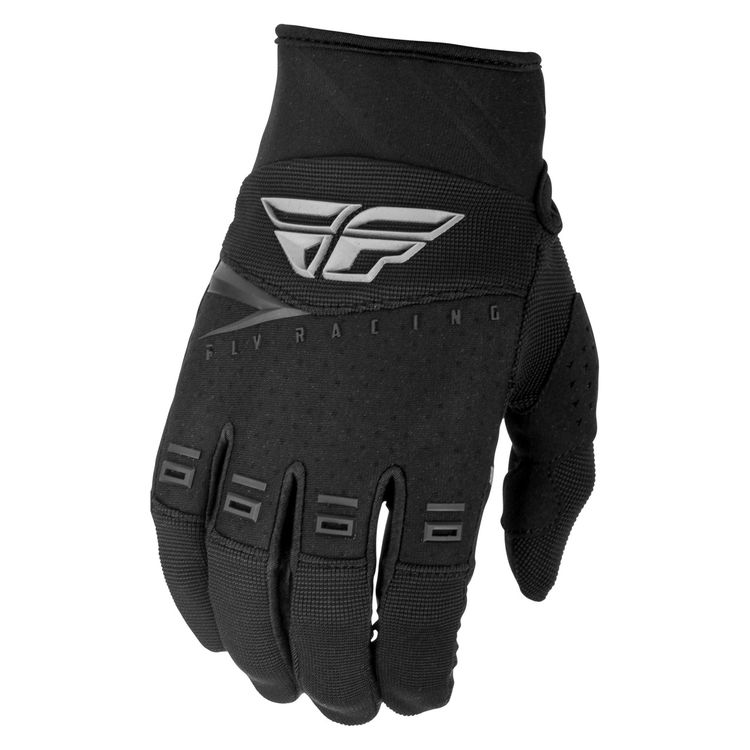 The Fly Racing Dirt F-16 Gloves are a minimalist approach to off-road moto gloves that are built to last. These gloves are simple but effective. They feature stretch perforated neoprene cuff and top-hand, Soft-flex protection, a lightly padded palm with a reinforced thumb, silicone finger grippers, and an adjustable wrist closure system.
Mid-Range Off-Road Motorcycle Gear
Step up the pricing ladder and you'll find more gear with better features and longer-lasting construction. While it will essentially do the same thing, it will do it better. You get higher levels of protection and higher levels of comfort. Brands you'll find here include Bell, Fox Racing, and Alpinestars. Below are my picks for a full ATGATT setup.
Helmets
Bell MX-9 MIPS Helmet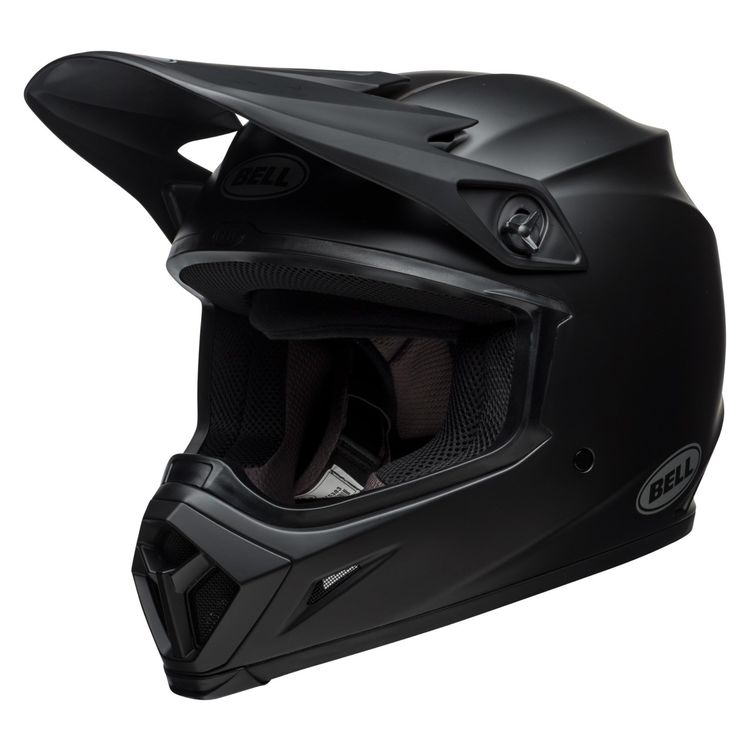 The Bell MX-9 MIPS helmet is one of the best out there for the price. This helmet features the special Multi-Directional Impact Protection System, a polycarbonate shell that comes in three sizes, a high-flow ventilation system, a removable and washable liner that's also moisture-wicking, an EPS-lined chin bar, a vented roost guard, five-year warranty, and DOT and ECE certification.
Fox Racing V1 Matte Helmet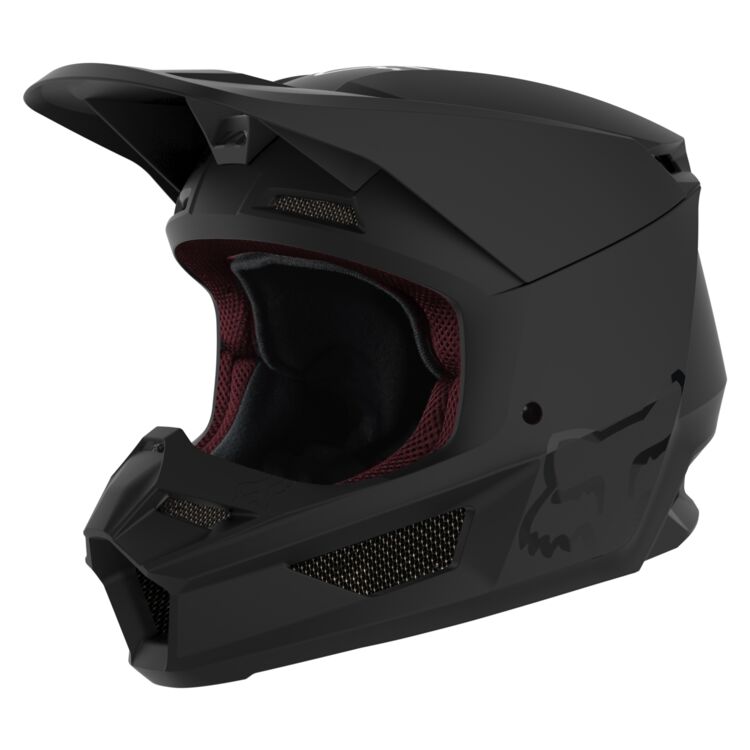 Are you looking for another good helmet at this price point? Check out the Fox Racing V1 Helmet. This helmet features an injection-molded polycarbonate shell, a magnetic visor release system, four different shell sizes and four different EPS sizes, plenty of intake and exhaust vents for moving air, and DOT and ECE certification.
Goggles
100% Racecraft Goggles – Mirrored Lens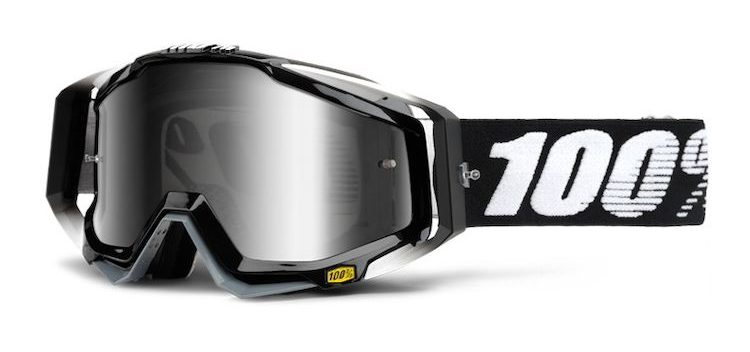 The 100% Racecraft goggles – Mirrored Lens are a premium pair of goggles, but they're still reasonably affordable. The frame of the goggles features a unique co-molding technology. The goggles also feature air intakes to keep them from fogging, a removable nose guard, triple layer moisture managing foam, Lexan lens that's anti-fogging, and a 45 mm Silicon coated strap. These are nice goggles.
Biltwell Overland 2.0 Goggles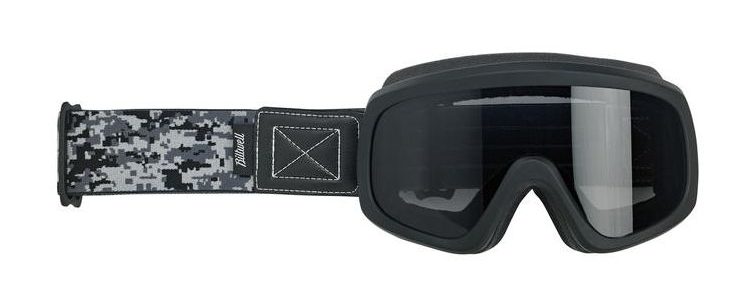 The Biltwell Overland 2.0 Goggles are all the substance without any of the BS. These goggles provide excellent performance in a slimmed-down design. They offer a molded polyurethane frame, Silicone pads on goggle strap for grip, laminated two-phase open-cell foam padding around eye port, laser CNC cut lens from impact-resistant polycarbonate plastic, and a woven elastic strap
Protection
Fox Racing Titan Sport Jacket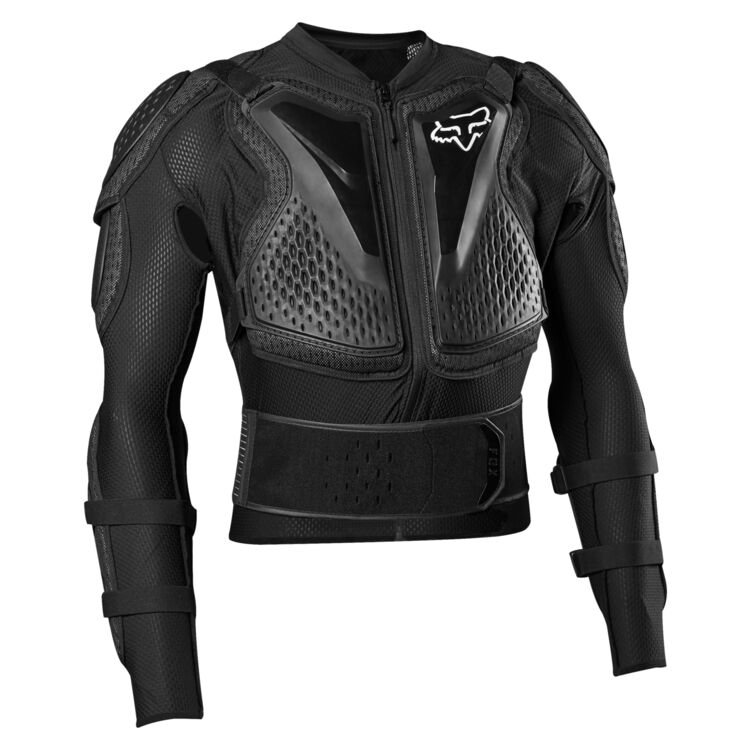 The Fox Racing Titan Sport Jacket is a good option for someone who wants full coverage. This jacket features ventilated and articulated polymer construction, moisture-wicking and breathable stretch-fabric, a removable back protector can be worn separately, high impact two piece plastic chest plate, high-impact-plastic shoulder and elbow coverage, and a central zipper. The armor is all CE level 1 certified.
Alpinestars Bionic Action Jacket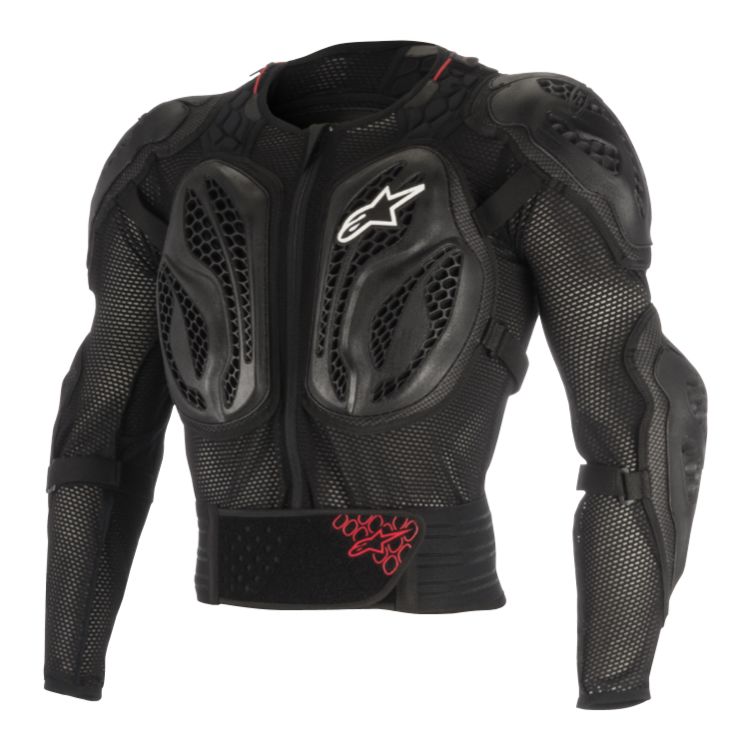 The Alpinestars Bionic Tech Jacket is a fantastic example of what armor can be. The jacket features chest, shoulder, back, and elbow protectors that are CE certified. All of the shells are perforated for airflow, and there's plenty of adjustment so you can position the protectors right where they need to be. These protectors are attached to a light and breathable fabric. There's also an adjustable kidney belt, too.
Jerseys
Fly Racing Dirt Kinetic Mesh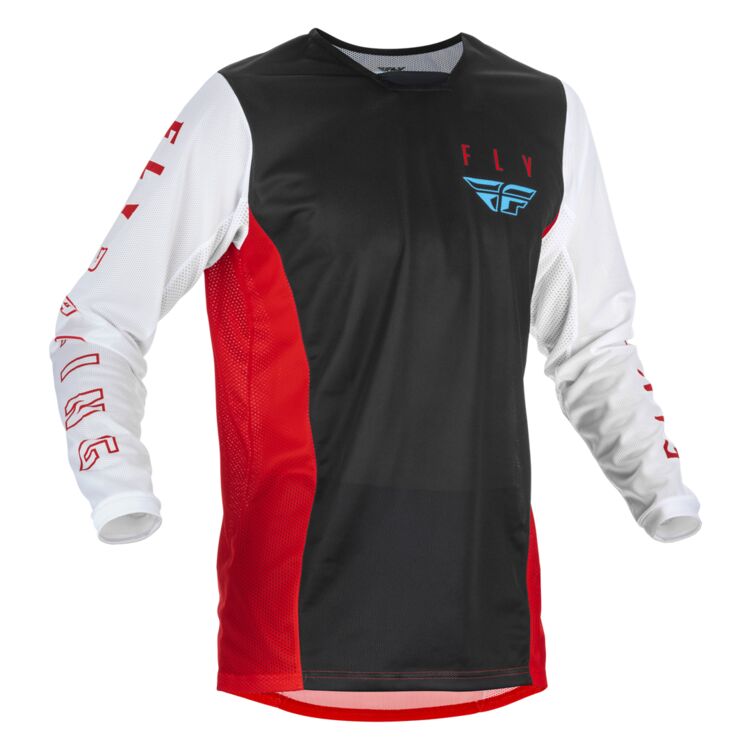 The Fly Racing Dirt Kinetic Mesh is a great jersey to own at this price point. Built to last, this jersey allows air to flow freely around and through the rider while filtering out dust and dirt, vented side panels for airflow, an asymmetrical mesh collar, polyester cuffs, and a drop tail to keep your jersey tucked inside your pants.
Klim XC Lite Jersey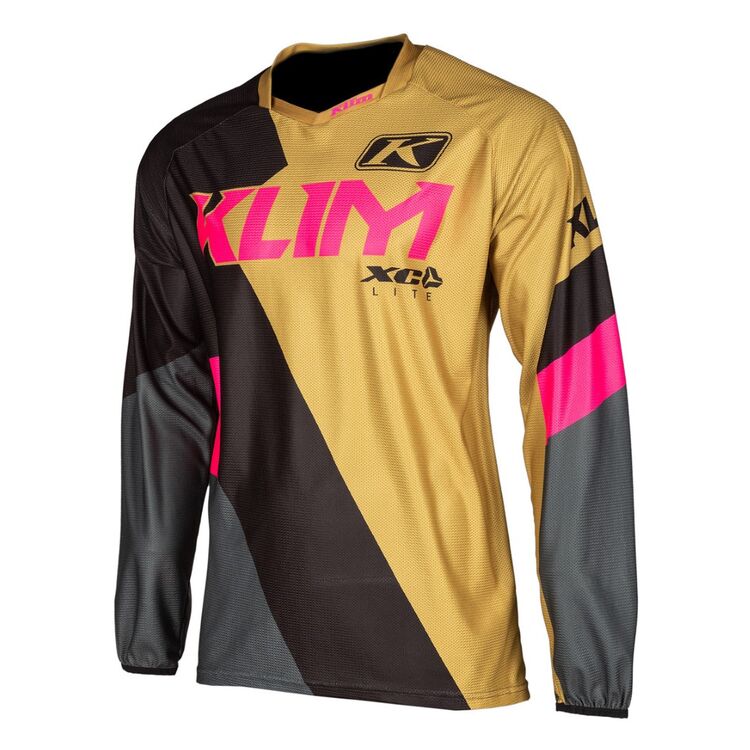 Made of a breathable but highly durable material, the Klim Dakar Jersey is another great jersey for you to wear. It fits over elbow cups or low profile padding, has a drop tail with silicone print to help keep jersey tucked in, and has raglan design sleeve seams for non-restrictive full range of motion.
Company Website
Relevant Review
Pants
Fly Racing Dirt Lite Hydrogen Pants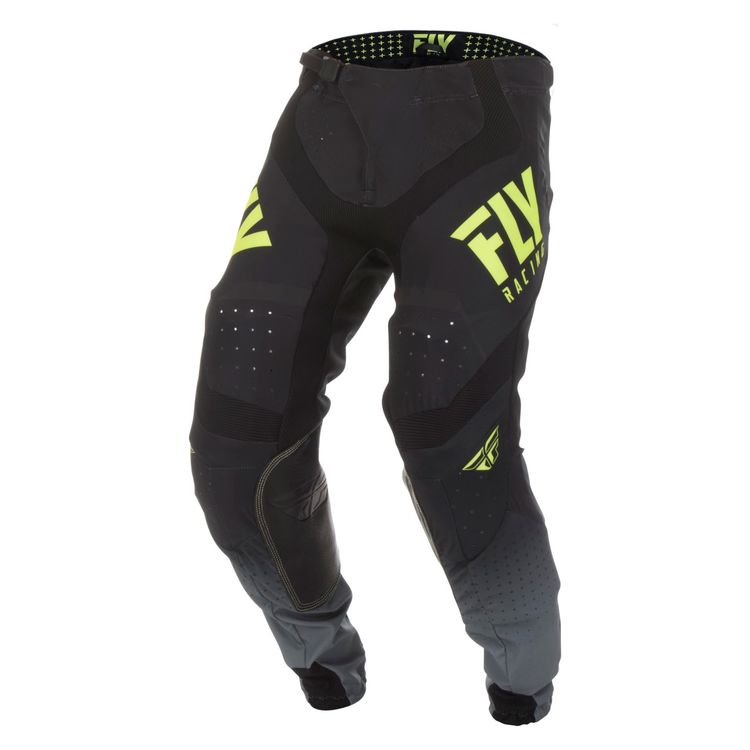 While not matching the jersey above, these Fly Racing Dirt Lite Hydrogen Pants offer up quite a lot in terms of what you need in good off-road riding pants. You're looking at pants with the patented Boa closure system, laser-cut perforations in key areas, and stretch panels in the knees, seat, and inseam. You're also getting mesh panels on the back of the knees and shins. There's leather heat shielding with Kevlar stitching, too. Add to all that pre-shaped knees and a zipper-lock system and you have a killer pair of riding pants.
Klim XC Lite Pants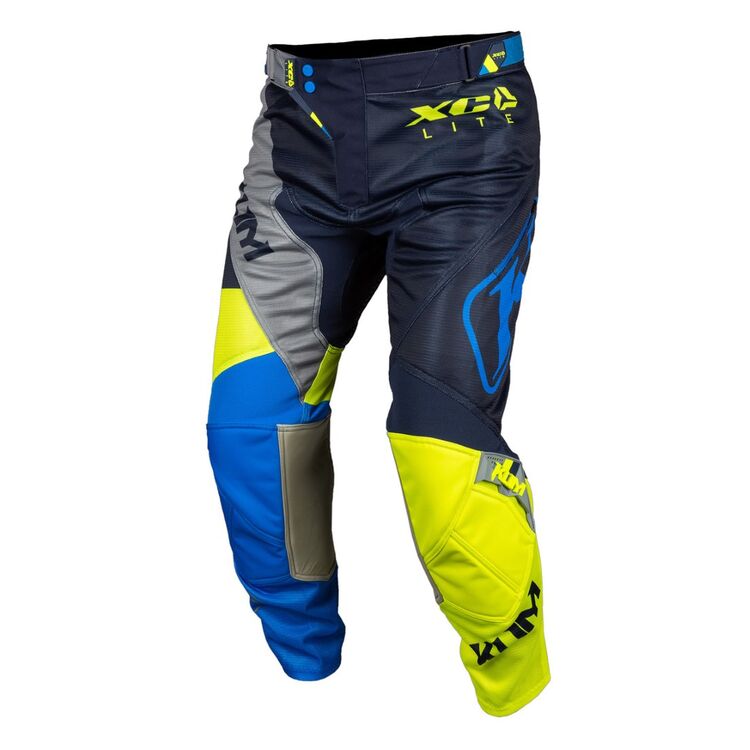 The Klim XC Lite Pants are another good option, and will match the other jersey I recommended. These pants feature a mesh main body, leather at inside of knees for grip and protection, moisture wicking mesh liner, waist adjustment, and an anchored liner at knee area that's designed to reduce bunching.
Boots
Alpinestars Tech 3 Boots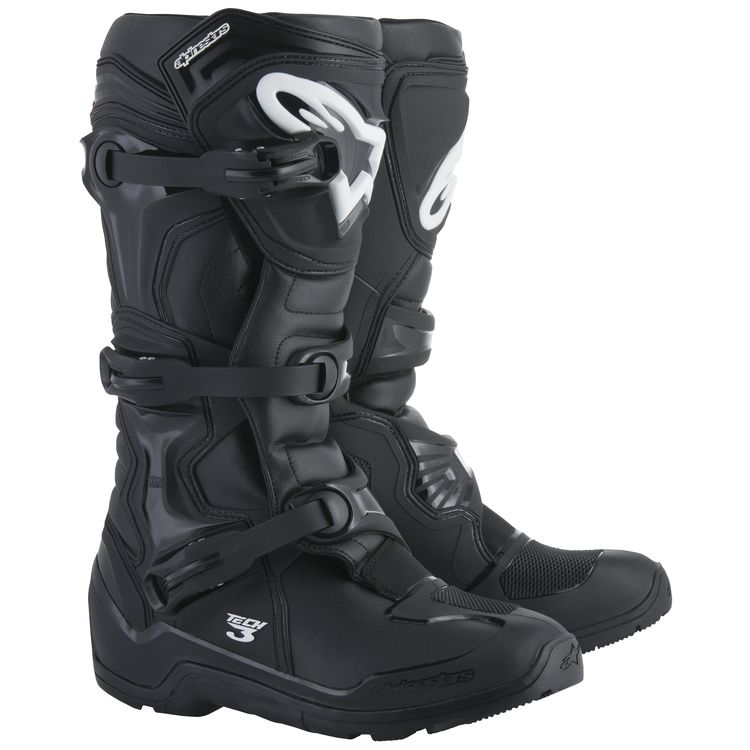 When it comes to dirt bike boots for the intermediate price point, the Alpinestars Tech 3 boots deliver. These feature a microfiber material upper construction, synthetic toe box, PU synthetic gaiter, and TPU protectors for the calf, medial, outer lateral ankle, and heel. There's also a TPU calf protector and a TPU shin protector. The triple buckle system is good for adjusting and securing the boots to your feet, and the one-piece TPU foot shell reinforced by the steel shank provides excellent protection. Add to all that high levels of comfort and a replaceable rubber sole and you have a great pair of boots for a reasonable price.
TCX X-Helium Michelin Boots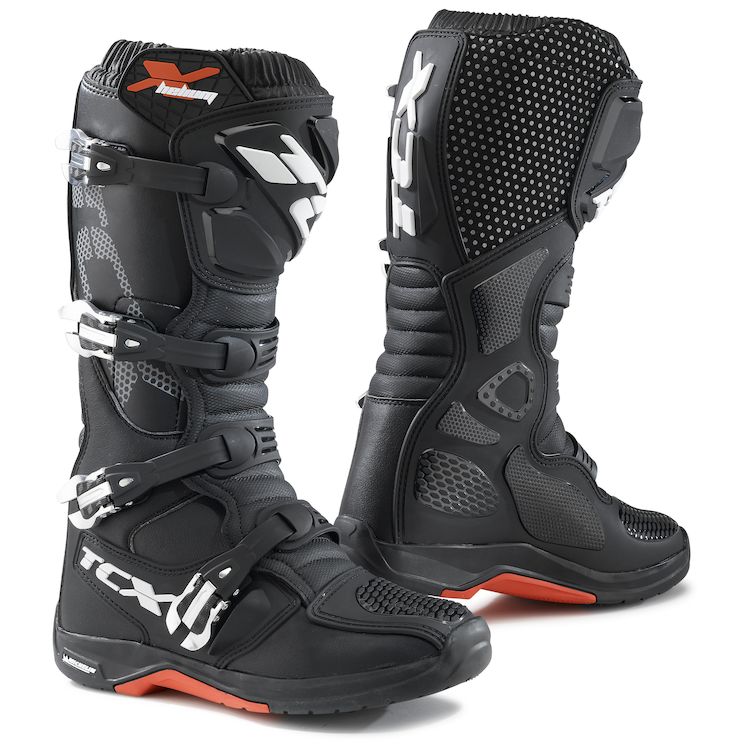 The TCX X-Helium Michelin Boots are a killer pair of boots for a reasonable price. The boots feature Michelin Hybrid MX sole, a PU internal plate, aluminum buckles, microfiber upper, padded front and ankle areas, Air Tech breathable lining, interior microfiber heat guard, shin plate, steel toe cap, and PU reinforcements. The boots are also CE certified.
Gloves
Alpinestars Megawatt Gloves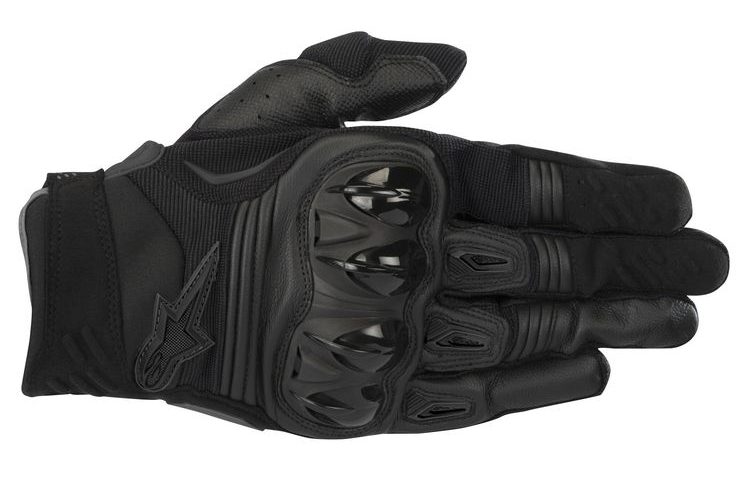 Alpinestars Megawatt Gloves are a very nice pair of gloves. They're made of perforated leather and feature durable synthetic suede on the palm and thumb. There's also polymer hard-knuckle protection and foam padding for added protection. The fingers are pre-curved for comfort, and the silicon on the fingertips provides extra grip. There's a Velcro strap at the wrist, too. You won't find better protection in a glove designed for the dirt at this price.
Fox Racing Bomber Gloves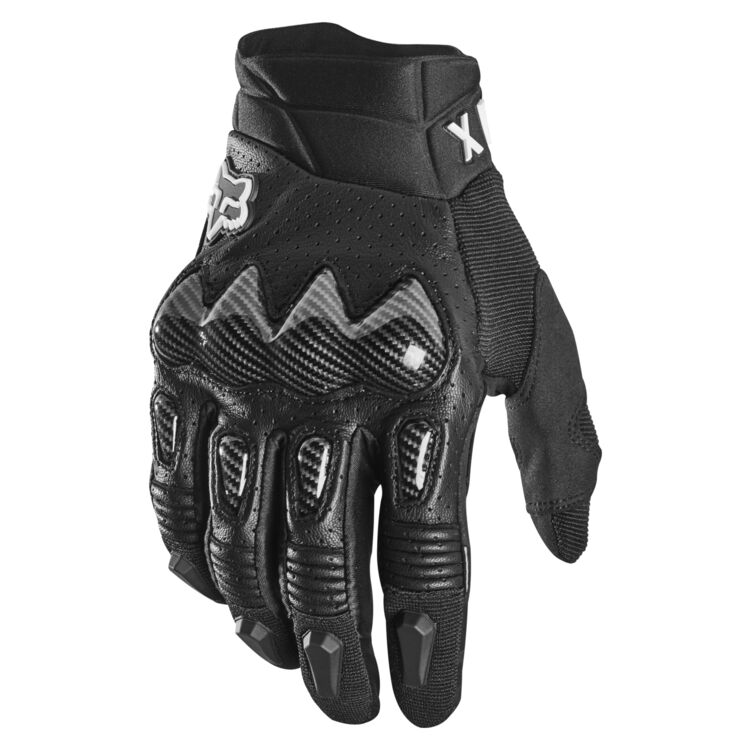 The Fox Racing Bomber Gloves are another good option. These gloves feature a main construction of nylon and polyester, polycarbonate knuckle pieces, Pittards perforated leather, finger gusset material, flexible rubber logo with venting, silicone rubber for grip on the fingers, neoprene cuff knuckle, and a Clarino reinforced thumb and palm.
High-End Off-Road Motorcycle Gear
Now we're to the high-end gear. Here you'll see the absolute best features and quality. The gear should last long periods of time and provide you with the best experience overall. You'll see gear from well-known and respected brands here. Brands like Alpinestars, Leatt, and Klim. If you look below, you'll see all of my top picks from this price point.
Helmets
Alpinestars Supertech S-M10 Carbon Helmet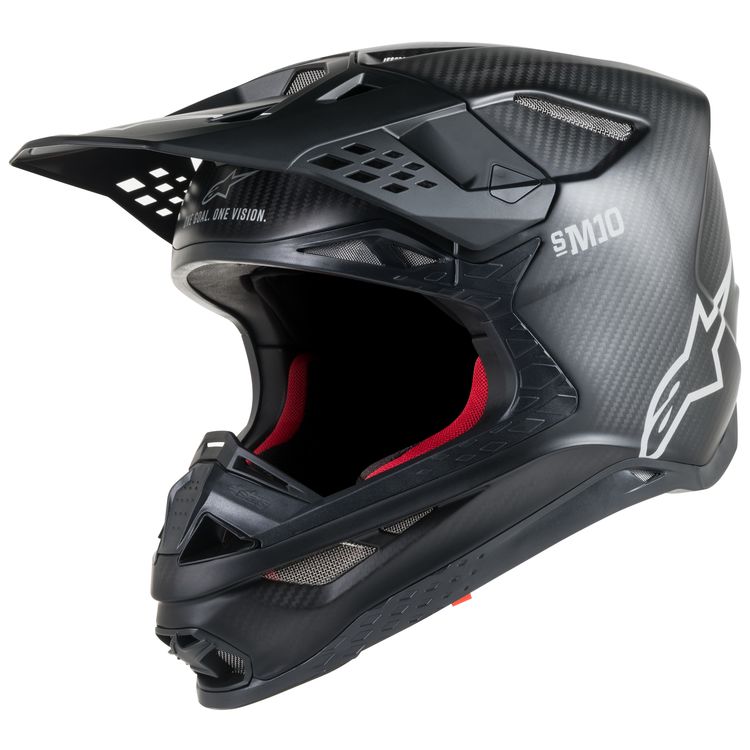 Here's the helmet you truly want to own. The Alpinestars Supertech S-M10 Carbon Helmet features a carbon fiber outer shell, four shell sizes, multi-density EPS foam, MIPS technology, easy-release peak, adjustable top-pad height, 19 intake vents and 5 exhaust ports, soft side foam to prevent damaged collarbones, and a fully removable comfort liner and interior. The helmet is also prepped for hydration and E-Ject. It's DOT and ECE rated.
Arai VX Pro 4 Pure Helmet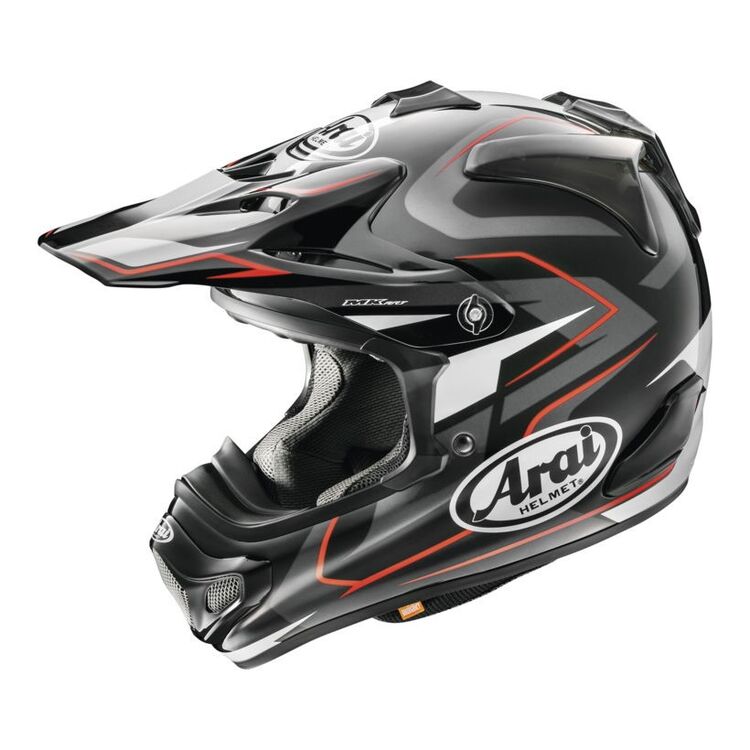 The Arai VX Pro 4 Pure Helmet is a top quality lid for you to have. The helmet features a complex Laminate construction, Arai's facial contour system, an advanced airflow system, Dry-Cool removable and washable liner, the helmet also has a peak that's been aerodynamically designed. This helmet is both DOT and Snell M2020 approved.
Goggles
100% Armega Goggles – HiPER Mirrored Lens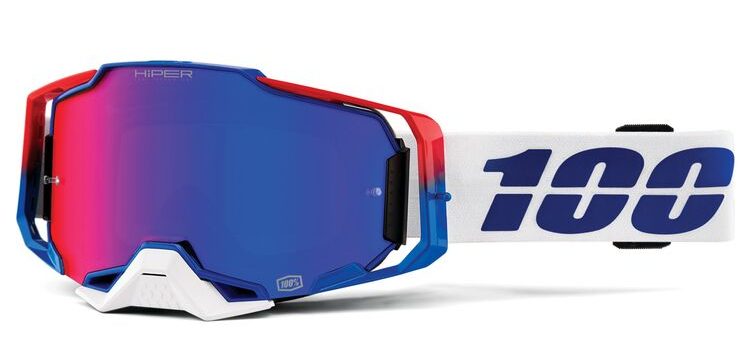 We've got another (more expensive) 100% brand goggles for you. These Armega Goggles feature the HiPER Mirrored ULTRA HD lens. That's what sets them apart from other goggles out there. Other than that, they have some good features, too, including a bonded dual-injection frame, air intakes, contouring compression seal, sweat management with a drainage system, triple-layer foam, a 48 mm silicon strap, and a removable nose guard.
509 Revolver Goggles

The 509 Revolver Goggles are typically used by snowmobile riders, but they're also pretty killer for dirt bike riders as well. These high-end goggles feature dual frame technology, two stage multi-position outriggers, premium anti-fog and anti-scratch coatings, pivot lens technology with rotational lens action, and a silicone lined premium strap.
Protection
Leatt 5.5 Body Protector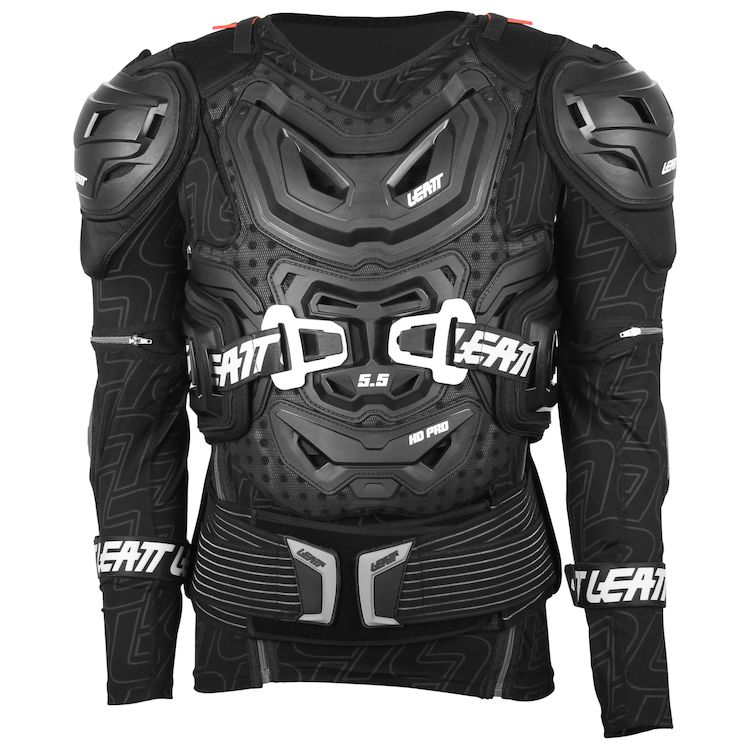 The Leatt 5.5 Body Protector is no joke. This piece of gear will protect you from all angles. There are a multi-layer and multi-plate articulating design with ventilation for airflow, MoistureCool wicking fabric, BraceOn neck brace fitting system, high-density polyethylene hardshell shield, and Leatt 3DF foam for impact absorption. The armor is CE certified level 2 in the back and shoulders and level 2 in the elbows.
Alpinestars Bionic Tech V2 Protection Jacket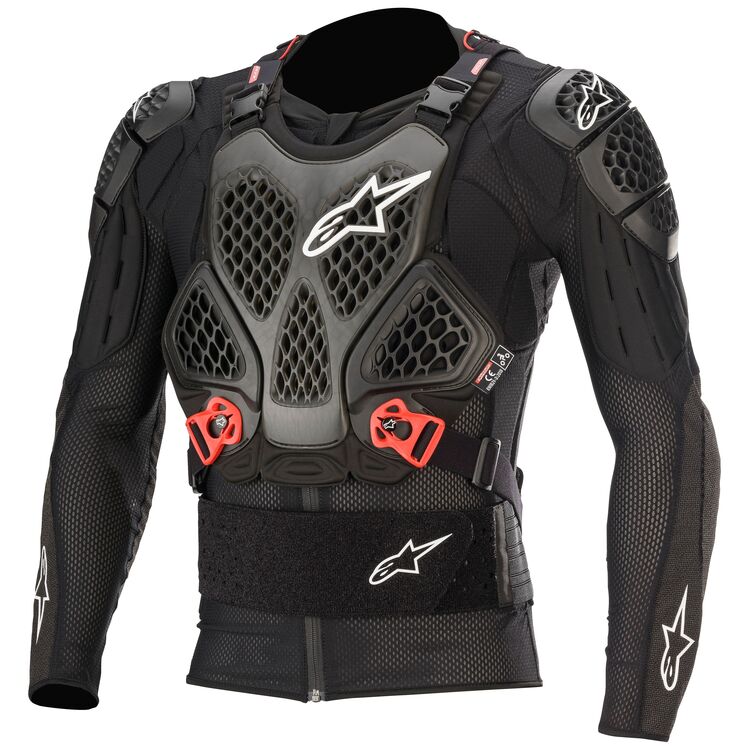 A step up from the other Alpinestars protection in this article, the Alpinestars Bionic Tech V2 Protection Jacket is no joke. It's also a little pricey, but worth it. The jacket features a slim stretchable fabric, highly ventilated chest protector that floats and flexes with the rider, a central front zipper, additional protection on the shoulders, elbows, and back. There's also some more padding on the arms along with abrasion resistant fabric. The kidney belt is height adjustable. This jacket can also be fitted with a Bionic Hydration Pack (sold separately).
Jerseys
Klim Mojave Jersey
Klim makes some of the best gear out there, and the Klim Mojave Jersey is something that you should check out if you're shopping at the higher end of the market. The jersey features a fully ventilated lightweight mesh construction, open cuff design, non-restrictive collar, breathable fabric on the sleeve, drop tail for fighting into pants, and a fit to fit over low-profile padding and protection.
Leatt MTB Jersey 5.0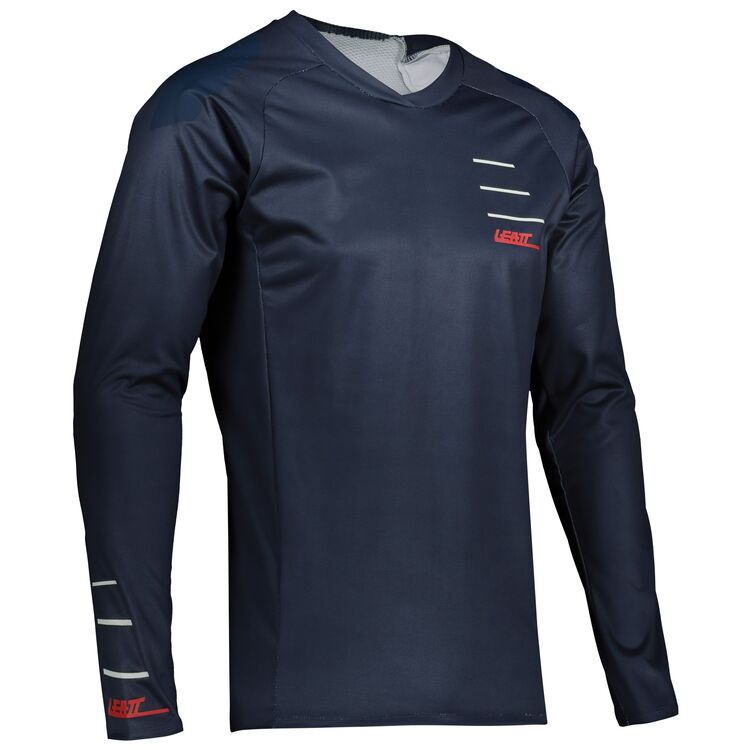 The Leatt MTB Jersey 5.0 is a premium quality off-roading jersey designed for those living in slightly cooler areas. It features windblock fabric along the front of the torso and arms, with a ventilated rear panel to regulate body temperature. Brush guards on the elbows help prevent nasty branch scrapes on your skin. It also features high grip shoulder areas to keep a backpack or hydration pack solidly on your back.
Pants
Klim Dakar In The Boot Pants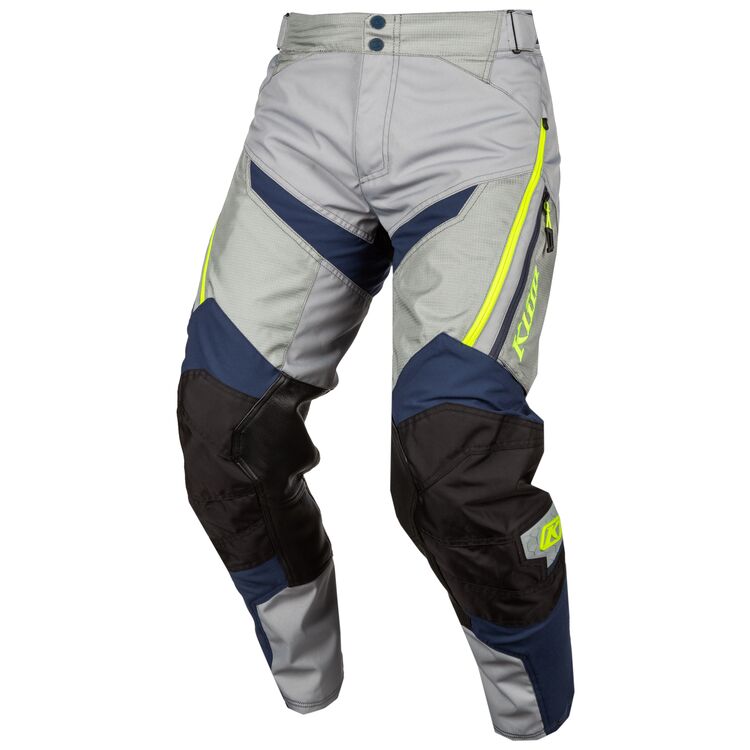 If you're looking for some good pants to go with your Klim Dakar Jersey, then check out the Klim Dakar In The Boot Pants. These off-road pants feature breathable woven stretch fabric, a durable mesh chassis, 840D Cordura material on the seat and knees, heat-resistant leather inside the legs, a mesh upper liner, and zippered cargo pockets.
Shift 3lue Label Flame Pants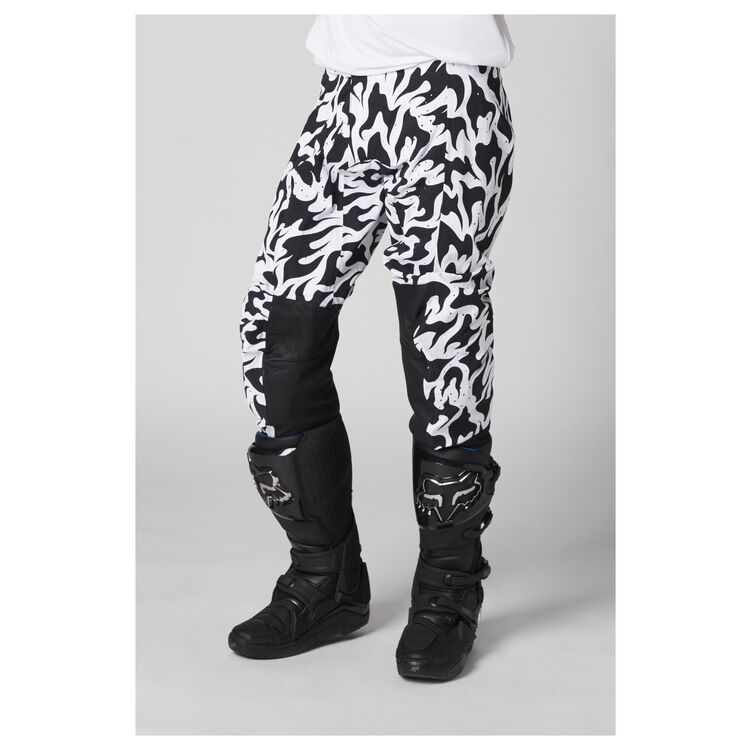 The Shift 3lue Label Flame Pants are a great option in the high end price point. These pants feature 840D Cordura stretch nylon construction, streamlined athletic fit, an extremely lightweight and breathable perforated nylon and elastane lower leg, and some full-grain drum dyed leather inside the knees. There's also a silicone waistband lining, an asymmetrical zipper closure, and a premium 3D silicone logo treatment.
Boots
Alpinestars Tech 7 Boots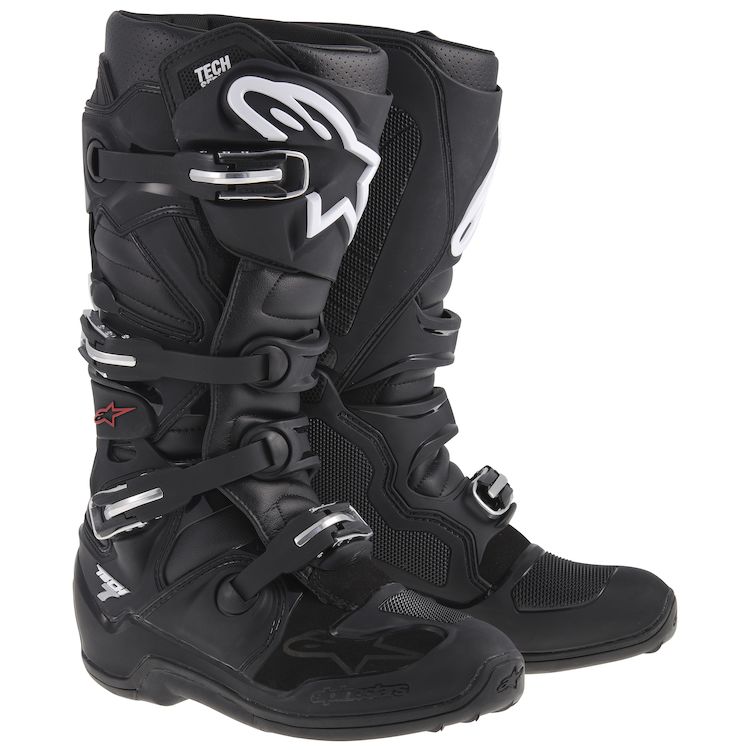 The Alpinestars Tech 7 Boots feature a microfiber upper construction, an aluminum buckle system, TPU lateral ankle protection, instep and Achilles accordion flex zones, TPU lower shell, metal shank, tie reinforcement, a microfiber gaiter, breathable 3D mesh liner, poly-foam around the ankles and collar, and a removable anatomic footbed, and a high-grip rubber outer sole. The boots were also CE certified.
Fox Racing Instinct Boots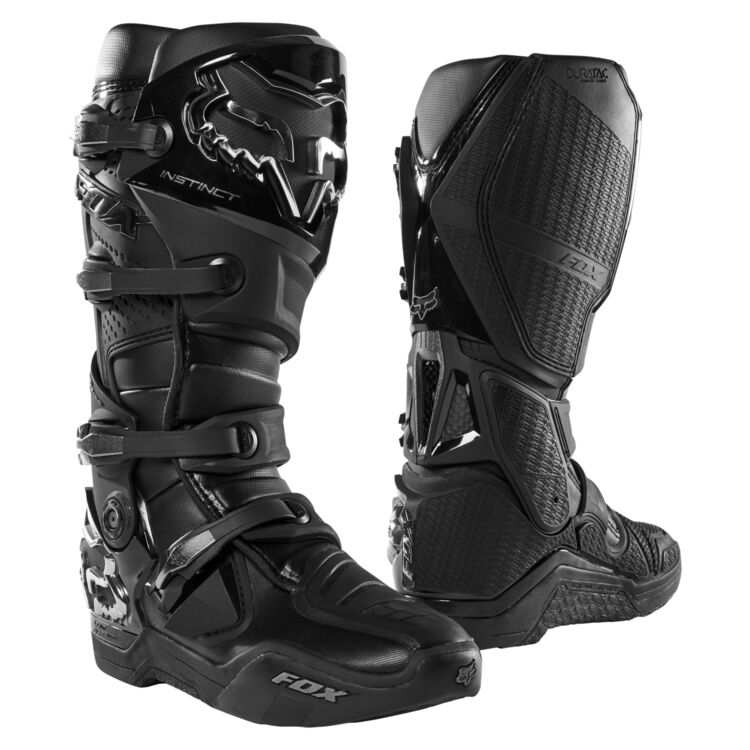 The Instinct boots from Fox are a prime example of what a premium off-road boot should look like. It's a top-shelf product but it comes with a number of exciting features that warrant the higher price tag. Not only is it made from the best materials available, it also features an innovated Hinge Lockout System that keeps your joints completely protected. If these boots are good enough for Ryan Dungey and Ricky Carmichael, they should be good enough for the more casual rider too.
Gloves
Klim Baja S4 Gloves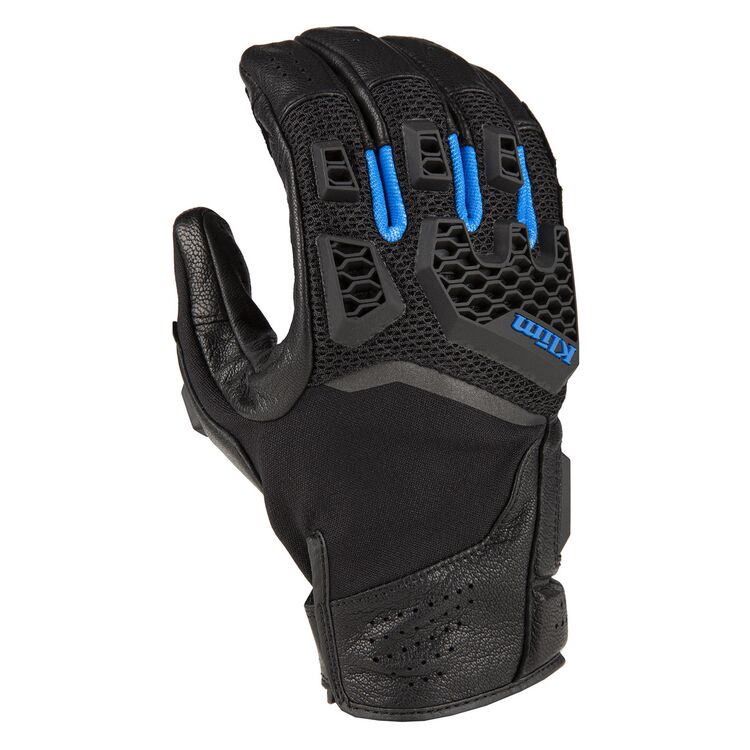 Last, but certainly not least, we have the Klim Baja S4 gloves. These gloves are top-quality. They feature perforated leather on the palm and fingers, Karbonite Micromesh 500D Cordura material for the chassis of the gloves, TPU knuckle armor, thumb and palm impact inserts, carbon black reflective detailing, leather pinky overlay, Velcro wrist closure, a face shield wiper, touchscreen-friendly fingertips, and hook-and-loop closure.
Fox Racing Forge CW Glove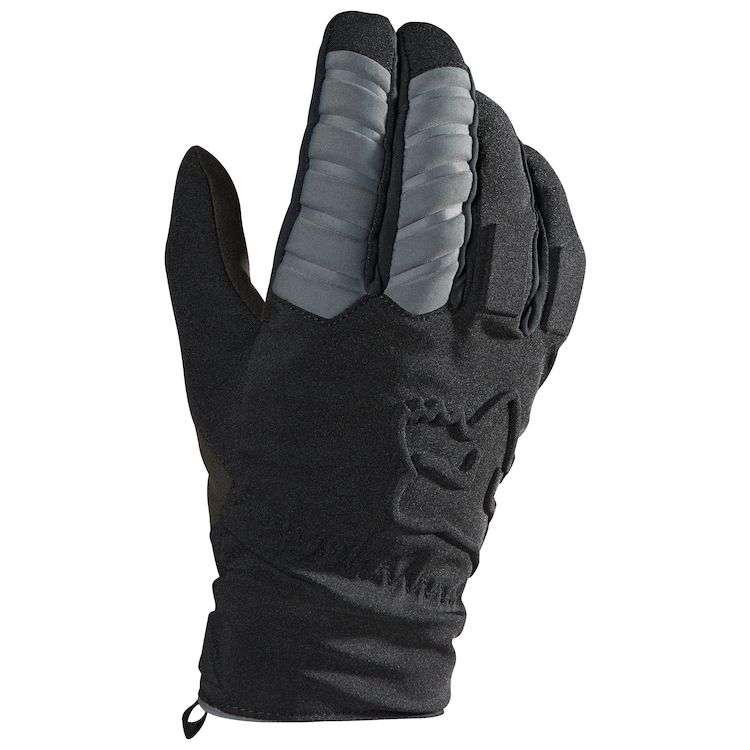 The Knox Orsa Textile MX2 Gloves feature a whole hell of a lot. The gloves are the top of the line gloves from Knox. They offer honeycomb Gel over the knuckles, the unique BOA wrist closure system, patented low profile Knox Scaphoid Protection System on the palm, Seamless finger construction, single layer Clarino breathable performance palm, perforated Leather and Air Mesh upper, terry cloth thumb panel to use as a wipe, and silicone finger prints for improved grip.