The Breakdown
The EXO R1 Air is Scorpion's top of the line sport/track helmet. The R1 was designed for track use at the highest levels being worn by Fabio Quartararo in MotoGP and Alvaro Bautist in World Superbike. Priced from $399.00, this helmet brings a lot of top level helmet technology to this
Pros
3 shell sizes / AirFit system / Relatively quiet / Good lateral visibility
Cons
Decals/Graphics could be smoother / Interior vent control could be more tactile
Introduction
I still think of Scorpion helmets as a "new" manufacturer but as I did my research for this review I realized they have been around for quite a while now. In fact, it has been about 16 years since we reviewed their EXO 700 helmet (Dec, 2004) and we came away impressed.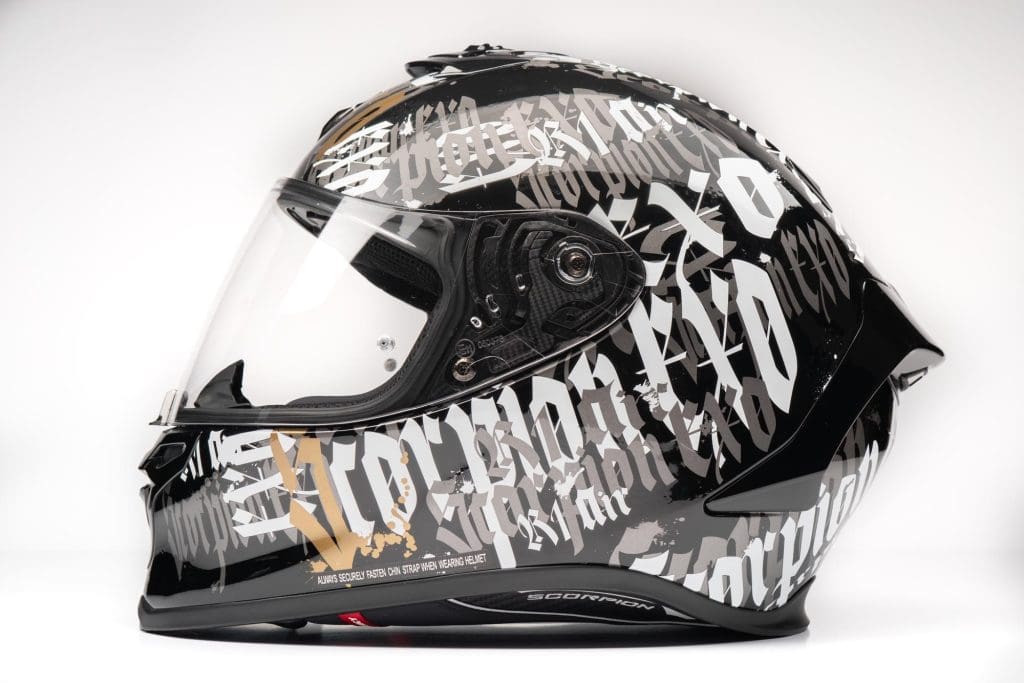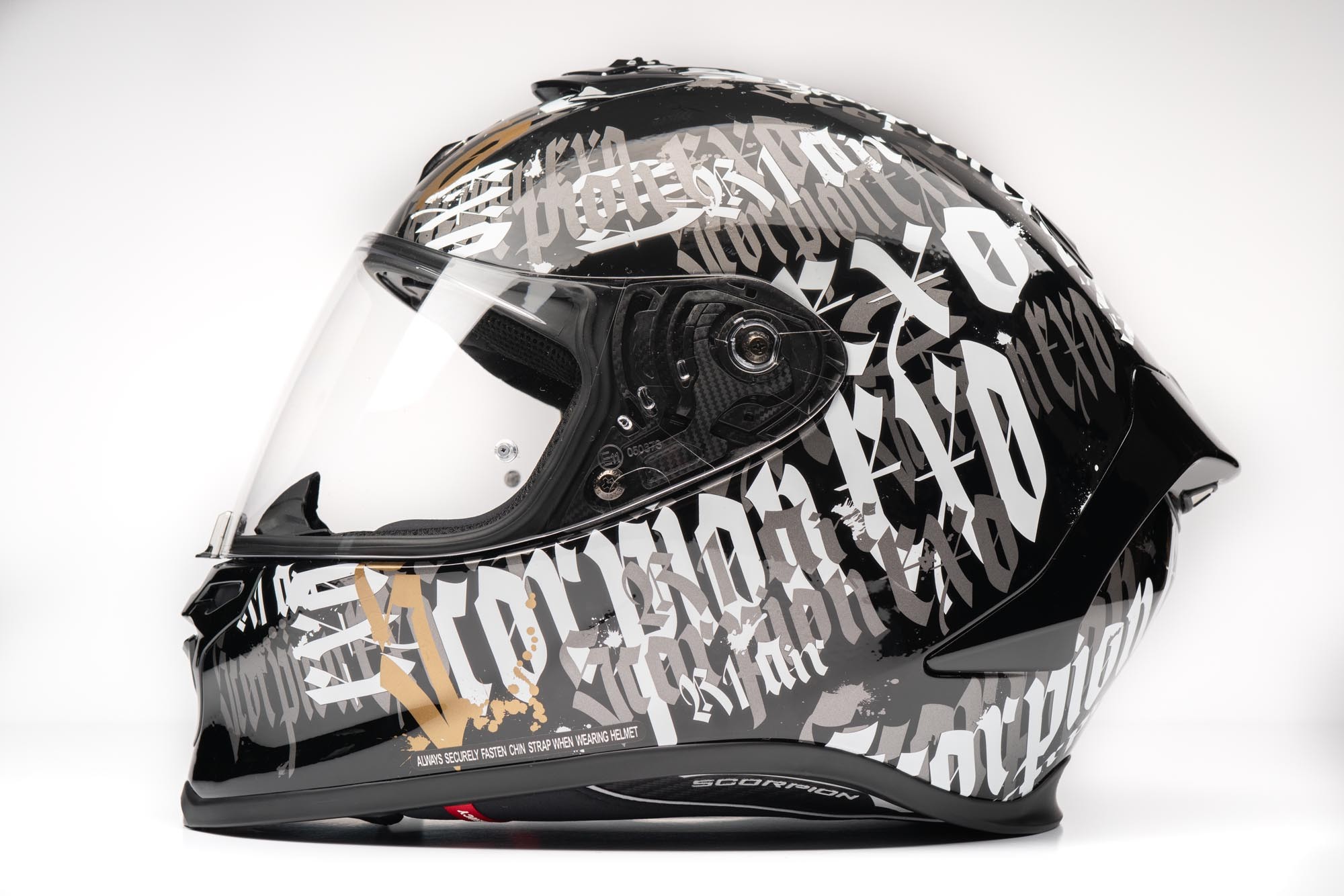 Side view of the EXO R1 Air, note the drop of the chin bar indicative of sport/race oriented design
Back before I'd started looking at webbikeworld.com reviews (or even heard of them) I had purchased an EXO 400 in 2007. This was after handing the helmet in person and weighing the comfort, feel, and price. I wasn't sure how long Scorpion would be around but it seemed worth it at the time.
I've owned and reviewed a lot of helmets since then and there have been other Scorpion helmets along the way. My current daily rider is an EXO ST1400 which I reviewed about 18 months ago so in a way I've come full circle over the past dozen years.
ScorpionEXO
Scorpion as a brand likely familiar to webbikeworld readers but in case you've recently stumbled into our corner of the web, or simply haven't heard of Scorpion, here's the info.
Scorpion EXO™ is the brand name used by Scorpion Sports USA since 2004 which itself was established as a subsidiary of Kido Sports. The brand has earned a reputation for delivering good value and build quality while also including features that are often found at higher price points.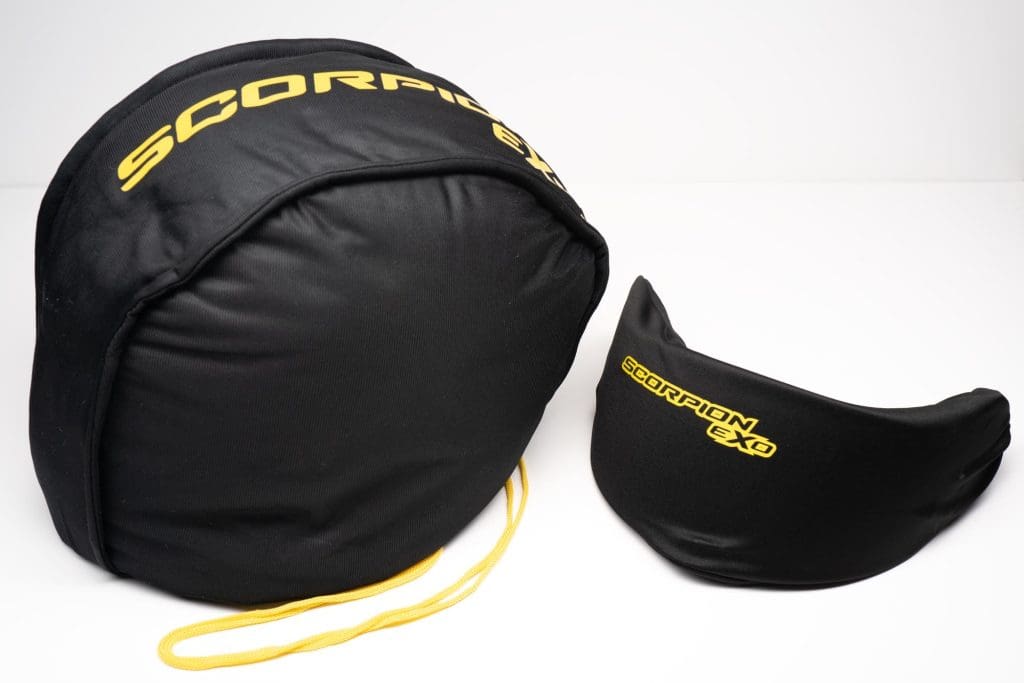 The EXO R1 Air comes with a nice bag along with an extra, Pinlock-ready tinted visor (with it's own bag)
Helmets of various types are part of the overall lineup from Scorpion including full face, modular, open face, off-road, and even snow helmets. The Scorpion EXO™ product line goes beyond that wide range of helmets to include jackets, pants, and gloves. You can get the whole story by heading to the Scorpion EXO™ page on Kido's website.
Shopping Now? We Recommend:
webBikeWorld works closely with Revzilla and Amazon to provide our testers with quality products to review. While we have an affiliate relationship and receive a commission from items purchased, this addition comes at no additional cost to you. It is the primary way we pay for our site and reviewers.
RevZilla

Free shipping on orders over $40
30-day no-nonsense return policy
Excellent selection of all major brands
Awesome pricing
Amazon

Free shipping (with Amazon Prime)
30-day return policy
Excellent selection
Competitive pricing
The EXO R1 Air Helmet
The R1 Air is Scorpion's top-of-the-line Sport / Track helmet. While sitting at the same price point as its sport-touring sibling, the ST1400, there are several features that separate these two helmets. However, there is enough overlap that either could serve a wide variety of riders.
The EXO-R1 Air is available in four different graphics plus solid "colors". I put quotes around colors as the solids are only available in black gloss, black matte, and pearl white so we're playing it a bit fast & loose with the term "colors".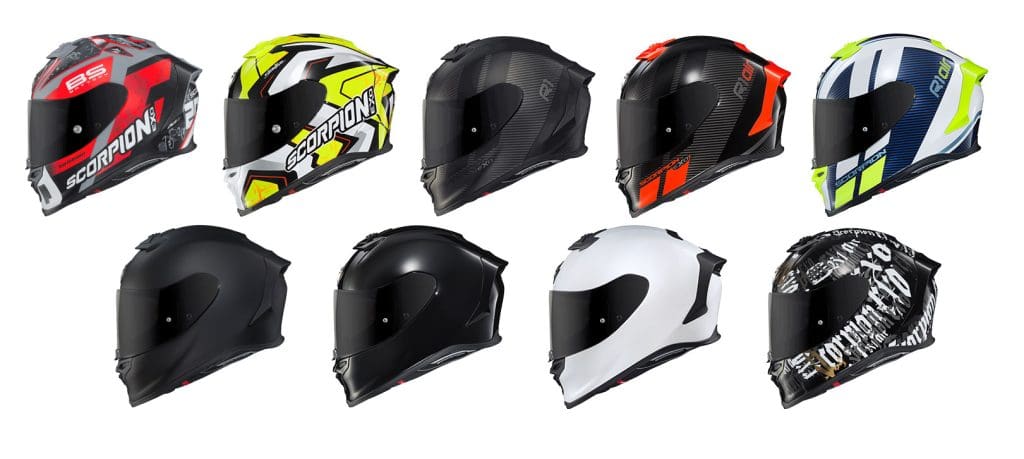 Colors and graphics available for the EXO-R1 Air
The Corpus graphic is available in three colors with black, blue\white, and neon red rounding out the choices while the Blackletter graphic (reviewed here) is a white/black/gold affair. There are also two "replica" styled helmets which resemble riders Alvaro Bautista (WSBK) and Fabio Quartararo (MotoGP) helmets which are provided by Scorpion. The former in white/yellow livery while the latter being a black/gray/red graphic.
Pricing moves up from the solid colors at $399.95 to the Corpus and Blackletter models adding a thirty dollar premium at $429.95. The replica helmets command $459.95 for closely resembling the look of their namesake's actual racing helmets.
Note: Prices are in USD.
Feature Set
Before we dig into the details, here's a listing of the notable features of the EXO-R1 Air:
Composite Multi-layer shell
Includes two Pinlock Max-Vision ready face shields (Clear and Smoke)
Includes one clear Pinlock Max-Vision insert
AirFit cheekpad inflation system
Emergency cheekpad release pulls
Integrated cheek pads and neck roll for easy removal and installation
5 Year warranty
Paint and Graphics
This particular EXO-R1 Air I received for review is wrapped in the "Blackletter" graphic which has an interesting and quite busy look about it. To be clear, Blackletter does not refer to the actual color of the lettering in the graphic but instead is another word for Gothic Script which describes the style of the lettering.
Along with the various "Scorpion", "EXO", and "R1 Air" words appearing, there are small specs and "splats" giving the look of something hastily scrawled on the helmet. The effect works as I tried to wipe off some of the smaller spots before realizing it was on purpose.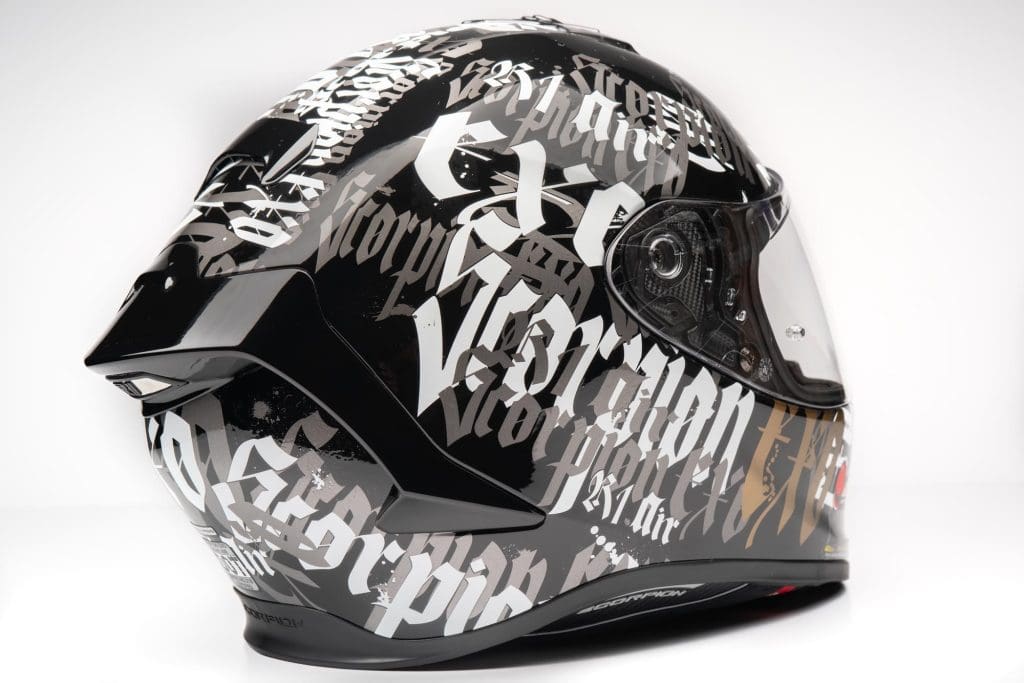 Rear spoiler on the EXO-R1 Air
If that look is your cup of tea then this particular graphic is pretty sharp looking. That said, it's not a look that I would have chosen compared to some of the other options, but I did tell them I'd take whatever they wanted to send for the review.
Subjective opinions aside I did notice several areas where the decal appears to not have laid down smoothly. While much of the graphic is smooth, one can see and feel dimpling and I've tried my best to show this in some of the photos.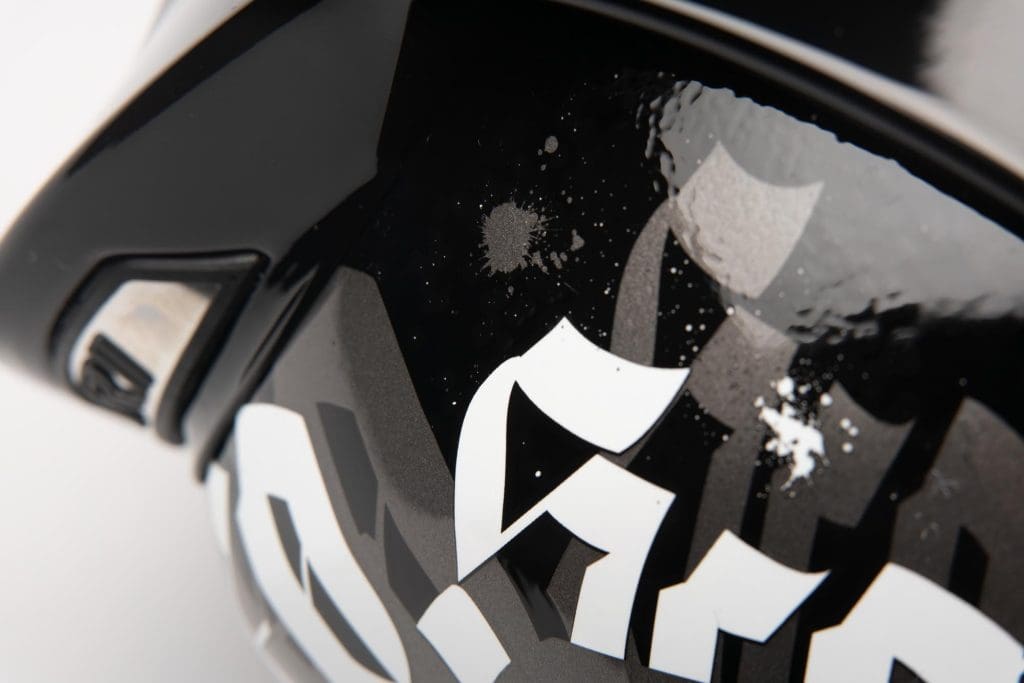 Upper right area showing "dimpled" texture where the decal appears to not be laid down smoothly
Does this affect the overall function of the helmet? I doubt it, but it is a let down that the finish isn't more carefully done considering this is Scorpion's top shelf sport helmet. Hopefully, this isn't indicative of all of the variants of this particular model and maybe I got a copy that was finished late on a Friday.
Construction
The outer shell of the EXO-R1 Air uses what Scorpion refers to as Ultra-TCT ®. It is comprised of five layers of material which includes three kinds of fiberglass plus a layer of aramid. The graphic below (via Scorpion's website) lists the layers and shows how they are ordered.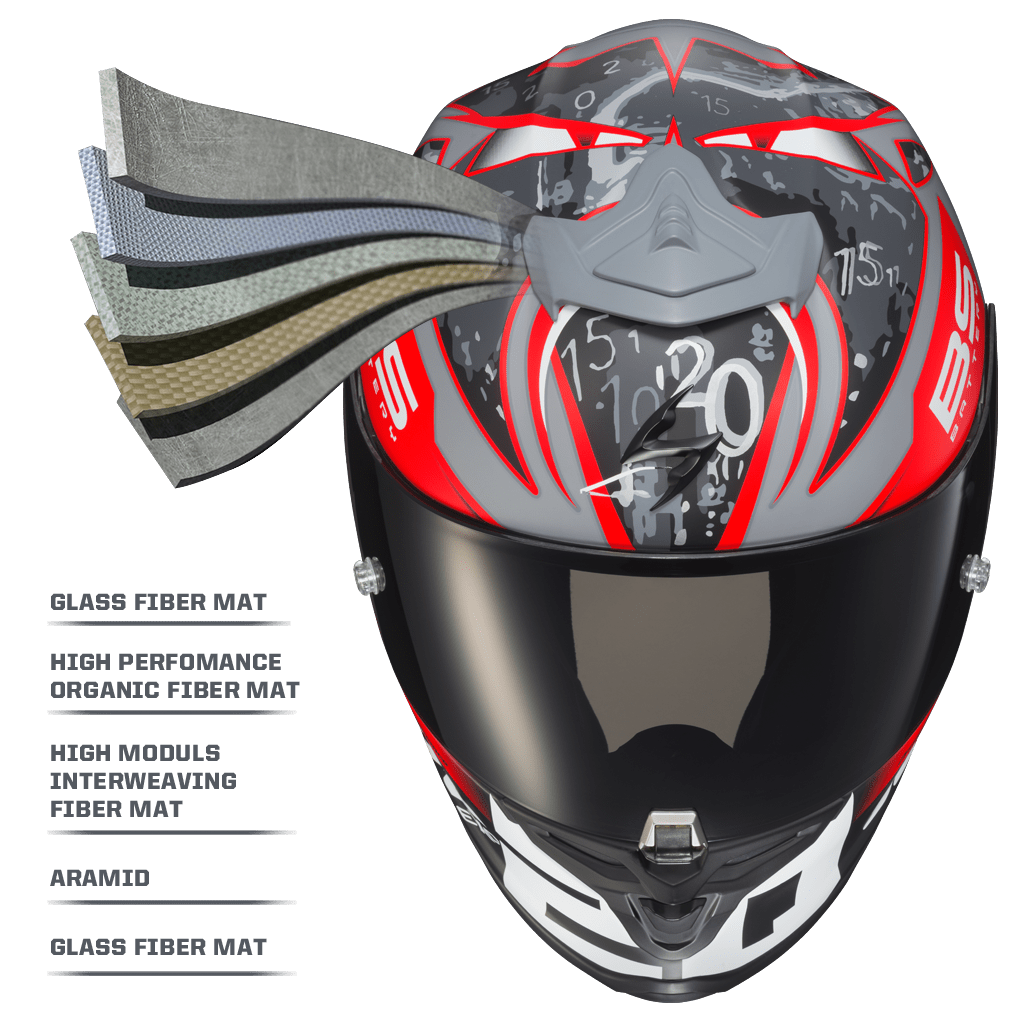 Image from Scorpionusa.com
The result is a very strong shell that isn't overly stiff, allowing it to give a bit before the material would split or crack. In hand, I could only manage to flex the lower areas of the helmet opening while the mid and upper portions hold strong to their shape. There is only minimal creaking noticeable when I did this very unscientific evaluation of the shell.
Scorpion uses three shell sizes to cover the range from XS to 3XL with the smallest covering XS, S, and M. Size large gets its own shell while XL through 3XL all use the largest shell. The benefit of more shell sizes means weight savings to smaller sizes as well as less bulk for those sizes. Less variation in shell size can lead to a "space helmet" look when one has a small helmet with a large sized shell.
Chin Strap
A double D-ring is used for fastening the chin strap on the EXO-R1 Air which would seem straightforward enough but Scorpion tweaked this just a bit. The D-rings are made from titanium offering a lighter and stronger option to the usual chromed steel (or even aluminum) rings found on most other helmets.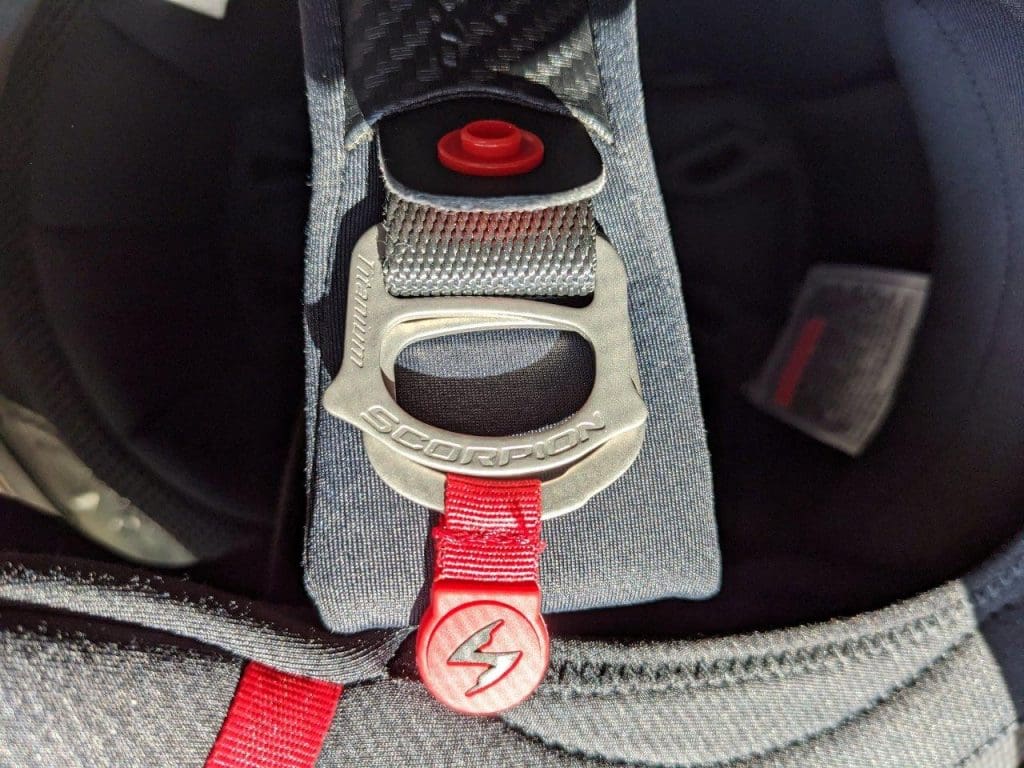 These D-rings are made from titanium for weight savings, but how much could they really save?
This is a neat feature but one that I'm not sure is really adding that much value. Sure, it's cool and they do weigh less than typical D-rings but being such a small part already, how much weight is actually being saved?
Whether you like the titanium or not, it doesn't really make a difference in day to day usage. What is nice is the small round plastic "grab" sewn into the red pull tab on the D-ring. This is a small, but welcome, touch that makes unfastening the chin strap just a little easier. Nice!
Emergency Pulls
A feature that I feel is a must have on any full face helmet these days is emergency cheekpad pulls. These allow emergency healthcare workers to easily remove a rider's helmet without the risk (or reduced risk at least) of exacerbating a head/neck injury.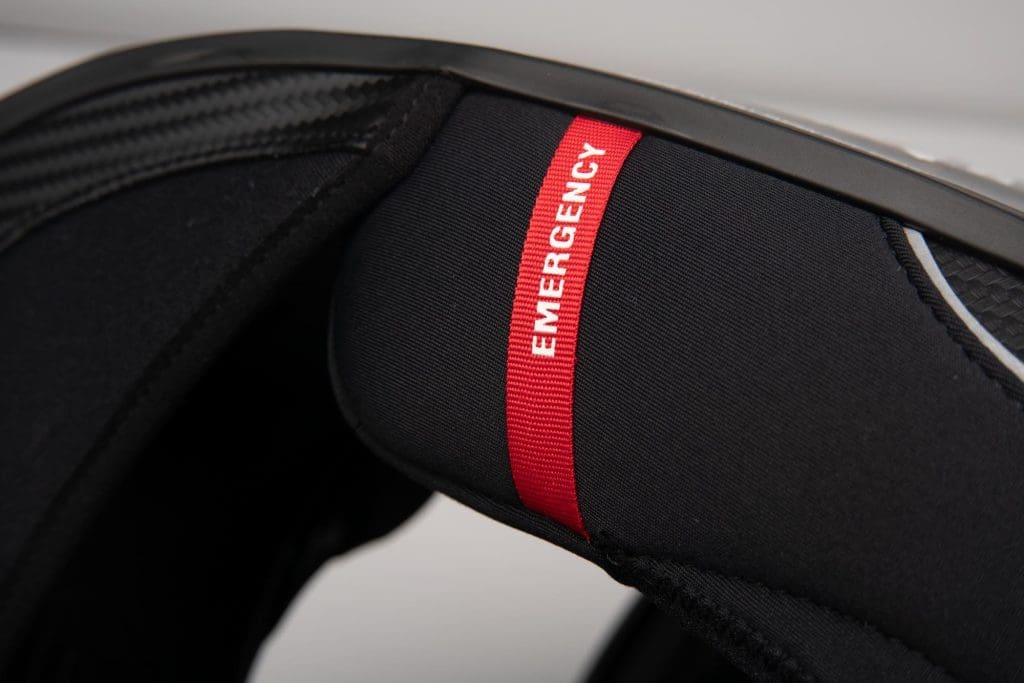 Easy to find emergency cheekpad release straps on the lower portion of the helmet
Pulling these tabs allows the cheek pads to slide down and out from the helmet so the helmet can then be removed without trying to squeeze the head through the normally tight opening. In many cases, the cheek pads can be reset back into place if the helmet is otherwise still fit for use.
Whether I can use the helmet again would not really be my first concern in the event of a crash but it is nice to know you can test the emergency release and demo it for others without damaging your cheek pads. I should point out that there are many cases where first responders will choose to not remove a helmet on scene and leave it in place for evaluation at the emergency room setting.
Interior
Cheek pads and neck roll are a one piece unit in the EXO-R1 Air and I like the way this is executed. It makes it easier to get all the pieces lined up properly for reinstallation and the process takes less time overall.
The crown padding at the top is much like you would expect being one piece going from the brow to the back of the neck. The front edge sliding into place up front while the rear uses two plastic snaps to fasten at the back.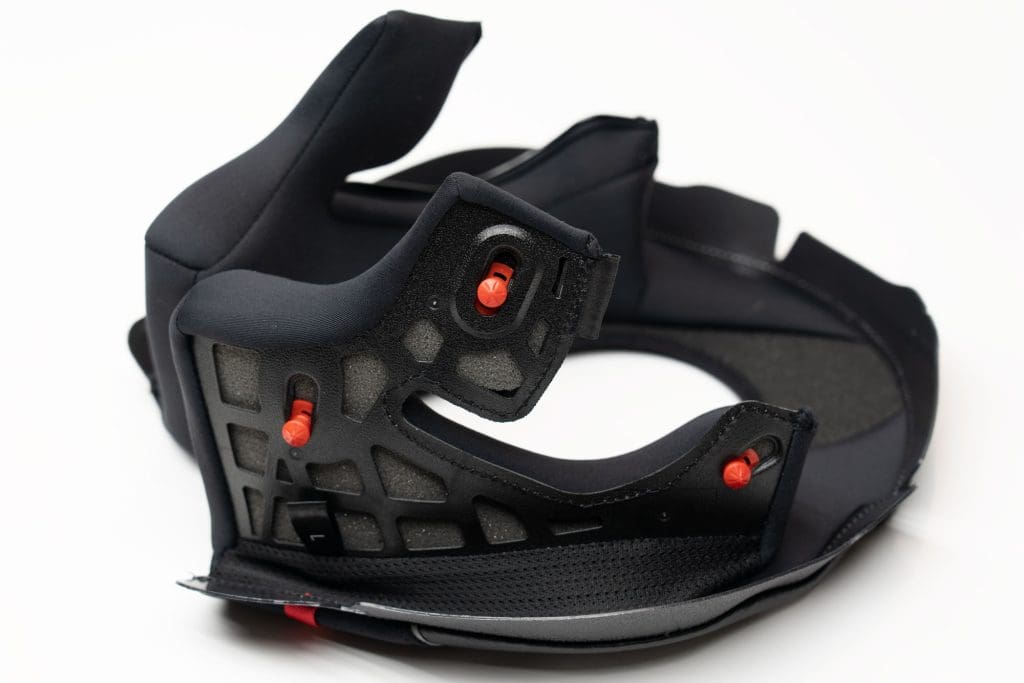 Cheek pads and neck roll are a single piece system in the EXO-R1 Air
The EXO-R1 Air has cutouts for helmet speakers and they come from the factory with removable pads in place. This helps make the helmet a bit quieter if one doesn't plan on installing speakers and are easy enough to remove and reinstall if needed.
At the front of the chinbar inside the helmet is a large red "bulb" used to inflate the AirFit system. Pressing on this bulb pumps air into two bladders that sit behind the cheek padding while pressing the silver button next to the bulb releases the air. We'll take a closer look at the AirFit system shortly.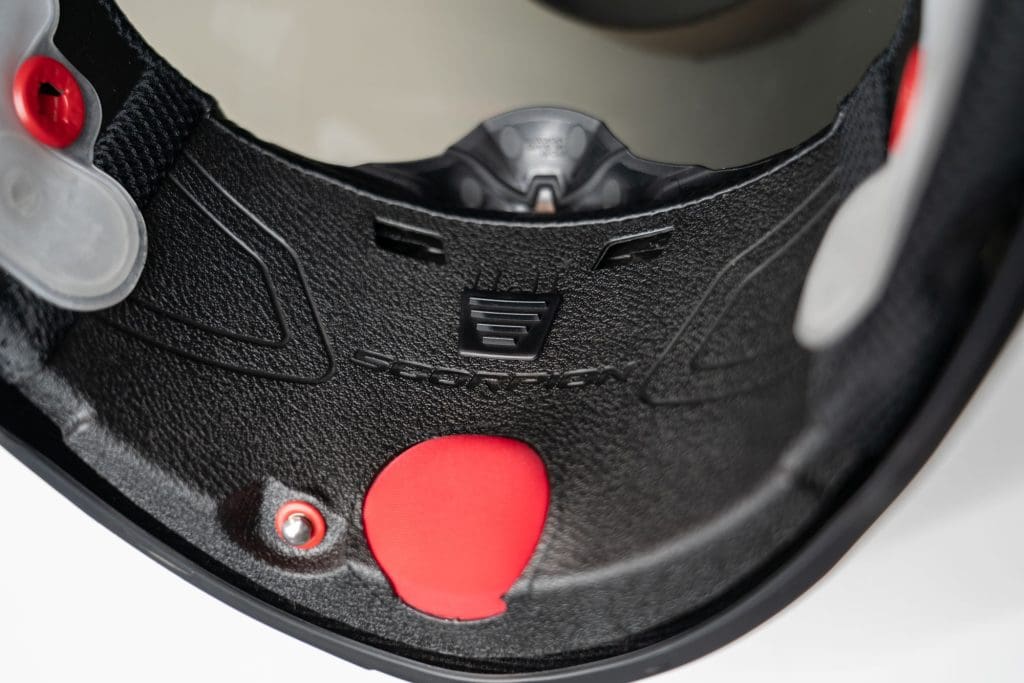 Airfit® inflation bulb with air release button to the left. Chin vent adjuster above Scorpion logo 
Helmet Weight
That strong, multi-layer composite shell isn't necessarily the lightest material, but this size large EXO-R1 Air tips the scales at 1530 grams (3lbs 5.97oz), which is only 14 grams heavier than the sport-touring oriented EXO ST1400. This really isn't a bad showing considering the ST1400 uses a carbon fiber shell.
Aggressive street riding and the race track is where this helmet is designed to be used so that small extra weight is likely necessary to create a tough shell for these locations. In hand, I really couldn't tell the difference between the ST1400 or the EXO-R1 Air.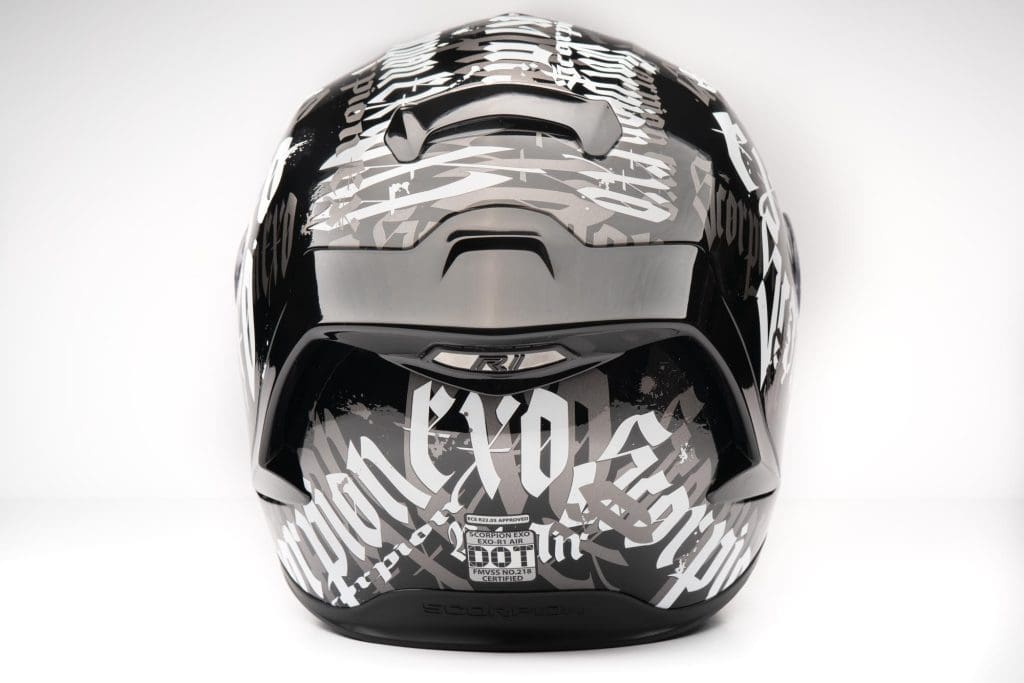 Rear view of the EXO-R1 Air
Riders in Europe have an option that saves some weight as there is an EXO-R1 Carbon Air version available there. I couldn't find any specifics on exact weight savings so I can't say how much of a difference this would make, but I am curious.
Intercom / Speaker Support
Although designed for the track, the EXO-R1 Air still provides for some street rider comforts. There are cutouts in the EPS interior for the placement of speakers for a communication or music player system. Out of the box they are filled with removable padding that is easy to reinstall if desired. The openings should handle most helmet speaker systems, at least ones that are no larger than about 40mm.
Helmet speaker pocket covered and uncovered
The depth is good at about 10mm and again should work with most helmet speaker units. My own Sena 3S system has large and thick speakers that do fit, but they are pretty much at the limit for the available space. For comparison, the 3S speakers are 39.9mm by 11.3mm (1.6 in x 0.4 in).
Fit and Comfort
Over the years I have found almost all Scorpion full face helmets I've worn are a size large. The exception being the first generation EXO-400 helmet I purchased back in 2007. At that time I needed to move up to a size XL which is in line with what Bill C. discovered in his wBW review.
One of the things I like about Scorpion's fit is that their size large runs a little snug for me, which I prefer for two reasons. One, a snug fitting helmet is a safer helmet and two, a snug fit when new means as it breaks in it is less likely to get too loose over time. With the EXO-R1 Air, I found the fit is slightly less snug around the cheeks than the EXO-ST1400 or the EXO-420 helmets I've most recently reviewed, otherwise the fit is as expected.
If one happens to find that the standard cheekpad set doesn't quite work for you Scorpion offers a variety of optional cheek pads for EXO-R1 Air. Combined with the AirFit® system, one can really customize the fit of this helmet. The below graphic/matrix shows the various options for cheek pads for each shell/interior size combination.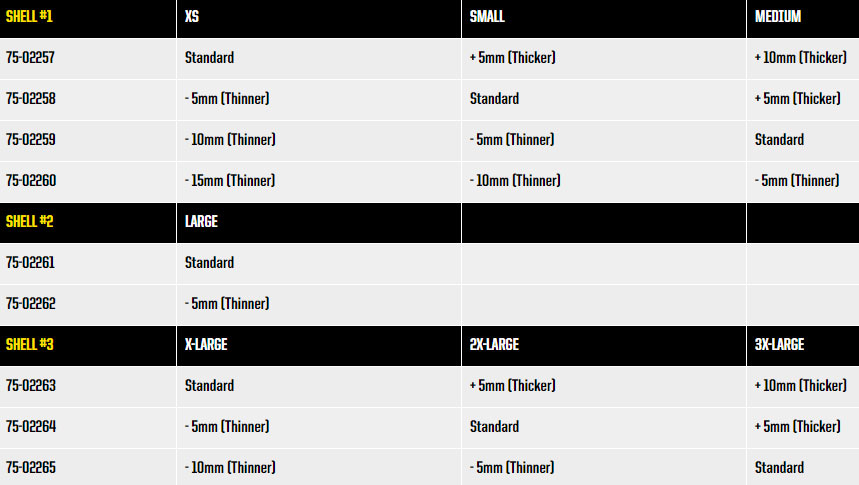 Image from Scorpionusa.com
The EXO-R1 Air is available in sizes from XS to 3XL, but not all graphics/colors are available in all sizes. Here's the breakdown:
Replica versions (Bautista and Quartararo) come in XS to 2XL
Blackletter (tested) comes in Sm to 3XL
Corpus graphic comes in Sm to 2XL
Solid colors run from XS to 3XL
Shopping Now? We Recommend:
webBikeWorld works closely with Revzilla and Amazon to provide our testers with quality products to review. While we have an affiliate relationship and receive a commission from items purchased, this addition comes at no additional cost to you. It is the primary way we pay for our site and reviewers.
RevZilla

Free shipping on orders over $40
30-day no-nonsense return policy
Excellent selection of all major brands
Awesome pricing
Amazon

Free shipping (with Amazon Prime)
30-day return policy
Excellent selection
Competitive pricing
Shape
The shape is an intermediate oval which seems to be the defacto standard for most of Scorpion's helmets. The EXO-R1 Air has a more aggressive shape with the chinbar dropping down more in the front than the more general sport/touring helmets units in the lineup. This provides some extra room up front for the chin and better overall front coverage.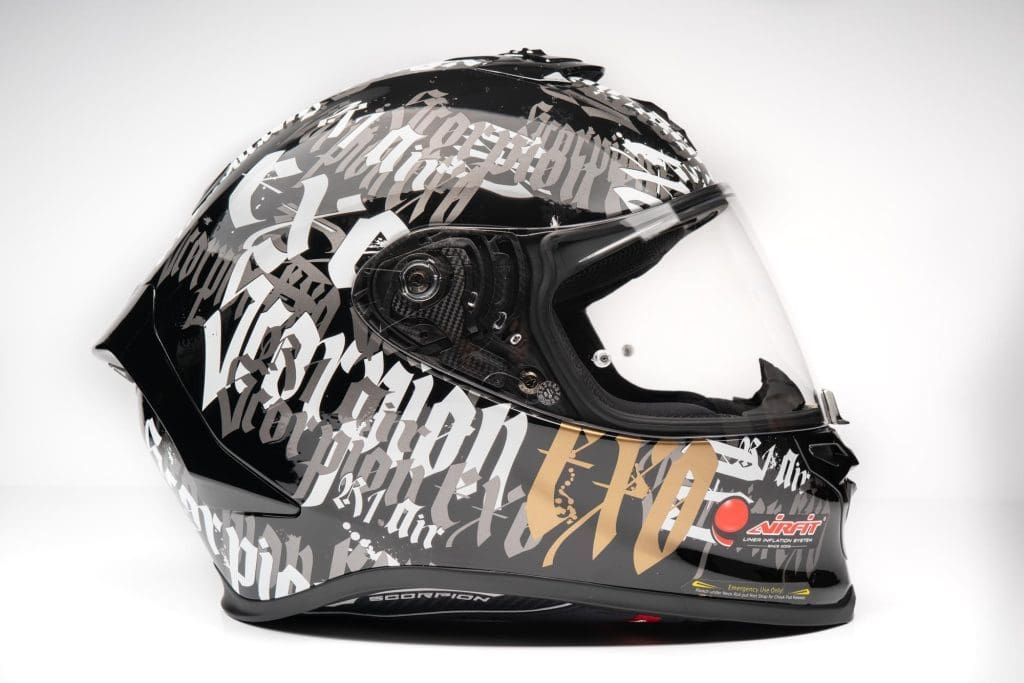 Note how the shape of the bottom of the helmet and how the chinbar drops down
Comfort
The liner material uses Scorpion's KwikWick® III liner fabric which has moisture wicking and hypo-allergenic properties. Kwikwick has a very smooth texture which is comfortable and makes putting on and taking off the helmet easy.
Since the cheek pads are not quite as snug here as on my ST1400, the EXO-R1 Air is very comfortable out of the box. Of course if one needs to make the fit a bit more snug, the Airfit® system can be used to tighten things up.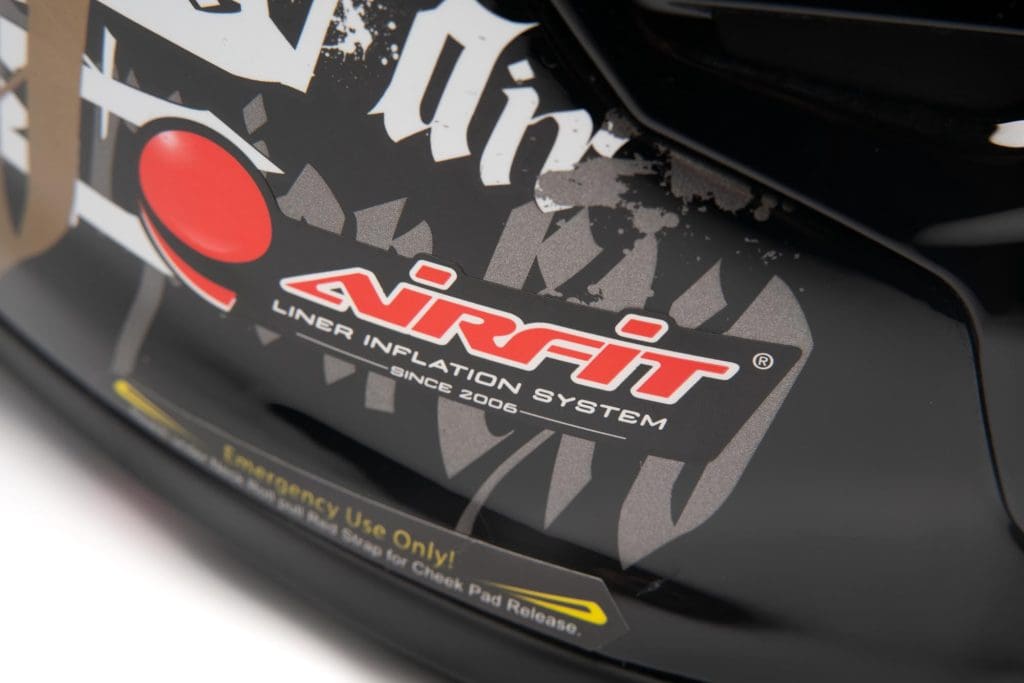 Glad to find this sticker on the helmet as it helped confirm for me when Airfit was first released 🙂
Airfit® Liner Inflation System
Scorpion has been employing this inflation feature in their higher-end helmets since the EXO-1000 released back in 2006 and the configuration has remained much the same dozen years later but as they say, "If it ain't broke…".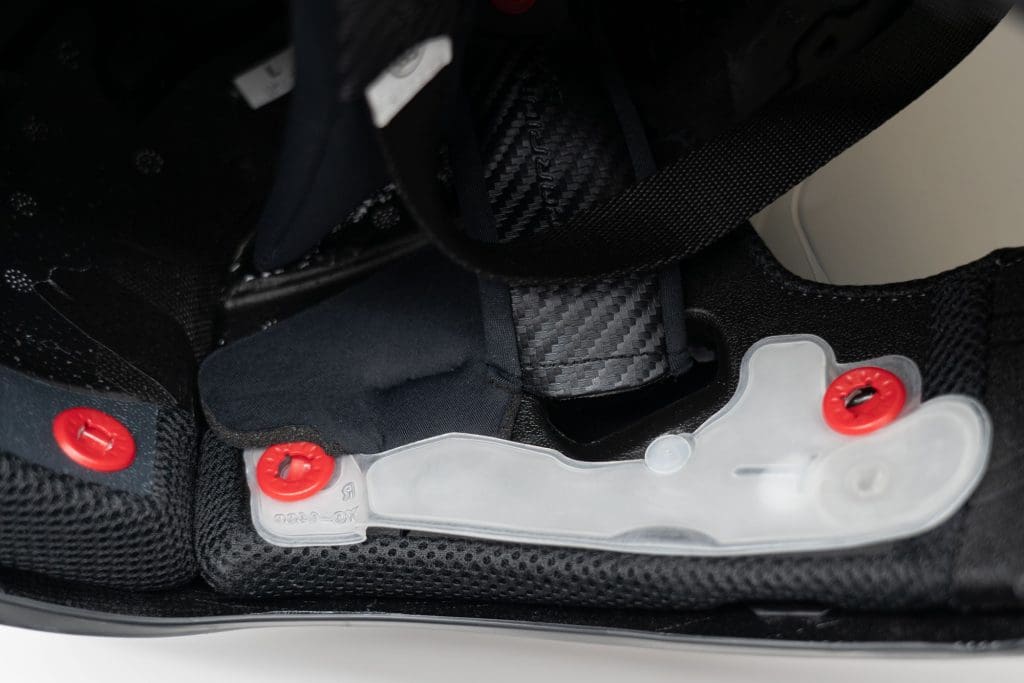 Air bladder for AirFit® inflation system that sits behind each cheekpad
Pressing on the red rubber bulb inside the chinbar, a bladder behind each cheek pad inflates. This can help ensure a good fit if one is between sizes. It can also extend the useful length of time the helmet fits well as the padding wears over time.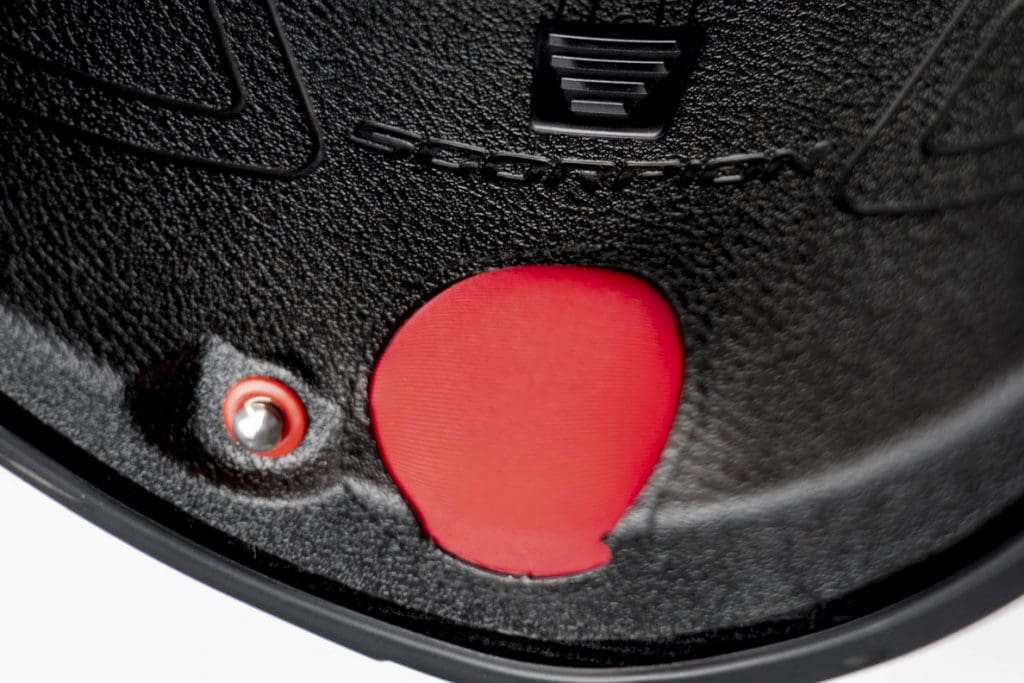 I haven't needed to make use of the AirFit® system as the fit is very good as is however, I have tested it to make sure it holds air over time, which it does. Pressing the small silver button next to the red bulb releases the air and it seems to hold just fine over time. Of course, Scorpion has had a long time to perfect this system so it's not a surprise.
On the Move
It's one thing for a helmet to feel comfortable when sitting in your home office but it can be a different story when out on the road. I'm pleased to report the EXO-R1 Air is actually quite a pleasant place to keep one's noggin for a nice long ride.
I found very little tendency for the helmet to lift at secondary road speeds as well as on the highway though there is just the hint of starting around 60-mph. The EXO-R1 Air is very stable at speed and seems to shrug off any buffetting that might be coming off my windscreen.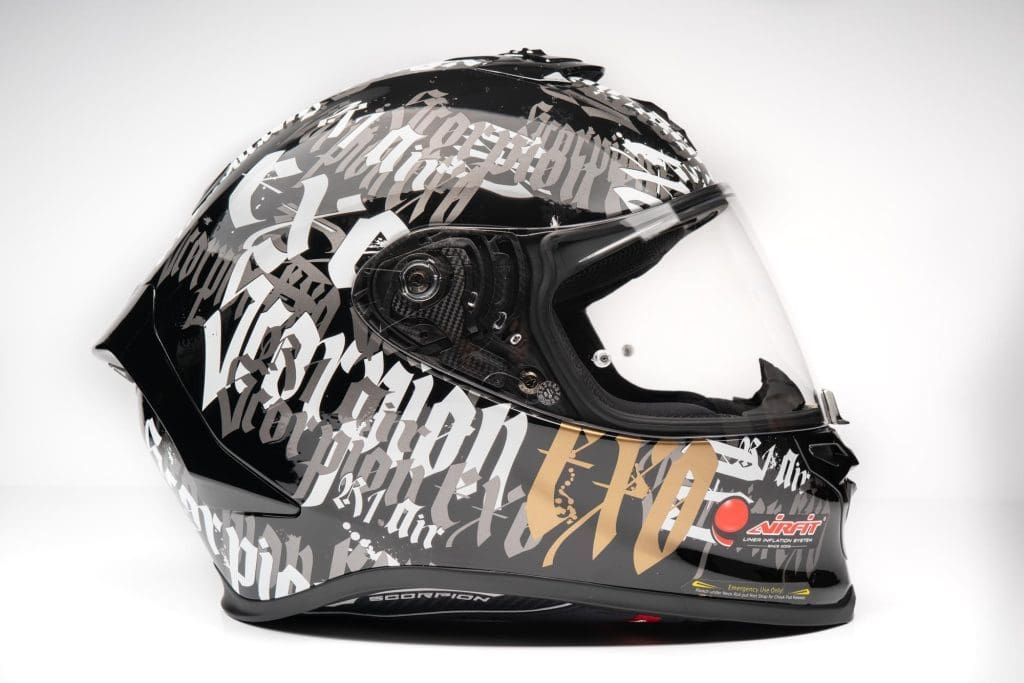 In fact, it had a tendency to "self center" at highway speeds and keep the helmet pointing forward. This is good in the sense that it stays nice and steady in straight line riding but it does take a bit of extra effort to turn for a head check to the sides. It's not difficult by any stretch but it is noticeable.
These characteristics of course are dependent on a lot of factors such as rider height, windscreen size and shape, etc. In this case, I had the windscreen in the lowest position on my 2013 Ninja 1000.
Ventilation
Scorpion has done a good job providing the EXO-R1 Air with good airflow as well as good options for controlling it. Starting at the top is a large vent scoop that channels air into two ports in the EPS inside that empty onto the forehead area. On top of the scoop is a large slider that is easy to find with gloves which open and close with a smooth and positive action.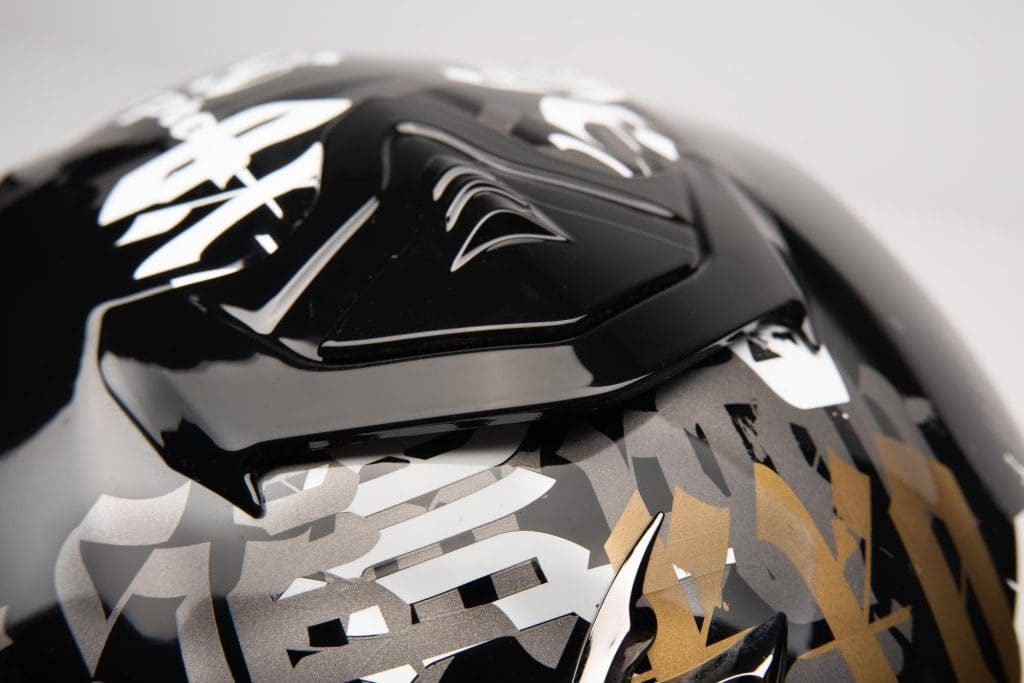 Top vent with the large and well textured sliding switch on top
On the front of the chin bar is a pair of vent openings with plastic sliding covers that reveal mesh covered openings for ventilation through the chin bar. The chinbar vent up front slides smoothly and moves into place solidly leaving no doubt it has opened or closed even through thick gloves.
The path of airflow through the chin bar can be channeled to flow up to the inside of the visor or it can exit directly onto the wearer's face. This is controlled via a sliding switch on the inside of the chinbar. This slider is much more muted in its feedback but the switch cover is grippy and easy to move.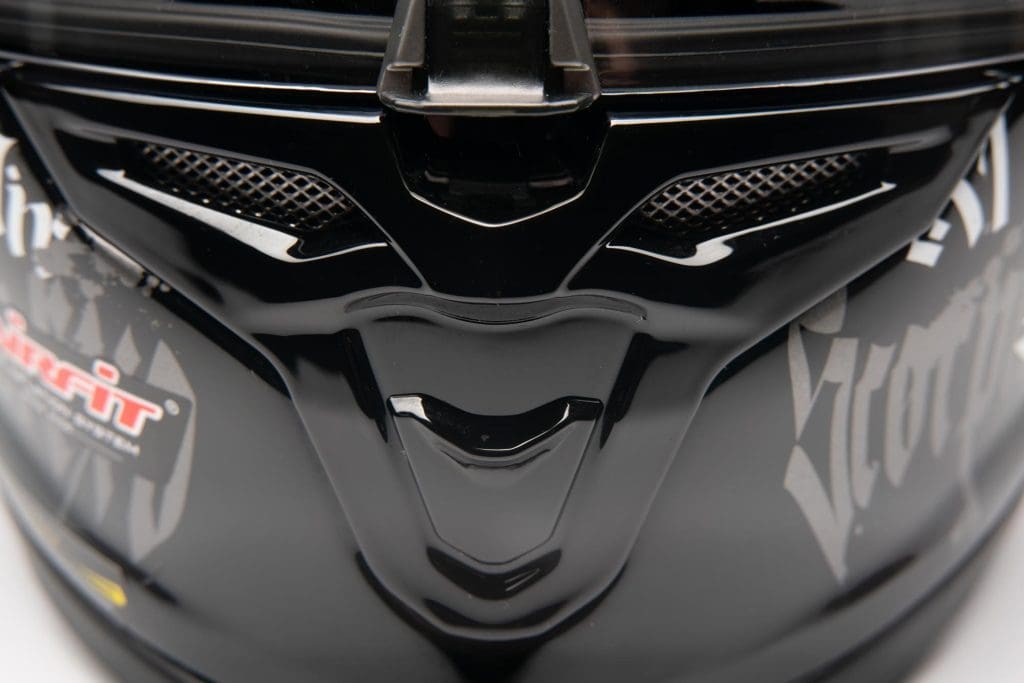 Front vent switch and openings (with screen inside)
Venting through the chinbar works very well and one can feel a good amount of air on the face when the air is directed that way. When directed up towards the visor the airflow can still be felt overall but of course in a more diffuse fashion. This actually works well for me, especially right now as the weather has turned cooler.
Airflow through the top vent can be felt once one gets past about 30 mph and while it's not a blast of air, a cooling effect can clearly be felt on top of the head. The incoming air exits through four small ports in the EPS, two of which exit out of a small rear spoiler at the upper rear.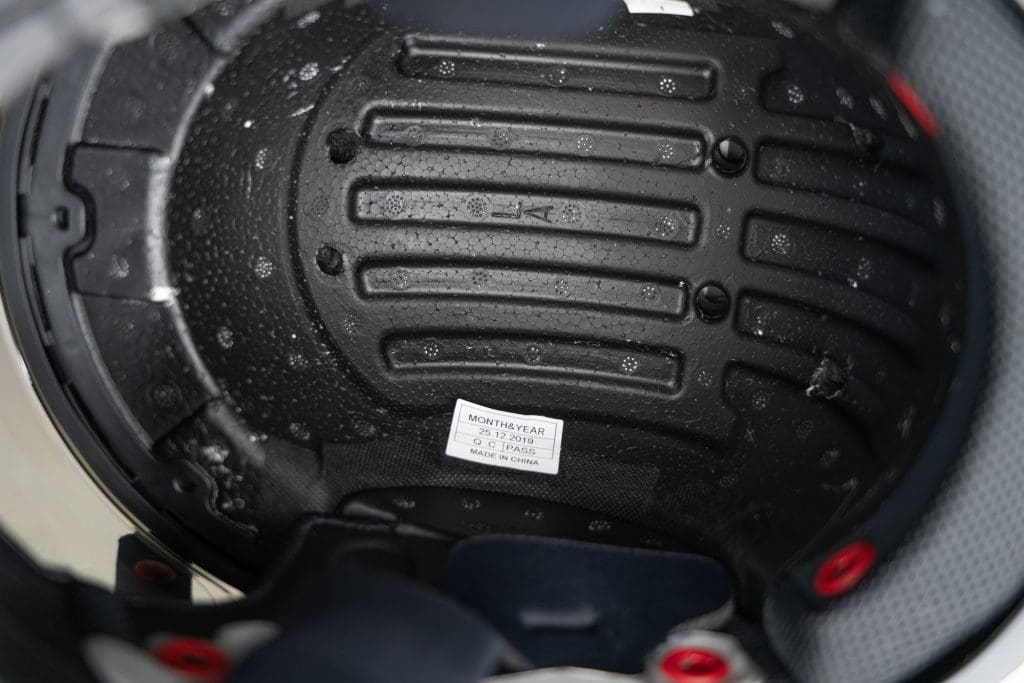 Interior padding removed from the EXO-R1 Air showing channels for ventilation
The two most rearward ports exit underneath the large rear spoiler on the back of the helmet. The rear spoiler openings can't really be seen and the air ends up exiting through the gaps between the spoiler and the shell. I'm not sure why there isn't a more direct path for the air to exit under the rear spoiler but it still flows.
One thing I noticed is that airflow up into the helmet from around the sides and from under the chinbar is very well controlled. This is likely due not only to the included chin curtain but also thanks to the way the neckroll/cheekpad group creates a small opening in the bottom of the helmet. Of course, this helps with noise too so let's move on to that.
Noise Levels
Noise is well controlled in this helmet. While there is what I would consider slightly lower than average wind rushing noise, there is little to no booming or low frequency sounds. The noise doesn't increase that much when moving up to highway speeds.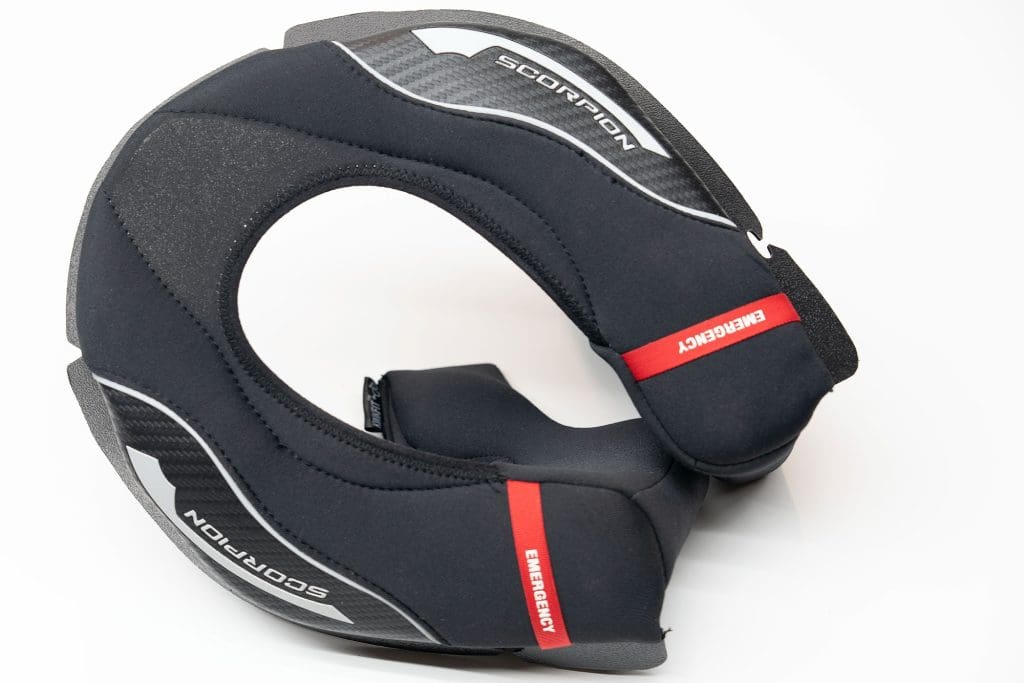 Underside of the neckroll/cheekpad assembly
I believe a large part of the quiet nature of this helmet is coming from the wide neckroll. This reduces the space between the neck and helmet opening which helps reduce wind noise. Additionally, the padding in the ear pockets is in place which adds some additional sound insulation.
Scorpion seems to have a good handle on aerodynamics for the vents as I couldn't induce any  whistling with the EXO-R1 Air. With that said, I'm impressed with how well this helmet controls noise. Frankly, I'd like to see this level of noise control applied to the next iteration of their sport-touring helmet as the EXO-R1 Air is definitely quieter than my EXO-ST1400.
Keep in mind that I always wear custom-fitted earplugs when I ride including when testing helmets. Rider height and motorcycle specifics such as fairing, non-faired, etc can also affect noise levels so your own experience might be different from mine.
Visor & Eyeport View
Two visors are included with the EXO-R1 Air, a clear and a dark smoke version and both are Pinlock-Ready® for MaxVision® inserts with clear insert included. The optical quality is very good on each visor showing only a little distortion if one really looks for it. This is a noticeable improvement over the optical quality of the visor that came with my EXO-ST1400 which uses the same style visor. If one isn't a fan of Pinlock inserts one can get non-pinlock versions that include Scorpion's EverClear anti-fog coating.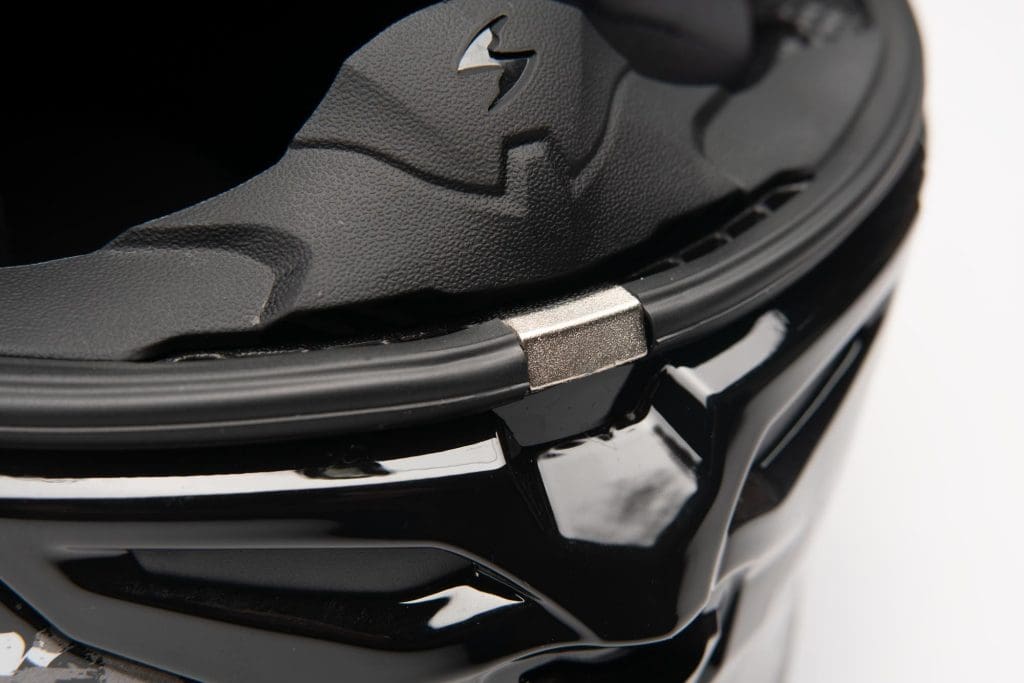 Location of where the visor clips lock the visor in closed position
Buyers of the Bautista and Quartararo versions will get visors that include tear-off posts in addition to accepting Pinlock Max Vision inserts. These visors will be the "2D" variety meaning they don't have a compound curve which allows tear offs to lay flat.
The visor appears to seal well and testing with some water being poured over the top of the visor proves it. I'm not really surprised as this is the same Ellip-Tec® II elliptical cam setup used on the ST-1400 that makes the visor snug up against the gasket as it closes.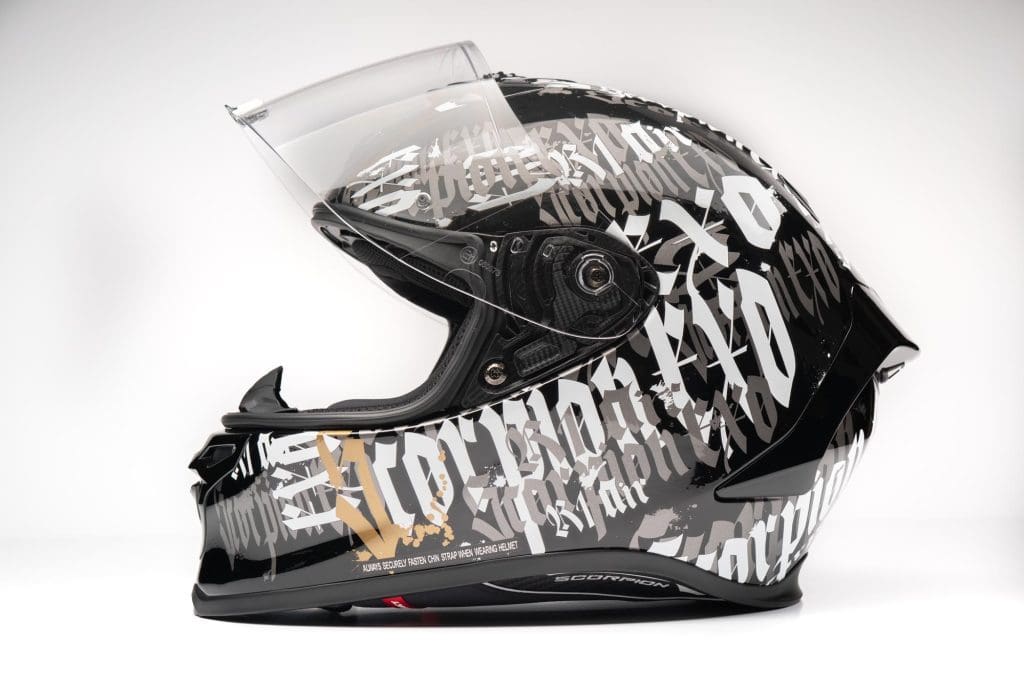 EXO-R1 Air visor in the fully opened position
The visor is open and closed using a central tab and lock mechanism. The lock makes certain the visor stays shut at high speeds. Pulling the visor down without locking it puts the faceshield in a "city" position allowing air to flow under a small opening and up to the interior for demisting and additional airflow.
There are several detents between fully open and closed but while the rotating mechanism offers good resistance to raising the visor there's not as much when lowering it. This allows the visor to shut pretty easily from the wind at any position except fully open or in the low "city" position.
Visibility
I would characterize the side to side visibility as very good with plenty of peripheral view. Top to bottom visibility is good, but I would literally like to see more. I think the vertical view is fine for touring, sport touring, and most full-on sport riders but the top portion is a little low, at least for the way the helmet fits on me.
While good for my own sport touring style of riding on my Ninja 1000 and it's moderate forward lean, I believe riders that stay close to the tank in a full tuck might find the view a bit limited. Of course I have to qualify that with saying this is my view from within the helmet and other riders might not find the top of the port intruding into their view like it does for me.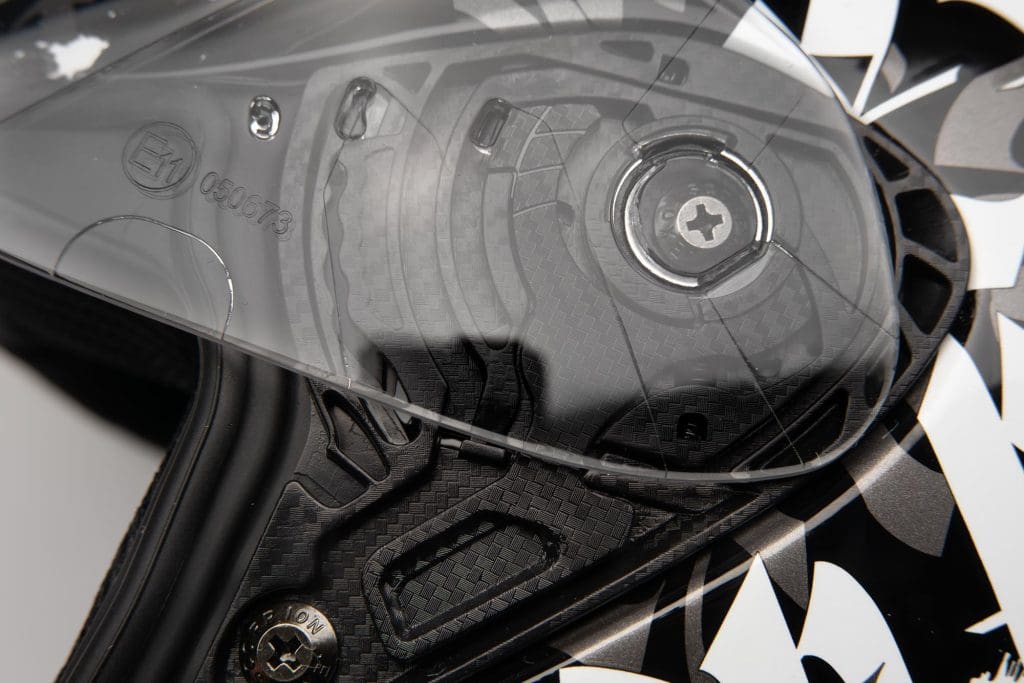 Closeup of the EllipTec™ II quick-release mechanism at the visor pivot.
Visor Removal
Since the EXO-R1 Air uses the same EllipTec™ II quick-release system as the I reviewed in the ST1400 pretty easy once one gets the hang of it. Simply raise the visor to the topmost position and then pull up the lever near the visor pivot. Pulling forward on the visor will release it from its place.
To reinstall the visor one places the two small tabs on the visor in their respective tracks while holding the lever up. Letting go of the lever once they are in place recaptures the tabs and that's it. The visor can actually be reinstalled without lifting the lever with a little practice. I recommend practicing a few times with the clear visor to see how this works before swapping in the darl smoke one.
Conclusion
There's a lot to like about the EXO-R1 Air. Scorpion has once again done a very good job at providing good "bang for the buck" even with their top of the line full face helmet. Offering a composite shell with a solid feel and good ventilation in a relatively quiet lid starting at $399.95 seems good enough on its own. Throw in an extra tinted visor, a Pinlock insert, a very well shaped and comfortable interior lining and I feel one is getting a really good value in the EXO-R1 Air.
That's not to say that I think Scorpion's latest and greatest is perfect. For instance, they could have done a better job applying the graphics. Also I feel the interior chinbar vent control could have a more positive action and I'd like to see a bit more height to the outwards view through the eyeport. These issues are real things but I'm really reaching for faults to find with these and the last two are really subjective.
I believe that riders that are looking for a sport/track oriented helmet will find the EXO-R1 Air a good option for their next lid. That said, the comfort and quiet offered by this helmet make it a good candidate for a variety of riding styles. If it had a drop down internal sun visor I would make this my daily rider. Hopefully Scorpion will take the new interior and apply it to whatever replaces the EXO-ST1400 in the future.
Pros
3 shell sizes
AirFit system
Relatively quiet
Good lateral visibility
Cons
Decals/Graphics could be smoother
Interior vent control could be more tactile
Specs
Manufacturer: Scorpion USA
Price (When Tested): $399.99 – $459.95 (USD)
Made In: China
Colors:  Four Graphics plus Black, White, and Matte Black
Sizes: SM to 3XL (not neccesarily in all graphics options)
Review Date: November, 2020
Shopping Now? We Recommend:
webBikeWorld works closely with Revzilla and Amazon to provide our testers with quality products to review. While we have an affiliate relationship and receive a commission from items purchased, this addition comes at no additional cost to you. It is the primary way we pay for our site and reviewers.
RevZilla

Free shipping on orders over $40
30-day no-nonsense return policy
Excellent selection of all major brands
Awesome pricing
Amazon

Free shipping (with Amazon Prime)
30-day return policy
Excellent selection
Competitive pricing
Scorpion EXO R1 Air Helmet Image Gallery