Unsure What to Look for When Shopping For Gloves?
You're in the right place.
Our motorcycle gloves guide will help you find the right gloves for your needs, riding style, and budget.
Why We Created This Guide
A good-fitting pair of gloves costs little in terms of compromise to comfort or style, and the protection they offer is huge (and often under-appreciated by riders). In today's modern society, our digits are more important than ever before. Unless you're ready to make the leap to voice texting, we recommend making a small investment in protecting your hands, wrists, and fingers.
We've been reviewing motorcycle safety gear for over 20 years, and have gotten "hands-on" with many, many pairs of gloves (over 200 pairs!). In fact, we've reviewed gloves from nearly 60 different manufacturers.
Like all things impacted by materials science, modern advancements in the materials used in motorcycle gloves have helped make gloves safer and more comfortable to wear. Wading through the sheer enormity of what's out there is challenging, especially once you start considering what is the safest or what offers the best value.
In this guide, we've broken down what you need to know when buying a new (or your first) pair of motorcycle gloves. It won't replace years of experience and a strong understanding of how you ride and what your needs are, but it will inform you about what styles, materials, and considerations regarding fit you need to be aware of.
Latest Motorcycle Gloves Reviews
Glove Brands
Most riders don't realize just how many motorcycle glove brands exist. As you can see from the list below we've tested a lot of gloves from a lot of manufacturers in our twenty plus years of testing gear. Below, we have listed all the glove brands we have tested, you can simply click on the link to see all the reviews we have conducted for each brand.
What Makes For A Great Pair Of Gloves?
In many cases, a glove is a glove is a glove, right? Such may be the case when fast-paced means a difficult sprint, but when highway speeds become a consideration, the stakes get higher and requirements change.
Motorcycle gloves must incorporate armor and more durable materials/construction techniques into a comfortable package that offers their wearers minimal restrictions in mobility. That's a fair tall order in and of itself, but of course, a good pair of gloves needs to look good while they do it!
Gloves serve two primary functions (of equal importance): to protect your hands in the event of a crash and to protect your hands from the environment. To accomplish these things, a quality pair of gloves:
Uses durable, robust materials that offer superior puncture and abrasion resistance.

Is made with strong construction techniques that ensure years of long-lasting usefulness.

Are well-fitting.

Offer maximum mobility and comfort, allowing fingers to bend and air to circulate where needed.
Quality gloves accomplish the above while also considering price, the type of glove, size/style demands, and materials.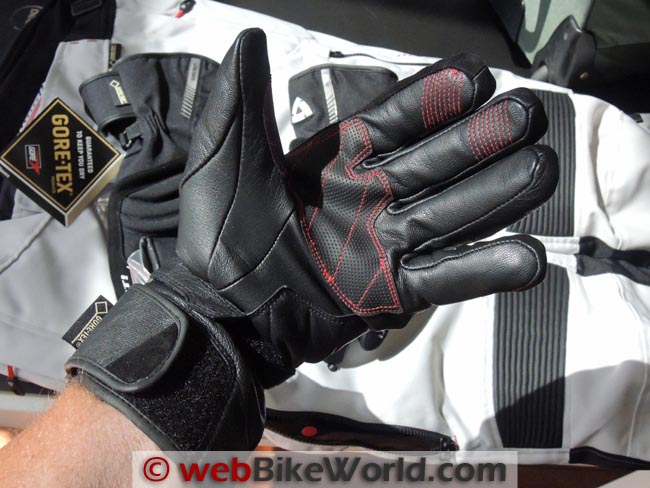 Important Features & Things to Look For
Riding Style
How and where you intend to ride your bike should be the first two things you consider when choosing gear. The requirements placed on safety equipment by rigorous off-road riding are much different compared to low-speed commuting around town. It stands to reason that the gloves you'd want to wear would be different in each situation.
Properly understanding your needs is key in ensuring that you buy the appropriate pair of gloves. While it's true that there really isn't much harm in "overbuying" for your needs, there does reach a point of diminishing returns.
Ask yourself:
What speeds will you be riding at? Will you be sticking to city streets, hitting the highways, or both?

Will you be riding on or off-road? Both?

Is it important that your gloves also serve to warm your hands?

How dextrous do you need to be while riding? What kind of mobility will you need to operate all your motorcycle's controls?
Price
We're operating on the assumption that you're relatively new to motorcycles and riding gear; more advanced riders looking for information on the best gear should check out our motorcycle glove reviews.
It's not uncommon for high-end gloves to reach $500+ price tags, but that doesn't mean you need to spring that much to get good protection. Strong options exist at most price points, though we find that the best value are in some of the $150ish options (note: good short gloves can be found for $100 or less).
The price of a helmet is influenced by several things, such a the materials used, technology integrated, certifications, and brand. The style of glove also plays a role; by default, short and dirt bike gloves cost less than their gauntlet or race counterparts.
We recommend budgeting $150 for gauntlet/race-style gloves, or $50 for short/dirt-bike gloves. Good options exist both above and below that price point, but at our recommended budgets, you aren't lacking for geat choices.
As always, we're advocates for riding ATGATT.
Glove Type
We break down gloves into five distinct styles (in more depth below), distinct due to the levels of coverage/protection they offer and how they are styled. Short and dirt bike-style gloves tend to be less expensive compared to other styles, but they also omit wrist/forearm protection.
If you're looking for a single on-road "daily wearer", we recommend gauntlet or touring gloves. These gloves offer additional protection for your wrists/forearms and tend to be conservatively styled.
Race – Ideal for high-speed racing. Offer great hand and wrist protection, but are often radically styled.

Gauntlets – A great style for all-around on-road riding.

Adventure – Similar to gauntlets, though with additional weather protection.

Short – These gloves stop at the wrist. Many riders prefer short gloves due to weather/climate reasons.

Off-Road – Focus on comfort/dexterity as opposed to protection. We do not recommend these gloves for on-road riding.
Materials
There are two main categories of materials when referring to gloves: leather and textile.
Leather itself can be made from several different base materials: cowhide, kangaroo skin, goatskin, and another type of animal hide/skin. Often, a glove will use multiple different type of hide in a single pair.
Textile materials are man-made and are typically engineered for a specific quality or application.
Leather
Tend to fit snugly at first but stretch out as the leather breaks in.

Different types and grades of leather can influence price significantly.

Typically high abrasion resistance.

Quality leather can get expensive.
Textile
Incorporates vents, textures, and different material types.

Generally less "stiff" compared to new leather gloves.

Usually less expensive (comparatively speaking) than leather.

Generally superior water/weather resistance.
Adventure & Touring Gloves
These gloves are ideal for situations and weather conditions where superior protection is required.
Strengths
Adventure or touring gloves are typically made with more robust materials and construction methods compared to other styles.

Superior weatherproofing and heat management.

External stitching, state of the art materials, armored paneling, good ventilation

Often sporting gauntlet-style cuffs
Cons
Bulkier than other types of gloves

May sacrifice some dexterity for sake of weatherproofing or protection
More
Gauntlets
An ideal "daily wearer" offering protection for both the hands and wrists. The ideal on-road motorcycle glove for the rider that prioritizes safety.
Gauntlets provide coverage beyond the wrist, lending abrasion and impact resistance to the wrist and forearm. Critically, gauntless improve wrist stability and help prevent hyperextension.
Strengths
Gauntlets are great gloves for the daily rider.

A well-fitting gauntlet glove will offer mobility comparable to a comfortable short glove, while offering greatly improved protection. gauntlets are the best glove to wear on the streeet.
Cons
Bulkier than race or short gloves

Can be more expensive
More
Race Gloves
Made for high-speed riding on the track or street. Race gloves incorporate liberal use of armor and venting across the fingers, palm, and wrists. Most race gloves come equipped with longer cuffs, plastic/carbon fiber knuckle armor, and palm sliders.
Strengths
Good looking and stylistically compatible with a large variety of bikes

Excellent crash protection

Cool and comfortable
Cons
Can be expensive

Styling can be over the top for some
More
Short Gloves
Perfect for warm-weather riding where comfort is priority. Short gloves lack the wrist protection offered by gauntlets, but gain in riding comfort and dexterity. Short gloves are also easier to carry around/pack compared to gloves with a cuff or gauntlet.
Strengths
While they are down on protection, short gloves are up on comfort.

Many riders prefer an open wrist and find short gloves easier to live with.

Generally less expensive than other types of gloves
Cons
No wrist or forearm protection

The least protective of all the glove types (but much better than no gloves at all)
More
Finding the Right Style, Fit, & Material
(& at the right price)
Unfortunately, unlike Helmets, there are no universal hand shapes that gloves are made to conform to. True, many manufacturers use similar sizes, but in general, shopping for gloves is often an exercise in trial and error. You won't know how they fit until you've tried them on.
Things To Consider
Regional Differences – European brands send to size their gloves a little slimmer and tighter than other regions, so consider ordering a size up from your usual if going that route.

Styles – Adventure gloves tend to fit more snugly compared to gauntlets, and both styles are much heavier than bulkier than what you'd find in a typical short or dirt bike glove.

Weather Protection – Adding some bulk in order to offer improved cold protection/insulation will influence the feel of the glove. Consider having a second pair of gloves for cooler weather riding.
Comfort & Materials
Leather can take several wears before it fully breaks-in. Until then, you may find your leather gloves a little stiff or snug compared to a comparable pair of textile gloves.
If weather and waterproofing are important for you, consider a quality pair of textile gloves. As a rule, leather doesn't enjoy water and can be difficult to maintain if they get wet frequently. Textile gloves don't normally have to worry about this.
Quick-Guide: Measuring Your Approximate Glove Size
Recommended Motorcycle Gloves
Our recommended gloves for each type.