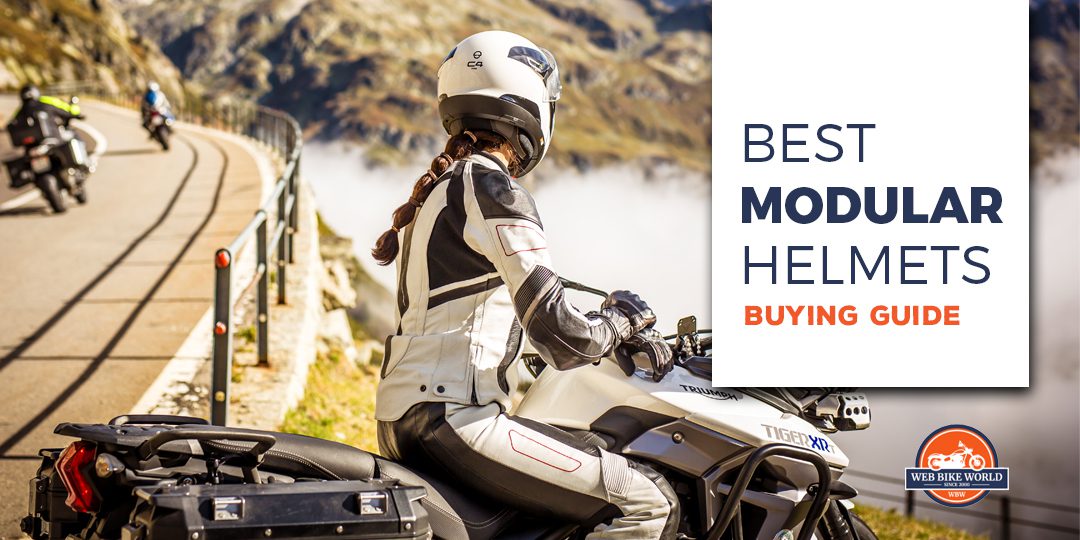 About Our Modular Helmet Recommendations
Founded in 2000, our team at wBW has collectively tested more than 2,500 helmets, jackets, boots, gloves, accessories, and more. We do not fluff reviews. A riders safety is heavily dictated by how they ride and what they wear while doing so. Our goal is to help riders make informed decisions about the gear they invest in to protect themselves.
wBW is funded by our audience. Our recommendations and reviews may contain affiliate links that earn us a small comission if you make a purchase after clicking them. This is the primary way we fund our website and pay our review team (and comes at no additional cost to you). We disclose our relationship with brands or manufacturers for transparency. For more information about our extensive review process, see our review policies.
Best Entry-Level Modular Motorcycle Helmets
Priced under $300.
Scorpion EXO-AT950
Why?
One of the most versatile helmets on sale today is the Scorpion EXO-AT950. It is a dual-sport or adventure lid that can be worn in various ways. It's this versatility that makes it stand out, but it's the price that makes this helmet a top choice. You get a lot for your money.
One of the things that makes the AT-950 so easy to live with is that you can take the peak off, remove the face shield, or just wear it as is. There's also plenty of venting, an internal sun shield, a removable chin curtain, and a removable interior.
It packs a lot into a helmet at this price point. The helmet offers way more than many premium lids do for a small fraction of the price. It's about a third as expensive as some of the other best modulars out there. While it might not feel like the most premium lid on your head (the interior could be softer and a tiny bit more padded), for its price, it's a real winner.
Key Specs & Head Shape
Head shape: intermediate oval
Weight: 4 lbs
DOT/ECE? DOT certified
Our Review
Originally reviewed in 2016, we found this helmet to be an excellent value. However, at 4 lbs on the nose, it's not lightweight by any stretch – especially compared to other modular helmets listed here. Read our full review…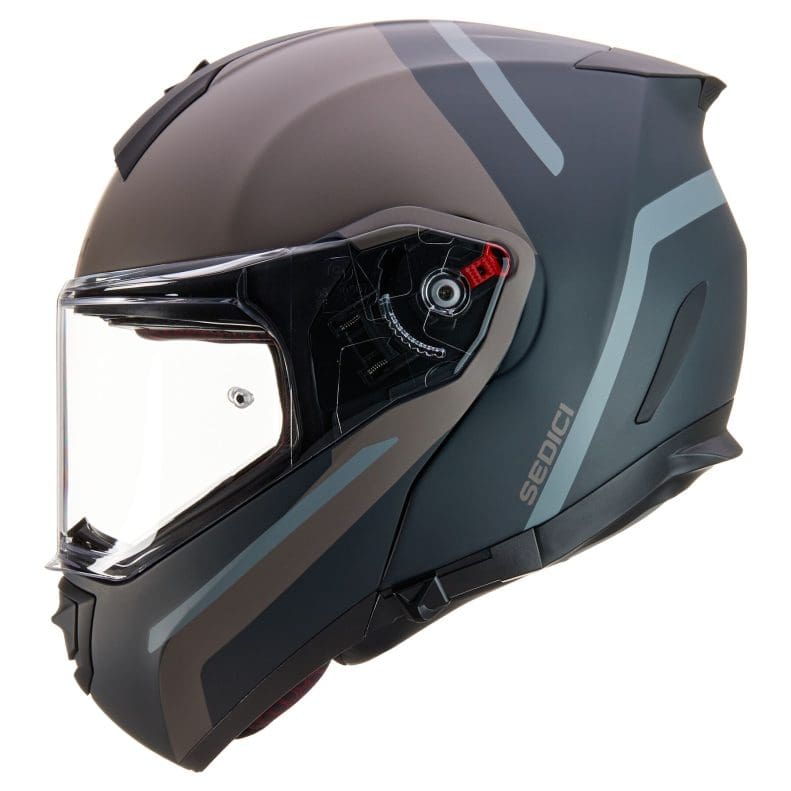 Sedici Sistema II Horizon
Why?
The shell is a blend of fiberglass and aramid fibers and has been nicely updated and tuned for much better flow through the air compared to the original Sistema. No more wobble head actions when shoulder checking at speed.
The ventilation design is a fairly tried and true set up with an adjustable chin vent and top vent. There is good channeling through the EPS liner and a good-sized exhaust vent out the rear spoiler portion, meaning you won't have an issue keeping your melon cool and dry. Of course, there is a drop-down internal sun visor that is simple to deploy with the slider.
One of the nicest features of the Sedici helmet is the interior liner and padding. The moisture-wicking liner is easy to remove and wash, and the provision of adjustable temple padding is a very thoughtful touch by Sedici. There is 5mm of customization at the forehead and temples to help get the fit just right. This is a rare feature at this price level. Well done Sedici.
Key Specs & Head Shape
Head shape: intermediate oval
Weight: 3.7 lbs
DOT/ECE? DOT and ECE-22.05
Our Review
We haven't reviewed this Sedici helmet, but boy would we like to. We HAVE seen it at industry events (like AIMExpo) and really think it's a great unit.
Best Mid-Range Modular Motorcycle Helmets
Priced $300 - $500.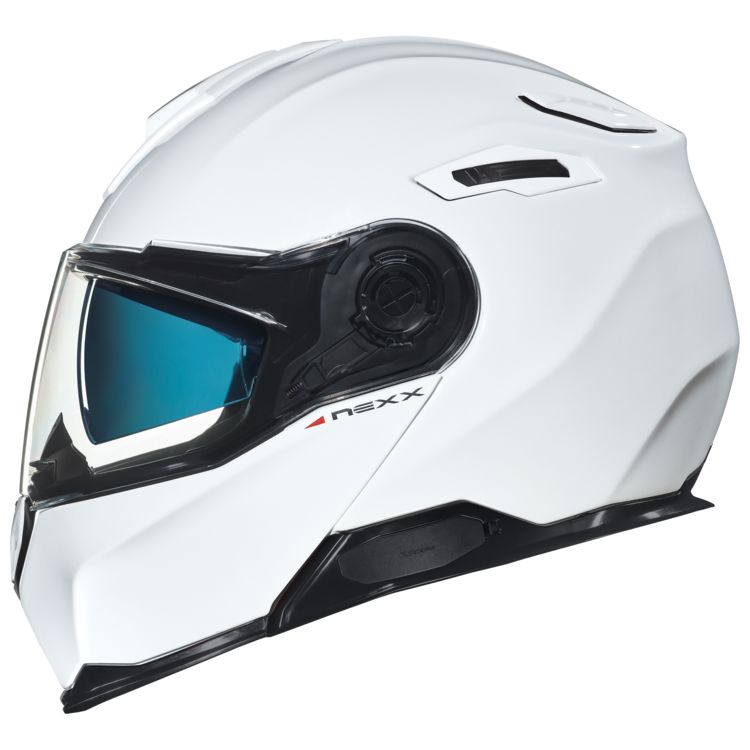 NEXX X.Vilitur
Price: $524 ($579 for Stigen variant and $699 for Carbon Zero variant)
Why?
As a brand, NEXX do a very good job of blending form and function. That design sensibility is very much on display with their first modular helmet - the NEXX X.Vilitur. For a first attempt, this is a fantastic lid. It is aggressive and sporty - rare attributes in the modular helmet space.
The X Vilitur is lightweight and is made for an intermediate oval head shape. The lid also has things like a sun visor, removable breath guard, adjustable chin curtain, and it is NEXX X-Com compatible (sold separately).
Key Specs & Head Shape
Head shape: intermediate oval
Weight: 3.93 lbs
DOT/ECE? DOT & ECE certified
Our Review
Cameron reviewed this lid and came away really impressed with it. The helmet features good venting, a wide viewport, a comfortable fit, and a stiff and strong shell. It is not without some issues, though. It's a bit loud and doesn't come with a Pinlock—a feature other helmets around the same price do have. The vent switches can also be a little tough to manipulate. Check out his review here.
Nolan N100-5
Why?
The Nolan N100-5 is a fantastic blend of affordability and premium helmet features and design. The aerodynamic shell shape and included PinLock lens are just two of the great things about this helmet. There's also proper venting and the lid is quieter than many other modular helmets.
The helmet isn't without its faults. The helmet only comes in two shell sizes, making for the bobblehead look potentially. Also, you can only really use N-Com Bluetooth units if you want to keep the safety ratings intact, and it's pretty much impossible to get on without lifting the chin bar. Not dealbreakers, but worth noting.
Key Specs & Head Shape
Head shape: intermediate oval
Weight: 3.93 lbs
DOT/ECE? DOT & ECE certified
Best High-End Modular Motorcycle Helmets
Priced over $500.
Shoei Neotec II
Why?
With an intermediate oval head shape, the Shoei Noetec II should fit the majority of riders out there. The helmet can be had with the SENA SRL integrated and that makes it a real communications winner as well
The Neotec II is a premium helmet and feels it. The integrated sun visor, chin bar, and levels of comfort are top-notch. It's a lid that is well-designed, comfortable, and packed with features. The helmet gets everything you'd want from a lid including proper ventilation, a Pinlock visor, aerodynamic shell shape, and a featherlight overall weight. The Schuberth C4 Pro challenges the Neotec II, but the Shoei wins in our book.
Key Specs & Head Shape
Head shape: intermediate oval
Weight: 4.12 lbs
DOT/ECE? DOT certified
Our Review
Our big boss and head-honcho Cameron did a comprehensive review of this helmet, and due to the great experience he had with it the Neotec II actually became his main helmet option when going out for a ride. Read the complete Shoei Neotec II review.
AGV Sportmodular Carbon
Why?
AGV makes masterful lids, but that hard work comes at a premium price. Still, for those riders that want an option to Shoei in the modular helmet world, the Sportmodular Carbon is a winner.
The helmet is extremely lightweight courtesy of the carbon fiber shell. The rest of the helmet is equally high-quality. It doesn't have the fancy communications technology featured in some of the other offerings on this list, but its build quality and protective/comfort features more than justify the price.
Key Specs & Head Shape
Head shape: intermediate oval
Weight: 3.2 lbs
DOT/ECE? DOT & ECE certified
Our Review
Modular helmets are freaking heavy. There's no way to get around that… Except of course if you buy an AGV Sportmodular Carbon. This helmet is lighter than most nonmodular helmets available today (believe it or not), but that's not the only selling point. For a full rundown of the other reasons why this helmet is such a good option, please check out Jim's amazing review found on our very own WBW website. The review in question can be found here!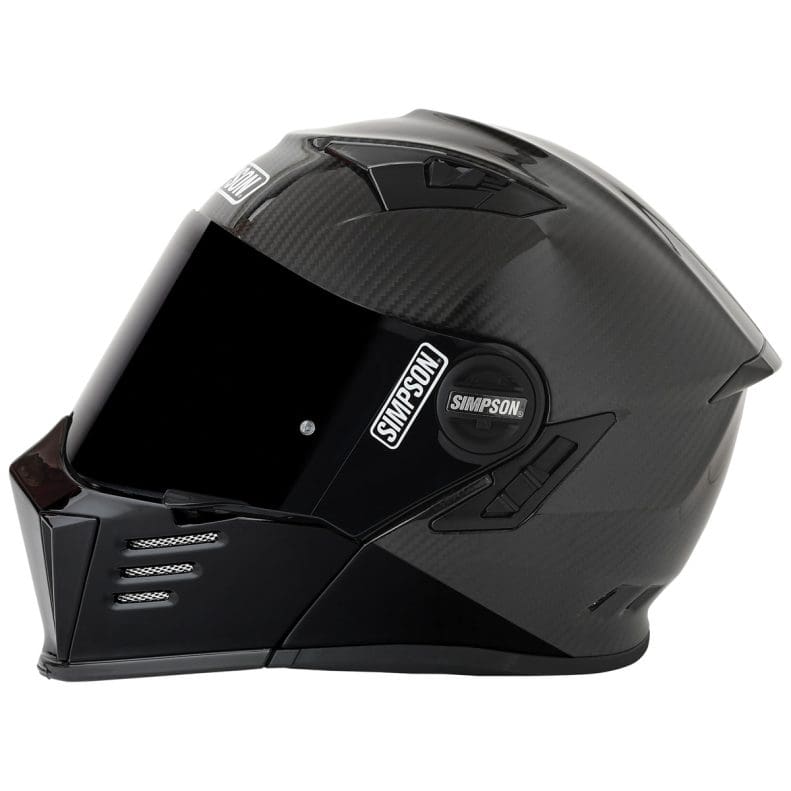 Simpson Mod Bandit Carbon
Why?
A helmet with a lifting chin bar no longer needs to look lame. The Mod Bandit Carbon shares the legendary and badass Bandit style. The style that has been a favorite for years.
The Mod Bandit features an easy one-handed opening mechanism to get some fresh air when you stop. The interior is fully removable and washable to keep those inside fresh and long lasting.
The 100% carbon fiber ultra-lightweight shell has been aerodynamically tuned for motorcycle riding and is fully ventilated for maximum airflow when you need it most. Integrated speaker and microphone pockets make it easy to install your favorite communication device and a drop-down sun visor makes riding through changing light conditions as easy as flipping a switch.
Key Specs & Head Shape
Head shape: intermediate oval
Weight: 3.56 lbs
DOT/ECE? DOT certified
Our Review
Jim did a very thorough review of the regular Simpson Mod Bandit, it will give you a very good idea of what to expect from the Carbon version. Just know it will be lighter on your head.
What To Look For In A Modular Helmet
Like all helmets, modular helmets come with a list of items to pay particular attention to. More complex than every other type of helmet, knowing what to look for can be the difference between an awesome experience and a terrible one.
Look For:
DOT/ECE certifications—Many inexpensive modular helmets showing up on Amazon and eBay are not DOT or ECE certified. This certification may save your life. Don't cheap out—remember, you're preparing for the slide, not the ride.

Comfort— Most of the helmets featured on this page use lightweight materials to minimize neck strain—useful, especially on long rides.

Head shape—While most people are an intermediate oval, not all are. Make sure you get a helmet designed for your head shape.

Shell material—Polycarbonate is okay, but you'd be better served with carbon fiber (expensive) or fiberglass. All the helmets called out here (save for one) are fiberglass.

Interior liner—All the helmets featured here offer removable liners that are anti-moisture and anti-bacterial. Avoid non-removable liners (found in cheap helmets)—it'll be a stink factory before you know it.
Read the complete motorcycle helmet buyer's guide for more information.
At WBW, "Best" Actually Means Something
Remember when you could open up a review of something, and when the publication—magazine, car show, whatever—said "best" they stood behind it? Yea, we remember, and we're bringing it back.
Here's how we do things:
We disclose our affiliate relationships—We make money via advertising and affiliate relationships on our website. It's how we pay our team and invest in things like sending Jim to Italy. And Japan. And France… wait… why do we always send Jim places?

We obsessively hands-on test—We wear and ride with gear before reviewing it, and we update reviews down the line if our opinions change. We look at real-world situations because that's the world we live in.

We're objective—Good gear is good gear, regardless of who made it.

We're value-focused—Why pay $500 if something for $250 is just as good? Our review scores and recommendations reflect best value. Brand only goes so far—the gear has to stand on its own.