Shoei RF-1400 Full Face Helmet Review Summary
Review Summary
An awesomely quiet full-face helmet with premium workmanship evident, sold at a desirable price point. Better than average ventilation and comfortable to wear. Lightweight for a Snell M2020D helmet. This is one of the best helmets available for $499 to $599 US. It requires a Shoei-designed Bluetooth device mount which won't be available until ~May 2021 and there are no Hi-Viz color configurations available.
Pros
Premium appearance, materials, workmanship
Snell M2020D homologated
Maybe the quietest full-face helmet available
Above average ventilation
Pinlock visor included
Stellar field of view and visor clarity
Very comfortable
Great value for the price
Cons
Mounting Bluetooth devices requires specific Shoei mount
Visor may leak water in heavy rain
Heavier than some competitor helmets
No Hi-Viz colors or reflective material options
Shoei RF-1400 Full Face Helmet Image Gallery
Video Review
The New Shoei RF-1400 = A Shoei RF-1200 + 'Kaizen'
I love being among the first people to try something new and then telling everyone I know all about it!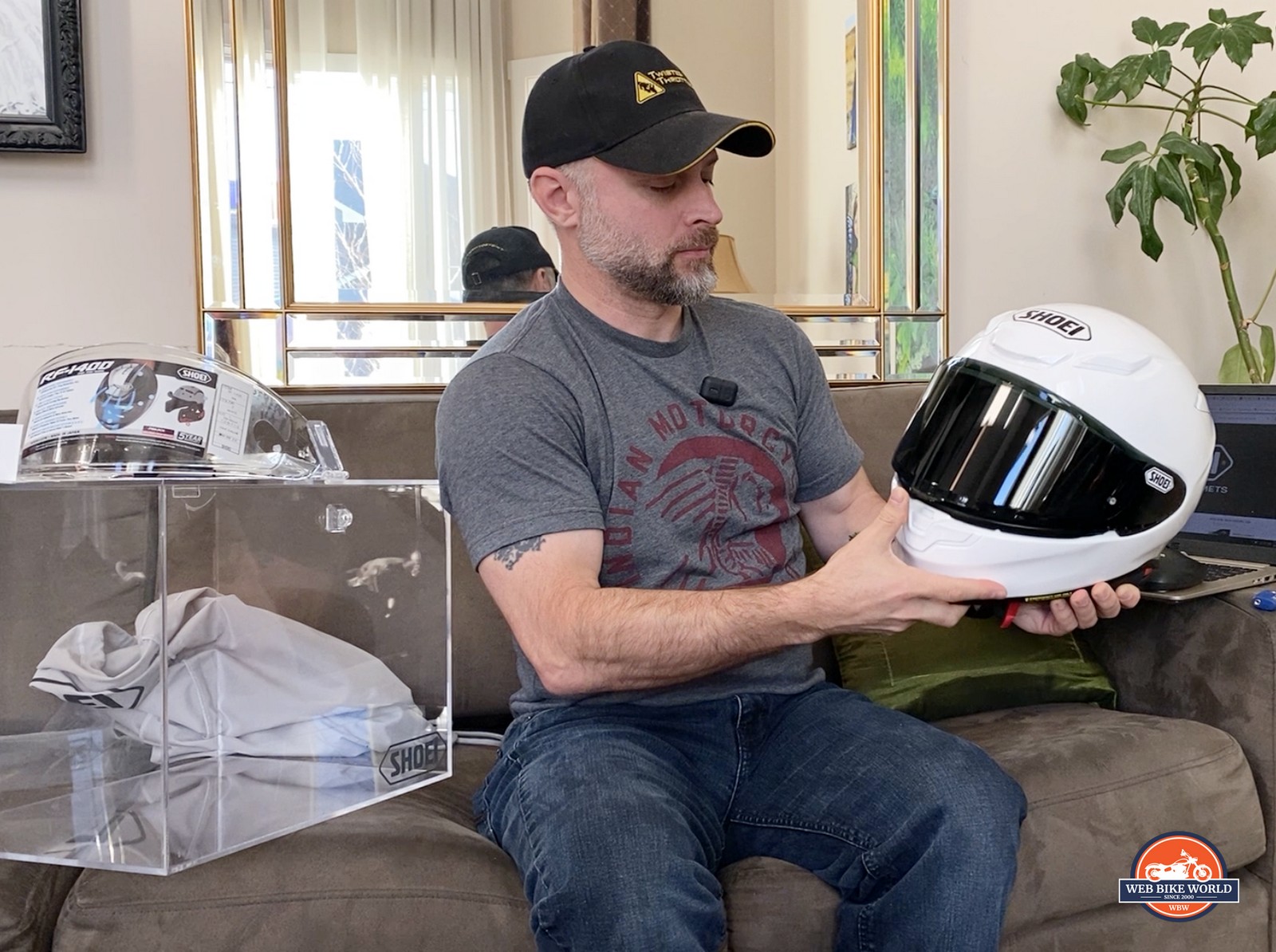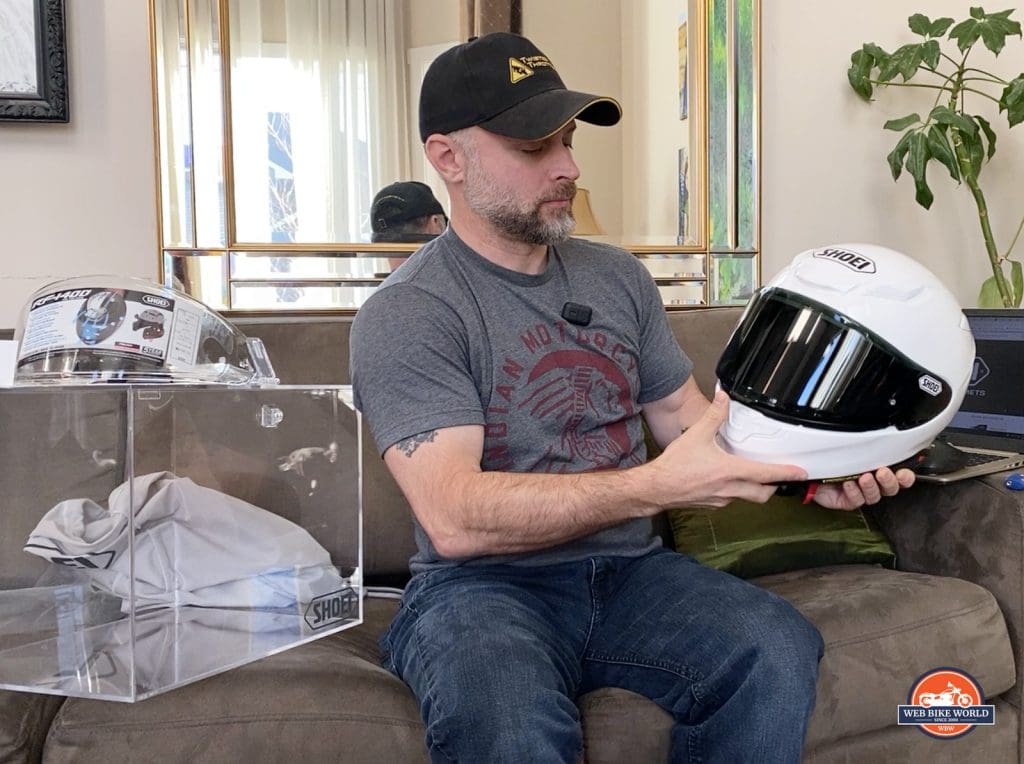 Shoei has morphed its already popular RF-1200 helmet into this even more refined RF-1400 incarnation. They are pumped about the updates and touting it as an example of "perfection" achieved through the company's devotion to a Japanese philosophy of gradual improvement called Kaizen.
#SHOEIWHATSINTHEBOX
I received a locked lucite box last week from Shoei Helmets North America with a promise they'd give me the combination to open it on December 2nd when the official media release was scheduled. Thank you for including me Shoei!!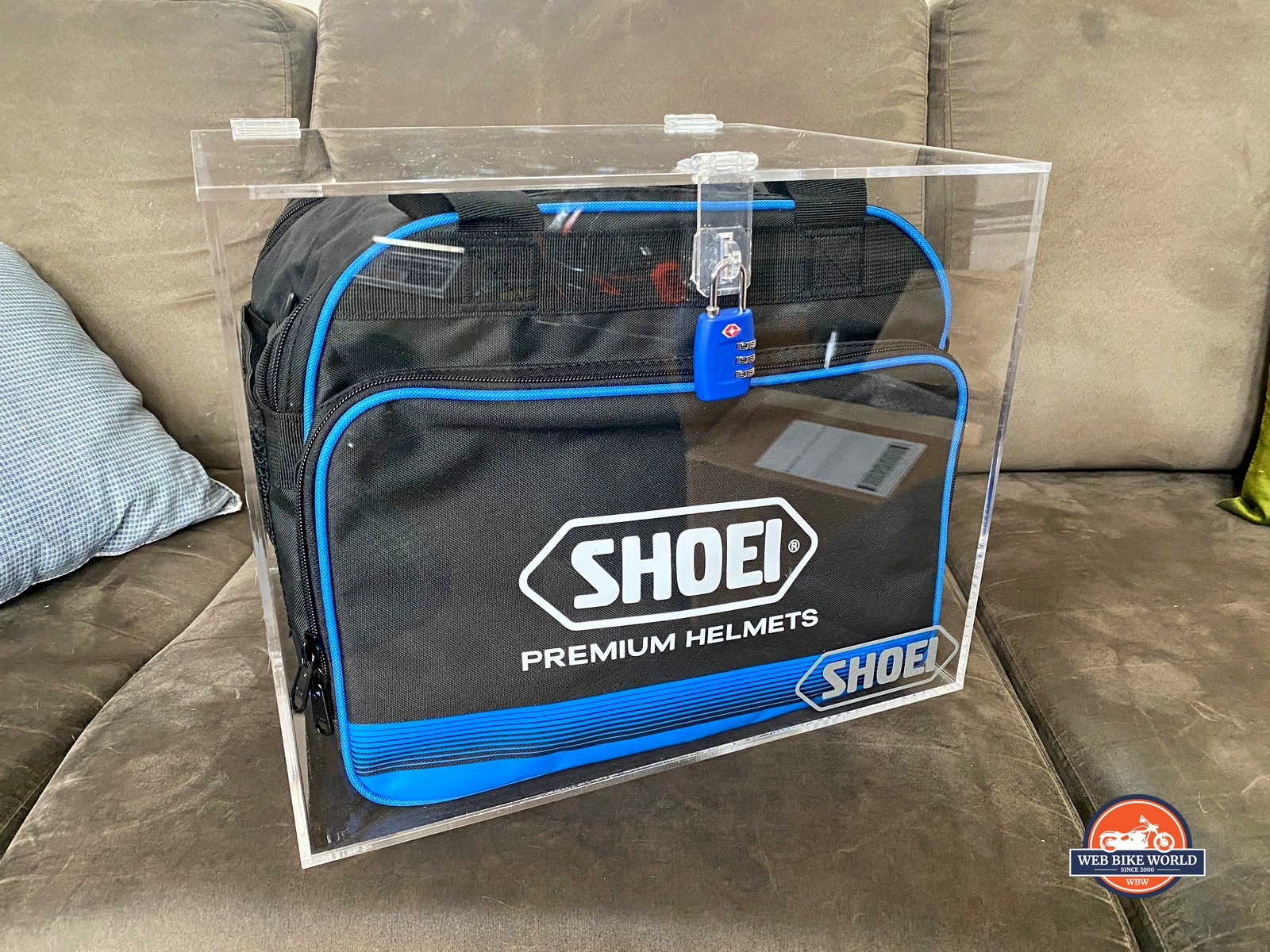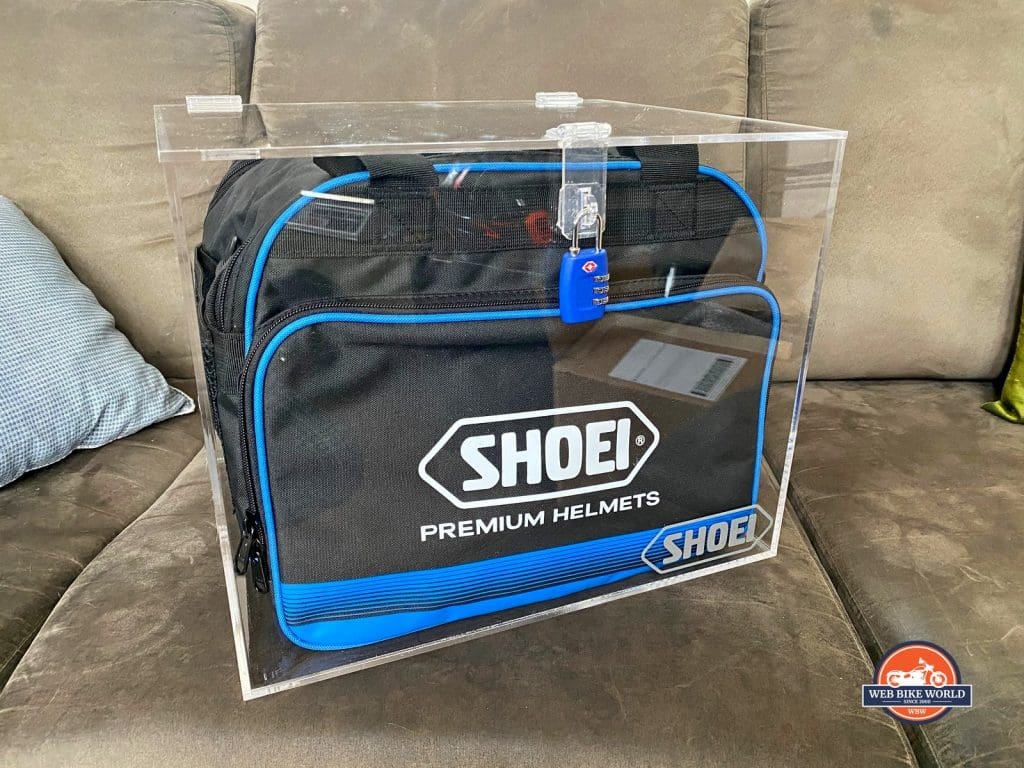 They didn't tell me what the helmet was inside, only that it was a big deal.
What a fun promotional idea to get people wondering what could be the newest member of the Shoei family, or which model was getting an upgrade.
I was all in as you can see from this video. 
I launched a contest to have people guess the code to open the box on our WebBikeWorld Facebook page and my Instagram account @webbikeworld.jim. Additionally, I asked viewers and fans to guess what kind of helmet was inside. 
I couldn't believe it when two people guessed the code correctly almost right away, and one person even said that it would be the RF-1400!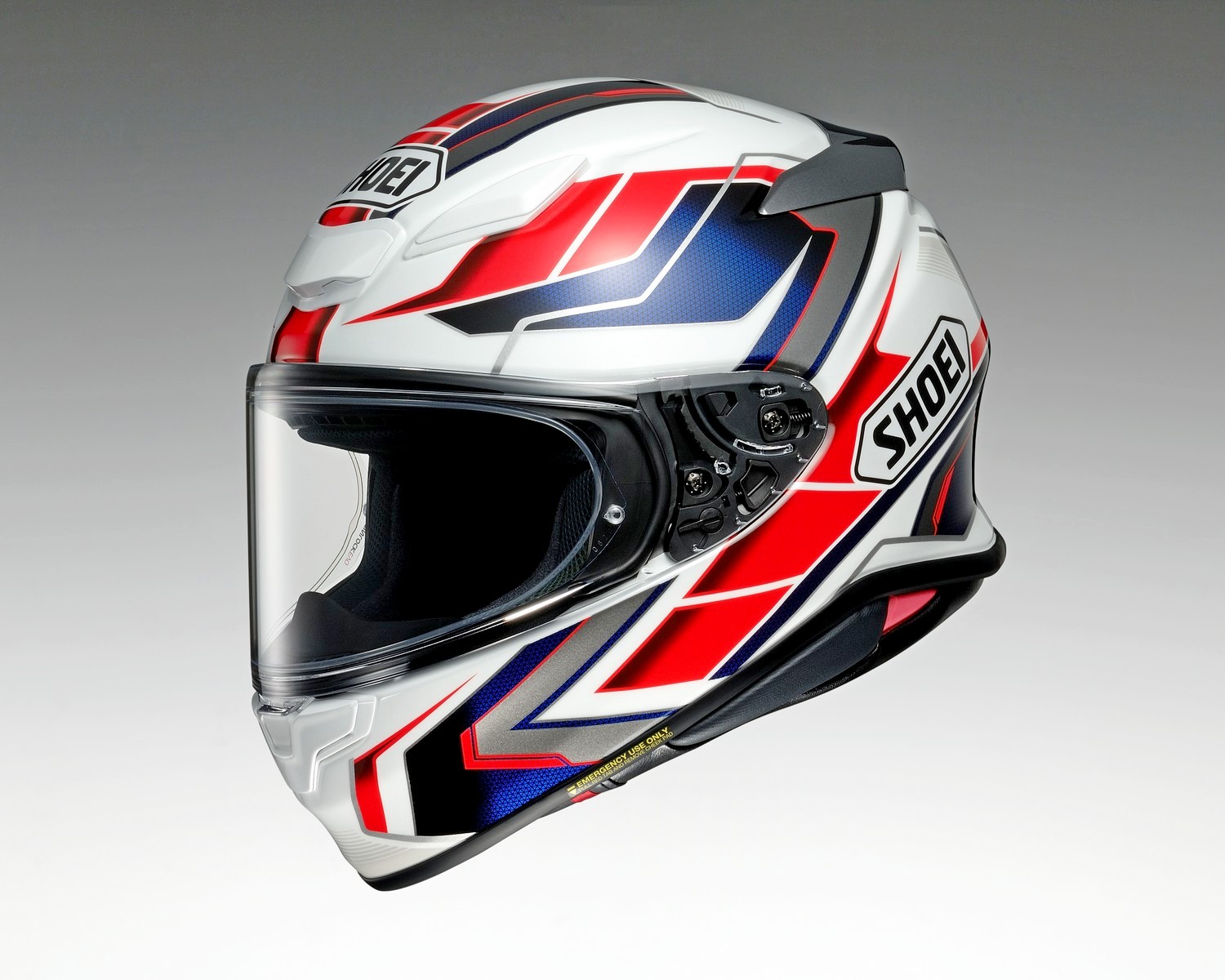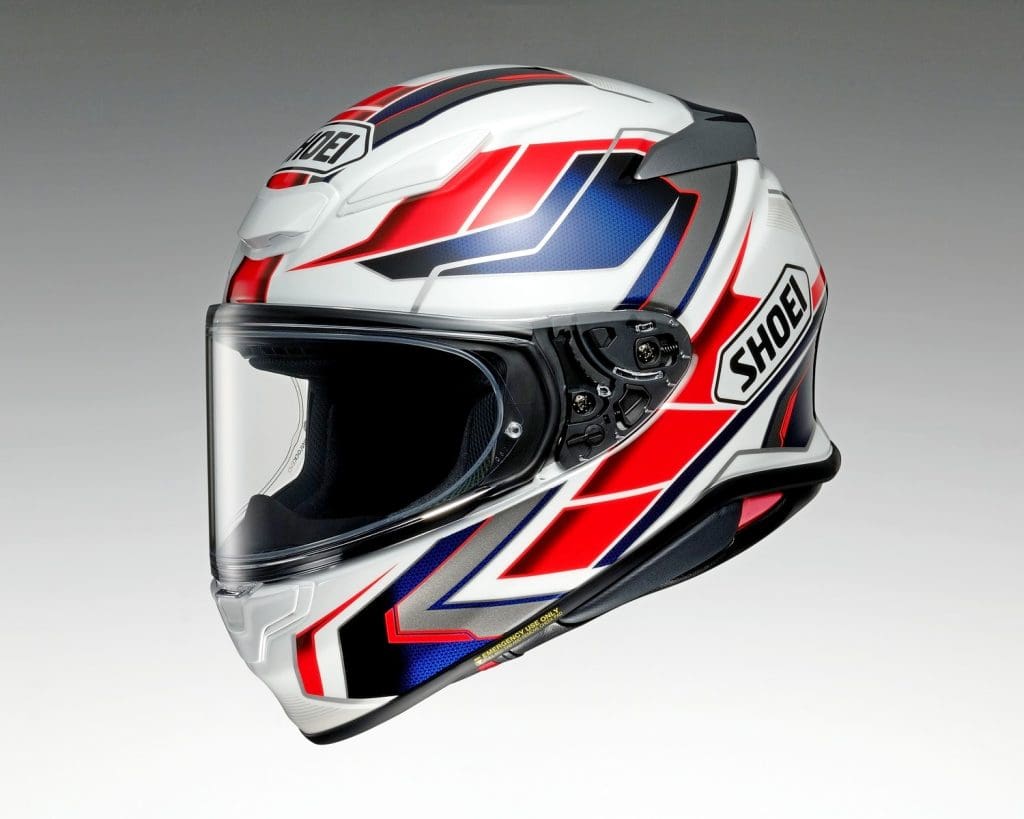 Good job Brandy and John! You two are very sharp.
I sent both winners some swag from wBW and Shoei as a thank you for playing along. A motorcycle gear distribution company named Helmet House saw the excitement about it on Instagram and provided the Shoei swag without me even asking for it! 
Thank you for that, Nicole!
The Changes
Looking at the photo below showing the RF-1200 vs. RF-1400 you'll see much has been… "Kaizen'ed". The RF-1400 isn't just an RF-1200 with bold new colors and graphics even though the family resemblance is evident.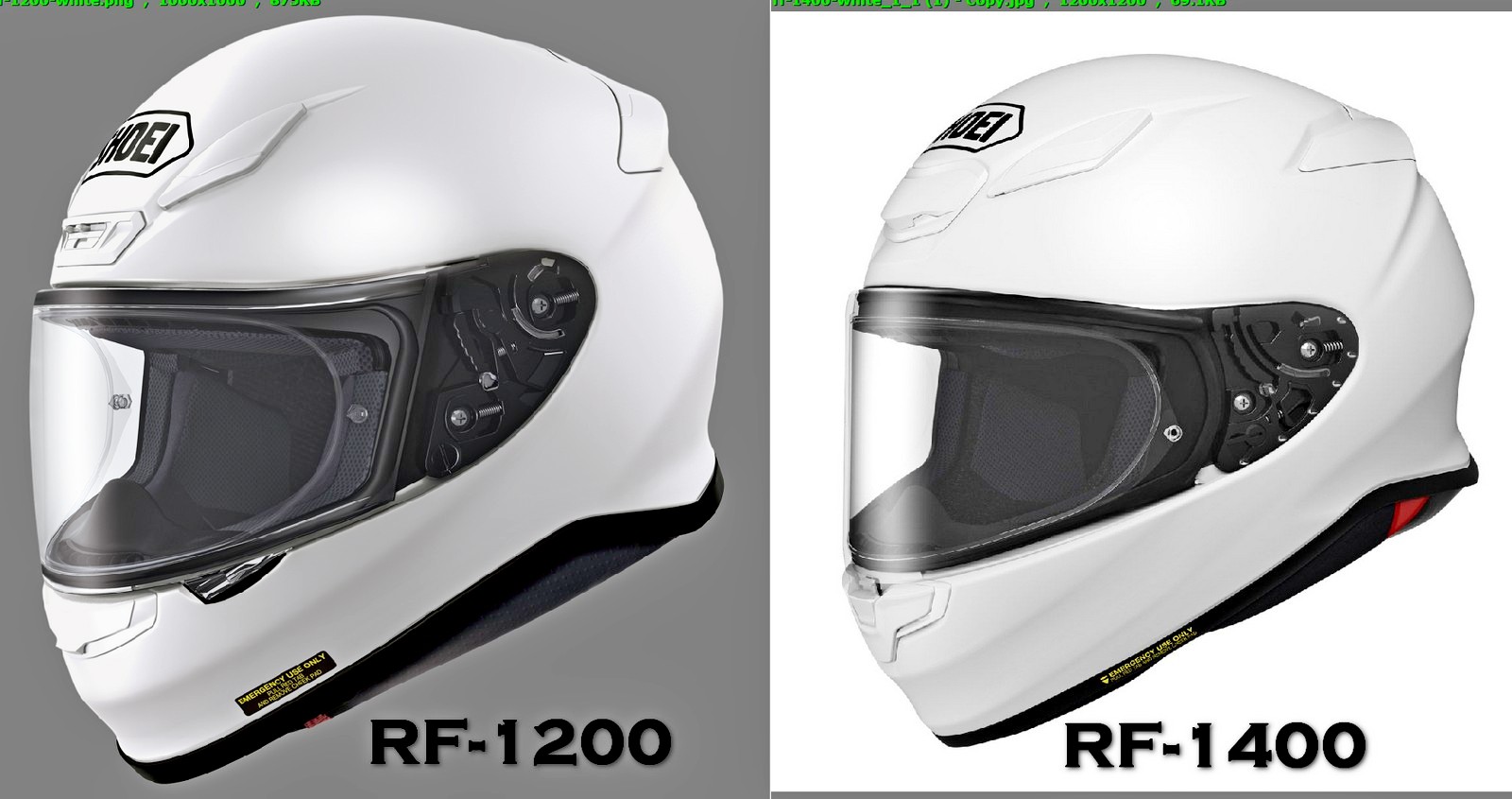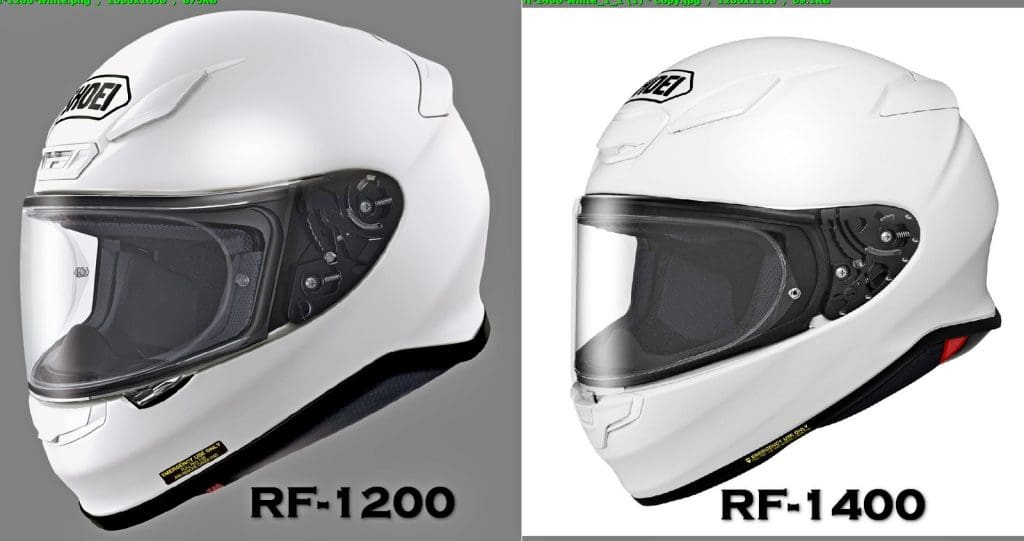 The shell is different in shape and height, but the Multi-ply, matrix AIM+ mixture of fiberglass and organic fibers is still what it's made from.
The RF-1400 shell will come in 4 different sizes and have the usual 5-year warranty Shoei is known for.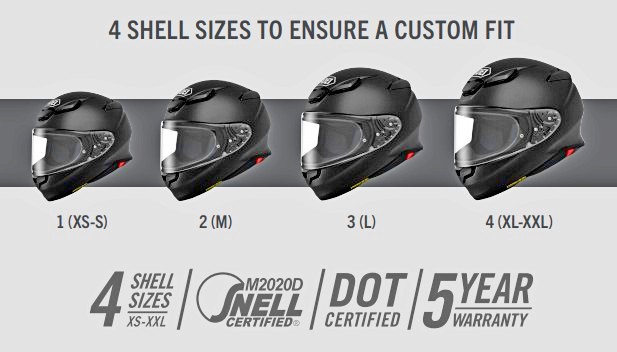 Lightweight
I put this size Large on my scale to see how it stacks up with Shoei's claims.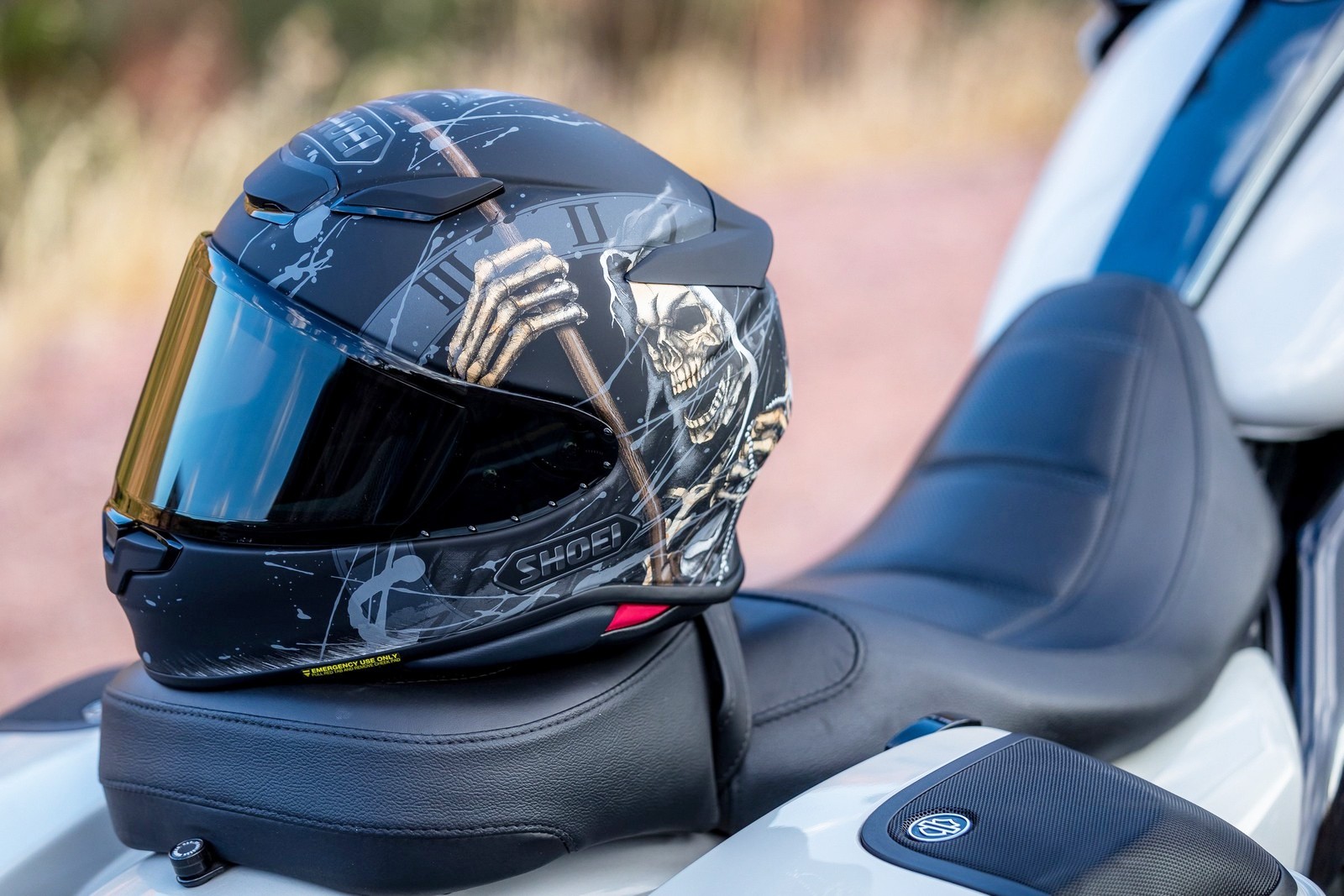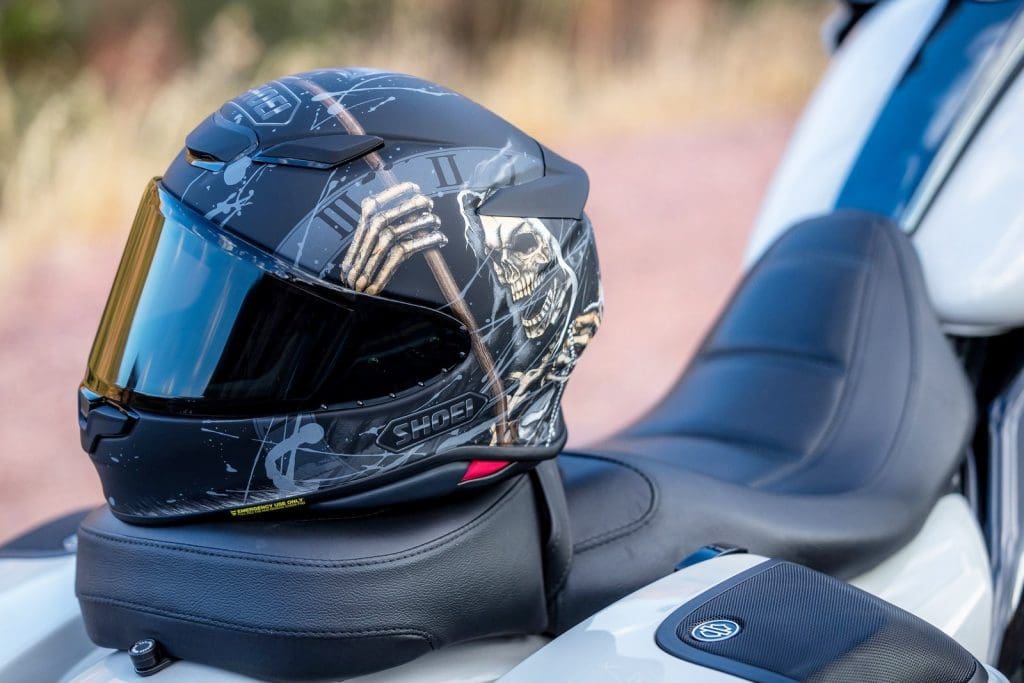 3.76lbs or 1706g is a very lightweight Snell M2020 approved helmet. If it were made of carbon fiber I'm sure it would be flirting with the 3lb mark, but the Shoei reps addressed this in their presentation by saying they don't find Carbon Fiber easy enough to work with while trying to achieve the exact degree of flex desired in their helmet shells.
It sounds a bit odd to hear that a helmet shell should flex, but hey, they're the helmet manufacturing experts, not I. 
The people at Arai also prefer not to use Carbon Fiber so I believe it's a valid point.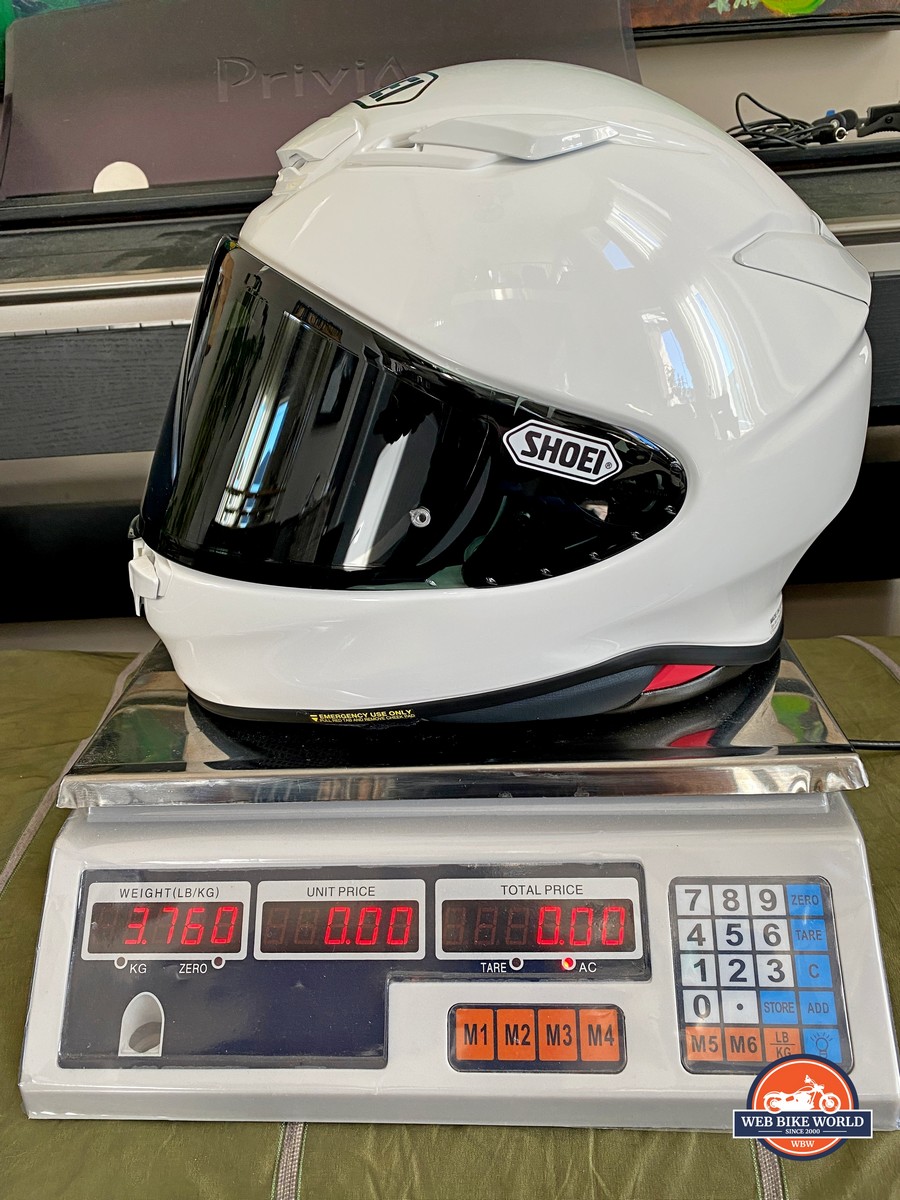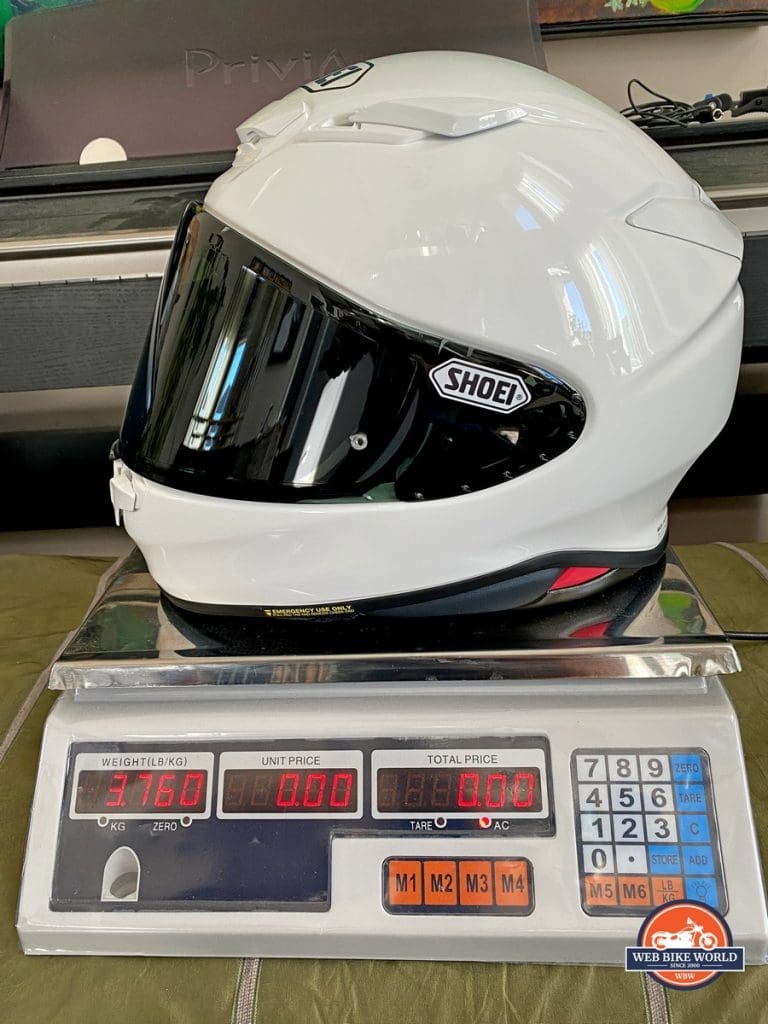 This is the lightest Snell M2020 rated full-face helmet Shoei makes so you can wear it confident in its ability to protect your head in a severe crash.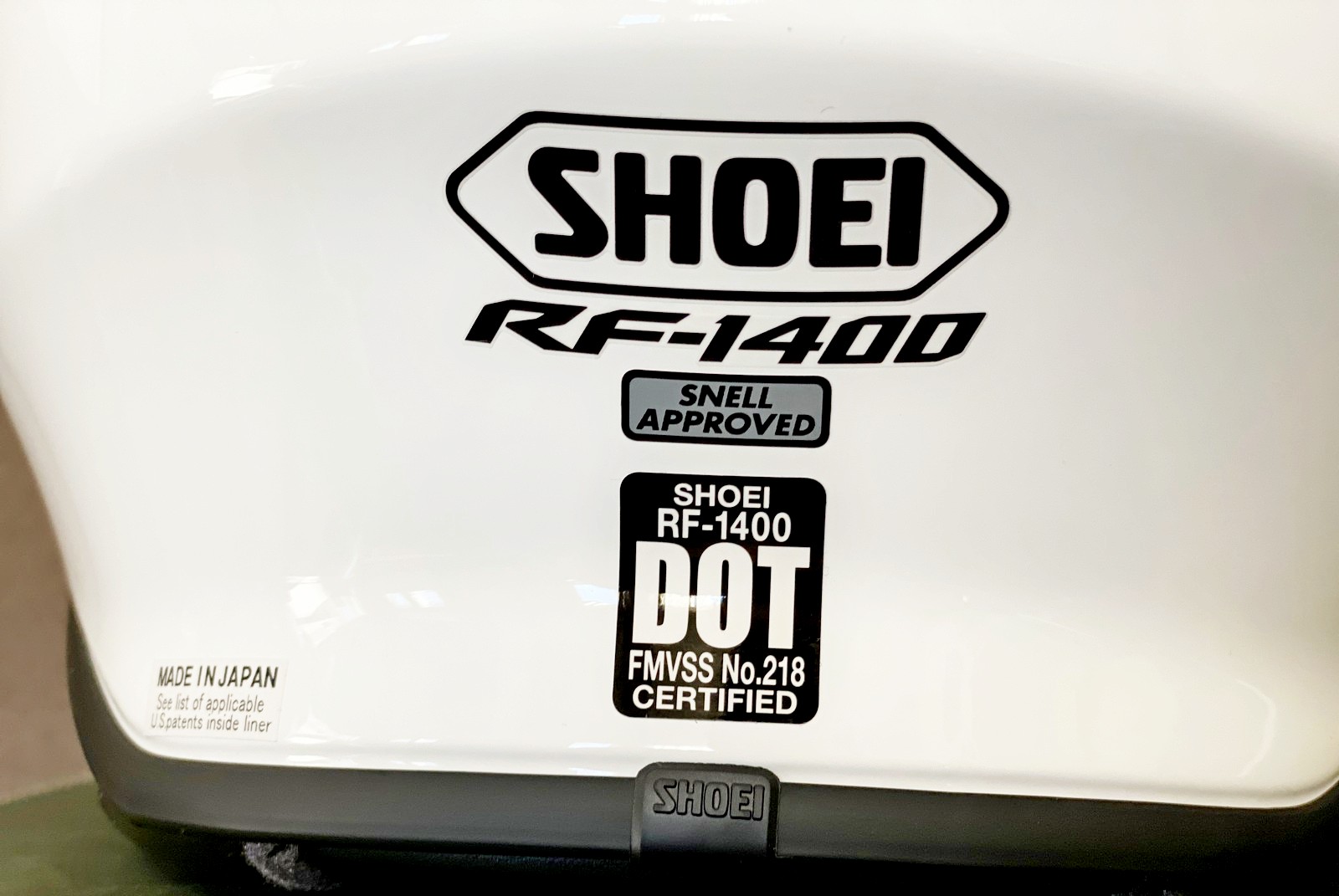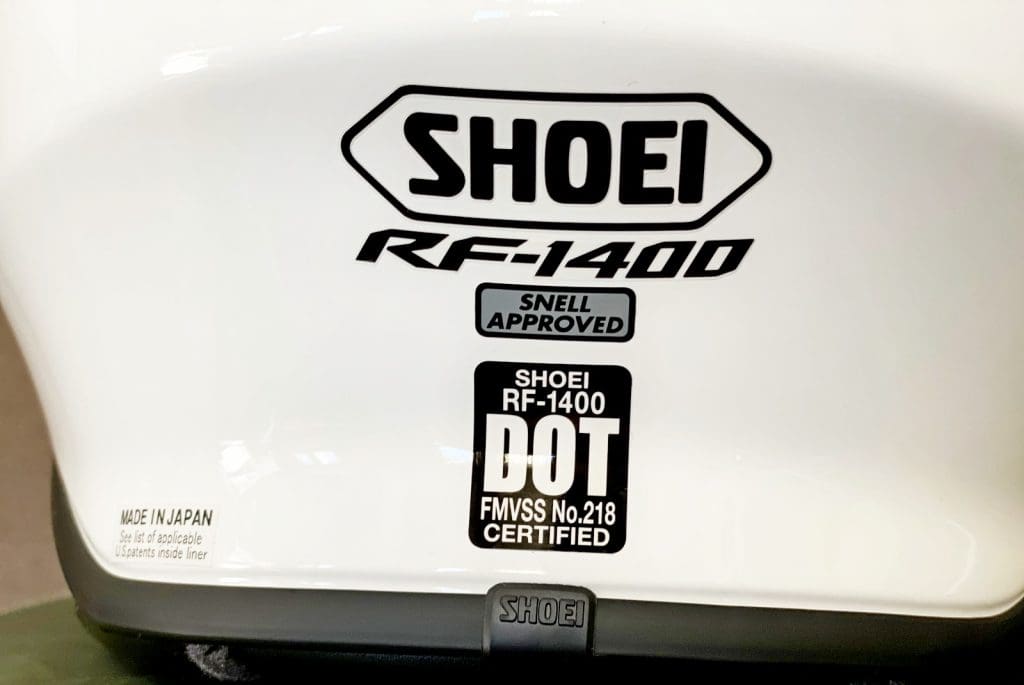 Out on the road (or even just walking around wearing it), this helmet feels lighter than it is. I believe this is thanks to a low center of gravity and the weight is equally divided from front to rear. 
It's a thing of beauty, and one of the small details you can expect to find is addressed in a hand-crafted helmet like this one.
Head Shape and Sizing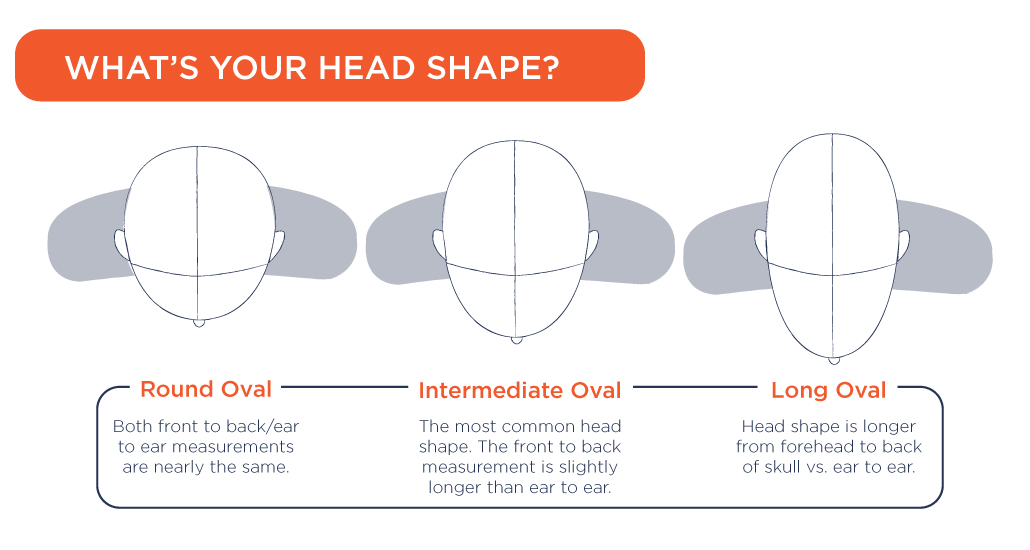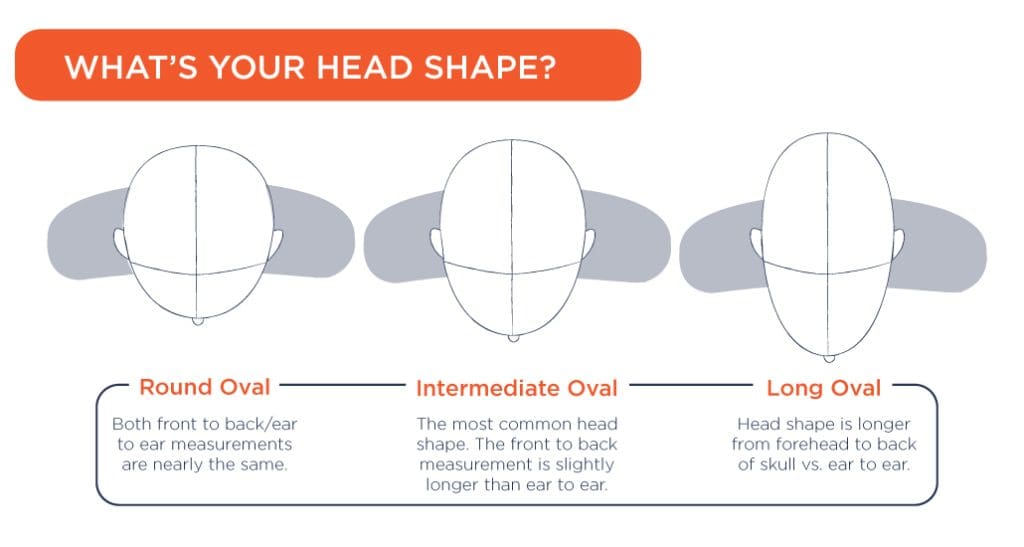 This new helmet fits me better than any other Shoei helmet I've road tested to date (Neotec 2, GT Air, GT Air 2)! I was glad to discover this RF-1400 appears to have a more rounded or neutral bias to its intermediate oval shape. 
They sent me a size Large as opposed to my usually requested Medium because some sizes were in short supply for this early media release party. My 23" or 58.45cm head falls in no man's land between Medium and Large, and so it was a new experience going up a size for this review.
After logging ~300 miles, I'm encountering some minor movement around my forehead due to the liner material relaxing/breaking in.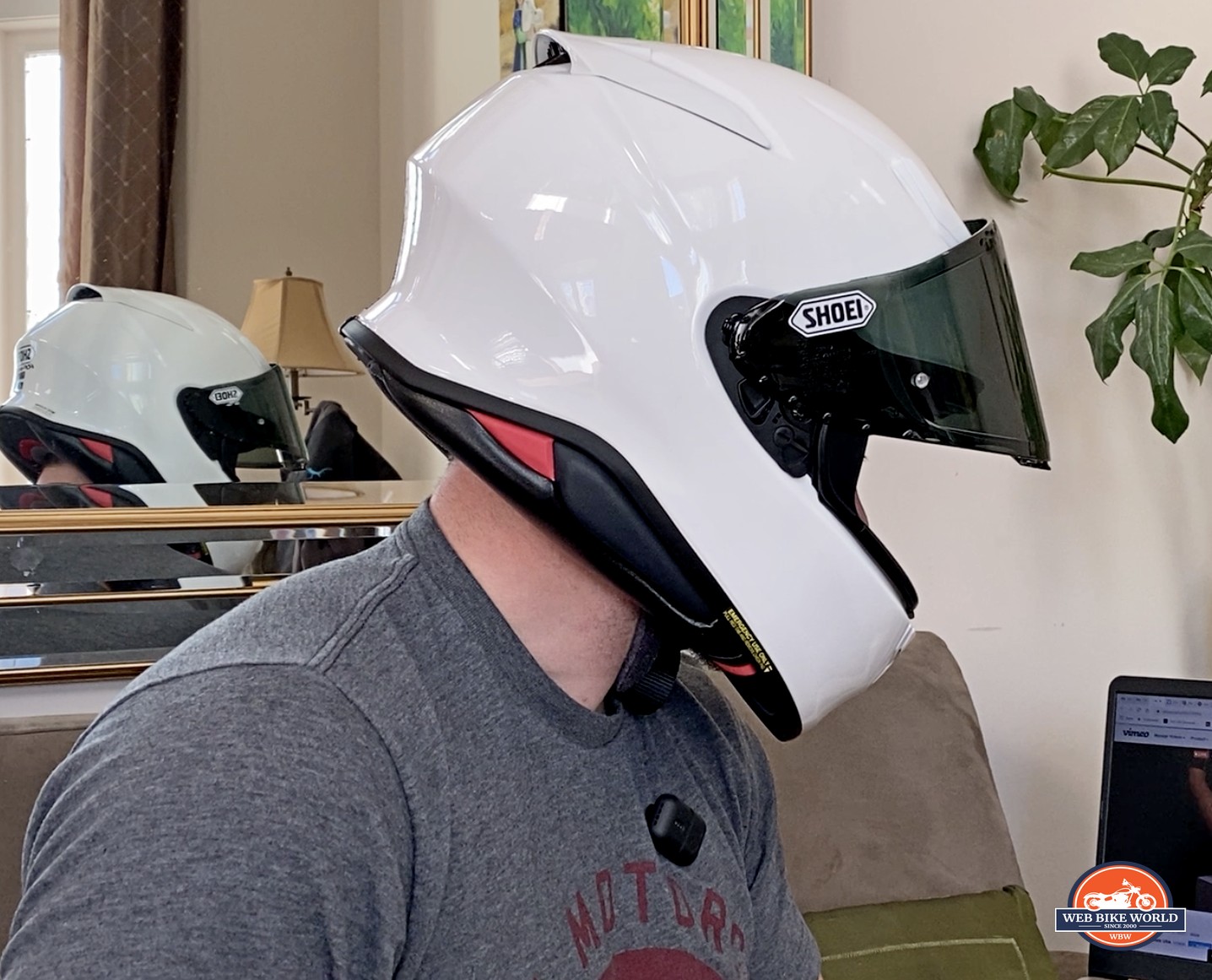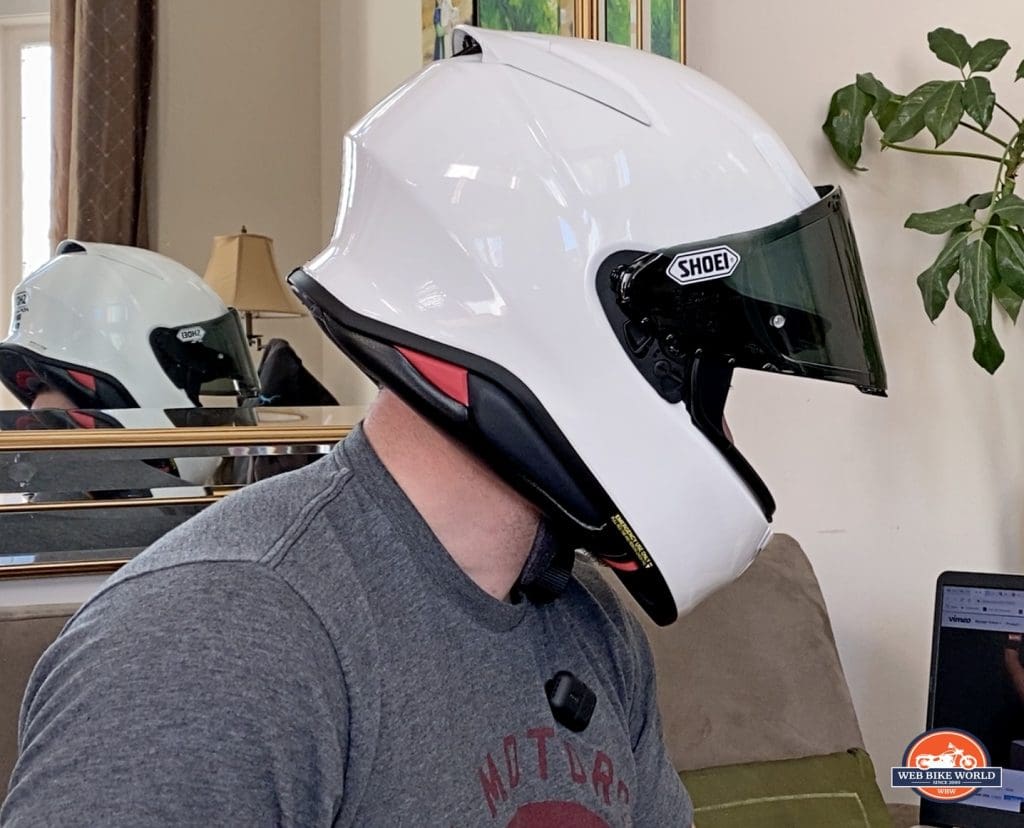 I recently began wearing an approximately 2mm thick helmet liner while riding and I tried it in this new Shoei. That added thickness has taken up the small amount of slack in the forehead area, and the RF-1400 now fits me just right again. 
Regardless, I may try a slightly thicker crown liner down the road or get a size Medium RF-1400 if available with a thinner set of padding to compare the two, assuming Shoei is willing to play along with my proposal.
Visor and Field of View
Shoei sent me both a tinted and clear visor with my sample helmet, but it only comes with a clear one when purchased. The tinted visor is dark enough for sunny days, but if I've got the sun shining directly in my eyes I find myself wishing for an additional layer of tint. I was able to use sunglasses in the RF-1400 without discomfort or issues.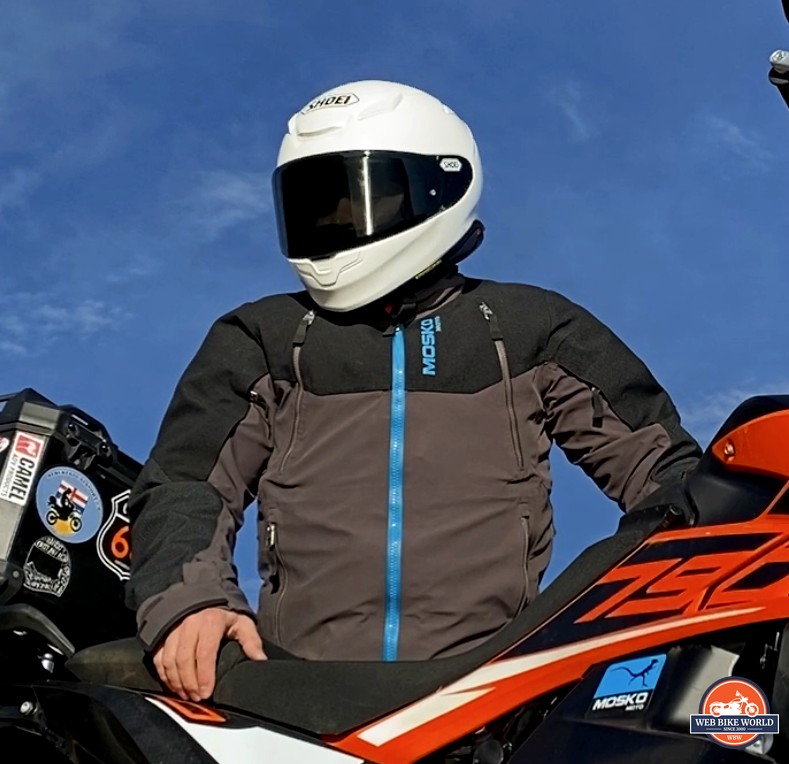 I'd rather the tint be on the lighter side than too dark because a couple of times before now, I've found myself caught out after sunset with a visor that was too dark to use safely. That long ride home isn't an experience I'd like to have too often.
A Transitions Visor Is Tops
I inquired with Shoei and was told a Transitions (auto-darkening) visor will also be available for the RF-1400 in April or May 2021. That's the ideal visor to be wearing on this helmet in my mind, notwithstanding how expensive it is to buy and the limited life expectancy.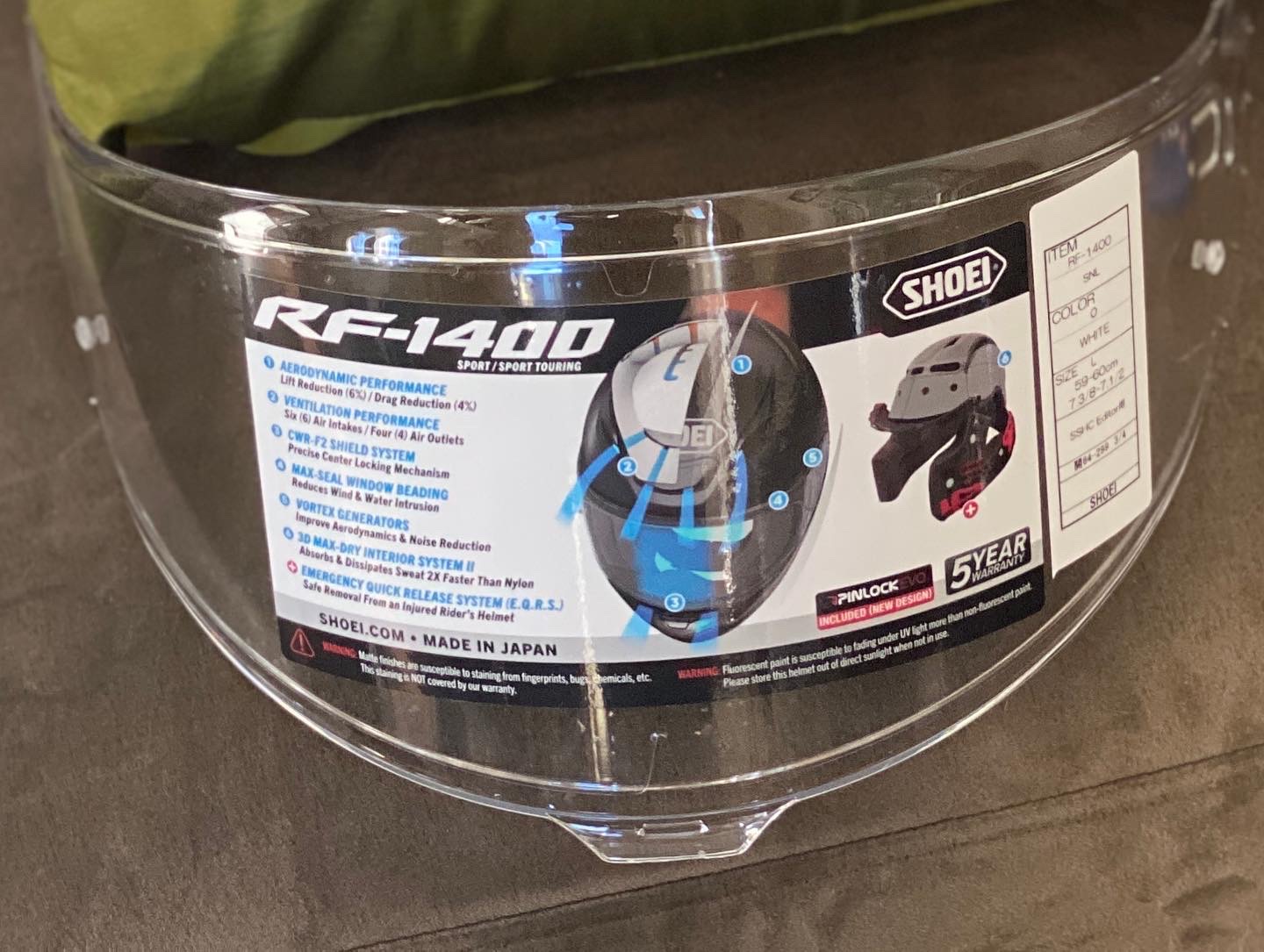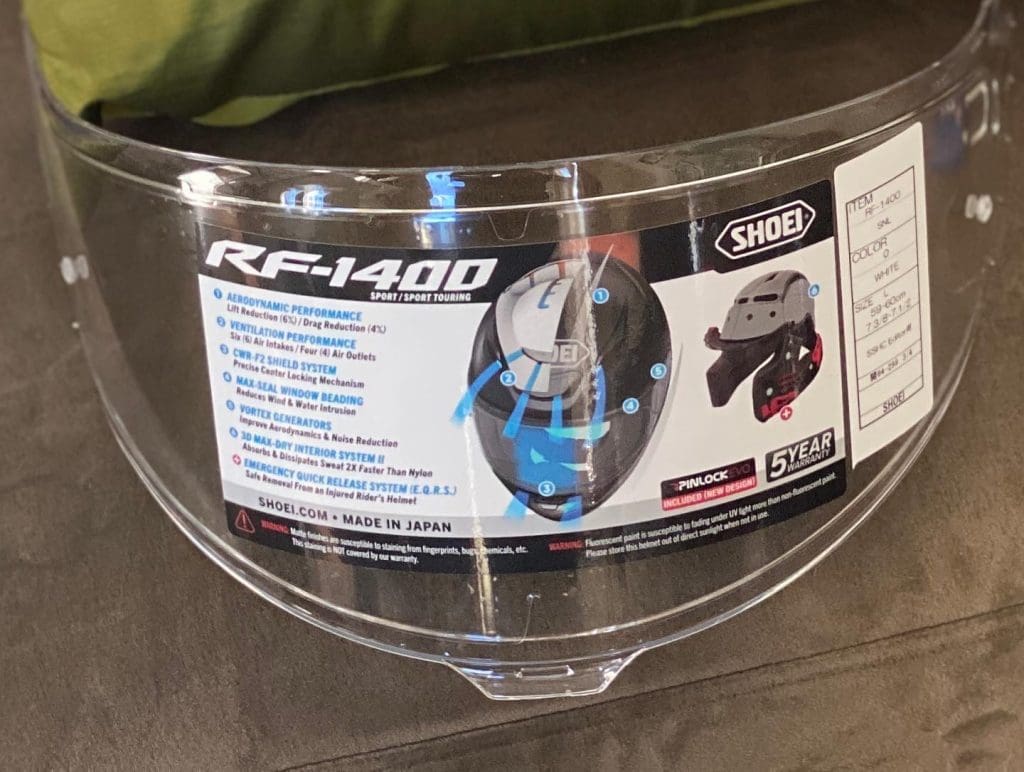 Shoei has redesigned the RF-1400 Pinlock mounts, baseplates, release mechanism, and seal for the visor.
Everything has been shifted back out of the wearer's peripheral vision according to Shoei, thus improving the field of view out of the eyeport.
In the limited road testing I've done with the helmet thus far I've noted an increased ability to see around me comfortably thanks to those changes. I've also confirmed that the Pinlock mounting "buds" don't show up in my peripheral field of view as Shoei intended. Well done!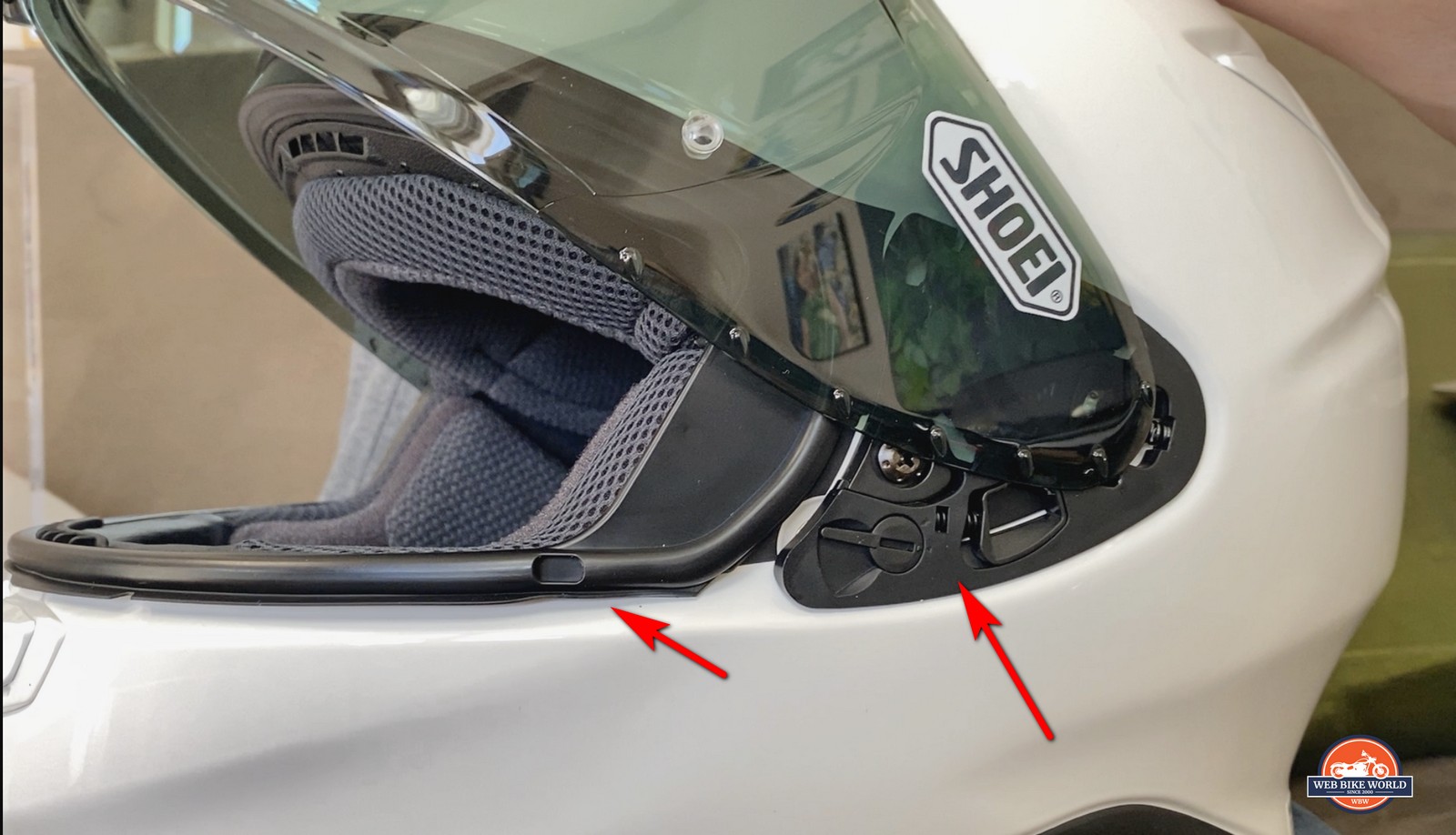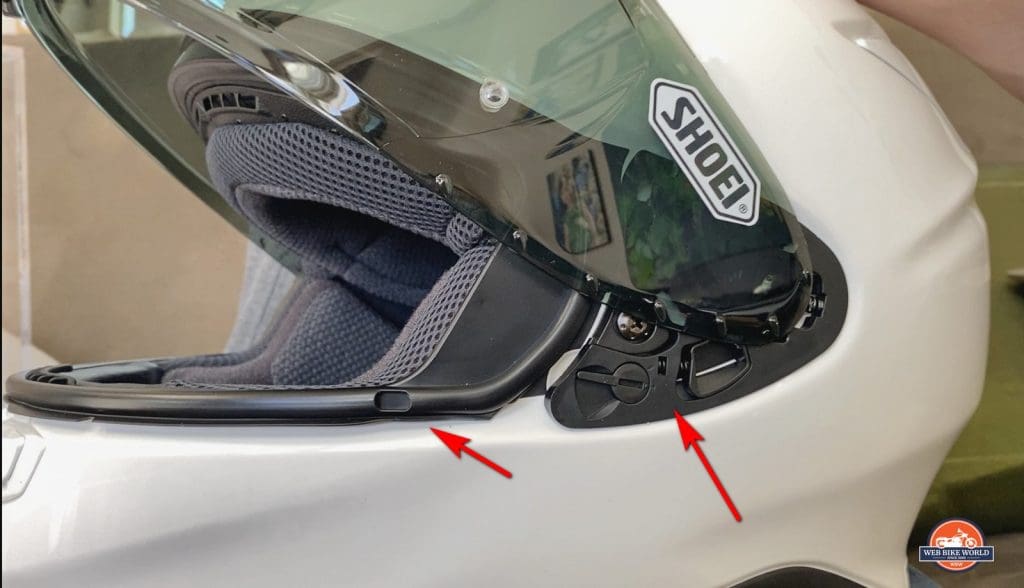 This redesigned shape also helps cut down on wind noise flowing over the visor. More on that later.
The Baseplate Mechanism
I don't like how some visors make overly loud "clunking" noises when raised or lowered. I find the original GT Air to be one example of a clunky mechanism. Conversely, the Arai XD-4 and Schuberth C4 are two of my favorite quiet ones.
This RF-1400 is somewhere in the middle of those helmets mentioned above. It's quieter and smoother than the GT Air or GT Air 2 but not at the silk-like level of the XD-4 and C4.
A New Seal
The visor seal (beading) has changed to a rounded or tubular shape complete with drain holes on either side for moisture and air expulsion (photo above).
Waterproof Seal?
I haven't ridden with this helmet in the rain yet, but I did hold it under running water for several minutes to try and gauge how well the new seal performs.
It did leak (as 99%) of visor seals will when treated this way, but only slightly. I think it might seal better with wind force pushing on the visor while out riding. 
I'll come back and update this next year when I get the opportunity to real-world rain test the RF-1400.
The Pinlock EVO
A Pinlock EVO lens comes included with the helmet as standard but I haven't installed it yet.
It was only 10 degrees Celsius (50 Fahrenheit) during the initial test ride I managed with the helmet and it would fog up when I was stopped at a light or in traffic. The fogging cleared quickly and easily with limited effort on my part. Cracking the visor open was enough to clear most of it. Moving slowly got rid of it altogether.
I think I'll leave the Pinlock out until I feel obliged to have it in. The visor is noticeably clearer without it. Optically perfect is an often overused cliché in moto journalist scribblings, but it's accurate when it comes to describing this CWR-F2 lens.
CWR-F2 BASE PLATE SYSTEM
Completely redesigned to facilitate quicker, smoother shield changes

The new shield adjuster mechanism provides easier, more precise tuning

Redesigned base plate gear has an all-new "first position" shield opening feature for advanced venting and defogging (I'm very happy to see this feature!)

SHOEI's patented spring-loaded technology ensures a wind and waterproof seal

All-new airtight window beading reduces wind and water intrusion
It looks like it's going to work well, but I need to ride at least 600 miles on the road with it to know for sure. I'm well short of that at this point.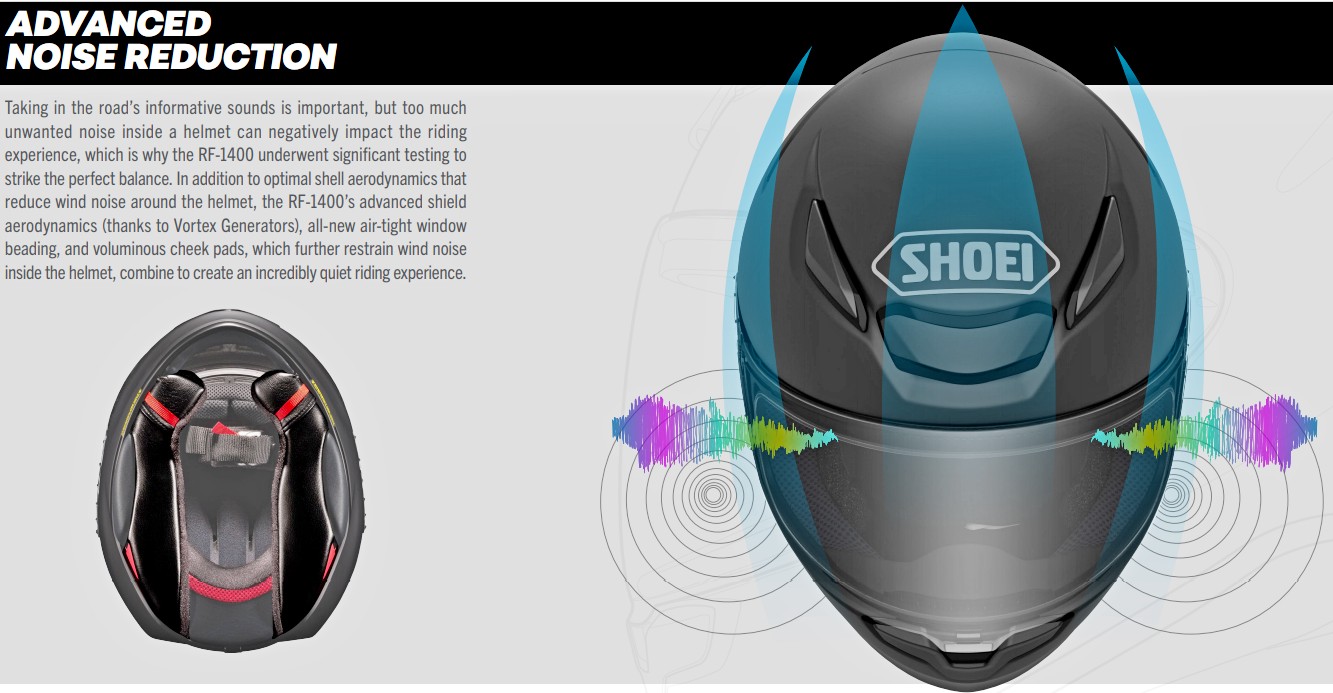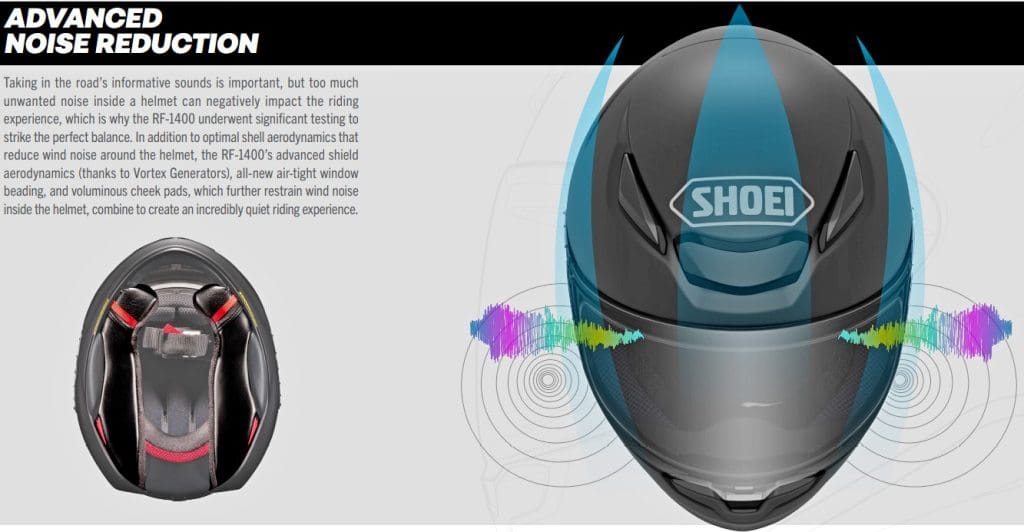 The release mechanism for the visor lock has moved from the left side to the center of the chin bar (photo below). This is a plus, not only to allow ambidextrous use but also to stop placing stress unevenly on the visor lens each time it's opened. I find it's easy enough to locate and actuate with my gloved fingers while flying down the road.
I know some people would rather not see this change, but I think it's positive.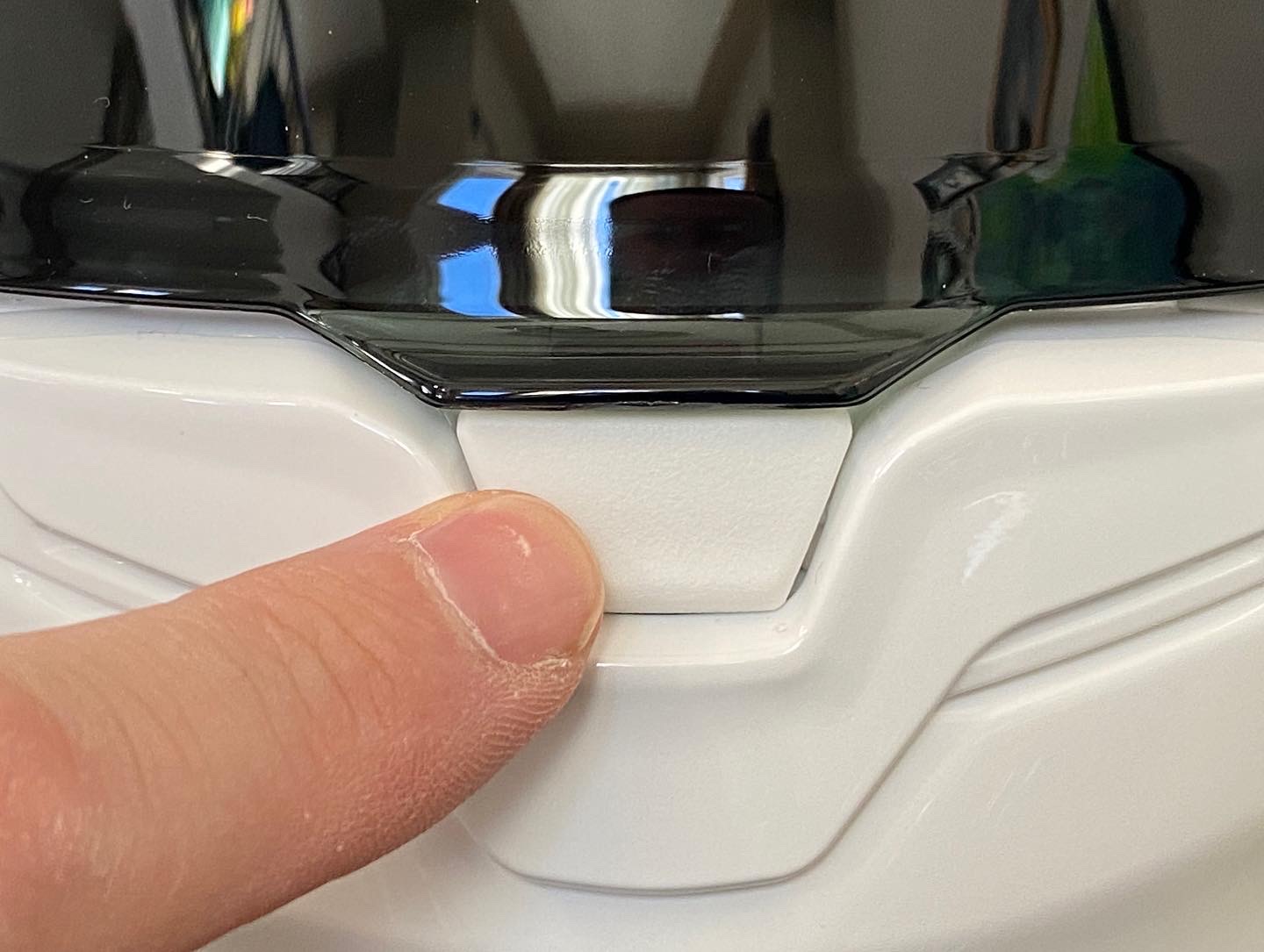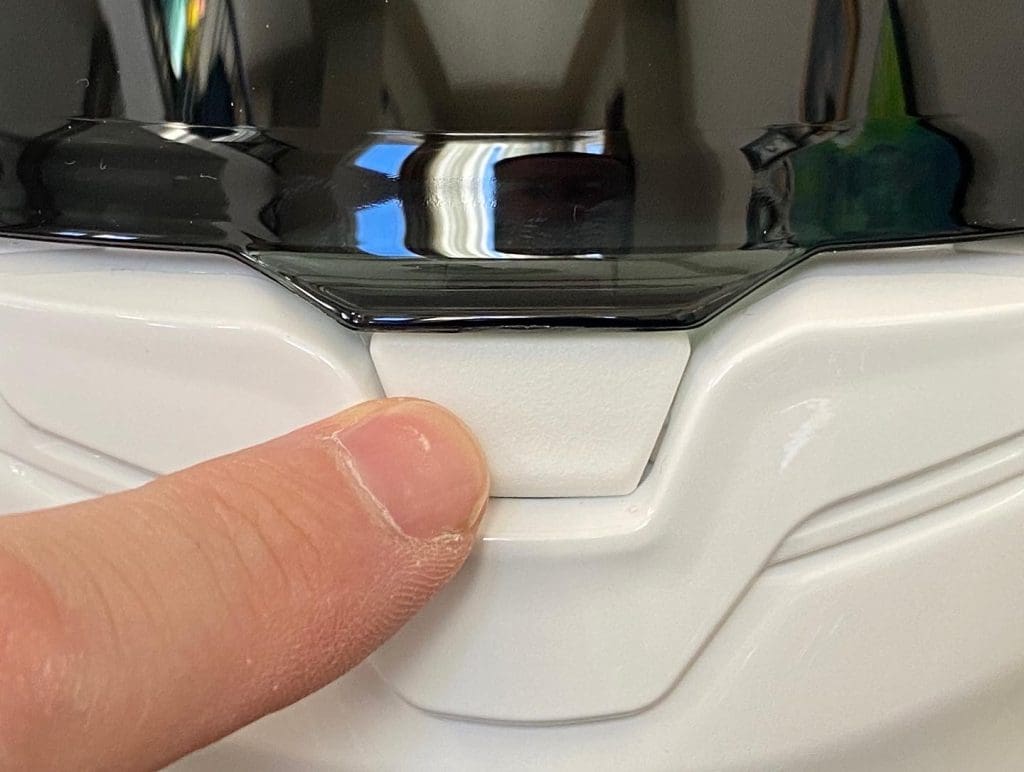 Ventilation
I haven't ever worn an RF-1200, but I'm told it has good ventilation. Shoei says the RF-1400 has superior airflow to the RF-1200 on the upper vent and less turbulent flow entering from the chin bar vent.
So Cool
They're probably right about that.
The airflow and ventilation in this RF-1400 are easy for me to notice at highway speeds when the ambient air temperature is a chilly 10 Celsius (50 F), as you might imagine. In hot weather, it will be less apparent but present nonetheless and strong enough to keep the wearer comfortable in my estimation.
I don't find it as drafty as the Klim Krios Pro is. The Klim makes me feel downright uncomfortable while riding at these temperatures with the vents all open, but I think the RF-1400 airflow may be slightly better than its higher-priced cousin the GT Air 2.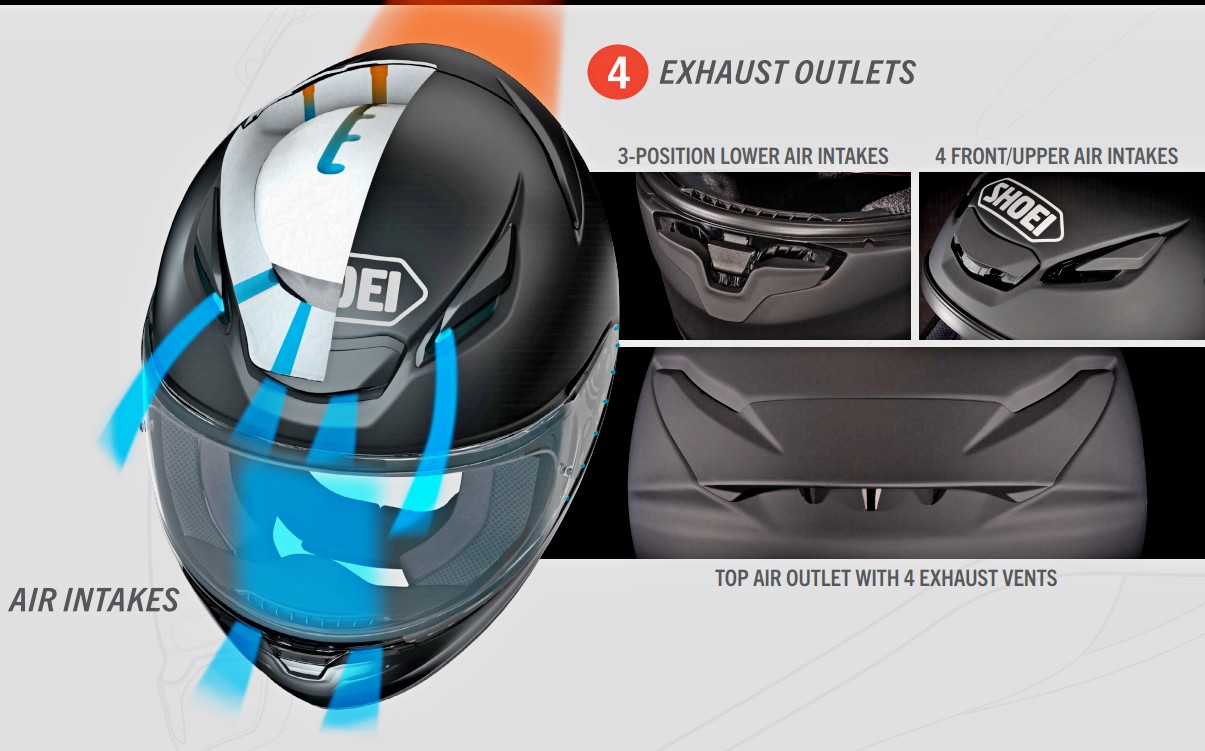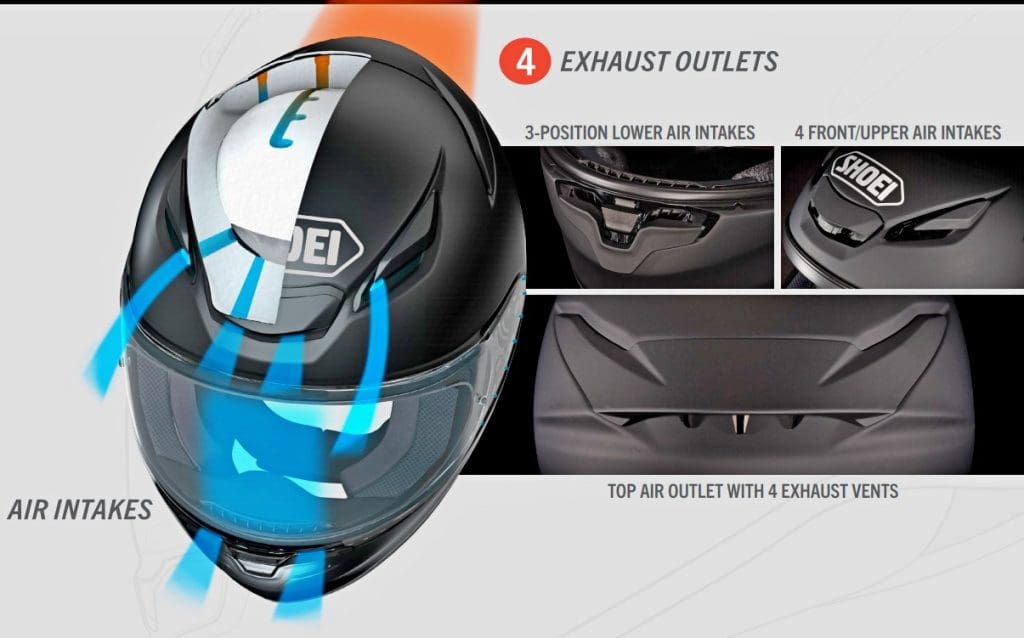 The vent sliders all move smoothly on this helmet, but I find it difficult to set them in the first open position as opposed to going all the way to the fully open position. 
The detents on the first positions aren't defined deeply enough to halt the slide, but I don't think this matters much (to me at least) since typically I'm an all or nothing kind of guy when it comes to airflow in my helmet.
Lift and Pull
The Shoei wind tunnel must be running 24/7 judging by the looks and specs of this new helmet. I don't blame them since if I had one I would do the same thing, but I would publish noise measurements from my helmets and compare them to the competition ones.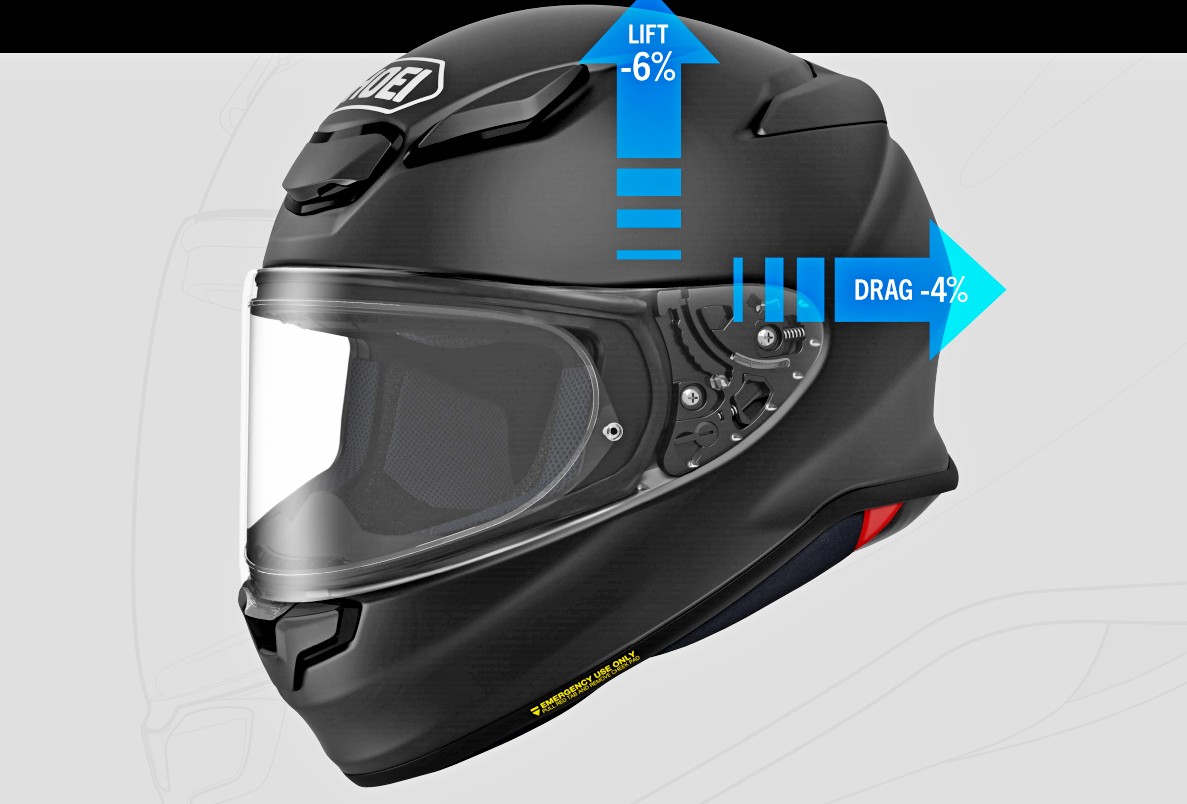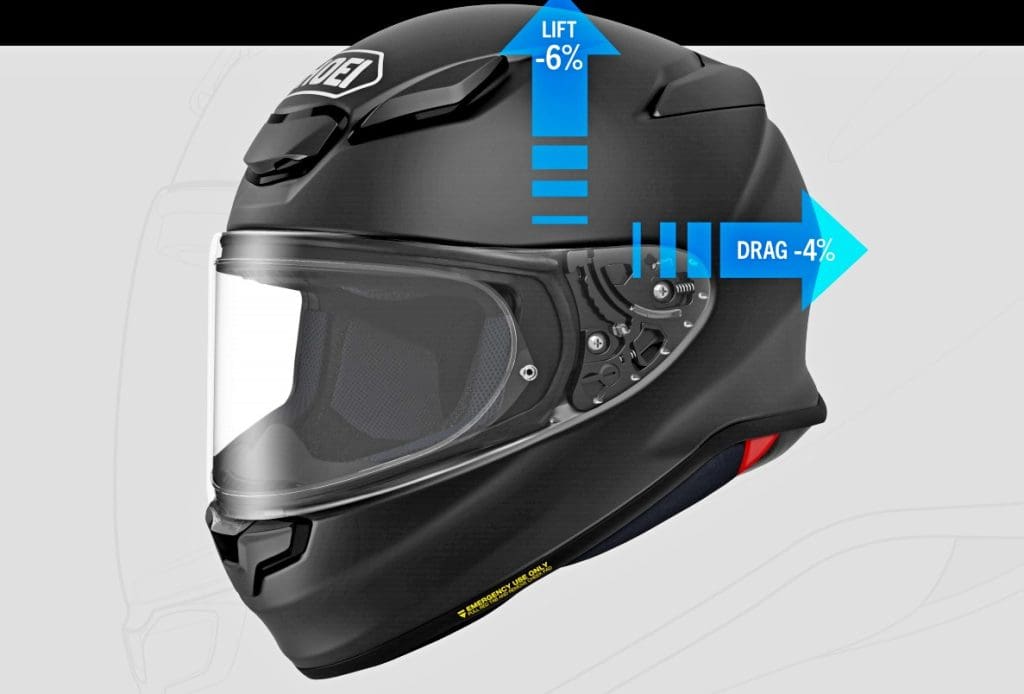 Compact, aerodynamic shell shape with integrated spoiler

Strategically-shaped air intake, and, exhaust vents help streamline the overall profile

Strategically-shaped air intake and, exhaust vents help streamline the overall profile

Boasts impressive improvements in aerodynamic performance and reduces the forces placed on a rider's head
Lift reduction (upward lift forces): -6%*
Drag reduction (forward drag forces): -4%*
Do I think any rider will notice a 6% or 4% decrease in lift and drag? No, but those numbers show just how devoted Shoei is to substantiating their claims this helmet is perfection.
For my part, I can't detect any lift or pull out on the road with this helmet. It's outstanding and I would say it tracks… perfectly through the wind. There's that word again.
Wind Noise
I hate commenting on how noisy or quiet a helmet is because it's far too subjective. I crave a truly consistent and unbiased method for measuring noise we can rely upon instead, but I don't have it. So, this is the best I can do for now.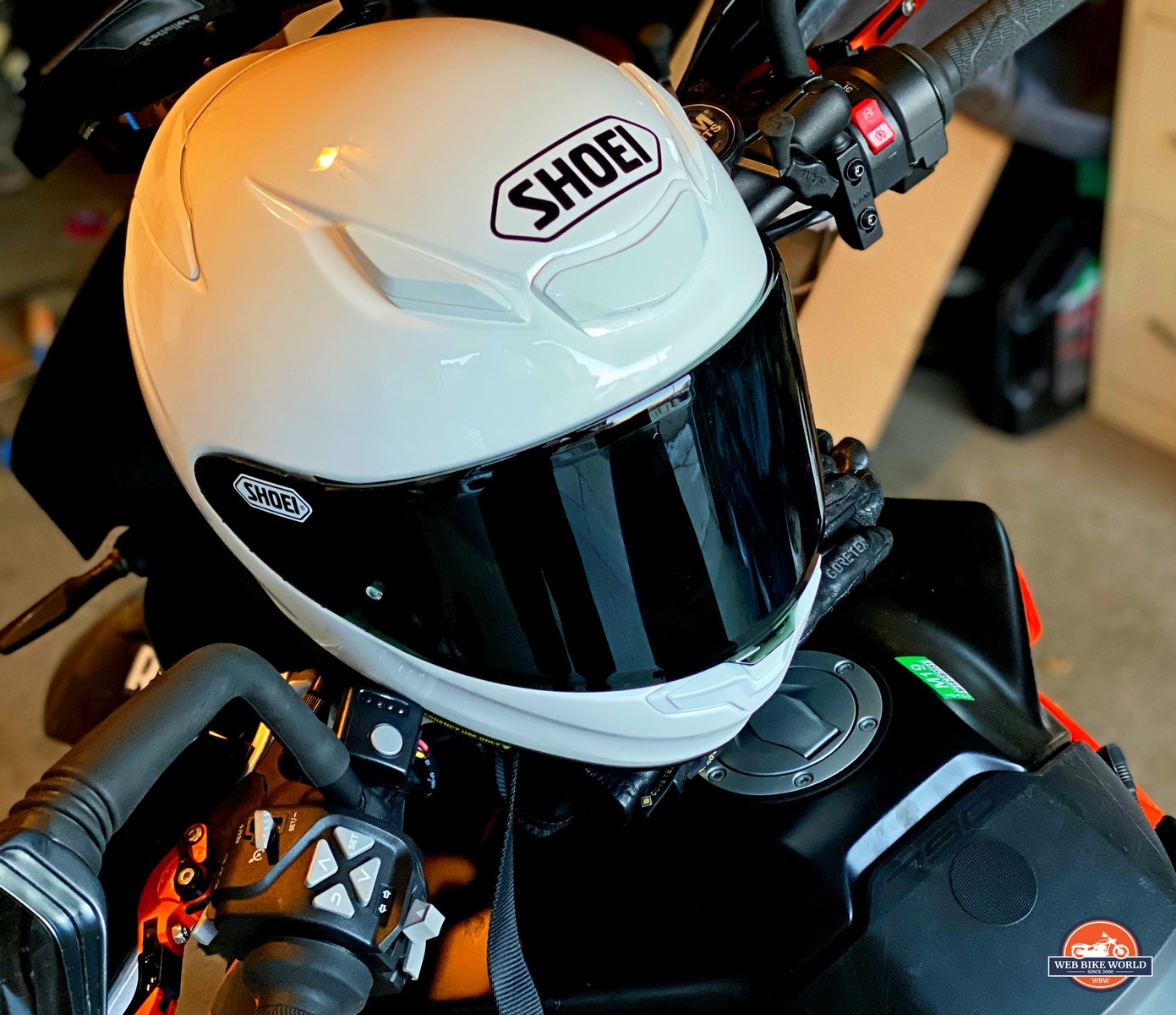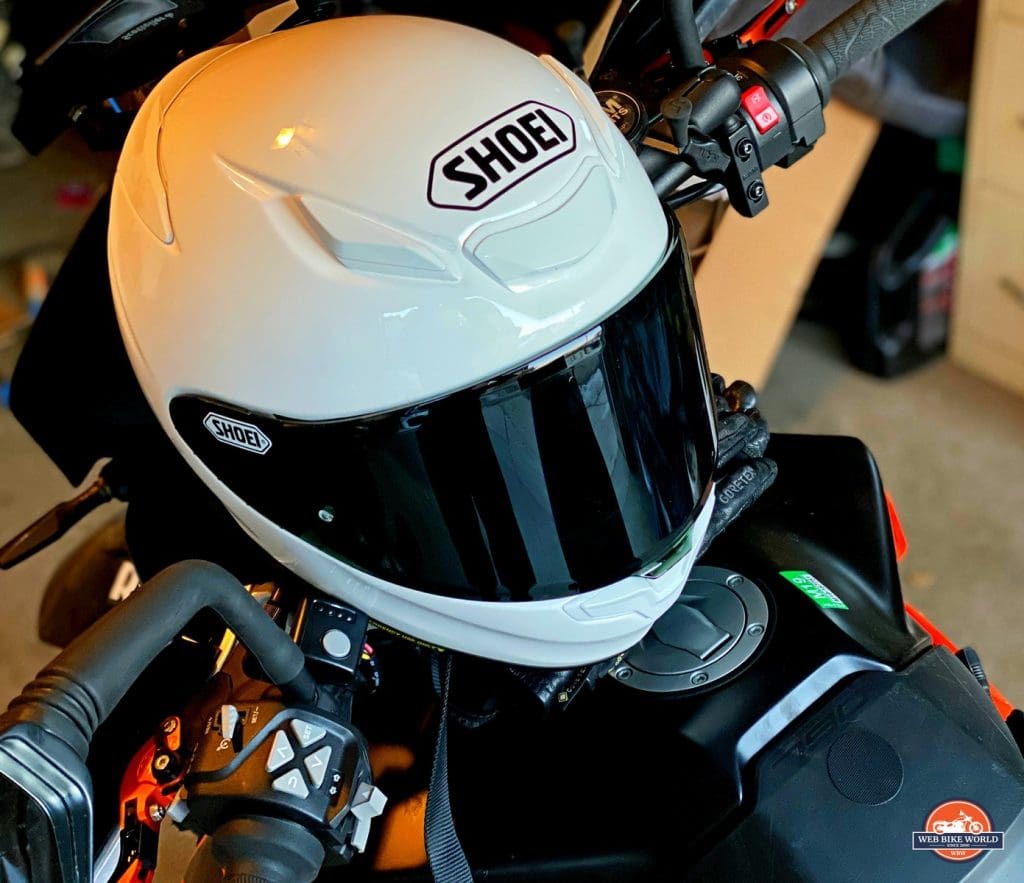 In my humble opinion, this RF-1400 helmet is just as quiet as the one I judge all others by. The Shoei GT Air.
There's zero wind roar or sharp hissing to be endured with this helmet even when I turn my head into the wind at different angles. It's perfectly consistent, and I don't wear earplugs so I'm sensitive to any noise while riding.
When I stand up on my footpegs at highways speed and stick my head up into the undisturbed air stream, all I can hear is a mixture of engine noise, high-pitched whining coming from the knobby Motoz Tractionator Adventure tires on my KTM 790 Adventure… and a subdued "FFFfffff ssssshhhhhh" of the air flowing over this helmet. It's brilliant, and I feel no compulsion to wear earplugs with this one.
The only time I can get it to make any irritating noise is when I pop open the visor about ⅛" to the first position outside of locked shut. That's when it does give off a higher-pitched whistle ever so slightly, but that's it.
Ear Pockets
What makes this helmet more impressive when it comes to noise levels is the way my ears sit in an open area or shallow cavity of sorts. I don't feel padding pushing up against them to deaden any vibration sounds. I can hear outside sounds very clearly through the helmet, but only the ones I need to hear. Like traffic, sirens, or people talking for example.
The GT Air conversely, is very quiet partly because I do have padding pushed right up against my ears.
The RF-1400 should be noisier because of this characteristic, and yet it isn't!
The Interior Liner
Shoei has used their customary 3D Max-Dry II interior material on the comfort liner. It's a high-quality, washable, antimicrobial liner with only one major change made to the bottom shaping of the cheek pads for this RF-1400.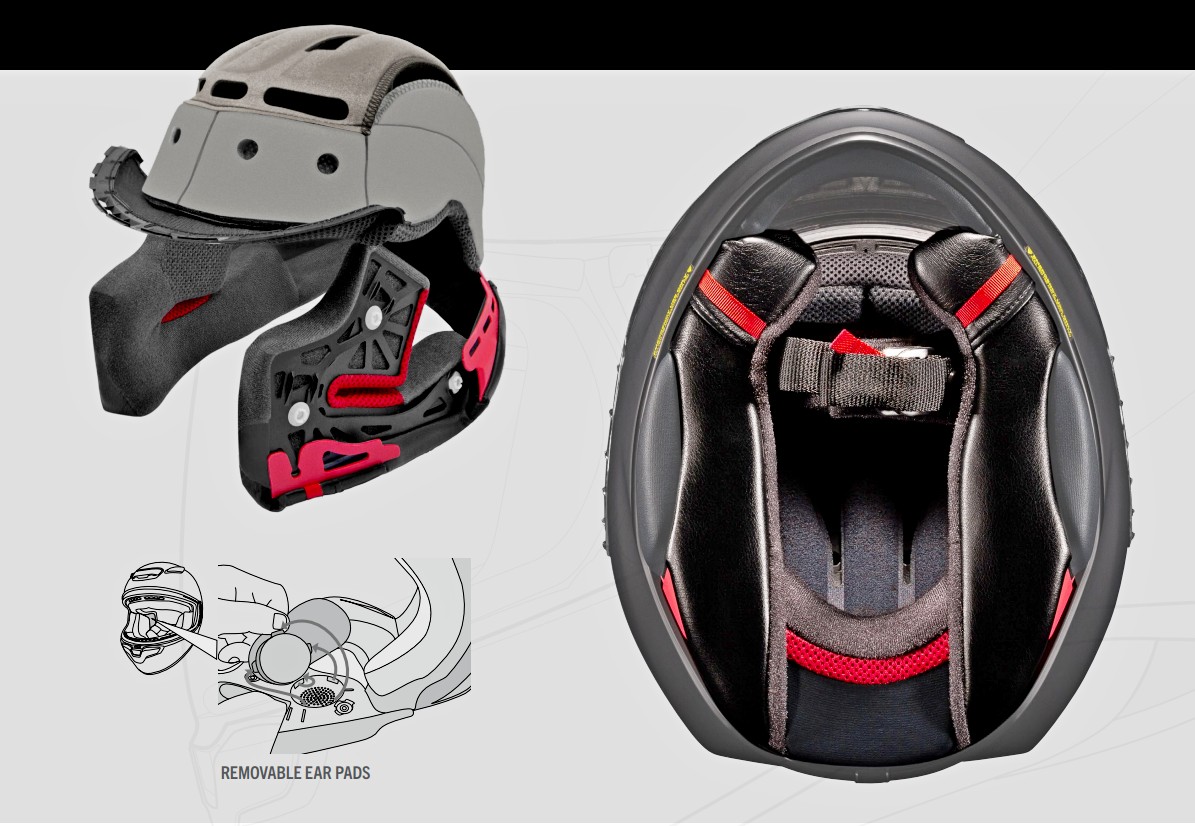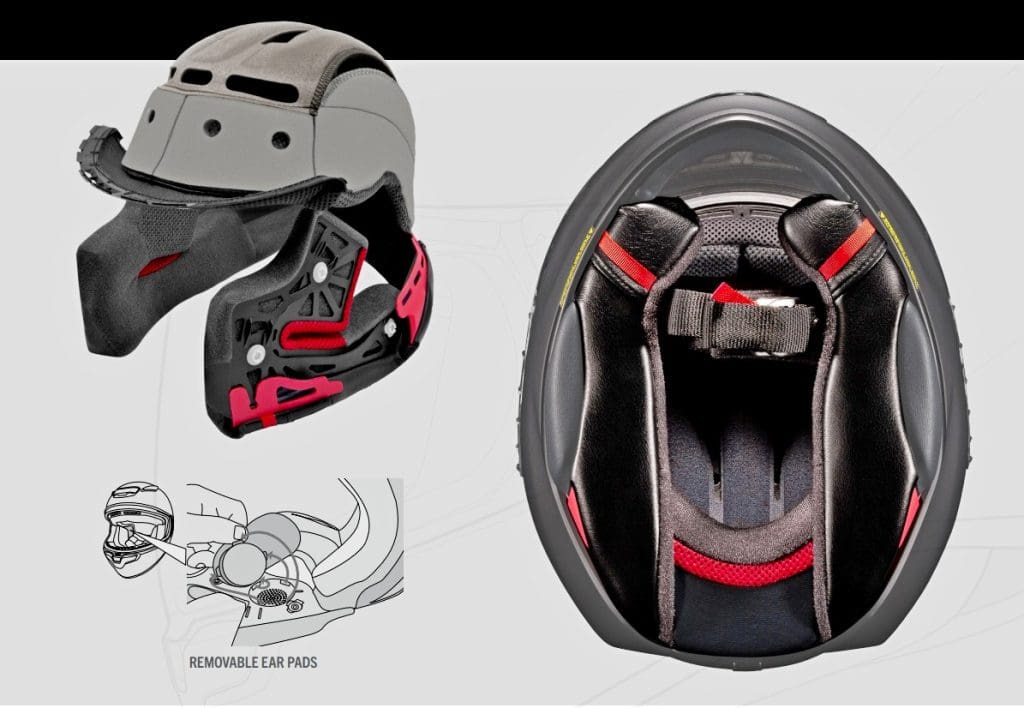 This new generation has a more pronounced curve to the facial pocket shape (like a catcher's glove) to better cradle/seal against your jawline and theoretically block out wind and road noise more effectively when combined with the chin skirt. 
People with more unusual jawlines may not benefit from this as much as I have, but it welds perfectly to my face. I'm also happy to find that when I remove the helmet this new style of padding and neckroll doesn't attempt to tear my ears off on the way by.
When it comes to the overall comfort of the interior padding, this helmet ranks high for my head, but there are a couple of minor pressure points working on my cheek and orbital areas. This is only noticeable because of how totally uniform across my face and skull the interior padding fits in my two Arai helmets. So the RF-1400 comes close, but not equal to the almost custom-built interior degree of fitment I easily achieve with Shoei's competitor.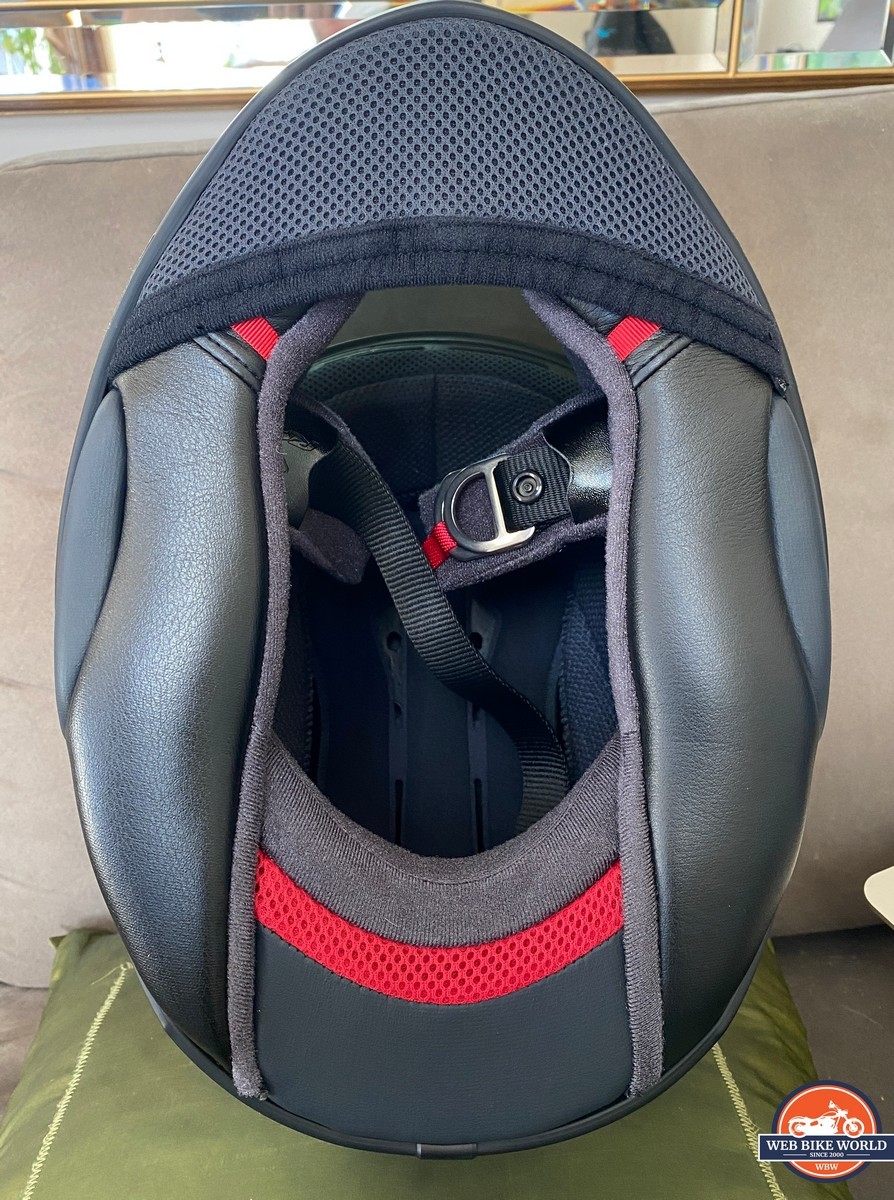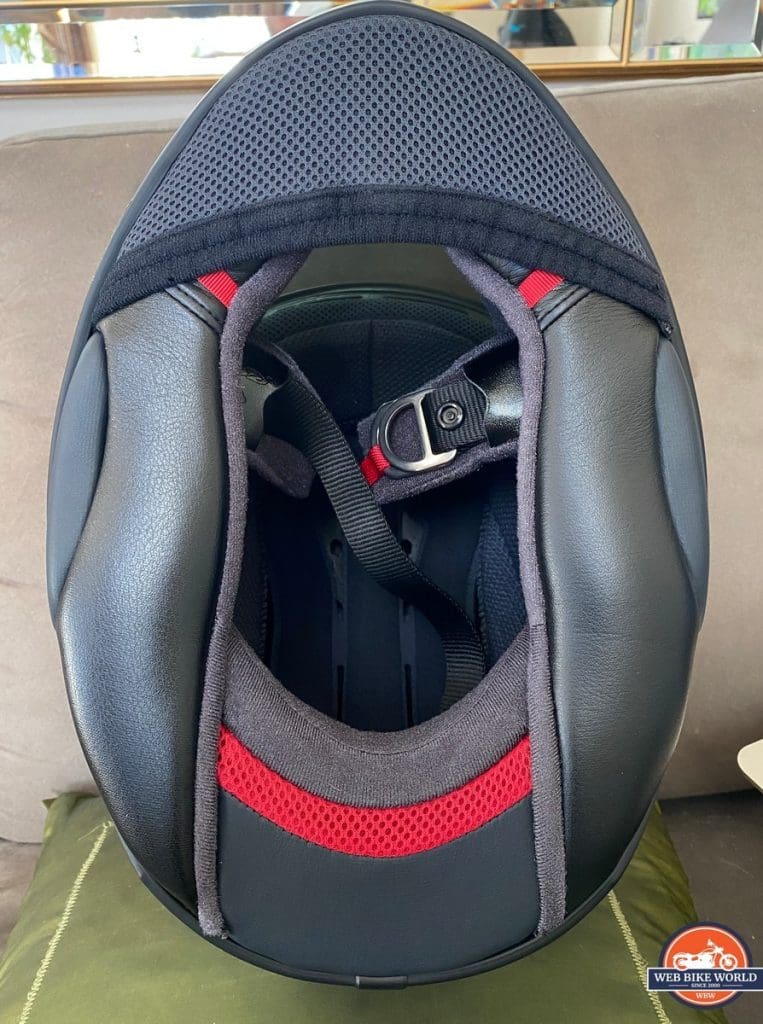 3D MAX-DRY INTERIOR SYSTEM II
Fully removable, washable, replaceable and adjustable

Exclusive Max-Dry material absorbs and dissipates sweat 2X faster than traditional nylon interiors

Soft yet durable lower cheek pad fabric for a plush fit and feel

Three-dimensionally shaped to match the contours of a rider's head
Multi-layer cheek pads for improved comfort and helmet stabilization
Cheek pads feature more volume for greater comfort and reduced wind noise
Optional interior components available in different sizes for a customizable fit
Bluetooth Communicator Integration
You may have also noticed those two odd-shaped pads on the bottom of the helmet near the neck roll on either side. The rear red triangle is a fun accent aesthetically-speaking, but I wasn't sure of the purpose at first.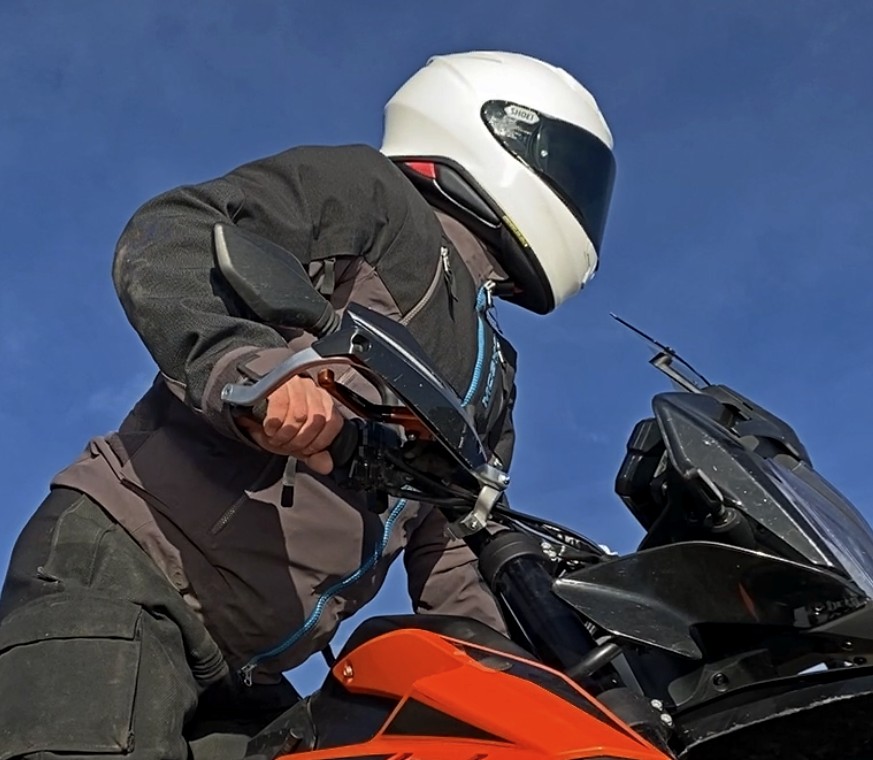 It wasn't brought up in the media brief but I emailed Shoei to ask about it afterward and they let me know these are shims or reinforcing braces for the new conforming cheek pad system. They help keep things tighter there to maintain the quieter ride.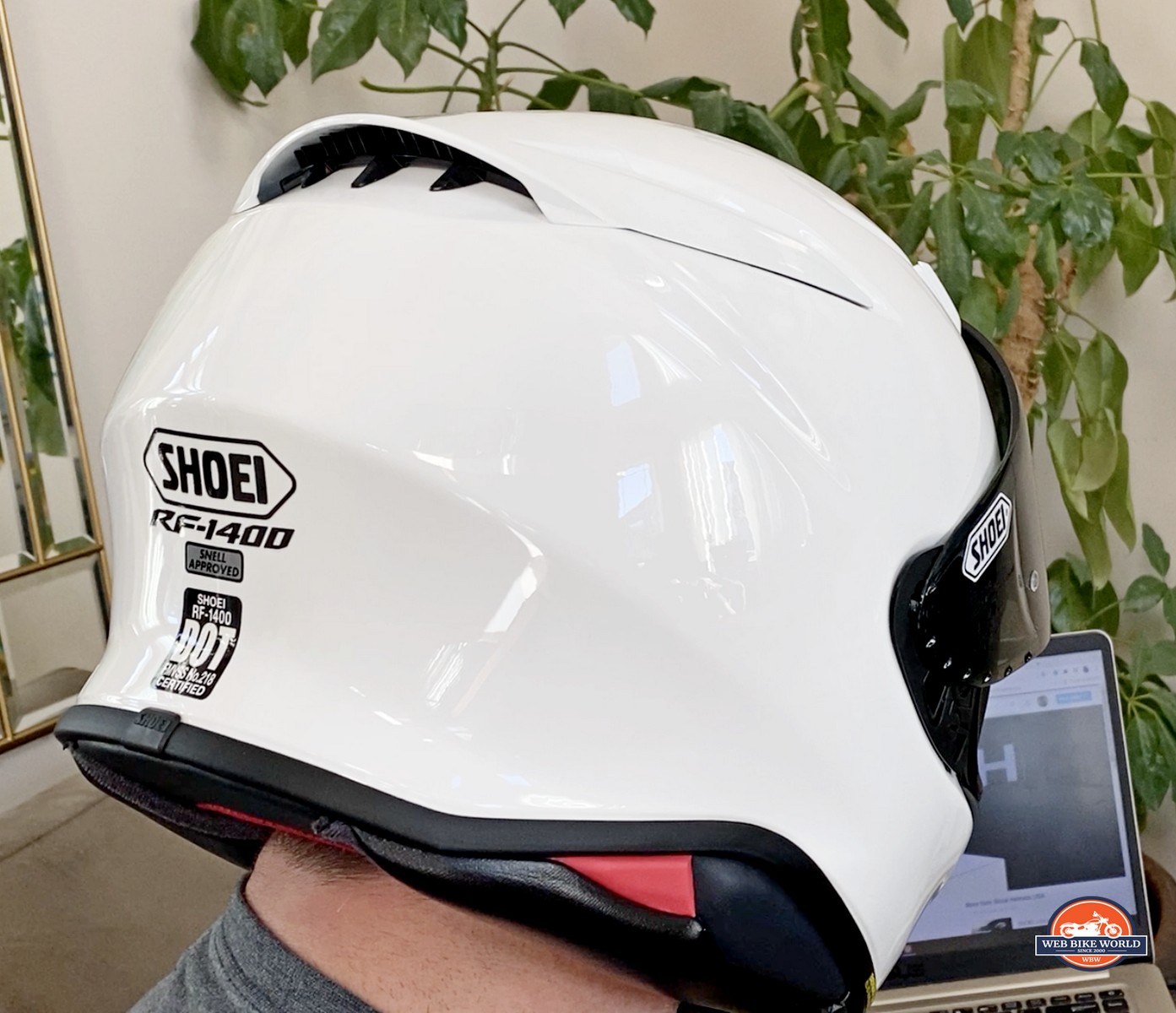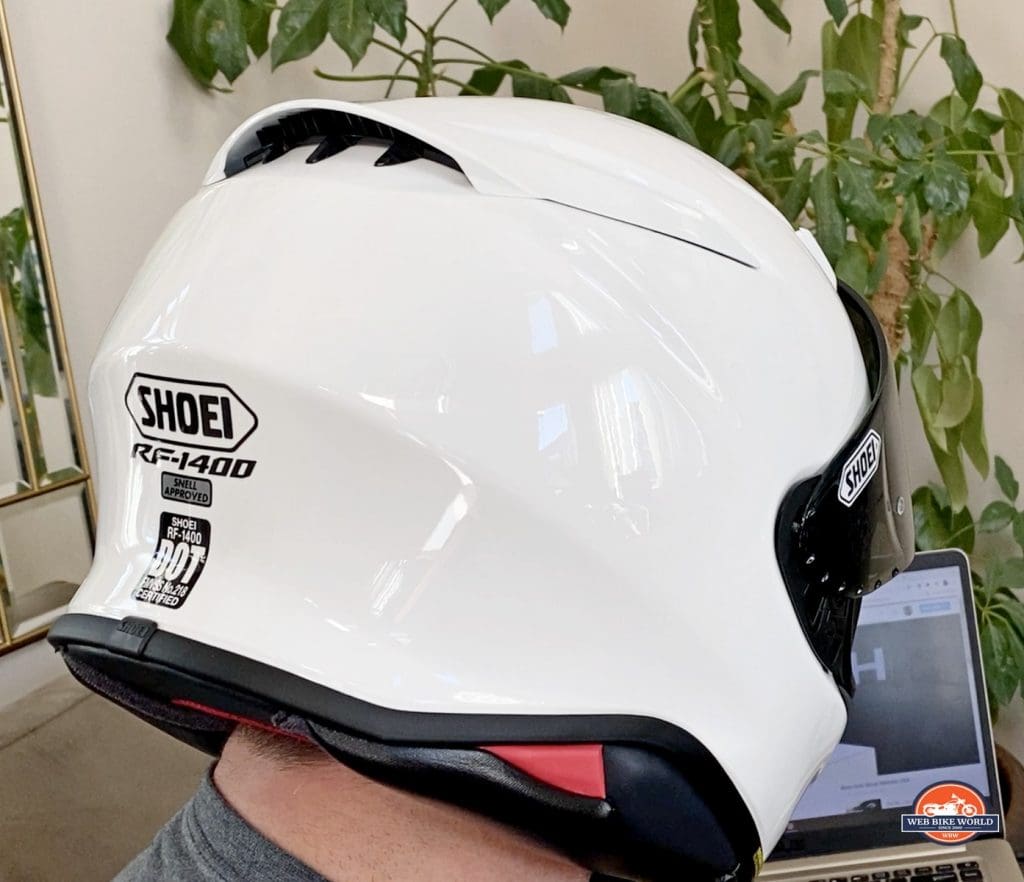 What I do know is it sits right in the spot where I look to install clamp-on type Bluetooth units from Cardo/Sena, etc. The area on the shell around it is too sharply angled for use of the stick-on mounts to further complicate things. 
Not to worry, Shoei will be releasing (in spring 2021) an RF-1400-specific, universal comm mount holder to help attach those devices. 
Got Hi-Viz?
There are 6 solid color schemes and 14 fancier graphic options for this new helmet, but none are fluorescent Hi-Viz ones. I've already heard at least two people express their desire for that option on the next generation of RF-1400 helmets so I hope Shoei obliges on their 2022 models.
There aren't any reflective patches, striping, etc, features on this Solid model I received either. Reflective stickers could easily fix this, but I think it's something Shoei could tackle at the factory in a cleaner, tidier fashion.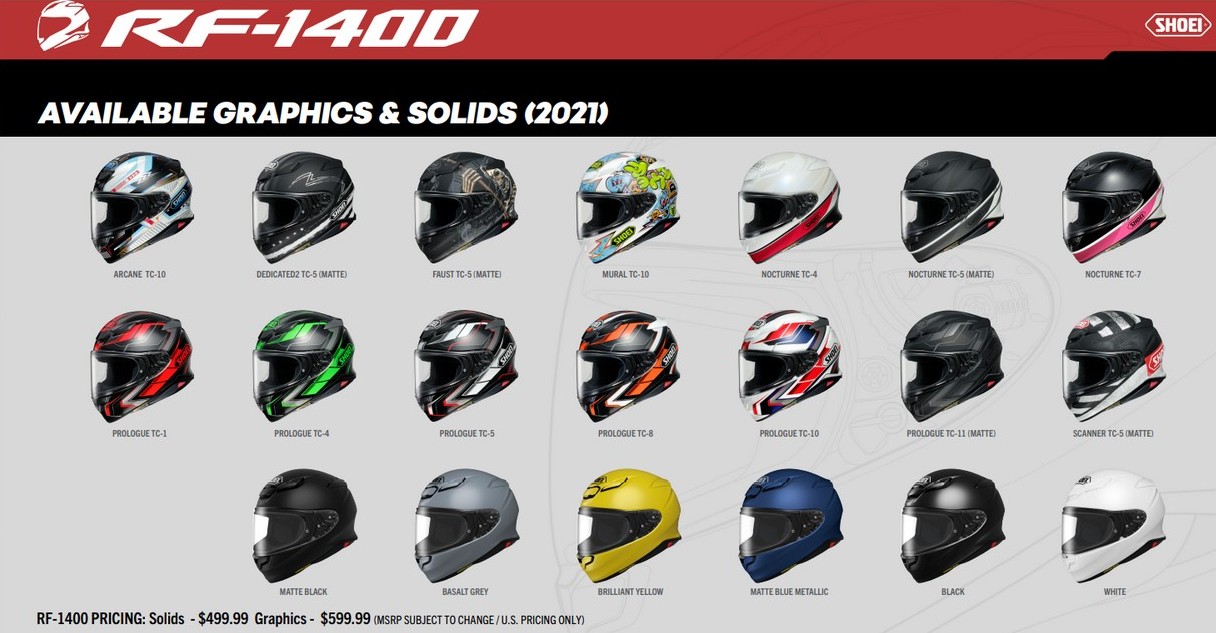 The Solid colors cost $499.99 and the fancier ones are $599.99. Considering these are hand-made helmets with highly desirable features, that price grants a lot of value. 
The new RF-1400 helmet will be available starting January 1, 2020.
Bargains on RF-1200 Helmets
If you can't find the $499 to buy a new RF-1400, look on the bright side. I guarantee the "old news" RF-1200 model will be available for a much nicer price soon. This always happens when a new darling gets released, everyone falls in love with it and distributors blow out the old stock.
Make sure you watch these links in the next few days/weeks:
Final Verdict?
Is the RF-1400 helmet perfection as claimed?
I say it's tantalizingly close and I would call it perfect with some very minor changes mentioned above.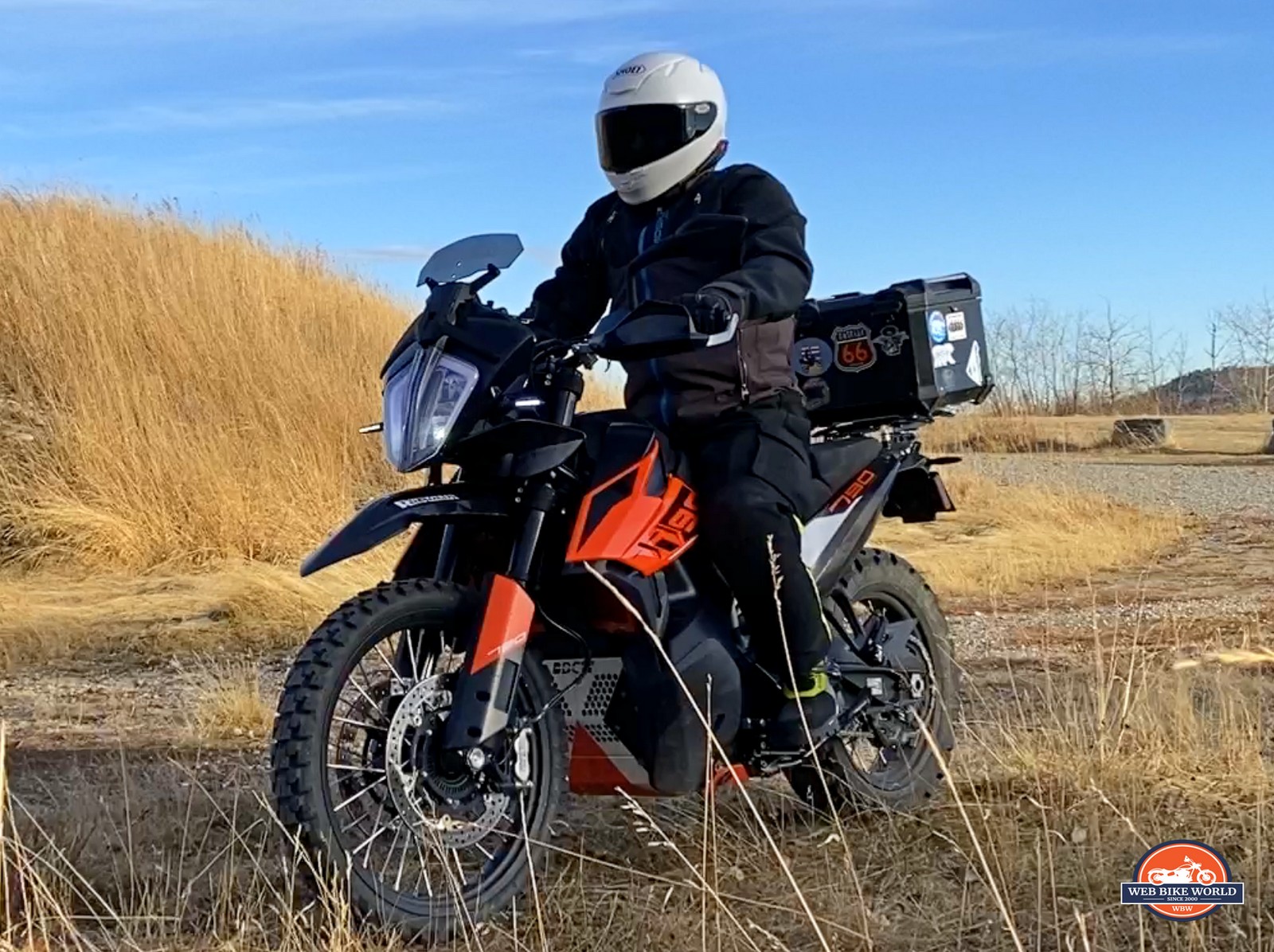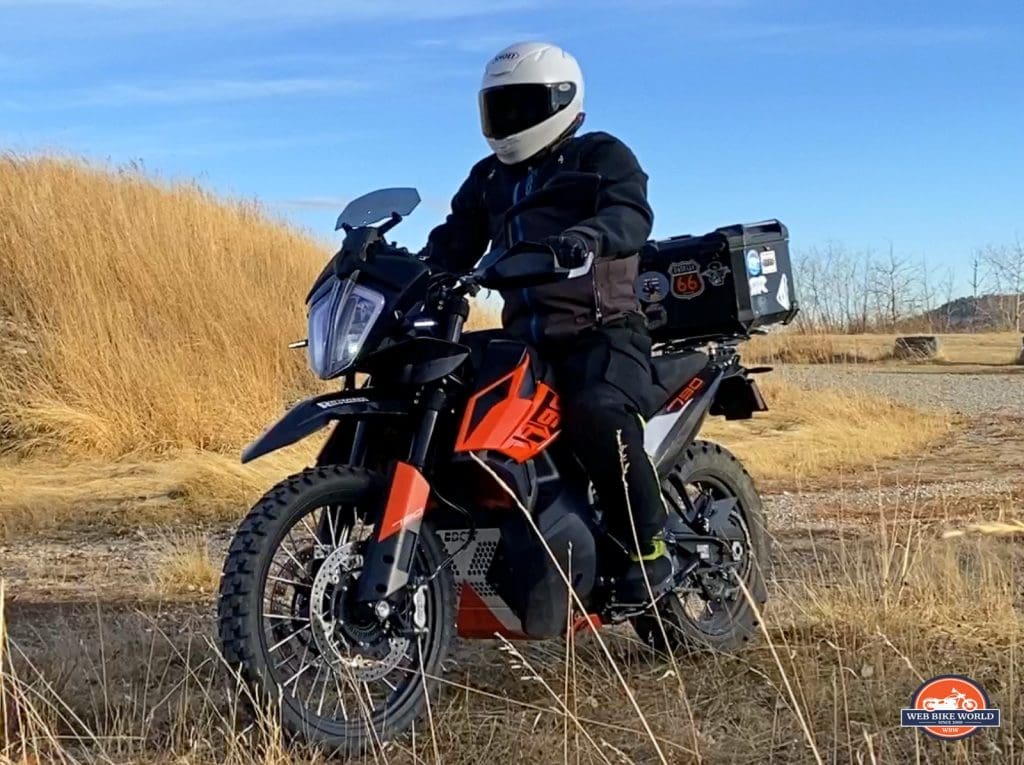 At the 300 mile mark of testing, I'm impressed more than I expected to be.
Shoei should rename it the 'Knife' with how well it slices through the air and how sharp it looks. You might say it has an "edge" when compared to many other helmets too.
Shoei has got plenty to crow about with this one and it easily owns a spot in the top 4 helmets I've reviewed that are living in my collection. 
Let me better put this in perspective. I'm a big fan of the Shoei GT Air 2, but given the choice, I'd reach for the RF-1400 first without hesitation. 
The RF-1400 visor is smoother to operate, the field of view wider, it's arguably better in a crash, lighter weight, more comfortable (for wider heads), less expensive to buy, flows air the same or better, and, is just as quiet. So, while I scored the GT Air 2 scored impressively high at 96%, I'm giving this RF-1400 a 97%.
Even at this early juncture in testing, I'm fully recommending it to anyone looking for a new full-face helmet.
– Jim
Pros
Premium appearance, materials, workmanship
Snell M2020D homologated
Might be the quietest full-face helmet available for $499
Above-average ventilation
Pinlock visor included
A stellar field of view and visor clarity
Excellent fit
Good value for the price 
Cons
Mounting Bluetooth devices requires a specific Shoei mount
The visor may leak water in heavy rain
Heavier than some competitor helmets
No Hi-Viz colors or reflective material options
Review Details
Manufacturer: Shoei Helmets
Price: USD$ $499.99 to $599.99
Made in: Japan
Sizes: XS, SM, MD, LG, XL, 2XL, 3XL
Colors: 6 Solid and 14 fancy graphics
Safety Designations: DOT FMVSS No. 218 and Snell M2020D 
Availability Date: January 1, 2021