Having lived in western Canada my entire life, it is easy to forget how vastly different my expectations of normal, with respect to geography and transportation, are compared to other places in the world. My version of normal is vast open spaces with well-maintained roads and very low population density. For my friends who live in Europe and Asia, it is challenging to even make sense of the open landscape and wide roads.
Given these differences, it has always fascinated me to see the incredible choices in motorcycles that can be found in other markets. North Americans largely ignore motorcycles under 600cc, unless it is a motocross bike. Raw power, touring comfort, and adventure capability dominate our powersports ads. In this part of the world, a motorcycle is a secondary mode of transportation.
So what are we missing? What options are available to my friends in different parts of the world? I went on the hunt and found more than a few very cool motorcycles I wish I could purchase on this continent.
LEXMOTO LXR 125 EURO 5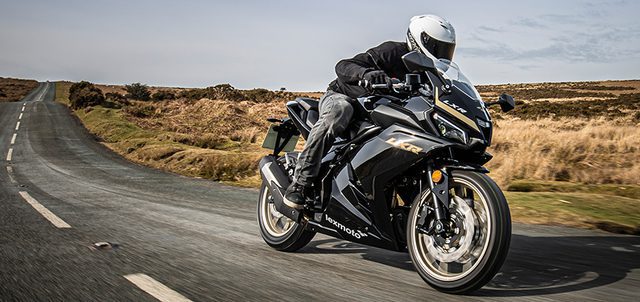 Via SBK Motorcycles.
If I was asked what the number one selling sports bike was in the UK, I never would have guessed it was a 125cc machine. The Lexmoto LXR 125 Euro 5 owns that title through a combination of sub £3000.00 price tag, and a Chinese manufacturer that continually engages with their customers to deliver exactly the bike they desire.
Built by Chinese company TARO, Lexmoto bikes are specifically targeted at the UK rider. Beyond the Euro 5 spec engine, the gearing, suspension, lighting, and dash are all engineered with UK preferences in mind. The single-cylinder 125cc engine has a four-valve head with double overhead cams producing 12hp. It is efficient on fuel and capable of speeds up to 110 km/h.
As for the rest of the bike? It is not going to be as refined as the Kawasaki Ninja 125, but it is £1200.00 cheaper and looks every bit as good as the more expensive machines.
There is the key, low cost to buy and operate, while still looking good.
SINNIS TERRAIN 380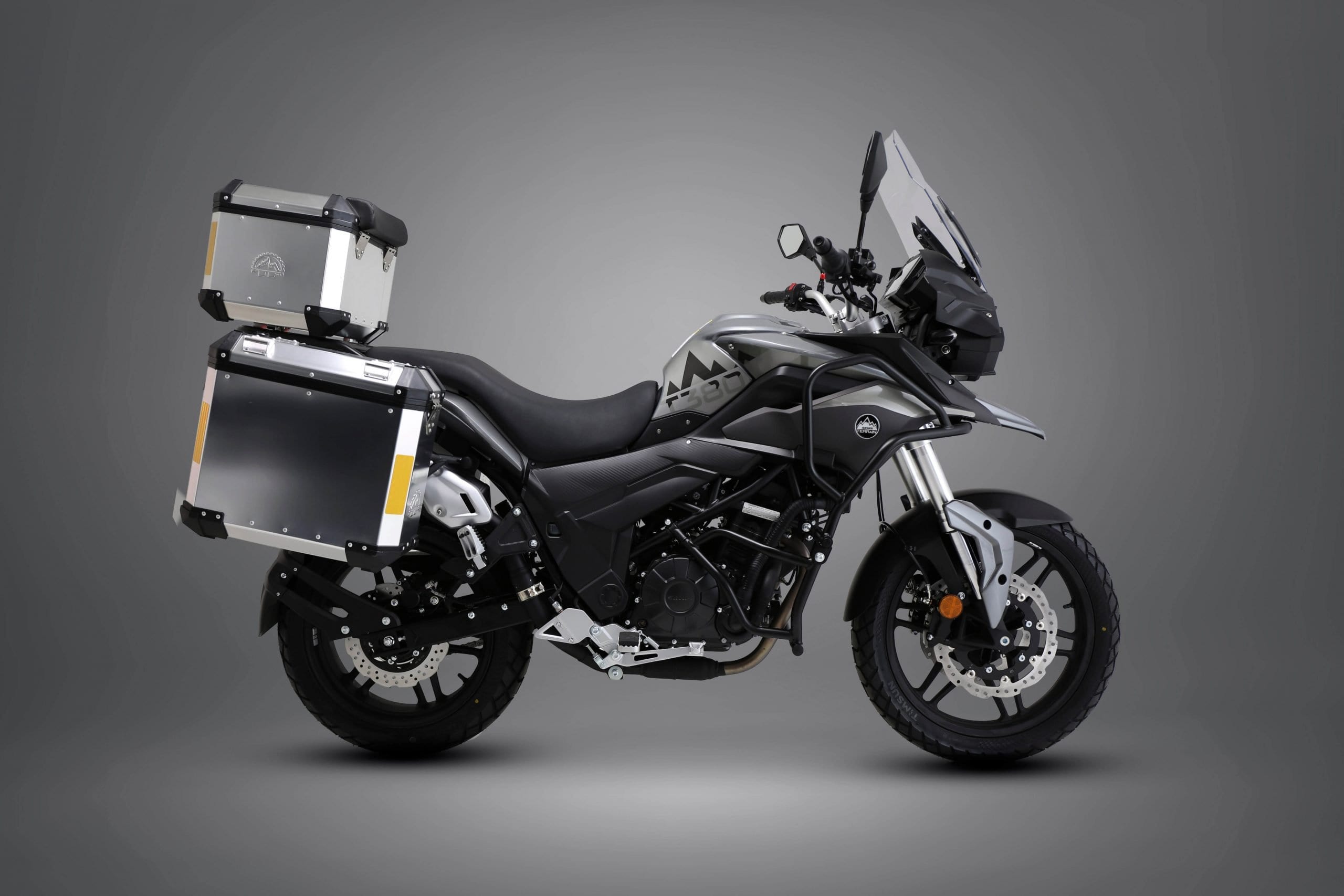 Via Sinnis.
Manufactured by Chinese goliath Zongshen, Sinnis Motorcycles touts themselves as "the UK leader in small-capacity motorcycles and scooters." The Terrain 380 has a 378cc parallel-twin based on Suzuki's Inazuma 250, but with a bigger bore and an eight-valve head. Making 36bhp and 26lb·ft of torque, the Sinnis has enough grunt to carry a rider decently both on and off-road.
Chinese-made products sometimes have questionable reliability, but Sinnis backs their machine with a three-year warranty and one year's roadside assistance. The Terrain 380 becomes very compelling with this warranty, its value pricing of £4,995, included hard panniers, and go-anywhere ability.
Now, to be fair, this bike is a hefty beast at 240kg, and its performance both on and off-road is modest. This is a bike to be used leisurely, and for those seeking to cover a long list of abilities on a budget, this may be your bike. It even has reasonable crash bars.
TMAX560 TECH MAX ABS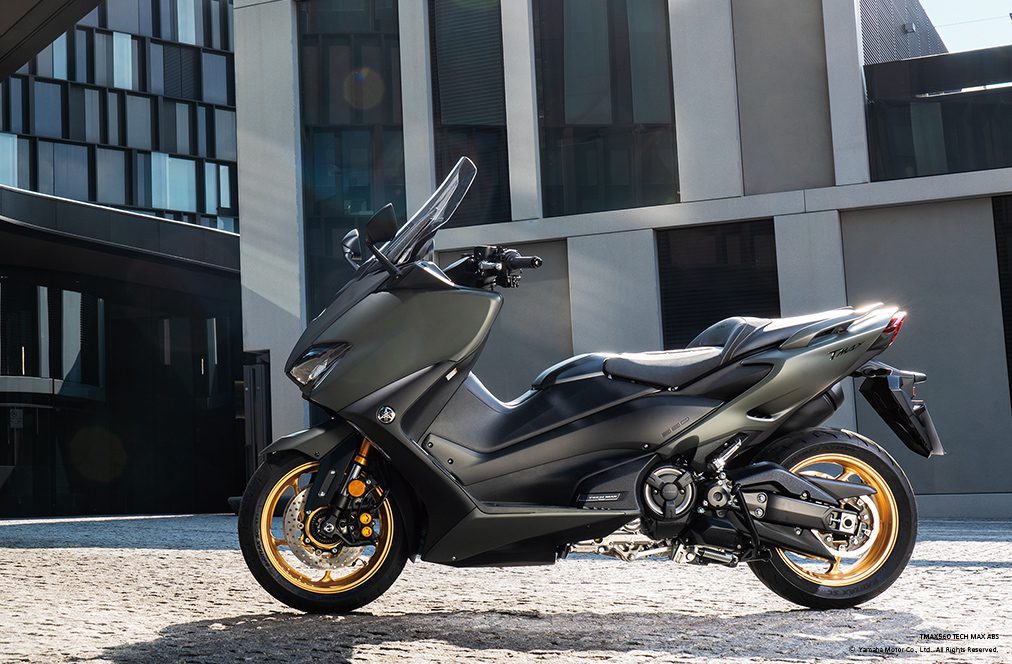 Via TMax.
Considering the North American fascination with luxury SUVs and Minivans, it never made sense to me why scooters are largely ignored here. It seems the rest of the world has figured out just how amazingly useful they are for urban dwellers.
Yamaha offers the TMax560 Tech Max ABS in other markets and I have no shame stating that I am about to geek out over its features, much like a khaki-wearing suburban dad does about his wife's (wink, wink) minivan.
This is more than a simple scooter; this is urban utility at its finest. The 562cc parallel-twin motor makes 47 hp of pure silky smoothness, with the torque and agility to blast from Starbucks to Whole Foods without even letting your Pumpkin Spice Latte cool off. Speaking of cool, you won't be on a TMax 560 thanks to heated grips, and seat, plus the windscreen is electrically operated to keep you in a perfect cozy bubble of protection.
The twin-spar aluminum chassis is rigid and allows the 41 mm front fork and mono-cross single rear shock (preload adjustable) to soak up the bumps. Braking is more than up to the task and ABS is standard. But wait, there's more; cruise control, traction control, and selectable drive modes round out the package.
With all these features, plus a huge under-seat storage area, this bike just works. Maybe if there was an available lift kit option, they would be more appealing in North America?
BAJAJ PULSAR 150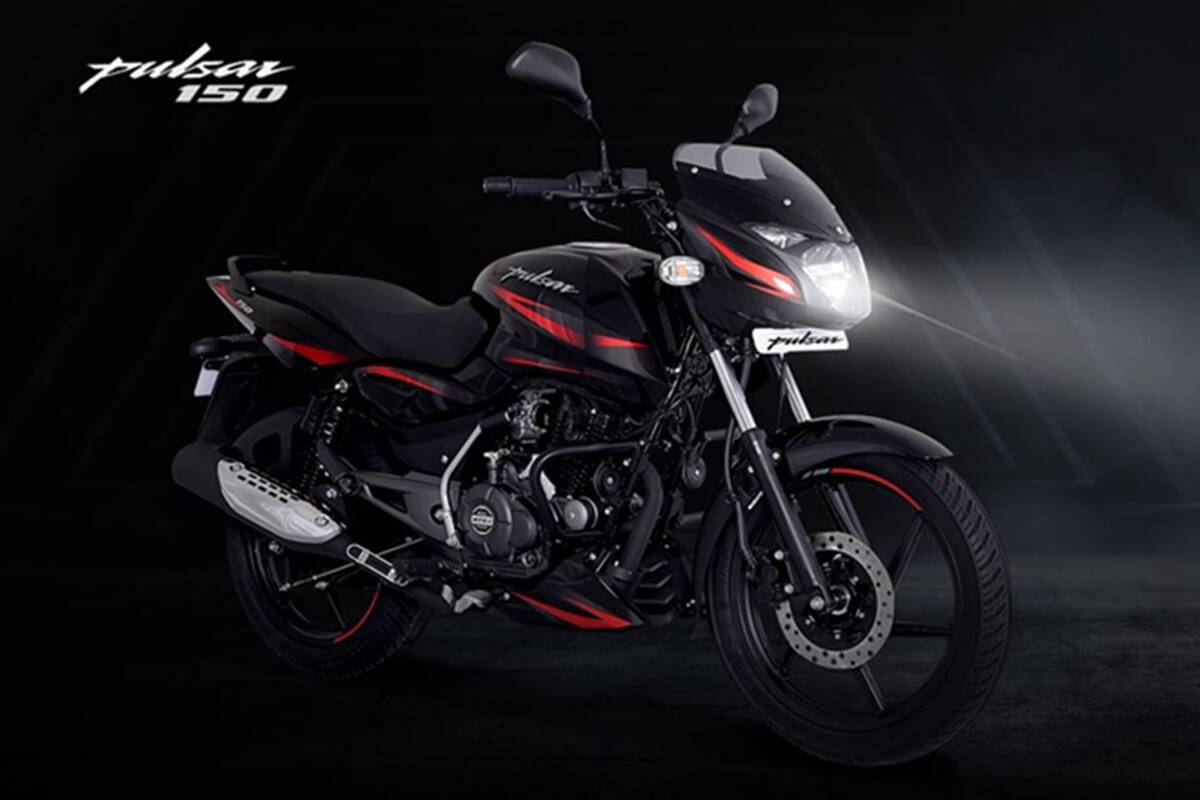 Via Bajaj.
Bajaj Auto is the world's third-largest manufacturer of motorcycles and the second-largest in India. The Bajaj Pulsar 150 is marketed as "India's No. 1 Sports Bike." Looking at this sleek bike I can see why; the overall design is handsome and despite seeing where money is saved, it is also readily apparent that ease of maintenance and durability have been made high priorities.
The 4-Stroke, 2-Valve, Twin Spark BSVI Compliant DTS-i FI engine displaces 149.5cc and outputs 13.8hp @8500 rpm driven through a 5-speed gearbox. 17-inch front and rear wheels attach to an adjustable 37mm front fork and outboard mounted dual rear shocks, all of which receive favorable reviews on India's varied streets.
The Pulsar 150 gets features like LED lights, a digital speedometer, electric starting, a stand alarm, and ABS brakes. All the models come with alloy wheels as standard and get tubeless tires.
Bajaj Motors has a clear winner on its hands, priced at $1440.00 USD based on today's conversion rates. It would be amazing to find such value in a new bike like this in North America.
TVS APACHE RR 310
Via TVS.
If there is something very familiar to you about the details of this bike, you need only peek at the small displacement offering from a certain Bavarian builder.
TVS Motor Company (TVS) is an Indian multinational automotive company that manufactures motorcycles, scooters, and three-wheelers, headquartered in Chennai, India. Those outside of India may also recognize TVS for their brilliant partnership with BMW to produce the G 310 R. The Apache RR 310 is TVS's own sport version of that same bike.
The Apache 310 RR is marketed with a track focus, but from a North American perspective, it is a gorgeous looking small-displacement supersport that could be competitive against the likes of a Yamaha R3. The 313cc, 4 stroke, 4 valve, Single cylinder, Liquid-cooled, Reverse inclined engine is familiar. Output is identical (at 34 hp and 20 ft-lbs of torque) to the G 310 R, as are the frame and suspension components.
Where I spot the changes are in the electronics. The Apache RR 310 receives a unique 5″ TFT screen connected cluster, featuring a SmartXonnect multi-function race computer that can connect to a smartphone.
The suspension is KYB, and the stock tires are Michelin ROAD5's. The aero-tuned bodywork is stunning from all angles, with Bi-LED projector headlamps sitting just above the Ram Air intake.
Based on today's conversion, the Apache RR 310 can be had for $3500.00 USD. Take my money and send me one now!
Honda CG 160 Fan
Via Honda.
The most registered motorcycle in South America in 2020 was the Honda CG 160 Fan. Designed as a sleek and simple commuter focus machine, the CG 160 Fan is a classic Honda standard motorcycle design. The overall package is clean and straightforward with excellent ergonomics for a wide range of riders.
The OHC, 4 stroke single-cylinder, air-cooled engine pumps out a solid 15hp at 8000 rpm and can run on both standard gasoline or ethanol. These types of engines are near bulletproof from Honda, and when mated to the 5-speed transmission, make for a rugged reliable bike ready to be wound out in heavy use.
There is nothing fancy about the frame or suspension. Basic, durable, and capable seem to be the priorities here. Owner reviews all rave about the predictable nature of the handling and the abuse the bike can take without breaking a sweat. Coming in at a dry weight of only 116kg, the CG 160 Fan can easily deliver about 550km of range from its 16.1-liter tank.
Priced at $2400.00 USD at today's exchange rates, I wonder how well this bike would be received in North America. It is a tremendous value and makes sense why it is so popular in South America.
BRIXTON CROSSFIRE 500 X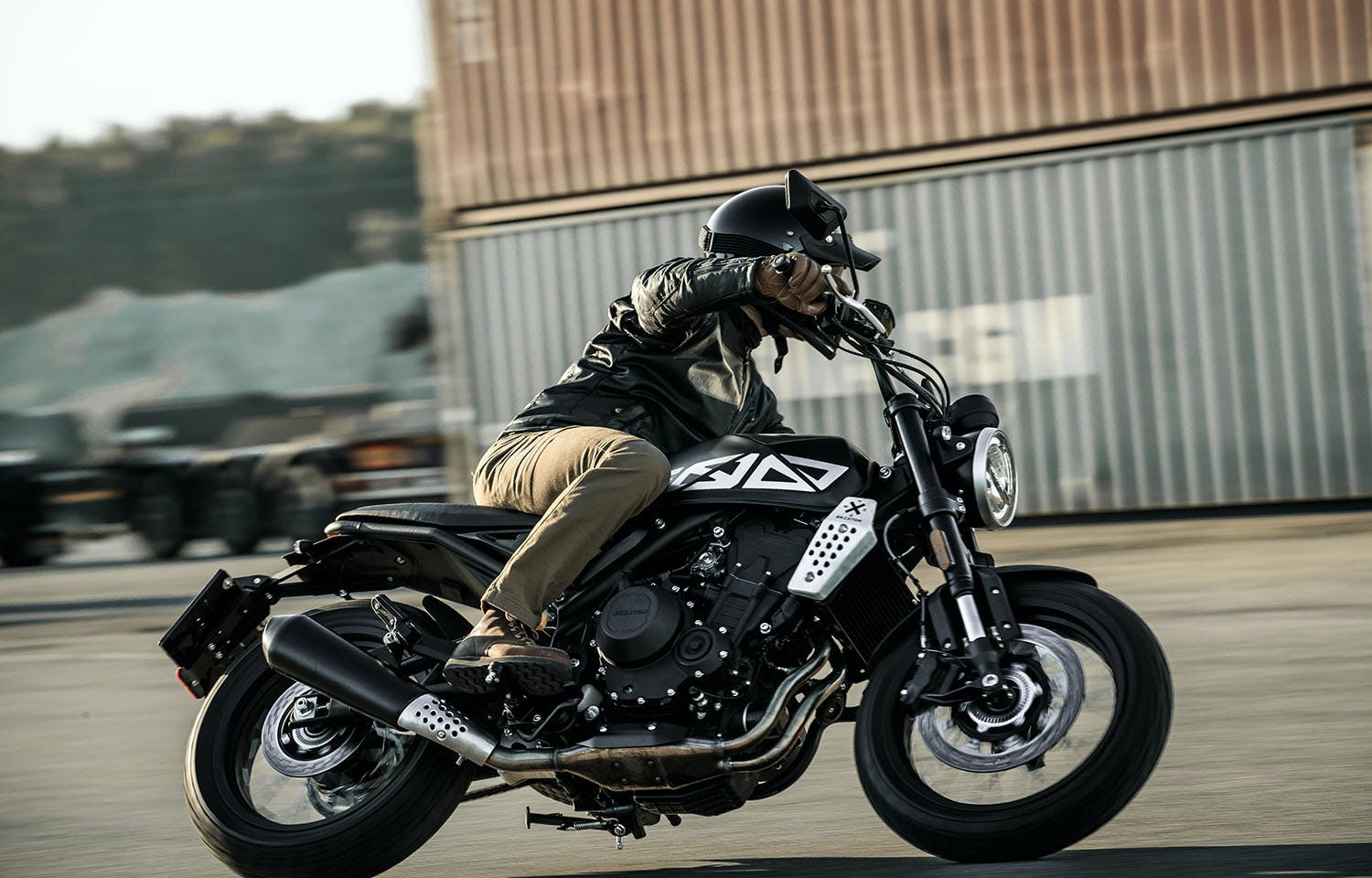 Via Brixton.
Part of the KSR Group, Brixton Motorcycles has been making bikes since 2017 and designs out of offices in Austria. This would explain why I and many others at first glance may have mistaken the Crossfire 500 X for a Vitpilen. There is an unusual resemblance—but I digress.
The Brixton Crossfire 500 X is a very cool-looking middleweight with a tough retro vibe that I really love. Powered by a 486cc two-cylinder in-line engine, it's good for 47 hp at 8,500 rpm and 31.7 pound-feet of torque at 6,700 rpm.
The riding position is fairly upright, with a flat seat and wide bars, quite reminiscent of a flat tracker. The suspension is an adjustable KYB set up with an upside-down front fork, and a rear mono-shock. The brakes are from J. Juan, with 320 mm front discs and 240 mm rear, controlled by the latest Bosch ABS.
Rumored to be coming to North America, the Brixton website still shows no listings for dealers on this side of the Atlantic. Hopefully there will be soon; this is a bike I very much want to test ride.
TM RACING SMR 450 FI 4T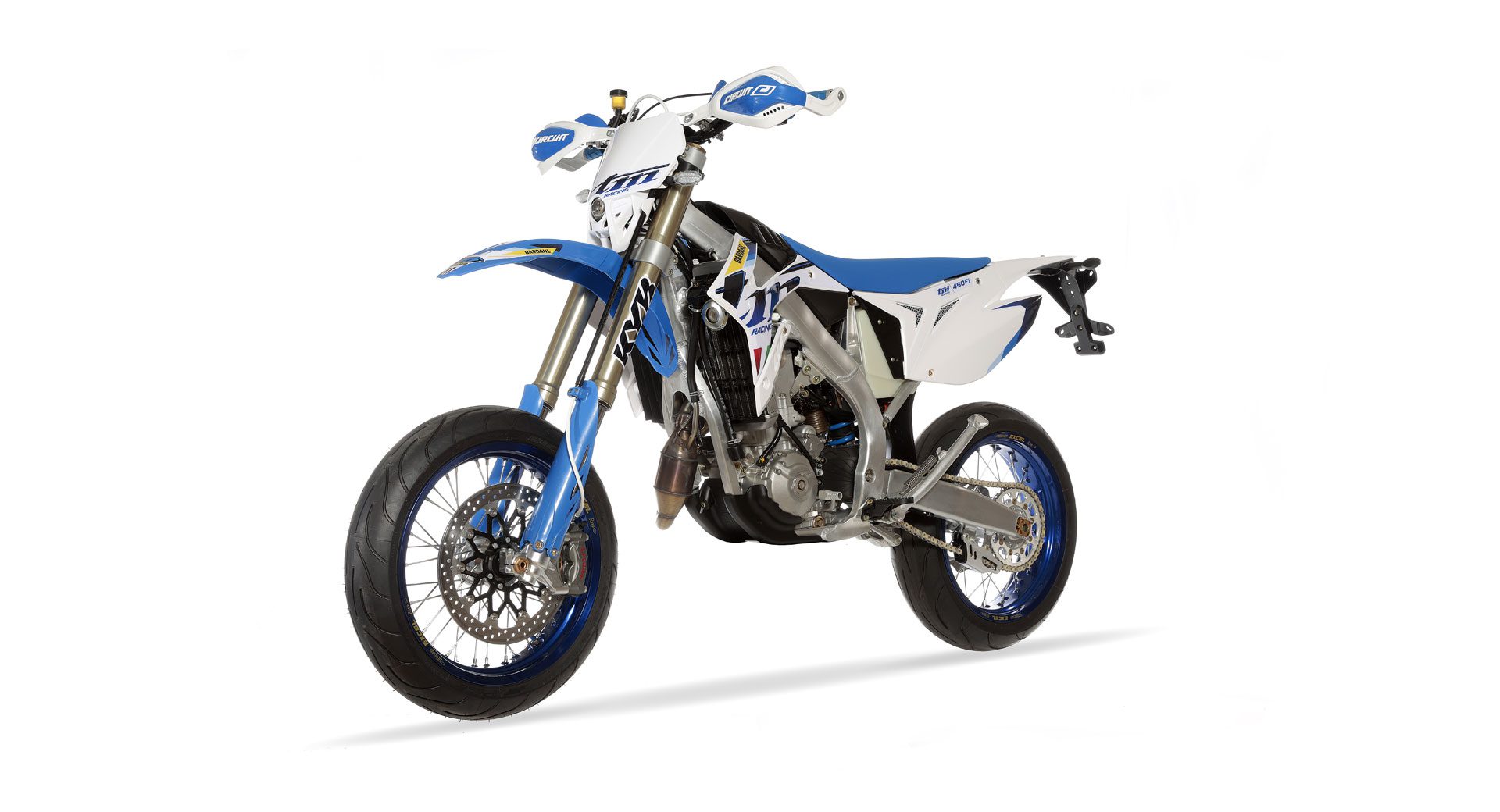 Via TM Racing.
The Italian gods of motorsports performance are at it again. Sporting just enough bits to deem it road legal, the TM Racing SMR 450 FI 4T just screams at me to get a leg over and go enjoy some possibly illegal road behaviors.
The 449cc, Four-stroke, liquid-cooled, DOHC, EFI engine, and mated 5-speed transmission, are perfectly tuned for propelling this 100kg hooligan ride rapidly into infamy. Thankfully the race-bred suspension and 4-piston Brembo front caliper squeezing a 306 mm disc. Every component fitted to this bike is top spec kit—and yes it comes with a high price tag, but you are getting what can only be described as a super supermoto machine.
The fuel tank is small at 8.2 liters, but that might not be a bad thing. Stopping often for fuel might just be what your heart needs—a chance to regain a normal heartbeat.
CCM STREET MOTO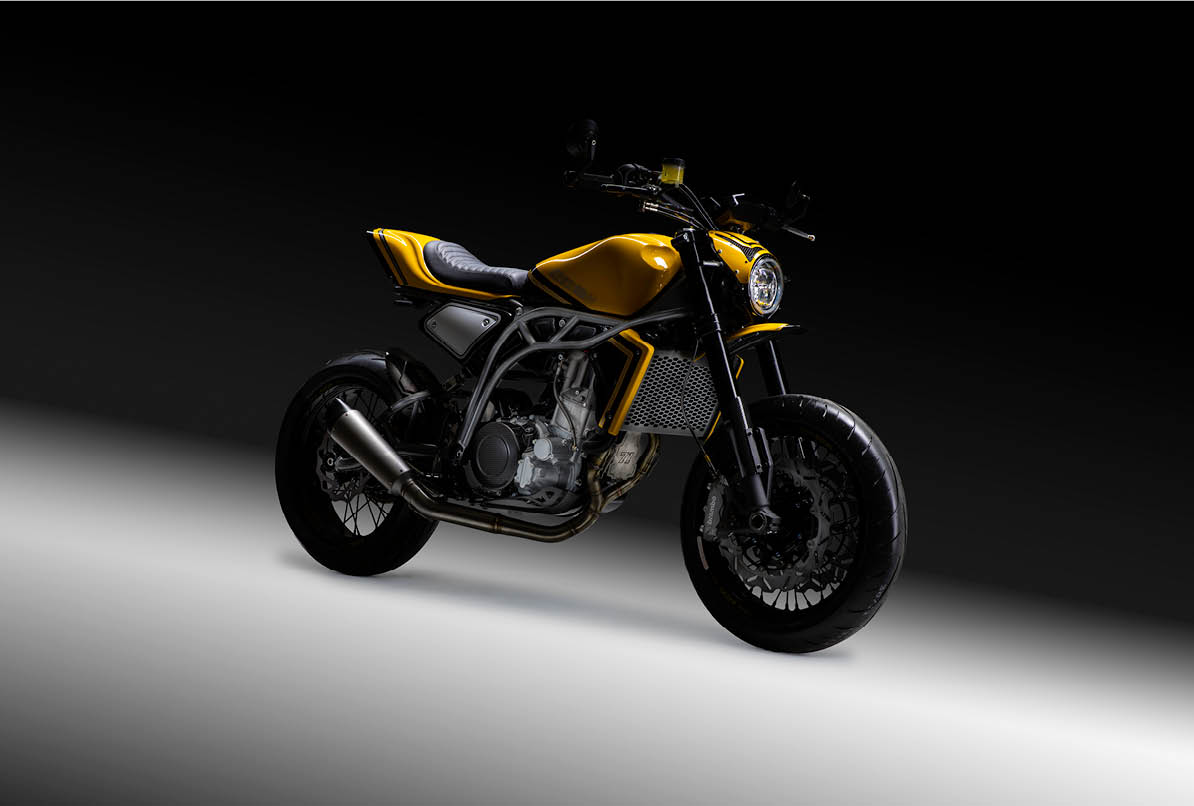 Via CCM.
When I first came across these bikes, I admit that I had no idea such a major manufacturer of hockey gear and sporting goods was now making incredible motorcycles. Yes, I am deeply Canadian.
Clews Competition Machines (CCM) is a boutique bike manufacturer out of Bolton, just north of Manchester, England, celebrating its 50th anniversary this year. Starting with parts and pieces from the about to become defunct BSA competition division, Alan Clews began building his own special machines.
Alan Clews sadly passed away on May 2nd, 2018. His eldest son, Austin, himself a champion motocross rider, now fronts the British manufacturer, supported by younger brother Russell and sons Ben and Jack.
One look at the CCM bikes and it is clear why they have such a devoted cult following. The 2021 Street Moto is a 600cc, BMW-derived, single-cylinder, four-stroke making 55 horsepower and 43 lb-ft of torque with only 150 kg (330 pounds) to move.
The hand-welded trellis frame is a sight to behold. The CCM bikes are all a unique mix of scrambler, flat track, and supermoto elements, and the custom options are endless. With sales at an all-time high, and exposure occurring in the movie Black Widow, I can only hope the company grows to a point where sales to North America occur.
REVOLT RV400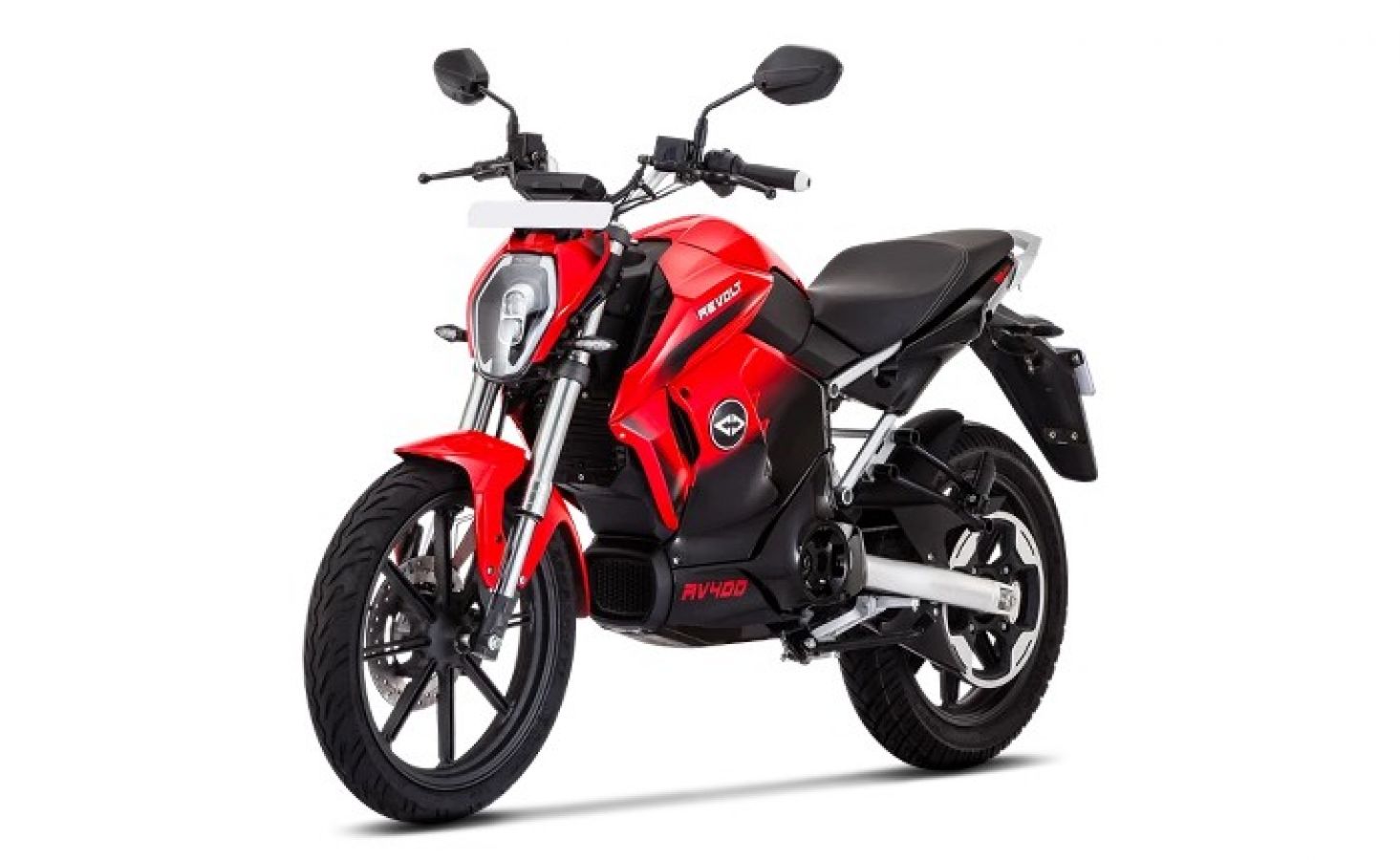 Via Revolt Motors.
The RV400 is an all-electric naked style motorcycle from Indian manufacturer Revolt Motors. With a strong resemblance to a Honda CB500F, the stylish yet simple bike is packing some intelligent secrets. While the electric motorcycle wars in North America seem to be a battle for sheer power, Revolt has gone after function and ease of use.
The bike has an average and comfortable riding position. The suspension is a tried and true inverted front fork and adjustable rear mono-shock, typical front and rear disc brakes, and all LED lighting are all as expected.
Revolt offers a high torque 3000-watt motor capable of 125 ft-lbs of instant torque, making the RV400 perfect for carving through India's major urban centers. A 4G LTE SIM card that enables the RV400 to pair with an app and receive over-air updates, monitor real-time battery life, find battery swapping stations and set geo-fencing restrictions. You can even have faux engine noises at the touch of a button.
The quick charging system can take the 72V, 3.24kWh battery from 0-75% in 3 hours and 0-100% in 4.5 hours. Taking things one step further, the 33lb batteries are swappable. If you are on the move and the low battery indicator is on, you can visit the nearest Revolt Switch Station through the MyRevolt app and exchange your drained-out battery for a fresh one in no time.
As a final safety net, Revolt offers an SOS service, promising to bring a fully charged battery directly to you within 90 minutes, should you not be able to find a stand charging option. Max speed is currently 85km/h and max range is 150km, but with those charging options, range should not be much of an issue.
This is a completely different business model that electric motorcycles are taking in North America, and I am very curious to see if it would make sense in our large urban centers. Best of all, pricing is just $1400 USD at today's exchange rate.