The Suzuki GW250 Inazuma
Somehow, I missed the U.S. introduction of the new Suzuki GW250 during the inaugural AIMExpo Show (report) in Orlando last month.
The Suzuki USA reps and I talked mostly about the newV-Strom 1000 ABS (preview), which took star billing at the show.
They also pointed out a revised Burgman and the Suzuki GSX-R1000SE (wBW YouTube video)Special Edition.
But they never said a thing about the GW250!
I only learned about the bike — which is also known as the Suzuki GW250 Inazuma in the rest of the world — from a Suzuki press release a couple of weeks ago.
The GW250 was introduced to the rest of the world in late Spring of 2013 and it has been available only for the last few weeks in the U.S.A.
The appearance of a brand-new 250cc motorcycle is, well, a surprise. 250cc bikes are about as rare as diesels on this side of the pond. Anything with less than 1,000 cc's is pretty much discounted by the print mags as being unworthy of a "real" motorcyclist's attention.
Of course, we all know that's ridiculous and, in fact, as I re-discovered myself after owning the Suzuki DR650 (blog) that smaller is more fun, cheaper, more fun, easier to maintain, more fun, less stressful and yes — more fun than a more complicated and expensive bike any day of the week.
So if a single-cylinder 650 is good, what could be better?
Why not try going all the way down to what is really the smallest practical motorcycle type you can buy: a two-fifty? Sure — you can go even smaller — but let's face it: anything less than 250cc just won't cut it once you get out of the city.
Which brings us to the Suzuki GW250 Inazuma.
w

BW

 Video: 2013 Suzuki GW250 Inazuma
The Suzuki GW250
A quick call to JT Motorsports, the local Suzuki/Kawasaki/KTM dealer, confirmed that they had just received a crate with a GW250 and would be assembling it the next day.
Once I saw this black beauty on the showroom floor, I made a snap decision; I guess you'd call it an "impulse buy". But the GW250 looked good and the specifications are surprisingly good for the list price of $3,999.00 in the U.S.A.
Let's face it — you don't get much motorcycle for that kind of money any more. In fact, it probably wouldn't cover the optional accessories you'd add to most big touring bikes.
What you get for the 4G's is a bike that's nearly full size and with mini-B-King looks, a water-cooled 248cc twin with a single overhead cam, fuel injection and a smooth and precise feel.
The dual disk brakes and IRC "Road Winner RX-01" (surprisingly good) tires take care of the rest.
Occasional webBikeWorld contributor and correspondent Derryn Wong said that he heard about the Inazuma and thought they would sell it in Singapore, but so far he hasn't seen it.
He said that "the licensing scheme may be an issue, as they follow the Japanese licence programme of 200cc and below, 200-400cc and finally an open licence. In between each one is another practical test and a year's wait, too."
"The Inazuma is aimed at the small end of the market but may actually be too big to be a practical seller in Japan itself", he said.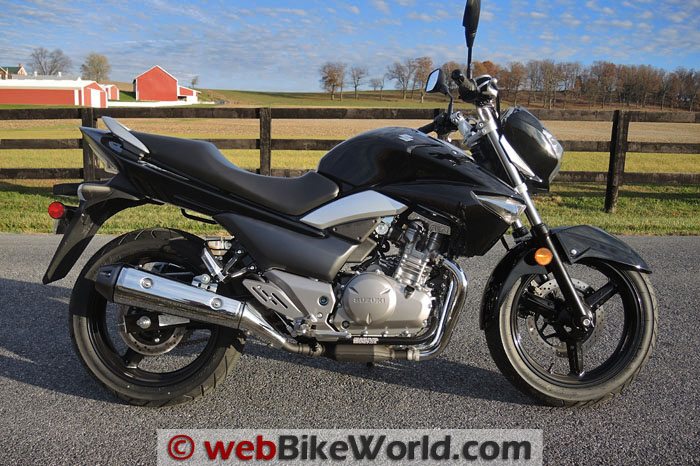 Good Looks With Quality Build
The GW250 does not feel like a cheap beginner bike; it really doesn't.
Everyone who has come over to take a look at it goes through the same routine. They get out of their car, see the bike, never say a word, take a walk around it and then you can see the surprise on their face. They utter a variant of "Wow — that does not look like a 250!".
The GW250 is made in China at a Suzuki factory and this one has an outstanding finish. The black paint is very glossy with absolutely no over-runs, no orange peel, no spider web scratch marks and no mistakes. It's a superb finish.
You can argue about the obvious B-King references in the headlight and those big side panels along the fuel tank, but these serve to hide the radiator and they also act as a scoop to force air into it as well.
Those panels also hold the sculpted front turn signals and this, along with the lighting, instruments and rear brake light, definitely add to the upscale look.
The chrome finish appears deep and all of this luxe appeal is confirmed as soon as the key is turned in the ignition.
The orange glow of the very nice instrument cluster and the sweep of the tachometer needle as it goes through the startup checks tell you you're on a 21st Century motorcycle. There's a big tachometer in front of you and a digital speedometer off to the left.
The very nice fuel injection system starts the GW250 from dead cold at about 3 C (37 F) literally on about the second turn of the crank. It's nearly instantaneous.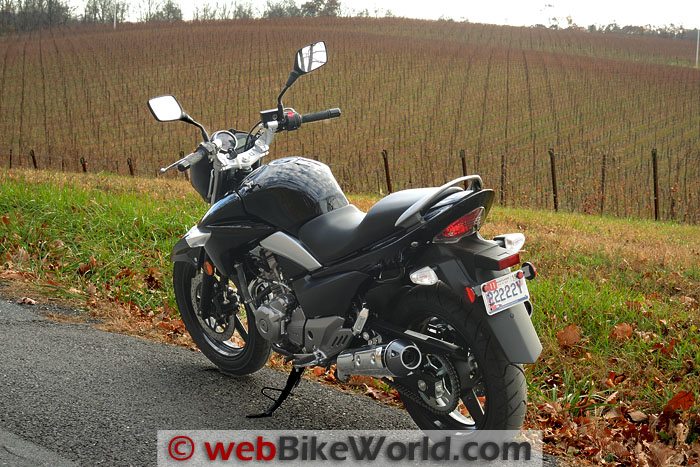 The Motor
The dual exhausts (another surprise) add a nice smooth burble to the GW250 as it's ripped through its 6 speeds on the road. In fact, believe it or not, the sound reminds me of a muted V8 of the espresso type, like from a BMW or similar.
Very cool and again, not like any 250 I'm familiar with.
The engine feels very smooth and I suspect it has a counter-balancer? But remember, with only 24 horses on tap at a lofty 8,500 RPM and 16 ft. lbs. of torque at 6,200 RPM to work with, you'll be rowing through the gears quite often.
But take another look at that torque number. It peaks at a very low for a bike that redlines at — get this– 11,000 RPM!
I immediately discovered the benefits of the 6,200 RPM torque peak. I can actually slow the bike all the way down to about 18 MPH in 6th gear, roll on the throttle and it will still pull right back up to speed without lugging. On a flat road, at least…
Throw in a hill and it doesn't take long before you're downshifting two or three stops…although I'm figuring once it's broken in, I'll be able to keep it brewing at full tilt for longer. The six-speed tranny clicks smartly in and out of the gears, making it a pleasure to use.
The owner's manual calls for a 5,500 RPM limit for the first 500 miles on the GW250.
That sounds reasonable until you realize that with the 11,000 RPM redline, 5,500 RPM in 6th gear is only 45 MPH on a flat road! That means a lot of city or back road riding until the break-in point has been reached.
The engine climbs up those revs really, really fast and very smoothly and 5,500 RPM comes up in no time at all. Furtive glances at the speedo indicate about 18 MPH in first gear; 24 MPH in second; then in quick succession you're flicking the shifter at 32, 34, 43 and before you can blink, you're at 5,500 RPM at around 45 MPH in 6th gear.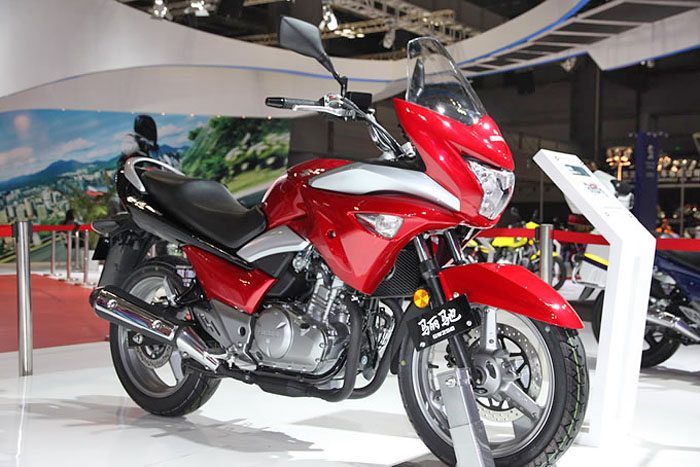 Beginner's Bike?
The GW250 is sort of a "beginner's bike", but I hate to burden it with that label. My contention is that it will also make a useful commuter for the scooter-averse or a "cheap" second (or third) bike for when you don't feel like muscling the S1000RR or Panigale around town.
Once it's broken in, I'll do some MPG runs, but I've heard 73 MPG kicked around by Suzuki.
For those beginners, I'm not so sure. Yes, the (cable) clutch pull is light and it has a decent friction zone, but the rev-happy nature may be a bit too much for a rank beginner.
In first gear, the bike revs so fast that just a bit of throttle jerking can get the GW250 bucking back and forth pretty badly, which isn't good for tyros.
Once it's in second or third though, it pulls very cleanly, very smoothly and the overall precision feel is not at all like a "beginner's" 250.
But the seating position seems a little off; the seat has a very scooped out rider section that forces you into a very specific position, pushed up against the fuel tank. The seat also has a rounded profile, which hits me right up in between the nether region and…that other region.
And the "clip on" handlebars (there's no handlebar per se) can place the rider into a straight-arm position; it happens to me, even with a 34″ sleeve length.
This means that beginners (and more experienced riders) may end up placing a bit too much weight on their hands, which gets transferred into the hand grips, when a relaxed grip is what they should be taught. Perhaps we can fabricate some type of risers for the grips.
The suspension is also sportbike-stiff; it reminds me of my Ducati GT1000 (blog), although the GW250 handles better than the Ducati, turns in faster and, believe it or not, I like the IRC tires better too.
But the stiff suspension isn't good for beginners on a back country bumpy road. On smooth surfaces though, the bike feels glassy.
The mirrors look big and wide, but they're among the worst I've encountered on any bike. What's up with that for a beginner? I'll definitely try to find some type of mirror extenders and actually, I think bar end mirrors (reviews) would be just the ticket for this GW250.
And even with my 31″ inseam, the foot pegs seem too high. Combine this with the seating position, which pushes me forward towards the tank, and my legs feel slightly cramped, which is especially noticeable if I'm wearing heavy winter pants, which restrict movement.
I'm going to see if I can get someone to re-shape and flatten out the seat so I can move my butt farther back.
The upside is that I can flat-foot the GW250 with my 31″ inseam…but is this really all that important? Beginners may thing so, but as long as you can get tiptoes on the ground, you're usually OK.
At this point, I don't have nearly enough miles on it to comment further, but I'll be sure to check back in on that later on. In the meantime, here are some photos.
Be sure to check back for the Suzuki GW250 blog and send your comments and questions (below).
More wBW: The Suzuki GW250 Blog With Updated GW250 Riding Impressions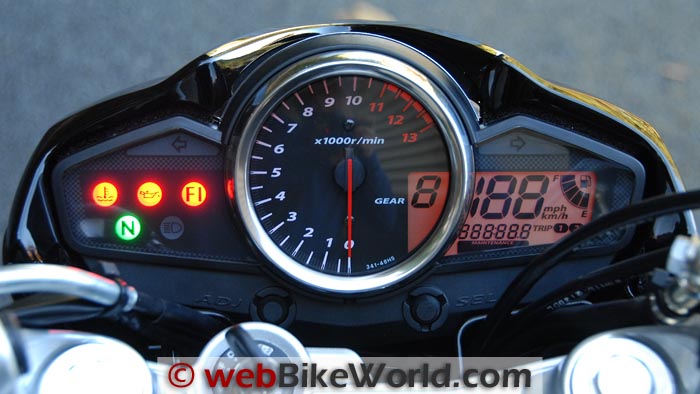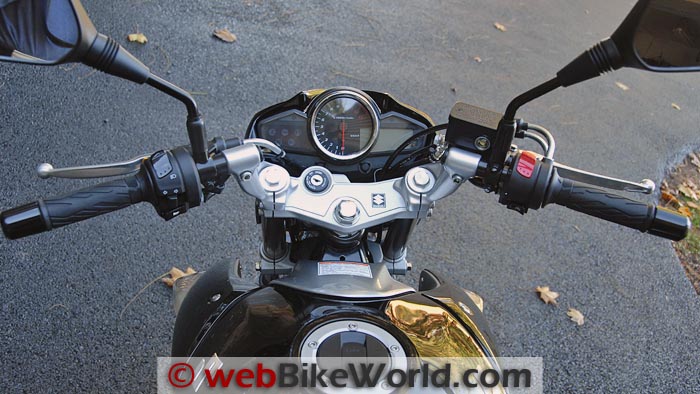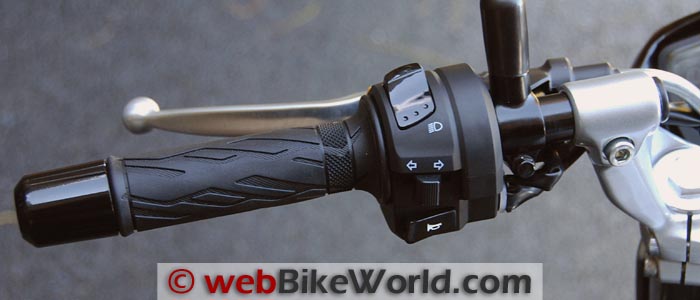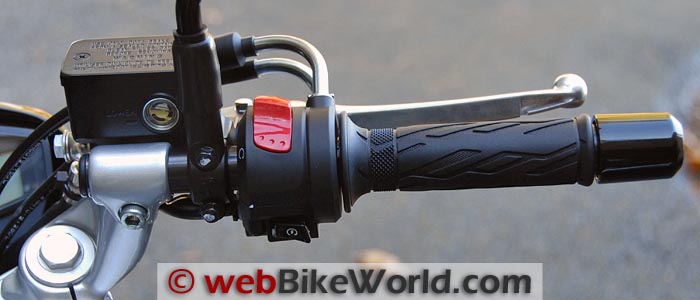 Accessories
The Suzuki GW250 is so new, neither the state Motor Vehicle Division nor the insurance company had it in their database.
After a bit of back and forth until Suzuki proved to them that yes, they actually do make and sell a motorcycle called the GW250 in the U.S.A., I got it legally insured and registered. Full-bore insurance with a $500.00 deductible was only $148.00 per year.
Suzuki has a rear rack and top box (looks like a SHAD); a small windscreen; a magnetic tank bag (the fuel tank is steel) and even a center stand for the GW250. We'll be installing all of them as soon as they arrive from the parts depot.
I'll also try alternate tank bags, soft luggage and any other accessories I can find.
First thing to be installed is a Battery Tender SAE cable and a horn exchange; I'm going to take a third attempt at getting the Stebel Nautilus Compact Horn (review) to work (I ordered another new horn).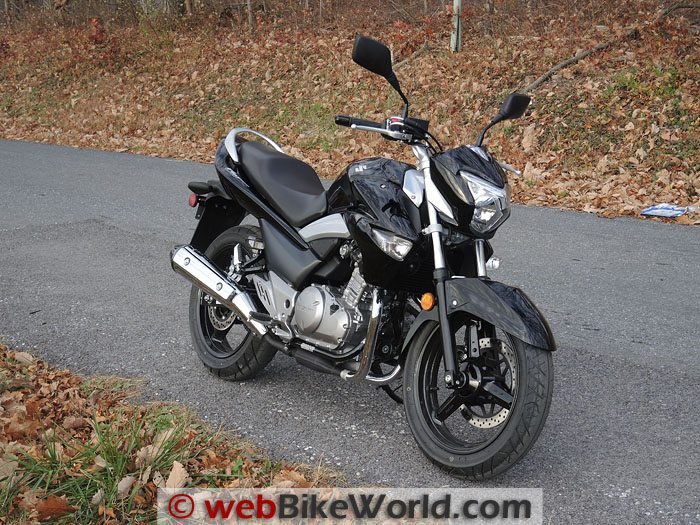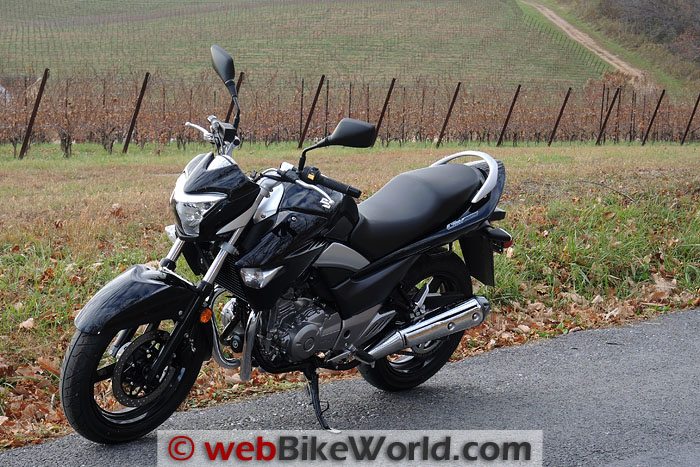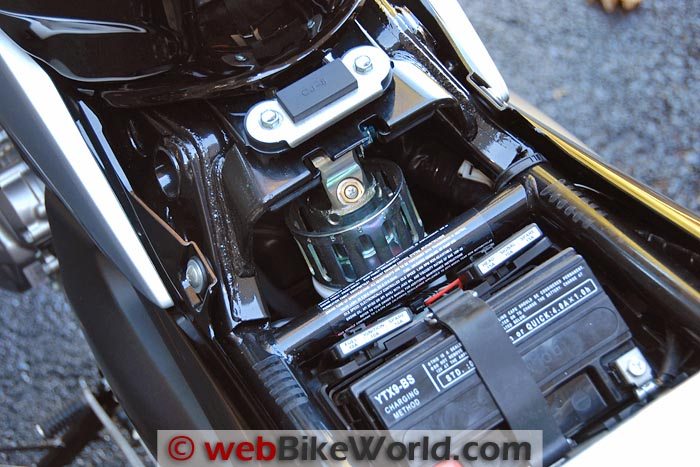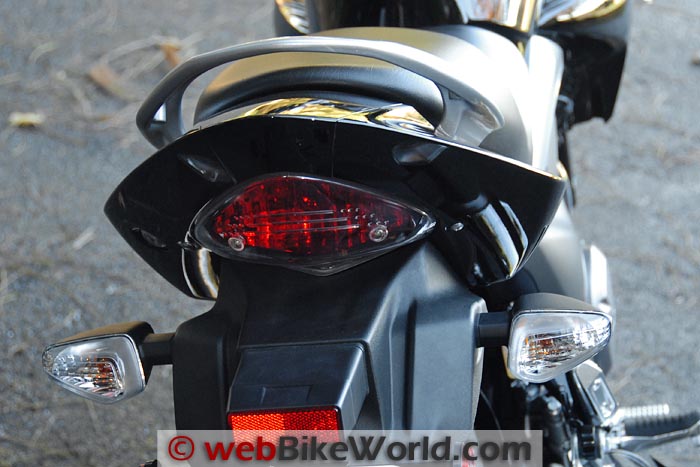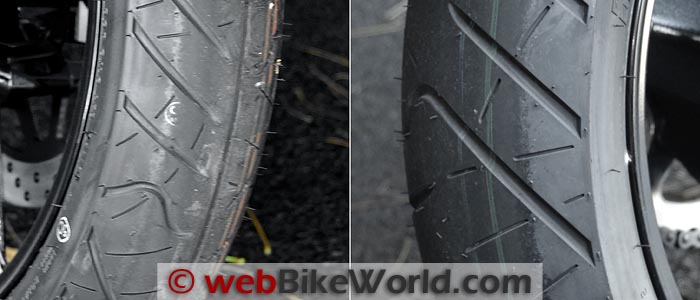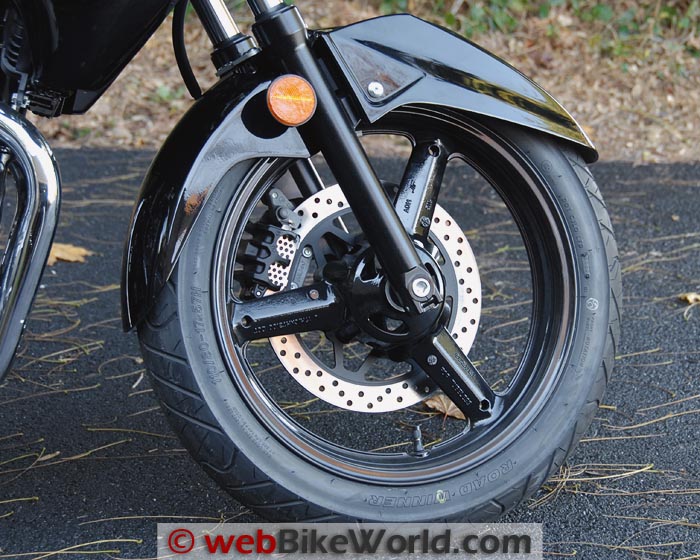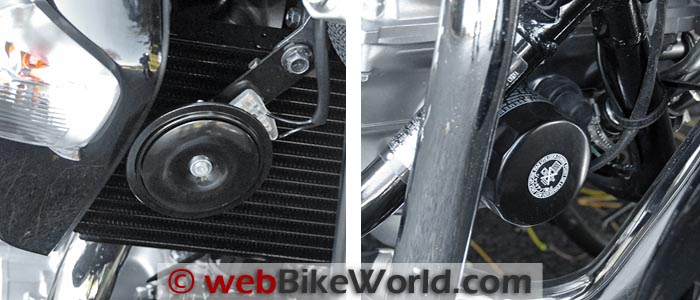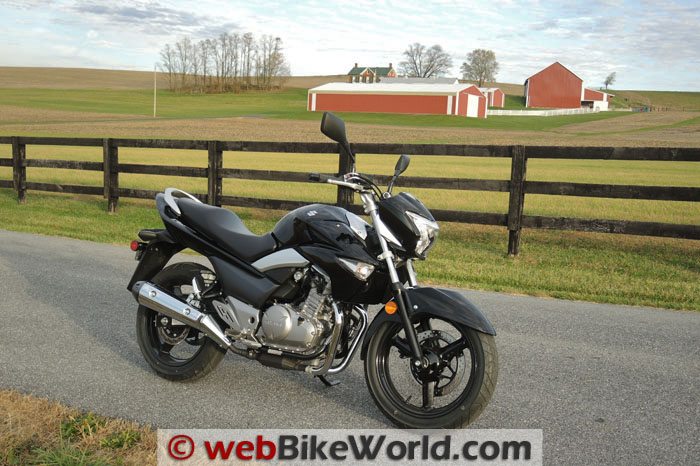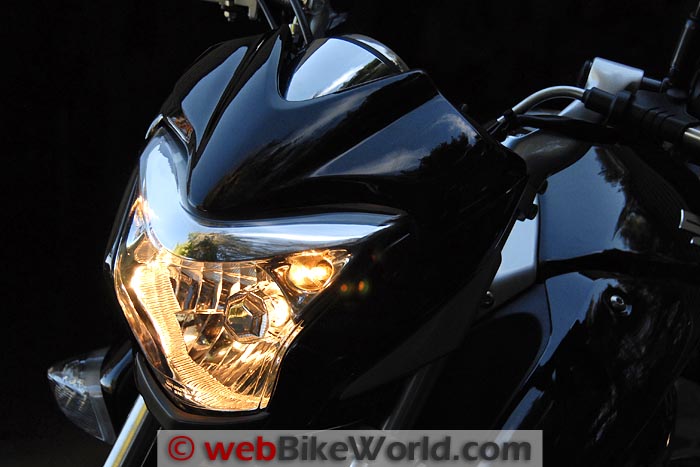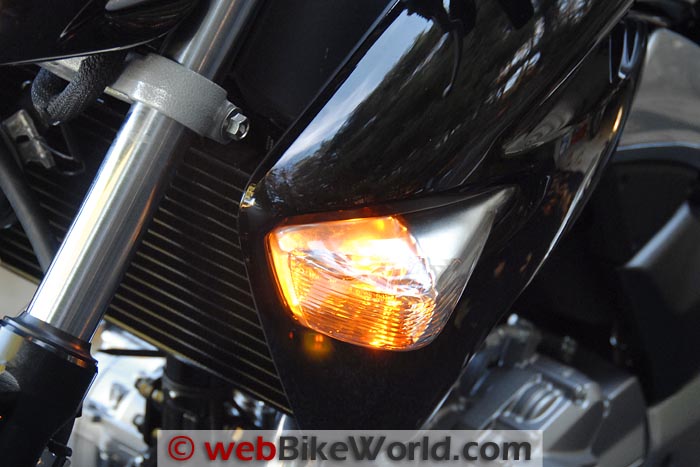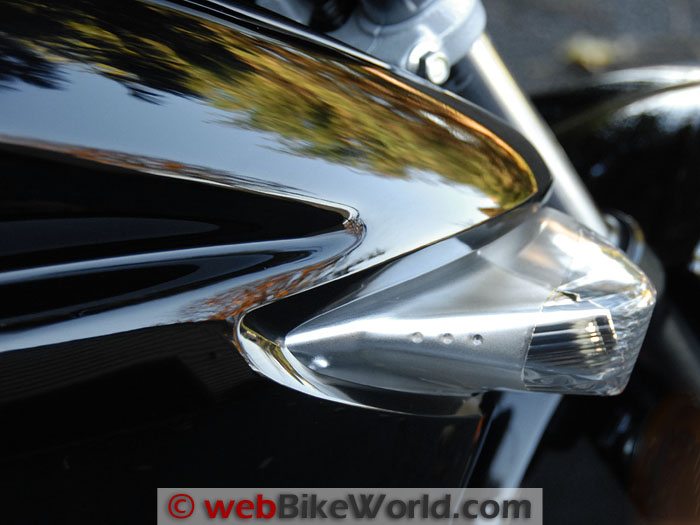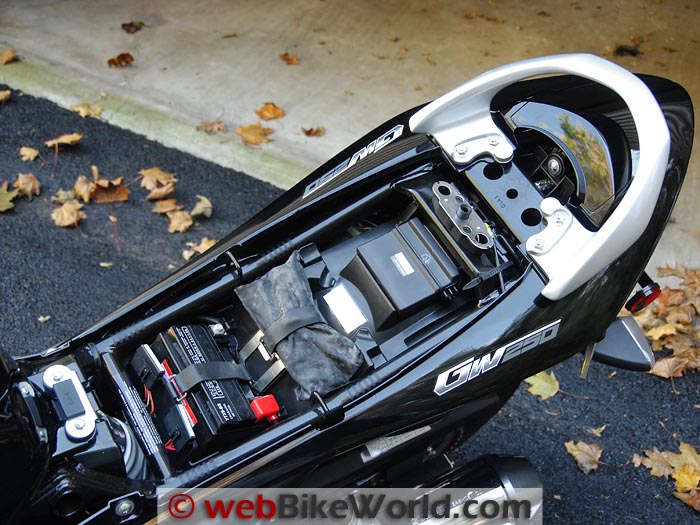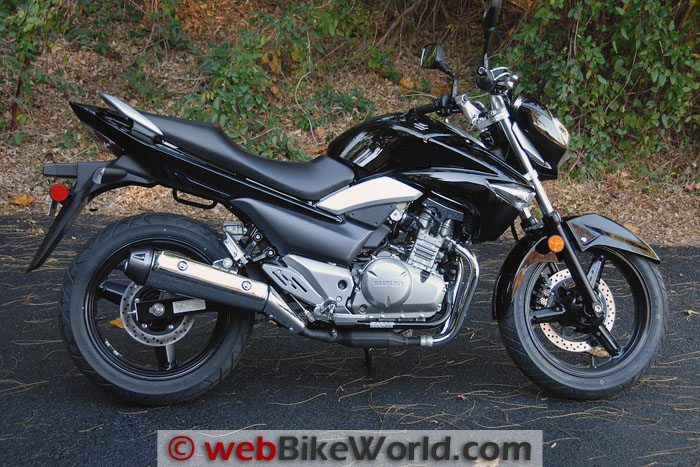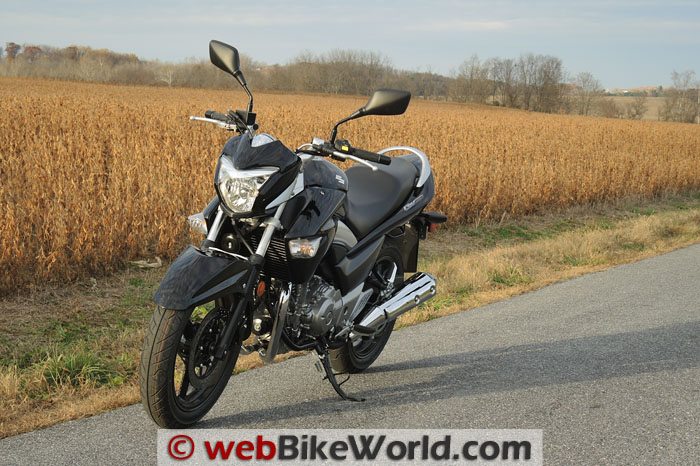 Publication Date: November 2013
Master Listing of All wBW Motorcycle Product Reviews
Note:
 For informational use only. All material and photographs are Copyright © webWorld International, LLC since 2000. All rights reserved. See the webBikeWorld® 
Site Info page
. Product specifications, features and details may change or differ from our descriptions. Always check before purchasing. Read the
Terms and Conditions
!
Owner Comments and Feedback
---
From "J.K." (April 2016): "Just a quick line to say that I have just discovered the GW 250 Blog and am really enjoying it. I have owned one of these bikes since early 2014 and ride it all year round.
The best modification I made was to buy a drive sprocket with an extra tooth, she now happily purrs along wet Irish roads between 80 kph and 100kph, i.e., 50-60 mph.
As a middle aged rider who no longer needs to impress with speed and size, I find the GW 250 or 'Inazuma 250' as its called in Europe is more than adequate for Irish roads and rush hour motorway traffic. Cheap, reliable and cheerful, two years on.
Keep up the good work."
---
From "G.N." (March 2016): "It's unfortunate that the half fairing GW250 isn't widely distributed. It is in my opinion the best looking of the family, the half fairing provides some degree of weather protection while still providing easy access to the engine, clutch basket, oil filter etc.
The windshield is also taller than the one on the GW250F and from my experience is the best windshield I've ever had despite having no adjustment points whatsoever.
I'm 180 cm in height and after having two bikes for a few months, one the GW250 and one a Ninja 650 (which is also a very versatile bike with an even better engine) I decided to sell the 650 and keep the GW250.
It's originally the naked version but I installed an aftermarket fairing kit that is identical to the GW250S kit.
I also gave it some much needed farkles (lol):
Custom 2-1-2 exhaust system, the catalytic converter is replaced by a resonator.
Power Commander V.
Givi SB2000 side brackets to accommodate side bags.
Custom triple clamp and bar raisers.
Factory GW250S handlebar.
Custom hand guards.
Accessory gadget charger.
Porting and polishing of intake and exhaust ports.
Dunlop Roadsmart II 120/70 & 160/60 tires.
So far it's the bike of my dreams (as if) with perhaps a custom white paint job being the last thing I would do to it, and maybe some all terrain tires like the Metzeler Karoos or Shinko 705s.
Some people said that I should have just bought a bigger bike like the Versys 650 etc. and I agree with them up to a point.
And that point is when you can only have one bike to do it all in the tropics (very bad traffic, very hot weather, very wet rains, very slow average road speed and very aggressive road users aka limited road space while still wanting to look different from all the scooter riders)."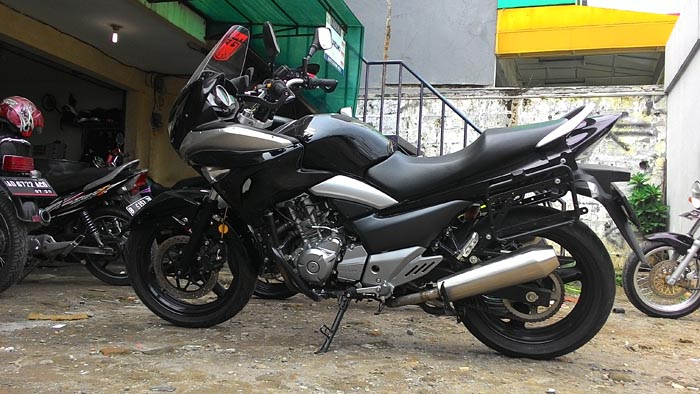 ---
From "C.G." (February 2016): "I completely agree about the seat problem on the GW250. I am 6'3″ and felt like I was falling into the gas tank every ride.
So I cut a closed cell foam yoga mat, much to my wife's chagrin, into 4 various lengths and built up the cut out portion of the seat and covered those pieces with a larger saddle shaped piece.
After Velcro strapping those to the seat and placing a sheepskin over top it was spot on perfect.
Now for the handlebars…a quick DIY riser set and some mirror extenders and now the small-engined full-size framed gas sipping miser with a low insurance rate bonus machine is all I will ever need. For now! LOL"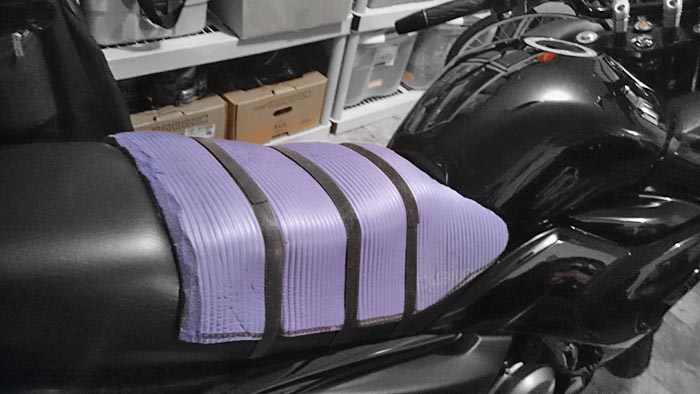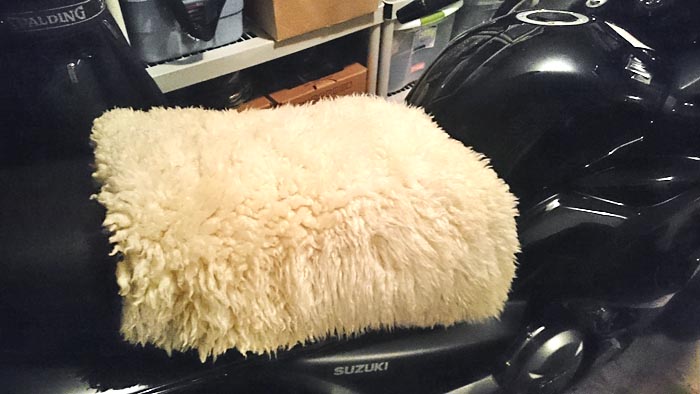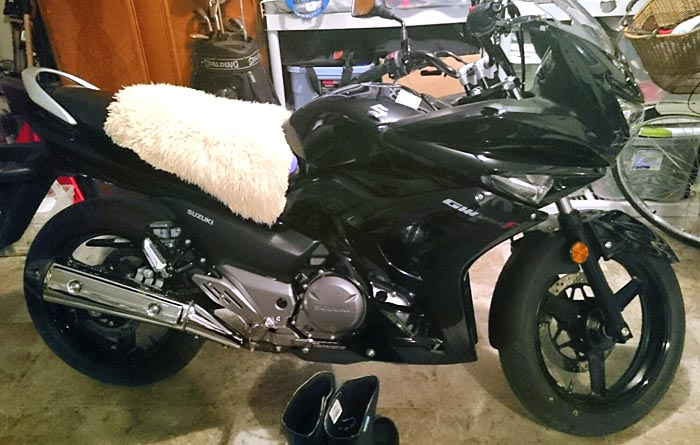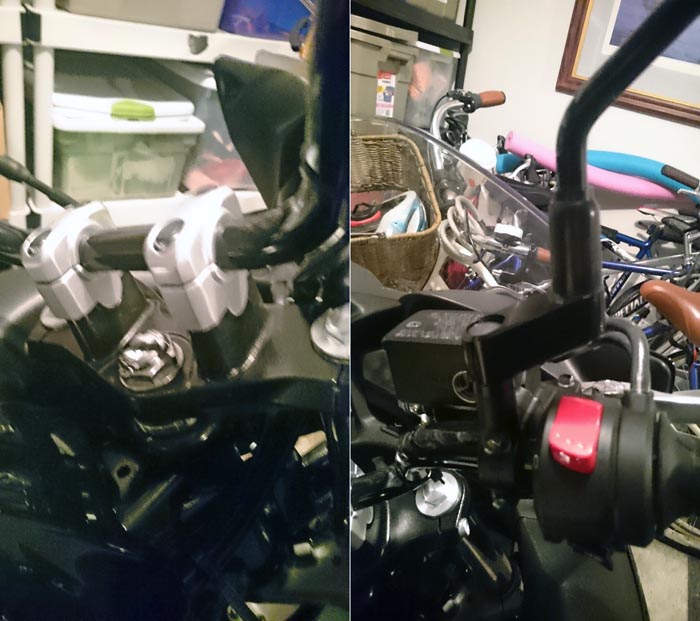 ---
From "L" (December 2014): "The GW250 is what it is, low budget and for the market sector its intended for does the job.
As far as looks go I wouldn't have kept the B-King touches, commuting and run about bikes have their market place and something more standard therefore a little cheaper is the way I would have gone.
The B-King didn't light up the sky's because Suzuki took too long bringing it to market and changed it for the worse when they did. Yamaha's V-Max hasn't done much better but kept the look to that machine on not handed down through the range.
I think Suzuki need to join the 300cc party, and they are late! Probably more important to foreign markets the others have stolen the march and a strong hold.
I believe Suzuki should do a sports 300 but a little differently to encourage the "new entry" and female rider with idea of a little less race rep and more versatile abilities…
Whilst we wait to see if and when they make an appearance I'll step in and say this is one I did earlier. 'Come on Suzuki' you're reaction and market researchers need to speed it up…"
---
From "N.C." (May 2014): "I have no problem with the seat, but then I'm quite a short-legged, lightweight! I did 180 miles on the GW one afternoon with a mate on his Versys and I was pain free — he wasn't.
Yes, I did follow the break-in — in the worst March/April we've had in New England for many years. Some days I had on five layers just so I could get out and get those miles on!
The mirror problem: I can only see each side and not behind me (seems to be an adverse comment from various sources) so I will be addressing that problem very soon.
Also I've removed the lower part of the rear fender and leveled it up with the bottom of the license plate. A Dremel with cutting disc is the tool to use, then just tidy up with a sanding disc on the Dremel.
I just could not see why it had to be so long and dorkey looking from behind, but maybe as a "world bike" some countries have deeper plates?
Other than that I am delighted with the GW. I'll keep in touch as the miles roll by — I have already "sold" two more to mature bikers trading down from bigger stuff. Maybe this is a trend?
It's a one-off, no nonsense, inexpensive bike that's not trying to be a racer in the 250 to 300 class, which is fine for the younger rider but a bit too extreme when you pass 50!
My first new bike in the UK (too many years ago than I care to remember!) was a black Triumph Tiger Cub 200cc, and the GW reminds me of that in so many ways."
---
From "W" (November 2013): "I've recently got my riding license, and the same day I got my card, I went to the Suzuki dealership to test the Inazuma.
It looks pretty good, and when in full throttle reaches 140 kph (87mph). But after the trial, I looked for some old Honda CB250 and the engine of them sound from far better than the Suzuki's one.
It can be something psychological, but when you're riding the Inazuma your have the 'Chinese build feeling'; don't get me wrong, it's a great machine, but it doesn't sound like a 90's Honda.
Definitively is a fun motorcycle, perfect to learn riding and with decent price (here in Europe it cost 3900€, so you're more lucky with the price)."
Rick's Reply: I'd have to disagree, the GW250, at least over here, sounds really nice, much different than I expected for a 250. And the build quality and overall feel is very smooth and outstanding, much better I think than other 250's.
Maybe they "tweaked" it for the U.S. market, which is focused on bigger motorcycles, I'm not sure…
---
From "J.W." (November 2013): "This Suzuki is one more addition to the 250 ranks, sorely needed. When I began to get the itch to start out, take my MSF Beginner Course, etc., 10 years ago, there were so very few middleweight or lightweight choices.
It was almost as if the entire industry expected you to start on either an AMA-spec 600 or a Harley or Harley clone. The few Rebels and Shadows and Eliminators that were skulking around were hardly inspiring.
So I'm very glad to see the avalanche that was begun by the CBR250R has picked up more and more speed: The updated Ninja 300 and 650, the Honda 500 trio, etc., and even more inbound, like the 390 Duke!
But if I were Suzuki, I'd have brought the faired version: I now know that 'bugs in your teeth' is strictly an acquired taste, not a required riding skill!"
---
From "B.P." (November 2013): "Very thorough review of the new 250 'Zook.
Does the gear-position indicator work with the clutch pulled in (ala my friend's R1200RT, for instance), or must you actually let the clutch out first (like my Victory, which calculates the gear, rather than actually knows it)?
The former, sensor-based, system is much more newbie friendly, in my opinion, especially in a bike that will have you rowing the gears a lot.
Rick's Reply: The indicator number changes when the shift lever is clicked up or down, which is the only way I've ever seen one work. It works either with the clutch pulled in or during clutchless shifting.
---
From "T.W." (November 2013): "I'm an MSF-certified RiderCoach, so I spend a lot of my summer weekends riding the 250cc motorcycles that we provide for our students taking the Basic Rider Course.
I'll agree with the reviewer that there is a lot of fun to be had on a smaller, zippy motorcycle that responds instantly to rider input.
As I was reading this review, I got more and more excited as I thought that this bike would be a great addition to our current line-up of student training bikes, which include a few clunkers (I'm looking at you, the Suzuki GZ250 and your poorly designed shift lever linkage).
But then I read the line about how a slight twist of the throttle can lead to a hefty burst of speed. So, that means that this would not be a good bike for our beginner riders. Too bad.
But I'll be sure to sit on one when I next visit my local dealership, if there's one on the floor, because I may want to add one of these to my collection. It seems like this bike may be a competitor to the 250cc Kawasaki Ninja, am I right?
Anyway, thanks for the thorough review and I look forward to reading updates on the blog.
Rick's Reply: One of the reviewers who helps me is a RiderCoach also and he maintains all the bikes for 4 counties here in Maryland for the rider training program.
But he thinks the GW250 probably wouldn't make a good training bike because of the side panels, which would have a lot of damage if/when the bike was dropped.
He also though the water cooling would add complexity for maintenance and also have the potential of leaking if the bike was dropped.
They use Honda 250 Nighthawks and the Suzuki TU250 here, which they like very much.
The GW250 comes in at $500.00 less than the Kawasaki 250 and $1,000.00 less than the Kawasaki 300. It lists for $200.00 less than the Honda CBR250R, which has a sportbike look that some may not like for a first bike or for a commuter.
So Suzuki told me they consider the GW250 as a new type of small bike…
Other WebBikeWorld Motorcycle Brands Posts
wBW Motorcycle Brands Info