Updated February, 2019
Our Top Picks
Best Overall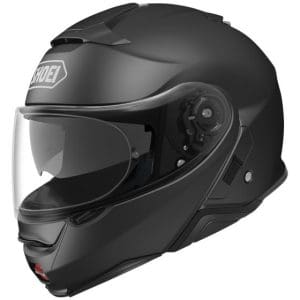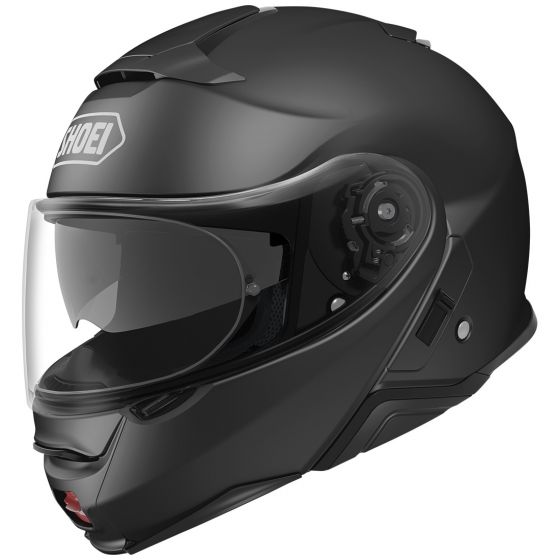 Best Value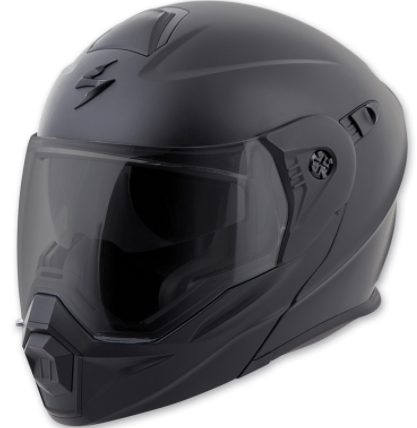 Fully Loaded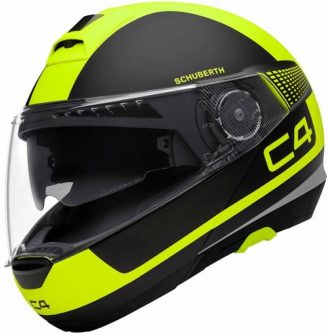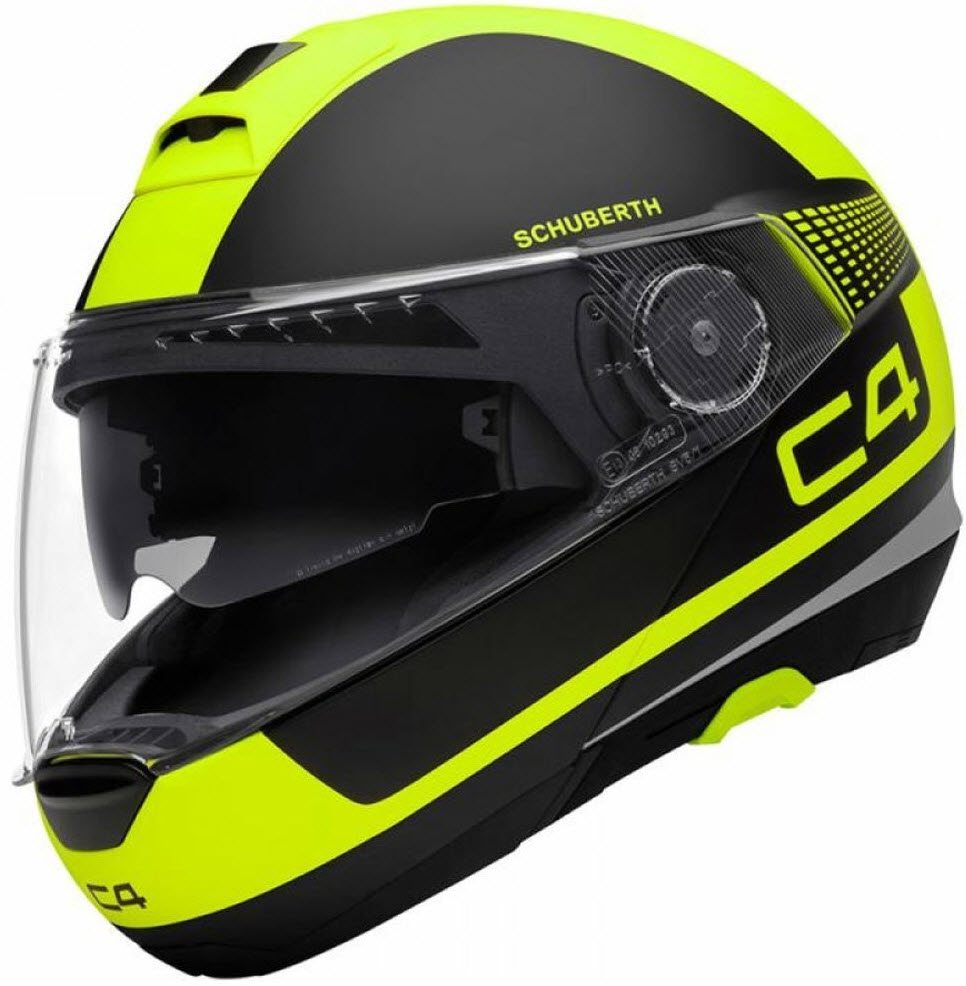 Other great options: AGV Sportmodular Carbon, HJC IS-Max 2, Nolan N100-5
---
Last year around this time we first published our recommended modular helmet article. Today we update it, taking into consideration a year's worth of new products and testing.
Most of the helmets referenced in this article have been subjected to one of our comprehensive hands-on reviews. Those that we haven't tested hands-on are included because of their overall reputation, quality, or position in the market. Every lid in this list is a lid I'd trust my own noggin in.
Most of the helmets on this years list are carryovers from 2018. The fact is that a good helmet is a good helmet, even if it hasn't been updated for 2019.
Looking to pick up a new helmet and unsure of what to look for? Learn about proper helmet fit, safety standards, top-brands, and more in our helmet buyers guide.
Best Modular Helmets
In Detail
Best Overall
Shoei Neotec II
Buy: Amazon | Revzilla | 2Wheel
Price: $699
Review: In-depth review
The Neotec II, new for 2018, proved to be the most consistently popular helmet among our reviewers.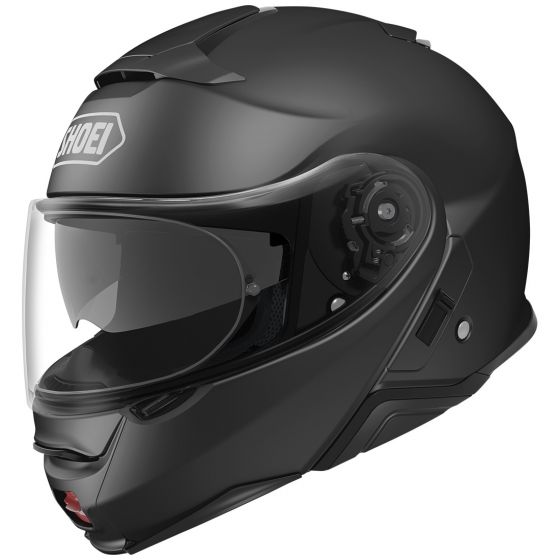 The Neotec II is intermediate oval, average weight, and with the SENA SRL integrated, it's also a communications and connectivity powerhouse. During my in-depth review, as well as extensive riding throughout the 2018 season, I found very little to fault in the Neotec II. It's not perfect: the matte paint blemishes easily, the audio can be hard to discern once you're in the airstream and being bombarded by wind, and at $700, the Neotec II is very much a premium helmet.
But it feels premium, too. The controls are smooth and precise; the integrated sun visor opens and closes with perfect resistance; the modular assembly feels rock solid and nigh indestructible. And on my head, it's comfortable to the point where after a few minutes I almost forget that it's there.
It comes with the features you'd expect of a high-end helmet, including a pinlock visor, and is rivaled by perhaps only the SCHUBERTH C4 in terms of quality, looks, riding comfort, and level of seamless intercom integration.
Compared to the Neotec II, the C4 is a bit more expensive and a bit bigger, too. Ultimately, while a hard choice to make, the Neotec II is the helmet I wear and ride the most.
Buy the Neotec II
We receive a small commission when you purchase from one of our affiliate partners. Thank you for supporting us.
---
Best Value
Scorpion EXO AT950
Buy: Amazon | Revzilla | 2Wheel
Price: $270 – $300+ (for graphics)
Review: In-depth review
Currently available for around $270, the Scorpion EXO AT950 is a bargain and a great value.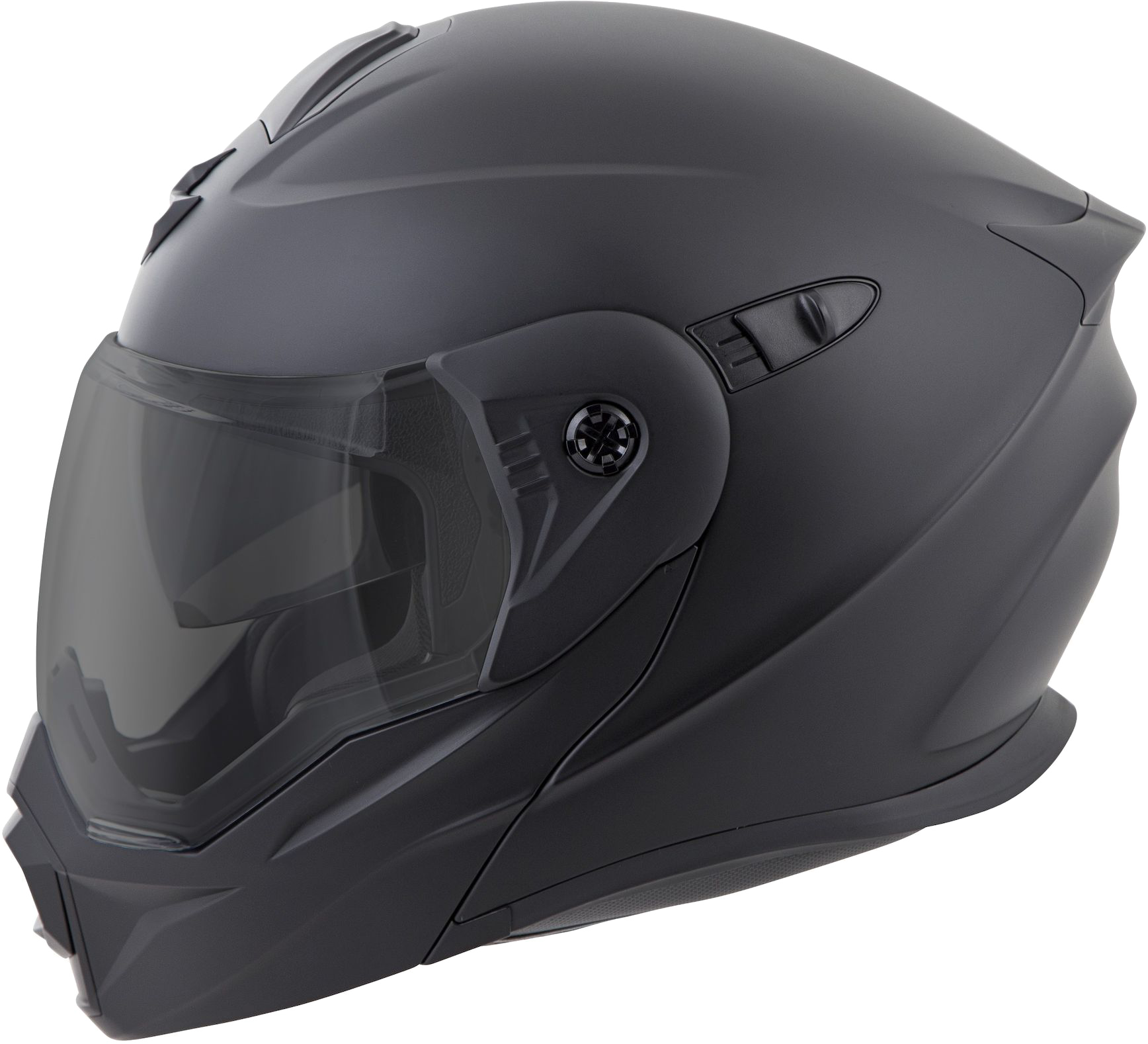 During our comprehensive hands-on review, we noted that the AT950 is a bargain at its list price of $270. It's comfortable to wear, fitting a bit snug but not uncomfortably so, and is well balanced. Ventilation is average to above average, but the fit and finish is excellent.
The AT950 is based on the AT920 (the 950 is the dual-sport version). Built-in features include an internal sun shade, removable interior, and chin curtain. The integrated peak can be removed, along with the face shield, allowing you to wear the EXO AT950 like a dual-sport helmet using Goggles. We prefer the peak removed, but the choice is yours- it only takes a few seconds to swap out.
The AT950 offers everything that the "big boys" in the modular adventure helmet space offer, but at ⅓ the price. It also looks fantastic. That's a winning combination.
Buy the Scorpion EXO AT950
We receive a small commission when you purchase from one of our affiliate partners. Thank you for supporting us.
---
Fully Loaded
SCHUBERTH C4
Buy: Revzilla
Price: $270 – $300+ (for graphics)
Review: In-depth review
A premium-priced modular with speakers and a mic built into the shell.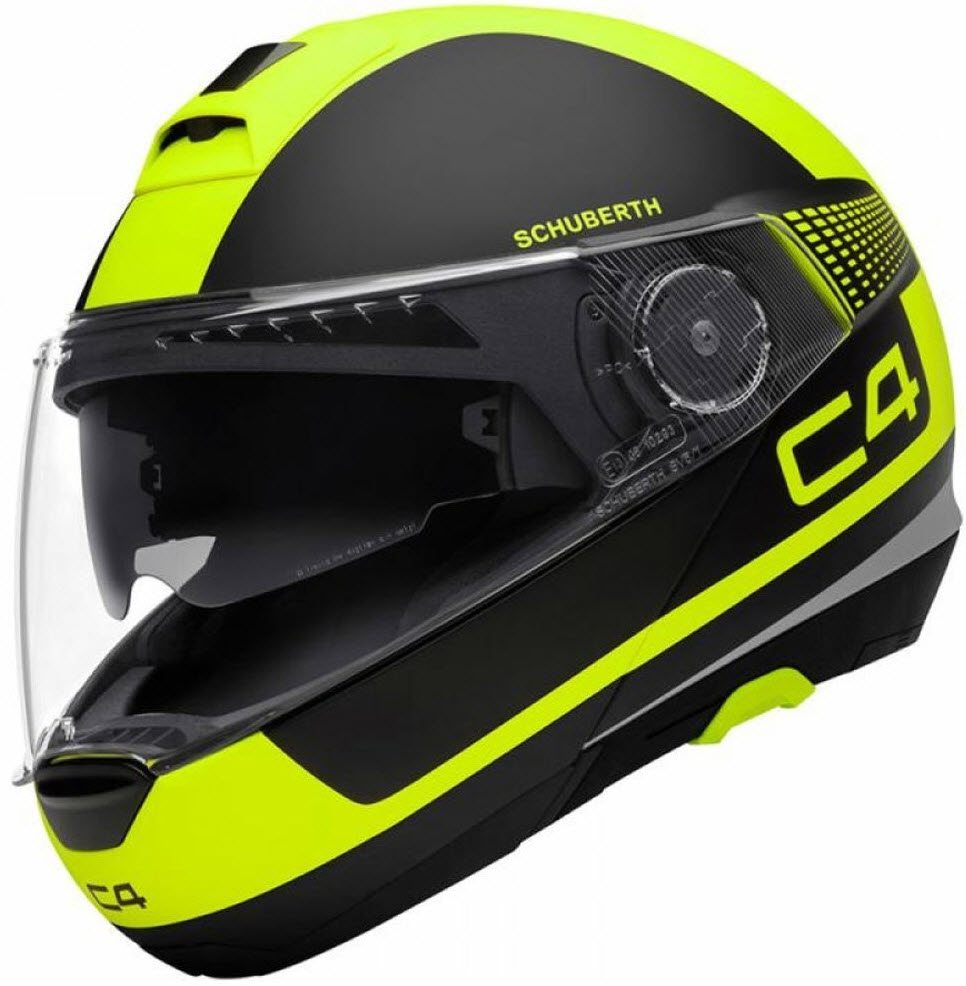 The SCHUBERTH C4: neck and neck with our top-pick, the Neotec II, losing out on our "best overall" pick for two reasons: first, its ultra-premium price (starting at $750), and second, because it's physically larger than the Neotec II due to SCHUBERTH opting to use two shell sizes.
If those two things don't bother you, the C4 has a leg up on the Neotec II in a cou ple of areas as well.
The speakers and microphone are discreetly integrated into the helmet and completely hidden.

Unlike the Neotec II, and indeed almost every other helmet out there (aside from SCHUBERTH's C3 Pro, there are no microphone booms protruding battery packs bolted on to its exterior. This seamless integration makes the C4 look and feel luxurious and smartly designed.

The overall look of the C4 is very slick.

Very German. It looks like a luxury sports saloon would look like if it were a modular helmet. I'm a big fan.
It flows good air and is comfortable to wear, though it will catch the slipstream with a bit more bite than some other helmets due to its size and shape. It also comes with pinlock and all the bells and whistles you'd want in a $750+ helmet.
The reality is that if you're looking for a high-end modular, you're looking at the Neotec II and the C4. Both are excellent helmets; neither is a poor choice.
Buy the SCHUBERTH C4
We receive a small commission when you purchase from one of our affiliate partners. Thank you for supporting us.
RevZilla
---
Other Great Modular Helmets
In Detail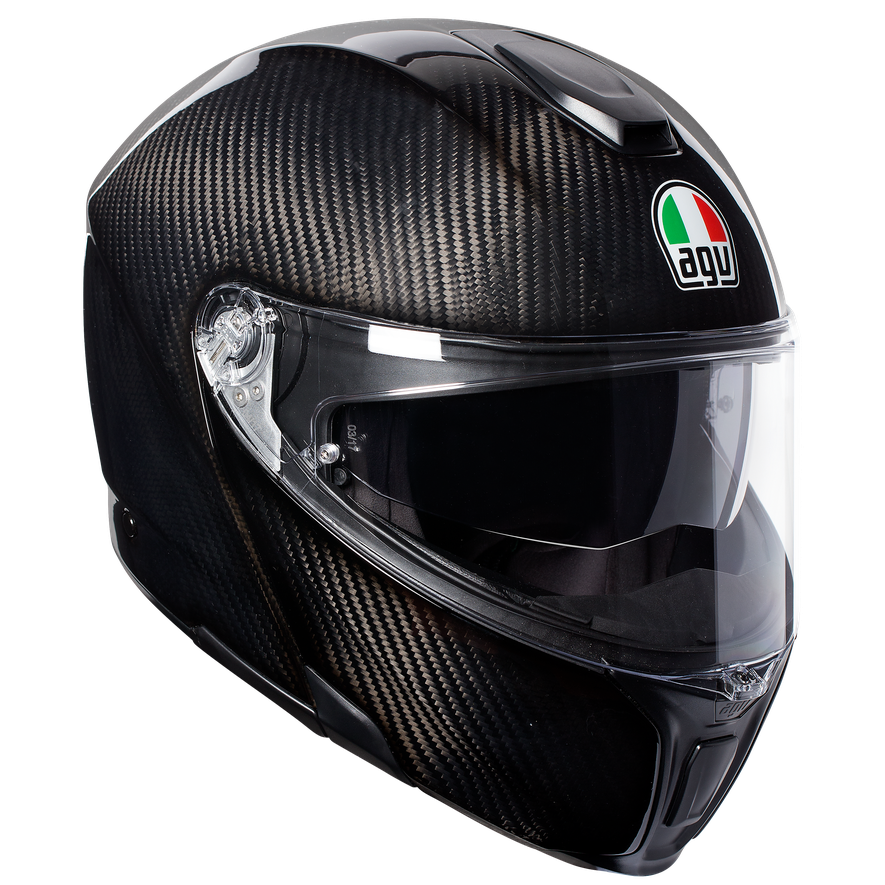 When Jim first reviewed the AGV Sportmodular Carbon, he was so beside himself with glee that he rode up to my place and proclaimed the AGV to be the king of the modulars.
"Cam!", he cried, "nothing even comes close to this AGV." I put it on, and immediately I can see why Jim is so ecstatic: next to the Neotec II and SCHUBERTH C4, both of which sit on my helmet rack in the garage, the Sportmodular Carbon weighs almost nothing. There's no denying the value that today's most popular wonder material – carbon fiber – brings to this modular helmet.
While other high-end modular helmets integrate technology and reduce the divide between the rider, the road, and our ever-connected lives, this AGV goes in a different direction. It's almost spartan, by comparison, eschewing integrated electronics for unrivaled lightness. On my noggin, the Sportmodular is not as comfortable to wear as either the Shoei or the SCHUBERTH, but on Jim's he proclaims that it's simply heavenly.
Priced at $750, it finds itself in the upper echelons of the modular segment… and that's a competitive segment indeed. I picked the Neotec II as the best overall modular, with the C4 close behind, but if Jim were writing this article in my place, he'd have the Sportmodular Carbon on top.
Hell, I can already see him lighting my inbox up with proclamations of superiority and how the AGV ought to be #1. Maybe next year, Jim 😉
Buy the AGV Spordmodular Carbon
We receive a small commission when you purchase from one of our affiliate partners. Thank you for supporting us.
---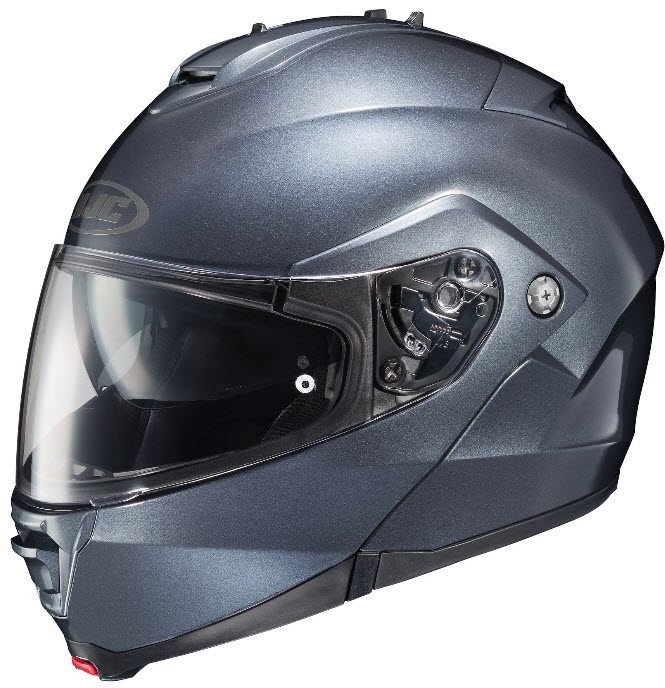 A considerable upgrade compared to the IS-Max (we'd know), the HJC IS-Max 2 offers a strong value-play at the sub-$200 price point. It competes directly with the Bell Revolver EVO, GMax GM54S, and LS2 Strobe. We chose the HJC for a variety of reasons, the least of which being that we have had numerous positive hands-on experiences with HJC holistically.
Integrated into the IS-Max 2 are quality of life features that we appreciate, including a UV-blocking face shield and one-touch sun shield. The anti-bacterial interior is also a nice touch, making the IS-Max a little more forgiving on long-distance rides through hotter temperatures.
While the IS-Max 2 may lack some built-in functionality seen on segment leaders (like the Neotec 2 or C4), it more than holds its own in the sub-$200 price-point and is an excellent value. If you're wanting a modular with the basics done really well, HJC's IS-Max 2 is a worthy consideration.
Buy the HJC IS-Max 2
We receive a small commission when you purchase from one of our affiliate partners. Thank you for supporting us.
---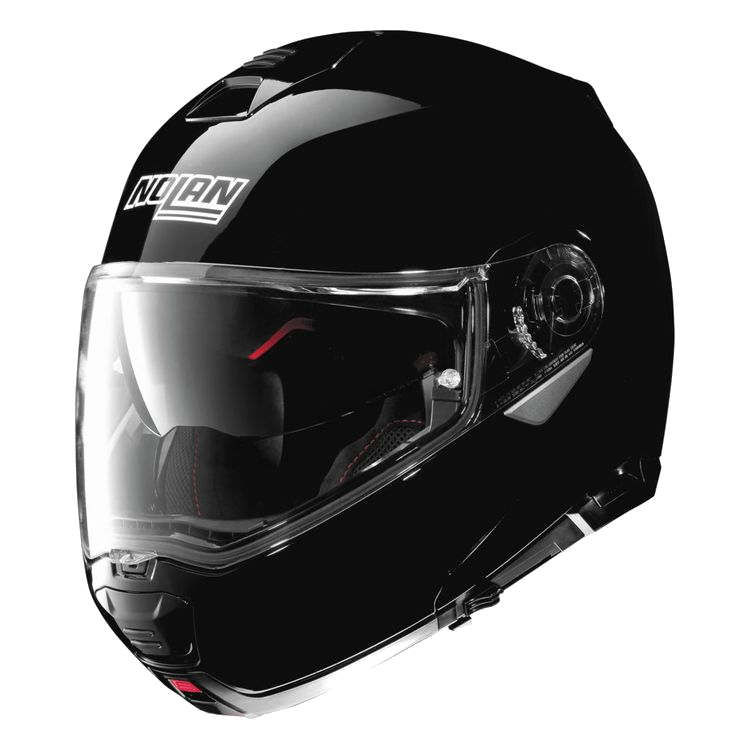 The successor to the excellent N104, the N100-5 incorporates numerous improvements in its design compared to prior versions. These include things like a Lexan polycarbonate shell, Pinlock integration, and tool-free face shield removal. Of course, quality of life features that we've come to expect from a mid-range helmet, such as an integrated sun visor and the micro-ratchet chin strap, are also present.
Perhaps the only real downside to the N100-5 is the fact that it comes with two shell sizes (sizing broken down as XXS-L and XL-XXL). This may make the N100-5 feel larger than expected, especially if you're wearing a XXS which uses the same shell as a L.
The N100-5 weighs in a just over 3 lbs and is DOT/ECE approved. You can integrate communications via Nolan's N-Com intercom system for integrated calling, audio streaming, and nav while riding.
All told, a strong contender in the modular segment and a good choice for a lid.
Buy the Nolan N100-5
We receive a small commission when you purchase from one of our affiliate partners. Thank you for supporting us.