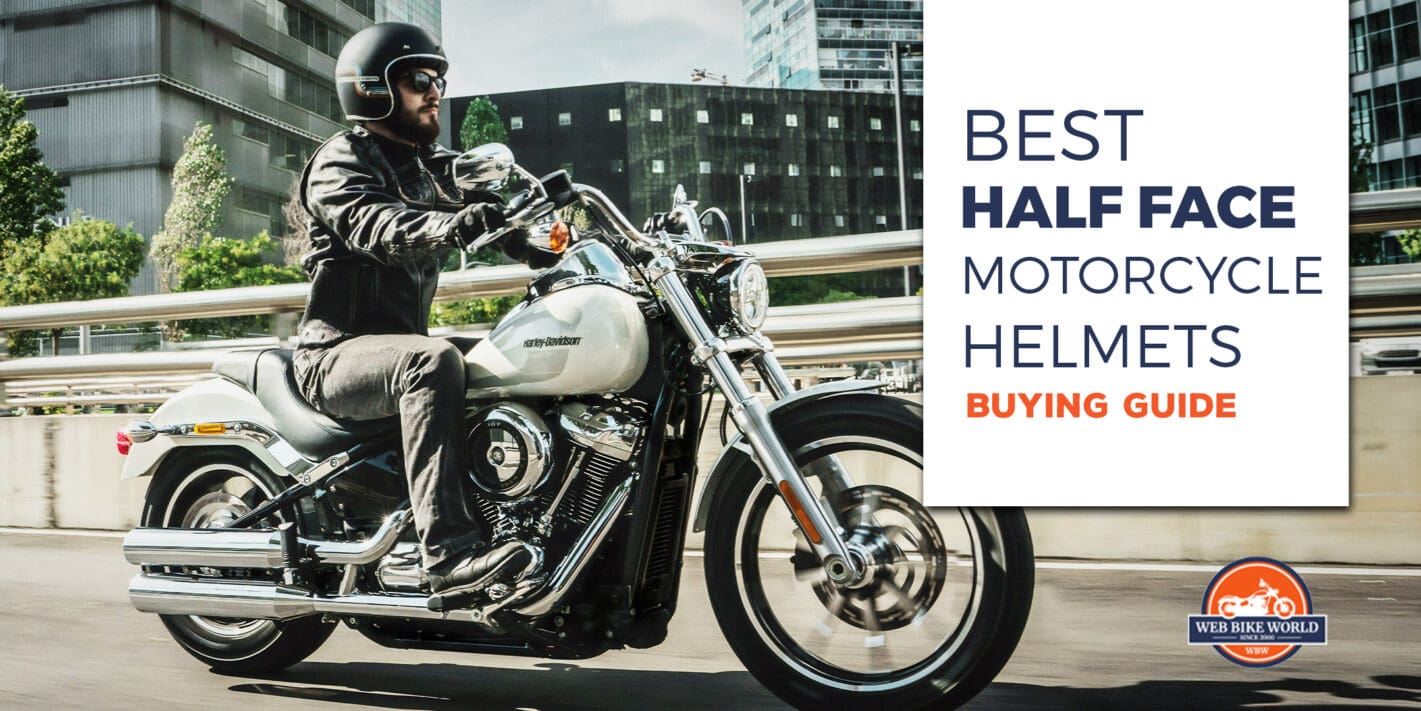 Are You Sure You Want to Ride in a Half Helmet?
Half helmets offer some protection, but critical areas (your face and chin) are left exposed. Many riders are comfortable with this risk, but we want to ensure that you understand the differences in protection afforded between a half helmet and other helmet styles. If you want the feel of the wind in your face but would prefer more protection, consider an open face helmet instead - you get the same open face offered by a half, but you get increased protection around the back and sides of your head.
35% of helmet impacts occur on the chin bar and 17% take place on the sides/bottom of the helmet. For maximum protection, wear a full face helmet. For good protection, wear an open face helmet.
About Our Half Helmet Recommendations
Founded in 2000, our team at wBW has collectively tested more than 2,500 helmets, jackets, boots, gloves, accessories, and more. We do not fluff reviews. A riders safety is heavily dictated by how they ride and what they wear while doing so. Our goal is to help riders make informed decisions about the gear they invest in to protect themselves.
wBW is funded by our audience. Our recommendations and reviews may contain affiliate links that earn us a small comission if you make a purchase after clicking them. This is the primary way we fund our website and pay our review team (and comes at no additional cost to you). We disclose our relationship with brands or manufacturers for transparency. For more information about our extensive review process, see our review policies.
Best Entry-Level Half Motorcycle Helmets
Priced under $150.
AFX FX-89
Why?
This is a helmet that is all about style. You will know straight off if this is the look you are after. Reminiscent of a German WW2 helmet, the FX-89 offers the shape and protection that works for certain cruiser riders. Shaped from a thermoplastic poly alloy AFX makes 2 shells to cover a size range of XS thru 2XL.
The nylon lining is hypo-allergenic and anti-microbial, and a square type D-ring chin strap will keep the FX-89 securely on the rider's head. Simple does not mean lacking in safety and the FX-89 meets full DOT standards.
Good luck choosing from the 4 colors offered, but we suggest the Matte Olive.
Key Specs & Head Shape
Head shape: Intermediate oval
Weight: 2.38 lbs
DOT or ECE? DOT
GMax HH-65 Full Dressed
Why?
The HH-65 Twin from GMax is definitely a half helmet worth considering if features are a priority. The smooth clean shell is made from polycarbonate, and the dual-density EPS core is designed for maximum venting to reduce heat at the top of the head.
Now for the long list of features. The removable Coolmax interior will keep you dry and comfortable and is easy to clean. The small visor peak is removable, but Gmax goes further by providing both dark and clear drop-down shields that can be changed without tools. A removable snap-in neck/ear curtain for cool weather riding is included, and the neck curtain features speaker pockets for Bluetooth compatibility. Finally, the chin strap uses a quick-release ratchet strap closure with micro-adjustment.
With this many features, it is not surprising that this helmet weighs in at 2.11 lbs. GMax offers the HH-65 in 3 solid colors and 5 graphic options with sizes ranging from XS to 2XL.
Key Specs & Head Shape
Head shape: Long oval
Weight: 2.11 lbs
DOT or ECE? DOT
Bell Pit Boss
Why?
The Bell Pit Boss may appear similar to other half helmets, but this lid packs some very interesting and unique features.
The shell itself has a clean, well-formed shape that offers more substantial coverage to the back of a rider's head. Made from a carbon/Kevlar/fiberglass composite the Pit Boss weighs in at 690g and includes a dark smoke drop-down visor and a removable neck curtain improving cold weather protection. Well-designed speaker pockets make short work of adding a Bluetooth communication system and seal up nicely over the ear when the chin strap is in place.
One key feature that sets the Pit Boss above other half helmets is the innovative Speed Dial fit system that prevents the lift suffered by most other half-helmets. Similar to the dial system routinely used on construction hard hats (and bicycle helmets),the ratchet system Bell has designed allows for a perfect snug fit that is a big step above just a quality chin strap and EPS liner.
Key Specs & Head Shape
Head shape: Intermediate oval
Weight: 1.52 lbs
DOT or ECE? DOT
LS2 Rebellion
Why?
The LS2 Rebellion fits an intermediate oval head shape and comes in 2 shell sizes. LS2 claims the KPA material used in its construction is absolute state-of-the-art in energy management materials, offering a bit of built-in flexibility to disperse energy, the penetration resistance of high-end fiber products, and a lightweight shell. At just 948g the Rebellion is light and comfortable.
Loaded with features, the Rebellion includes an internal sun visor, a ratchet-style chin strap closure, and an adjustable vent which is rare on a half helmet. In addition, LS2 have added a visor peak to the Rebellion that provides enough additional shading for your eyes and flows smoothly in the air at higher speeds.
LS2 offers a specific Bluetooth system for the Rebellion called LinkIn Ride Pal. Developed with Sena, the kit comes with ear pads for the speakers and will drop right into this helmet with ease.
Key Specs & Head Shape
Head shape: Intermediate oval
Weight: 2.09 lbs
DOT or ECE? DOT
Scorpion EXO-C110 Azalea
Why?
The EXO-C110 is the top half helmet offering from Scorpion available in three solid color options or the unique color-changing Azalea pictured here.
Scorpion saves weight and keeps the pricing down using a polycarbonate outer shell design. This shell integrates aero-tunes vent ports that allow cooling airflow through the EPS core to help keep the rider cool and comfortable. Lined with Scorpions KwikWick® II liner material that is easy to remove and clean, The EXO-C110 also includes a drop-down sun visor and peak. Intermediate oval head shapes should find the EXO-C110 a comfortable lid to wear.
Scorpion highlights a "unique chin strap retention design preventing it from rolling forward off of your head." Looking at the strap system, the rear attachment point does sit further rearward than many other half helmets. I have not ridden with this model but from the design, I can see how it would likely stay quite stable on the rider's head.
Key Specs & Head Shape
Head shape: Intermediate oval
Weight: 2.47 lbs
DOT or ECE? DOT
WCL Beanie - Carbon
Why?
If your goal is the lightest possible DOT-approved half helmet available, then have a look at this offering from the Canadian company West Coast Leather.
The WCL Beanie Carbon weighs in at a scant 500g or just over 1 lb. This helmet, and the others in the WCL line, are focused on being safe, light, and comfortable. All of WCL's motorcycle helmets are FMVSS 571.218 (DOT) certified to protect you in the event of an accident. The outer shell is an ABS material, and the foam lining is designed to pack down slightly with use, for a comfortable stable fit. This packing down of the lining material makes it very important to follow the sizing guide, but WCL provides excellent customer service and will work to ensure you find the perfect fit.
If wearing a helmet that is as close to helmetless as a rider can go is your jam, WCL has you covered with sizes ranging from a 2XS thru 2XL.
Key Specs & Head Shape
Head shape: Intermediate oval
Weight:1 lb
DOT or ECE? DOT
HJC IS-Cruiser
Why?
Priced near $100, the HJC IS-Cruiser is a polycarbonate composite shell that meets or exceeds DOT FMVSS 218 standards. Compared to most half helmets, the HJC design offers protection further over the ears and back of the head.
The IS-Cruiser is a simple, no-frills piece of riding gear with a clean overall shape that includes a small visor peak and a drop-down internal sun visor. Internally a moisture-wicking interior will help keep rides dry and it can be removed for easy cleaning. Slots for eyewear are fitted within the padded liner, overall the IS-Cruiser should prove a comfortable and safe lid for Cruiser riders.
Sizing ranges from 2XS all the way to a 5XL, and six solid colors are available.
Key Specs & Head Shape
Head shape: Intermediate oval
Weight: 2.64 lbs
DOT or ECE? DOT
Best High-End Half Motorcycle Helmets
Priced $150+
Bell Rogue
Why?
Bell is an iconic brand in the world of motorsports, which makes it no surprise that they would be behind such a badass design as the Rogue.
The Rogue is a half helmet with… well let's just call it "extra." This lid has the comfort of a half helmet with added protection similar to a ¾ helmet, and then with an adjustable, removable muzzle to shield you from road debris and shroud you in mystery. The whole look is unique, functional, and definitely badass.
The fiberglass shell is made in 3 sizes and has a liner that is easy to remove for cleaning. The adjustable muzzle also has a removable and washable liner and features a FidLock magnetic connection making it easy to put on and take off.
The Rogue is DOT approved, but the muzzle is purely for comfort and is not a protective element. This helmet should provide a similar level of protection that an open-face helmet would provide.
Key Specs & Head Shape
Head shape: Intermediate oval
Weight: 3.03 lbs
DOT or ECE? DOT
Scorpion Covert X
Price: $299-$304 ($319 for Kalavera version)

Where to Buy: RevZilla
Why?
This is the helmet when you just can't decide. The Scorpion Covert X Marauder is a 3 in one lid. The unique multi-configuration design featuring a removable front mask and rear comfort sleeve results in 3 distinct riding configurations: Full face, 3/4 Mode, and half helmet.
The Covert X is made from Scorpions TCT-Ultra® process. The multi-layered shell combines fiberglass, aramid, and poly-resin fibers which minimize weight while maximizing strength and impact dispersal. Lining this shell is an expanded polystyrene foam core with well-designed channels for smooth airflow. To give comfort and softness the final layer is Scorpion's newest washable KwikWick® III interior.
Scorpion includes a dark smoke EverClear® anti-fog sun shield that is an easy pull-down style, it is anti-scratch coated and offers 95% UV-A & UV-B protection. Scorpion has engineered an excellent system for swapping each of the 3 configurations. The neck roll piece is fitted with generous padding matching the KwikWick® liner, but the fitment to the half helmet is very secure with clean seams all around. Attaching the chin bar is quite literally a snap, and I was very impressed to find a gasket for the visor on the top edge.
Available in solid colors, and cool graphics like the Marauder shown, the Covert X is worth a look and comes with a 5-year warranty.
Key Specs & Head Shape
Head shape: Intermediate oval
Weight: 3.31 lbs
DOT or ECE? DOT
Our Review
Most certainly not your Grandpappy's modular helmet! The Scorpion Covert X is a level-up progression of the Covert Series. The "X" uses Scorpion's TCT-ULTRA® shell, KwikWick® III liner, and provisions for adding a communication system with ease. Urban riders looking for modern tech and badass looks should check out the Scorpion Covert X.
Read our full Scorpion Covert X review.
What To Look For In A Helmet
DOT/ECE certifications—Many inexpensive full face helmets showing up on Amazon and eBay are not DOT or ECE certified. This certification may save your life. Don't cheap out—remember, you're preparing for the slide, not the ride.

Comfort— Most of the helmets featured on this page use lightweight materials to minimize neck strain—useful, especially on long rides.

Head shape—While most people are an intermediate oval, not all are. Make sure you get a helmet designed for your head shape.

Shell material—Polycarbonate is okay, but you'd be better served with carbon fiber (expensive) or fiberglass. All the helmets called out here (save for one) are fiberglass.

Interior liner—All the helmets featured here offer removable liners that are anti-moisture and anti-bacterial. Avoid non-removable liners (found in cheap helmets)—it'll be a stink factory before you know it.
Read the complete motorcycle helmet buyer's guide for more information.
At WBW, "Best" Actually Means Something
Remember when you could open up a review of something, and when the publication—magazine, car show, whatever—said "best" they stood behind it? Yea, we remember, and we're bringing it back.
Here's how we do things:
We disclose our affiliate relationships—We make money via advertising and affiliate relationships on our website. It's how we pay our team and invest in things like sending Jim to Italy. And Japan. And France… wait… why do we always send Jim places?

We obsessively hands-on test—We wear and ride with gear before reviewing it, and we update reviews down the line if our opinions change. We look at real-world situations because that's the world we live in.

We're objective—Good gear is good gear, regardless of who made it.

We're value-focused—Why pay $500 if something for $250 is just as good? Our review scores and recommendations reflect best value. Brand only goes so far—the gear has to stand on its own.