Bell SRT Modular Helmet Review Summary
Review Summery
The Bell SRT Modular in "Predator Gloss-White" is a very likable helmet with a solid feel and sharp graphics. The SRT modular doesn't do anything notably better than comparable helmets, but it does almost everything expected of it respectably well. It's very much a middle of the road performer with an appropriate middle of the pack price tag of $349.99 USD. People with Long Oval heads should avoid it along with those who have a narrower bias to their Intermediate Oval shaped noggins. People like me of the rounder shaped persuasion will rejoice when they try it on.
Build Materials & Quality
Pros
Fiberglass composite shell
Good value for money
Racing helmet features borrowed from the Bell Star line
Internal sun visor
Uncluttered design
Nice variety of graphics
Easy visor removal and installation
Cons
Fairly heavy
Limited airflow
Could be quieter
Not PinLock ready
Only 2 shell sizes
Air vent design isn't high quality
Bell SRT Modular Helmet Image Gallery
First Impression & Fitment
I've just finished reviewing 3 successive helmets that all (to varying degrees) hurt my head to wear. All of them were shaped too narrow for my Round Oval skull.
Thankfully relief came in the form of this Bell SRT Modular lid that fits perfectly. I actually let out an audible sigh when it first settled on my head and didn't produce any friction, hot spots, or pinch points.
Ahhhhh… I sound like Goldilocks must have when settling into Baby Bear's bed.
Thank You!
Many thanks to Bell Helmets and 2Wheel for supplying us with this helmet at no charge to torture test in the name of helping riders in need make an informed buying choice.
Sizing
I've got my hands on a size Large that fits a bit small. My 23 inch (58.45cm) head always seems to fall between the Medium and Large area on every helmet manufacturer sizing chart.
Typically I go for the smaller Medium in order to avoid a loose fit. In the case of the SRT Modular, there's an overlap right at 22.8 inches and true to form I think either the Medium or Large would have fit me just fine.
After spending about 500 miles wearing it I've noticed the cheek padding has relaxed slightly and the helmet is just on the verge of feeling a tiny bit loose, but still fits. I think in future Bell Helmet reviews I'll opt for the Medium instead and see how it differs.
Photo by Gerry Cote
The photo above features my friend Gerry wearing the SRT Modular and you can see how it squishes his cheeks a lot more than it does mine (see the photo below of me wearing it). Gerry legitimately has a 24 inch (60cm) sized head and is therefore always a size Large helmet buyer.
Photo by Jonathan Rundle
My First Bell Review
This is the first offering from the legendary Bell Helmets USA factory to grace my melon and I'm quite curious about how it will feel and perform over time. Bell is well known and respected as a helmet innovator today and ever since 1954 when Roy Richter founded the company.
Their familiar white oval Bell logo affixed on the front of the SRT Modular with vermilion lettering catches my eye first and I have high expectations for this helmet right out of the gate bearing the history of this American brand in mind.
A Little Late Maybe?
We're a bit late to the table so to speak with this review being that the SRT Modular first dropped in the Spring of 2018 but hey better late than never, right?
Design & Build Quality
Design Aspects
I'm testing the "Predator Gloss White-Black" graphics version of the SRT Modular which is very sharp looking to my eye. I think it helps with visibility having this vaguely white tiger type of pattern gracing my head. Style and practicality… excellent!
Photo courtesy of Bell Helmets USA
This is the modular version (flip up chin bar style) of the popular sport touring full face Bell SRT helmet pictured above. They look very similar, but there are a few differences between the two apart from the obvious flip up chin bar on the modular:
The SRT has a third vent over top of the visor below the Bell logo which is absent on the SRT Modular
The SRT lacks the internal sun visor the SRT Modular comes with
The $349.99 SRT Modular costs almost double the $199.99 SRT
The SRT has SNELL M2015 certification while the Modular is DOT only
DOT Only Rating
The big question in my mind is: Does adding an internal sun visor lens to the SRT Modular along with a hinged chin bar really disqualify it from receiving the SNELL M2015 safety rating given to the very similar SRT?
You may point to the hollow void in the EPS foam needed to house the retractable sun visor in the SRT Modular shell creating an area more prone to failure in a crash as the reason. You'd be correct as far as I can see in SNELL's refusal to certify helmets with this attractive feature in them.
That does seem to be the pattern amongst almost any modular versions of SNELL approved full-face helmets on the market I've seen. Case in point, the Simpson Bandit vs Simpson Mod Bandit.
Does the SRT's third air vent really make it that much stronger than the Modular version? There's still channeling in the same area in the SRT to allow air flow inside which would also create a void (albeit a smaller one) in the EPS foam and conceivably a weak point as well, right?
In my opinion, the SRT Modular should be very close to "SNELL worthy" when it comes to crash protection despite the fact it lacks the sticker on the back. I would like to see some actual SNELL testing results from helmets with integrated sun visors to know for sure what the difference is… but I digress.
Two Shell Sizes
The SRT full face helmet is available in three shell sizes while this SRT Modular only gets two for some reason. That means XS right up to Large sized SRT Modular helmets will all use the same shell and you may find yourself hearing from a certain fictional Scottish movie character that your "head has its own weather system" or "looks like an orange on a toothpick" if you wear a Small or XS size.
Fiberglass Composite Shell
This SRT Modular is slightly stronger and heavier than the average helmet. The lightweight fiberglass-composite materials used to build the shell should make it lighter than average, but It isn't.
I think Bell purposely added bulk to the SRT shell this Modular hails from in order to ensure it passed the SNELL standards testing. That extra weight seems to have carried over into this Modular design without getting the benefit of SNELL approval.
RevZilla lists it as weighing 3.89lbs which is, in fact, lighter than the 4lb 2oz Shoei Neotec 2. I weighed this SRT Modular on my own scale and plotted it right at 4lbs. It feels basically the same weight as the Neotec 2 does in my hands.
With a Lexin FT4 BlueTooth communicator (link to review coming soon) installed it only gained 2 more oz ending up identical in weight with the Neotec 2 without its SENA SRL system installed.
Are you surprised to hear that? Don't be as the Neotec 2 has been criticized for being overweight. The Schuberth C4 isn't really any slimmer FYI. Modulars are typically heavier than full face helmets, but there are plenty of them out there significantly lighter than the Neotec 2, C4 and this SRT Modular.
Out on the road, I'm not bothered by the weight of the SRT Modular one bit much to my surprise, despite the fact I favor wearing helmets closer to the 3lb mark as a general rule.
Simple Yet Stylish
I'm not seriously going to compare this Bell SRT Modular to the Shoei Neotec 2 because they really aren't in the same class. The Neotec 2 is a better overall helmet, but as you'll find out it's not a TON better in my esteem.
Having said that, I do see similarities between the two despite the huge difference in price points. The Neotec 2 is justifiably billed as one of the best modular helmets on the market right now (read a review of it here), so any common ground the Bell might have with it is a noteworthy feather in the SRT Modular's cap.
One aspect is how both helmets have a fairly muted shell design when it comes to aerodynamic cutouts, divots, and fins used to calm turbulent air in the name of quieting the ride experience. The SRT Modular is generally smooth-shelled with some very minor indentations found on the sides of the crown area and chin bar along with a minor spoiler in the back.
These lines are twice as prominent on the Neotec 2 which was extensively wind tunnel tested during development.
Hi Viz Patches
A good safety feature is the twin reflective patches on the bottom of the helmet cheek pads. They light up nicely when viewed from behind while out on the road.
Wind Noise On The Road
I would have to say that Bell might have been wiser to go more aggressive with the "scoops and swoops" built into the shell because the SRT Modular isn't an especially quiet helmet, relative to others on the market. Interestingly I don't find the Neotec 2 super quiet either although some other testers feel differently about it.
This SRT Modular isn't ridiculously loud though. It's consistently noisy whether I'm tucked in behind my windshield or right out in the wind blast without any wind protection. I describe the noise level as mid-volume, low-frequency booming roar combined with the typical hissing found even in the quietest helmets I've tested.
It's tolerable even without wearing earplugs. I don't have any trouble hearing music or phone calls at legal speeds coming through on the Lexin FT4 Bluetooth communicator speakers.
The Chin Curtain Is Too Small
Some of the blame for this helmet being on the loud side can be attributed to the chin curtain design. It's just too small and allows air to rush up into the chin bar area creating a flap. The smaller size makes putting the helmet on or taking it off easier, but the design misses the mark and should be improved.
Chinstrap
The SRT Modular comes with a traditional double D ring style chinstrap that is simple and effective at fastening the helmet on your head.
There's enough superfluous chinstrap left over after I cinch it through the D rings for me to fasten the snap closed on the end and fold the leftover loop up into the opposite side cheek pad. This is just enough to avoid having it flap around in the wind on my face, but on someone with a larger chin it might not work out as well.
I bet Jay Leno probably doesn't wear an SRT Modular helmet…
Lift & Pull
This helmet does have quite a long "nose" on it partly because of its modular design. The good side of that is there's plenty of room to have a boom-style microphone in front of your mouth and if you have a big nose yourself it won't get bashed when you raise or lower the chin bar.
The downside is felt whenever riding in a crosswind because the extra length acts as a lever for the wind to work on. I found noticeable pull issues while riding in crosswind with the SRT Modular, unfortunately, but no lift concerns on the bright side.
Dual Homologated Design?
Bell doesn't specifically say they designed this lid to be worn with the chin bar raised while riding, but they don't say you can't do it either.
I always lift my chin bar at red lights and leave it open until I get above somewhere around 40 mph. This helmet works very nicely in that regard and is quieter with the chin bar raised.
There's a grey locking tab for the chin bar located on the left side right under the visor hinge. Lowering it locks the chin bar in the raised position, but I don't really understand the need for these options, to be honest. I've never had a modular chin bar drop from the fully raised position in my testing of any helmet.
Panovision Class 1 Visor Design
The large tab used for lifting the visor could also be creating turbulence, noise, and vibration through the shell adding to the problem. It sticks out about ¾ of an inch from the front of the chin bar and I would have to think must be creating some degree of noise.
To its credit the central location on the visor makes for an ambidextrous opening which is "handy" indeed.
Photo by Jonathan Rundle
Optical Clarity
The unique design of the Panovision visor is borrowed from the high-end racing helmets in the Star lineup from Bell. It has a lower and longer cutout close to the hinge area on either side to allow easier shoulder checks and better peripheral views.
Indeed I found everything about the visor system to be clear and easy to like. The field of view was just what I'd like it to be and I didn't notice any inclusions or faults in the visor plastic.
Fogging
This visor has an anti-fog coating on the inside that seemed to work for me, although I didn't ride with it in very low temperatures or extremely humid ones. I did try purposely exhaling dramatically on it with the visor completely closed to see if I could fog it up, but the visor didn't give in and remained clear.
I'd still prefer having a PinLock lens in it, but admit the coating seems to be good enough and helps keep the price lower.
Visor Positions/Detents
This visor is unusual in that it lacks multiple locked positions typically found on helmet visors I've reviewed up to now. It really only has three locked in points other than the fully closed one. The first locked in point comes when the visor is opened about 1 inch up.
Photo by Jonathan Rundle
Normally I would have a problem with that because a big pet peeve of mine is a visor that won't stay barely cracked open with the air pushing against it at highway speeds. Bell did a terrific job designing this Panovision lens in a way that you can just open it ⅛ of an inch and leave it resting there solidly to get more air inside. It'll stay there even with 80 mph wind force working on it.
Additionally, I found it reasonably solid even outside the locked in points on the hinge to my surprise. There's enough resistance there to freeze it for the most part at legal speeds.
On And Off
The visor, in theory, is simple to remove or install. Just push in the inner button on each side to unlock the mechanism, then slide it forward while opening the visor to pop it off. Installation is the reverse.
The reality for me is that I have to hold my tongue just right while repeatedly pushing and holding in the buttons on each side while working the visor open and forward to finally get it to release.
Going back on is a bit easier, but I find it doesn't want to lock into place easily even with the hinge fully seated in the receptacle. It's not the worst visor attachment system I've encountered, but it could be better.
Integrated Sun Visor Lens
This is my favorite feature on the SRT Modular by far and probably why SNELL frustrates me by blackballing helmets equipped with it.
The switch on the lower left side used for controlling the sun lens position would be better located off the lip of the helmet to better accommodate clamp on style Bluetooth communicators like the Lexin I put on this one. Having said that moving the Lexin behind the slider switch hasn't created any undue issues for me.
Nice Design Bell
The tint is just right on the sun lens for mitigating glare and so is the smooth action on the cable used to manipulate its position. It lowers just the right amount without touching my nose or leaving too large of a gap to let in irritating sunlight.
It's interesting to note the outward curling lip Bell designed into the bottom of the sun visor lens. I can't quite figure out what it's for but I think it helps deflect incoming air/bugs/etc if you're riding with the main visor raised and only the inner sun lens blocking your vulnerable eyes.
It's really a satisfying design that works as I demand it should. Bravo Bell!
Airflow Issues
It's a good thing the main visor can remain slightly ajar while riding to allow in refreshing air because the vents don't do it to my satisfaction on the SRT Modular.
It's puzzling to me that I can't get enough wind to my face or the crown of my head because the vent apertures are straightforward to use even with gloves on and the openings seem a decent size. I do notice airflow even with the vents fully closed, but it's not a lot different with them open.
I often found myself opening the visor even at 20 Celsius (68 F) temperatures to get relief. There are only two exhaust ports on the rear of the helmet and that may be the issue here even though they're wide open vents.
If you look into the helmet it's easy to see daylight shining through the mesh wire of these rear exhaust vents. How can it be so restricted for air flow?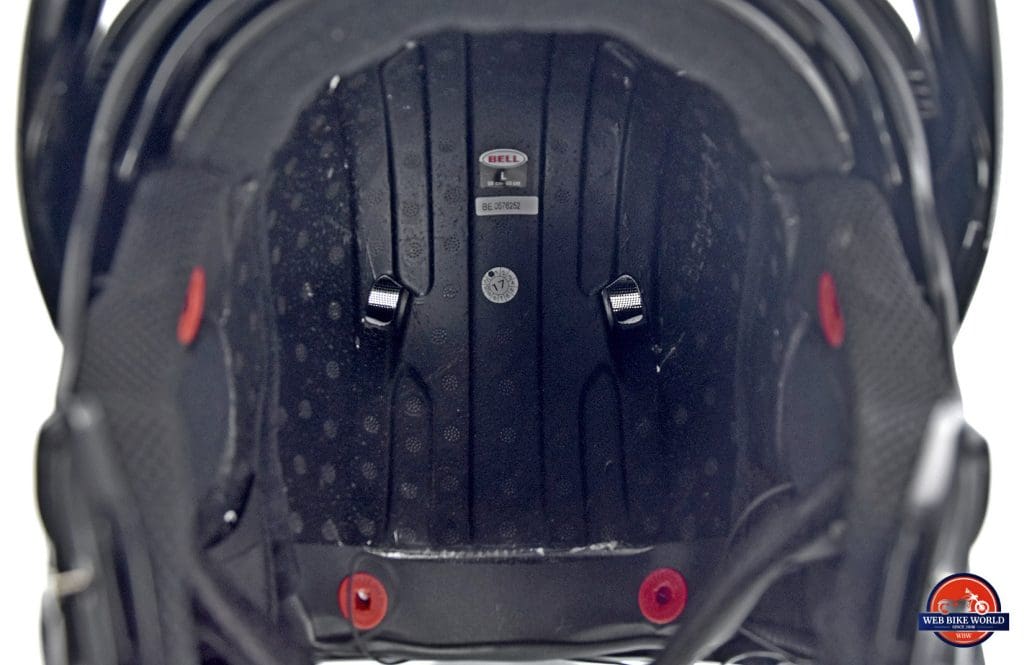 The SRT Modular Isn't Alone
This is another trait the SRT Modular shares with the Shoei Neotec 2 in my opinion. I didn't find the airflow satisfactory with it either when compared to other modulars that do it justice like the AGV Sportmodular Carbon, Nolan N100-5, Simpson Mod Bandit or the GMax MD01.
Bell needs to address this on future SRT Modular helmets. If they are successful it will score higher when it comes to rider comfort in hot weather. I can only imagine what this would feel like in brutal 100-degree temps!
Poor Quality Air Vent Construction
Perhaps the problem can be linked to the physical construction of the air intakes?
The two sliding plastic switches used for operating the air vents smack of low quality plastic compared to many other helmets I've reviewed. I'm not a fan of how they have a rough feeling action that stutters and grinds slightly when moved forward or backward. You can see and hear the friction when running them. They also lack discernable locking points when fully open or closed.
I've seen other helmets with this style of vent switches wear out quickly and grow completely loose with regular use to the point they won't stay fully closed after a while. It really grinds my gears, gets my goat, and just plain pisses me off. I'd rather pay $20 more for the helmet to get some quality switches installed from the factory.
Please fix this on future helmets, Bell!
Interior Design
Padding & Liner
The nylon mesh and microsuede covered interior padding in this helmet are soft, smooth, and comfortable to have rubbed against your face, neck, and crown. Bell chose very good quality material that wicks away sweat adequately in my experience riding in temperatures as high as 20 Celsius (68 F).
I did find one strand of thread had come loose on the chin curtain area and was sticking out weirdly, but it didn't progress or cause damage over the 500 miles I rode while testing this lid.
It's also washable and designed in a way that won't easily grow microbial colonies in your headspace, thankfully.
Installing
Installing that Lexin FT4 was very easy thanks to the simple to remove and install cheek pads and crown liner. Bell also built large cutouts in the EPS foam in the perfect place to install the speakers for the Lexin system. The large cutouts leave room to make adjustments to where the speakers are located to better line up with the wearer's ears.
No one will have any great difficulty installing Sena or Cardo systems in the SRT Modular either.
Nice job, Bell!
Final Verdict?
Photo by Gerry Cote
As I already mentioned this is a good choice of helmet for anyone looking to spend under $400.
It has nice features, excellent protective qualities, and a great appearance. Despite some criticism I have for it I think you'd be hard pressed to find anything much better for $349.99 in a modular helmet.
Competitors like the Nolan N100-5 and Simpson Mod Bandit both cost about $100 more and really aren't $100 better in my opinion, as good as they are. The Nolan really is close though and I would likely make it my choice over this Bell if I could afford to pay more while shopping for a mid-level modular.
If you live in a hot climate and really need extra cooling airflow or have a narrow shaped head you may need to reconsider owning this helmet.
Pros
Fiberglass composite shell
Good value for money
Racing helmet features borrowed from the Bell Star line
Uncluttered design
Internal sun visor
Nice variety of graphics
Fairly easy visor removal & installation
Snell quality without the rating
Cons
Fairly heavy
Limited airflow
Could be quieter
Not PinLock ready
Only 2 shell sizes
Air vent design isn't high quality
Specs
Manufacturer: Bell Helmets USA

Price (When Tested): $349.99 USD

Made In: China

Sizes: XS-XXXL

Alternative colors: 10 colors/graphics packages

Review Date: June 18, 2019