Scorpion EXO-AT960 Topographic Helmet Review Summary
Review Summary
Scorpion's EXO-AT960 modular adventure helmet only costs $299 US. It's also one of the few modular adventure helmets on the market. I like it, but only to a point, I'm afraid. Despite the great price and some clever features, a few prominent design flaws hold the AT960 back from being a top-tier adventure helmet. Scorpion didn't go far enough with the upgrades on the AT950, in my opinion.
Pros
Affordable
Ventilation is above average
The eyeport opening is massive
Can accept Cardo or Sena devices
ECE 22-06 certification in addition to DOT
Visor has ok fog resistance without a Pinlock
Replacement parts are inexpensive
A good variety of Topographic colorways (4) are available
Convertible design to suit street or aggressive off-road riding
Cons
The external peak visor (sun shade) really vibrates in turbulent wind
Slider switch for drop-down sun lens position inconvenient for Cardo/Sena install
Anti-Fog visor coating is inferior to a Pinlock system
Heavy helmet at 4.16 lbs (1.88 kg)
Visor leaks like crazy in the rain
Chin bar latches/drop-down sun lens can freeze up in dusty conditions
The comfort liner gets "funky" quickly and requires frequent washing
Scorpion EXO-AT960 Topographic Helmet Image Gallery
Review Summary
Scorpion's EXO-AT960 modular adventure helmet is an attractive and competitive safety hat at the $299 US price point.
The AT960 deserves a better visor, visor seal, interior liner, and a carbon fiber or fiberglass shell, along with a stiffer sun peak.
Perhaps the AT960 gives up too much in the name of keeping the price so low?  To me, it's worth taking this helmet to a higher level of refinement.  Barring that, Scorpion should build a separate version (call it the AT960+ Carbon maybe?) which conceivably would make it the best modular adventure helmet on the current market.
The Scorpion EXO-AT960 Deserves To Be Better
Back in 2016 wBW founder Rick Korchak reviewed the Scorpion EXO-AT950 and bestowed a flattering 4.6 stars out of 5 upon it.  At that time (and even still today), modular adventure helmets were rare or nearly non-existent and Scorpion brilliantly produced an affordable and praiseworthy helmet that many adventure riders readily embraced.
Incredibly, I've never worn an AT950 but always wondered if it lived up to the adoration Rick and so many of my friends/acquaintances have expressed for it.
Enter the EXO-AT960 Topographic
My unfamiliarity with the AT950 gives me "cold-eyes" or an unbiased perspective with which to review the new AT960— the updated/improved version of the AT950.  It's been a while since I reviewed a modular helmet too, so I jumped at the opportunity to do this one.
Securing an EXO-AT960 Helmet for Review
Scorpion USA provided me with this handsome EXO-AT960 Topographic helmet at no cost for the purpose of writing an honest, real-world wBW review.  As always, no punches will be pulled in this review.
Thank you, Steven!
First Impressions of the AT960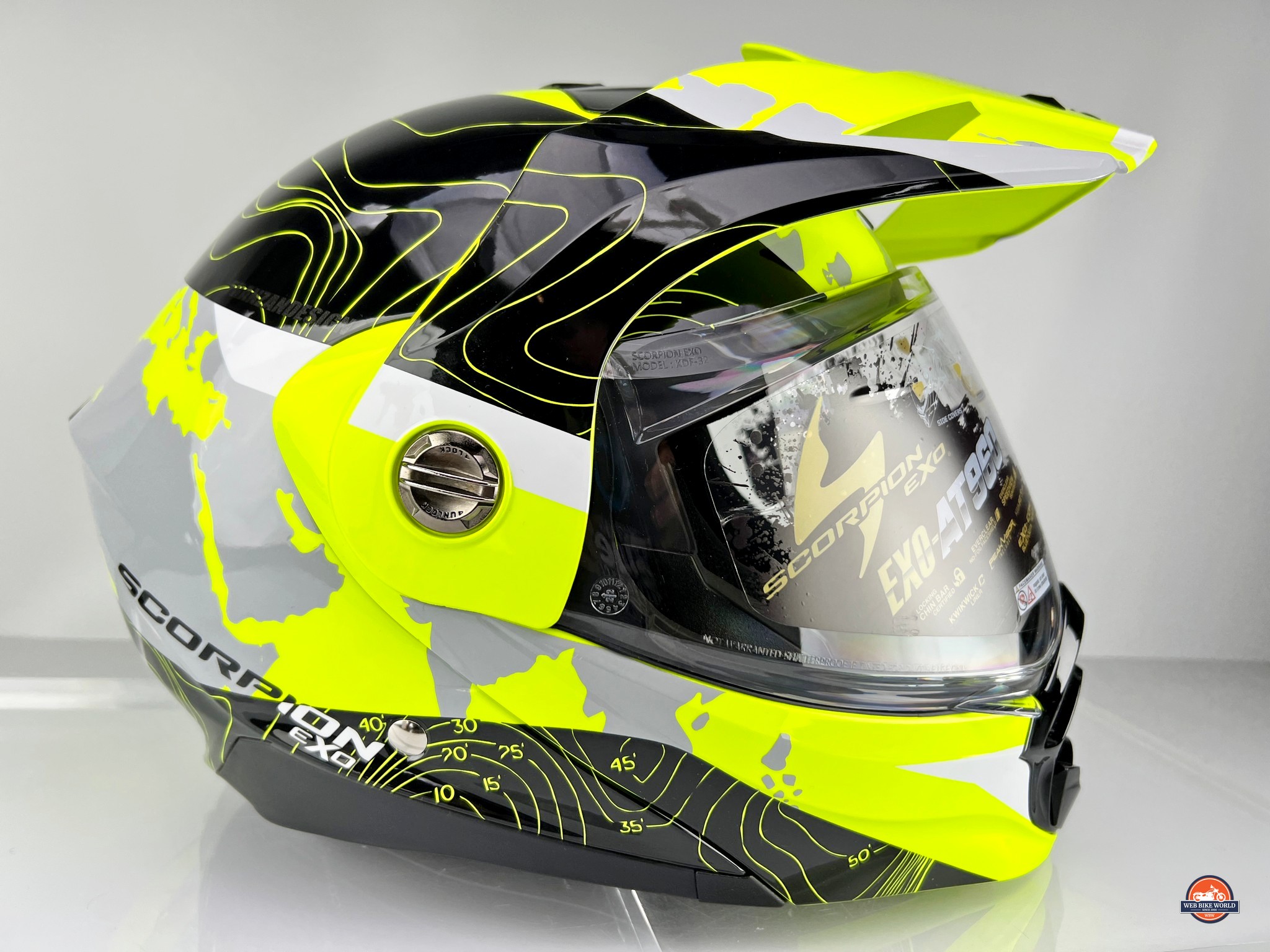 Straight out of the box, the AT960 Topographic decal package was impossible not to notice.  The black and yellow scheme with a muted grey map of the world in the background reminded me of a wasp abdomen.
The combination grabbed my eye immediately and should be vivid enough to announce the wearer's presence effectively to the surrounding public at large.  Or at least, that's what I hoped.
Spelling Is Hard?
One weird thing I noticed was the misspelled "Topgraphic" word on the back of the helmet.  In every other reference to this model, it's called the Topographic AT960.
Scorpion needs to send out an APB to track down the AWOL letter "O" from my helmet.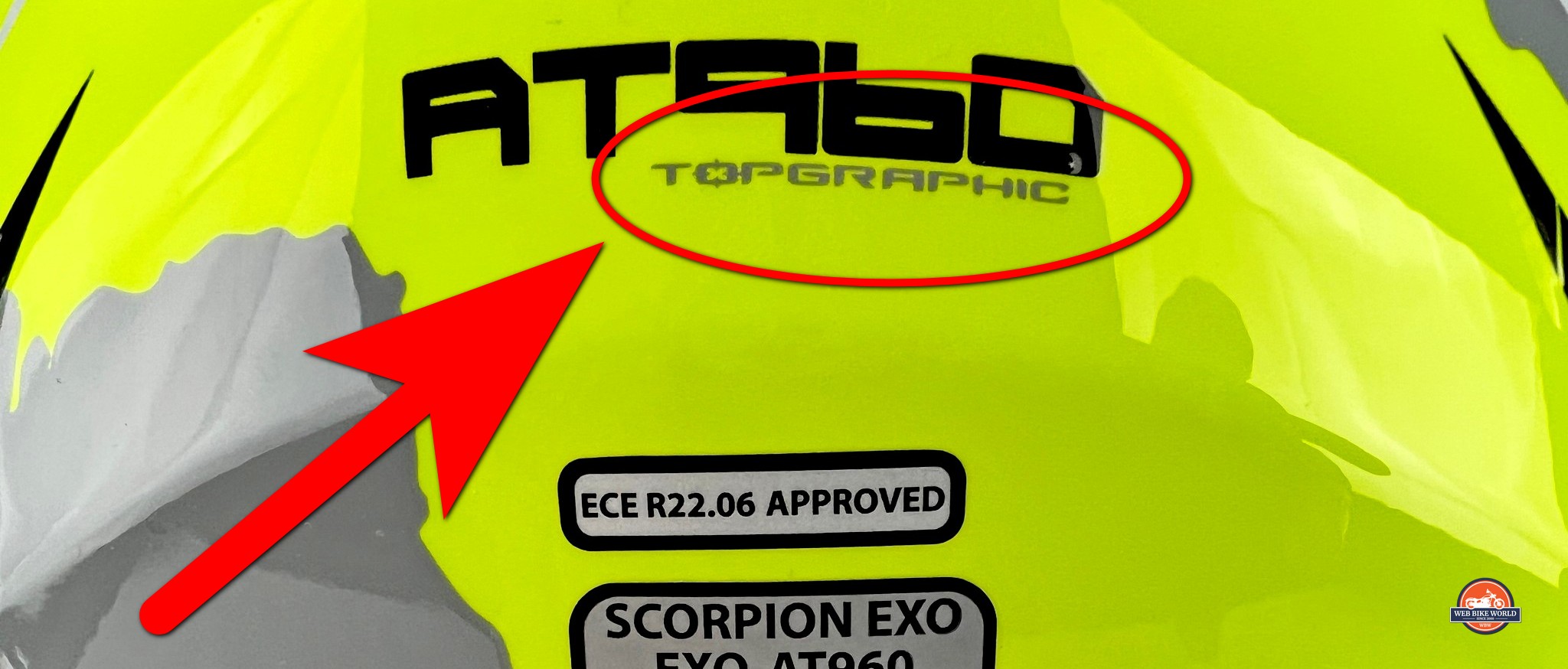 The moving parts all have a pleasant mechanical flow and operate as intended.  The helmet feels quite hefty to hold but the polycarbonate shell has a classy sheen to it with an overall vibe hinting that it's more premium than the $300 US price tag suggests… spelling mistakes aside.
Could this become my new preferred adventure helmet?  That would be quite a feat considering the 30+ brain bucket collection I have to choose from, but I'm eager to get out on the road and see.
Testing Conditions
The AT960 got over-the-top testing consisting of a 4000 mile/6500 km journey that spanned two full weeks in varied weather conditions.  Heavy rain, high winds, and temperatures ranging from mild to roasting heat over 104 Fahrenheit (42 Celsius) all of which were contributing factors to this review.
I wore it off-road in the Black Hills of South Dakota (including completing the new 350-mile Black Hills BDR-X), along with high-speed maneuvers on blacktop through the Bear Tooth Pass.  If anyone knows what the AT960 is made of, it's me.
Design, Fitment, & Shape of AT960 Helmet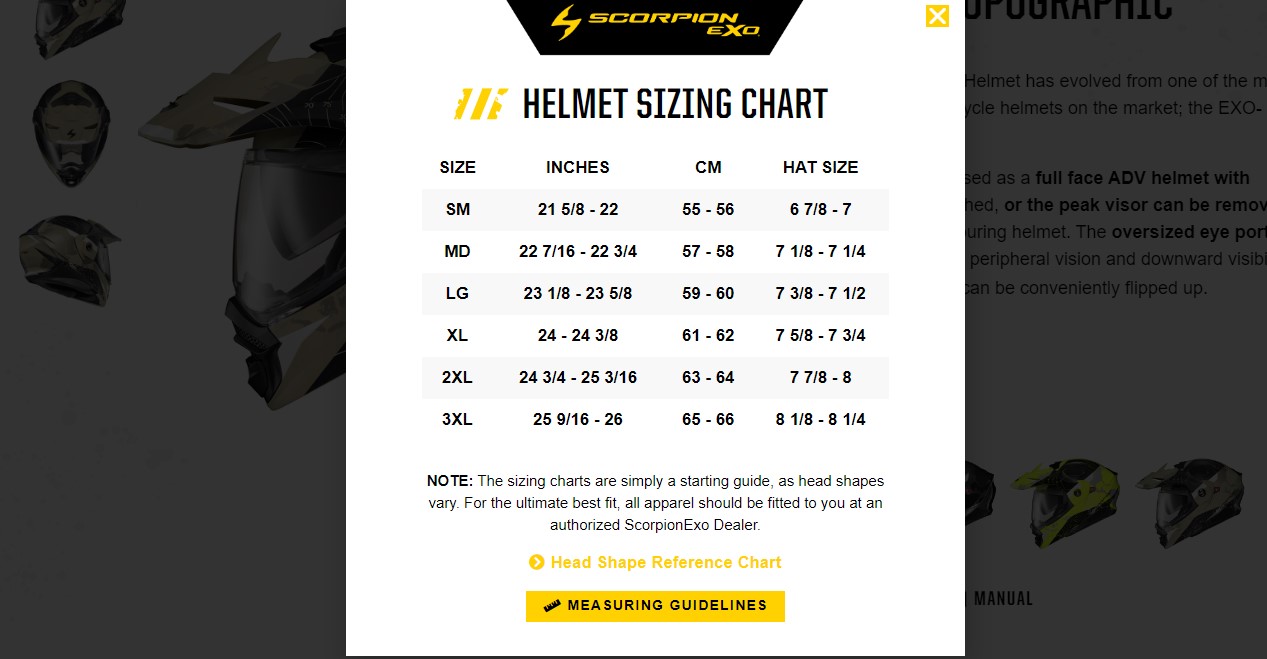 Fitment
My 23" circumference (58.42cm), Round-oval-shaped head often makes choosing the correct helmet size challenging. Sizing charts tend to place my noggin right between a Medium and a Large, and that was the case with the AT960 as seen in the photo above.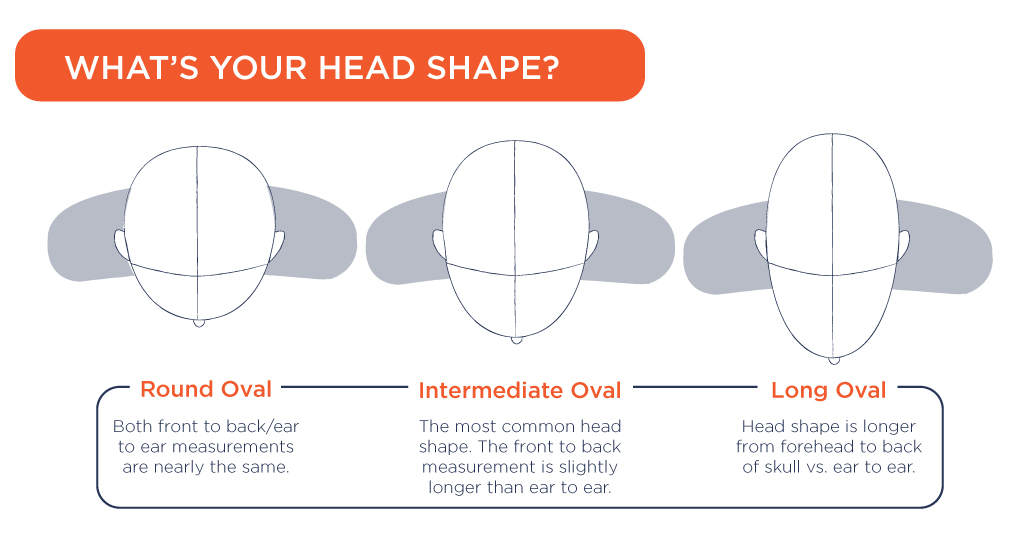 Scorpion sent me a Large AT960 and that was the right call even though my head measures 3.8 mm smaller (1/8") than the minimum in that range.
If your head is between sizes or on the higher end of the chart's range I'd recommend moving up a size.
Note there's no XS size available despite the fact that the AT960 uses three shell sizes.
Intermediate Oval Fit
The AT960 interior shape is on the narrow side of Intermediate Oval.  It fits my wider-than-usual head exactly like several Shoei helmets have.  Specifically, I'd compare the width to the GT-Air, GT-Air 2, and X-Fifteen.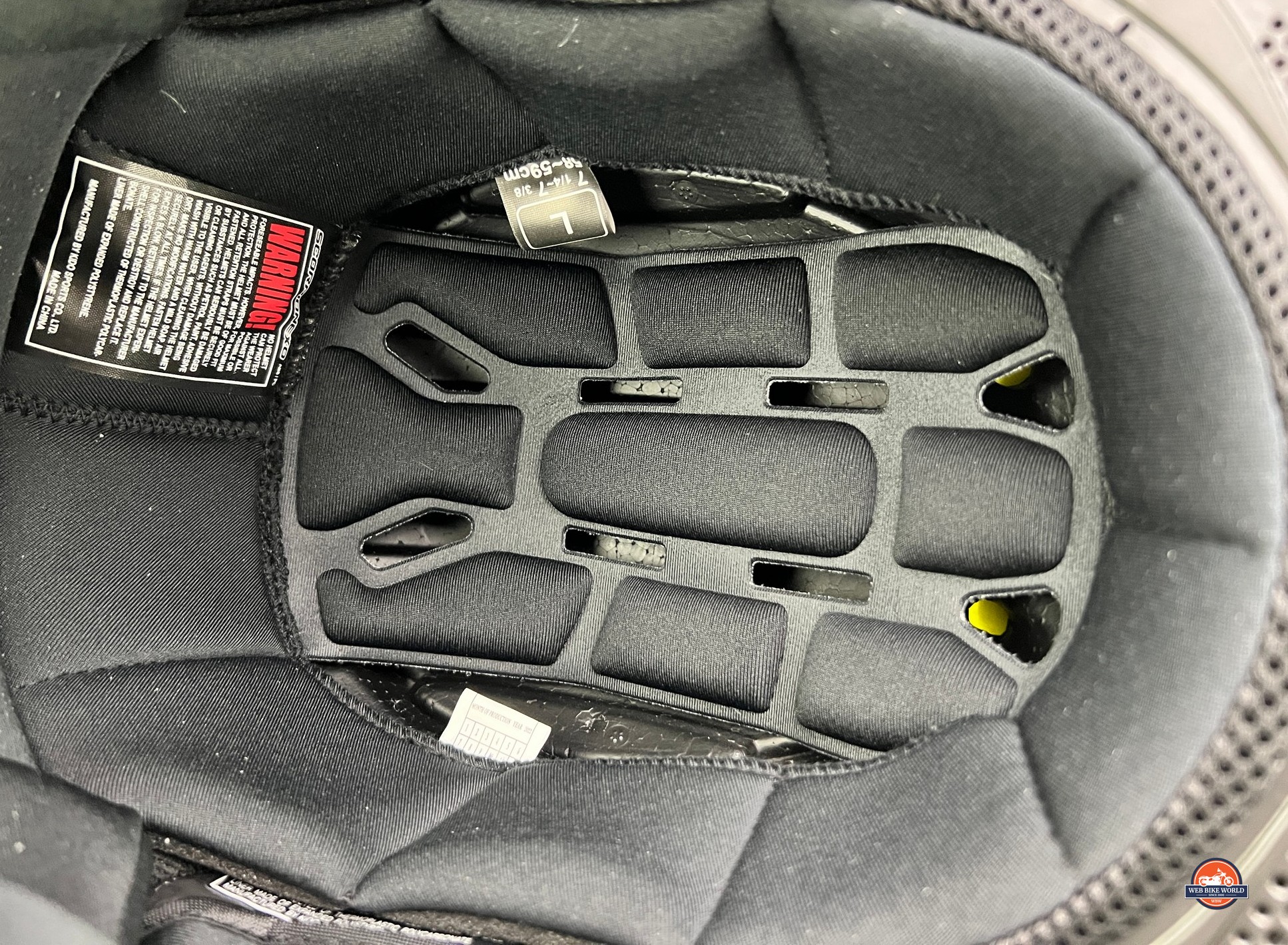 As with the aforementioned Shoei helmets, I had to perform surgery on the comfort liner foam in the AT960 in order to avoid feeling like my head was clamped tightly in a vice when wearing it longer than 30 minutes.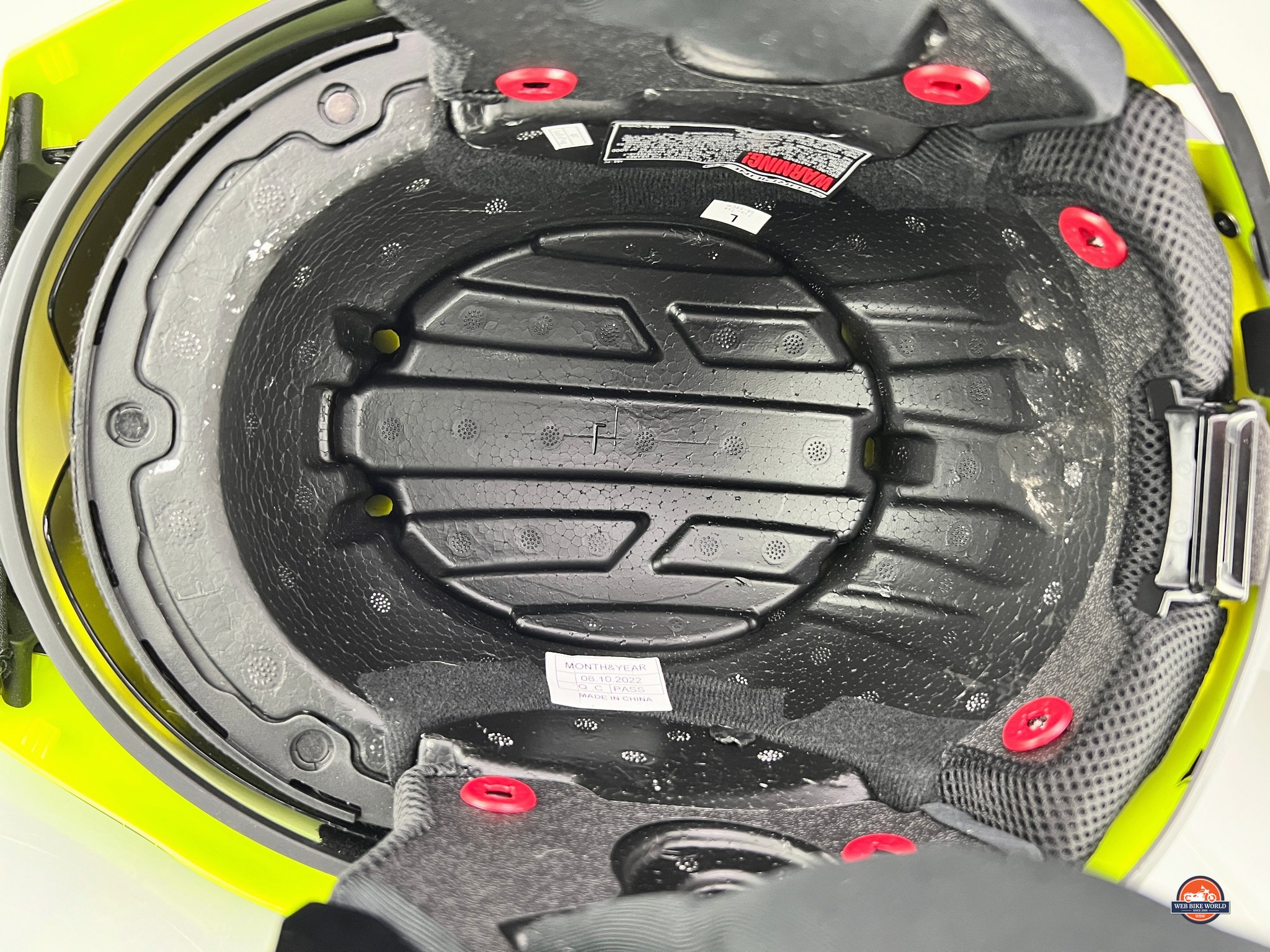 Interior Comfort Liner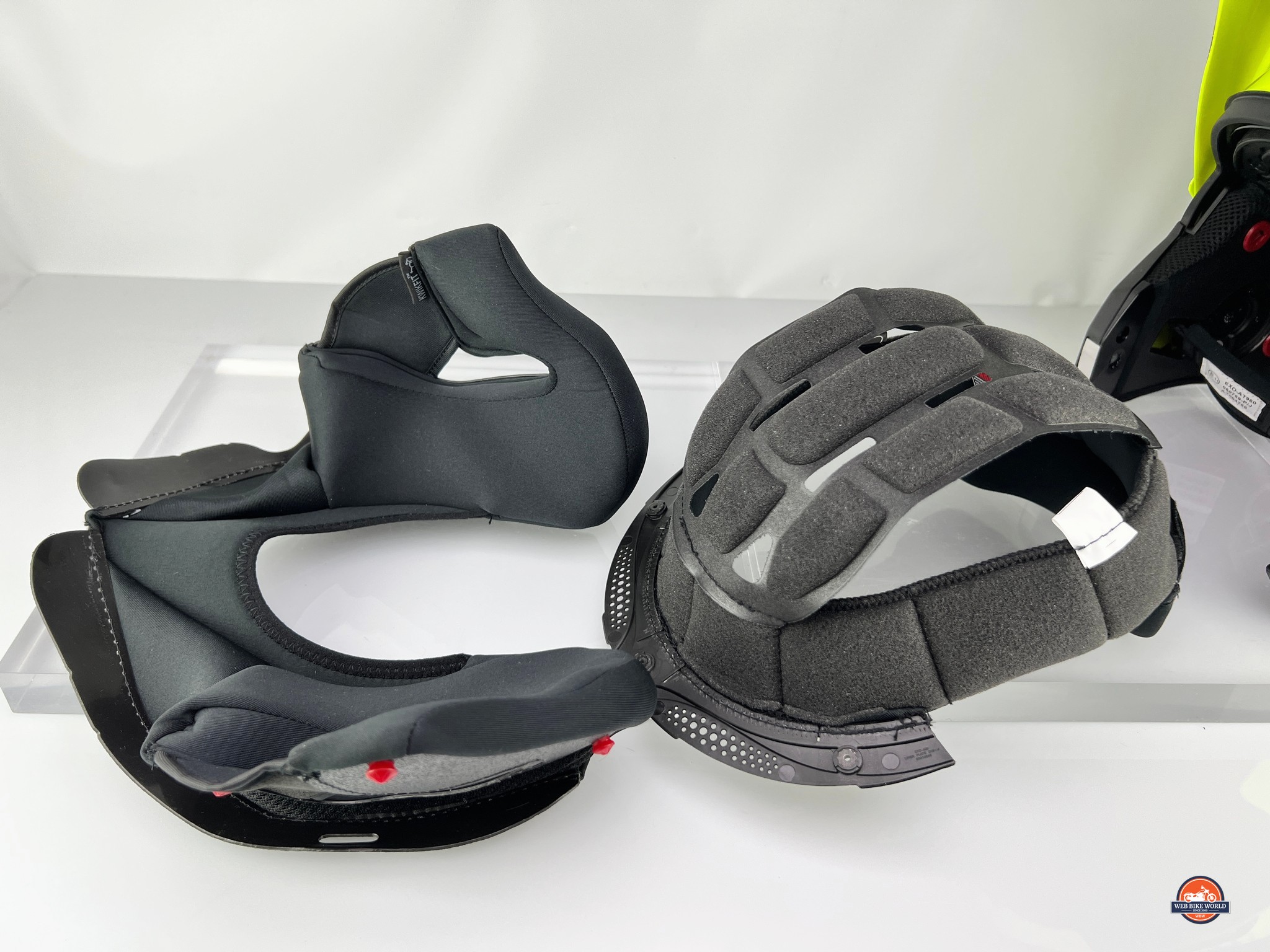 Removing the foam from the upper cheek pads and sides of the crown liner made the AT960 fit my head just about perfectly.  I couldn't be happier with it now but to my surprise, the KwikWick® C and 3D liner material doesn't appear to be anti-microbial based on the fragrant fallout from thousands of miles of riding.
Get the Funk Out
After riding to Sturgis, SD for the RevZilla GET ON! Adventure Fest rally the comfort liner has become quite "funky" smelling and cries out to be washed.  That's not an unreasonable ask from a helmet liner, but I haven't noticed this same degree of necessity with any of my previously reviewed helmets equipped with anti-microbial liners.
If my other helmets don't reek of my man musk after a long ride, then it's my opinion the AT960's liner could (and should) mirror that degree of bacterial resistance too.
The Safety Factor
Scorpion is a company known for building good quality protective headgear.  They even have some high-profile MotoGP racers wearing their helmets bearing FIM certification stamps.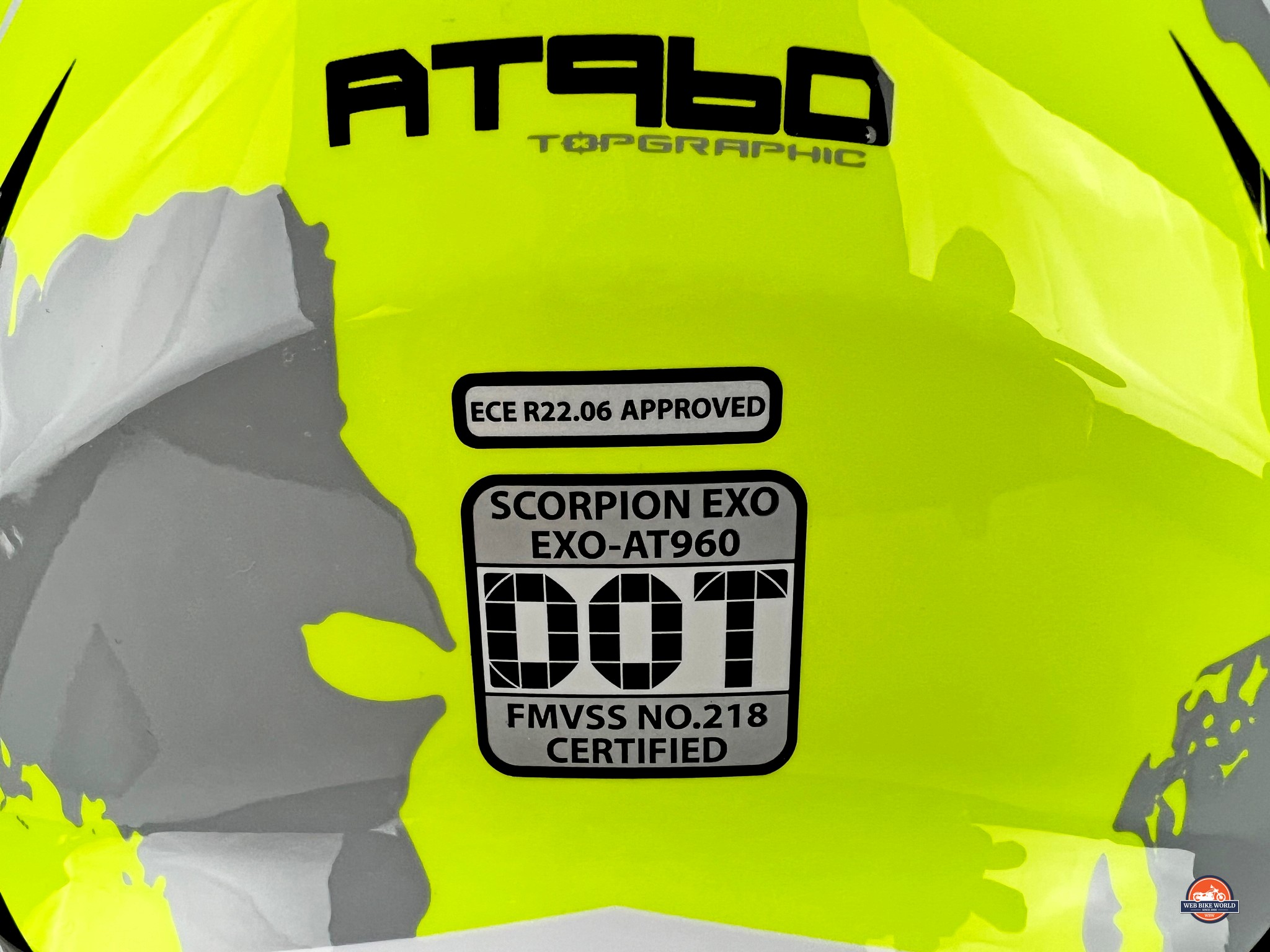 The AT960 takes a positive step up in the protection department (from the DOT-only AT950) in the form of dual certification for DOT FMVSS 218 and the newly minted ECE 22.06 standard.
In other words, this new AT960 should protect the wearer better than the previous North American AT950 would and that's the most important job for a motorcycle helmet.  Bravo, Scorpion!
SHARP Testing
If you visit the SHARP website you'll find impact data gathered by an independent UK-based helmet testing organization. Typically, Scorpion helmets have earned a respectable 3 or 4 stars out of 5 from SHARP and I like to refer to their website in all my helmet reviews for an expert opinion of a helmet's level of crashworthiness.
Unfortunately, neither the AT950 (named the ADX-2 outside North America) nor the AT960 have been tested by SHARP yet, but I suspect they'd both score 3 or 4 stars.
Weight
Let me get right to the point about the weight of the AT960 by saying it's a heavier helmet at 4.16 lbs.  That bulk is noticeable, and undesirable but bearable to me.  It weighs about the same as the Shoei Neotec 2 and I haven't heard anyone groaning about that helmet being overweight.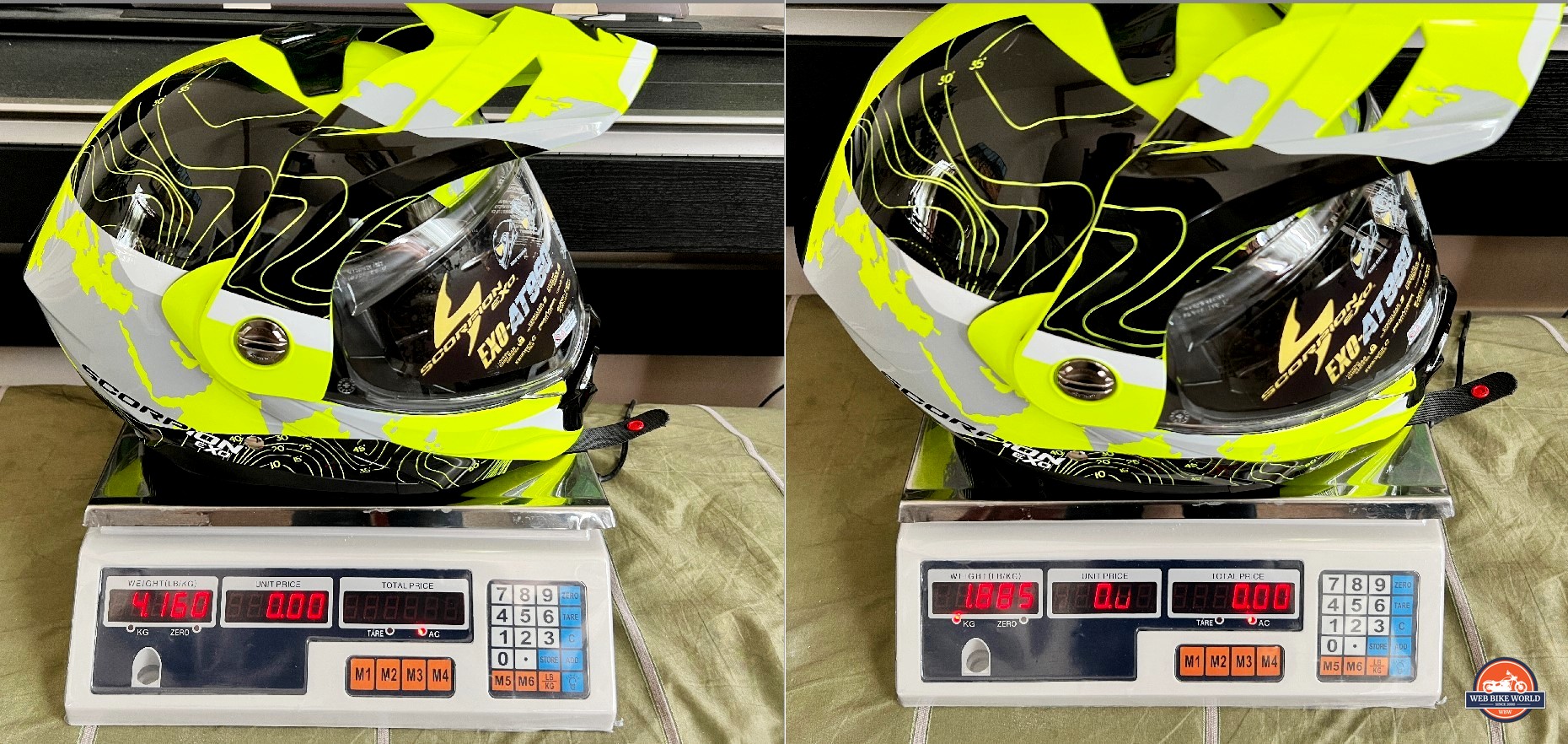 There's been a lot of flap online about how the AT960 is heavier than its beloved predecessor the AT950.  Yes, it's technically true that the 4 lb AT950 (size Large) is lighter than the new AT960 by 0.16 lbs.
Anyone who can legitimately notice a 2.56 oz (72 grams) increase in their helmet weight must also be unable to sleep on a mattress with a pea underneath it.  This is what I call Fairy Tale level consternation and likely just a juvenile fear of change manifesting.
Here's An Idea…
Having said that, I'm 100% on board with the idea of Scorpion replacing the heavy and bulky polycarbonate EXO shell on the AT960 with a lighter fiberglass blend or even carbon fiber shell.  True, it would mean a price increase, but once you wear a 3 lb helmet you don't crave anything less.
Chinstrap Latch
The chinstrap clasp on the AT960 is of the double-D ring variety and does its job without fanfare or flair.  All I would mention about it is how the snap on the end of it used to tie up the excess length is usable, unlike all the other ECE 22.06 certified helmets I've tested this year.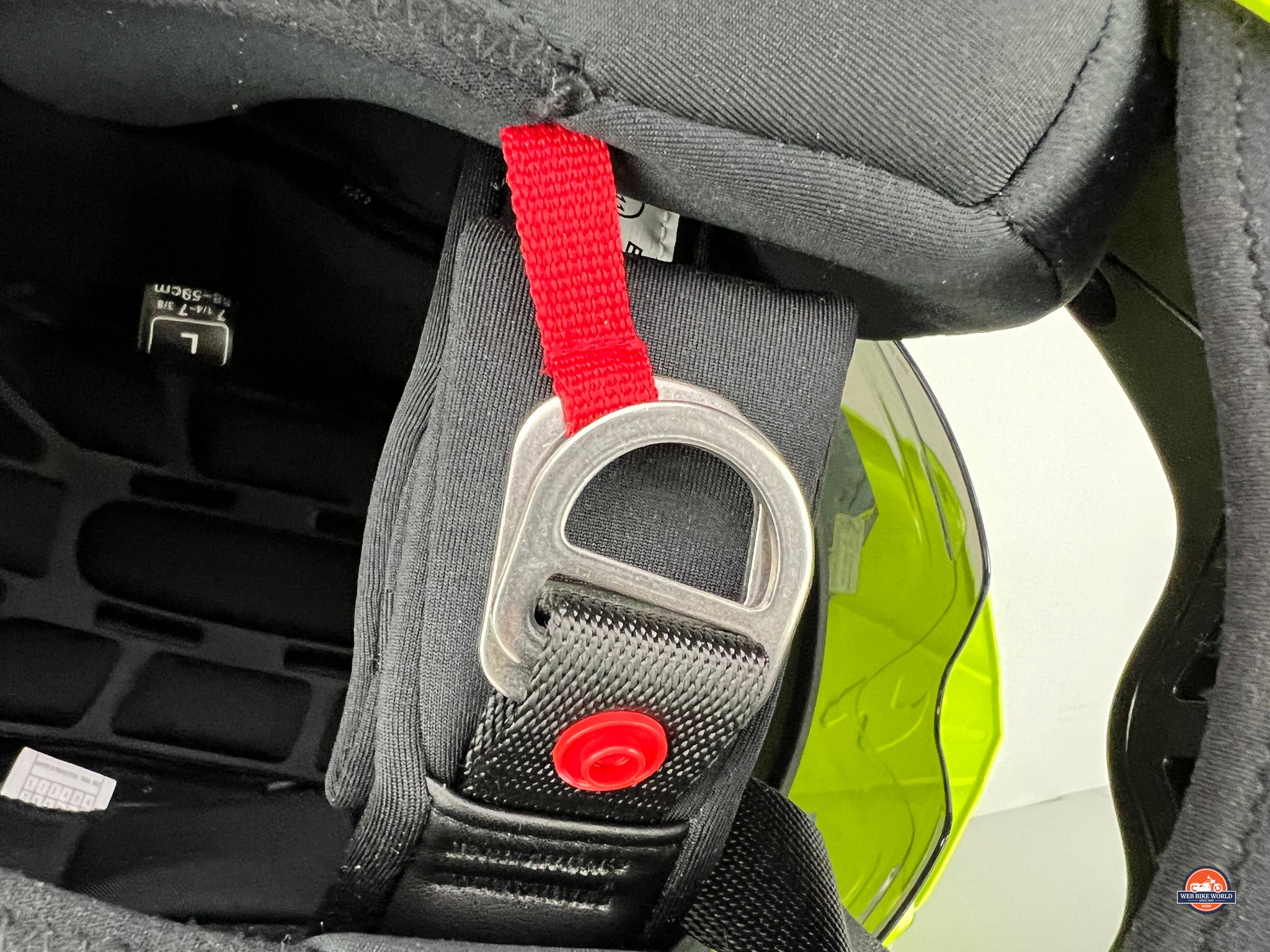 It's good to know ECE isn't forcing manufacturers to install the snap so far up the strap that it's unreachable.
Scorpion AT960 Visor & Field of View
I'm a visor snob, so if the windscreen fails to perform up to my high standards there'll be plenty to read about it in my reviews.
The Eyeport Design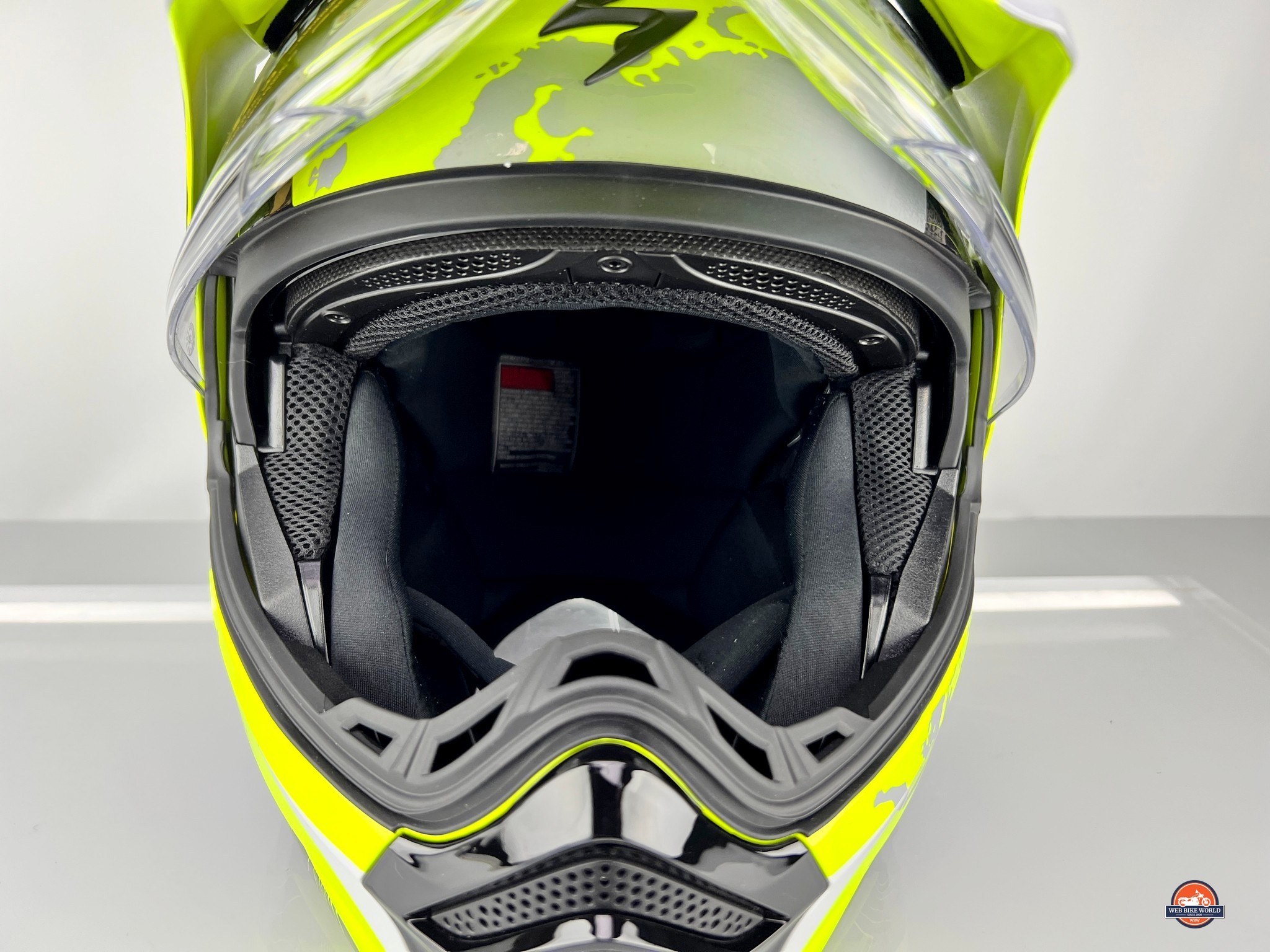 One thing I can't gripe about is the size of the eyeport on the AT960.  The field of view is perfect for adventure riding and it can accommodate a set of goggles if the rider so desires.
Great job on this, Scorpion!
The Visor / Windscreen / Faceshield
The AT960's ambidextrous EverClear® Faceshield claims to offer "state-of-the-art fog-free technology" without needing a Pinlock lens.  This novel tactic of adding an anti-fog coating works fairly well on my Arai XD-4 faceshield, but it didn't thrill me on the AT960 during my testing.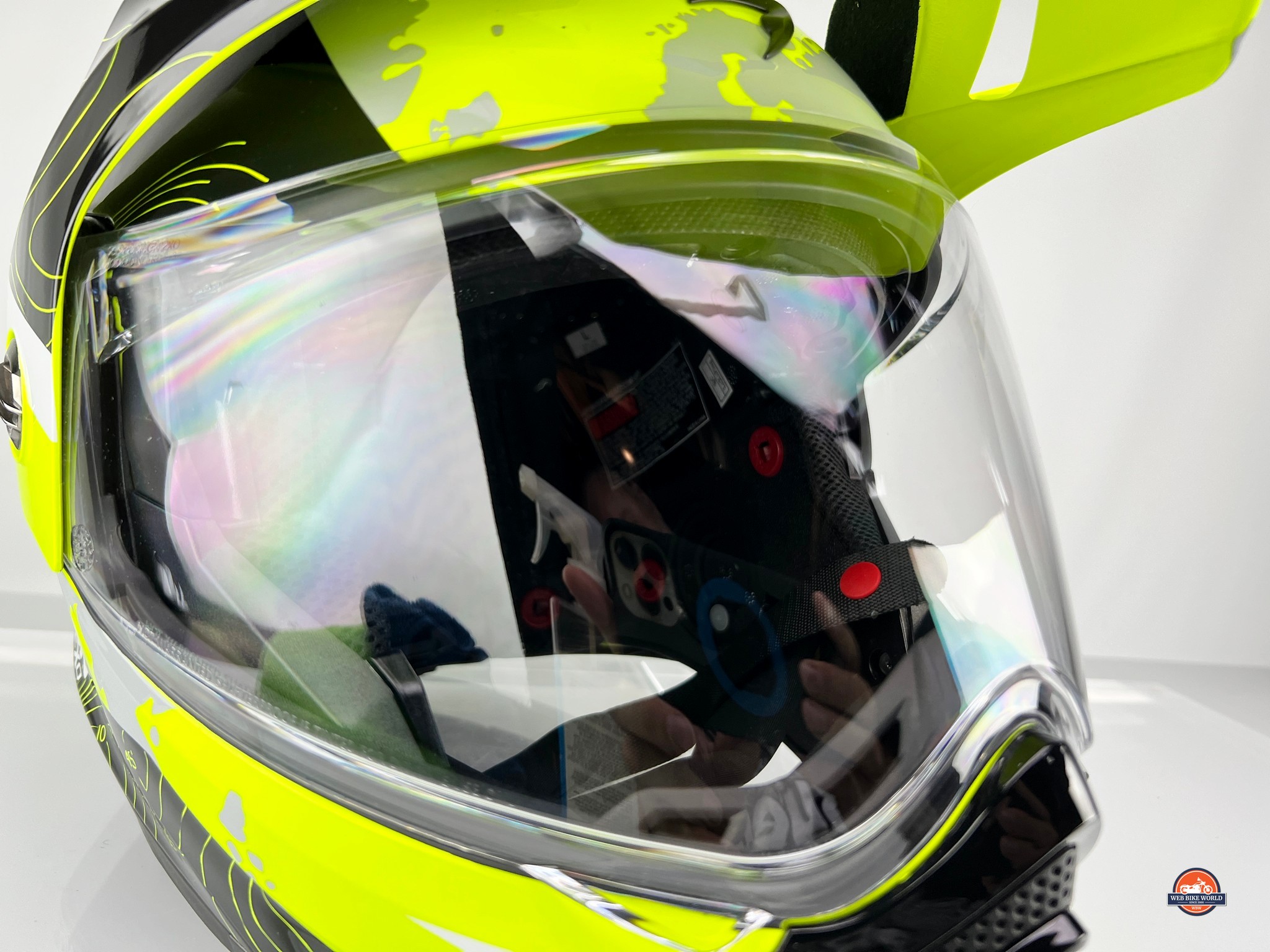 The visor did keep fogging to a minimum in the rain at highway speeds, but once I got stuck in traffic with little to no airflow it fogged up fully and I had to flip it open to get air on it before it would clear.
Scratch Resistance
Despite seeing plenty of very dusty riding conditions, bug guts, gloved hand wipes, and even pea gravel impacts, the visor on my AT960 remains scratch-free!
This impressed me because I've tested much more expensive helmets with visors that didn't hold up as well under the same hostile conditions.
Visor Detent Mechanism
The AT960 visor only has 4 detented positions on it which I would describe as the bare minimum desirable.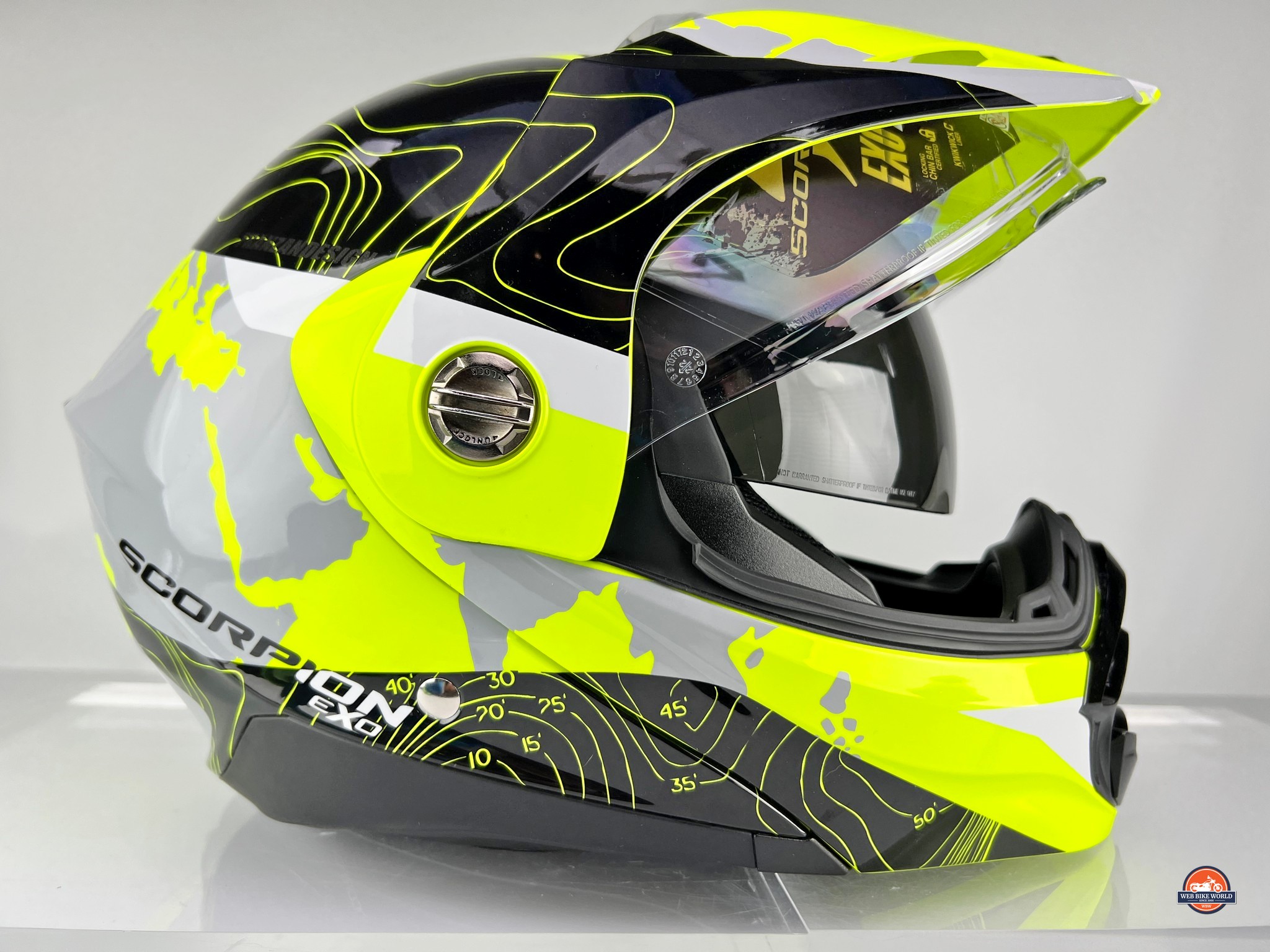 Thankfully when the visor is opened or closed I'm not tortured by any obnoxiously loud clunks and thundering pops that I've endured while wearing some other helmets.
The visor does squeak a bit more than I'd like now after so much dust entering the hinges, but I think a couple of squirts of WD40 should silence that and smooth out the travel as well.
De-Fogging Position?
The AT960 visor lacks my desired "barely cracked open" position which is a shame.  The smallest possible locked-in position for the visor is at the 1.5" open point as you can see in the photo below.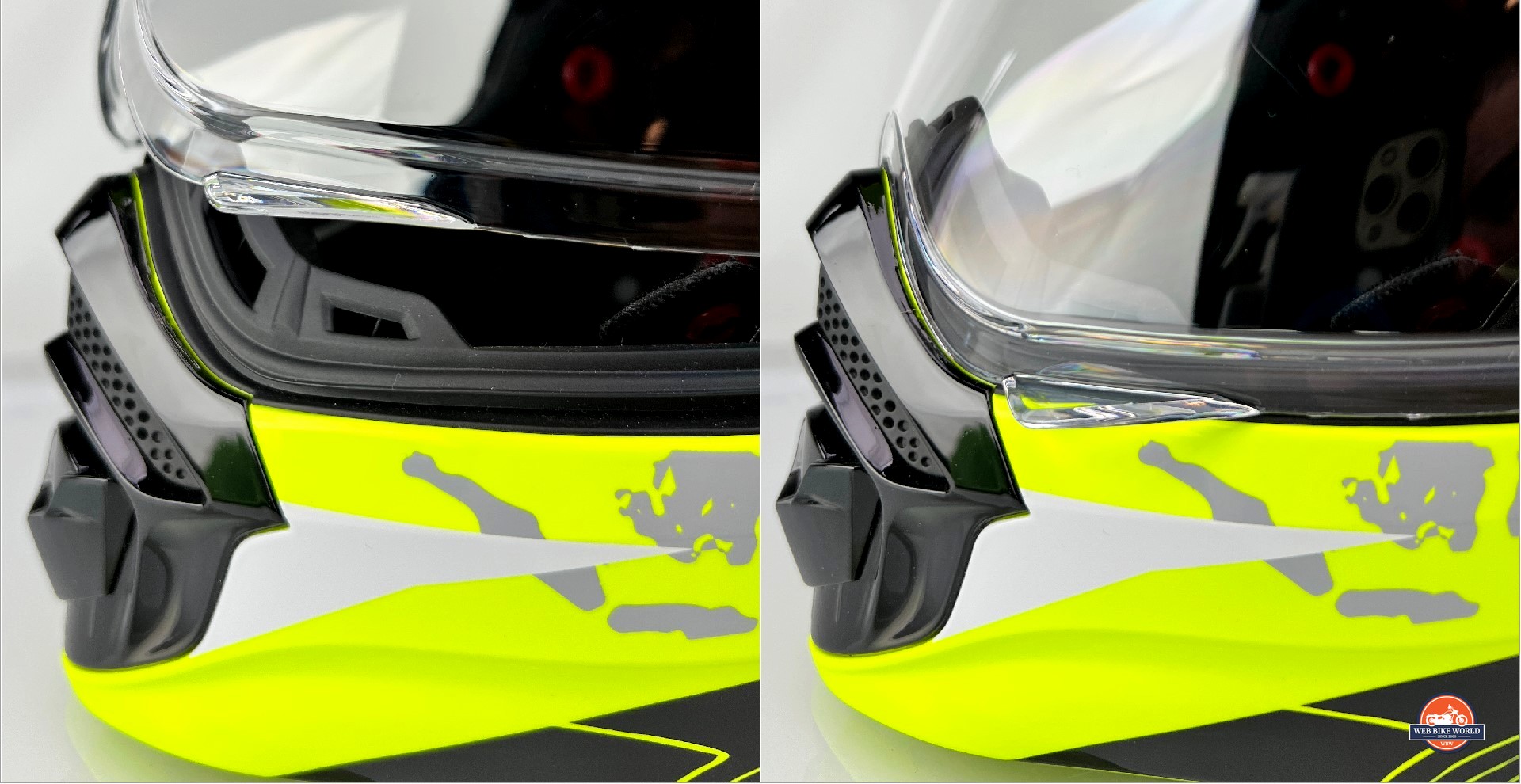 If the visor had the ability to rest just barely above the fully closed position it would work wonders at keeping fogging in check when combined with the special anti-fog coating inside.
Visor Mounting System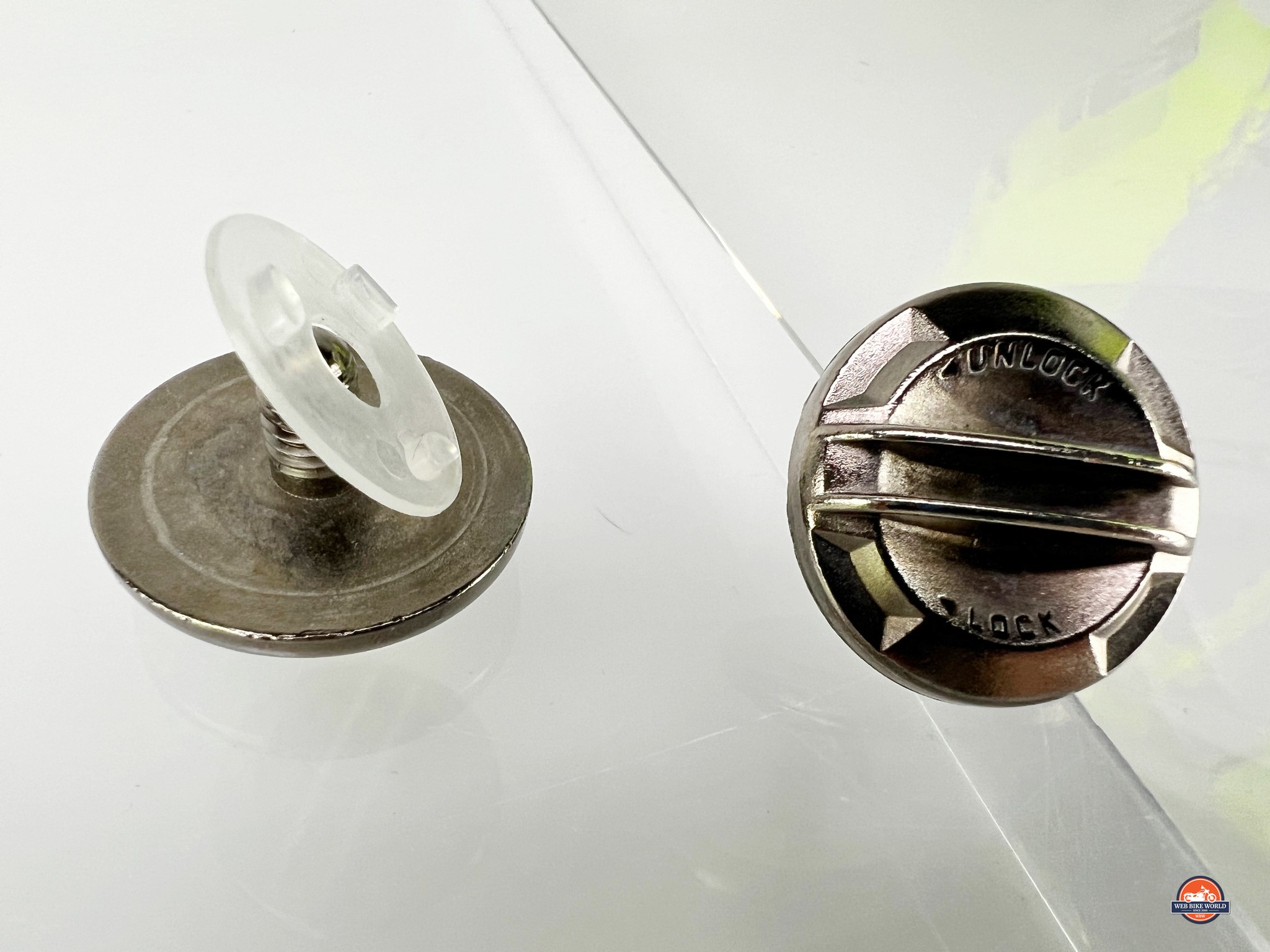 There's no quick release on the AT960 visor but I like the metal screws used to hold the face shield and sun peak to the helmet.  These screws are solid feeling and proved up to the task of making removal and installation of the visor easy.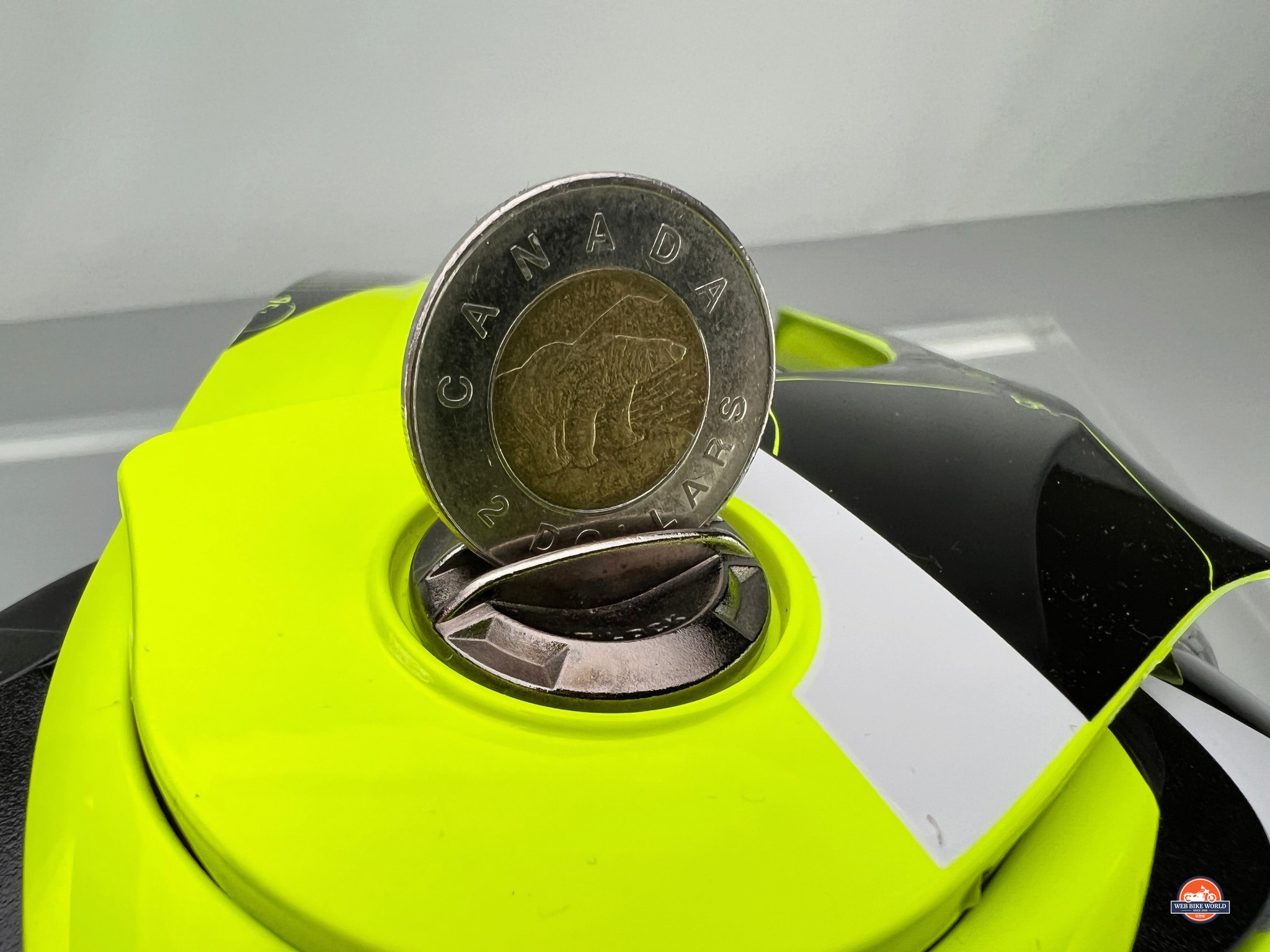 As seen in the photo above a Canadian two-dollar coin (a twoonie) is the ideal and most convenient tool for removal and installation of the visor/peak retention screws.
The Removable Sun Peak/Visor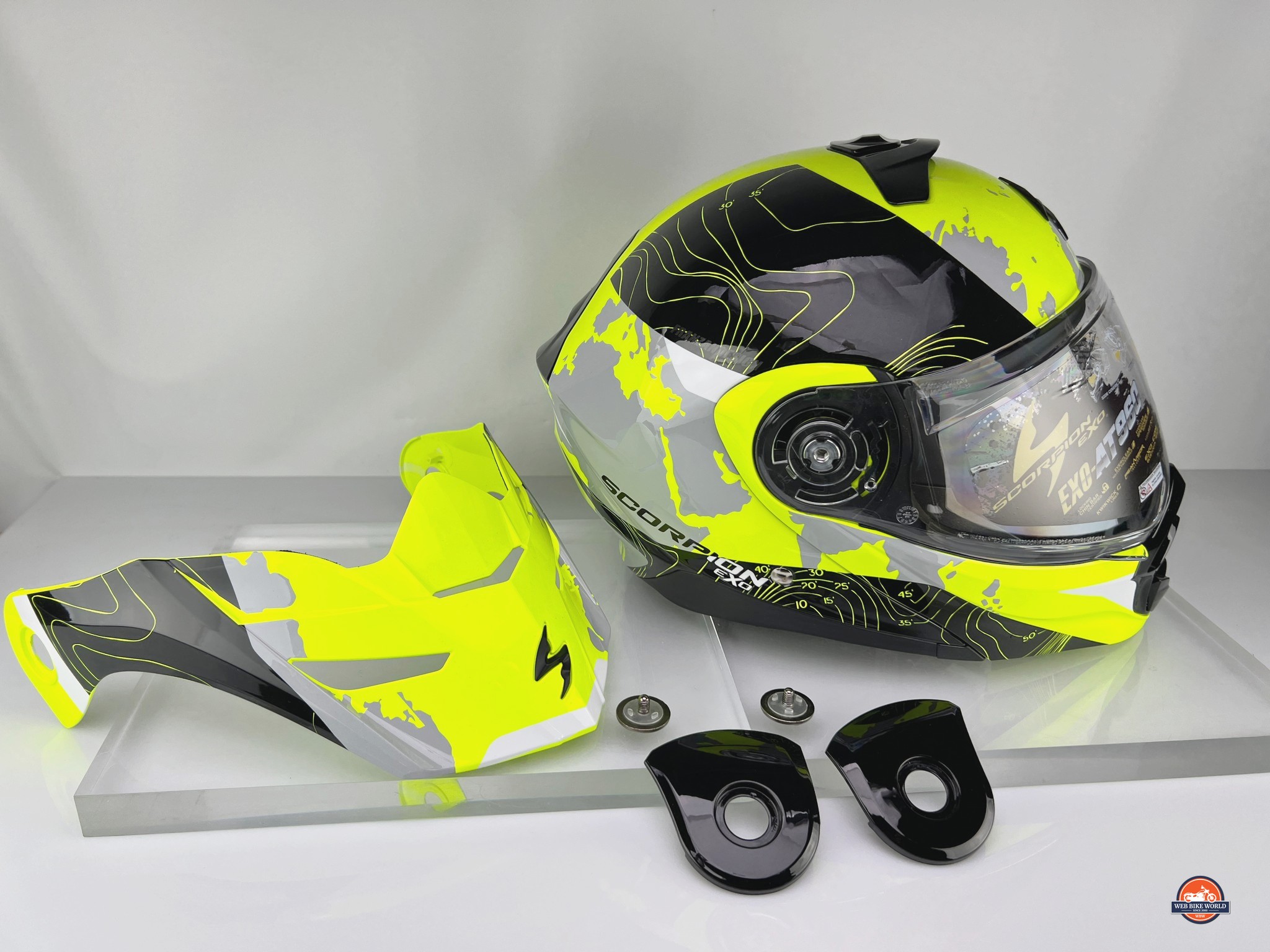 The peak can be removed and black plastic blanking plates installed in its place if you prefer to ride without a peak grabbing crosswinds or in the case of the AT960 the peak buzzing like a tuning fork.
The most surprising shortcoming or quirk about the AT960 is the way the sun peak vibrates at highway speeds.
It literally buzzes like an electric toothbrush whenever turbulent incoming air from off my 2021 BMW R1250 GS Rallye windshield hits it.  Interestingly, it stops vibrating when I stand up on the footpegs and get my head in clean oncoming air.
How bad is the peak's vibration?  I can feel my teeth chattering kind of bad.  Having said that, I was able to ignore this minor annoyance for the most part while riding with the AT960.
For what it's worth, one of my friends who wears an AT950 tells me the peak on it does the same thing.
The Drop-Down Sun Lens
The integrated sunglasses on the AT960 are perfect for my sun-blocking needs here in Alberta, Canada.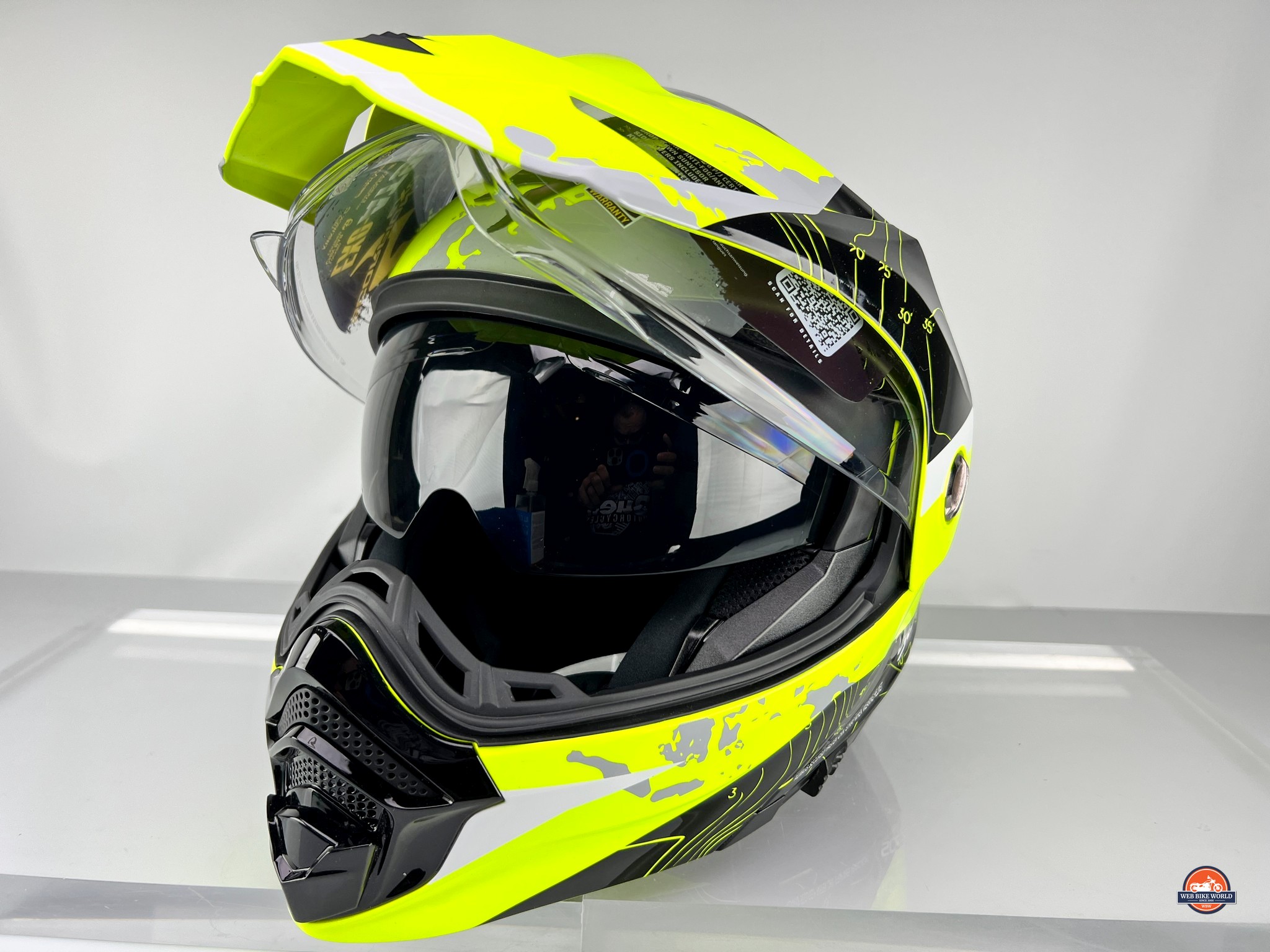 The level of tint on it isn't going to be enough in really bright environments like desert riding, but that's the norm.
The sliding switch located on the lower left lip of the shell moves well even after enduring plenty of dusty riding, but the tab on it did threaten to fall off once during testing.  To its credit, the tab snapped back onto the mount and hasn't been a problem since.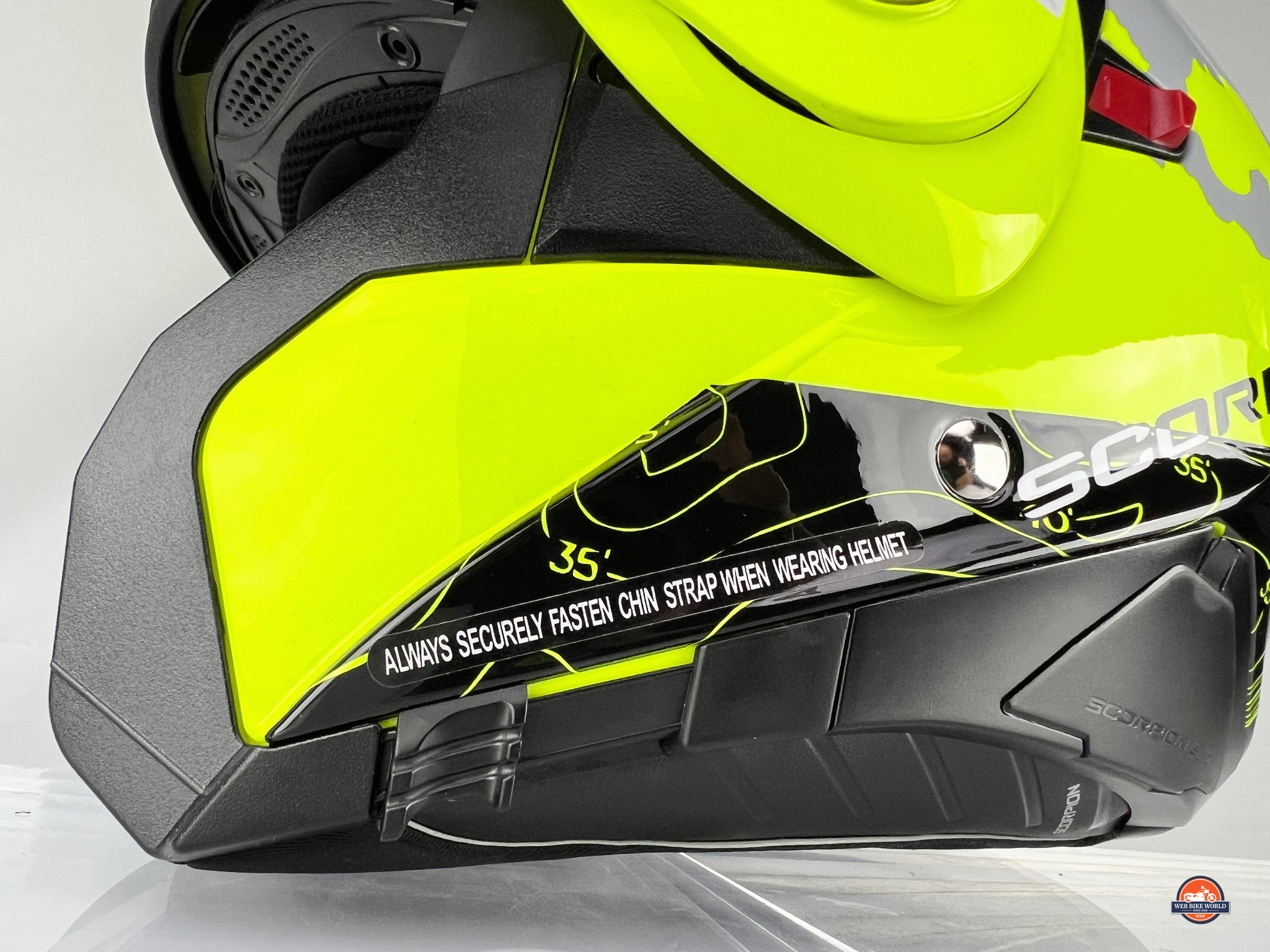 Modular Flip-Up Design
The flip-up chin bar on the AT960 is a shrewdly designed piece of kit.  I never struggled to locate the red release button on the chin bar that's used to open it, and closing it to the point of engaging the locking latches is aided by two small magnets built into the assembly.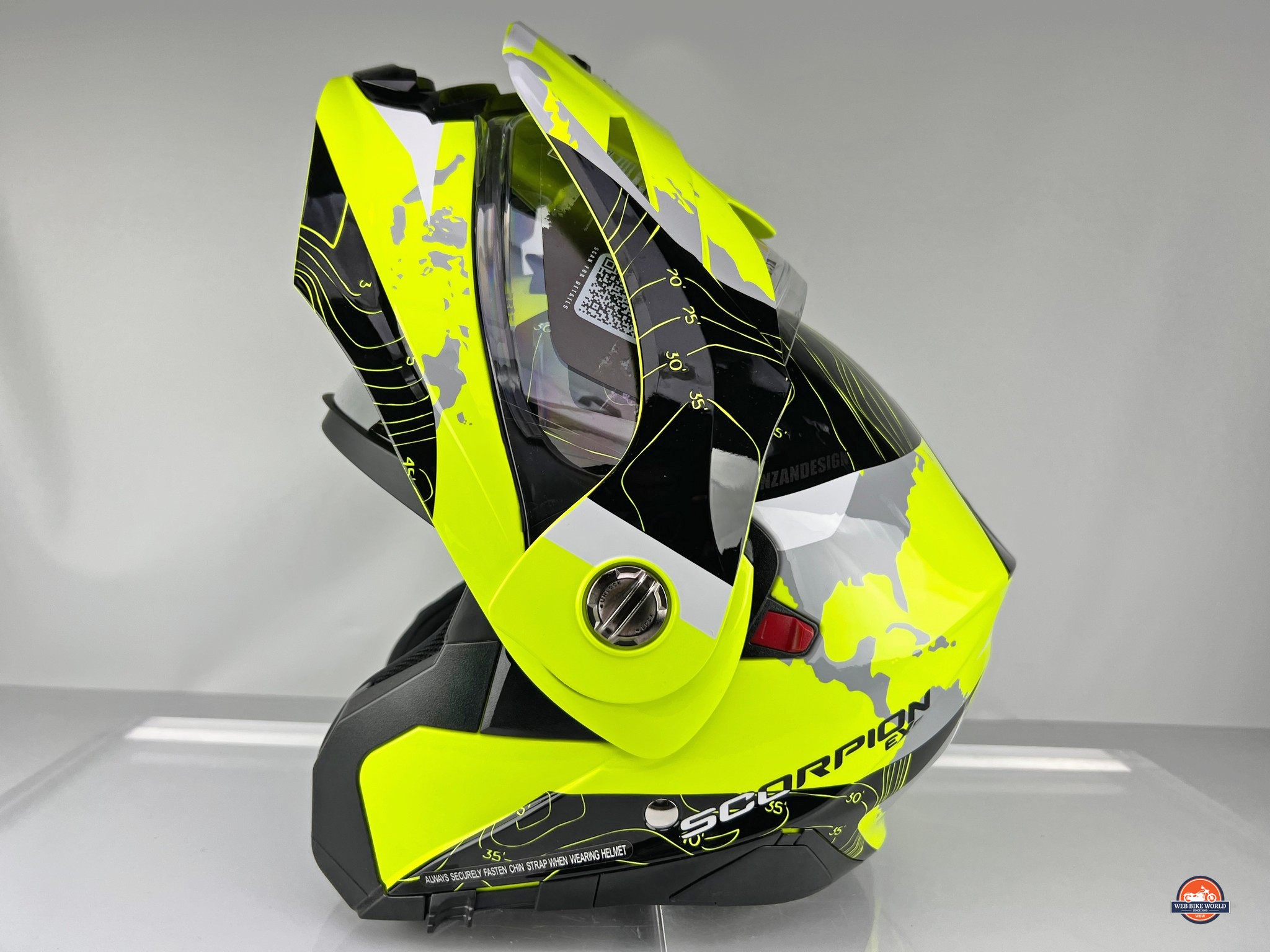 The AT960 is dual homologated meaning you can ride with the chin bar raised and held open using the red lock switch at the left, rear side of the pivot point.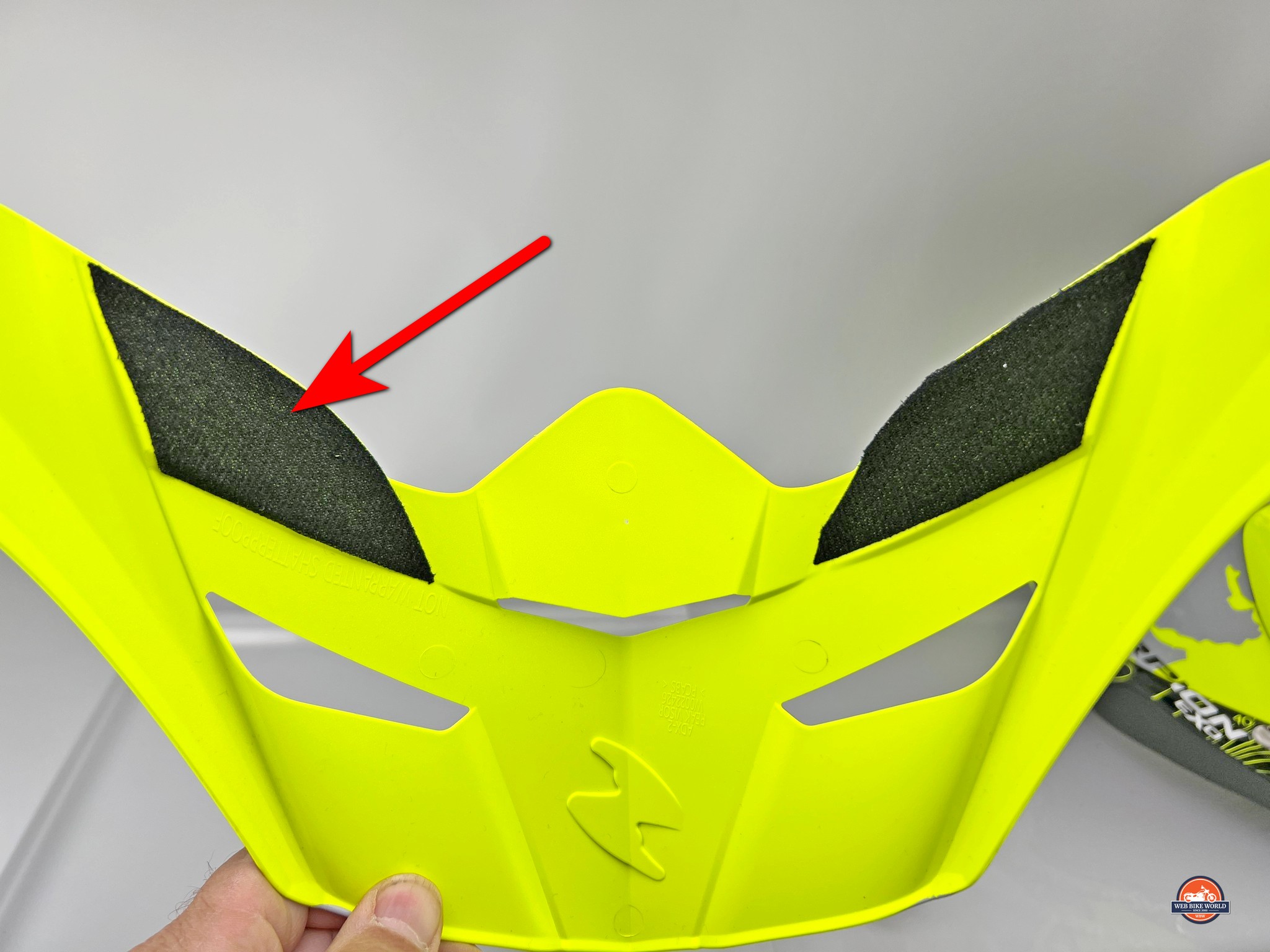 The sun peak moves up and back in conjunction with the chin bar and has two large patches of felt glued to the underside of it to prevent scratching the windscreen while everything locks together in the raised position.
For my part, I can't stand riding with the chin bar locked open.  The neck strain is off the charts with such a large and heavy "sail" installed on top of my head.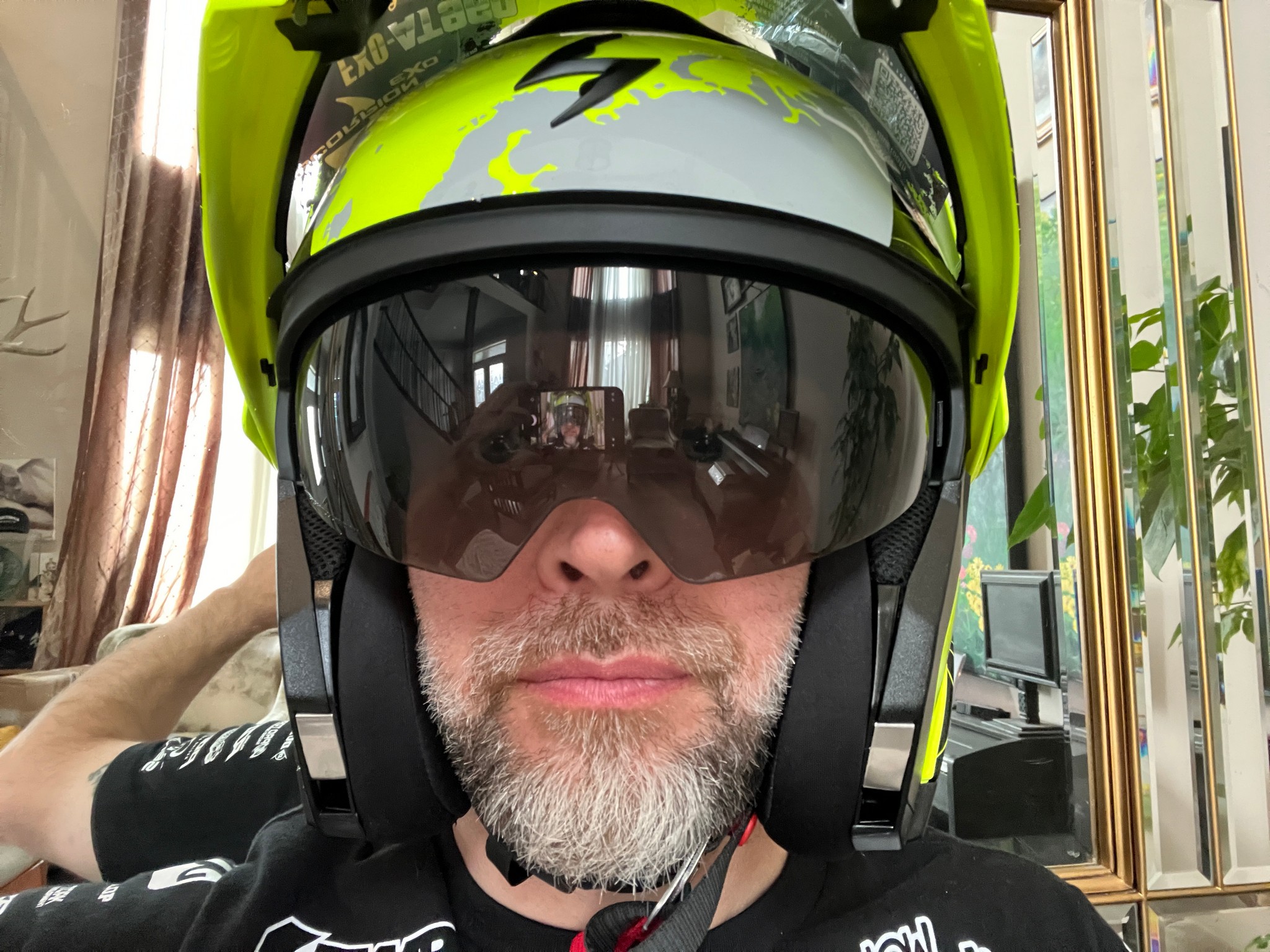 On the other hand, flipping up the chin bar when stopped for gas or resting on a long trip is an outstanding luxury I appreciate.
Donning and Doffing the AT960
Some modular helmets like the AGV Sportmodular Carbon can't be donned or installed on your head without first raising the chin bar which is so annoying.
The AT960 on the other hand, is built with a neckroll opening large enough to allow the wearer to skip raising the chinbar when putting this helmet on or taking it off.  You can treat this helmet as if it's just an ordinary full-face helmet if you wish.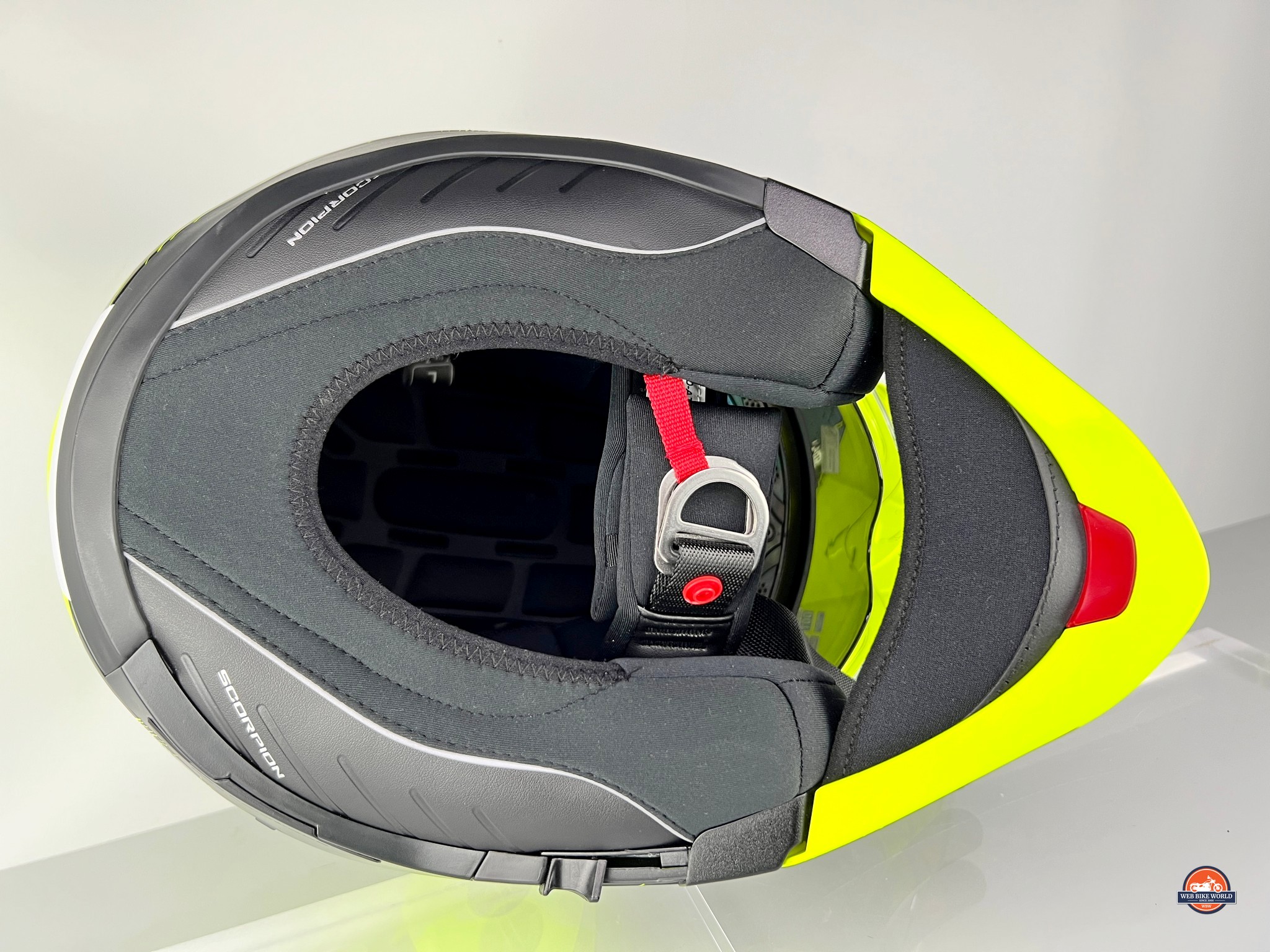 I bet you a dollar somewhere out there is an owner who doesn't even realize they have a modular helmet and has never raised the chin bar…
Check Your Chin Bar Latches
After many miles of ferocious off-road riding, I noticed one of the latches used to hold the chin bar closed was seized shut.
I only found this because when I went to open the chin bar that day one side moved up before I had pushed the release button.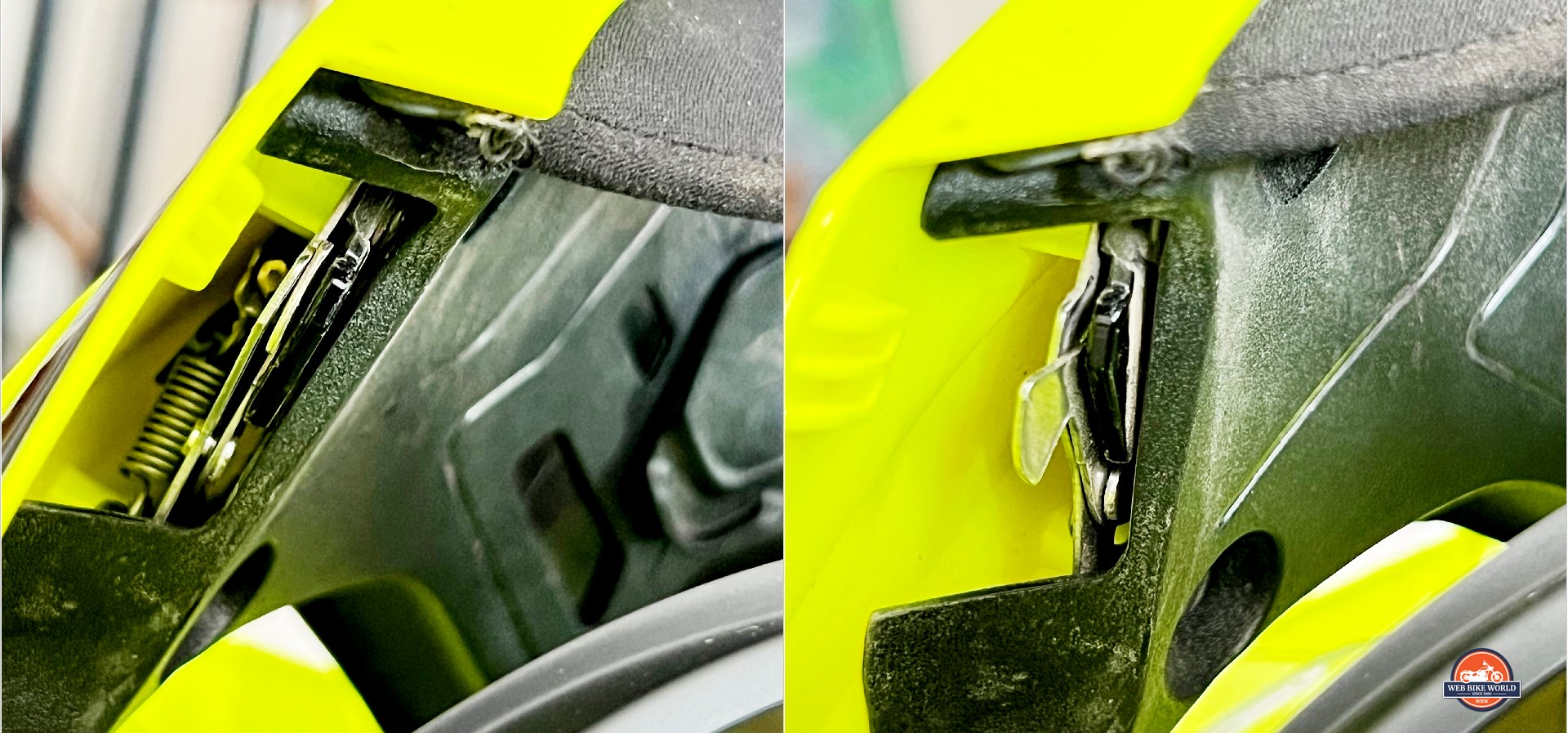 The latch arm popped back out without much coercion and still works just fine, but I mention this as a problem for AT960 wearers to watch for.  If you're involved in a collision with only one locking mechanism engaged it's highly likely the chin bar will pop open and your face will connect solidly with something harder than it is.
Ventilation
When riding off-road on more technical trails, riders need lots of airflow in order to avoid overheating.  The AT960 does a good job of supplying said airflow.  In fact, it beats its more expensive EXO-XT9000 sibling in this department quite handily.
The Upper Vents
The upper vent switch on the AT960 is easy to locate and manipulate through the two positions it offers using gloved hands.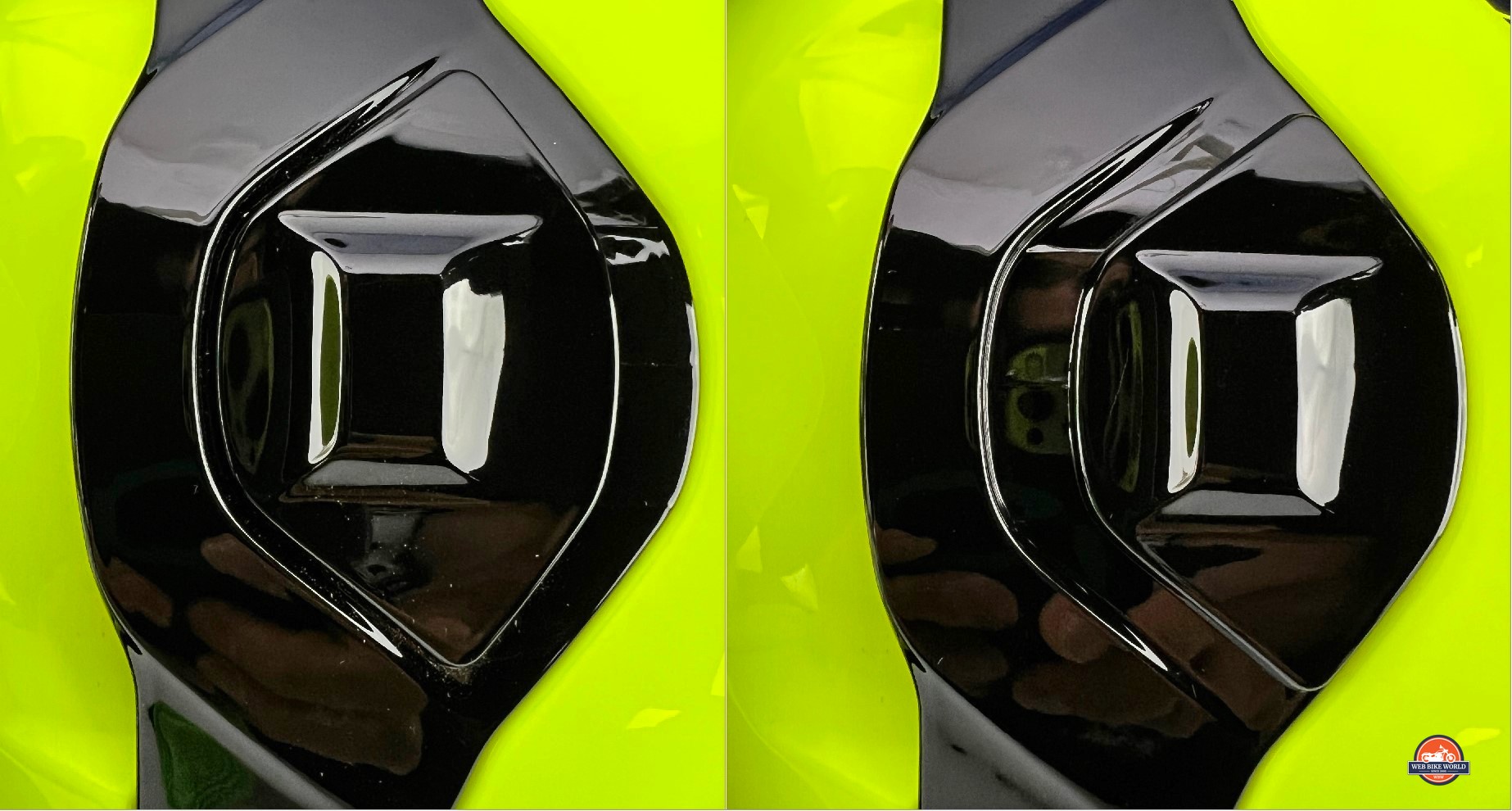 The airflow through the upper scoop is good enough to keep the top of my head sufficiently aerated while moving at higher speeds but doesn't create cold spots on my head the way other helmets like the Klim Krios Pro and Arai XD-4 do.
It's not really a fair comparison considering the exorbitant price of those other two helmets, but they're the best examples of high-flowing upper vents I can think of.
The Chin Bar Vent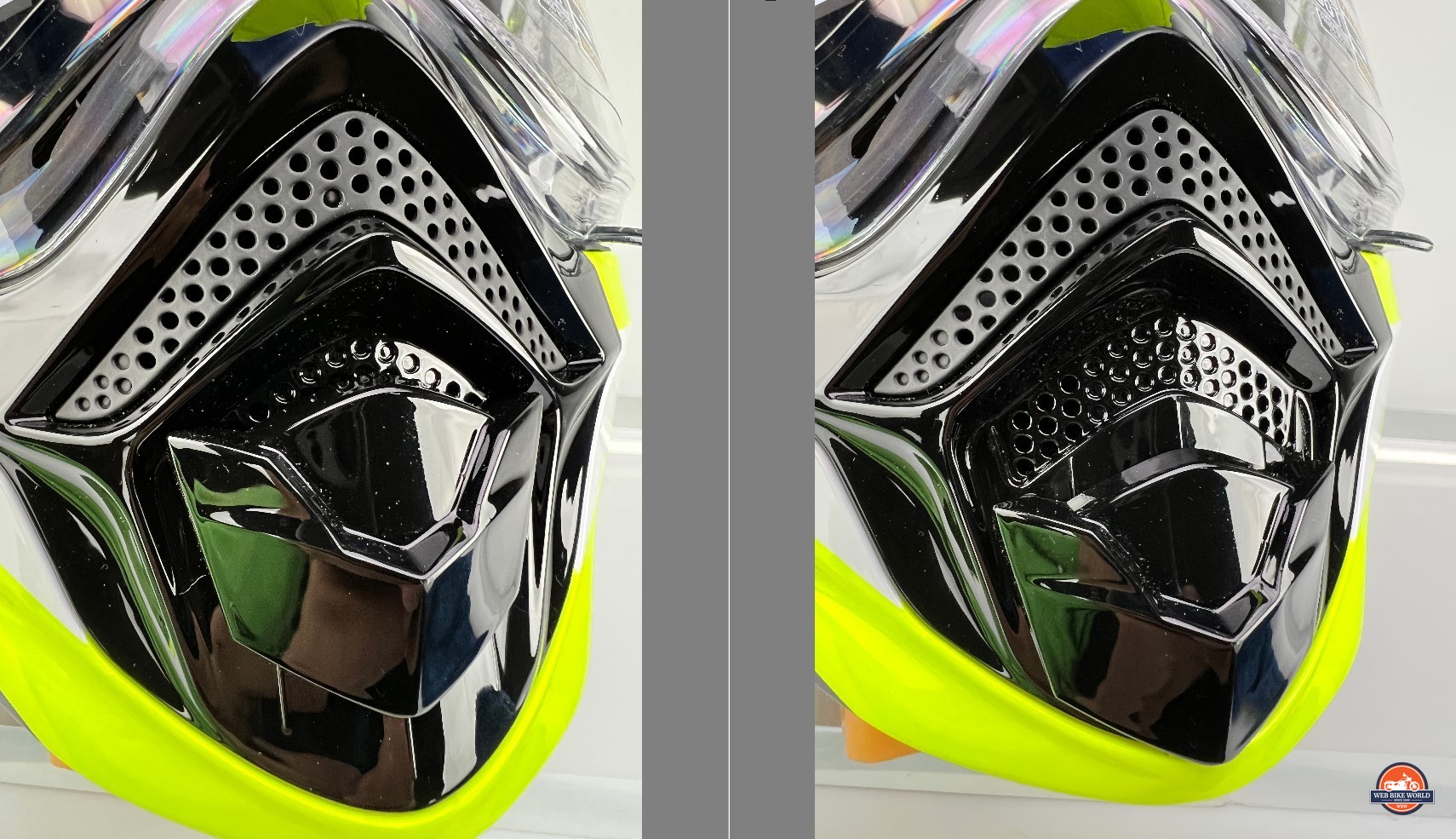 The chin bar vent on the AT960 pleases me with its smooth sliding and easy-to-actuate switch along with the above-average airflow it brings into the helmet.
There's a second switch on the inside of the chin bar used to direct the incoming air or dial back the airflow depending on what your requirements are.  Even with both switches closed there's a decent flow of air coming inside the helmet directed at the visor to limit fogging.
Good job Scorpion!  This vent is as good as on any other helmet I've tested.
Scorpion AT960 Hi-Visibility
Needless to say this yellow Topographic trim visually pops out on the road and Scorpion also has reflective stripes and logos on the neckroll area to increase visibility.
Some studies have concluded that bright colors and 3M reflective materials aren't effective at increasing visibility, but I can't believe it doesn't attract at least some extra eyes while out on two wheels.
The Topographic AT960 lineup has 3 other available colors to choose from (below) if you don't like the yellow/black.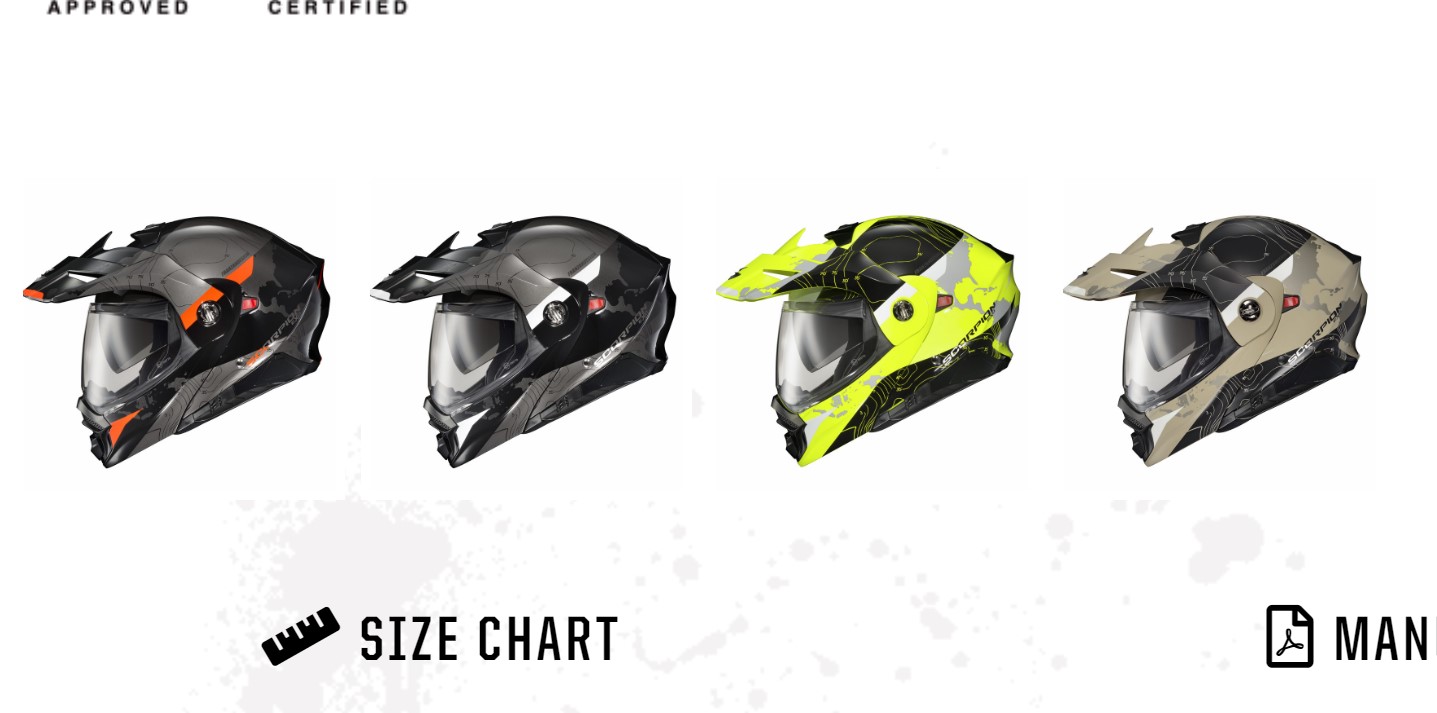 The Scorpion AT960 On and Off-Road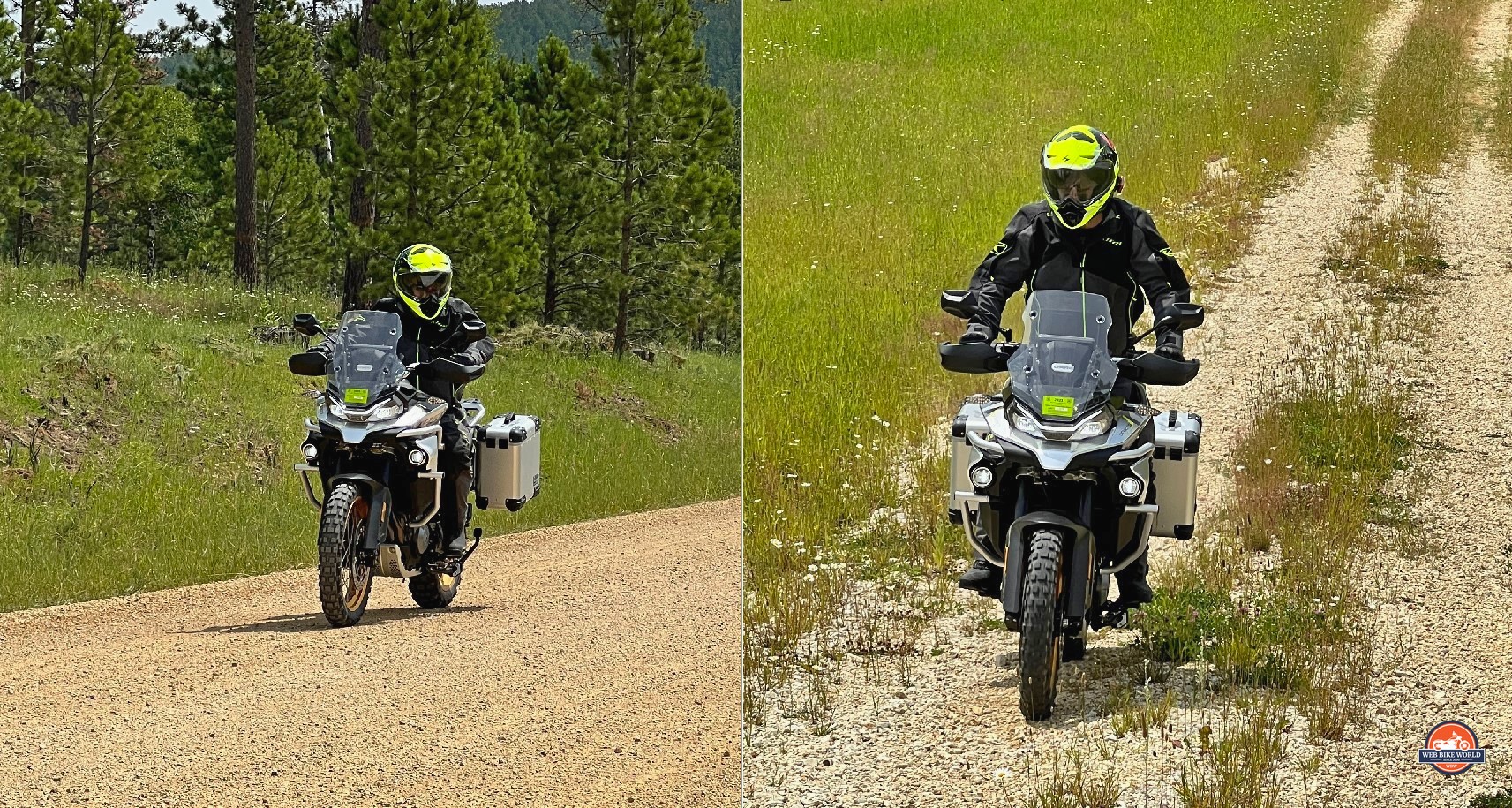 I can't lie… There were a couple of times out on the road when I longed for my usual adventure helmet instead of the less refined AT960 Topographic.  I already touched upon a number of things like the fogging issues, smelly liner, vibrating peak, and excess weight, but there's more.
Road Noise
Noise is a very subjective criterion that I don't place nearly as much focus on as I used to because many riders now wear earplugs.
The AT960 is pretty average for noise levels when compared to other modular helmets.  It's not quiet, but also not painfully loud.  Road noise isn't one of my complaints about this helmet, and it's surprising I didn't notice any weird droning sounds coming from the perpetually trembling sun peak at highway speeds.
Rain Riding
The windscreen/face shield on the AT960 leaks like a sieve.  Streams of rain poured down from the top of the visor so regularly that I considered planting seeds along the chin bar to see whether they would sprout after riding through a couple of particularly heavy storms during my testing.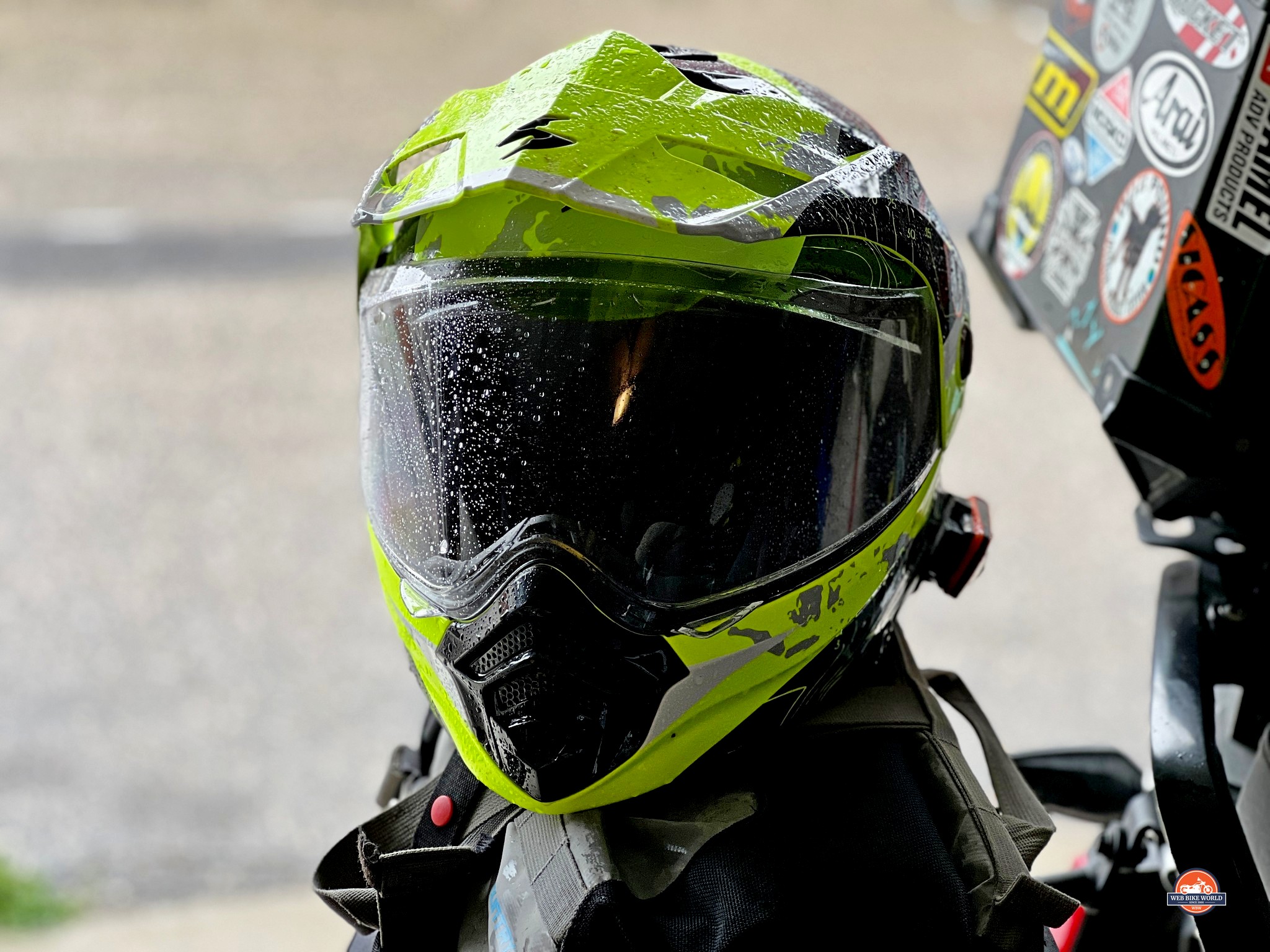 The single lip seal used to keep water and wind outside of the AT960 isn't up to the task and needs to be upgraded to a dual lip seal or even better a rounded soft rubber seal.
What I would love Scorpion to do is put the terrific windscreen assembly from their XT9000 on the AT960.  That would solve the fogging and leaky seal problems in one fell swoop.
Buffeting, Lift & Pull
Any helmet equipped with a large sun peak/roost peak and an extended chin bar nose is going to be affected by crosswinds, but to my surprise, the AT960 shrugs off those neck-straining gusts better than other adventure helmets I've worn, including the XT9000.
This helmet doesn't feel bulky and large to wear (with the chin bar down) even though it is on the heavy side.  The shell exterior is mostly smooth and I think that plays a large role in its efficient mitigation of buffeting, lift, and pull forces acting on it.
Scorpion AT960 Bluetooth Communicator Integration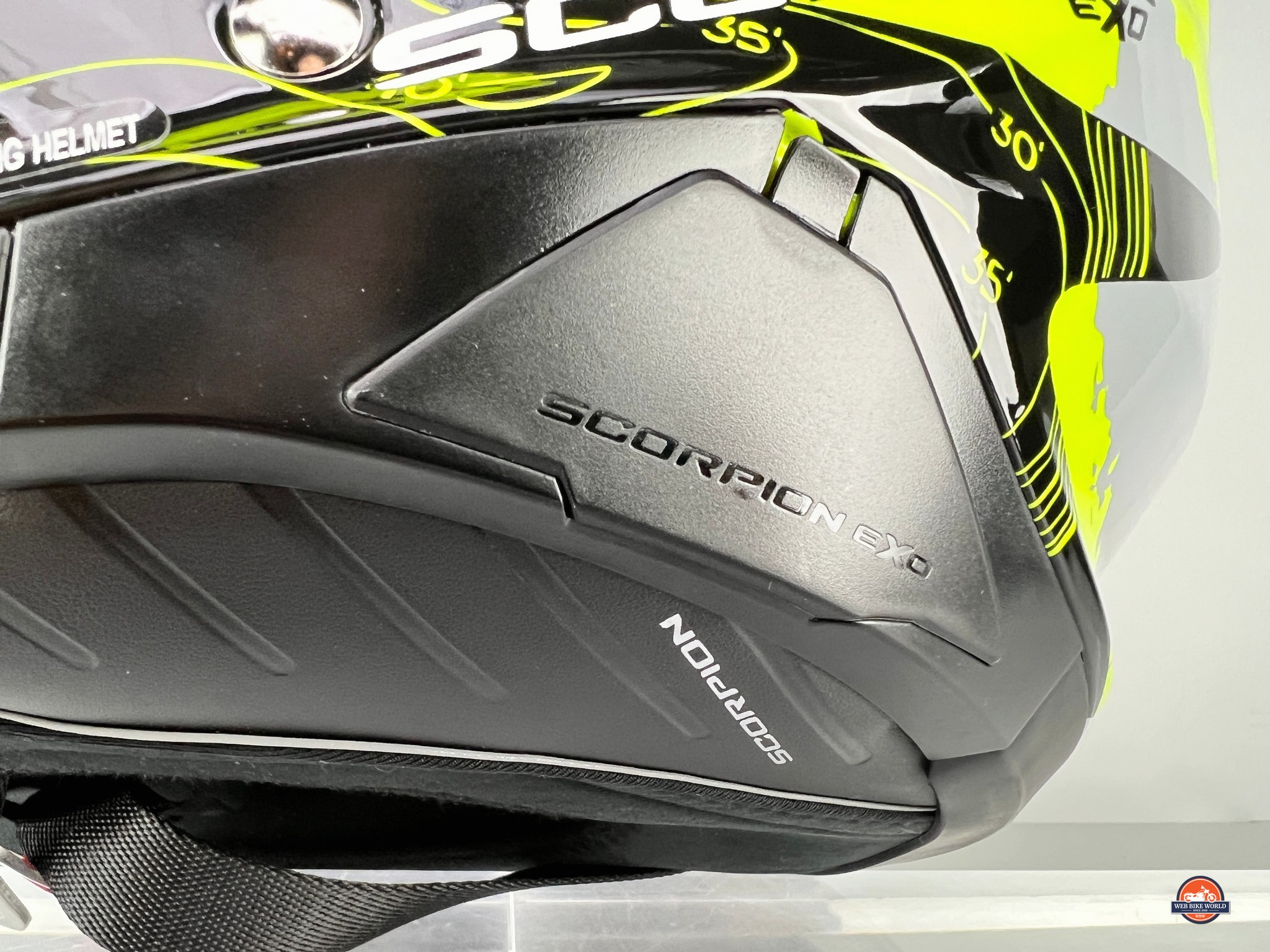 Scorpion designed the AT960 with specific pockets and passages in the shell to house their $190 EXO-COM® BLUETOOTH® COMMUNICATOR KIT which is built by UClear.  I haven't yet tested it myself but Brandon had some good things to say about it in his review of the Scorpion EXO-T520 helmet so I'll refer you to his findings if that's your chosen system for your AT960.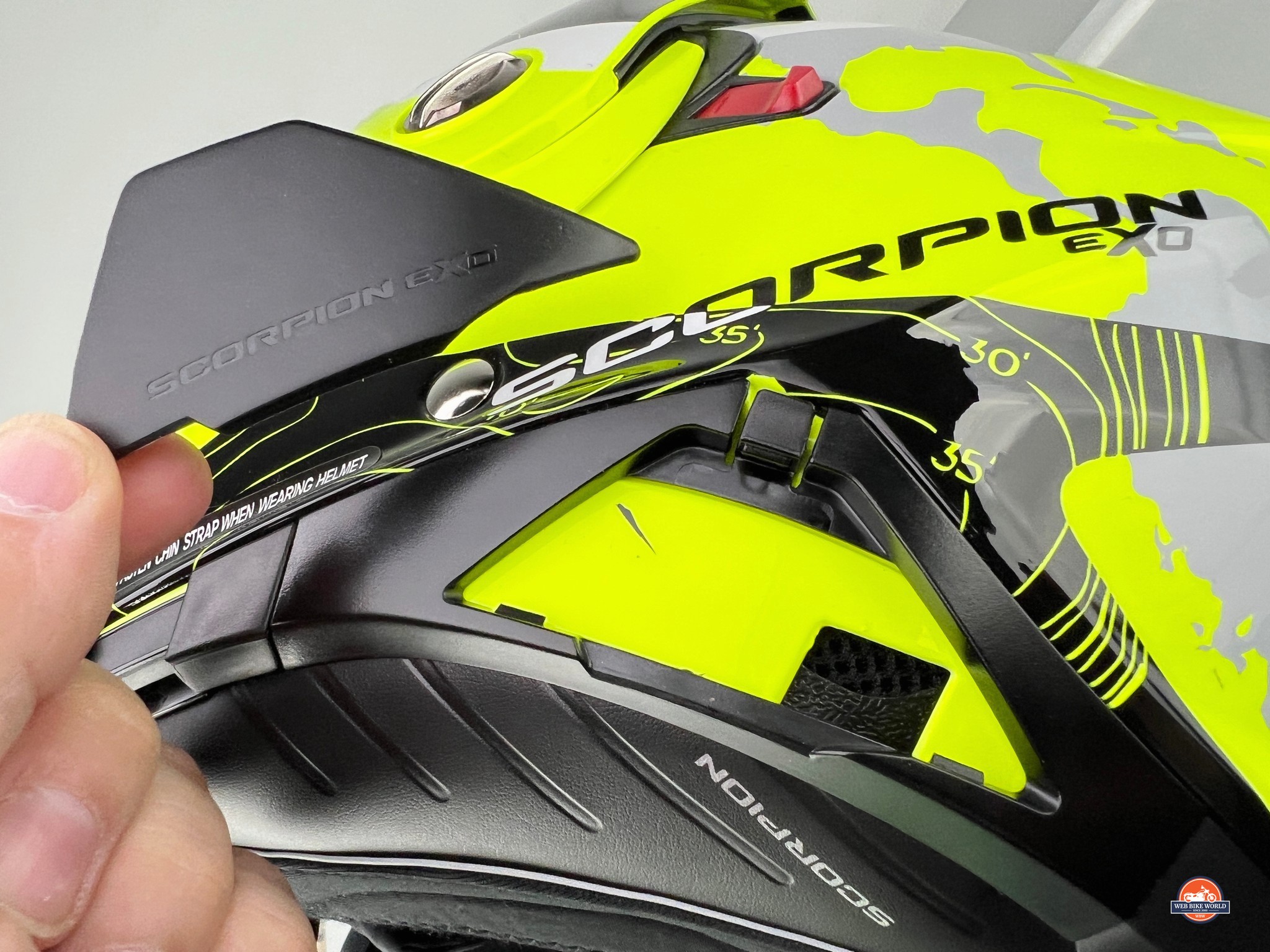 The Cardo Packtalk Edge is currently my highest recommended in-helmet communication system and I tested it in the AT960.  It was no trouble to install using the same passages and speaker pockets the EXO-COM normally would.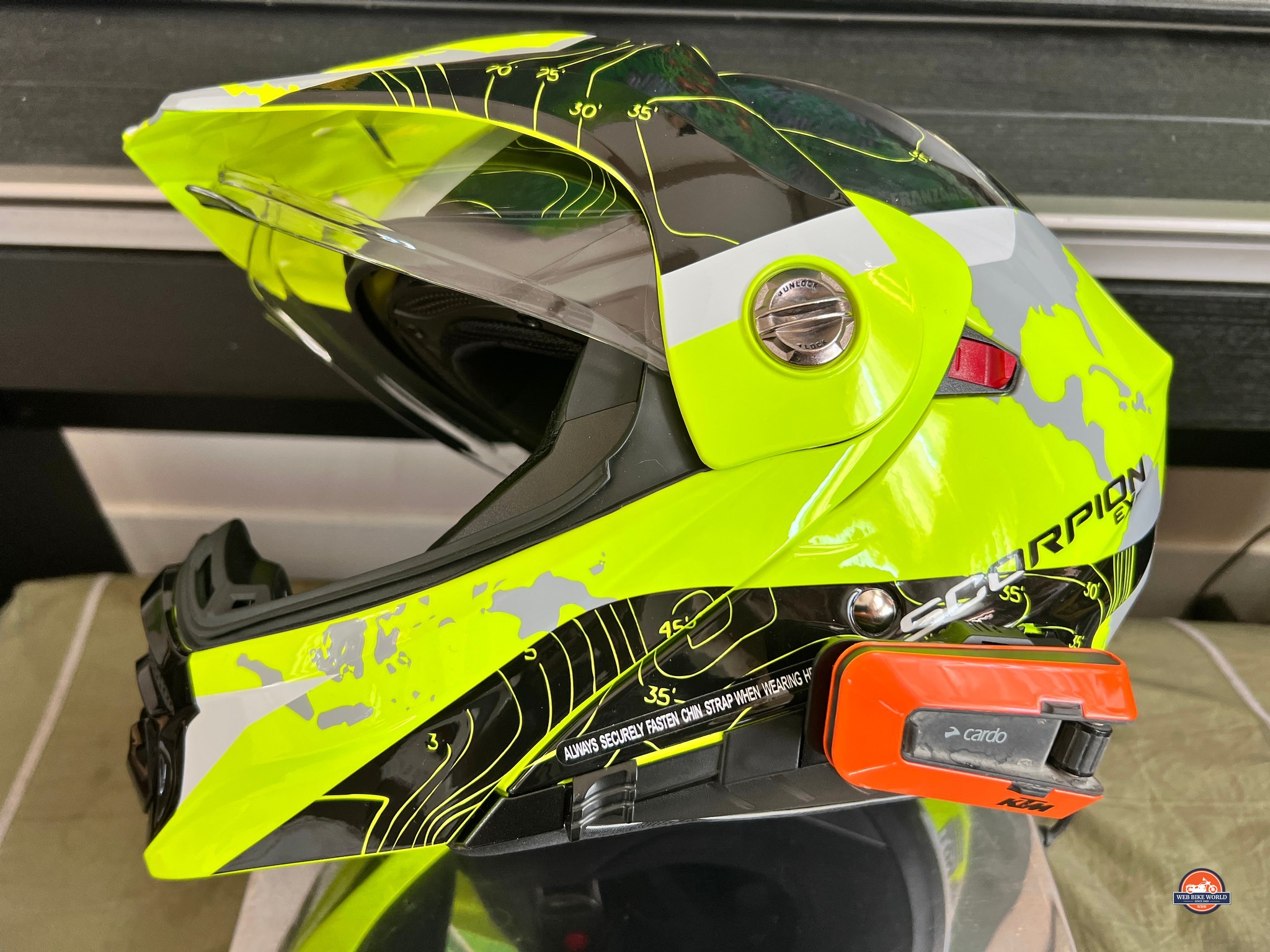 I did have to clamp the mounting bracket for the Edge 1.5 inches further back than I would have preferred due to the location of the slider switch for actuating the drop-down sun visor.  The adjusted location didn't cause me any grief since I always use voice commands to control my Cardo Packtalk Edge.
Speaker Pockets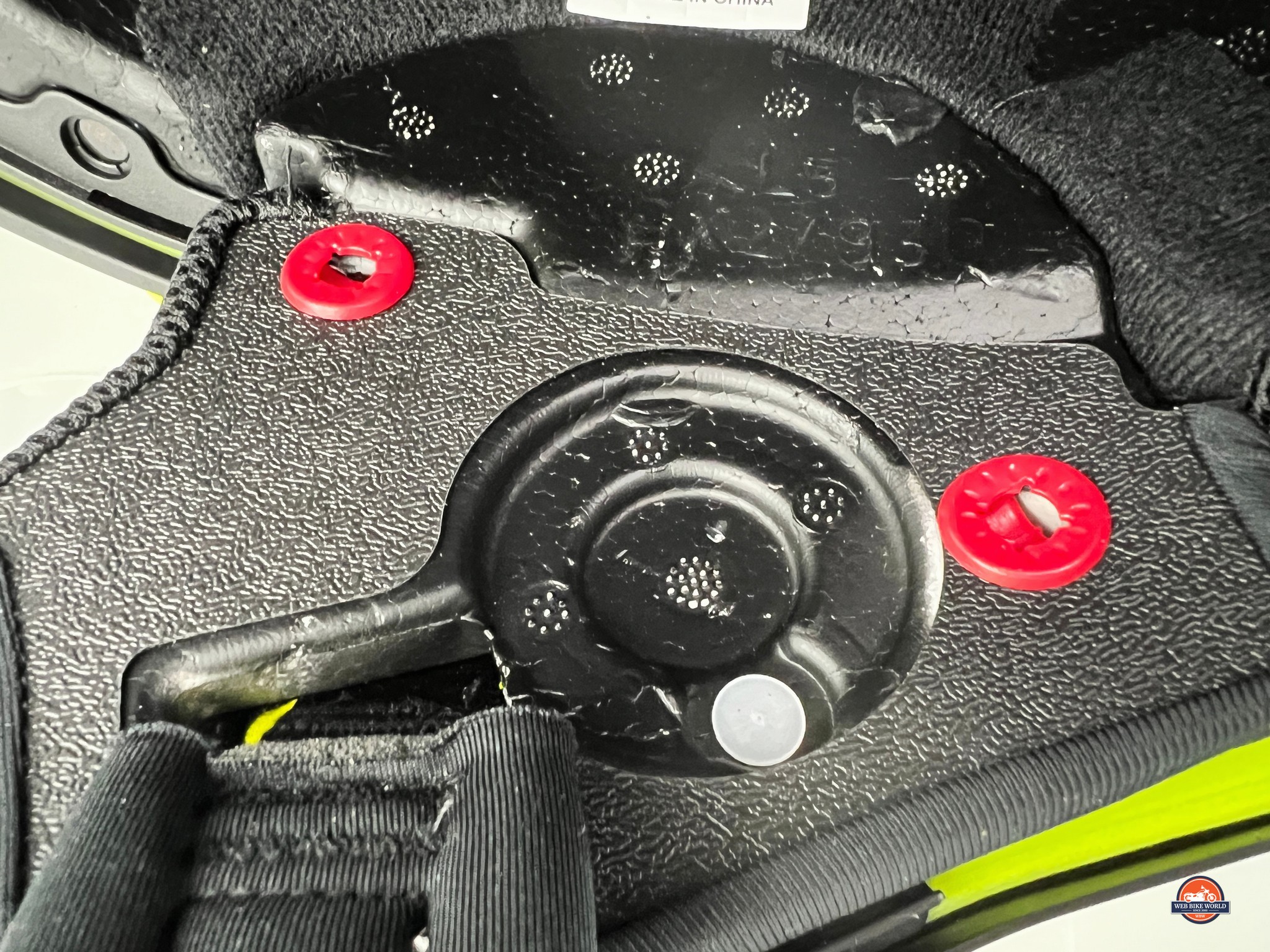 Microphone Placement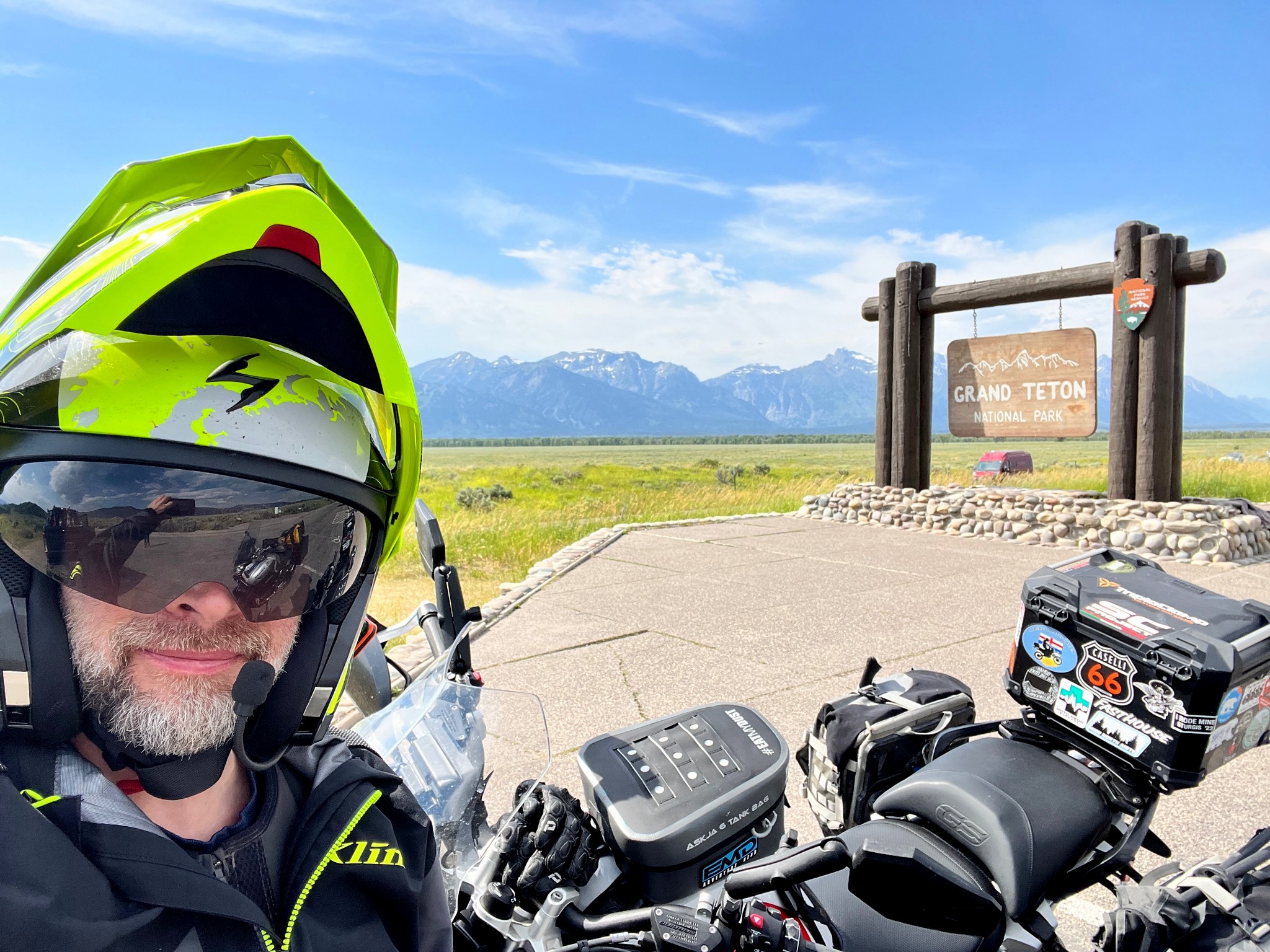 As seen in the photo above the boom mic for the Cardo PT Edge had to be positioned as shown in order to function well in the AT960.  I also had to turn the sensitivity all the way down in order to avoid disrupting everyone's music that was connected via MESH to me due to the wonderful chin bar airflow provided by the AT960.
From what I read in Brandon's review of the EXO-COM it comes with a high-tech mic that mounts in the cheek pad liners and it works perfectly without needing to be positioned touching the wearer's mouth.
Usually, my opinion on integrated comms systems is that it's a bad idea for manufacturers to go down that road because the integrated systems never fully measure up to the clamp-on style units on the market.  Until I experience something different that'll continue to be my recommendation about them.
Final Verdict
The AT960 isn't my favorite adventure helmet, or my favorite modular helmet, but it belongs in the discussion.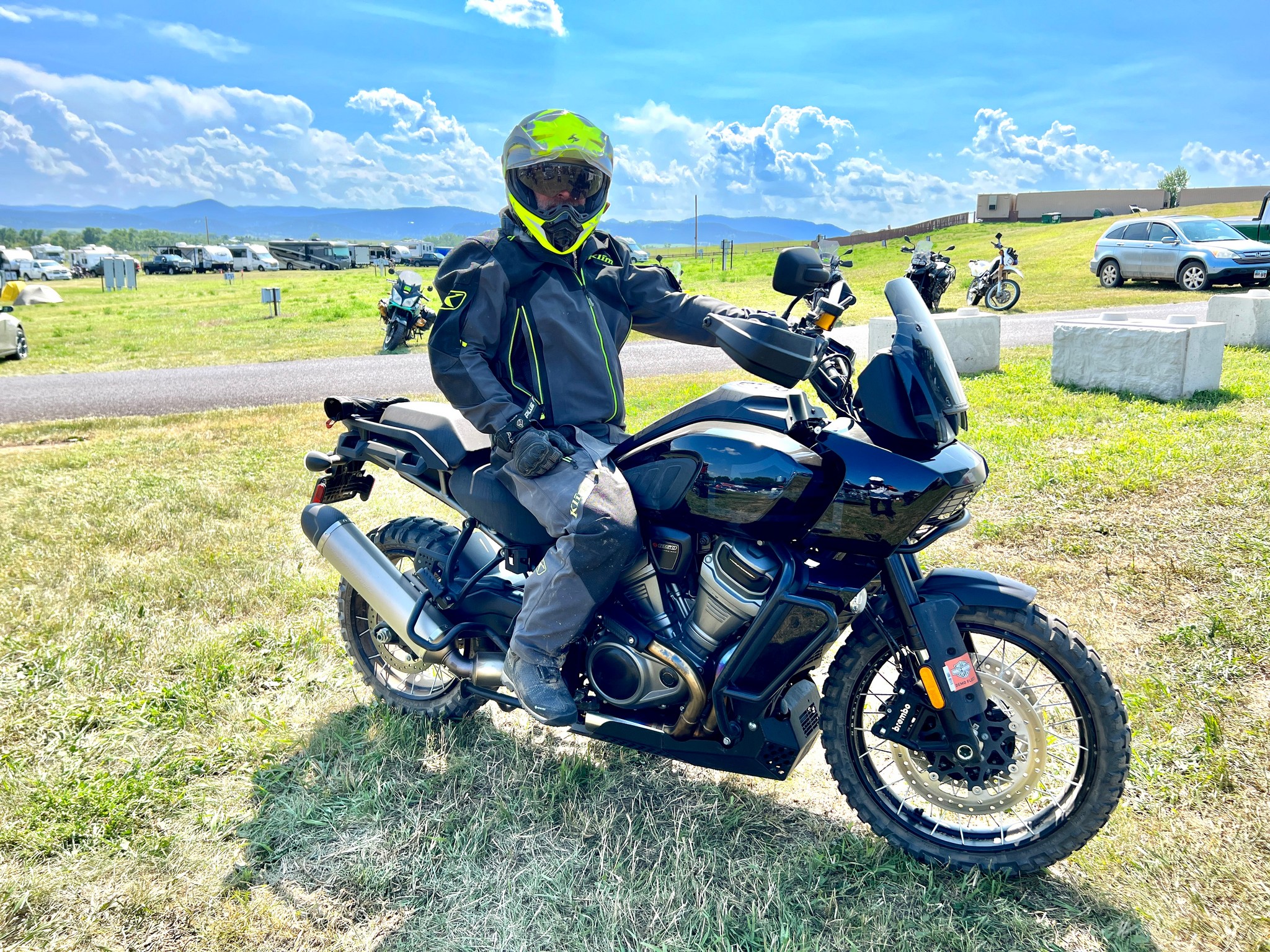 If I'd never tasted the proverbial caviar that is the Klim Krios Pro, or the Arai XD-4 then the AT960 might appeal to me more.  That might be my financial privilege speaking and I'm cognizant of the great price tag factor of the AT960, but I believe determining an honest score is relative to the level of the competition.  So my scoring and analysis are based on using the best features of the best helmets I've tested to gauge the AT960's caliber.
Don't get me wrong, the AT960 still gets the job done and has some smart features on it along with a solid safety endorsement from ECE to its credit, but that's not enough for me to make it my everyday headgear.
I'm still giving it a pretty solid score because my case against it isn't strong enough to condemn the AT960.  I just see untapped potential in it.
Please Polish the AT960 Diamond Some More
Scorpion is the best company for offering bang-for-your-buck gear and I believe they can do better.  This one needs a renovation but definitely not a complete gut and rebuild to make it a dream helmet.  It really is close to being great!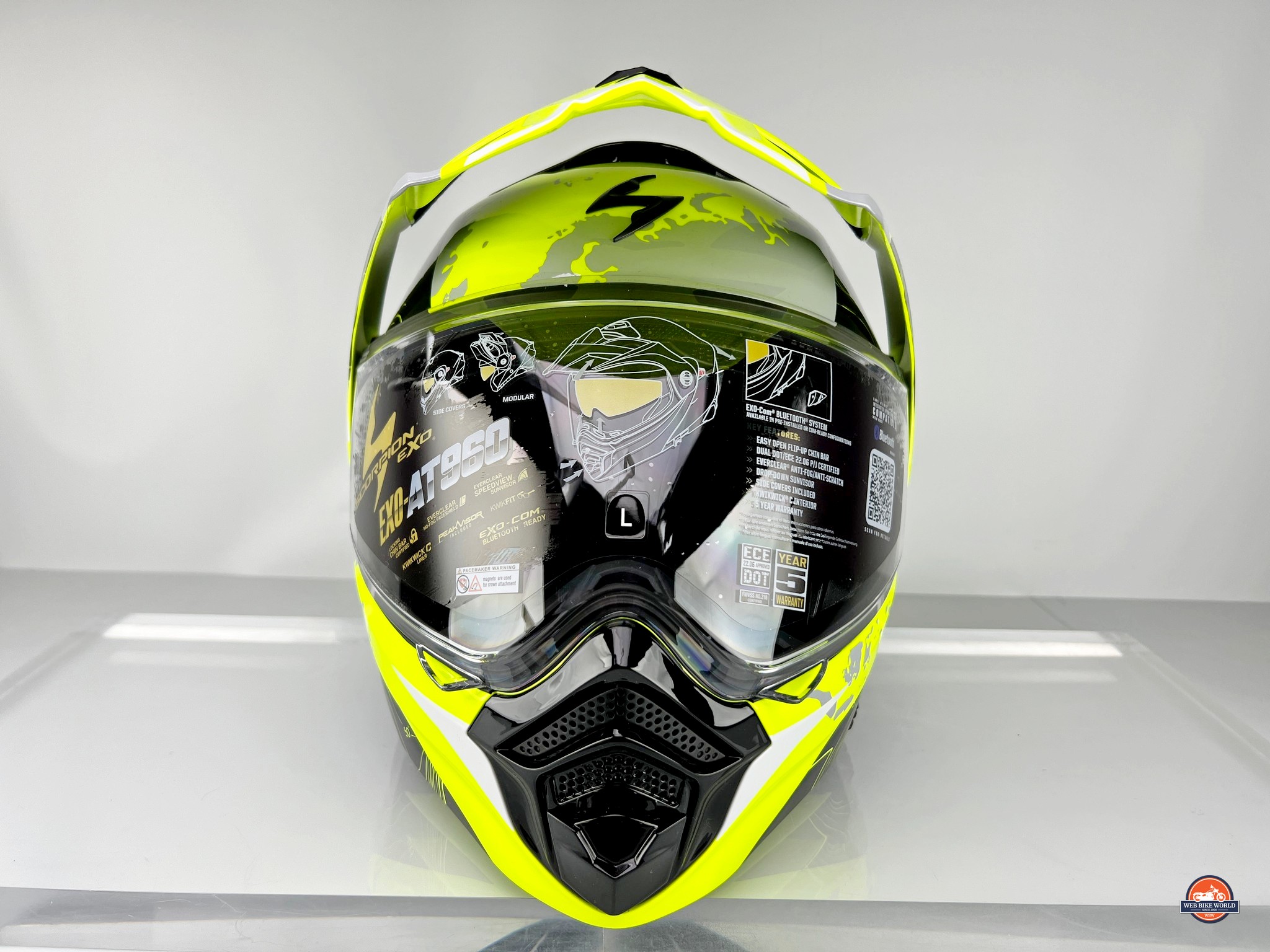 There's a great foundation to work from and I'd like to see them build an upscale version of it for riders like me who are willing to pay $500 US for a modular adventure helmet.  Maybe continue building this version for those who have more limiting budgets as well because that's the sensible thing to do.
My theoretical "AT960 Carbon, or AT960+" has got to weigh less than 3.5 lbs, and have a quality visor like the XT9000, a legit anti-microbial interior, and a sun peak that stands resolute even in turbulent airstreams.
Yeah… now that's an AT960 I would love to wear every day.
Pro
Affordable
Ventilation is above average
The eyeport opening is massive
Can accept Cardo or Sena devices
ECE 22-06 certification in addition to DOT
Visor has ok fog resistance without a Pinlock
Replacement parts are inexpensive
A good variety of Topographic colorways (4) are available
Convertible design to suit street or aggressive off-road riding
Cons
The external peak visor (sun shade) really vibrates in turbulent wind
Slider switch for drop-down sun lens position inconvenient for Cardo/Sena install
Anti-Fog visor coating is inferior to a Pinlock system
Heavy helmet at 4.16 lbs (1.88 kg)
Visor leaks like crazy in the rain
Chin bar latches/drop-down sun lens can freeze up in dusty conditions
The comfort liner gets "funky" quickly and requires frequent washing
Specs
Manufacturer: Kido Sports
Price when tested: $299 US
Made in: China
Sizes: SM to XXXL
Colors: 4 options
Safety Designations: ECE 22.06, and DOT FMVSS 218
Review Date: August 2023