Simpson Mod Bandit Review Summary
Review Summary
The Mod Bandit is like a modified Ghost Bandit equipped with a hinged (modular style) chin bar and a better visor quick release system. Super lightweight, aerodynamic, stylish, well ventilated and built in the USA, it's also priced competitively.
Pros
Excellent ventilation
Aggressive Simpson style
Ultra lightweight by modular standards
Reasonably priced
Durable finish on shell
3 styles of PinLock ready visors
Optically clear visor and integrated sun lens
Easy to use visor quick release
Comfortable fit for intermediate and long oval head shapes
Bluetooth systems install easily
ECE and DOT certified
Cons
Round oval heads don't fit well
Noisier in sport riding position
Visor isn't infinitely adjustable
Chin strap flap
Simpson Mod Bandit Image Gallery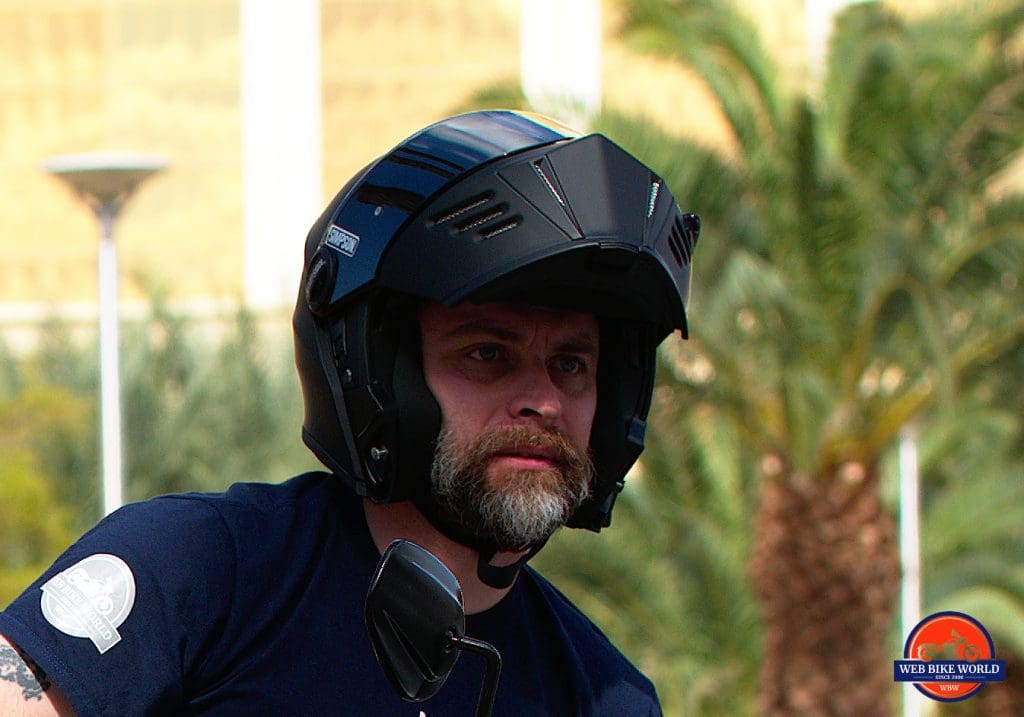 I stopped by the Simpson booth at AimExpo last week to see what they had in store with their unmistakably stylish line of helmets. I was surprised to be presented with the announcement of their first modular helmet design called the Mod Bandit.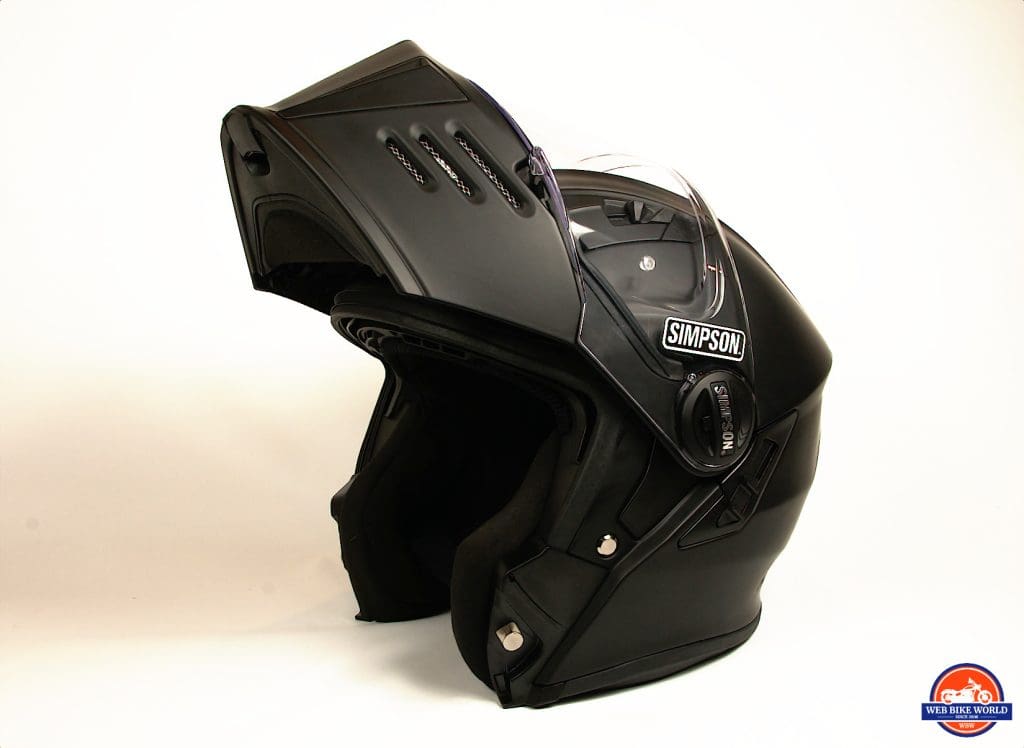 I knew right away this posse of Simpson representatives visiting from New Braunfels, Texas needed to let me be the first to review this beauty of a helmet. I want to thank them for obliging me in that request. Without hesitation, they gladly handed over their newborn modular into my care for a helping of in-depth analysis and testing.
Thank y'all very much!
[Jahid CTA]
First Impressions
Everyone's Crazy 'bout A Sharp Dressed Helmet
I love the fact this helmet doesn't broadcast its modular design.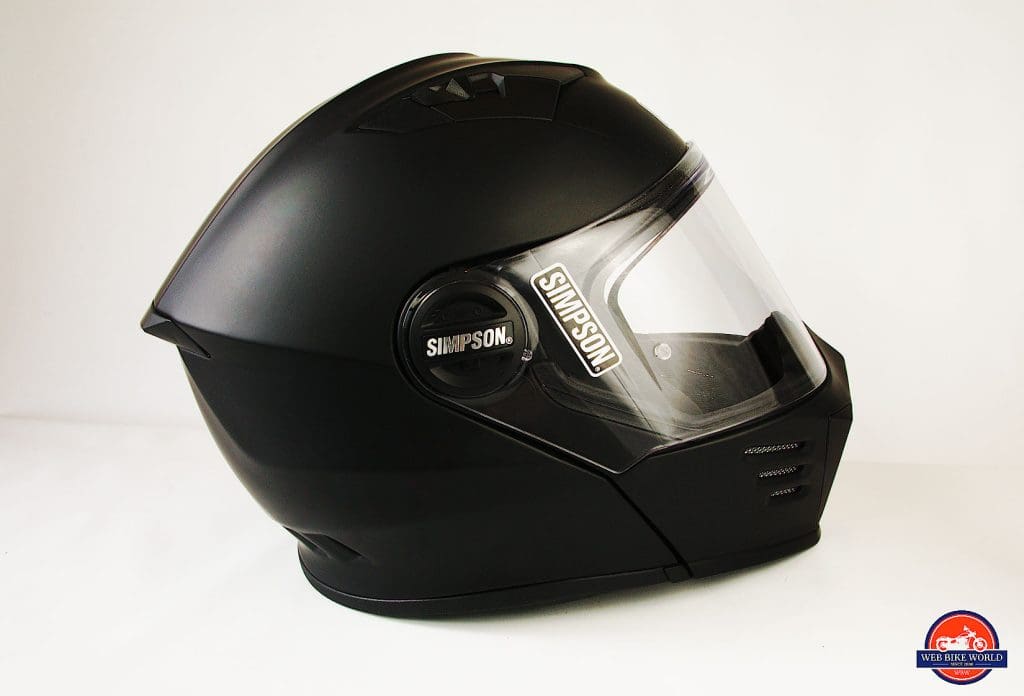 Yes, the tell-tale seam is still there on each side of the chin bar, but it's hard to notice them because of the pair of contrasting chrome colored mesh slits running parallel to the chin bar set against the black shell on each side. These vents appear slightly whisker-like as if this helmet is the face of a black panther. That idea is furthered by the vertical slits on the front-center section of the chin bar too. They look like fangs to me… so awesomely badass and distinctly Simpson.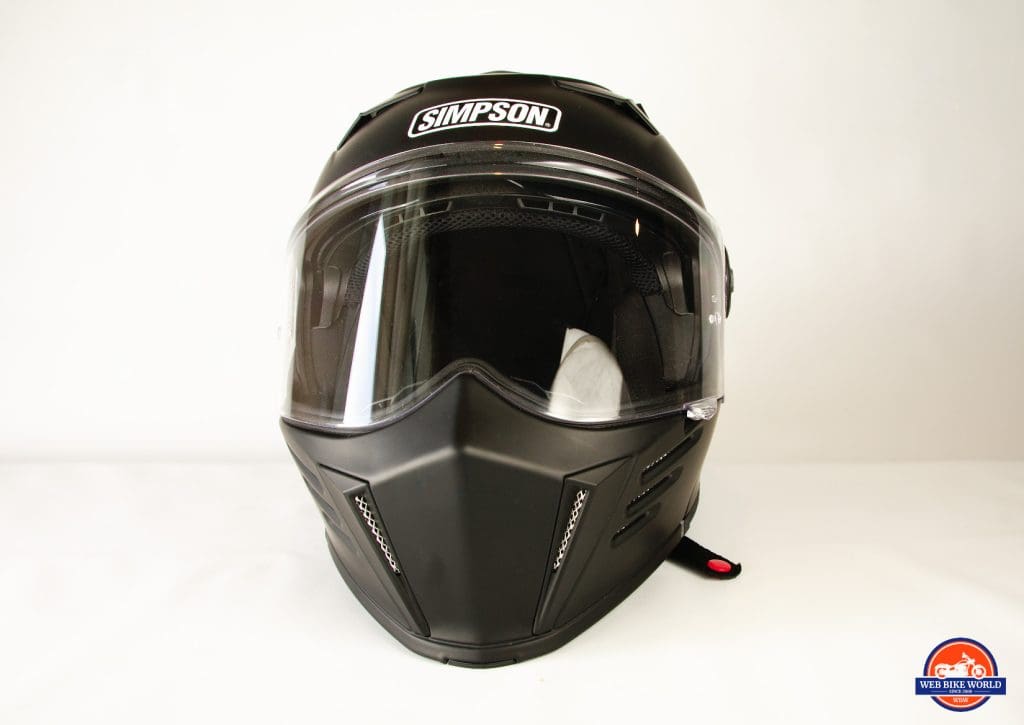 Light As A Feather
This helmet is close to being the same weight as my AGV Sportmodular Carbon and is much lighter than either the Shoei Neotec II or Schuberth C4! Review AGV review, C4 review, Shoei Neotec II.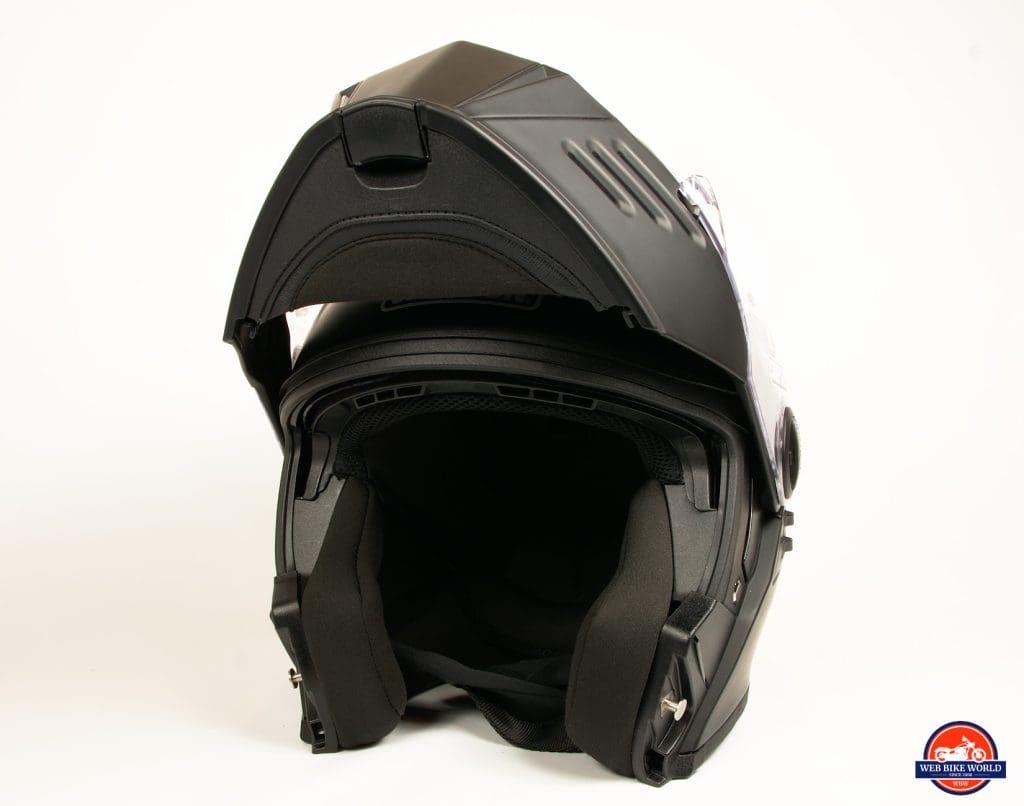 I weighed the Mod Bandit myself and found it rung up 3 lbs 5 oz thanks to its tri-composite shell combined with a polycarbonate alloy chin bar design. There's also a carbon fiber version coming which I have to believe will weigh exactly the same as the lightest in class 2.85 lb AGV Sportmodular does.
Is Simpson really calling out AGV, Shoei, and Schuberth to a shootout at high noon with the Mod Bandit?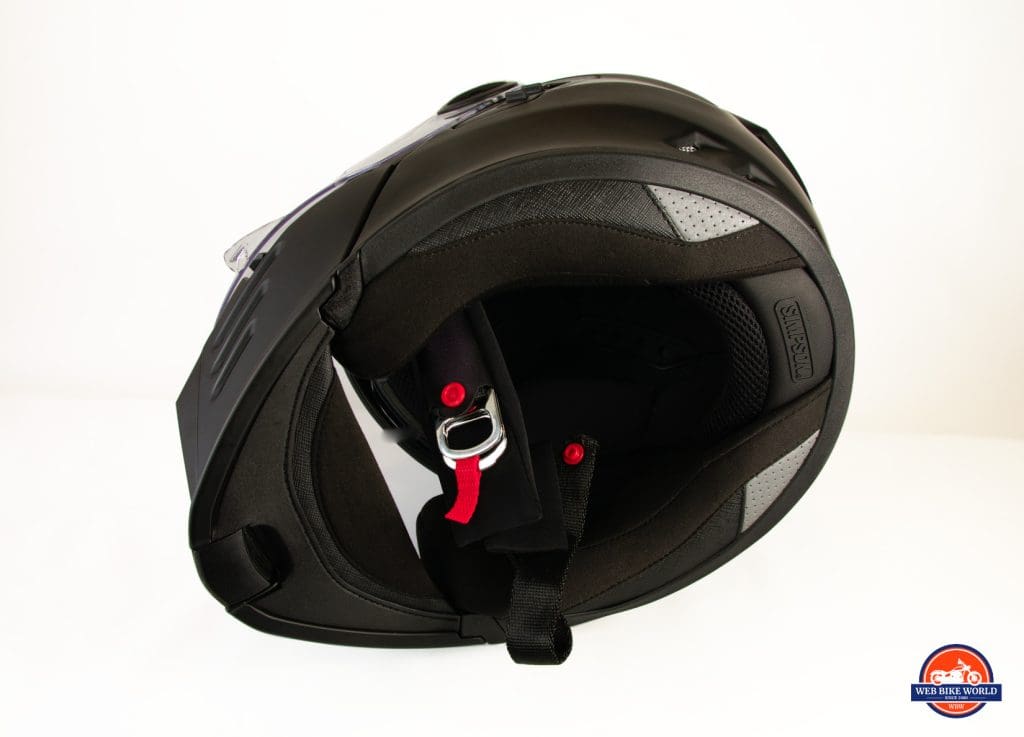 Donning this Simpson is a breeze compared to the AGV. I like the larger width of the opening on the bottom and the fact I don't have to lift up the chin bar in order to install the helmet on my head.
Shell Coating
This is a matte black helmet featuring a rubbery coating. It provides a reliable, non-slip grip while handling the Mod Bandit which I appreciate in a lightweight brain bucket. I sometimes find it easy to bobble and drop helmets.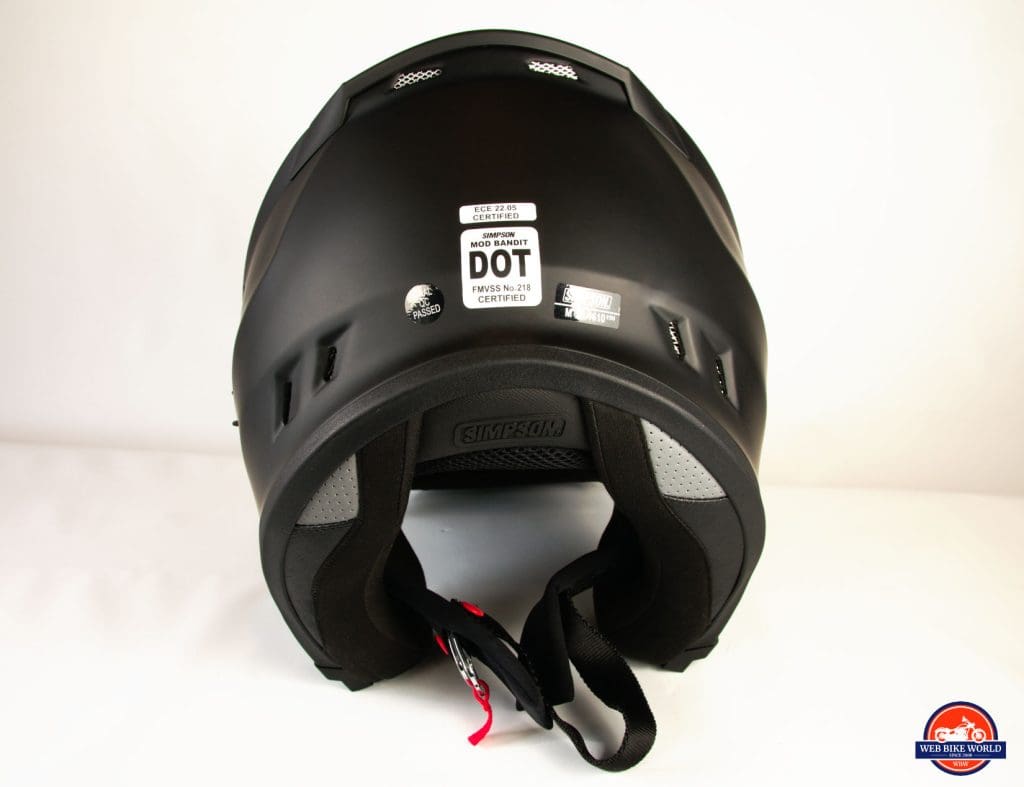 The matte finish means fingerprints show up easily if you have sweaty hands or just finished polishing off some delicious Texas BBQ, so I found myself cleaning the helmet exterior fairly often to keep it looking good.
Tough Stuff
I'm pleased to find this matte coating proved to be tougher than others we had problems with in past reviews. In particular the Shoei Neotec II and Schuberth C4. Those helmets both seemed to develop blemishes and scratches even with claimed careful handling on our tester's part. On the other hand, it was Cam involved in both incidents and perhaps he just had too much red meat in his diet or something at that time.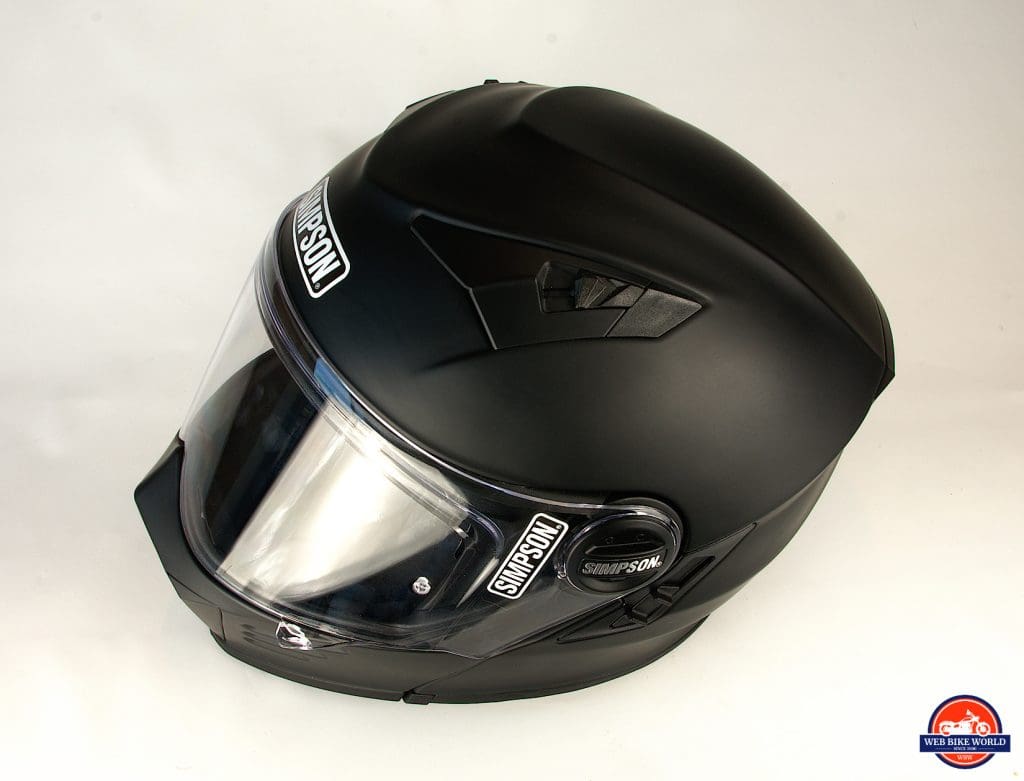 At any rate, I didn't manage to turn this Simpson into a scratch and dent special item during my review time. When I was bringing it through customs at the Las Vegas airport the security officers weren't especially gentle with it while sending it through the X-ray machines either.
Branding
The Simpson logo is classy and strong looking to me. I found the usage of it on the helmet was just enough to let you know who built it without being distracting from this headgear's focal style points.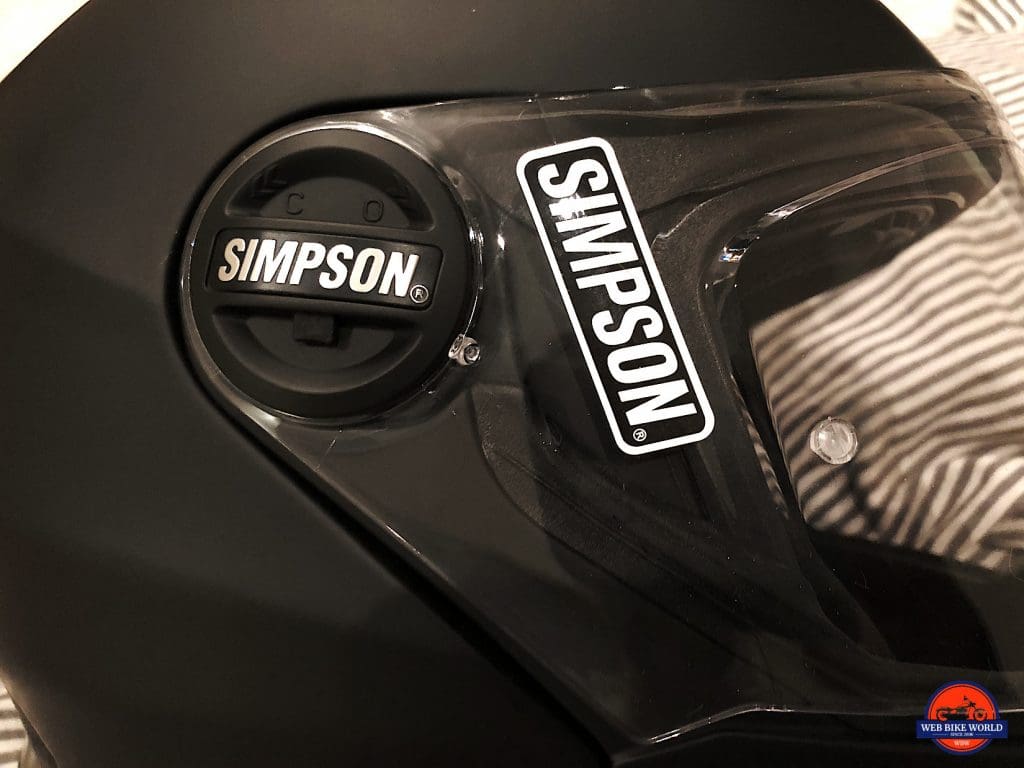 The logo on the front is just a sticker that isn't clear coated and I wonder how long it will take to start peeling back when exposed to heat, rain, and wind. So far so good, but it's only been about 500 miles of perfect sunny weather.
Visor Quick Release System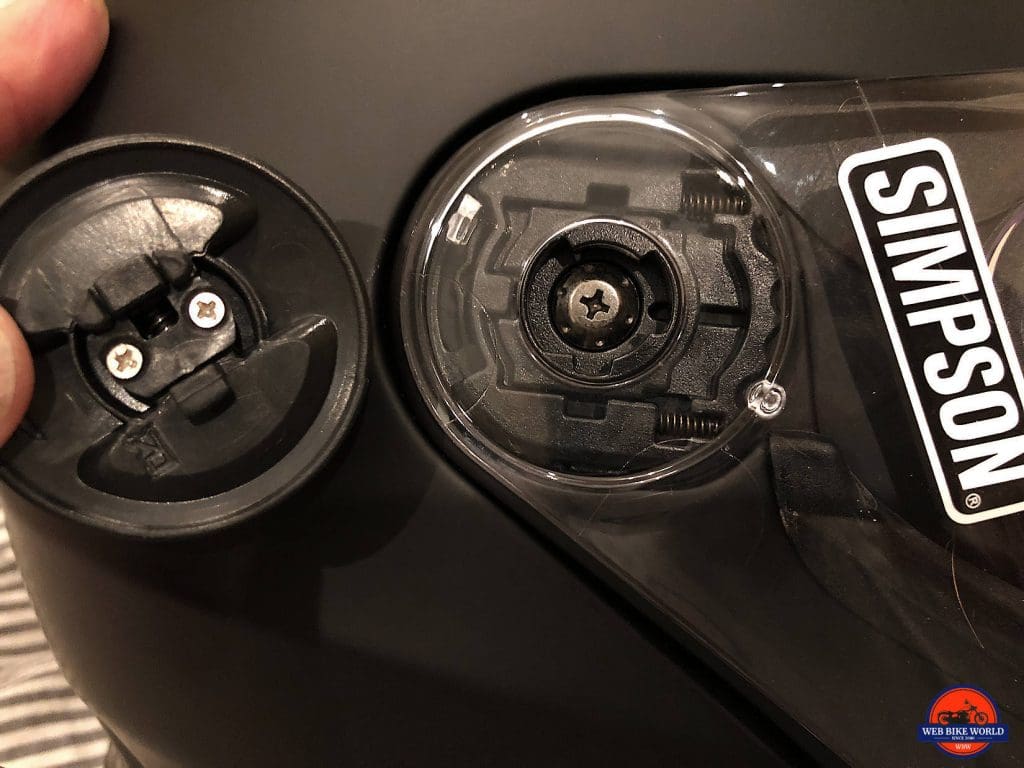 While at AimExpo I spent some time learning how to solve the mechanical riddle that is the Arai visor retention system. People who are used to it make it look easy to remove and install, but believe me when I say you have to hold your tongue just right and practice in order to do it smoothly.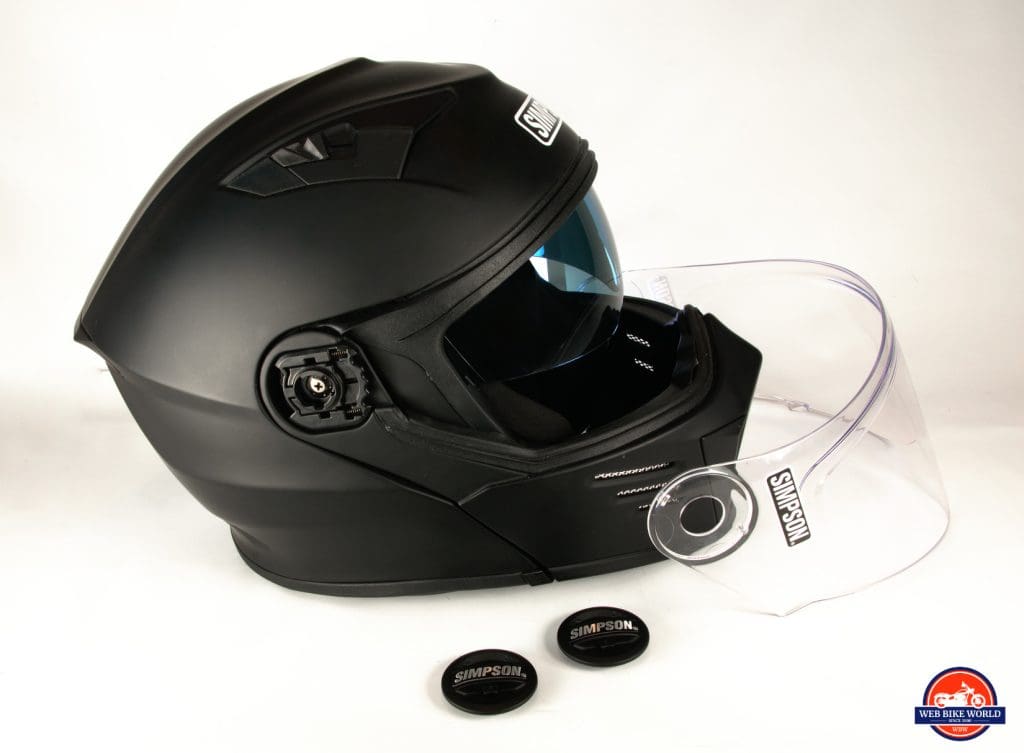 This Mod Bandit system, on the other hand, is straightforward. Each side of the visor has a round retainer that twists 90 degrees to either lock or unlock the visor retainers. These plugs have spring loaded detents to keep them from falling out giving peace of mind to the user. The system is close to idiot proof because when locked the Simpson name will end up parallel to the ground running left to right. Nicely done! It's not possible to install them wrong from what I found.
Visor Positions
Another feature done right on this Simpson is the way they set up the slightly open visor position rest.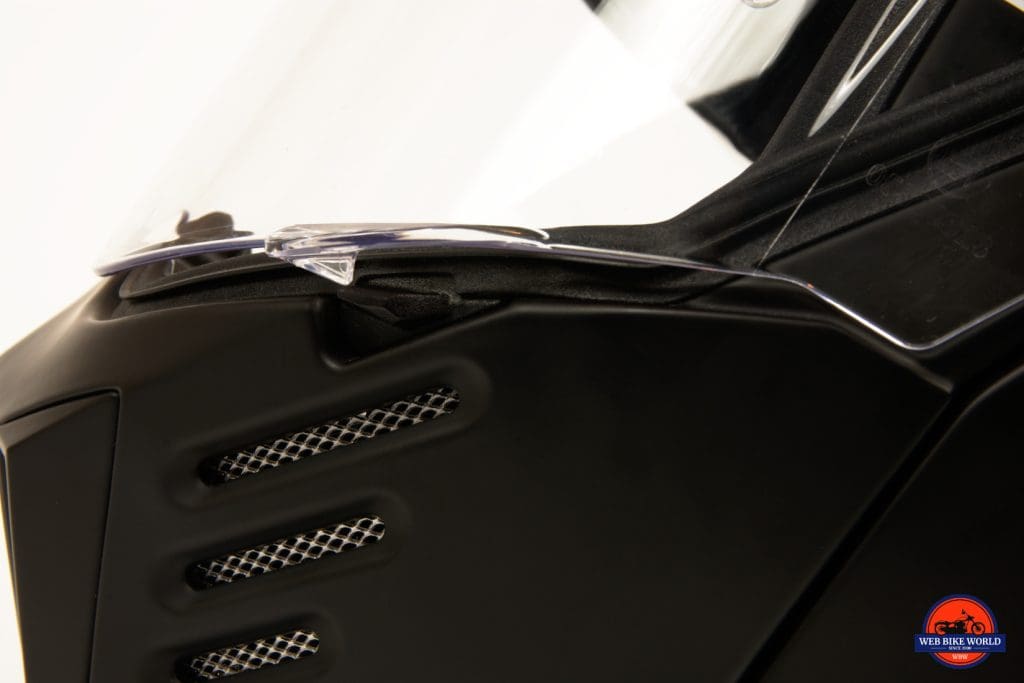 There's a small plastic stop on the left side that is fairly effective at keeping the visor cracked open about 1/8 of an inch providing copious amounts of air into the wearer's face when desired.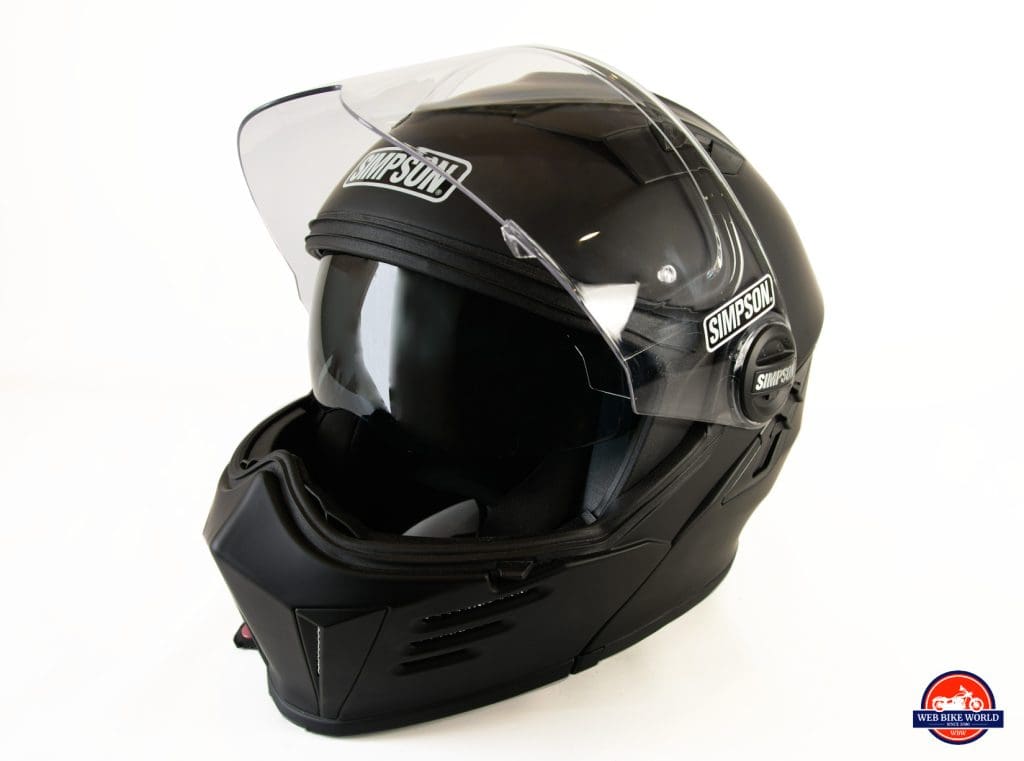 The large lip on the left side of the visor for lifting it up is quick and easy to use even when wearing gloves while flying down the road. When I pop open the visor it automatically stalls open thanks to the small bump it rests on. The wind pressing on the visor is what keeps it propped open, and I found when I wanted it closed all it took was a flick of my left hand to overcome the stop.
On a naked sport bike or any other where your face is right out in the wind blast, you'll have to ride faster than 90 mph in order for the wind to eventually win out and close the visor in my experience. On one with a fairing, it should stay open nearly indefinitely.
Bumps In the Road
Having said that, I found riding over bumpy sections of road would gradually knock the visor shut after a time and I'd have to re-open it. I'm still rating this feature as excellent comparatively. The C4, Neotec II, and AGV modulars' visors won't stay open once the wind starts flowing even at low speeds across them while the Simpson visor will stay cracked open at all regular, legal speeds.
The former three helmets have a smoother visor adjustment and infinite ranges of open positions on their visors whereas the Simpson only has 4 positions above open.
Visor Points
Seal
A large, flexible rubber seal runs around the perimeter of the visor, but I didn't get the opportunity to test it in the rain. This time of year it's more likely to snow here at home and in Vegas, well… good luck with that. In looking at it I would wager to say it would seal just as well as any other quality helmet on the market.
It worked perfectly at keeping the wind out and didn't cause whistle at any speed.
Visor Options
I tested the helmet in Vegas with the smoke or dark tint visor option. When combined with the inner sun lens I found it perfect for out in the bright desert of Nevada, but too dark when I rode through a tunnel.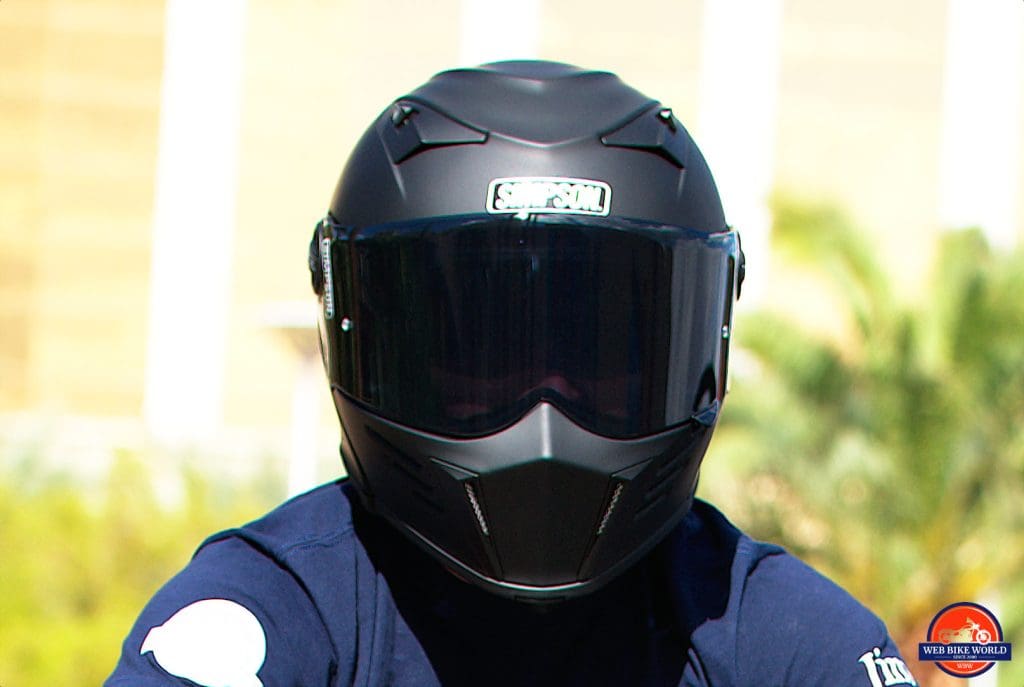 When I took the helmet back home to continue testing it was equipped with a clear visor which I prefer overall leaving sun protection solely to the integrated lens. Having said that, I prefer the looks of the smoke or iridium visor. This helmet will ship with the clear visor from the factory.
There's an iridium visor made to fit the Mod Bandit available for $80 while the smoke one is $60.
Integrated Sun Lens
Optically I found no issue with the visor or integrated sun lens. They were obstruction and flaw free.
The eyeport view is great and provided the peripheral view I expected.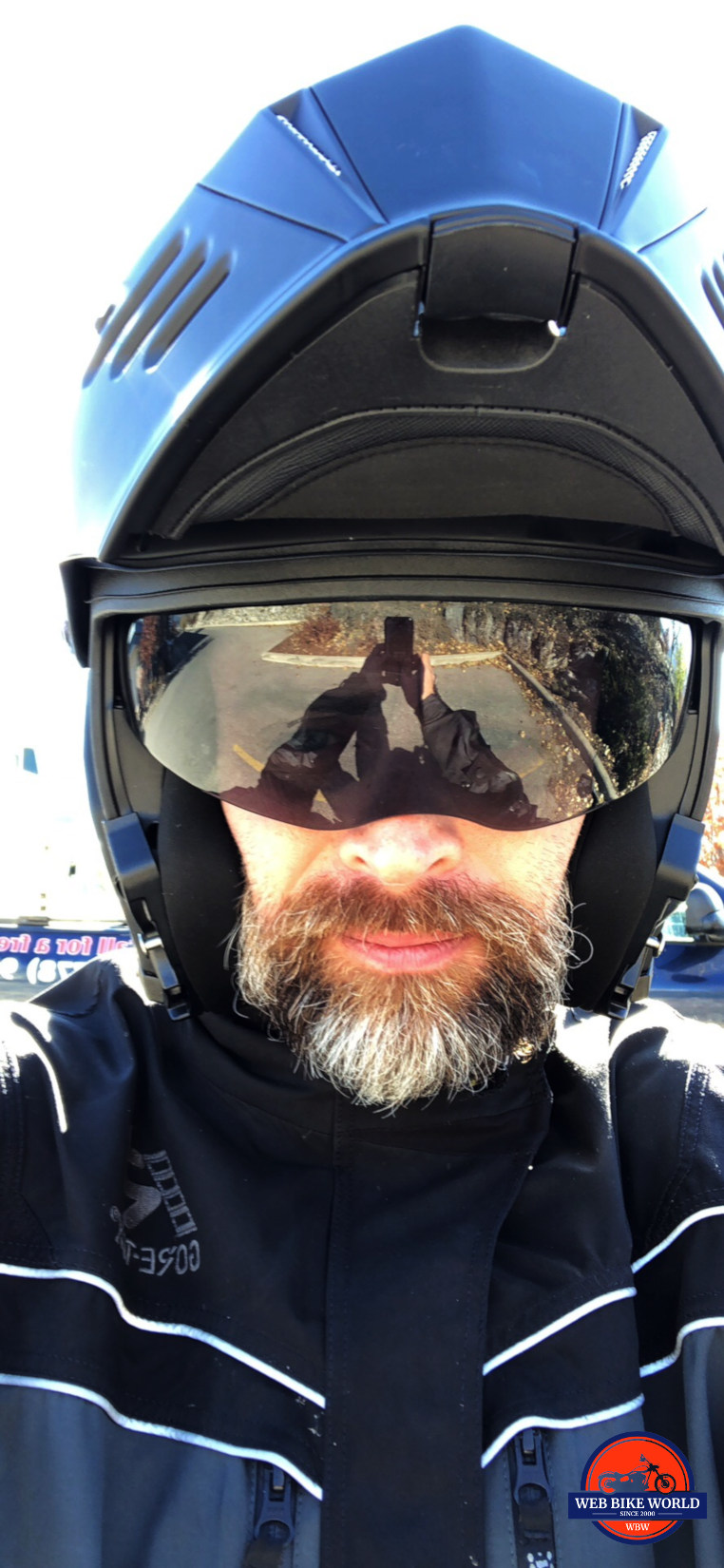 The sliding switch for lowering or raising the sun lens is located behind and slightly lower than the pivot point on the left side of the visor. That makes it a little slower than average to locate quickly while riding since most other helmets have it down on the lip of the shell other than the Neotec II which is like the Simpson in this regard. I much prefer having it up off the lip of the shell because having it down there can interfere with the installation of clamp on style BlueTooth units.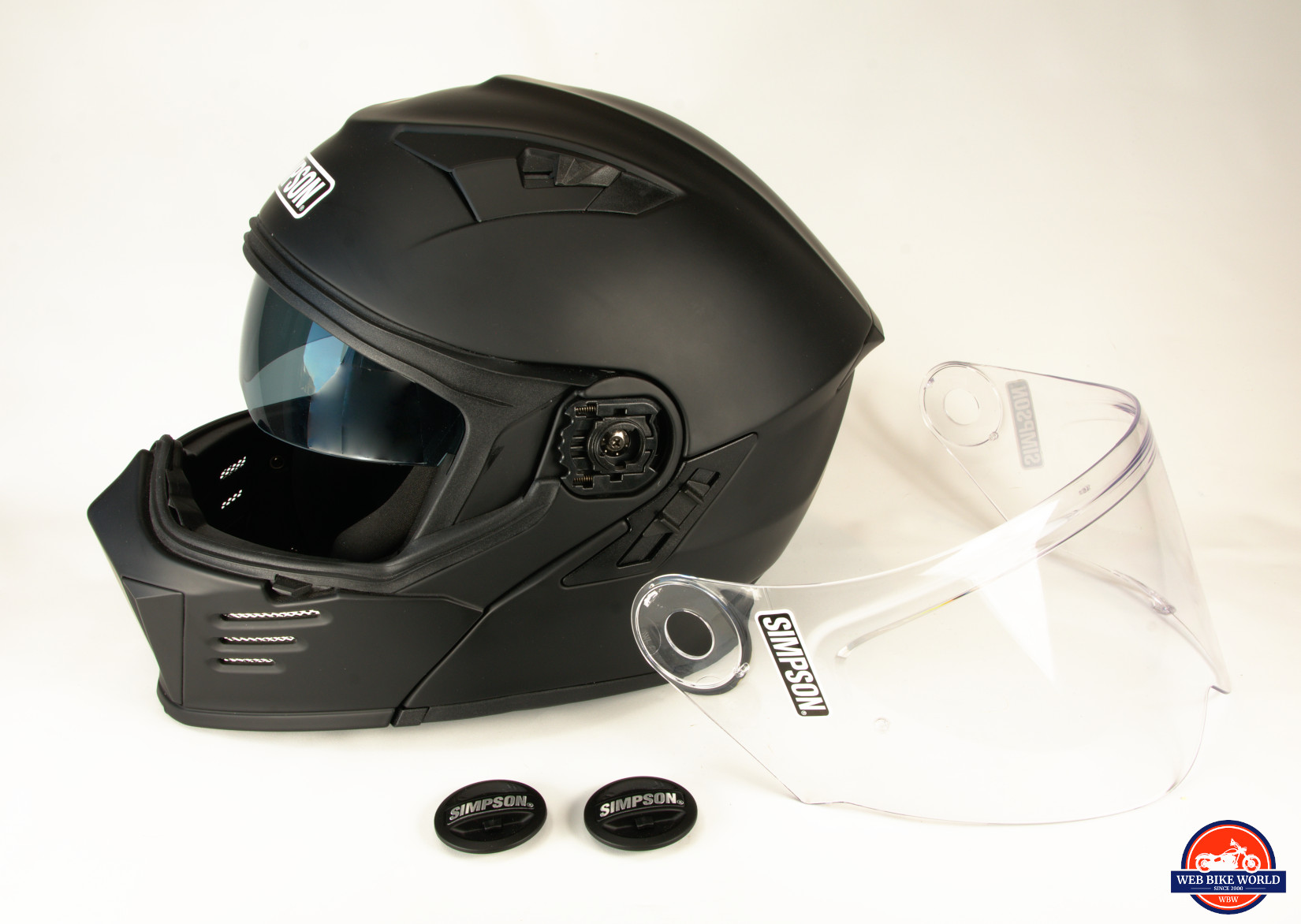 I find the action on the slider switch a bit stiff, especially compared to the C4 which is smooth like whipped butter. This one on the Mod Bandit works well and has friction points at the top and bottom of the slide to hold the lens all the way extended or retracted. I did find in the fully lowered position the lens would nibble on my nose the same way it does in my AGV Sportmodular, but I prefer that much more than if it didn't come down far enough to cover my full field of view.
Simpson did this right too.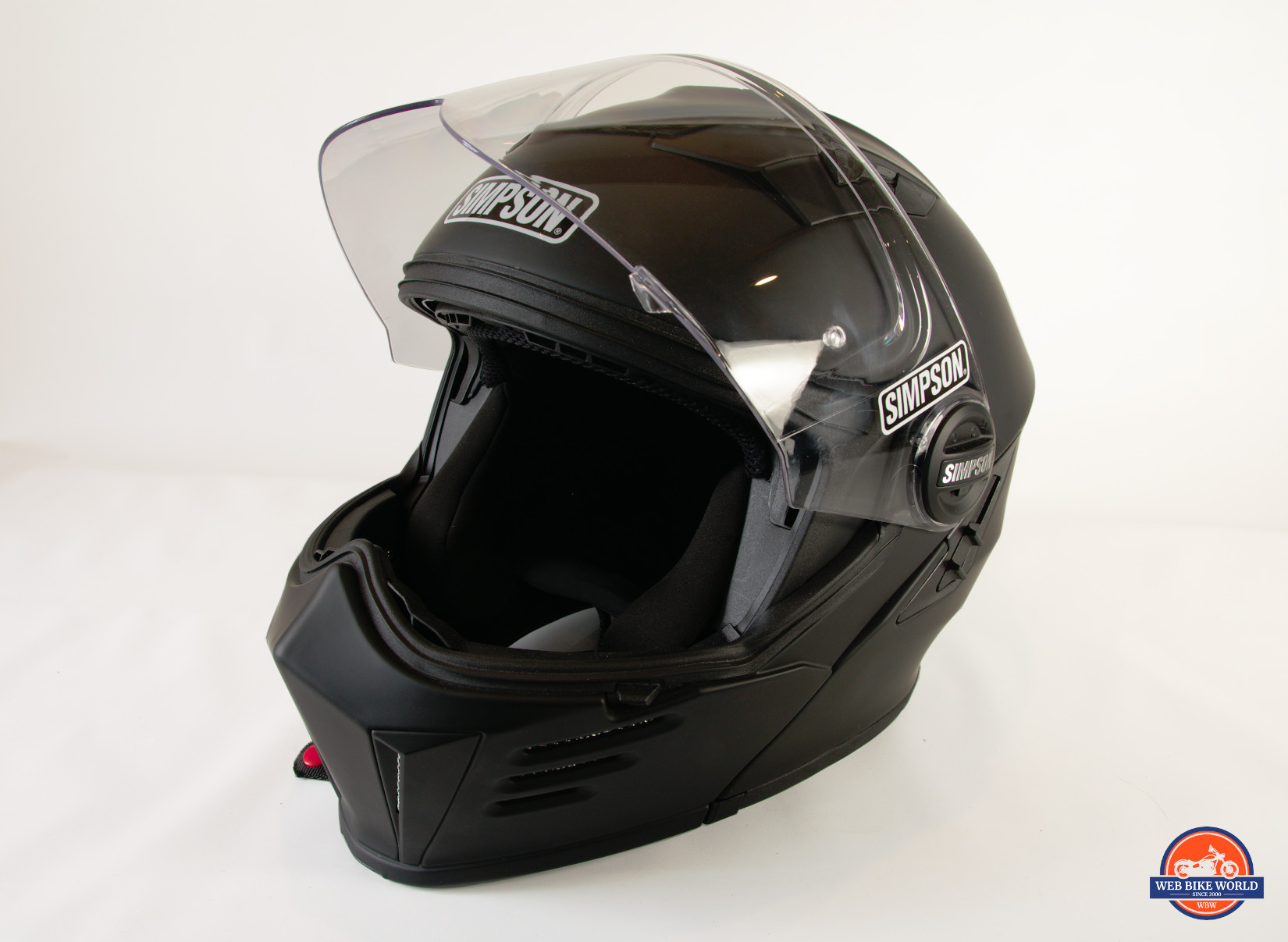 PinLock Ready
The visors all come with the necessary holes used to install a PinLock shield. It's a shame it doesn't come with the helmet already because that would really give great value for the price.
I found little to no problem with fogging in the 85-degree weather I tested the helmet in while in Vegas, and when I got home I was able to test it in cooler temperatures down to 42 as well. The only time it didn't clear fogging was when I was at a standstill and purposely exhaled through my mouth into the completely closed helmet. As long as I was moving the airflow through the helmet kept it clear.
I would still recommend opting for the PinLock if it's in your budget, especially if you live in a humid climate.
Venting And Airflow
I already touched on the excellent airflow made possible by the cracked open visor rest, but what about when the visor is fully closed?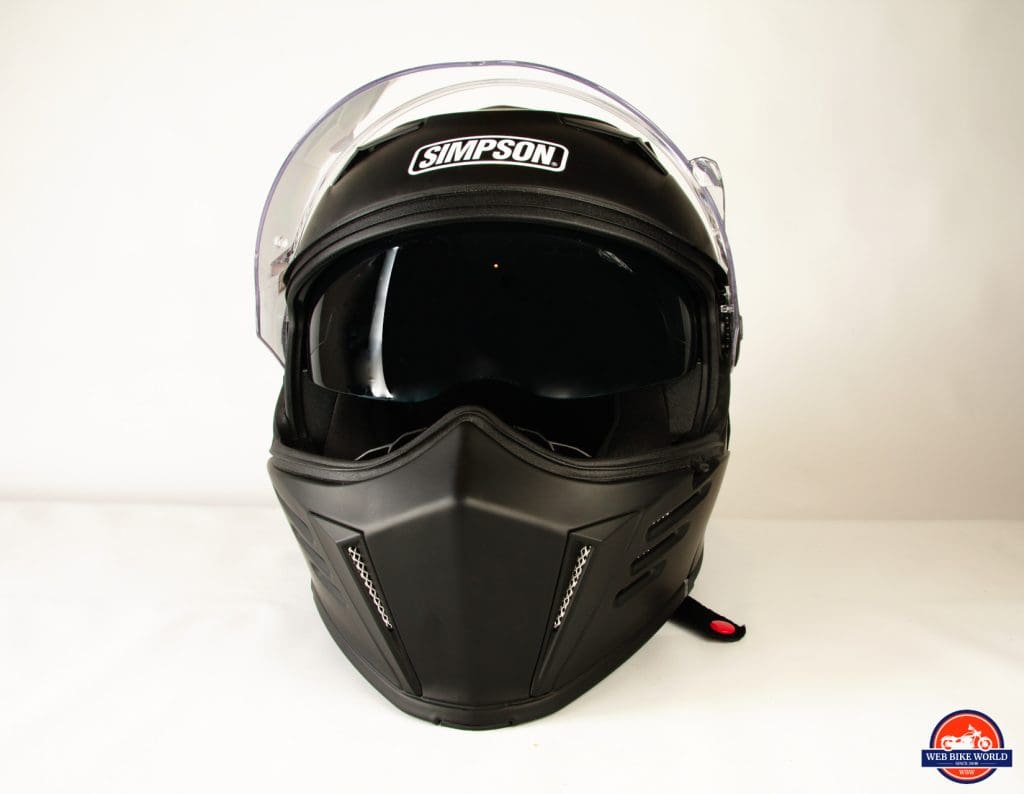 Those four chrome colored, mesh slits on the chin bar are excellent for allowing the rider to breathe easy. The four "whisker" ones are always open and flowing air up to orifices in the chin bar to help prevent fogging, but it also cools the rider's face at the same time.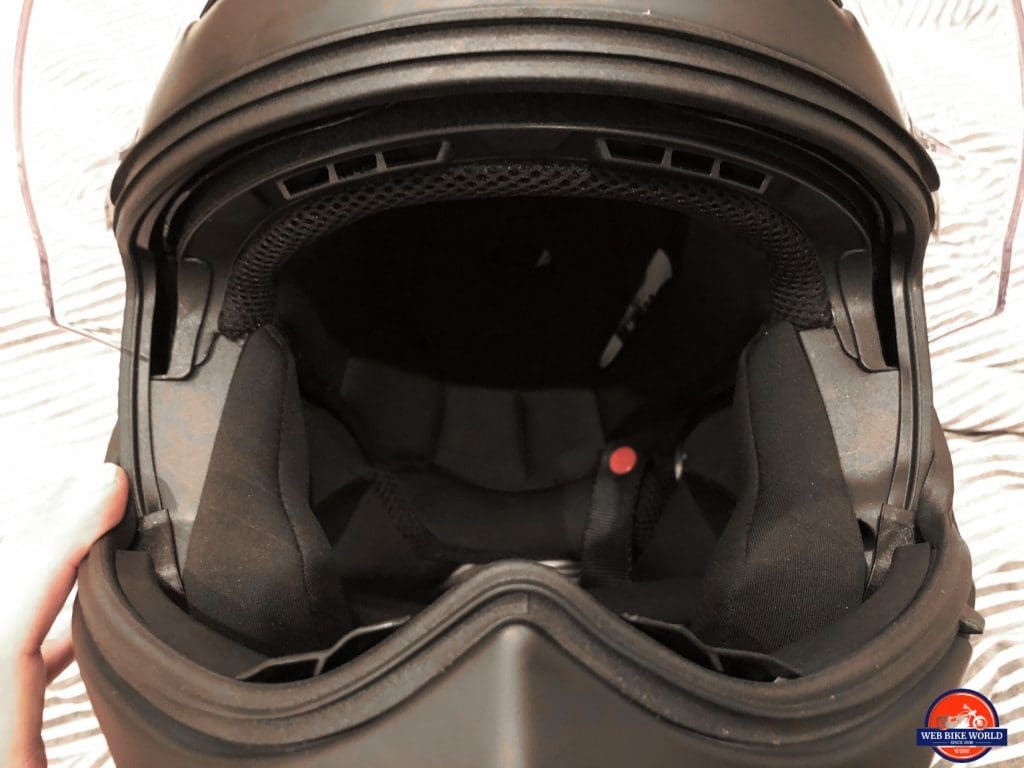 The "fangs" have actual sliders on the inside of the chin bar that can be opened or closed with some effort because you have to reach past the chin curtain to move them. It would be way easier if the sliders were located on the outside, but that would spoil the look.
The chin curtain is made of neoprene and seals very nicely around my chin to keep airflow coming only through the fang and whisker vents on the chinbar. It is removable if you prefer not to have it there.
Upper Vents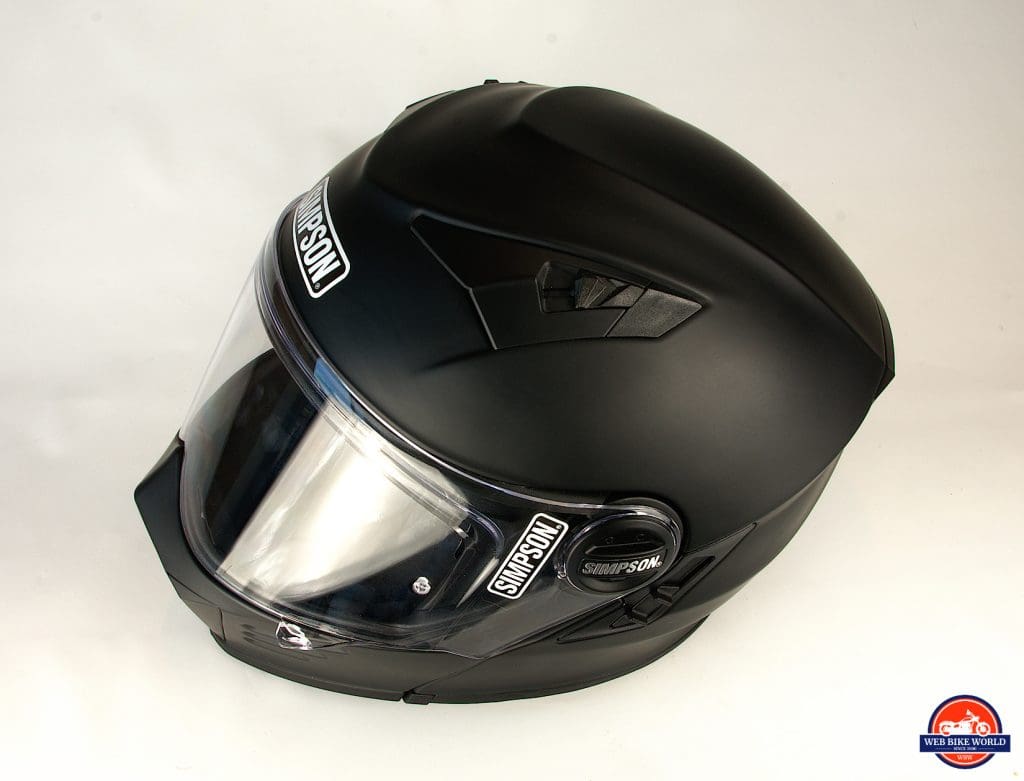 There are two sliding vents on the crown area of the helmet I had no issue opening or closing. In addition to channeling cool air along the top of the wearer's head effectively, air also flows down to the top of the visor from these top vents to help with fogging.
Exhaust Ports
Hot and humid inside air is exhausted out four chrome mesh vents on the back of the Mod Bandit. I noticed the inner padded liner sits apart from the EPS foam liner inside the shell and there are grooves running in the foam that allow terrific cooling flow to pass over the wearer's head.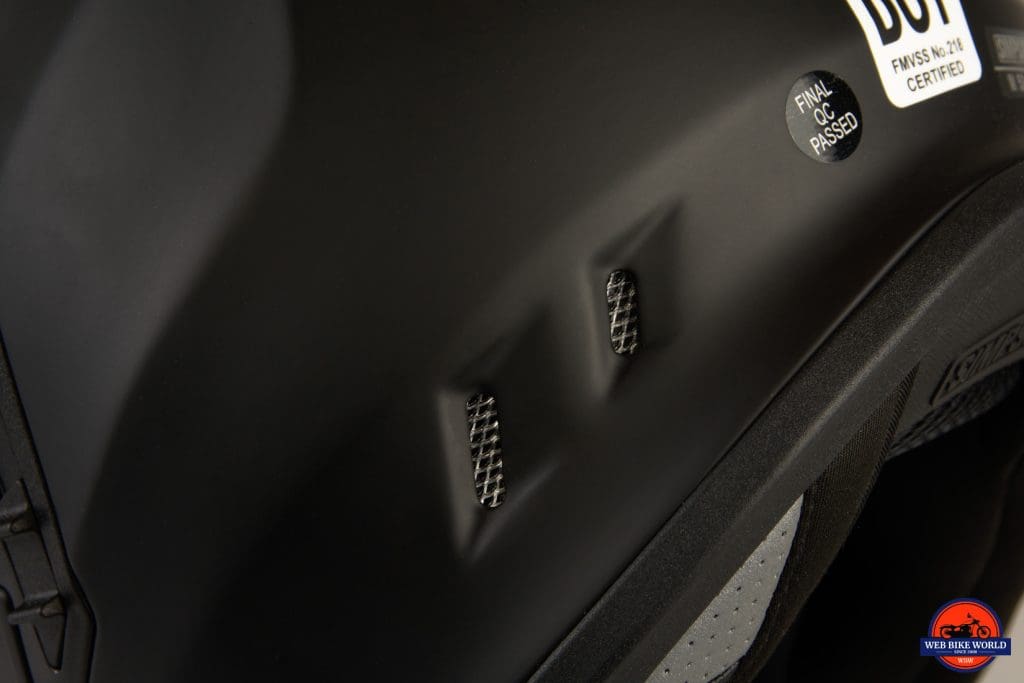 In short, this helmet really keeps you cool and comfortable from a temperature perspective. For me, it was superior to the C4 and Neotec II systems, but not quite as good as the AGV.
Fit And Comfort
Padding And Liner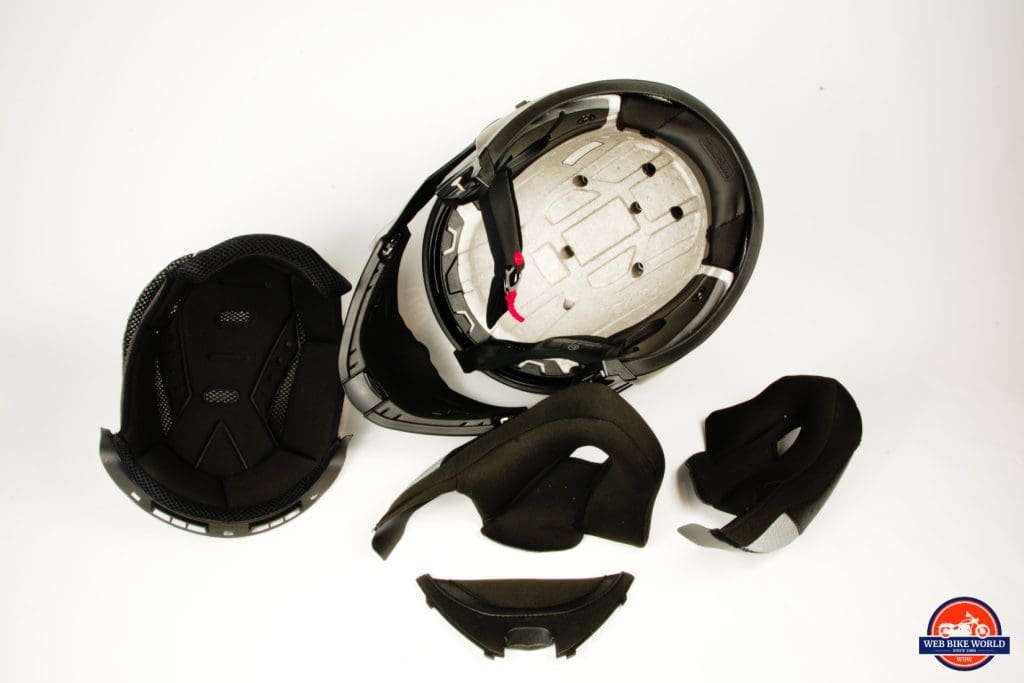 The padding is covered in a smooth nylon that is removable, washable, hypoallergenic and antimicrobial as you would expect. It was equally as easy to remove and install as any other good helmet I've examined.
Bluetooth Installation
Simpson has built in large areas around the ears in the padding that make installation and adjustment of speakers, wiring and microphones in this helmet a breeze. That also means the wearer's ears don't fold up when pulling on this helmet unless they're unusually large.
Additionally, locating the sun lens slider switch up out of the way results in my SENA 30K installation in the Mod Bandit being quick and pain-free.
Intermediate Oval Or Long Oval?
Here's the first real problem I had with the Mod Bandit. It hurts my head when I wear it over an hour to the point I have to take it off. My head shape is Round Oval, but typically I seem to be able to wear Intermediate Oval helmets without too much discomfort.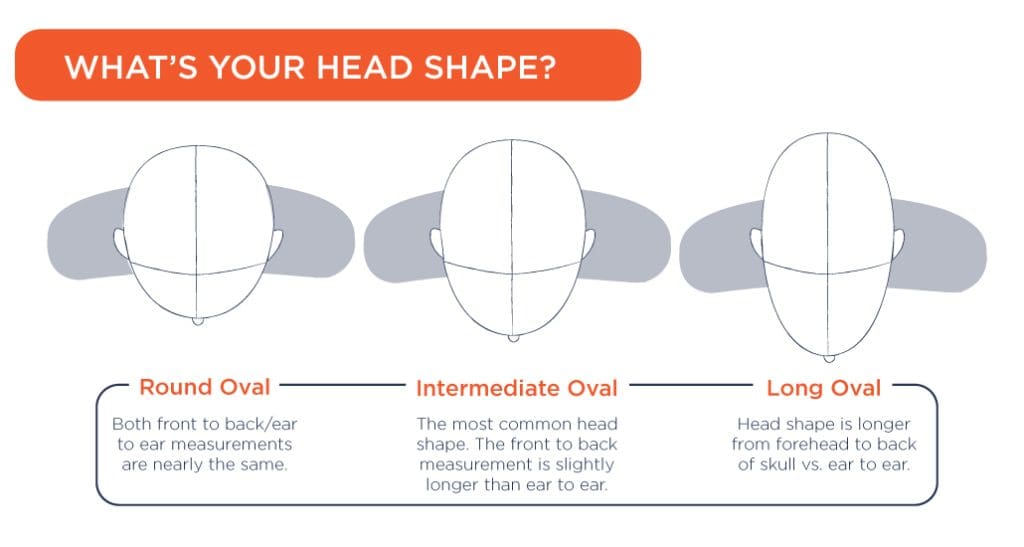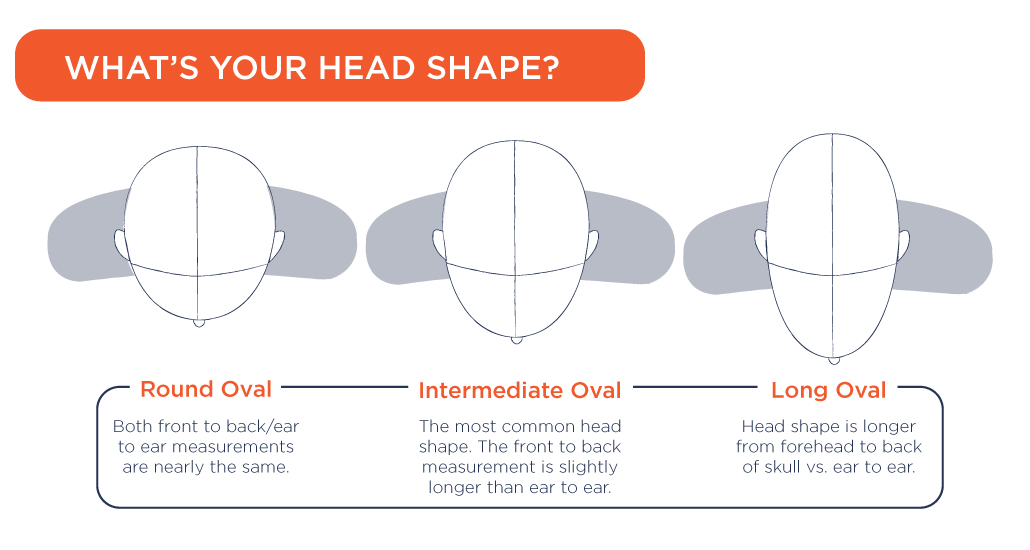 What I'm finding lately is not all IO helmets are created the same surprisingly. There are degrees of that shape which manufacturers all bring to life slightly differently. Despite the fact the Mod Bandit is IO I would say it definitely leans more towards the Long Oval end of the IO spectrum.
When I wear it the fit is snug all around, but as you might expect the padding on the sides of my temples become pressure points fairly soon because the shape is more suited to someone with a longer and narrower head shape. If you have tried on other IO helmets and found they pinch on your forehead and/or back of your skull then this Simpson design will likely fit you more comfortably than it will me. If you're a prototypical IO head shape I think you'll find the fit perfect.
On The Road
Wind Noise
The gaps around the ear areas that make putting the helmet on or installing BlueTooth speakers easy have a negative effect on noise, unfortunately.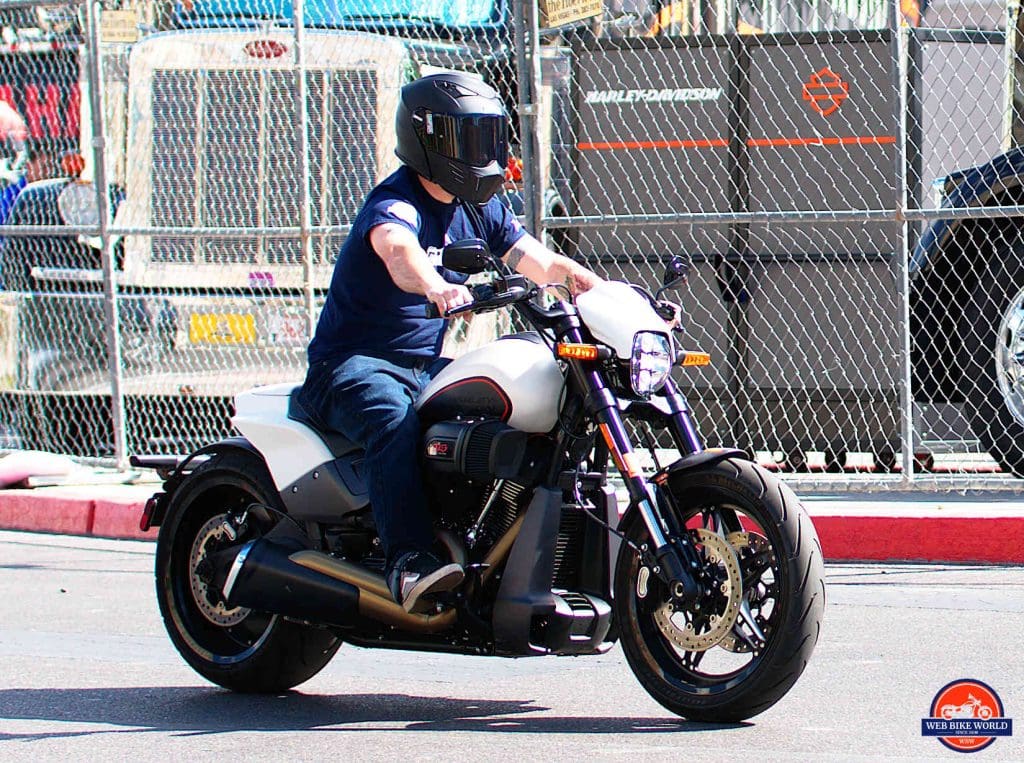 My AGV Sportmodular folds my ears up when I put it on because it fits extremely snug in that area by comparison. This is a bit irritating when donning the helmet, but once I unfold my ears and the helmet is in place the padding practically seals my ears off from the outside world and I feel like I'm wearing earmuff style hearing protection. It's comparably quiet out on the road as a result and I have difficulty hearing conversations while wearing it.
The Mod Bandit is very loud for me out on the road. The combination of it not being more forgiving to a Round Oval head shape and the open areas around my ears create quite a roar at any speed above 45 mph. It makes me unhappy to admit this helmet that appeals to me on many levels just isn't comfortable or quiet enough for me to enjoy wearing, but it's the truth.
This is just for my individual head though.  As I mentioned if your head shape is more IO or LO the experience should be completely different.
Lift, Pull And Drag Aerodynamics
I experienced zero lift or pull issues even in crosswinds with the Simpson. It's obviously wind tunnel tested. All bets are off once the chin bar is raised, however. I wouldn't ride with it up faster than about 45 mph because the wind starts to lift it quite easily then.
When it comes to drag I definitely noticed the helmet is dramatically quieter when you ride in an upright or standard riding position compared to a sporty one. The wind noise is more of a hissing roar compared to the booming roar I experienced while riding on my Ninja H2SX leaned forward.
2 Shell Sizes
I find the lack of pull and lift surprising because this helmet is only available in 2 shell sizes. Meaning it will be a fairly large helmet for anything above Small/medium. It doesn't feel big on my head at all, but i suspect that's mainly due to the light weight.
Compare that to the C4 which is also only available in two shell sizes but feels huge on my head and makes me look like a bobblehead doll.
Chin Bar Action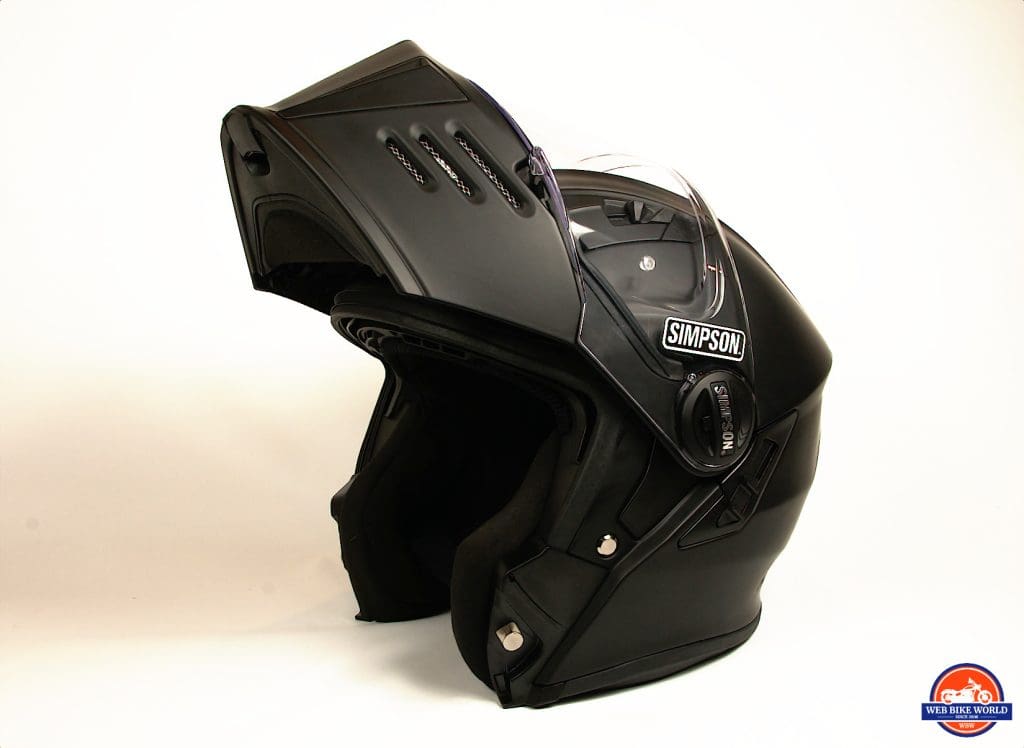 With such a lightweight chin bar there isn't much momentum gained when you try and close it. That means you have to forcefully slam it shut in order to get it to latch. I find the AGV is the same way with its carbon fiber chin bar being so light. Forget about using a gentle touch while using the Mod Bandit. In general, you have to use more strength to manipulate switches and moving parts on this helmet. Certainly, it's not the end of the world, nor would it even register with many people unless you've spent quality time with other more refined helmets.
Once latched shut it holds steady and true even in the wind. Compare this ham-fisted approach to the silky smooth C4 chin bar and you may feel a bit disappointed, but the C4 is notably one whole pound heavier overall so that smoothness comes with a price.
Lockable Chin Bar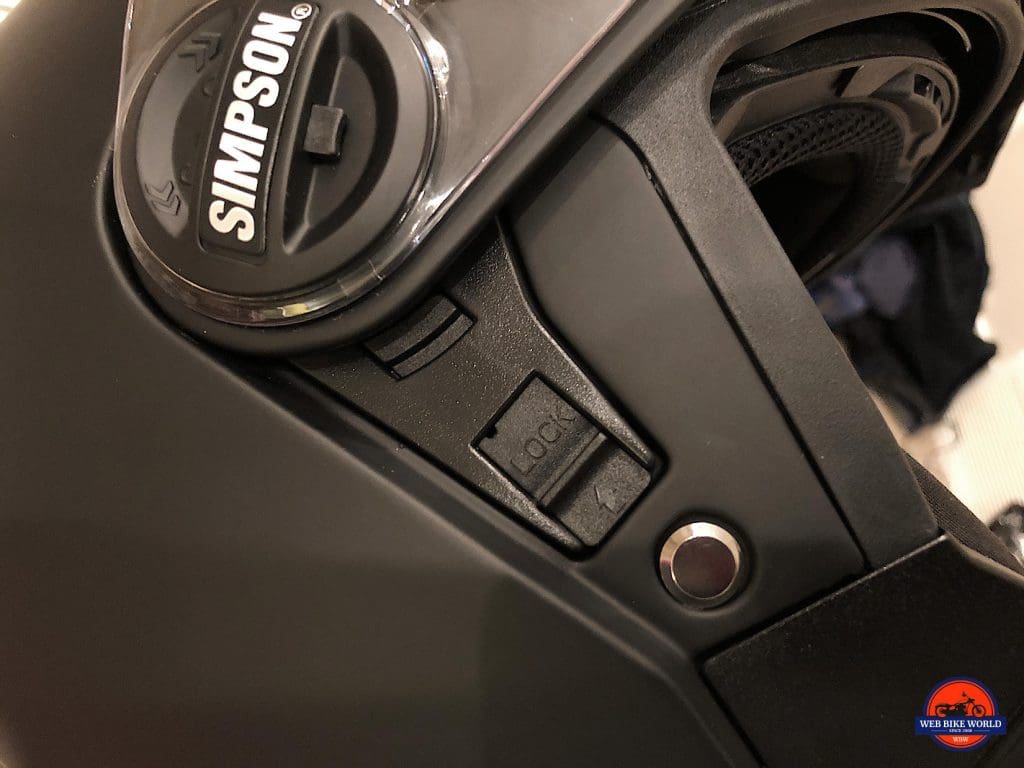 Simpson put in a locking tab on the right side of the helmet that can freeze the chin bar in the raised position. I'd never use this feature to be honest. I do ride with the chin bar up when at slow speeds sometimes, but I can't picture a time I would want it raised for good. The chin bar never fell down while riding with it raised in the unlocked position.
Chin Strap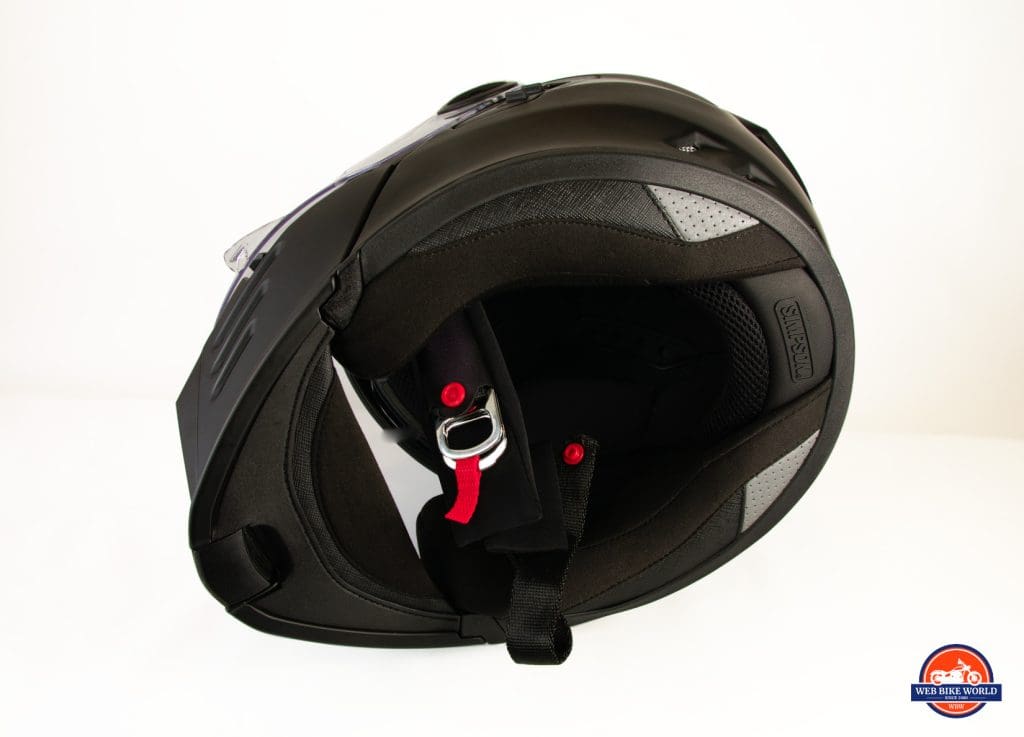 The chin strap is a standard double D ring design that is proven and easy to use. I would have preferred a ratcheting style, but that's just me. I found the foam on it softened the pressure nicely on my chin and the width was just right from a comfort perspective.
What I didn't care for is the way the chin strap loop hangs down in the wind and flaps while riding. I remedied this problem by tucking it up in behind the chin curtain once I lowered the chin bar.
Final Verdict?
Here's a really stylish helmet built with all the features I demand, that just doesn't fit my head properly. That's not Simpson's fault, it's simply my genetic pattern coming in to play sadly. It is very loud for me and might be for other head shapes as well thanks to the gap around the ears in the padding.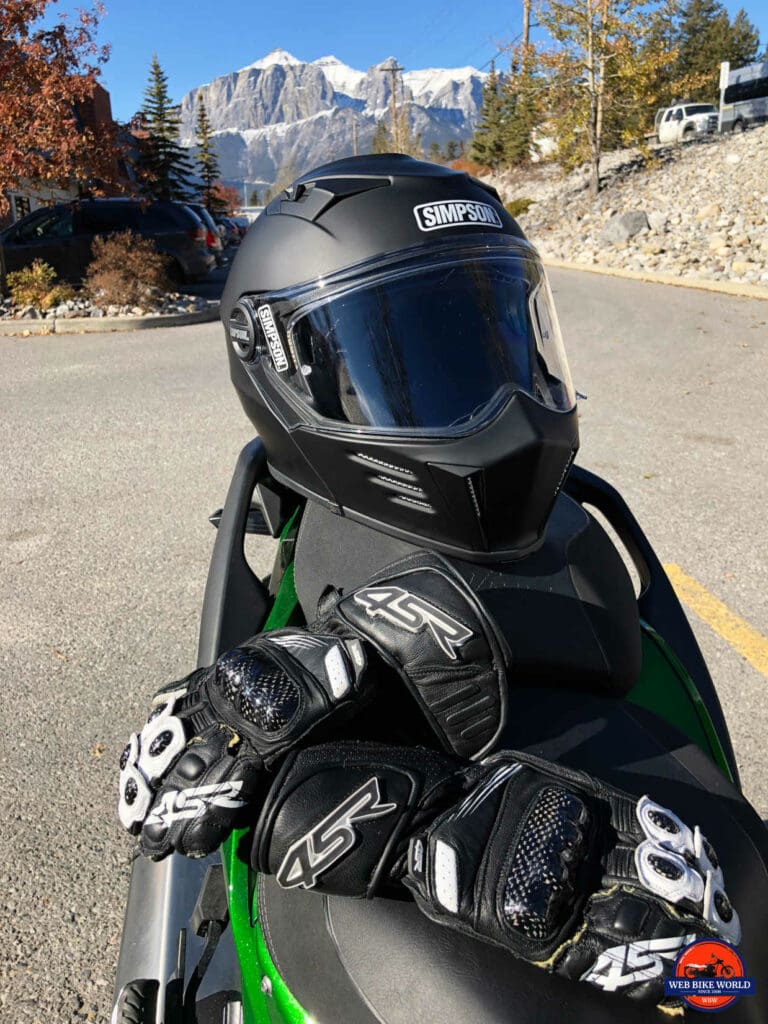 If you prioritize as I do this is a great helmet to buy. I rank criteria in the following order (with the assumption it's DOT/ECE compliant):  Comfort, light overall weight, airflow inside the face area, reasonably quiet on the road and an internal sun lens as my top five needs. If it has those traits I'll buy that helmet in a flash and wear it happily.
The Mod Bandit has 3 out of my top 5 going for it and the comfort factor is highly subjective. That's why I rate it a 4 out of 5 stars.
I feel the purchase price of $479.99 is on the high end of reasonable for what you get. It has many features of the top tier helmets at a slightly lower price point. I would say Simpson should include the PinLock for that price to make it even more competitive.
The unique look is priceless if you value individuality. It's a great platform to work off of if you like to custom paint your brain buckets.
Pros
Excellent ventilation
Badass Simpson style
Ultra Lightweight by modular standards
Reasonably Priced
Durable Finish on shell
3 styles of PinLock ready visors
Optically clear visor and integrated sun lens
Easy to use visor quick release
Comfortable fit for intermediate and long oval head shapes
Bluetooth systems install easily
ECE and DOT certified
Cons
Round oval heads don't fit well
Noisier in sport riding position
Visor isn't infinitely adjustable
Chin strap flap
Specs
Manufacturer: Simpson Race Products
Price (When Tested): $479.99
Made In: USA
Alternative models & colors: White, Black, Flat Black, Carbon
Sizes: XS to 3XL
Review Date: October 17, 2108