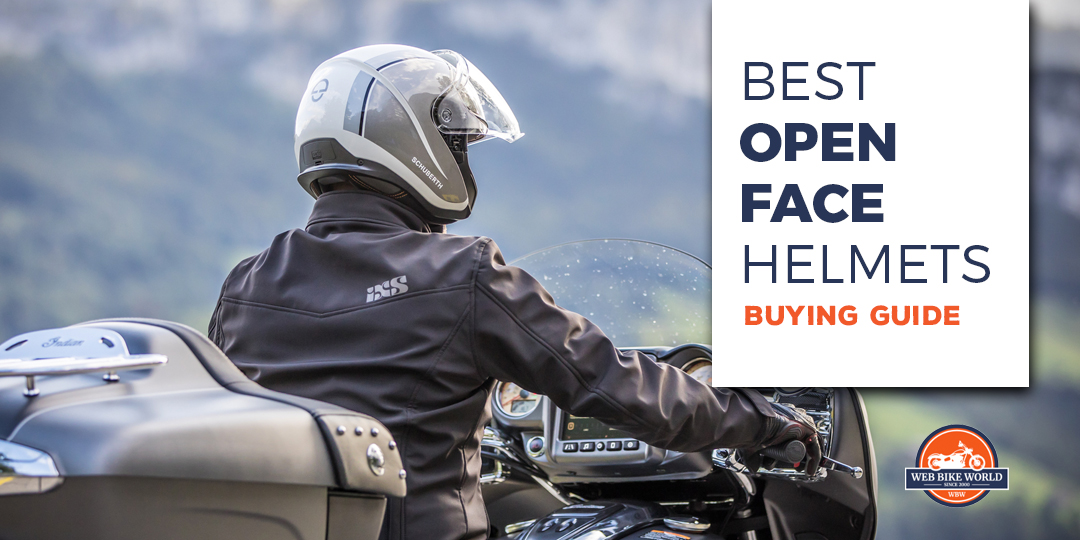 About Our Open Face Helmet Recommendations
Founded in 2000, our team at wBW has collectively tested more than 2,500 helmets, jackets, boots, gloves, accessories, and more. We do not fluff reviews. A riders safety is heavily dictated by how they ride and what they wear while doing so. Our goal is to help riders make informed decisions about the gear they invest in to protect themselves.
wBW is funded by our audience. Our recommendations and reviews may contain affiliate links that earn us a small comission if you make a purchase after clicking them. This is the primary way we fund our website and pay our review team (and comes at no additional cost to you). We disclose our relationship with brands or manufacturers for transparency. For more information about our extensive review process, see our review policies.
Best Entry-Level Open Face Motorcycle Helmets
Priced under $300.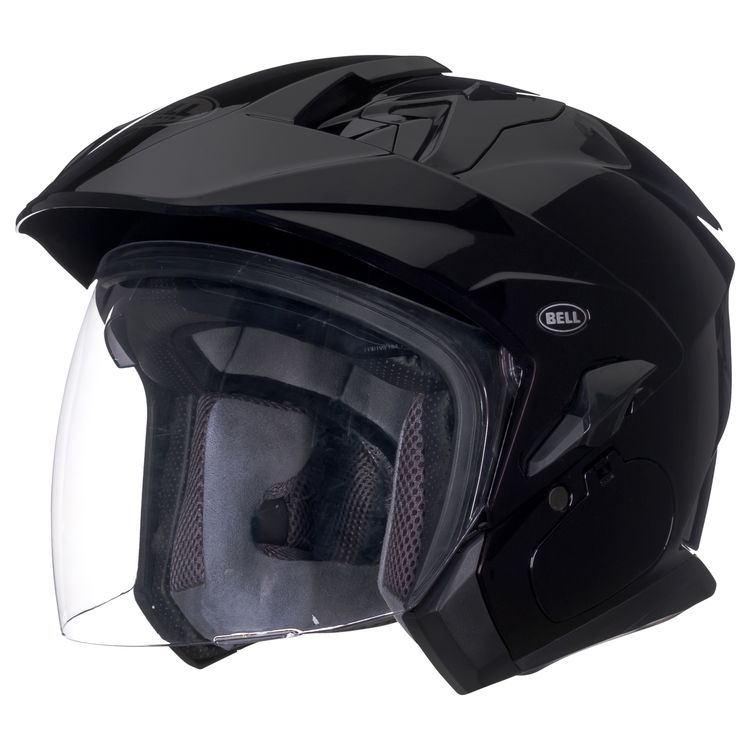 Bell Mag 9 Sena
Why?
It's hard to believe that technology has progressed to the point where a paltry $190 can get you a class-defining helmet. No, the Mag-9 isn't the most refined or feature-rich entrant on this list, but for the 99% of riders who want a strong mix of ventilation, safety, and features, this is often the best choice.
Bonus points for the fact that a SENA SMH-10 can integrate seamlessly and flawlessly into it.
Key Specs & Head Shape
Head shape: intermediate oval
Weight: 3.38lbs
DOT/ECE? DOT certified
Our Review
Originally reviewed in 2016, we found this helmet to be of excellent value. Its only major drawback was that the top vent could flow more air, but most riders overlook this—given that it's, you know, an open-face helmet. Read the full review.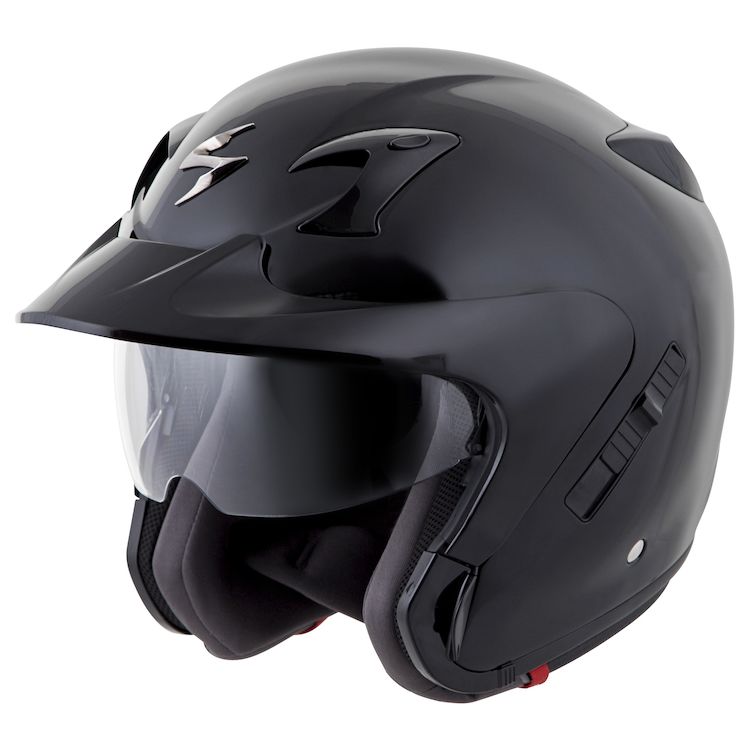 Scorpion EXO-CT220
Why?
Scorpion is well known for being the value kings of gear, and the CT220 is no different. For just $150, you get a helmet that offers jaw and cheek protection better than 99% of open face helmets out there, as well as coming with two different styles of visors.
The drop-down sun visor lets you ride with your eyes protected and the wind in your face, and the full face visor replaces the sun peak and has rubber catch points on the jaw and cheek guard area so that it doesn't slip out if you go down. Oh, it also features emergency release cheek guards and has a 5-year warranty. Value kings, indeed!
Key Specs & Head Shape
Head shape: intermediate oval
Weight: 3.32 lbs
DOT/ECE? DOT certified
Our Review
We haven't had the chance to review this helmet yet, but we are very familiar with Scorpion's excellent value-for-money history. Check out our coverage here.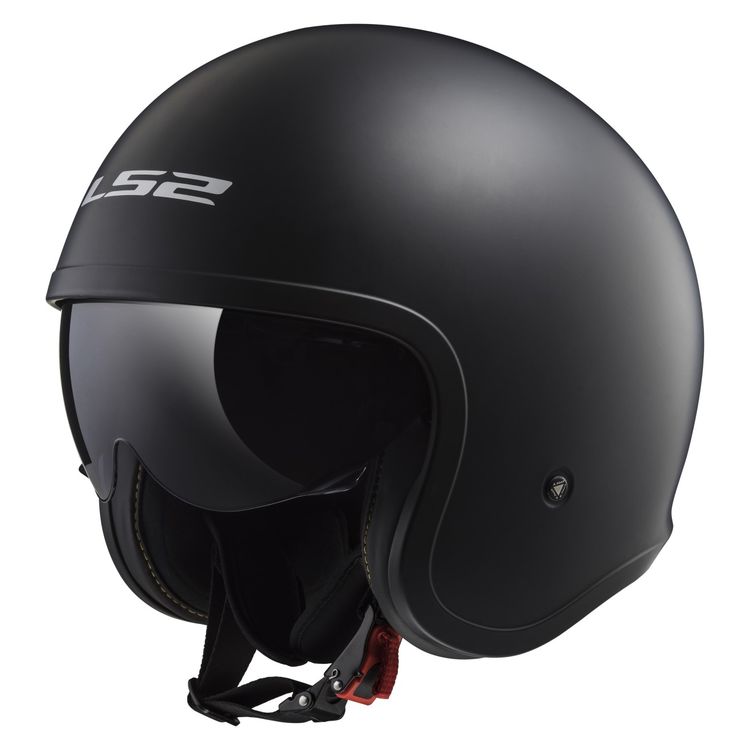 LS2 Spitfire
Why?
You want a lightweight open-face helmet with a vintage look, but don't want to sacrifice protection or features to achieve it. That sound right? Welcome to the LS2 Spitfire, which features an integrated sun visor, a decidedly vintage aesthetic, and excellent quality control. What an awesome helmet.
Key Specs & Head Shape
Head shape: intermediate oval
Weight: 2.05 lbs
DOT/ECE? DOT certified
Our Review
We haven't reviewed this LS2 helmet, but boy would we like to. We HAVE seen it at industry events (like AIMExpo) and really think it's a great unit. Check out more LS2 coverage here.
Best Mid-Range Open Face Motorcycle Helmets
Priced $300 - $500.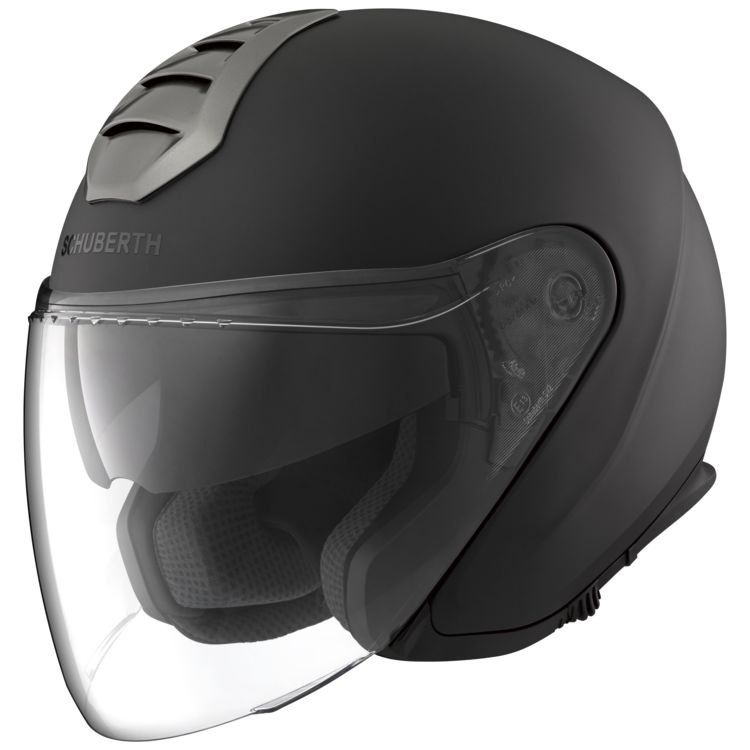 SCHUBERTH M1 Pro
Why?
The SCHUBERTH M1 Pro is one of the few open face helmets that is wind tunnel tested. It's the natural evolution of the already popular—and feature-rich—M1, and it's a doozy.
This one comes with a Pinlock-ready face shield, removable/washable liner, and preinstalled speakers/microphone for the plug-and-play SENA SRC intercom system. This is a badass open-face helmet.
Key Specs & Head Shape
Head shape: intermediate oval
Weight: 3.35 lbs
DOT/ECE? DOT certified
Our Review
We actually haven't reviewed the M1 Pro, but we have reviewed the original M1 and found it to be a solid open face. Our review of the M1 noted its outstanding build quality, awesome visibility, and comfort. Give it a read.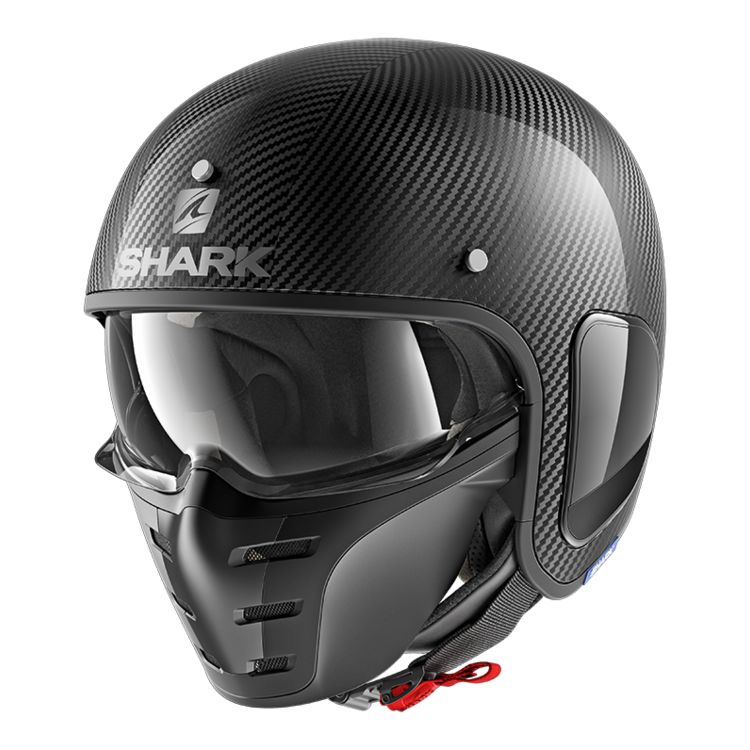 Shark S-Drak Carbon
Why?
The S-Drak Carbon is one of the lightest feature-rich open face helmets you can get. The slim-profile shell is ultra-lightweight, thanks to its 100% carbon fiber construction.
Also built-in is a sun visor and a detachable face mask, which offers 3/4 helmet flexibility and utility. Don't want a rock to the face? Put it on. Want to look badass with your carbon fiber helmet and open-face? Take it off. Awesome.
Key Specs & Head Shape
Head shape: intermediate oval
Weight: 2.89 lbs
DOT/ECE? DOT certified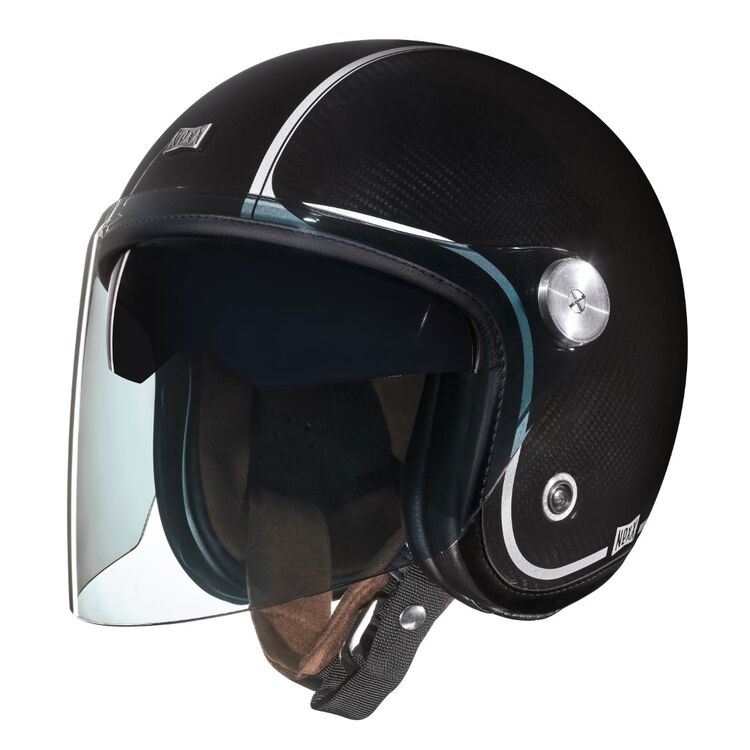 Nexx XG10 Carbon SV
Why?
In the past, we have been mightily impressed with Nexx Helmets. A past review of an X.G10 won us over, so this version made of carbon fiber and fitted with 2 sweet visors is a sure winner.
The posh lining is a soft anti-sweat and anti-allergenic fabric, and the whole DOT approved lid weighs just 2.5 lbs. We highly recommend checking out XG10 Carbon SV.
Key Specs & Head Shape
Head shape: intermediate oval
Weight: 2.5 lbs
DOT/ECE? DOT certified
Best High-End Open Face Motorcycle Helmets
Priced over $500.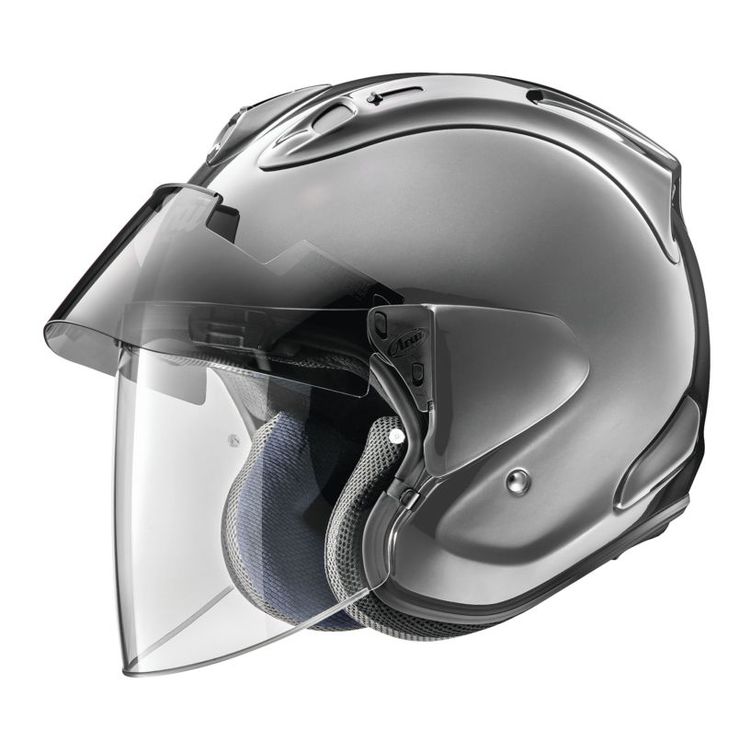 Arai Ram-X
Why?
This is the "I want the absolute best open face helmet on the market" helmet, and it is all that and more. The price is no joke for an open face, but this one is handmade, SNELL and DOT rated, and equipped with a class-leading visor and sun shade combination.
An evolution of the CT-Z, this is the open face for those willing to pay to play.
Key Specs & Head Shape
Head shape: intermediate oval
Weight: 4.0 lbs
DOT/ECE? DOT & SNELL certified
Our Review
We've yet to actually get our hands on this helmet—however, we did review its precursor (the CT-Z) and if the Ram-X is even half as good, you know it'll be a treat. Read our thoughts on the CT-Z.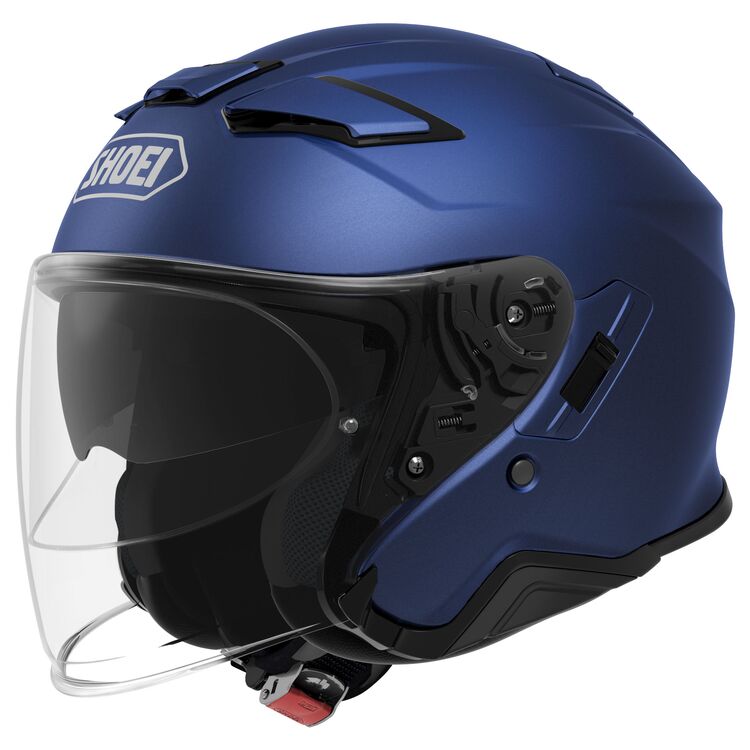 Shoei J-Cruise II
Why?
This updated offering from Shoei keeps the J-Cruise at the top of the 3/4 open-face helmet game where it belongs. The new shell is sleek, modern, and a little aggressive.
Designed to integrate with the J-Cruise II specific SRL Bluetooth headset, everything about the new version is premium. Excellent airflow is provided by the new shell, and every detail is aimed at providing class-leading comfort.
Need SNELL? Get the Arai. Don't care about SNELL? Get this one.
Key Specs & Head Shape
Head shape: intermediate oval
Weight: 3.75 lbs
DOT/ECE? DOT certified
Our Review
The new Shoei J-Cruise II has to be one of the nicest open-face designs we've reviewed. Bruce's words say it all, "I've been searching for 'the' three-quarter helmet solution for some time—this helmet ends the search." Read the full review.
What To Look For In A Open Face Helmet
Like all helmets, open face helmets come with a list of items to pay particular attention to. More complex than every other type of helmet, knowing what to look for can be the difference between an awesome experience and a terrible one.
Look For:
DOT/ECE certifications—Many inexpensive open face helmets showing up on Amazon and eBay are not DOT or ECE certified. This certification may save your life. Don't cheap out—remember, you're preparing for the slide, not the ride.

Comfort— Most of the helmets featured on this page use lightweight materials to minimize neck strain—useful, especially on long rides.

Head shape—While most people are an intermediate oval, not all are. Make sure you get a helmet designed for your head shape.

Shell material—Polycarbonate is okay, but you'd be better served with carbon fiber (expensive) or fiberglass. All the helmets called out here (save for one) are fiberglass.

Interior liner—All the helmets featured here offer removable liners that are anti-moisture and anti-bacterial. Avoid non-removable liners (found in cheap helmets)—it'll be a stink factory before you know it.
Read the complete motorcycle helmet buyer's guide for more information.
At WBW, "Best" Actually Means Something
Remember when you could open up a review of something, and when the publication—magazine, car show, whatever—said "best" they stood behind it? Yea, we remember, and we're bringing it back.
Here's how we do things:
We disclose our affiliate relationships—We make money via advertising and affiliate relationships on our website. It's how we pay our team and invest in things like sending Jim to Italy. And Japan. And France… wait… why do we always send Jim places?

We obsessively hands-on test—We wear and ride with gear before reviewing it, and we update reviews down the line if our opinions change. We look at real-world situations because that's the world we live in.

We're objective—Good gear is good gear, regardless of who made it.

We're value-focused—Why pay $500 if something for $250 is just as good? Our review scores and recommendations reflect best value. Brand only goes so far—the gear has to stand on its own.