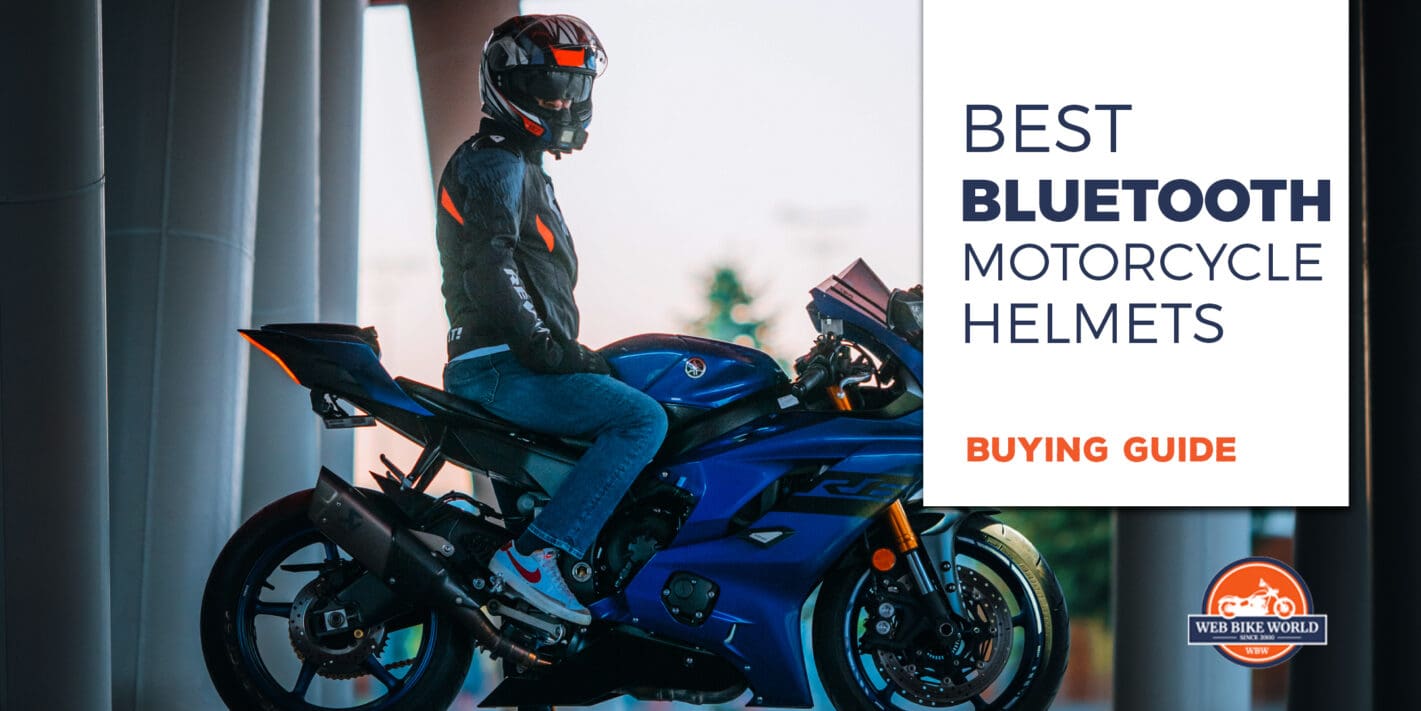 About Our Bluetooth Helmet Recommendations
Founded in 2000, our team at wBW has collectively tested more than 2,500 helmets, jackets, boots, gloves, accessories, and more. We do not fluff reviews. A riders safety is heavily dictated by how they ride and what they wear while doing so. Our goal is to help riders make informed decisions about the gear they invest in to protect themselves.
wBW is funded by our audience. Our recommendations and reviews may contain affiliate links that earn us a small comission if you make a purchase after clicking them. This is the primary way we fund our website and pay our review team (and comes at no additional cost to you). We disclose our relationship with brands or manufacturers for transparency. For more information about our extensive review process, see our review policies.
Best Entry-Level Bluetooth Motorcycle Helmets
Priced under $300.
BILT Techno 3.0 Modular Sena Bluetooth Helmet
Why?
The Bilt Techno 3.0 is packed with features for a lid under $300 bucks. Covering the basics, this is a modular helmet with a simple one-handed operation for the chin bar and a drop-down internal sun visor.
The composite shell comes in 2 shell sizes and can fit those with even the biggest heads with sizing up to 5XL. Of course, the key feature of the Techno 3.0 is the built-in Sena Bluetooth system.
The Sena DWO-6 Bluetooth v4.1 system allows pairing with up to 4 riders, a 1-mile range, and 8 hours of battery life. Whoever said you couldn't have it all for so little… was wrong!
Key Specs & Head Shape
Head shape: intermediate oval
Weight: 3.88 lbs
Safety: DOT certified
Our Review
We are looking forward to a riding review of the Bilt Techno 3.0. Our staff was impressed at the quality and value we found when testing the Techno 2.0; check out that review and it will make sense why we expect great things from the Techno 3.0.
Sena Outrush R Modular Helmet
Why?
Newly released from Sena in 2021, the Outrush R is a remarkable helmet at this price point. The clean modular design includes a drop-down sun visor and provides great airflow to keep the rider's head cool.
Sena steps things up with an improved Bluetooth 5.0 system and a slew of advanced audio features. Smartphone connections are dead simple thanks to the Sena app, and you should get 12 hours from a full battery charge.
With the Outrush R, Sena definitely moved things up a level and during our hands-on review, we noted its improved capabilities.
Key Specs & Head Shape
Head shape: Intermediate oval
Weight: 3.38 lbs
DOT or ECE? DOT & ECE
Our Review
Product evolution is a good thing and the new Sena OUTRUSH-R Smart Helmet is definite proof of this. New for 2021 and released less than a year after the original Outrush, this new version is DOT and ECE certified and is Dual P/J Homologated (bonus). With its great aerodynamics, effective ventilation, excellent noise management, its new BT 5.0 system with additional features, and upgraded speakers, the Outrush R delivers the goods regarding safety, fit, comfort, and BT features. The original Outrush was a well-priced very good starting point but the new Outrush R moves things up several notches with its price increase (60.00 USD) more than offset by feature, function, and performance gains.
Sedici Viaggio Parlare Sena Bluetooth ADV Helmet
Why?
The Viaggio Parlare ADV Helmet comes loaded with features including an integrated Sena DWO-5 Bluetooth v3.0 System, an injection molded ABS shell, a removable comfort liner, removable peak visor, quick release shield system and a ventilated chin bar.
Comms are effortless thanks to hands-free voice-dialing and universal intercom compatibility. The ability to use turn by turn navigation, powered by a smartphone, or rely on intercom functionality to talk with your riding buddies gives the Viaggio Parlare the versatility that ADV riders crave.
Key Specs & Head Shape
Head shape: Intermediate oval
Weight: 3.75 lbs
DOT or ECE? DOT
Our Review
The Sedici Viaggio Parlare SENA Bluetooth ADV Helmet is both a positive and negative reflection of where we are regarding product availability, features, and pricing within the specific motorcycle and more broadly, the Powersports industry. This helmet, at its price point, delivers almost all the essentials that consumers are looking for in an entry-level ADV or dual-sport helmet: styling – check; functional protective face shield and sun visor – check; large stylish protective peak – check; good sizing and overall fit comfort - check; good noise management – check; integrated BT system – check; decent build quality – check; all except effective helmet ventilation. Multiple positives but the one or two negative feature assessments are telling, especially regarding quality control. If it had a fully functioning ventilation system and better QC, this helmet would be a contender regarding functionality for the price point.
Best Mid-Range Bluetooth Motorcycle Helmets
Priced $300 - $500.
Quin Spitfire
Why?
This is where form and function meet to deliver an excellent touring-focused helmet.
Since their launch in 2017, Quin Design has been something of a "disrupter" in the motorcycle helmet space, offering a wide range of world class helmets equipped with the latest and greatest safety and communications systems.
The Spitfire is no exception. It is an aggressive full face helmet that looks awesome on the bike with a leather jacket, but would look equally cool with an armored shirt or textile jacket. It comes fully loaded with IntelliQuin smart technology.
Key Specs & Head Shape
Head shape: intermediate oval
Weight: 3.88 lbs
DOT or ECE? DOT & ECE certified
Sedici Strada II Parlare Bluetooth Helmet
Why?
Sedici throws all their latest tech into the Strada II Parlare. The aerodynamically tuned shell of fiberglass and DuPont™ Kevlar® fiber is lightweight without sacrificing strength and meets both DOT and ECE-22.05 standards.
Ventilation is excellent through the EPS, and the liner has adjustable padding for fine-tuning the fitment. The integrated Sena DWO-6 Bluetooth v4.1 system has you riding with a seamless connection to your phone (as well as up to 4 other riders).
Everything you want in a clean, high performance helmet is right here. What are you waiting for?
Key Specs & Head Shape
Head shape: Intermediate oval
Weight: 3.3 lbs
DOT or ECE? DOT & ECE certified
Scorpion EXO-GT930 EXO-COM Transformer Helmet
Why?
Scorpion helmets are well known for style, quality, and killer value, and the EXO-GT930 EXO-COM Transformer is sure to live up to that standard.
So what's with the "Transformer" part of the name? Well, this new model from Scorpion is not just modular, but the chin bar can be quickly removed without tools, and the supplied peak can be attached for a sweet open-face configuration!
As if that wasn't enough, Scorpion teamed up with UClear for a top-notch Bluetooth system that is fully integrated into the EXO-GT930 (to keep you fully connected to the rest of the Autobots).
The new EXO-COM BlueTooth Communicator Kit allows you to connect to other riders, your mobile device, and to your music. The powerful Bluetooth 5 processor chipsets provide outstanding DynaMESH intercom capabilities that keep you connected by auto-reorganizing the MESH network as your riding group moves and even reconnects to riders who rejoin the group.
Get this Scorpion on your head, turn on the EXO-COM, and listen for "Autobots, roll out!" Yes, my inner child is alive and well.
Key Specs & Head Shape
Head shape: Intermediate oval
Weight: 3.8 lbs
DOT or ECE? DOT & ECE 22.05 certified
Our Review
The Scorpion EXO-GT930 Transformer is a badass "streetfighter" style helmet coupled with the convenience that comes with a modular platform. Homologated for use in both the open and closed position, it's equally suited to take on hour-long commutes or weekend rides through the back roads (tarmac or dirt). With a plush inner liner, easy-to-use chin bar, integrated drop-down visor, decent vents, and the ability to transform to an open face in seconds makes this helmet defies its price tag. It is a well-thought-out package that includes seamless Bluetooth integration (via Scorpion's own EXO-COM unit). Riders looking for a new modular should give the Scorpion EXO-GT930 a look.
Best High-End Bluetooth Motorcycle Helmets
Priced over $500.
Shoei Neotec 2 Helmet
Why?
With an intermediate oval head shape, the Shoei Neotec II should fit the heads of the majority of riders out there. The helmet can be had with the SENA SRL integrated, and that makes it a real communications winner as well.
The Neotec 2 is an extremely high-quality modular helmet and is packed full of features such as a pin lock visor, drop-down sun visor, great ventilation, and seamless integration with the SENA SRL device. Despite the modular form factor, this helmet is both DOT and SNELL certified, meaning this helmet covers all bases.
Key Specs & Head Shape
Head shape: Intermediate oval
Weight: 4.12 lbs
DOT or ECE? DOT
Our Review
The Shoei Neotec II is an excellent contender in the premium modular flip-up segment. It is a well-thought-out package that includes seamless Bluetooth integration (via the SENA SRL). Riders looking for a new modular helmet should take a good look at the Neotec II.
See our complete Shoei Neotec II review.
Sena Momentum INC Pro
Price: $1,449

Where to Buy: Amazon
Why?
Fully integrated Bluetooth communications devices are pretty cool. How about slapping on an integrated camera as well?
Although this helmet has a full SENA comms device in the helmet, it also has a 1440p HD camera mounted to the top so you can capture special moments or utilize the continuous-rolling feature as a dash-cam of sorts.
The camera and communication device quality is way above what you'd expect, and the DOT certification makes the point that this helmet isn't giving up any safety in exchange for these features.
Key Specs & Head Shape
Head shape: Intermediate oval
Weight: 4.8 lbs
DOT or ECE? DOT
Our Review
An excellent product, the Sena Momentum Pro is the newest member of the evolving Sena Momentum helmet line. It features a stylized shell with a smooth finish, intermediate oval shape, excellent interior, very good airflow, and obvious attention to detail everywhere. With onboard BT and QHD Camera, this innovative full-face helmet is a great investment from many perspectives including safety.
What To Look For In A Carbon Fiber Helmet
A full face helmet is by far the helmet type that is the most protective. Considering most helmet impacts are actually on the chinbar, a full face is the best equipped to keep you safe. When we visited the Snell Memorial Foundation, Ed Becker - the managing director at the time - advised us that the best helmet is the one that fits you comfortably and you'll actually wear. So, there's that.
Assuming you've already sorted yourself a lid that fits, you should also consider:
DOT/ECE certifications—Many inexpensive full face helmets showing up on Amazon and eBay are not DOT or ECE certified. This certification may save your life. Don't cheap out—remember, you're preparing for the slide, not the ride.

Comfort— Most of the helmets featured on this page use lightweight materials to minimize neck strain—useful, especially on long rides.

Head shape—While most people are an intermediate oval, not all are. Make sure you get a helmet designed for your head shape.

Shell material—Polycarbonate is okay, but you'd be better served with carbon fiber (expensive) or fiberglass. All the helmets called out here (save for one) are fiberglass.

Interior liner—All the helmets featured here offer removable liners that are anti-moisture and anti-bacterial. Avoid non-removable liners (found in cheap helmets)—it'll be a stink factory before you know it.

Intercom compatibility— Riders that want to stream audio, get navigation prompts from their phone, or talk to their friends while on the road will want to make use of a bluetooth intercom (see also: our picks for the best motorcycle intercoms). Many helmets come with speaker pockets already formed inside the liner; they will be much more comfortable to wear with an intercom compared to a lid that does not have speaker pockets. Definitely factor this into your decision, as there's nothing more frustrating than your needs changing shortly after buying and being left with no option other than purchasing another lid.
Read the complete motorcycle helmet buyer's guide for more information.
At WBW, "Best" Actually Means Something
Remember when you could open up a review of something, and when the publication—magazine, car show, whatever—said "best" they stood behind it? Yea, we remember, and we're bringing it back.
Here's how we do things:
We disclose our affiliate relationships—We make money via advertising and affiliate relationships on our website. It's how we pay our team and invest in things like sending Jim to Italy. And Japan. And France… wait… why do we always send Jim places?

We obsessively hands-on test—We wear and ride with gear before reviewing it, and we update reviews down the line if our opinions change. We look at real-world situations because that's the world we live in.

We're objective—Good gear is good gear, regardless of who made it.

We're value-focused—Why pay $500 if something for $250 is just as good? Our review scores and recommendations reflect best value. Brand only goes so far—the gear has to stand on its own.