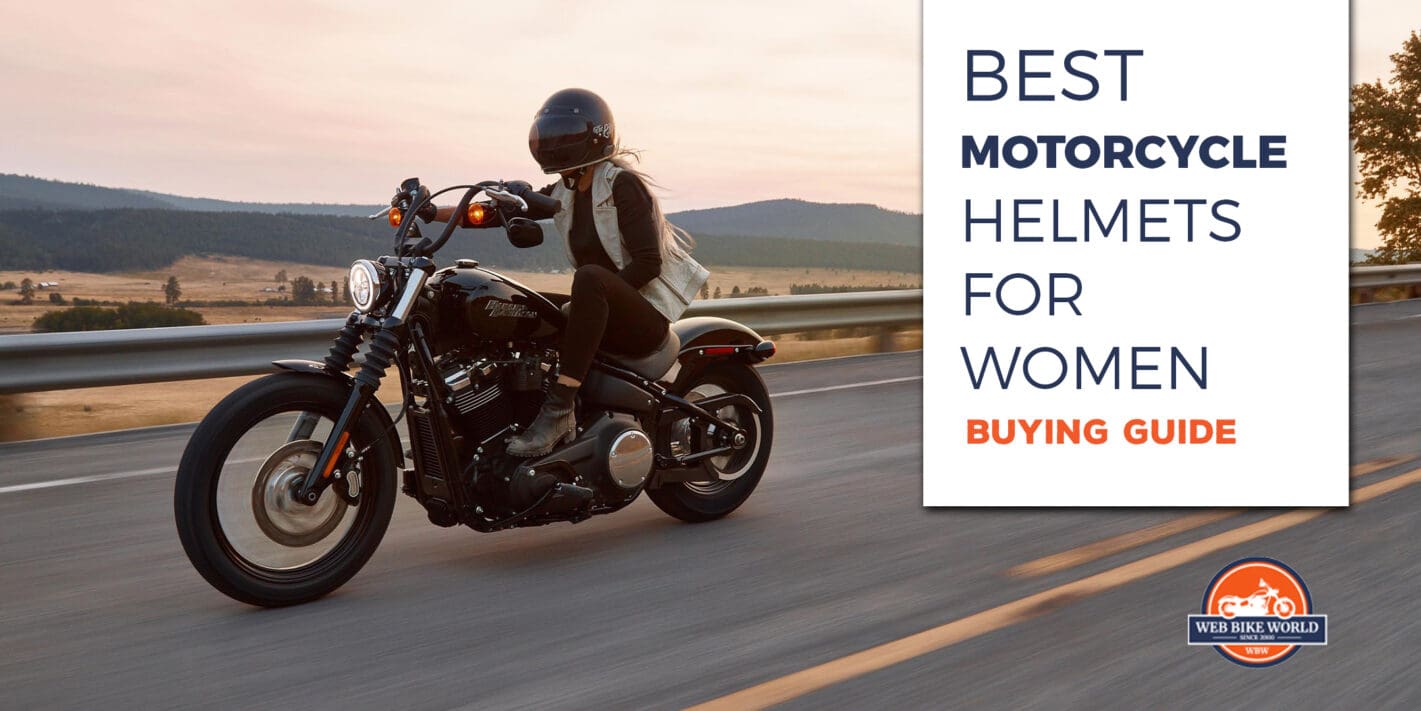 The Best Motorcycle Helmets for Women for 2023
We'd know - we've reviewed 450+ helmets since 2000!
Our picks are based on helmets that offer the best blend of safety/performance, function/features, and price.
Last updated September 24, 2022 - Written by Mika Lee-Philipsek
Why We Wrote a Women's Helmet Guide
The helmet is the most important safety equipment for motorcyclists regardless of the riding style. That is true for both men and women. However, when you search for women's helmets, the search results are just helmets with fuschia pink accents and flower graphics as par for the course for women's motorcycle gear. But as a matter of fact, there are differences between the skulls of men and women.
Women's heads and faces are smaller, their forehead is more vertical, and their crown is flatter. So adjustability of the liners and paddings are important to ensure a better fit, which directly translates to comfort and stability of the helmet. Also, there are differences in lifestyle. For example, some of us ride with makeup on.
To be able to put on and off the helmet without rubbing our face too much is a nice feature. And, of course, we want inner liners to be removable and washable.
Based on these points, here are our picks of helmets for female riders.
About Our Full Face Helmet Recommendations
Founded in 2000, our team at wBW has collectively tested more than 2,500 helmets, jackets, boots, gloves, accessories, and more. We do not fluff reviews. A riders safety is heavily dictated by how they ride and what they wear while doing so. Our goal is to help riders make informed decisions about the gear they invest in to protect themselves.
wBW is funded by our audience. Our recommendations and reviews may contain affiliate links that earn us a small comission if you make a purchase after clicking them. This is the primary way we fund our website and pay our review team (and comes at no additional cost to you). We disclose our relationship with brands or manufacturers for transparency. For more information about our extensive review process, see our review policies.
Best Entry-Level Women's Motorcycle Helmets
Priced under $300.
Scorpion EXO-T520
Why?
Biltwell's Gringo is a retro-style helmet that has been very popular. The Gringo S comes with a CE-certified polycarbonate face shield for added safety. The newer Gringo S ECE has the same injection molded outer shell, which is strong yet lightweight. In addition, with thicker EPS (Expanded Polystyrene) safety liners, it is now also DOT and ECE approved.
It comes in 2 shell sizes: XS to MD and LG to 2XL. The helmet runs smaller, and liners with different thicknesses are available for better fitment and comfort. Hand-sewn brushed Lycra liners are soft and removable.
You do not have to trade safety and comfort for style with this helmet.
Key Specs & Head Shape
Head Shape: Round Oval
Weight: 3.54lbs
Safety Ratings: DOT and ECE
Scorpion EXO-T520
Why?
The Scorpion T520 has a lot to offer for the price. It comes with an internal drop-down sun visor, and an anti-fog, anti-scratch hard coated face shield with 98% UV-A & UV-B protection, plus an emergency cheek pad release system, to name just a few of its features.
This aggressive-looking yet comfortable helmet is ready for a short ride in the city or a long ride in the backcountry. The removable and washable liner is plushy, and its moisture-wicking fabric is soft on the face.
An innovative feature of this helmet is the AirFit Inflation System. Two air bladders below the cheek pads can be inflated with a pump on the chin bar to adjust the fit of the pads further. It reduces the lift and makes the helmet quieter too.
Key Specs & Head Shape
Head Shape: Intermediate Oval
Weight: 3.5lb
Safety Ratings: DOT and ECE
Our Review
The EXO T520 throws in a ton of features for the asking price making the value one receives in the purchase of a helmet from Scorpion. The features and build quality punch well above their weight with only minor issues that one can find fault with. Scorpion's EXO-COM® system (powered by UClear) takes the technology and sound quality of Uclear's Bluetooth systems and wraps it in a package that integrates into EXO-COM®-ready helmets like the GT930 and the T520.
Best Mid-Range Women's Motorcycle Helmets
Priced $300 - $550.
Shoei J-O
Why?
Don't be fooled by the retro styling of Shoei J-O (pronounced jay-oh). This is not your grandpa's 3/4 helmet. Its shell uses Shoei's AIM (Advanced Integrated Matrix), making it compact, lightweight, and strong.
The retractable face shield has three height settings to adjust the rider's facial features.
The EPS liner has a cut-out for unrestricted ventilation, which is often ignored for open-face helmets. The comfort liners are fully removable and washable and come in different thicknesses for a customized fit.
It is an excellent mid-tier helmet, and you get more bang for the buck than Arai's Classic V.
Key Specs & Head Shape
Head Shape: Intermediate Oval
Weight: 2.7lb
Safety Ratings: DOT
Shoei RF-SR
Why?
Shoei's RF-SR is specifically designed for a more upright riding style. The vents are redesigned to optimize the airflow in such head positions. Compared to RF-1400, the overall shape is more conservative yet very aerodynamic.
It uses a six-layered AIM+ (Advanced Integrated Matrix Plus) shell to minimize the size and weight. It comes in 4 shell sizes and six EPS liner sizes to accommodate most head sizes.
Inner liners and cheek pads are contoured and adjustable to fit better on the rider's head and face. They are completely removable, washable, and available in different thicknesses for more comfort and stabilization.
RF-SR may not be race-ready, but it is a good all-around helmet.
Key Specs & Head Shape
Head Shape: Intermediate Oval
Weight: 3.66lb
Safety Ratings: DOT and SNELL M2015
Our Review
The Shoei RF-SR is brand new to the lineup. It's also the least expensive Shoei full-face helmet. But, it carries a lot of the Shoei DNA from helmets like the Shoei X-Fourteen (review) and Shoei X-12 (review). Shoei markets the RF-SR for both "street performance" and "long-distance touring comfort" and we agree.
AGV K6
Why?
AGV's K6 is definitely one of the most highly-rated helmets these days. Its carbon aramid shell provides excellent protection without too much bulk or weight. For a full-face helmet, it is remarkably light at 2.7lbs.
It comes in 4 shell sizes for seven different head sizes from XS to XXL— their medium has two different sizes, MS (57-58cm) and ML (59-60cm), for better fitment.
This helmet is aerodynamic in any riding position. It is very comfortable and versatile.
The flexible chin curtain makes putting on and off the helmet very easy. Integrated neck roll/ cheek pads and headliners are covered with moisture-wicking fabric and are all removable and washable. Additionally, a 4mm thick face shield is very easy to remove or install and comes with a Pinlock insert.
Key Specs & Head Shape
Head Shape: Intermediate Oval
Weight: 2.7lb
Safety Ratings: DOT and ECE
Best High-End Women's Motorcycle Helmets
Priced over $550.
Schuberth C4 Pro Women's
Why?
The Schuberth C4 Pro Women's is a modular helmet designed for women's head and face shapes. Its inner liner is designed to fit better to the smaller head, and extra padding is added around the cheek to accommodate the women's face.
The liners are plushy, soft, anti-bacterial, and fast-drying. They are removable and washable, although they are a bit complex to remove or install. The helmet comes equipped with an integrated antenna, speakers, and microphone for the Sena SC1 com system, which is designed for the C4 / C4 Pro. This makes installing the system very simple: just put the battery and the main unit in the slots, and voila! You are ready to go.
The C4 Pro also has an internal sun visor and an extra-large face shield preinstalled with a Pinlock insert.
Key Specs & Head Shape
Head Shape: Intermediate Oval
Weight: 3.91lb
Safety Ratings: DOT
Our Review
SCHUBERTH fans can rejoice: the C4 Pro is the expected return to form that many hoped it would be. The fit is now on the round side of intermediate oval, the interior is duly upgraded, and it's easily the quietest modular on the market. Mediocre ventilation and awkward placement of the SC1 control panel keep it from being perfect, but it's pretty close.
Arai Regent X
Why?
The Regent-X is Arai's entry-level helmet, so it lacks some of the premium features of Arai's more expensive helmets. The cheek pads and headliner are removable and washable—however, the crown liner, neck roll, and chin curtain are not removable.
Its VAS-V Max Vision face shield is Pinlock ready, but the insert is not included. With its plush interior and adjustability, it is one of the most comfortable helmets on the market. With Arai's FCS (Facial Contour System), the padding cradles the head and naturally follows the contour of the rider's face.
Paddings with different thicknesses are available for further fit adjustments. Together with the springy interior, the wider base of the helmet makes donning and doffing very easy. It is a very well-balanced, aerodynamic, and versatile helmet.
Key Specs & Head Shape
Head shape: Intermediate oval
Weight: 3.31lbs
DOT or ECE? Even better - FIM Certified
Our Review
The Regent-X is Arai's entry-level, DOT and SNELL M2020-certified helmet. The 5mm broader base makes the donning and doffing very easy, and with a new plushy interior, it is probably the most comfortable helmet I have worn. The Regent-X lacks some features, such as a peel-off layer on cheek pads and a fully removable interior. The VAS V visor is Pinlock ready, but the insert is not included. However, it is quiet and has good ventilation.
What To Look For In A Motorcycle Helmet
Knowing what to look for can be the difference between an awesome experience and a terrible one.
Look For:
DOT/ECE certifications—Many inexpensive full face helmets showing up on Amazon and eBay are not DOT or ECE certified. This certification may save your life. Don't cheap out—remember, you're preparing for the slide, not the ride.

Comfort— Most of the helmets featured on this page use lightweight materials to minimize neck strain—useful, especially on long rides.

Head shape—While most people are an intermediate oval, not all are. Make sure you get a helmet designed for your head shape.

Shell material—Polycarbonate is okay, but you'd be better served with carbon fiber (expensive) or fiberglass. All the helmets called out here (save for one) are fiberglass.

Interior liner—All the helmets featured here offer removable liners that are anti-moisture and anti-bacterial. Avoid non-removable liners (found in cheap helmets)—it'll be a stink factory before you know it.
Read the complete motorcycle helmet buyer's guide for more information.
At WBW, "Best" Actually Means Something
Remember when you could open up a review of something, and when the publication—magazine, car show, whatever—said "best" they stood behind it? Yea, we remember, and we're bringing it back.
Here's how we do things:
We disclose our affiliate relationships—We make money via advertising and affiliate relationships on our website. It's how we pay our team and invest in things like sending Jim to Italy. And Japan. And France… wait… why do we always send Jim places?

We obsessively hands-on test—We wear and ride with gear before reviewing it, and we update reviews down the line if our opinions change. We look at real-world situations because that's the world we live in.

We're objective—Good gear is good gear, regardless of who made it.

We're value-focused—Why pay $500 if something for $250 is just as good? Our review scores and recommendations reflect best value. Brand only goes so far—the gear has to stand on its own.