GMax MD01 Solid Modular: A Standout SurpriseReview Summary
Review Summary
The GMax MD01 modular helmet is a standout member in any crowd of motorcycle headgear. It has all the important performance and comfort features built in at an astonishingly low price of $179.99 USD. It looks like it costs more than it does. There's also a nice array of optional visors and safety lighting available for it. On the flip side, I found serious fitment issues wearing it and I have some concerns when it comes to longevity. This helmet would have scored higher it if it fit my head correctly all around and was more robustly built. I'm not confident this helmet would protect me personally in a crash due to poor fit.
Build Materials & Quality
Pros
Acceptably Quiet
Very Affordable Price
Super Airflow
Internal sun visor
Nice variety of visors
Rear LED Brake Light
Useful Gmax website information
Easy visor removal and installation
Dual DOT & ECE approval
Cons
Fit & finish is questionable
Almost Failed Roll-Off Test
Easily scratched visor and shell
3-year replacement intervals?
Visor leaks
Fairly heavy
Sun Visor issues
First Impressions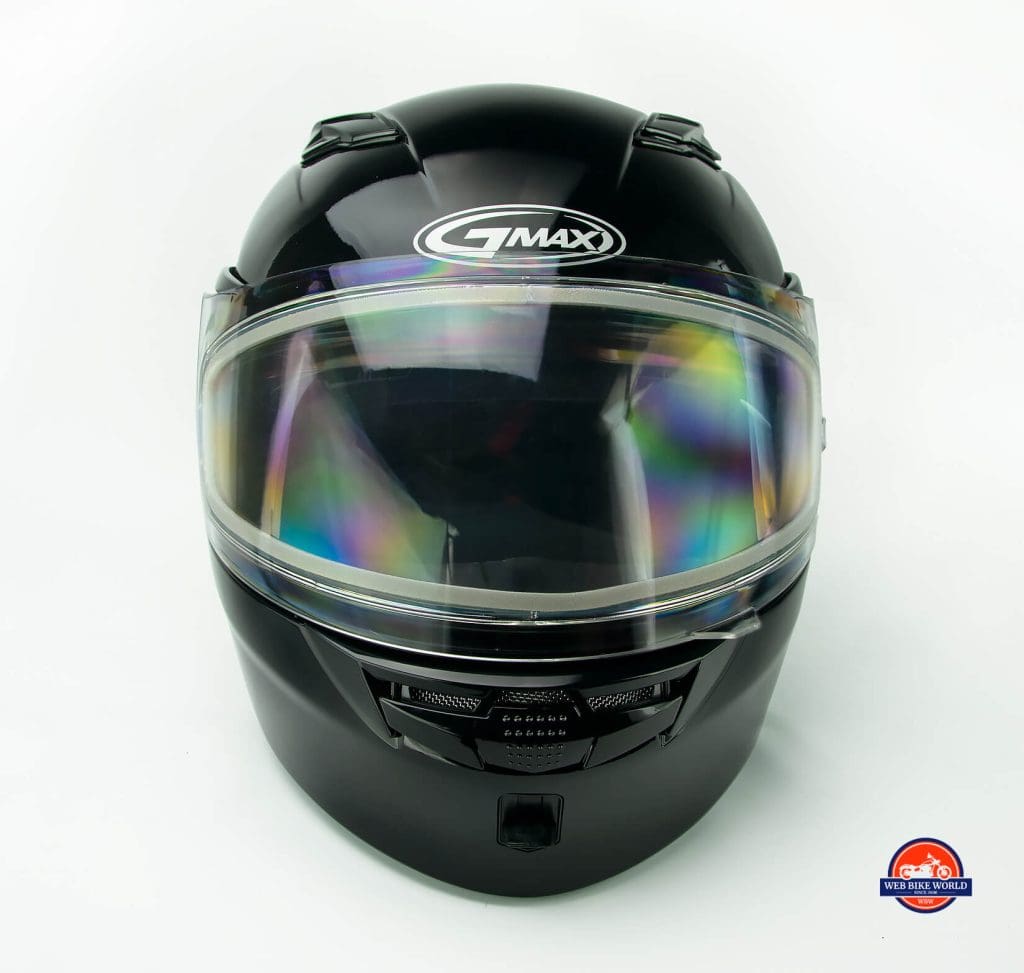 Who is GMax?
I know many of you are familiar with the brand already but this is my first encounter with them. I scoured the internet and found scant information so I reached out directly via email and got a fast response.
GMax is an American company based in Idaho that began designing and producing helmets back in 1999. Originally the founders (enthusiasts) made lids for their own recreational and road riding needs, but then they took their act to the big time. Their helmets are manufactured in Taiwan by a company GMax has partnered with. This makes them cheap to produce there and buy here.
See all of wBW's coverage of GMax helmets.
Excellent Website Resources
The GMax website is full of useful information ranging from how to test their helmets for proper fit on your head to a detailed parts and accessory list with microfiche images. GMax MD01 Parts and Accessories Link
I enjoy being able to help myself with a product when it comes to getting replacement parts. Often I call manufacturers for help only to wait on hold or not get anyone at all. With the part number in hand, you can cut to the chase faster when you do get someone on the line. Bravo GMax!
Thank you!
The MD01 helmet along with a large box of visor and helmet accessories were provided to me for this review by 2Wheel.com and GMax at no charge.
Donna also recently reviewed a different helmet from GMax in the OF77 helmet. Read her GMax OF77 helmet review.
Build Quality & Style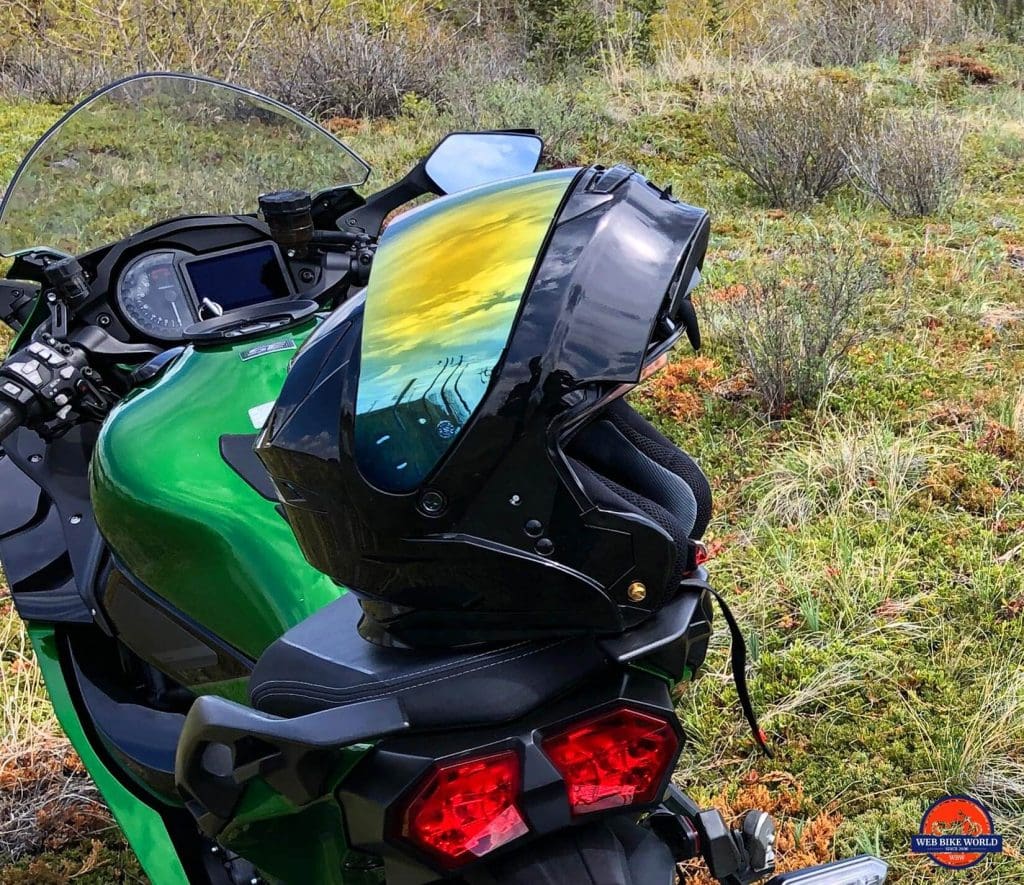 The look of this helmet gives the illusion of it costing more money than the $179.95 price amounts to.
It's handsome! It has sharp, aggressive styling that draws eyes and looks futuristic to me. Like something out of a sci-fi production… but the lower budget TV variety… in the 90s. Specifically, Stargate SG-1 would be where I would picture it showing up. It would be on the head of this week's episode's main villain whose name could also easily be GMax MD01 Solid.
Having said that as I slide my hands around and caress it digitally I can't help notice some sharp edges here and there, like on the rear exhaust lip at the base of the helmet. Not enough to wound me, but notable.
It feels very "plasticky" to hold and handling it produces what I call the "grunting and creaking" effect you'll get with any helmet built from this material or liberally accented with it (like the Nolan N100-5 for example).
Thermoplastic Poly Alloy Shell
The plastic shell on the GMax feels decent quality and is glossy but has a fair amount of flex to it. It makes me curious about how it stacks up against other more expensive shell materials so I do some digging.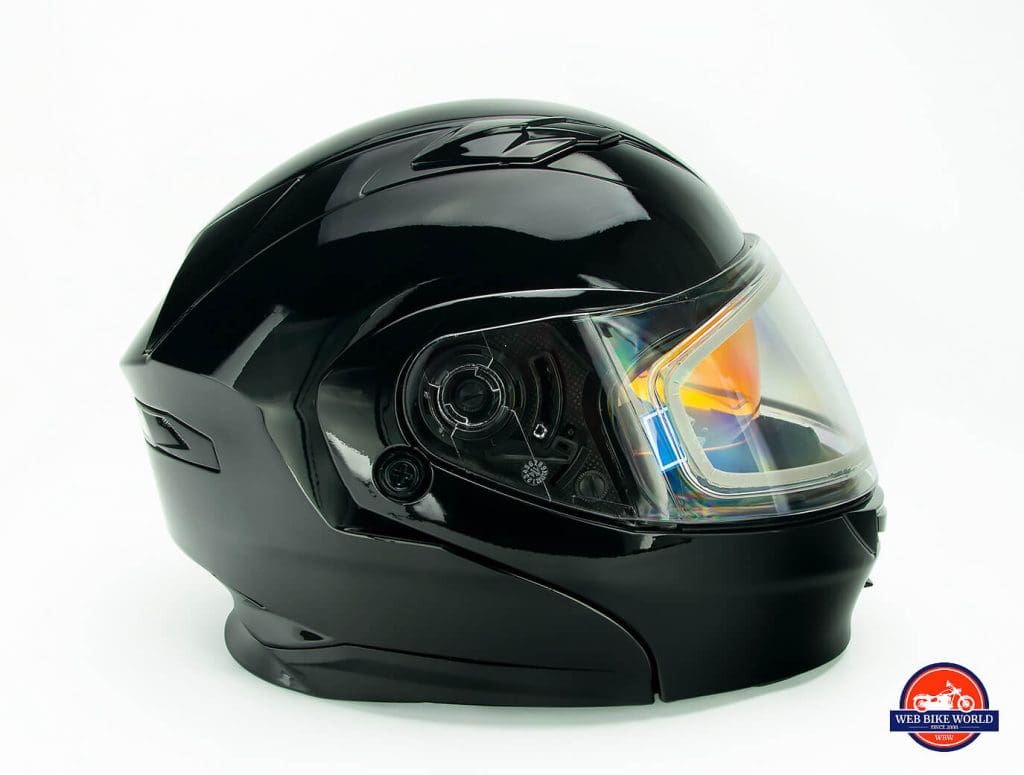 Billy's Crash Helmet Guide talks about data from SHARP (an independent helmet testing organization in the UK) saying specifically the top performing Carbon Fiber shells measured about 17% higher in scoring than thermoplastic ones did.
Considering how helmets built with those materials can cost almost 6 times what this GMax does the results are quite underwhelming. Comparably fiberglass and composite ones were only 9% better.
Most everything I find online supports this and says these plastic shells protect well enough in a crash if combined with thicker EPS foam compared to fiberglass, composite, and carbon fiber shells which are much stiffer and don't need the extra layers. This holds true with the MD01. Its EPS is about twice as thick as the foam layer in the Shoei GT Air II helmet I just finished reviewing.
Feels Big On Me
It also means the helmet feels pretty big on my head when I throw it on. There are three shell sizes available from XS all the way up to 3XL. They also offer several different thicknesses of cheek pads and liners available from GMax to help make a better fit.
I didn't have the opportunity to get different sized pads sent to me before publishing this review to explore getting a better fit unfortunately.
Weight
The MD01 registered 4lbs 2oz on the scale I use to measure all my review products. That's Even Steven with the vaunted Shoei Neotec II, but a far cry from other featherweight modulars I've reviewed that are more than a pound lighter.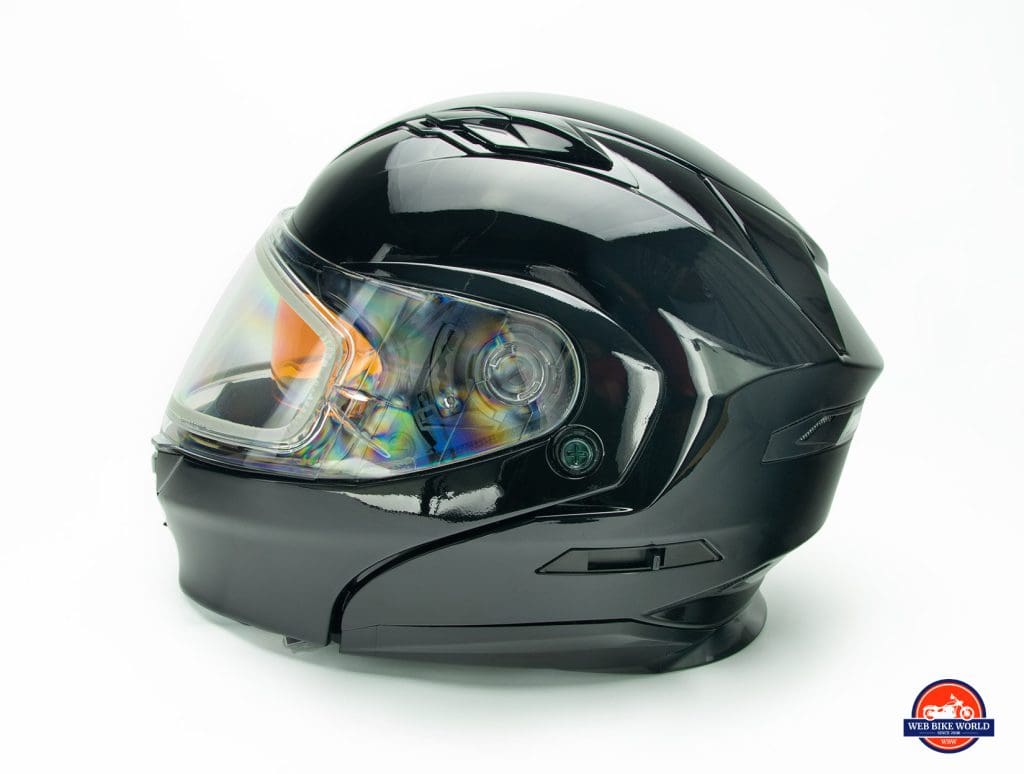 I'm wearing a Medium which should fit quite tight and smallish on my 23-inch (58.45cm) circumference noggin' according to the GMax sizing charts… nope.
It's not what I would call a comfortable fit either but I'm used to that because my head shape is Round Oval. This GMax fits more like Intermediate Oval so I'm feeling pressure almost immediately on the sides of my head in front of my ears around the temple area. Again I'm used to this and will accommodate it while testing any helmets that are IO shaped. I accept that I'm in the minority in North America and thus the majority of helmets will fit a bit too narrow for my head.
I'm not used to tolerating the gap at the back of my skull that I'm noticing down low in this MD01.
Fits Like A Zox
I've only encountered this sensation once before when I wore a Zox helmet. Those are very similarly priced and also manufactured in China. I suspect the two brands might be built in the same or similar factories on the other side of the world, but can't confirm it.
See Gerry's review of the Zox Brigade modular… there's a similarity between these two helmets, don't you find?
The Better Fitting Helmet
This is the GMax slogan and it's catchy if not ironic in my case. They have a great section on their website that explains how to test the fit of their helmets and what to do if you encounter looseness or it fails some simple fitment tests like the Roll Off one for example.
I crank the double D ring style chinstrap as tight as I can get it and try the Roll Off test suspecting imminent failure because the MD01 isn't sitting tight to the back of my head. I try to peel the helmet off by pulling upward and forward from the back edge. It slips easily forward and would have come right off if not for the chinstrap finally digging into my neck and the top of the eyeport jamming on the bridge of my nose.
I'm very disappointed with the fit. Pressure points, looseness in the back, and I find my right ear seems to get folded up uncomfortably when I put the MD01 on. Happily with a little adjustment, I'm able to unfold it again thanks to GMax enough clearance around my ears on both sides. They did a nice job building in clearance for ears.
It isn't causing me pain as the original Shoei GT Air did, but the MD01 is quite uncomfortable to wear and doesn't fill me with confidence about surviving a crash wearing it. A poorly fitting helmet is worse than wearing a non-DOT approved one when it comes to energy transfer in the event of a sudden impact event. If the helmet moves around excessively due to a looser fit, things are going to get wild on the inside where my brain matter is housed.
Scratches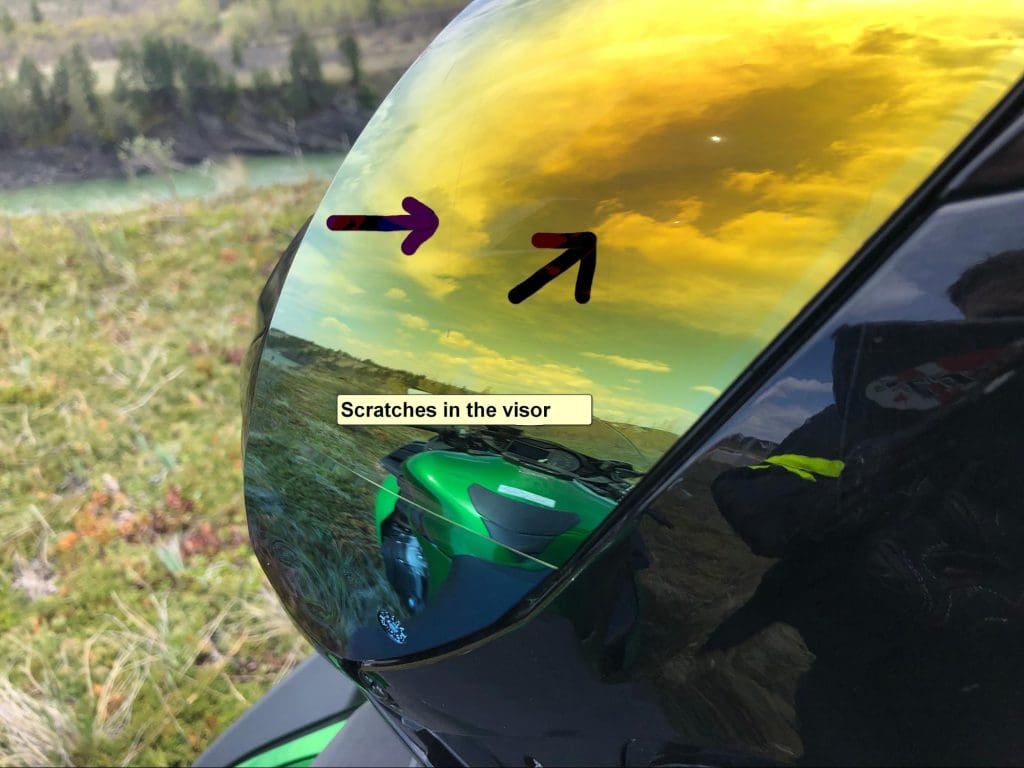 This helmet loves to take on damage even with ordinary use. After several hundred miles of riding and handling it's covered in mostly fine scratches and light blemishes. This includes the beautiful Iridium finish on the visor just from wiping away rain with the rubber strip on the index finger of my Rukka Virium gloves. This hasn't happened on any other visor I've tested.
Longevity Questions
The tendency to collect wear marks and the looseness I notice in the shell, switches, vents, and moving parts make me question the lifespan of the MD01 compared to other helmets I've reviewed.
GMax provides a 3-year warranty on their helmets which is about 2 years shorter than most others I've encountered. I guess it makes sense that they suggest replacing your helmet every 3 years as well compared to the general 5 years most everyone else goes with.
That's about what I make of this helmet, to be frank. It's not going to last if used seriously by the owner. If you're someone who doesn't put on a lot of miles it should hold up ok, but anyone like me who puts on many miles per year in a short span will likely find it lacking. That's just my guess though because at this point I've only ridden about 500 miles in it which is my usual amount before writing a review.
Feature Rich
Despite the irritating fitment issues, there's a lot to like with the MD01 because of the features and options on it.
Dual Safety Ratings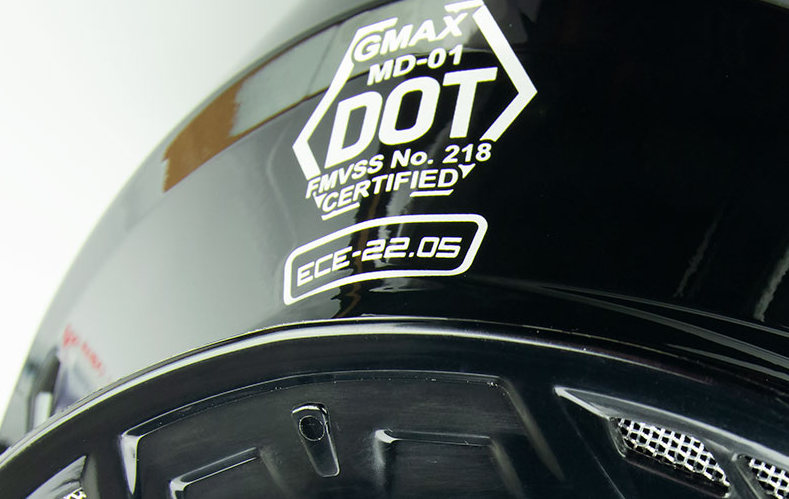 I approve of the fact this helmet has DOT and ECE approval stickers on it. This grants extra peace of mind for the wearer and the ability to bring the helmet overseas and use it if so desired.
Eyeport Opening
I've no complaints about the aperture size on the helmet. It seems about the same as most other modular helmets I've worn and keeping track of my surroundings through it during shoulder checks or even in heavy rain is no issue whatsoever.
Visor Overload!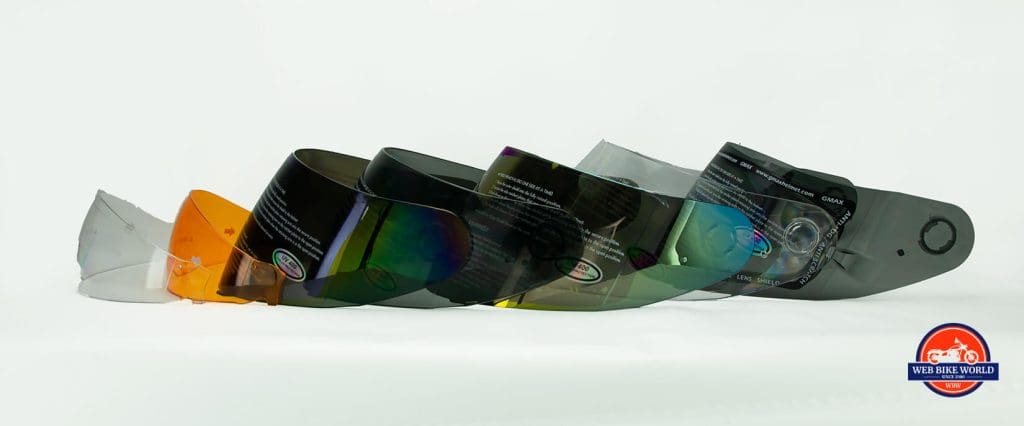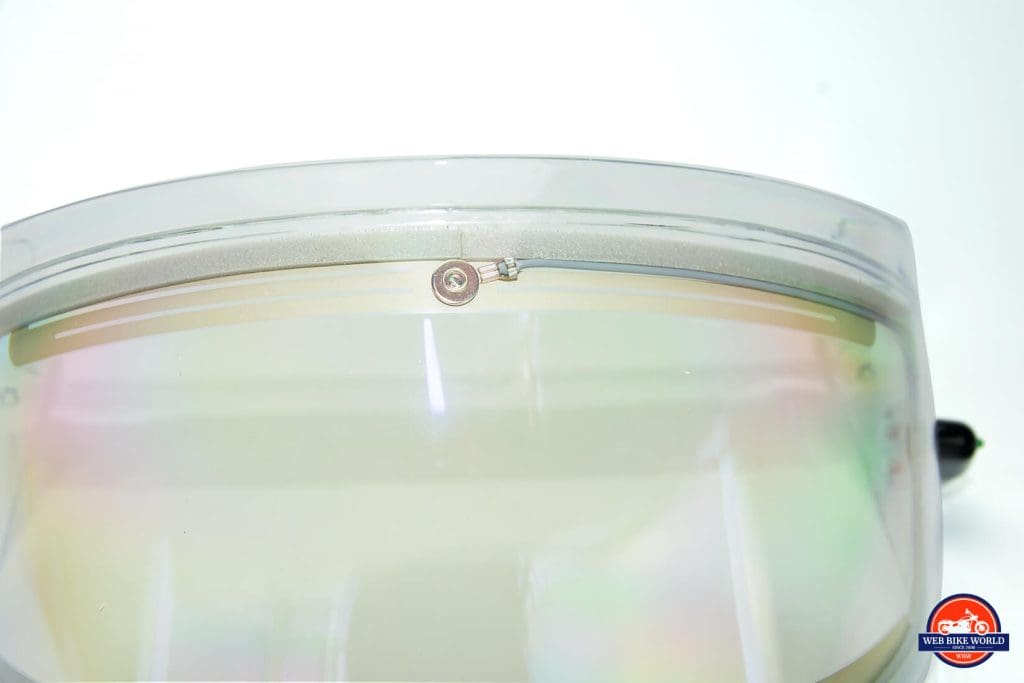 This helmet came with smoked, clear, and two Iridium style visors. Additionally, they sent me two heated visors along with the harnesses to install them on the bike. One of the heated visors was smoke colored and the other clear. They really spoiled me this way and I had difficulty choosing a visor to use before hitting the road… figuratively speaking of course.
Stable At Speed
I love that the visors can be cracked open just a hair and stay put on the MD01! This is a challenging feature for many other helmet manufacturers to build into their products. GMax has managed to do it though. I was riding at speeds above 80 mph and still the visor wouldn't slam closed even with full wind force acting on it. Well done!
Heated Visors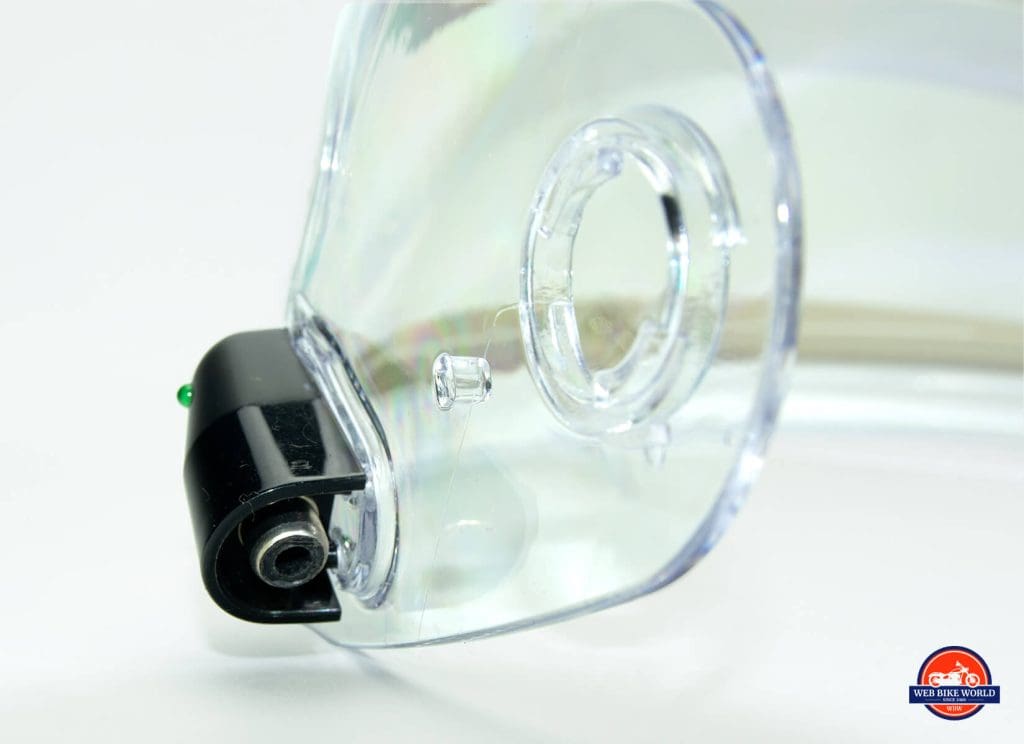 These won't ever fog up, that much I'm certain of! They heated up instantly and got to temperatures above 130 F (54 C) to my shock. I thought about using them to heat up my lunch a couple of times. The harness that connects to the battery posts has a built-in fuse to protect from inconvenient fires and melting problems.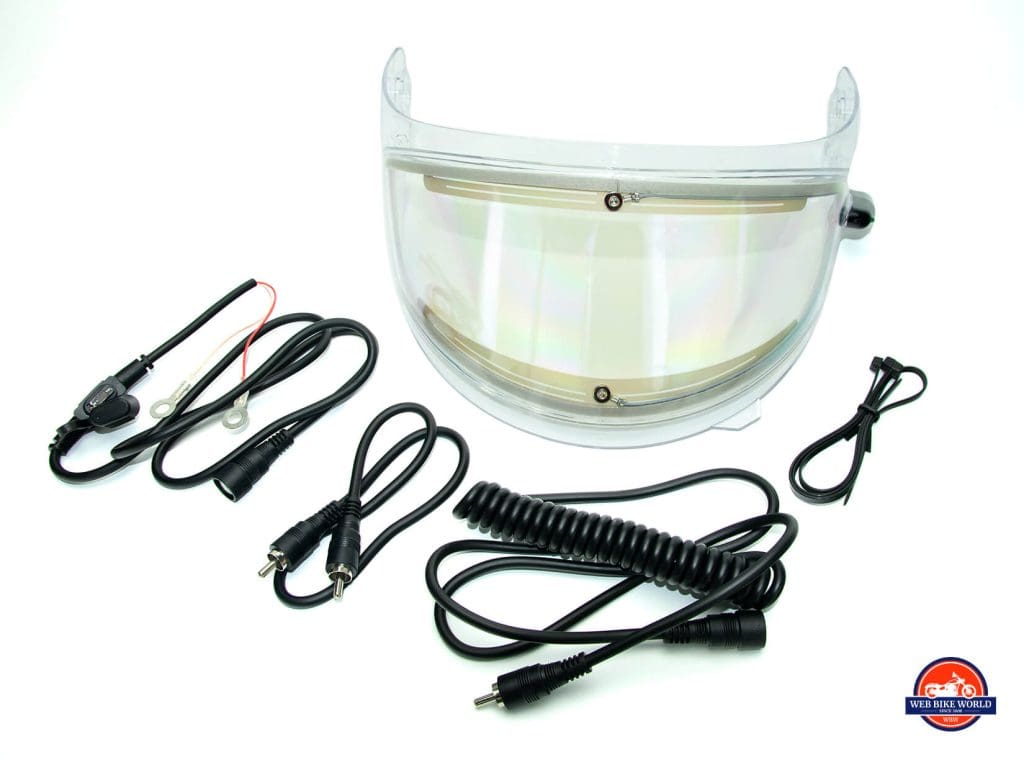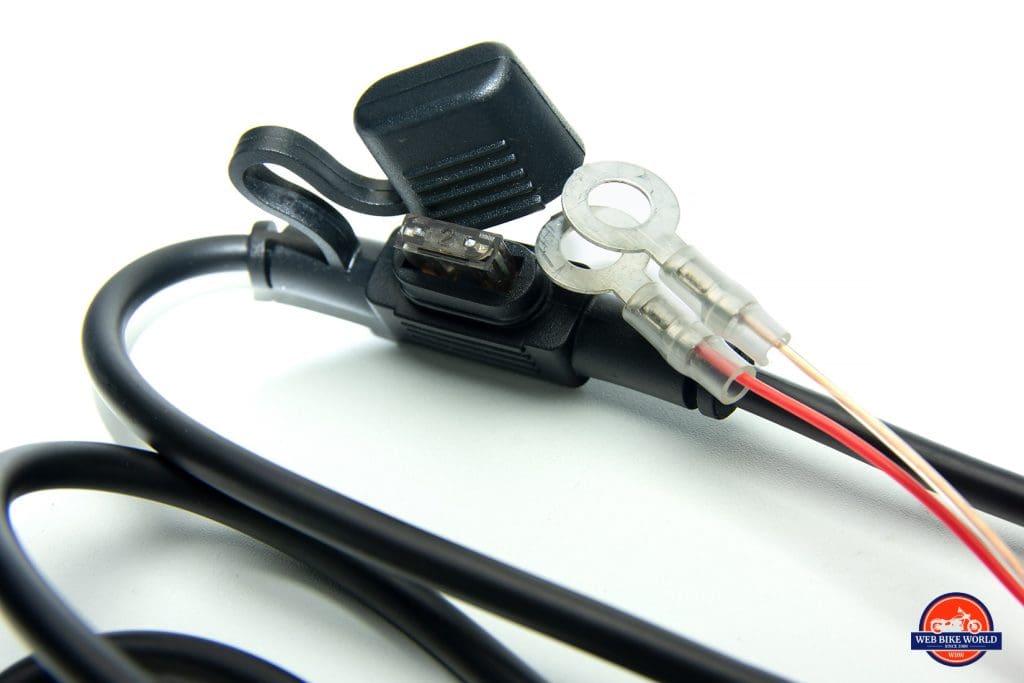 My Favourite One
I settled eventually on the blue tinted Iridium one for day to day riding and am very pleased with it other than how scratch-prone the finish is. I didn't notice any optical flaws or irritations looking through any of the samples GMax sent my way and would rate all of them quite good when it comes to quality and function. I will admit I'm not especially fussy about visor inclusions or faults so there may be some present I didn't notice.
Fogging & Leaking
The MD01 has a massive breath guard and chin skirt included with it. They're both perfect for cold weather riding, but get in the way when you lower the chinbar or put on the helmet. I have to fuss and fiddle with them every time to get everything where I want it when donning the helmet. It's irritating, but worth the trouble to stay fog free. I tested the helmet thoroughly in heavy rain for about 4 hours riding time and there was zero fogging going on. That's the good news.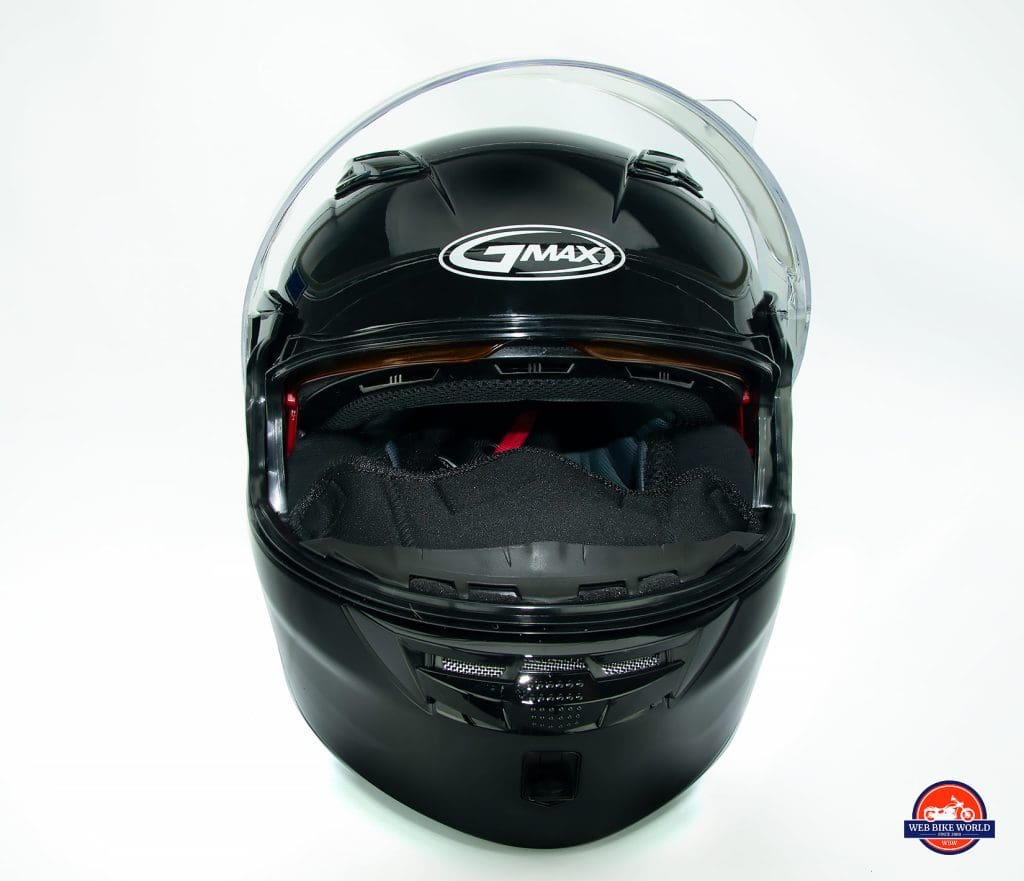 The bad news is that if I turned my head to the side and left it there, water would leak through the visor seal on the sides where it seems to bulge out a bit. It didn't leak any other time during my testing thankfully and only happened using the non-heated visors, interestingly. I think the heating elements stiffen up the visor enough to prevent it.
With the breath guard removed I found the visor would fog up in colder weather. It could benefit greatly from a PinLock, but that would boost the price another 30% on this economy model. These visors aren't PinLock ready anyway.
Integrated Visor and Sun Lens
I was blown away by how easily the main visor can be removed and installed on the helmet. It's possibly the most user-friendly, dummy-proof system I've used other than the Schuberth C3 Pro mechanism which practically installs itself for you and is the standard I use to judge all others.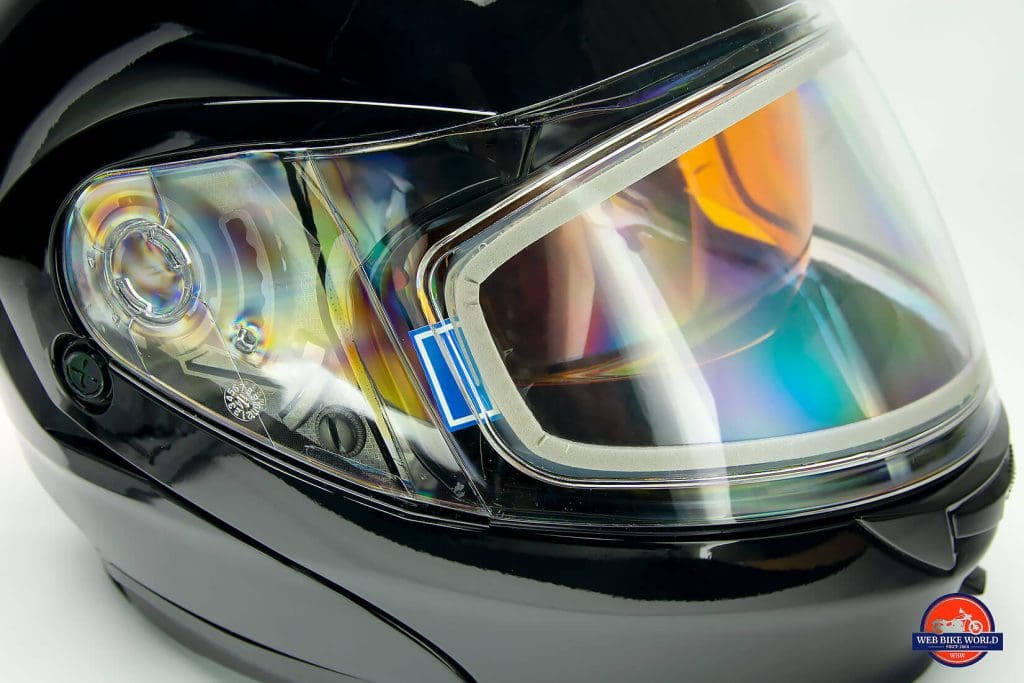 Then again, the locking/unlocking tabs are made from very small, thin plastic parts which I can't imagine will hold together over time. I didn't manage to break them despite the fact I swapped visors about 8 times to sample all the different ones I received from GMax.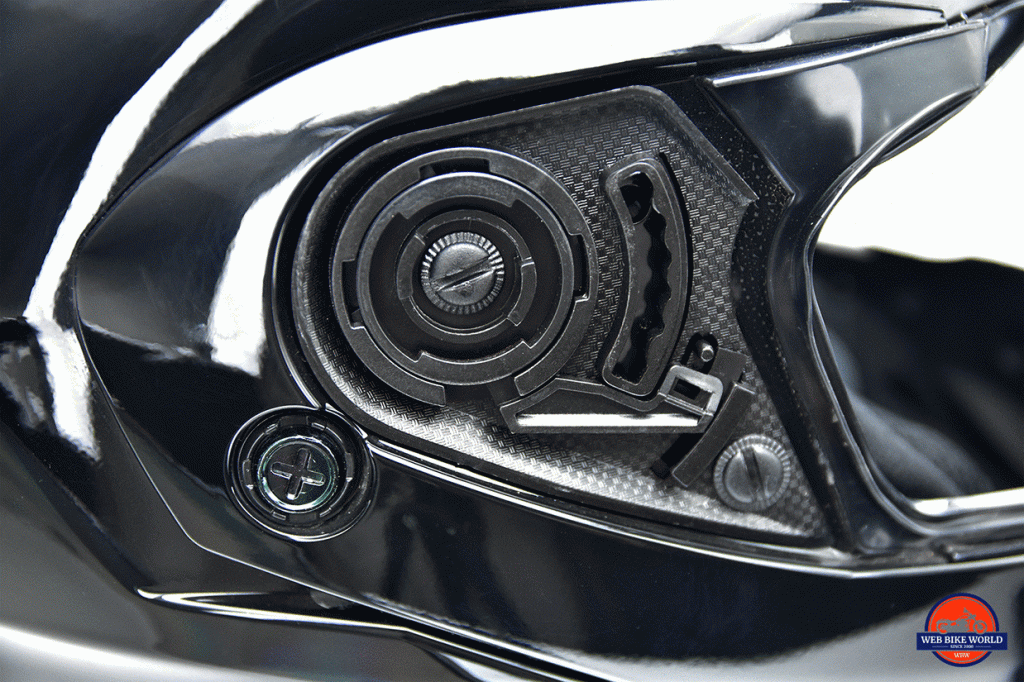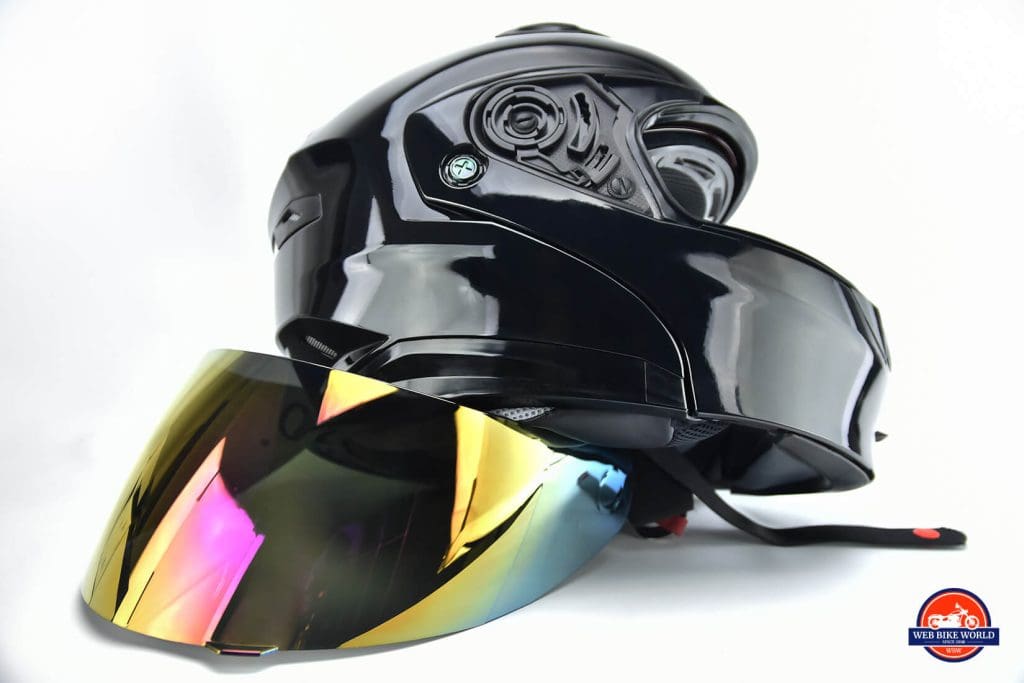 UV Protection
Worth noting is the claim of the GMax visors blocking 100% of UV radiation. I've only ever seen other builders say 99%. I wonder if this is grandstanding or legitimate? I've no way of knowing but can confirm my eyes were very comfortable hidden behind these test models.
I Feel Like U2's Bono
The integrated sun lens is an orange tint! It's very nice to use day or night because it makes colors more vibrant while also taking the glare off the scenery. I'm a big fan of it.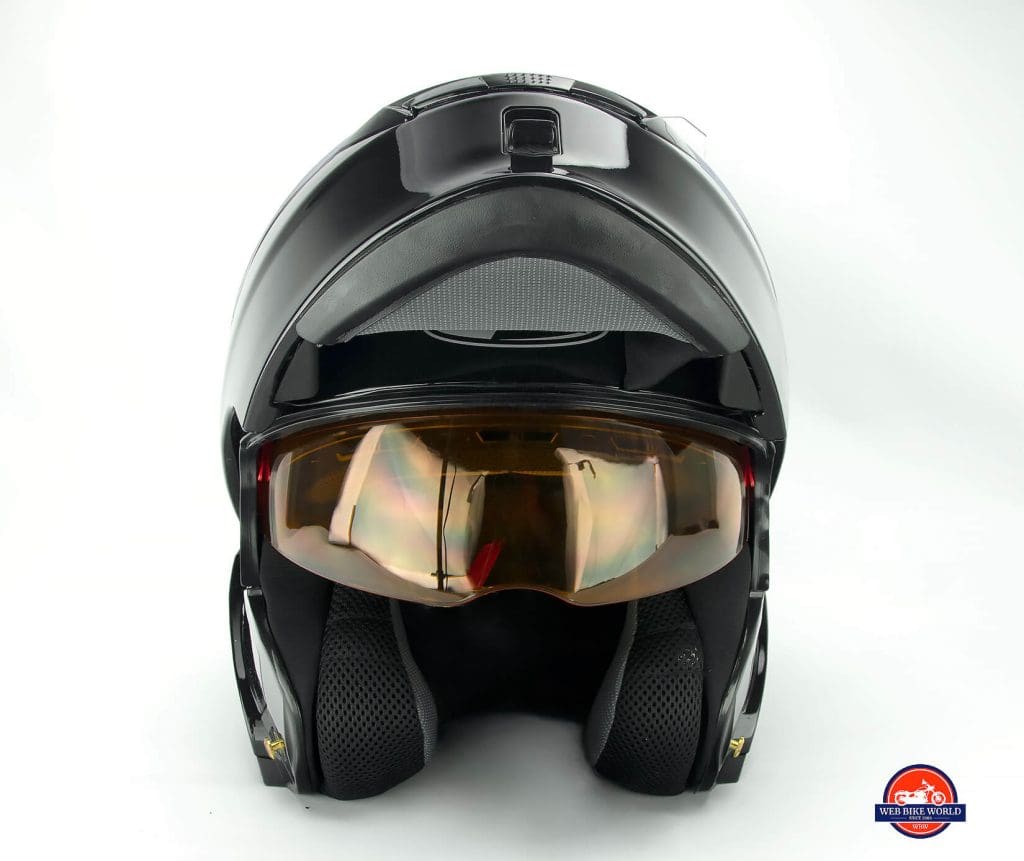 However, the slider switch to raise or lower the lens is rough running and has too much wiggle in it to convince me it'll last long term without breaking.
I removed and installed the sun lens to see what it was like to do and found afterward the slider switch didn't want to lower the lens with the chin bar raised anymore. Instead, it would start to come down then jam halfway. I tried pulling the lens out again and carefully looking to see what I did wrong to cause the issue, but it was to no avail.
LED Light And Optional Brake Light Transmitter
This is my favorite part about the helmet. So smart and useful that I can almost forgive the other flaws I've found.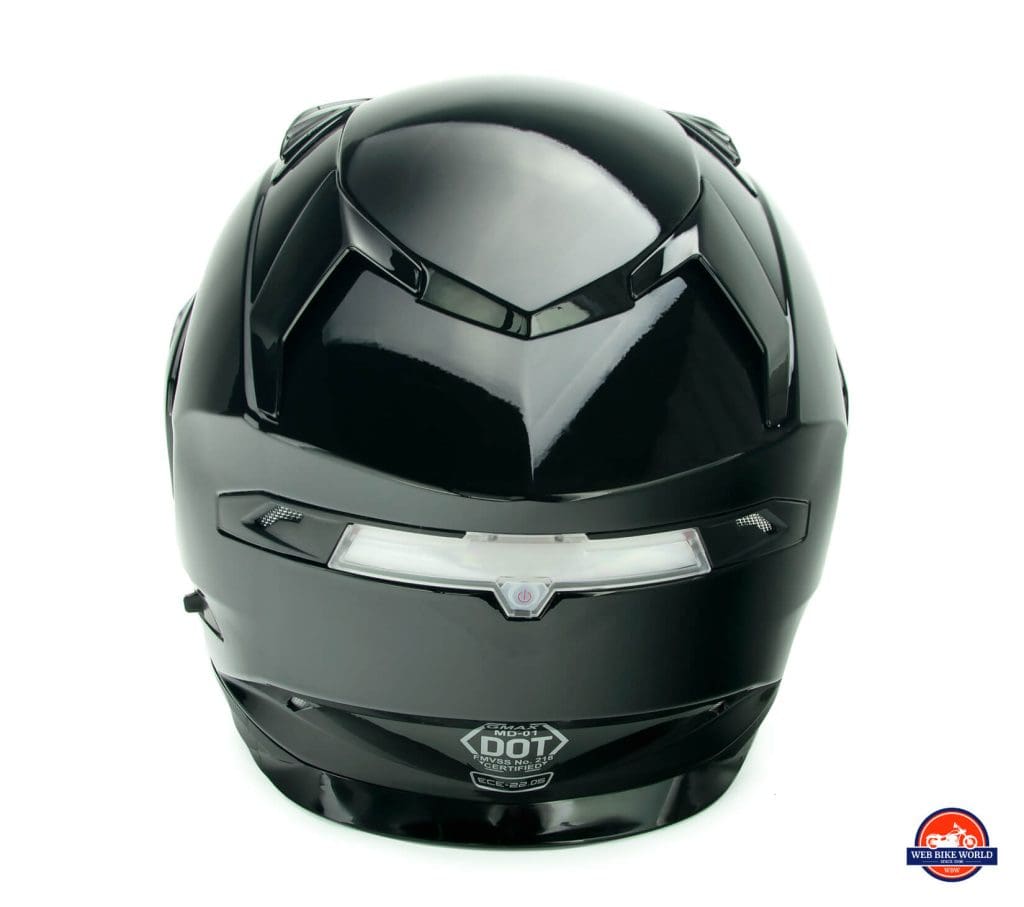 The MD01 comes with an LED light bar positioned in the back of the shell. It's shaped like a poorly drawn Chevrolet emblem but is a really smart way to be more visible out on the road or trails.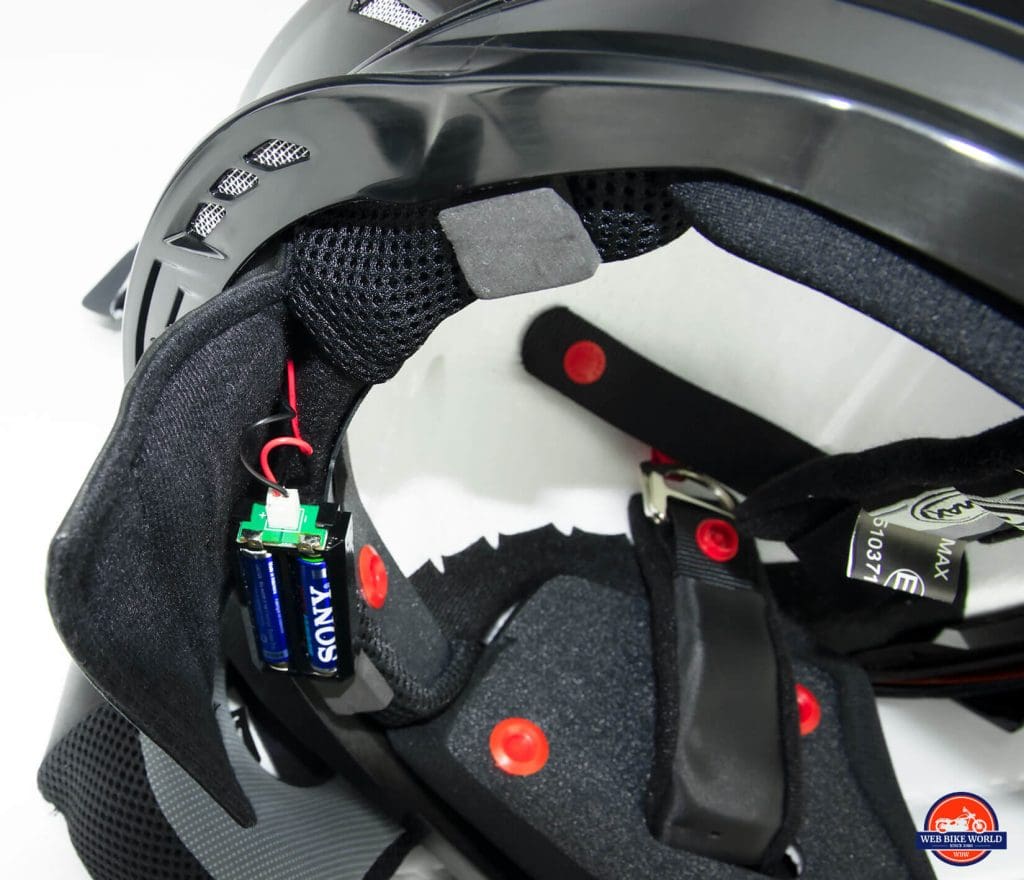 The standard one has five different flashing light patterns and is quite visible even in bright sunlight at the correct angle. At night it lights up like lightning and could easily save riders' lives. I think this should be standard on all helmets in the name of safety.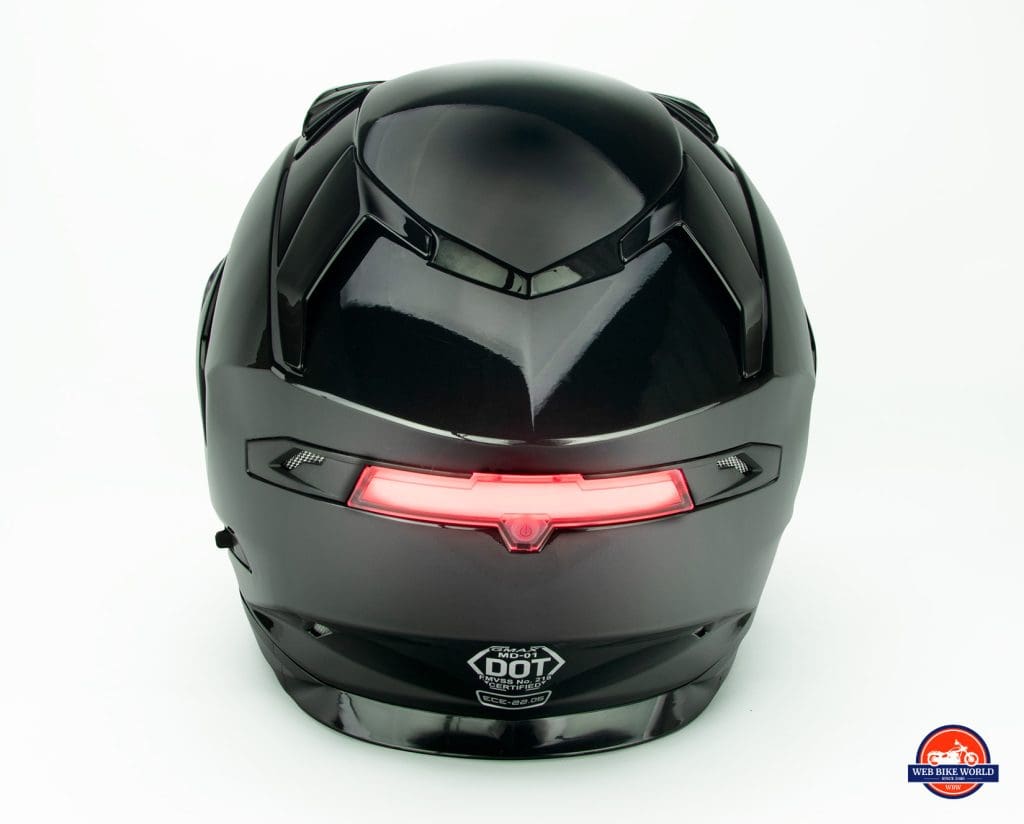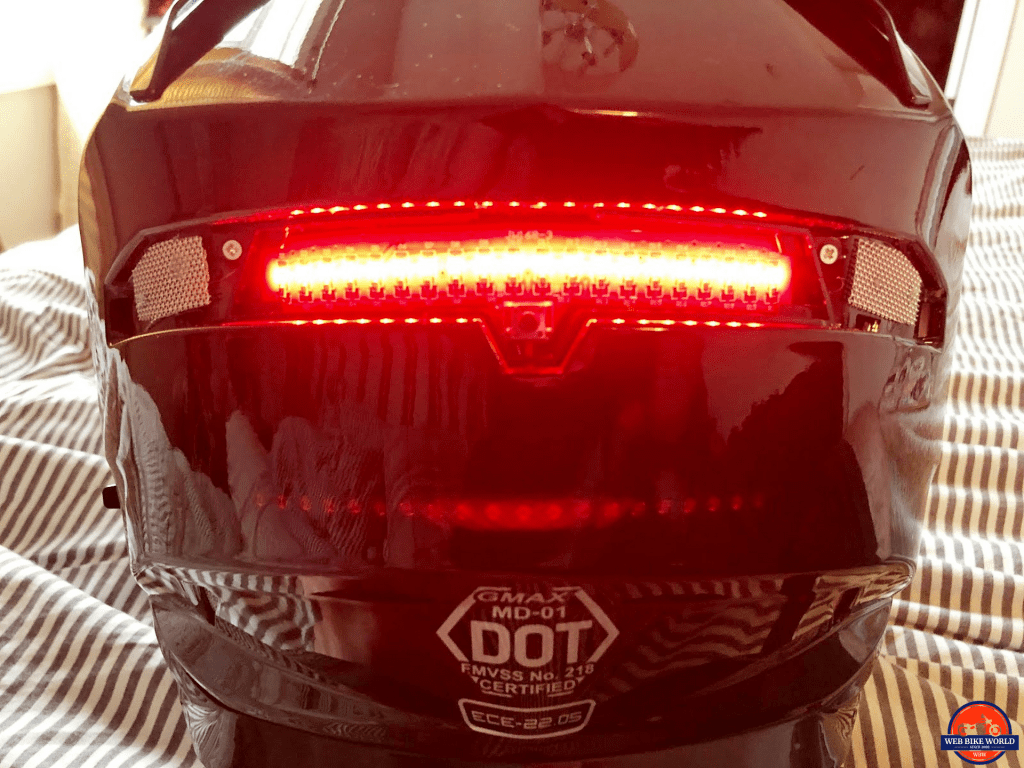 I will say that I like it a lot more with the white, rubber seal removed from the housing for visibility reasons. The light is much sharper without the white seal diffusing the laser-bright beams emitted from the circuit board behind.
Even Better!
For an extra $39.95 you can get a kit from GMax containing a wireless transmitter along with a different brake light assembly that interacts with it.
This kit was included in my GMax product package and I jumped at the chance to install it in the helmet for testing. Just pry off a couple of small vent covers on the back and then use a JIS screwdriver to remove the tiny screws holding the light in place.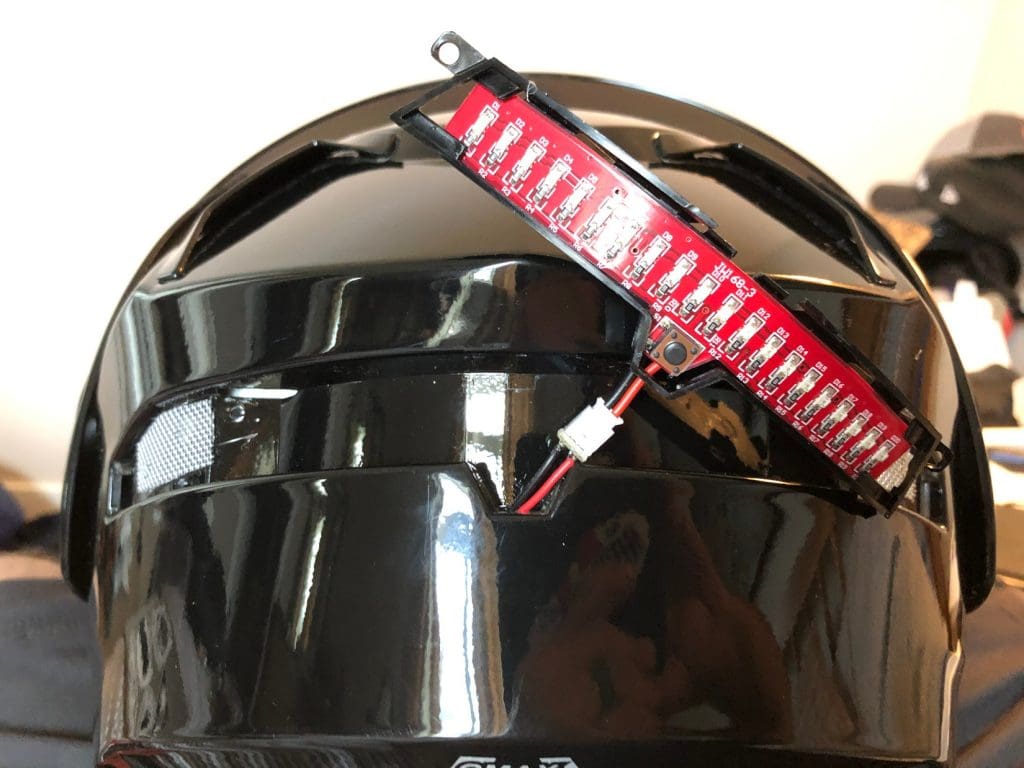 If you don't have a set of JIS screwdrivers in your arsenal of tools for taking out small fasteners, order these from GoFast Innovations JIS screwdrivers that I reviewed last year. You'll thank yourself next time you install certain PinLocks or tackle other jobs involving tiny screws like these. They won't strip the heads like a Phillips bit will.
See this video I made to illustrate how the LED brake light works.
Not On My Motorcycle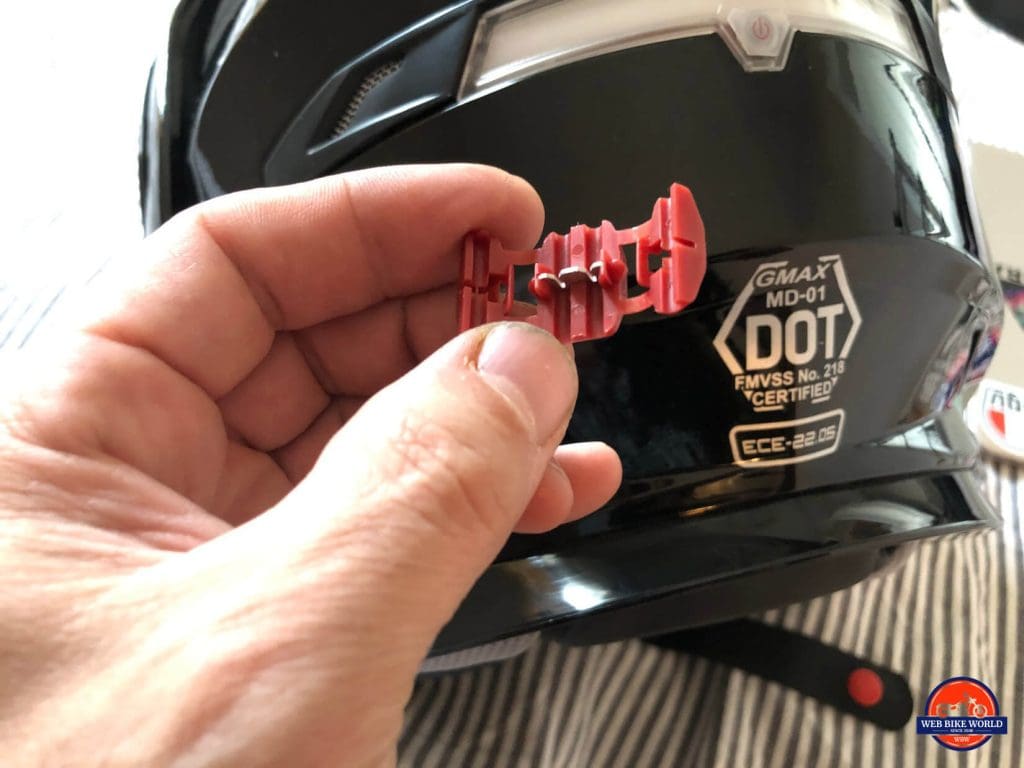 The kit includes these plastic connectors that can splice in the transmitter wires to the brake light circuit on your motorcycle. Please don't use them because they don't seal out moisture and can lead to electrical nightmares down the road in my experience.
If you want to do the installation the right way and without causing harm or inviting future electrical gremlins, get some of these Posi Lock connectors that we've reviewed previously and highly recommend.
What About Two Up Riding?
GMax is all over riding with a passenger while using the LED Braking Light transmitter. In the video below they demonstrate how to link one or more helmets to the transmitter on your motorcycle.
I wonder if there's a limit to the number of helmets one transmitter can sustain? Imagine how fun it would be to link a group of 12 riders' helmets to flash en masse when only one person hits their brakes?
Airflow
The MD01 really shines here much to my surprise.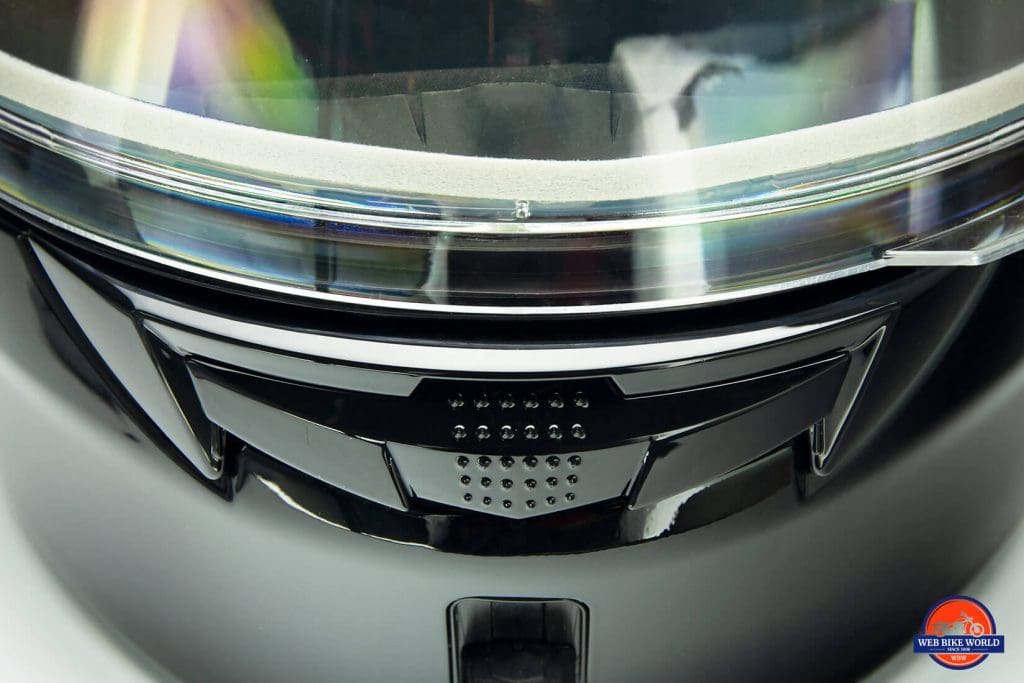 The vent covers are slightly wobbly, rough, and built from weak feeling plastic in my opinion. They lack the refined and smooth action found in other helmets on the market. Even comparatively priced ones from Scorpion.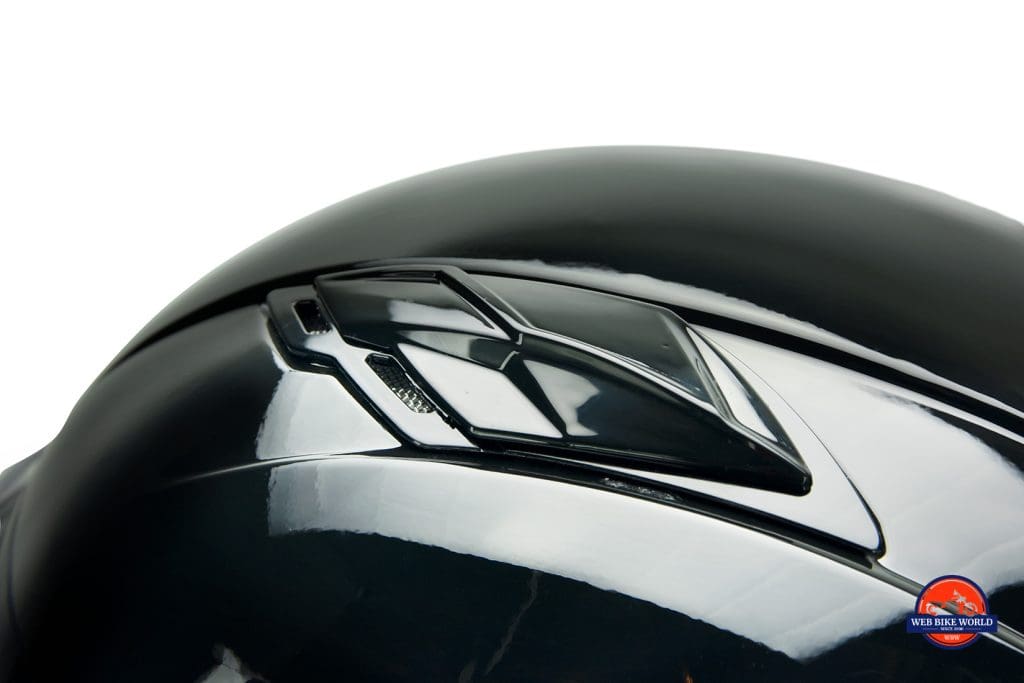 Having said that, they operate well enough, can be easily manipulated while wearing thick gloves, and flow tons of air at the wearer's face and on the crown area. I find it's less pronounced with the breath guard removed but still works well. There's even adequate flow with the vents closed.
It probably helps that the helmet has a claimed 11 exhaust openings on it to vent all that moisture, sweat vapor, and heat we generate while riding. I count only 6 exhaust vents in reality but they look like more because some of them have small dividers built in to make them appear more numerous.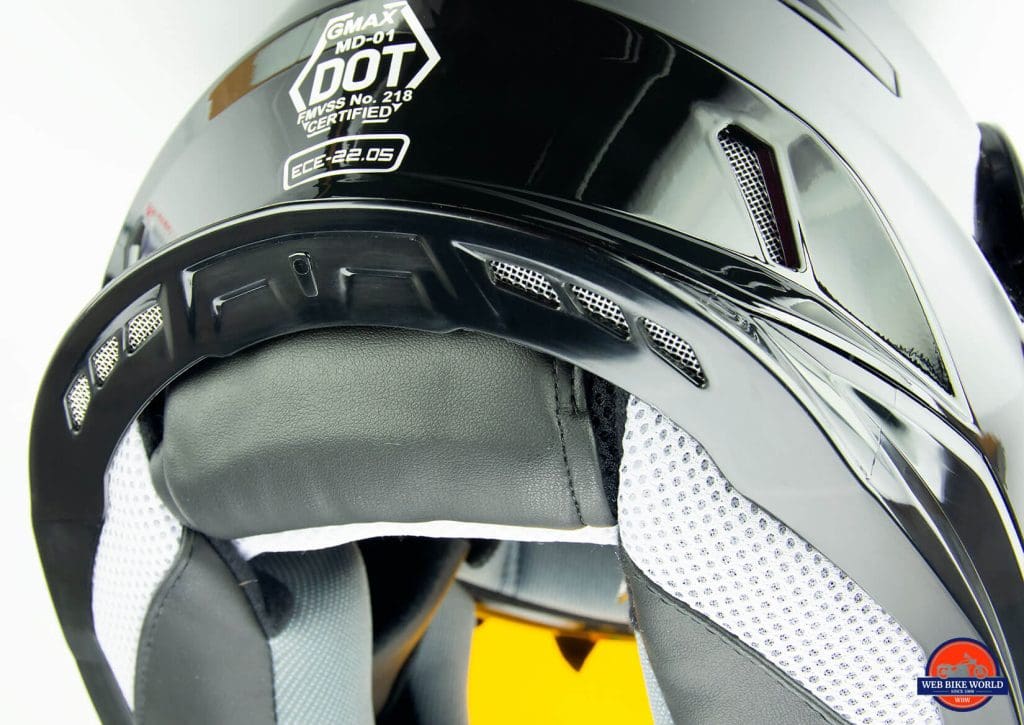 GMax take a bow on this one as you did it right.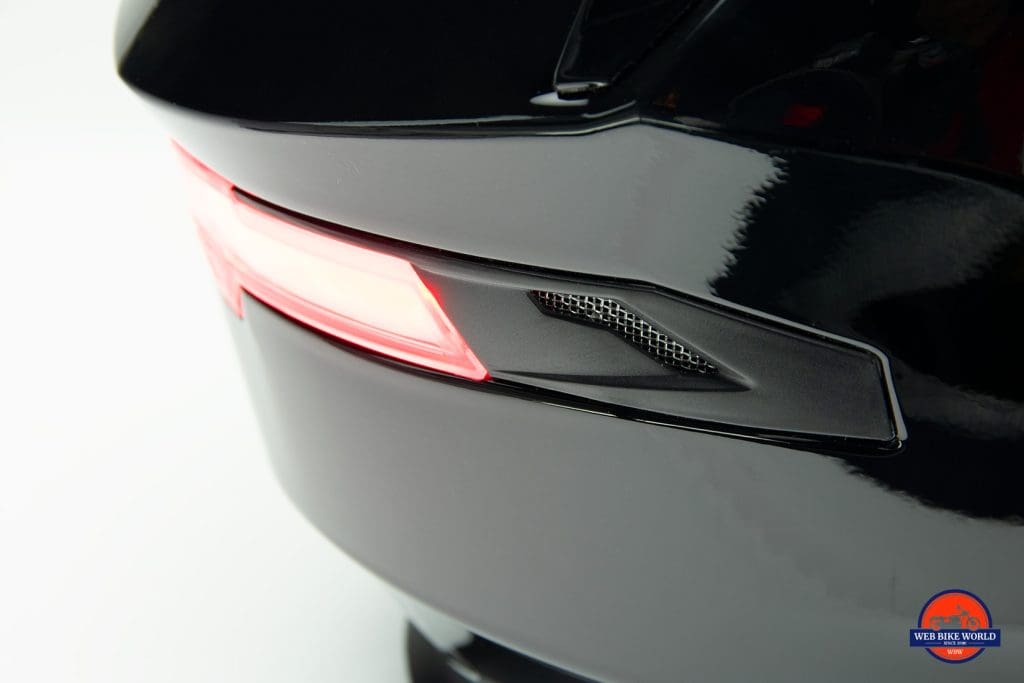 Road & Wind Noise
Modulars are fairly noisy compared to full face helmets, and overall I would rate the MD01 at average modular noise levels. It generally has hissing wind noise present with some lower pitched roaring at times especially with crosswinds coming at it.
It does well out in the wind stream head on and might even be considered on the quieter side of average at times in that situation. I think GMax did a good job on picking a shape for the helmet that won't cause excessive turbulence and the extra thick EPS probably plays a large part as well providing sound insulation.
Comfort Liner Package
The interior of the MD01 is high end for such a low priced piece of headgear.
It looks and feels similar to the lovely material used in my AGV Sportmodular Carbon helmet which is my favorite interior at this point.
GMax uses what they call a "Cool Max" lining to draw moisture away from the head combined with "SpaSoft" bamboo charcoal fabric underneath. The level of soft plushness and general appearance is on par with premium helmets costing tons more money to buy.
It works very well at inhibiting microbial growth and keeping the wearer dry and comfortable that way. It's also washable and easy to remove and install again afterward.
I found one stray thread poking out of the left cheek pad nylon mesh, but everywhere else the stitches are straight, strong, and well built.
As I already mentioned it's not comfortable for my head and I feel lumps bunching up around the sides of my head despite all the attention to detail put into the liner.
"Quel dommage", really. So close to being perfect… really close in fact.
Bluetooth Compatibility
The liner has pockets built into it for housing speakers from a Sena, Cardo, or whatever other systems you'd like to run in it, but there's little in the way of adjustability possible with them.
The other problem would be mounting any clamp on style system on the outside shell. It has a rubber lip on the bottom edge that curls underneath inwards and would make it impossible without cutting a notch in the rubber… You'll be stuck using two-sided tape or similar adhesives on your Bluetooth device installation which is far from ideal in my experience.
The Final Verdict?
This is truly the most perplexing helmet review I've written to date!
One moment I'm condemning the MD01 and the next heaping praise on it. It makes no sense, but is the truth.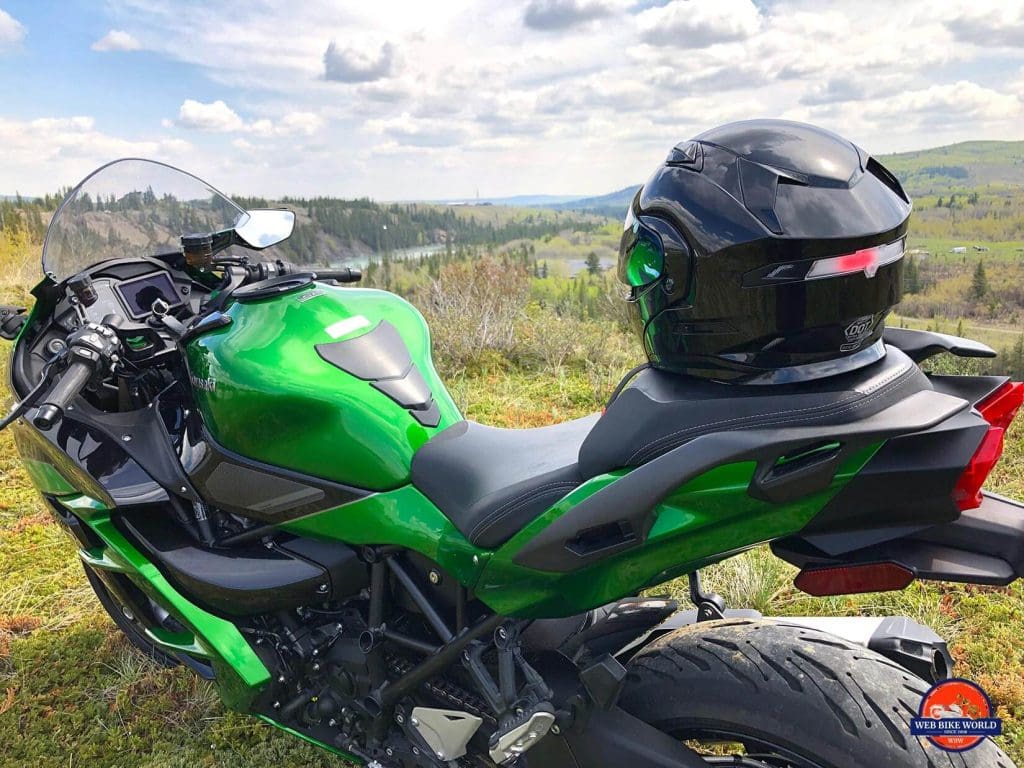 Here's the most important factor for me: safety.
I won't wear this helmet again because I don't fit it correctly. That's the be all, end all for me on the matter and I would caution anyone considering buying this GMax to try one before you buy it to ensure the correct fit.
Despite all the features I REALLY enjoy about it, priority one should be keeping me protected in a crash and I'm not confident the MD01 will follow through in that way.
GMax should build this helmet to compete in the $400 niche with a fiberglass shell (to make it lighter), higher quality moving parts, and components with a more standard fit. Those improvements would result in a much more attractive product worthy of challenging builders in that price range like Nolan.
As it stands now, I would rather spend $400 and buy the Nolan N100-5 or $350 for the Bell SRT Modular instead of this MD01. The Nexx X-Vilitur also looks like it would be better overall. (Editors note: the HJC IS-Max II that Wade just reviewed seems like it'd be a good fit, too).
I predict the Nolan, Nexx, and Bell could be worn twice as long with fewer problems, but if your budget is sub $200 that's all that matters here.
If your head fits this GMax correctly I'm willing to endorse it, to a point. It's inexpensive and will fit almost anyone's budget which is great. The downside is I doubt it'll be there for them past the three-year mark reliably, so keep that in mind before you shell out your hard earned bucks on it.
No, you don't need to spend $800+ to get a helmet that will last 5+ years in my experience, but in the same token do you want to be buying a new helmet again in 3 years or less?
Pros
Acceptably Quiet
Very Affordable Price
Super Airflow
Internal sun visor
Nice variety of visors
Rear LED Brake Light
Useful Gmax website information
Easy visor removal and installation
Dual DOT & ECE approval
Cons
Fit & finish is questionable
Almost Failed Roll-Off Test
Easily scratched visor and shell
3-year replacement intervals?
Visor leaks
Fairly heavy
Sun Visor issues
Specs
Manufacturer: GMax Helmets USA

Price (When Tested): $179.99 USD

Made In: Taiwan

Sizes: XS-XXXL

Alternative colors: 5 colors

Review Date: June 12, 2019