Nolan N100-5 Modular Helmet Review Summary
Review Summary
The Nolan N100-5 modular helmet seems too good to be true. Italian styling, aerodynamic shell shape and built with many features of a premium priced helmet without the high price. It even has a few unique traits setting it apart from the rest of the pack. How can Nolan be making any money on these? Add the cost of a fully integrated B901L N-Com BlueTooth communication system to the equation and end up paying about the same price as a Shoei Neotec II! I think this might be the best modular helmet available for the price.
Pros
High quality materials used in construction
PinLock lens included
Excellent bang for the buck
DOT and ECE approved
Lighter than most comparables
Excellent fitment and comfort
Quiet
Excellent airflow
Cons
Must raise chinbar to don
Possible cheek pad anchor failures
Only 2 shell sizes
Only N-Com Bluetooth units should be used with Nolan helmets to maintain safety rating
My first helmet back in 1987 was a bright yellow Nolan dirt bike offering. Maybe some of you reading this had the same one too? It left an impression on me, yet for some reason, I've never worn another Nolan product until today.
I've been missing out! This Italian brand has been building high quality, lightweight head protection since 1972 with their unique brand of style and features.
Our friends at Nolan were kind enough to send me their premier quality modular N100-5 in an eye-catching graphite grey color along with a fully integrated N-Com B901 Bluetooth unit to review. Thank you!
The N100-5 is the next generation follow up to the popular Nolan N104 models.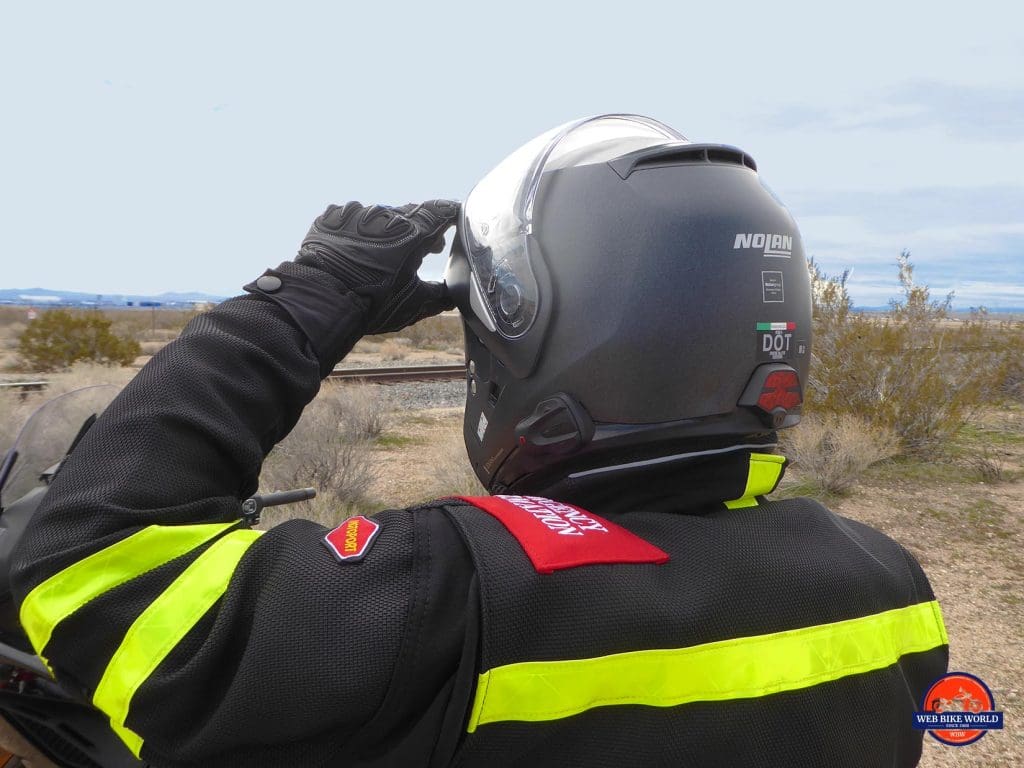 First Impressions
Paint & Appearance
A lightweight yet solid feeling helmet painted a handsome color. It looks expensive like it belongs right beside the other premier helmet brands on a store shelf.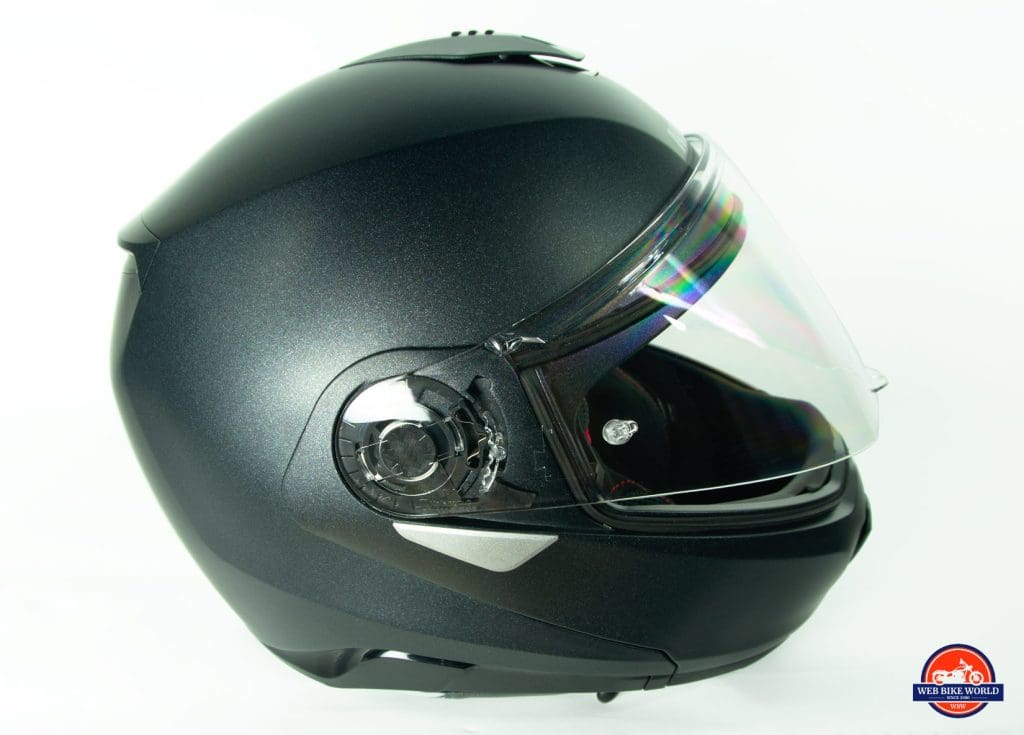 Nolan describes their paint as "earth-friendly and water-based". I can't recall ever hearing another manufacturer make this claim. Perhaps all other helmet paints are as well, but I'm not sure.
This color has a slight texture to it which should help me avoid costly drops and hide fingerprints. I notice this helmet has come equipped with all the features I insist on having. I think I'm going to like this one a lot.
Very "Clean" Looking
The N100-5 has an uncluttered, minimalist exterior design. The overall look is sleek and I approve of the subtle flowing lines running from the crown area rearward and ending on the sides of exhaust vents located back there. There aren't many sharp edges on the lid, even on the upper visor edges. Most everything is smoothed and tapered to cut down on wind shear and turbulence from what I can tell.
I'm already predicting it being a quiet helmet at speed because of the wind tunnel tested appearance.
Whoops?
The DOT sticker on the rear has a narrow green/white/red flag built in which pops nicely against the dark grey paint. The DOT and size medium sticker appears to be slightly misaligned with the Nolan badging above it to my eye. Not a big deal to me, but worth noting.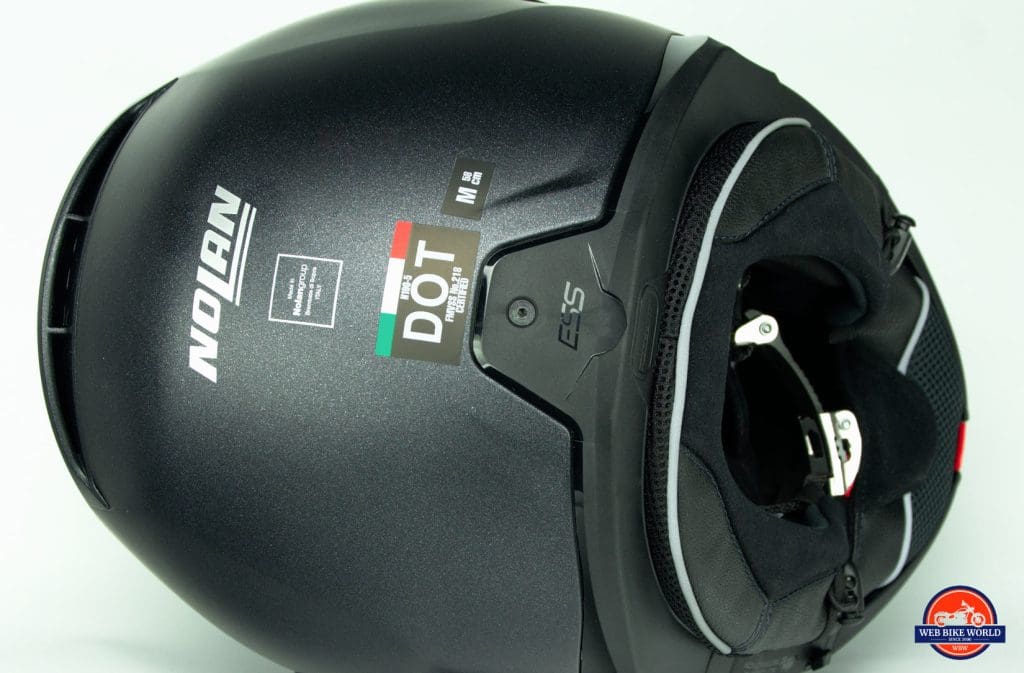 How Much Does This Weigh?
When I was first handed the package I could hardly believe there was a helmet inside! The helmet, a cloth bag for storing it, several pamphlets, brochures, another thinner set of cheek pads and a Pinlock visor greeted me when I opened it up.
3 lbs 12 oz is what I weighed this Nolan to be on my personal scale. That puts it lighter than the Schuberth C4 and Shoei Neotec II, but slightly heavier than the Simpson Mod Bandit and AGV Sportmodular Carbon.
Very impressive by modular helmet standards and lighter than probably ¾ of comparables out there. This is a priceless attribute on my list of helmet must-haves.
A Lexan Polycarbonate Shell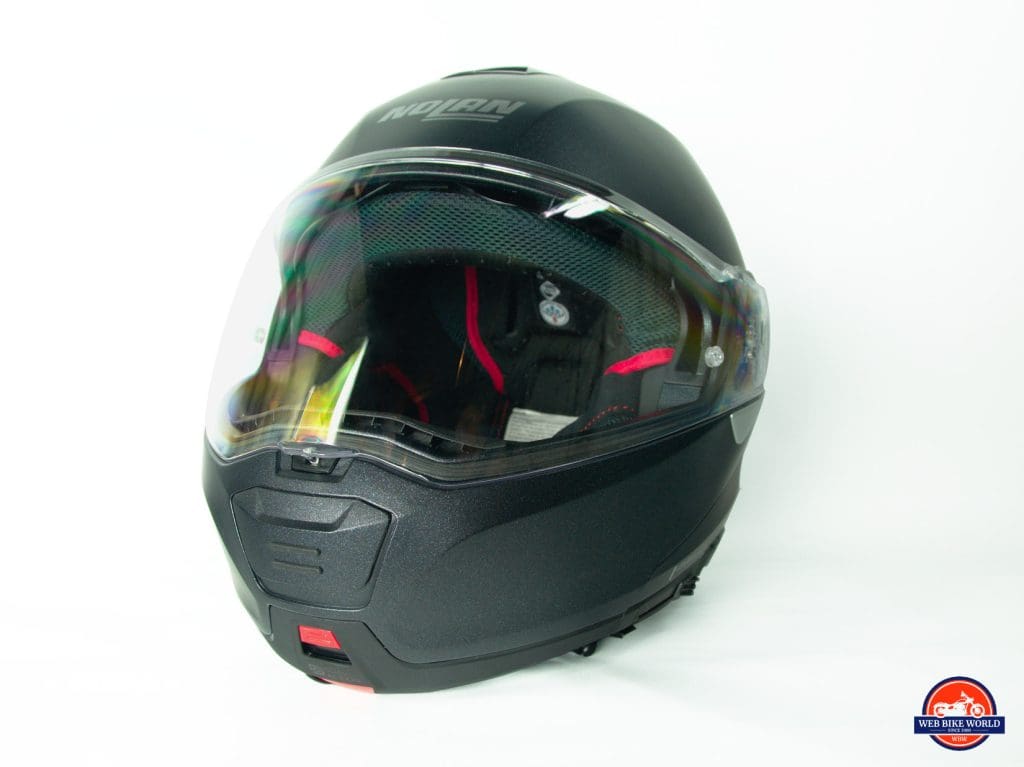 The trademarked Lexan polycarbonate shell is something Nolan is very proud of for good reason. That's how they make this helmet so lovably lightweight and strong after all. It doesn't garner a SNELL rating but does get ECE 22.05 as well as DOT approval.
Fitment
Much like my AGV Sportmodular helmet, I can't put this Nolan on without first raising the chinbar. The opening is very small in diameter making donning a little more involved than with other larger mouthed helmets.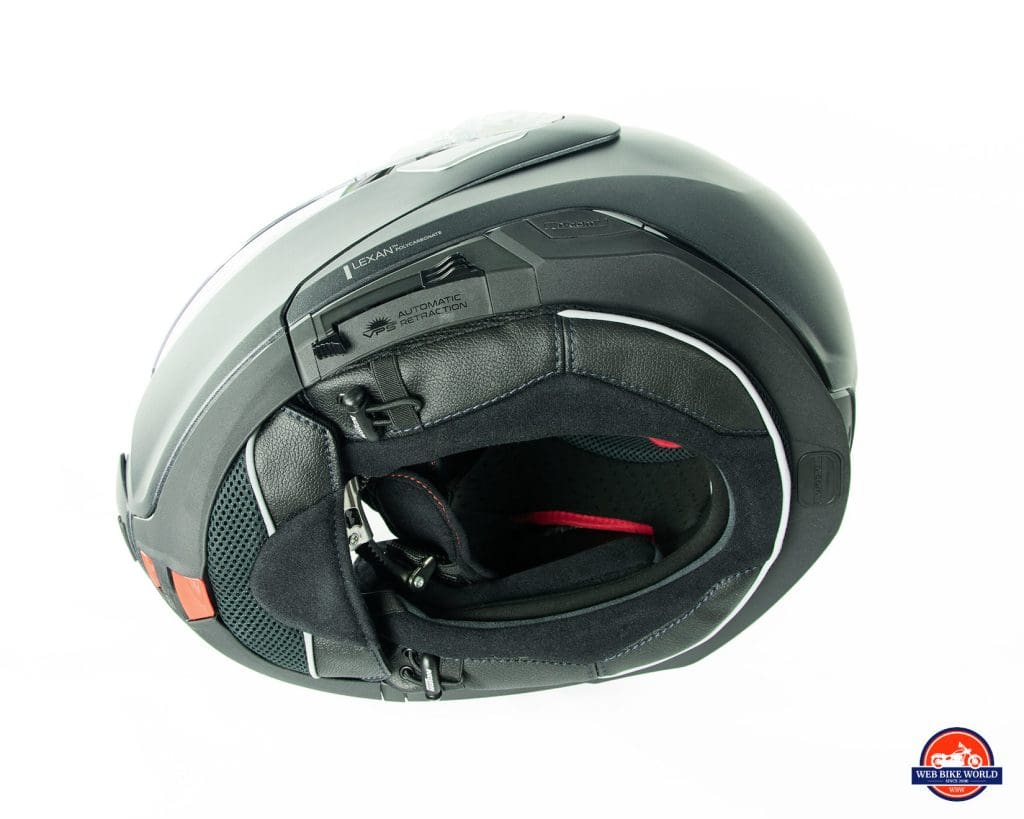 I'm not upset about this slight inconvenience because I know having a tighter fit around my jawline/neckline area will result in a quieter ride. It's well worth the resulting added effort needed to put this Nolan on.
Intermediate Oval Shape
For myself, I find the fit of this Intermediate Oval shaped helmet better than average for me despite the fact my skull is round oval. I interpret this unusual level of comfort to mean the N100-5 helmet might be shaped with a tendency towards round oval on the intermediate oval 7scale.
Everywhere feels snug all around my cranium without any hot spots or pressure points appearing.
Additionally, I'm noticing some difficulty hearing conversations while wearing it.
These are more good signs!
Shell Sizes
I'm glad my 23 inches (58.45cm) circumference noggin fits into the medium-sized N100-5 perfectly. I was right on the border between M and L sizes and I opted for the smaller choice as I always do.
There are only 2 shell sizes available and the Nolan website in one section shows the cut off for the larger shell to be at XL and up, while a chart below it says Large is where the bigger dome begins. An emailed video from Nolan confirmed that Large is where the second shell begins.
At any rate, this Medium has the smaller shell size for sure and doesn't feel bulky or cumbersome to wear at all.
Micrometric Chinstrap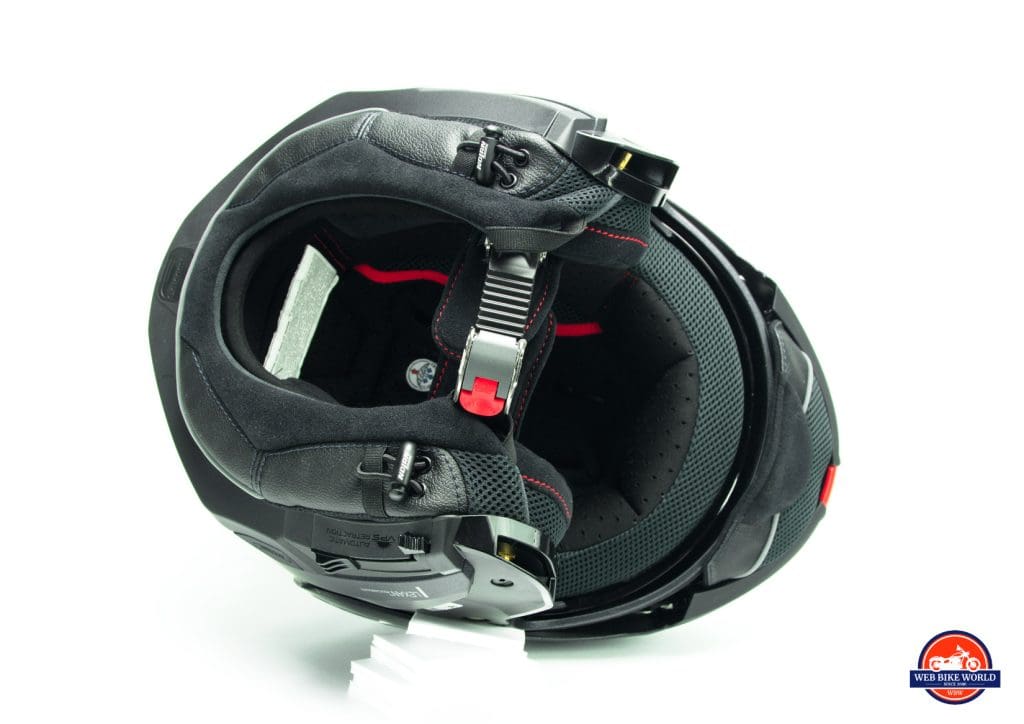 Some people don't appreciate the ratcheting chinstrap design, but I'm a big fan of them. The ease of install and removal with this style can't be understated. I did have to loosen off the strap slightly from the position it arrived in to fit my face better, but it also was easy to accomplish. Nolan chose to use metal ratchet teeth and latch on this helmet which I prefer to plastic ones found on other helmets.
Power Assist Chinbar & Automatic Retractable Integral Sun Lens
Two Chinbar Unlocking Buttons?
There are two red buttons on the chinbar used to unlock and lift it. It confused me at first because when I lifted the lower button I noticed the smaller upper button popped out of the shell and needed to be gripped/pulled downwards in order to allow me to raise the chinbar.
After experimenting with it a bit I adapted and find it's to my liking despite how different it is from every other modular helmet I've worn or handled. The upper button solves a problem I didn't realize I had with the other helmets because it gives a good gripping point for lifting the chinbar when used as intended.
Spring Loaded Assistance
The chin bar once unlocked and nudged upwards takes the initiative and launches itself up out of the way thanks to some spring tension working on it behind the scenes. This is a really nice feature!
The opposite action (lowering/closing the chin bar) is also helped somehow by this spring assist. I find that simply nodding downward with some enthusiasm is enough to send the chin bar careening downward fast enough to engage the locking mechanism shut.
What a pleasant surprise compared to the AGV Sportmodular Carbon and Simpson Mod Bandit chin bars that need to be practically slammed downwards in order to get them to latch closed.
Dual Homologated Design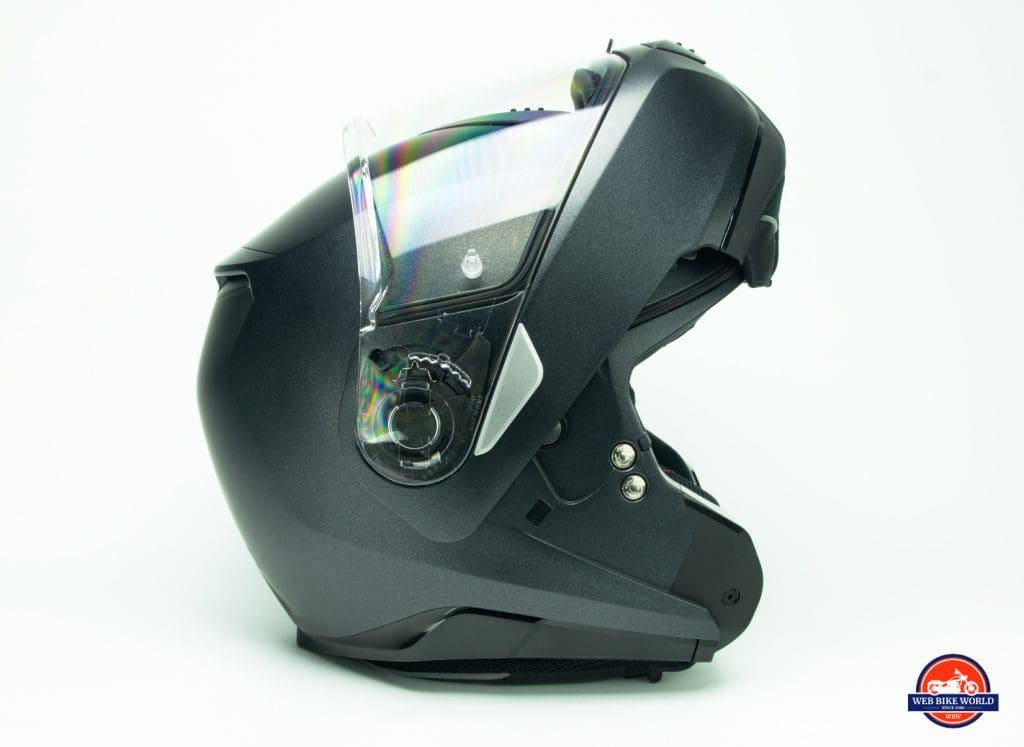 This is just a fancy way of saying this helmet was designed to allow the wearer to use it with the chin bar raised or lowered while riding. I find most often I only use it open at low speeds before closing it anyway, but it's nice to have options. Let's face it most people use items how they want to regardless of manufacturers' warnings.
Lexan Integrated Sun Lens
Both the clear visor and tinted flip down sun lens are made of Lexan as well. You can see an odd rainbow-like spectrum effect on the visor in some photos which are the special scratch resistant coating Nolan uses. Both lenses are clear to look through and show no sign of distortion of any kind. Optically perfect is the industry speak used to describe a damn fine visor lens and this one qualifies.
Visor Removal Ease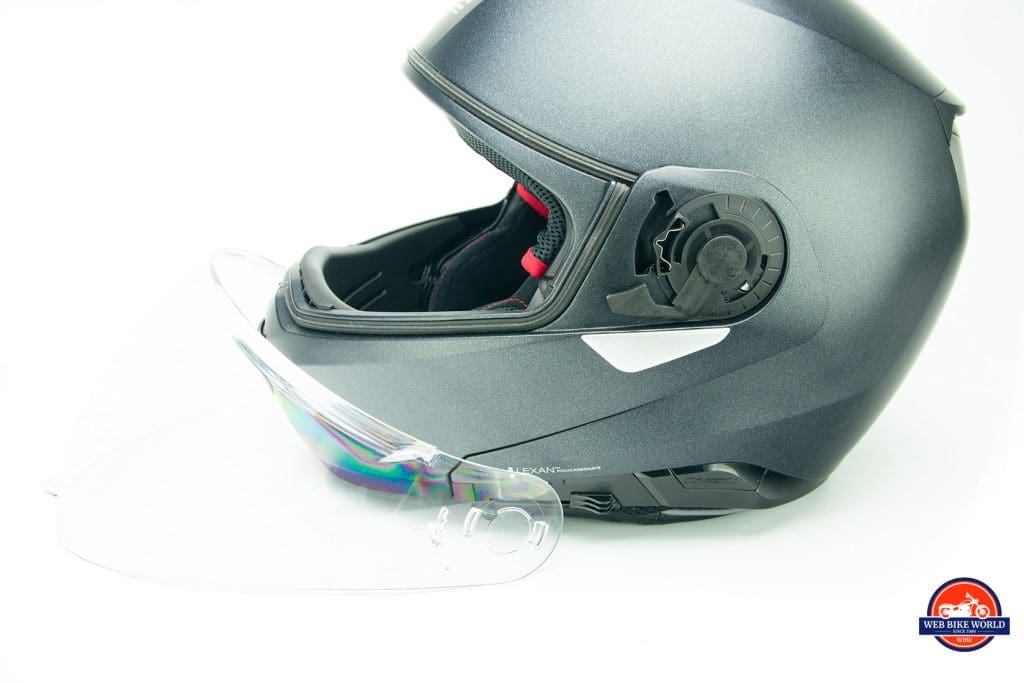 This visor is one of the easiest to remove and reinstall for cleaning/replacement. I'm very satisfied with the design. Open it all the way, pull down on the tab below the hinge and pop it out one side at a time. Installation is the reverse procedure while ensuring the locking tabs line up in slots. Well done Nolan!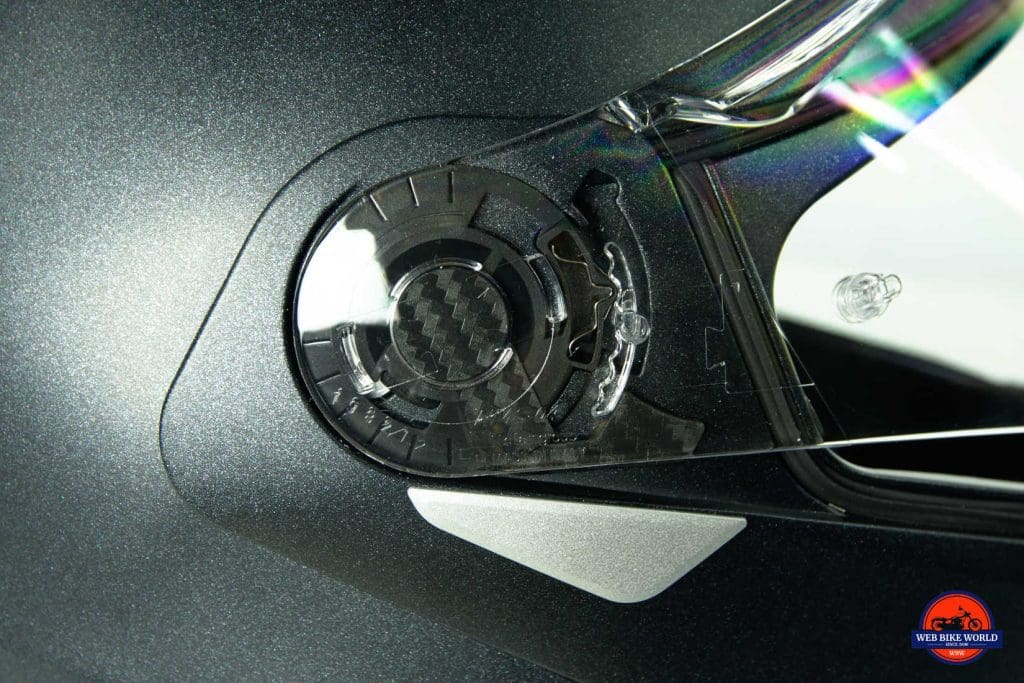 Clunky Visor
As clear as the visor is to look through I'm not completely happy with the action on it. It has 5 positions from completely closed to open all the way that holds very well, but the thundering "clunks" that resonate through the helmet (and my cranium) when I adjust the position are irritating.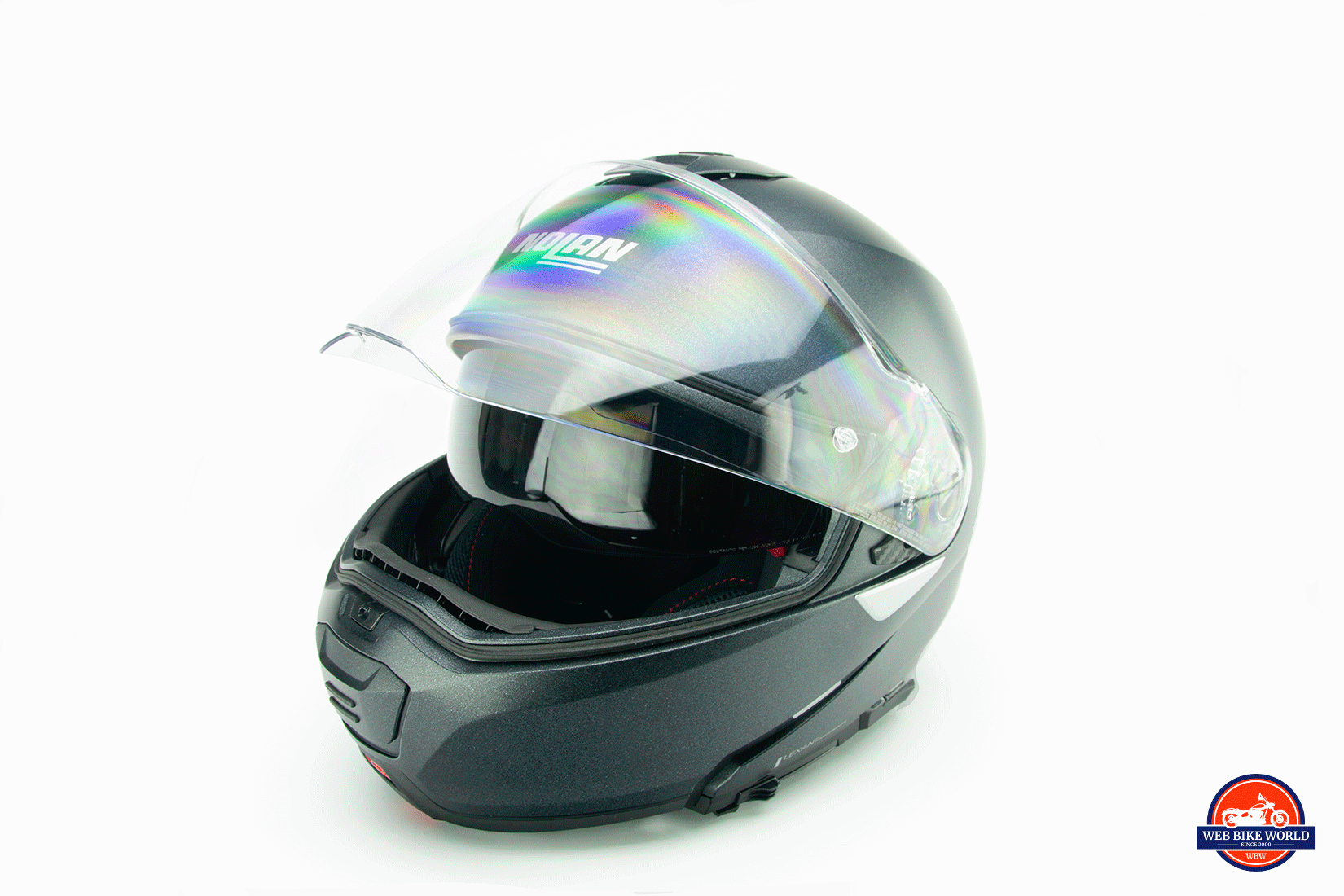 This is the first difference I noted between this helmet and the much more expensive ones from Shoei, AGV, and Schuberth I've worn. This is a fairly common pet peeve of mine with a lot of otherwise excellent helmets. I can live with this if everything else is beautiful though.
No Visor Lock
I am happy there's no locking button to manipulate when opening the visor like on the AGV Sportmodular. The opening tab is also centered on the visor lens making it no problem for left or right-handed wearers.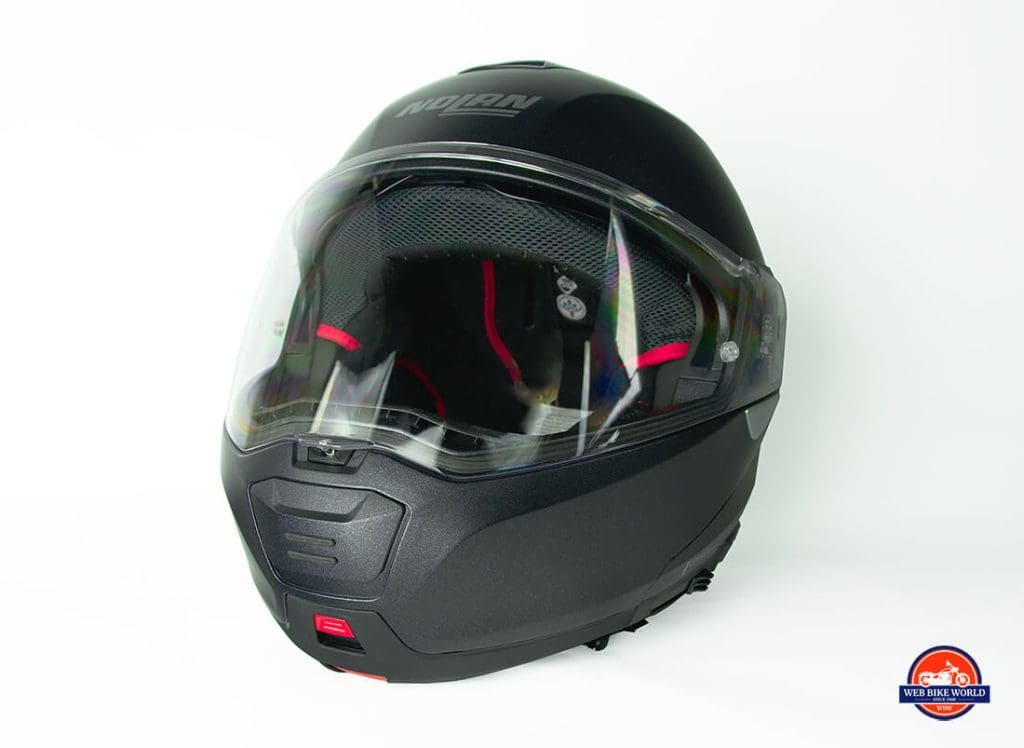 PinLock Included!
One of my pet peeves is if a helmet is just "Pinlock ready", but the actual fog resistant lens isn't included in the purchase price. Happily, the Pinlock lens is included with the N100-5 and installs without the need of a screwdriver or the customary stream of curse words used when I inevitably drop the very small screws several times.
It works well in this helmet! I deliberately exhale out my mouth in an attempt to fog up the lens, but nothing doing. Only the thin strip of visor underneath the Pinlock fogs up with my heavy breathing indoors.
On the road in cool weather remains to be seen.
Quick Retracting
The sun lens lowering switch is located on the lower left side. It's a slider style with four positions that can lock the lens in place if you like it partially lowered as opposed to all the way down.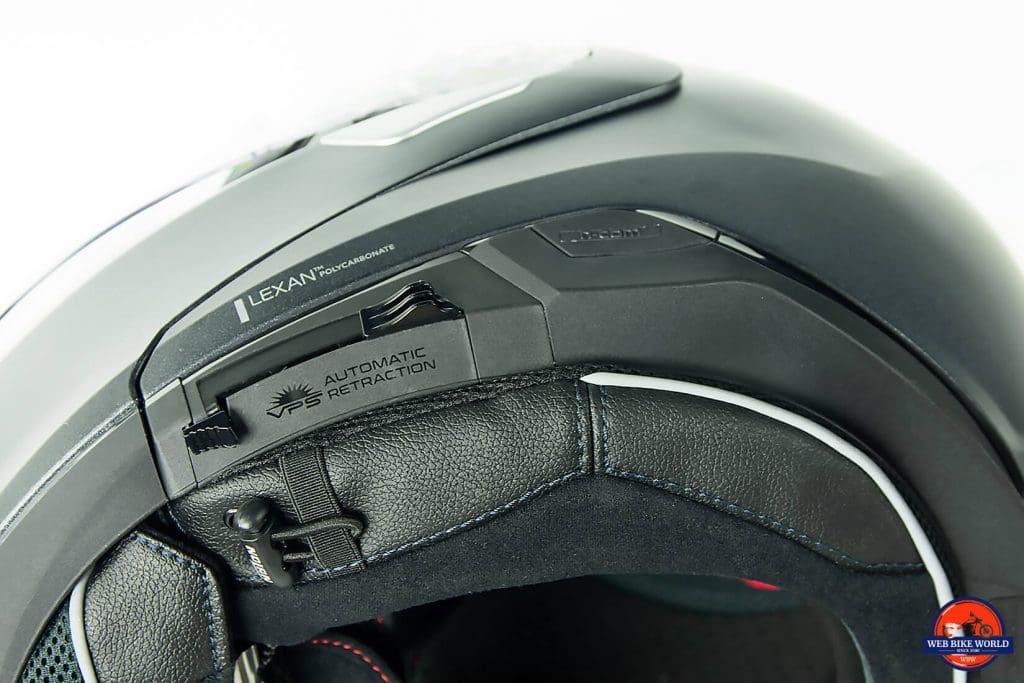 The best part is how thumbing the second switch in front of the first will release the latch holding it in place allowing spring tension to quickly snap the sun lens upwards and out of the path of view. Very slick!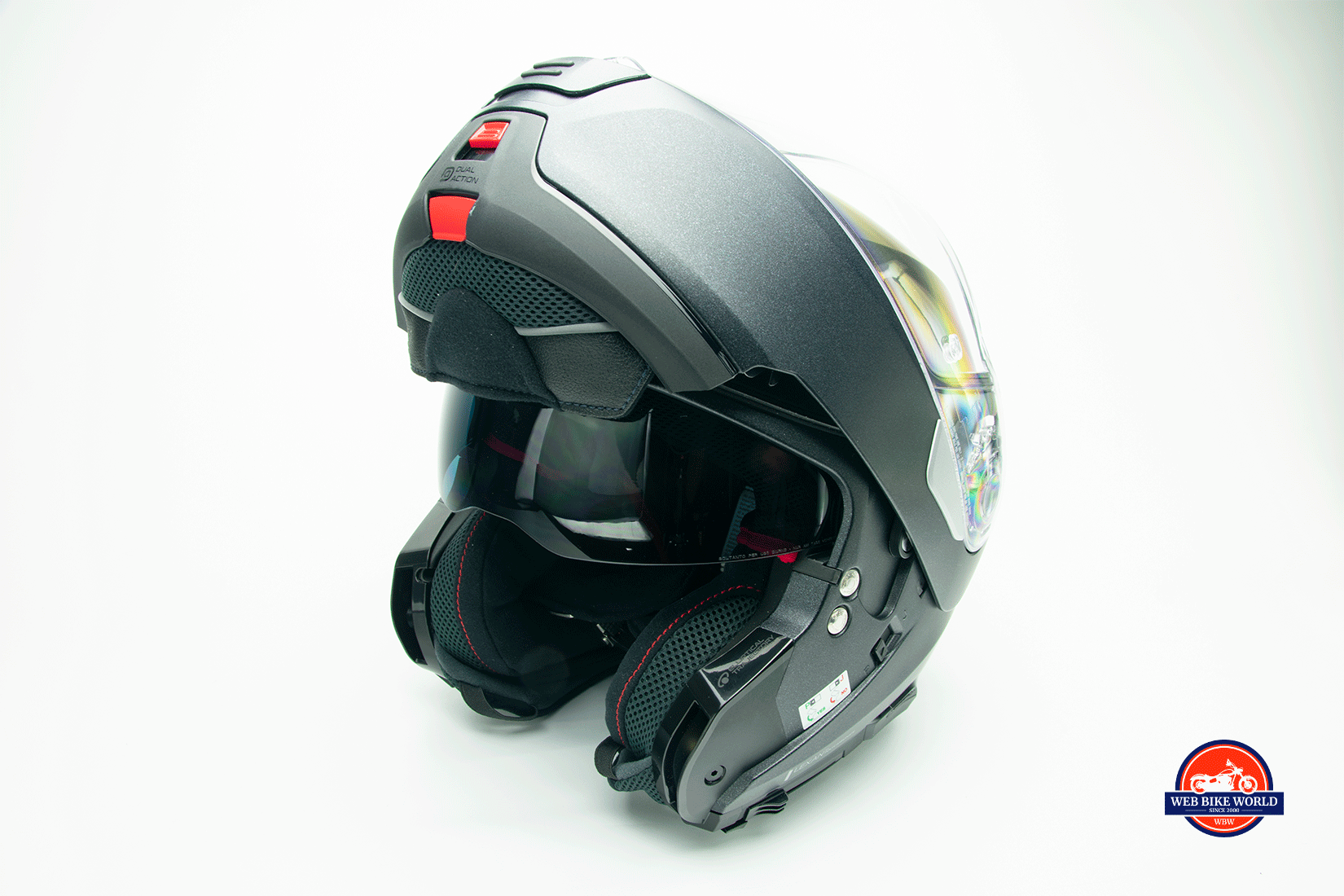 My only concern with all these switches is whether they'll break off easily over time if I'm not carefully setting the helmet down. Additionally, how will all these springs hold up over time?
Clima Liner & Cheek Padding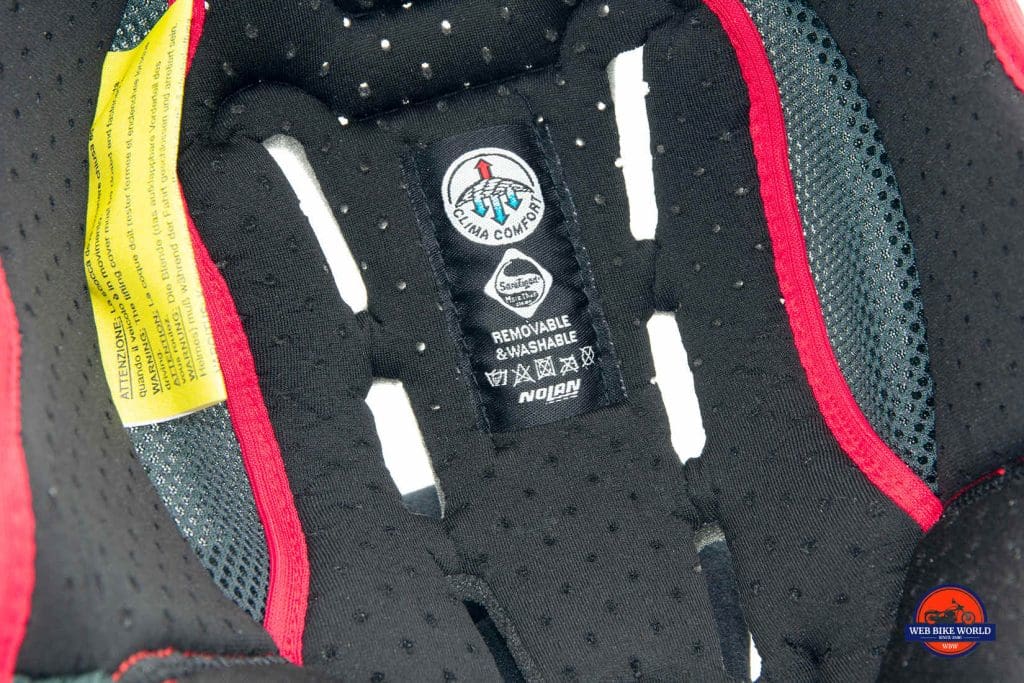 The interior of this helmet is nicely built. It's hand sewn at the factory with good precision by my inspection. It's made from the standard quality mixture of microsuede, antimicrobial mesh nylon, sweat-wicking, washable material we've all come to expect in any helmet worth their salt these days.
Chin Curtain & Adjustable Neck Roll
I like the way the chin curtain seals against my chin when the chinbar raises and lowers. It's soft enough to not pass over my chin without irritation, yet firm enough to do its job.
An elasticized string runs around the neck roll opening between two adjusters that can be used to snug up the seal around the bottom of the helmet. I tried using it but honestly didn't notice much difference since the opening fit tight to my face right out of the box.
The neck roll padding and chin curtain have strips of leather on the high contact side sections and reflective piping running around the perimeter for an added safety feature. I like that. High visibility is something I take seriously on riding gear and this Nolan has some smart features to help with that. More on that later.
Not All Anchors Are Anchored
I removed all the padding and liners for the photo shoot as usual to showcase the innards of this Nolan. I always take care in doing this because I'm afraid the plastic tabs will break off when pulled out of the anchoring points.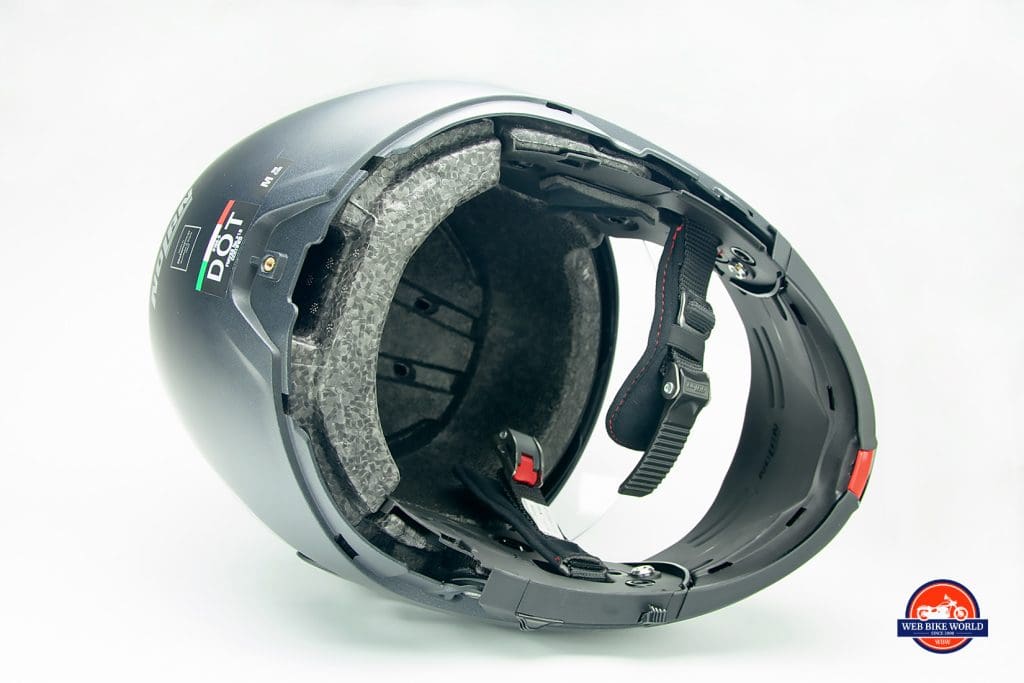 This time doing it I found one of the cheek pads anchors itself decided to detach from the EPS foam and to come along for the ride! I worried this would adversely affect the chances of the cheek pad staying in place despite two other anchors remaining to hold it when taking off the helmet or putting it on.
Not a problem in the end surprisingly. The padding doesn't seem bothered at all by the missing anchor after putting everything back together and testing it. This may be indicative of an area where Nolan saved some money in designing and building this N100-5 because I've never had one pull out before on other helmets. In internet searching, I wasn't able to find other people having this issue either, so I guess it's just an isolated case.
Incidentally, you can swap in the cheek pads from the XL size helmet if you need extra room. You can see in the photo (above) you'll gain about half an inch of space by doing this.
Let's Talk About Ear-Space
The standard size medium cheek padding sits snug on my face but retreats around my ears to avoid folding everything up uncomfortably when pulling this helmet on. I notice my admittedly small sized ears feel just right once inside this small gap on each side.
Nolan N-Com Systems
The plastic C shaped guard/cover running around the bottom perimeter of the helmet can be removed to allow installation of your choice of a variety of N-Com Bluetooth systems offered by Nolan.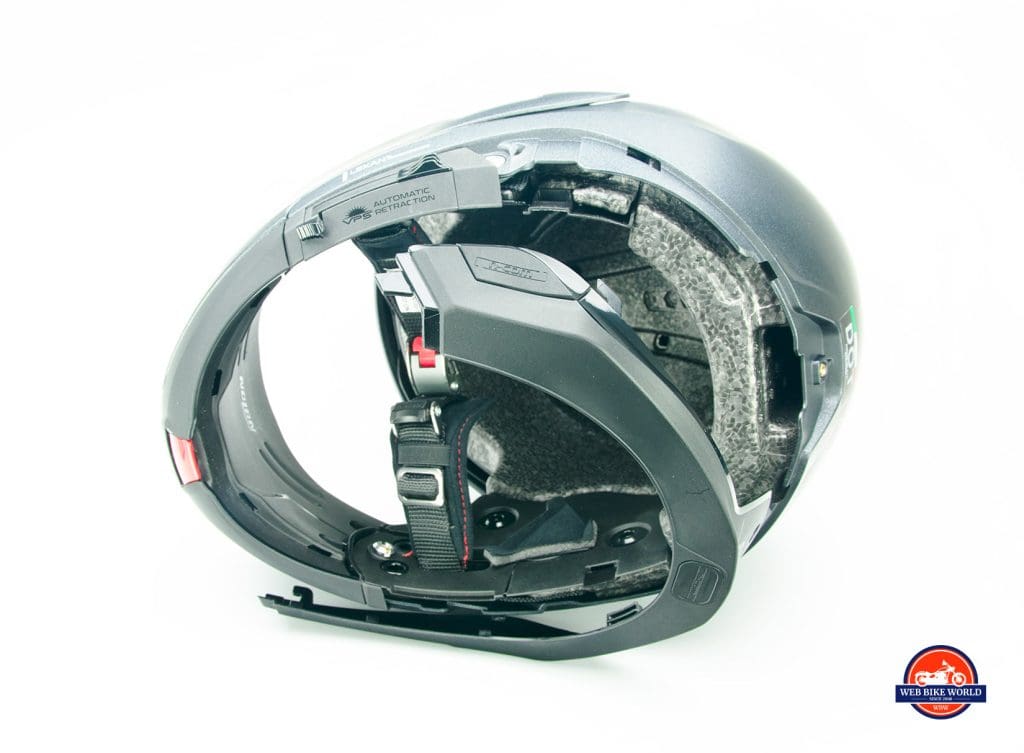 They claim that only their systems are "type approved" to be used with the helmet in order to maintain the DOT/ECE safety standards. The cynic in me feels like this is rationalization on their part to get us to buy their $280 ($366 Canadian) product that's sold separately from the N100-5. On the other hand, I do see where they're coming from in saying a fully integrated system should pose less risk of injury to the outer helmet shell in a crash scenario.
I was sizing up how to install my Sena 30K on it after removing the plastic guarding around the bottom lip of the shell and realized it would install awkwardly if I tried.
The N-Com B901L BlueTooth Communication System
Included Parts
This communication system comes with adapters to fit various Nolan helmets, an Allen key, extra double sided tape and the two speakers, battery pack, and a boom-style microphone. I was very happy to find not only the USB charging cable but also the AC plug adapter came with the kit. My Sena 30K only came with the USB cable, but to be fair included the 12V charging cord as well.
ESS Lighting Option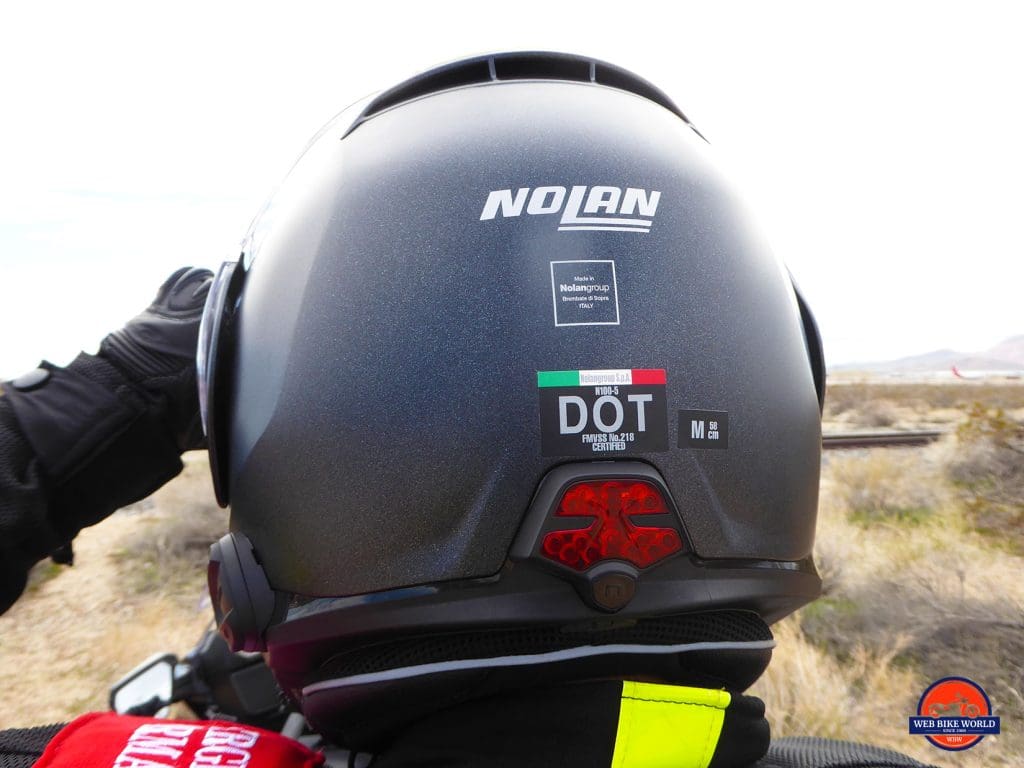 The B901L R system has an Emergency Stop and Signaling LED which mounts on the back of the helmet. It can be set up to flash intermittently, stay on solid or flash slowly to help with visibility all the time. It will activate when you brake suddenly to warn vehicles behind you unless you switch it off. This is a great safety feature I haven't seen on other helmets and I'm excited to test it out too.
Installation
After opening the box and reading the instructions a couple of times installation went pretty smoothly of B901L ESS. The trickiest part was getting everything to click back into position at the very end in such a way to avoid pinching wires or the antenna that runs just above the battery back.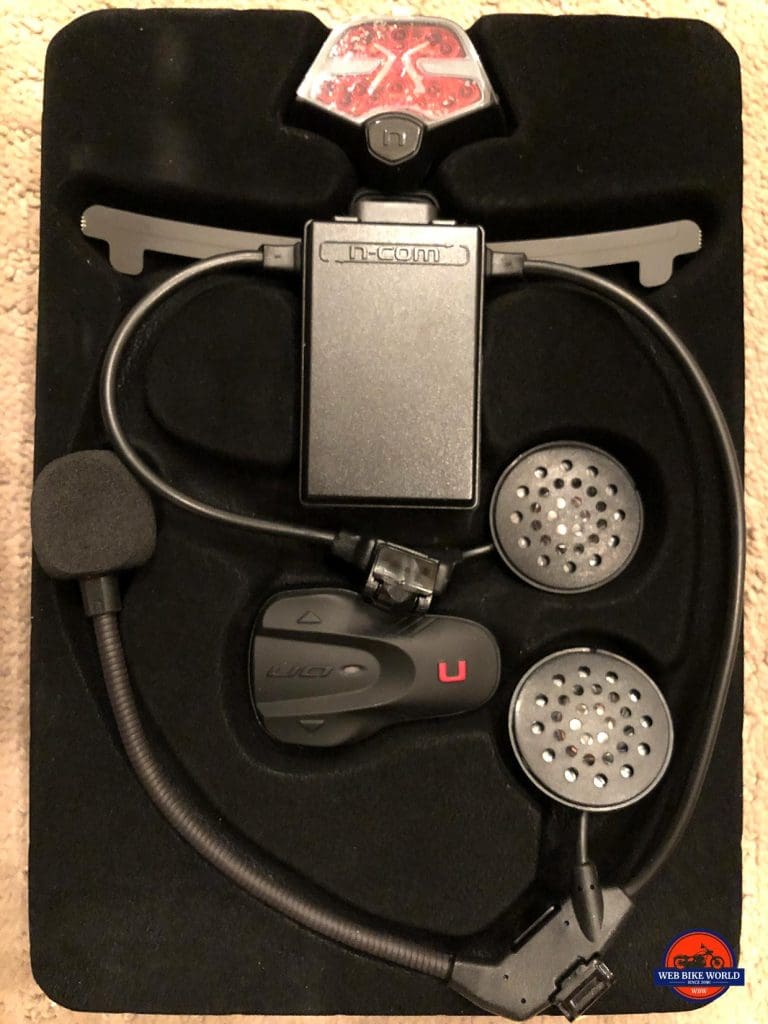 Once done I was impressed with how compact and sleek everything fit into the N100-5. Well done!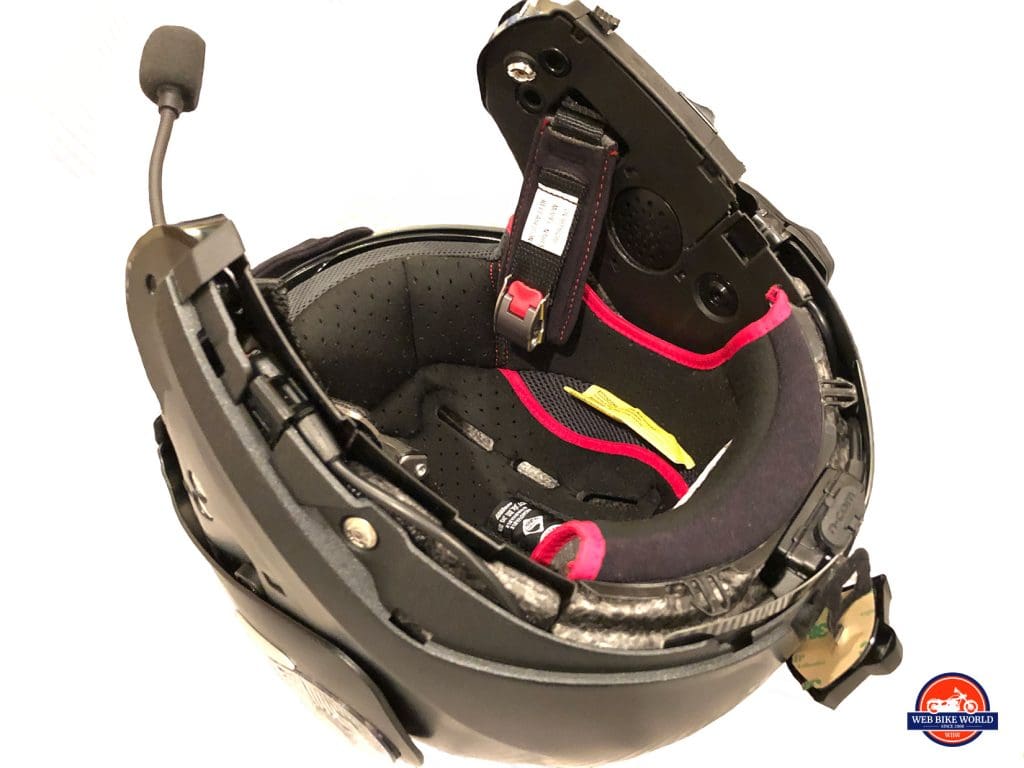 Features
This B901L system is fairly simple to operate with just 4 buttons on the keypad mounted to the left side of the helmet. There isn't the same ease of use provided by voice command and about half the range as you'd find on a Cardo or Sena, but most of the other important options are all there.
"Rider/Passenger" intercom via Bluetooth
BIKE-TO-BIKE intercom via Bluetooth up to 700 meters (in open field, with no obstacles).
One-to-one communication, "Bike to Bike Call" function
Smart Conference (Group intercom): simultaneous conference call between 4 "900" series N-Com systems
Universal Conference (Chain intercom): simultaneous conference call between a "900" series N-Com system and a system paired up in "Universal Intercom" mode
VOX: voice activation and deactivation of the intercom
Compatible via Bluetooth with Nolangroup Bluetooth communication systems (except for Bluetooth kit and Bluetooth kit2, which are not compatible)
Compatibility via Bluetooth with intercom systems of other brands (Universal Intercom)
Additionally, you can connect to your smartphone to listen to music, take calls, use 3 programmed speed dial numbers, navigation apps, SIRI or Google, etc.
It has a built-in FM radio receiver if you prefer listening to commercials spaced into your music too.
The system is compatible to connect to Garmin and TomTom GPS systems without issue.
Enough Inspection, Let's Ride!
The N100-5 with the N-Com B901 R installed is ready to hit the road to really see what I've got to work with. It's time to road test this well-thought-out helmet.
Air Flow & Fogging
I notice once out on the road that there is definitely air flowing into the helmet, but it seems to be directed mostly at the visor instead of at my face.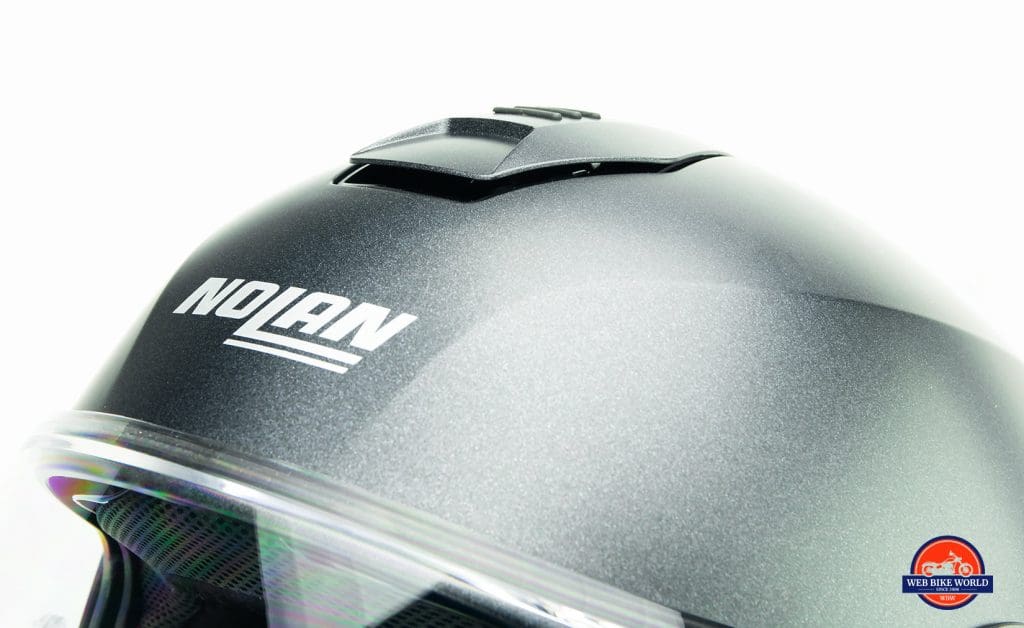 That airflow is effective at preventing fogging combined with the Pinlock and I'm grateful for that but I prefer it when I can feel the cool air flowing onto my face additionally.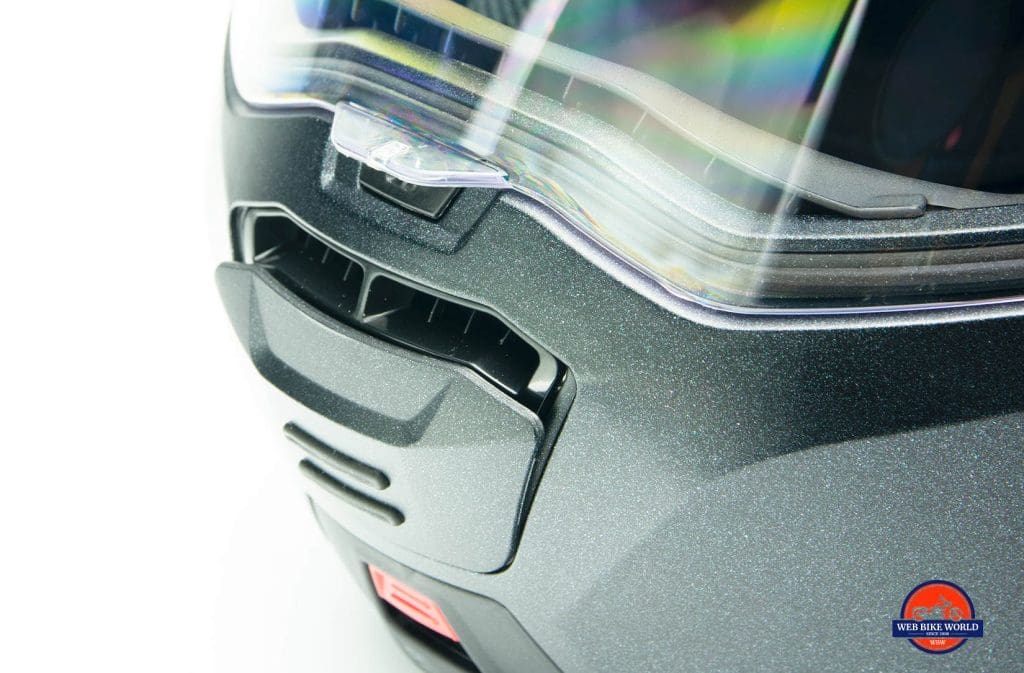 I rode in both dry hot weather up to 85 F (29 C) and cold, rainy weather (50 F, or 10 C) and couldn't get the visor to fog up one iota. Even when I purposely exhaled out my mouth at the lens. Excellent!
Quiet Comfort
I was most impressed with how quiet the N100-5 is out on the road!
I piloted a 2019 Honda CB300R (a naked commuter bike) on the highway and in the city in delightful quiet comfort compared to any other modular I've worn. Even the Schuberth C4 which up to now has been the best I've worn would be difficult to be described as quieter.
It's no shock really because Nolan has purposely done a lot with this lid to make it quiet. I'm glad those design efforts worked.
There's no booming to endure inside this helmet unless you encounter ridiculous levels of crosswind. It's a low key hiss only that can be heard inside and it remains the same whether you're upright in the standard riding position or leaned forward in a sport crouch.
I really can't say enough how happy I am to find a quiet modular that is really comfortable at last. The Schuberth C4 doesn't feel comfortable on my head comparatively, and as much as I love my AGV it is noisier than this Nolan.
Visor vs. Bugs
Remember how I described the "rainbow-like" coating on the visor and sun lens earlier in this write-up? It became very apparent how effective that is not just in preventing fogging. It also helps keep grime and bugs off it.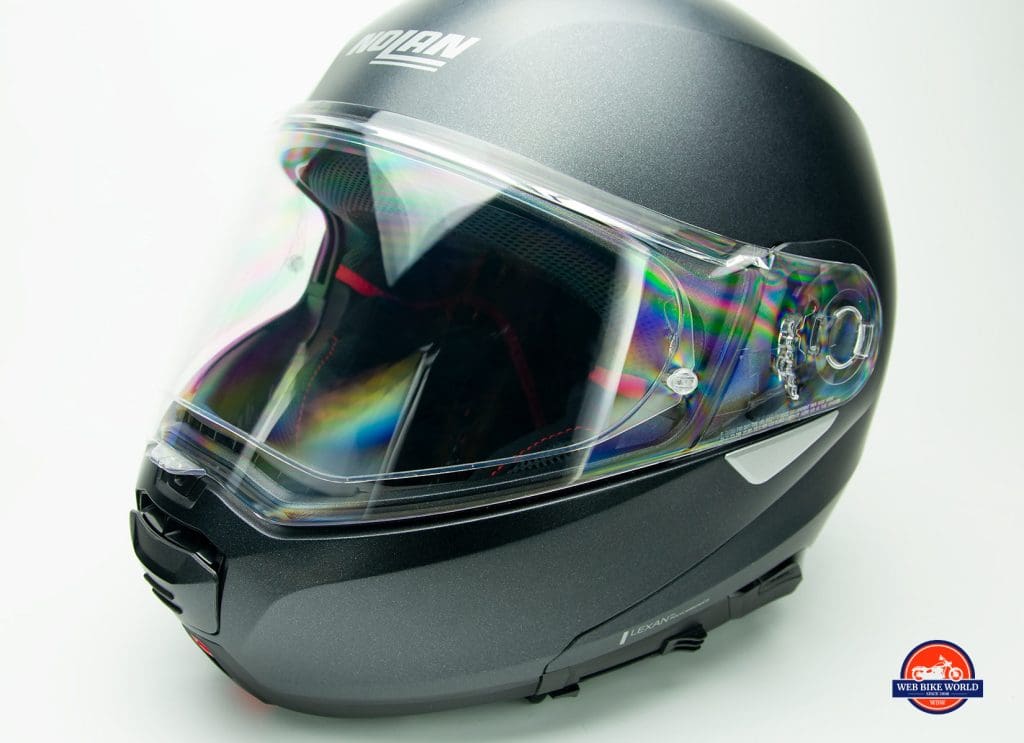 I didn't kill too many insects with the helmet because it's February and even in California there weren't many flying around yet. The ones I did hit were easily wiped away with my gloved hand and didn't leave much "ooze" behind to obstruct my vision.
Never once did I clean the visors with anything other than paper or cloth towels and water, but they always came out extremely clean with that simple treatment. No expensive cleansers are necessary on the N100-5. I'd like to see if this still holds true down the road when I completely coat the visor in insect gore.
Visor vs. Rain
I rode through some heavy mist and light rain on the Pacific Coast Highway one evening which lightly tested the waterproof quality of the visor. I would have preferred to see how it did in a heavy downpour, but it didn't happen.
There was no water intrusion into the helmet in the light rain I rode in. Examining the rubber seal around the visor opening tells me I can confidently predict there would be little to no leakage in heavy rain.
Visor vs. Wind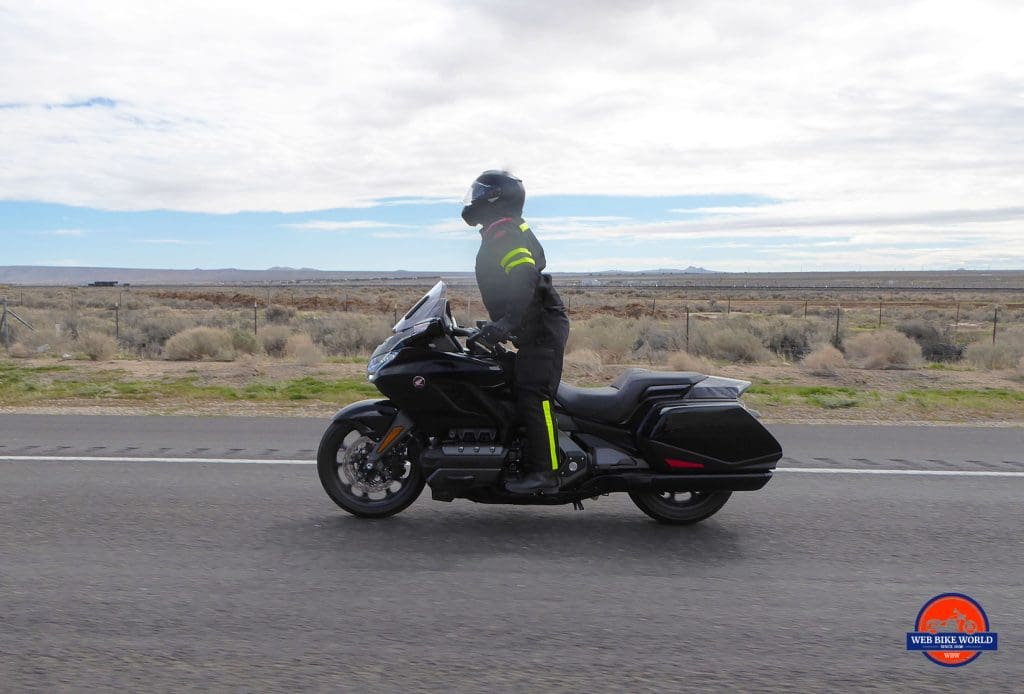 I've never worn a helmet with a visor that will stay open quite the way this one will. The Simpson Mod Bandit is a close second, but this Nolan wins.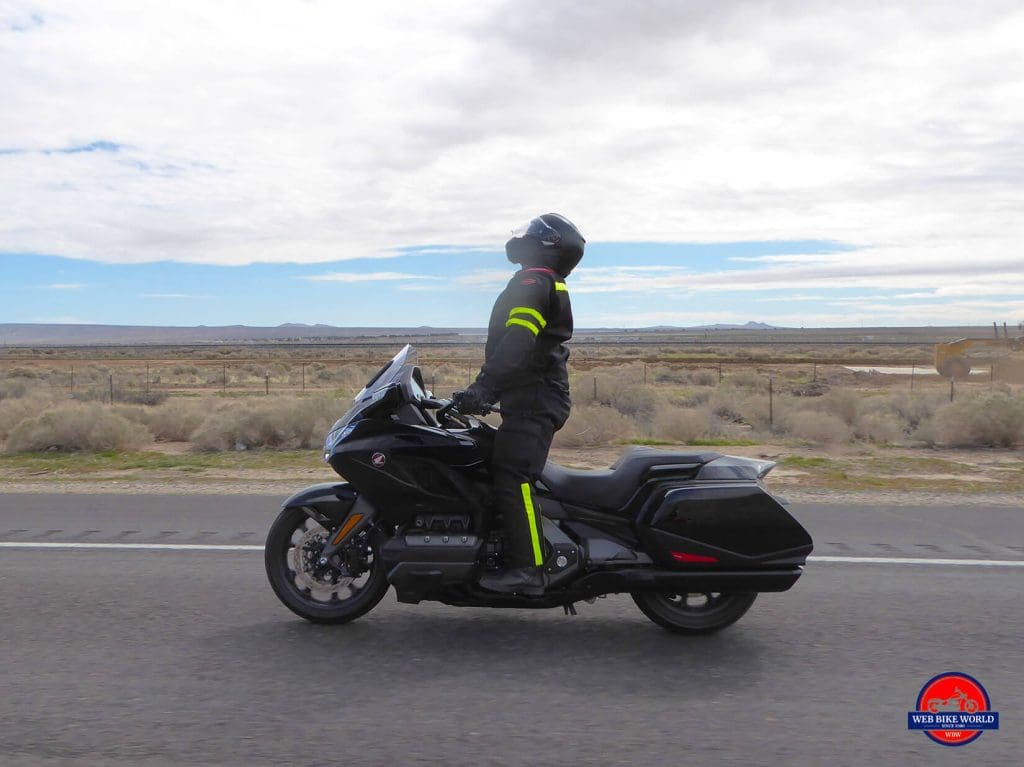 It will stay open up to almost 100 mph in a headwind. Even when I turned my head to the side or raised it up purposely putting it in positions I knew the wind could either push or pull on it. It won't move at any reasonable speed!
The lowest open position is a bit on the big side though. Most helmets have a cracked open position as their lowest, but Nolan's lowest yields an opening of over ½". It definitely makes for a lot of airflows, so I don't mind.
Wind Buffeting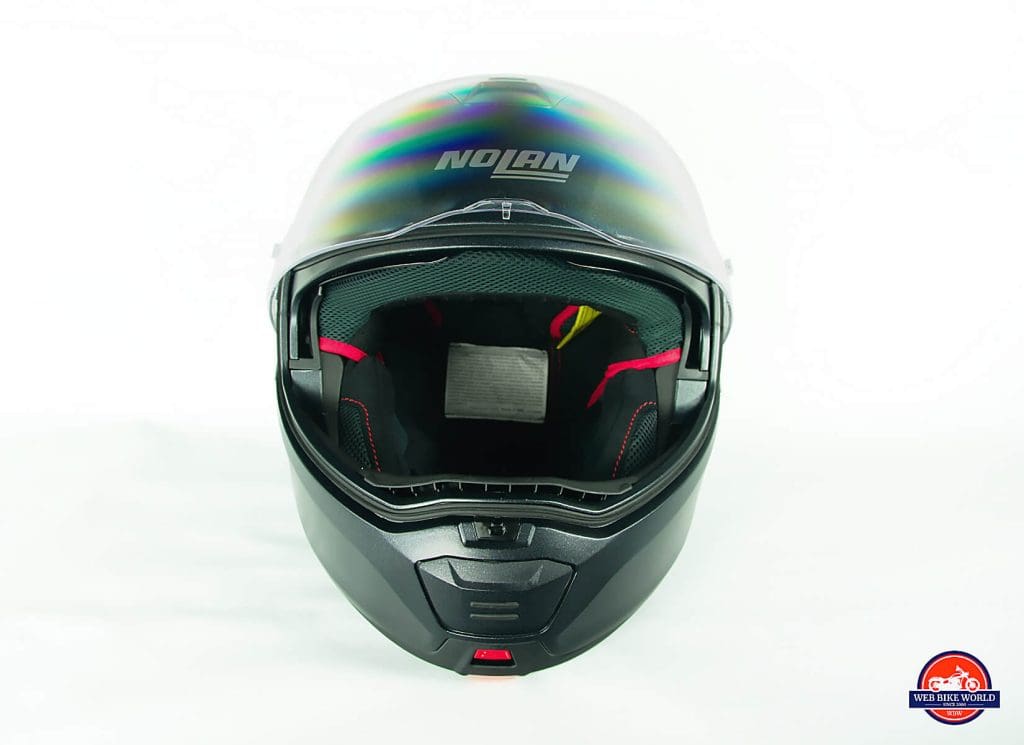 The only problem comes when you're hiding behind a larger windshield and there's turbulent air hitting the slightly open visor. For some reason, this Nolan visor reacts to the buffeting by swaying back and forth noticeably creating blurry vision. I think it's because the helmet is open so much more than just cracked open and lacks support from the frame of the helmet shell in this position.
The only solution is to lower or raise the windshield height to get rid of the turbulence if you want your visor open. Either that or open the visor even more, or raise the chinbar and ride open face. I found myself doing that quite often with the N100-5 in traffic.
Lift & Pull
I couldn't believe how well this helmet did when it comes to lifting and pulling, even in heavy winds.
I rode through an intense crosswind in Death Valley strong enough to force the 800lb, 2019 Honda Gold Wing DCT I was on lean at a 25-degree angle in order to carry a straight line of travel. Small sand granules stung any exposed neck skin between my jacket collar and the base of the helmet, but nothing got past the chin curtain or neck skirt on the Nolan, happily.
Large gusts did produce a slight lift occasionally but overall the aerodynamics of the N100-5 are second to none in my experience.
The N-Com B901L Effect
The N-Com system worked very well for me on the road. I was able to make calls to my wife at home and use SIRI as well to manage my music to a degree. I found it difficult to intuitively control it because I'm so used to my Sena 30K controls. The B901L simplicity is good, but also a bit limiting. I would prefer a voice-controlled system like on the Cardo and Sena units to make handling controls easier.
Configuration Menu Blues
I found it somewhat annoying to access the Configuration Menu on the N-Com. You have to turn off the headset then turn it back on holding down the power button. I was having challenges linking into the Honda Gold Wing entertainment system and so I would often have to access the configuration menu on the N-Com to sort it out.
Boom Mic
Whenever I lowered the chinbar I found the chin curtain grabbed the boom mic arm and trapped it between my chin and the curtain. Obviously, the mic won't be effective in this position and it's difficult to dig the mic out using gloved fingers. I found myself having to tuck the mic up near my eye in order to have it clear the chin curtain. Then I'd have to lower it afterwards by hand.
It would be way better to have the mic tucked away under the padding or even better embedded in the chin bar somehow where it's out of the way. Any boom style microphone headset in a modular suffers from this annoying feature so it was to be expected.
Speakers
The sound from the speakers was quite good! I found the bass on the low end, but that's to be expected with small speakers like these. Overall the sound is clear and crisp if not a little bit on the tinny side. I'll say this, it's better than the sound of my Sena 30K but not as good as the new JBL speakers in the Cardo Freecom+ units.
Intercom
Unfortunately, I wasn't able to test rider to rider communication other than using my phone because my riding partner's Schuberth integrated system just wouldn't connect to mine. He's had lots of issues with it and I blame it rather than the N-Com. Sorry about that I really wanted to test it out, and in the future, I'll report on it once I get the opportunity.
Battery Life
This is where the N-Com really shines. I turned on the option to put the headset to sleep when not actively being used. This radically extended the battery life of the unit. I stopped charging the headset every day because I noticed it was still at 75% charge at the end of the second riding day.
I let it go 3 days without charging it and it still was at 50% remaining! This is a lot longer life than even Nolan claims it should have, so it's a definite overachiever in that regard.
ESS Safety Factor
My riding partner Greg was watching the flashing red light on the back of the Nolan to see whether it would work during strong braking. It did!
I noticed cars weren't tailgating me near as often as normal with this system flashing warnings at them too. I think it's something that should be standard on all motorcycle helmets because it works.
The Final Verdict?
A Bargain
How can Nolan be making any money on these helmets? They are most definitely reasonably priced at $409 considering what you get.
The quality is there, it's super quiet, lightweight, the paint is second to none and all the must-have features are included… even a Pinlock! There's no doubt this is a bargain modular helmet.
Creaking Noises?
Some other reviewers have noted occasional "creaking" noises from the shell with the chinbar raised during head movement. I noticed it too, but it didn't bother me as it might some people.
The only big beef I have with it is that I can't install anything other than their N-Com systems. I like the ESS and would insist on having it, but the truth is there are better overall BlueTooth communication systems on the market I'd prefer over the N-Com. Sorry Nolan, but it's the truth.
If I could put my Sena 30K in it this helmet would easily replace my AGV Sportmodular Carbon as my everyday helmet. If Nolan can improve the N-Com system to be on par with the 30K I'm there.
The N-Com might be good enough to persuade me to use the N100-5 anyway in reality just because this helmet is so good otherwise and the safety factor of the ESS must be considered.
Cheek Pad Anchor Factor
Should I be more concerned about the cheek pad anchor that pulled out than I am? I don't think so because none of the others came out even after removing the pads several other times. The missing anchor didn't allow the cheek pad to creep out of place either. I didn't even know it was missing while wearing it afterward.
Nolan did send me a replacement section of EPS foam which I easily installed in place of the one the anchor pulled out of and I rode 1100 miles with this helmet afterward without issues.
If you're looking to save hundreds of dollars but still get an excellent modular, look no further than this N100-5. At this point, I think this is the modular helmet to beat when it comes to overall value.
I really didn't expect it to be this good. In a lot of ways giving it a 4.6 out of 5 might be underselling it. If a Sena or Cardo could go on it I think it might be 4.8 in my mind. Wow!
Pros
High quality materials used in construction / PinLock lens included / Excellent bang for the buck / DOT and ECE approved / Lighter than most comparables / Excellent fitment and comfort / Quiet / Excellent airflow
Cons
Must raise chinbar to don / Possible cheek pad anchor failures / Only 2 shell sizes / Nolan says only N-Com Bluetooth units should be used with Nolan helmets
Specs
Manufacturer: Nolan Helmets (Cima International)
Price (When Tested): $409.95
Made In: Italy
Alternative models & colors: Three color schemes
Sizes: XXS to XXXL
Review Date: January 31, 2019