Rukka Virium Gore-Tex X-Trafit Gloves Review Summary
Review Summary
Rukka's Virium Gore-Tex X-Trafit gloves are waterproof, windproof, warm and light to wear. The armor included is just the right amount to protect without getting in the way of controlling your bike. These handsomely stylish gloves will please anyone, but primarily are for use in cool to warm temperatures. They are slightly uncomfortable in very hot weather.
Pros
Comfortable, Adjustable for a snug fit, strong design
Waterproof, Windproof, Warm yet breathable
Double stitching, long cuff but not too long
Lightweight, thick but not too thick to bunch up
Suitable for warm or cold weather
Excellent range of men's and women's sizing
Three color choices, 2-year manufacturer's warranty
Cons
Expensive to buy
Touch screen finger and thumb tips don't work when cold
Rubber pads on fingertips wear off fairly quick
Just a little bit too thick to perform fine motor skills tasks
Could use a direct vent to open for more airflow in hot weather
Rukka Virium Gore-Tex X-Trafit Gloves Image Gallery
Rukka's Virium Gore-Tex X-Trafit gloves are premium quality, adjustable, lightweight and appear to be built to last. They have a very effective layer of waterproof Gore-Tex meshed with nylon textile, polyester, suede and elastic materials sewn together with double stitching where it counts.
Armor built into the suede fingertips, knuckle and scaphoid/palm area. Special material on the thumbs and index fingers enable the use of your smartphone.
The rubber wiper on the left index finger works well for clearing water off your visor and overall the gloves allow for decent hand dexterity and comfort.
Are these near perfect, all-around adaptable gloves worth $179?
The short answer is a resounding YES!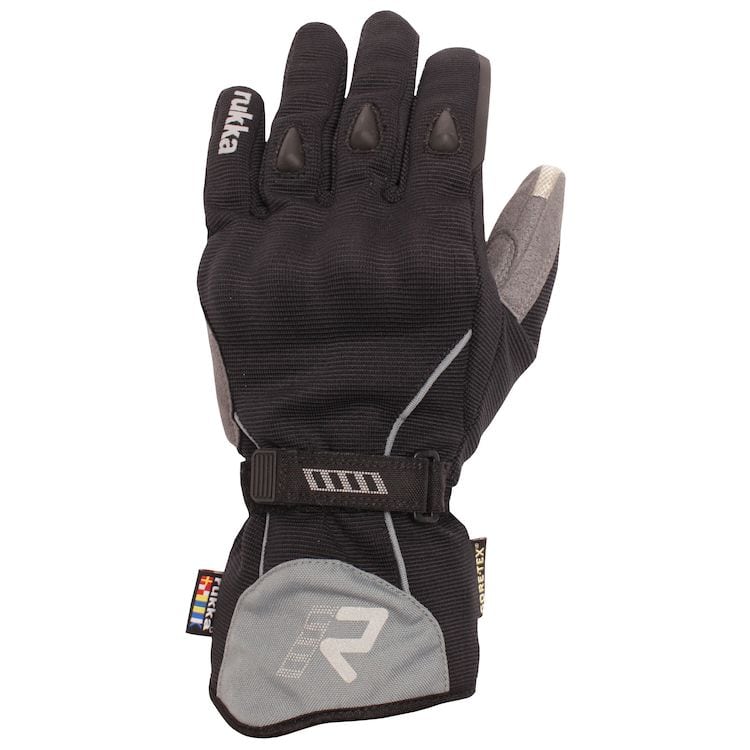 Fit Testing and Break In
Fitment
When I first pulled the Virium gloves on they felt snug and stiff, (typical of any new piece of gear) but not too stiff to use the bike controls comfortably. As expected they fit great right from go and even better after break-in.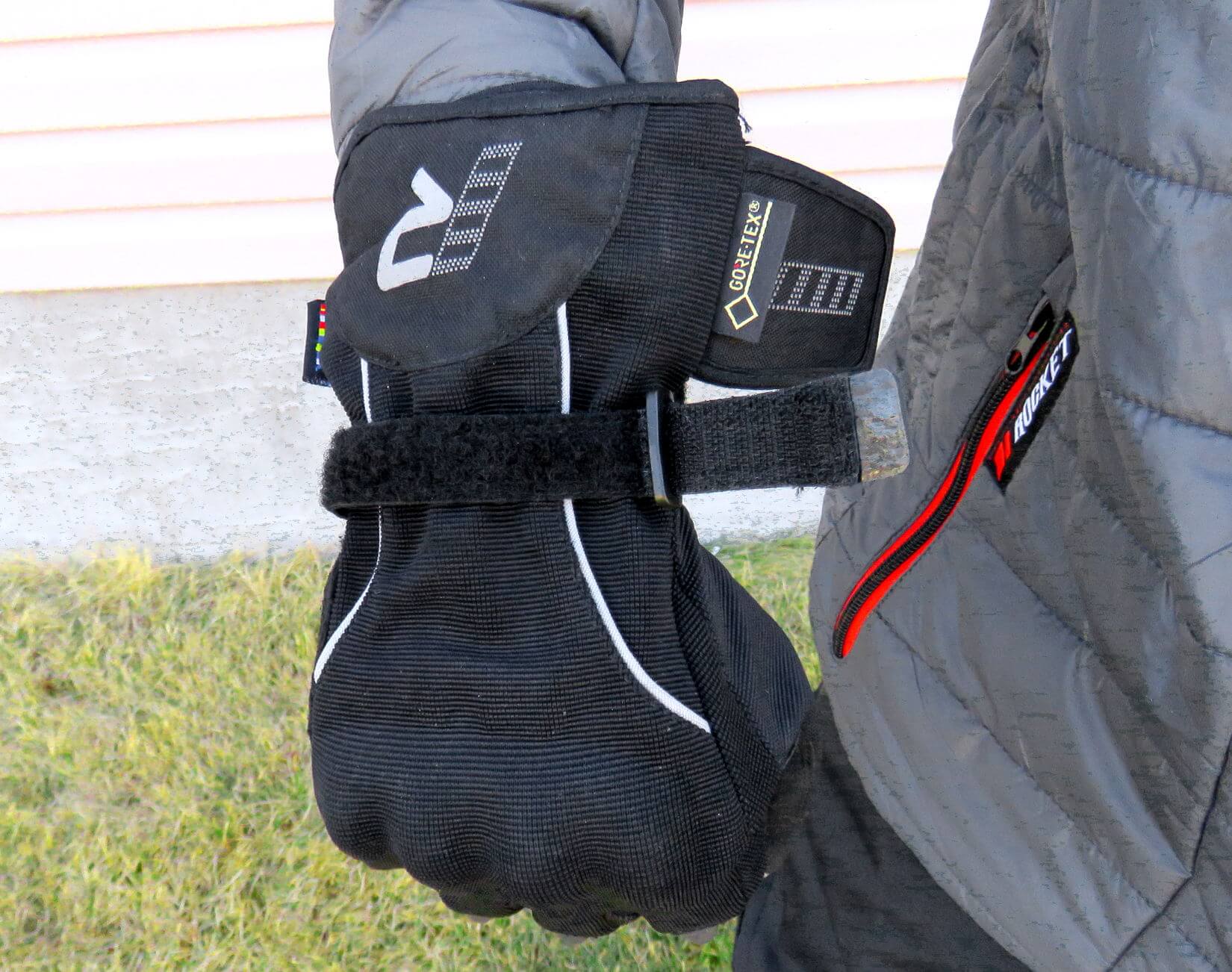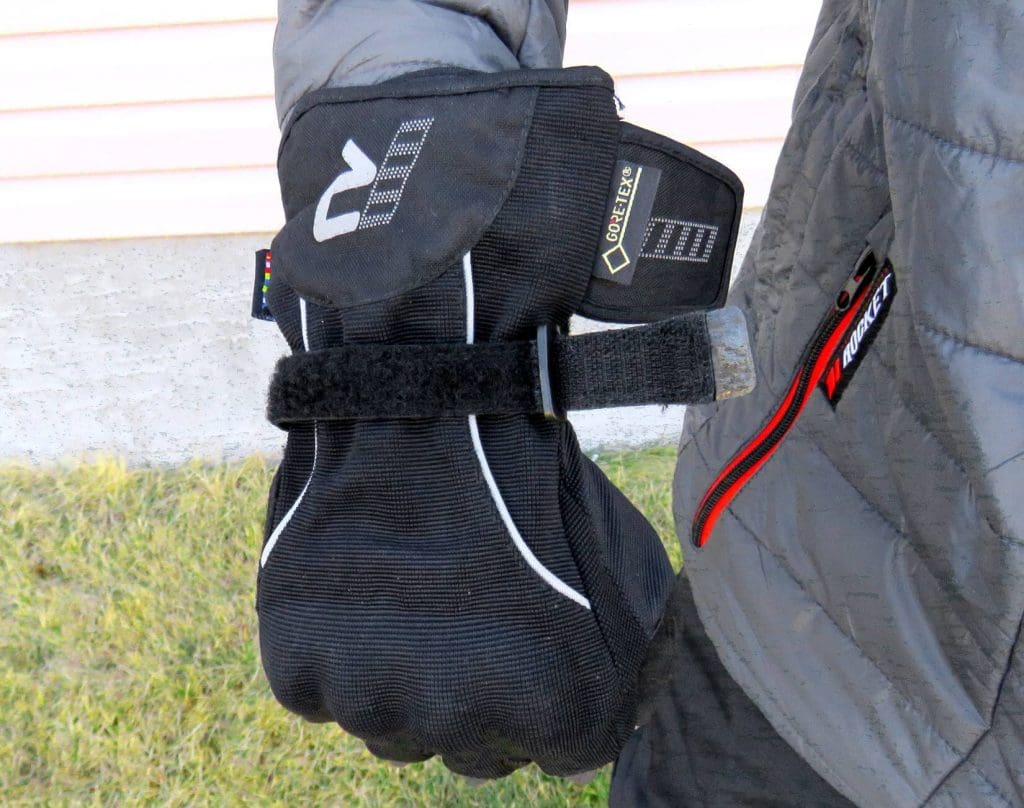 The two velcro straps on each glove make putting them on or taking them off quick and easy, as well as adjustments on the fly. They remind me of baseball batting gloves.
My fingers all reached to the end in each digit sheath except for the thumb and index finger where I came up about a quarter inch short in the thumb and ⅛" short in the index finger. Annoying, but nothing new for me since I have short, fat fingers.
My hand measures about 8.5" around the widest part which puts me right at the front of the size 10 Virium range.
They better be good for the price they are! Yes, there are more expensive gloves in Rukka's lineup, but these are no slouch at $179.
Fair warning: when I review something this expensive I'm extra fussy about any small issues, so be prepared for that as you read on.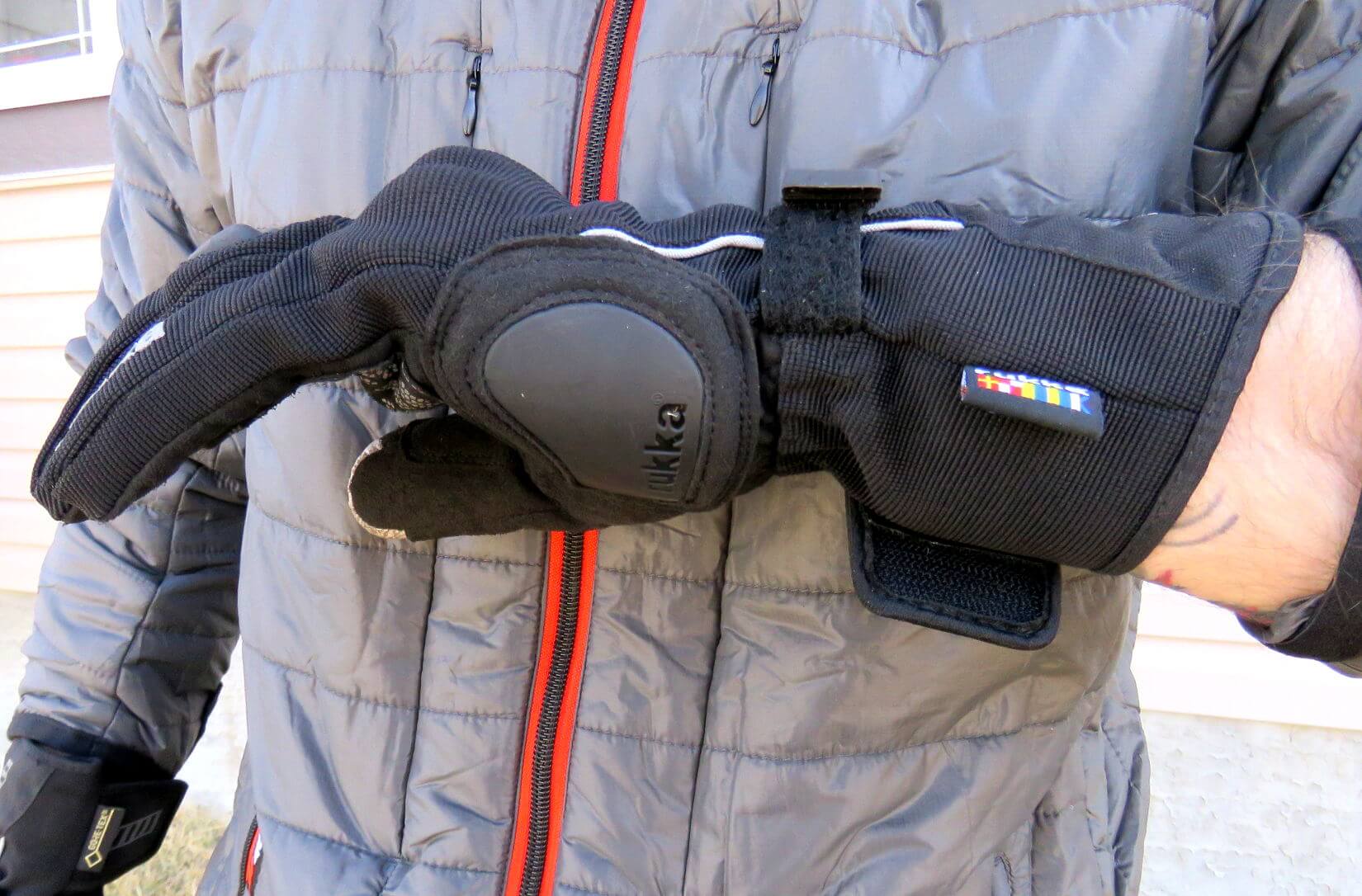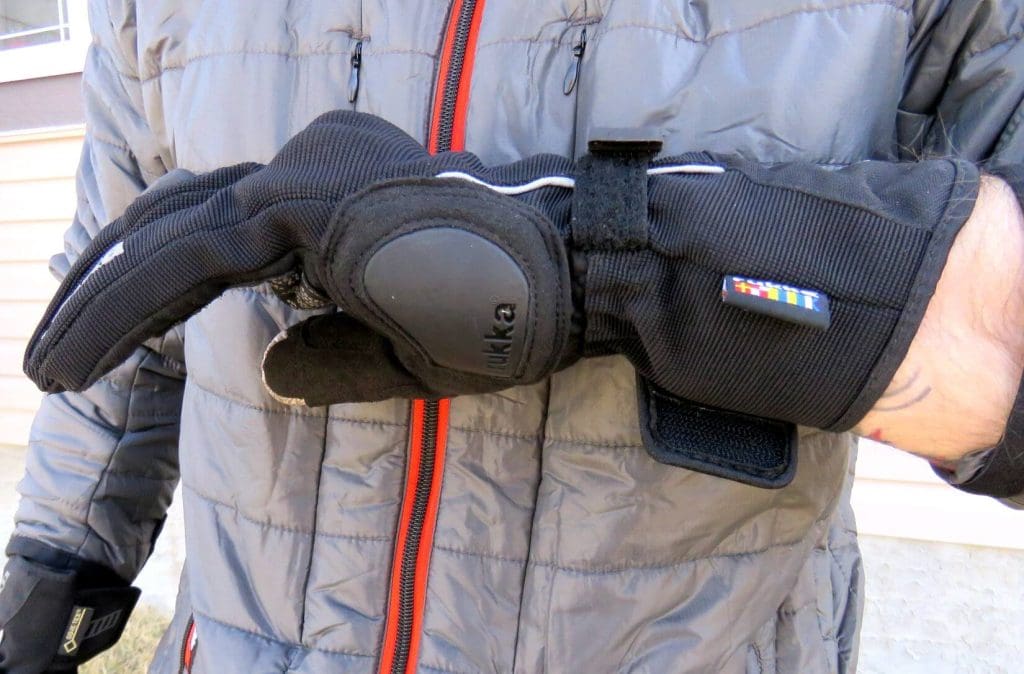 Dexterity Check
The material shell is thin enough for jobs like pulling a credit card out of my wallet when paying for gas or pushing buttons accurately on the bike's handlebars, but I can easily tell there is more than just one layer of material between my hands and the outside world. There's little sensation or feedback coming through the fingers or palm needed to tackle tasks requiring really fine motor skills.
I couldn't successfully do up the D ring chin strap on my helmet, but I could manage the ratcheting one on a different helmet of mine. This is a tell-tale test of a glove for me, and thin as the Virium shell is, I didn't find quite enough feel to work with the D ring.
Bunching Up
Nothing will make me throw away a pair of riding gloves faster than having the seams in the palm area bunch up around my thumb when I grip the throttle. That bump of material cuts off circulation to my thumb and causes it to go completely numb in short order.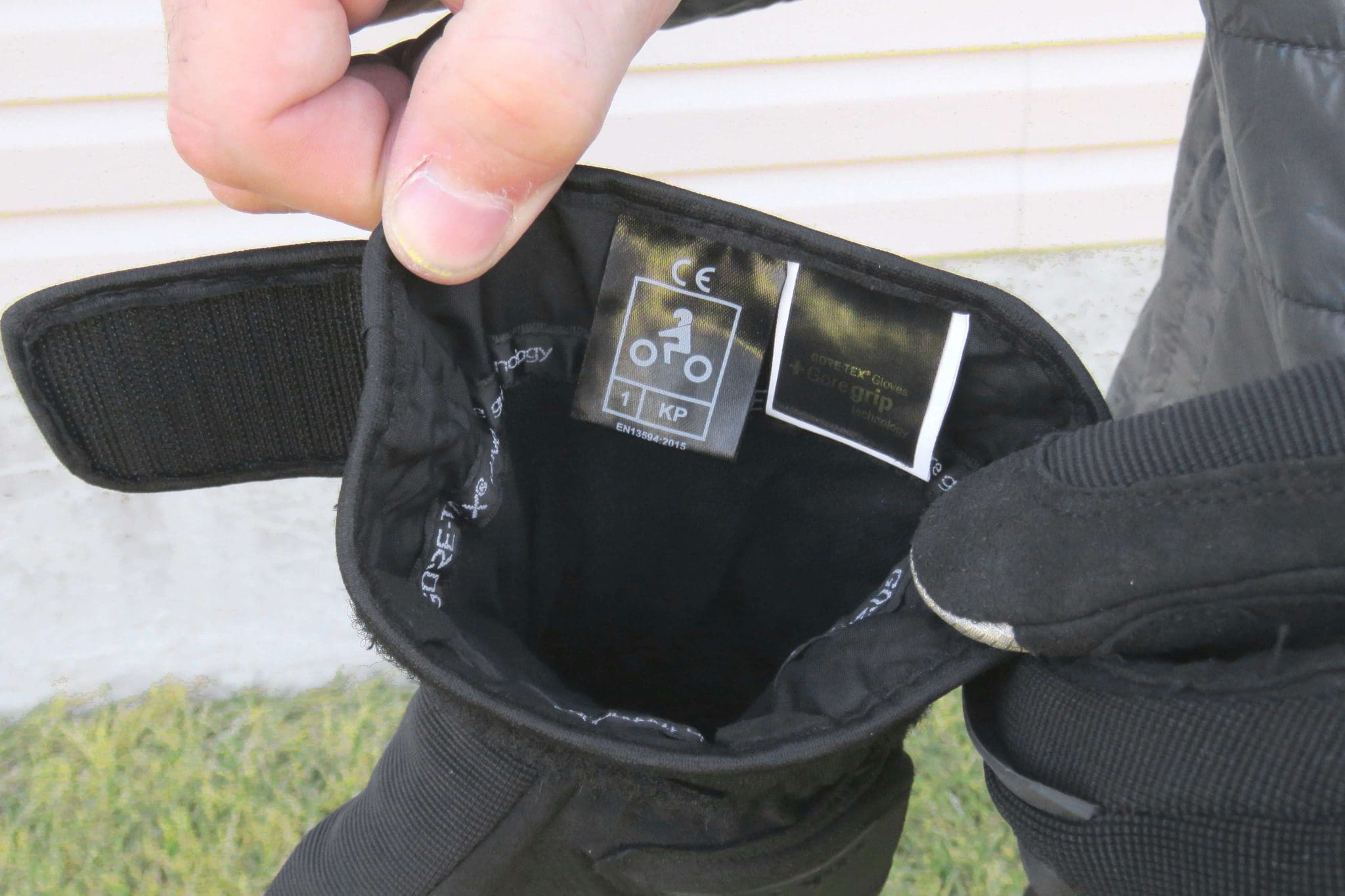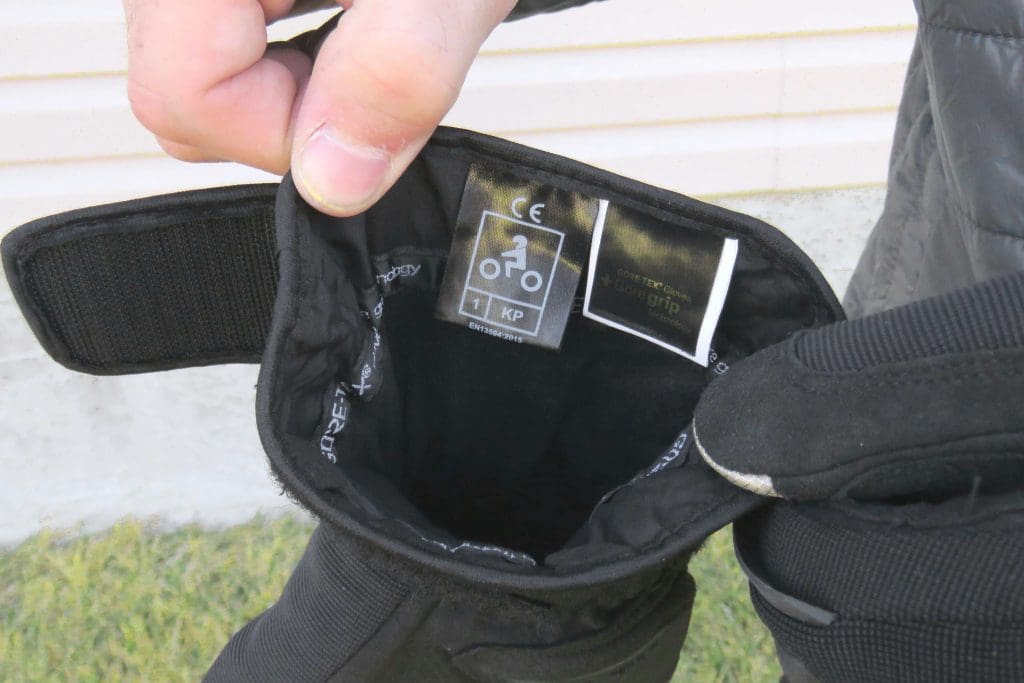 The other thing I hate is when you pull your hands out and the liner comes with it.
The Virium passed these tests without any problem. I didn't feel any lining or padding piling up around my thumb or fingers and everything stayed put. It's very well made with the seams carefully cut and sewn tightly and accurately together. Bravo!
Road Testing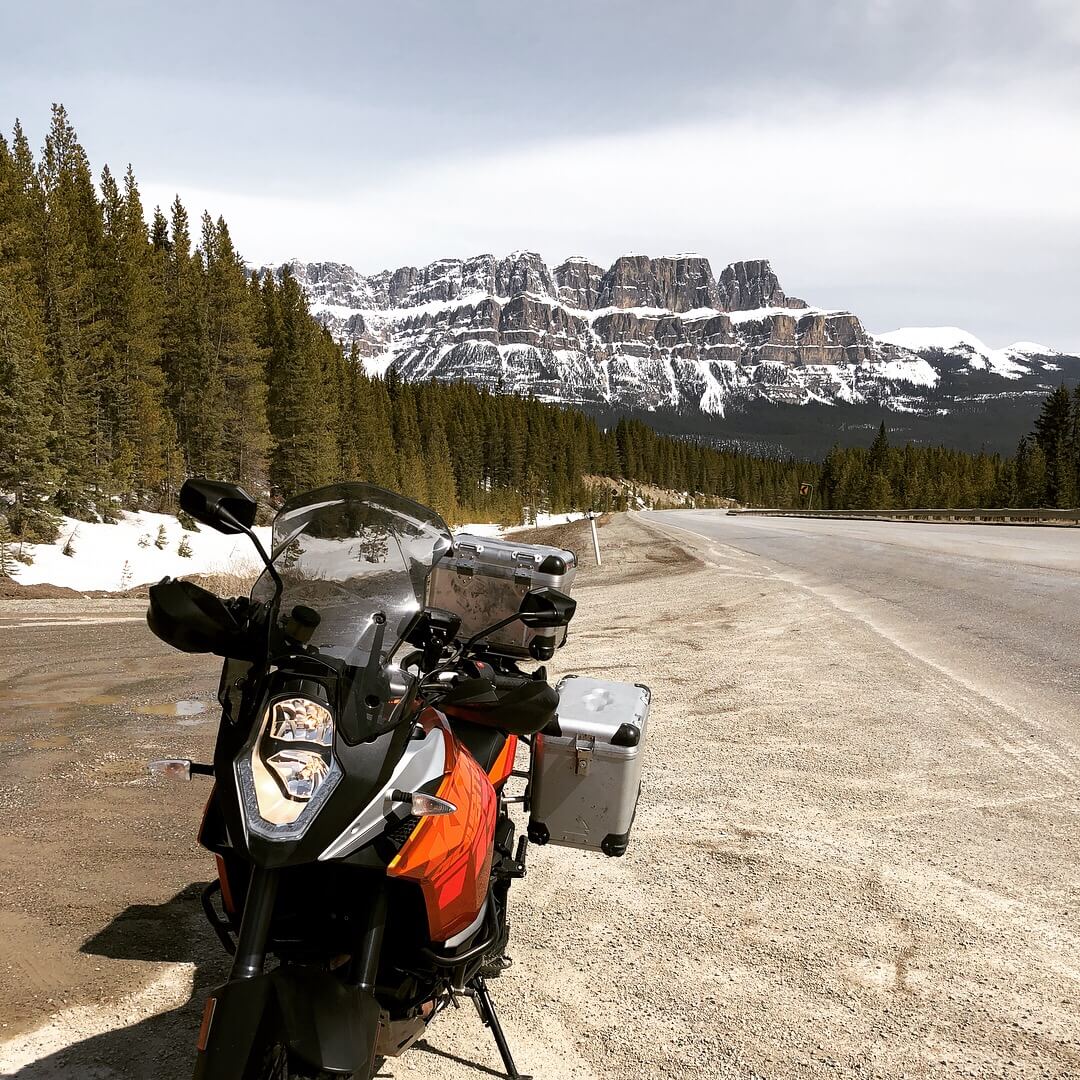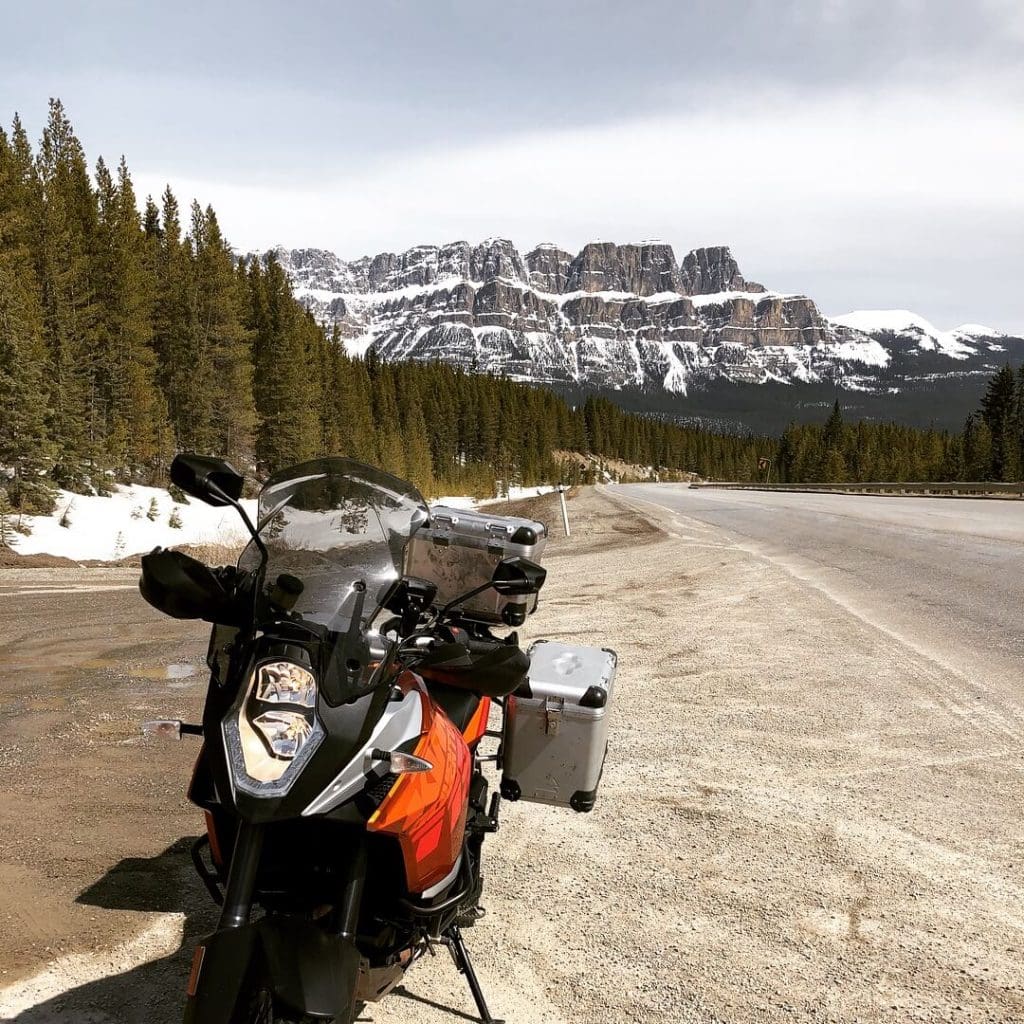 Once I got to testing on the road with the Virium I would say the gloves broke in nicely after about 100 miles. Before that, I found the massive knuckle armor would press down occasionally on my hand making me think I was perhaps bumping the handguards on my bike.
Cold Weather Performance
My first ride was in fairly cold conditions right around freezing. I found at that low temperature up to 53 degrees I needed to turn on my heated grips to feel comfortable.
The top of the gloves blocked the wind and cold completely even when it was around freezing, and the knuckle, finger and scaphoid armor didn't transfer any cold through to my hands. However, the suede-covered palm and padding are thinner and it transferred cold from the grips to my hands after about 20 minutes.
These aren't advertised as winter gloves so it's not fair to expect winter temperature protection. With the heated grips on I was perfectly comfortable and endorse the Virium down to 32 degrees happily.
Warm Weather Performance
I was very curious whether the Gore-Tex would breathe well once things warmed up.
Unfortunately, it's still early Spring here and the highest temperature I tested the Virium in was 70 degrees. It was excellent at that temperature while riding at any speed, and I only noticed a small degree of sweating when I was stuck in traffic for 30 minutes in rush hour.
I would have really liked a vent on top of the gloves just the same for times like that to have the option of cooling off better, but all in all, I was impressed with the breathability in warmer temps.
Waterproof?
This is where I thought the Virium really shined through. I'm planning to take these gloves with me on my ride to Tuktoyaktuk in June and chances are good the weather will turn on sour and potentially drench me. I need to know I can rely on these gloves to keep me warm and dry for days on end.
Ridiculous Water Testing
Since we haven't gotten any rain yet this Spring I took drastic measures and torture tested the gloves using the garden hose with my wife's help.
Basically, I outfitted myself in my complete set of waterproof gear (including these Virium gloves) and had her spray me with the hose for about 5 minutes head to toe. What I noticed right away when the water hit the top of the gloves was that it beaded instantly and didn't soak in at all! Nothing got through the top layer whatsoever.
The palm has a couple of layers of suede covering most of it and the bottom/sides of the fingers. I noticed the water absorbed into the suede right away, but nothing soaked through the GoreTex underneath… at all.
I was impressed with how quickly the gloves dried after being soaked too. I think traveling at speed they would dry out completely in about 10 minutes or less.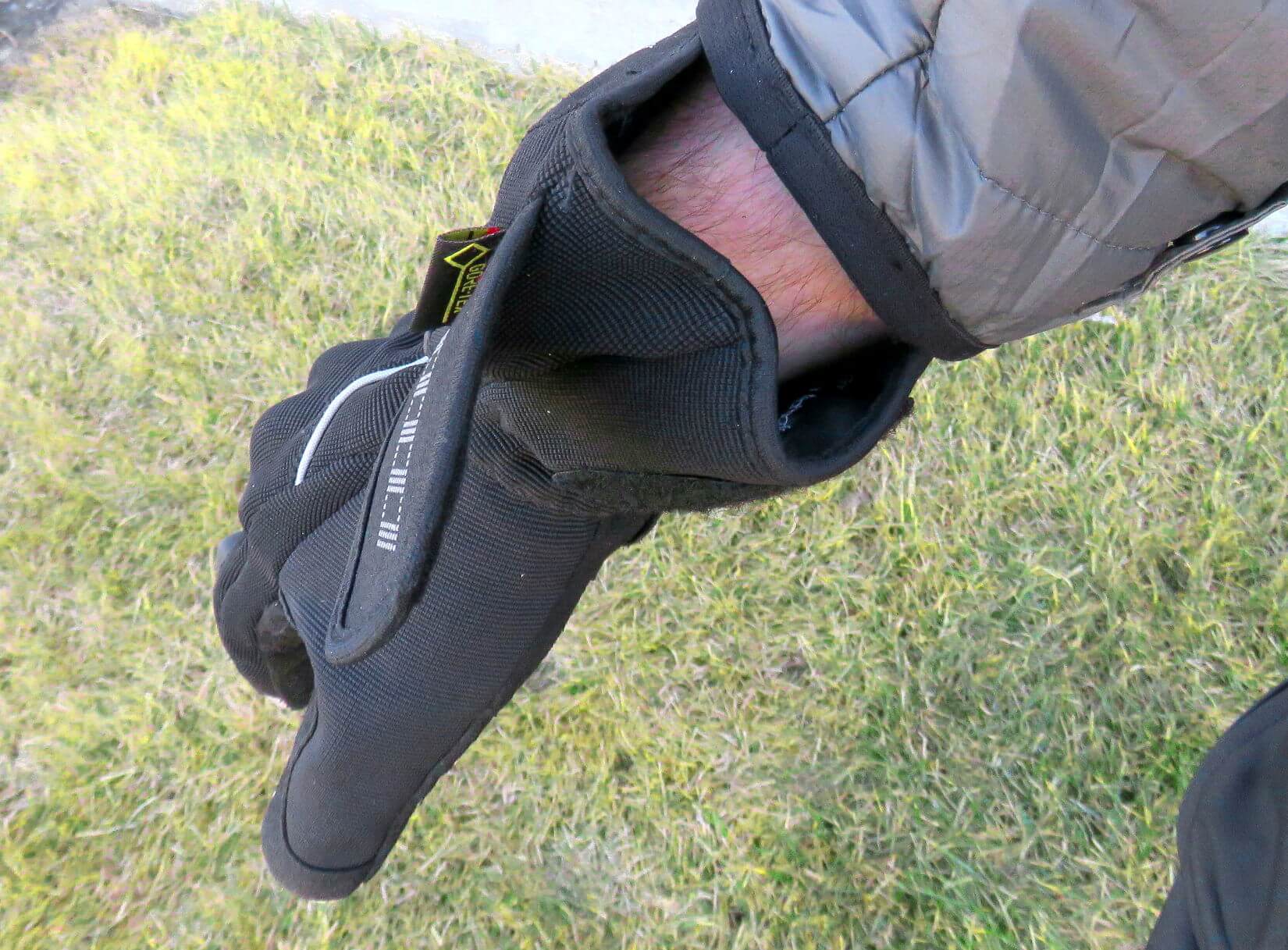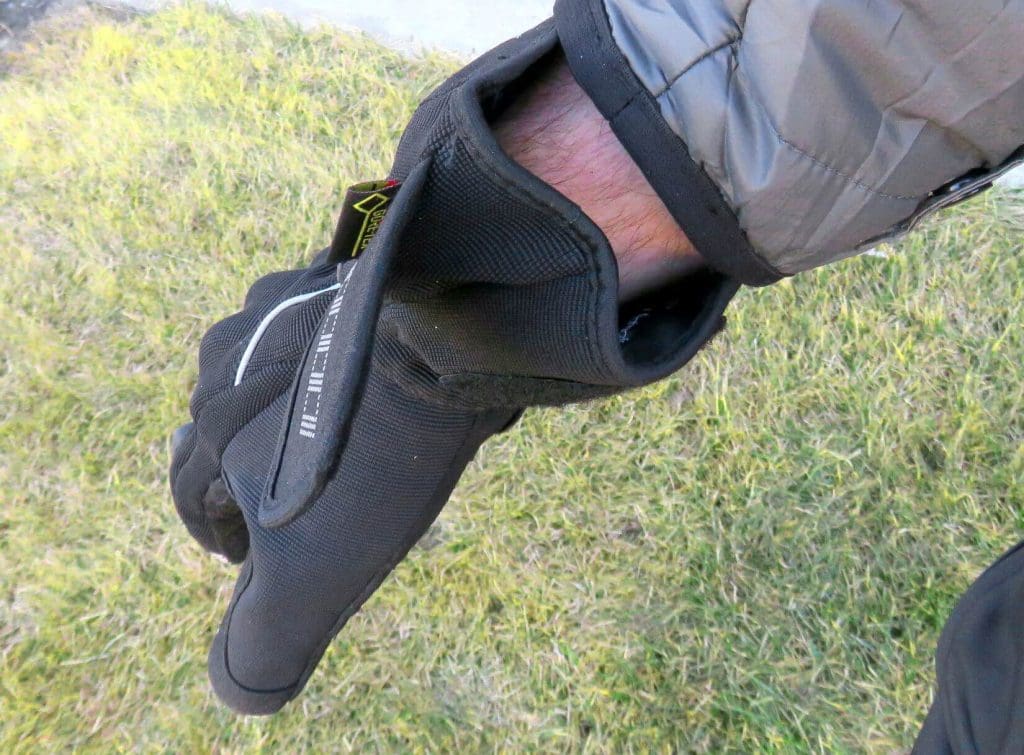 The long cuff on the gloves tucks in perfectly under the wrist adjuster of my jacket and stopped water from coming up my arm even on a direct jet of water from the hose for several minutes. I suppose a lot of the credit has to go the cuff on the Joe Rocket Canada Ballistic jacket I was wearing too.
Well done, Rukka! Quite often as many of you know big claims from manufacturers like "waterproof gloves" don't… well… hold water! The Virium is most definitely waterproof as you'll see in the video below.
Visor Wiper
I was pleased to see a rubber strip on the left index finger for wiping off my helmet visor. While I was getting drenched with the water hose I took the opportunity to test the wiper. It worked wiping both left to right and right to left.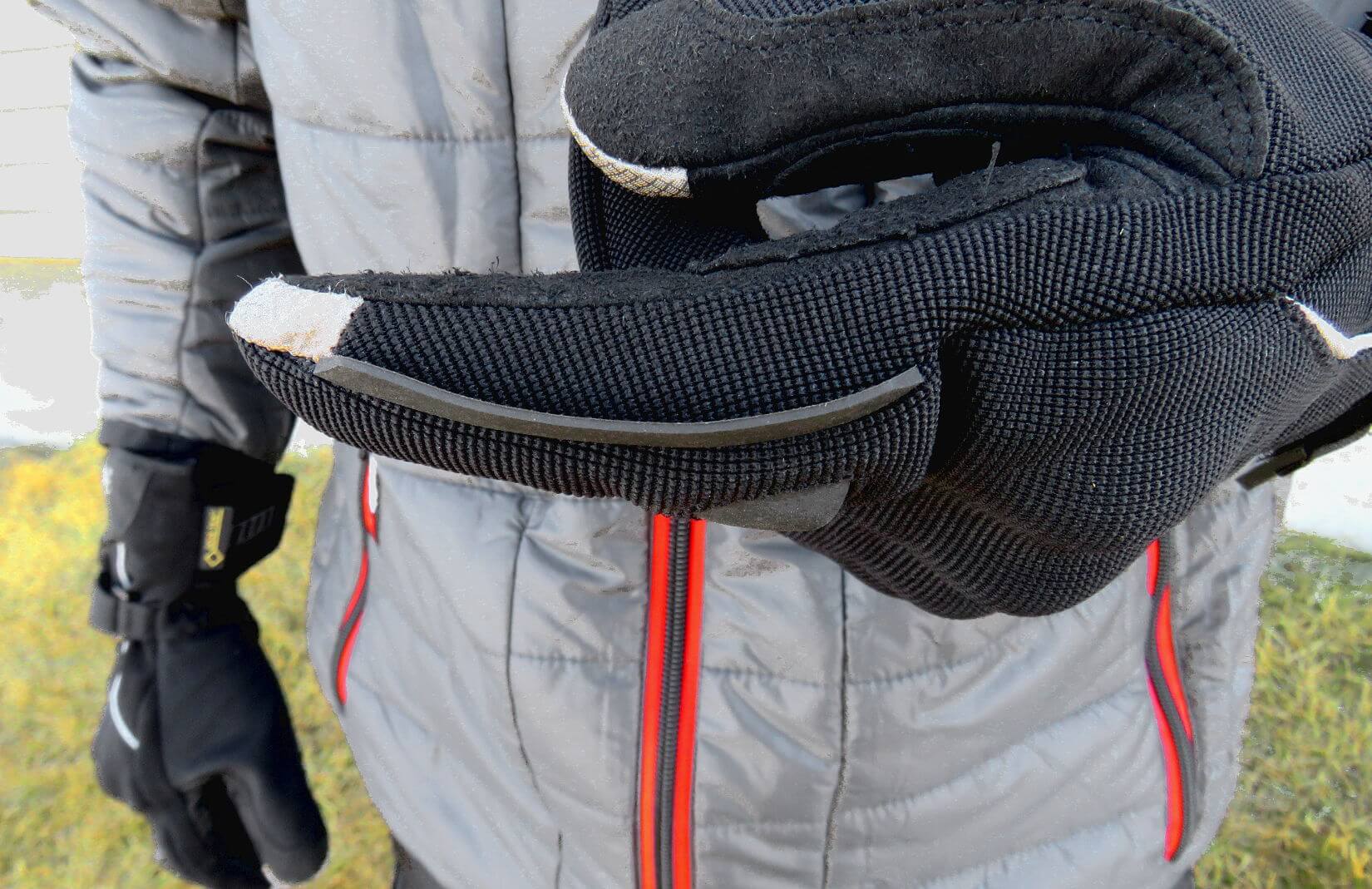 The rubber stayed soft even at low temperatures too.
Smartphone Finger Tip Strips
It's funny how something can thrill yet disappoint all at once, eh?
Those mesh-covered, white strips on the end of the gloves' index fingers and thumb worked awesome in the warmth of my living room and when the temperature outside was above 53 to 60 degrees. That surprised me a lot because as I pointed out earlier, my index fingers and thumbs both came up noticeably short in reaching the end of the finger voids in the gloves.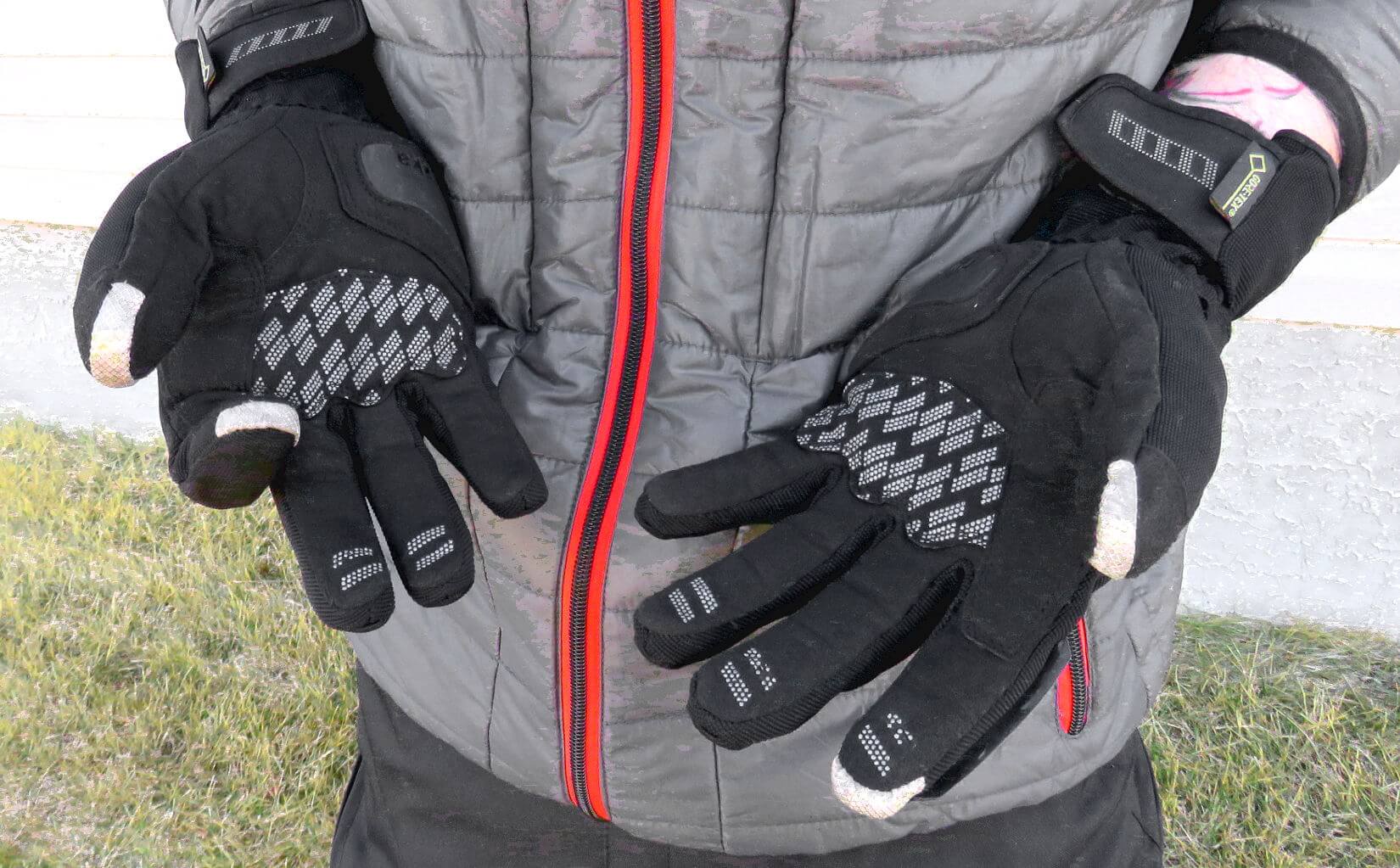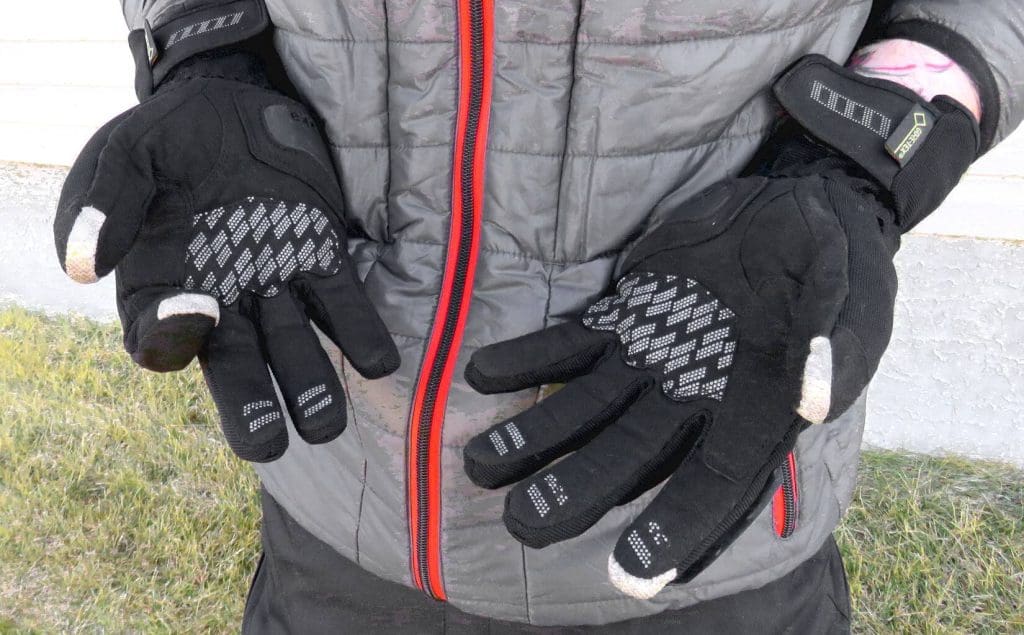 Short man problems once again at work.
I found that I had to tap lightly in order to get fine precision on my phone, but I'll be damned if it didn't work well most of the time I used my phone with the gloves on.
Once it got below 50 degrees and the glove shell got cold after riding a while, I couldn't get anything to happen regardless of my technique until the gloves warmed up.
So I love this feature of the glove, but only when it's relatively warm out.
Rubber Grips
As I mentioned before there are small dabs of silicone or rubber on the palm and finger-tips to help with gripping levers and handlebars.
After putting almost 1000 miles on the Virium gloves the only indication of wear comes on seeing some of the little dots have fallen off or are nearly off the left glove. All that clutch work did it in. I don't find the rubber necessary because the suede grips just fine without it, so I won't miss the little fingertip dots.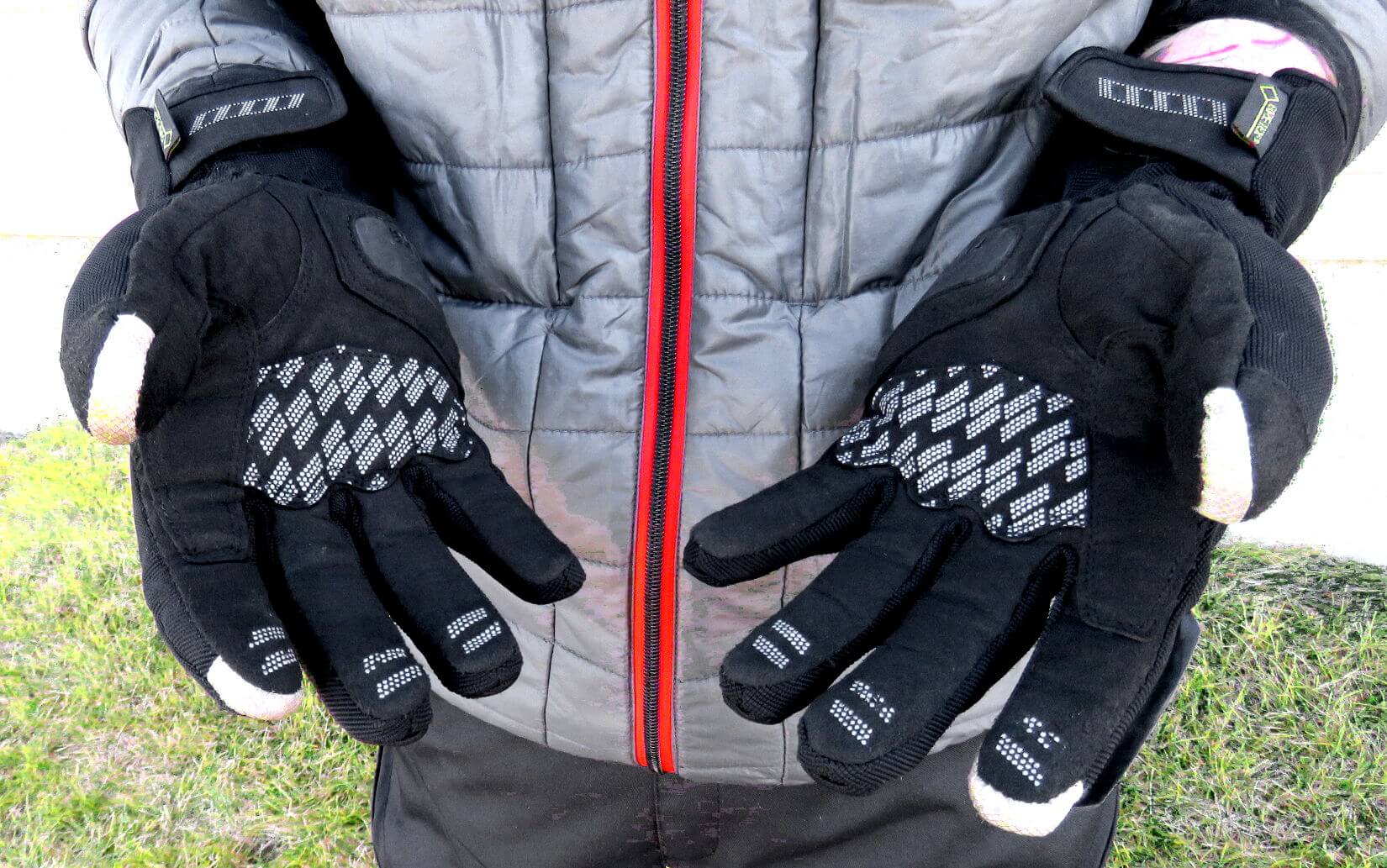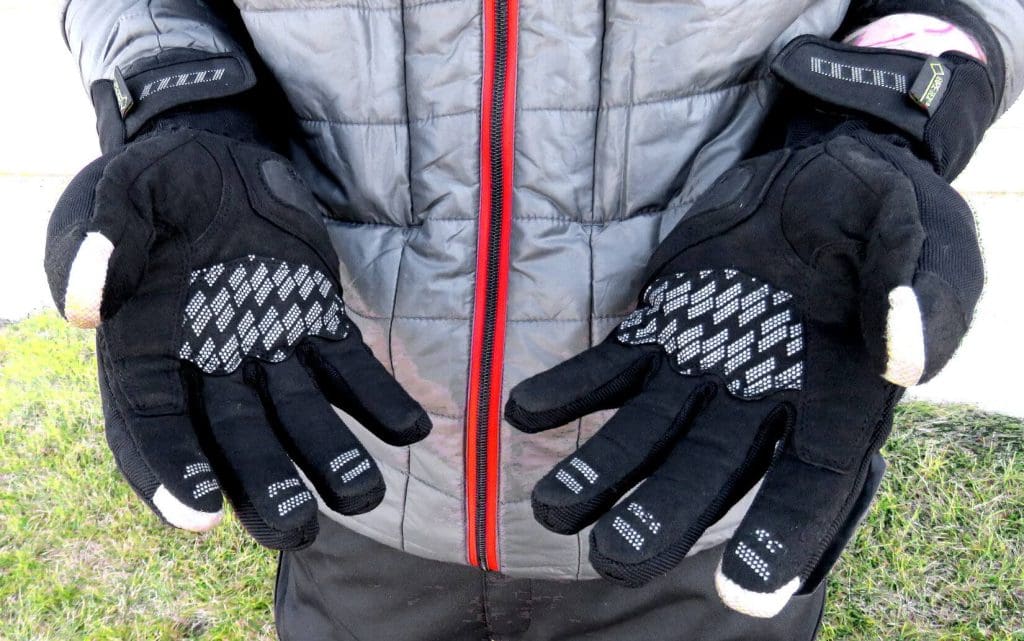 Still, remember these are expensive gloves and after riding only for about a week I've managed to produce some abnormal wear and tear in my opinion.
I wonder if this would qualify for the 2-year manufacturer's warranty for faults in workmanship or material?
The Verdict?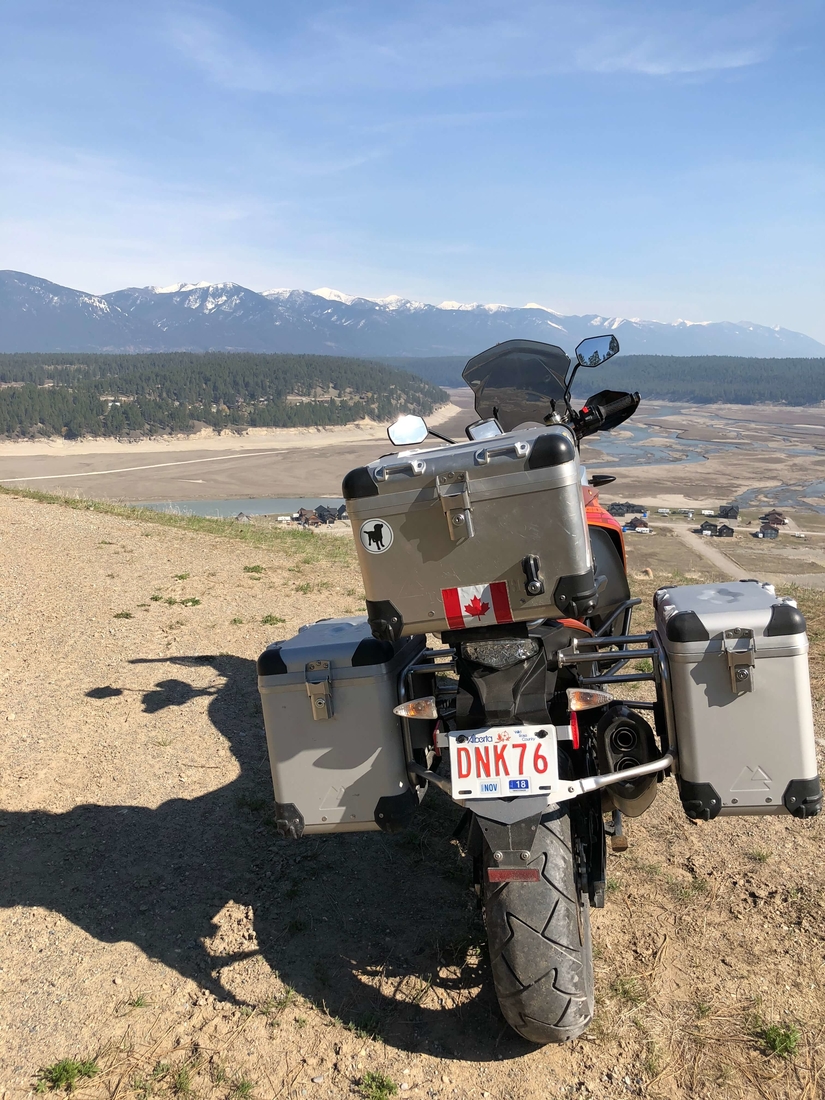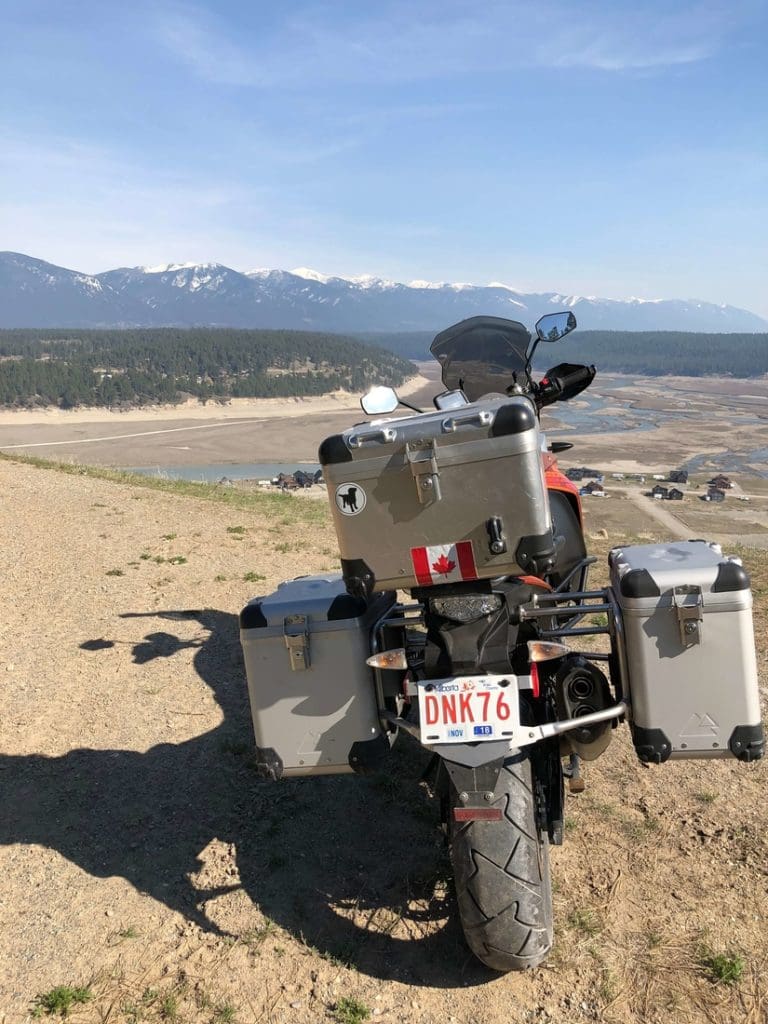 I'm impressed with the Virium gloves and will be taking them to Tuk with me in June. I'm going to see whether I can wear them right out or not. I'm thinking they'll be around a while.
They were perhaps not made for adventure riding specifically, but the amount of armor in them and the waterproof/windproof design makes them easy to pick for that kind of riding.
Virium is a Latin word meaning "forces" in case you were wondering. Are they referring to how the glove resists and protects from the forces of nature or how it forces you to carefully decide whether to spend so many of your hard earned dollars on it?
I don't mean to harp on it, but $179 is a lot of money to spend on gloves. On the other hand (nice pun), finger and hand injuries can end an enjoyable bike trip real quick. If you add up the cost of all the lesser quality gloves you would buy over a few years that will likely wear out, leak water and not be practically bomb-proof the Virium starts to look like a wise choice and a good buy.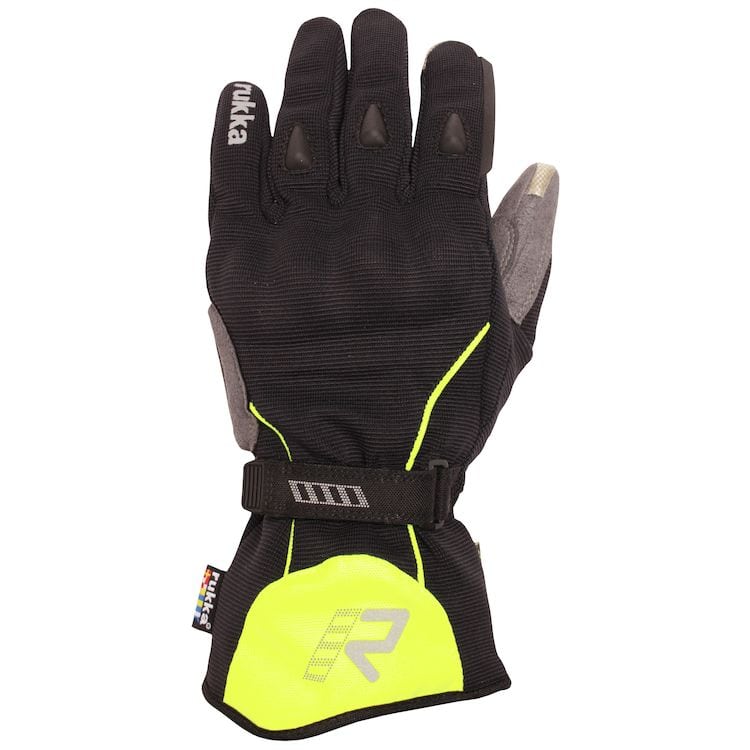 Pros
Comfortable, Adjustable for a snug fit, strong design
Waterproof, Windproof, Warm yet breathable

Double stitching, long cuff but not too long
Lightweight, thick but not too thick to bunch up
Suitable for warm or cold weather
Excellent range of Men's and Women's sizing
Three color choices

2-year manufacturer's warranty
Cons
Expensive to buy

Touch screen finger and thumb tips don't work when cold

Rubber dots on fingertips wear off fairly quick
Just a little bit too thick to perform fine motor skill tasks

Could use a vent to open for more airflow in hot weather
Specs
Manufacturer: Rukka (Luhta Sportswear Company)

Price (When Tested): $179
Made In: Finland
Alternative models & colors: 3 colors to choose from: black, black/grey, black/hi-viz yellow
Sizes: Men's and women's sizes 6 to 14
Review Date: April 2018