NEXX X.Vilitur Review Summary
Review Summary
NEXX's first modular helmet is very good indeed. Gorgeous good-looks, a comfortable interior (intermediate oval with a neutral bias), excellent airflow, and good construction all combine to make this $500 modular a solid buy.
Pros
Just look at it
Excellent front and top vent airflow
Expansive viewport
Comfortable fit
Stiff shell
Cons
Exhaust switches are frustrating to manipulate
Pinlock sold separately
Noisy (compared to premium modulars)
NEXX X.Vilitur Image Gallery
Quick Specs
$499 / Intermediate Oval (Neutral bias) / 3.83lbs / 1,737g
NEXX's First Modular is a Good One
Note: NEXX provided this X.VILITUR at no cost for the purpose of this review.
Hot off the heels of my SCHUBERTH C4 Pro review is NEXX's first-ever modular helmet, the long-awaited X.Vilitur. Priced at $499, it sits in the competitive mid-range modular segment, and like other touring-focused helmets, offers a host of built-in features intended to increase its value, curb appeal, and functionality.
NEXX is new to the modular space, but they have spent the better part of 20 years building a reputation as a solid brand that manufacturers quality helmets. wBW's coverage of NEXX helmets tells a story of a "new" brand coming into its own. Go back to 2009 and read Rick's initial coverage of NEXX and you will identify a recurring theme: these helmets are uniquely designed, made well, and are appropriately priced.
Today, we live in an era of $700+ premium modulars and one where high-end materials, such as carbon fiber, are becoming found in increasingly affordable mainstream helmets. While the X.Vilitur I have here is not carbon fiber, you can opt for the X.Vilitur Carbon Zero ($679) if you want the look but don't want to pay the usual carbon fiber premium. The last carbon fiber modular I had in my hands was the AGV Sportmodular Carbon, which rings in at $750- a fair bit more than the NEXX.
So, when our contact with NEXX sent over the X.Vilitur and asked me to put it through its paces, as I was all too eager to get started.
Who is NEXX, Anyway?
Given that NEXX isn't quite as well known as many of the other helmet brands we review, and since I wasn't as familiar with them as I wanted to be in preparation for this review, I spent some time learning about the brand and their history. I'll paraphrase the important parts here.
Founded in 2001, they released their first helmets in 2002 – the X.10 and X.20 – and have continued to grow their lineup consistently ever since. Most of their lineup is new, having been designed in just the past few years, but a couple of models date back to the brand's early days. The SX.60, for example, was originally released in 2003 but is still being made and sold today.
Wade called out the 2019 NEXX helmet lineup in February this year, and for the 2019 lineup, they've got helmets in four major categories: dual sport, full face, modular, and open face/three-quarters. Part of what makes NEXX unique is that their factory is based in Portugal, as opposed to China, and that's where their helmets are made. Sure, there are other brands that build their stuff in Europe, but brands that don't manufacture in China are getting increasingly rare.
By keeping production in-house, NEXX has more control over quality and is able to rapidly iterate their designs and technology. They've certainly made quite an impression over the past 18 years.
Features
From RevZilla.com:
X-MATRIX aerodynamic shell made of fiberglass, aramid and carbon fibers
3 shell Sizes: 2XS-SM, MD-LG, XL-3XL
All-metal, Super Locker 360º double pivot system for secure chin bar locking
Optically correct, anti-scratch, Pinlock-ready face shield (insert sold separately)
X-SWIFT Quick Release visor mechanism
Panoramic Eye Port
Internal sun visor
2 intake, 2 exhaust vents
Morfofit ergonomic cheek pads fit for glasses wearers
One-piece neck roll and cheek pads
Moisture-wicking, removable and washable X.MART DRY fabric liners
Adjustable chin curtain
Removable Breath Guard
Micro-ratchet stainless steel chin strap
Includes two action camera bracket mounts
Double rubber seals at chin bar and face shield
Vortex generators at chin area for improved aerodynamics and reduced buffeting
Nexx X-Com compatible (unit sold separately)
DOT and ECE approved
A Touring Helmet With Aggressive Looks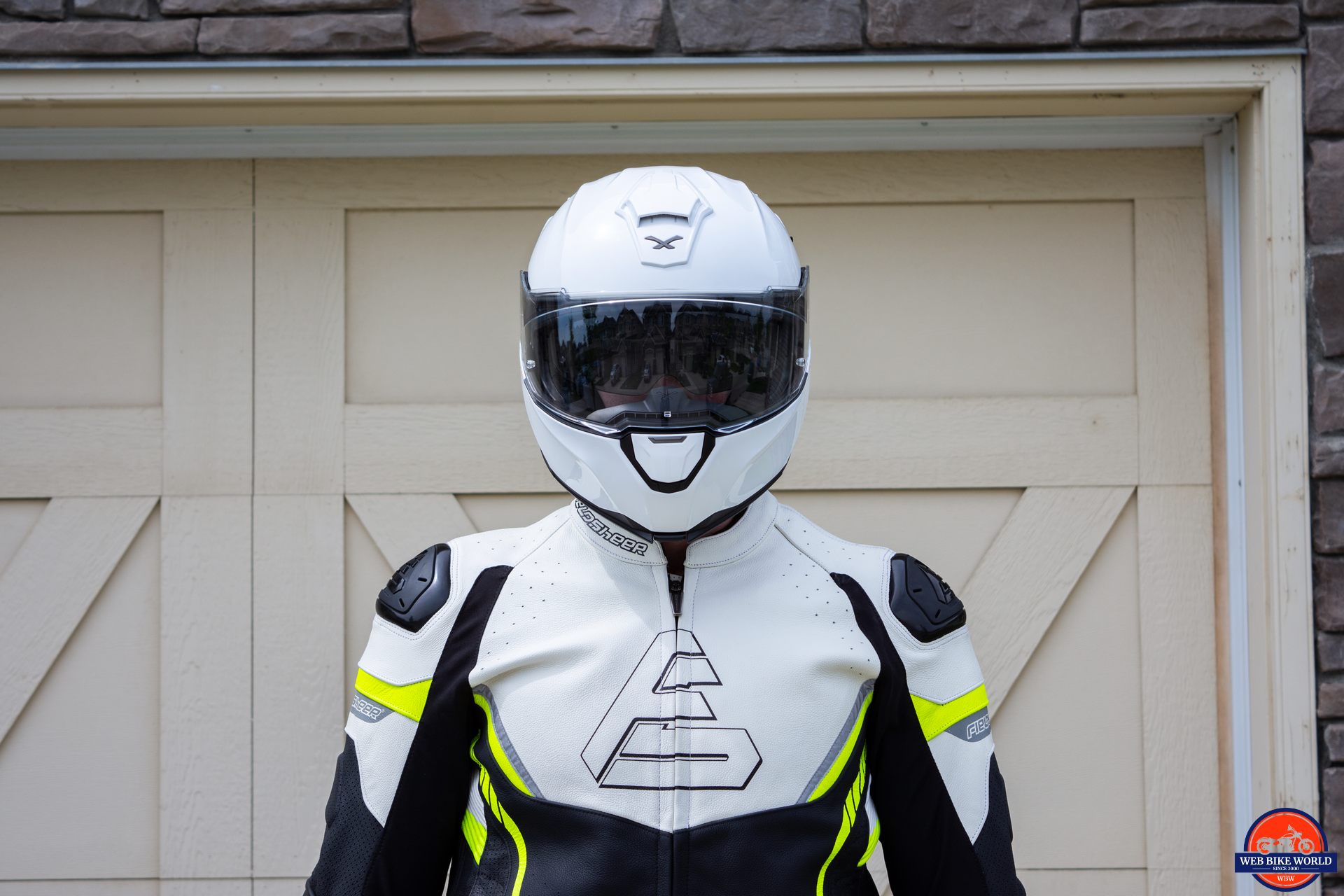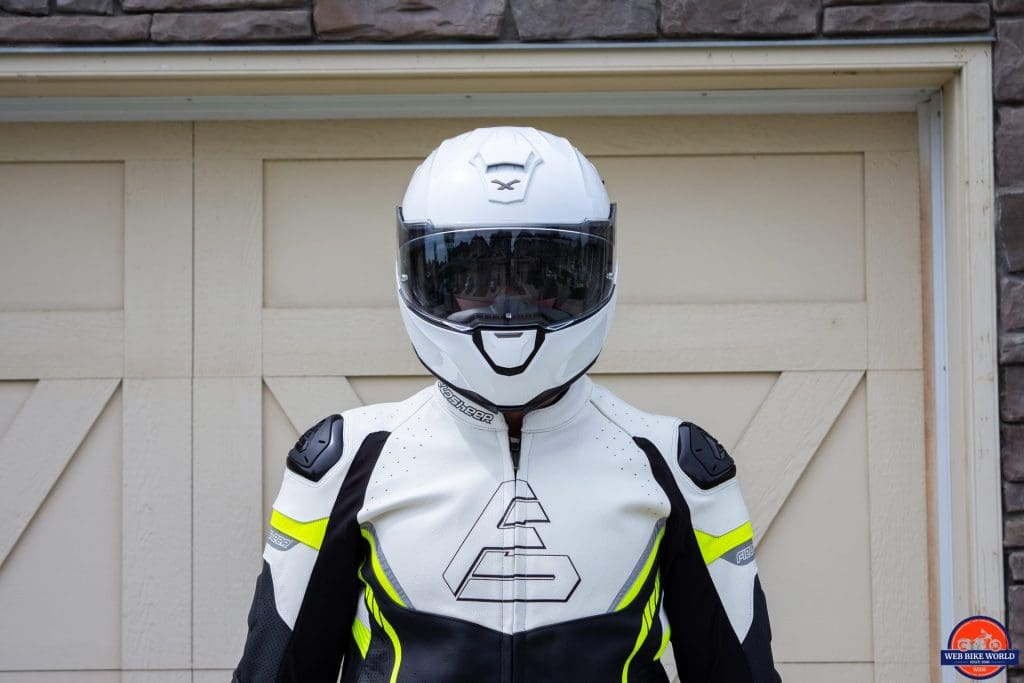 When looking at the X.Vilitur dead-on, you can't help but notice the aggressive jawline or the two distinctive vents. The gloss white version I have here is attractive, but I don't think that it's the best looking version of the X.Vilitur.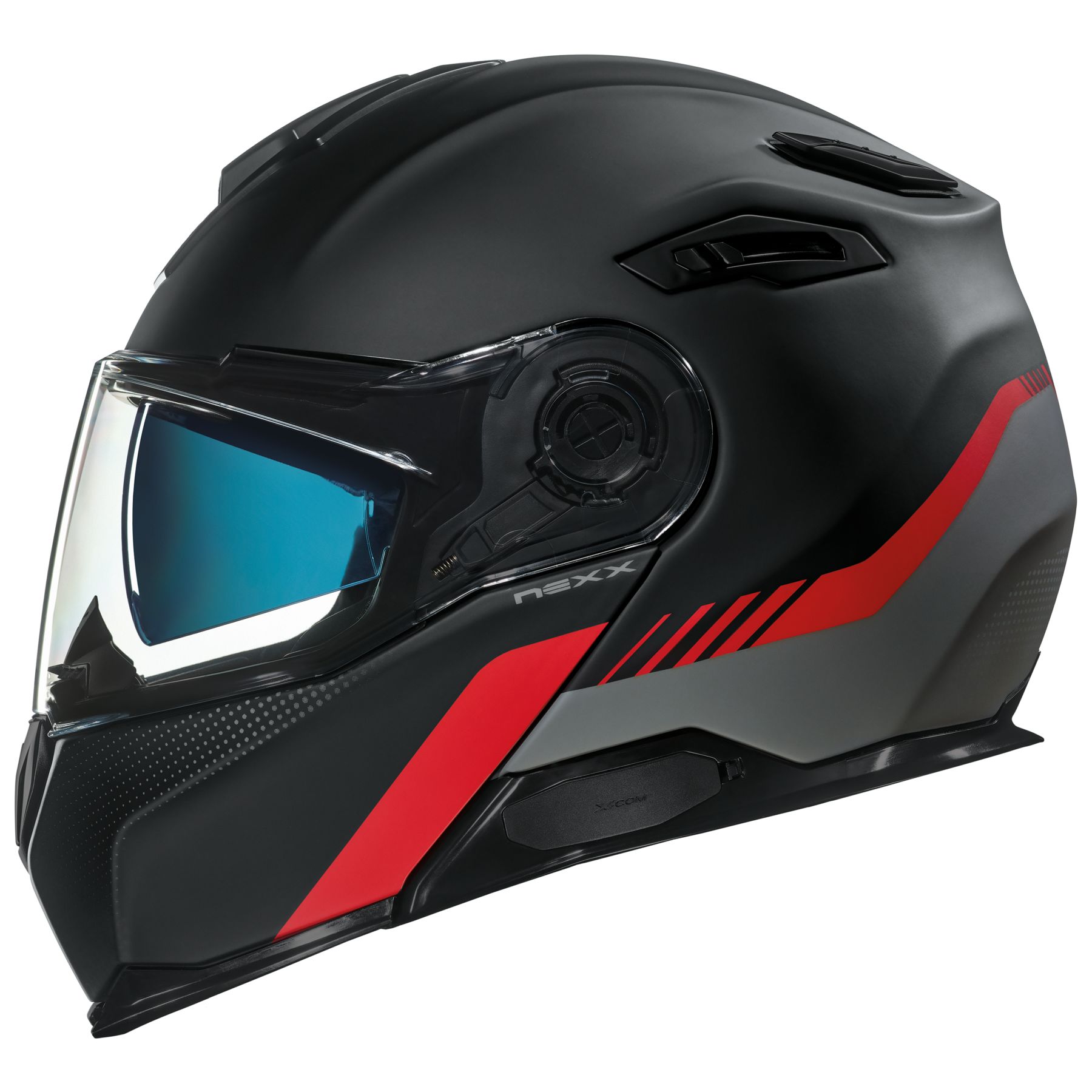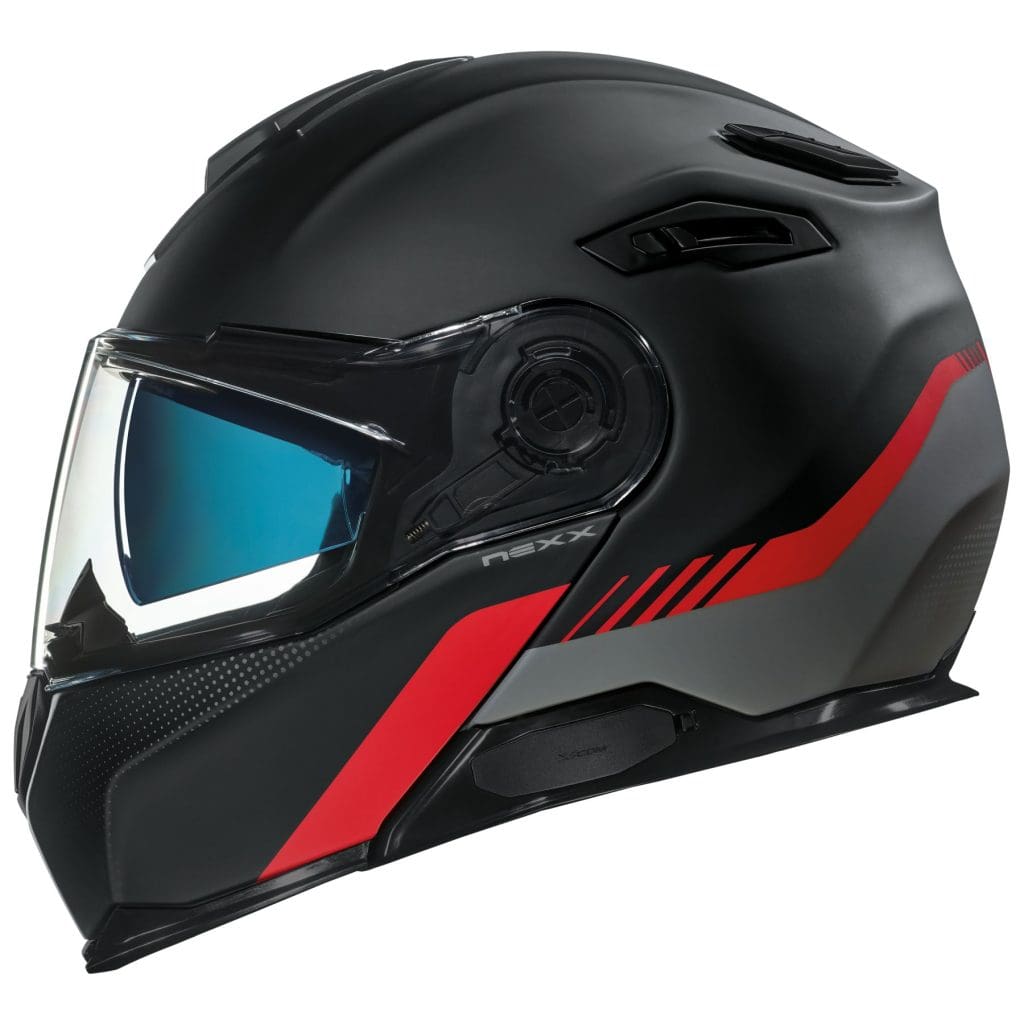 No, I'd say that accolade would go to the matte black and red Latitude version (which comes with a $50 premium). Still, the gloss-white is definitely eye-catching.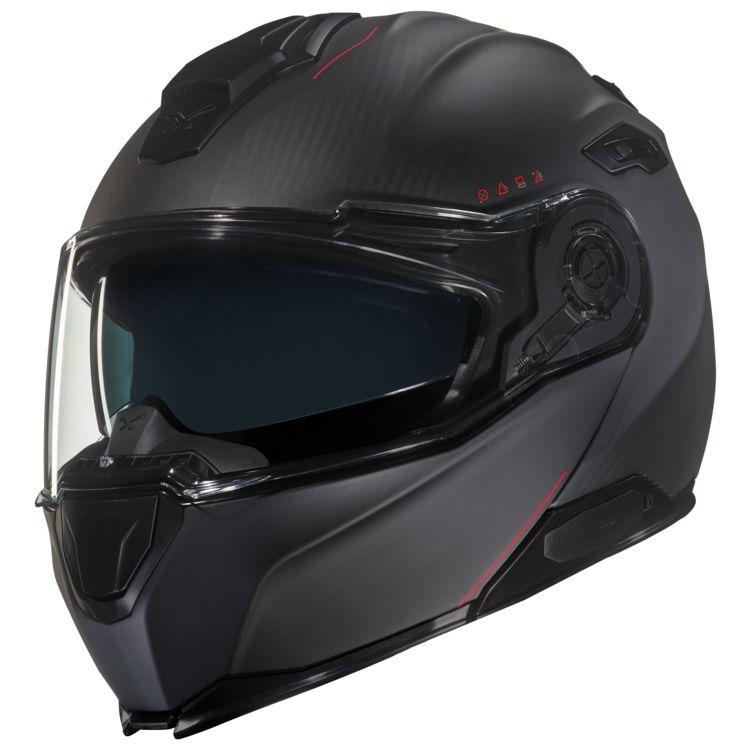 The Carbon Zero is quite the looker, too.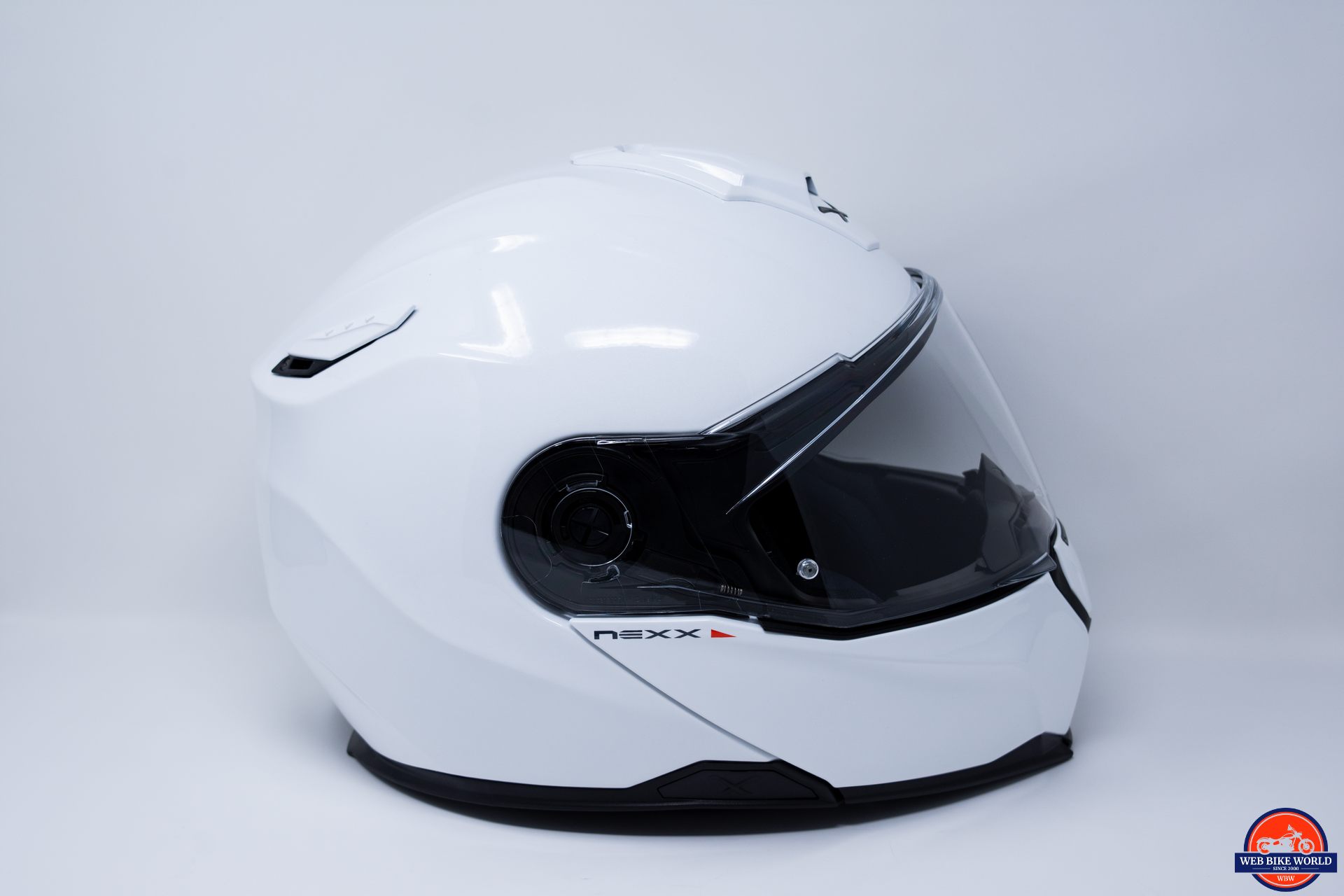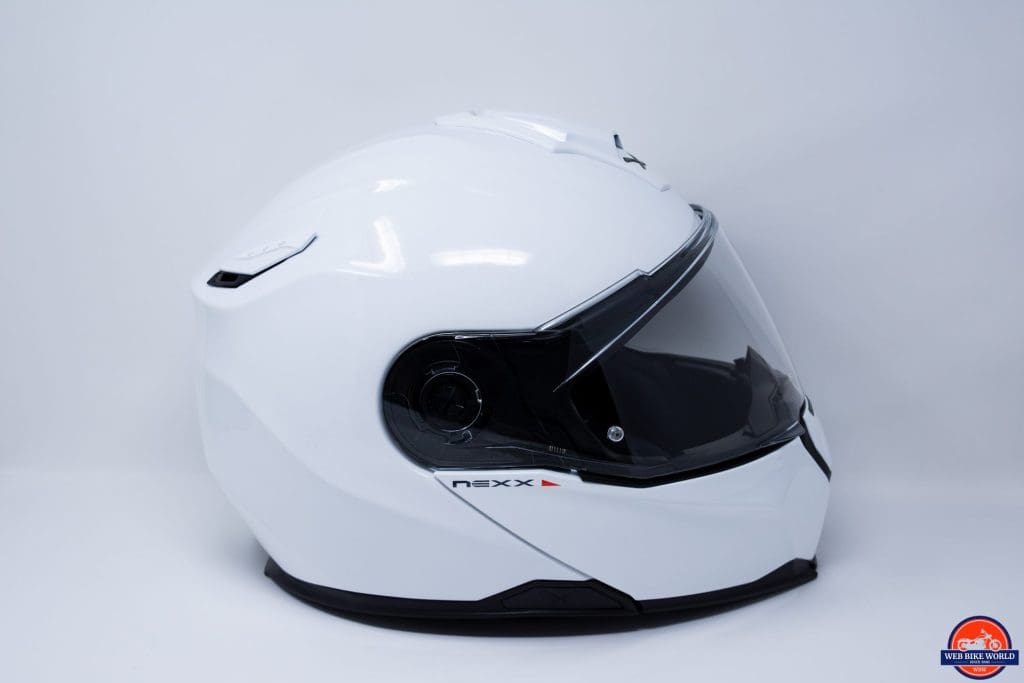 In hindsight, shooting a gloss white helmet against a white background wasn't the best idea I ever had.
The shape of the X.Vilitur is accented by prominent ribbed "spines" that snake their way across the shell. They draw your eye to a visual focal point on the chinbar vent. Your eye naturally follows them, and in so doing, you can't help but take in the distinct lines and creases that define this helmet.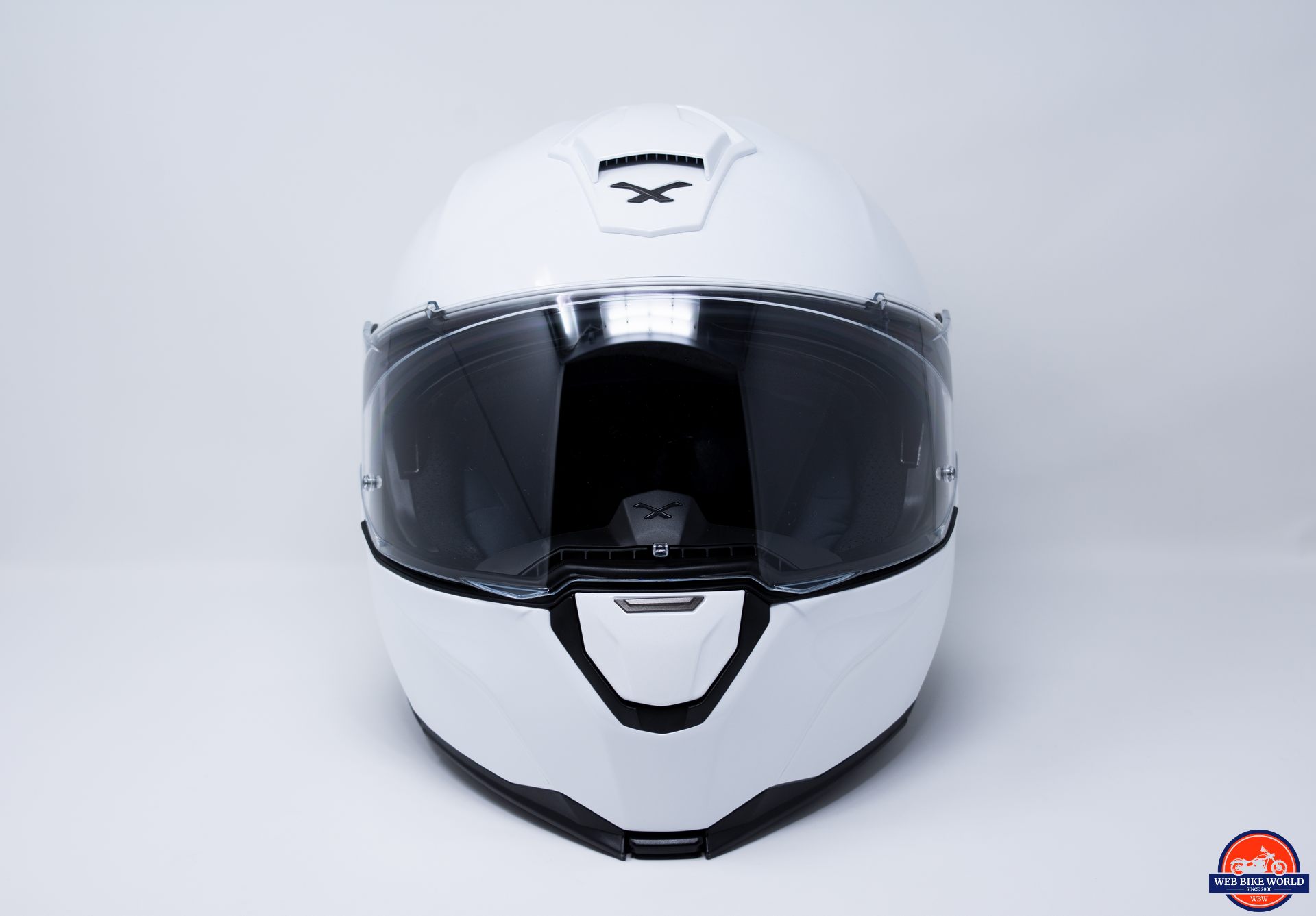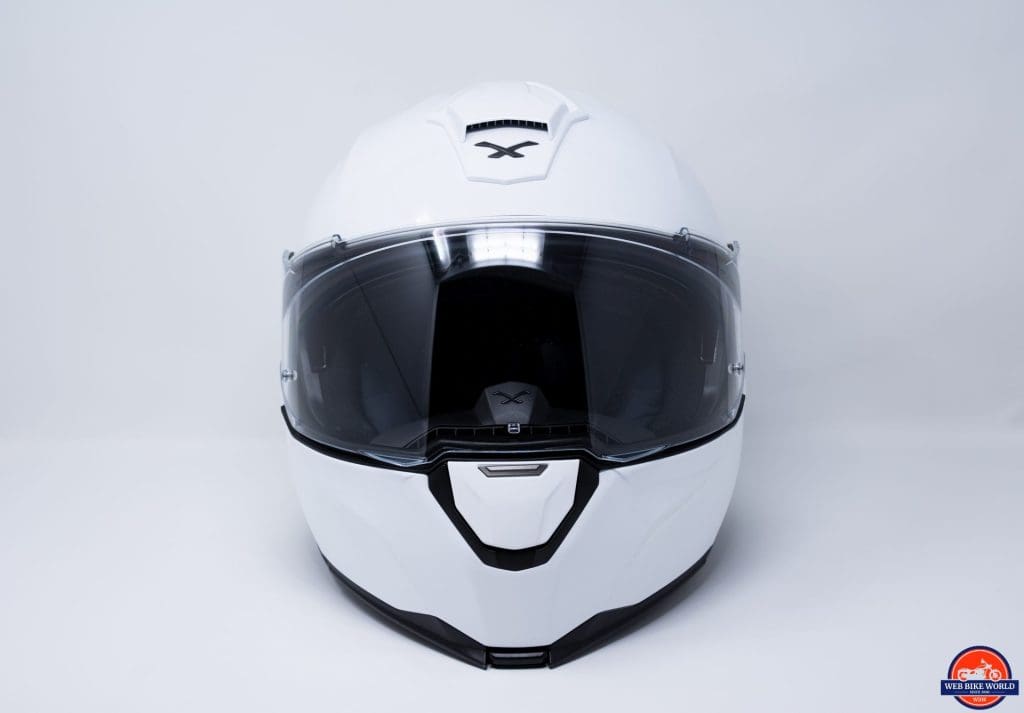 From the front, the X.Vilitur is dominated by a large visor and two air intakes: one pop-vent on the chin, and a large two-stage vent on top. The NEXX logo rests prominently underneath the upper vent, with a smaller example on the chinbar inner air dam (the smaller logo isn't white like it appears here in the photo).
The top vent appears as if it's attached to the helmet after the fact, as opposed to being a shape that is more organically integrated. I can take or leave what it brings aesthetically, but I absolutely appreciate how much air it moves. More on that down below.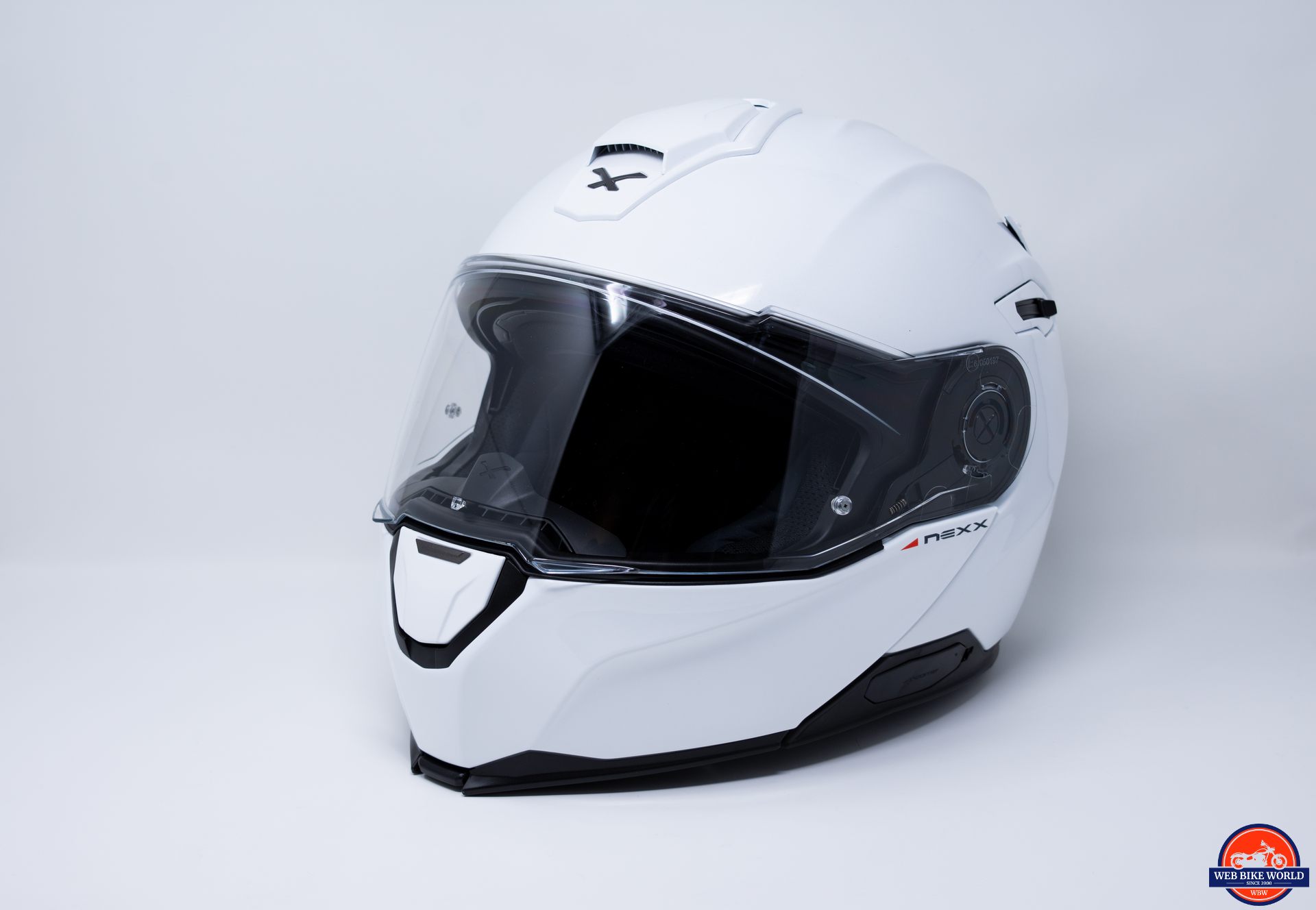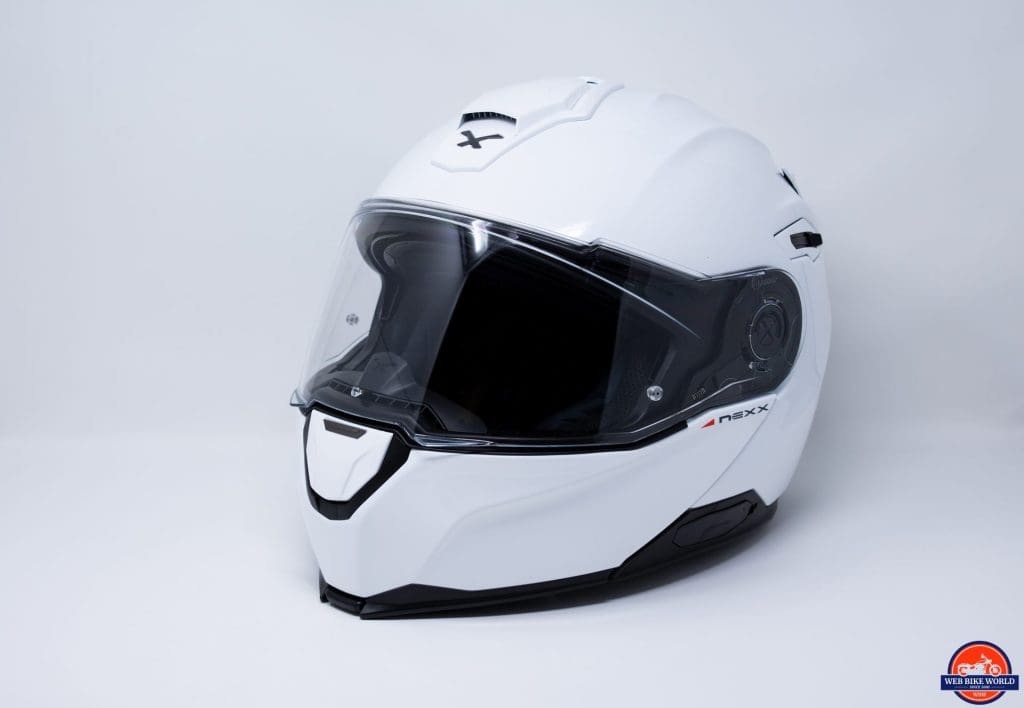 Black plastic accents surround the chinbar vent and run along the bottom of the shell/chinbar to serve as a contrast to the rest of the all-white shell. There's also a small NEXX logo and red accent graphic underneath the hinge on both sides of the chinbar.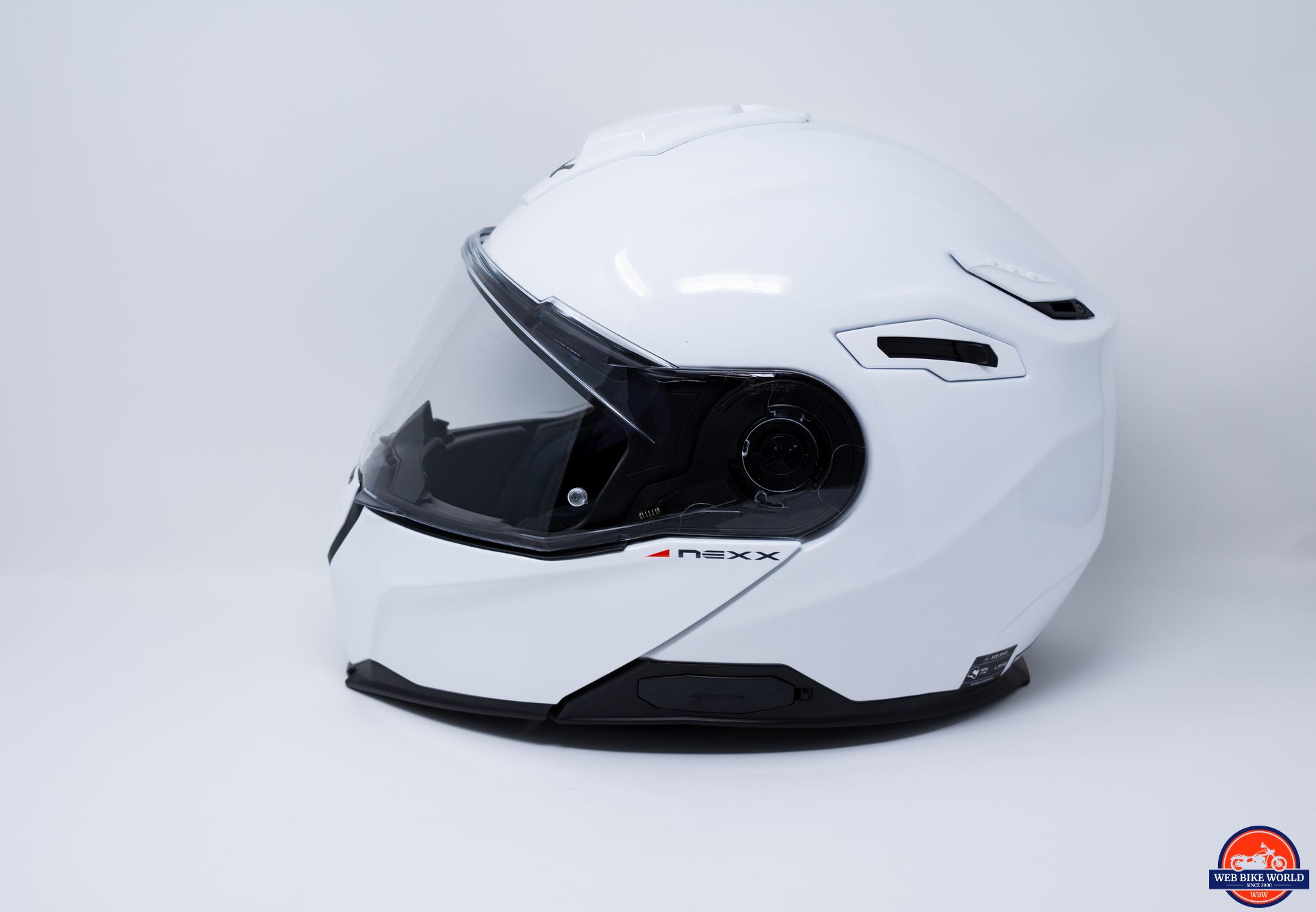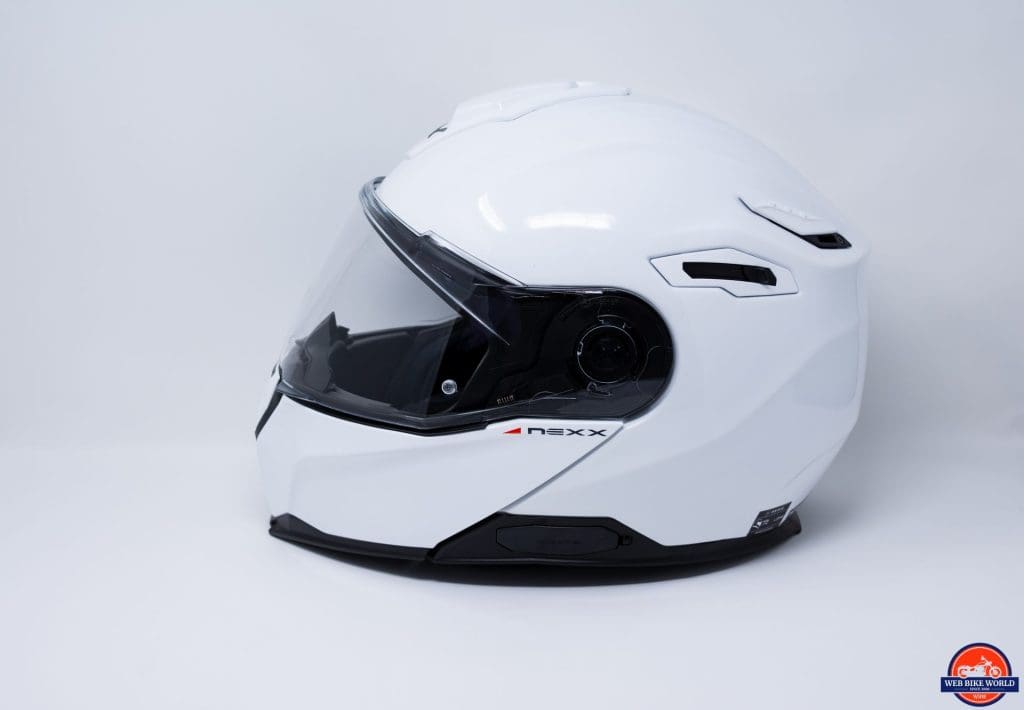 In the black trim that runs along the bottom of the helmet, on either side, are removable plastic panels that are for the X-COM integration. These panels pop right off and offer easy access to the small area underneath.
If you aren't using these panels to integrate the X-COM, you could mount another intercom device over them. A benefit of this arrangement is that you can still make use of the interior speaker pockets, which are recessed into the EPS liner and will give the speakers a low profile when installed.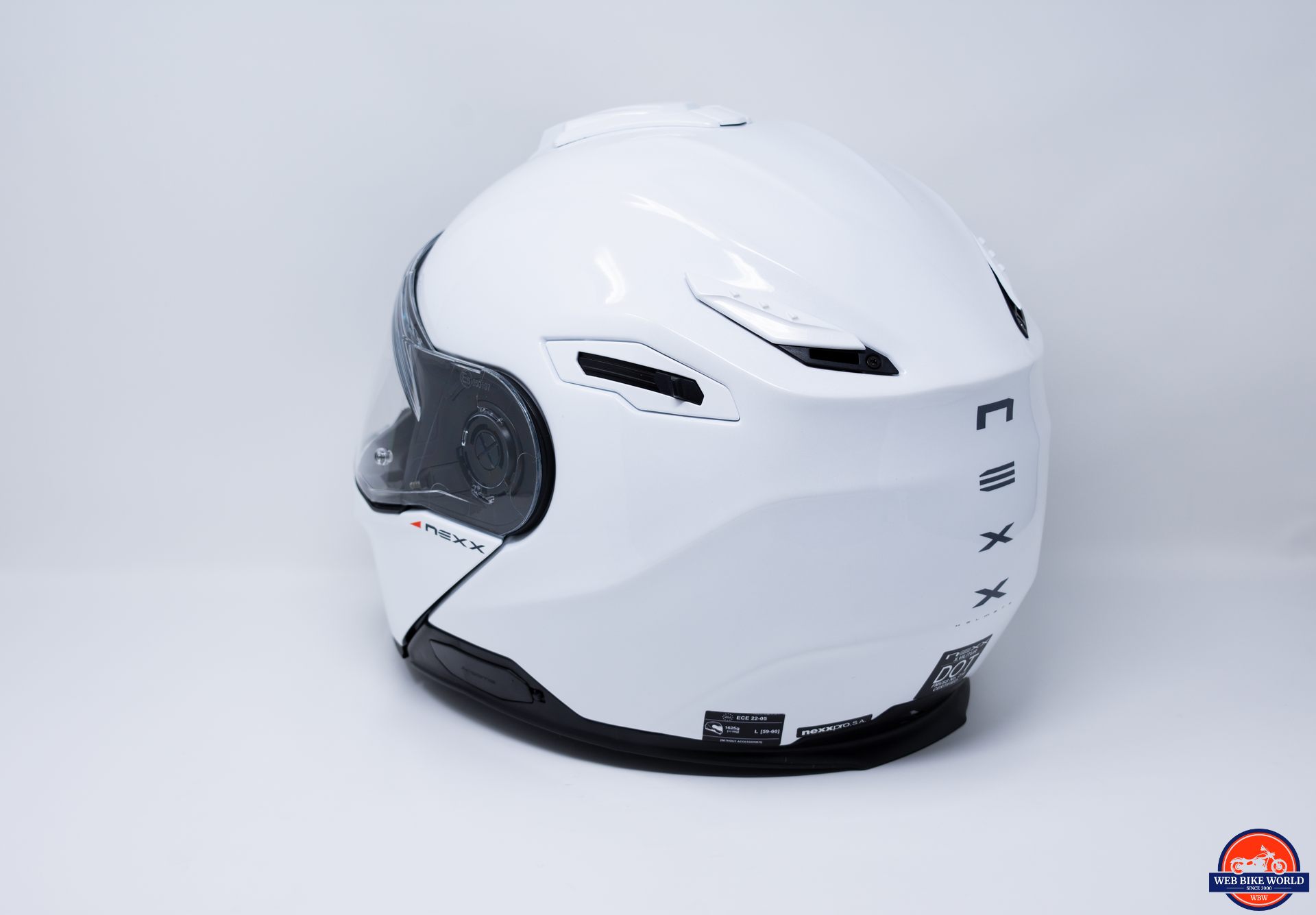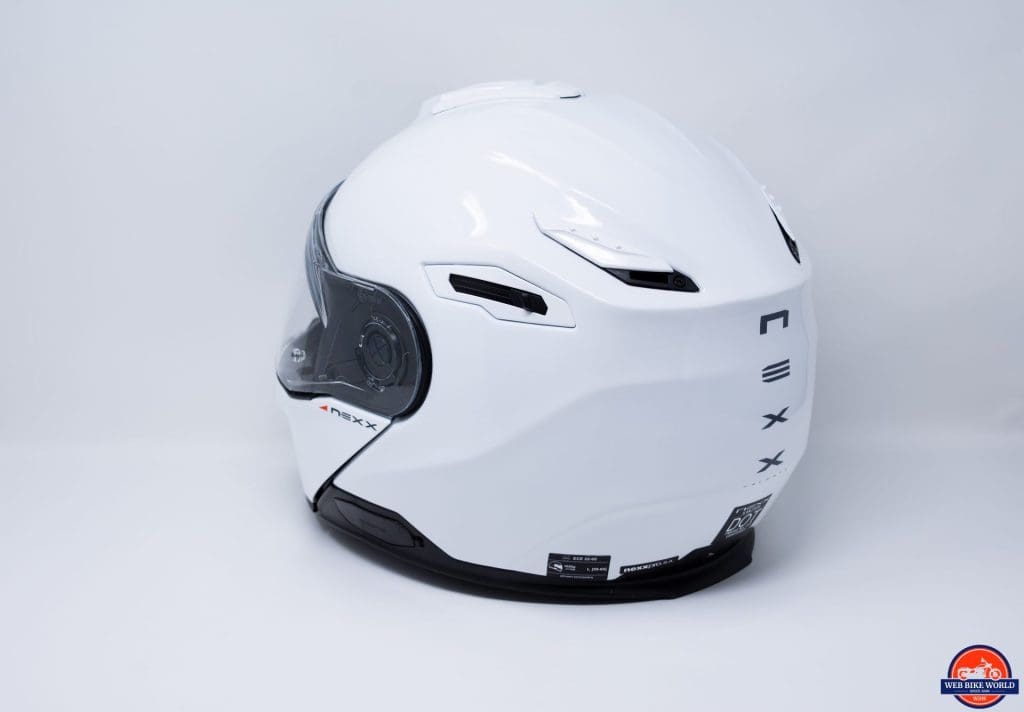 There's plenty to gawk at when looking at the rear. Slightly behind and just above the face shield hinge on the left side is the integrated sun visor switch; the sun visor is recessed when the switch is pulled all the way back.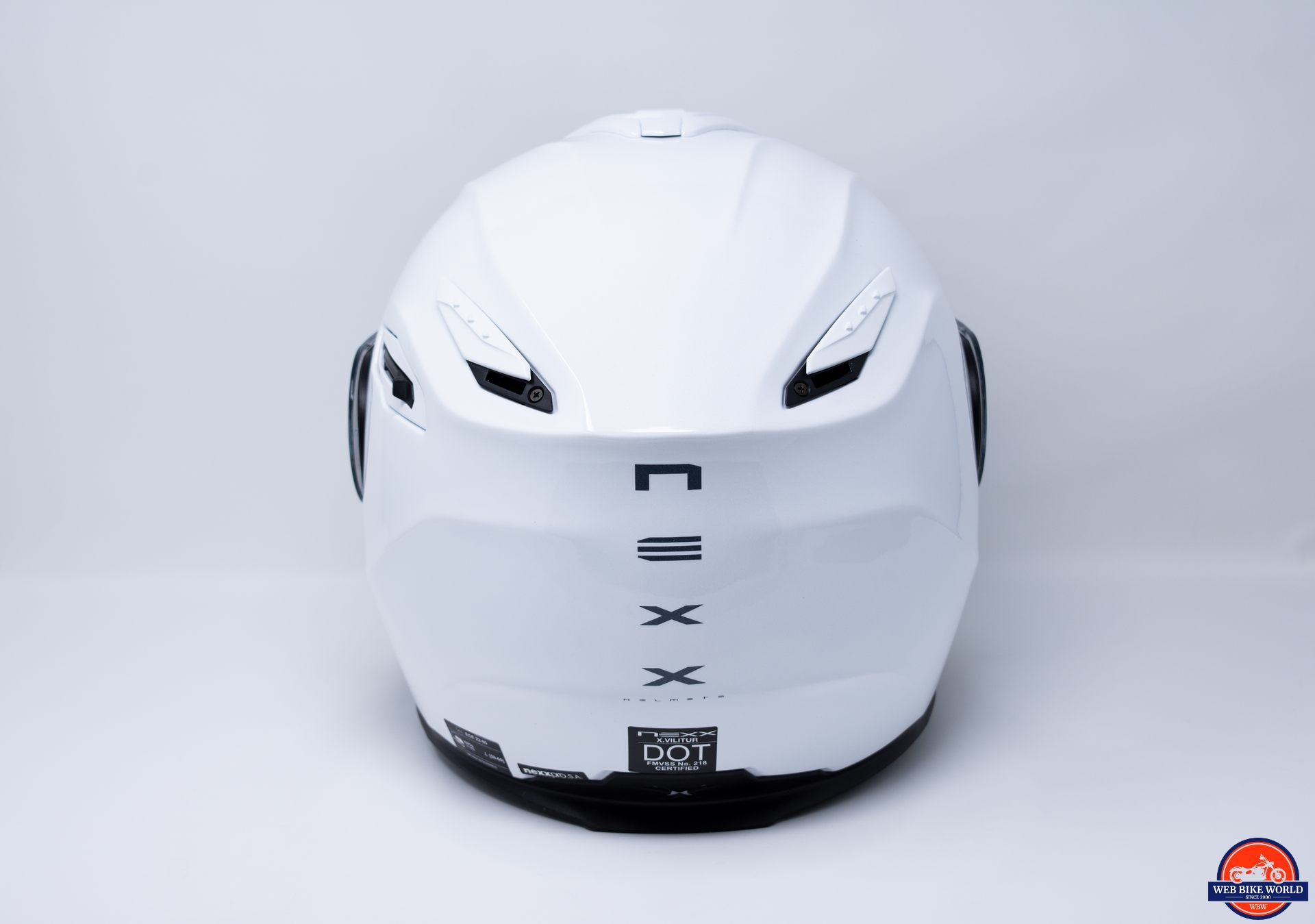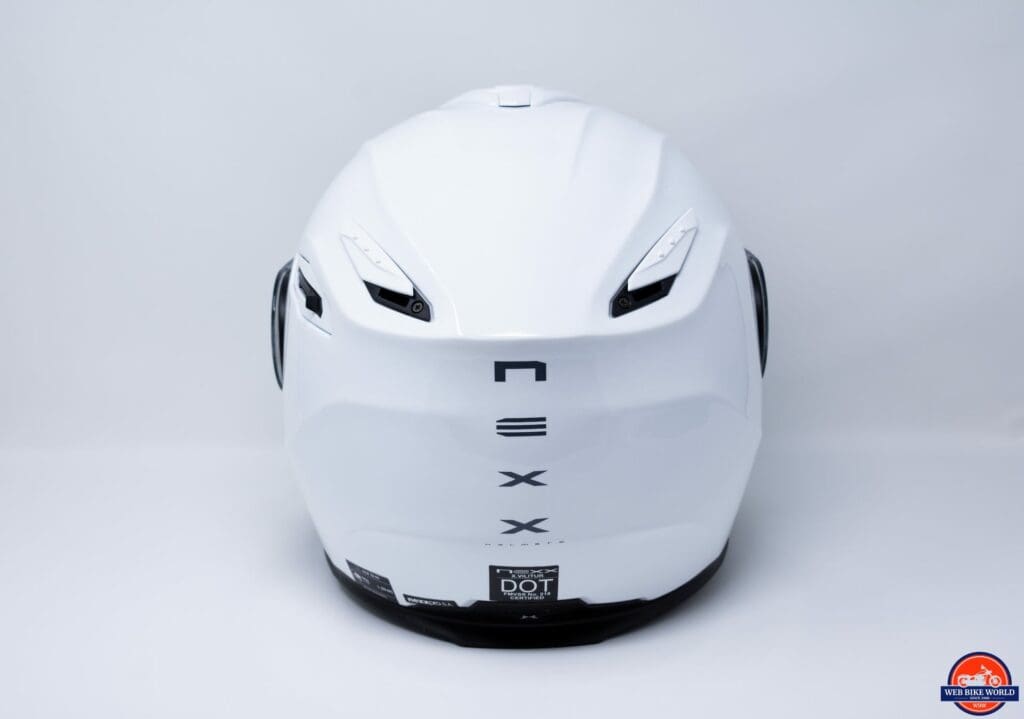 There are two exhaust vents at the top of the helmet and the NEXX logo that runs center down the rear. As you can see, the graphics application is good but not perfect. When the exhausts are closed, they mask the black trim visible when the vent is open.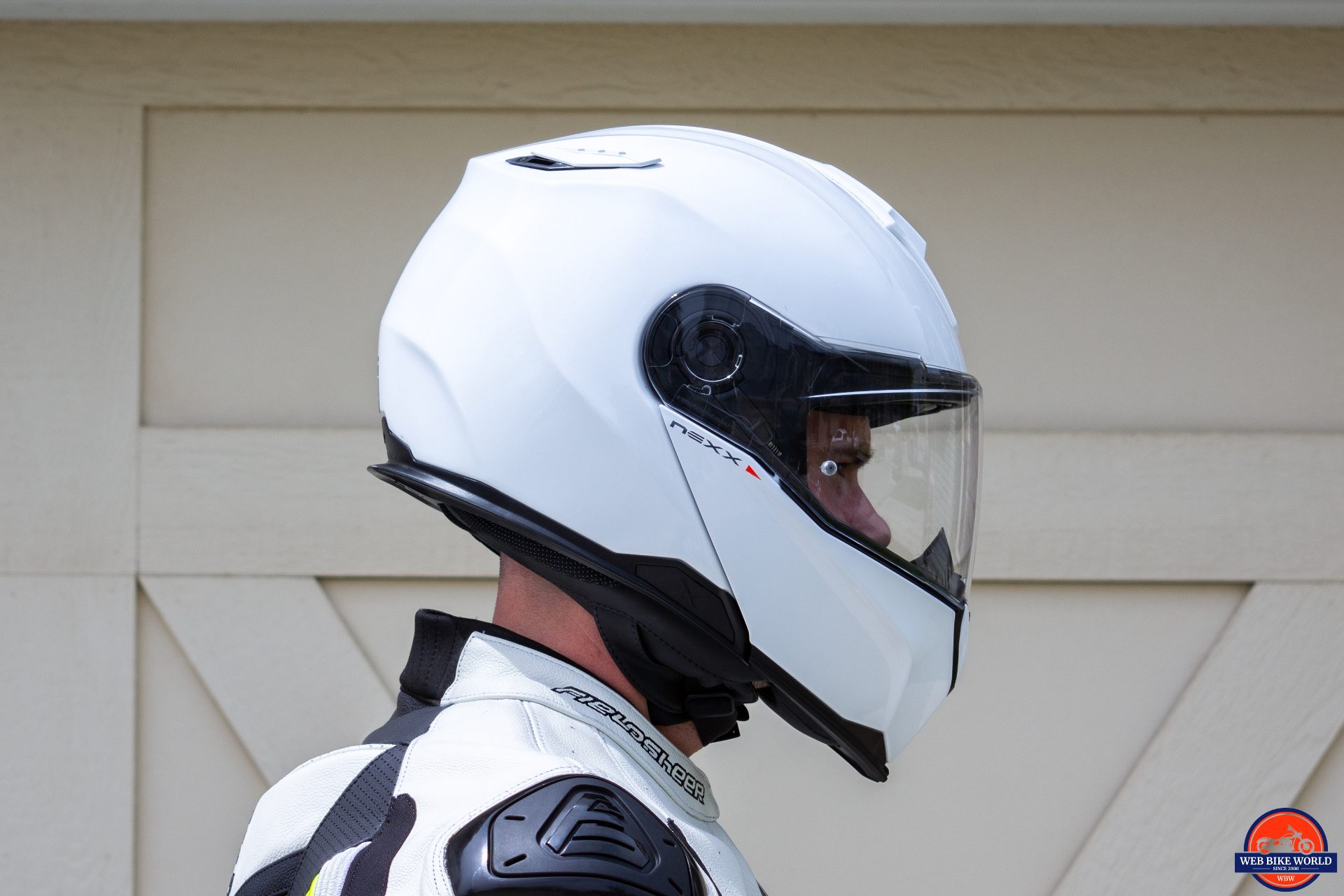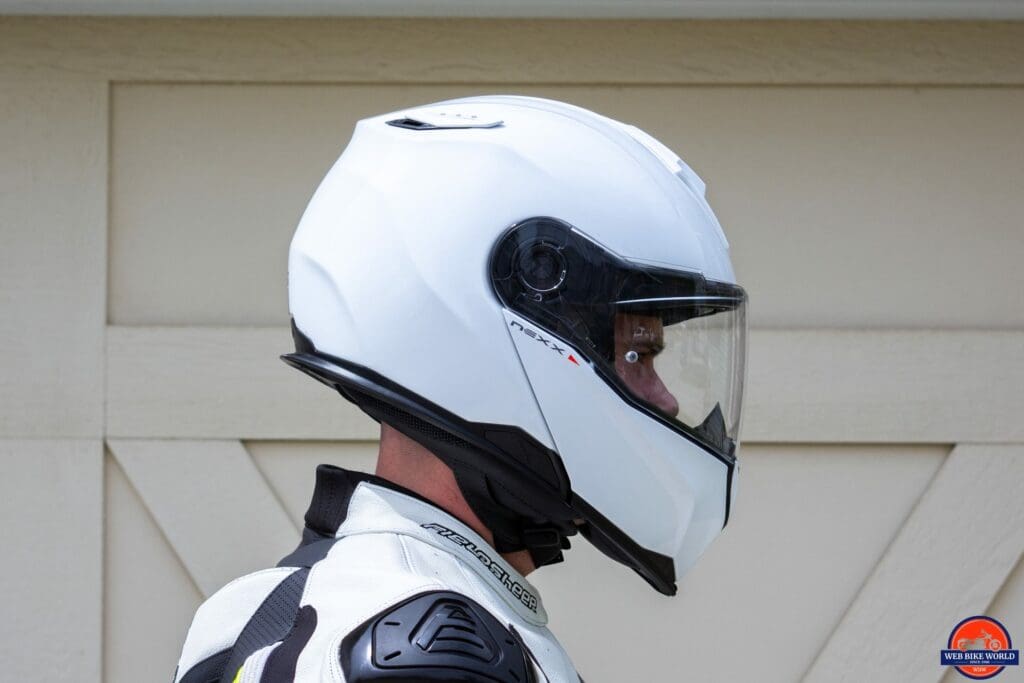 All told, the X.Vilitur is a sleek and aggressive helmet that makes good use of both subtle and overt visual elements to deliver great looks. The angular and edgy aesthetic helps it look and feel very high-tech, and really quite like it.
Build & Paint Quality
For $500, you're right to expect good construction and quality materials used throughout the helmet. This is especially true when shopping for a modular helmet, which has additional wear items and potential break points in the chinbar hinge and latching mechanism. As NEXX has become known for, the materials used are good and so is how well it's made.
The shell is made from NEXX's "X-Matrix" material/technology, which combines fiberglass, kevlar, "3D organic fibers", and aramid fibers with reinforcing carbon material. It is claimed to be much stronger and more durable than a traditional fiberglass shell.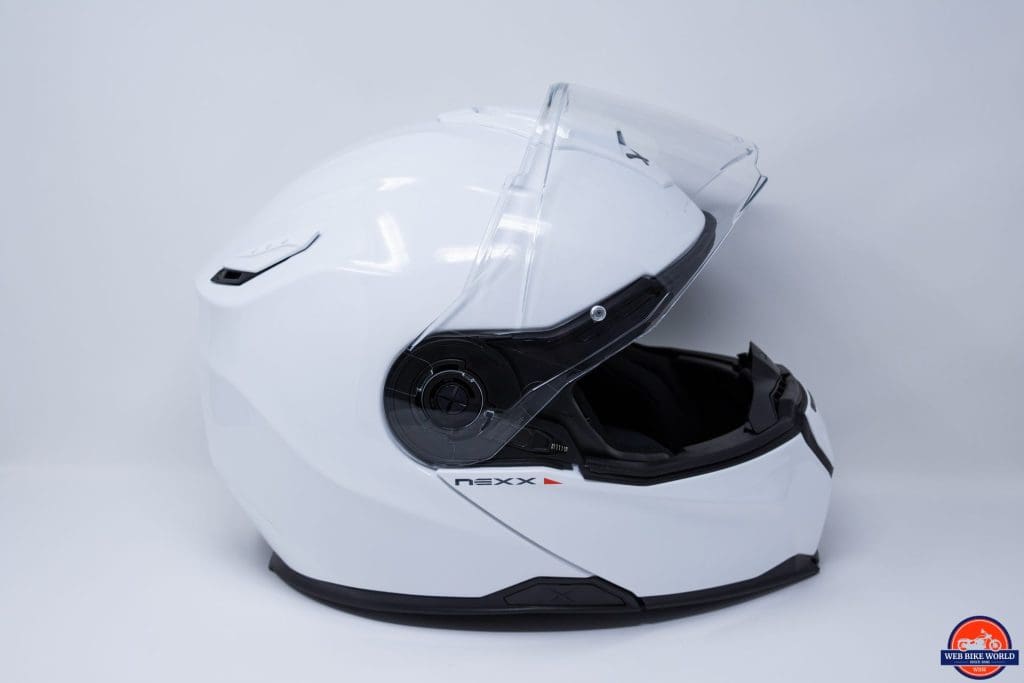 The hinge has a clearly defined range of motion and snaps firmly into the detent for both its open and closed positions. Likewise for the face shield, which has 3 detents plus an initial stop (if you just want to have it open to vent).
There isn't any play in the chinbar at all, even when it's fully open- pulling/tugging at it doesn't yield any flex or wiggling. By the same token, when the chinbar is closed the shell is quite rigid. When open, you can pry the opening a bit larger if you need some extra space to squeeze through.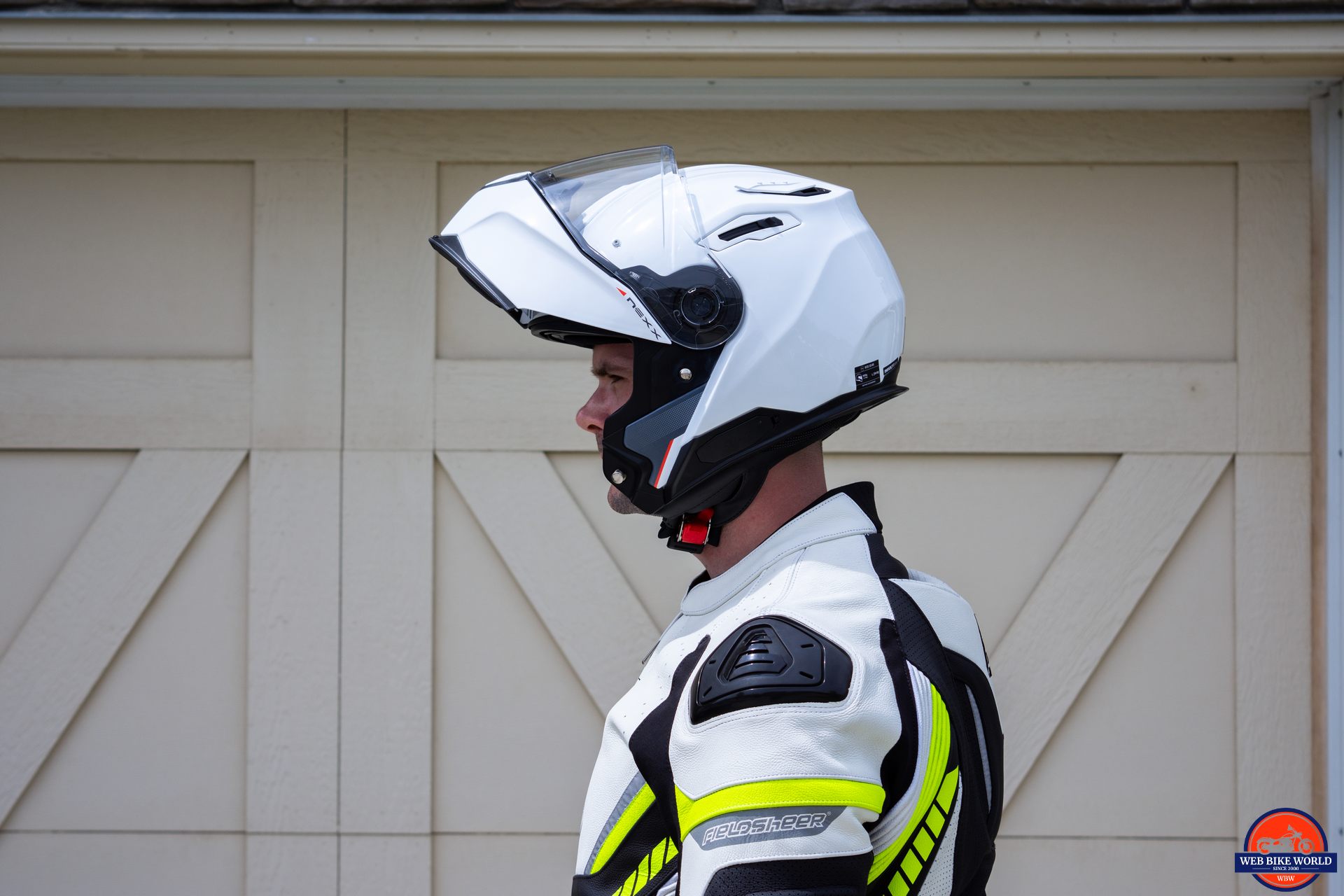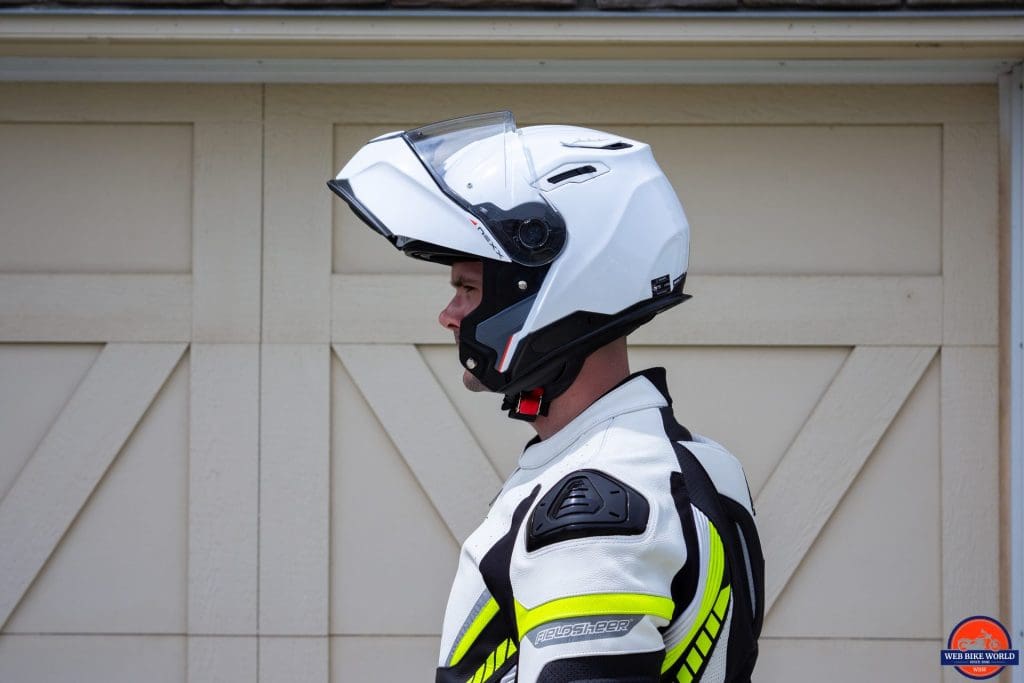 You open the chinbar via a black switch at the front. It clicks open, and then the chinbar can be raised. It is an easy job and you can do it with one gloved hand no problem. Once the chinbar is at the top portion of its range, it will slide itself into place and then remain there. You'll need to give it a gentle tug to pull it closed. When closed, you'll hear the latch secure with an audible click and you're done- it won't come open unless you engage the switch.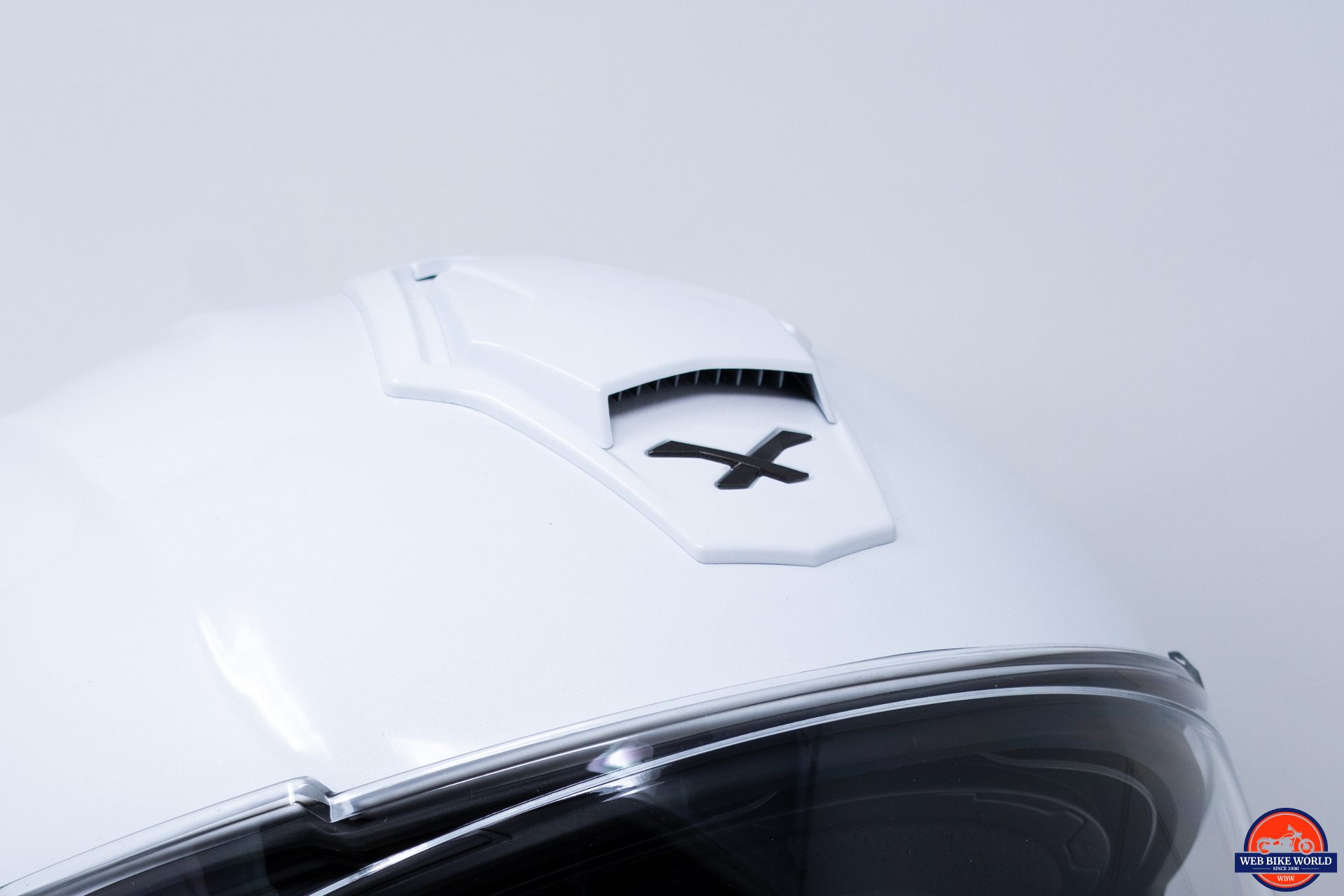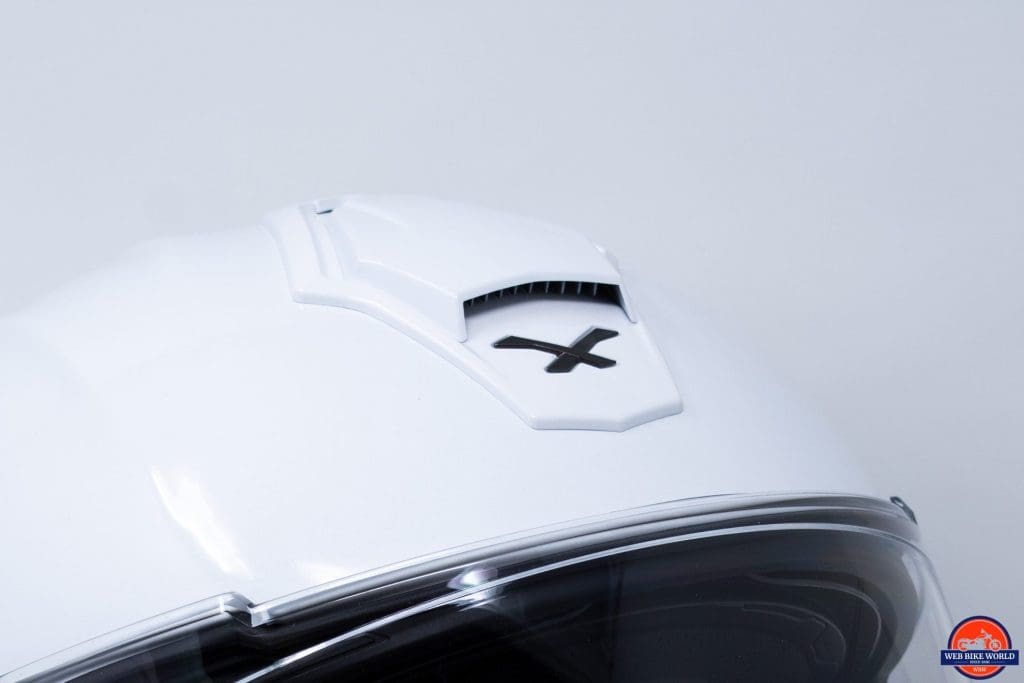 The top vent provides a different feeling than what the rest of the helmet has demonstrated in the items discussed so far. Where the chinbar and visor provide direct tactile feedback during option, the top vent switch feels a little buttery. It has three positions – closed, half open, and completely open – and it slides into the open/closed positions with ease, but I found it easy to accidentally skip past the middle position (especially when wearing gloves and while on the bike).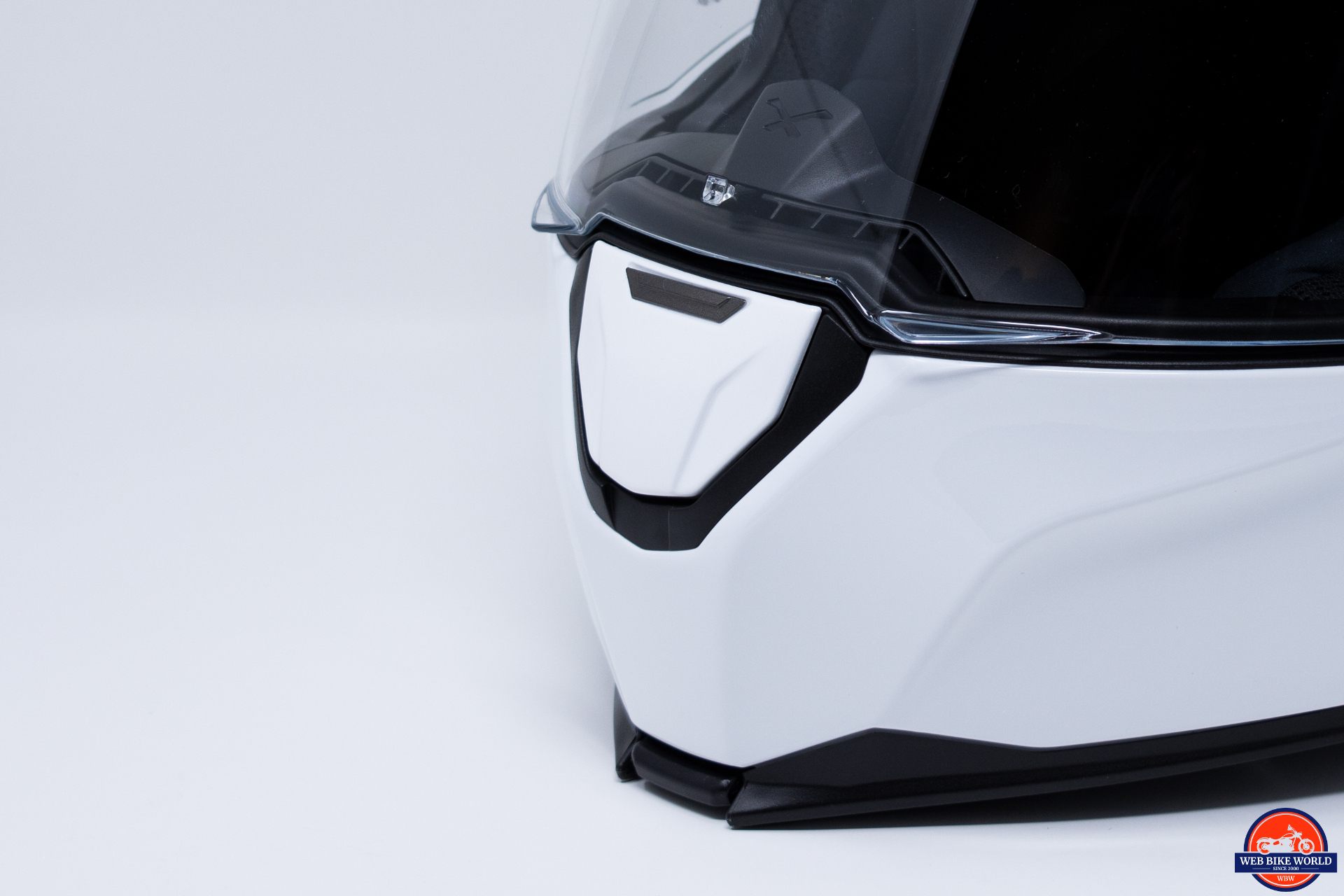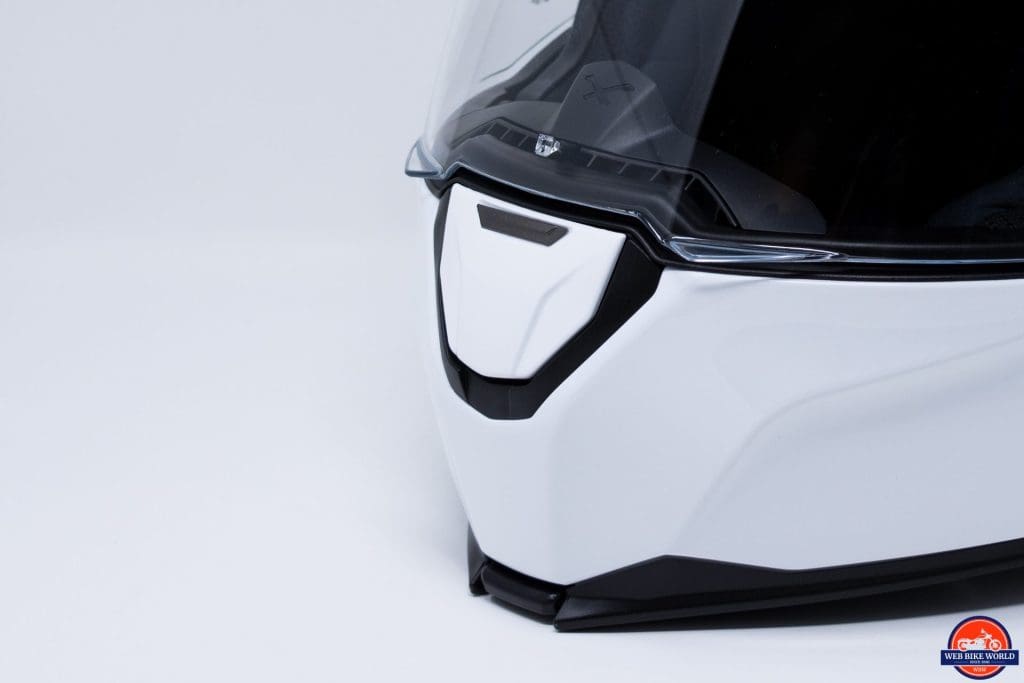 Conversely, the chin vent snaps open and closed in a clear and satisfying motion. It doesn't require much force to open or close, allowing for simple and quick use while moving using a gloved hand.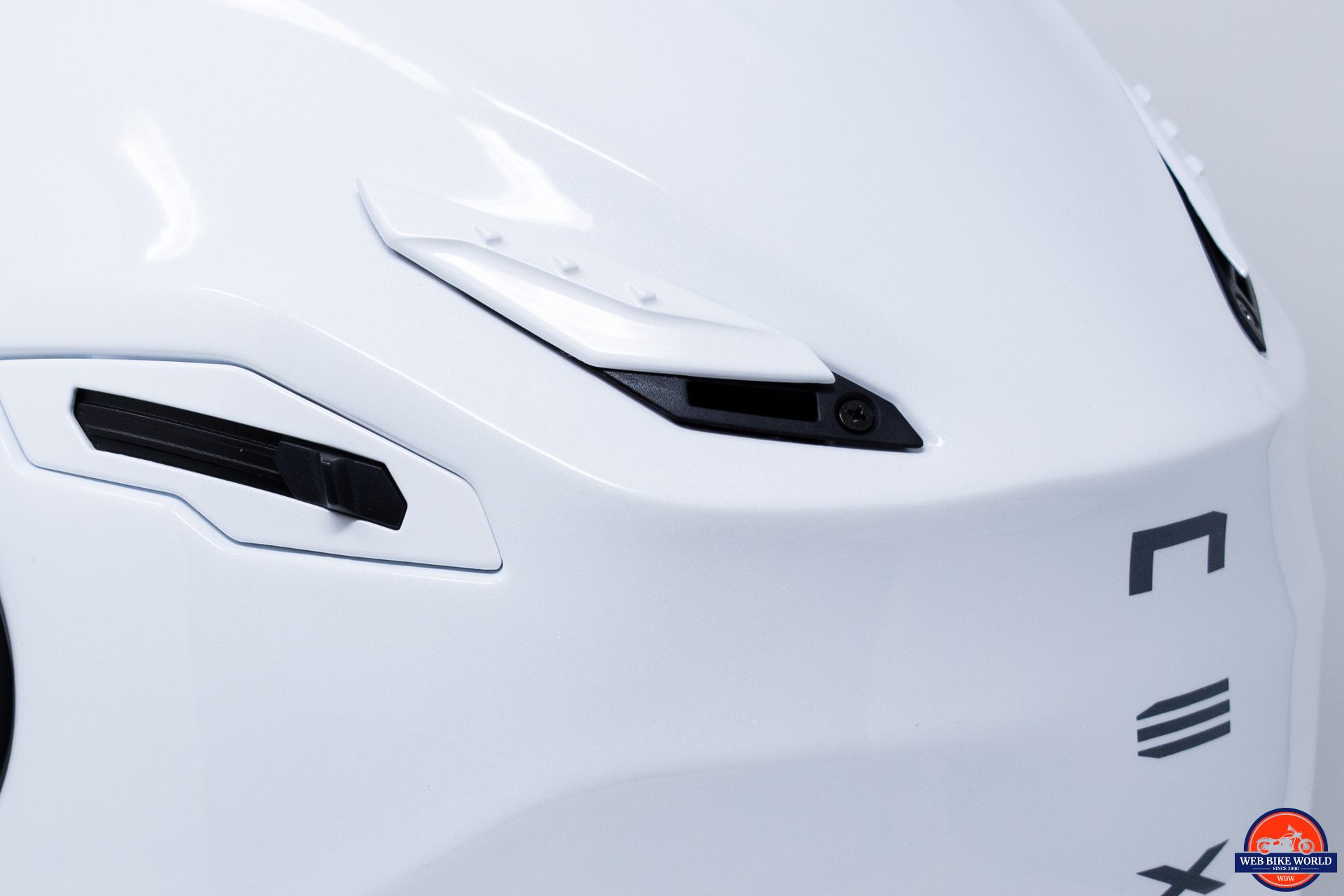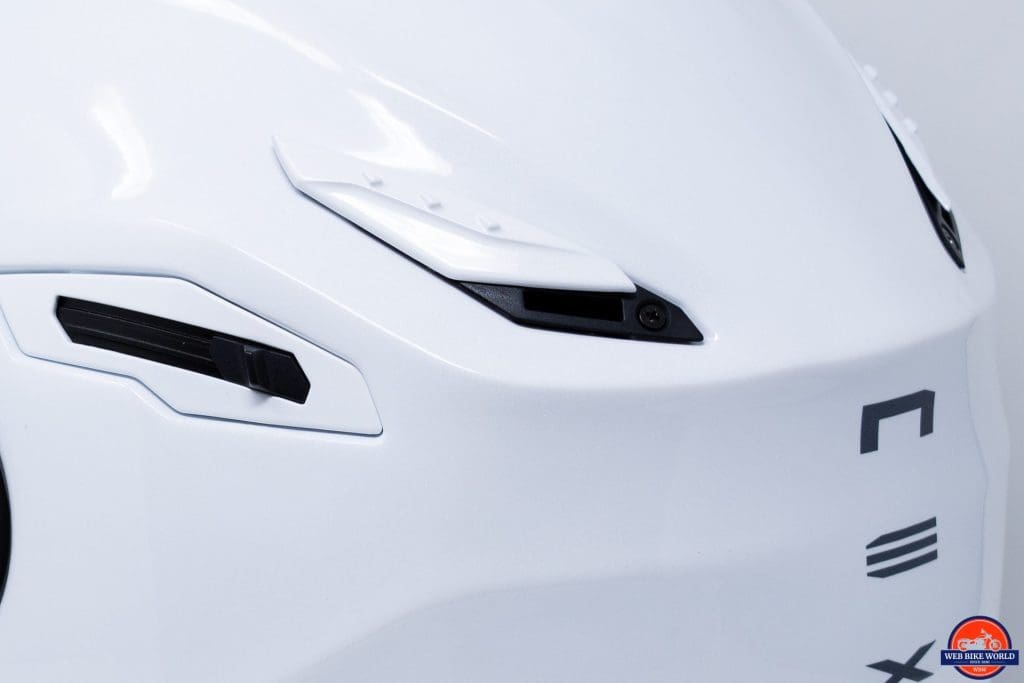 Here we are looking at the sun visor switch (on the far left), the left rear exhaust switch (set to open), and a part of the right exhaust. The sun visor switch has plenty of resistance through its range of motion, though it wants to fall into place when near the end of either side of its range. When fully in its right position, the sun visor is closed/recessed. Fully left and the visor is completely deployed.
The switch feels good and is easy to use. You're able to leave the sun visor at any part of its range- it doesn't have to just be completely deployed or not.
Lastly, it's worth discussing the rear exhaust switches. With gloves or not, these are frustrating to use and borderline impossible to use once the helmet is on your head. For this reason, I open/close the switches before putting the helmet on. The switches are much easier to open than they are to close, but I found these frustrating to use regardless.
I think that this is less due to the switch itself and more a product of the fact that you only have three tiny little nubs on top of a slight ledge to actually grip the switch with. When wearing gloves, I found it almost impossible to tell if I was in the right place or not when trying to use the switch.
Overall, the helmet is made of good materials and construction is solid. I don't have any complaints outside of the rear exhaust switches, which are difficult to use with/without gloves.
Paint & Colorways
Colorways
The X.Vilitur comes in three trims: Plain, Latitude, and Carbon Zero.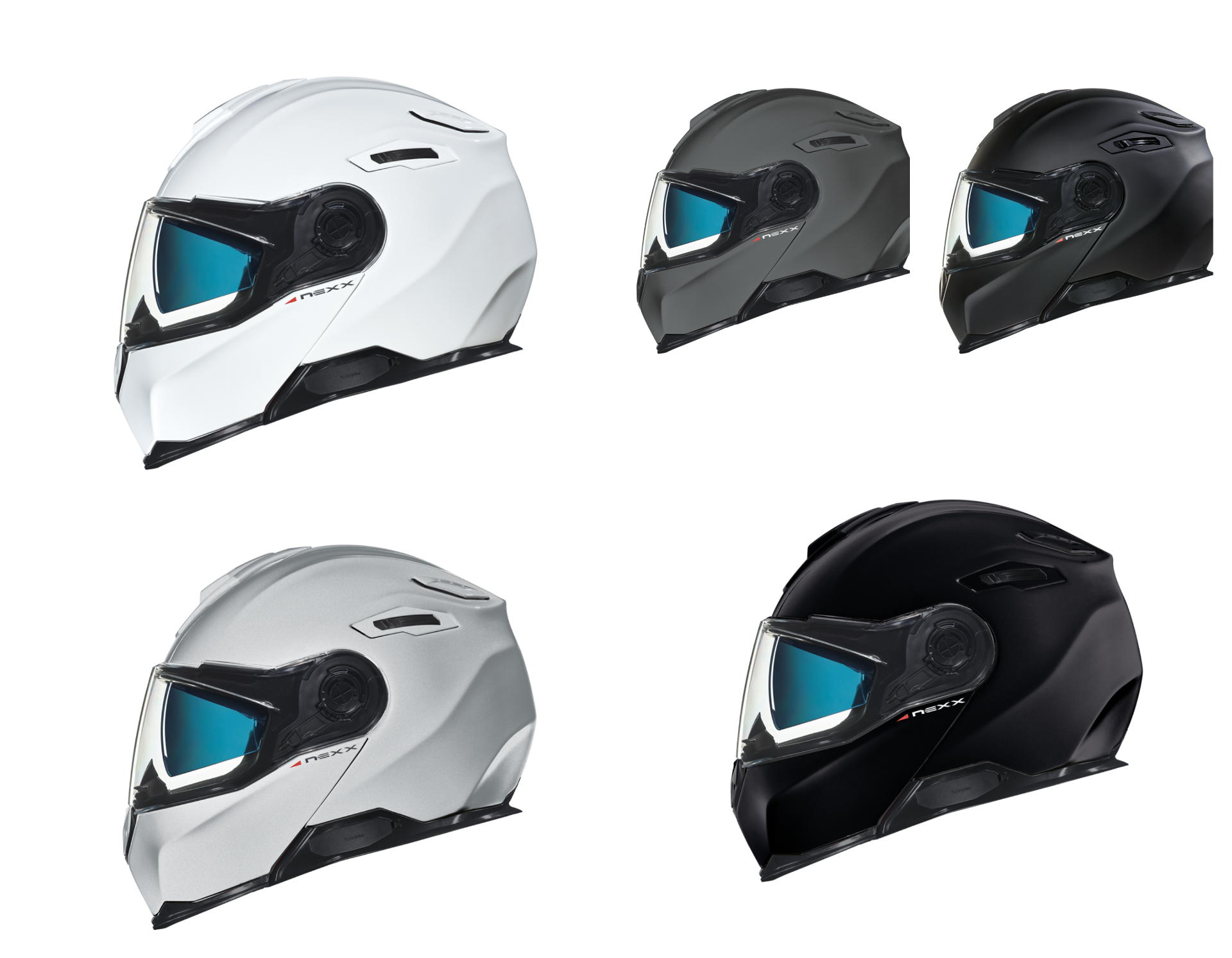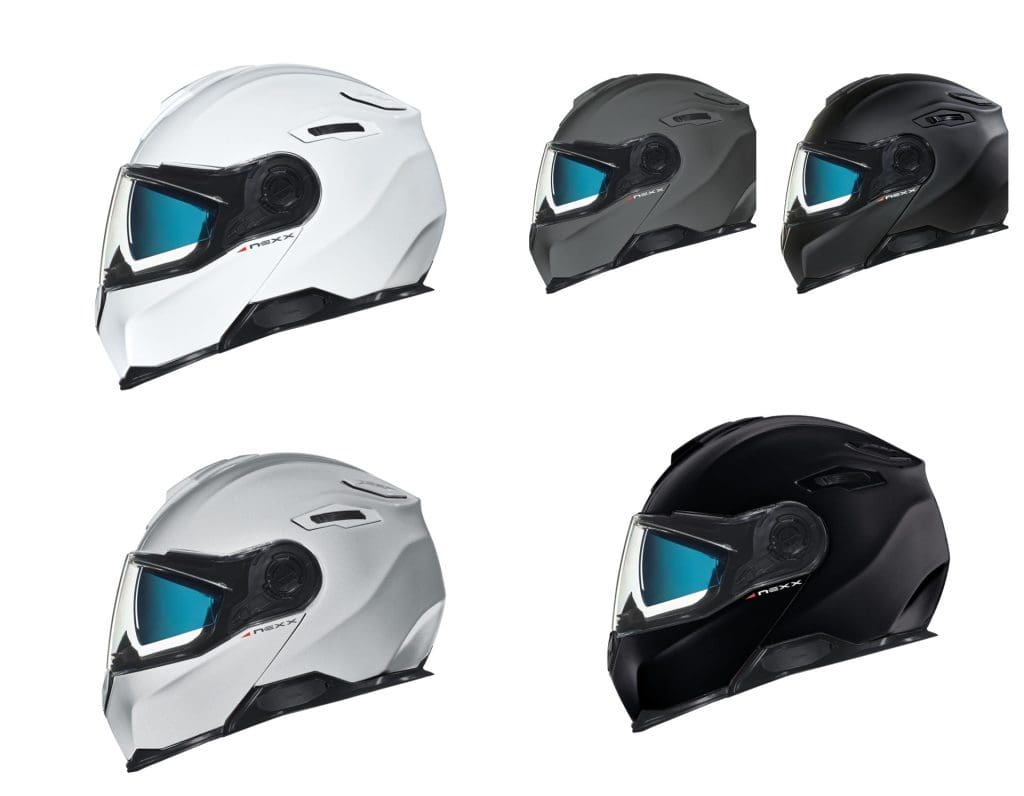 The Plain X.Vilitur can be had in gloss white, gloss grey, gloss black, titanium matte, and black matte.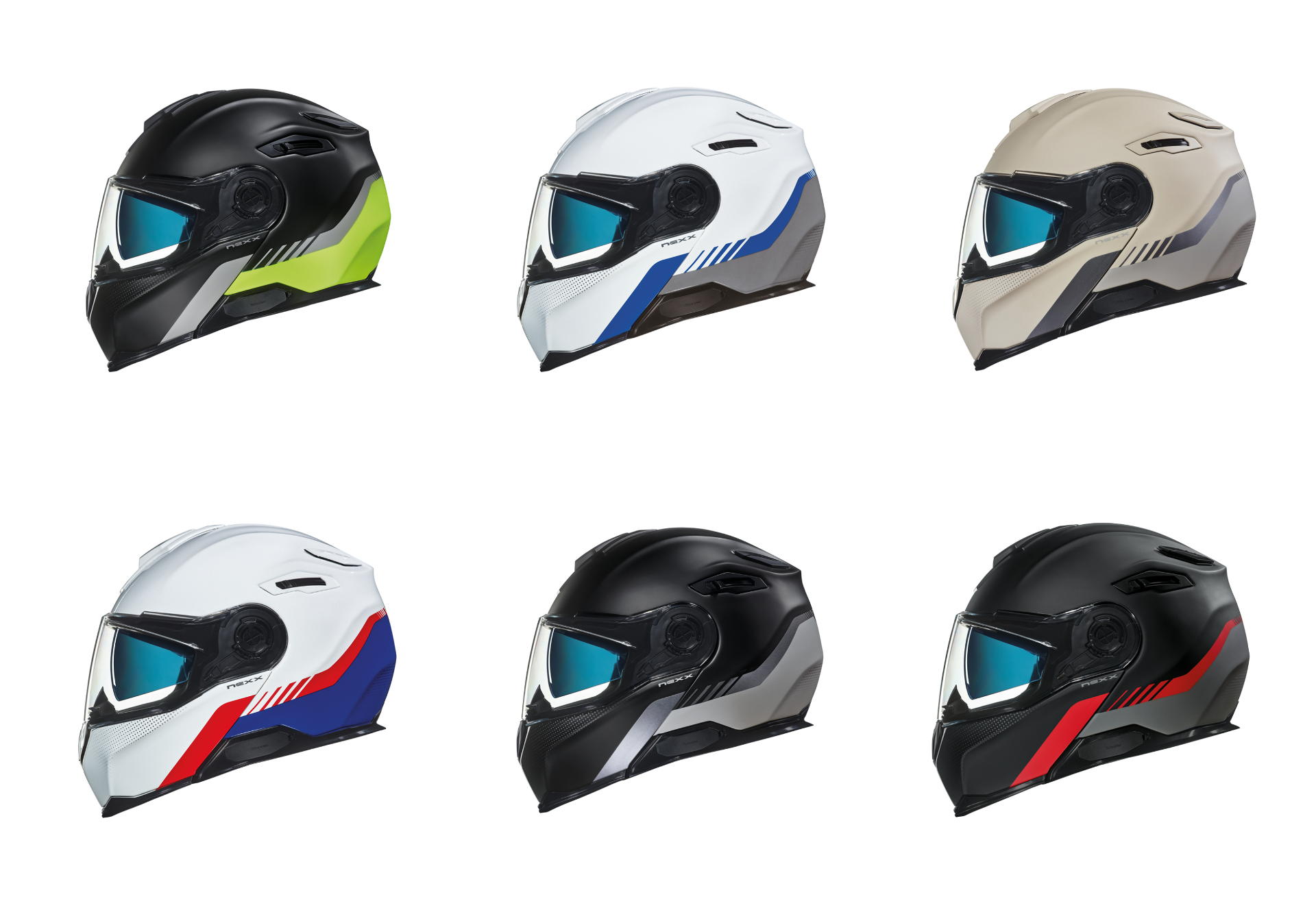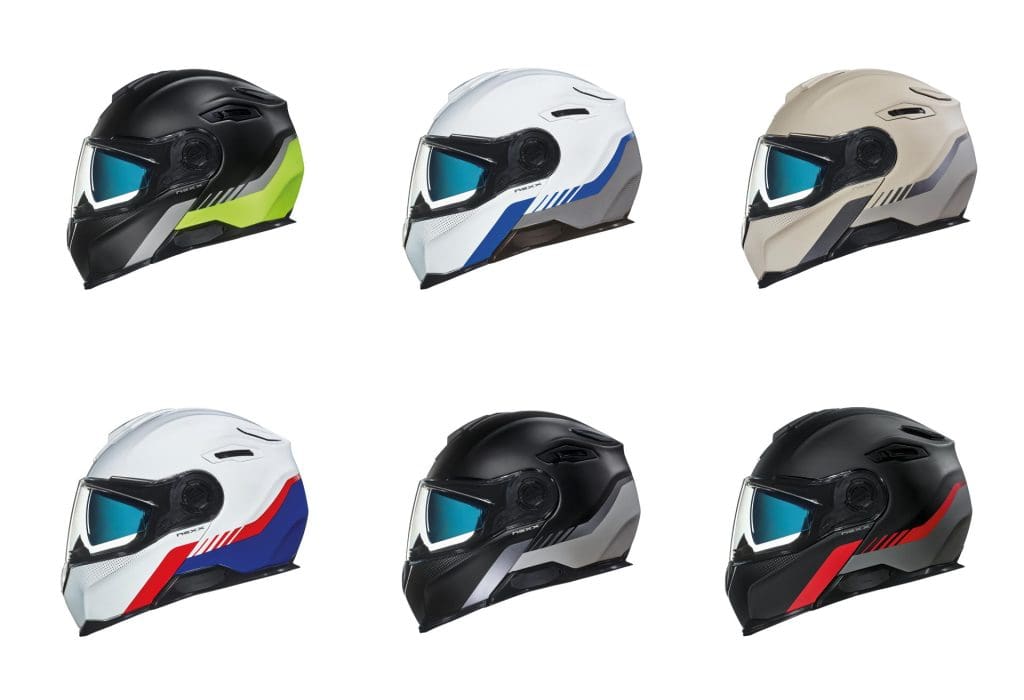 The X.Vilitur Latitude comes in black & red matte, gloss white & blue, sand matte, black & titanium matte, gloss black & neon yellow, and gloss white & grey.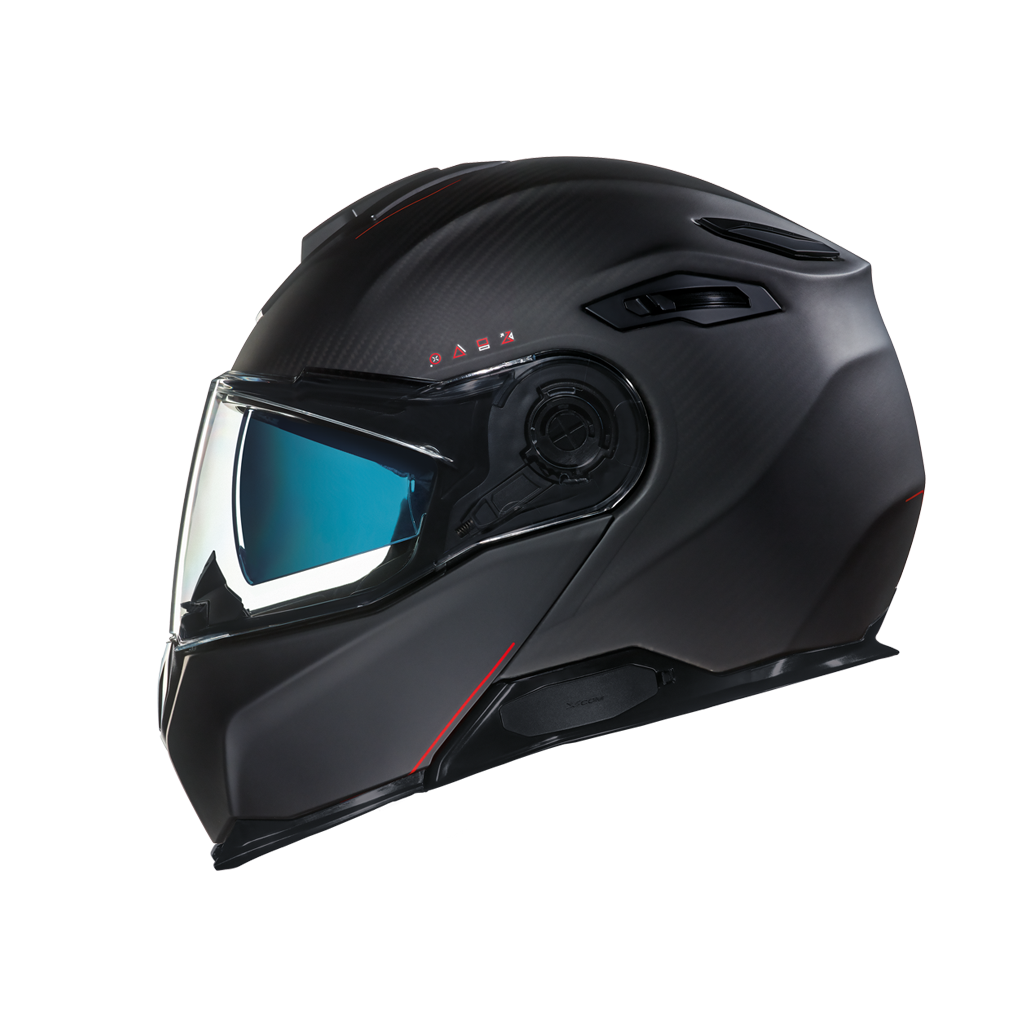 And the Carbon Zero, of course, comes in black & carbon fiber.
Paint Quality
Paint quality is quite good and has held up well after a few weeks of riding. My gloves were leaving black scuffs near the sun visor switch, but they rubbed out with just my finger and didn't leave any lasting marks. While following a truck I took a few pebbles to the helmet but can't see noticeable markings anywhere on it.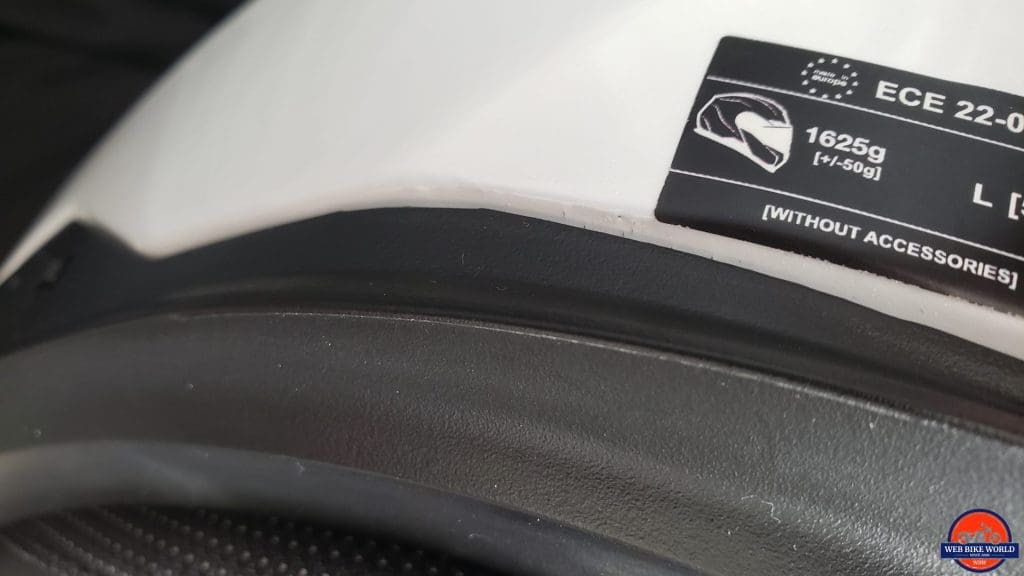 I did find one small defect in the paint from the factory, on the underside of the shell at the seam where the black trim connects. You'd never see this unless you were nitpicking, but it is there.
Overall, I'd say paint quality is good to very good, despite the minor imperfection.
Comfort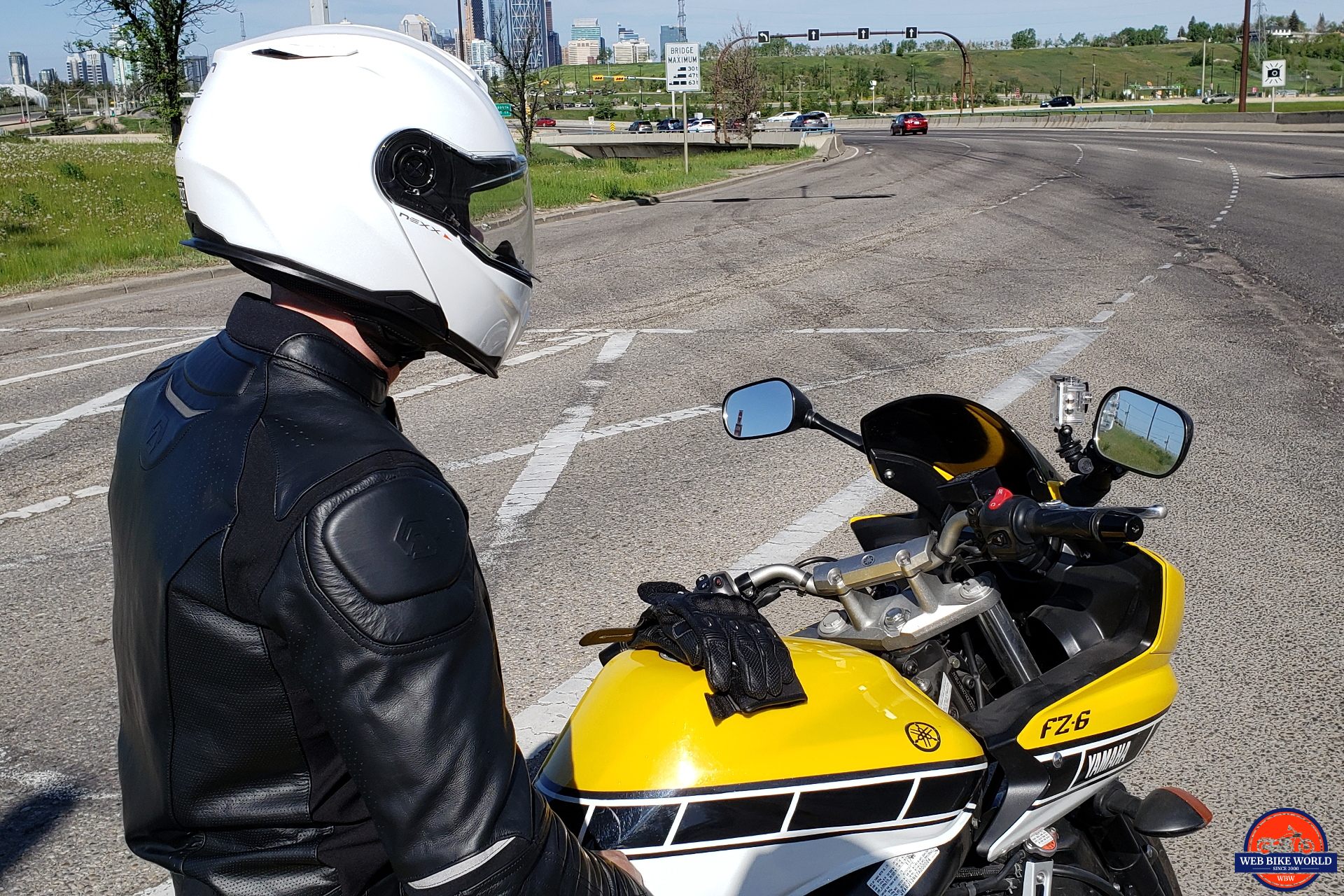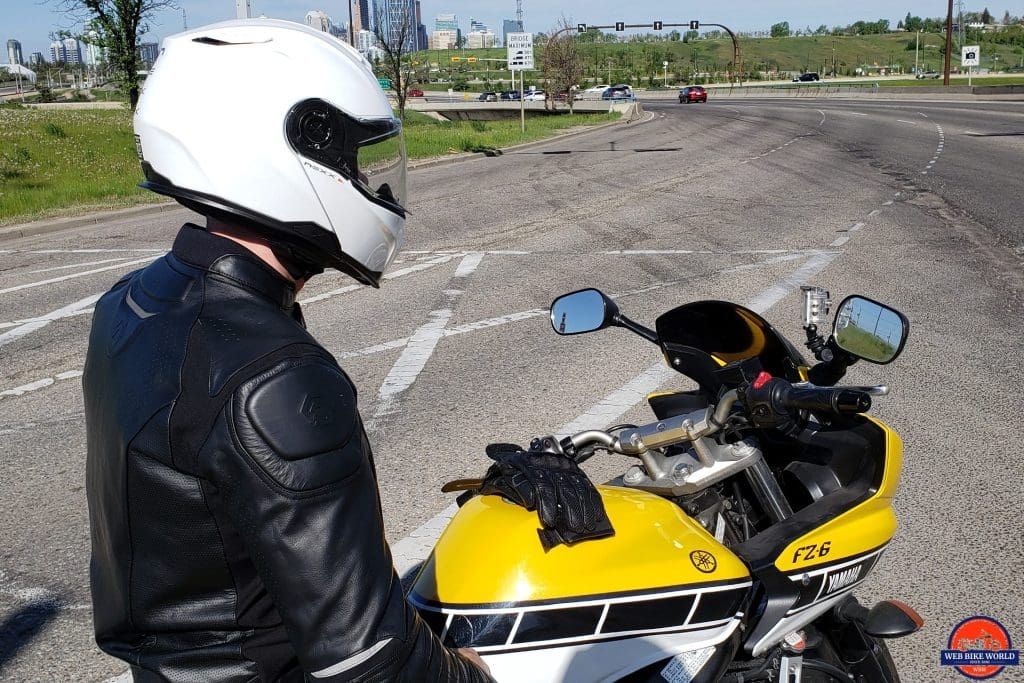 The X.Vilitur came in at 3.83lbs or 1,737g, which is pretty average for a flip-up modular helmet. However, I found that the helmet is well balanced, and thanks to a snug but not uncomfortable fit along my cheeks and jawline, it feels connected with my noggin as well.
Out of the box, I felt that the fit at the top of my head was a bit too direct- I had a pressure point right at the crown. Using the included extra bits of padding (in the box, along with the action camera mounting clips), I was able to quickly remedy this.
Unfortunately, the X.Vilitur comes with a micromech buckle and, like every other micromech I have reviewed (with the exception of the C4 Pro), it uncomfortably digs into my Adam's apple. No amount of finagling was able to overcome this, and the best I was able to do was make it more tolerable by closing the buckle all the way and trying to tuck it into the chin air dam. The hack works okay but I really wish the strap was moved just a bit forward so that there was a bit of a gap between the strap and my Adam's apple.
However, it's hard for me to truly fault NEXX for the buckle as I've had this same complaint about every helmet I've worn with one. At this point, I'm pretty sure it's more a Cameron problem than it is a NEXX problem.
The situation with the strap/buckle is unfortunate, because otherwise, the X.Vilitur is quite comfortable to wear. Thanks to how well balanced it is, and the fact that NEXX has chosen to use 3 shell sizes (meaning that the overall fit is relatively compact), NEXX is able to effectively mask its weight.
Interior & Liner
NEXX is using its moisture-wicking and washable X.MART DRY liner. The liner is also grooved for the bespeckled of us (myself included), and as a result, wearing glasses is quite comfortable in the X.Vilitur.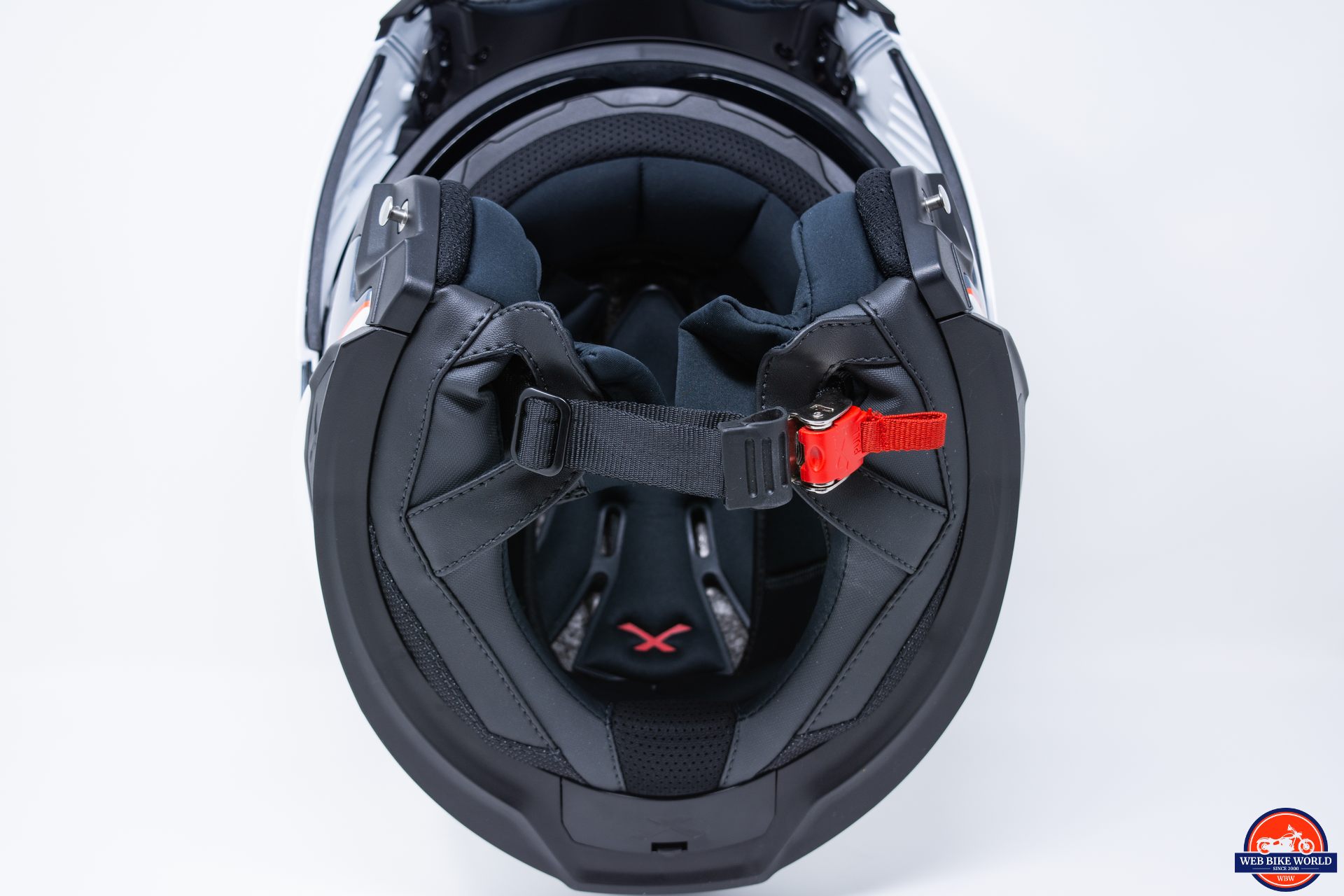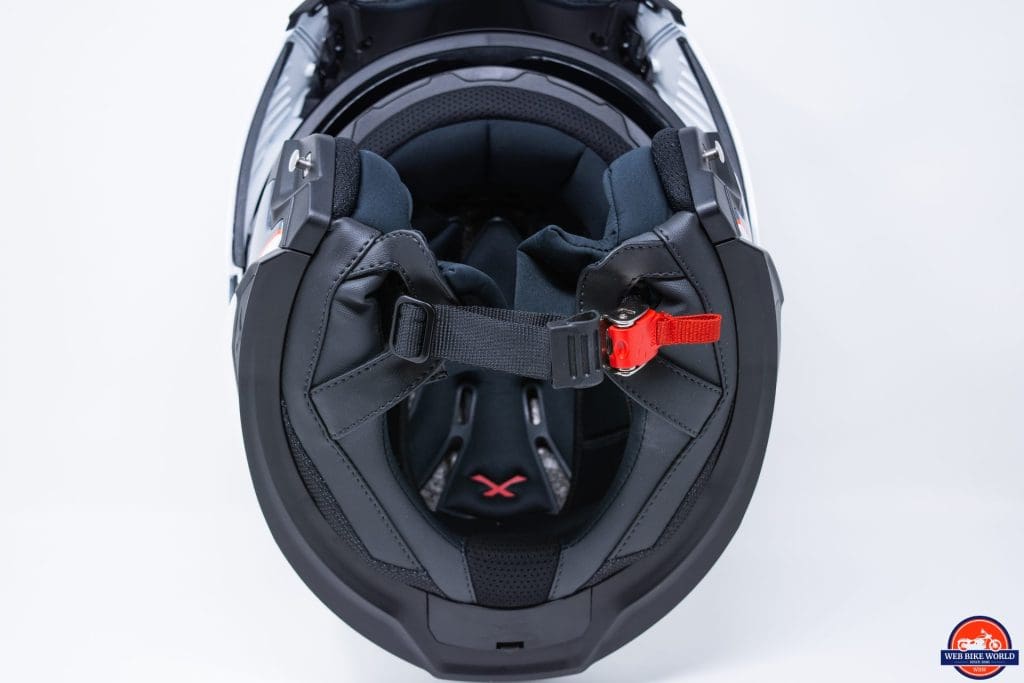 The interior liner and neck roll reminds me of the material that a luxury vehicle brand would use inside their basic interiors: nice, but there's still room to grow if you're willing to upgrade.
The material feels plush and of good quality, but it's quite the difference between the X.Vilitur and the interior of the C4 Pro, which is considerably softer and more luxurious feeling. Compared to the Neotec II, the material in the NEXX is less scratchy and a bit softer.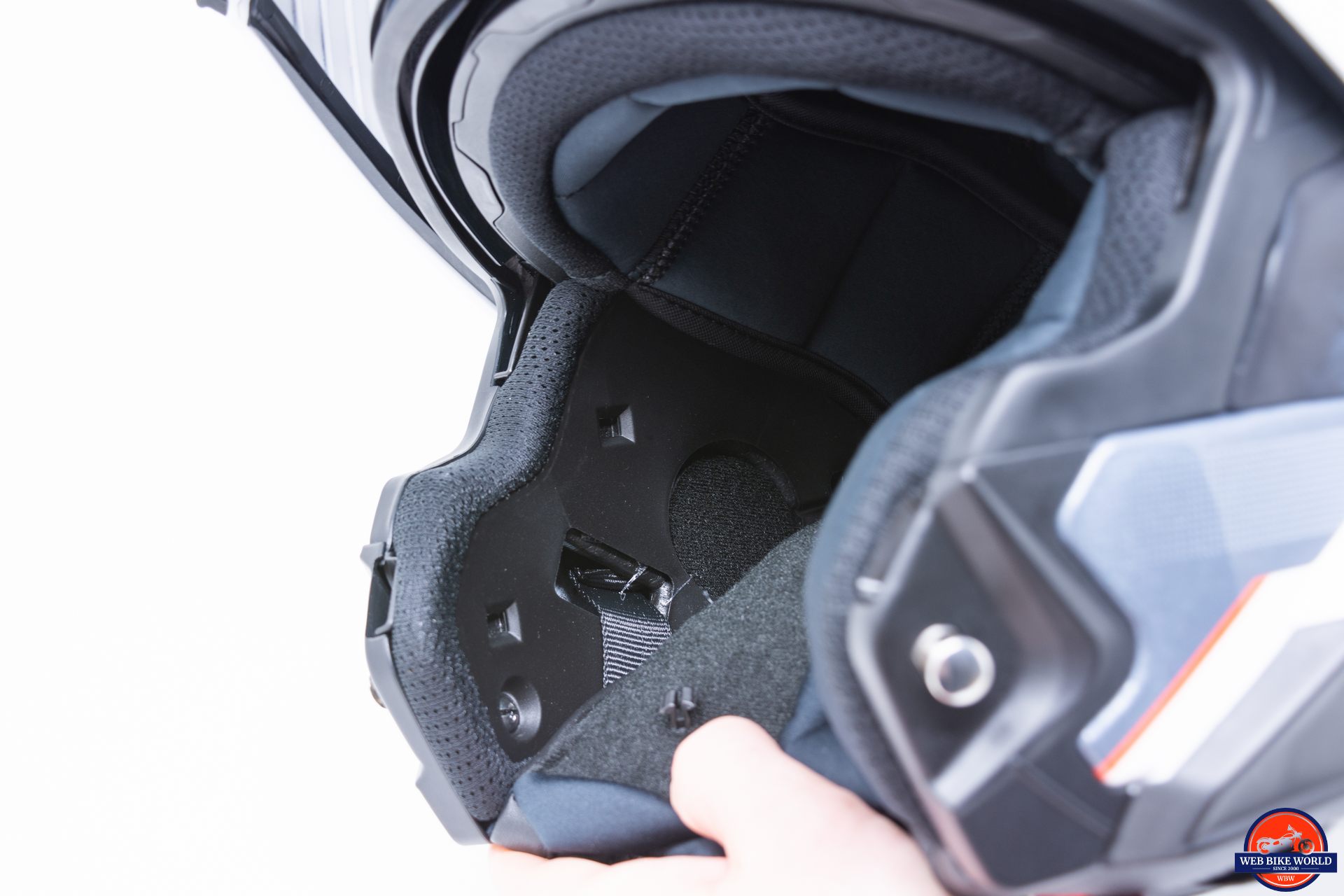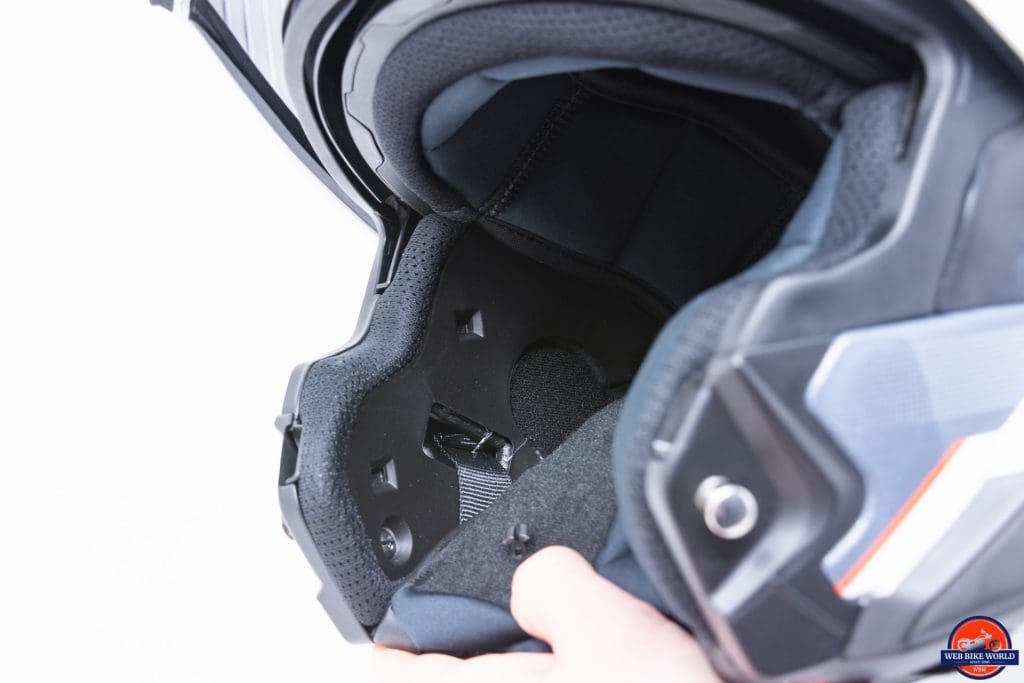 The liner is easy to remove- give it a firm but careful pull and the snaps will pop off. Behind the liner, you can see the recessed speaker pockets, which should facilitate the easy and discreet installation of an intercom. I haven't installed an intercom in the X.Vilitur yet but I intend to soon.
Overall, the interior liner is comfortable and serves the helmet well. It meets my expectations and reflects how a helmet in this segment should feel.
Airflow
Airflow from both vents is excellent. The chin vent flows plenty of air over the visor to keep it from fogging up, and you'll feel it a bit on your forehead and nose as well. The upper vent moves a lot of air- this helmet gives me some pretty hilarious helmet hair. It's not quite the torrent that the Scorpion EXO-R710 moves, but plenty of air flows through the vents at all speeds just the same.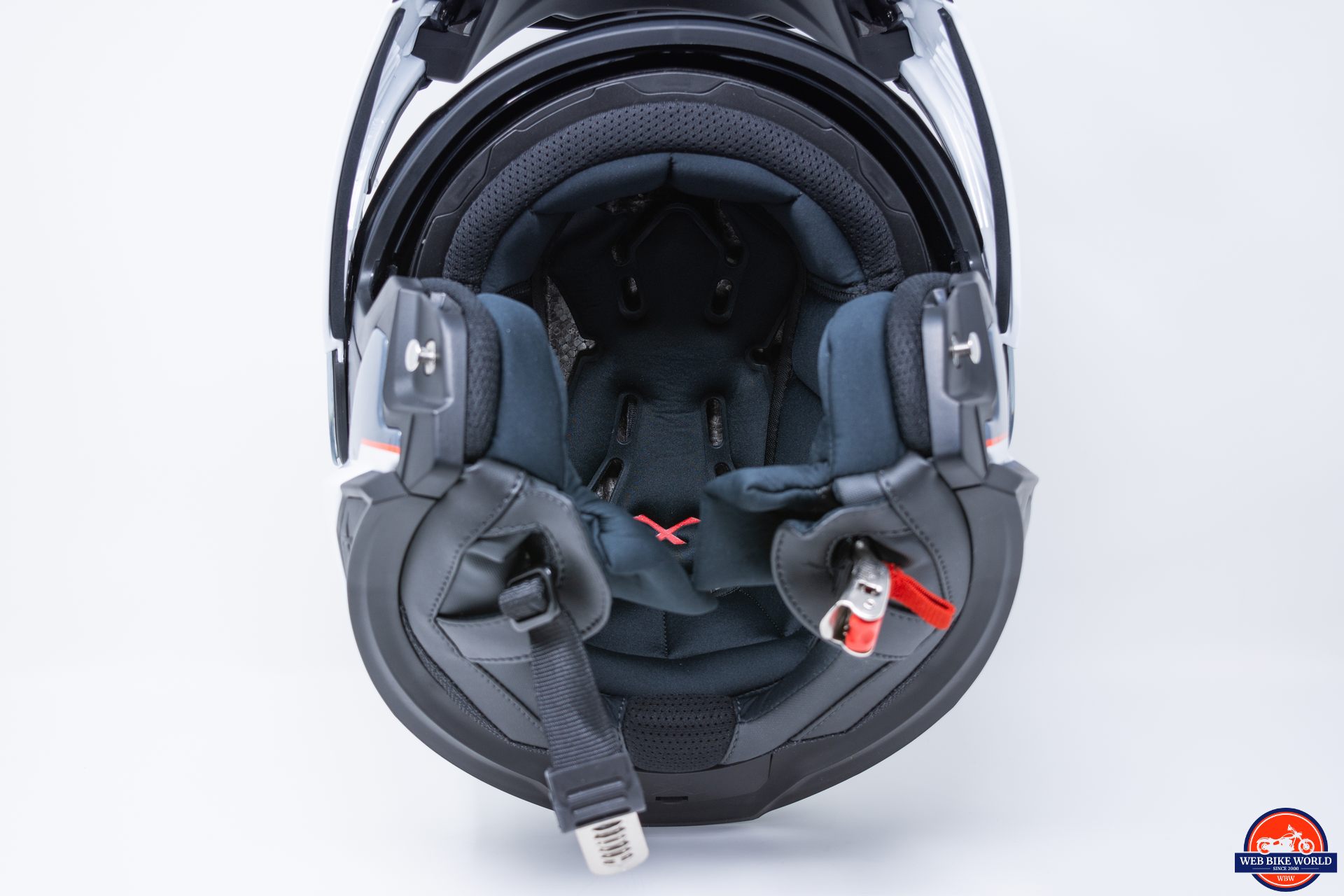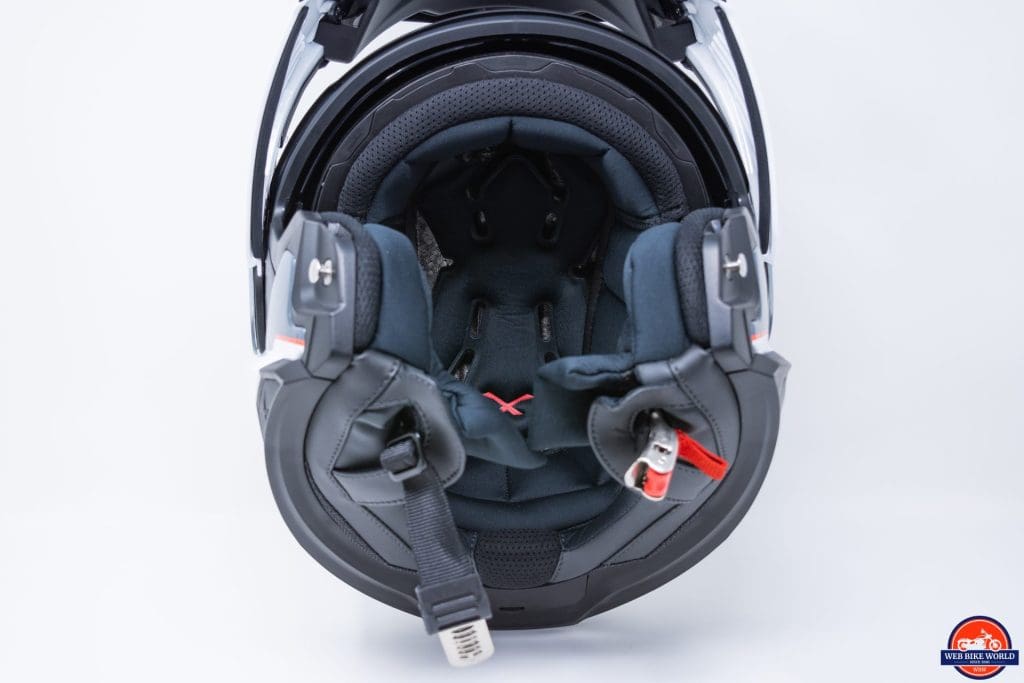 There are three channels in the EPS liner that direct air from the top vent to your forehead and multiple other points along the top and rear of your head. I found it to be quite effective, though most of the air was felt on my forehead and top of my head, with a fraction of that making its way all the way to the back.
Airflow is very good and should be more than sufficient for all but the hottest of climates. I'm quite happy here.
Visor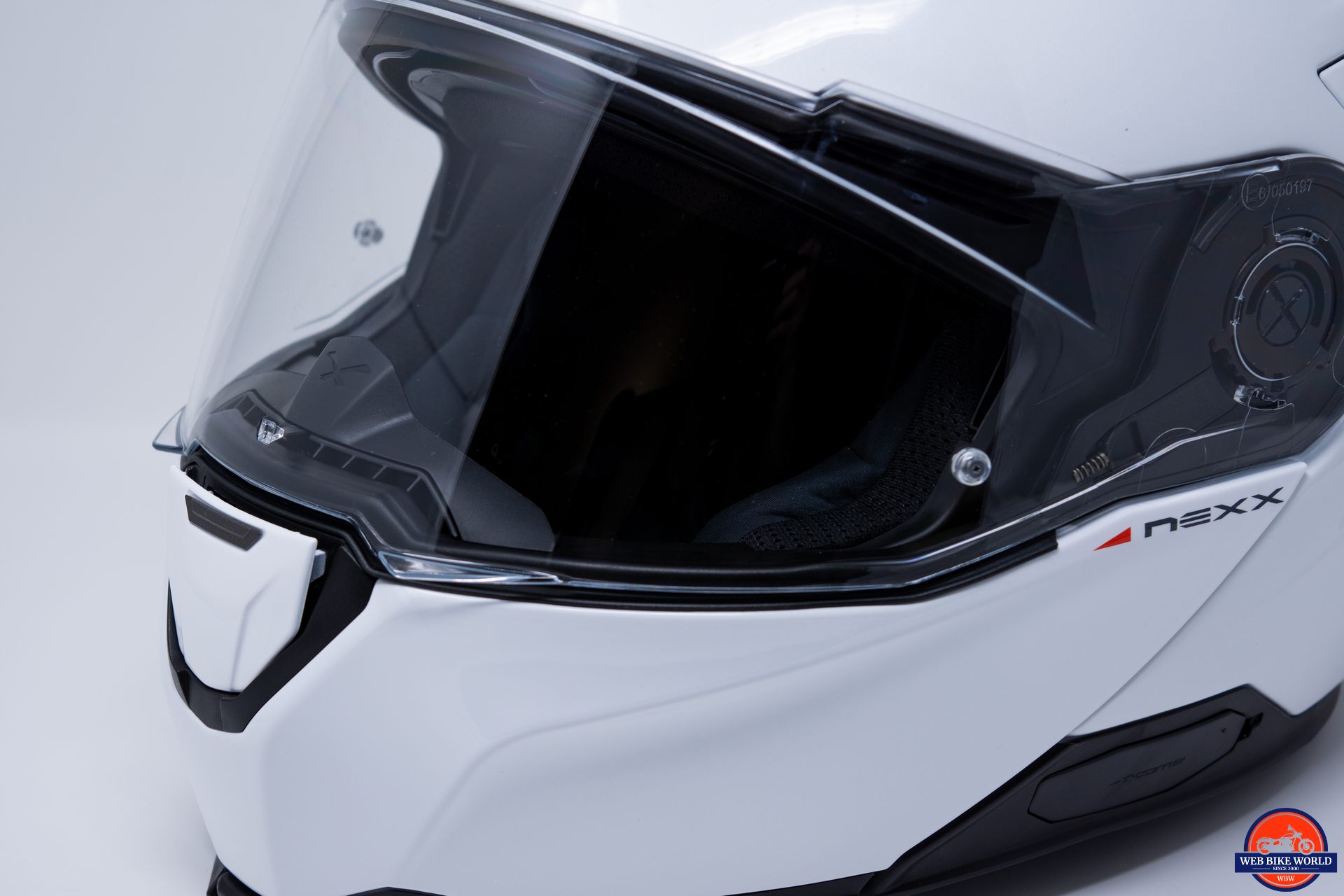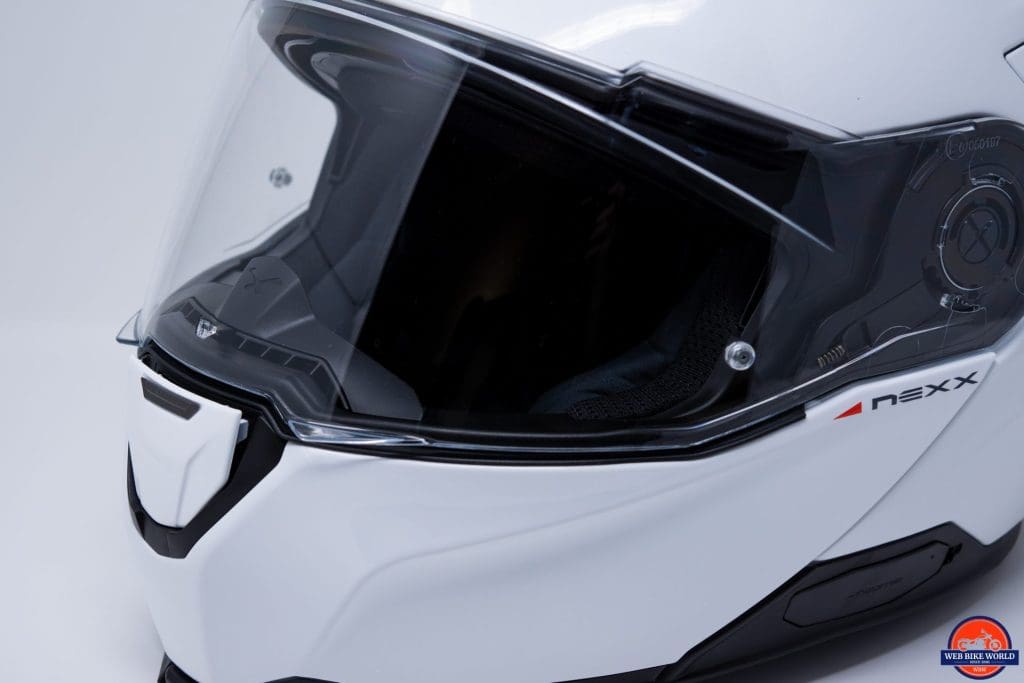 NEXX is using an optical class 1 visor, as well as an internal sun visor, which filters out 99% of UV light. I found the view to be clear and fairly large, though not quite as expansive as the SCHUBERTH C4 Pro.
The face shield is Pinlock-ready, though it, unfortunately, does not ship with a Pinlock visor included- you'll need to fork out another $50 or so for the pleasure. I'm borderline on this: I think that, for $500, NEXX could have included the Pinlock visor. It's not a deal breaker that they didn't, but still. As a result, I did notice plenty of fogging while out and about when the air was cool and I was moving slowly.
Removal of the visor is easy- put it all the way open and pull the tabs underneath the hinge in either side of the helmet- it'll pop right off. Simply reverse the process to reinstall. Easy!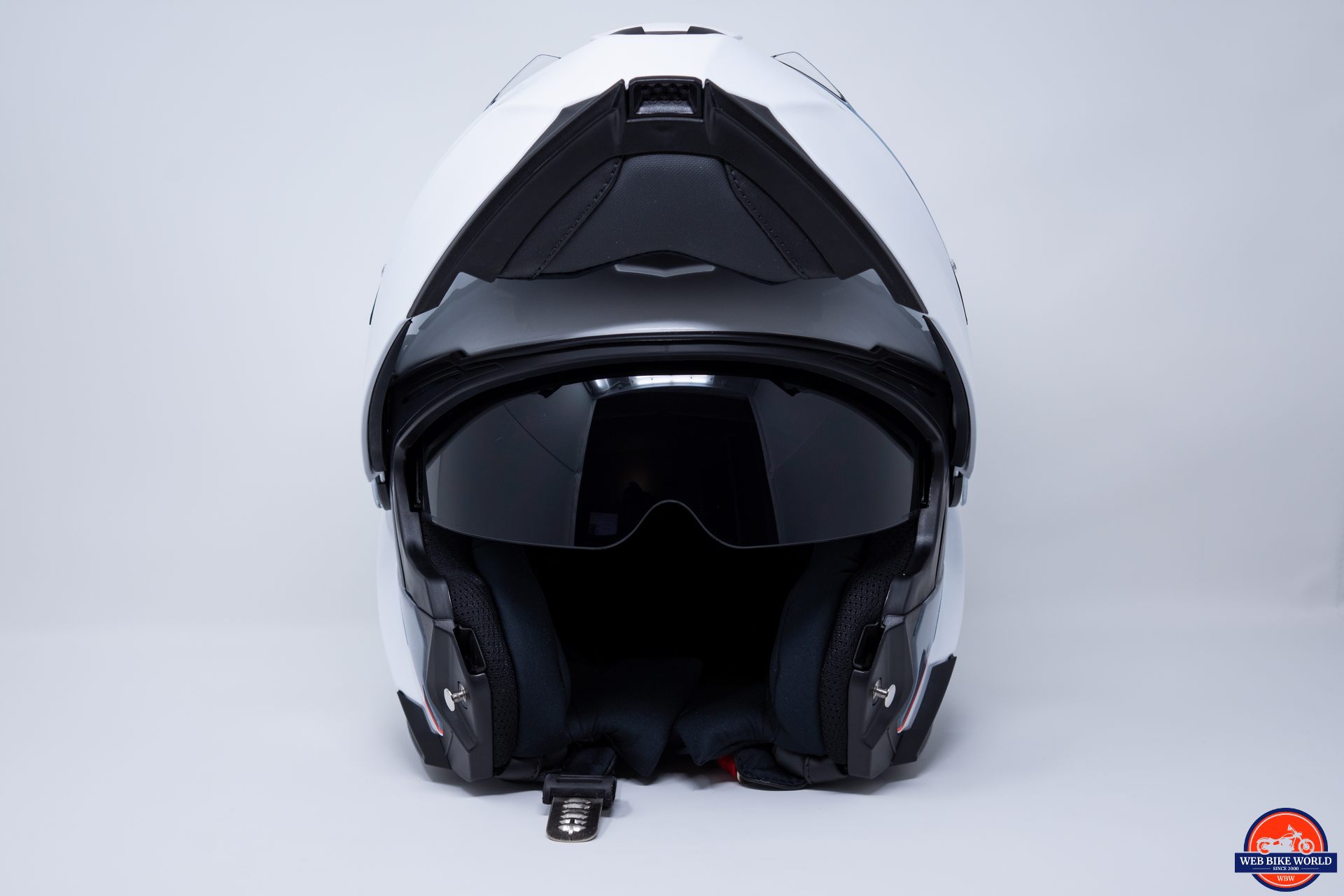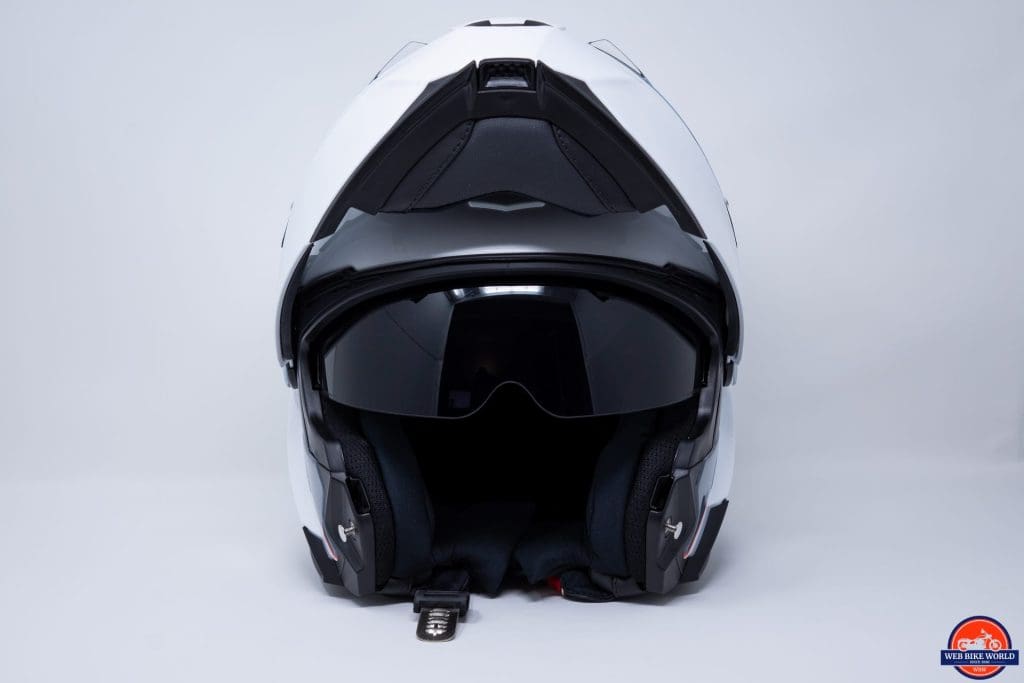 The internal sun visor covers about 85% of your field of vision, with only two small slivers of non-tinted vision in the bottom left/right portions of your field of view. I found that the sun visor does its job well, though I still haven't really gotten used to the awkward placement of the switch.
Overall, the X.Vilitur is quite generous in the view it provides and the sun visor does its job well. The sun visor switch could be more conveniently located, but it's not a major problem unless you're inclined to be constantly lowering/raising it.
Road Noise
Compared to the considerably more expensive SCHUBERTH C4 Pro and Shoei Neotec II, road noise in the X.Vilitur is pretty average. However, compared to other modulars in this price range – such as the Simpson Mod Bandit and Nolan N100-5 – the X.Vilitur is on the quieter end of the spectrum.
You'll get a fair amount of wind noise with all the vents and exhausts open, but it is tangibly quieter once they're all closed.
Once, with the upper vent in its middle position, I heard an annoying whistle while moving at about 60 mph (100 kph), but I haven't been able to replicate it. I'm not sure if it was the conditions (it was quite windy that day) or if the vent was in an odd position. In any case, it hasn't come back.
Road noise is acceptable, with the X.Vilitur doing a good job keeping things quiet.
An Imperfect Lid, But One I Really Like All the Same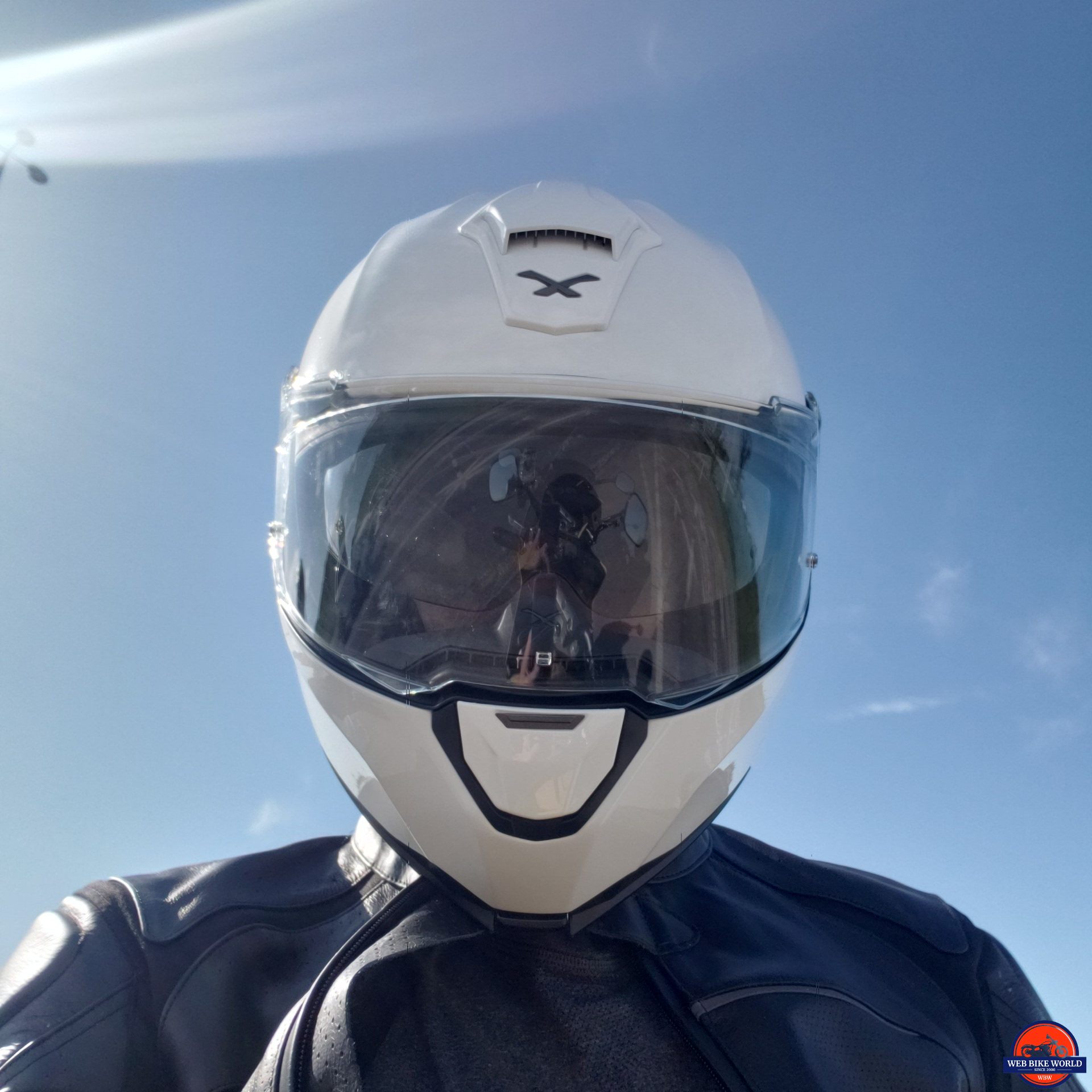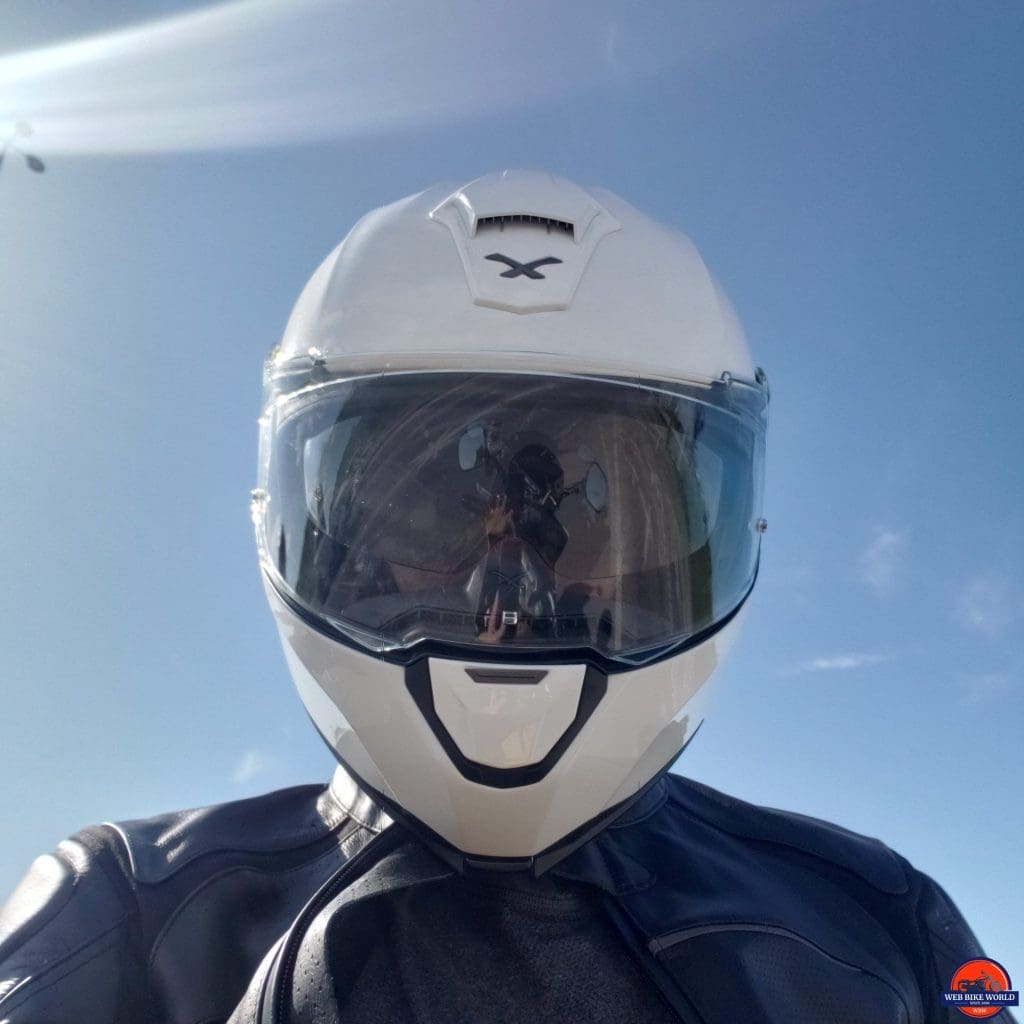 The $500 space is a crowded one because I think this is a bit of a psychological sweet spot for a lot of people. For most people, $500 is an expensive but not out of reach purchase, and helmets that command that price need to be worth it.
From a value perspective, the X.Vilitur is pretty good. It uses good quality materials and comes with all the features that modern helmets should have. I like how well it's built and appreciate that the locking mechanism and the chinbar/visor hinges are robust and tactile. Both of these areas have a sense of durability and longevity. My only two gripes with build quality come down to a minor imperfection in the paint and a vent switch that feels mushy. Oh, and we can't forget my much-bemoaned micromech issues.
Aesthetically, the X.Vilitur is right up there and I think NEXX has really nailed an aggressive but still mature look for its first modular helmet. Whether you get yours in a solid color or in one of the colorways, it's bound to get noticed among your riding friends. This is especially true of the gorgeous Carbon Zero version.
All in all, the X.Vilitur is a great first entry into the modular helmet space. Recommended.
Pros
Overall good build quality
Large visor & internal sun shield
Plenty of airflow
Comfortable interior
Extra padding and action camera mounts included
Pinlock-ready
Relatively quiet
Cons
Pinlock-ready, but Pinlock not included
Top vent switch feels mushy when going for the middle position
Rear exhaust vent switches are frustrating to use
Micromech buckle digs into my Adam's apple
Specs
Manufacturer: NEXX Helmets

Price (When Tested): $499 (solid) / $549 (graphics) / $679 (carbon)
Made In: Portugal
Colors: 11 colorways
Sizes: XS – 3XL (3 shell sizes)
Review Date: June 2019
DOT/ECE rated