HJC IS-Max II Review Summary
Review Summary
The HJC IS Max-II is a well-built modular helmet with a strong list of desirable features for the money. It's not a perfect helmet, but at this price point, you'll be hard-pressed to find many better modular helmets.
Pros
Quality construction
Lightweight
Pinlock-ready visor
Easy to open and close vents
Quick release visor
Easy-to-use internal sun visor
Cons
Could be quieter
Sun visor mechanism feels cheap
Interior liner could be softer
Despite venting still saw some minor fogging
HJC IS-Max II Image Gallery
Quick Specs
$209.99 / Intermediate Oval  / 3.81lbs / 1,728g
The HJC IS-Max II is the successor to the venerable IS-MAX modular helmet that we reviewed back in 2009. That helmet was a quality one when it came out and has served many riders well. The original, BURN, noted that the IS Max continued HJC's tradition of building good quality helmets at competitive prices. The IS-MAX II carries on with much of the same design, but it's been revised considerably.
The IS-MAX II has new exterior design and some new features that I'll dig into a little later in the review. While I liked this helmet a lot, I also think it may be worth it to make the jump up to the higher dollar mark due to some of the minor issues I had with the helmet.
Modular helmets have come a long way, and this particular one has improved considerably, but it's not without its faults, and I'll get into those faults in a little bit. Still, for the price, the HJC IS-MAX II is an excellent buy.
Features
From RevZilla:
Advanced Polycarbonate Composite Shell with Adjustable Polycarbonate Chinbar: lightweight, superior fit and comfort using advanced CAD technology
Single-Button One Handed Chin Bar/Face Shield Release
Optically superior Pinlock face shield (HJ-17) provides 95% UV protection (Pinlock insert lens sold separately)
QuickSlide Tool-less Shield Replacement System
One-touch Integrated SunShield (HJ-V5): Smoke-tinted 3-stage adjustable SunShield with locking mechanism deploys quickly and easily
"ACS" Advanced Channeling Ventilation System full front to back airflow flushes heat and humidity up and out
SuperCool Interior moisture-wicking anti-bacterial fabric
Removable and washable liner and cheek pads
All sizes of cheek pads are interchangeable in all helmet sizes
Meets or Exceeds DOT Standards
IS-MAX Vs. IS-MAX II: What's Different?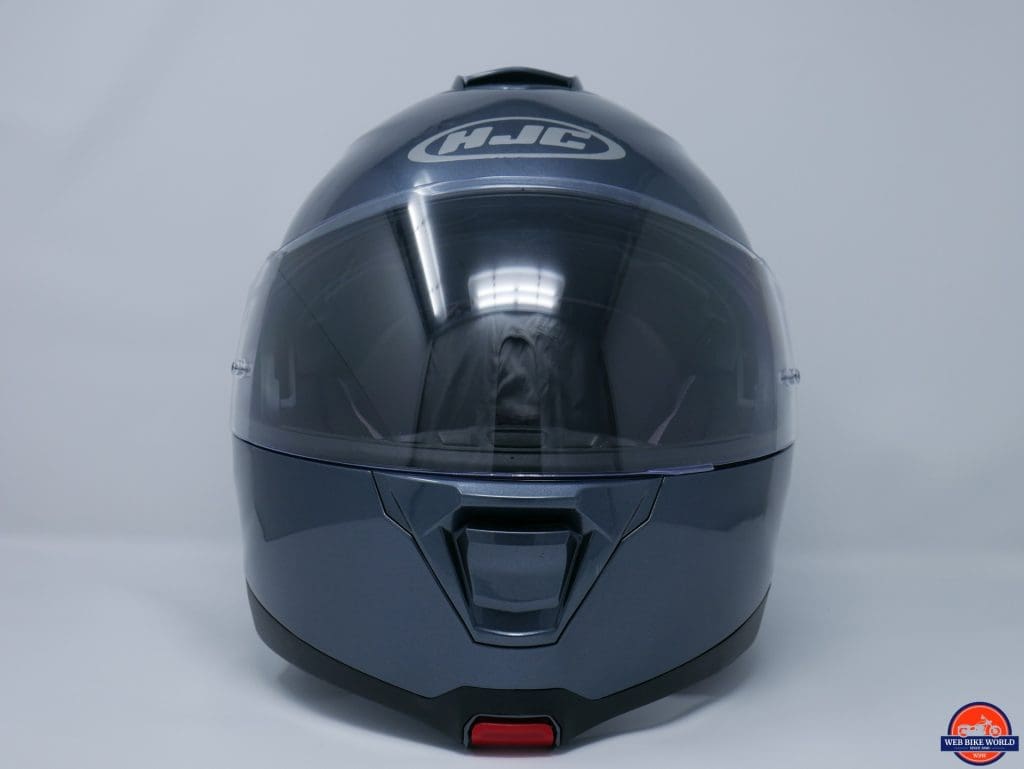 You can tell just by looking at the IS-MAX II that it's an improved motorcycle helmet. You'll notice that these two helmets still share many of the same features, including modular design and similarly placed vents and drop-down sun visor mechanism, but HJC didn't just repackage the old lid.
The exterior looks more modern, and its design overall is more aerodynamic than the previous model. HJC also managed to cut out considerable amounts of weight, which is important for a helmet that's designed as a sport touring a piece of gear. Let's take a closer look at this.
Lighter Weight
The first thing I noticed when I picked up the HJC IS-MAX II was that it was lighter weight than I anticipated. I could tell the moment I got my hands on the box. It's not feather light and you're not going to forget you have it on, but HJC managed to make a lightweight modular, which is good.
I was without a helmet scale during my time with the IS-MAX II, but according to Revzilla and some other reputable gear websites out there, this helmet comes in around 3 pounds 14 ounces. The IS-MAX we tested a long while back weighed in at 3 pounds 15-5/8 ounces. So there is a reduction in weight.
With that said the difference between the helmets isn't severe. If you went from one to the other you wouldn't likely notice much of a difference, but it's nice to know improvements were made here.
Restyled & More Aerodynamic
The big news for this helmet is that it spent a lot of time in the wind tunnel getting refined from an aerodynamic standpoint. According to HJC, this updated aerodynamically designed shell helps make the helmet quieter and more stable at speed.
I found it to be quite stable at speed and reasonably quiet. It's not the quietest modular helmet out there, but for this price point, it does a good job.
The IS-MAX II also looks way more modern than the now dated IS-MAX's two-tone design. It's a sleek and attractive helmet with flowing lines. It's not the most elegant on the modular market, but when you look back on the OG model it's a serious step forward.
Better Features
One of the criticisms we had about the original IS-MAX was that the vents in the model seemed to be pretty ineffective. The new vents are better. They're designed to let air in and filter that air through the helmet and out the exhaust vents at the rear. While they're better, I still had some gripes with them. More on that later.
In terms of the drop down sun visor, the mechanism is changed a little bit. It's not quite as much of an eyesore atop the helmet, and it still manages to be easy to operate. Again, I still had some minor gripes with this mechanism. I'll discuss that in-depth later on.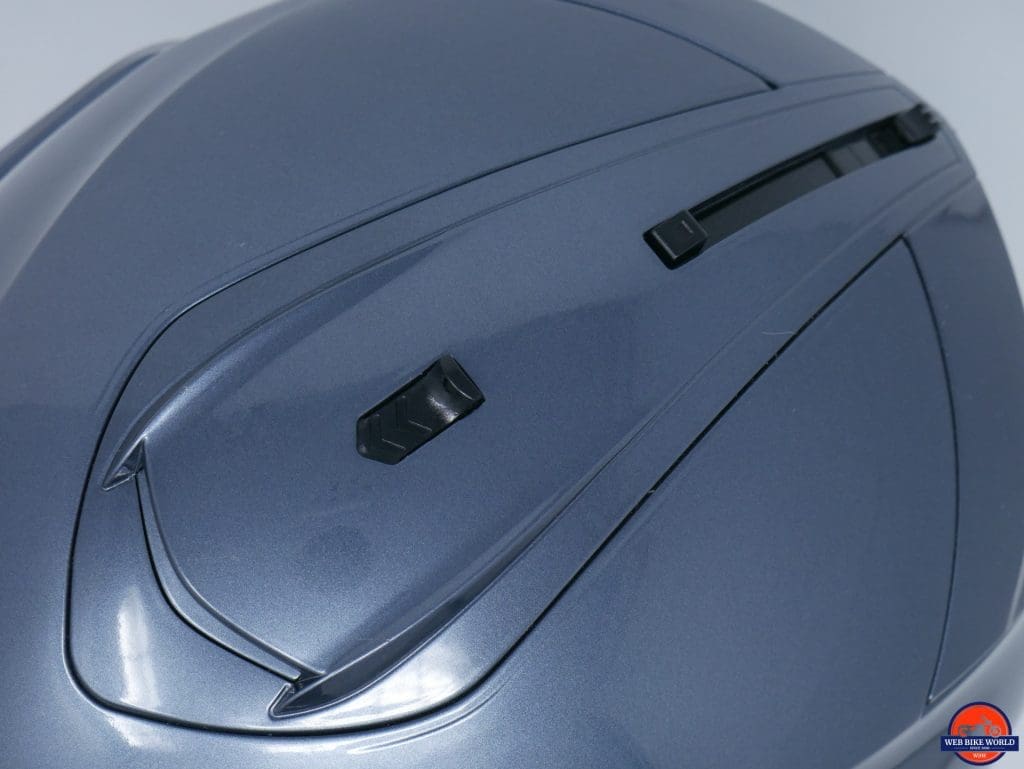 Finally, the flip-up chin bar gets a new design. The one on the old helmet was good, but this one is truly top-quality. It latches smoothly every time and rotates up and away from your face with ease. Here, HJC has improved on an already good design.
The Exterior
Styling on a helmet, or honestly any piece of gear, is subjective. No matter what I say about how the IS-MAX II looks, there's going to be someone somewhere who disagrees with me. That's fine, I'm certainly no authority on style.
I can say that I think the IS-MAX II has a fluid style and is a piece of gear that looks like it was designed with a purpose. Having said that, its exterior styling doesn't wow me. It looks a lot like many other modular helmets out there. It's a handsome lid but nothing super special.
The design isn't without a few visual bugaboos. While the vent on the top of the helmet helps provide some airflow to your noggin, I think it kind of looks tacked on. The same can be said for the sun visor mechanism. They cheapen what is otherwise smooth and attractive design.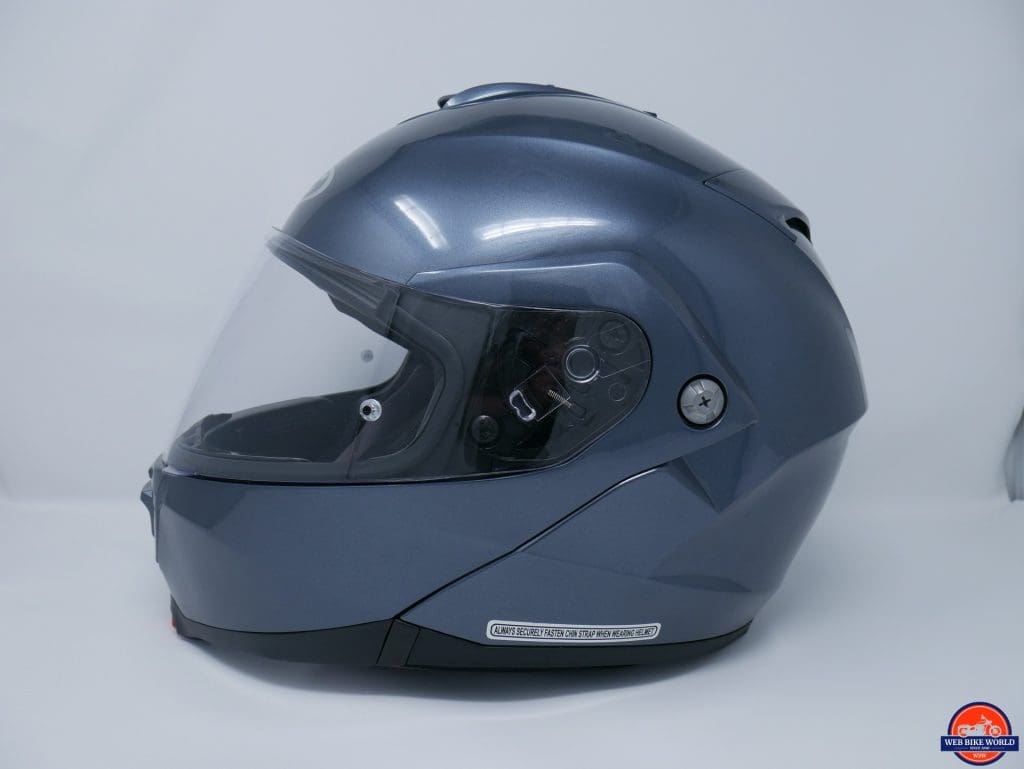 I'm also not super hot and bothered about the angles around the side of the helmet. Right around where the visor attaches, there are several lines that come together in a rather unceremonious way. It's a busy look, and one I'm not fond of.
Around back the design is a little less wild. The lines all make sense here and you get a little cleaner. Again, you might think this whole helmet looks fantastic.
The helmet comes in a wide variety of sizes from XS to 5XL. That's a lot of sizes, and HJC spreads those sizes over only two shell sizes. I would assume the Large that I tested was the larger shell size because I thought it looked and felt big. Not a huge issue, but if you're afraid of the bobblehead look, then you might want to keep that in mind.
Build & Paint Quality
If the HJC IS-MAX II does one thing right, its get a tight feeling and good-looking construction. This is a well-built helmet.
The modular chin bar opens and closes smoothly and there's even a noticeable "bump" engineered into the top of the chin bar's range so you can ride with it open and trust it will stay open.
The visor has a ratcheting system, allowing you to crack it open, open it part way at various levels or open it all the way and have it stay in place. The visor also seals tightly to the gasket around the eye port when you close it, which helps keep wind noise down and rainwater out.
The vent actuation is good, and the vent open and closing devices are easy to find and use with gloves on. The chin vent is designed to bring air right in and onto the visor to keep it fog-free. I'll discuss how well that works below.
The internal sun visor works well and the mechanism is pretty easy to find. It's right at the top of your head. You can drop the sun visor down with ease even with gloves on. It snaps back up and out of the way thanks to a spring mechanism. This spring system works well, but I wonder how long it will last. The spring doesn't feel that strong. With that said, I experienced no issues while riding.
Overall, the helmet feels sturdy and well-built. It doesn't flex too easily and feels strong despite its lighter weight. The interior, too, feels well put together. A series of snaps and some velcro sections. It's a cinch to remove but takes a little more work to get put back in place. Once it's installed though, it doesn't shift or move about, which is important in the event of a crash.
Paint & Colorways
The anthracite helmet I tested had a gloss finish and the paint was high quality and even all over the exterior. I noticed no blemishes or issues. After several hours of use, it still manages to hold up well.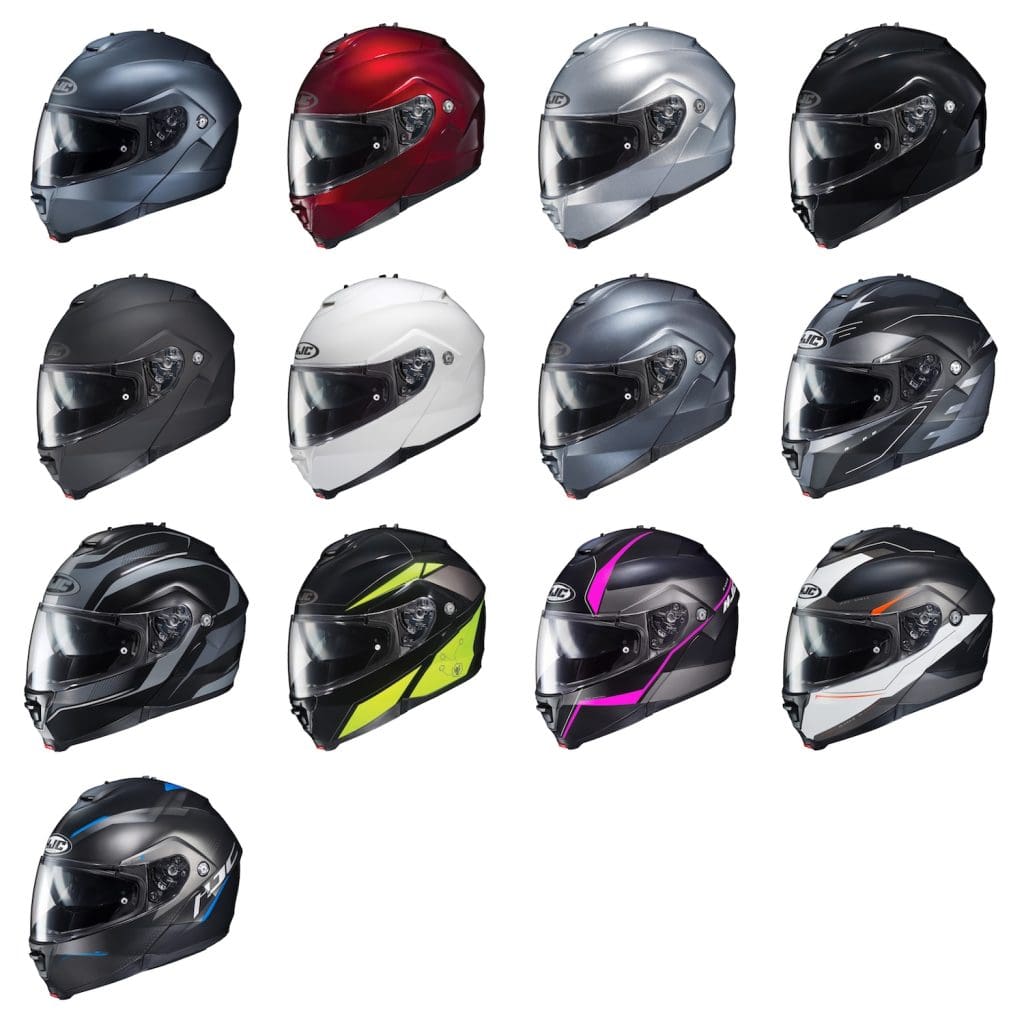 Part of that is likely due to the gloss finish, which holds up better than a matte finish in general, though, I would be interested to see how the matte paint for the IS-MAX II holds up over time.
In terms of the other colors, there's black, matte black, white, silver, wineberry, and matte anthracite. There are also six different graphics with varying colors and designs. The graphics aren't really my style but they're not too crazy, in terms of the number of colors and angles used.
Comfort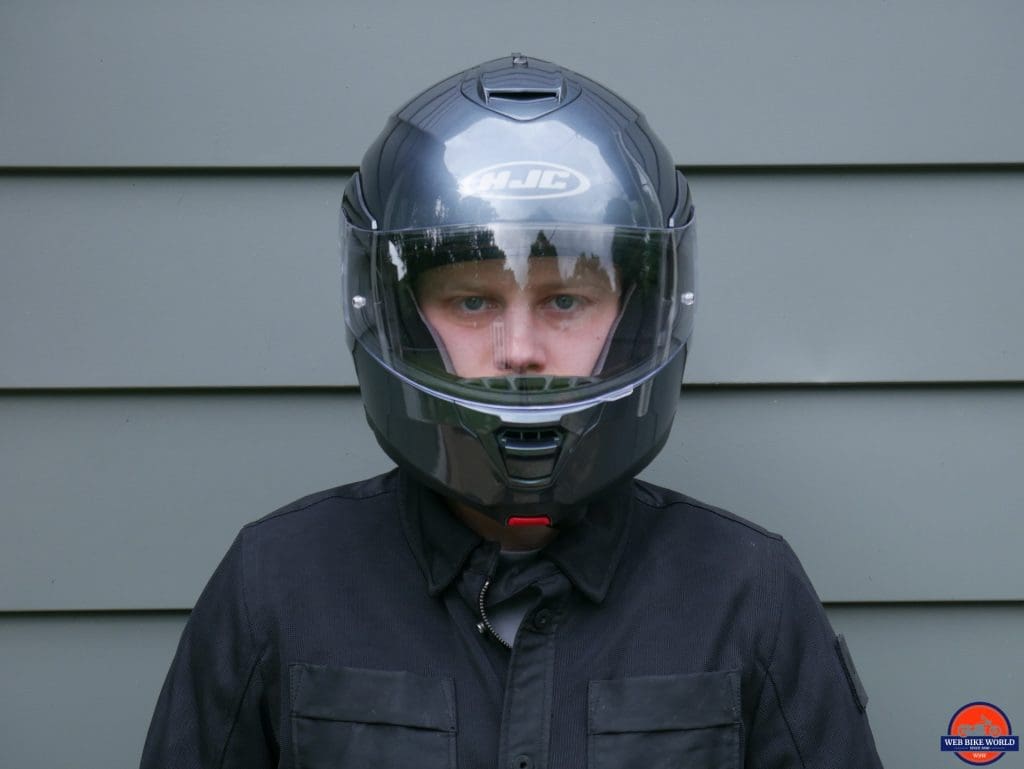 The HJC IS-MAX II Is a comfortable helmet. It has an intermediate oval head shape, which doesn't perfectly fit my more round head, but even despite this, I didn't find the IS-MAX II uncomfortable.
The helmet felt tight right around the widest part of my head right above my ears, but beyond that, I had little complaints as far as comfort goes. The cheek pads hold you snugly, and the rest of your head is well supported in the helmet. If your head shape is a true intermediate oval, then you'll likely find this helmet very comfortable.
I wore the HJC several times riding, but I never really felt the padding relax much. It's some firm stuff. I have no doubt that the more it was worn, the more it would break in, but if you aren't a true intermediate oval fit you're likely better off in a different helmet.
Interior & Liner
The interior liner is HJC's SuperCool interior. It's a moisture-wicking and anti-bacterial fabric that's supposed to keep you cool and comfortable even on long rides. I have no issues with these claims. It does a decent job and is not a hot interior liner.
However, I do have to note that I found the interior a little rough. Many of the other helmets I've worn have had softer material for liners. That's not a huge criticism, but it's worth noting.
With that said, I can say I like the sturdy padding inside the helmet. I expected it to break in a little more after several rides, but I kind of like the slightly stiffer structure inside the helmet. It made the whole thing feel sturdier and safer.
Removing the interior liner is easy. It's all snaps and some velcro. The entire liner comes out in three main pieces. While it's super easy to remove for washing purposes, I actually struggled to get it back in the helmet. Once you get it in there, though, it doesn't move around, which is what you want.
The liner makes room for aftermarket comm systems, with some nice little speaker pockets. Adding a Sena, Cardo, or some other Bluetooth headset will be easy.
Airflow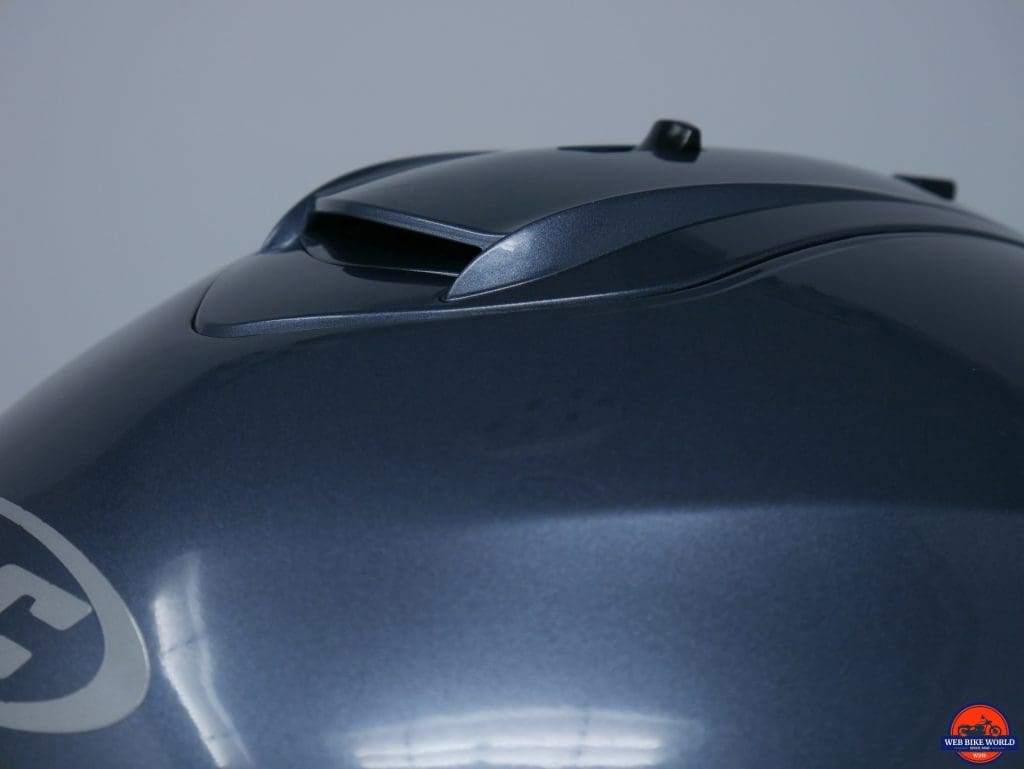 The IS-MAX II has what I thought was plenty of vents. There's a generously sized chin vent, a large vent at the top of the helmet, and four passive exhaust vents. As I mentioned above, the vents are better than the ones on the original IS-MAX.
With that said, they're not fantastic. The chin vent is supposed to take air in and send it right up on the visor to eliminate fogging. Despite this, I still had this helmet fog up on me more than once. There's even a reasonable amount of space between your face and the chin bar so I was surprised by this. To tell the truth, I couldn't tell if the chin vent was doing much of anything. It more or less seemed the same open or closed.
Also, that big vent at the top of the helmet doesn't seem to do much. It does move air into the helmet, but I was expecting its effects to be more dramatic. Don't get me wrong it works, but just not as well as I wanted.
I mentioned the chin bar already. There's quite a bit of space between your chin and the chin bar. That's not a bad thing, and a lot of air can actually get up through there. If you don't like that, you can add a breath guard. HJC even has the snaps preinstalled in there.
Visor
My thought is that HJC knew its vents didn't do as good of a job as they'd hoped. That's why they put a Pinlock-ready visor on this helmet from the start. That, and people just want Pinlock-ready visors.
The visor itself blocks up to 95 percent of harmful UV rays, too. It offers a good range of vision side to side and up and down. I noticed this visor seems to get dirtier faster than my other helmets, but maybe that's just where I rode.
Removal is a cinch. HJC offers what it calls the QuickSlide Tool-less Shield Replacement System. It's exactly what it sounds like. A quick and easy way to remove the visor without tools.
All you do is open the visor all the way and finger the little levers on either side of the helmet where the visor attaches and out it pops. It takes seconds. To put it back in you just line it up with the holes and snap it back in. Super easy.
Road Noise
I actually expected the road noise inside the IS-MAX II to be less pronounced. HJC redesigned the neckroll from the original IS-MAX to block out more sound. That paired with the firm padding had me thinking it would be a quite lid. It's not wildly loud, just not as quiet as I thought it would be.
Of course, for a modular helmet at this price point, it does a good job. I would expect adding a breath guard or chin curtain to this helmet would help make it quieter. The significant space between the chin bar and your face lets some air in, but it also lets in a lot of noise. For a helmet that seems so tight elsewhere, I'm surprised HJC left as big of a gap here as they did.
The IS-MAX II is a Quality Modular Helmet for the Price
The IS-MAX II isn't the best modular out there, but it's definitely one of the best for its price. At the roughly $200 mark, there are a lot of helmets, but few of them offer quite as much as the IS-MAX II. I have my quibbles with the fit, airflow, and road noise, but for the most part, this is a quality and well-built helmet.
The fact that this helmet comes ready for a breath guard and Pinlock to help cut down on its downsides makes me like it even more. HJC gives you a great helmet for the price, and it also gives you a way to at least partially fix some of its downsides.
If you've only got a couple of hundred bucks, you need a good sport touring helmet, and you have an intermediate head shape, this is a smart choice.
Pros
Quality construction
Lightweight
Pinlock-ready visor
Easy to open and close vents
Quick release visor
Easy-to-use internal sun visor
Cons
Could be quieter
Sun visor mechanism feels cheap
Interior liner could be softer
Despite multiple vents still some fogging
Specs
Manufacturer: HJC
Price (When Tested): $209.99
Made In: South Korea/Vietnam
Alternative models & colors: Black, Matte Black, White, Silver, Anthracite, Wine, Matte Anthracite
Sizes: XS through 5XL
Review Date: May 2019
HJC IS-Max II Image Gallery