The Breakdown
The new Shoei GT Air is an outstanding helmet, no two ways about it. Motorcyclists with a "Neutral" to "Slightly Narrow" head shape would be hard-pressed to find a full-face helmet that performs better. We're really impressed with the low noise levels combined with the excellent ventilation. The GT Air seems to "slice" through the air, probably due to its overall tapered shape and special molding. Yes, it's expensive, but all of those little details that make the difference have been perfected on the GT Air. Bottom line? Shoei has yet another winner with the GT Air and we can heartily recommend it.
Pros
Class leave low noise levels. Excellent ventilation. Great styling. All the awesome little details done right. Outstanding quality. Plush and comfortable liner. Double eye port gasket. Outstanding internal sun visor operation.
Cons
An expensive helmet. Meets DOT only in the U.S. No vents through chin bar. Snap for chin bar not in optimal location. Chin strap padding too short. What about riders with round heads?
Shoei GT Air Helmet Review
Shoei has been releasing helmets at a fairly rapid clip lately and the new GT Air is brand new for 2013. The GT Air is very comfortable (as long as it fits your head shape). It's also one of the quietest full-face helmets we've reviewed in a variety of conditions and it also has probably the best internal sun visor we've tried. It also comes in three shell sizes, which helps ensure a more proportional fit.
So what's not to like? I had some difficulty fitting my sunglass frames inside and the snap for the extra length of chin strap is too high up on the opposite side, making it a bit difficult to use. Other than that, this is my new favorite helmet!
Shoei has been my personal favorite helmet brand for some time, for many reasons.
First of all, there's the "Shoei fit", which I find comfortable. Not many helmet manufacturers have a precisely standardized fit (even Shoei) but Shoei seems to adhere more closely to a standard fit than others. This means that I can pretty much pop on any Shoei helmet in my size, knowing it will be comfortable.
Also, the Shoei liner fabric and padding is nearly always very comfortable and plush, more so than just about any other manufacturer.
And the attention to detail is right up there with the best.
The GT Air is listed just above the Shoei RF-1100 (review) on the Shoei website and just below the Neotec flip-up (review), with the Shoei X-12 (review) still holding top spot in the lineup. I'm assuming this means "street/sport/touring" and the inclusion of the internal sun visor is a telltale sign that the GT Air isn't a race helmet.
I've been wearing the GT Air over the last couple of weeks and we wanted to get a review posted as soon as possible, because there's a lot of interest in this helmet from webBikeWorld readers, so let's get started!
See Also: Helmet Buyers Guide, Helmet Review Home and all Shoei Helmet Reviews.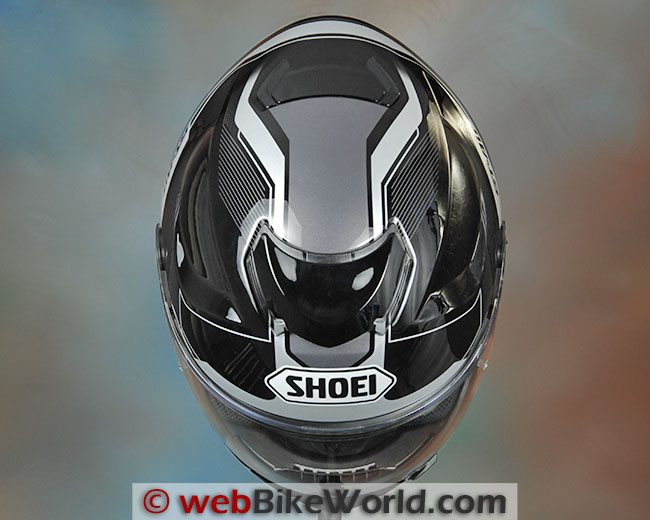 Shopping Now? We Recommend
webBikeWorld has worked closely with RevZilla over the years to provide our testers with products to review. In addition to being a great site to shop from, they're also a great partner. Both Amazon and Revzilla have a big selection of helmets from the great helmet manufacturers.
RevZilla

Free shipping on orders over $40
30-day no-nonsense return policy
Excellent selection of all major brands
Awesome pricing
Amazon

Free shipping (with Amazon Prime)
30-day return policy
Excellent selection
Competitive pricing
The Shoei GT Air: Paint, Graphics and Overall Quality
Shoei helmets aren't inexpensive and there's a reason for that. The overall finish, quality and the small details that make the difference in the brand's helmets also add to the cost.
Motorcyclists sometimes mistakenly compare an inexpensive helmet with a Shoei, Arai or SCHUBERTH and think they're equivalent, but most of the time, the level of fit and finish and the small details are what makes the several-hundred-dollar helmet cost as much as it does.
Pick up a Shoei GT Air, for example, and compare it with one of those $150.00 helmets and I'm sure you'll notice many differences.
The GT Air comes in a variety of solid colors (including Brilliant Yellow) and some graphics. The black/silver "Journey" graphics on this one are very nice and compliment the overall design, if making it a bit difficult to get the details properly photographed.
We also had a silver GT Air for comparison and photos of that one are included in the slide show below and also in the slide show included in the Shoei GT Air Preview published on webBikeWorld a few weeks ago.
The graphics and paint and thick clear coat on this example are very nicely done with no complaints or obvious flaws.
The clear coat feels exceptionally thick and it has a sort of "waxy" feel that can be buffed back to a high polish after my greasy fingerprints have marred the surface.
All of those small details are here and once you handle a helmet at this level of quality and detailing, those sub-$200 helmets all seem so…well, cheap.
The liner fabric, the way the liner is attached, the stitching and all of the little details on the GT Air — like the eye port gasket, the automatically adjusting face shield and the quality feel of the hardware — really do make the difference.
The GT Air helmet shell comes in three sizes and the shape is unique, with modern styling.
There are some recesses and molded features that really do seem to help reduce overall noise levels; the GT Air "cuts" through the air like none other.
It meets the DOT standard only; for some reason, Shoei didn't go for the Snell certification on this one, probably to distinguish it from the RF-1100 (or perhaps due to the internal sun visor design).
And the Shoei "AIM" shell (composite of fiberglass and "organic fibers") is specially designed to accommodate the internal sun visor without compromising the thickness of the EPS liner or padding. In fact, the GT Air has plenty of room in the forehead, as you'll learn in the next section.
Score: The Shoei GT Air gets an "Outstanding" rating from us for paint and overall quality. See the Summary Table at the bottom of the page for a description of our rating system.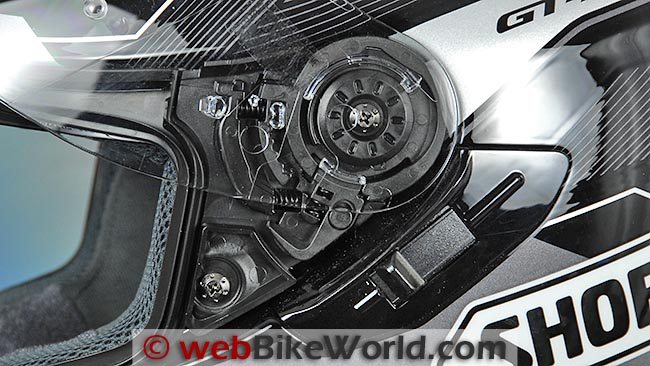 Face shield has an automatic adjustment system to keep it tight against the eye port gasket.
Shoei GT Air Fit, Sizing and Internal Shape
Shoei apparently doesn't like to discuss the internal shapes of their helmets. But the GT Air seems compatible with what many motorcycle riders call "the Shoei fit", which is "Neutral" to "Slightly Narrow" in the webBikeWorld nomenclature.
One strange thing is that the size large GT Air that we had felt like the head size ran very small.
Perhaps that size large used the smaller shell size, but large is my normal helmet size and the size large GT Air was so small that I actually couldn't get the shell over my head.
Shoei lists a 59-60 cm for the size large GT Air, but my opinion is that it fits more like a 58-59 cm, so you definitely want to try one on first.
[UPDATE: I asked our Shoei representative, who explained that the shape of the GT Air shell at the bottom is tighter than the other Shoei full-face helmets to help reduce noise.
The design of the interior and shape of the shell inner dimensions are the same as the other Shoei full-face helmets, according to Shoei.]
The size XL shown here is listed by Shoei as fitting a 61-62, but we would also back that down a notch and call it a 60-61 to perhaps 61.5 cm.
Part of the issue may be due to the shell shape, which seems to taper in towards the bottom. This also probably goes a long way towards making this a very quiet helmet (getting ahead of myself here again).
The narrower bottom can make the helmet feel smaller than usual, especially when first trying it on.
The internal shape is biased towards the "Slight Narrow" part of the spectrum (as described in the webBikeWorld Motorcycle Helmet Shapes page), with narrower sides and lots of fore/aft room in the top.
Anyone who has experienced forehead pressure in other helmets (and who has a narrow-ish head) may want to try the GT Air.
That there is this much room in the forehead and Shoei was still able to fit the internal sun visor is pretty remarkable.
The shell was specifically designed with a brow shape to house the sun visor without affecting the internal fit and it really does seem to work.
Rick tried the GT Air a couple of times but reports that the fit doesn't quite work on his "Round" head. He has a wider, flatter forehead and the helmet apparently leaves too much room in the front and is too narrow on the sides.
The padding and neck roll are generous and the Shoei liner fabric is about as comfortable and plush as it gets. I wish I had a blanket made from this stuff!
The EPS in the ear pockets has round cutouts for speakers but I'm not sure which speakers exactly will fit. The ear pockets are lined and sized correctly, so no issues there.
I do have a bit of a fit issue with trying to work my sunglasses or eyeglasses into the helmet.
The slightly narrower sides are probably at fault here and although there's a split between the cheek pads and the upper part of the liner, it's too high to get the arms or temples of my glasses through it, so the eyeglasses sit too high on my face.
Overall, we rate the Shoei GT Air as very comfortable and it should fit the majority of head shapes.

More information on helmet fit can be found in the webBikeWorld Motorcycle Helmet FAQ page, along with the chart that lists the helmet weights of webBikeWorld reviewed helmets and also by shape on the webBikeWorld Motorcycle Helmet Shapes page.
Score: The Shoei GT Air gets an "Outstanding" rating for comfort and liner materials and padding and a comfortable fit.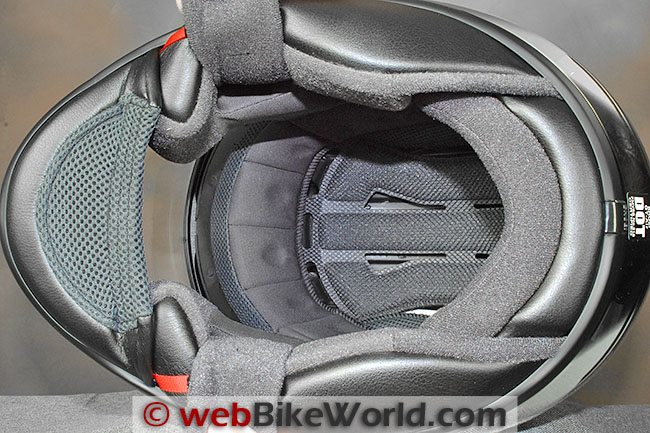 The GT Air Liner is comfortable, thickly padded and has a large chin curtain.
Shoei GT Air Face Shield, Eye Port and Visibility and Internal Sun Visor
The visibility from the eye port on the on the GT Air is better than average in the horizontal plane and about average in the vertical plane.
The optical quality of the face shield is outstanding and it's marked as meeting the VESC-8 spec with the same engraved note that reads "Not warranted shatterproof" as we found on the LS2 FF394 flip-up (review).
Shoei said the QSV-1 internal sun visor is of the same quality as the face shield and it "exceeds ANSI Z80.3-2010 standard for non-prescription eyewear". It is optically correct and anti-scratch and anti-fog treated.
This is one of the most effective internal sun visors we've ever tried, and we haven't been big fans of these types of sun visors in other helmets.
This one first of all is optically perfect, so it does not affect vision at all.
It also has a very nice slider that works via friction and allows the sun visor to be stopped in any position through its range.
The sun visor lowers down far enough and just slightly tilts up on either side, but it really works well and this is the first helmet with a sun visor I've ever worn where I spend more time riding with the sun visor down than up.
The face shield has a locking snap to keep it closed, then it can be popped open just enough to lay on the eye port gasket, then move through 5 detents on its way up to fully open.
It also has a spring-loaded, automatically adjusting retainer system, which keeps it sealed tight against the eye port gasket to keep out water and wind noise.
The eye port gasket has a dual seal and it fully surrounds the eye port, and this seems to make a big difference in keeping out wind noise.
It also has a special shape which allows the largest-sized Pinlock anti-fog insert (review) to be fitted (it is included with the helmet). The large Pinlock insert fits nearly the full width and height of the face shield, which keeps it mostly out of the rider's field of view.
The top of the face shield is molded with an inward-curving bend to help keep the Pinlock from interfering with the dual eye port gasket seal as the face shield is raised or lowered.
The removal system is a bit more complex that other helmets, with 5 little tabs that must be lined up correctly for the face shield to be reinstalled successfully. But once you get the hang of the system, it works fine.
The dual-seal, full-surround eye port gasket, the optical quality of the face shield and internal sun visor, the design of the sun visor, the automatically adjusting face shield retainer and more are all the little details that make a big difference with this helmet and which add to the cost.

Score: The Shoei GT Air gets an "Outstanding" rating for the overall quality and operation of the face shield and the quality and operation of the internal sun visor.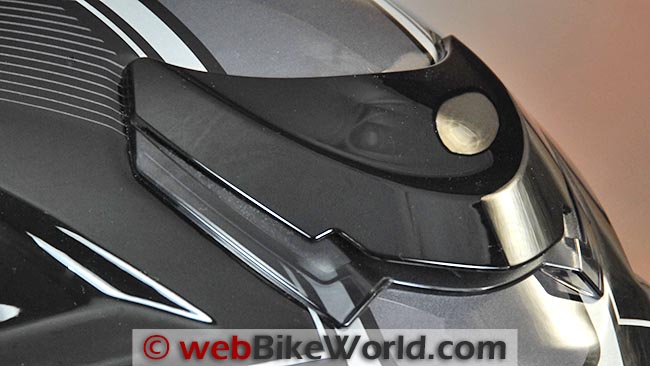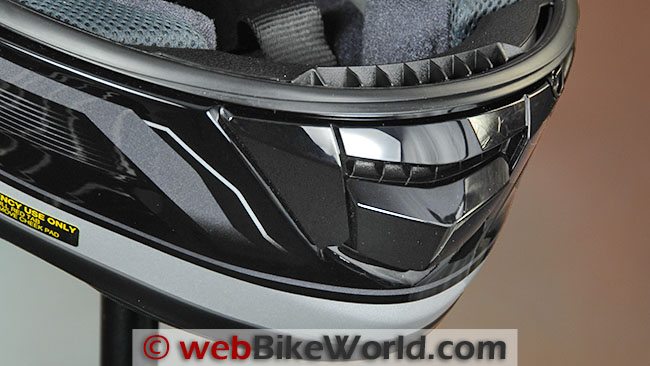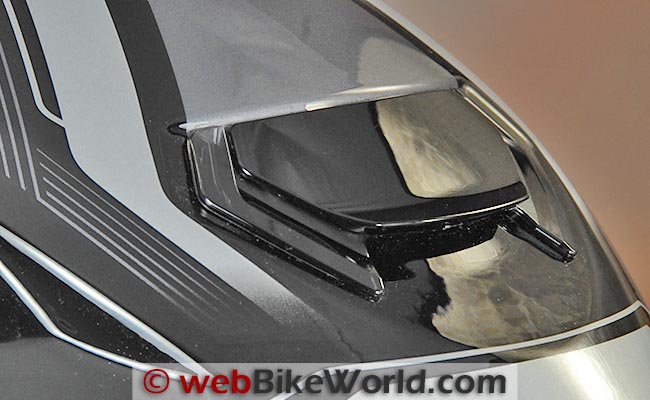 Ventilation and Air Flow
Here's another GT Air plus: it has one of the most effective ventilation systems we have experienced in a full-face motorcycle helmet.
The chin vent and top vent look modern and straightforward, but they work very well.
Snap open the chin vent and plenty of air flows up through the chin bar and on to the face. It is directed through an open passageway between the chin vent and the large and wide splitter that runs across the top of the chin bar and it allows a lot of air to flow through.
The top vent has two positions, half-open and fully open.
It also allows a large volume of air to enter the helmet, directing the air down through two large holes through the EPS liner and into channels that guide it across the top of the rider's head.
The top of the helmet liner is cut and channeled also, as is the EPS liner, and this functions to direct the air on to your scalp.
It is perhaps a more focused system in the way it directs the air. That is, the air flow is directed to a narrower portion of the top of the head and not all over.
But it is very effective and there's a lot of it; so much, in fact, that the fully open position let in too much air when riding in 50-degree F weather, and that's rare indeed.
The design doesn't seem extra-ordinary or unusual. I think it's attention to detail that does it: a direct air path through the vents, functional vent sliders and a clear path for the air to flow through the vent holes, the channels in the EPS and the liner.
It works, and this proves once more that it doesn't take quantum mechanics equations to get a helmet to vent. All it takes is a logical and basic design with attention to the details.
The chin bar in the GT Air is large and wide also and it is backed with nicely finished molded pattern with the Shoei logo.

Score: The GT Air ventilation system gets a "Outstanding" overall rating with an "Excellent" for the chin vent.
Where to Buy the Shoei GT Air
webBikeWorld has worked closely with RevZilla over the years to provide our testers with products to review. In addition to being a great site to shop from, they're also a great partner. Both Amazon and Revzilla have a big selection of helmets from the great helmet manufacturers.
RevZilla

Free shipping on orders over $40
30-day no-nonsense return policy
Excellent selection of all major brands
Awesome pricing
Amazon

Free shipping (with Amazon Prime)
30-day return policy
Excellent selection
Competitive pricing
Shoei GT Air Noise Levels
But wait — there's more! On top of everything else, the GT Air is one of the quietest full-face helmets we've reviewed.
And that's in several different riding conditions, including riding behind no fairing, riding behind a tall fairing with windscreen and also riding with the windscreen deliberately oriented to direct air right at the helmet.
How Shoei is able to flow this much air with so little noise is rather amazing.
Granted, the noise level from the top vent will increase slightly when riding a sportbike with the head tilted slightly forward, but overall noise levels are very low compared to other helmets we've reviewed.
Rick confirmed this also when wearing the GT Air whilst riding the BMW C 650 GT scooter (blog), with the windscreen in various positions. The difference between the LS2 FF394 and the Shoei GT Air, which we both wore on the same day of riding, is dramatic.
We'll have to assume that the GT Air's padding, the neck roll, the overall tapered shape of the helmet, the narrower bottom half of the helmet shell and the double gasket on the eye port all help reduce noise levels.
Certainly close tolerances help also — another one of those features that makes a difference but which probably adds to the overall cost and makes the difference between a "cheap" helmet and a good helmet.
So overall we rate the Shoei GT Air as quieter than average when behind a windscreen and also quieter than average when it's in the open air.

Note that our helmet evaluations are a combined effort of several riders over time on different types of motorcycles with and without windscreens.
Evaluators wear correctly fitted, high quality ear plugs (even when evaluating motorcycle intercom systems).
Always protect your hearing when riding a motorcycle. See the wBW Earplug Reviews for more information on choosing and wearing earplugs.
Note also that perceived noise levels will vary, depending on the individual.
Noise can be caused by many factors, including helmet fit, the type of motorcycle and windscreen, wind speed and direction and even the rider's clothing.
For more information on helmet noise, visit the wBW Motorcycle Helmet Noise page.
Score: The Shoei GT Air gets an "Outstanding" rating for noise control.
w

BW

Video: Shoei GT Air Helmet
Helmet Weight
The Shoei GT Air in size XL weighs in at 1757 grams (3 lbs., 14 oz.), just 50 grams more than the size large GT Air we previewed.
That's a touch heavy but the excellent aerodynamics and the fit seem to make the helmet feel lighter than it is.
I can't say it's a lightweight helmet, but it's not too bad either, feeling about average and the balance is excellent.
Considering the fact that an internal sun visor is included, which adds some weight, and that this example is a size XL, the weight is reasonable.
This compares to a few other size XL helmets that might be cross-shopped by potential GT Air customers, including the Arai Corsair V (review) at 1758 grams and the Shoei X-12 (review) at 1766 grams.
The Shoei RF-1100 (review) in size XL weighed 1746 grams, while the size XL SCHUBERTH S2 (review) in DOT guise weighs 1712 grams.
Neither of those helmets have an internal sun visor but the RF-1100 is Snell certified.
Note also that all of the helmets reviewed on webBikeWorld have been weighed and the weights are available on the wBW Motorcycle Helmet Weights page.
Also, there's a chart that lists the helmets by weight and shape on the wBW Motorcycle Helmet Shapes page.
Score: The Shoei GT Air gets a "Very Good" rating for its weight and good balance.
Miscellaneous
The GT Air has a double D-ring chin strap retainer. The padding is about average for comfort and could be longer, as it usually the case with motorcycle helmets lately.
Shoei has a five year warranty from the purchase date or seven years from the manufacture date, whichever comes first.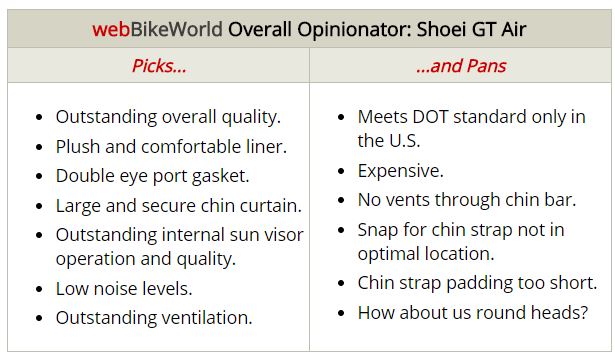 Conclusion
The new Shoei GT Air is an outstanding helmet, no two ways about it. Motorcyclists with a "Neutral" to "Slightly Narrow" head shape would be hard-pressed to find a full-face helmet that performs better.
We're really impressed with the low noise levels combined with the excellent ventilation. The GT Air seems to "slice" through the air, probably due to its overall tapered shape and special molding.
Yes, it's expensive, but all of those little details that make the difference have been perfected on the GT Air. Bottom line? Shoei has yet another winner with the GT Air and we can heartily recommend it.
w

BW

Review: Shoei GT Air Helmet
List Price (2013): $549.99-$670.99
Colors: Solids and graphics.
Sizes: XS to XXL Shell Sizes: 3
Buying the Shoei GT Air
webBikeWorld has worked closely with RevZilla over the years to provide our testers with products to review. In addition to being a great site to shop from, they're also a great partner. Both Amazon and Revzilla have a big selection of helmets from the great helmet manufacturers.
RevZilla

Free shipping on orders over $40
30-day no-nonsense return policy
Excellent selection of all major brands
Awesome pricing
Amazon

Free shipping (with Amazon Prime)
30-day return policy
Excellent selection
Competitive pricing
Owner Comments and Feedback
---
From "K.H." (May 2017): "Had this helmet for a couple of years now. I am currently happier with it than ever before. Why? The addition of the Shoei anti-fog liner.
Before, the helmet would fog up and the first detent on the visor was too wide to be practical in the wet.
Now, with a new visor and the fog liner in place, I can literally ride right through any kind of weather without fog and without the need to open the visor.
The liner doesn't mess up the optics either. Installation was easy enough, if you're careful to not touch the surface of the liner. I wish that I had installed the line immediately upon purchase of the helmet.
Another reason to use the liner: the Pinlock inserts can pop out. One of mine did, without my noticing. As I started my ride, my helmet was filled with a loud and mysterious banshee wail. I couldn't figure it out, until I took off the helmet.
To cure the problem, you can buy a replacement Pinlock online if you can find them. I used a couple of pieces of clear packaging tape, which held up for weeks and didn't mess with my peripheral vision.
I'm not sure why the review lists as a "Pan" the lack of a chin vent. The review itself talks about the vent switch on the chin, with decent flow when open.
The helmet can flow too much air, to the point where your eyes might water. I wear sunglasses under the visor. I kind of wish that I hadn't thrown out the chin diffuser.
Love the helmet, like the sun shade for emergencies, still prefer polarized sunglasses.
No complaints in general, and I have a round Arai Quantum head. The GT Air works great with headphones after you remove the ear pads. I even like the bold new graphics."
Editor's Note: The "pan" is for the absence of direct vent channels through the chin bar.
---
From "G.E." (May 2016): "Again you guys are spot on with your review of the Shoei GT Air. I purchased a GT-Air Expance last week and so far I agree with all of you comments in the review.
You are much nicer in your wording that a hat of the price point should have a way better chin strap covers, too short and won't stay lined up with the strap(cheap). And also the face shield removal is horrible!!!
I came from a Bell RS-1 so I guess I'm a little spoiled with the face shield removal.
Air flow is great and when the vents are closed it is a very quiet helmet. RS-1 was quiet as well but the GT has it covered.
GT is a bit heavier in the hand but not when it's on!!! That said, Shoei need to step up with a transitions shield or at least a lite smoke for this model. I think it would help some with interior heat when at slow speeds.
Thanks again for your excellent review as it was the deciding factor in my choice over a new Bell Star which I hear isn't faring as good if you can even find one."
---
From "M.A." (April 2016): "I have finally understood the mixed feedback on the Shoei GT Air, which I own myself.
Your review did highlight the tremendous ventilation plus plenty of room in the front of the helmet especially for "wide" forehands.
Actually, I consider the form of my forehead as pretty square from the profile (not the front), which means my forehead is quite flat and vertical then forms a kind of "angle" with the top of my head to exaggerate.
What I mean is that it is not round or smoothly curved to the back.
I barely feel the ventilation myself.
After careful investigation, I have noticed that there are empty spaces in the liner just at the place where we can find the 2 big holes, which bring the air in the helmet (I have attached an edited version of your photo below).
Looking at the picture, we see that just after these holes, there is a padding, which covers nearly all the width of the scalp I feel a small compression point there when I wear my helmet, this is at the very top of the forehead (I'm pretty bald so difficult to say where exactly …).
After something like an hour, I can see a mark.
My head is just compressing this part of the padding. It is not painful, but I can feel and see it Looking under the padding, one can see the beginning of the canals which conduct the fresh air to the back of the helmet.
Considering the "compression point at this particular place, the padding just blocks the canals and prevent the air to go through. As simple as that.
And unfortunately for me. I hope this helps."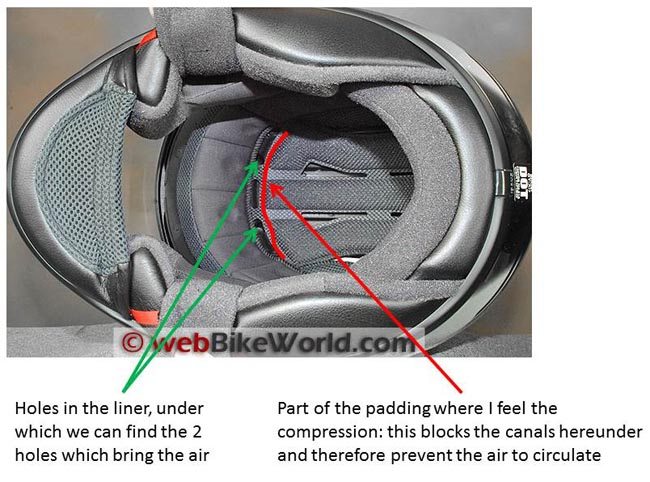 ---
From "D.M." (July 2015): "I too reflect the same comments as R.W. in May (below). I love your reviews and they shape my buying preferences. I bought mine used for a ridiculously low price, how could I pass it up?
I couldn't believe how hot it was inside this helmet, having to raise the shield every time before coming to a stop.
Fogging  was another issue and, no, I didn't use the Pinlock insert but R.W. indicated it didn't make much of an improvement.
I have always loved Shoei and this helmet seemed just perfect for my needs. I actually prefer my Bell RS-1 (review) over this helmet and find it quieter (I wear custom fitted ear plugs) and the Transitions shield does the trick to just needing one shield.
As such, I sold the Shoei (for a profit, the one pro from this purchase) and will stick with the Bell."
---
From "R.W." (May 2015): "I beg to differ on a couple of the pros of this helmet when behind a V-Strom windscreen. The V-Strom windscreen is "famous" for directing turbulent air at the top half of the helmet above ~55 mph.
This turbulent air are like tiny slaps at the helmet and the GT-Air seems to resonate deeper and louder with this kind of external force. Even with -35dB earplugs the noise getting through is significant.
Possibly it can be fixed by selecting a better windscreen. However my previous XR-1100 (RF-1100 in US?) is less noisy under the same conditions.
Another — and more important problem — is that the visor fogs up very quickly in temperatures from 10C (50F) and below. Pinlock and inner visor you say?
Yes, have that mounted and the fogging starts at the edge of the outer visor which is normal, but then also spreads to the surface closest to your nose (so it is not a case of leaking/not closely fitting silicone gasket and dew getting in between the outer and inner visor).
I have never experienced this with the XR-1100 visor, only fogging between the outer and inner visor if the silicone gasket did not have a 100% seal.
Possibly both of these issues are solved by not having a windscreen and/or removing the chin curtain — so that more air is allowed in from the front.
However overall I am very disappointed that a new helmet from Shoei that is advertised to have improvements in both areas compared to XR-1100 actually is performing worse.
For sure the front vent on the XR-1100 seems to pass a larger volume of air than the GT-Air.
Sun visor and the other positive items I agree with the review – very nice. I really wanted to like this helmet, but instead I'm currently engaged in a prolonged discussion with the dealer.
Full cash refund seems out of the question, so options are limited to trying if perhaps a size up will provide more internal air volume or if we can strike a deal with getting another helmet (model and/or make).
But the trouble here is that their choices are limited.
With regards to fit, I am a size large and have no issue getting the helmet on.
However, the fit seems more snug (without being uncomfortable) and the total internal volume seems reduced  (comparing again to my XR-1100 size L), perhaps offering an explanation why the fogging issue is so prominent."
Rick's Reply: There are never any absolutes when it comes to helmets or any other review. It depends on the rider, the motorcycle, conditions, etc.
On the 2014 Suzuki V-Strom Adventure (Blog), with its taller windscreen, I don't have much wind buffeting. The GT-Air is very quiet on that bike when I ride and the helmet flows a tremendous amount of air.
Another rider may find it completely different; that is natural and expected.
I'm not sure if the "famous" V-Strom turbulent air you're referring to is from the previous versions of the bike. I have no knowledge of older V-Stroms, only the latest 2014 version with the Adventure windscreen.
I find the GT-Air a tremendous improvement over the RF-1100 and X-11. So, this proves once again that all opinions are individual and results will vary!
---
From "J.D." (December 2014): "I really wanted to like this helmet because of the internal visor, which would eliminate the need to carry two shields when commuting during the short winter days here in Southern California.
But it just doesn't seem to fit my head like past Shoei helmets do.
I have years of riding experience with the Shoei RF-1000 (review) and then many more with the RF-1100 (review), which I am still using, and those helmets fit me perfectly.
But this one seems very tight almost to the point of it being uncomfortable and I have tried on a couple different GT Air helmets in size medium. It feels like I'm going to rip my ears off every time I remove the helmet.
I was at the Long Beach International Motorcycle show and really wanted to buy one there because of the great discounts but the fit just didn't feel right to me. If it fit like my RF-1100 or the RF-1000 before it I would have happily bought it.
So, on with the RF1100 and spectra shield…
I posted my impressions of the RF-1100 a few years ago on your site. In fact, I think I was one of the first to get one, I had to wait months for the Spectra shield for it. I'm still wearing that helmet actually.
I was really hoping this new helmet would fit me as I'm due to replace my current lid soon but unfortunately it does not.
Thanks for the great site and reviews."
UPDATE From "J.D." (August 2015): "I actually went out and purchased a Shoei GT Air Wanderer a couple months ago and I tried to get used to it but after about 7-8 commutes (70 miles round trip) I had had enough and had to stop wearing it.
I'm very disappointed because Shoei helmets have been such great fits for me in the past and I had high hopes that I just needed to break this one in before it would fit me like my previous helmets did but it never did.
I love everything about the helmet except the fit.  It is quiet, it vents well, the materials are top notch and I love the internal visor (which is optically excellent).
I've been wearing Shoei helmets in size medium for many years and many thousands of miles but for some reason this helmet just does not fit me right."
---
From "P.N." (November 2014): "Thank you for the detailed reviews, I really enjoy reading through them even though the product sometimes isn't on my radar.
I took the plunge and bought a Shoei GT-Air as a result from your review and Shoei's reputation of quality.
In the past five years I have owned a Shark Vision R which has been replaced 3 times, the first and second ones had a manufacturer problems, and the other was replaced after an accident.
Our local Shark importer has been excellent in terms of support and warranty issues.
Just comparing the two helmets as they both have the drop down visor system, the GT Air feels better built, more aerodynamic, lighter to wear (less fatiguing), better (but not perfect) ventilation, better optics in the sun visor.
However, the Vision R it a lot quieter (maybe because the ventilation is poor) and doesn't fog up as bad, partly due to the fact that the Vision R has a function where you can crack the visor open about 4mm to let air in.
From various reviews on the net and the bike shop I bought it (the GT-Air) from, a lot of people were talking about how quiet it is.
But I not convinced, even though I do wear good quality ear plugs and with the vents closed there seems to be a lot of wind noise there. I ride a large variation of motorcycles, from cruiser to sports bikes, it doesn't seem to make any difference.
Anyway, it's not a life or death situation for me, I learned to ignore it, but just some feedback for other potential buyers to be aware of.
Overall, I'm happy with the purchase, although it cost me twice as much as the Shark Vision R…"
---
From "G.K." (August 2014): "I got this helmet because I wanted a quieter ride, although my RF-1100 was nice, I liked the idea of the built in sun visor. All in all the helmet is exactly as reviewed but there is one small problem.
When riding I kept hearing a low toned "roar" from the top of the helmet. After investigating this I determined that the noise was coming from the top vents which were closed. I opened them and the noise increased accordingly.
I closed them again and the low drone returned. When I placed my gloved hand over the close top vent the noise disappeared and the helmet became very quiet.
After my ride, I placed a flashlight inside the helmet and directed the beam at the vent holes and looked at the top vent from the outside and I could see light shining out both top vent holes.
I then looked very closely at the vent itself and found that when closed, it did not cover the vent holes completely and left about a 1/16th of an inch still open.
I stuffed some paper towel into the vent holes from the inside and that stopped the noise, although I lost the top venting capability, I can now ride in silence.
Except for that little irritation, this is a very nice helmet. It fits as stated in the review and I really love the sun shade and the Pinlock system."
---
From "E.M." (July 2014): "After reading some reviews, last fall, I bought a Shoei Qwest (review) to replace my very good Arai Vector (review). The Qwest seemed as comfy as my Vector and reviews said that it was quiet.
In a very short time, I discovered that the ventilation was poor.
Opening the top vents did nothing. And the noise from the bottom of the helmet was a big issue for me.
So the research for a good helmet began again. And  i found webBikeWorld.com, at least a good review site for helmet.
Two days ago, I bought a Shoei GT-Air. Expensive, but a comfy, quiet and ventilated helmet. I didn't want a model with sun visor. But I think I'll like it. The sun visor fall at a good level, so you see under it when looking at the instrument cluster of the bike.
Putting the helmet reveals that the fit is snug. But it's one of the reason that this helmet is so quiet. I can't tell if the Shoei GT-Air is better that the Arai Astral-X i owned a few years ago. Over the years I owned 5 Shoei and 3 Arai.
The top 3 are, in no order: Arai Astral-X, Arai Vector and Shoei GT-Air. The GT-Air is the costlier helmet. But I won't say it's the best helmet I had. But at the present, it is the best helmet that I found.
Thanks for yours reviews that seems so unbiased. In this world that mine is better than yours, it's well appreciated."
---
From "J-P. O." (June 2014): "My current helmet is a Shoei RF-1100 (review) (M) and I ride a BMW F800ST. I purchased a white GT-Air (M) after considering the Shoei RF-1200 (review), the Arai Signet-Q (review) and the SCHUBERTH S2 (review).
I've ridden 60 miles or so in the city of San Francisco, on the freeway just south of the city, in both sun and thick fog. Here are my first impressions:
The good: The sizing is correct. While snug, I can tell that it will break in nicely. There is good vision. It's also more quiet than that of the RF1100.
The not so good: The overall venting is weak compared to the RF-1000.
The chin vent appears to do little. The top vent does let in a good amount of air, but the noise level is surprisingly high when open.
I also noticed that I had to open the top vent at 60 degrees. I rarely open the top vent on my RF-100 and when I do, it's when it's above 80 degrees.
Maybe it's the snug fit, but I was sweating much more today as well. I noticed that sweat streaks were coming down the drop down visor. The only way to deal with them is to pull over and wipe the visor down.
I tried sunglasses instead of the drop down visor, but found that the ventilation wasn't enough to prevent massive fogging in my glasses. Again, I had to pull over and take them off and just deal with the sweat streaks when they came.
To be honest, I'm a little surprised with what I'm experiencing with the helmet so far.
I think that while I'm looking for a quiet helmet, if the ventilation isn't present, and if a drop down visor can only be used on rare occasions, then I may just get a regular full face helmet with no drop down visor.
While I expect that it will break in nicely, I may have to put it on Craigslist, cut my losses."
Editor's Reply: Seems odd, as the GT Air performed very well in our evaluation. Check the vent holes to make sure they're not blocked or that they don't become blocked when you put on the helmet?
Perhaps the liner is shifting when you put the helmet on?
Follow-up from "J-P. O." (June 2014): "I wanted to give an update after using the GT-Air a couple more times. With the breath guard out, the chin vent works better (as you suggested). Unfortunately, the other problems persisted.
I've never had a helmet with a drop down visor before and was excited to have the option, since I often wear sunglasses in addition to a dark visor when it's sunny out (or when riding across the desert to visit family in Arizona).
If the weather is warm and my front visor is down, it doesn't take long for sweat streaks to appear on the internal visor. That occurred on a regular basis.
Since it was bright outside, I tried my sunglasses with the internal sun shade, but fogging occurred rather quickly as it did the first time I tried it.
I found out that getting a dark face shield is not easy to get for the GT-air either. That seems to be a weak point, since it means that the internal visor is the only option for the rider.
Perhaps many people ride with only one dark visor, but I find that sun glasses and a dark visor is helpful when riding into the sun.
At this point, the helmet is going on Craigslist (and perhaps eBay). I can't use it."
Editor's Reply: Fogging in Arizona in the summertime. Who'd a thunk it?
---
From "D.P." (March 2014): "It's worth noting that the GT-Air gets 3 out of a possible 5 stars on the Sharp helmet safety rating system.
While there have been some lively discussions about how these tests compare to the various standards (DOT, Snell etc.), there can be little doubt that these sorts of repeatable, standardised tests give the best indication of the relative safety margins provided by various helmets.
In this regard, the GT-Air (in EU spec) seems to be pretty average rather than premium."
---
From "M.S." (October 2013): "I read the comments about the apparent disparity in weights between the European and US model GT Air helmets.
I can confirm that my size L model, recently purchased here in Scotland, states that its weight, with accessories which I guess are the drop-down sun visor, nose piece, and chin wind guard, is 1500 g.
Having just weighed it on the digital kitchen scales, it repeatedly shows 1520 g, so it looks like it's pretty accurate.
I also see that my size L Shoei Hornet claims to weigh in at 1550 g but I'd need to remove the Bluetooth device, Scorpion breathbox and Sunax sunshade to get an accurate figure for that.
I also noted your comments about the possible differences in shell thickness for Snell / DOT helmets and ECE models. It's worth noting that there has been a fair bit of criticism on this side of the pond over the stiffness of Snell spec shells.
There is a view that while they may be good resisting penetrative damage, in the process they transfer too much impact energy through to the liner rather than being the first line of defence in absorbing and dissipating that energy.
It's not something that ever gave me much cause for concern in the days when I rode around here wearing an Arai Signet with DOT / Snell approval, purchased from Scuderia West in San Francisco.
At that time, there was often much debate on forums over the legality of wearing such a lid in the UK.
The wording of the legislation, at the time was that helmets in the UK and mainland Europe should meet ECE 2205 or a comparable standard. However, the learned legal opinion was that there was no other comparable standard.
So Snell/DOT has always been considered to be less protective in the UK."
---
From "F.T." (August 2013): "Regarding the Shoei GT Air helmet. You're dead right — it's the quietest helmet made to date. Superb comfort and good for long distance tourers like me.
Thanks for your superb site and in depth reviews. I'm always looking forward to your new content. Best wishes from Australia…"
---
From "O.W." (May 2013): "Thank you very much!! I bought this helmet after reading the excellent "score" it got on your site (I live in Italy).
Its silence as you described, I have a Triumph Sprint GT, (I'm 1.86 meters tall) and even when I go above 140 km/h I only hear some whistle from the top vent, when its open!
I still remember the employee of the shop willing to sell me the Neotec as "the quietest helmet on the market!" I just replied they should change info source.
I only regret that here the GT Air is sold with the micrometric closing system, and not with the Double-D (ring)."
---
From "J.C." (May 2013): "After owning my Shoei X-12 (review) for 8 years I was way over due for a new helmet.
I hate having to shop for helmets since it is so hard. I never really warmed up to the X-12 but it was ok, very noisy and really not vented well.
Fast forwarding 8 years and I tried the GT Air. All I can say is WOW! The fit reminded me of my old RF-800 but much quieter!!
The venting is great, flip down visor is wonderful but the helmet is really quiet, I do hear the air from the top vent when open but you're not in a car you're riding a bike.
I ride an BMW RT1200 and had to keep the windshield up at any speed over 35 mph due to wind noise. I can ride with the shield down and enjoy the air without sounding like I'm in a wind tunnel.
If you want a quiet helmet with a great fit, venting and that is quiet buy the GT Air. Thank you for all the great reviews."
---
From "L.K." (April 2013): "Finally got a chance for a short ride with my new GT Air. Fit was some what tighter than the RF-1100 and Quest that I tried on.
Decided in the end to go with the same size as I would have in the other models (M). The biggest difference is the opening. It is quite snug getting it on, but once on, it wasn't uncomfortable.
I normally ride with ear plugs. I really wanted to hear the difference in the new high end helmet (my first), so went with out them tonight. The flip down sunshade was pretty cool and a definite plus for this helmet.
In the short ride around town (35-55 mph), It does seem to be quieter than the KBCs I have owned. Wind noise is a much deeper pitch, almost a damped sound which was quite nice.
My KBCs always had a fairly high pitched wind noise. Head position didn't seem to change it for the worse and at times did make it better on my GSXR 750.
I did notice a buzz that was quite noticeable through out the entire ride. I tried to pin point it to a vent, but didn't have much luck moving them back and forth.
Not sure if it is the tinted visor, a vent, or something in the visor mechanism. Any recommendations?
Nothing appears to be loose on the helmet. Where the wind noise was considerably better than any helmet I have worn, the buzz has the potential to be worse then wind noise.
I will be curious how the buzz sounds at highway speeds and how it sounds once the plugs are in."
Editor's Reply: Note that we always wear high-quality, correctly fitted ear plugs when riding, including while evaluating helmets. A helmet will almost surely transmit more noise when riding without ear plugs.
UPDATE From "L.K." (April 2013): "Wore ear plugs today to work. No noticeable wind noise or buzz at highway speeds. I always wear them as well. My KBCs were crazy loud with out plugs and realistically noisy with plugs.
The GT Air was not bad with out plugs and almost no noticeable wind noise at all with plugs.
---
From "B.L." (April 2013): "I really want one… really really want one. Quiet is important to me and this just looks top notch. But I can't afford it – simple as that.
I've been trying to find the nearest sub-$200 alternative – I know it won't be that same Shoei quality but it would be better than the junk that I have now 🙂 – What would you guys suggest?
As side note, I think it would be great if you guys listed "alternatives" on your reviews, a couple cheaper, a couple more expensive.
It would really help in regard to keeping people your site too 🙂 (I'm in the web industry) — something to get them to continue browsing 🙂
Editor's Reply: Good idea on the alternatives, I'll see what we can do on upcoming helmet reviews.
Regarding sub-$200 alternatives for the GT Air, there are many, although none as quiet, that's one of the features you pay for.
But depending upon your head shape, the HJC CL-16 (review) is a great helmet at a ridiculous price, it's what I'm currently wearing, although it fits neutral to round heads best.
It's surprisingly quiet on both the DR650 and BMW scooter.
It meets DOT standards and it's Snell certified, comfortable, quiet, vents through the chin bar, not bad upper ventilation, a small first defogging position for the face shield and…don't forget to order the 6-buck chin curtain for added goodness.
---
From "G." (April 2013): "I am not convinced. This is my first Shoei. My wife has worn an RF-1100 for a good few years. I have been in a Caberg for the last 5 or so.
I love the internal sun visor and have not been steered wrong by any of your reviews (gloves, boots, Bluetooth, etc.).
In need of a new lid i paid my $500 for the new GT-Air. Fit and finish, I am not convinced.
The breath guard is precariously balanced and flops about. The rubber "collar" around the bottom is rippled.
The lid itself is really quite noisy. I wear earplugs! Whistles unless the visor is "snapped" shut and "thumpy" when moving along.
Love the vents, can totally deal with the airflow over my head. I am pretty sure i will return it and go after something else for the money. My $0.02″.
Editor's Reply: That's odd; perhaps it doesn't fit you correctly, which might account for the noise levels? A mis-match of head shapes? A windscreen or something on the bike causing severe turbulence?
Something sounds wrong with yours. Could it have been a used helmet that was returned to the retailer when you bought it?
Ours has superb build quality and it's one of the quietest helmets we've ever tried and Shoei quality is usually right up there with the best…
---
From "J.B." (March 2013): "The Shoei Qwest (review) is the most comfortable helmet I've ever tried in a store, but I've become so used to the flip-down sun shade on my Nolan N103 (review) that I couldn't buy the Qwest as it lacks this feature.
So I am super excited about the new GT Air.
I went to a local shop here in Germany the other day and tried it on, and will agree that the XL fits me a tad tighter than the XL Qwest or my XL Nolan. Not so much that it is uncomfortable, but it is noticeable.
What caught my attention is the sticker on the CE Europe version that listed the helmet weight as 1500 grams with the optical equipment. I checked to make sure this wasn't a generic sticker for all sizes, and it is not.
The Large was listed at 1470 (if I remember right) and the XXL was 1540 or so. This is more like what I would have expected, not the 1757 grams you list.
Any idea what gives? Can't believe there is 250 grams difference between a Euro version and a DOT version.
I should have mentioned that standing in the store, the GT Air is noticeably lighter than my Nolan N103, which lists at 1891 grams on your review.
I don't think I can tell the difference between 1780 and 1890 grams just holding it. But the GT air feels much lighter than my Nolan.
I know the Euro version and DOT versions are different, but can they be 280 grams different? Thanks for all the great reviews."
Editor's Reply: 1500 grams for a GT Air in size XL with the internal sun visor seems kind of light to me. Maybe it's correct, but the only way to find out is to put it on an accurate scale.
There is probably some difference in the helmet weights that could be due to the differences in standards.
But it's not difficult to make a helmet to meet both DOT and ECE standards, so I doubt that Shoei would go through that expense. I'll ask my Shoei contact to see if they comment.
I have to say, I've really been wondering about the ECE standard lately.
The ECE standard apparently results in thinner shells than DOT and Snell; we've had some ECE-only helmets here with shells so thin the amount of flex, especially across the chin bar, is scary.
Another issue here is to never trust the helmet weights they list on a helmet.
I have no idea why they even bother with that. Other than SCHUBERTH weights, which are usually very accurate, most of the other weights we have seen listed on helmets aren't even close to reality.
Maybe in Germany they have to do it and maybe the weights are accurate to within +- 50 grams or so?
Also, for reference, on the SCHUBERTH C3 ECE version (review), SCHUBERTH claimed 1550 grams for XL. Ours weighed 1709 grams.
The SCHUBERTH C3 DOT version (review) in size XL weighed 1603 grams. Again, can't trust the labels, only the scale.
---
From "J.Z." (March 2013): "If it helps, according to Shoei, the GT Air shell breakdown is as follows:
Shell 1: XS, S, M.
Shell 2: L.
Shell 3: XL, XXL."
---
From "B.S." (March 2013): "You were 100 percent right in your assessment of the fit of the GT Air.
I was very excited to think I could get one for 1/2 off retail. I stopped by (a local shop) today and tried on a medium GT Air.
The medium Shoei RF-1100 (review) fits me very well but this medium GT was almost painful to put on. It fit like a small, rolled my ears down so badly that I had to squeeze my fingers inside the cheek pads and push them back up.
I was shocked at the dramatic difference.
I tried a couple more mediums on just in case they were mislabeled. No difference. I tried on the large and strangely enough, it was too big, AAAHHH!
Just for the heck of it, I tried on an RF-1100 in medium and it fit like I wanted it to.
My favorite fitting high dollar helmet is the Arai RX-Q (review) but for the difference in price, I might have to stick with the RF-1100.
Just thought you and your trusty webBikeWorld followers would like to know about the fit issue of the new GT Air. It's a no go for me."
Editor's Reply: I think the RX-Q, with it's Arai "Round Oval" internal shape, fits quite differently than the RF-1100 or GT Air.
---
From "J.K." (March 2013): "Just wanted to say thanks for a great review of the Shoei GT Air. Coincidentally, I just bought this helmet a few days ago, and had posted my thoughts on it on a local forum, as well as on ADVrider.
Your review is nearly spot-on with my own observations after a few rides in the helmet.
Mostly, I had to write to say I got a good laugh out of this criticism: "How about a GT Air for round heads Shoei?"
It seems that in the last few years, manufacturers that traditionally catered to oval heads like SCHUBERTH had gone more round shape to try to capture a larger customer base.
Us oval heads have a really hard time finding helmets that fit, and I'm constantly disappointed that the helmets you rave about (like the SCHUBERTH SR1) never seem to fit me.
Finally, I've found a fantastic helmet that fits an oval head! Don't begrudge us oval heads a good helmet from time to time ;-)"
Editor's Note: I was hoping Shoei would make two versions of the GT Air, "Slightly Narrow" and "Slightly Round". Kind of surprised the SR1 doesn't fit you? SCHUBERTH and Shoei internal shapes are very similar…
Other WebBikeWorld Helmet Posts