GoFast Innovations JIS Screwdriver Set Hands-On Review Summary
Review Summary
This set of three JIS screwdrivers is a motorcycle mechanic's dream. Full tang, chrome vanadium shafts that are magnetic on the working end and equipped with a male hex head on the protruding butt end. The hex head allows a socket, box end or open end of a wrench to be used on it for more torque on tight fasteners. The rubber coated grips are ergonomically perfect in size and texture to resist hand and finger slippage. Lifetime guaranteed and shipped for free within North America. Just buy a set and be forever happy. These are very close to being on par with Snap-On or Mac tools for less money.
Pros
Full tang, chrome vanadium shaft is super strong
Excellent grip ergonomics
Magnetic working end, that is heat hardened and has sharp flutes that won't strip heads easily
Hex head butt for breaking free very tight fasteners
Guaranteed for life
Free shipping to your door within North America, Worldwide for a small additional fee
Affordable, quality tools at $34.95 Canadian dollars shipping included
Cons
Only available in three sizes #1, 2 and 3
Not available in stores to inspect before buying
GoFast Innovations JIS Screwdriver Image Gallery
Tool Snobbery
Speaking as a licensed Heavy Duty Mechanic I admit to being a bit of a "tool snob".
That doesn't mean I must always use premium brand tools like Snap-On or Mac, but more that if there's a tool available specifically for a task I want it in my arsenal as opposed to just making do with what I have.
In my experience not only does it save time, but it's also safer for the technician and those around them. Specialty tools are often expensive and that's why people pass them up. Specialty tools aren't always expensive and so each should be considered on a case by case basis and the value weighed.
When in doubt, I suggest spending the money on the tool.
Specialty Screwdrivers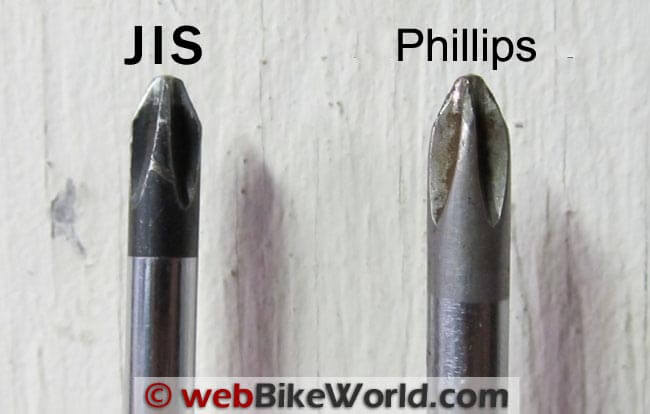 Years ago our staff writer Brandon thoroughly explored the difference between Phillips screwdrivers and JIS (Japanese Industrial Standard) in this review.
He did a great job and even though I'm a professional mechanic I didn't fully understand the difference until after reading his review. The gist of what he discovered is this:
Phillips screwdrivers will work on larger JIS head screws but will strip small ones.
JIS screwdrivers will work on any size Phillips or JIS head screws AND won't strip any of them.
So why bother buying Phillips screwdrivers? In truth, you actually would be better off just buying JIS. Weird, eh?
Since then WebBikeWorld has reviewed other JIS screwdrivers from Hozan and Vessel which scored well enough, but they don't stack up well when compared to the tools I received from GoFast Innovations recently. These ones are extra nice while still being reasonably priced.
Full Tang Shaft Design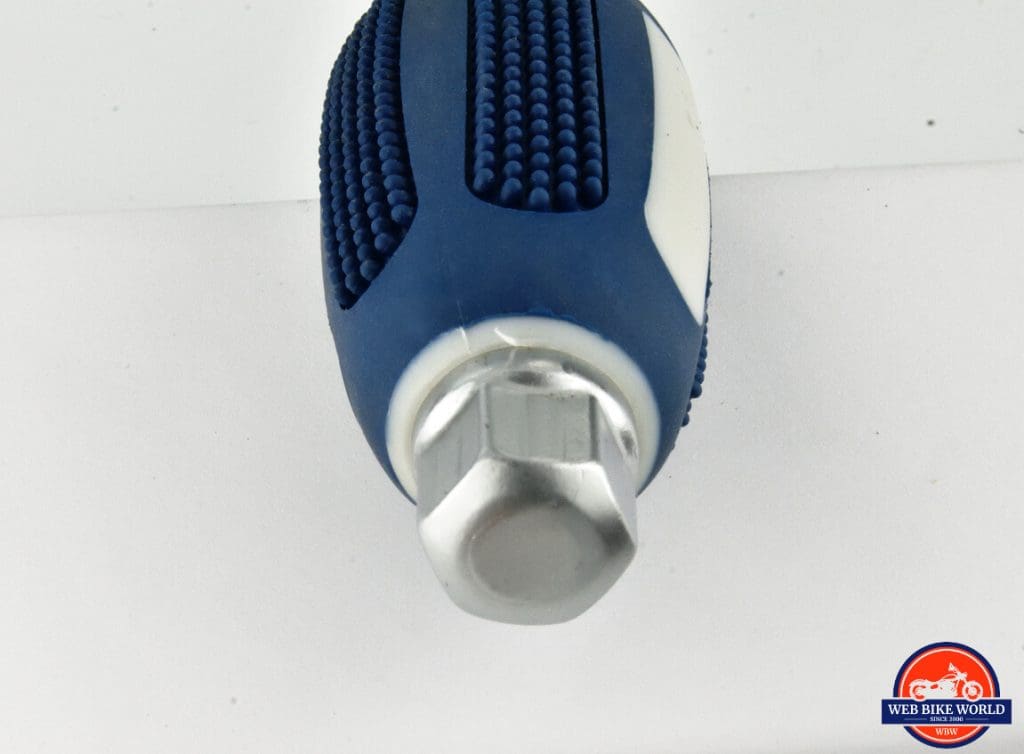 Here's the best part about these tools. The full tang end makes the screwdriver better balanced in the hand and the hex head butt end gives the option of putting a wrench or socket on it to provide tons more turning force for stubborn fasteners.
Pro Tip For Stuck Fasteners
Sometimes when a fastener is really tight or old they need some persuasion using a hammer to break them free. If you try and do that with a screwdriver lacking a full tang the hammer strike will crack the plastic handle and eventually fall apart.
Not so with these screwdrivers, although you shouldn't be wailing away like a blacksmith on them with a hammer. Just give it a couple of light taps to loosen things up.
This is the reason air or electric impact guns rattle when you use them. The light tapping helps break up any buildup of corrosion or dirt in the threads or around the head of the screw or bolt when impacted.
Chrome Vanadium Steel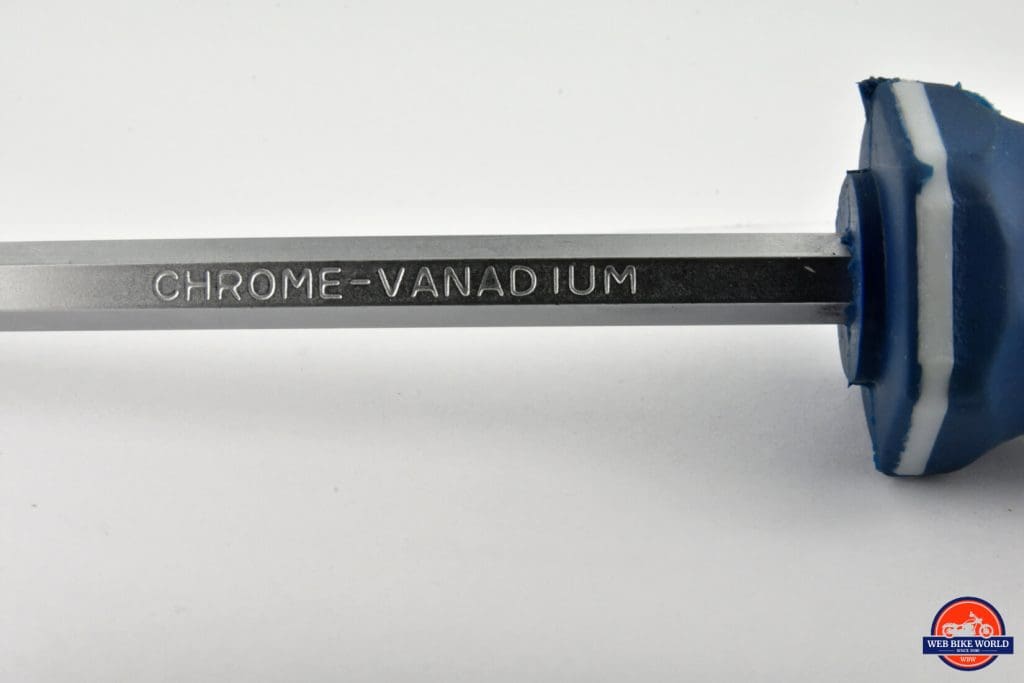 This is the industry standard for screwdriver shafts and it holds up well to even heavy duty usage. They will still rust if used in a corrosive environment, but resist well overall. The shaft on these screwdrivers isn't mirrored polished like on Snap-On or Mac ones, but it should still hold up well over its lifetime in a backyard mechanic toolbox based on what I've seen.
Chrome moly or Bondhus steel would be harder and longer wearing than chrome vanadium, but would also inflate the price on these screwdrivers.
Ergonomic Handle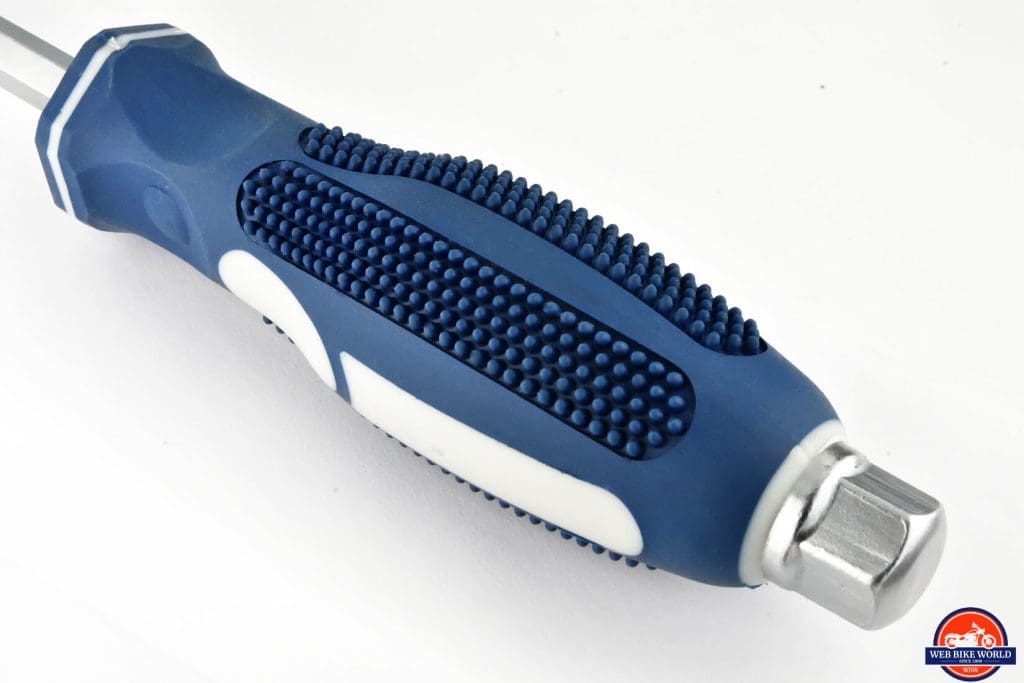 The grip is made of thermoplastic resin and coated with a textured rubber layer. It's a good combination that gives positive feedback when used for a long or short time.
The "rubber hairs" or comb tooth areas on it will trap grease and dirt quite well though and will need to be cleaned out. I generally use WD40 or Varsol to do this without harming the handle, but Brake Kleen should be avoided as it will break down the rubber coating over time.
There are some unattractive seams on the rubber coating because excess rubber wasn't trimmed away carefully after being molded at the factory. It's not a big deal but is a notable difference between this price point of tools and the much more expensive Snap-On brand. Still, they both remove screws equally well and this is merely cosmetic knit-picking.
Magnetic Tip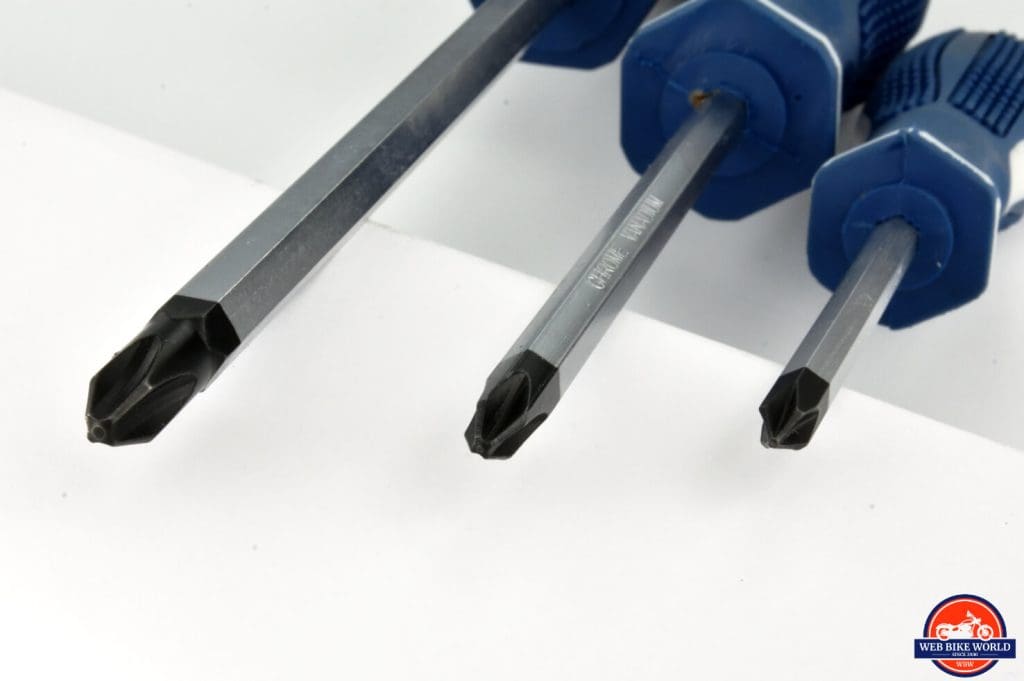 The blackened and heat hardened tips are also magnetized much to my delight. The magnetism on the smallest screwdriver isn't really strong, but just about right.
I used it to install a Pinlock on the AGV Sportmodular Carbon helmet I just reviewed. The tiny screws were easy to drop, but the magnetic tip made this an easy job thankfully.
I began doing this task with a Phillips screwdriver and right away realized I needed to switch to the JIS instead as the Phillips started climbing out of the screw head slots and stripping them. The JIS bit in perfectly tight and didn't move. This illustrated perfectly what Brandon talked about in his review. JIS is the way to go on small fasteners!
Final Verdict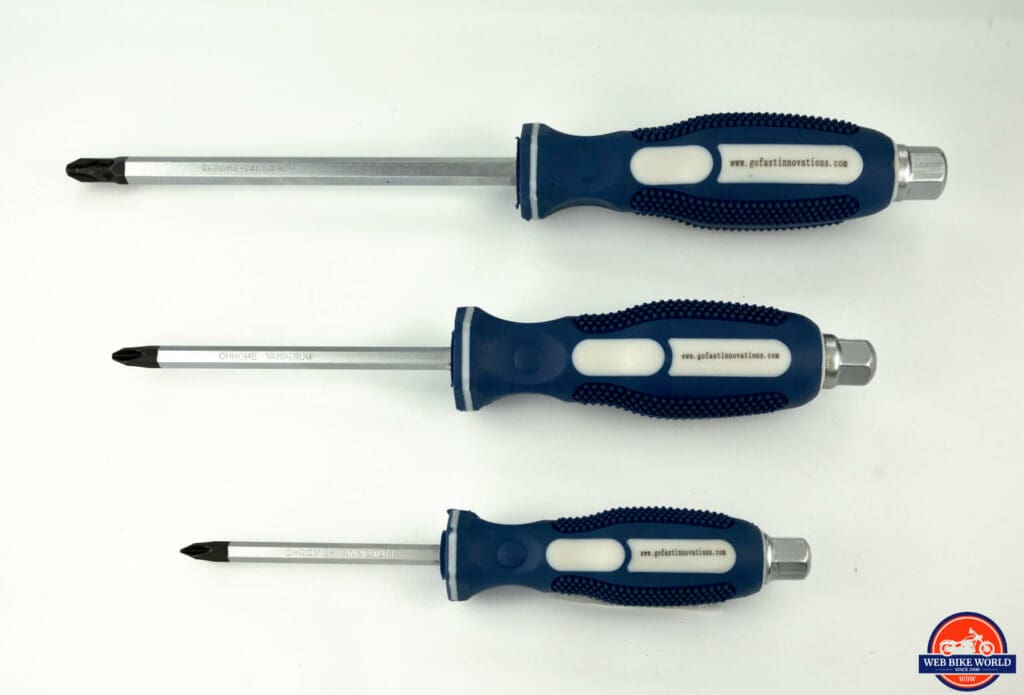 These are exactly the kind of tools I like to buy for my own home use. They're inexpensive and well designed to get the job done right.
The full steel tang makes these tools more functional than most on the market and coupled with a no quibble lifetime guarantee from owner Paul Jones I'm sure they'll be the last JIS screwdrivers I'll ever need.
Coming Soon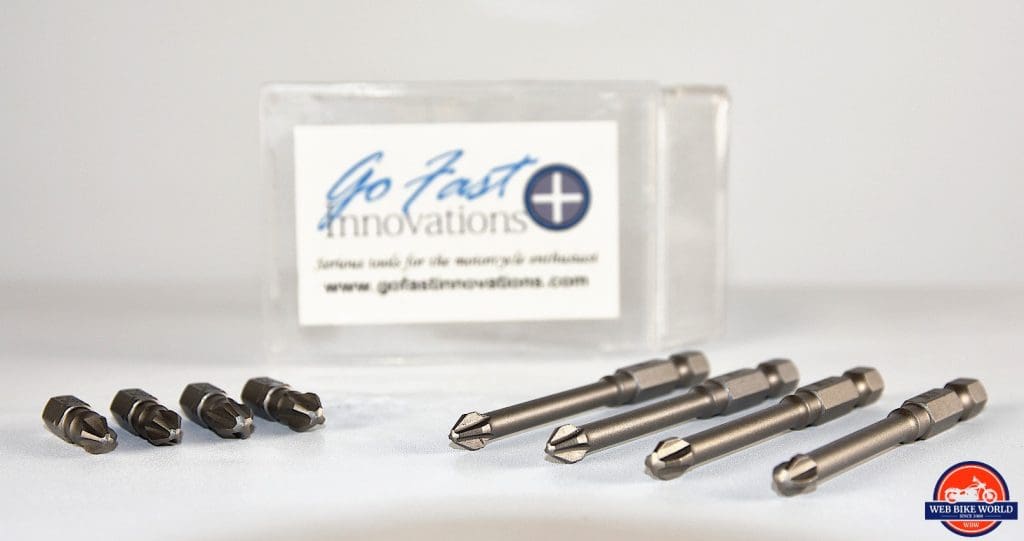 GoFast Innovations is about to release a set of JIS bits for use in ratcheting screwdrivers or impact drivers as well. They'll be a short and long bit set and will be available at the beginning of August 2018.
I'm sold on these.
Pros
Full tang, chrome vanadium shaft is super strong
Excellent grip ergonomics
Magnetic working end, that is heat hardened and has sharp flutes that won't strip heads easily
Hex head butt for breaking free very tight fasteners
Guaranteed for life
Free shipping to your door within North America, Worldwide for a small additional fee
Affordable, quality tools at $34.95 Canadian dollars shipping included
Cons
Only available in three sizes #1, 2 and 3
Not available in stores to inspect before buying
Specs
Manufacturer: GoFast Innovations
Price (When Tested): $34.95 Canadian
Where to Buy: GoFast Innovations
Made In: China
Alternative models & colors: N/A
Sizes: JIS #1, 2 and 3
Review Date: July 23, 2018