Updated February, 2018
Not all riders understand the value and importance of good motorcycle boots until it's too late. Most people forget that there are 26 bones, 33 joints, and over 100 muscles, tendons and ligaments that make up the human foot and that the ankle is comprised of the lower ends of two of the longest bones in the body being the fibula and the tibia. And even though the feet and ankles support our entire body weight all day every day, this is a rather delicate and complex part of the human anatomy. And one that deserves some serious protection.
The most common thought is that foot and ankle injuries only occur in an accident but there are a lot of injuries that can occur in everyday riding. And sadly most could have been prevented or the severity greatly reduced if the rider was wearing a quality pair of boots. Even a solid short boot provides a great deal more protection than a standard shoe.
Simple ankle sprains, torn ligaments, and bone fractures can occur any time you are coming to a stop and lowering your foot to the ground. An unexpected movement or poor footing can result in a foot sliding, an ankle twisting and what could be a long-term injury. But a solid boot with ankle support and protection can help to avoid more serious injuries. Riders could end up with bruises or a sore ankle but most of the time serious injuries are avoided. And in the event of a serious accident, short boots will provide much more protection for your feet and ankles when sliding or tumbling.
Be sure to check back regularly with us here at wBW to read about our latest hands-on reviews of motorcycle boots and other great products for riders.
Recommendations
Our Top Picks
Best Overall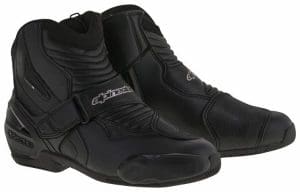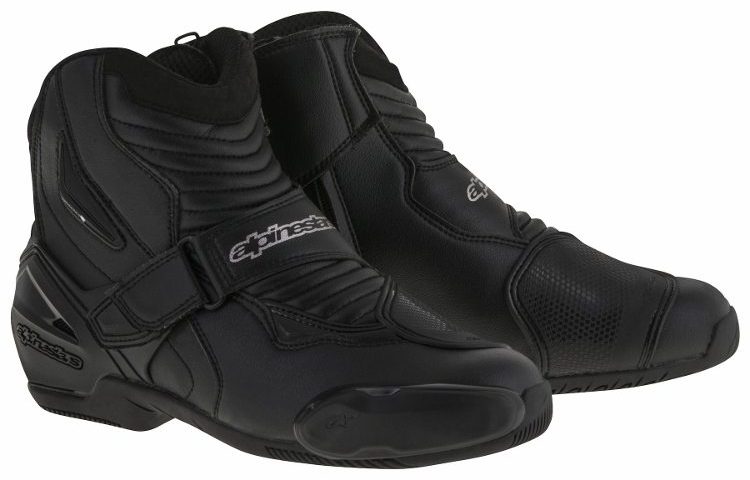 Best Value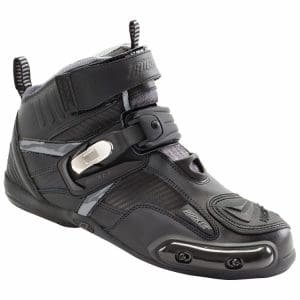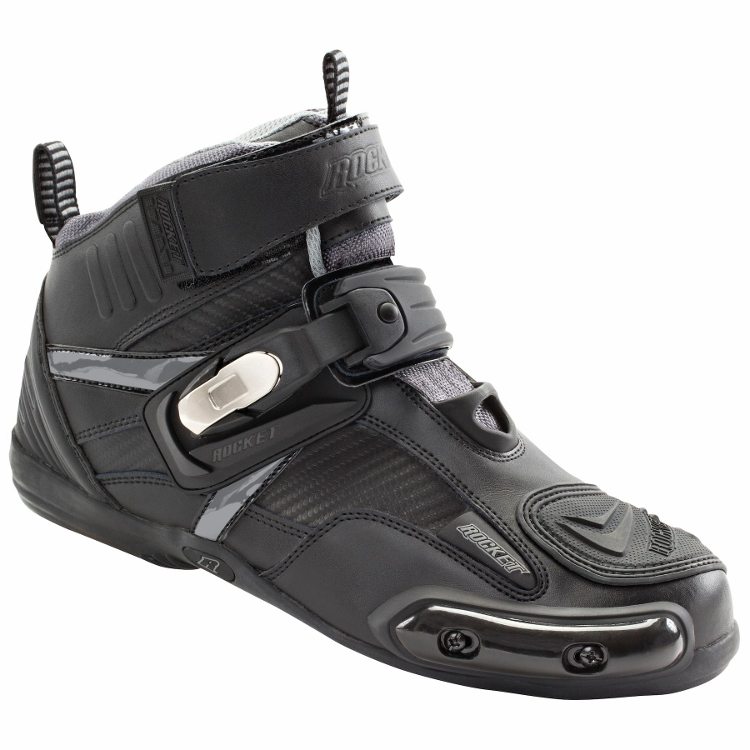 Fully Loaded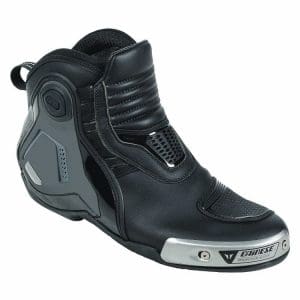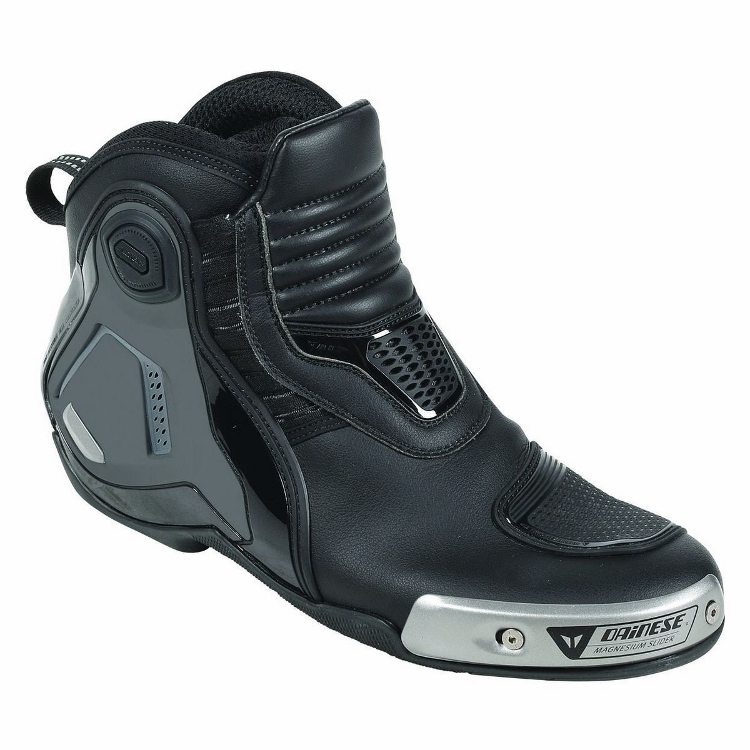 Other great options: Firstgear Kili Lo, Alpinestars SP-1, Sidi Speedride
Short Boots Buyers Guide
Riders need to consider more than just looks and comfort when selecting a short boot. Other factors such as how often they will be worn and how long they will be worn should have an impact on your selection. Riding style can also give riders some important clues as to which style of short boot will be most comfortable.
Do you sit in a very aggressive position or are you in a less crouched more casual position? Are you riding on city streets where you have more opportunities for movement or do you spend a large amount of your time on the highway and in a single position? Giving these questions some thought and then applying the information that we are giving you about your different short boot options will help you to make a good selection when you are buying your next short boots.
The Winners
In Detail
Best Overall


Alpinestars SMX-1R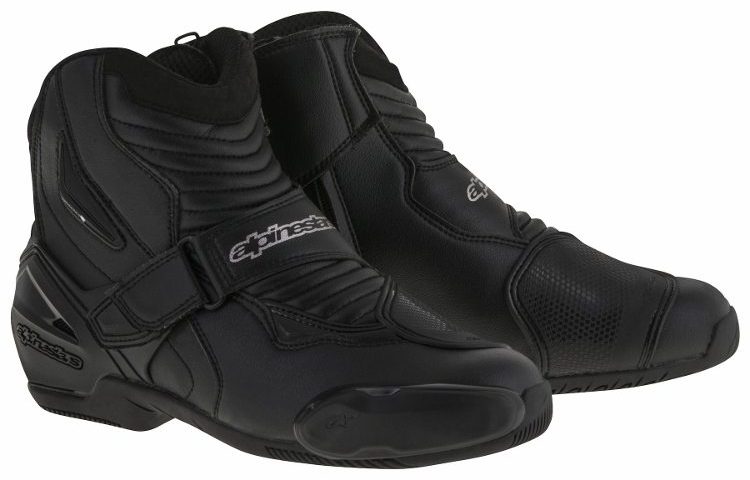 The Alpinestars SMX-1R provides a lot of protection and comfort in a short boot that can easily be worn in a casual setting when you are off of your bike.
Another great benefit to the SMX-1R is the number of options that it offers riders. These boots are available in both men's and women's sizes and can be purchased with solid upper construction or vented. They are constructed from a lightweight and abrasion resistant microfiber which is reinforced with TPU protectors.
The SMX-1R provides great safety but at the same time is comfortable enough to wear all day at work or when out for the evening. The shape of this boot has been ergonomically designed for comfort and to provide a smaller profile. This provides more comfort and flexibility in placing the boot on pegs.
The rear flex zone allows for complete range of motion and accommodates pretty much any foot position that a rider finds comfortable.
The medial zipper makes these boots easy and fast to put on or take off and the microfiber flap protects your bike from scratches.
A front Velcro strap at the instep allows riders to select a custom fit and provides added security that these boots will remain firmly in place.
The SMX-1R offers the exclusive Alpinestars rubber compound sole with a newly designed tread pattern for even more grip.
The TPU forefoot slider uses an easy screw attachment for fast and simple replacement.
The removable footbed is made of EVA foam and Lycra for added comfort, support, and durability.
The internal mesh lining increases comfort and promotes cooling by wicking moisture away from the feet.
This boot is CE certified to Cat 2 CE and 89/686/UCC EU directive.
For a short boot, the SMX-1R offers riders many features for both safety and comfort.
In addition, riders can choose a solid or perforated style to best meet the conditions for their riding. With a cost that is comparable to many popular athletic shoes, the SMX-1R offers protection, style, and comfort in a single boot and is our selection for Best Overall Short Boot.
Buy Alpinestars SMX-1R
---
Best Value


Joe Rocket Atomic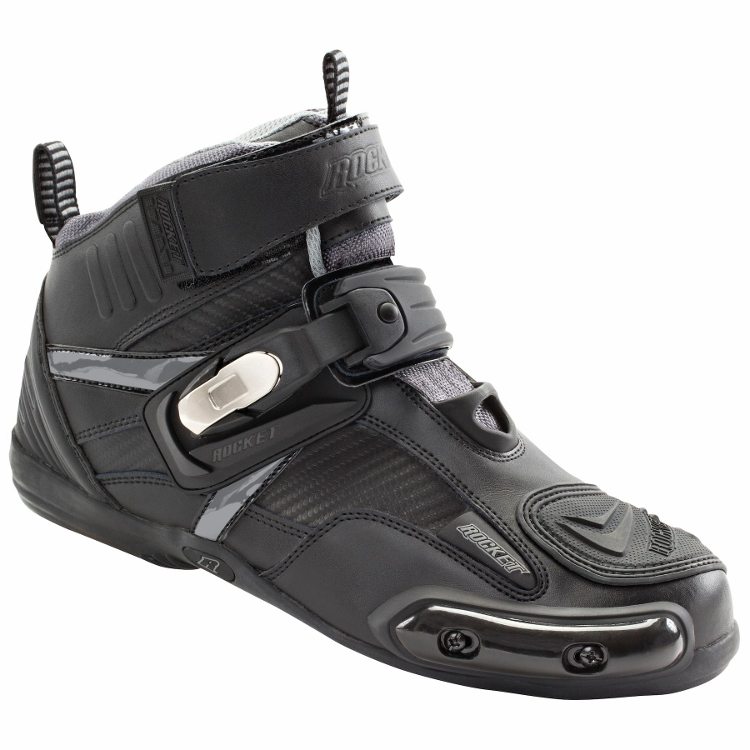 The Joe Rocket Atomic boots are a good blend of race features and comfort features for the everyday rider.
The style and shape are much like a high top basketball sneaker but the protection goes far beyond what any athletic shoe could provide.
The uppers are 95% leather and 5% synthetic and the sole offers a slight heel to hang on a peg. The shifter area of the toe is reinforced and the entire toe box is low profile for ease of shifting and added comfort. These boots do not have a zipper but instead offer a ratcheting closure system and Velcro strap at the ankle to secure them. Two pull loops make it fast and easy to put these boots on.
The padded ankle cuff provides great support and comfort as well. The toe slider is replaceable and can be purchased separately to extend the life of these boots.
For just over $100, the Joe Rocket Atomic boots offer the look and comfort of an athletic shoe but with much greater protection for riders and that makes them our selection for Best Value Short Boot.
Buy Joe Rocket Atomic
---
Fully Loaded


Dainese Dyno Pro D1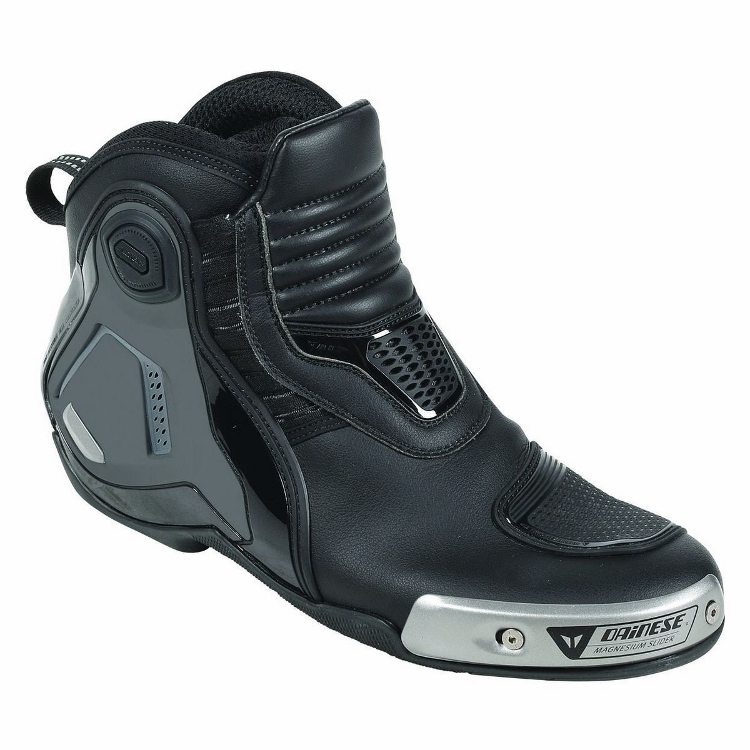 Dainese has applied it's high safety standards from decades of racing boots construction to a short boot that offers riders the comfort of a casual sneaker.
This boot offers a slimmer profile and much less weight to accommodate more walking and wear time when not riding. Available in a very covert black and grey, the Dyno Pro D1 can be worn all day or for an evening out without the worry of sore feet or the feel of walking in concrete boots.
Comfort and control capabilities are increased by adding an integrated flex zone to the back side of the reinforced shift pad. In addition, a microfiber stretch panel has been added over the instep. A new type of foam padding has been used which is lighter weight and also provided greater impact protection.
Additional weight reduction was achieved by adding magnesium inserts and redesigned toe sliders.
The construction of these short boots is everything that riders would expect from the Dainese brand.
A microfiber upper with cowhide leather inserts provides both comfort and protection.
The speed lacing system makes it fast and easy to put these boots on or take them off but also assures that they are firmly secured when riding.
The TPU heel counter, reinforced nylon toe, nylon inner hull and shock absorption insert at the heel with a controlled deformation insert all add to the safety and sneaker-like comfort of these boots.
The rubber sole is the final piece of the puzzle to offering great grip and a comfortable surface for riding or walking.
When polled about comfort, product durability, features and style riders who purchased the Dainese Dyno Pro D1 could not say enough good things about these short boots. Positive comments about comfort and fit topped the list.
Durability was also praised as one rider even stated that he walked away from a wreck with no foot or ankle injuries when he was wearing his recently purchased Dyno Pro's.
There was not a single comment about the price even though these boots are at the upper end of the price range, making the Dainese Dyno Pro D1 our selection for the Best Fully Loaded Short Boot.
Buy Dainese Dyno Pro D1
---
Other Great Short Riding Boots
In Detail
Firstgear Kili Lo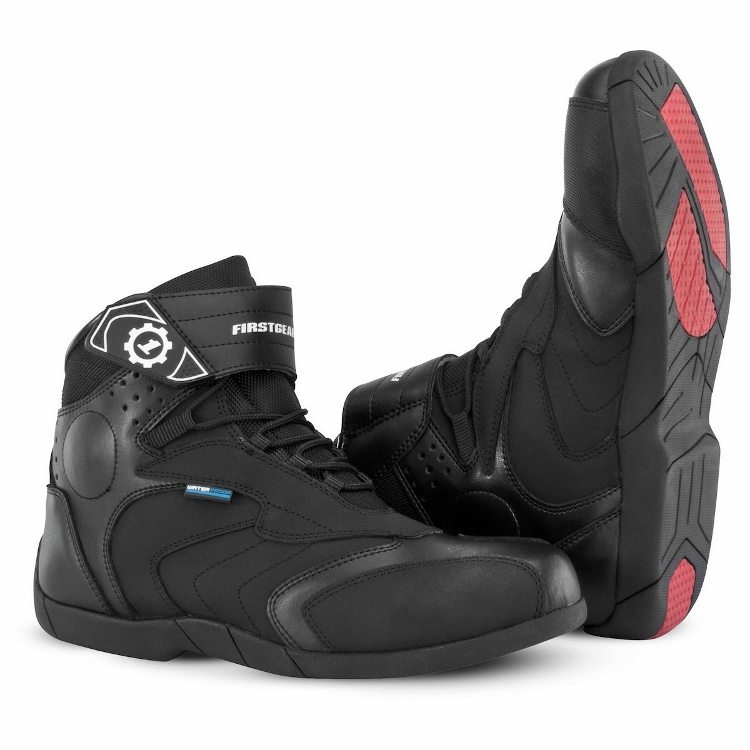 The Firstgear Kili Lo provides a very casual look and sneaker like comfort while still meeting riders need for safety.
This short boot is constructed of waterproof, breathable full leather and offers a standard lace pattern for a complete custom fit across the top of the foot. Additional security is provided by the hook and loop strap which secures around the ankle. The Kili Lo provides hard shin, ankle and toe box protection as well as added padding on the outside of the ankle.
The heel is also reinforced with an extra layer of leather for added durability and protection. The rubber shift patch eliminates the worry of wearing through the top of the toe area.
The sole offers a tread pattern similar to a court tennis shoe to eliminate sliding and the slight heel makes these boots easy to position comfortably and consistently on a peg.
For just over $100, the Firstgear Kili Lo is a solid choice for a sneaker look but with great short boot safety features.
Buy Firstgear Kili Lo
---
Sidi Speedride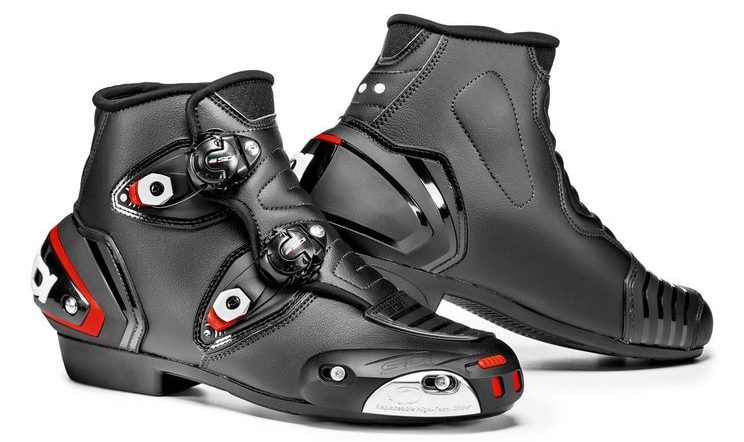 The Sidi Speedride is an adaptation of a race boot to offer commuters and recreational riders a race quality short boot with added comfort features.
The uppers are constructed of Technomicro which is a man-made material that is similar to leather but is stronger, softer and lighter. These boots have also eliminated the hassle and issues associated with laces. No more worries of a lace catching on a peg as you stop or launch. The Tecno-3 magnetic closure mechanism uses a steel wire and clip system to secure the boots.
Another very unique feature of these boots is the shock absorbing heel cup. This adds to rider comfort and can easily be replaced through a screw and interlocking system.
The nylon inner sole offers a removable arch support which riders can choose to use or remove depending on their preference.
The dual compound outer sole provides a great combination of durability and grip.
The list of safety features for these boots is rather impressive and begins with the thermoplastic resin ankle protection. This is a great feature to have in the event of a slide but it also is helpful in avoiding a twisted or sprained ankle when you land on less than secure footing.
The TPU shift pad offers added grip and touch for shifting and extra durability on a constant contact surface.
The toe slider is made of nylon and is reinforced with fiberglass for extended wear.
This area also features an integrated air intake using an innovative alloy insert to channel air.
An added benefit is that all of the bolts on parts for this boot, the heel, the closures and the toe slider are very easy to replace and can be purchased separately.
There is no denying that these short boots look like motorcycle boots but the comfort is more like that of a sneaker than a boot. In addition, the safety features provided in the Sidi Speedride make it worth the lack of fashion statement.
For riders who are more concerned with safety and comfort than looks, the Speedride is a great selection.
Buy Sidi Speedride
---
Alpinestars SP-1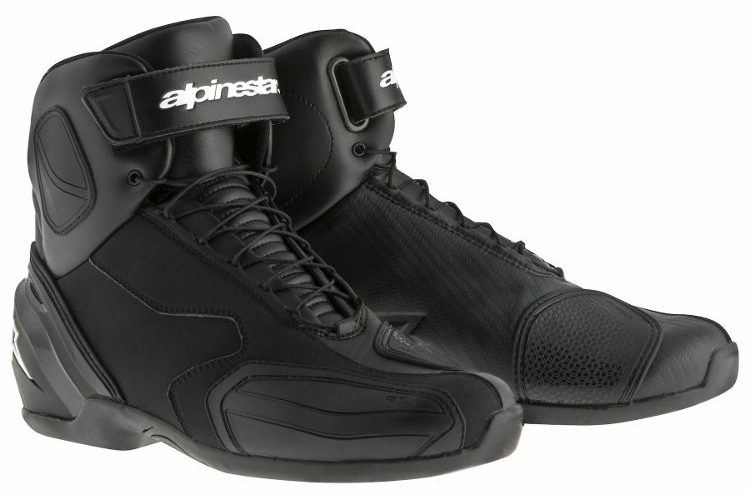 The SP-1 is a somewhat fashionable boot while still offering a great deal of protection.
Riders who want to be able to wear a more casual looking boot with jeans or leather will appreciate the low profile look and comfort. These short boots are made of an advanced microfiber material and offer the Kevlar speed lace system.
Safety is provided by the track quality TPU and TPR protectors in the heel, ankle, and toe. Overall these boots meet the Cat 2 CE level of certification in accordance with the 89/686/ECC EU directive.
The toe box is reinforced for added protection.
An excellent grip is provided by the vulcanized rubber compound sole.
Extra rider comfort is ensured by the breathable textile lining which helps to wick moisture away from the skin and the removable EVA foam insole.
The Velcro strap at the ankle provides an even more secure fit and also additional impact protection for the ankle.
For riders looking for a more casual appearance from a short riding boot, the Alpinestars SP-1 is a great choice to blend comfort, function, and style.
Alpinestars SP-1
Check Prices on RevZilla Check Prices on Amazon
---