Updated March, 2019
Our Top Picks
Best Overall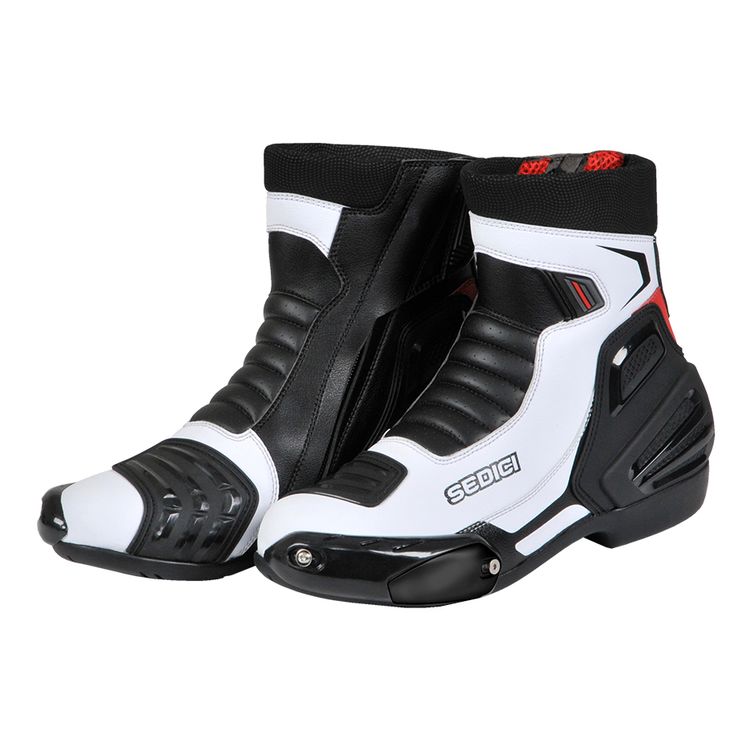 Best Value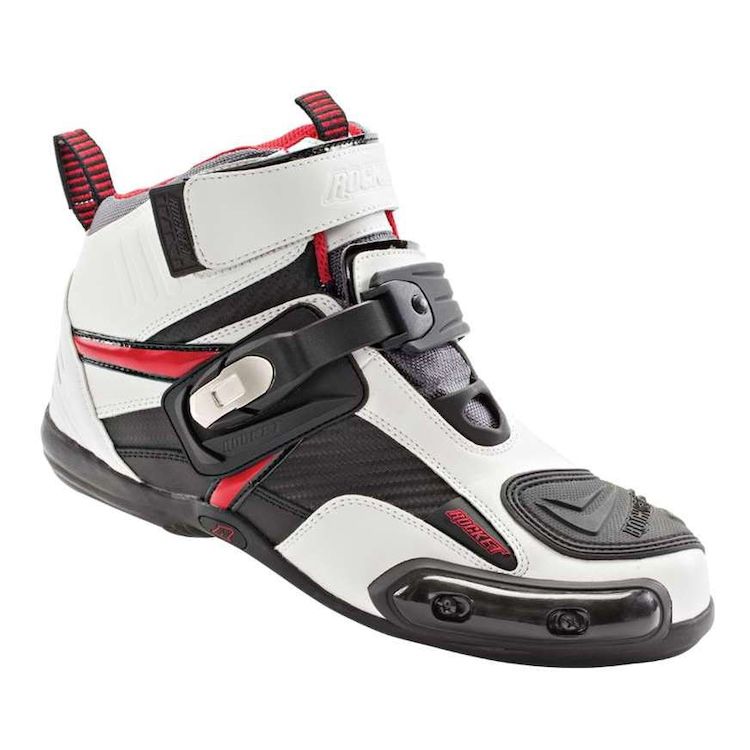 Fully Loaded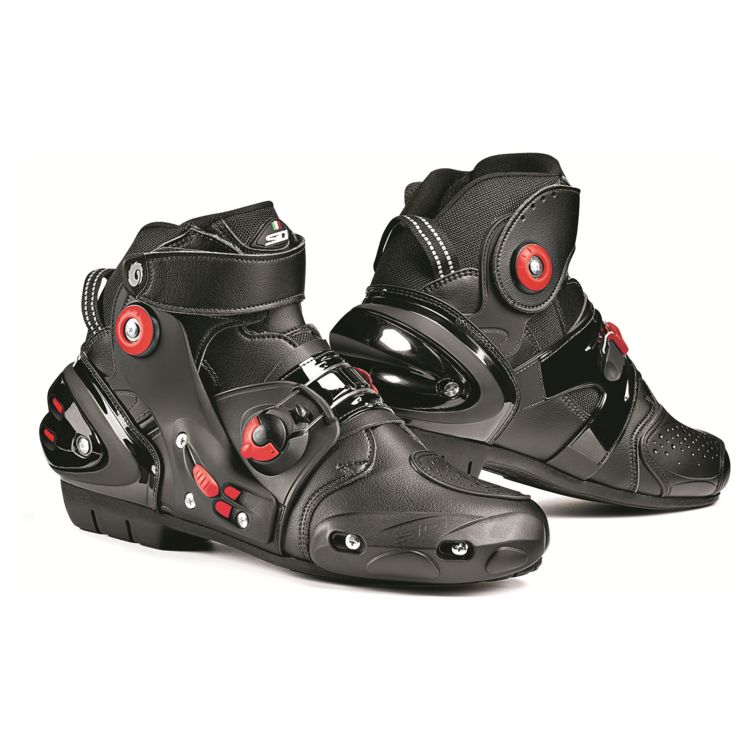 Other great options:  SIDI Duna Special, Icon Varial. TCX Blaze
---
Purpose built riding boots are often an overlooked piece of gear by many riders, that is, until the day that they are hobbling around on crutches as a result of a foot or ankle injury from a wreck or just a misplaced foot when coming to a stop. It's easy to look at traditional street shoes and imagine that they will provide the impact and abrasion protection that you need as well as the ankle and foot support. But in most cases, that is just wishful thinking. Purpose built riding boots, even short boots, offer features that are just not found in your average street shoe or even work boot.
Ankle sprains, torn ligaments, and bone fractures are common injuries that occur not only in accidents but also as the result of a misstep or placing your foot on the unstable ground, wet pavement or a road surface that is coated in oil or grease. An unexpected loss of traction or an unstable plant of your foot can result in your foot sliding or your ankle twisting before you can regain your balance and control of your bike.
Even a short riding boot will offer a solid sole that is designed to grip the pavement, added ankle and foot support and in some cases, armor or added protection that helps to prevent ankle rolls. And in the event of an accident, short riding boots will provide abrasion protection that is far superior to any athletic shoe, street shoe or work style boot that you could choose to wear.
Be sure to check back regularly with us here at wBW to read about our latest hands-on reviews of short boots and other great products for riders.
Short Boots Buyer's Guide
Short boots have a very distinct use and appeal for riders as they are the perfect choice to wear with regular street pants. The length is similar to a high top athletic shoe and can fit inside the cuff of most jeans or street style pants. In addition, most short boots are more comfortable to wear when walking as they are not as restrictive at the ankle as a longer boot. And finally, the price range of quality short boots is within the budget of most riders.
When selecting a pair of short boots, consider the length of time that you will be wearing them, both on and off your bike, the climate and conditions that you normally ride in and the position that you find most comfortable. All of this information will be important in selecting the best short riding boots for your style of riding and comfort level.
Best Short Boots
In Detail
Best Overall
The Sedici Dino is a short yet very sporty boot that offers great protection for riders who are not looking for a tall boot. And at a price of under $150, these boots are in a price range that makes them a solid option for every rider.
Construction & Fit:
Constructed of microfiber making them both lightweight and durable
Added comfort is provided by the Airflow lining throughout the boot
Airflow stretch panels in the microfiber add to the ventilation and also allow for full mobility of the foot and ankle to accommodate any foot position when riding
Added padding around the ankle ensures comfort as well as protection in the event of an accident
Sole of the Dino is constructed of oil-resistant rubber and added grip is afforded by the stepped racing heel (this makes planting your foot for a stop simple and reduces the chance of a sprained ankle)
Full zipper at the instep and the tab adjustment at the ankle make the Dino short boots easy to put on and take off as well as very secure when riding.
Safety Features:
In the event of an accident, the Thermo-set molded heel and the removable toe slider will provide both abrasion protection and help to protect your foot on impact.
With a price tag far below many pairs of athletic shoes, the Sedici Dino is a great selection that balances function, comfort, and cost making them the selection for the Best Overall Short Boots 2019.
Buy Sedici Dino
We receive a small commission when you purchase from one of our affiliate partners. Thank you for supporting us.
RevZilla
---
Best Value
Joe Rocket has taken all of the best features of their track boots and added all of the comfort features that a casual street rider wants to create the Joe Rocket Atomic short boots. Now riders can experience the race quality of Joe Rocket boots but also the fit needed to wear with jeans, riding pants or anything casual for a day or night out on a bike.
Construction & Fit:
The Atomic short boots are constructed of 95% leather, which provides durability and abrasion protection that riders need in an accident, and 5% synthetic material which adds to the comfort and flexibility. (Synthetic material provides better ventilation to the foot which helps to promote wicking and natural cooling through evaporation).
Low profile toe box and reinforced shifter zone make these boots very comfortable and easy to slide under the shifter lever.
Sole of the Atomic boot has been reinforced for added durability and also to provide extra lateral support
Slight heel of the boot is also perfect for gauging your foot location on the pegs
Front and back pull loops make the Atomics easy to put on and the single buckle allows riders to secure them quickly and safely with one hand
Safety Features:
Reinforced stitching, added padding at the ankle and the replaceable toe slider all provide added protection from impact in an accident and increase the durability and protection from abrasion injuries.
At just over the $100 mark, the Joe Rocket Atomic short boots offer great comfort and safety features at a price that is very reasonable, making them the 2019 selection for Best Value Short Boots.
Buy Joe Rocket Atomic
We receive a small commission when you purchase from one of our affiliate partners. Thank you for supporting us.
---
Fully Loaded
The SIDI Streetburner is the short boot that packs in all of the safety and function of the full-length SIDI track boots. Picture all of the bells and whistles from the top of the line Rex track boots just adorn on a short boot that offers a great range of motion and comfort.
Construction & Fit:
Top grain leather outer construction
Composite inner sole
Removable arch support
Perforated Teflon treated nylon lining adds to the riders comfort level and supports wicking for added moisture control
Closable air vents allow each rider to select the perfect amount of airflow for every ride.
Dual compound sole adds to the level of comfort as well as the grip when hanging on the pegs or getting a solid footing on the ground
Fit is always perfect thanks to the Tecno-II buckle system
Safety Features:
Even as a short boot, the Streetburner includes:
External ankle brace system
Bolt-on and adjustable aerodynamic nylon scuff pads on the toe
Shock absorbing heel cup
For the bargain price of only $250, sport riders can have all of the protection of a track quality boot in a shorter version that offers more mobility and comfort making the SIDI Streetburner the selection for Best Fully Loaded Short Boots for 2019.
Buy SIDI Streetburner
We receive a small commission when you purchase from one of our affiliate partners. Thank you for supporting us.
---
Other Great Short Boots
In Detail
Not every rider is out for the fastest and most sporty ride he or she can find and that is why SIDI offers the Duna Special short boots for their added durability and quality construction.
Construction & Fit:
Made of brushed suede and Cordura with super durable double stitched seams in the high-stress areas of the boot
Very low profile and can work well with any casual attire of just when you are out for a ride to relax
Duna features a nylon inner sole liner and a removable arch support pad as well as a non-slip sole for great stability when reaching for the ground
Defined heel is also a great plus for riders who like to hang from the pegs while riding or to lock over the rear of the peg for a more flat-footed riding style.
Safety Features:
Reinforcement of the heel and toes add to the protective benefits of this lightweight yet durable short boot
SIDI Micrometric Tecno-3 magnetic closure mechanism and hook and loop strap make these boots easy to safely secure with only one hand
The casual style of the SIDI Duna boots, as well as the comfort, protection and very affordable price, make these boots a great choice for any rider looking for ankle and foot support without the look of a street racer short boot.
Buy SIDI Duna Special
We receive a small commission when you purchase from one of our affiliate partners. Thank you for supporting us.
---
The Icon Varial is definitely a tip of the hat to the comfort and versatility of high top sneakers. The Varial offers riders the comfort and protection of full leather uppers but with a sole, that is as comfortable as your favorite high tops or skateboard sneaker.
Construction & Fit:
Tongue of the Varial is perforated for increased airflow
Athletic design of the footbed makes the Varial super comfortable for walking as well as riding
Composite sole is designed to provide durability without the need for rigidity or restricting mobility
Laces and an ankle retention strap ensure a secure fit and work well with the clean lines of this sleek short boot
Safety Features:
Axialmetric shank, transverse beam, and engineered lasting board provide full-foot reinforcement and durability
D30 ankle impact plate adds to the protection and stability of the boot
For a short boot that looks like anything but a riding specific piece of gear, the Icon Varial is a great option that blends great looks, great durability, and great protection.
Buy Icon 1000 Varial
We receive a small commission when you purchase from one of our affiliate partners. Thank you for supporting us.
RevZilla
---
For a sporty look without all of the exo-armor and bolt-ons of a track style short boot, the TCX Blaze is a very good choice. These boots offer a sleek design that is reminiscent of a pair of racing flats from the F1 circuit. And they have the durability and protective benefits to back up that look.
Construction & Fit:
These short boots are all about finesse, not cranking on the gear lever or the brake.
Soft Touch matte microfiber construction is backed with breathable Air Tech lining and allows riders to have a very soft touch when shifting and braking.
Lining helps promote wicking and keeps your feet dry and comfortable so that you can take advantage of the great light touch that these boots offer
Anatomic and replaceable footbed rounds out the comfort features that make this boot a pleasure to wear
Safety Features:
Ultra lightweight CE certified boots
Malleolus, toe, and heel counter reinforcements
Multi-purpose, high wear-resistant sole add to the durability, protection, and function
A standard lace system with VELCRO brand band closure secures these boots for all-day comfort. And at a penny under $100, the TCX Blaze short boots are the perfect selection for a low profile boot that offers comfort and protection.
Buy TCX Blaze
We receive a small commission when you purchase from one of our affiliate partners. Thank you for supporting us.
RevZilla
Download & Save Our Infographic!
Can't decide on your favorite Short Boot? Acquire all the information you need with our handy infographic to decide later or on-the-go. Download and save all our top picks for best Short Boots of 2019.