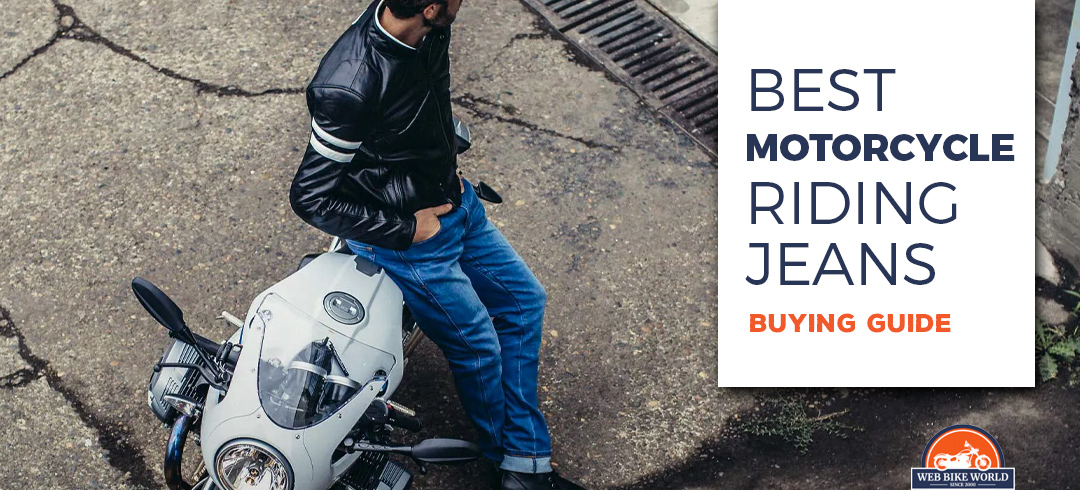 About Our Recommendations
Founded in 2000, our team at wBW has collectively tested more than 2,500 helmets, jackets, boots, gloves, accessories, and more. We do not fluff reviews. A riders safety is heavily dictated by how they ride and what they wear while doing so. Our goal is to help riders make informed decisions about the gear they invest in to protect themselves.
wBW is funded by our audience. Our recommendations and reviews may contain affiliate links that earn us a small comission if you make a purchase after clicking them. This is the primary way we fund our website and pay our review team (and comes at no additional cost to you). We disclose our relationship with brands or manufacturers for transparency. For more information about our extensive review process, see our review policies.
A Brief Guide To Buying Motorcycle Riding Jeans
Every person has a slightly different size and shape, as well as their own idea of how a great pair of jeans should fit and feel. In addition, there are those riders who choose to make a fashion statement with a certain shade of blue or even a completely different color.
But the one must-have for all riders is that the jeans need to include safety features in a very inconspicuous manner.
The level of protection for a pair of riding jeans is a very personal decision. There are some riders who just want that extra layer of Kevlar in case they go down, while others want the entire complement of safety gear including hip and knee armor.
Our riding jeans evaluations address the durability, function, and overall safety features of the jeans. Knowing that critical information, riders can then apply their personal taste in cut, fit, and fashion statement to select the best riding jeans to meet their own needs.
– Chase
Best Entry Level Riding Jeans
Priced under $200.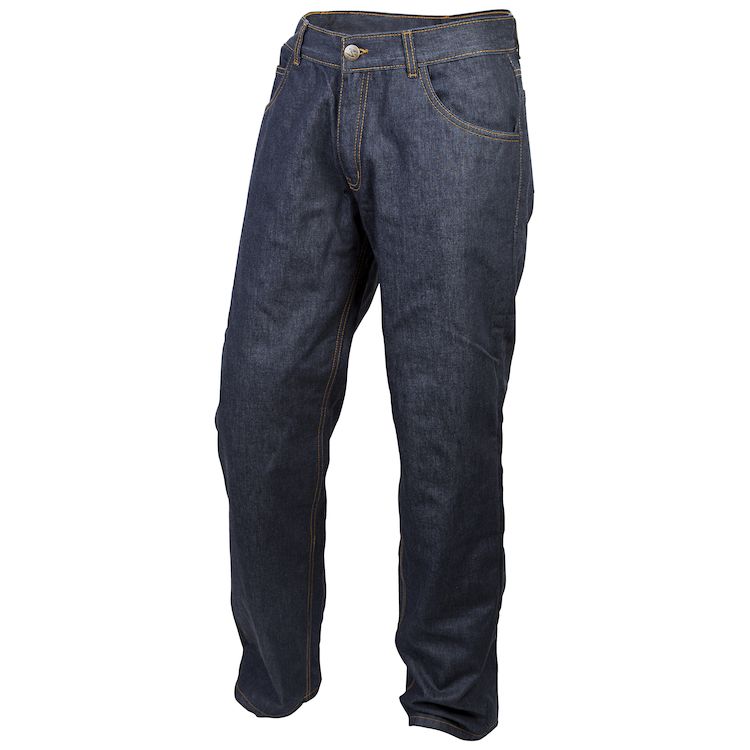 Scorpion EXO Covert Pro
Price: $159.95
Where to Buy: RevZilla | Amazon | J&P Cycles
Why?
A step above many other brands at this price point and an upgrade over the standard Scorpion Coverts, the Kevlar lining is what will literally protect your ass. The Cordura/denim outer shell is 4 times more abrasion resistant than regular denim, but with enough friction, it will burn through.
The 250 GSM DuPont™ Kevlar® material is resistant to tearing and provides a protective barrier for the skin against whatever surface a rider could find themselves sliding along. See our full review on the Scorpion Covert Pro jeans here.
Key Specs
• Premium soft feel
• Great-looking 5-pocket design
• Mesh lining offers comfort and airflow
• Void of all rivets or sharp paint scratching bits
• Accurate sizing
Protection & Safety
• Cordura® 373 GSM exterior offers excellent abrasion resistance
• Heavy 250 GSM DuPont™ Kevlar® lining from knee to waist adds protection
• NightViz® 3M® Scotchlite™ reflective material at rear inner cuff provides increased nighttime visibility
Although these pants don't come equipped with knee and hip armor, the kevlar construction should still provide great protection in the event you take a skid along the pavement. If you are interested in adding knee and hip armoring to the pants, you can buy them for a combined price of around $55 USD and throw them in when needed.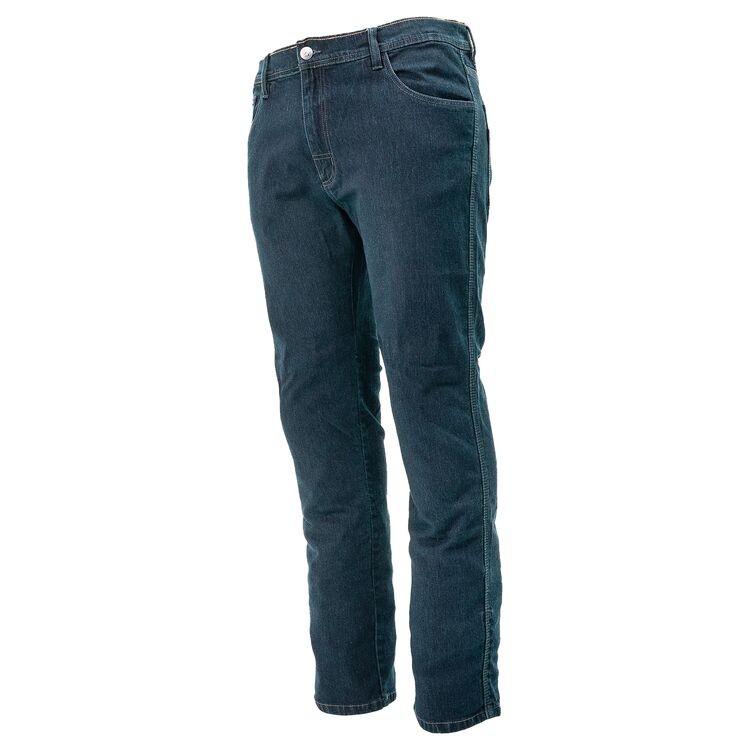 REAX 267 Jeans
Price: $199
Where to Buy: RevZilla | J&P Cycles
Why?
Newly released for the 2021 riding season, the 267 jeans use a brand new blended fabric that includes super-strong Dyneema. This produces a lightweight, but extremely durable, slim-fit riding jean that also incorporates SAS-TEC CE level II armor in the knees.
A new style of riding jean that is as high-tech as the bike you ride.
Key Specs
• Slim, straight fit riding jean
• 5 pocket design
• Single-layer 12oz denim
• Abrasion resist 68% cotton / 13% Dyneema / 10% nylon / 8% polyester / 1% Elastane blend
• Triple stitched seams in critical areas
• Reinforced belt loops
• Leather belt guide
• 6″ of reflectivity on the inner cuff
• YKK zippered front fly
• SAS-TEC CE Level 2 adjustable and vented knee armor included
• Armor ready hip pockets (armor sold separately)
• Knee armor and pocket have hook and loop fasteners for height and lateral adjustability
Protection & Safety
• EN 17092-3:2019 AA rated material means that the jeans will survive a slide at 30 MPH long enough to fully protect the legs, although the seams may split and minor road rash might occur
• SAS-TEC CE II armor is the same type used in competition powersports
• Available hip armor pockets allow you to add even more protection to your jeans
Best Mid-Range Riding Jeans
Priced $200 - $325.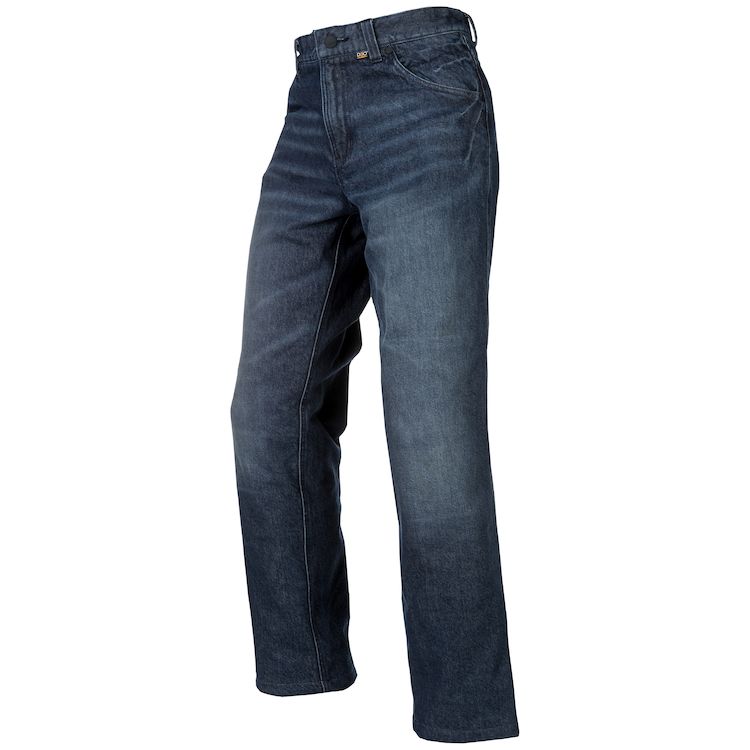 Klim K Fifty 1
Price: $299.99 - 319.99
Where to Buy: RevZilla | Amazon | J&P Cycles
Why?
At around the $300 point, the Klim K Fifty 1 jeans look like a classic and comfortable pair of jeans that you have owned for years, but concealed inside are all of the safety features that riders need. The classic look, great fit and comfort, and awesome protection make the Klim K Fifty 1 one of the best pairs of riding jeans featured on this list.
Key Specs
• Relaxed / Straight
• Size down if between sizes
• Heavy-duty Cordura denim riding jean
• Durable nylon/cotton blend
• Stonewashed finish with whisker treatment
• YKK fly zipper
• Reinforced DuPont™ Kevlar® panel in slide zones
• D3O Evo hip and knee armor
• Poron XRD impact foam tailbone piece
• Adjustable knee armor positioning
• Flat-felled seams for max comfort
• Waist belt loops
• Full mesh comfort liner with wicking polyester
Protection & Safety
From the outside, these jeans look like any other with the standard five exterior pockets and belt loops. But hidden inside is all of the pockets for armor and protection that riders need
• D30 Evo armor is located at the hip and knee, with the knee armor being adjustable
• Poron XRD impact foam is located at the tailbone
• Reinforced with Kevlar in the slide zones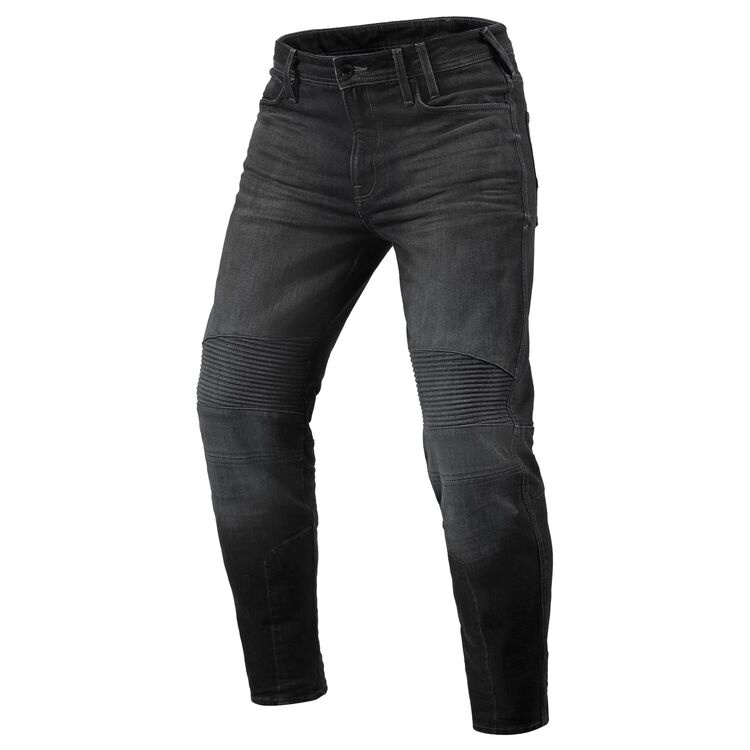 REV'IT Moto 2 Jeans
Price: $259.99
Where to Buy: RevZilla
Why?
The REV'IT! Moto 2 Jeans are a stylish option that with the exception of the stretch panels, you wouldn't know are moto jeans. The included CE armor in the hips and knees make this a great choice for style and protection.
Key Specs
• Outer Shell: Cordura denim
• Protection: Seesmart CE level 1 protection at knees and hips
• Fit: tapered fit
• Features: zipper fly front closure, comfort seat, triple-needle stitching, safety stitching
• Pockets: five pockets
Protection & Safety
• Tucked inside these sleeper riding jeans are The SEESMART CE-level 1 RV36-L1-A knee armor at the knees SEESMART™ CE-level 1 Hip Protectors
• Certified according to the EN 17092 Standard, published in 2020 and has achieved AA rating.
• Reflective material at the turn up of the hem
Best High-End Riding Jeans
Priced over $325+.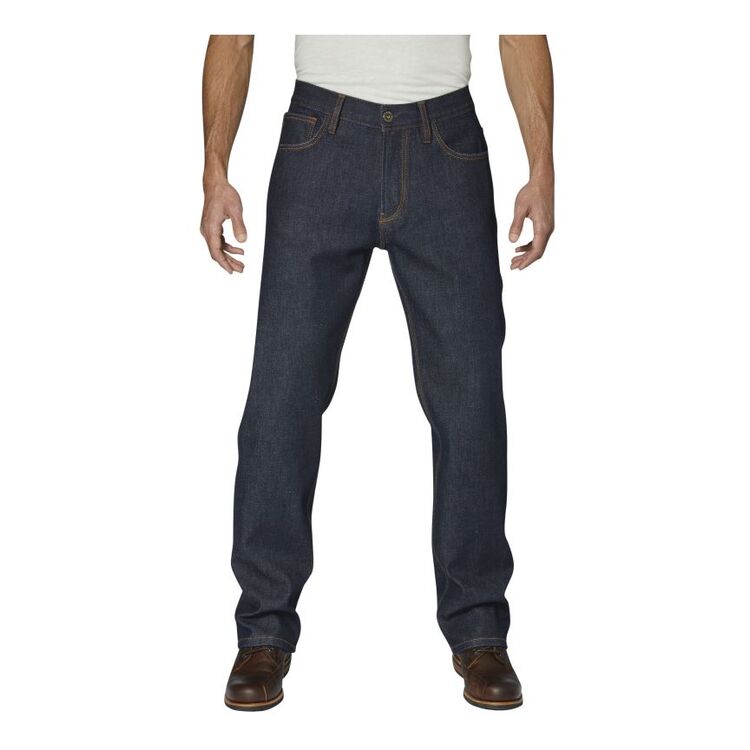 Rokker Revolution I AAA Waterproof Jeans
Price: $499.99
Where to Buy: RevZilla | J&P Cycles
Why?
The updated Rokker Revolution II AAA waterproof jeans look like a normal pair of jeans while adding AAA protection and single layer woven denim for abrasion resistance. While still resembling normal jeans, they are windproof, waterproof, and breathable for any season.
These jeans are not inexpensive but you are definitely getting your money's worth as they fill the role of several pairs of pants in one.
Key Specs
• Straight fit jeans
• Classic comfort fit which includes a straight cut, high waist, wide leg, and a waterproof zipper fly
• Integrated Schoeller membrane actively reacts to changing temperatures and activities
• Jeans are 100% waterproof and windproof, it closes when exposed to cold and opens in response to warmth taking into account the prevailing humidity and body moisture
• Innovative material ensures the ideal body climate by balancing out the ambient temperature and body moisture
• Body armor pockets at knees and hips
• Includes the latest, extra-flat, removable Sas-Tec Air knee and hip protectors
• Constructed without rivets that could scratch the bike
Protection & Safety
• Made of 100% Schoeller Denim-Dynatec, an innovative combination of Schoeller Dynatec and denim which is extremely resistant to abrasion but offers the look and comfort of real jeans.
• Integrated c_change membrane which helps to regulate body heat via wicking and is 100% waterproof and windproof
• Armor pockets at the hips and knees are also constructed of Schoeller-Dynatec and the knees have an added layer as well for extra abrasion protection
• Comes with removable CE Certified D3O knee and hip armor so there is nothing extra that you need to buy to complete the protection in these jeans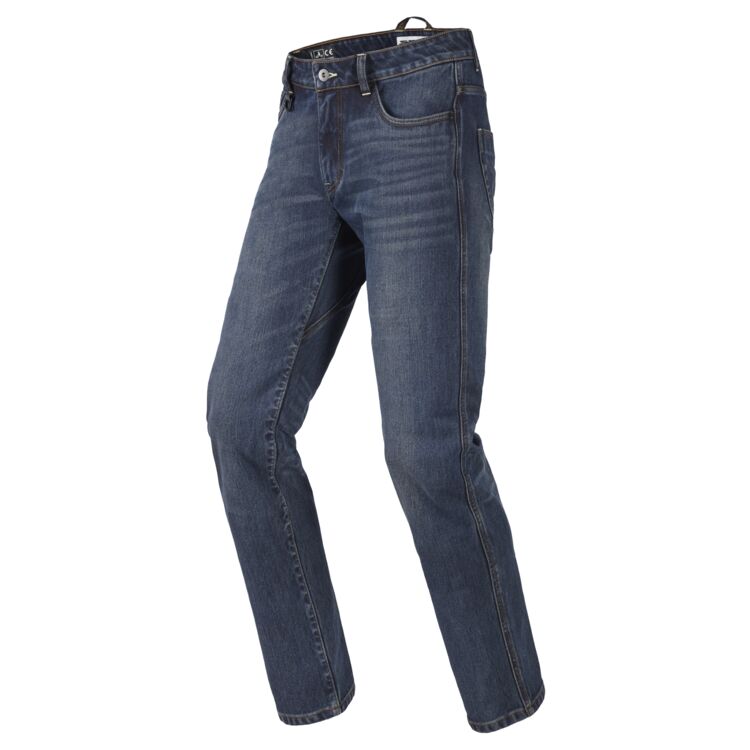 Spidi J-Dyneema Jeans
Price: $360
Where to Buy: RevZilla
Why?
The Spidi J-Dyneema Jeans are a slim-fitting option with a little stretch for comfort. They are made with a single layer, Dyneema cotton blend for abrasion resistance and are a slim-fitting pair of riding jeans in the upper price range to reap the benefits of a higher quality product. These pants come with both knee and hip armor.
Key Specs
• Slim fit with stretchy fabric
• Reinforced with abrasion-resistant Dyneema fabric
• Includes Warrior Lite knee and hip protectors
• Connection tab to attach jacket to jeans
• CE Level 1 hip and knee protectors included (adjustable knee position)
• CE approved to EN 17092-2: 2020 as a Class AAA garment
Protection & Safety
These jeans are CE approved to EN 17092-2: 2020 as a Class AAA garment. Made with 60% Dyneema, 38% Cotton, 2% Elastane
Knox Shield Spectra Jeans
Price: $329.99
Where to Buy: RevZilla
Why?
The Spectra jeans are for those riders that want a straight fit jean that will give them the highest level of protection. Using an entirely new compound of ultra-high molecular weight polyethylene fiber (UHMWP), it boasts a 40% stronger abrasion resistance than Kevlar, and has fifteen times the tensile strength of equivalent steel thread. On top of it all, they're lightweight, water-resistant, and come with microlock knee and hip armor built-in.
Key Specs
• Spectra single-layer stretch Ultra-High Molecular Weight Polyethylene (UHMWP) construction
• Straight fit with tapered leg
• Medium rise
• Naturally water repellent
• Invisible armor pockets with external knee access for easy knee armor removal
• Leather Knox patch on waist
• YKK zippers
• Four deep pockets
• Removable Knox branded key loop
• Included CE certified Knox Micro-Lock knee and hip protectors
• 5-year guarantee on Micro-Lock protectors when registered
• CE approved to EN17092- 3 Class AAA as a protective riding garment
• Inseam: 33″
Protection & Safety
• EN17092- 3 Class AAA rating is the same rating that competitive powersports gear must meet or exceed
• Microlock knee and hip armor is CE certified for impact resistance
What To Think About When Shopping For Motorcycle Riding Jeans
When most people think about riding a motorcycle, there are three very distinct images that come to mind. They picture the bike, the leather jacket, and the blue jeans that seem to work together like a BLT. Each one is good on its own, but together they make the perfect combination.
But unfortunately, unless a rider is wearing purpose-built riding jeans, then there is the potential for some unavoidable but really horrific injuries. And sadly, that statement is coming from someone who believes that jeans are pretty much the most perfect piece of clothing that can be worn in just about any place that is worth going.
But in all of those other activities, there is not really any chance of being projected off of a moving vehicle and sliding across the asphalt. And we all know from our childhood mishaps that tearing a hole in a pair of jeans is not really that difficult. So any sliding or even a single fall or dumping a bike is likely to total the blue jeans and the rider's unprotected skin.
Fortunately, gear manufacturers saw that the many, many die-hard jeans wearers were not going to be converted to other textile pants or leather either. The solution was simply to provide a durable, comfortable, and casual looking pair of jeans that riders could embrace and enjoy.
The benefit for riders is that the riding jeans are made but the same companies that make the textile and leather pants and they include the same impact and abrasion protection as the other styles of riding pants. So riders can look great in jeans, be comfortabl,e and also know that they have the needed protection in the event of an accident.
Be sure to check back regularly with us here at wBW to read about our latest hands-on reviews of motorcycle cruiser boots and other great products for riders.
At WBW, "Best" Actually Means Something
Remember when you could open up a review of something, and when the publication—magazine, car show, whatever—said "best" they stood behind it? Yea, we remember, and we're bringing it back.
Here's how we do things:
We disclose our affiliate relationships—We make money via advertising and affiliate relationships on our website. It's how we pay our team and invest in things like sending Jim to Italy. And Japan. And France… wait… why do we always send Jim places?

We obsessively hands-on test—We wear and ride with gear before reviewing it, and we update reviews down the line if our opinions change. We look at real-world situations because that's the world we live in.

We're objective—Good gear is good gear, regardless of who made it.

We're value-focused—Why pay $500 if something for $250 is just as good? Our review scores and recommendations reflect best value. Brand only goes so far—the gear has to stand on its own.