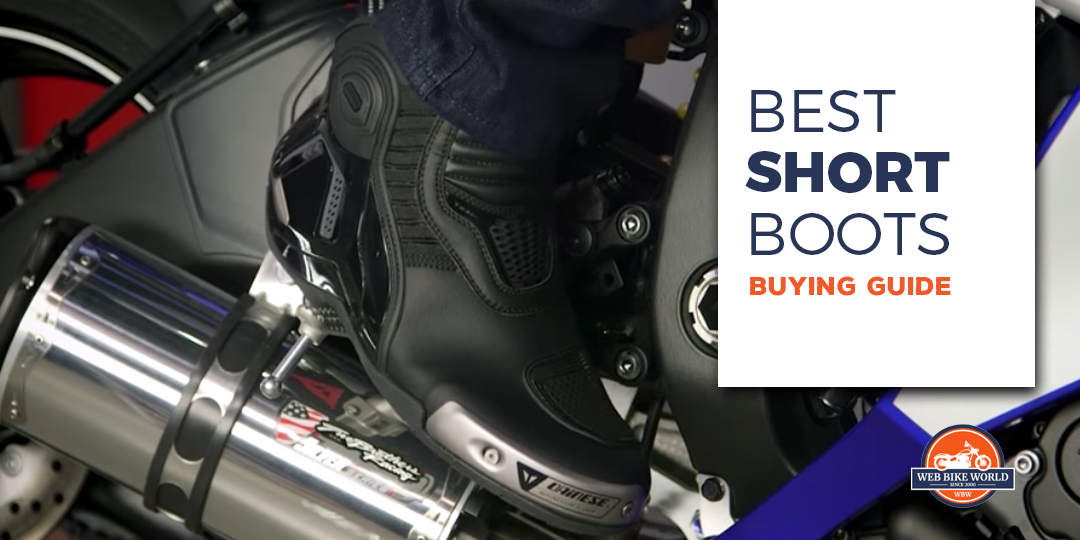 About Our Recommendations
Founded in 2000, our team at wBW has collectively tested more than 2,500 helmets, jackets, boots, gloves, accessories, and more. We do not fluff reviews. A riders safety is heavily dictated by how they ride and what they wear while doing so. Our goal is to help riders make informed decisions about the gear they invest in to protect themselves.
wBW is funded by our audience. Our recommendations and reviews may contain affiliate links that earn us a small comission if you make a purchase after clicking them. This is the primary way we fund our website and pay our review team (and comes at no additional cost to you). We disclose our relationship with brands or manufacturers for transparency. For more information about our extensive review process, see our review policies.
Is A Short Boot Appropriate For You?
When selecting a pair of short boots, consider the length of time that you will be wearing them, both on and off your bike, the climate and conditions that you normally ride in, and the position that you find most comfortable. All of this information will be important in selecting the best short riding boots for your style of riding and comfort level.
Short boots have a very distinct use and appeal for riders as they are the perfect choice to wear with regular street pants. The length is similar to a high top athletic shoe and can fit inside the cuff of riding jeans and motorcycle pants.
Most short boots are more comfortable to wear when walking as they are not as restrictive at the ankle as a longer boot.
And finally, the price range of quality short boots is within the budget of most riders. Investing in foot and ankle protection is never a bad decision!
– Chase
Best Entry Level Motorcycle Short Boots
Priced under $150.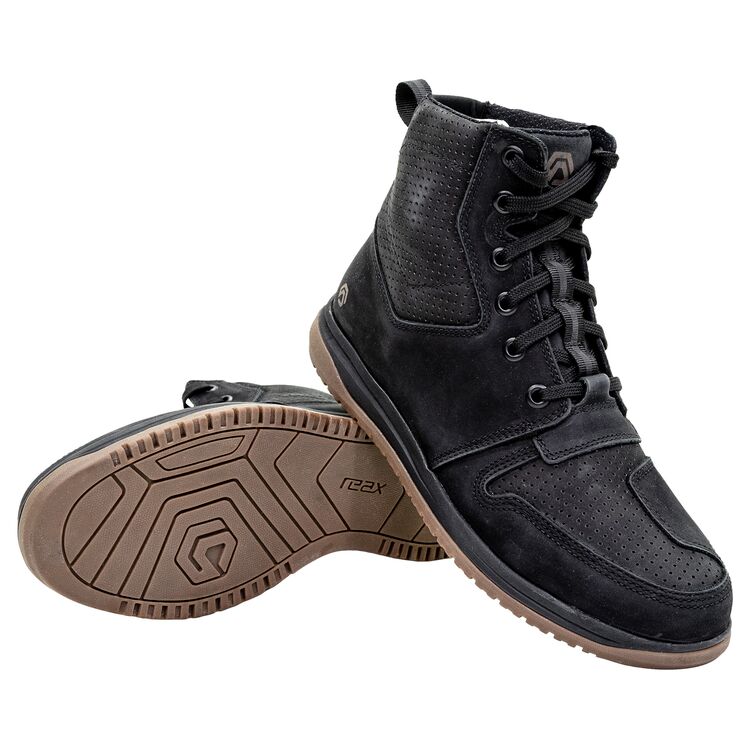 REAX Fulton Air Riding Shoes
Price: $130-$150
Where to Buy: RevZilla
Why?
Sometimes, keeping it simple and effective is the best way to do things. Perforated nubuck leather, elastic lacing pulls, toe and heel armor, and reinforced mid-sole and shift-lever areas. No frills, no gimmicks, just a great casual riding shoe that doesn't look like a riding shoe.
Key Specs
• Perforated full grain leather with triple stitch construction
• Dual compound sole with EVA mid and durable rubber outsole with a high grip texture and pattern for solid footing
• Full length composite midsole footbed for added torsional protection
• Moisture wicking lining with protective ankle cups and reinforced heel cockpit and toe box
• Gusseted padded tongue w/webbing lace stay to keep laces out of your controls
• Fully padded top collar with Achilles flex panel for comfort on or off the bike
• Removable/replaceable shock absorbing insole
• Flat laces and matte finished eyelets
• 20mm webbing loop pull
• Rear facing reflective hit on the heel for easy recognition in low light riding
Protection & Safety
• Reinforced toe, heel, and mid-sole help prevent damage on the extremities, while the nubuck leather provides excellent abrasion resistance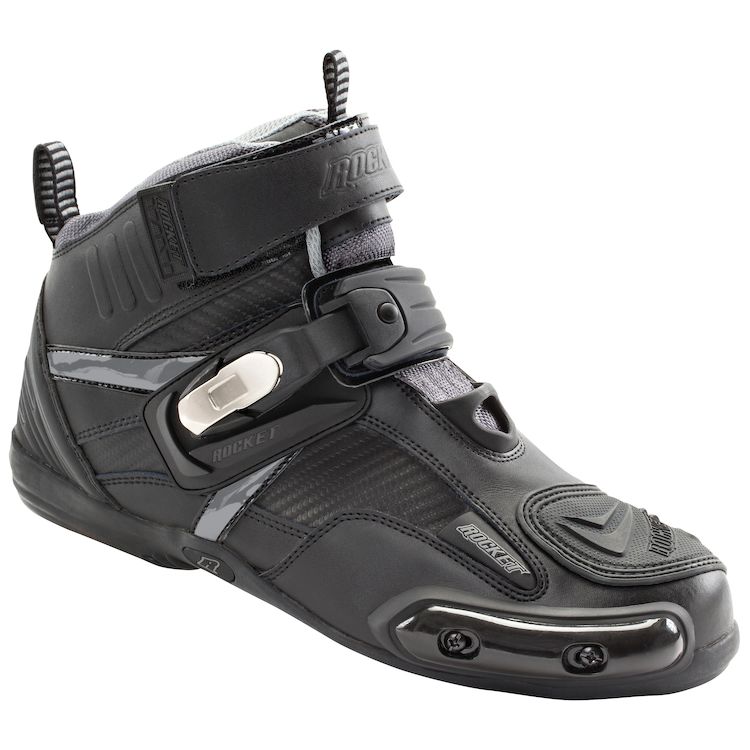 Joe Rocket Atomic Boots
Price: $120
Where to Buy: RevZilla | Amazon | J&P Cycles
Why?
Joe Rocket has taken all of the best features of their track boots and added all of the comfort features that a casual street rider wants to create the Joe Rocket Atomic short boots. Now riders can experience the race quality of Joe Rocket boots but also the fit needed to wear with jeans, riding pants or anything casual for a day or night out on a bike. At just over the $100 mark, the Joe Rocket Atomic short boots offer great comfort and safety features at a price that is very reasonable, making them a great product at this pricepoint.
Key Specs
• 95% Leather, 5% synthetic
• Reinforced shifter zone
• Replaceable toe slider (sold separately)
• Low profile toe box
• Peg-friendly sole sculpture
• Double stitching in all stress areas
• Padded ankle cuff for added comfort
• Rear pull loop
Protection & Safety
Reinforced stitching, added padding at the ankle and the replaceable toe slider all provide added protection from impact in an accident and increase the durability and protection from abrasion injuries.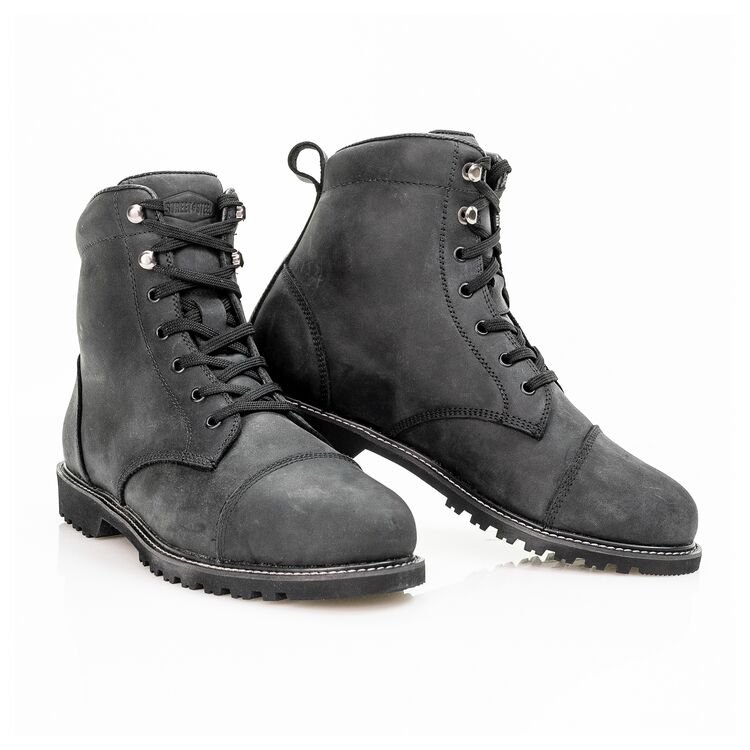 Sedici Vertice Low WP
Price: $150
Where to Buy: RevZilla
Why?
Sedici is what one could arguably say is a budget brand, but that does not mean that their gear is sub-par. Far from it, in fact, as the Vertice Low WP boots show. These are designed to not be specific to one style of riding, and will work just as well on a sport-tourer as they will on an ADV. Full-grain leather backed by Hipora keeps the water out, while letting your feet breathe. A full reinforced steel shank in the midsole is a nod to the ADV crowd so you can stand on your pegs comfortably. The molded TPU armor on the toe and heel, as well as over the malleolus of the ankle, comes from the sports side of the riding community.
The boots also feature heavy-duty nylon straps backed by metal buckles to give a secure fastening and are backed up by stretch zones around the shin and calf to make sure that if you get a bit of a splash, no water will seep down into the boot. All said, an affordable, highly protective short boot that works with any style of motorcycle.
Key Specs
• Full grain leather construction with Hipora waterproof breathable membrane
• Reinforced ankle, heel and toe box
• Full composite midsole with built in flex zones for added comfort and protection
• Microfiber flex zones for added durability, mobility and comfort
• Molded rubber sole reduce vibrations from pegs and aid traction
• Soft accordion stretch at the shin and back of leg for added comfort
• Heavy duty metal buckle base and nylon straps are replaceable
• Reflective at the heel for visibility in low light conditions
Protection & Safety
• Reinforced armor at toe, heel, and ankle. Heavy duty straps and buckles to provide a secure fit without being uncomfortable
• Reflective heel for low light visibility
Best Mid-Range Motorcycle Short Boots
Priced $150 - $250.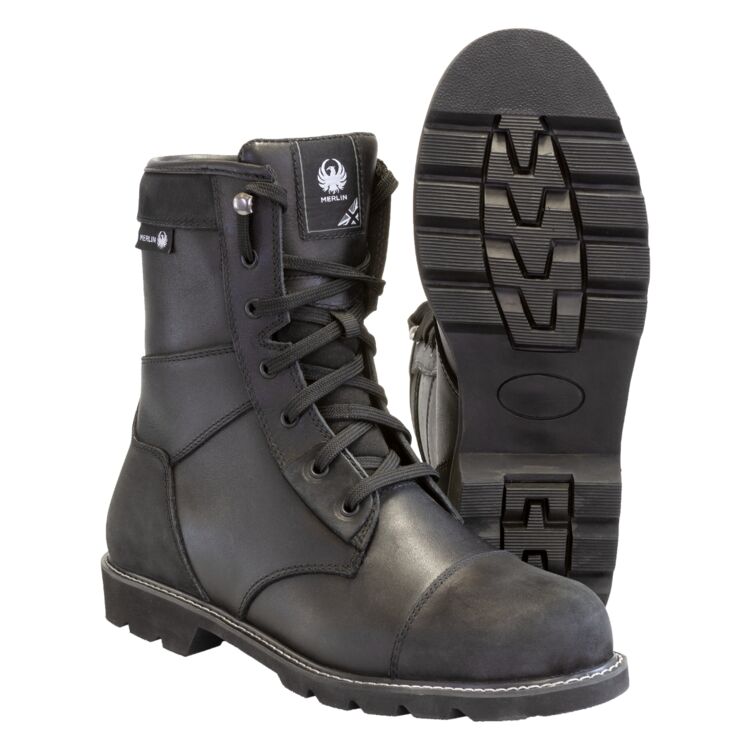 Merlin Bandit D3O
Price: $200
Where to Buy: RevZilla
Why?
Bordering on being a full ADV boot, the Merlin Bandit D3O is what you want if you're looking to have good off-road or dual-sport protection, while also having a ruggedized boot that can take the beating off-road riding dishes out. Described by Merlin themselves as "work boots with motorcycle specific features," the Bandit features a full boot Hipora breathable waterproof membrane under 2.4mm premium cowhide. The sole is designed for multidirectional grip, including lateral grip, and hides toe, ankle, and heel armor discreetly.
The look is subtle, functional, and being at the very upper edge of what could be considered a short boot before crossing into ADV territory, it also protects your shins and lower calf from low branches and the bike landing on your foot if you tumble while rock crawling on your ADV.
Key Specs
• 2.4mm premium cowhide leather upper with subtle contrast panels
• Merlin-exclusive Hipora Triple Liner system both waterproof and breathable
• Comfort mesh inner lining
• D3O impact protectors
• Reinforced footbed
• High grip sole
• Padded tongue for added comfort
• Lace fastening and adjustment
• Antibacterial sole insert
Protection & Safety
• Abrasion resistant cowhide upper, joined to a high grip sole for the best slide and anti-slip
• Integrated D3O armor over toes, heel, and malleolus of ankle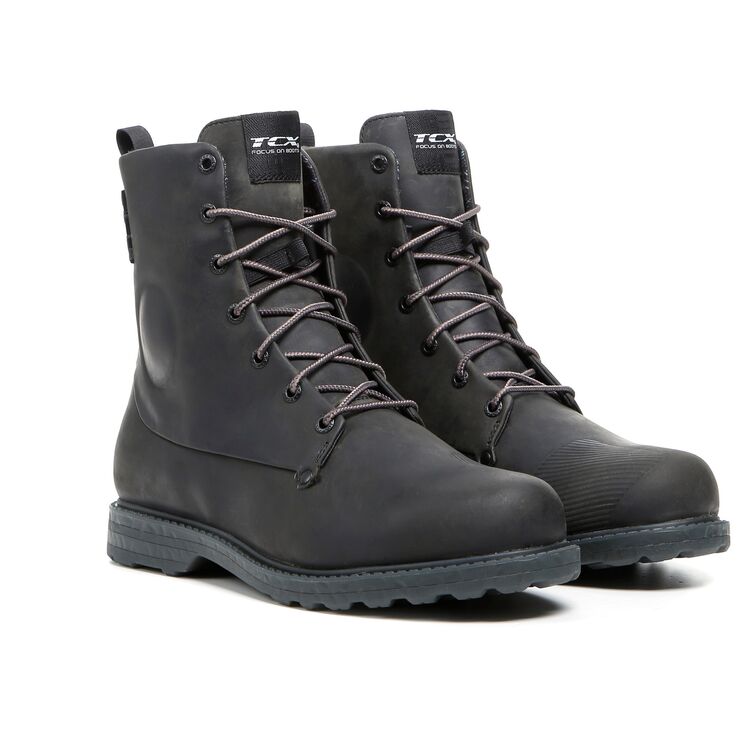 TCX Blend 2 WP
Price: $240
Where to Buy: RevZilla
Why?
Look at the picture to the left of this listing. Look very carefully at it. Then look at the name of these boots, the Blend 2 WP. TCX designed these boots for the cafe racer and neo-retro crowd, where looking cool while riding is almost as important as what you ride. Subtle reinforcement shows over the shift pad area, the soles are high grip, and despite the look, full TPU armor covers the toe, heel, and ankles. A T-Dry membrane inside the full-grain leather provides 100% waterproofing.
These boots barely look like they're meant for riding even up close, and that's the point of them. They're the kind of boots you're likely to wear with a leather jacket with hidden armor, kevlar-reinforced jeans that look normal to the untrained eye, and cafe racer leather gloves with subtle TPU armor. It's all about the functionality under the look, and TCX does it better than pretty much anyone else.
Key Specs
• Waterproof and breathable
• Grain leather with pull-up finishing
• T-Dry waterproof membrane
• Rear reflective inserts for high visibility
• Reinforcements on ankle toe and heel
• Fastening with laces
• OrthoLite footbed with long term cushioning and high levels of breathability
• Groundtrax rubber outsole
Protection & Safety
• Fully armored on toe, heel, and ankles despite retro look and "stealth" styling. High grip sole for safe walking to and from the bike, and to make sure your feet don't slip off the pegs
• Despite stealth styling, reflective inserts on heel for visibility in low light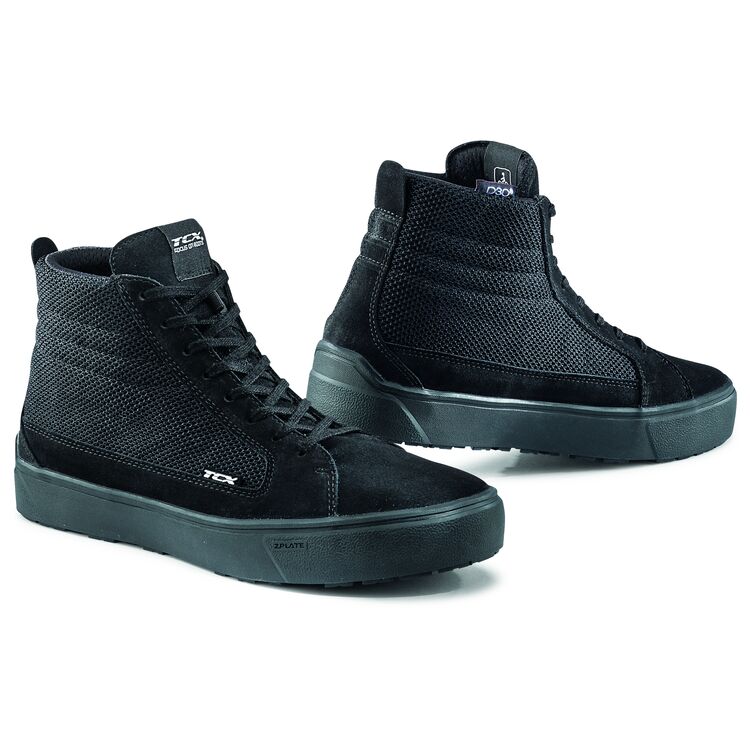 TCX Street 3 Air Shoes
Price: $180
Where to Buy: RevZilla - Men's | Women's
Why?
TCX has a great history with their Street lineup of shoes. Despite looking like your average every day skateboard shoe, they feature crush resistant soles, D3O grade toe and ankle boxes, a reinforced shifting pad, tear resistant textile uppers, and high grip soles. As TCX themselves say, it's a lot better than your black socks and FILA sliders combo!
Key Specs
• Reinforced breathable textile upper with suede leather trim
• Reinforced midsole with ZPLATE shank to balance flexibility with transverse rigidity
• Reinforcements on malleolus with D3O inserts
• Breathable 3D mesh liner for added air circulation
• Reinforcements at toe and heel
• Lace closure with elastic band to store the laces
• OrthoLite footbed with long term cushioning and high levels of breathability
• Oil-resistant Groundtrax rubber outsole
• CE 13634:2017 certified
Protection & Safety
• D3O reinforced malleolus protection
• D3O grade toe and ankle cups, and a full shank through the midsole for transverse rigidity
Best High-End Motorcycle Cruiser Boots
Priced over $250+.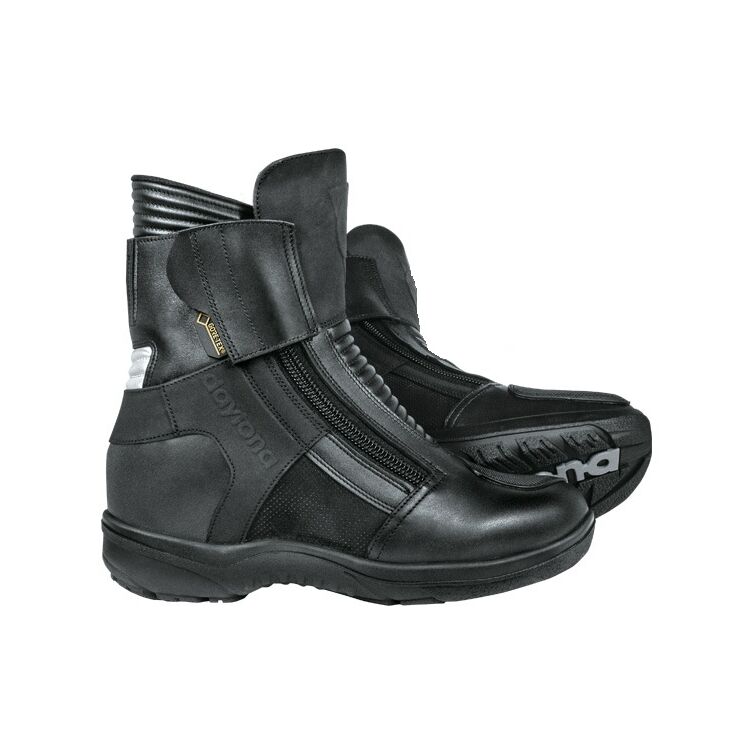 Daytona Max Sport GTX Boots
Price: $369.99
Where to Buy: RevZilla
Why?
We've previously featured the Arrow Sport GTX short boots in this list, however, their bigger brother, the Max Sport GTX, is taking over as the king of the Daytona short boot lineup. These boots are waterproof with a genuine Gore-Tex membrane liner, high grip soles, and a slightly more ADV style of upper which is highly flexible and allows for more movement of your foot without feeling tight.
The biggest feature of these boots, and what may surprise many that try them on, is that they have an internally raised heel, giving you 2.36 inches of heel height so that even the shortest rider on the tallest bike can comfortably flat foot at a stop. Add in the double-sized zip entry, armored toe, midsole, heel, and ankle, with an adjustable velcro closure, make the boot out of motorsports grade cowhide, and just for the hell of it toss in lower shin armor inside the tongue, and you have one of the best short boots money can buy.
Key Specs
• 6cm (2.36″) heel height
• Cork heel extension with leather cover
• VELCRO® brand fastener
• Watertight and breathable with Gore-Tex climatic membrane
• Two side zip fasteners to get in quick and easily
• Elastic, soft Inserts which expand to fit
• Strong, hydrophobic, greased special full cowhide
• Textile lining (80% polyamide/20% polyester)
• Reinforced gear change cushion from abrasion resistant PU foam
• PU foam sole
• Reinforced shin guard and ankle support
• Plastic reinforced inner sole with a hot-dip galvanized steel inlay that allows you to gently roll your feet
• 3M-Scotchlite heel reflector
• Robust and non-slip rubber touring sole
Protection & Safety
• CE Rated level 1 protective boots due to armor inlays on toe, mid-sole, heel, ankle, front of shin. Motorsports grade cowhide also adds abrasion resistance.
• Highly reflective heels with genuine 3M Scotchlite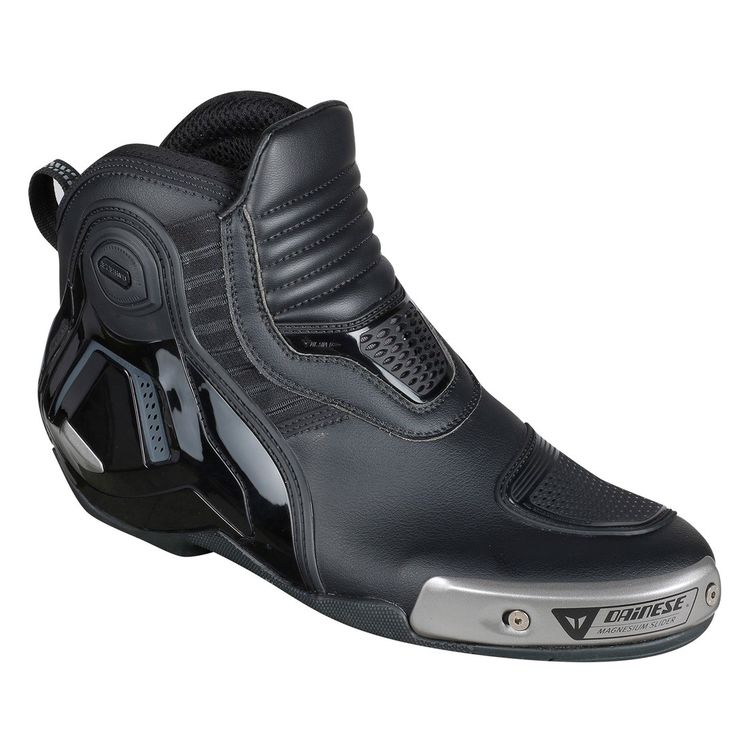 Dainese Dyno Pro D1
Price: $320
Where to Buy: RevZilla | Amazon
Why?
Dainese makes extremely high-quality products, and these Dyno Pro D1 boots are no slack. These boots offer more protection than any other option on this list and are still $50 cheaper than the Daytona Arrow Sport GTX Boots listed above. Despite the wicked amount of protection these boots provide, they are very comfortable and have many stretch zones to keep you pain-free on your ride. At $300, you can't go wrong.
Key Specs
• Gear shifter guard
• High grip TPU inserts
• Soft inserts
• Reflective inserts
• Rubber sole
• Setscrew wrench supplied
• Flexible joints for extra walking comfort
• Speed lacing system
• Upper in microfiber
• Cowhide leather inserts
• TPU heel counter
• Shoes certified to CE – Cat. II – 89/686/EEC Directive
• Reinforced nylon toe
• Protective nylon inner hull
• Magnesium inserts on the outer side and heel
• Shock absorption insert on the heel with controlled deformation insert
• Replaceable magnesium slider (sold separately)
• Double jersey airgap liner
• Air canalization system
Protection & Safety
• These shoes are fully certified to CE – Cat. II – 89/686/EEC Directive – you can trust the official safety rating with these shoes rather than what the manufacturer may or may not claim
• These shoes have a ton of safety features and reinforced areas. The TPU heel counter, reinforced nylon tow, nylon inner haul, magnesium inserts, and shock absorption insert all culminate into a very safe boot.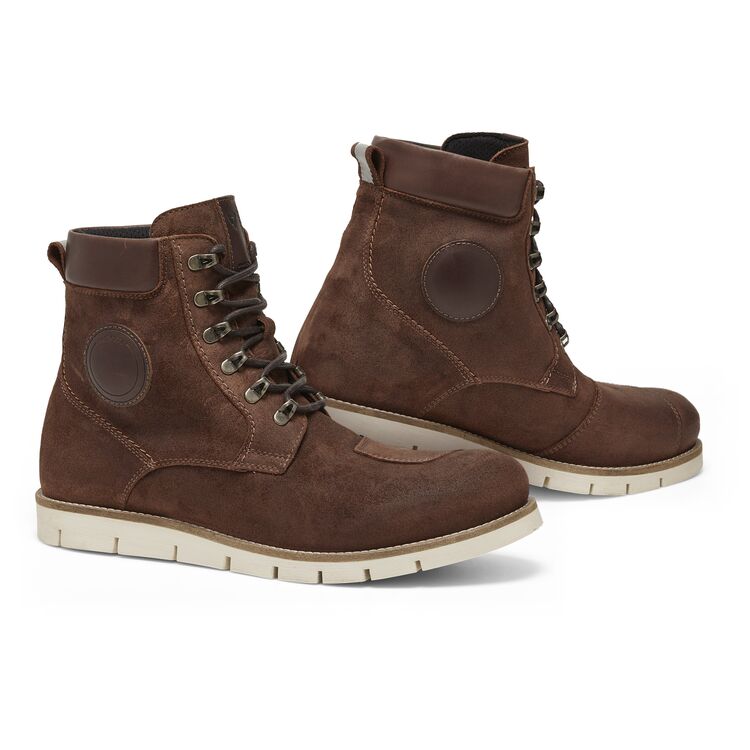 REV'IT! Ginza 3 Shoe
Price: $280
Where to Buy: RevZilla
Why?
The third iteration of the Ginza from REV'IT hits the bullseye. They don't really look like motorcycle shoes, and yet they pack all the protection you could need - a thermoformed heel and toe cup, as well as injected ankle cups on both sides of the ankle are integrated seamlessly with the waxed suede and pull up cowhide main construction.
The Ginza 3 shoes are extremely comfortable right out of the box with virtually no break-in period. Still, as you wear them the leather will soften and mold to your foot, creating a sensation not unlike wearing slippers - with moto levels of protection, of course!
Key Specs
• Waxed suede, pull up cowhide
• 100% Leather Uppers; 100% Rubber Soles
• Gusseted tongue construction, leather gear shift pad
Protection & Safety
• Reinforcements at ankle, heel and toe
• Injected ankle cup
• Thermoformed heel cup
• Thermoformed toe cap
What To Think About When Shopping For Short Boots
Purpose-built riding boots are often an overlooked piece of gear by many riders, that is, until the day that they are hobbling around on crutches as a result of a foot or ankle injury from a wreck or just a misplaced foot when coming to a stop. It's easy to look at traditional street shoes and imagine that they will provide the impact and abrasion protection that you need as well as the ankle and foot support. But in most cases, that is just wishful thinking. Purpose built riding boots, even short boots, offer features that are just not found in your average street shoe or even work boot.
Ankle sprains, torn ligaments, and bone fractures are common injuries that occur not only in accidents but also as the result of a misstep or placing your foot on the unstable ground, wet pavement or a road surface that is coated in oil or grease. An unexpected loss of traction or an unstable plant of your foot can result in your foot sliding or your ankle twisting before you can regain your balance and control of your bike.
Even a short riding boot will offer a solid sole that is designed to grip the pavement, added ankle and foot support and in some cases, armor or added protection that helps to prevent ankle rolls. And in the event of an accident, short riding boots will provide abrasion protection that is far superior to any athletic shoe, street shoe or work style boot that you could choose to wear.
Be sure to check back regularly with us here at wBW to read about our latest hands-on reviews of motorcycle cruiser boots and other great products for riders.
At WBW, "Best" Actually Means Something
Remember when you could open up a review of something, and when the publication—magazine, car show, whatever—said "best" they stood behind it? Yea, we remember, and we're bringing it back.
Here's how we do things:
We disclose our affiliate relationships—We make money via advertising and affiliate relationships on our website. It's how we pay our team and invest in things like sending Jim to Italy. And Japan. And France… wait… why do we always send Jim places?

We obsessively hands-on test—We wear and ride with gear before reviewing it, and we update reviews down the line if our opinions change. We look at real-world situations because that's the world we live in.

We're objective—Good gear is good gear, regardless of who made it.

We're value-focused—Why pay $500 if something for $250 is just as good? Our review scores and recommendations reflect best value. Brand only goes so far—the gear has to stand on its own.