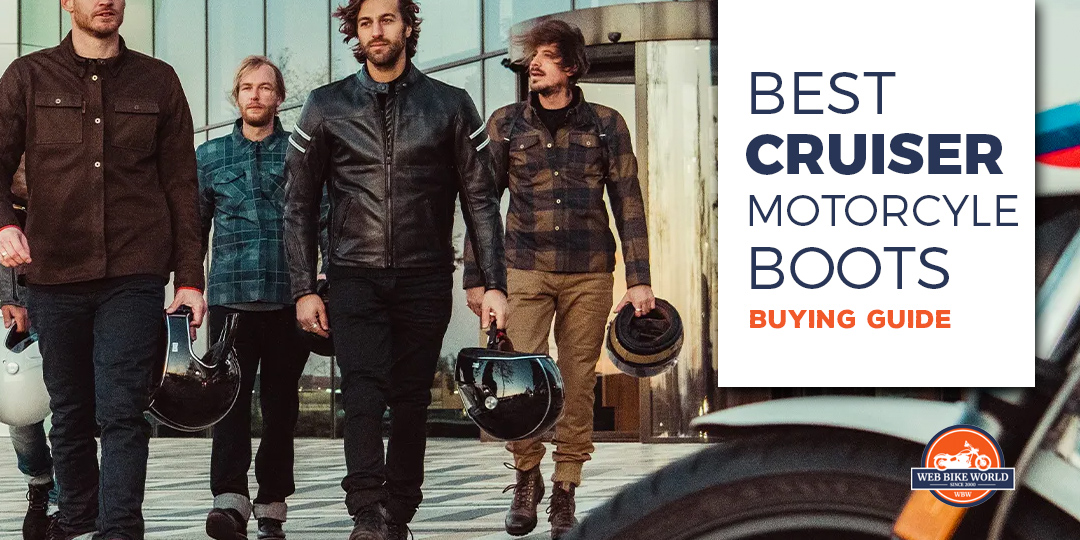 About Our Recommendations
Founded in 2000, our team at wBW has collectively tested more than 2,500 helmets, jackets, boots, gloves, accessories, and more. We do not fluff reviews. A riders safety is heavily dictated by how they ride and what they wear while doing so. Our goal is to help riders make informed decisions about the gear they invest in to protect themselves.
wBW is funded by our audience. Our recommendations and reviews may contain affiliate links that earn us a small comission if you make a purchase after clicking them. This is the primary way we fund our website and pay our review team (and comes at no additional cost to you). We disclose our relationship with brands or manufacturers for transparency. For more information about our extensive review process, see our review policies.
Find The Right Boots To Cruise The Miles Away
The conditions you ride in and the length of your rides will have some impact on the boots you select. Weather, temperature, and the need for comfort should always be considered when deciding what boots to invest in.
As an all-weather rider, you will need a more waterproof and insulated boot, but a rider who is only out on nice days might opt for a lighter weight boot without the added density of a liner.
In addition, the height of the boots you invest in should depend equally on your aesthetic preference and the boot's ability to protect you in different use cases. Riding back roads with loose rock and debris calls for a taller boot that offers some protection from rocks and projectiles that could split open a shin.
Conversely, sedate rides around town might be more comfortable in a shorter boot. Your personal taste and needs along with our information about features and comfort levels will serve as a great guide for you when selecting your next pair of cruiser boots.
We've selected boots that offer the best blend of safety, comfort/performance, and value. There are great riding shoes and boots out there at every price point—and who knows, your future self may thank you for having the foresight to invest in foot and ankle protection.
– Chase
Best Entry Level Motorcycle Cruiser Boots
Priced under $200.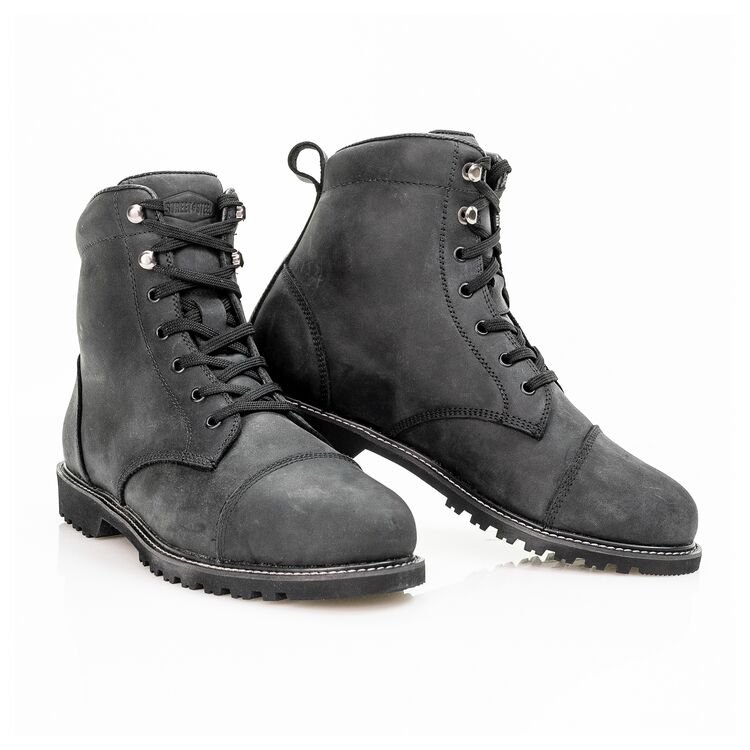 Street & Steel Oakland Boots
Price: $120
Where to Buy: RevZilla | J&P Cycles
Why?
Street & Steel have it on point style-wise with this classic black all leather boot perfect for Cruisers. Offering great protection, there is a composite midsole, and TPU ankle and heel inserts.
Between the waterproofing Hipora membrane and the moisture-wicking lining, your feet will stay dry and comfortable. Both on and off the bike, these boots are just right.
Key Specs
• Full leather construction with double and triple stitch construction
• Waterproof Hipora breathable membrane
• Classic reinforced cap toe design
• Reinforced ankle cups, toe box and heel cup
• Moisture wicking lining
• Flat laces with hooked speed eyelets at the top of boot
• Composite reinforced midsole with a lug outsole
• Heavy duty reinforced leather pull
Protection & Safety
• Protective internal reinforcement at the toe box.
• To meet the demands of Cruiser riders these boots are a full leather construction with double and triple stitching.
• S&S includes TPU ankle and heel inserts, also, to compliment the list of protective features.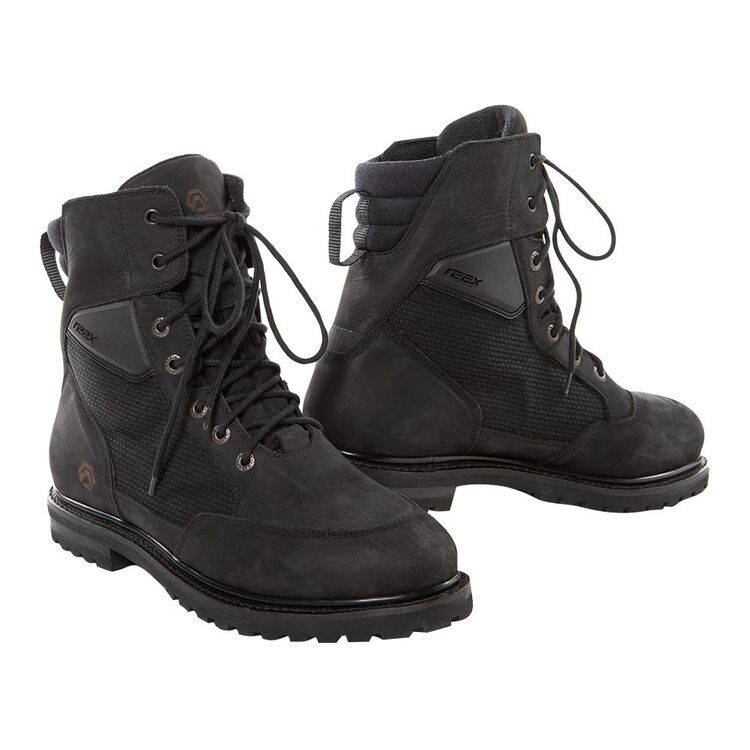 REAX Tasker Waterproof Boots
Price: $120
Where to Buy: RevZilla
Why?
Form and function come together nicely in the REAX Tasker Waterproof boots. It's a boot that doesn't look out of place on your cruiser, and it also means business if the weather turns nasty.
The Tasker has a nice, rugged, work boot style that transitions nicely into off-the-bike wear, and it also boasts reinforcements at the toe, heel and ankles to ensure you are protected while riding. A reliable Goodyear welted stitched sole is paired with a shock absorbing insole for all-day comfort. What more could a Harley or Bonnie owner ask for?
Key Specs
• Oiled full grain oiled pull up leather upper construction with textile inserts
• Waterproof inner membrane
• Goodyear welt stitched construction
• High traction long lasting lug sole
• Nappa leather lined padded interior
• Asymmetrical leather shift pad on left boot
• Anatomic shock absorbing removable insole
Protection & Safety
• Reinforced heel and toe box
• Internal malleolus protection on medial and lateral
• Padded and gusseted tongue
• Reflective detail at heel
Best Mid-Range Motorcycle Cruiser Boots
Priced $200 - $300.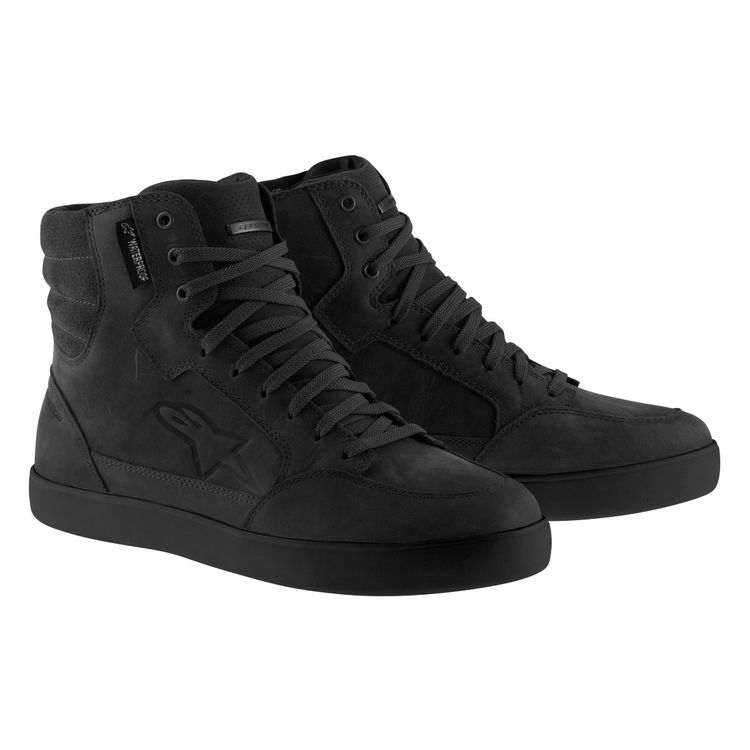 Alpinestars J-6 WP Shoes
Price: $210
Where to Buy: RevZilla | Amazon
Why?
The Alpinestars J-6 WP Shoes have been completely designed with style and safety in mind. The heel and ankle area of this shoe has been designed around Alpinestar's successful MX boot lineup. Despite the casual appearance, these boots also have a waterproof membrane to keep them dry in wet riding conditions.
Key Specs
• Lightweight upper combining full grain leather and suede
• Waterproof membrane subtly built into chassis
• Top tongue and collar constructed from leather
• Padding on tongue and heel area
• Dual density, ergonomic MX-derived ankle and heel protector is applied between the upper and padded lining
• Advanced rubber compound cup sole is molded to the upper
• Reinforced mid sole inserted between the upper and the sole
• Removable and replaceable EVA and Lycra foot-bed is anatomically profiled
• Internal toe box and heel counter reinforcement is layered under the upper for more ergonomic design
• Metal eyelet lacing closure
• Metal logo detailing
• CE certified
Protection & Safety
• The heel of this shoe has been derived from Alpinestars MX boot lineup and features dual-density protectors. The upper also has padded lining.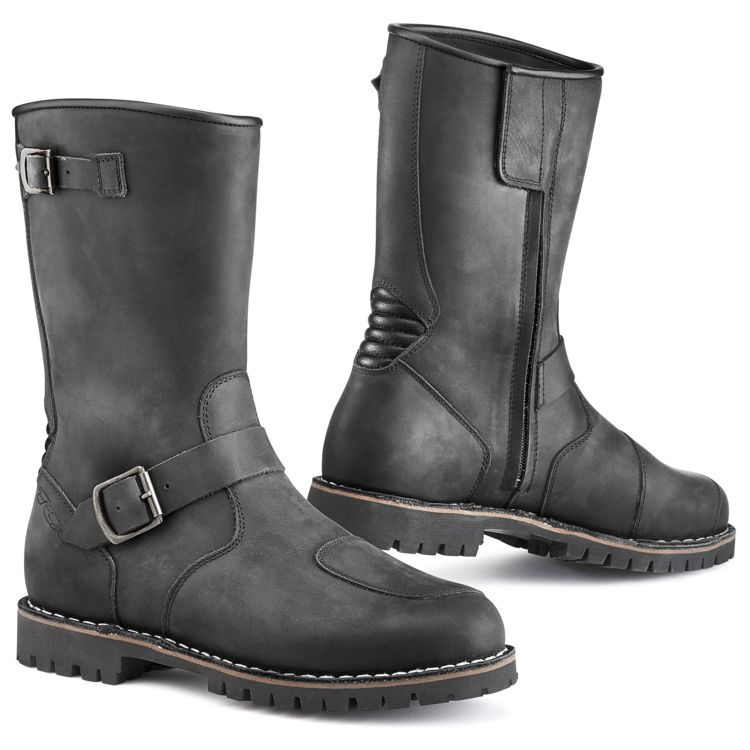 TCX Fuel WP Boots
Price: $310
Where to Buy: RevZilla | Amazon | J&P Cycles
Why?
The classic look of the TCX Fuel cruiser boots makes them a favorite long before riders learn about all of the great features that are subtly included in these boots.
At under $300, the TCX Fuel WP cruiser boot offers riders a great many comfort and safety features and the functionality to wear them when riding or when out exploring the town. All of these benefits make the TCX Fuel WP a great choice when looking for some mid-range boots.
Key Specs
• Full grain leather upper with a vintage look
• Padded rear area
• Waterproof lining
• CFS Comfort Fit System
• Toe and heel counter
• Malleolus inserts
• Leather shift pad
• Lateral zipper and VELCRO® brand band fastener
• Adjustable steel buckles
• Anatomic and replaceable insole
• Sole tread offers a superior grip on any terrain
Protection & Safety
In addition to the incredibly durable leather upper, extra protection comes from:
• Medial and lateral malleolus discs
• Toe and heel counters
• Thick and durable lug sole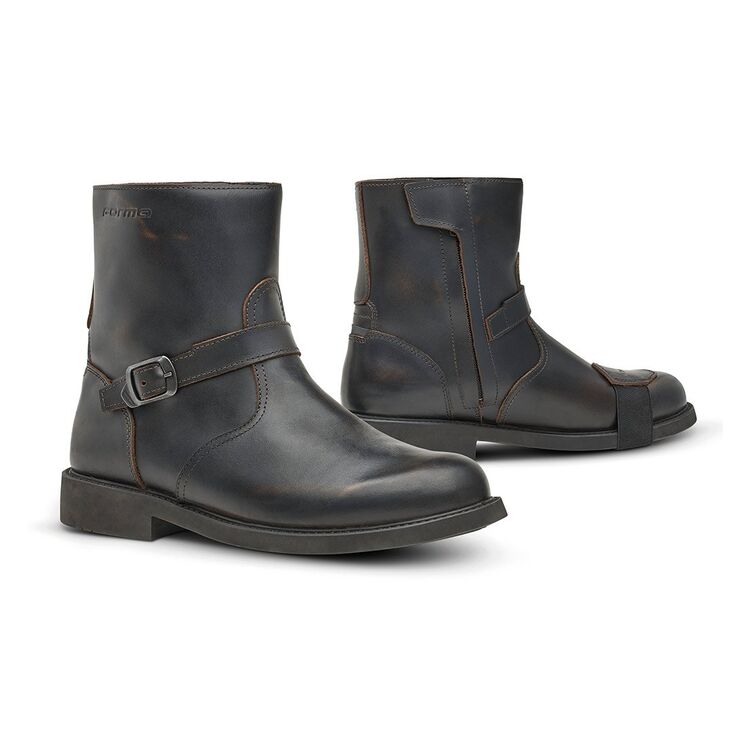 Forma Bolt
Price: $230
Where to Buy: RevZilla
Why?
Forma has been active in the motorcycle footwear sector exclusively since 1999, so it's no surprise their Bolt boots are understated but exceptional. Full-grain Italian leather gives it the classic cruiser style, while a Drytex liner makes them fully waterproof.
The heel and toe are both supported with reinforced areas, while the ankle malleolus gets full inside and outside TPU armor. YKK zippers with a safety closure ensure the boots stay on, and the lug-style sole gives superior grip on all control surfaces as well as the road when you need to walk inside the clubhouse to meet up with all your riding buddies.
Key Specs
• Full-grain oiled leather
• Drytex waterproof
• Urban sole
• Leather gear shift pad
• YKK zippers
• Safety lace closure
• Ankle malleolus TPU
• Technical insole
Protection & Safety
In addition to the full-grain, abrasion-resistant Italian leather, extra protection comes from:
• Medial and lateral malleolus TPU armor
• Toe and heel counters
• Thick and durable lug sole
Best High-End Motorcycle Cruiser Boots
Priced over $300+.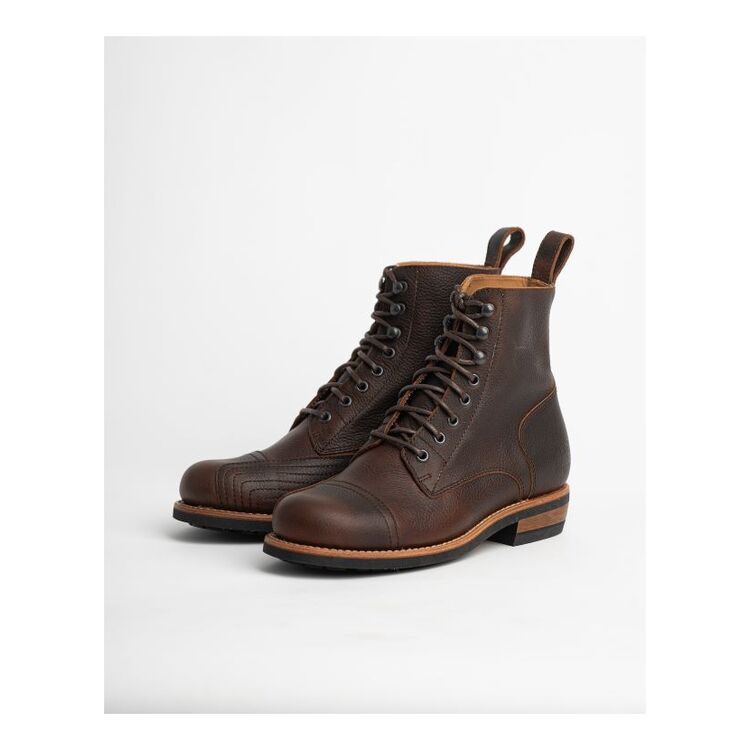 Rokker Urban Rebel Boots
Price: $449
Where to Buy: RevZilla | J&P Cycles
Why?
If you are going to pour big money into your V-Twin, you have to make sure you're equally drippy (Urban Dictionary). Rokker hand-makes these boots in Portugal with vintage greased cowhide leather, because yes—they are that friggin' awesome.
Not only will you be one step ahead of other riders; you will be well protected at the same time. A shock-absorbing insole, heavy-duty rubber outsole, and ankle, heel, and toe protection mean that your fresh pedicure stays fresh.
Key Specs
• Robust, waterproof, greased vintage cowhide leather 100% leather lining
• Shock absorbing insole
• Toe and heel protection
• Durable, abrasion, oil and non-slip rubber profile sole from VIBRAM®
• Embossed ROKKER logo
• Goodyear welted
Protection & Safety
• A shock-absorbing insole.
• Durable, abrasion, oil and non-slip rubber profile sole from VIBRAM®
• So damn classy you will never be tempted to use them on a track day.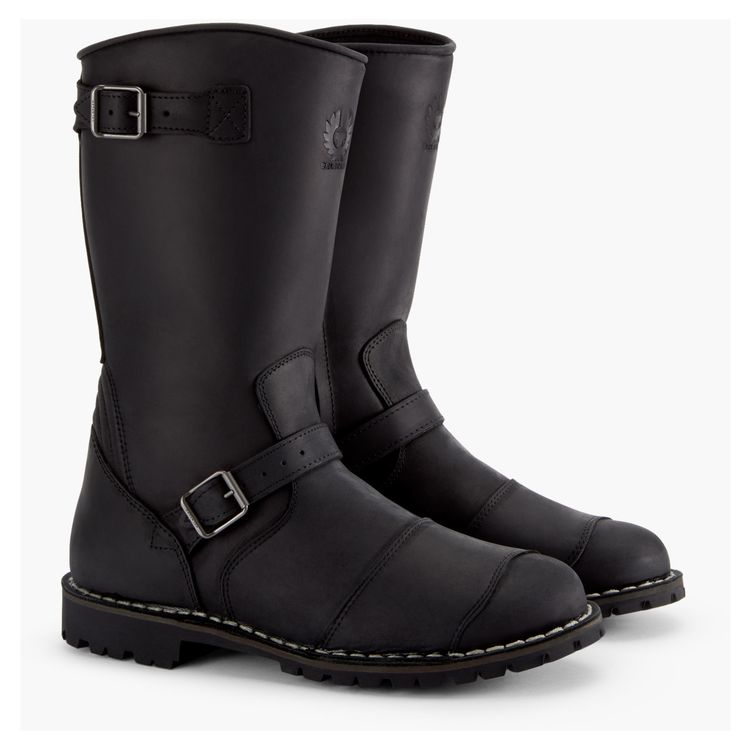 Belstaff Endurance Boots
Price: $495
Where to Buy: RevZilla
Why?
The Belstaff Endurance cruiser boots are constructed of water-repellent black-buffalo leather for its amazing durability and comfort. Don't let the classic look of these boots mislead you, the soles are cutting edge Vibram rubber.
While these boots look great, they also function equally well when it comes to protecting a rider's feet and ankles. For riders looking for extreme comfort and quality, the Belstaff Endurance will not disappoint.
Key Specs
• Water-repellent waxed full grain buffalo pull-up leather upper 1.4mm-1.6mm thickness
• Vibram rubber sole, rock-gripping, anti-slip and hard wearing
• Internal waterproof and breathable membrane
• Branded removable fussbelt
• Malleolus protectors on medial and lateral sides
• Toe and heel reinforcements
• Protective inserts rated CE Technical Standard EN 13634:2010
• Removable molded insole
• Zip fastening
• Buckle on top and across foot
Protection & Safety
• Protective inserts qualify these boots to be rated the CE Technical Standard EN 13634:201
• Malleolus protectors on the medial and lateral sides for impact protection as well as toe and heel reinforcements
• Insole of the Belstaff Endurance are molded to fit the contours of the foot and can be removed as well as replaced as needed
• Full zipper and hook and loop tab make the Endurance an easy boot to put on and take off, while fine-tuning to the fit can be done with the ankle and collar buckle straps
What To Think About When Shopping For Cruiser Boots
Cruiser boots are purpose-built riding boots that offer all of the protection of other types of riding boots but in a relaxed format that focuses equally on comfort both on and off a bike. Cruiser riders want a simple look that could easily be mistaken for casual street footwear, without all of the bolt-ons and exterior armor and padding of more sport style boots.
Cruiser boots are designed to function well with the relaxed upright position when riding a Harley, Goldwing, Indian, Triumph, or whatever your sled of choice might be. The back is straight, the legs are at a right angle, and the feet are resting in a flat position.
On some larger models, riders even have the luxury of stretching out a little bit more to let the feet extend forward beyond the knees a bit. Think of sitting in a nice easy chair, but one on two wheels.
And what creates the immense appeal and popularity of the cruiser lifestyle is the comfort when you're on a ride. The body position is comfortable and relaxed. There is even enough space for a rider to move and shift his or her weight a bit, unlike the confined crouch of a sportbike.
All that is to say, riders who are looking for cruiser boots need boots that are comfortable to wear for the long haul. These boots need to be ready to ride all day and even late into the night.
Beyond comfort and basic protection, cruiser boots come in a variety of materials, heights, styles, and colors to meet the needs of the huge number of riders. Each rider should consider their own taste and riding style as well as the environment they'll be riding in.
All of this, along with an evaluation of the safety benefits of each boot will help you select the best cruise boot to meet your needs.
Be sure to check back regularly with us here at wBW to read about our latest hands-on reviews of motorcycle cruiser boots and other great products for riders.
At WBW, "Best" Actually Means Something
Remember when you could open up a review of something, and when the publication—magazine, car show, whatever—said "best" they stood behind it? Yea, we remember, and we're bringing it back.
Here's how we do things:
We disclose our affiliate relationships—We make money via advertising and affiliate relationships on our website. It's how we pay our team and invest in things like sending Jim to Italy. And Japan. And France… wait… why do we always send Jim places?

We obsessively hands-on test—We wear and ride with gear before reviewing it, and we update reviews down the line if our opinions change. We look at real-world situations because that's the world we live in.

We're objective—Good gear is good gear, regardless of who made it.

We're value-focused—Why pay $500 if something for $250 is just as good? Our review scores and recommendations reflect best value. Brand only goes so far—the gear has to stand on its own.