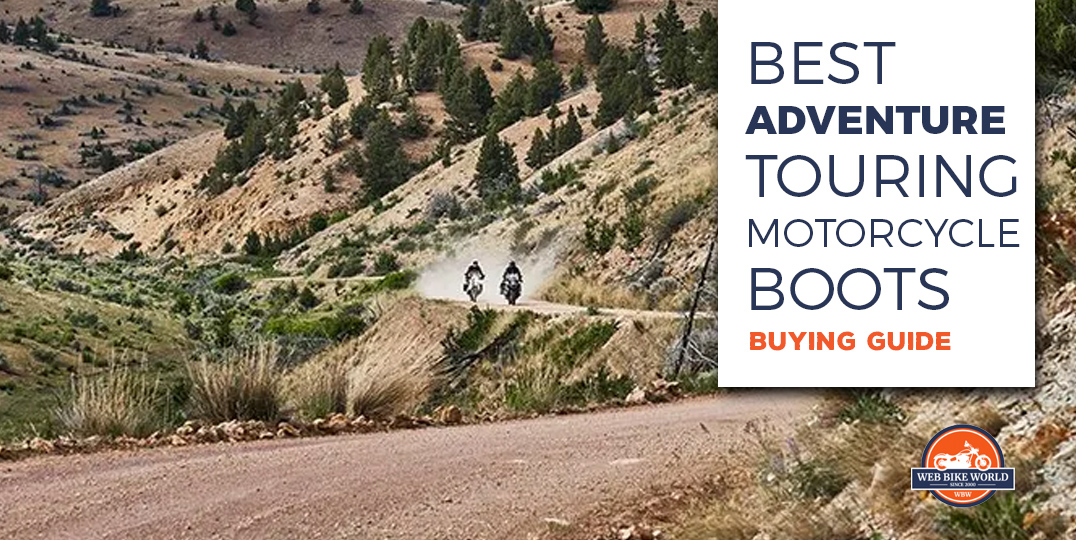 About Our Recommendations
Founded in 2000, our team at wBW has collectively tested more than 2,500 helmets, jackets, boots, gloves, accessories, and more. We do not fluff reviews. A riders safety is heavily dictated by how they ride and what they wear while doing so. Our goal is to help riders make informed decisions about the gear they invest in to protect themselves.
wBW is funded by our audience. Our recommendations and reviews may contain affiliate links that earn us a small comission if you make a purchase after clicking them. This is the primary way we fund our website and pay our review team (and comes at no additional cost to you). We disclose our relationship with brands or manufacturers for transparency. For more information about our extensive review process, see our review policies.
Best Entry Level Adventure & Touring Boots
Priced under $200.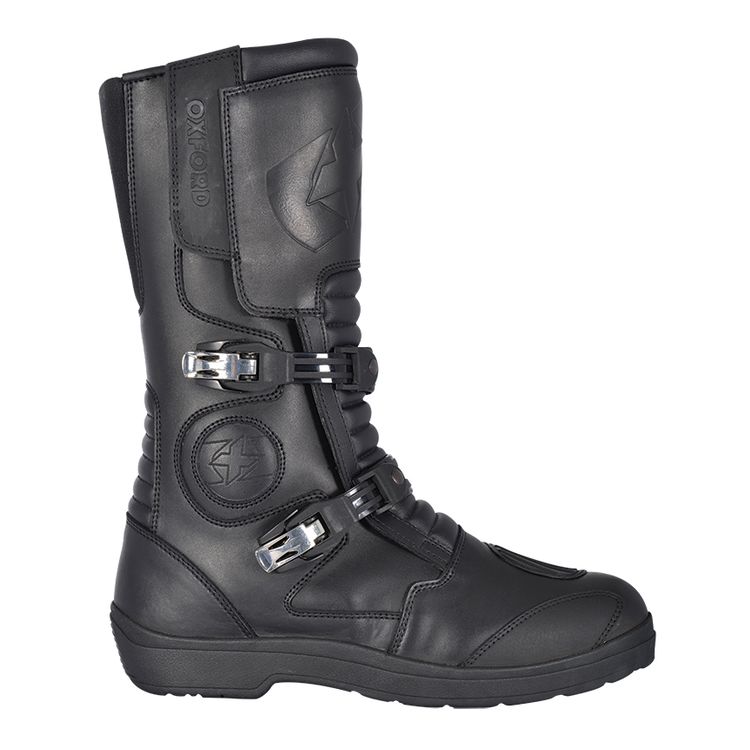 Oxford Explorer
Price: $150
Where to Buy: RevZilla
Why?
They may not look like much, but the Explorer boots are designed with adventure touring solidly in mind. A full length boot, secured by two adjustable fasteners and a solid velcro closure over the upper provides a solid fit, and the boots are fully waterproof.
They also feature shin armor, malleolus armor, heel armor, a toughened toe cap, a shifter reinforced area and a reinforced and durable sole with shank inserted. And all that for $150.
Key Specs
• Waterproof membrane
• Leather upper
• Flexible padded instep rear
• Reinforced ankle protector
• Hook and loop storm strap
• Adjustable reinforced buckles
• Reinforced counter/shank
• Heavy duty tread design
Protection & Safety
• Fully shanked sole
• Shin, malleolus, and heel armor
• Toughened toe cap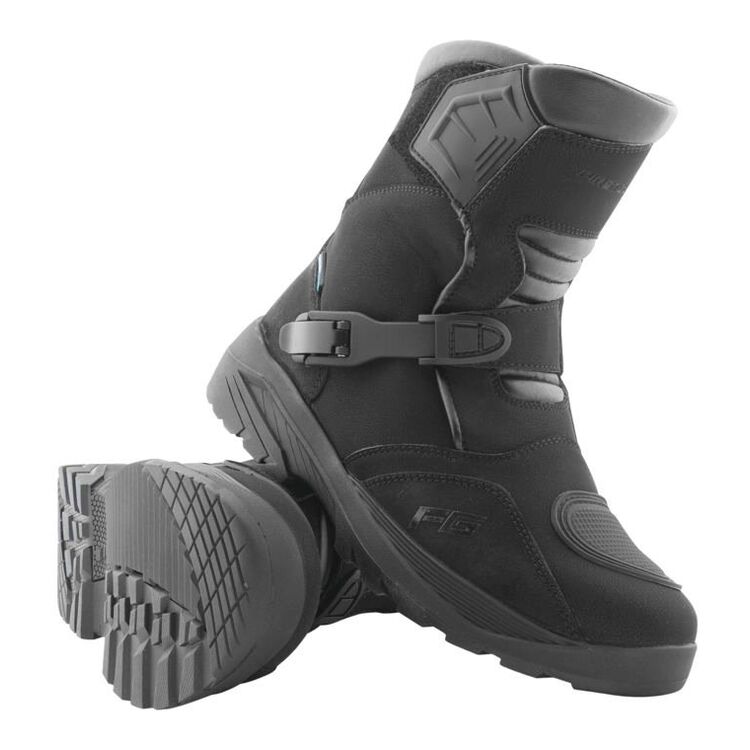 FirstGear Timbuktu
Price: $170
Where to Buy: RevZilla | Amazon
Why?
The Timbuktu boot packs a ton of features into a very affordable price. Definitely aimed more at the touring side of things, this short boot nonetheless is fully waterproof, has full armor on the heel, toe, and malleolus.
Packed with a rubberized shifter pad, ankle flex zones, anti-slip rubberized closure, and even holds C.E. EN 13634:2017-rated protection, meaning it passed stringent European abrasion and protection tests.
Key Specs
• High wear resistant, waterproof and durable synthetic action leather upper
• 100% waterproof membrane for all-weather performance
• Breathable mesh inner liner
• Reinforced ankle, toe and heel
• Rubber gear shift protector
• Ankle flex zone for increased range of motion
• Anti-slip rubber outsole Buckle closure for easy entry
• Hook and loop closure strap to secure fit with TPR pull tab for easy grip
• Removable EVA footbed
• C.E. EN 13634:2017-rated protection
Protection & Safety
• Full heel, toe, malleolus armor
• C.E. EN 13634:2017 certification
• Anti-slip sole and closure
Best Mid-Range Adventure & Touring Boots
Priced $200 - $350.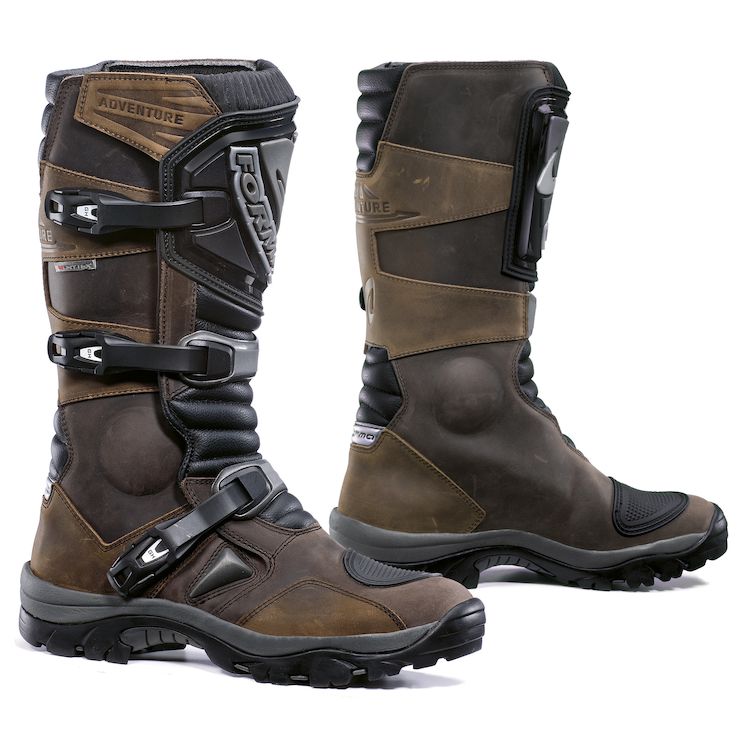 Forma Adventure
Price: $279
Where to Buy: RevZilla
Why?
Forma has been in the adventure touring space since 1999, and all they do is boots. The Forma Adventure, while being simple in name, epitomizes the best value you can get in the adventure touring space, with full oiled leather for durability, Drytex lining for waterproof breathability, and excellent armoring and reinforcement where you need it. They are also offered in a low-cut style.
Key Specs
• Full-grain oiled leather upper
• Updated Drytex waterproof and breathable lining
• Vintage leather finish
•Adventure double density anti slip rubber sole
• Injection molded plastic front plate
• Plastic gear pad protection
• Internal molded plastic protections
• Adjustable VELCRO® brand closures
• Unbreakable and adjustable GH plastic buckles
• Shin and ankle TPU molded plastic protections
• Ankle reinforcements
• Special rigid nylon mid-sole with steel shank
• Extra soft polymer padding with memory foam
• Anti-bacterial replaceable footbed with APS
Protection & Safety
• Molded, injected TPU over the toes, around the heel, both sides of the ankle, on the shin and outer calf top provide superior armoring where it's needed most
• Triple super-durable buckles ensure the boot is tight but comfortable on your foot
• Steel shank in the midsole relieves pressure during long rides, as well as takes a lot of the brunt on rougher terrain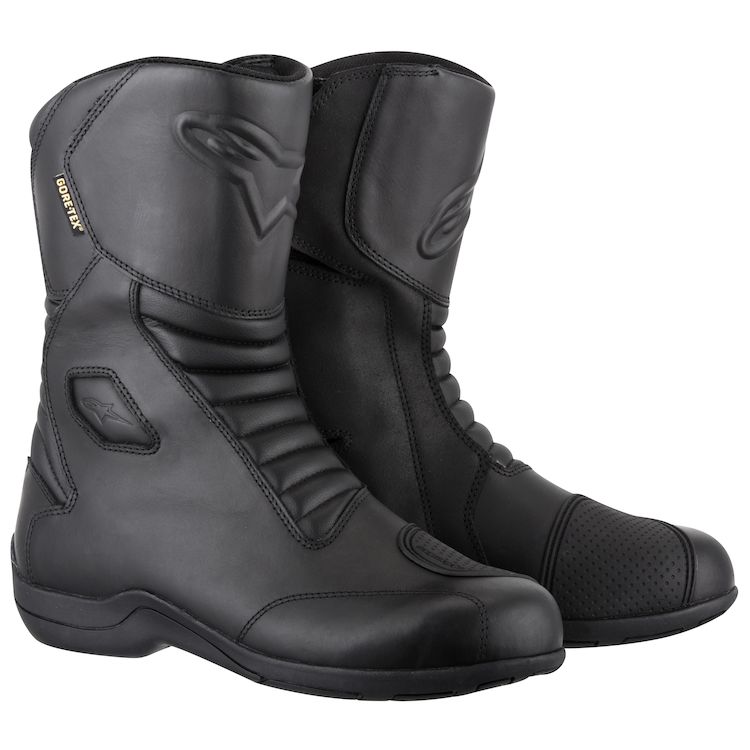 Alpinestars Web GTX
Price: $300
Where to Buy: RevZilla | J&P Cycles
Why?
The Web GTX boot by Alpinestars is one of those boots that hits a perfect sweet spot in the market. Aimed solidly at the touring-on-pavement rider, it nonetheless has a GoreTex membrane liner making it fully waterproof.
ou also get the advantage of Alpinestars' many forays into superbike racing, with TPU armor on all major parts of the foot, a reinforced and shanked sole, shin armor, and a high grip sole to make sure you don't slip off the pegs. The ankle malleolus also has special attention, with double layered armor to provide exceptional shock and abrasion protection.
Key Specs
• Touring specific Gore-Tex boot is ideal for long distance rides in all weather conditions
• Leather construction for excellent durability and long lasting comfort
• Full Gore-Tex internal membrane ensures 100% waterproof performance and a high level of breathability
• The boot last is engineered to give form fitting comfort for long days on the bike with a toe box construction to improve riding control
• Extensive front and rear accordion microfiber flex zones offer fluid forward and back movement
• Side entry system with elastic mounted zipper and wide VELCRO® brand closures flap for convenience combined with a precise, secure fit
• VELCRO® brand closures tab locks the zip pull closed keeping it flat and secure
• Double density ankle disk protection in both lateral and medial sides
• TPU shift pad protects the upper foot
• Internal shock-resistant shin reinforcement with heat pressed Alpinestars logo
• Rear reflective insert for a better visibility
• Inner collar lining is comfortable and durable
• Robust internal toe box and heel counter provide impact protection and structure
• Contoured insole injected with high modulus polyamide includes shank reinforcement
• Removable anatomic EVA footbed
• Alpinestars' exclusive vulcanized rubber compound outer sole
• CE certified
Protection & Safety
• Ankle malleolus has double-layered TPU armor for impact and abrasion protection.
• Heel and toe both have TPU reinforced protection armor
• Sole is high grip with inlaid shank for comfort and protection.
Best High-End Adventure & Touring Boots
Priced over $351+.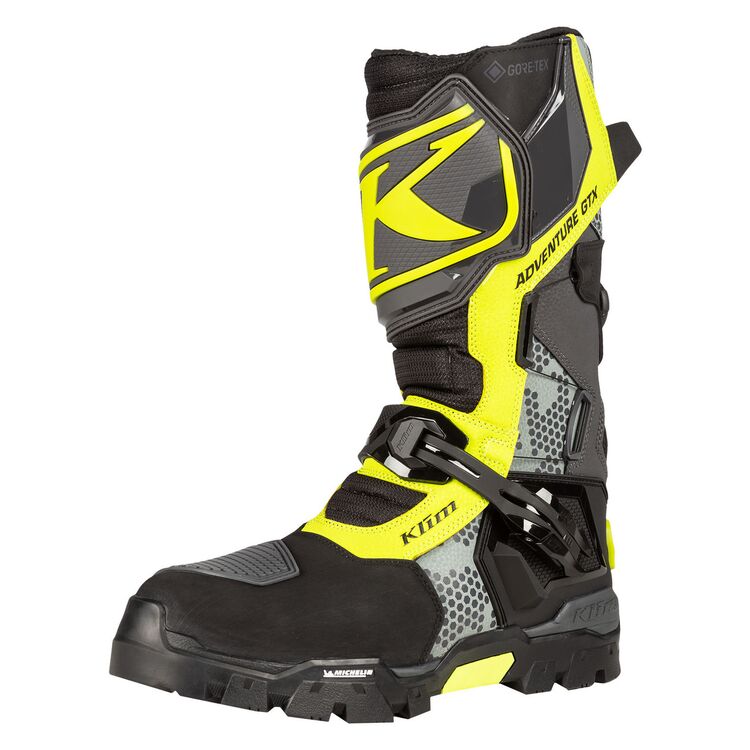 Klim Adventure GTX
Price: $500
Where to Buy: RevZilla
Why?
If ever there was a name stamped on adventure touring, Klim is that name. The Adventure GTX boots are some of the best in the business, with full GoreTex lining for full waterproofing and breathability,
Michelin rubber for the sole, reinforced armor on all important parts of the foot and leg, impact absorption pucks in the heel and midsole, and a whole slew of other high tech innovations. It may set you back $500, but your feet and lower legs have never been better protected!
Read our review here: Klim Adventure GTX
Key Specs
• Gore-Tex Guaranteed To Keep You Dry membrane
• Michelin rubber outsole
• Polycarbonate lasting board midsole
• Reinforced shin plate
• Reinforced toe and ankle area
• 5mm XRD impact absorbing foam ankle pucks
• 5mm XRD impact absorbing foam midfoot padding
• Ankle cam buckle adjuster
• BOA Fit System main closure
• Shielded lace system
• Flex calf and Achilles zones
• Moisture wicking breathable liner
• Antimicrobial gel-stable insole
• Spare Ortholite conventional insole included
• 1/2 size insert for fine tuning fit
• Easy entry pull tab
• Designed to be worn with over the boots pants
Protection & Safety
• Full toe, sole, malleolus, heel, and shin armor to protect from all angles.
• Michelin-brand rubber outsole designed for maximum grip
• Impact absorption pucks in midsole and heel to act as secondary suspension to the bike to prevent hard shocks to your legs and feet.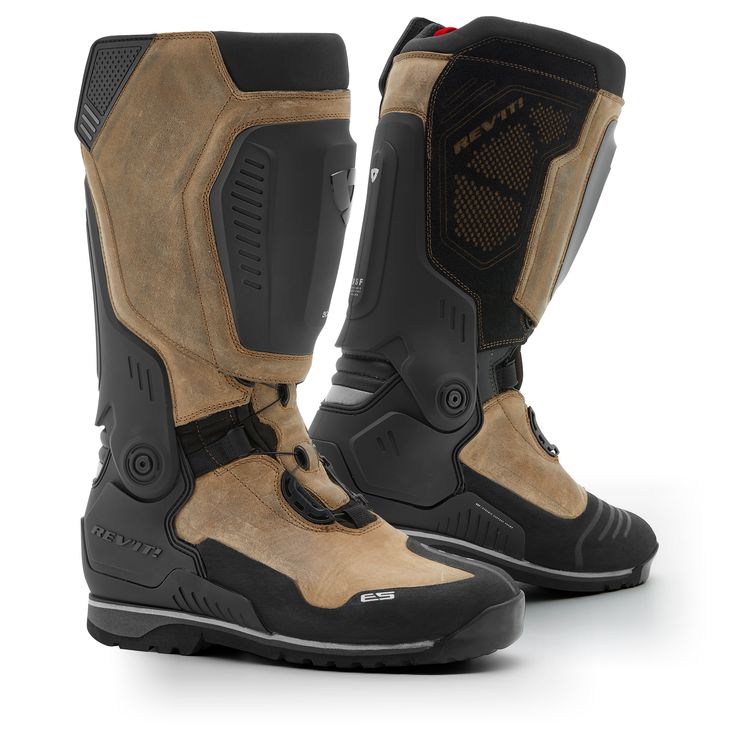 Rev'It! Expedition H2O
Price: $770
Where to Buy: RevZilla
Why?
There is a saying: "The best kill is overkill." This boot exemplifies that. Designed to be armored and protective as a full MX boot, but comfortable enough for touring and adventure riding, the Expedition is a hybrid boot. Noticeable is the hard armor shin and the exo-skeletal ankle pivot armor that extends down to the heel and up the back of the calf.
This Dynamic Support Frame (DSF) system prevents hyperextension of the leg or ankle, while also allowing enough flexibility to walk comfortably. And yes, to address the elephant sitting solidly on your chest, the boots are $770, but are quite literally covered in CE level II armor and have passed CE testing with AAA ratings, which means they are motosports quality protection.
Key Specs
• Tour fit
• Nubuck cowhide leather with Superfabric and a Hydratex finish
• Adjustable hook and loop closure
• Boa closure system
• Rubber abrasion edge
• PP insole with integrated shank
• Easy entrance pull strap
• Vibram apex sole
• Multi-density EVA shock absorbing midsole
• Silver-ion antibacterial 3D mesh lining
• Anatomically shaped foot bed
• Comfort collar
• Double cuff closure
• Gusseted tongue
• Reinforced heel
• Reinforced toe
• Rubber gear shift pad
• Seesoft protection at tongue
• DSF (Dynamic Support Frame)
• External TPUShin Plate
Protection & Safety
• Internal and exo-skeletal armor all meets or exceeds CE level II tpu ratings
• Fully armored shin and calf
• Fully armored heel and toe
• Shank reinforcement in a thick protective sole.
• Built-in shock absorption
What To Look For In An Adventure / Touring Boot
There are a lot of misconceptions between what is an adventure boot, what is a touring boot, and why are they considered the same thing. Many people will look at an adventure boot and either state it looks like a "regular motorcycle boot" or "that's meant for going off-road." The truth of the matter is that adventure and touring boots can be both, or neither.
The real definition of an adventure and/or touring boot is a boot that is designed to be at the same time comfortable, durable, and more often than not water resistant or fully waterproof. As well, on the more adventure side of the coin, these boots are also highly abrasion resistant, penetration resistant, and can be worn either with riding pants tucked or worn over top of the boot.
Both styles of boots are also meant to protect the lower leg (tibula and fibula), the ankle (malleolus), and foot in the event of a crash or tip-over. Bikes are heavy by nature, and if one lands on your lower leg without adequate protection, you can suffer a fracture and be out of riding for months, instead of a day or two with an ice pack.
Considerations When Buying Adventure & Touring Boots
The first, and most important, factor to consider when buying adventure or touring boots is what your primary type of riding will be. If you plan on being 100% on the street, a less complex but durable boot with airflow options and water resistance will suit the road better. If you are planning on actually going off-road and experiencing dirt, mud, water, and the like, a full boot with durable bindings, full waterproofing, and reinforced armor is much more aligned with that type of riding.
As well, you need to do a reality check with yourself when looking at these boots. Buy what you need, for the type of riding you do. Buying a full out Dakar Rally level boot when you're going to be commuting to and from work, with a weekend camping jaunt, is really a waste of money.
Lastly, both American and European companies make adventure and touring boots. Take note of any sizing guides, and remember that EU very often does not have a direct equivalent to a US boot. A prime example is that I wear EU size 46 Forma Trace boots, which are equivalent to US size 12, but my actual shoe size is US size 10.5 Wide. If at all possible, visit your local gear shop and try on what they have, get a good feel for what sizing you are in boots in both EU and US sizes.
At WBW, "Best" Actually Means Something
Remember when you could open up a review of something, and when the publication—magazine, car show, whatever—said "best" they stood behind it? Yea, we remember, and we're bringing it back.
Here's how we do things:
We disclose our affiliate relationships—We make money via advertising and affiliate relationships on our website. It's how we pay our team and invest in things like sending Jim to Italy. And Japan. And France… wait… why do we always send Jim places?

We obsessively hands-on test—We wear and ride with gear before reviewing it, and we update reviews down the line if our opinions change. We look at real-world situations because that's the world we live in.

We're objective—Good gear is good gear, regardless of who made it.

We're value-focused—Why pay $500 if something for $250 is just as good? Our review scores and recommendations reflect best value. Brand only goes so far—the gear has to stand on its own.