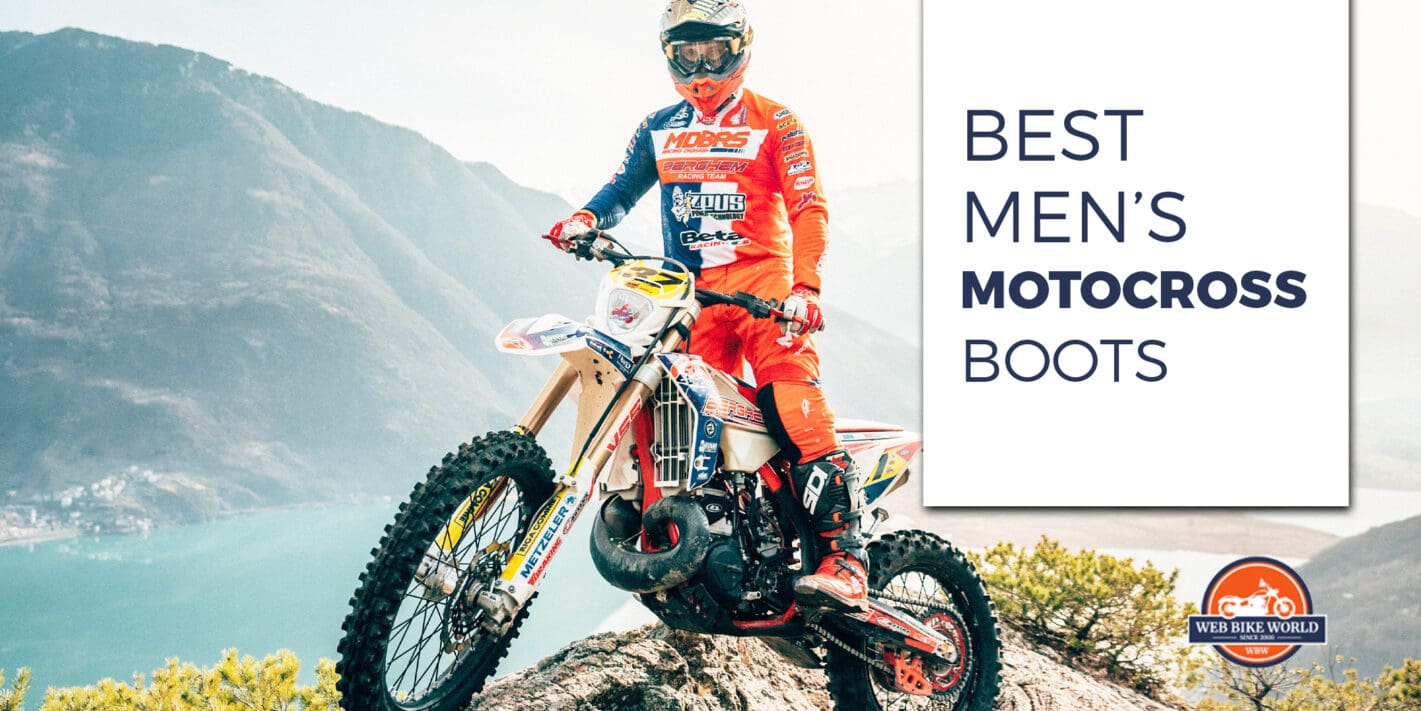 The Best Men's Motocross Boots For 2023
We'd Know: We've Hands-On Tested 2500+ Pieces Of Riding Gear Since 2000
Our picks are based on boots that offer the best blend of safety/performance, function/features, and price.
Last updated September 20, 2022 by Milica Jokanovic..
Recommendation Criteria
There's no perfect boot out there that will meet all riding needs across the board, but we're not looking for perfection; we're looking at how to dress your tip-toes for war.
Form: hardshell fiber armors. Typically polyethylene and thermoplastic polyurethane (TPU) reinforcements. A fully-encapsulating ankle brace and adaptable straps can help prevent ankle torsion, hyperextension, and hyperflexion.

Fit: naturally lined interior foot layers that don't restrict movement. Cooling, durable and comfortable fabrics. Midsoles with some form of a buffer that can act as a shock absorber and foot stabilizer for jumps, crashes, or otherwise.

Function: a thermal protectant material that safeguards against burn and rash and gives proper grip to hold the bike. Thicker rubber soles with deepened tread lines or a textured lining that would help grip into the ridges of foot pegs. Replaceable toe sliders, buckles, or service requests.

Safety: peace of mind with CE-certified gear!
The ground isn't going to move out of your way, but we're here to give you boots ready for the ride and the slide. Here's our list of boots ready to dance.
About Our Recommendations
Founded in 2000, our team at wBW has collectively tested more than 2,500 helmets, jackets, boots, gloves, accessories, and more. We do not fluff reviews. A riders safety is heavily dictated by how they ride and what they wear while doing so. Our goal is to help riders make informed decisions about the gear they invest in to protect themselves.
wBW is funded by our audience. Our recommendations and reviews may contain affiliate links that earn us a small comission if you make a purchase after clicking them. This is the primary way we fund our website and pay our review team (and comes at no additional cost to you). We disclose our relationship with brands or manufacturers for transparency. For more information about our extensive review process, see our review policies.
Best Entry Level Men's Motocross Boots
Priced under $300
TCX X-Blast Off-Road Boots
Price: $199
Where to Buy: Amazon
Why?
When getting back to basics—but for quality, we can undoubtedly look at TCX®'s thirty years of footwear manufacturing tradition. They remember that craftsmanship and construction are nothing to skip out on but offer prices any rider should be able to afford.
Goodyear's certified microfiber backs their boots with stitched soles that can take some serious hits. The boot is fitted and water resistant with a sole to be built to protect and last wherever you're starting your journey.
Key Specs
Goodyear microfiber stitched sole
Polyurethane reinforcements on the ankle, toe, and shin
Adjustable aluminum buckles
Air Tech lining
Elasticated upper collar
Steel toe cap
Enduro and MX rubber tread
Protection & Safety
Their fastening system with four interchangeable and adjustable aluminum levers is straightforward and functional.
Goodyear-constructed polyurethane footbed with differentiated variable densities, fitted with a steel insert to ensure protection in case of impact. Also, a rubber midsole is sewn in place making the sole highly resistant to wear and tear, but it also has an easy replacement process.
The breathable Air Tech lining ensures maximum comfort even during the warmest season, keeping the foot area dry and ventilated.
Fox Comp X Offroad Boots
Price: $269.99
Where to Buy: RevZilla
Why?
Fox is a mogul in motocross, and when it comes to boots they don't mess around. They are an all-inclusive brand that works at bringing motocross to every budget without sacrificing safety. This is where the Comp X offroad comes in.
This boot features a hardened medial grip that makes you stable whether racing or riding in the rain or the dust. Adjustable buckles and an internal steel shank to help support you on your pegs. A flexible riding boot made for rough rides.
Key Specs
Durable Microfiber synthetic upper
Burn guard and calf guard
Air mesh lining for comfort and breathability
Adjustable four buckle closure system
Internal composite insole board provides stability and support
Fox POSITAC rubber on the outsole
Available in half sizes
TPU plating on the shin, toe cap, heel cap, and calf guard
Resoleable rubber outsole
Protection & Safety
PosiTac™ rubber compound is a durable rubber compound exclusive to Fox and used on both the outsole and burn guard to deliver maximum durability. The slim and flat medial side design increases the surface area to keep you in close contact with the bike.
TPU plating on the shin, toe cap, heel cap, and calf guard protects from rough terrain and the bike.
This patented, 4-buckle system is rigid, wearing plastic, provides a durable, secure closure, and comes with extended-length levers for easy opening and closing.
Fly Racing Dirt Maverick Boots
Price: $159.99
Where to Buy: RevZilla
Why?
Fly racing's Dirt Maverick is a great intro MX boot that gives a new or a budget-oriented rider the movement of a racer without the cost. It's every bit protective but made with comfort in mind. It emphasizes Fly's four-stage sole design that shows detail, strength, and ingenuity for your feet.
This boot is sure to provide a safe CE-certified ride with the protection of heat shields and the flexibility of a movable inner panel.
Key Specs
3D plastic shift panel
3D impact resistance shin
The 4-stage high-grip sole design
Outsole rubber compound
Flexible plastic Inner ankle panel
Adjustable quick-lock three buckle closure system
Rubber heat shields on bike facing sides of each boot
CE Approved
Protection & Safety
4-stage sole design. Stage one is a perforated plush insole resting above the innovative second stage, an injected midsole with a unique fishbone design that is light but incredibly strong. Stage three is a fishbone foam layer designed to transfer shock and vibration, encased in the final stage, an anti-vibration molded traction sole.
The rubber heat shield is long lasting, won't melt, and provides a good grip.
3D plastic shift panel with added grooves and texture to save your boots from premature wear.
Best Mid-Range Men's Motocross Boots
Priced $300 - $500
Alpinestars Tech 7 Boots
Price: $399
Where to Buy: RevZilla
Why?
Alpinestars middle child syndrome is apparent in the Tech 7's design, where training meets comfort in the best way. It's the best for riders who can stomach a more challenging ride but not quite the price of the Tech 10s. This settles the worry in protection with a TPU metal plate guard but shines on the comfort level, like slipping on your favorite chucks with a reinforced buckle system and a harder but smoother ankle hinge. Its biomechanic pivot works with your movements and stiffens when moving past that limit.
No booties in this one, but those with lengthier or larger feet might fare better without the hassle. Attributed from the best with a price that works halfway, this fan-favored pick is anything but the ginger-haired stepchild unless your boots match your hair.
Key Specs
Aluminum replaceable buckles
TPU lateral ankle protection system
Steel shank
Toe reinforcements
Breathable mesh 3D liner
Removable anatomic footbed
Replaceable sole and footpeg
CE rated
Microfiber gaiter
Anti-slide microfiber suede on the heel
Protection & Safety
TPU metal shin plate is anatomically profiled and has a dual folding system with a Velcro attachment to provide a more customized seal.
Aluminum buckles are self-aligning and have quick-release closure systems that properly secure and are replaceable if damaged.
Boot chassis is designed with an ergonomically profiled forefoot and lower toe-box to provide more effortless shifting and improved rear brake feel and control.
Fox Racing Instinct
Price: $459.99
Where to Buy: RevZilla
Why?
Fox gives a slip-on-and-go feel to their boots with the instinct line. Backed by pros like Rick Carmichael and designed for a smoother, sleeker, and grip-tight arrangement of features. A low-ride chassis provides smooth shifting and better rear brake control.
Its outsole and burn guard utilize Duratec compound for superior grip and durability. They're flexible for the track but offer a patented Hinge Lockout System that stops motion before hyperextension to prevent injury on days when you feel extra enduro.
Key Specs
Instant step-in comfort and support
Hinge Lockout stops motion before hyperextension
Fox Duratec rubber compound for improved durability and outstanding grip on outsole and burn guard
A slim medial design keeps you close to the bike with the Duratec burn guard giving grip
Low ride chassis brings the foot lower and closer to the footpeg
Slim toe box for easy shifting, and a slimmer overall profile
Replaceable sole
Protection & Safety
This boot provides an immediate step in comfort and support, so no break-in is required. Its hinge provides lateral support and locks out to stop motion before hyperflexion.
Its slim medial design gives you a closer feel to the bike, with a low-ride chassis and tapered toe box providing smoother shifting and better rear brake control.
Fox Duratec rubber compound for improved durability and unprecedented grip on outsole and burn guard.
Leatt Moto 5.5 FlexLock Enduro Boots
Price: $399
Where to Buy: RevZilla
Why?
Even though this is Leatts first take on motocross boots, they did spend three years developing the FlexLock boots using pros like Justin Hill to get the best possible features. We can see it with its premium protection and slide-lock system that allows the Velcro to slide one way and auto-lock in position without adjusting the straps and Velcro every time.
Instead of unfastening the Velcro to cinch your bootstraps, you simply slide the Velcro to tighten, and it will hold the new position. Its combination of leather, suede and TPU gives the rider a free and flexible feel without sacrificing protection.
Key Specs
SlideLock system
Forged aluminum buckles with Over-lock system
FlexLock System: Adjustable lower boot flex for personal preference
Force Reduction on ankles and knees
Low-profile toe box for easy gear shifting
3D-shaped impact foam
Heel grip ankle design for stability when riding on your toes
Enduro pattern sole for grip
DualZone hardness
Extended foot peg riding zone for arch and on-the-toes riding style
Steel shank reinforced
Breathable mesh 3D liner with
anti-slip liner for zero heel lift
CE tested and certified
Protection & Safety
Slide-lock system allows the Velcro to slide one way and auto-lock in the desired position without having to adjust your straps and Velcro every time you step into your boots.
3D-shaped impact foam inside the boot for a snug grip at the ankle and softening impacts.
The GPX 5.5 boots also have interchangeable inserts that allow riders to reduce lateral flexibility.
Best High-End Men's Motocross Boots Boots
Priced over $500+.
Alpinestars Tech 10
Price: $659
Where to Buy: RevZilla
Why?
There's a reason why we're at the 10th edition of the Alpinestars Tech series. The result of generations of trial and error brings you these excellent boots. Whether you're jumping supercross or pinning it down in the desert, Alpinestars patented DHCP heel and TPU armor combine to move like your body but defend like the best gear you've ever worn.
This is a fully-plated boot designed to move more freely and absorb more hits so you don't have to. CE certification and testing mean these are designed for those who love the dirt, not the hurt. The Tech 10s ranks highest for best overall features evolved over time that are worth the price.
Key Specs
Durable and Lightweight
Nylon and fiberglass buckles with self-aligning closure and quick release
Replaceable buckles
Waterproof Microfiber gaiter
Abrasion-resistant TPU shell
Frontal Flexion Control Frame
TPU connector system
Asymmetrical Dual-pivot Arm frame
Dynamic Heel Compression Protector (DHCP)
Calf and shin protector plates
Inner ankle brace
Duel compound removable foot shell
Anti-slip suede in heel area
Full sole replacement service
Boot repair service
Protection & Safety
The Frontal Flex Frame flexion control system provides a more 3D motion control while preventing over-compression and hyper-extension.
TPU protection and shock absorbing padding on the heel and ankles with a removable anatomic footbed includes EVA for comfort and support.
DHCP is an innovative safety feature that includes a fully integrated collapsible heel area with expanded poly-foam to absorb high-impact energies during a crash.
SIDI Crossfire 3SRS
Price: $599
Where to Buy: RevZilla
Why?
For a company that originally started as a cycling shoe business SIDI has boldly stretched and conquered every type of two-wheel boot over the last 60 years. With so many disciples of bikes, we can see how the ingenuity and experience of every type of rider helped build the Crossfire. It's packed with features and craftsmanship that the Italian brand is known for. The malleable-yet-tough teflon materials provide durability and defense against the elements.
SIDI's adjustable calf system and dual flex ankle axis also give a more personalized fit when stabilizing a bike. In addition, this SRS series comes highly recommended for its anti-skid dovetail sole and slim toe feature that smaller frame riders appreciate when shifting into the dust.
Key Specs
Duel Flex system
Adjustable calf system
Adjustable cam lock buckles
Plastic shift and brake toe guards
Removable arch support
Dovetail SR anti-skid rubber sole
Deeper sole boat
Technomicro base material
Inner heat shield
Replaceable central strap system
Weatherproof lined teflon
Replaceable bolt-on parts
Replaceable shin plate
Protection & Safety
The Dual Flex system used on the SIDI Crossfire 3 SRS limits lateral hyperflexion and creates a hard stop safety feature to protect the ankle joint.
The adjustable calf plate system adheres to each rider, no matter their size or gear layered inside. The adjustable diameter and heat-resistant inner plate protect and conform to the leg for leading protection and mobility.
Cam-lock buckle system with set straps that stay in the same position for a snug fit for every type of ride.
Gaerne SG 12
Price: $549
Where to Buy: RevZilla
Why?
Any MX man or woman will tell you that when looking at top-tier boots, one can never overlook Gearne, and one such contender is their SG 12 line. SG 12 is famous for Gaernes' already patented Dual stage pivot system that first introduced the much-needed flexibility of boots back into Motocross.
Though the price is daunting, the Italian craftsmanship doesn't lie, and the women's popular vote brought this boot up to the high-end list. Among the reasons: their slimmer toe box is made to handle smaller feet. Also, their ACRONOS Gaiter and memory foam interior help stretch and conform to ride, rest and rock.
Key Specs
Breathable swiss ACRONOS Gaiter
Thermoplastic adjustable shin plate
Four lightweight alloy buckles with adjustable strap
Inner leg grip guard
Slimmer reinforced toe box
Dual-stage ankle pivot system
Memory foam interior
Dual composite anti-shock rubber sole
High-quality Italian craftsmanship
Protection & Safety
The Dual Stage Pivot System is patented to only Gaerne that features a "Razorback" component that offers strong lateral support and a second pivot that gives a rider's foot a more natural movement.
Gaerne Memory Cell Foam conforms to even the most petite feet and gives an overtly plush comfortable fit before and after a ride.
The new slimmer toe box proves a better-conformed area allowing a more effortless feel to shift and drag to that rear brake.
What To Look For In Motocross Boots
Motocross boots are a breed all their own. Many are elevated to provide pros with what they need; fit, form, and function. They have to let you move like a ballerina but take the hit of a boulder. It sounds like a tall order, but given the last 40 years of gear metamorphosis, we are seeing contenders that meet every rider's needs and have learned precisely how our feet need to move while being defended.
Undeniably, actual construction is the foundation of any boot. It is typically about 13 inches, so a rider's knee can fill just above the rim. This is done so as not to restrict the way they bend and allow the rider to use his thighs as suspension, knees as a hinge, and boots as a stabilizing unit for the center of gravity.
We also like to see stiff shell fibers as the armor around the boot that can withstand the wear of adjusting side weight. The inside should have thermal protectant material that safeguards against burn and rash and gives a proper grip to hold the bike. These factors are also crucial protection for the inevitable crashes. Whether getting pinned under a bike or thrown off one, one thing is certain; we need armor made for impact.
Motocross boots should also have a properly-moving and impact-resistant chassis around the ankle. Remember the ballerina? If that tutu wants to hit the jumps, then their boots better have an ankle brace made to dance. A fully-encapsulating ankle brace should extend across the rear of the shaft from the left side of the ankle to the right side. This is so it can provide a pivoting hinge movement that is controlled but versatile enough when riding.
This should be accompanied by adjustable buckles that can conform to any leg size but move with ankle flexion. Together a properly-shielded hinged joint and adjustable straps can help prevent ankle torsion, hyperextension, and hyperflexion—some of the most common injuries riders face.
Along with the axis of the boot, we also focus on the bottom or sole of the boot. Motocross and enduro boots are typically more rigid with a thicker bottom rubber sole—modeled like an astronaut but not quite like we're going to the moon (just ready to step on it). The bottom of the boot should have deepened tread lines or a textured lining that would help grip the ridges of foot pegs.
The midsoles, part of the interior design, should be fitted with some form of a buffer that can act as a shock absorber and foot stabilizer for jumps, crashes, or otherwise. The intent should be to avoid slippage, have a sturdy density against debris and impact, and conform to the natural line of a human foot from the midsole to the outer and bottom sole. Along with the chassis and fastenings, this brings us to our most important factor yet: safety certifications.
Just like any airbag in a car, any boot worth risking the ride should have been safety tested. And we're not talking about having your buddy hit that 20ft jump out in your backyard and see what happens. The best motocross boots are CE-certified as Level 2 protective motorcycle boots to the EN 13634 STANDARD.
This European Standard applies to protective footwear for motorcycle riders while riding for on or off-road activities. It includes requirements for protection, abrasion, rigidity, mechanical properties, marking, and user information. It also specifies the appropriate test methods. This is the holy grail for protection standards of boots.
You can check if you're wearing a dupe because all CE-certified motocross boots and enduro boots have the certification on the inside of the shaft.
At WBW, "Best" Actually Means Something
Remember when you could open up a review of something, and when the publication—magazine, car show, whatever—said "best" they stood behind it? Yea, we remember, and we're bringing it back.
Here's how we do things:
We disclose our affiliate relationships—We make money via advertising and affiliate relationships on our website. It's how we pay our team and invest in things like sending Jim to Italy. And Japan. And France… wait… why do we always send Jim places?

We obsessively hands-on test—We wear and ride with gear before reviewing it, and we update reviews down the line if our opinions change. We look at real-world situations because that's the world we live in.

We're objective—Good gear is good gear, regardless of who made it.

We're value-focused—Why pay $500 if something for $250 is just as good? Our review scores and recommendations reflect best value. Brand only goes so far—the gear has to stand on its own.