As the summer starts to wrap and the beginnings of fall begin to materialize – if only just – the time is good for the fat tire ebike. Ideal for off-road, cooler conditions, and, dare I say it, snow, fat tire ebikes are not only wildly popular, but capable too.
If you ride in a typical North American climate, you'll appreciate the utility of a fat tire ebike like the 2023 Surface 604 Boar Explorer. Thanks to the motor assist, the additional rolling resistance of the tires is negligible and greatly outweighed by what the fat tires let a bike like this do. In the case of the Boar, exploring is very much in its wheelhouse, and if you find yourself in the saddle, you'll be hard-pressed to resist the urge to throw the bike at whatever terrain catches your eye.
For me, this has been a fruitful summer of ebike reviews. The Boar Explorer is the sixth Surface 604 ebike I'll have swung my leg over. Also, check out:
Of the three fat tire ebikes in my garage (and 10 or so that I've ridden and tested), the Boar Explorer proved to be the most agile and easy to ride. 
Words & Photography: Cameron Martel
Surface 604 loaned us this ebike for a week for this review. Thank you Ebikes Calgary for facilitating the loan. webBikeWorld does not have a financial relationship with Surface 604 or Ebikes Calgary.
2023 Surface 604 Boar Explorer Specifications
MSRP:

$2,699 USD / $3,599 CAD

Where to Buy:

Surface604Bikes.com

/

CalgaryEBikes.ca

Warranty:

1-year

Top Speed:

22 mph / 35 kph

Range:

72 km (45 miles) w/ 14 Ah, or 105 km (65 miles) w/ 20 Ah

Bike Weight:

50 lbs (22.7 kg)

Weight capacity:

285 lbs (130 kg)

Motor:

Bafang 500-watt rear hub

PAS:

Torque sensor with 5 settings, thumb throttle

Brakes:

Tektro Auriga hydraulic brakes with 180 mm front/rear rotors

Gearing:

SRAM X5 groupset

Battery:

48V 14 Ah or 48V 20 Ah

Wheels: 27.5" x 4.5"
Others: Bell, powered taillight, rear rack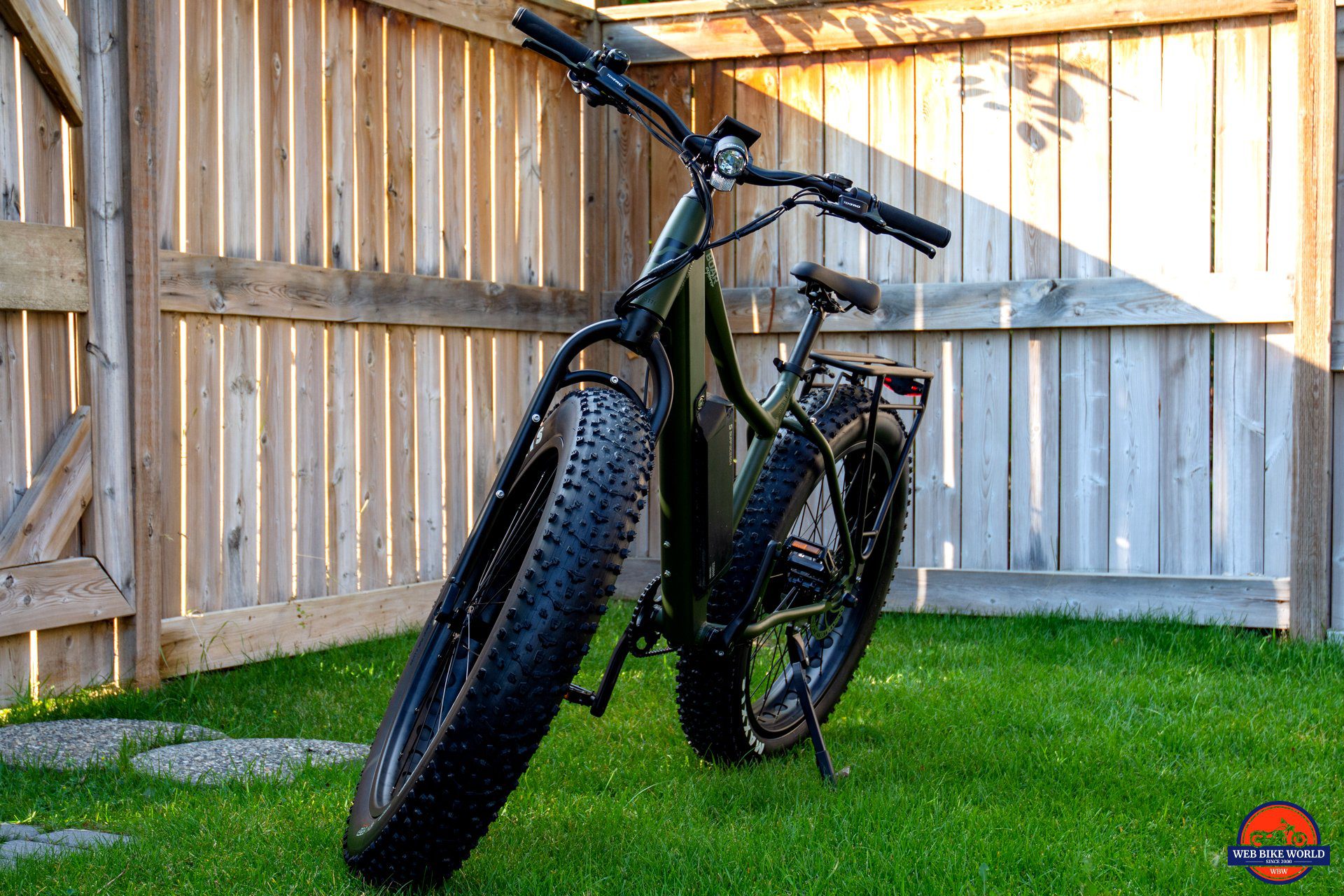 Riding the Surface 604 Boar Explorer
With 4.5" thick tires, the Boar Explorer is the second fattest-tire ebike I've ridden (the fattiest crown goes to the 2023 Himiway Cobra Pro I reviewed earlier this year). In my estimation, 4.5" is the ideal width for a fat tire ebike as that's a hefty tire that will also fit on popular ebike racks. My Yokima OnRamp 2 can carry two bikes weighing up to 150 lbs between them… and a max of 4.5"  wide tires. 
Tipping the scales at 50 lbs, the Boar Explorer is a surprisingly light e-fatbike, considering its components, class, and size. It also means that I can strap two of these onto my bike rack and proceed to tackle whatever terrain I want to, wherever I want to. For someone living at the base of the Rockies, this gives the Boar Explorer a lot of flexibility- especially since I don't want to buy a truck to move ebikes around.
The torque-sensing pedal assist, custom calibrated by S604, is sublime. That's a strong word, but it accurately describes the Boar's electric powertrain and its riding experience.
This bike will let you creep along at a crawl without the motor sending you flying; it reacts intuitively to your inputs, with just enough assist provided at any given time; you feel completely in control of the motor, and the thumb throttle is always ready to send 100% power to the rear wheel.
For crawling through the bush or for powering up dirt hills, it's a fantastic – nay, sublime – setup.
Aesthetics & Design
Surface 604 tends to go for an understated, "bike-first" aesthetic, and that's the case with the Boar Explorer. The Explorer comes in a single colorway: green. However, if you opt for the Boar Hunter (review coming soon), you can get an almost-identical version of the Boar in a camouflage pattern.
I'm a big fan of the design language, as I like my bikes to look like bikes and have good frame geometry and riding ergonomics. Call it the "old man" in me, but I don't want back problems after a few kilometers of riding. 
Some bikes get away with an unconventional frame design (I'm looking at you, Michael Blast Outsider 5.0), but those bikes won't do well when the pavement turns to dirt. 
For terrain tackling, climb conquering, dirt destroying riding, the Boar was penned proper and is up for the job.
No Suspension, But Fat Tires Will Do
It's not uncommon for fat tire ebikes to rock solid forks, but it's certainly more common for suspension to be integrated into the package. S604 is skipping the suspension forks here, and I don't think the Boar is worse off for it. Given its 4.5" tires, trimming down the pressure to improve ride quality is trivial, and there's a lot of room to maneuver.
And while you give up some rider comfort due to the stiff forks, you gain a lot in maneuverability and turn-in. The Boar is tangibly lighter on its front end compared to other fatties (it's noticeably lighter than the Himiway Cruiser I reviewed in 2021, for example). It handles off-road terrain well, providing effective feedback to the rider; I enjoyed the Explorer best on the dirt.
If you're hitting singletracks or hilly trails, the Boar's massive tires eat them up without sacrificing too much control. It's a very fun bike to ride off-road, but I'd skip the intense downhill or jumpy rides (you'll want suspension for that).
If you find your Boar a bit too stiff, try taking 5-10 psi out of the tires and seeing how you feel. You could also add a suspension seatpost (I rock the SR Suntour NCX on my hardtail eMTBs), which will go a long way in smoothing the ride.
Surface 604 is using rims that have holes drilled into them from the factory (I'd avoid drilling them myself, personally). This reduces the weight of the rims somewhat, though my suspicion is that the net weight savings is fairly minimal overall (this DIYer saved about 200 grams per wheel). Looks cool, though!
Build Quality & Components
While a bike is often more than the sum of its parts, the parts matter. As is typical of S604, the Boar is a mix of mid-level components that are suitable for its price point.
The SRAM X5, 500 watt Bafang hub motor, torque-sensing pedal-assist, and Tektro hydraulic brakes are a pretty good combination. Shifts are smooth and quick (once you have the derailleur dialed in), braking is potent, and the pedal assist is spot on (as I enthusiastically mentioned above).
Also, while I didn't make use of the metal rear rack, I appreciate that it is sturdy and easy to attach/remove should the need arise. It's painted black to match the pedals, stem/handlebars, and forks.
Handlebars, Display, & Shifting
Surface 604 uses a full-color LCD. The screen is easy to read under most circumstances, but in bright, direct light it will throw some glare your way.
In addition to showing you the speed, the display also shows battery life, your trip odometer, and how much power the bike adds to your ride at any given time. 
It's a good display, though it isn't as market-leading as it was a few years ago (S604 was among the first to use a full-color display, where most were still using monochrome LCDs). It has a USB port at the bottom for charging devices (there is another USB port on the battery).
The left handlebar is home to the throttle and display control pad. You use the + / – symbols to adjust the pedal assist settings and navigate the display menus. The i button is your "enter" button, and the headlight button activates the headlight.
The right handlebar has your shifter and bell. It's a fairly standard setup in terms of components and positioning, with everything within reach and easy to use.
I'd have preferred wider grips, but I won't hold that preference against the Boar. The stock grips offer excellent control, but if you've got hand or wrist problems (as I do), your hand will tire out faster than if you were rocking wider grips. Thankfully, this is a trivial change should you feel so inclined.
Brakes
Surface 604 has equipped the Boar Explorer with Tektro Auriga E350 two-piston hydraulic brakes and 180 mm rotors. This setup is ideal for most riders, as the brakes are both powerful and affordable to service or replace in the future.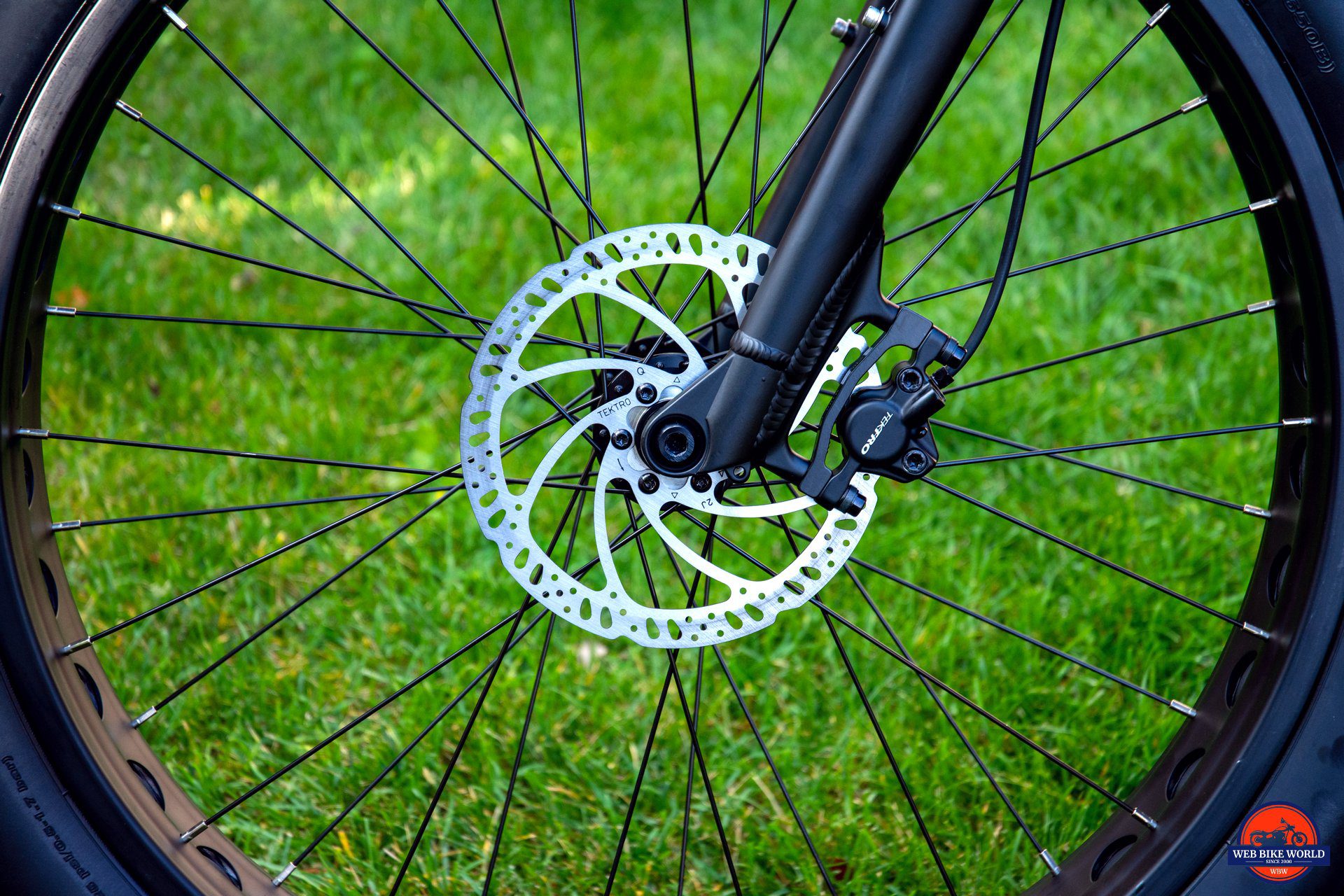 The front brakes look comically undersized compared to the massive tires, but looks are deceiving, and they do a great job clamping on the 180 mm rotors and bringing the bike to a halt.
Since the derailleur and hub motor occupy the rear wheel, the rear lacks the visual juxtaposition of big wheels and "small" brakes. Combined with the rear rack, the presentation looks beefy. If the front lacks the visual heft, the rear makes up for it.
The brakes clamp HARD and bring the Boar to a stop quickly. I also did not experience any brake fade, though admittedly, the longest downhill section I took is only 2 km long. However, I could crest 60 kph (38 mph) and stop without any drama on this hill, and the bike didn't throw a fuss when I immediately threw myself at some singletracks once I reached its bottom.
As with all ebikes, bigger brakes are better, and the Boar would benefit from 4-piston calipers. However, unless you're tackling difficult (and steep) terrain with reckless abandon, the 2-piston calipers are up for the job; they are also a price-appropriate choice. Besides, upgrading to a 4-piston alternative is relatively affordable for the minority of people who will use/need that level of stopping power.
Forks & Tires
The solid forks are lightweight compared to coil-sprung alternatives, and thanks to the big 4.5" tires, ride quality is only marginally impacted. 
The Maxxis Colossus tires are nice and knobby, with a meaty surface area that dominates whatever they are riding on (or over). While I've not tested them in the snow, their tread pattern suggests that they would perform well in light to moderate snow.
Maxxis says the same, also noting that the rubber they use in the tire stays pliable for longer. If you intend on riding in sub 7°C (44.6°F) temperatures, this may be an additional value-add to consider.
The Colossus tires are well-reviewed and a solid choice that adds to the Boar Explorer's all-terrain (and season) capability. 
Paint & Graphics
There isn't much to say here, given how minimal the paintwork and graphics on the Boar are. The execution is nice, though, with clean welds and solid paint everywhere I saw (no noticeable blemishes or imperfections in the paint).
Okay… no blemishes beyond the sunscreen smudge I left when attaching the 20 Ah battery. 😉
As with other Surface bikes, I appreciate the minimalism. Though, I have to admit that I'd love to see this bike in black, dark gray, or white in addition to the green. Maybe S604 will add some new colorways in the future?
Never Boaring, The Boar Explorer is a Fantastic Fat Tire eBike
I have one real complaint, and it's that the Boar doesn't come with fenders. Surface 604 sells an aluminum set for $300, and there are aftermarket options available should $300 be a bit steep.
Beyond that? Starting at $2,699 USD ($3,599 CAD), the Boar Explorer is a good value proposition and a great bike to ride. It's a strong combination of quality components, an intuitive drivetrain, and outright brute force. 
It looks like a terrain-terrorizing-tank, and it is: it can climb on or through just about anything that a bike could do, and it'll do it for miles: The stock 14 Ah battery is good for 72 km (45 miles), and the 20 Ah can take you north of 105 km (65 miles) assuming you pedal alongside the motor. That's a whole lot of exploring.
2023 Surface 604 Boar Explorer Review
Review Summary
The Boar Explorer is a fat ebike with a rigid fork that loves to tackle the trails. The drivetrain is more than capable of getting the Boar moving, and the riding position and overall comfort will help you stay happy to rack up the miles in the saddle. It's priced right and made well, using quality components and smart thinking. This is a great fat tire ebike.
Pros
4.5" fat tires handle almost everything
Around 50 lbs is "light" for a fatbike
Good components used throughout
Comfortably fits on an ebike rack
Cons
Needs fenders
Rigid fork may be a turn off for some