2021 Surface 604 Shred Review Summary
Review Summary
While not perfect, you'll be hard-pressed to find a better-built eBike that performs as well as the Shred for the same money. Surface 604 has spent several years refining the Shred's formula, and it shows.
Pros
Good looking and not "obviously" an ebike
Torque sensor
Good ranges on both the 14 Ah and 20 Ah batteries
Comfortable riding position
Easy to self-service
Not too heavy at 65 lbs (battery inclusive)
Cons
Tangible rear weight bias
500W hub motor does not want to push you up a hill on its own
Awkward water bottle mount placement
Vulnerable wiring on the underside of the crank
Two dropped chains in normal light-trail situations in 100km of riding...
eBikes have been on my radar for several years, but due to my professional mix (and the fact that I tend to work a lot), I haven't pursued them very seriously until recently. But with eBikes becoming a focus for our business, I find myself in the happy circumstance of needing to familiarize myself with the industry and learn how it ticks.
What's the best way to do that? Well, I decided that buying a brand-new 2021 model-year Surface 604 Shred was probably a good start.
I picked the Shred for a few reasons:
It's designed by a Canadian company, and I wanted to see what my fellow Canucks were building. Canada has a few good eBike builders, including Surface 604, Biktrix, Merkava, MJM, and others.
It's a good value proposition,

marrying premium features such as a fancy LCD display and a torque sensor to an accessible $2,400 MSRP.
It has excellent range,

with an estimated 72 kilometers (45 miles) on the 14 Ah battery and 105 km (65 miles) on the 20 Ah battery.
It matched my intended use case,

which is a 50/50 mix of paved paths/roads and light off-road trails.
Surface 604 is an established brand

, with plenty of American and Canadian dealers from coast to coast.
A local eBike dealer, CalgaryEBikes.ca, happened to have a '21 Shred with the 19.5" frame and a 14 Ah battery in stock. I wanted the 20 Ah option ($300) but none were in stock, so they sent me home with a 14 Ah battery and a note to call me when the 20 Ah battery became available two weeks later. This bike also came with the optional rear rack ($120 USD) and front/rear fender kit ($120 USD). The total MSRP for my bike as configured comes to $2,940 USD.
Before I go into the rest of the review, I'd like to call out how important it is to have a good relationship with your eBike shop. By choosing to purchase this Shred through a local dealer, I was able to ride my bike two weeks earlier despite my preferred battery not being in stock. They called me mid-June to come grab the 20 Ah battery, so I've gotten to ride with both. Go pay your local bike shop a visit!
I've now put more than 250 kilometers (147 miles) on the Shred. I intend to ride this bike regularly for the next year to see how it performs in inclement weather and snow.
—
I purchased the 2021 Surface 604 Shred and have no direct relationship with Surface 604. My thoughts/opinions are based on that context. Corrections and constructive criticisms are welcomed. Leave your review in the comments below!
2021 Surface 604 Shred Specifications
Motor:

500W Bafang hub-motor

Torque:

65Nm

Batteries:

48V 14 Ah or 48V 20 Ah

Range:

Up to 72 km (14 Ah), or 105 km (20 Ah)

Pedal-Assist Sensor:

Torque sensor, 5 PAS levels

Top Speed:

48 kph (30 mph), class 3

Derailleur:

SRAM X5 9-speed

Cassette:

SRAM 12-34T

Shifter:

SRAM X5

Brakes

: Tektro Dorado 180mm disc

Tires:

CST Patrol 27.5" x 2.8"

Weight (w/ battery):

65lbs (w/ 20 Ah battery)
See full specifications @ Surface604bikes.com.
Exploring the Shred's Key Features
As-Tested 2021 Surface 604 Shred Price & Features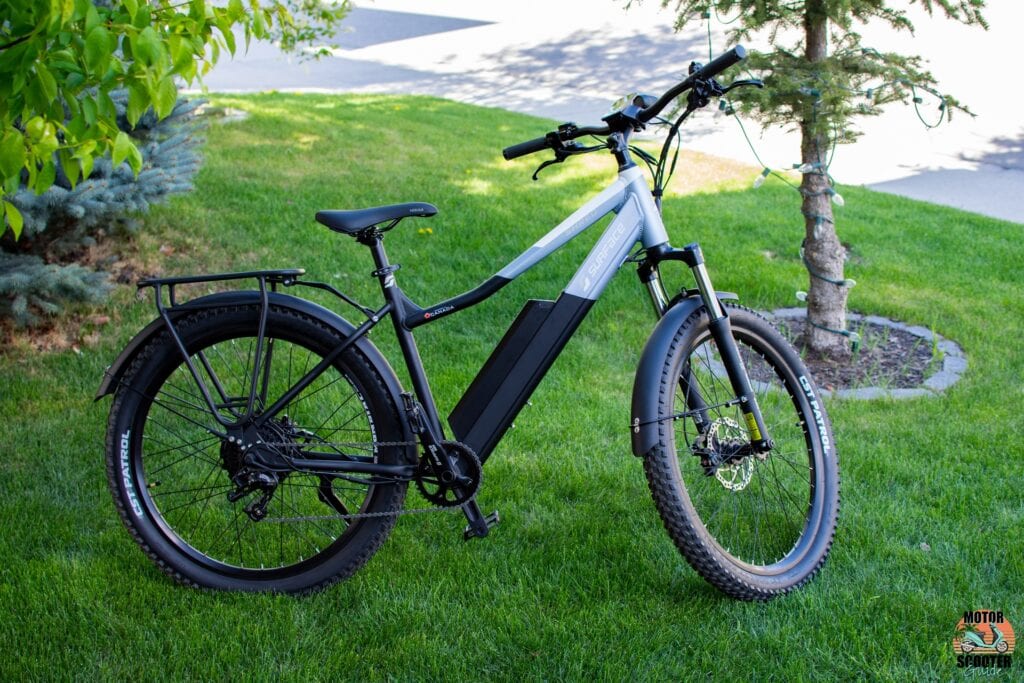 The 2021 Surface 604 Shred comes well-equipped from the factory. Notable features include:
Torque sensor (most eBikes at this price use cadence sensors)

Adjustable front suspension, including lock-out

Full-color LCD display

Large "stock" 14 Ah battery, 20 Ah upgrade available

Tektro Dorado hydraulic disc brakes with motor inhibitors

Buschel LED headlight

Large 27.5" x 2.8" CST Patrol tires
The Shred comes with a 14 Ah battery with an MSRP of just under $2,400 USD. Sizing up to the 20 Ah battery, as I did, adds $300 to the price. Fenders and a rear rack are $120/ea, making my bike as-configured a touch under $3,000.
The '21 Shred is a class-3 eBike, but can be locked to class 2 speeds. Unlocked, the top speed of the Surface 604 Shred is a hair under 50 kph (31 mph); I've had it doing 47.8 kph (29.7 mph) on throttle alone, and over 50 kph with PAS.
In Torque We Trust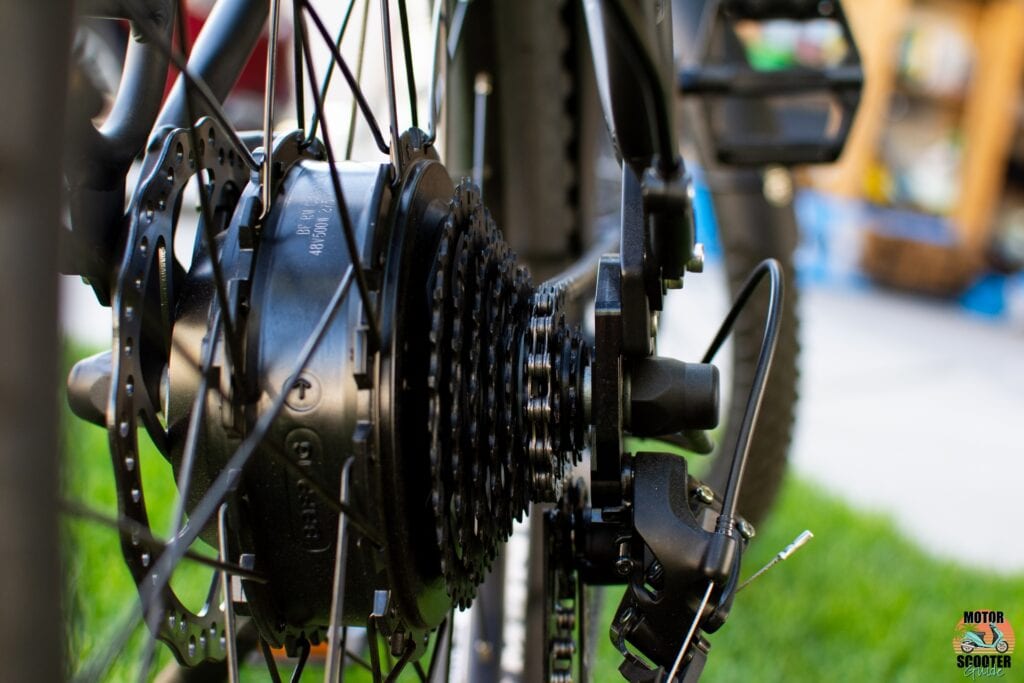 I live near a large park that bisects southeastern Calgary called Fish Creek Park; it features pathways, both paved and off-road, and plenty of variation in terrain, topography, vegetation, and elevation.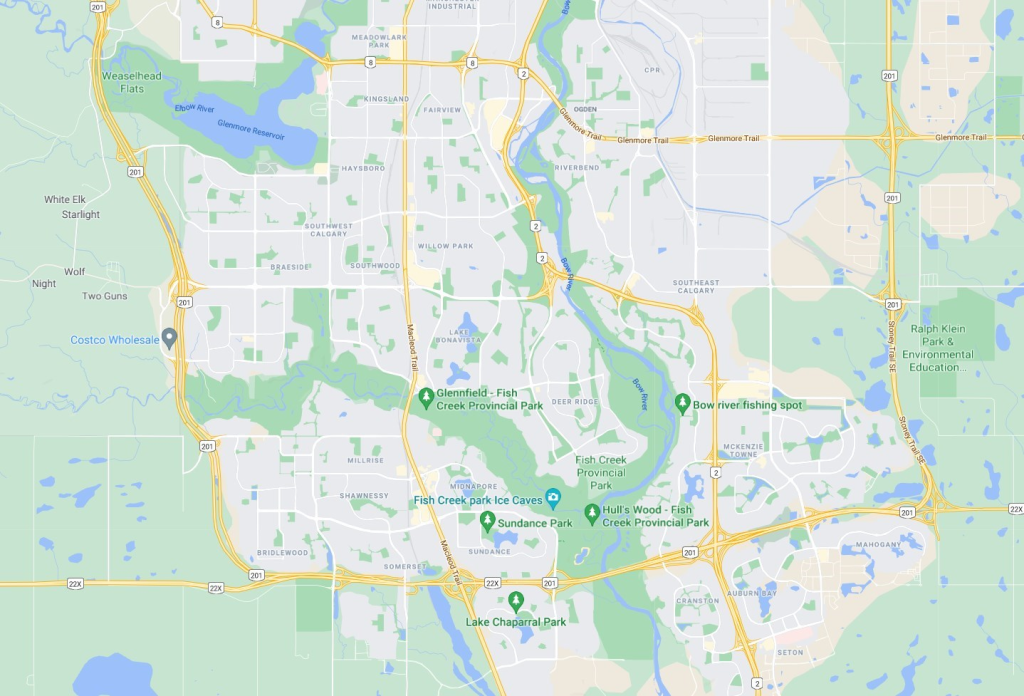 Living just a few blocks away from Fish Creek Park has made my eBike testing very frequent (and beautiful). After all, when your rides look like this, you'd get out often too: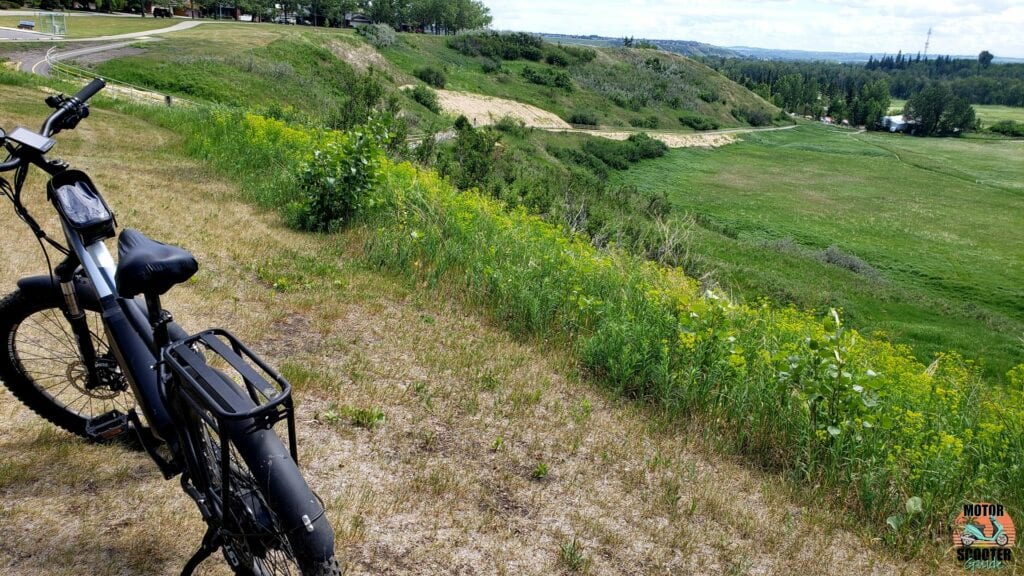 The rear-mounted torque sensor adds significant capability to the Shred. Cadence riders will swear up and down that the differences between cadence and torque sensors are marginal, but I flat-out refuse that argument.
I've recently ridden a handful of cadence ebikes: a 2021 Pedego Interceptor Classic, a 2021 Pedego Boomerang, and a Himiway Cruiser Step-Thru (check my Himiway Step-Thru first impressions and my Himiway Cruiser Step-Thru 200km review). In all three cases, the bikes themselves are made well enough and certainly competent enough, but the appliance-like nature of the cadence sensor is impossible to completely hide.
Where a cadence is on or off, the torque sensor in the Shred provides proportional power relative to how hard you're riding and the PAS level you have it set at. If you're spending your time on trails that look like this…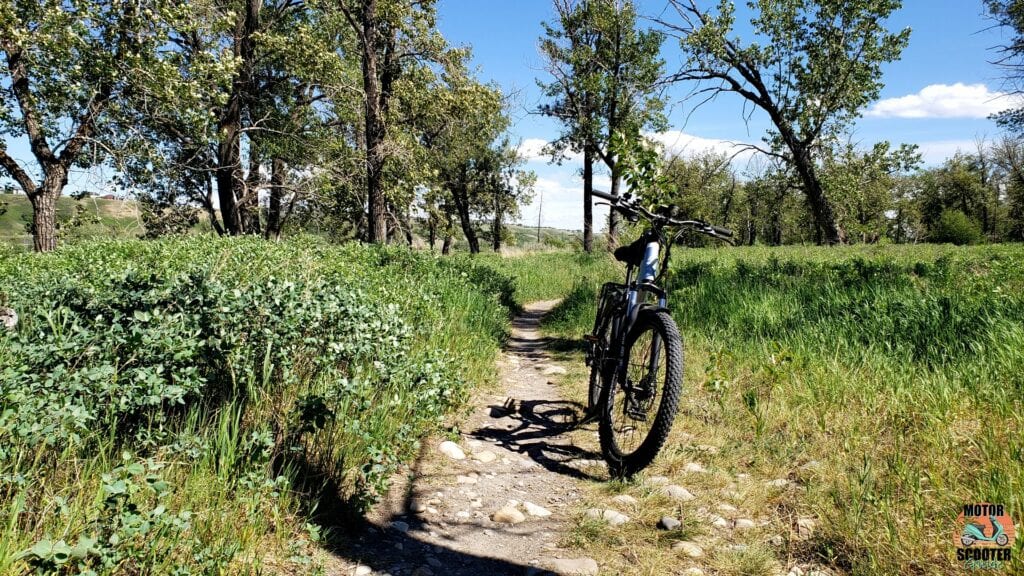 … then a cadence sensor will be fine, and I agree that the benefits offered by a torque sensor are marginal.
But if your trail looks more like this: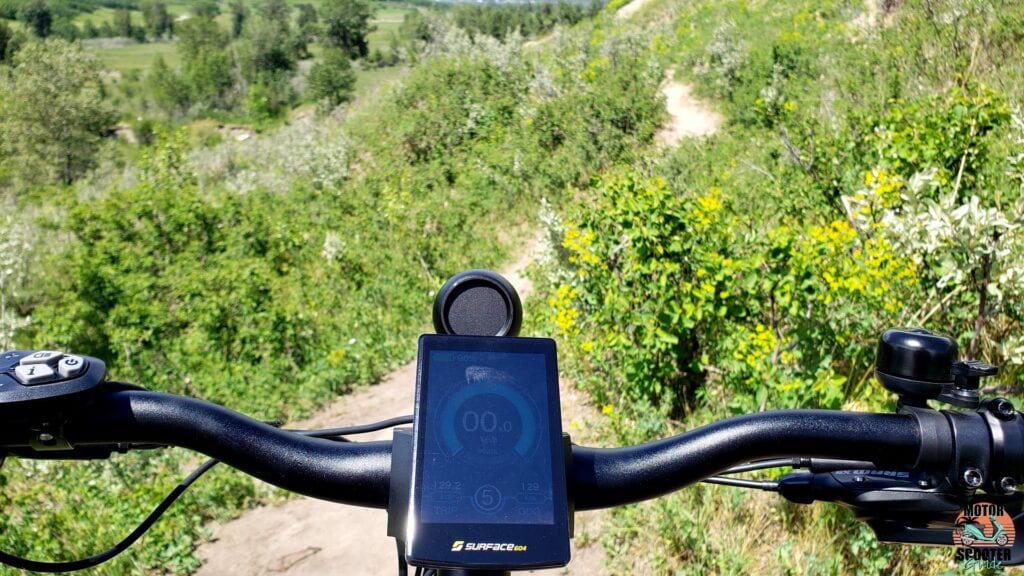 Or this…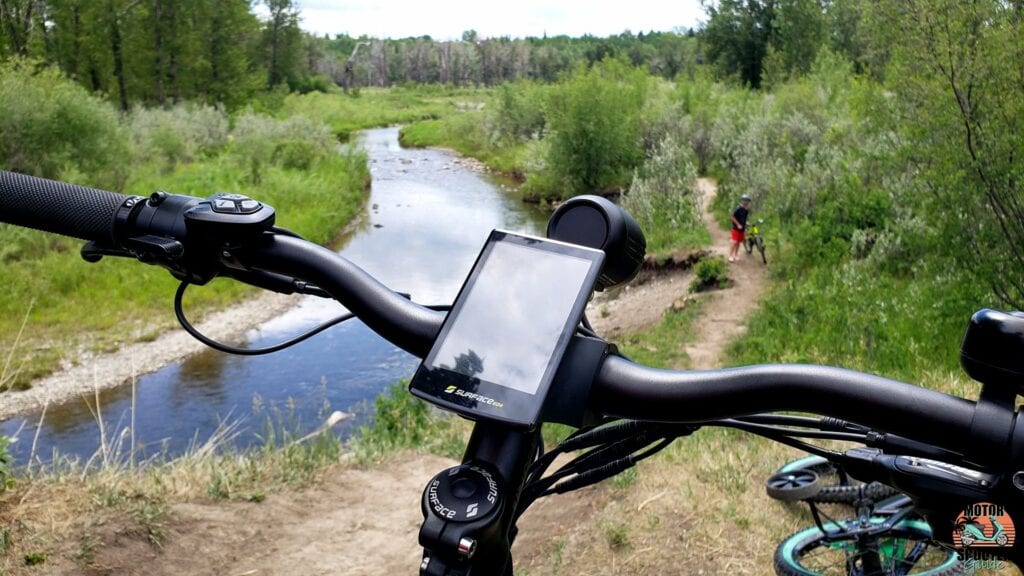 Or this…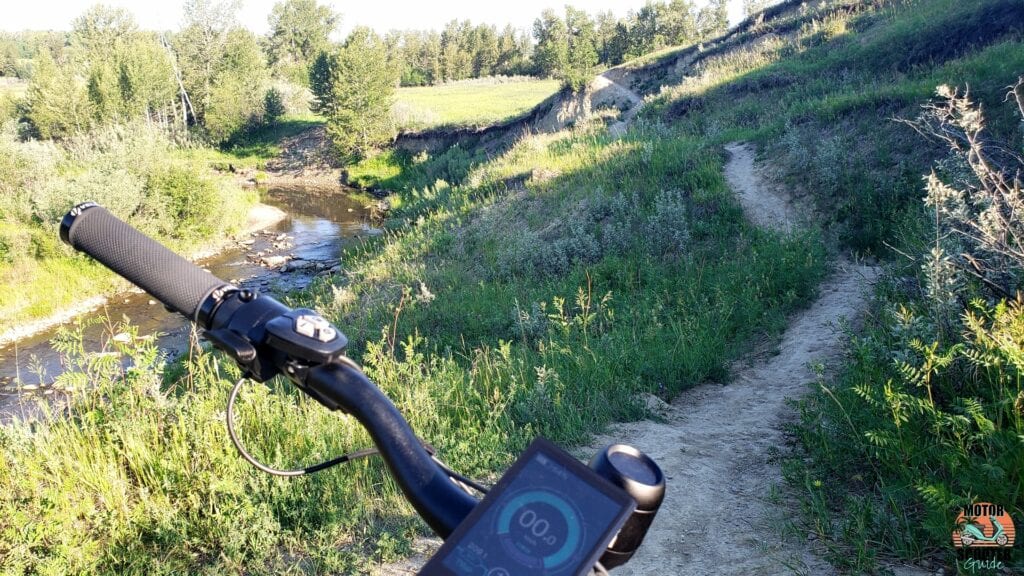 … then you're going to want a torque sensor. It's more intuitive, applying power in line with your effort. Pedal assist feels more like pedal augmentation vs. an electric motor "kicking on", and full torque can of course be applied whenever you want via the left handlebar thumb throttle.
The point is, if you're planning on taking the bike anywhere where being able to apply a little, or a lot, of power at a given moment is important, such as when you're climbing steep hills or navigating a narrow riverside path, then you'll benefit from a torque sensor.
None of the above says you can't enjoy a bike with a cadence sensor in the same situations. I'm sure Joe is having a blast with the Himiway Cruiser that he is reviewing, but it's got the same cadence sensor as the Himiway Step-Thru that I'm also currently testing, and I'll tell you right now that the Shred's pedal-assist absolutely feels better thanks to the torque sensor.
The Bafang 500W Hub Motor + SRAM X5 Drivetrain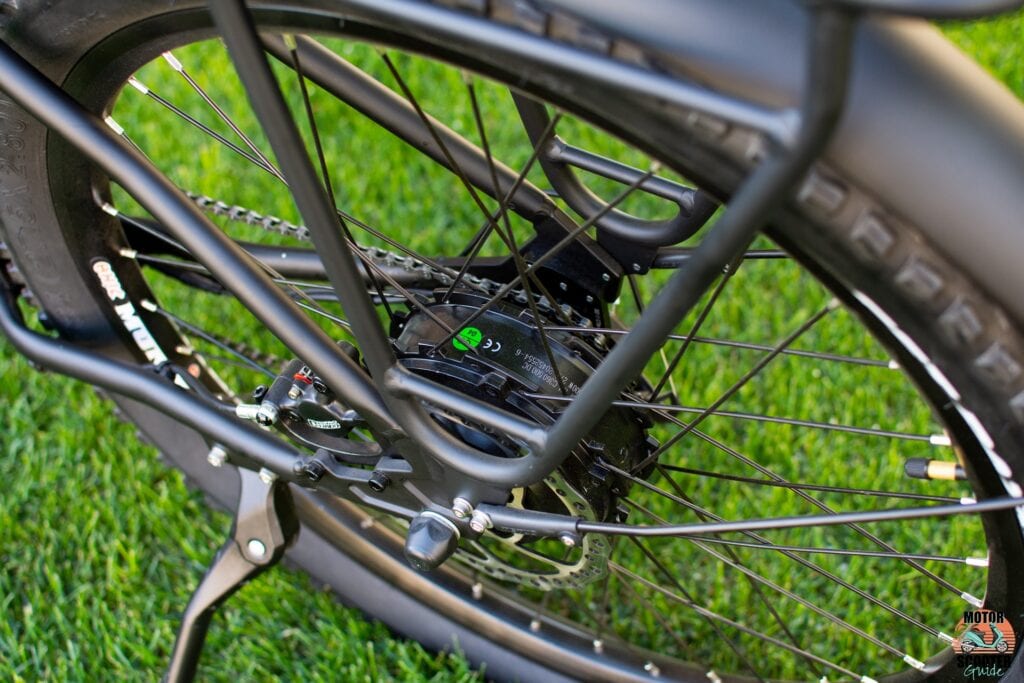 Surface 604, like basically every other eBike manufacturer selling their bikes for under $2,500, is using a Bafang 500W geared hub motor. This motor runs at 500W continuous and peaks its output at 750W, producing a maximum of 65 Nm of torque.
These aren't bad specifications, but they also aren't exceptional or class-leading (despite what Surface 604's marketing might tell you). For example, for almost identical money, you can get yourself a Biktrix Juggernaut (check out the Biktrix 2021 eBike lineup).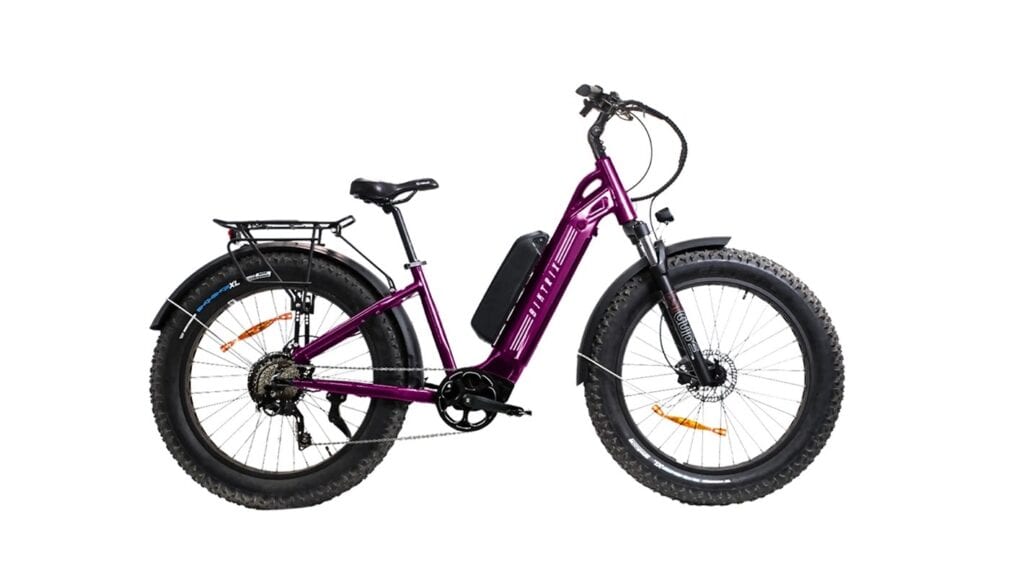 The Juggernaut has got a 750W Bafang hub motor that outputs 80 Nm of torque, with a nearly-identical $2,400 USD MSRP. That 15 Nm difference is going to be noticed when you're on hills or if you're a heavier person; it's the power step-up equivalent of me losing 60 lbs. The Juggernaut comes with a 17.5 Ah battery, compared to the 14 Ah battery you get on the price-comparable Shred, and has comparable range. The Juggernaut is also using a torque sensor.
And there's plenty of other examples of 2021 model-year eBikes at the $2,500 USD or less price point offering 750W motors, torque sensors, or both.
Now, the above said, it's also clear that the motor runs well within its limits and isn't overextending itself. It doesn't strain when moving along, and it doesn't make any noises indicating that it's under stress. I'm sure these observations also tie into why the range on the Shred is as good as it is.
The point is that 65 Nm from a 500W motor is adequate, but it isn't class-leading. If raw power is what you're after, the Shred isn't the right fit for you.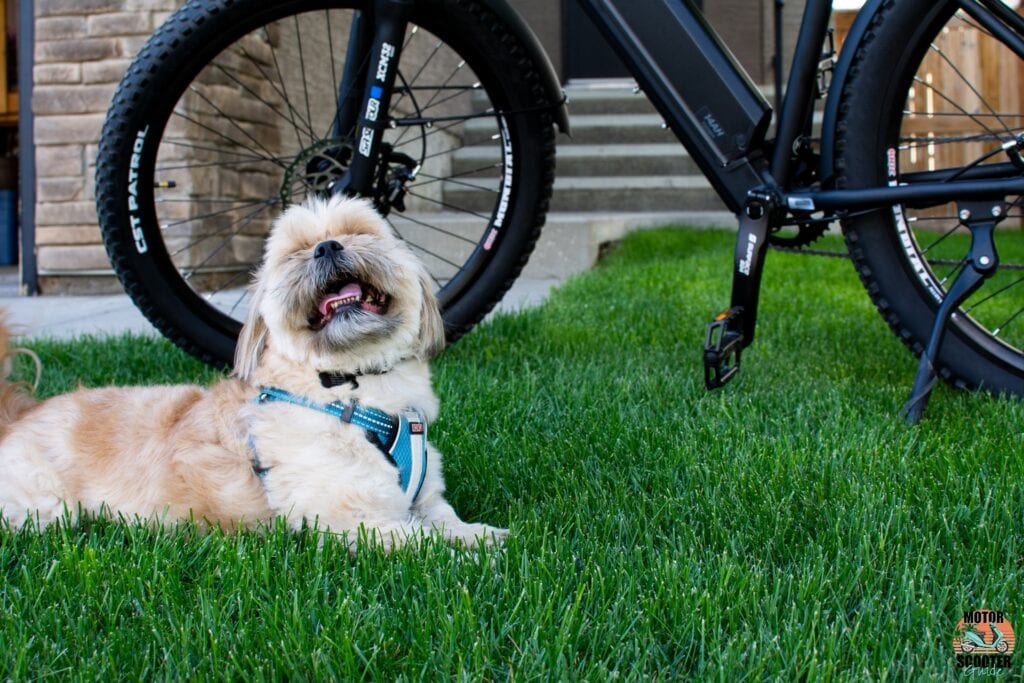 The derailleur and shifter, both of which are SRAM X5's, are a solid entry-level options, as are the Tektro Dorado hydraulic brakes (with 180mm rotors front and rear).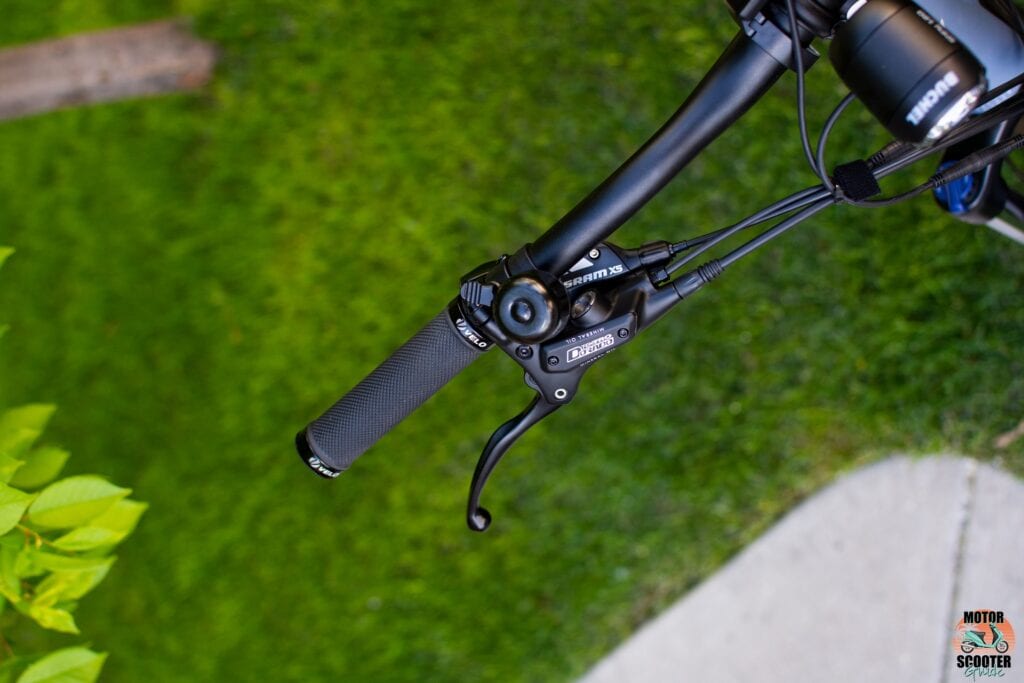 I've enjoyed the SRAM X5 shifter, which is snappy and responsive. A single press takes you up or down, and shifts happen quickly; you can downshift as a hill approaches and gear yourself appropriately.
The feeling of control the X5 gives you is welcome, as when I'm digging myself through the bush…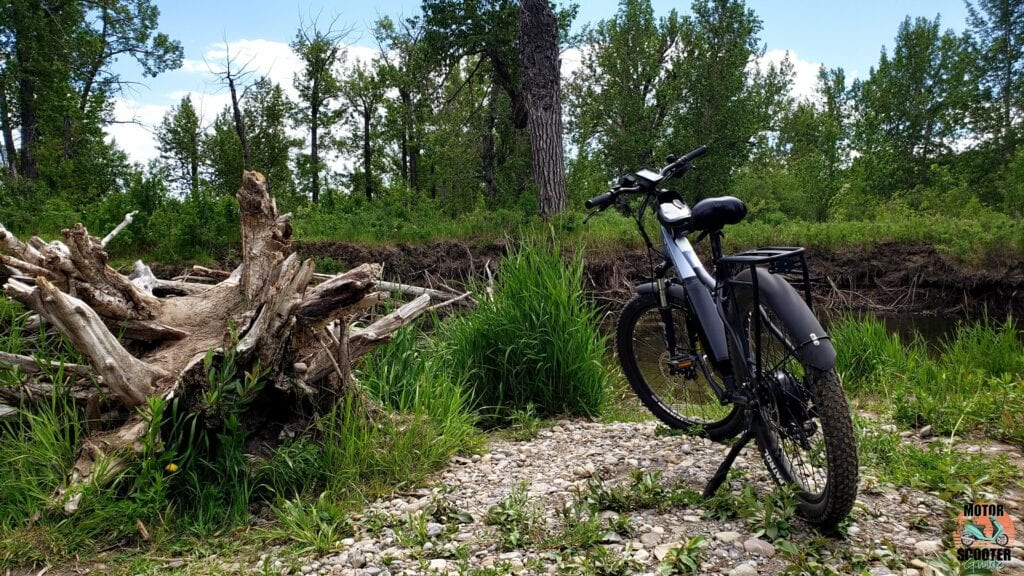 … I want to know that my drivetrain has got my back, and the SRAM X5 definitely inspires confidence.
SR SUNTOUR XCM Suspension + Tektro Dorado eMTB Quad Piston Brakes + CST Patrol Tires
If you're going to ride a hardtail bike like the Shred off-road, you're going to want good front fork suspension, the right tire pressure, and maybe even a suspended seat post. The SR SUNTOUR XCM's are up to the job, making trails that have no business being tolerable… tolerable.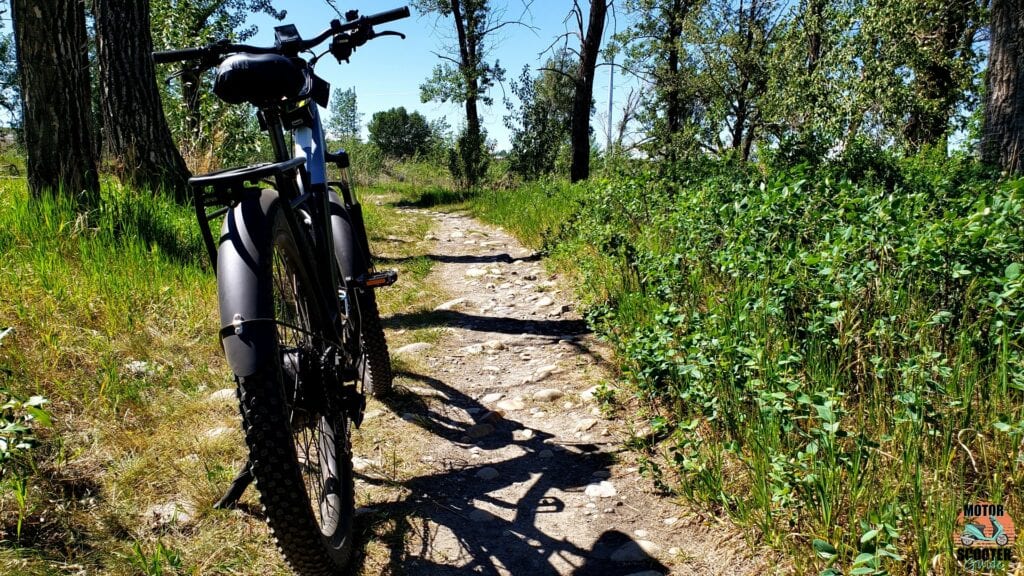 But the front suspension can't carry the comfort bandwagon on its own, and if your use case looks like the photo above, you're going to want to invest in a 30.4mm suspended seat post. Surface 604 sells some directly, but you can also look aftermarket. I've found that the ride's much more comfortable on pavement and groomed trails, but I appreciate how hard the front suspension works to keep me comfortable regardless of where I take the bike.
Speaking of which, you can adjust the suspension pre-load and lock-out via a handy twist knob. I like being able to stop and quickly adjust the suspension.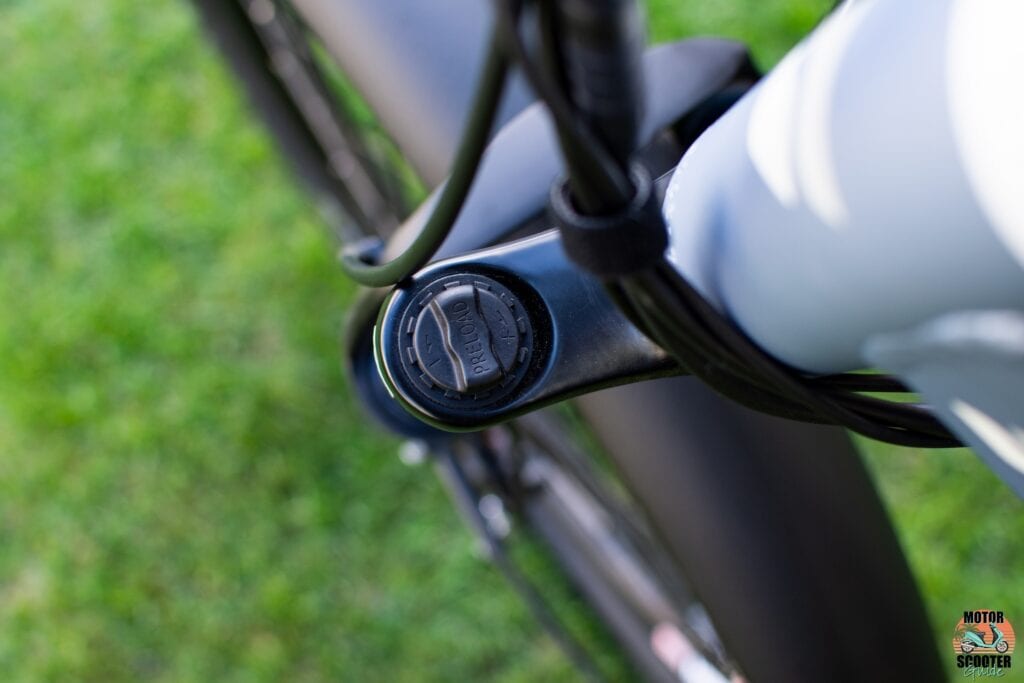 A bit of fiddling has got me dialed into a setting that works well for how I like to ride, but you can totally lock the suspension out if you intend to stick to the pavement.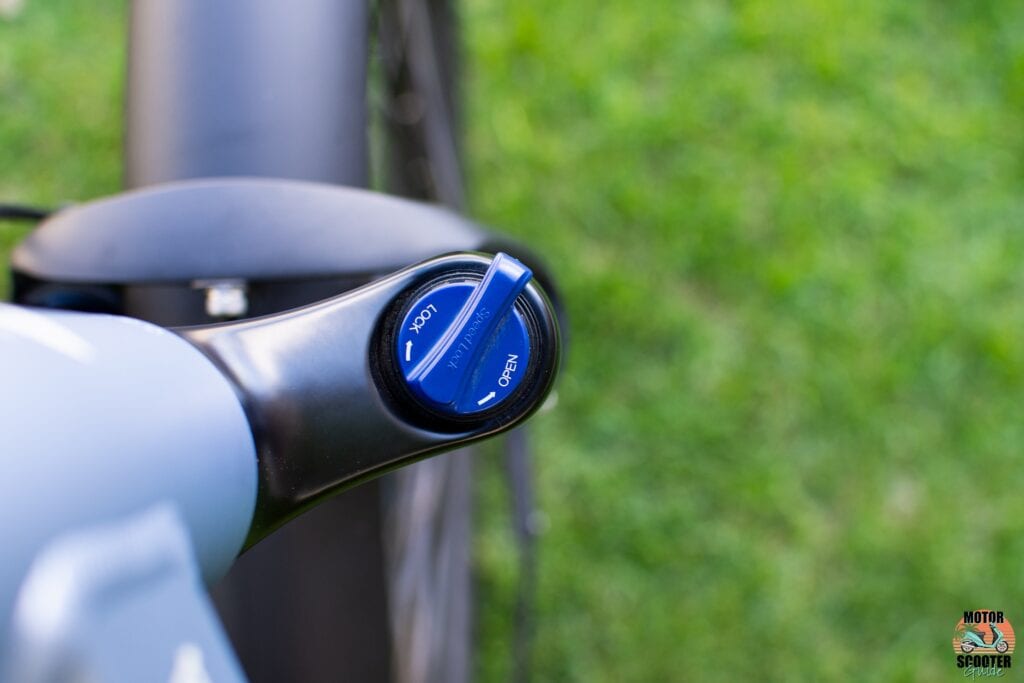 Let's shift gears and talk about the Tektro Dorado brakes and CST Patrol tires.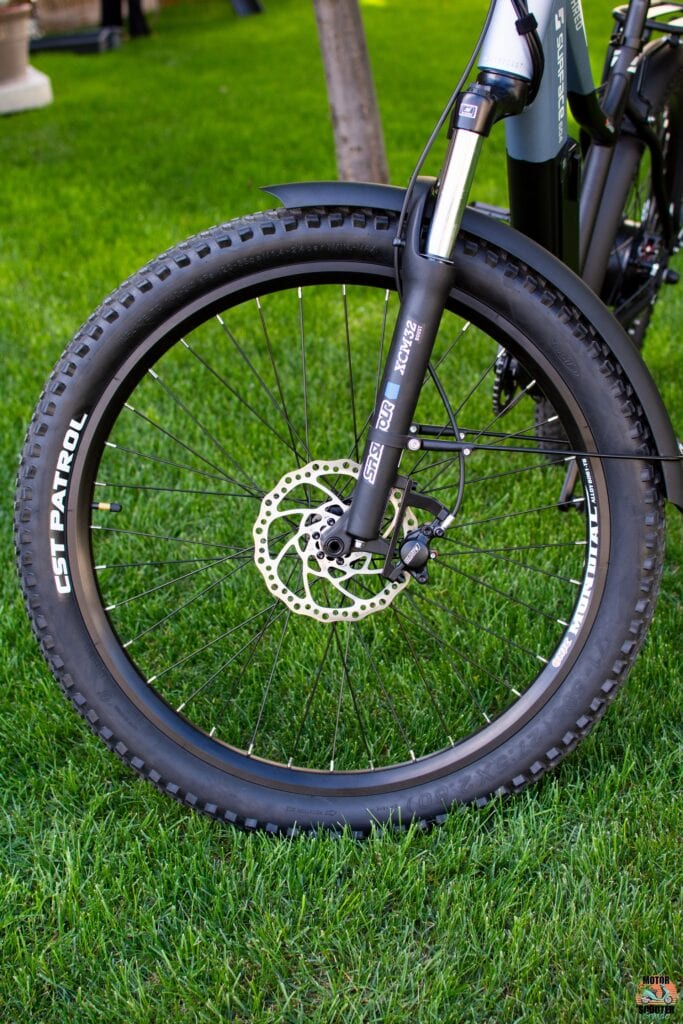 These quad-piston calipers clamp down on 2.34 mm thick, 180 mm diameter brake calipers. Both wheels have the same brake setup, and both brakes integrate motor inhibitors so that if you panic brake/mash the throttle, you won't go careening into a nearby bush or something.
These brakes are more than up to the task of controlling the Shred. I've been really enjoying the amount of control they give me going down hill, and I've found their friction point is reliable, with minimal fade. Dragging the rear brake while descending a moderate decline keeps the Shred in control. Feathering both gives me plenty of control for steeper declines.
The brakes also go a long way in compensating for the Shred's 65 lb curb weight (with 20 Ah battery, or 63 lbs with the 14 Ah battery), affording you precise control and impressive bite. I'm really impressed with them, and they give me a lot of confidence in pushing the Shred hard on the trails.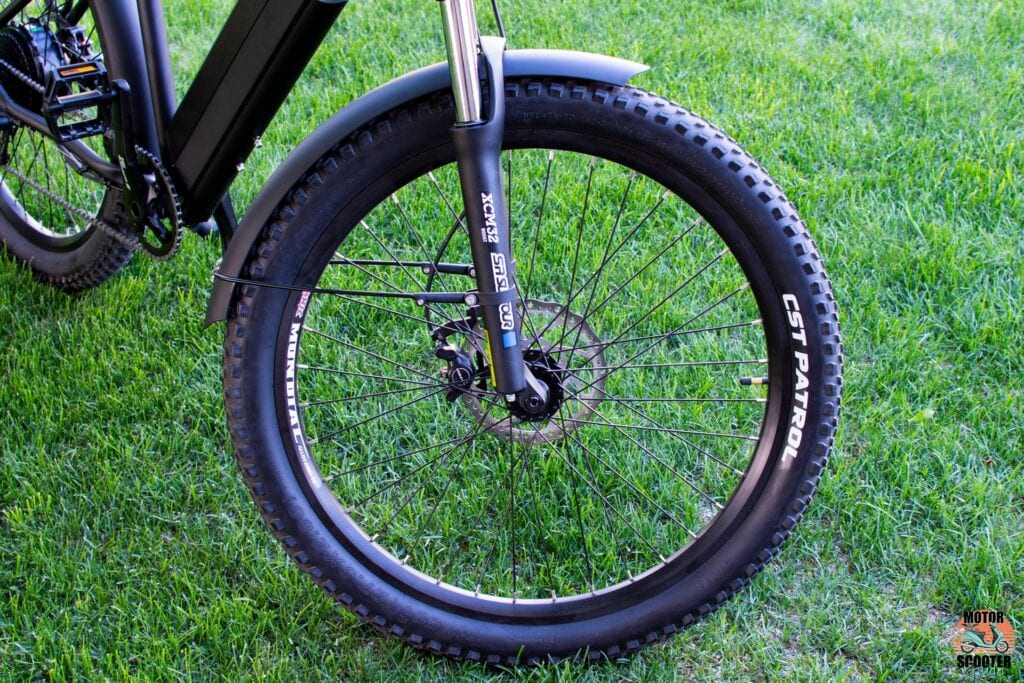 At the same time, the 27.5" x 2.8" CST Patrol tires also inspire confidence and give plenty of grip on pavement and off-road trails alike. These are not quite what I'd call "fat" tires, but they're pretty close and the extra width is appreciated on dirt and gravel.
I have mine at 22 psi, which I find balances on and off-road comfort. You could go to 35 psi if you stick to pavement or groomed trails. Lowering tire pressure improves comfort, but you notice the difference at high speeds.
I'm very happy with the drivetrain, suspension, brakes, and tire choices. None of these parts are "high end" and no one part stands out on its own, but the Shred is larger than the sum of its parts and all of them perform their job competently.
Battery + LCD Display
I purchased the Shred with the optional 20 Ah battery but none were in stock, so CalgaryEBikes.ca sent me home with a loaner 14 Ah battery. I got about 75km of riding on it before swapping out for the 20 Ah.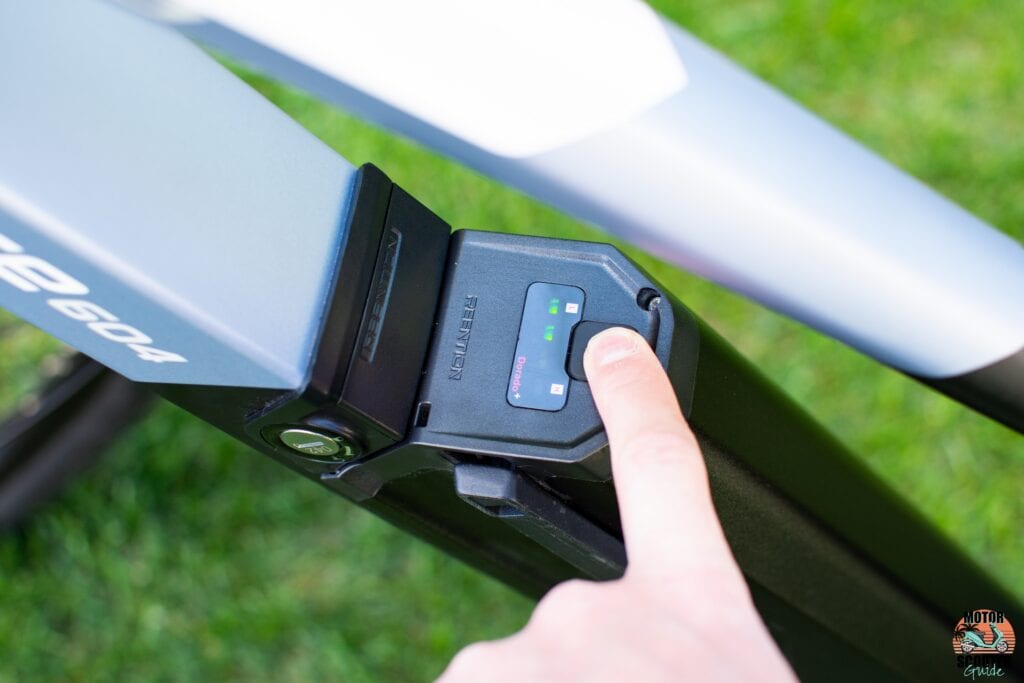 Both batteries come with USB ports so you can charge your devices, as well as a button-activated charge indicator. The battery packs are hefty, with the 14 Ah weighing in at 7.5lbs and the 20 Ah at 10 lbs. My riding with each battery suggests their estimated ranges of 72 km (45 miles) for the 14 Ah and 105 km (65 miles) for the 20 Ah are accurate.
The LCD display is a touch above what most eBikes are currently rocking.
For the 2020 model year, Surface 604 went from the standard "wristwatch LCD" style display (like what Pedego has on the '21 Boomerang or '21 Interceptor) to a 3.2" color LCD display. For 2021, the 3.2" display was upsized to 3.5".
There are a few eBikes and eScooters out there rocking this exact display, and it's definitely a notch above the usual LCD units you see on inexpensive eBikes. However, I've noticed that there is a solid half-second of input lag between when I blip the throttle and when said blippage is reflected on the display. This is also true when accelerating or decelerating; the screen needs a second to catch up.
In addition to showing your speed, the display also shows you how much engine power the bike is currently using, your trip distance, the total ODO, battery life, and level of pedal assist. You'll also make any settings changes, such as locking/unlocking the speed limiter or adjusting the brightness of the display, via the screen. Inputs are handled via the buttons on the left handlebar.
Notably, you can also password-lock the display, rendering the electronics useless unless the passcode is entered.
The input lag on the display is both noticeable and annoying, but it isn't a deal-breaker for me. If you frequently ride places where you need to have a tight grip on your speed and that half-second of delay matters, then it's worth noting.
Whether or not the extra $300 USD for the 20 Ah battery is worth it depends on your use case. I'd certainly want the larger battery if I was making a day of it and planned on riding hard (or making liberal use of the throttle or heavy PAS). But if your main use case is inner-city riding and light commuting, the 14 Ah battery ought to be sufficient.
Both batteries charge in 3-4 hours, meaning that you could easily charge it at work if you used the Shred to commute.
2021 Surface 604 Looks, Style, & General Appeal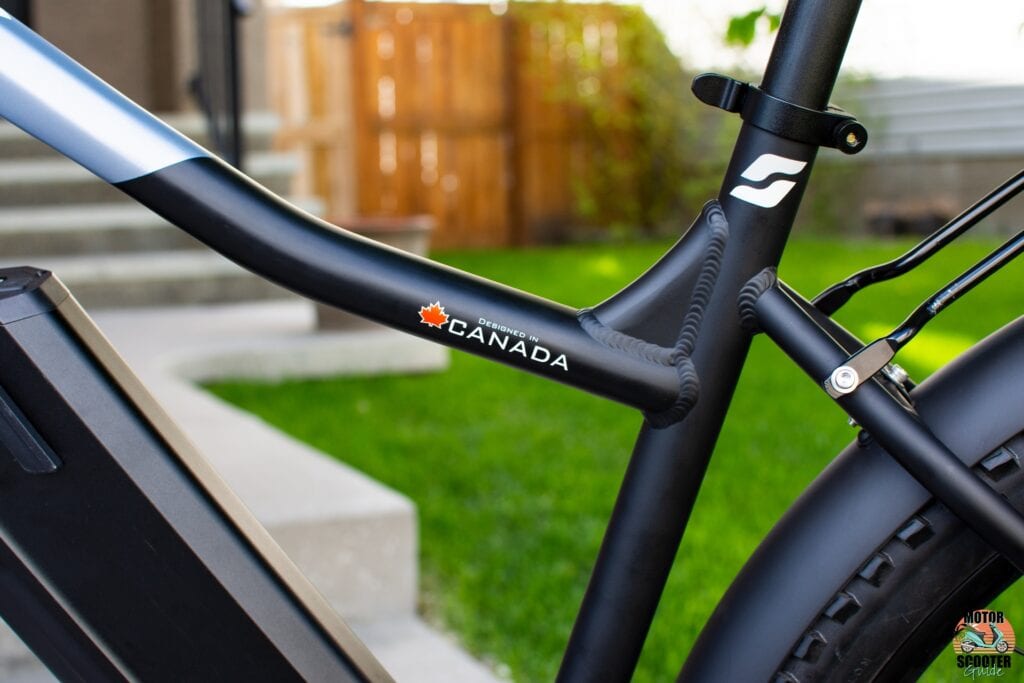 I always get a kick when companies put "Designed in PLACE" stickers on their products, as if the fact that it was designed by Canadians and manufactured by Chinese means anything to the consumer. It's one thing if something is made somewhere, but designed in? It feels disingenuous.
Pedantic complaints about verbiage aside, the Shred looks like a pretty typical mountain bike.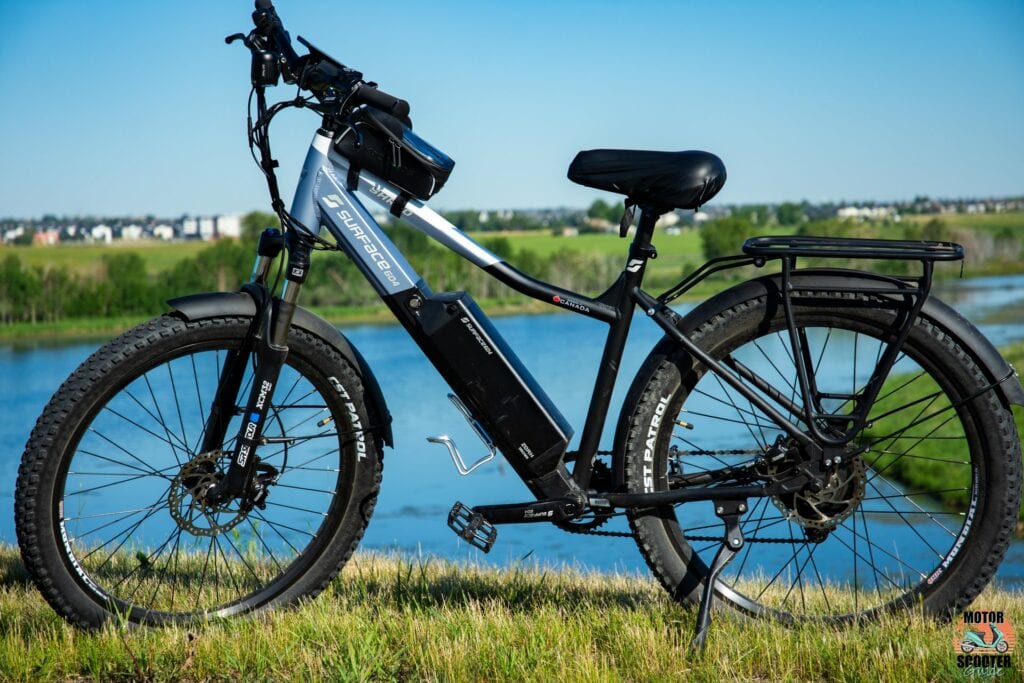 I like the blue/white/black tri-tone colorway, and I like how well the electronics are integrated into the frame. For the most part, you don't see the wiring and the battery doesn't scream "BATTERY" as some other visible battery packs do.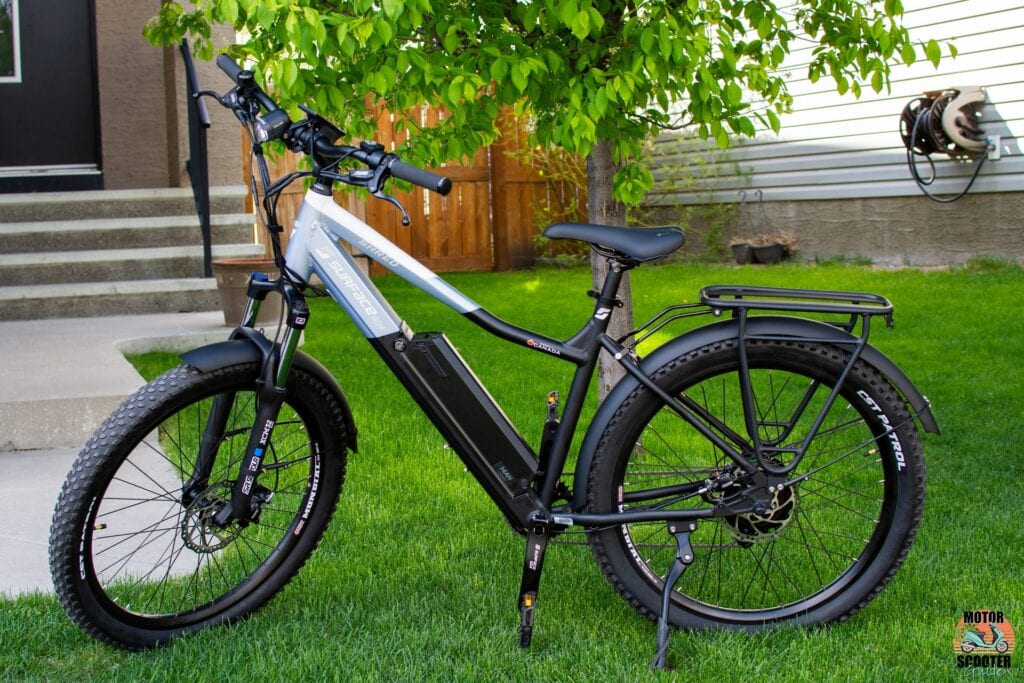 As far as mountain bikes go, the Shred is a fairly aesthetically muted affair. Surface 604 has not gone the way of extreme styling cues, such as what Sondors has done for their 2021 lineup. Surface 604's bikes could easily be mistaken for a regular bike, which I think is kind of the point.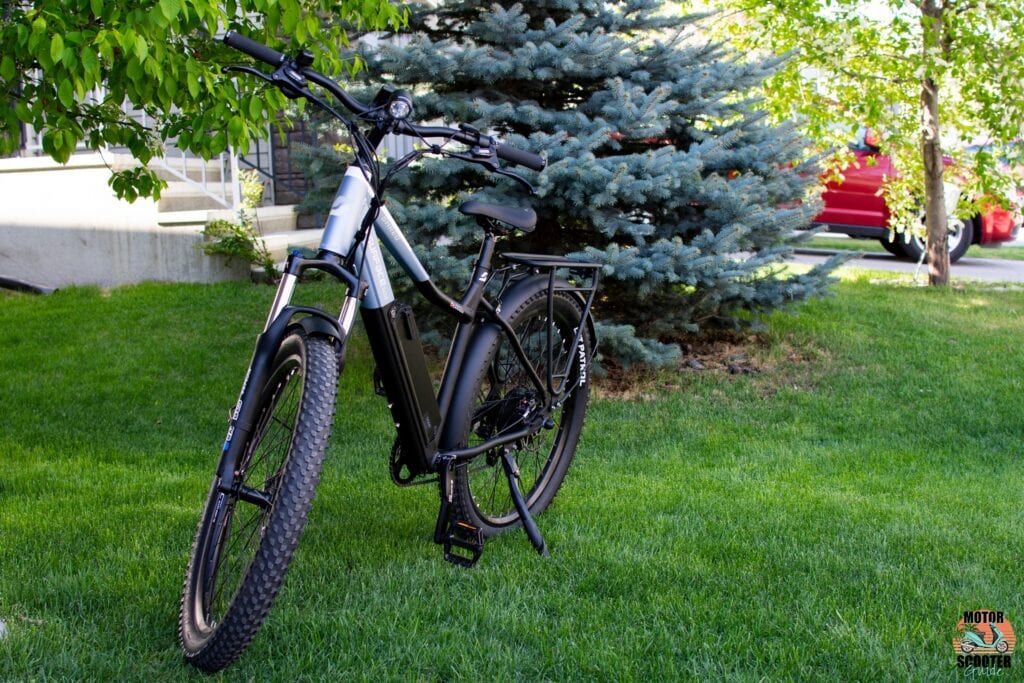 The Shred looks capable of tearing up mountains, and while it can't match the performance of a mid-drive eMTB on the hills, it looks the part and gets me up just about everywhere I've tried to go – and that's good enough.
And as more than one person has told me, "damn dude, that's a nice bike".
2021 Surface 604 Shred Build Quality & Value for Money
Build Quality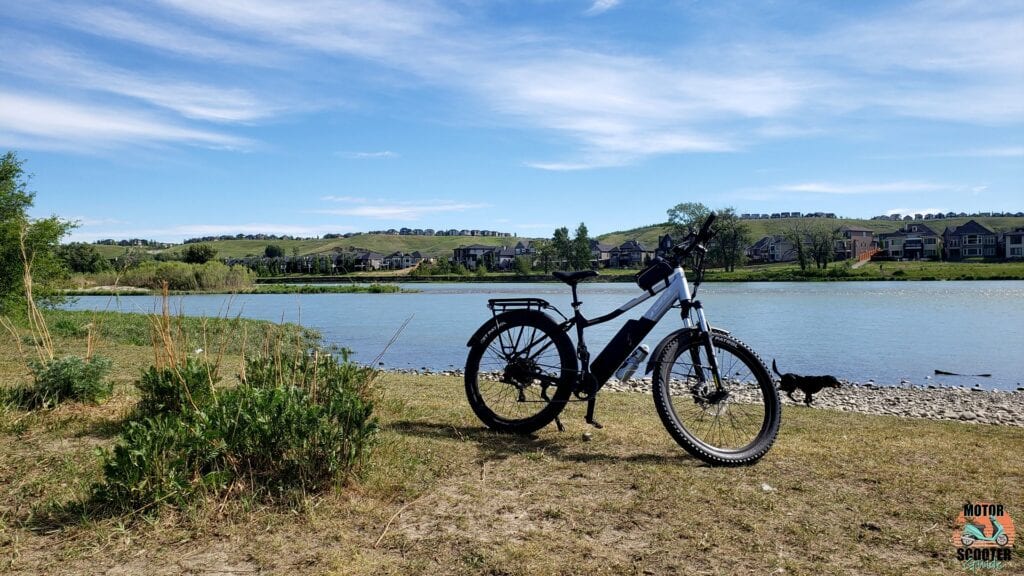 The build quality of the Shred is good for the most part, but it's not perfect. In the first 125km of riding, frequenting trails that I wouldn't call anything more than a 3/10 on the difficulty scale, I dropped the chain twice. In both situations, I could swear I wasn't applying power/changing gears when I shouldn't have been. I won't blame the bike (yet), but it's worth noting.
Also worth noting are a few weird design choices. First up, the awkward placement of the universal bike bottle cage mount.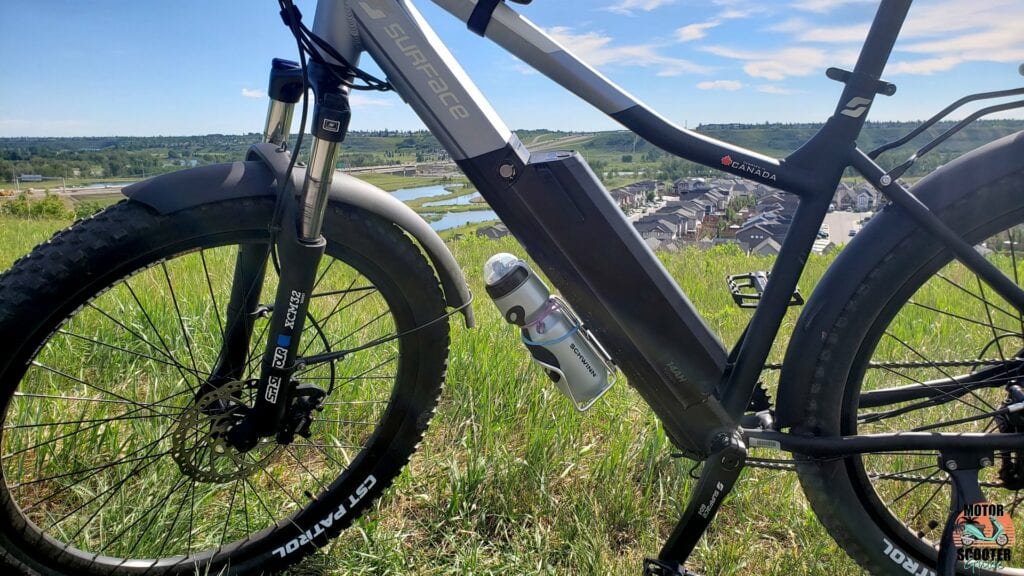 Putting this on the underside of the bottom bar makes the bottle mount vulnerable to, you know, everything. In fact, when the bike fell over after I encountered a class-5 mud lake (okay, or maybe it was a small puddle on a back trail), the cage was damaged. Sure, it was just a cheap Schwinn cage, but if it was on the top bar it wouldn't be damaged.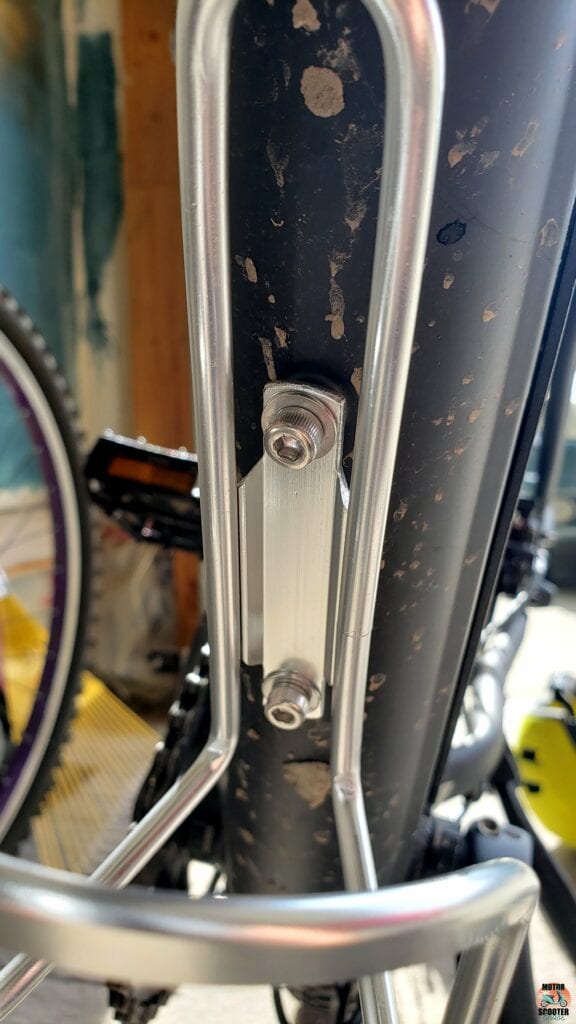 Also worth mentioning is that the top screw is threaded incorrectly, always coming in at an angle. I had to get pretty serious as I was screwing in the bolt.
Cheap cage? Yes, it was. Terrible mount position? Yes. Questionable workmanship on the mount holes? Also yes.
Next, the unshielded wiring that runs underneath the bike from the crank. I get that you have to run the wires somewhere, but putting relatively unprotected wires here seems like the Shred is asking for an accident to happen. It may sound like I'm being nitpicky, but when I had to zip tie wiring back into its original location that had come loose, it made me quite nervous as I discovered this issue while out on the trail.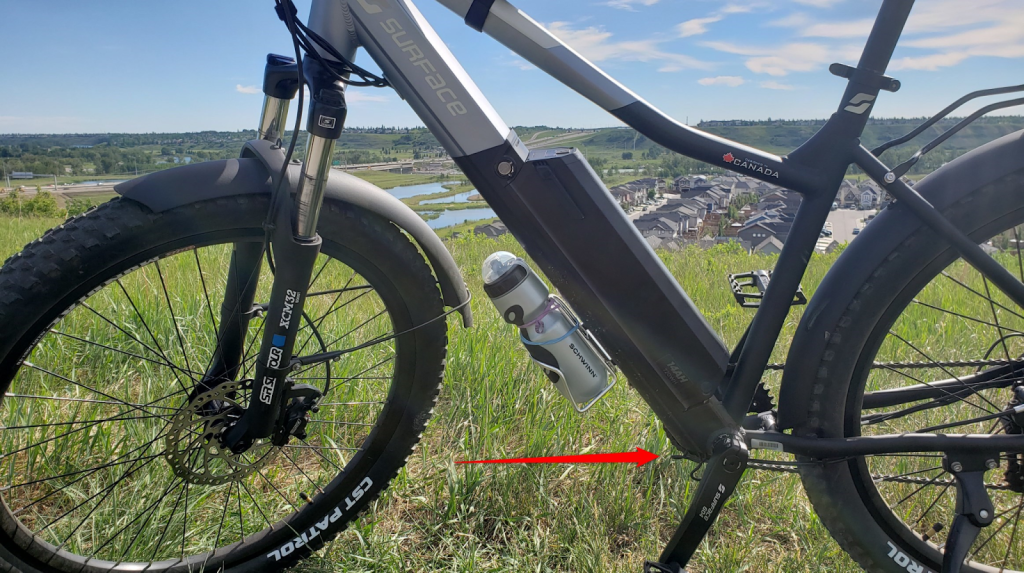 Shortly after taking this photo, I realized that you can see some hanging chads just waiting to cause an accident. Said chads are not visible on the photos from the day-one photoshoot, meaning that the wires worked themselves loose in the past 125km or so of riding.
The fix was easy enough: I shoved them back into the slot in the bottom bar and zip tied them in place. But it doesn't inspire confidence to have to do so with just 125km of light-moderate riding on the odometer.
Last for this list is the flimsy front headlight bracket, which bends if you so much as look at it wrong.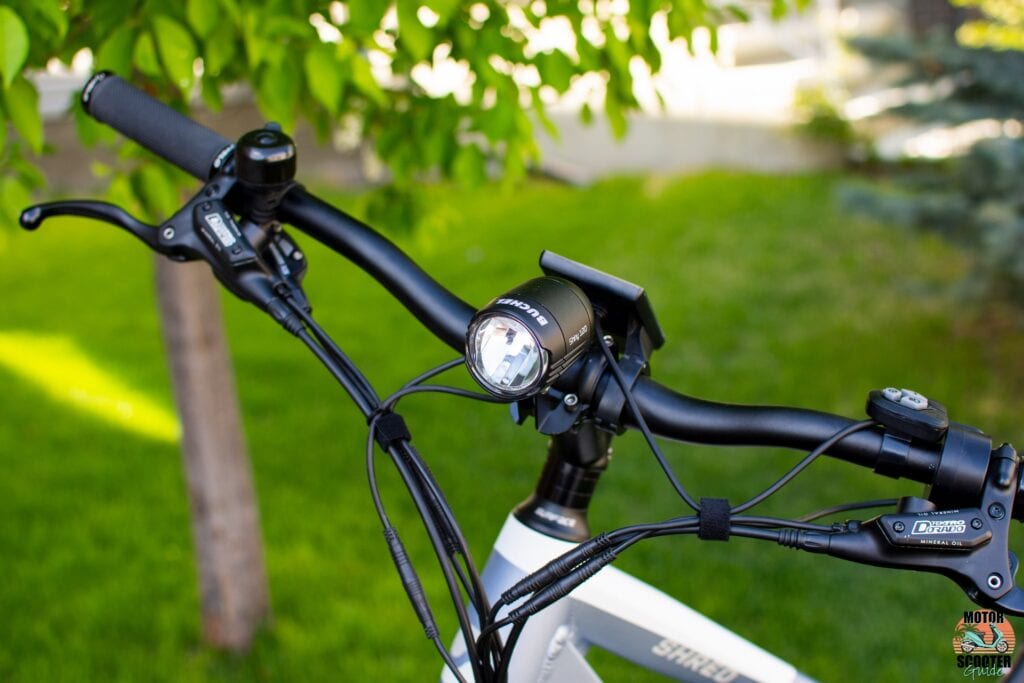 It bent on the second fall the bike took, which was in the previously-mentioned mud lake. Now the headlight cannot be properly aligned. In my case, it's not a big deal since I don't do much night riding, but it's frustrating that nobody thought to perhaps reinforce this area. It's not like it sticks out from the handlebars or anything.
Value for Money
I addressed the value piece a bit earlier when I broke down some of the individual components and my experiences with them, but if you skimmed here, I'll summarize.
The Shred is a well-made bike, but it's not perfect. It's better than 90% of eBikes in its price category in terms of quality of build and the components used. But it's also squarely average in a few respects: average 500W motor, average drivetrain, average brakes, and so on.
That is not a bad thing, because let's also remember that this bike's MSRP is just $2,400 USD, and a $2,400 USD bike with a torque sensor and these components is not common (yet).
Then there's also the brand equity to consider. eBikes are a rapidly growing industry. Most of the brands you see advertising on Facebook won't exist in 5 years. Surface 604 has a large dealer presence in Canada and the USA, indicating that their business is more established than many startups. This should mean that post-sale support is better, and that's worth considering.
A few things that I wish were included in the $2,400 base price:
A handlebar bottle mount

– Or a top-bar mount. I don't like the underside mount location, both because it is uncomfortable to access (impossible when riding by the way) and because it places the bottle at risk for damage.
The headlight bracket

– I'd redesign this thing entirely. It's flimsy and does not hold up well.
An integrated rear brake light for the rear rack

– Again, you can buy one and add it on, but if I'm already buying the rack, surely you can include the $1.50 LED light and $0.25 worth of wiring?
Outside of the above, I don't think you'll feel buyer's remorse after buying the Shred if you start spec shopping. There are some bikes out there with better specs on paper, but not many, and none of them are objectively "better" than the Shred.
How the Shred Handles the Trails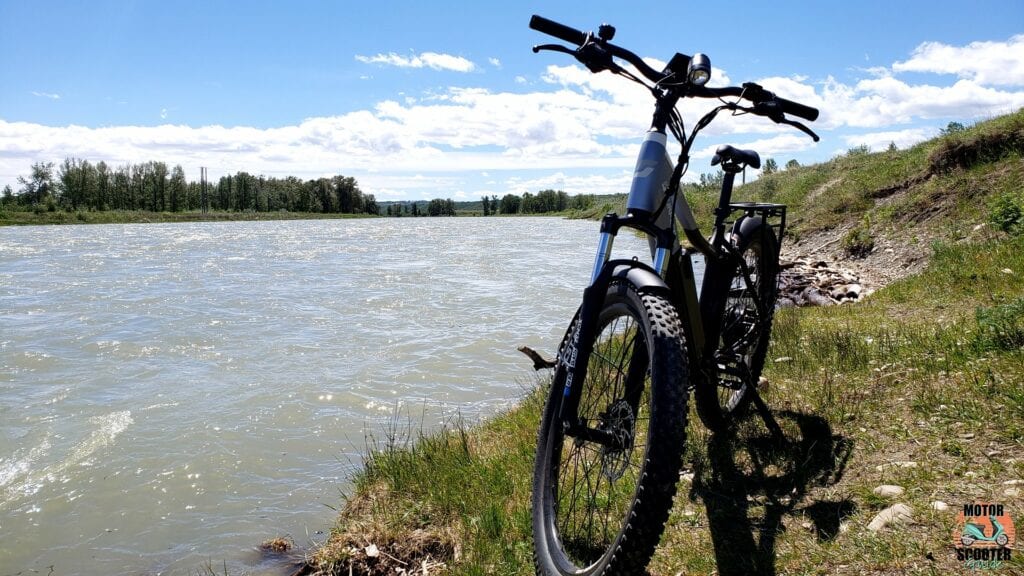 In a word? Wonderfully.
Paved and groomed trails are where the Shred is the most comfortable. Despite the front fork suspension, you're still going to feel most bumps on the road. This is doubly-so when the road becomes dirt.
But the Shred is a very competent bike, and despite the fact that it isn't a fully suspended bike, there's no way you're not going to take it on the trails the moment you realize what it can do. Because it can do a lot, and do a lot going a long way, and the confidence that it gives you is intoxicating.
And I'm not talking about the "eBike effect"; the Shred is a very good eBike that is very good on the trails.
Climbing & Descending
For hills, 500W is just enough when you're 6'2" and 210 lbs. Going up anything other than a small hill on throttle alone is a non-starter. But put it in PAS3+ and you'll fly up all but the steepest of hills with a regular pedal cadence.
Because you've got a 9-speed gearbox (many bikes in this price segment are 7-speed), you've got plenty of variation in your pedal power. Humans are good for around 250W of continuous output. Pair that with the right gear, and suddenly your 750W of total system power (heh) will get you moving.
I've made climbing a few hills near my house a bit of a sport. Progress is measured by how winded I am when I get to the top, and progress is being made quickly (thanks, Shred!).
But, there's a problem inherent in the Shred's design: the motor.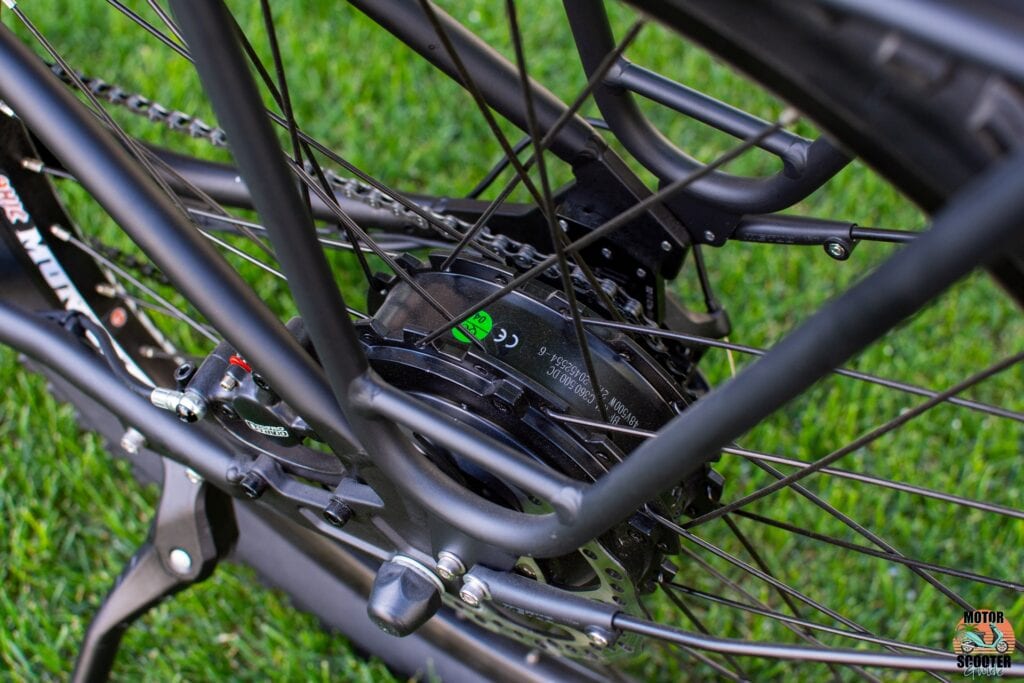 Or, more specifically, that the motor is in the rear hub vs. a mid-drive configuration. Combined with the rack, and the rearward weight bias actually becomes the Shred's biggest limiting factor when it comes to hill climbing: both in that the motor can't use the bike's gearing to its advantage, and that the rearward bias that having the motor in the rear wheel creates presents balancing and logistical compromises.
Since a hub motor can't use the gearbox to gain mechanical advantage, it runs out of steam as the grade climbs. Another happy side effect of the rear hub is the pronounced rear weight bias, which causes the front tire to lift when you hit a bump while climbing a steep hill.
Overall, the experience is still pretty good and the Shred has got my 210 lb self up plenty of hills I had no business climbing.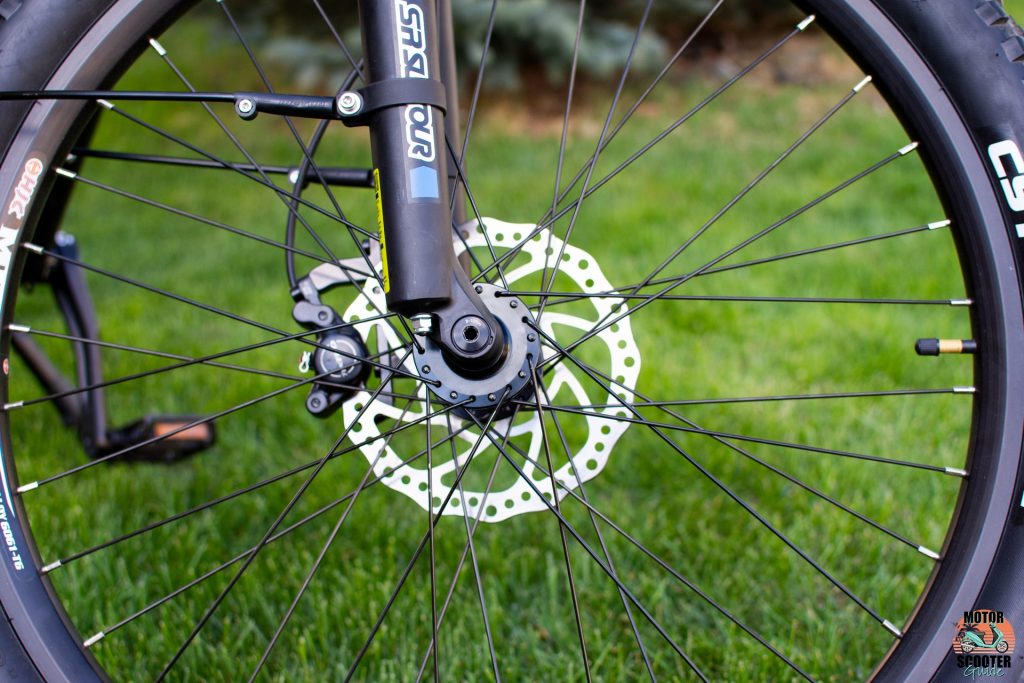 But going down those hills is even better thanks to the Tektro Dorado hydraulic brakes and 180 mm discs. Being able to feather the brakes and inch my way down a hill is awesome, because the bike tends to get me up hills that are way bigger than I'd originally thought.
The brakes have excellent bite and stand up to abuse. They feel as good at the end of a 20 km trail ride as they do at the beginning, even if I'm a little worse for wear.
Cruising & Trail Riding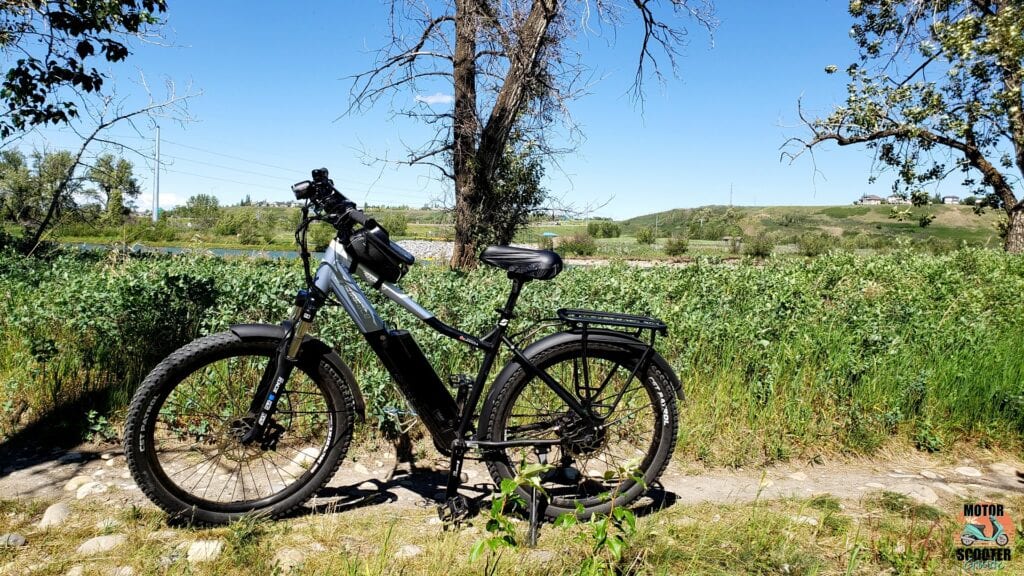 Tearing through flat or rolling trails on the Shred is some of the most fun I've had in a very long time, and that's coming from a guy who's day job involves riding motorcycles. But the Shred just loves it.
On a paved and relatively flat surface the Shred will hit its unlocked top-speed of 28 mph (45 kph). I've tested this in multiple situations and at multiple charge levels. It doesn't get there very quickly, mind you, but it does get there. With PAS 5 and me pumping the pedals like a madman I was able to hit 54 kph!!! WOW.
It'd also get there faster if you weighed less than me. My wife, who is more than 60 lbs lighter than me, reports that the Shred feels much snappier than how I would describe it. She also beats me when we go go-karting. I'm sure those things aren't related at all.
The 2.8" wide tires offer plenty of control at higher speeds, though let's not get overconfident. Going for a slide at 50 kph is going to suck if you aren't geared up for it (and even if you are). But you can get it going that fast and it'll do those speeds for a decent clip before running out of battery.
Once at speed, maintaining anything 45 kph or slower is easy. Set the PAS to the appropriate level and off you go. Or use the throttle, but you'll chew through your battery pretty quick at those speeds.
Off-Road Capability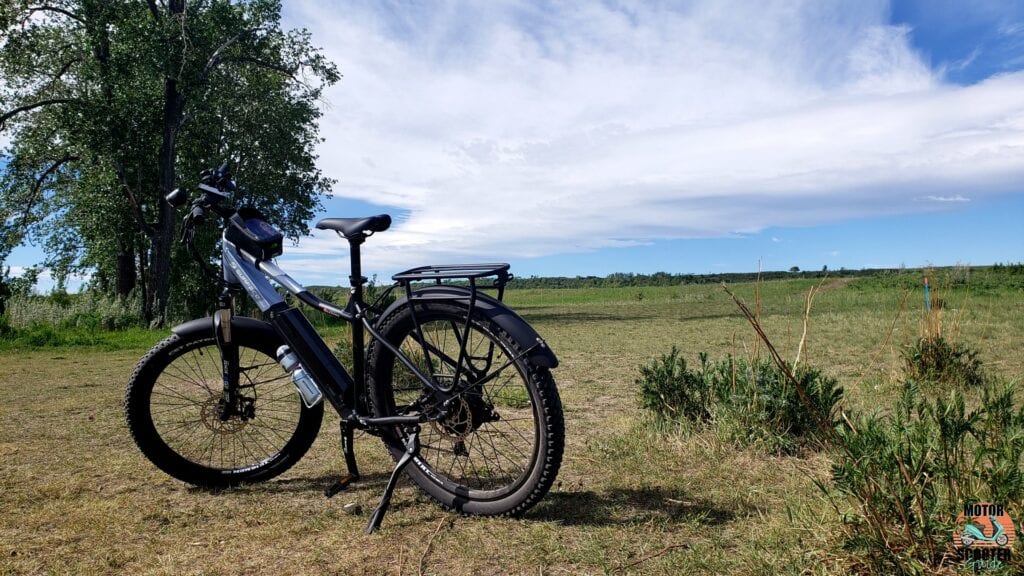 With 27.5" by 2.8" tires, front suspension, and a 500W hub motor, the Shred is pretty well equipped to take you off-road. Keep in mind that the lack of rear or seat post suspension is going to make itself known if the trails you're hitting are roughed in, but the bike is more than capable of conquering them.
The ground clearance (about 7" or so) is also quite good, meaning that you can do things like pop the front tire to clear a small log or rock (which is why the exposed wiring at the crank doesn't make much sense).
If trail riding or off-road riding is your main use case, I'd invest in a suspended seat post though. I ordered the Suntour SCX direct from Surface 604 for $100 (it arrived in just two days!).
What Will the Next 250 Kilometers (147 Miles) Look Like?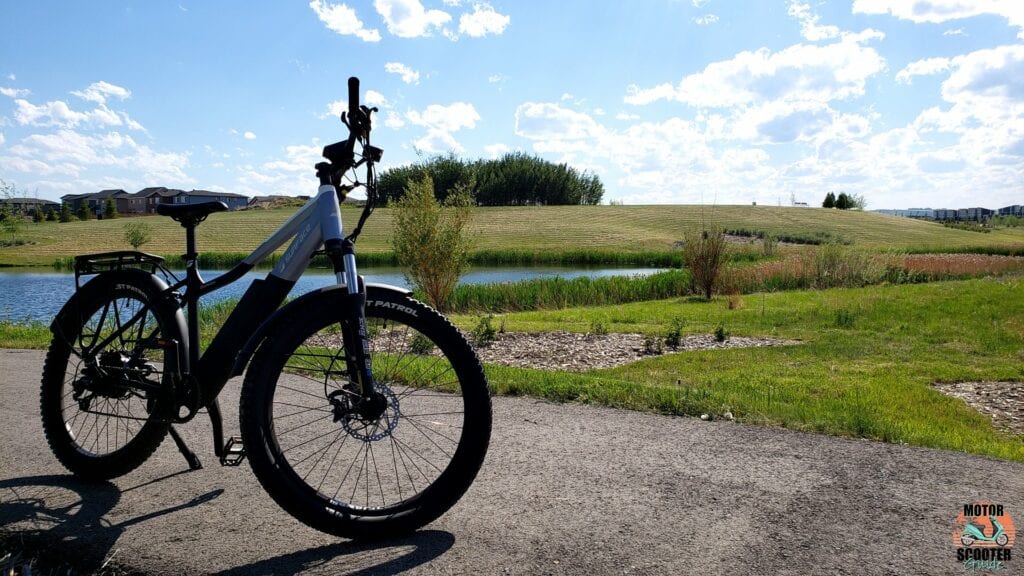 The Shred is a bike that wants you – begs you – to ride it. It's good-looking, marrying contemporary design to bike fundamentals, and will get compliments without also earning detractors. Even though it's one of the "bikes of the future", it doesn't scream "eBike" and I like that about it.
I also like how well the parts come together. It's easy to bench race based on spec sheets, but as anyone who's ever built anything that moves will tell you, a machine is more than the parts that make it. How well the components work together is as important as the individual components themselves.
Compared to many inexpensive eBikes, the Shred is just better made. The welds are clean, there were no paint/visual imperfections when I got it, and the frame geometry is balanced (until you start testing its hill-climbing grade limits). The torque sensor and drivetrain calibration (Surface 604 uses an in-house designed controller) make the Shred feel intuitive, like it knows how much power you meant to apply and just how much to augment your efforts with.
For the most part, the Shred looks, feels, and rides like a premium eBike. It's not the most powerful for the money, but I'd argue that it's one of the most competent.
Where it's let down – the flimsy LED headlight mount, awkward cage mount, slow LCD display responsiveness, for example – are small odds and ends. Things that, once locked down, will take a very good bike and make it a great one.