The Surface 604 V-Rook is a variant of the Rook, a Step-Thru ebike from the Canadian brand. The Rook is already an accessible Step-Thru frame, with dual downtubes that provide structural rigidity. The V-Rook does away with the second downtube to achieve its low-step status, instead including choice reinforcements to increase the frame's strength.
You can get the V-Rook in three colors: white, black, and pink. I prefer the black colorway, though I've got the white in my garage as I write this. While pink is attention-grabbing, the bike frame is nondescript and isn't an eyeball magnet.
The V-Rook is aimed at commuters and cruisers that want a riding experience that is more engaging and enjoyable than what most Step-Thru ebikes provide (especially at this price point). Starting at $2,599 ($3,299 CAD), the V-Rook is priced somewhat above most entry-level step-thru's, but nowhere near the top of the category.
With six ebikes currently in my garage, I take a different perspective on ebike reviews than many reviewers, as I am most interested about what these bikes are like to live with long-term. Just as with our motorcycle reviews, I try to strike a balance between what is pragmatic and sensible for long-term ownership vs. my initial impression. For Surface 604 specifically, I'm uniquely positioned to review their ebikes, as I've purchased two of their mountain bikes (a 2021 Shred and a 2023 Shred mid-drive) and have put serious miles on both of them.
So, how is the V-Rook to ride, and what would it be like to own? Read on to find out.
Words & Photography: Cameron Martel // Models: Max the Shih Tzu, Melissa
Surface 604 loaned us this ebike for a week for the purposes of this review. I'd like to thank Ebikes Calgary for facilitating the loan. webBikeWorld does not have a financial relationship with Surface 604 or Ebikes Calgary.
Surface 604 V-Rook Specifications
MSRP:

$2,599 USD / $3,299 CAD

Where to Buy:

Surface604bikes.com

(Global),

CalgaryEbikes.ca

(Canada)

Warranty:

One year motor + electronics, three years on frame

Top Speed:

20 mph / 32 kph (Class 2),

25 mph / 40 kph (Class 3)

eBike Class:

Class 2 (Class 3 unlockable) 

Range:

Estimated 45 miles / 72 km (14 Ah battery), Estimated 65 miles / 105 km (20 Ah battery)

Bike Weight:

58 lbs (26.6 kg) w/ 14 Ah battery, or 61 lbs (27.75 kg) with 20 Ah battery

Weight capacity:

285 lbs (130 kg)

Motor:

Bafang 500-watt rear hub

Torque:

80 Nm

PAS:

Torque, 5 settings

Brakes:

Tektro Auriga hydraulic brakes with 180 mm rotors

Gearing:

Shimano Alivo 9-speed

Battery:

48V 14.5 Ah (20 Ah optional)

Forks:

SR Suntour XCM 27.5, 80mm travel

Wheels & Tires:

27.5 x 2.4" spoked wheels with custom S604 Panaracer puncture-resistant tires (note: as-tested, Maxxis Ardent) tires)

Other:

Rear brake light, front rack, rear rack, chain guard
The Surface 604 V-Rook is a class 2 ebike, but the speed limit can be removed for class 3 operation.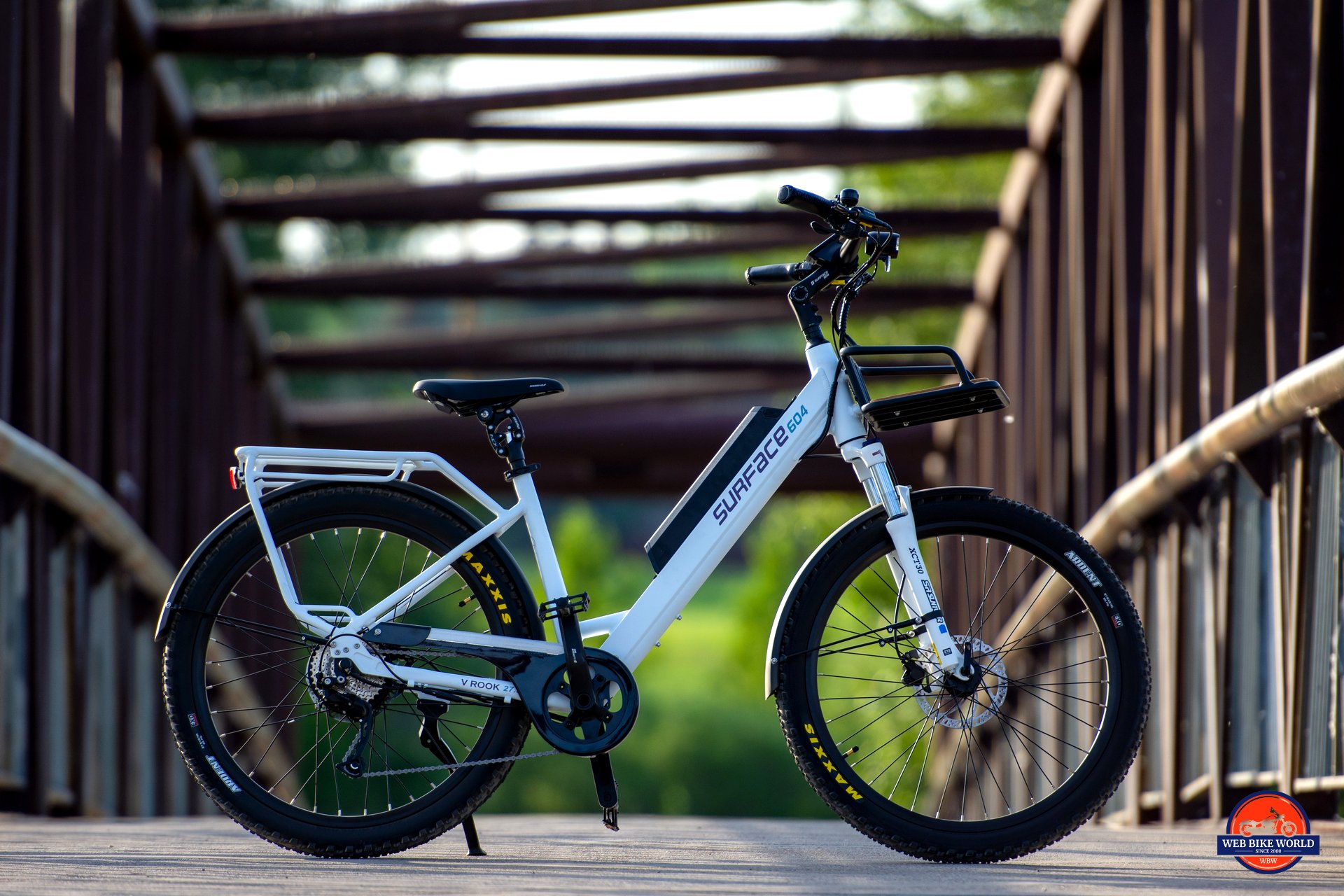 Made to be Ridden Every Day
With a low-step frame, long range, and an upright and relaxed riding position, you could spend a lot of time in the Selle Royal saddle before your back or butt started to protest. The handlebars have a swept back design and are comfortable to grip. If numbness in your wrists has been a problem for you, this riding position could prove to be the cure.
Surface 604 only uses torque sensors in its lineup, and frankly, it's how ebikes ought to be designed. Cadence sensors act like cruise control, and while I do appreciate how cadence sensors simplify long distance riding, they also remove any nuance (and much of the exercise) from the ride. It doesn't feel like a bike.
Torque sensors, on the other hand, feel like a bike feels. The motor is much more responsive, applying varying power based on how hard you're pedaling. It's a better riding experience, and if you do want cruise control, just ramp up the pedal assist or use the thumb throttle.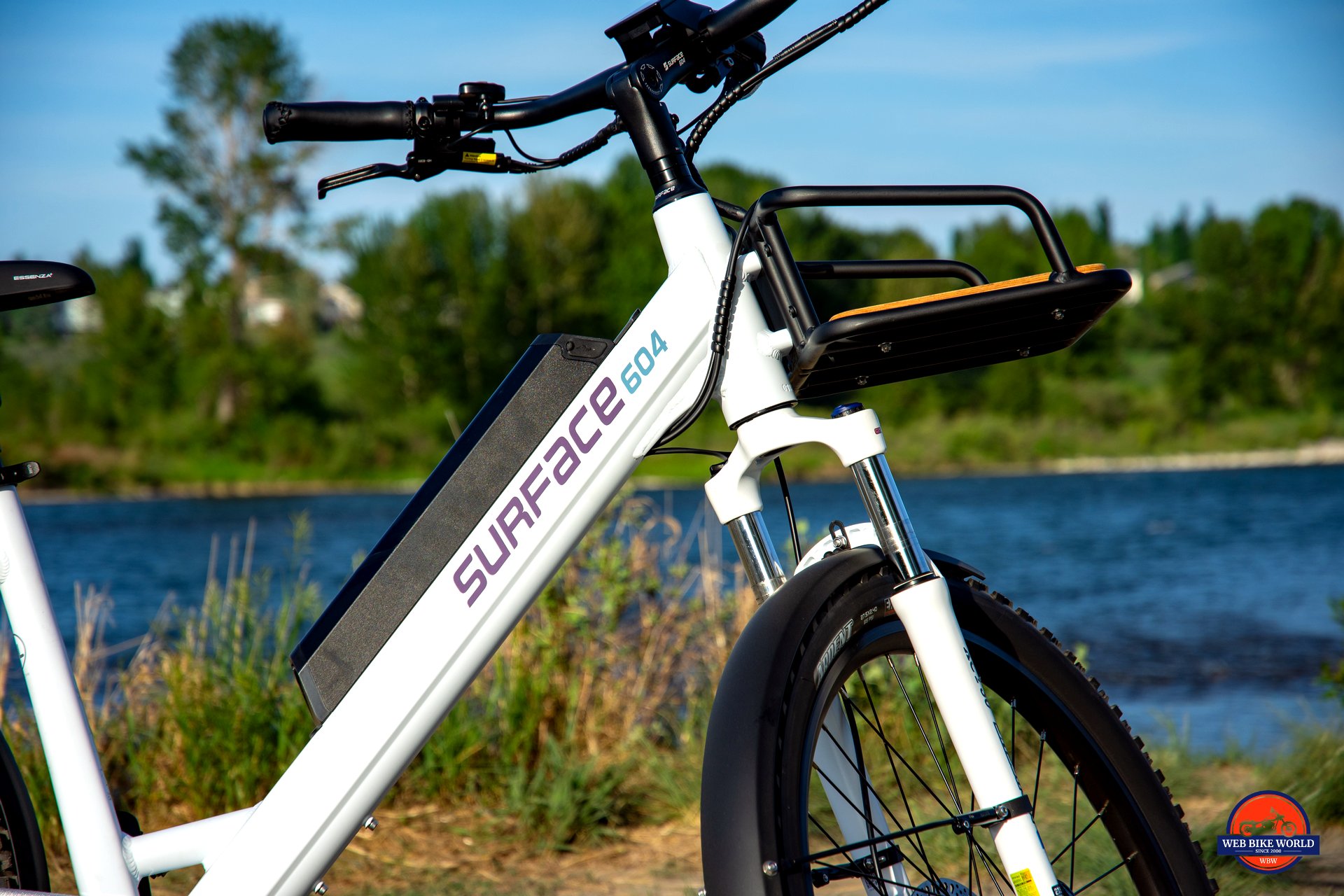 From a daily ride perspective, the V-Rook shows up ready to go. Front and rear racks offer plenty of storage space, and the front rack intelligently incorporates two water bottle mounts should you wish to install them. This location puts the water bottles in easy arm's reach – smart!
This specific bike is a little out of the ordinary compared to "normal" V-Rooks since Ebikes Calgary's bike technicians decided to fit Maxxis Ardent trail tires to the wheels, which required slight modifications of the fenders to fit (they also swapped the fork for a Suntour XCT30, which is comparable to the XCM27.5's that come on the stock bike). 
The Maxxis tires are an interesting change, as these tires are plenty comfortable on pavement, and much more confidence-inspiring on dirt and gravel compared to normal street tires.
The standard tires that come with the V-Rook are designed for paved trails, but can be ridden on groomed pathways comfortably as well. They are puncture resistant, with Surface 604 claiming that they are 30% less likely to puncture compared to a conventional tire.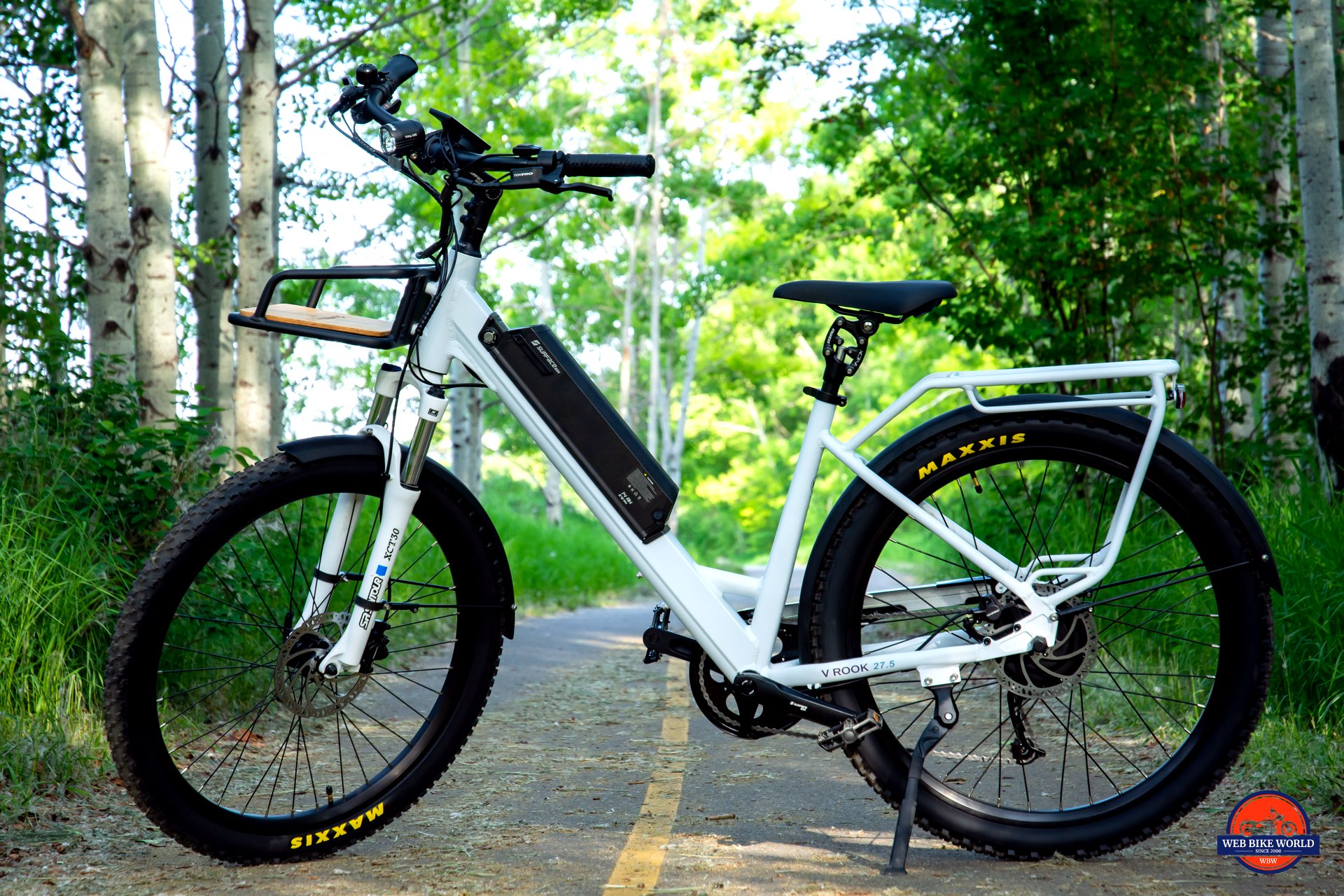 This bike also has the optional Suntour SCX suspension seatpost instead of a standard seatpost, adding a bit of comfort to the ride. It's not quite the same as a proper full-suspension frame in terms of comfort or off-road stability, but if you keep the V-Rook to the paths and trails that it's designed for, you'll find the ride a pleasant and easygoing one.
Then there's the drivetrain and core components, which are a step above your standard step-thru. A few callouts:
The 500-watt motor is quieter than most hub and mid-drives (it is much quieter than the hub motor in the

2021 Himiway Cruiser Step Thru I reviewed

, for example)

The Shimano Alivo 9-speed groupset offers snappy and precise shifts while giving you plenty of pedal power potential

The Tektro Auriga hydraulic brakes and 180 mm rotors provide plenty of stopping power

There are two battery options: big (14 Ah) and

really

big (20 Ah); the bike I'm riding here has the 14 Ah battery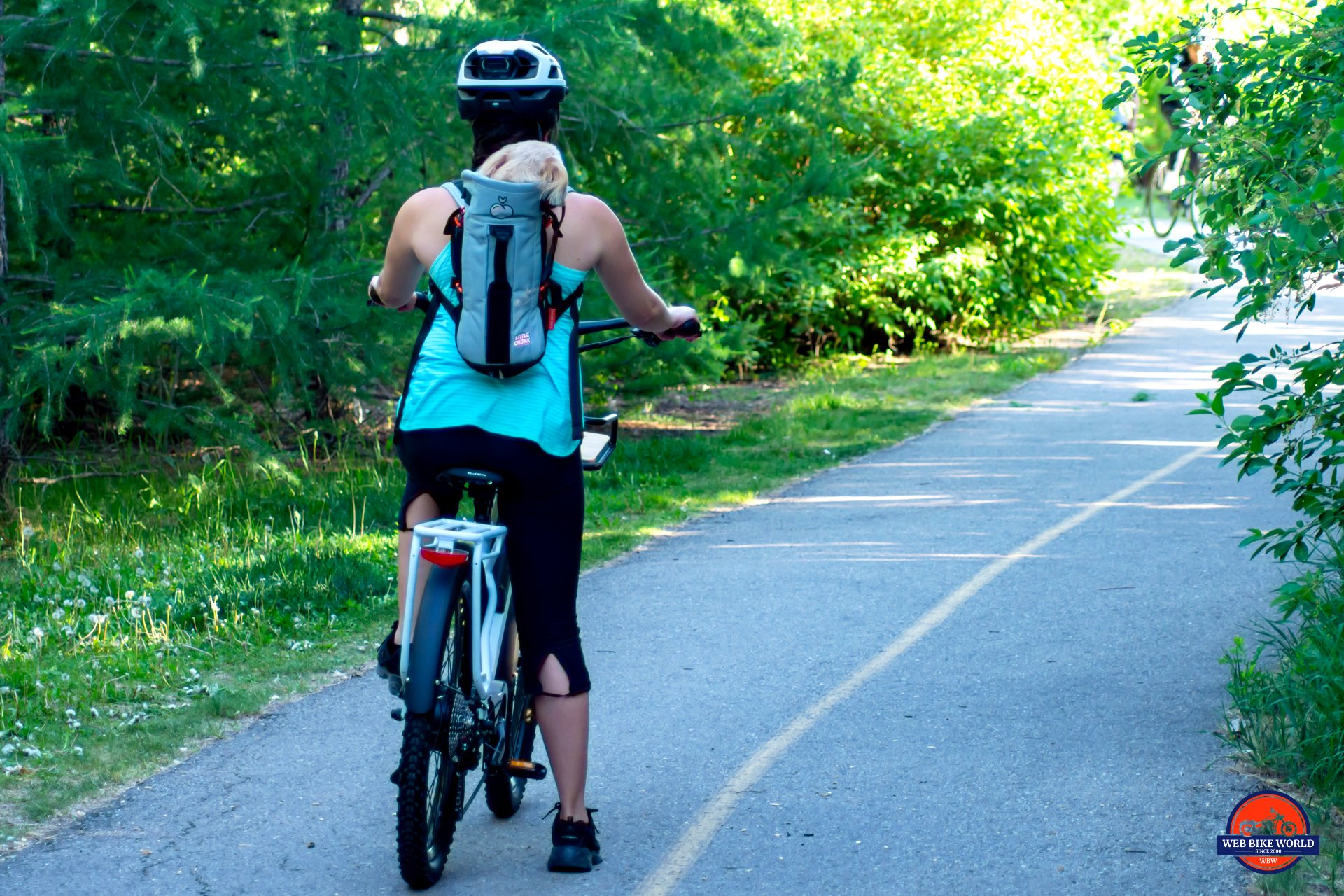 Low-step step-thru ebikes are increasingly popular, and it's not hard to understand why. When you – or your bike – are loaded with gear, or if you've got back, hip, or other mobility issues, the low-step frame makes for easy mounting and riding. They don't look as aggressive as other bike types, but that's the point: low-step's are made for comfort and practicality.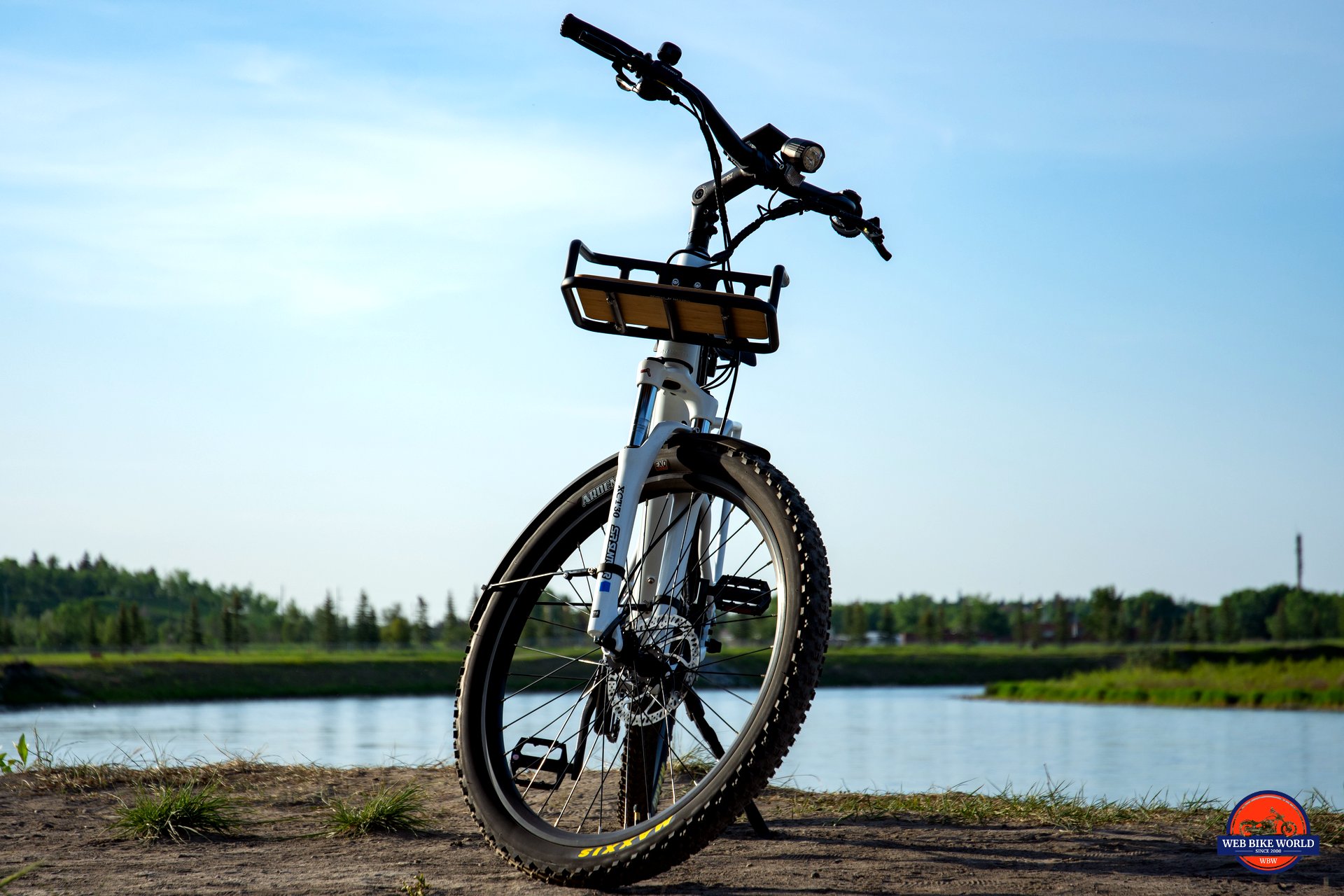 V-Rook Build Quality & Components
I'm quite happy with the components used and the build quality relative to the price. If I had one criticism, it would be with the forks, which are basic coil forks that aren't as adjustable or comfortable as an entry-level air fork would be. However, air forks can run high-three or low-four-figures on their own and offer limited returns relative to the V-Rook's use case; it's an easy upgrade if you decide it's worth the investment, though.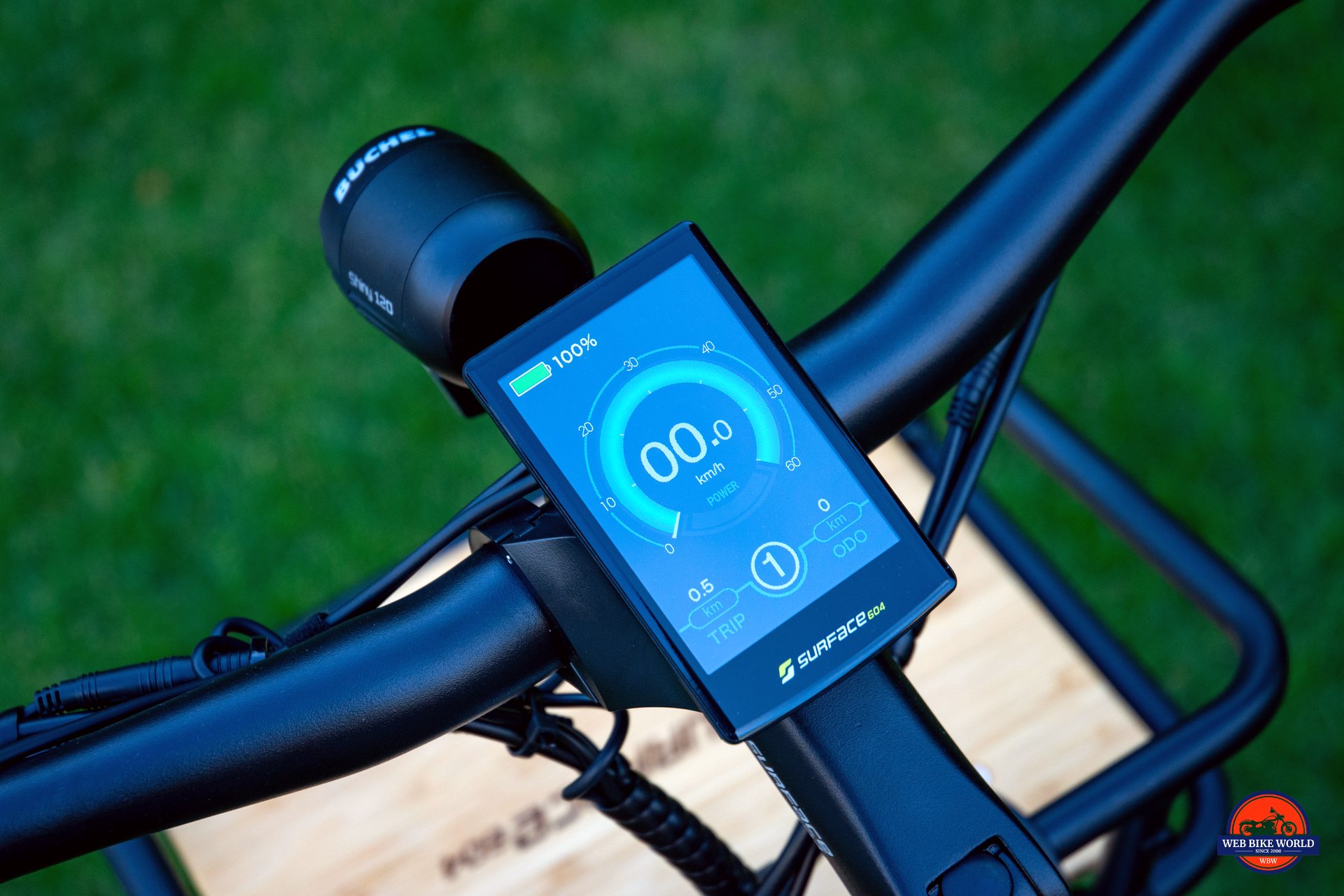 Display
Like their other bikes, Surface 604 is using a full color LCD display that shows your speed, mileage, trip, and battery level. You can adjust some options, such as switching from kph to mph, by entering the settings menu (pressing the "i" button twice quickly).
The display is bright and easy to read in most settings; it has a USB port for charging your devices, as well.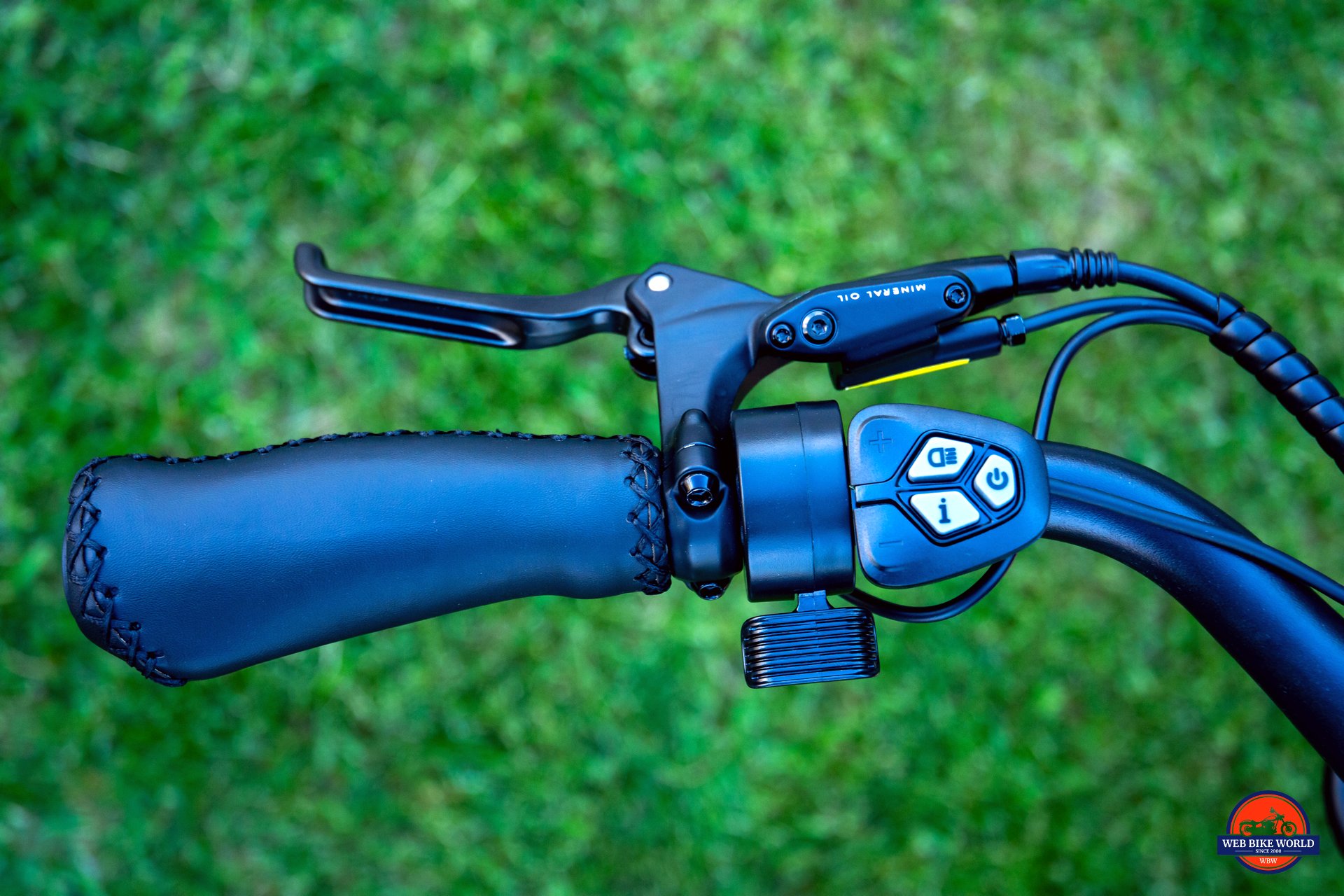 Handlebars, Display, & Shifting
The bars have wider grips that are pleasant to hold, with a natural hand feel. The controls are easily accessible, with the throttle and input pad on the left bars, and the shifter and bell on the right.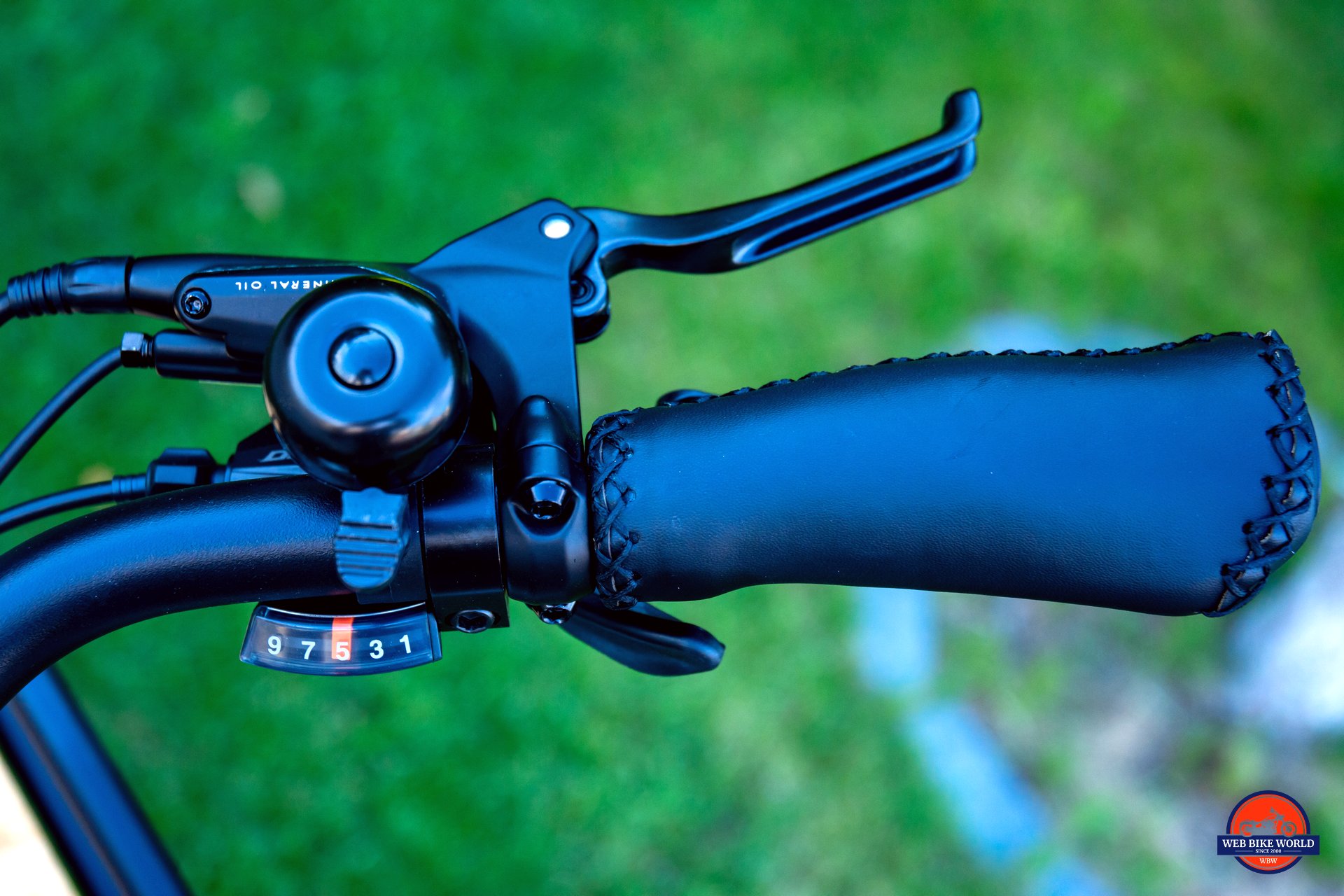 I like the swept handlebars, which are more enjoyable for long rides compared to the bars found on most ebikes. They certainly suit the form factor.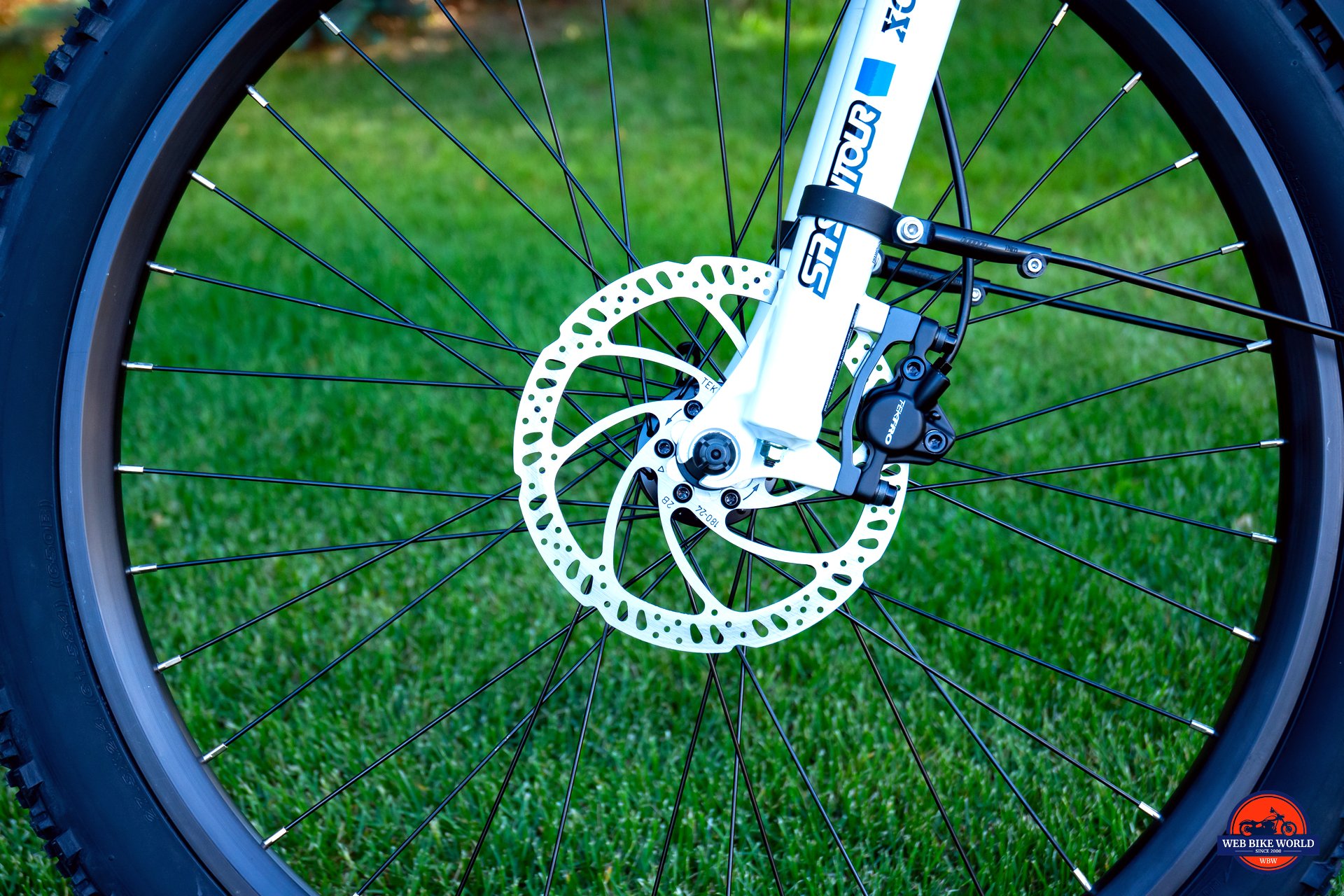 Brakes
I am very happy with the hydraulic brakes on the V-Rook. The Tektro Auriga's use two-piston calipers, which are sufficient for the weight of the bike and its intended use case. These brakes also appear on Surface 604's mountain and trail bikes, where they perform just as well; for downhill riders, you may consider an upgrade to four-piston calipers if you want additional power, but said upgrade would be overkill for street and trail applications (and frankly, optional for downhill riding as well).
For where the V-Rook is going, the stock brake setup is perfect for the job. No complaints here.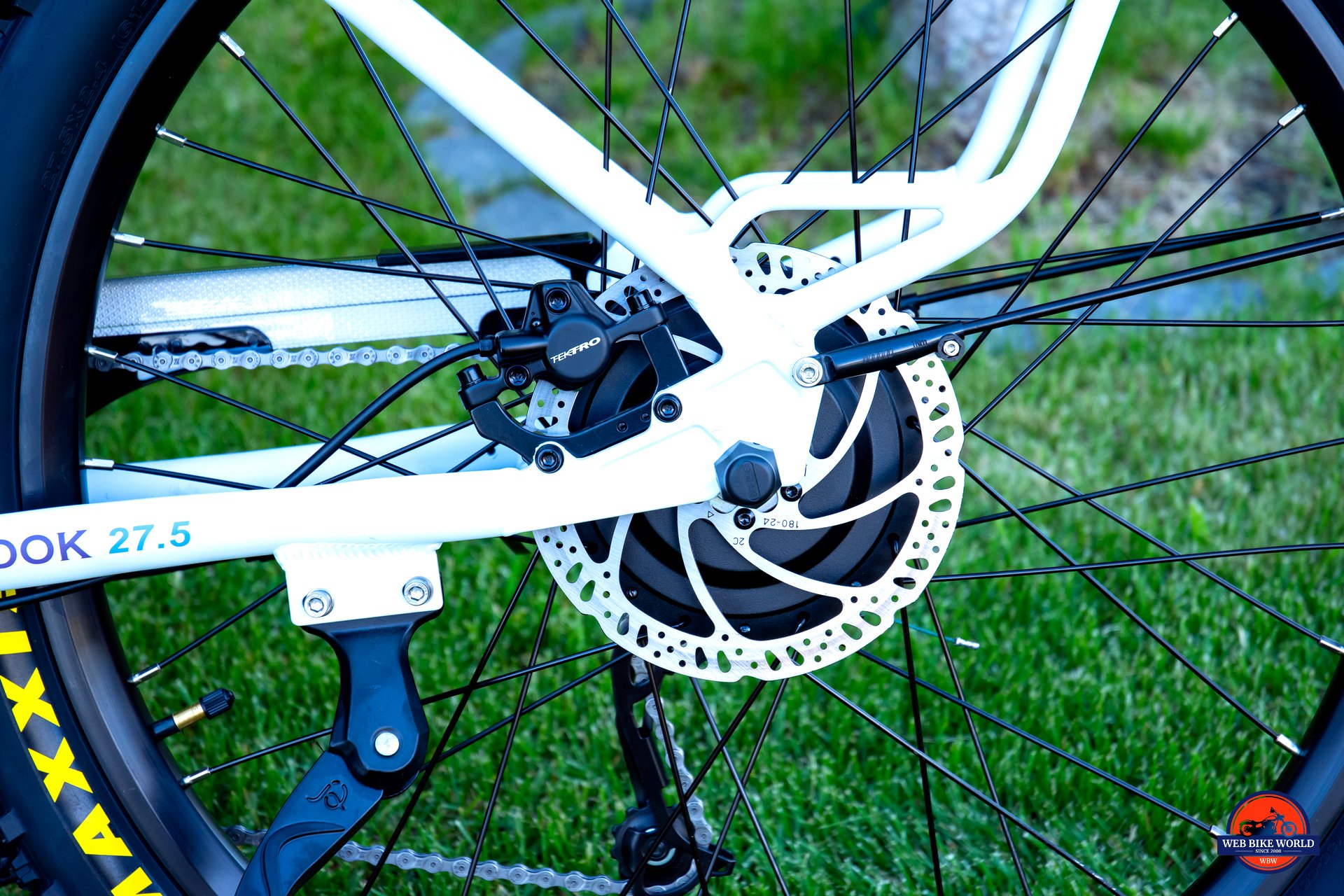 When engaged, the brakes cut out the motor, so feel free to mash them if you get into a hairy situation. The rotors are 180 mm front and back, and are pretty good at managing heat. I did get them squealing and fading a bit on longer rides, but not to the point where their performance noticeably declined.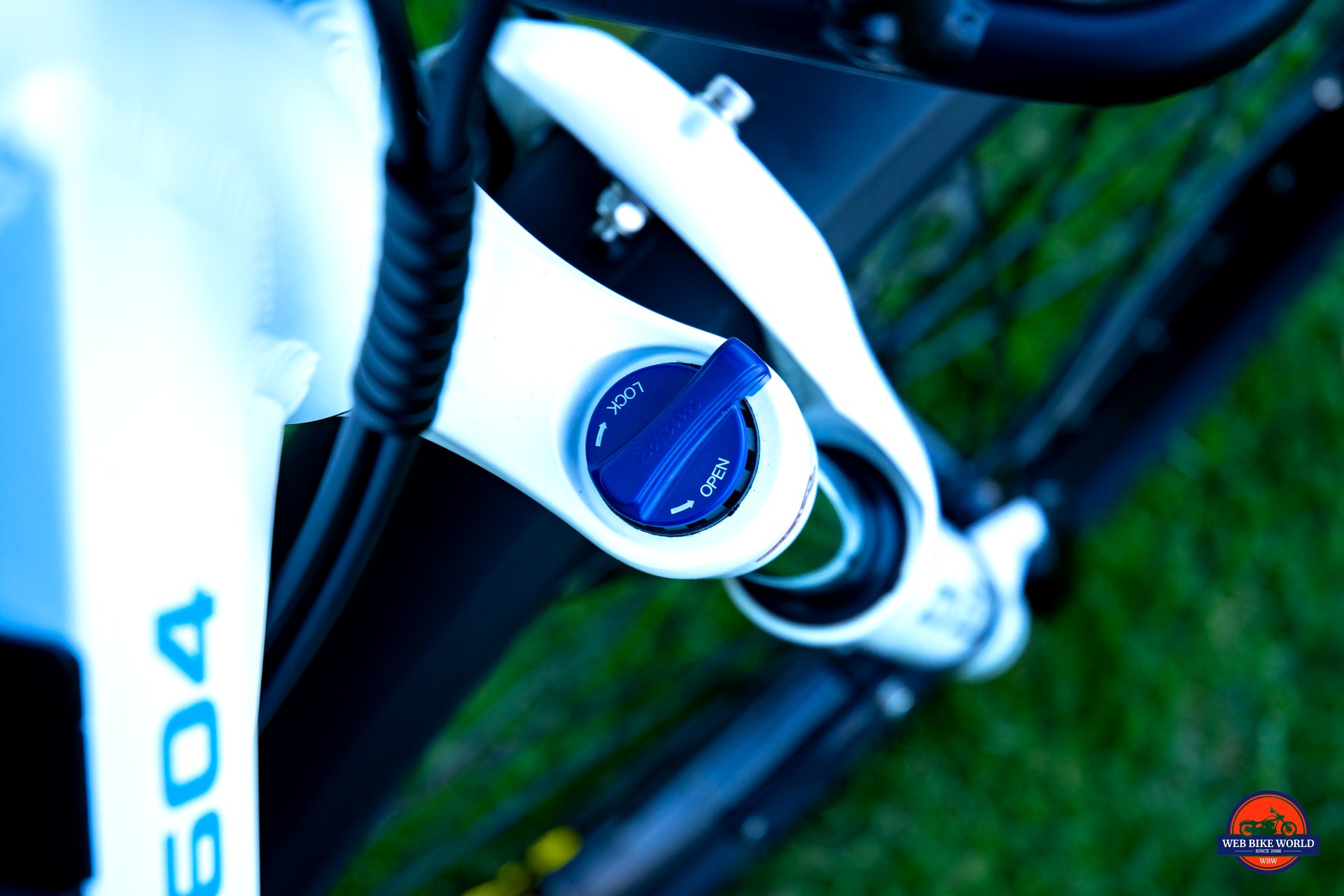 Front Suspension Forks
The SR Suntour XCM 27.5 is an entry-level coil suspension fork that offers preload adjustment and lockout. I also have these forks on my hub-drive Shred, and while they are "fine", they are also fairly bouncy and have limited travel.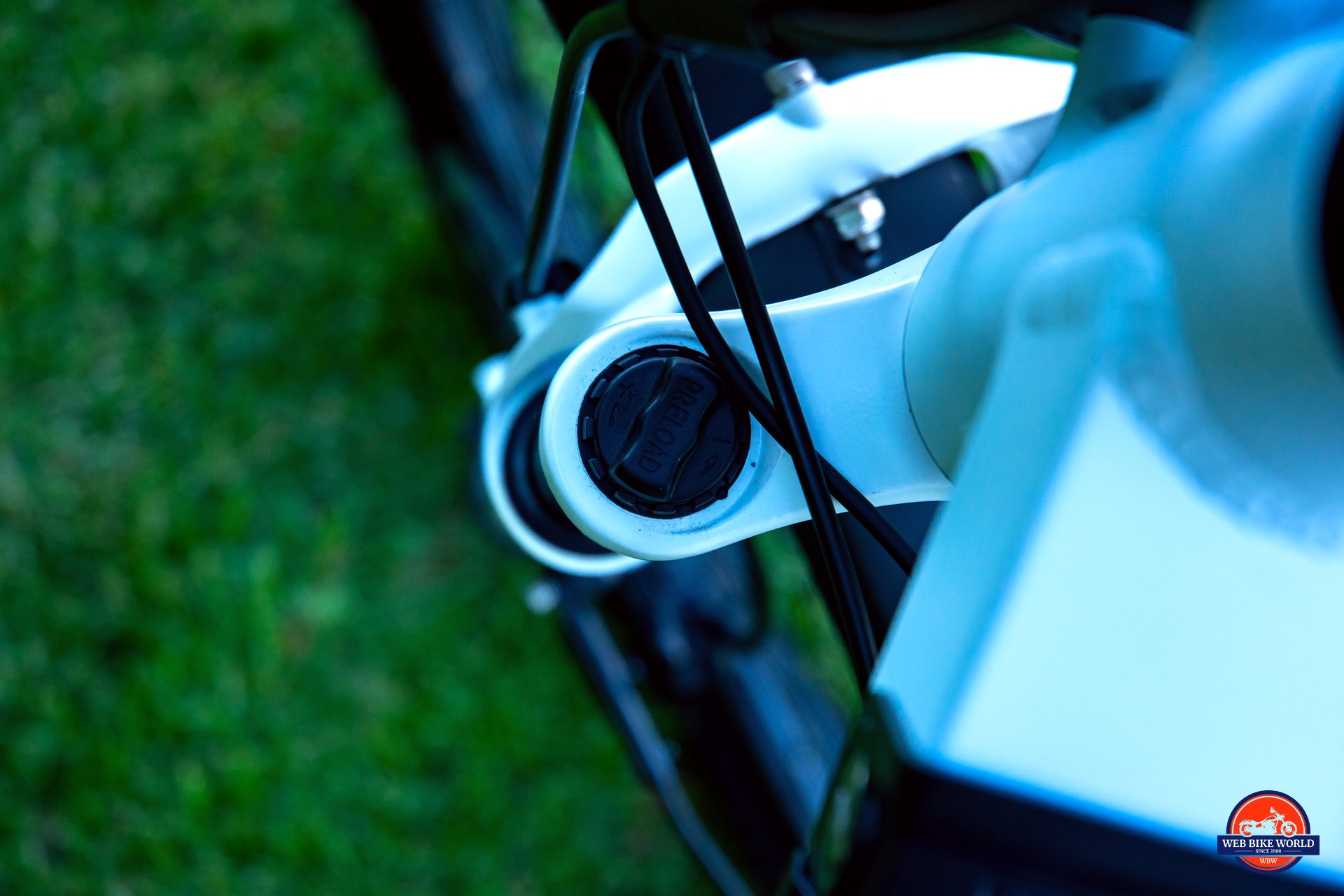 For pavement and trails, I think these forks are sufficient. They offer a bit of adjustability and are responsive to the road. They aren't as cushy as a decent set of air forks – the difference between these and the Wren air forks on my mid-drive Shred is pretty significant, for example – but they are price appropriate.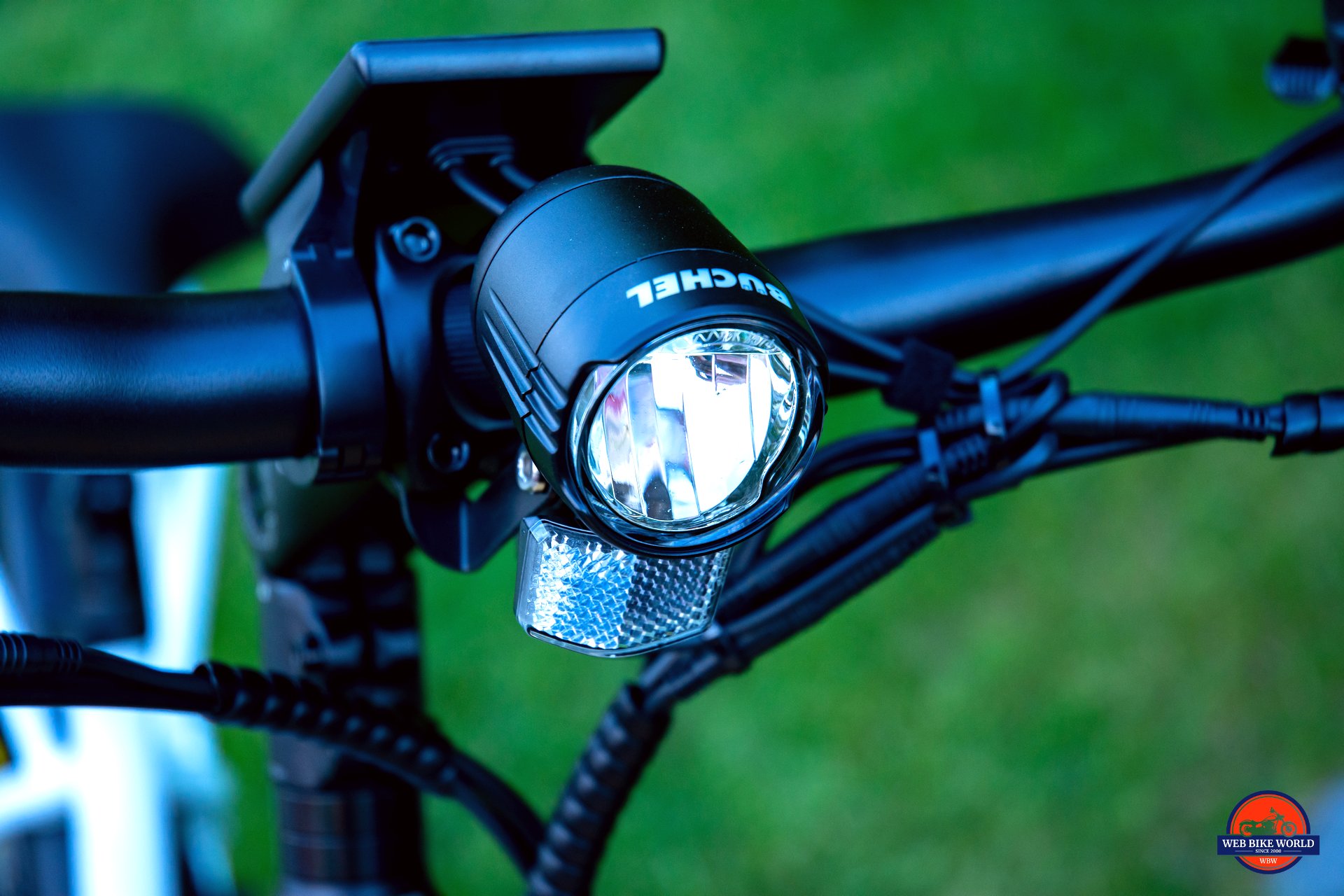 Odds & Ends 
A bright Buchel headlight sits in front of the display, which automatically turns on when it gets darker (the display has a light sensor integrated into it). It's mounted high and is easy to adjust the aim.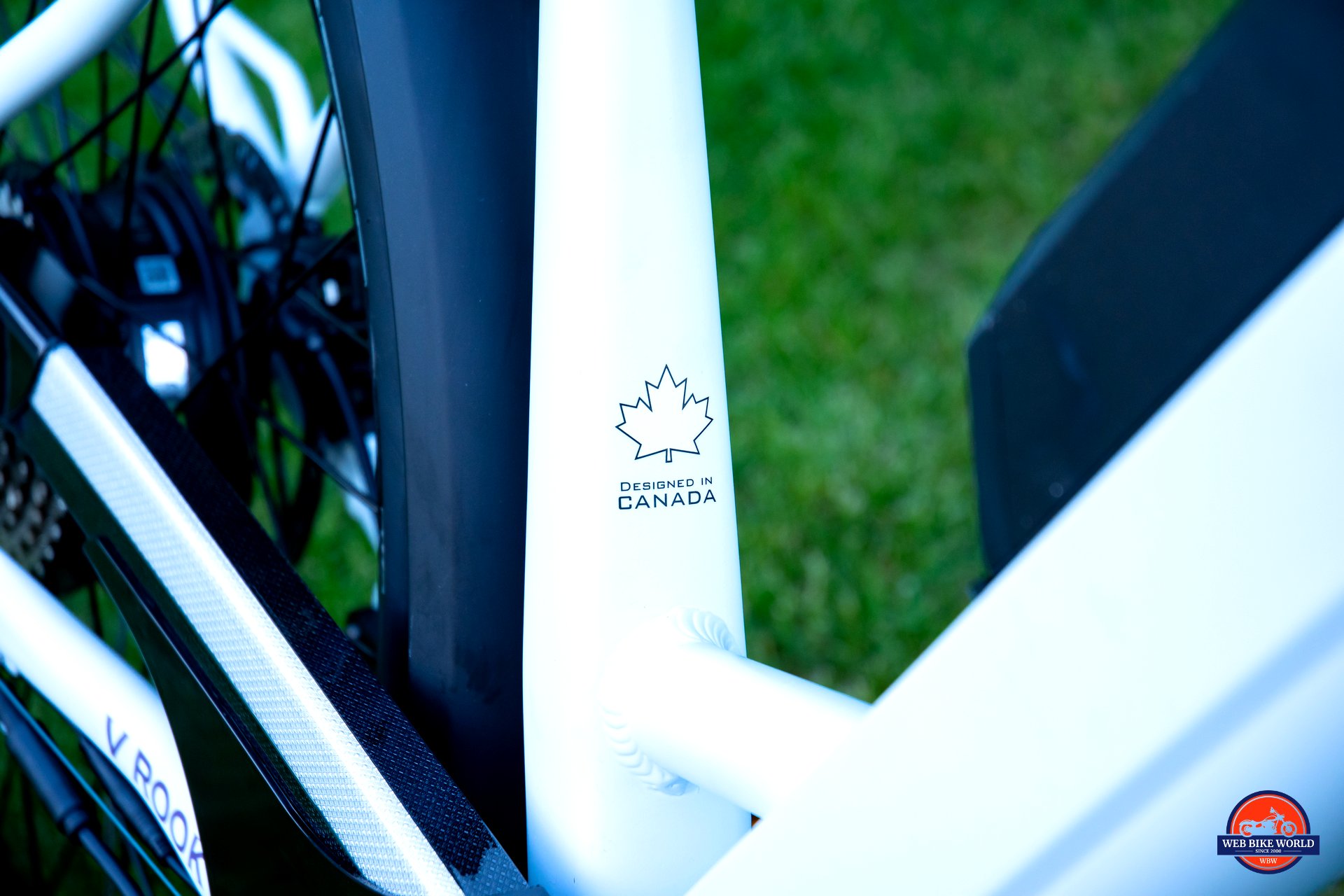 The seat tube is tapered toward the bottom, offering additional rigidity. This is also where a small cross-bar connects to the downtube, improving overall frame rigidity without meaningfully compromising the low-step design – a smart choice that doesn't take away from the minimal look the V-Rook is going for.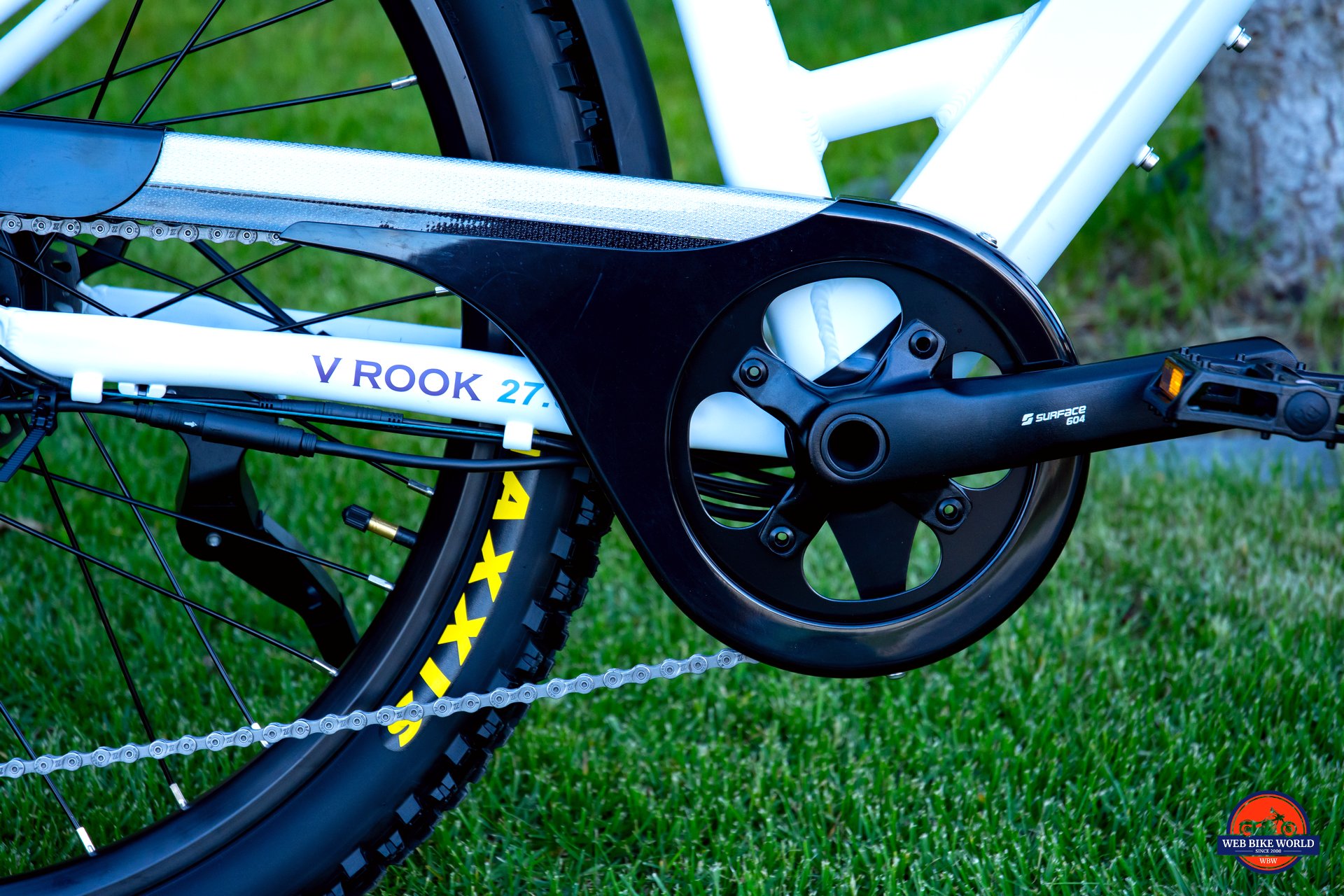 Surface 604 has equipped the V-Rook with a full-width chainguard, so you don't need to worry about your pants or shoes getting debris or chain oil on them.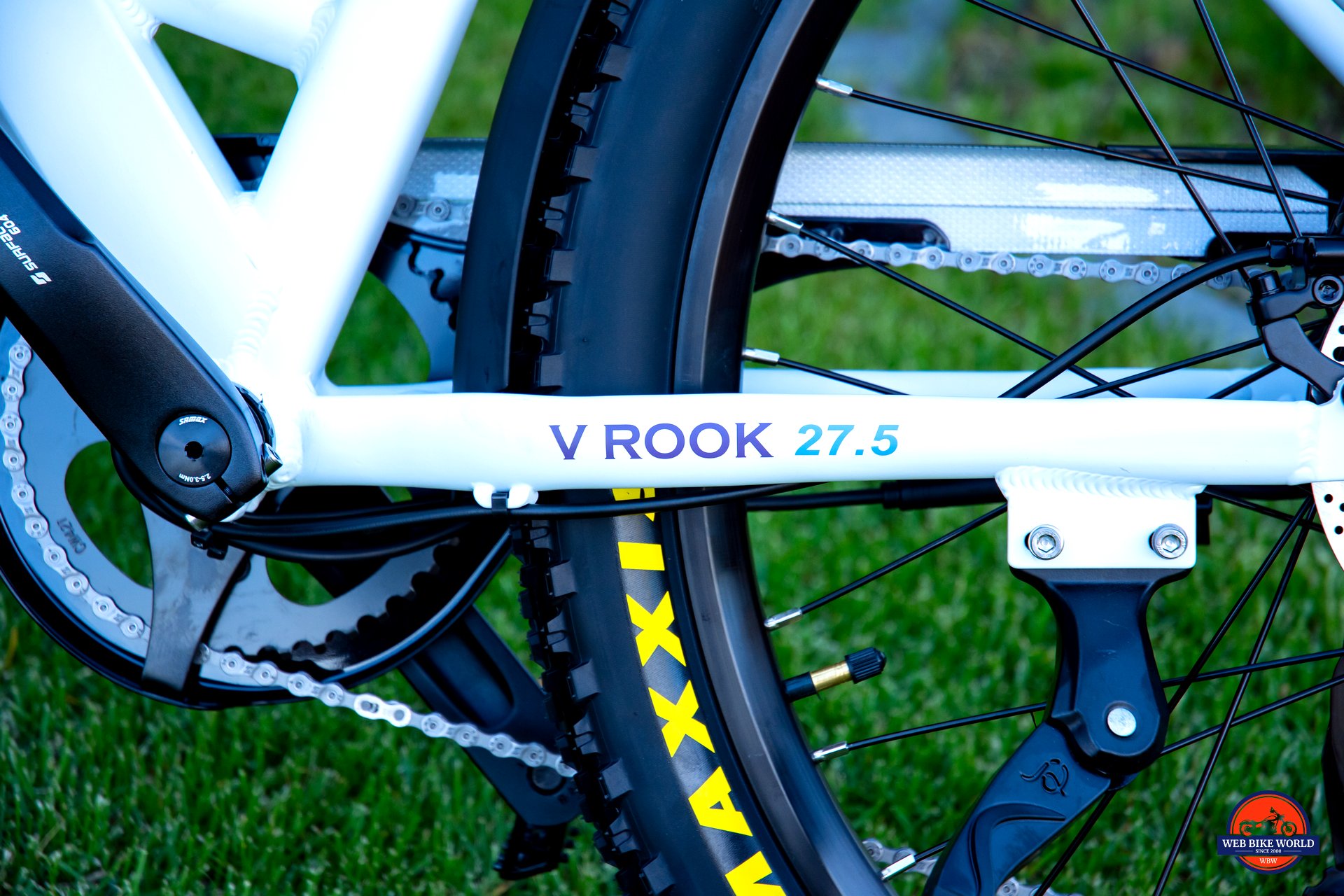 Cable management is pretty good, though not quite as clean as the 2023 Surface 604 Twist I reviewed last week. Most of the wiring is hidden in the downtube, with a bit that runs from the crank to the motor. Wires and cables are secured to the frame; honestly, you won't notice them unless you're specifically looking.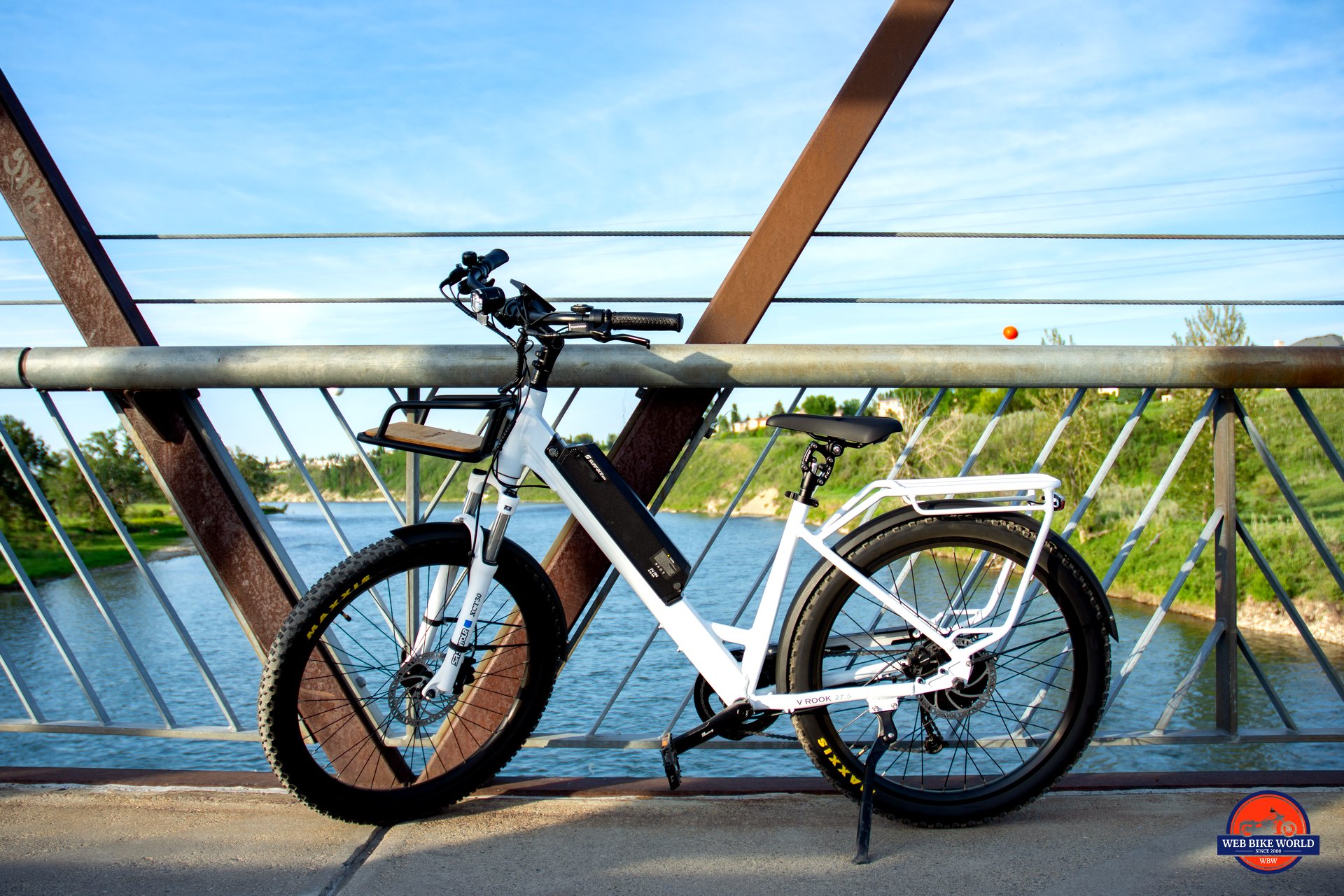 Frequently Asked Questions About the Surface 604 V-Rook
How long does it take the V-Rook to charge?
The 14 Ah battery takes about 3.5 hours to charge from empty, and the 20 Ah battery takes about 4.5 hours.
How fast does the V-Rook go?
As a class-2 ebike, the V-Rook can achieve speeds of 20 mph (32 kph) via pedal assist or throttle. The V-Rook is class-3 ready, and is capable of achieving 25 mph (40 kph).
How do you unlock the V-Rook?
Surface 604 does not endorse unlocking the V-Rook, and ships the V-Rook as a class 2 ebike. However, it is class 3 ready and can be unlocked. Before you unlock your bike, verify what your local ebike laws are and ensure you don't get yourself into trouble.
See also:
To unlock the V-Rook, do so via the settings menu and use the passcode 0512.
Can the V-Rook get up hills using throttle only?
The V-Rook will climb smaller hills with ease, but will require your pedal power to climb any hill steeper than a slight grade. Be mindful of the motor when climbing hills, as it is possible to overheat the motor or controller (or both) with aggressive motor-assisted hill climbing (this is not unique to Surface 604 ebikes, by the way).
How easy is the V-Rook to work on?
Weighing in at just over 62 lbs for the 20 Ah version, the V-Rook will fit on most modern bike stands. And, since the V-Rook is using good brand-name components, servicing or replacing parts is pretty straightforward. Your local bike mechanic will be equipped to work on the V-Rook, as would any enthusiast that has a bike stand and Allen keys.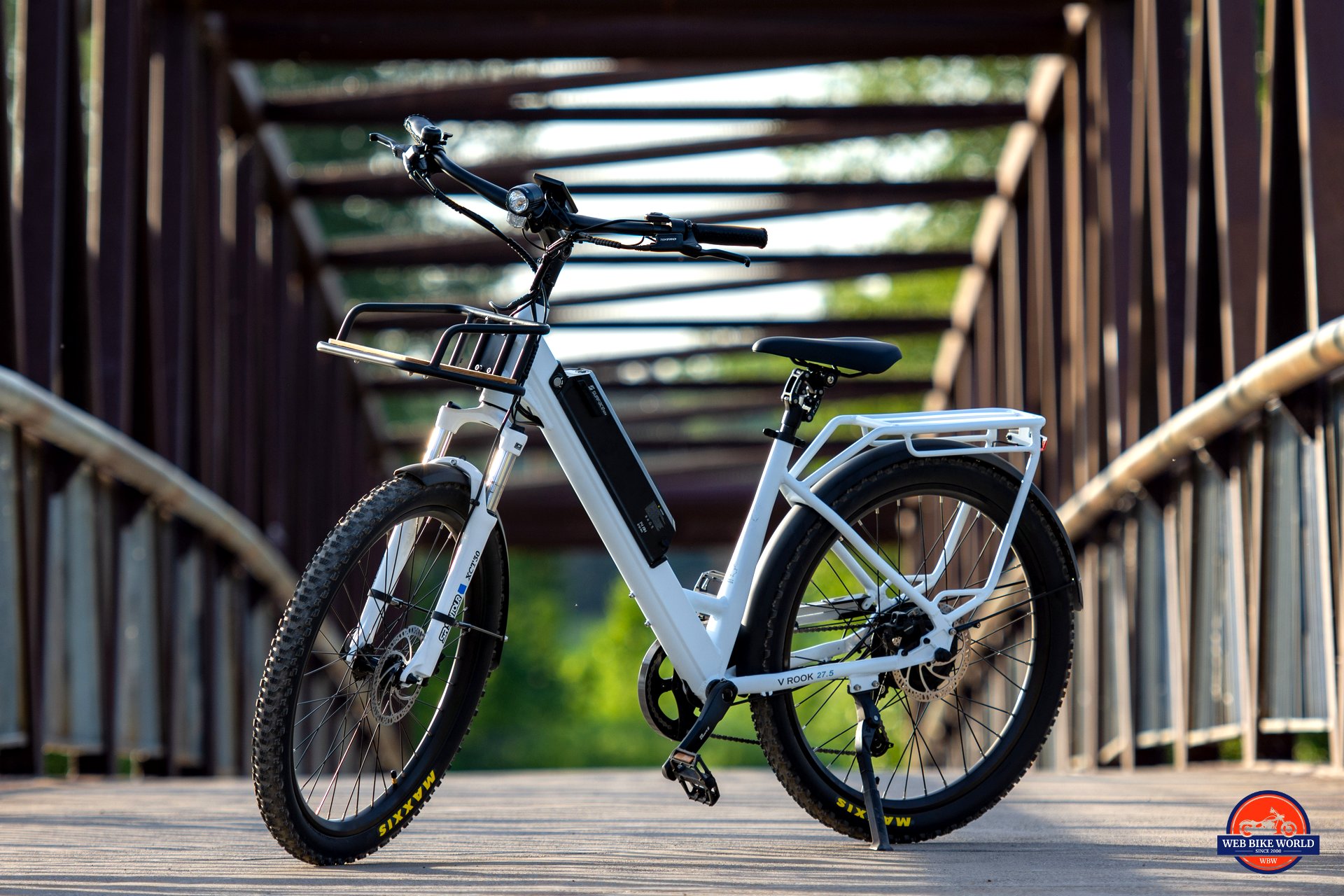 A Great Choice for Anyone Wanting an eBike for Commuting or Cruising
As a mountain biker that enjoys trails, singletracks, and downhill stints, what I appreciate most about a good ebike is when it lets me enjoy the ride, get in some exercise (if I want), and feels natural to pedal. There are many ebikes that are fun-enough to ride but are held back by basic cadence sensor electronics (the Pedego Boomerang and Interceptor come to mind as two good examples). This isn't a problem for the V-Rook, which feels fantastic to ride.
At $2,599 for the 14 Ah and $2,899 for the 20 Ah versions, the V-Rook is priced right and offers an attractive value proposition for the right buyer. This would be an excellent entry into ebikes, or in my case, it'd make for a great commuter for those rides where I don't want to throw myself down hills.
And while the V-Rook is more than the sum of its parts, those parts are also pretty good. The motor has got plenty of go, and the brakes will tame even the most aggressive of rider.
But, most importantly, you could absolutely ride and live with this bike every day and enjoy a long, easily-serviceable life. If you're looking for a high-quality commuter or cruiser, the V-Rook should be at the top of your list.
Surface 604 V-Rook Review Summary
Review Summary
The V-Rook is an attractive bike, and not just its looks. Its responsive drivetrain, which uses a 500-watt hub motor paired with a torque sensor, feels intuitive to ride and has plenty of power. Smart design choices and a relaxed riding position make the V-Rook an enjoyable ride, whether you're using it to commute or simply cruising the pathways.
Pros
Smart frame design that is stiffer than many step-thru's
500-watt hub motor w/ torque sensor
9-speed groupset + hydraulic brakes
Good electronics + display
Integrated rear rack + beefy front rack
Cons
Only three colourways (black, white, and pink)