I'm back for another ebike review with the 2023 Surface 604 Sunny Day. This cruiser-style ebike is tastefully designed and well-made: a great combination that would make it an ideal daily rider for someone with a short commute or for someone that wants to hit the (paved) trails/pathways on the weekends.
Like other Surface 604 eBikes, the Sunny Day comes well-equipped with Tektro hydraulic brakes, a Shimano Alivio 9-speed groupset, and a torque-sensing drivetrain with a 500 watt rear hub motor. This is the fourth Surface 604 eBike I've reviewed, having previously swung my leg over the 2023 Surface 604 Twist folding ebike, the 2023 Surface 604 V-Rook commuter ebike, and the 2021 Surface 604 Shred eMTB (which I purchased and still own).
I spent a week riding in urban and paved-trail environments, and like the other three Surface 604's I've ridden, the Sunny Day proved itself to be a willing and capable tarmac trekker.
Words & Photography: Cameron Martel
Surface 604 loaned us this ebike for a week for the purposes of this review. I'd like to thank Ebikes Calgary for facilitating the loan. webBikeWorld does not have a financial relationship with Surface 604 or Ebikes Calgary.
2023 Surface 604 Sunny Day Specifications
MSRP:

$2,199 ($2,899 CAD)

Where to Buy:

Surface604Bikes.com

/

CalgaryEBikes.ca

Warranty:

1-year

Top Speed:

22 mph / 35 kph

Range:

Approximately 72 km / 45 miles

Bike Weight:

59 lbs (26.75 kg) with 20 Ah battery, 56 lbs (25.6 kg) with 14 Ah battery

Weight capacity:

285 lbs (130 kg)

Motor:

Bafang 500 watt rear hub

PAS:

Torque sensor with 5 settings, thumb throttle

Brakes:

Tektro Auriga hydraulic brakes with 180 mm front/rear rotors

Gearing:

Shimano Alivio 9-speed

Battery:

48V 20 Ah or 48V 14 Ah

Wheels: 27.5" x 2.4"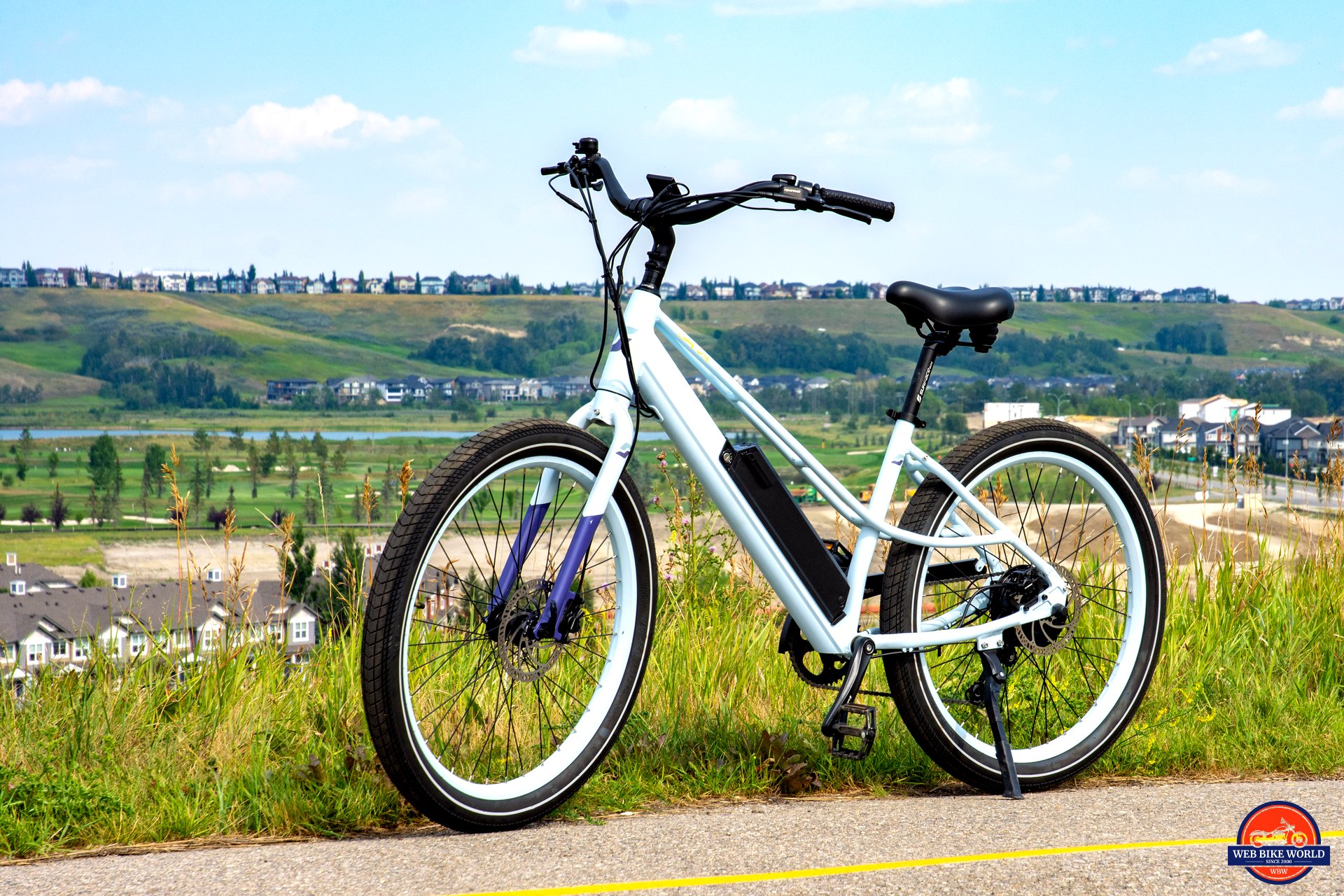 It's a smoke-filled summer here in Alberta, and much of North America, as wildfires raging throughout Canada and the United States drive people from their homes and ruin air quality across the continent. You could hardly be blamed for being less enthused about cycling given the air quality, but I suppose that's something I love about ebikes: they equalize the effort, should you wish to enjoy the weather anyway.
The Sunny Day is a class 2 ebike, which means that it has a throttle (located on the left handlebar) and provides pedal assist up to 32 kph / 20 mph. However, the bike can be "unlocked" via the settings menu to become a class 3 ebike, which provides pedal assist up to 45 kph / 28 mph.
With six ebikes in my garage, and three of them mountain bikes (two Surface 604 Shreds and a Himiway Cobra Pro), I've found myself both looking to buy a cruiser or commuter ebike and flogging myself for wanting to buy another ebike.
After riding the Sunny Day for a week, I came away with the conclusion that it's time to replace one of my less-used mountain bikes with a cruiser (and the Sunny Day is at the top of my list should I do that). The relaxed riding position, raked handlebars, and wide Selle Royale saddle help the miles fly by in comfort… as long as the terrain you're tackling is paved.
What's the Sunny Day Like to Ride?
Surface 604 has a formula when it comes to their bikes: strong brakes, a quiet and powerful-enough hub motor, and a torque-sensing drivetrain. This package, when combined with good frame geometry and a large 14 or 20 Ah battery, makes Surface 604 ebikes very capable and enjoyable to ride; in this respect, the Sunny Day is no different.
The lack of front suspension forks provide two benefits while riding: the first being that the front-end of the Sunny Day is tangibly lighter than other ebikes with suspension forks, and the second being that the Sunny Day's turn-in is quite good. Considering the swept-back handlebars, the Sunny Day proved to be a surprisingly maneuverable bike!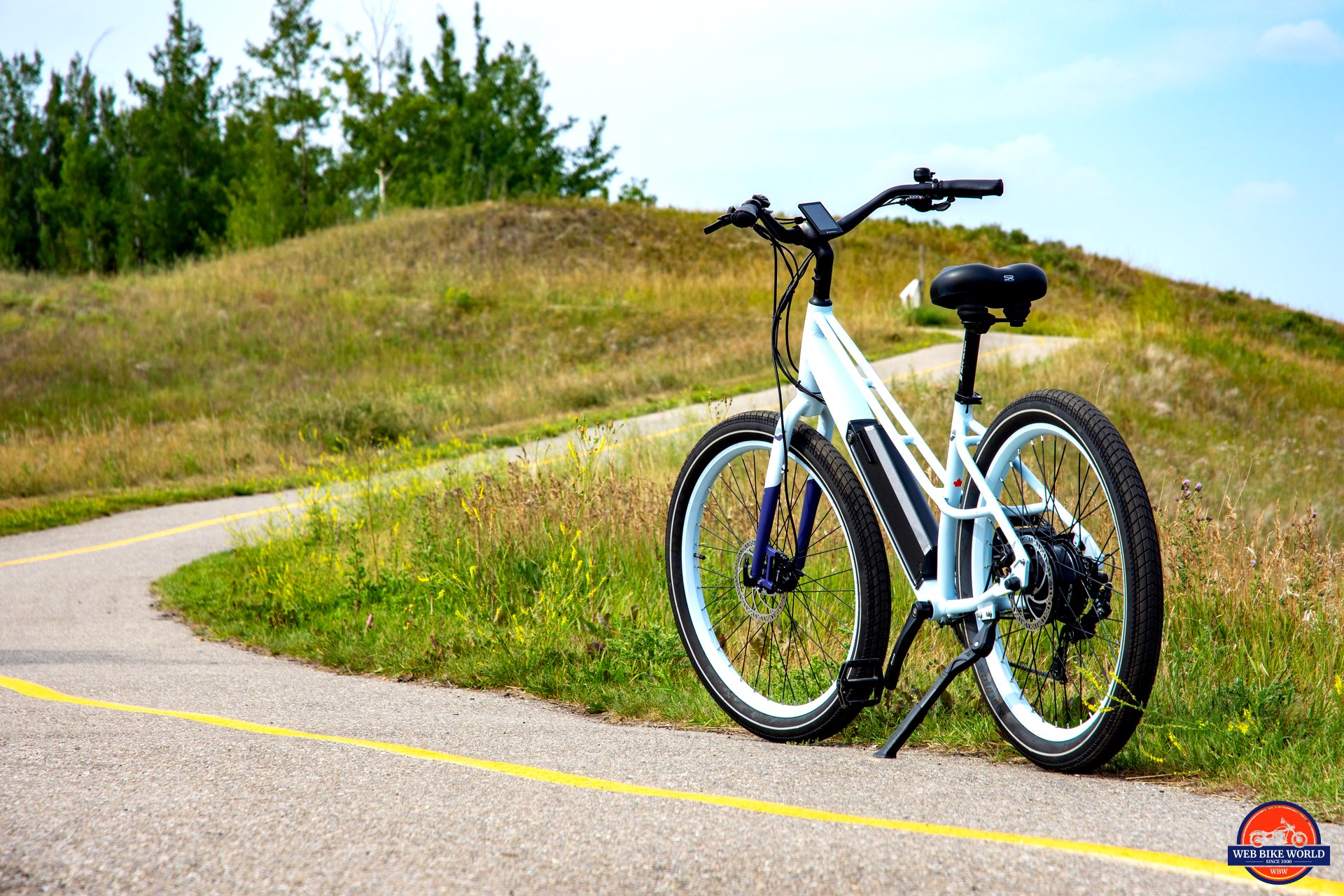 Aesthetics & Design
Bikes aren't exactly attractive machines compared to cars or motorcycles, but, dare I say, the Sunny Day is a good looking bike (as far as bikes go).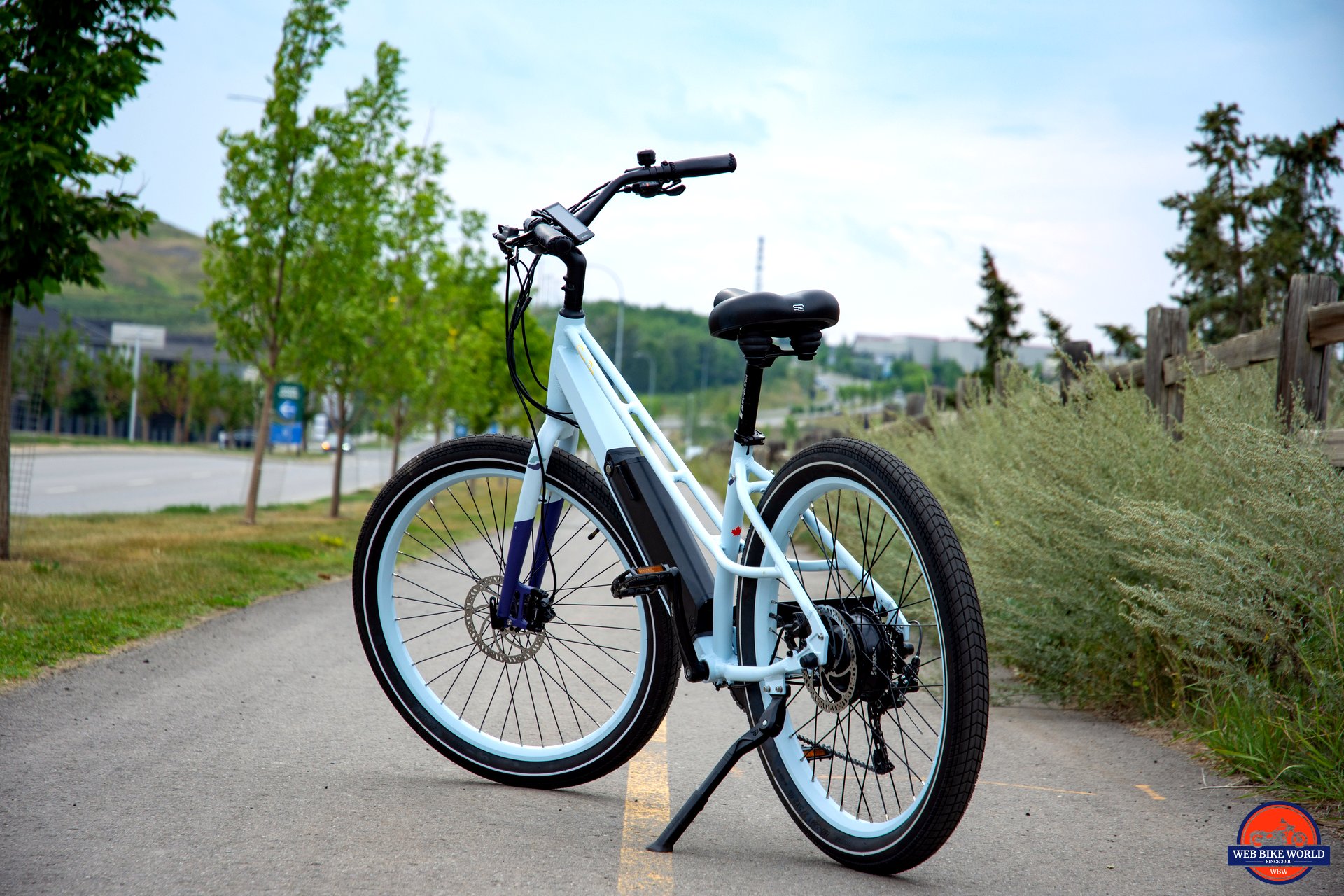 Its low-step frame (also called a step-thru) features a split top tube that, alongside the battery, gives the midsection of the bike some visual weight; this "fills in" the space between the top tube and downtube, and helps the bike feel substantial.
Beyond the wiring from the bars to the downtube and the battery, the Sunny Day doesn't look meaningfully different from any other bike. Considering how large some ebikes are – especially fat tire ebikes – this aesthetic helps the Sunny Day fly under the radar.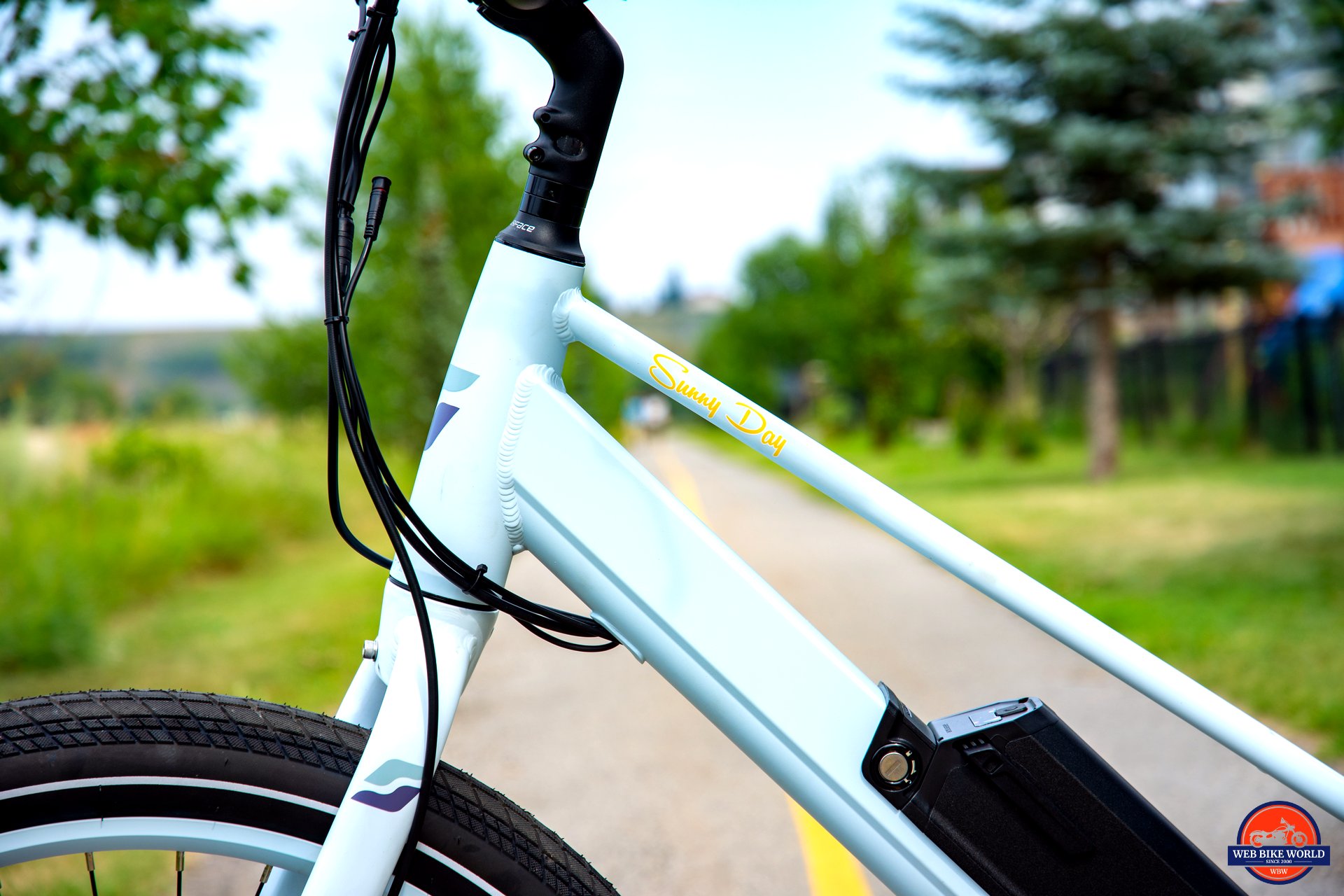 Surface 604 has kept the paint and graphics fairly minimal: a white base paint with blue accent decaling. The name "Sunny Day" is in a yellow decal on the side of the top tube. This minimal aesthetic is attractive while also being incognito, a pairing I appreciate.
If you want an ebike that doesn't scream "electric bike", the Sunny Day is for you.
Every eBike Needs a Torque Sensor
It is amazing to me in 2023 that most ebikes – especially commuters or cruisers – still come with cadence sensor pedal assist as opposed to an objectively superior torque sensor. The difference between the two is profound.
Cadence sensors measure if you are pedaling and, if so, apply a certain percentage of motor power. It works, and some cadence systems can be tuned via adjusting the settings to make the cadence assist feel less binary, but ultimately it's still an on/off switch.
Think of cadence sensor pedal assist as cruise control: the bike applies a specific amount of power to get you to the speed your pedal assist setting calls for.
The Pedego Interceptor and Pedego Boomerang I reviewed a couple of years ago, alongside the Himiway Cruiser I also reviewed, all use cadence sensors.
Torque sensors operate differently. They measure how much torque you're applying (how hard you're pedaling) and then provide proportional power back to you. The sensation is much more natural and easier to control compared to cadence sensors, which are binary by comparison.
Think of torque sensor pedal assist as having "bionic legs" that amplify your power output.
All Surface 604's bikes, including the Sunny Day, use torque sensors, and the result is a more enjoyable bike to actually pedal and ride. This is part of why the Sunny Day is enjoyable to ride in busier or crowded areas, as the assist is very controllable and predictable.
Bump in the Road? You'll Feel 'Em All
Solid forks are lighter than their coil-sprung counterparts, but the downside is they offer no suspension. If where you're riding is bumpy, you're going to feel it. Fat tire ebikes can often mask this because the fat tire itself acts as a form of suspension, especially if you run it at a lower tire pressure, but even then, the difference between a good suspension setup and a solid fork is very noticeable.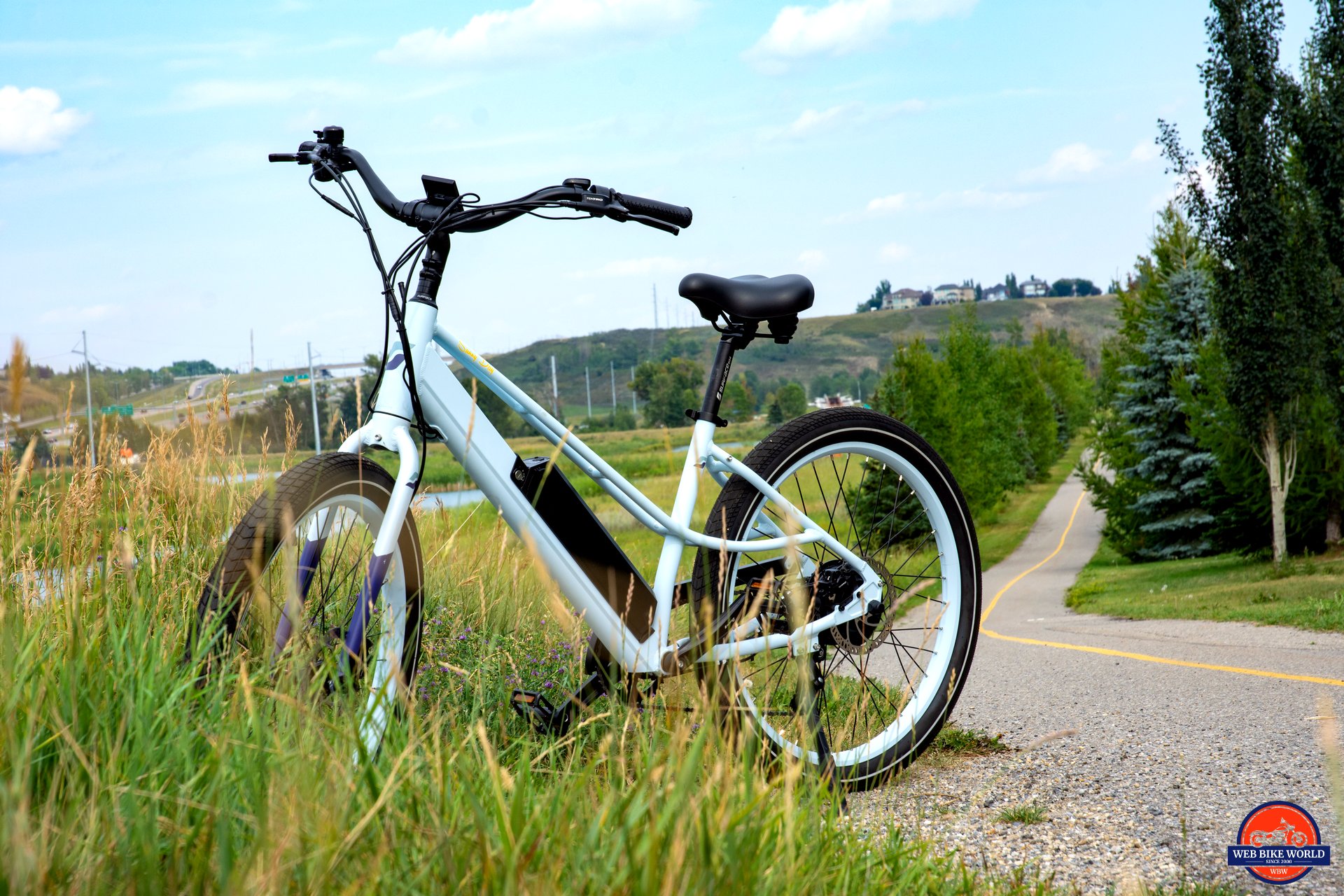 The Sunny Day has no suspension and is also rocking "normal" 2.4" wide tires. Running the tires at a lower pressure helps somewhat, but bumps and road imperfections are still noticeable. I would not recommend riding this bike on surfaces that aren't paved or well groomed.
Downtown Boulevard cruiser? The Sunny Day is perfect. Groomed gravel or dirt trails? Go for it. Light dirt trails or poorly-kept gravel trails? I'd avoid it.
Stop on a Dime, Every Time
I promise I won't turn this section into a rant about the necessity of hydraulic brakes on ebikes; suffice to say that the heavier the bike, the more important hydraulic brakes become. 
The Sunny Day is equipped with the Tektro Auriga hydraulic system and 180 mm rotors front and back. This combination is pretty typical on mid-level ebikes and is suitable for the Sunny Day's use case.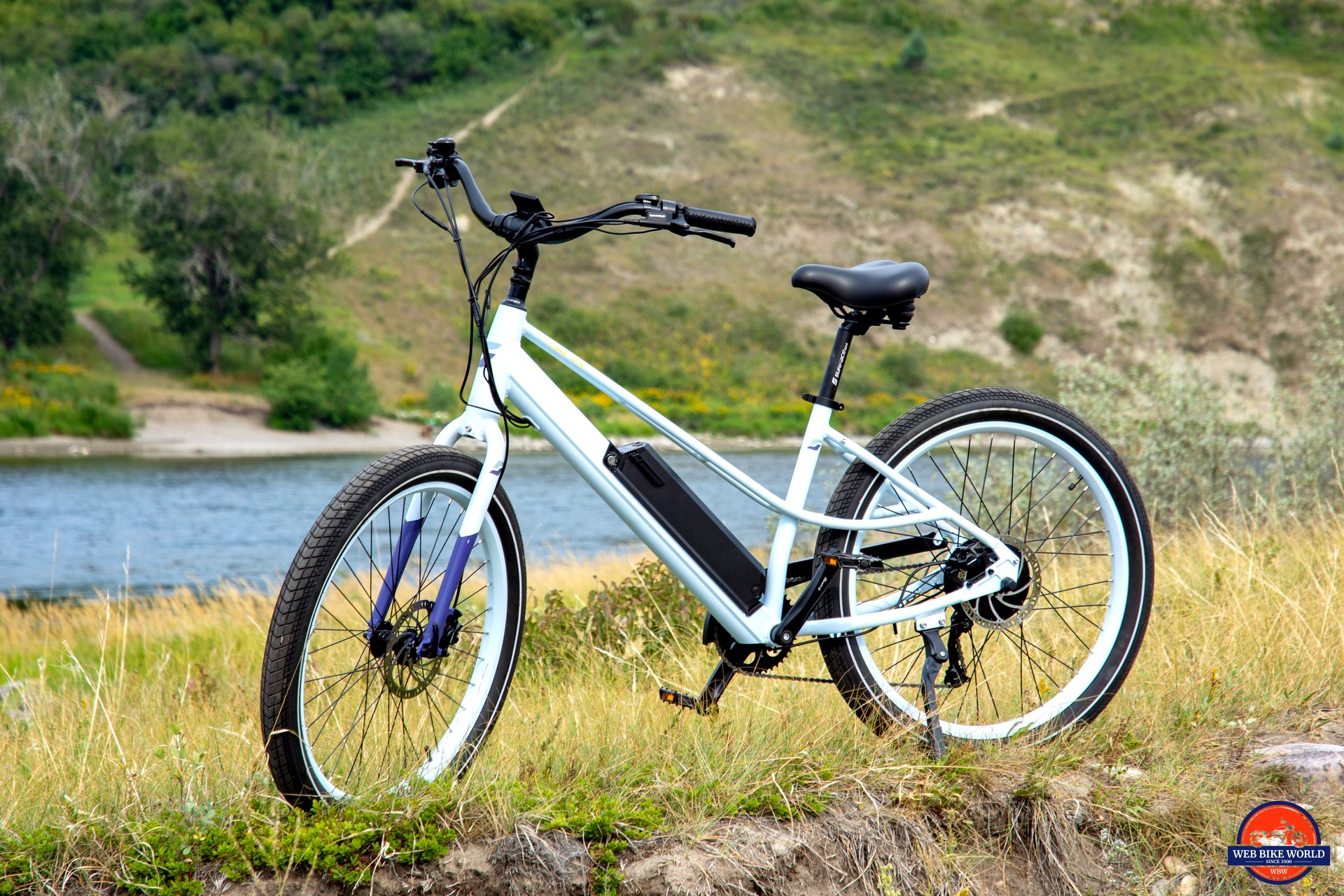 These aren't "big" brakes, but they are appropriately sized for the Sunny Day's weight and intended use case, and they give a lot of confidence to the ride. They have a strong bite and a very consistent feel. I did not notice brake fade or vibrations during my rides, including a section that has a continuous 2.5 km / 1.5 mile 5% grade.
On the longer downhills, you can ride the brakes with confidence; the bike's speed is easily controllable, and the brakes don't complain about it.
Conversely, one of my bikes with mechanical brakes is quick to let you know that the brakes need time to cool down. I also feel the need to check the brake system and adjust the cable tension more often. 
Build Quality & Components
Shortly after I pulled in my garage from picking the Sunny Day up, I gave it a quick once over. A friend of mine is a bike mechanic and loves to show me the ropes when I get him to tune up my bikes. I'm diligent about checking that all the nuts are tight – especially the headset and contact points – and that the brakes and groupset work well.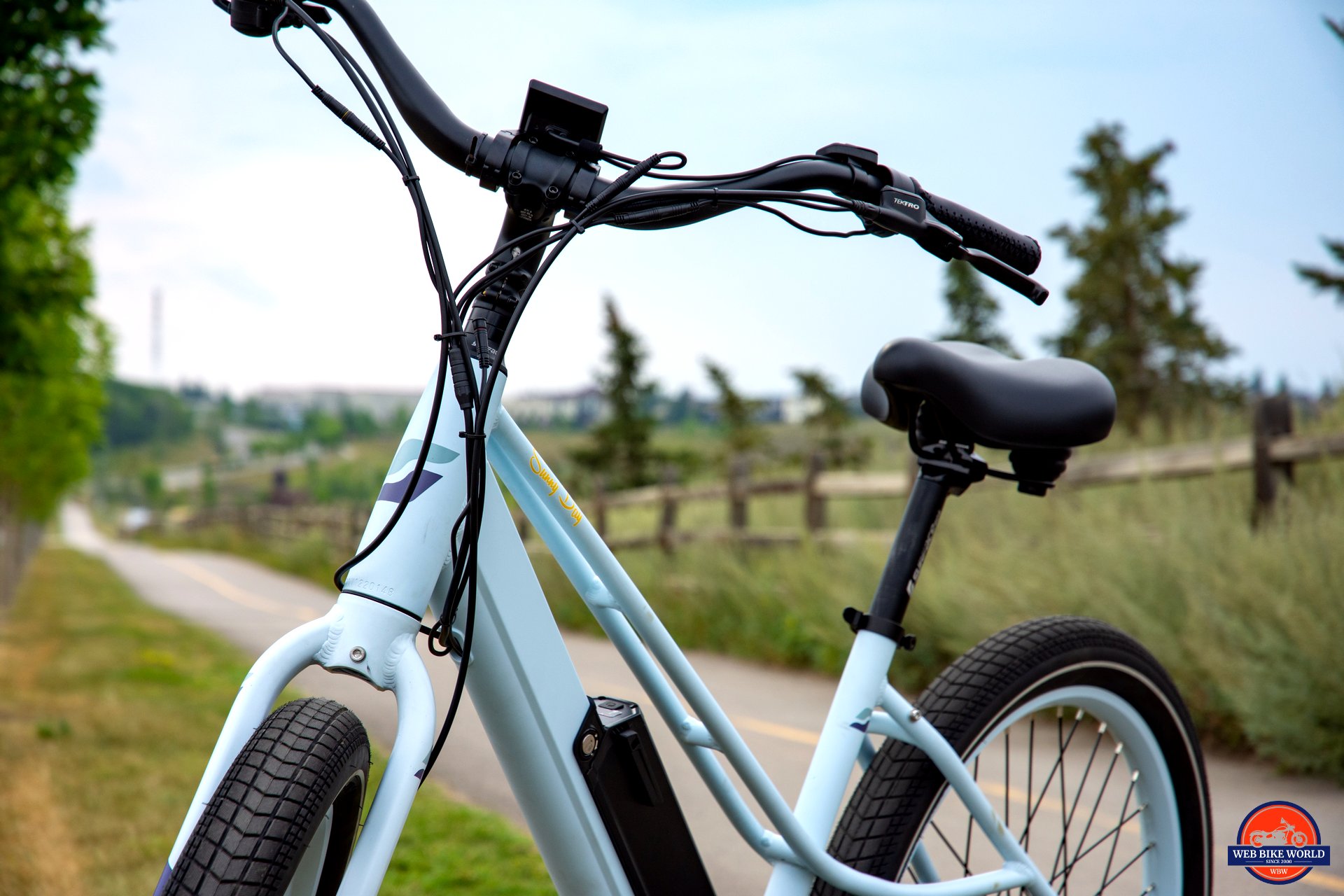 The Sunny Day came in a good state, with acceptable tension in the brake lever, and smooth shifting from the Shimano Alivio 9-speed. I checked the nuts/bolts, double checked the contact points, and made sure the tires were inflated to 30 psi.
By the way, if you aren't a bike mechanic, you should have your ebike tuned up regularly by one. It's inexpensive, and preventative maintenance goes a long way in avoiding unexpected brake failures, persistent shifting issues, etc. You should get your new ebike tuned before its first ride. I have my bikes tuned up at the beginning of every season, and again after every 500 km.
Handlebars, Display, & Shifting
Surface 604 uses a full color LCD display. The display, alongside the control pad on the left handlebar, is how you interact with the electronic system on the bike. From here, you can adjust the display somewhat and make changes to settings (such as change wheel sizes, modify the speed limiter, etc.).
The display is attractive and easy to read at a glance. However, in bright direct sunlight, it can be difficult to see.
I also find it finicky to adjust the trip odometer, which requires a venture into the settings menu to reset it. It doesn't take long, but it's clunky when you're ready to get riding.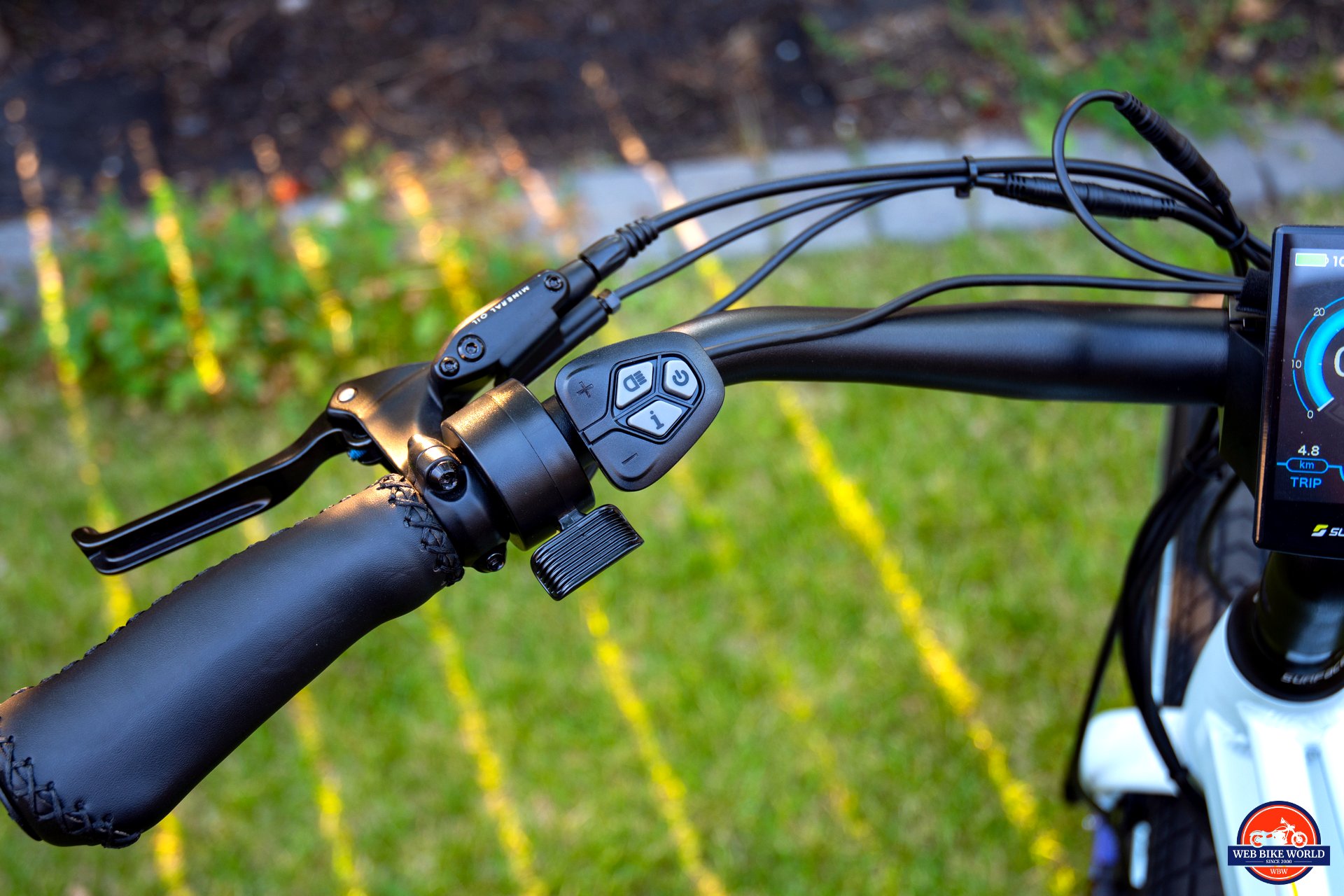 The left handlebar is home to the throttle and display control pad. You use the + / – symbols to adjust the pedal assist settings and navigate the display menus. The i button is your "enter" button; press it twice quickly to enter the settings menu, and press it once to confirm your selections. The light switch is also there, but the Sunny Day does not come with a headlight, so you won't be using that. You turn the bike on or off via the power button on the right.
Surface 604 has fit the Sunny Day with thicker and wider cruiser-style grips, which are comfortable to hold. The throttle is close to the grips and intuitive to use. As someone with carpal tunnel in my hands and some minor nerve damage in my arms, I greatly prefer thumb throttles to half or full-twist throttles.
The right handlebar has your shifter and bell. I like that the Shimano Alivio has a gear position display, which I found easy to read under all conditions. The shift levers are comfortably placed and easy to use. No complaints here.
Brakes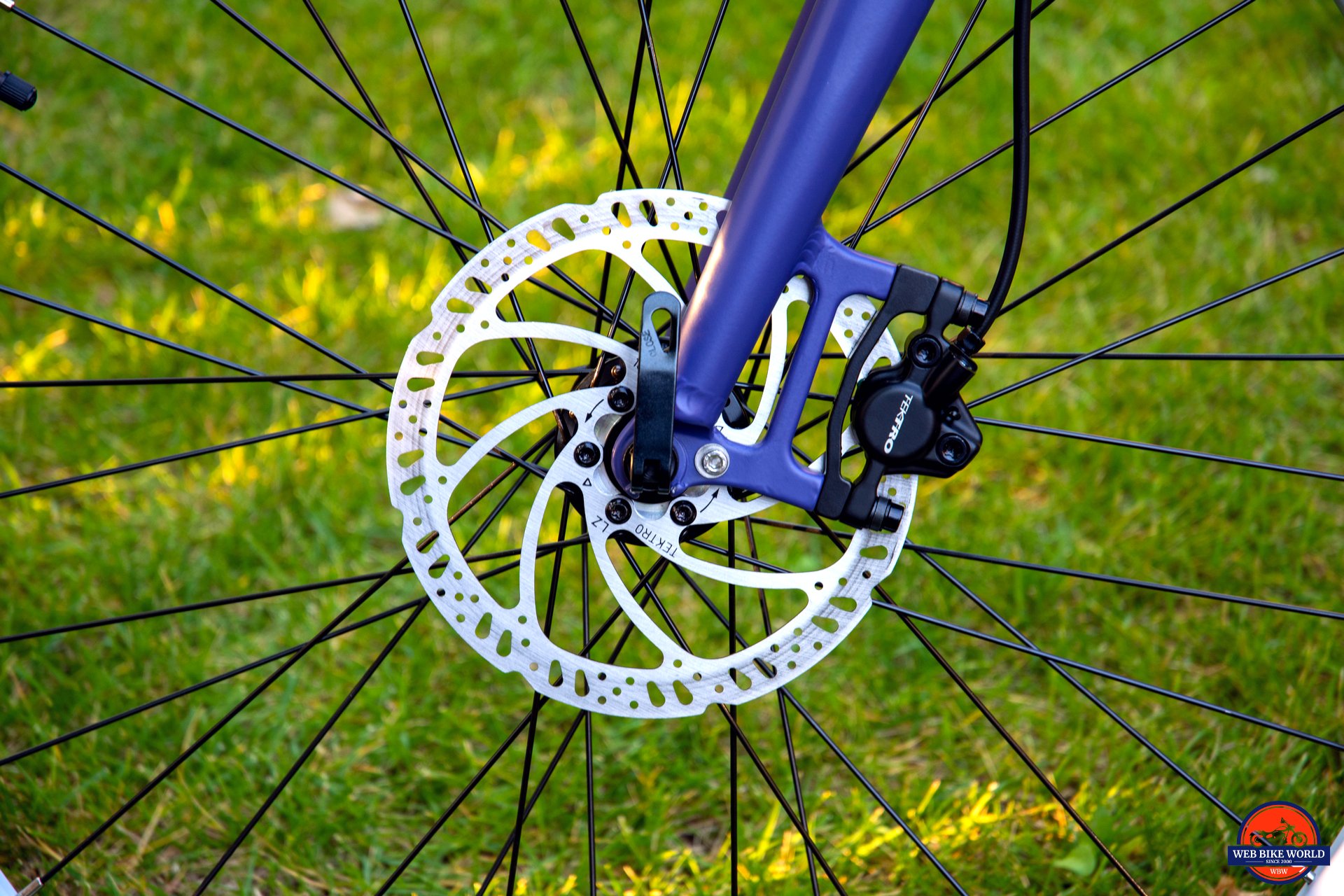 Surface 604 has equipped the Sunny Day with Tektro Auriga E350 two-piston hydraulic brakes and 180 mm rotors. This combination is suitable for the Sunny Day and will provide effective stopping power in all riding conditions.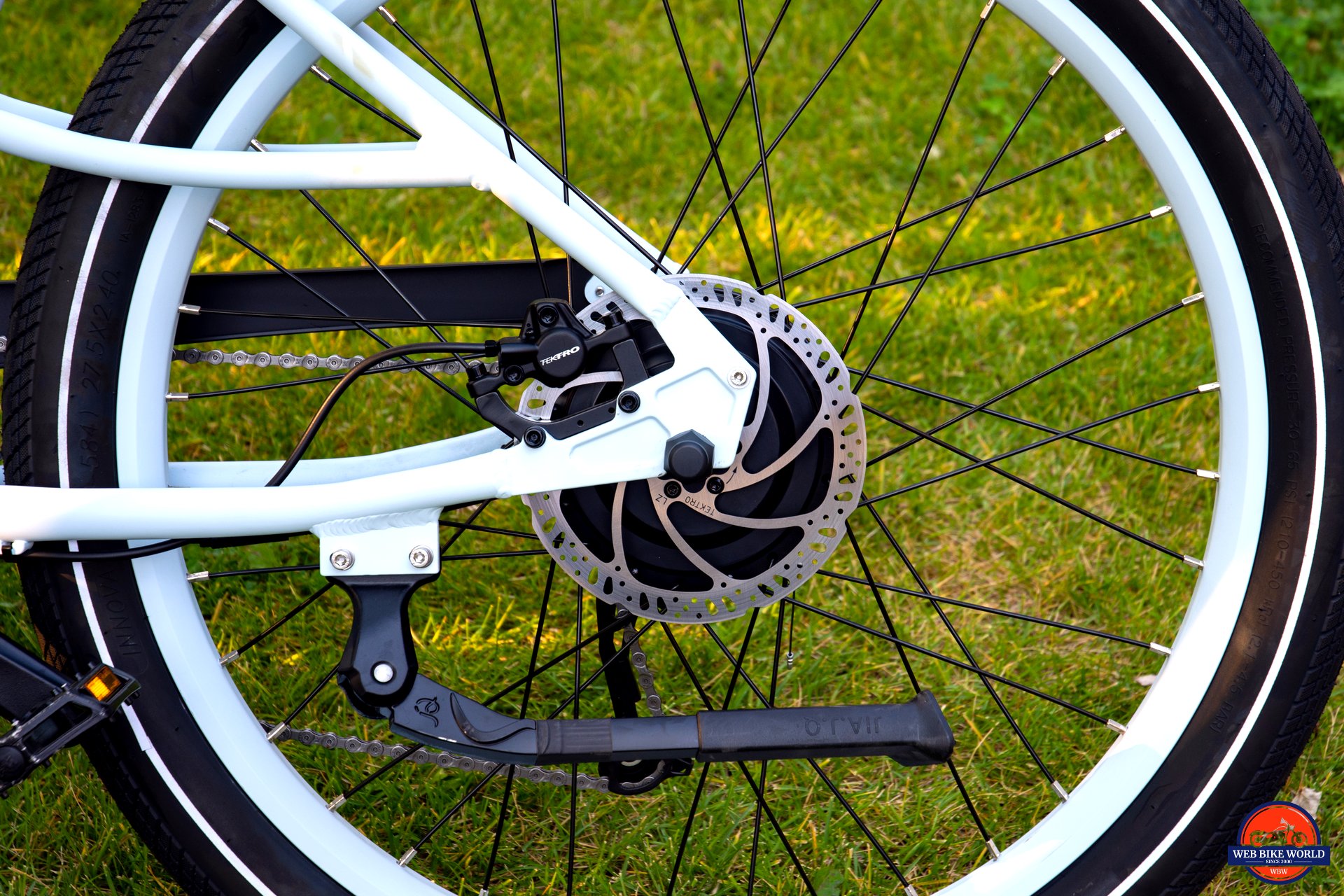 I did not notice any brake fade and the brakes provided linear pressure to the rotor with no vibrations or weird feedback. I always feel confident and in control of the Sunny Day.
I also like this setup since the Auriga series is pervasive and easy to service or replace down the road. The brakes and cables are easy to access, so maintaining this system shouldn't be a problem.
Forks & Tires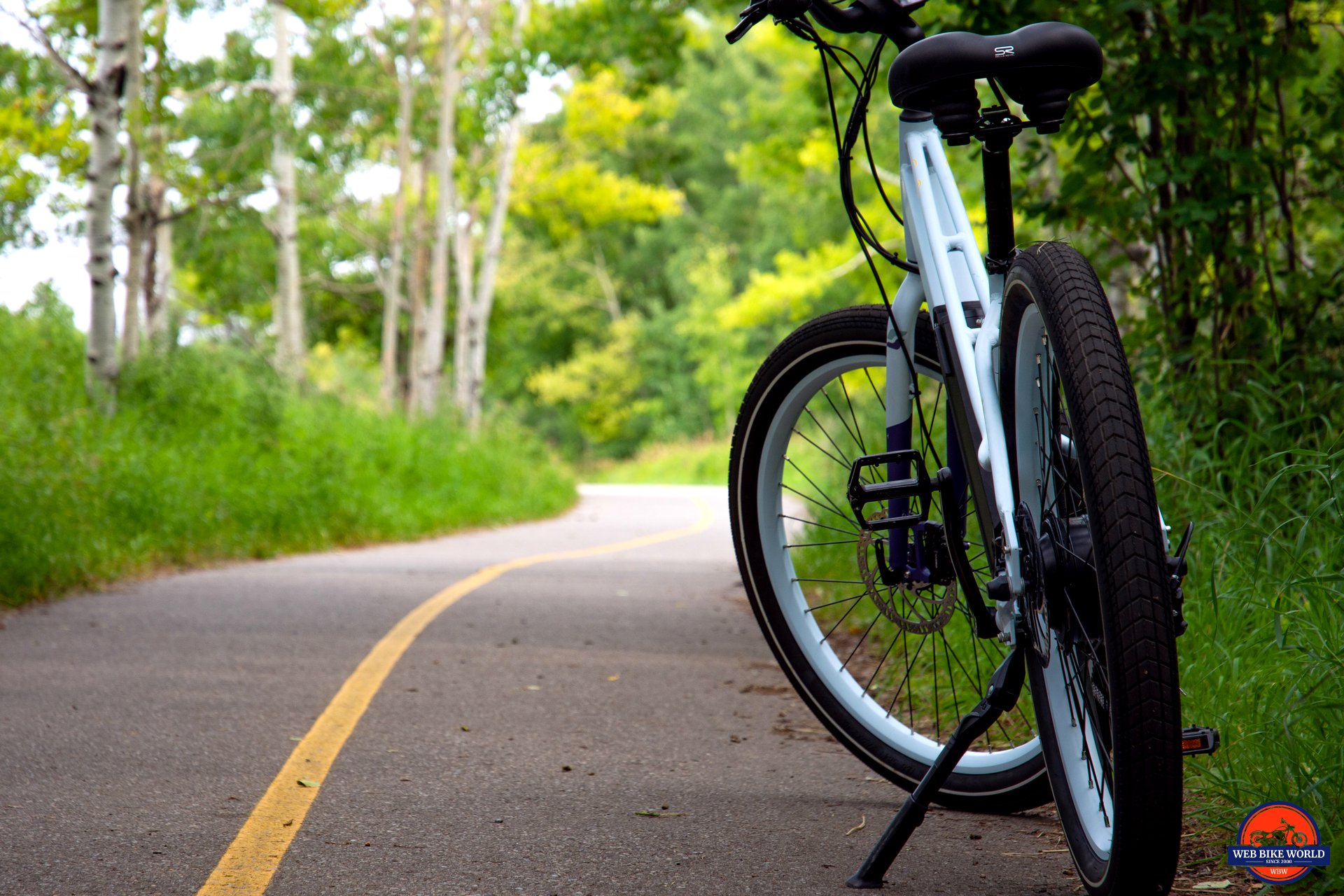 The Sunny Day is equipped with solid forks that are painted/decaled to match the rest of the bike. There isn't much to say about the forks given that they are not suspended. The fender mounting point is located on the forks, and there is enough clearance between the forks and tires for an easy fender install. You could also install a headlight here.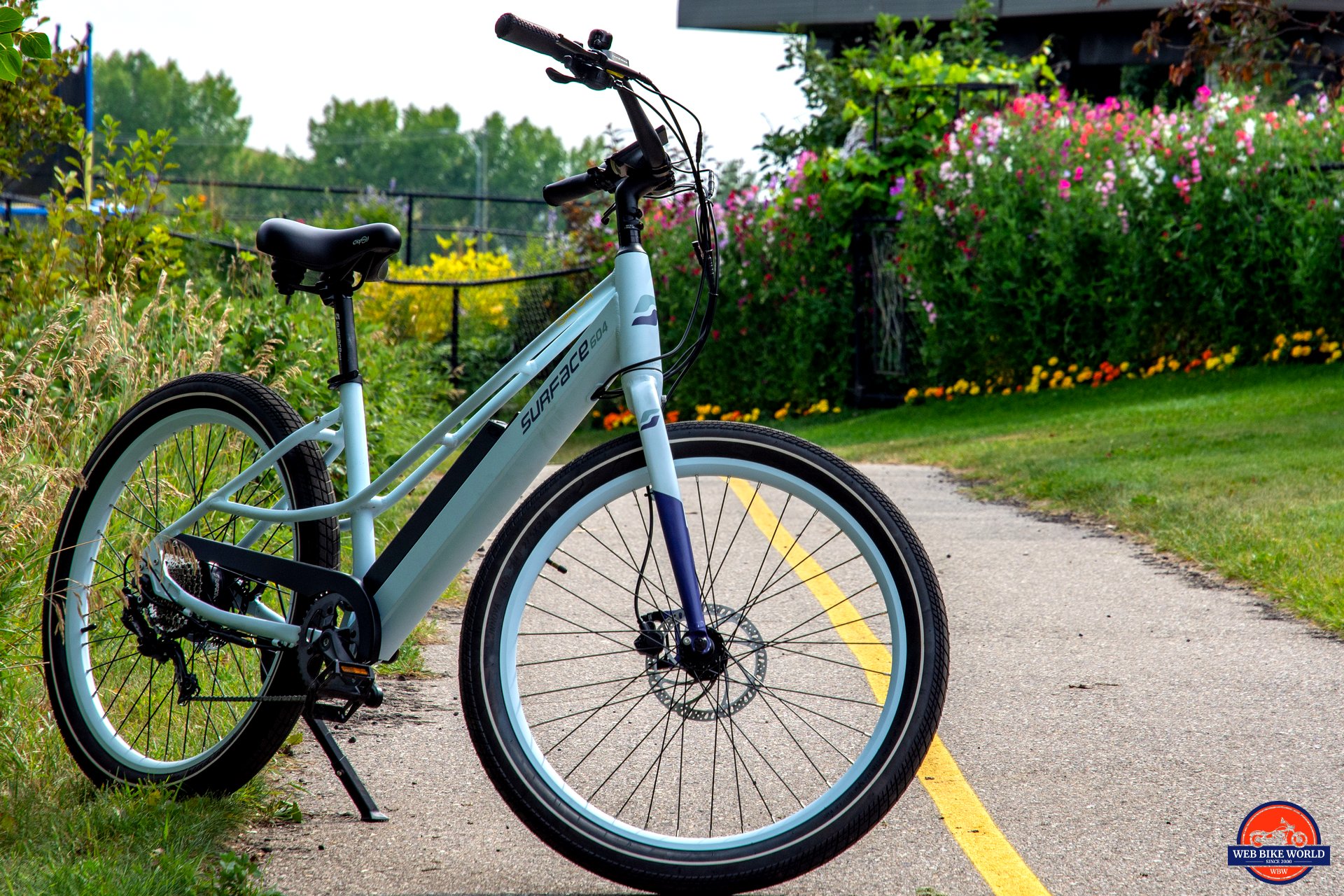 Surface 604 says the Innova 27.5" x 2.4" tires are custom for the Sunny Day. These tires also rock a reflective sidewall, which I think adds to its good-looks while also being good for low-light visibility.
The tread pattern is ideal for paved roads and trails, but I also found it fine for gravel riding. I wouldn't take these tires in sand, mud, or gravel, though.
Paint & Graphics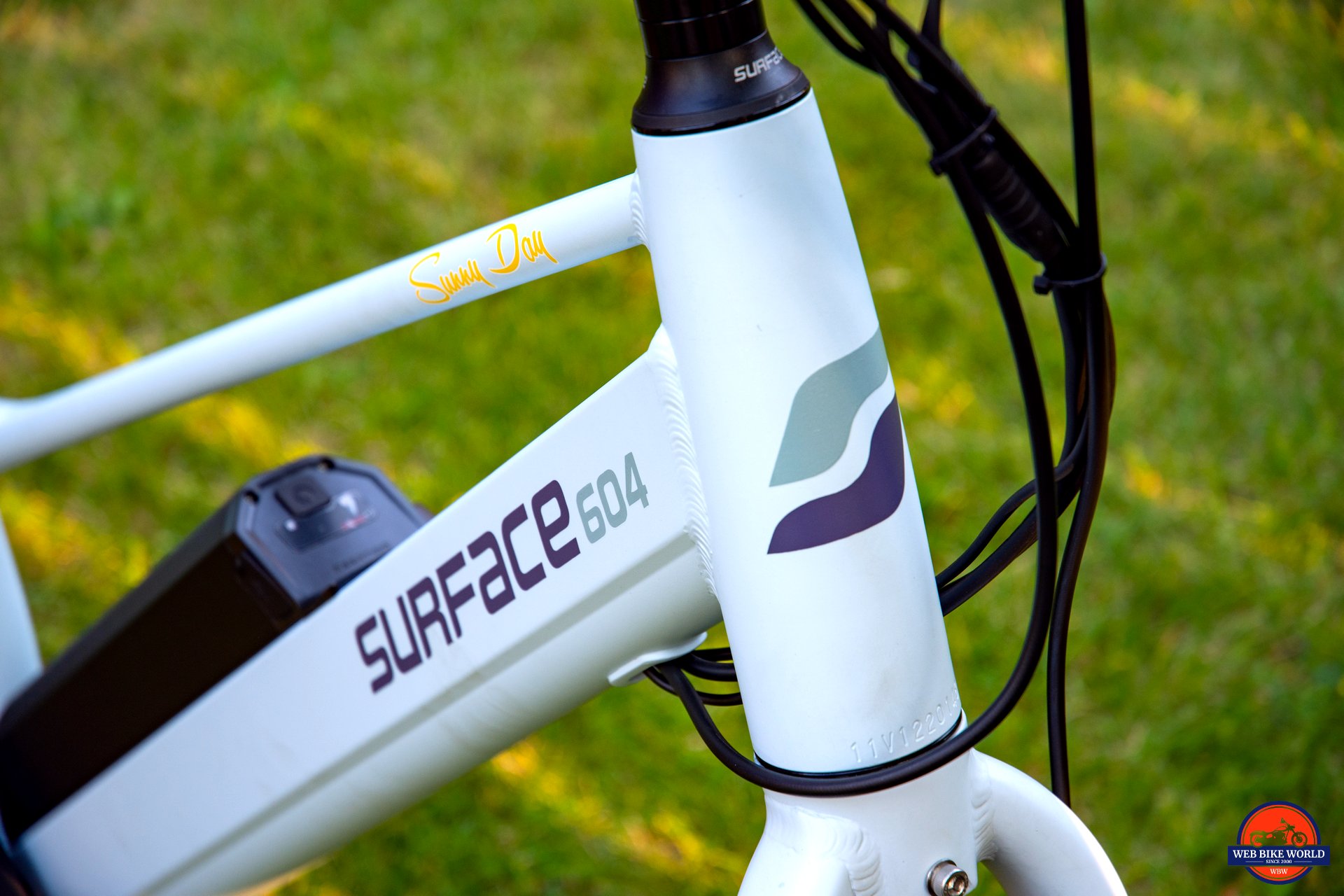 The white paint job and choice use of pastels is an attractive combination, albeit an understated one. The paint quality is good, with no obvious overspray or weird texturing. Welds are also nice and clean throughout the bike.
The applied decals look nice and complement the minimalism theme. The quality looks and feels good.
The Sunny Day is the Right Bike for Anyone That Wants a Comfortable Cruiser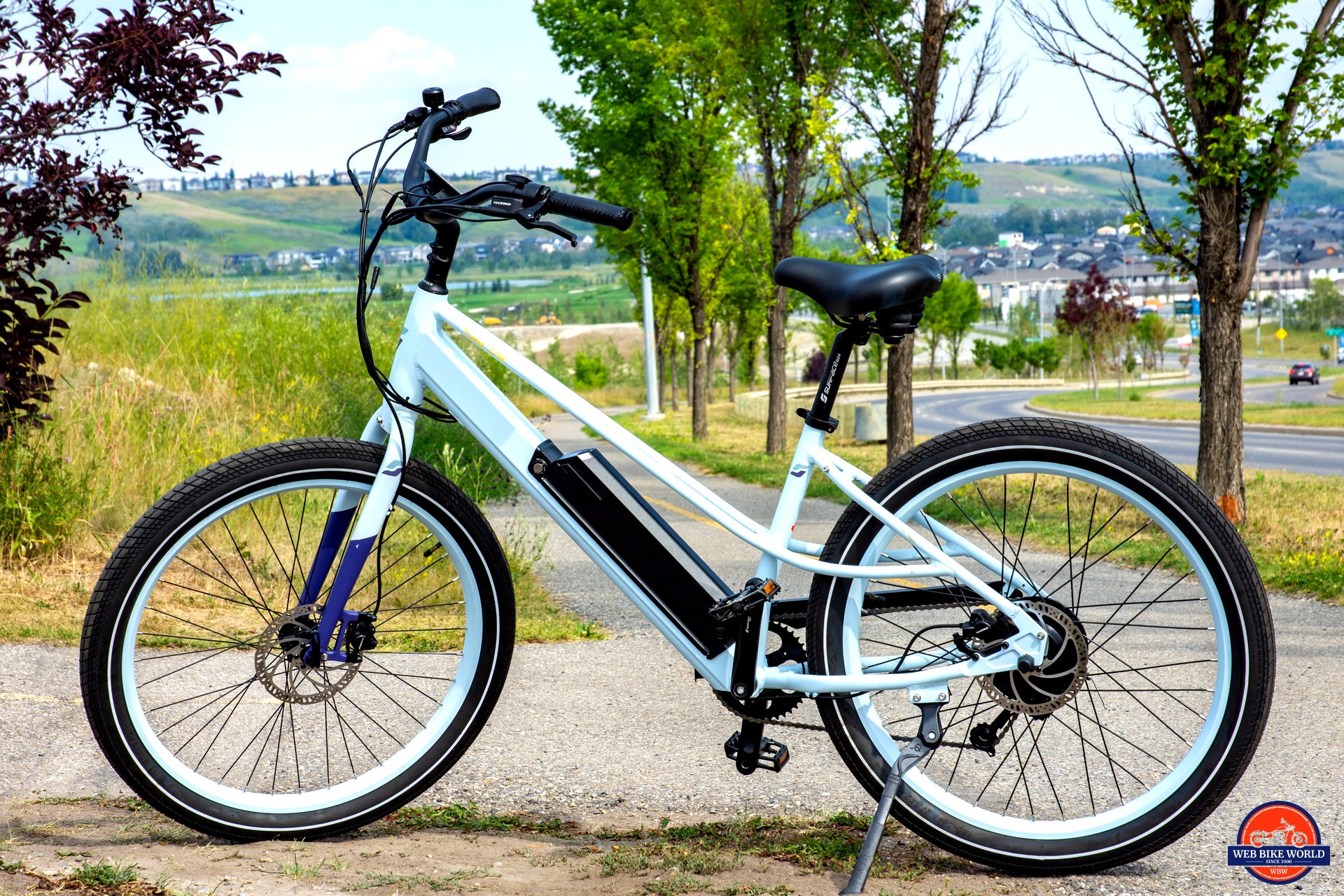 When the roads are paved and the sun is out, the Sunny Day is a great vehicle to get out and get some seat time in. I like its build quality and choice of components, and I think that the rear hub motor and torque sensor combination is the ideal blend for anyone that isn't riding technical trails or going downhill.
With classic good looks and smart design that doesn't scream "ebike", and a capable and natural-feeling drivetrain, the Sunny Day is a great ebike for cruising, commuting, and pleasure riding.
2023 Surface 604 Sunny Day Review Conclusion
Review Summary
The Sunny Day lives up to its name, with plenty of power that feels natural and proportional to the level of assist. It's comfortable, equipped with good brakes, gears, and electronics, and enjoyable to ride. Its two battery options provide plenty of range. If you want a comfy cruiser, this is a good one to pick.
Pros
Comfortable upright riding position &and swept handlebars
Torque-sensing rear hub motor is very natural feeling
Tektro hydraulic brakes are more than up for the job
Cons
Solid suspensionless forks means it's more difficult to tailor ride quality
No headlight (but comes pre-wired for one)