2021 Himiway Cruiser Step-Thru Review Summary
Review Summary
For its intended use case, the Cruiser demonstrates that you don't need to spend a ton of money to get a bike that can do what it's designed to do (and maybe a little more). Some concessions in terms of components and build quality had to be made to hit the price, but you probably won't notice them unless you go looking (and you probably won't care once you find them). For the money, there isn't much about the Himiway Cruiser to criticize.
Pros
Comfortable saddle that does well for longer rides
All-inclusive: front/rear lights, fenders, & rear rack included
750w Bafang hub-drive motor
Comfortable handlebar position + handles
Adjustable front suspension w/ lockout
Cons
Cadence sensor
Entry-level components all around
The miles piled on the Himiway Cruiser quite quickly. Shortly after we did our unboxing article we promptly hit the trails.
The Cruiser has proven to be a mixed blessing. On one hand, it's shown us how a direct-to-consumer eBike brand can deliver acceptable quality and sufficient capability at an affordable price. On the other, it's been a malady of accidents and shenanigans – none of which is the bike's fault – but shenanigans all the same (details below).
If you read the 2021 Surface 604 Shred review I recently published, you'll know that the eBike market is rapidly growing (to the tune of 150%+ year over year 2019/2020). The pace of change in the industry is overwhelming, and unsurprisingly, people the world over find themselves confused about their needs, which brands they can trust, and what bikes to invest in.
Given that the eBike industry is expected to grow at double or triple-digit rates for the next half-decade, it's fair to say that a lot more change is coming. Not all of the eBikes on offer will be good, and in 5 years, many of the brands that built them will be no longer with us.
Companies like Himiway, which favor influencer marketing and digital ad spend over showrooms or salespeople, are aggressively marketing value-focused eBikes via a direct-to-consumer model.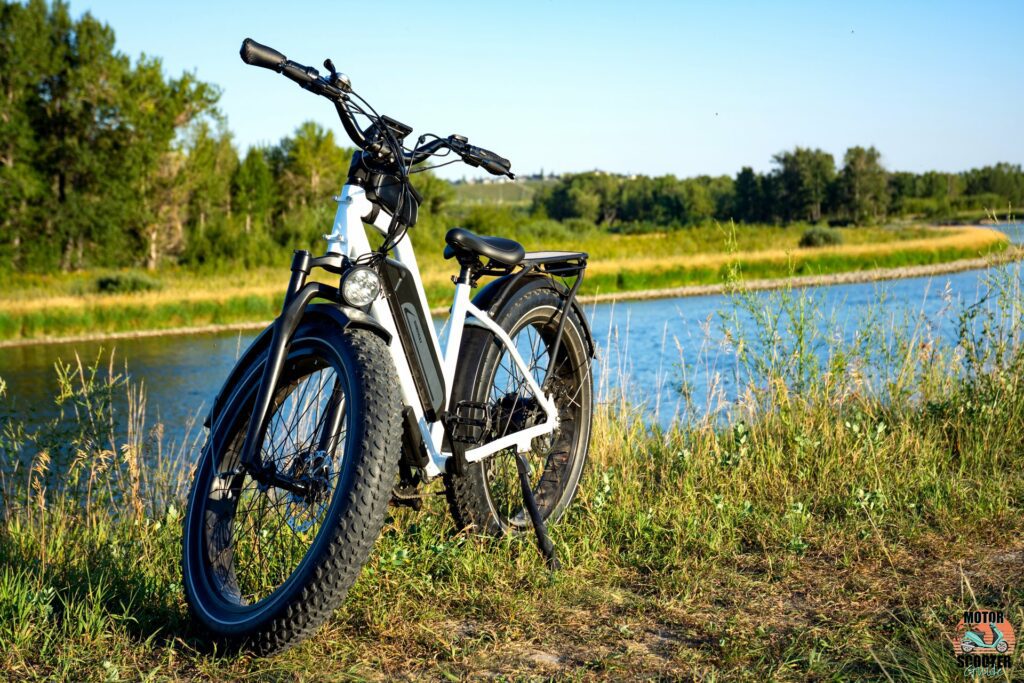 I mention this because competition in the affordable segment is fierce, and Himiway is one of many vying for your dollars. Himiway's 2021 lineup currently consists of three models:
Cruiser – A hardtail fat-tire cruiser/light-eMTB. Read Joe's Himiway cruiser unboxing article to learn more about it.
Cruiser Step-Thru – The same bike as the cruiser in a step-thru frame (you are here).
Escape – A moped-style eBike utilizing the same components as the Cruiser twins (review TBD)
All three bikes are priced to compete, and the company is going to decent lengths to build its brand, owner's community, and customer support. If the Cruiser is reflective of their longer-term goals, Himiway may well be one of the brands that survive the evolution of the eBike industry. Let's explore why.
—
Himiway provided us with the Cruiser Step-Thru at no cost for the purposes of this (and future) reviews. We also have an affiliate relationship with Himiway and receive a small commission if you purchase an eBike via our links. Note that brands sending us gear for review must agree to our extensive review policies. Thank you for supporting us.
2021 Himiway Cruiser Step-Thru Specifications
The Cruiser Step-Thru is a value-priced urban comfort cruiser. Important specifications:
Motor: 750W Bafang rear-hub motor
Torque: 80 Nm
Battery: 48V 17.5 Ah (using Samsung cells)
Range: 55 km – 95 km (35 – 60 mi)
Pedal-Assist Sensor: Cadence, 5 PAS settings
Top Speed: 45 kph (28 mph) class-3, requires unlocking
Derailleur: Shimano Altus 7-speed
Cassette: Shimano 14-28T
Shifter: Shimano Tourney
Brakes: Tektro Aries 180mm disc
Tires: 26″ x 4″ Kenda puncture-resistant fat tire
Weight (w/ battery): ~33 kg (~75 lbs)
Exploring the Cruiser Step-Thru's Key Features
I won't dive too deep into every nook and cranny since I covered a bunch of that in the unboxing article (give it a read), but I do want to explore some of the important bits.
Shimano Altus Derailleur + Shimano Tourney Shifter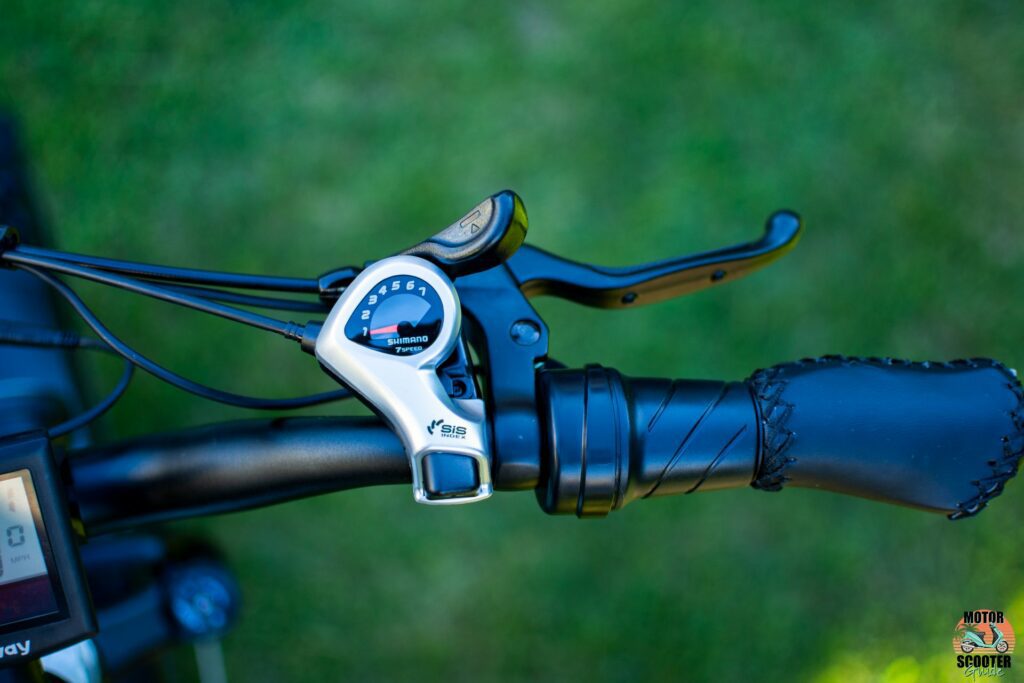 The Shimano Altus 7-speed derailleur pairs adequately with the Shimano Tourney shifter, though I've found that the Tourney is far from my favorite shifter (note the position of the up/down gear selectors, which feel miles apart according to my thumb).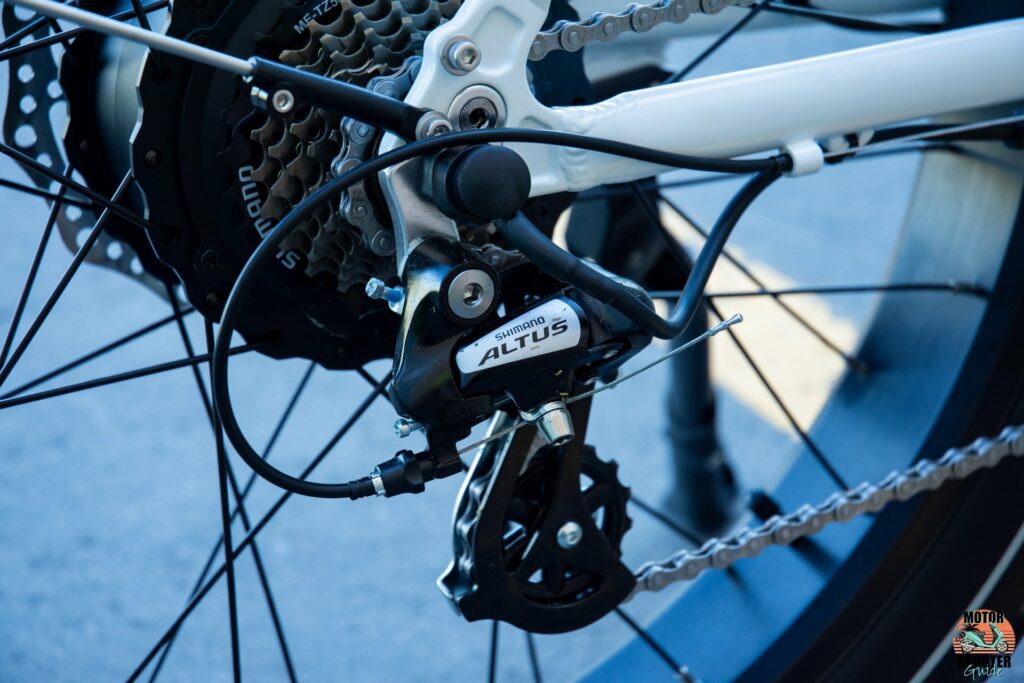 Shifts are snappy and free of annoying pre or post-shift chatter. Surprisingly, the derailleur came pretty well aligned out of the box and required very little adjustment to get dialed in.
Given the laid-back intended use of the Cruiser, the long-throw shifter isn't that big of a deal, but I definitely prefer shifters with tighter positioning. I imagine the same is true of anyone with hand/wrist mobility challenges, chronic pain, or arthritis.
Bafang 750W Hub Motor
Bafang is the incumbent in the hub-drive space. Their hubs are found in most affordable eBikes, and there's nothing wrong with that.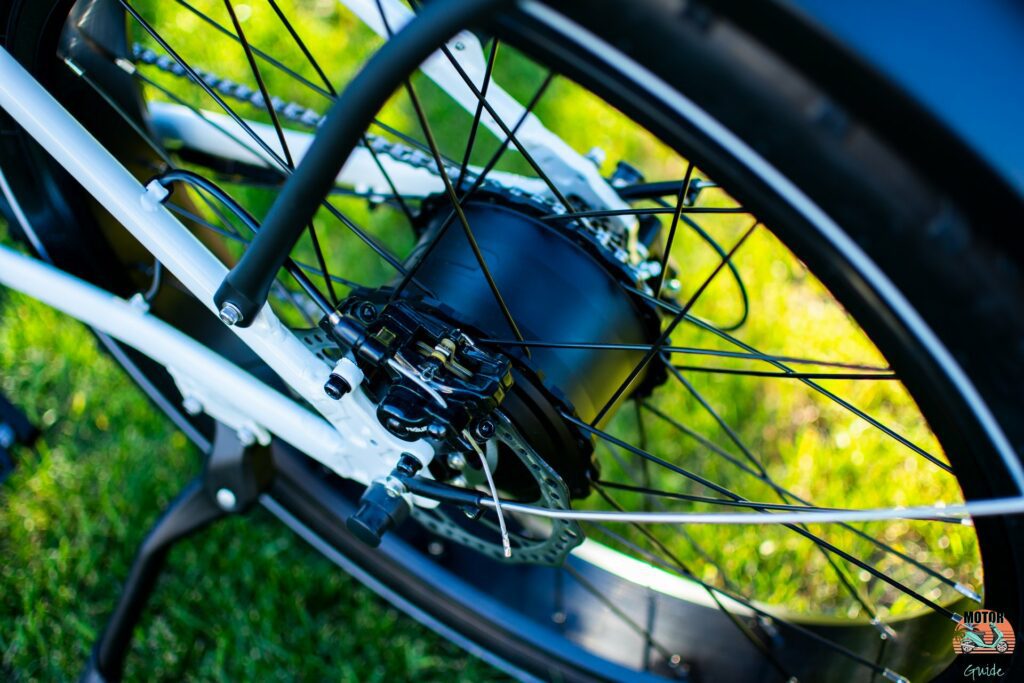 80 Nm of torque has proven to be plenty for everything outside of strenuous hill climbs, and even then, if you're willing to put in the work the bike will definitely match you. More than once I've lauded the extra oomph the 750W motor provides over the typical 350W or 500W unit you see at this price point.
Kenda 26" x 4" Tires + Front Adjustable Suspension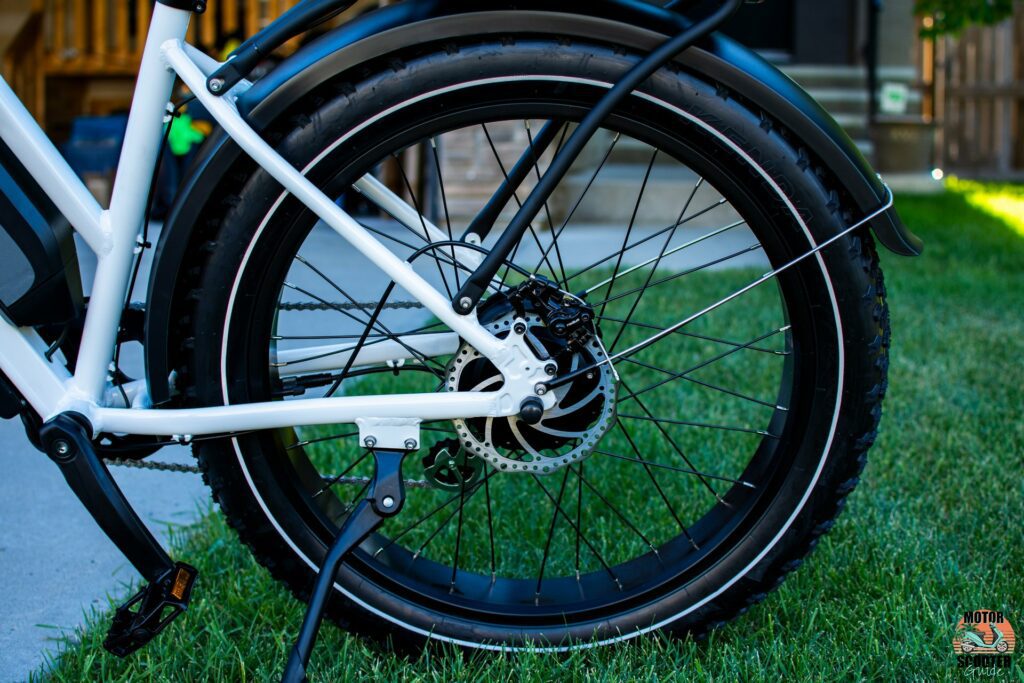 4" tires are huge. There's no two ways around it. Low-speed maneuvers in the wrong gear are made significantly more difficult thanks to the large contact patch provided by the tires. You (and the bike) have to work that much harder to get rolling.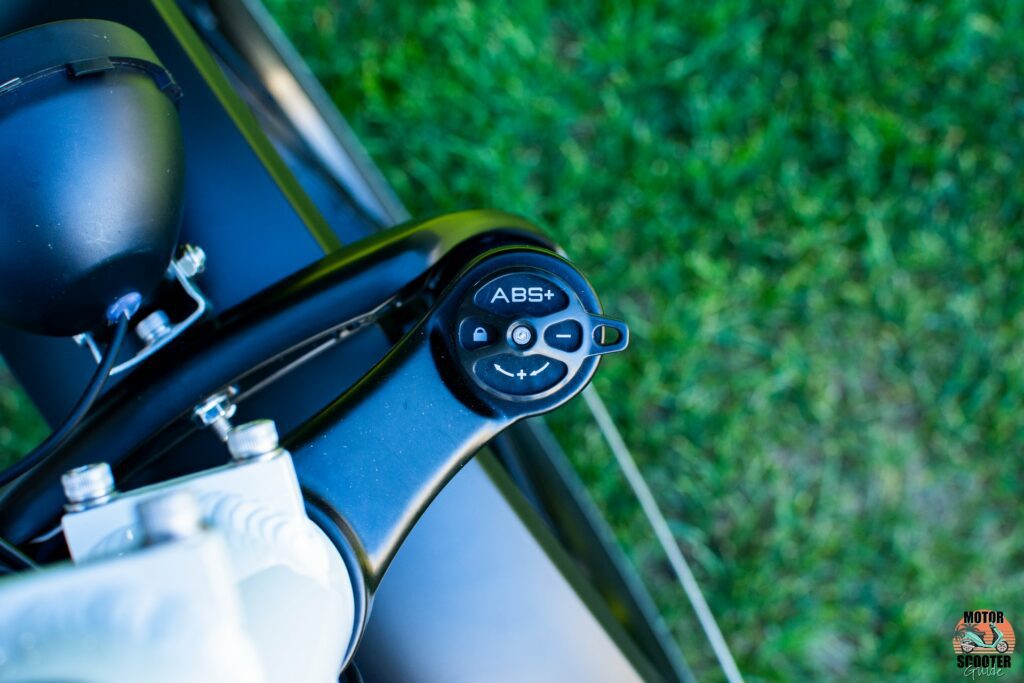 But, paired with the adjustable front suspension, the combination makes for comfortable riding indeed. I've found the shocks to perform admirably throughout the rides, always landing more or less where I want them to.
The 4" tires are at their best the moment the trail stops being paved. Gravel? Dirt? Grass? No problem! The Kenda's plow over all with equal enthusiasm.
Riding the 2021 Himiway Cruiser Step-Thru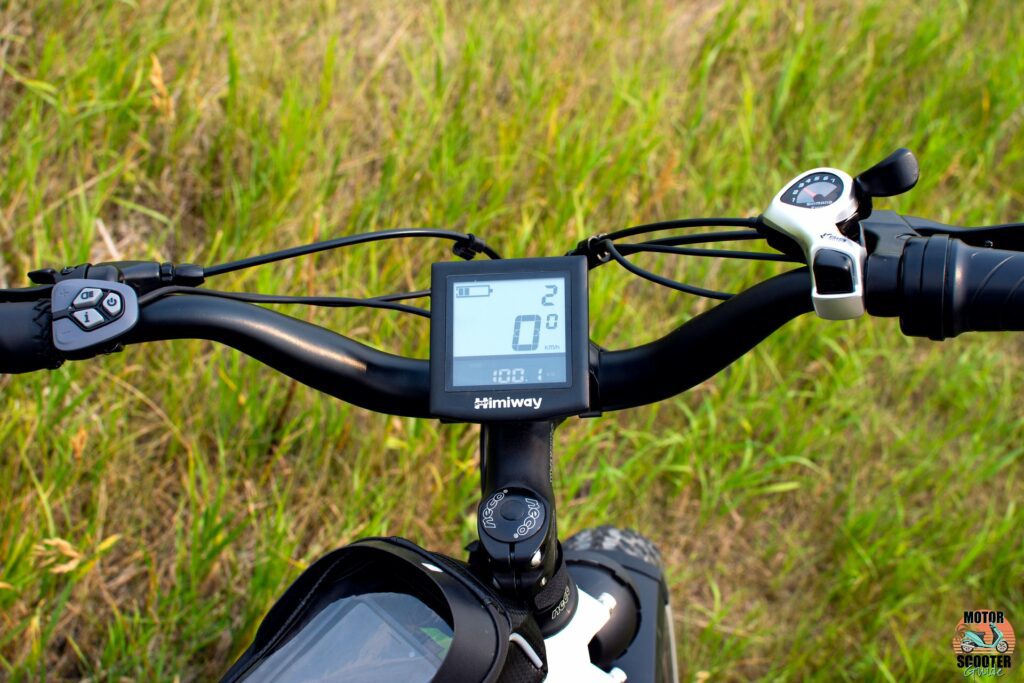 I took the bike out several days ago knowing that I was only a few kilometers from hitting 100 km (60 miles). As I did with the Shred, I wanted to pull over exactly where I was when the ODO struck 100, and right here's where it was: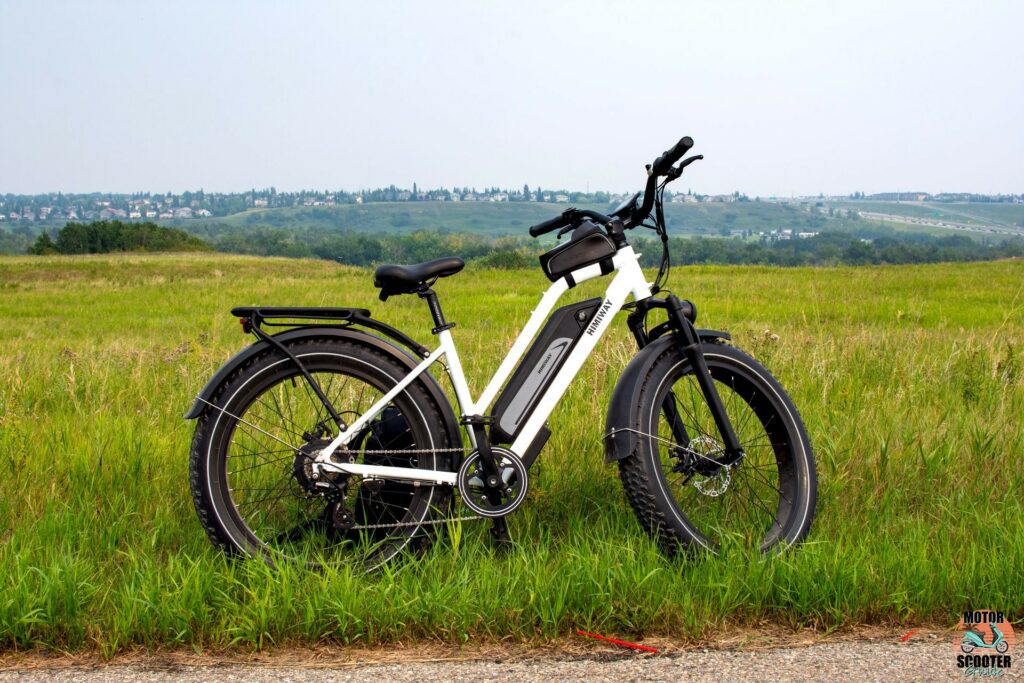 I realized not long after setting out on the ride that the smoke was going to be a problem for photography. I didn't realize it was so thick until I had already left the house. Unfortunate, because instead of scenes like this: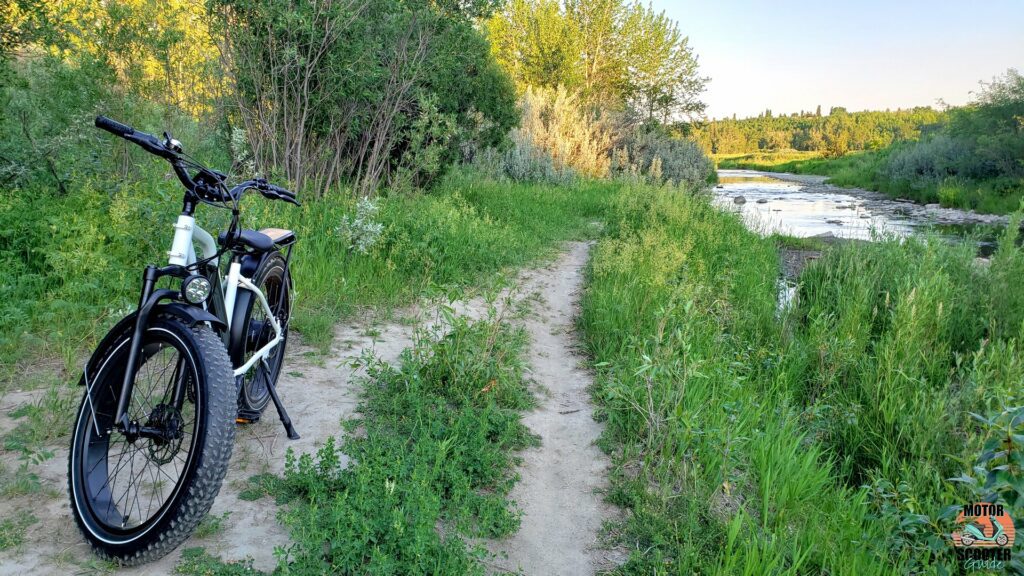 We get scenes that look like this: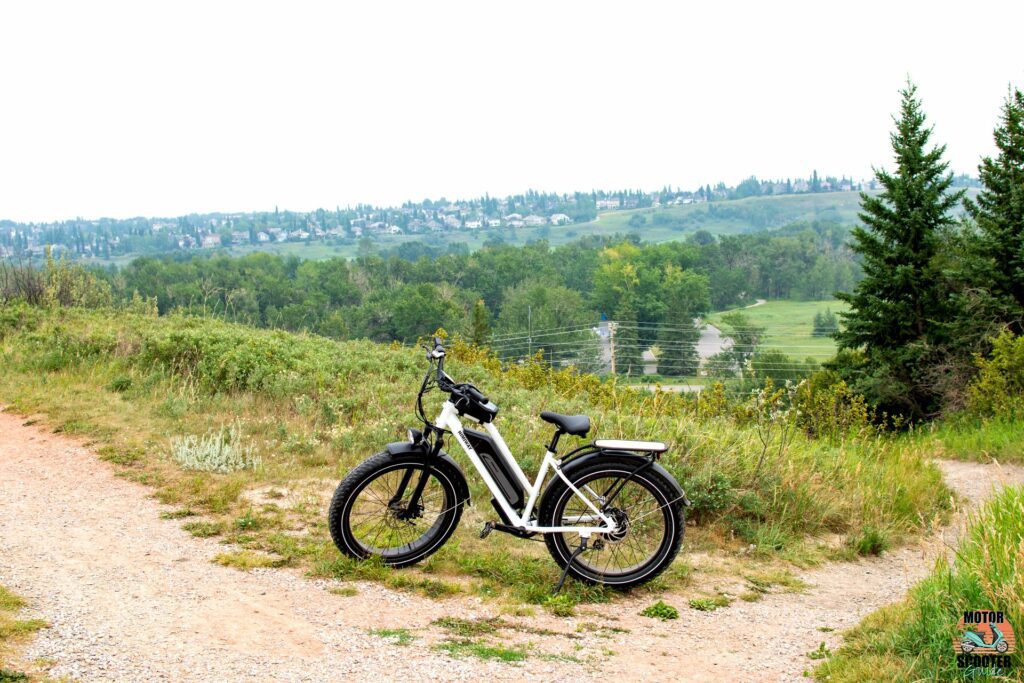 The haze and smoke from the out-of-control wildfires ravaging much of British Columbia, Alberta, Washington, Oregon, and others is suffocating. Riding through it feels like riding through dense smog – the kind you expect on a busy freeway, not in the middle of a sprawling park in suburban Calgary.
And it tastes like dense smog, too.
It's a grim reality for 2021. And for 2019, 2018, and 2017, by the way. Whether you chalk it up to climate change, poor forest management, or a combination of the two, the reality is a world that looks dreary, smells awful, and tastes bad.
The smoke ruins even Calgary's best outdoor spaces, but it's nothing compared to those directly affected by the fire. A few short weeks ago, residents of Lytton, BC found their homes destroyed and town ravaged while hardworking firefighters across North America battle the fires and the destruction they leave in their wake.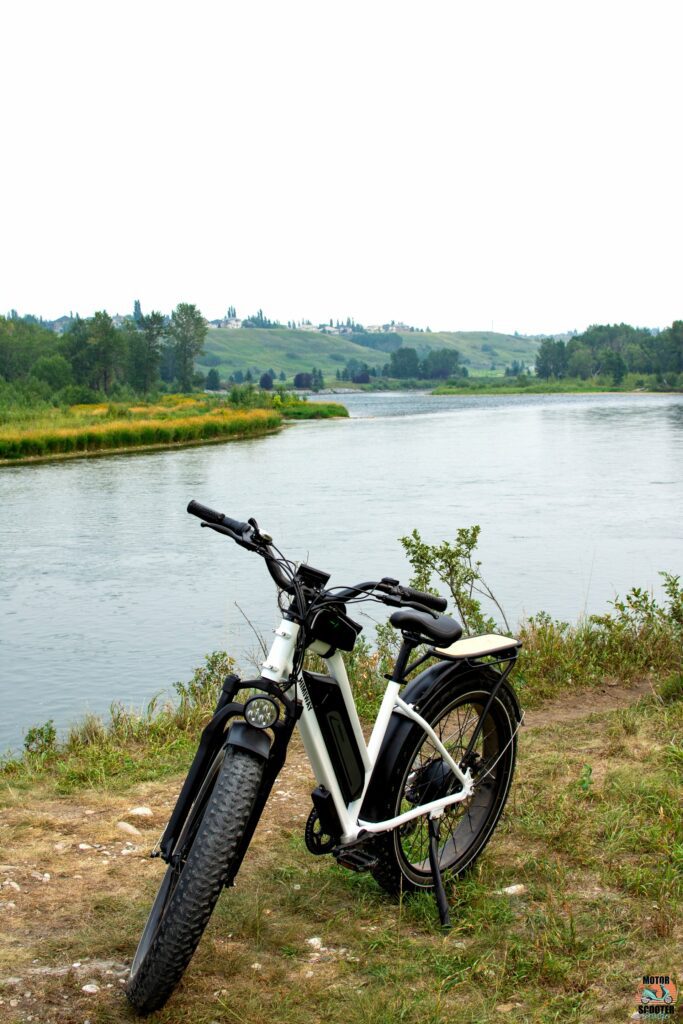 I'm not ranting about the smoke because I think it's appropriate to make an ebike review a political statement on climate change; I mention it because riding through smoke is exhausting and it takes the wind from your sails.
It takes only a few minutes of concerted pedaling before I'm out of gas, and it's in those moments that the quiet-but-not-silent hub motor becomes a saviour.
Torque for Days
80 Nm might just be the magic number. For city riding, paved/gravel trails, or groomed single-track trails, 80 Nm of torque is plenty to move you.
Most eBikes in this price range of 50 Nm of torque or less. Few bring as much power as the Himi, and it shows. More than once the Cruiser outperformed eBikes struggling to climb a hill or maintain their pace through undulating terrain.
Cruising With Cadence
The Cruiser Step-Thru uses a cadence sensor and provides 5 levels of pedal assist. Many people use the analogy that the PAS levels are like cruise control, and that very much rings true for the Cruiser.
Where a torque sensor will apply proportional power based on how hard you're working, a cadence sensor is more linear. It feels more robotic by comparison, either turning the motor "on or off". A small quarter-pedal turn of the crank will engage the motor and lurch the bike forward. In these instances, the sensor works against you as the bike "moves all on its own."
This is where the one drawback of the Cruiser lies: the cadence sensor provides a robotic feeling. If you want to apply a small amount of power, lowering the PAS isn't the ticket – you have to manipulate the twist throttle.
Once I got used to how it operates, it became predictable and I was much more successful in controlling the bike at low speeds. PAS 1 is around 19 kph, and the moment the sensor registers the crank is moving, the bike is going to want to get to 19 kph. That's where the lurch comes from.
Range Anxiety
With around 60 miles / 100 km of range, the Cruiser is fine for inner-city riding, but you'll run out of juice for long-haul rides. Thankfully, the battery charges to full in around 4-5 hours.
Himiway's range estimate of 35 – 60 miles varies heavily on how you ride as well as the condition of the battery and terrain you're riding in.
I've charged the battery from nearly empty twice now (in just over 100 kilometers / 60 miles of riding), but we're also making heavy use of the throttle and PAS. What can I say? I like to climb hills that this bike has no business climbing.
I've Learned First-Hand That the Cruiser Can Take a Beating
First, I wanted to test the durability of the Cruiser, so I decided to get it to 35 kph and then bail and see what happens. Would the bike survive? Would it be rideable on the way home? What will happen? WHO KNOWS. Let's find out.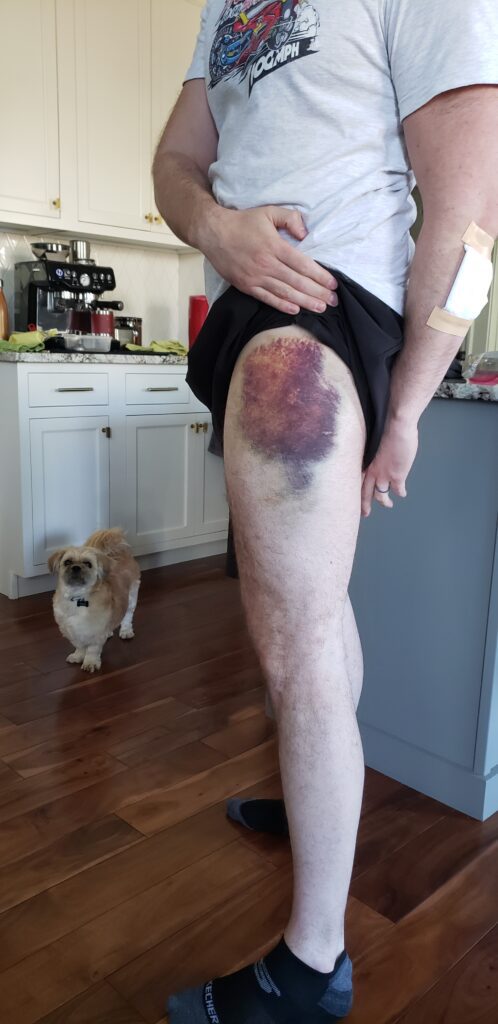 There's the outcome.
And if you've gone this far thinking "why would he do that?" Well, it's just say that I didn't intend for it to go this way. See, the "durability test" was more of a "how can I use this content" after I lost traction on the bike and smacked the pavement at 35 kph.
To the credit of the bike, I picked it up and rode it home. I was bruised, bleeding, and broken, but once I realigned the handlebars and tightened a couple of nuts, the Himiway was fine, with only a few cosmetic blemishes for its trouble.
I am very impressed with how the bike took the impact, which was WAY better than I did.
Next, I decided to see how easy it was to self-repair. To conduct this test, I organized a situation where the front wheel quick-release axle would "release" mid-ride so we could see what happened.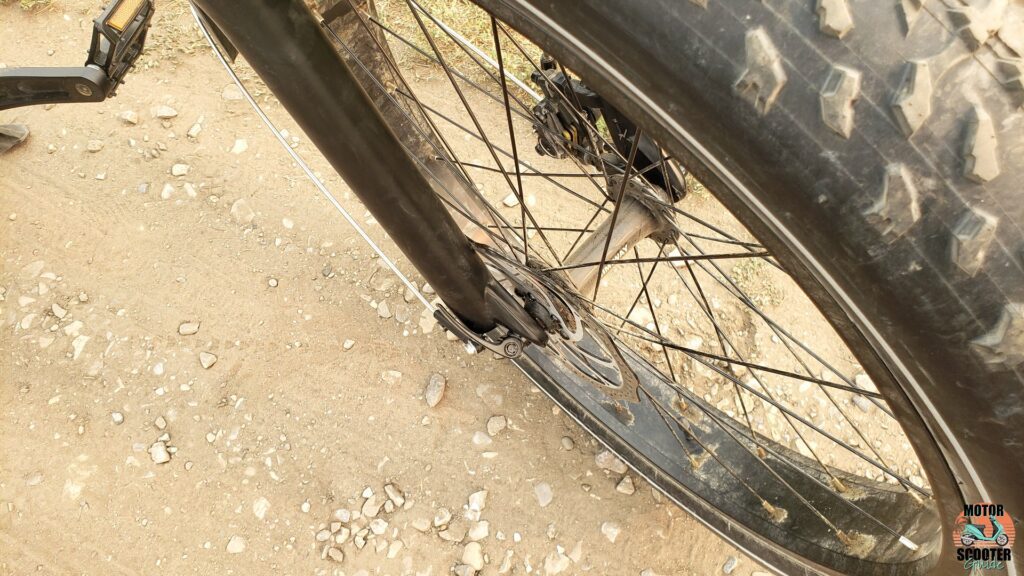 And there's the outcome: a bent brake rotor, two bent spokes, and around $150 worth of bike mechanic time. In the photo above, I tried reversing the wheel and bending the disc to see if I could at least ride the bike home. No dice – the brake caliper hit the spokes and the bike was unrideable.
In case it wasn't obvious, this situation is another case of "can I get good content out of this", when the wheel fell off due to my negligence in (I failed to ensure the bike was properly put back together after I had recently removed the front wheel), I was forced to replace the front brake, straighten the spokes, and re-true the wheel.
And by "I" I mean the fellow that came to fix the bike.
But a $24 part (brake rotor) and an hour had the bike good as new. Then I had the mechanic tune it up because apparently I can't be trusted with this particular bike (seriously).
It Held Up Far Better Than I'd Have Expected It To
Despite two situations that the bike never asked for, it shrugged them off and continued on its merry way. In both cases, the fix was either inexpensive or free, and very quick to remedy.
The bike mechanic I hired also had some good things to say about the bike and quality of components. He compared it to many of the Rad Power bikes he had built lately. I thought that was a good endorsement considering that Rad Power is one of the mainstays of the industry.
Things I'd Change About the Himiway Cruiser Step-Thru
There are a few small things that I'd like to see Himiway do differently for the 2022 Cruiser:
Rework the controller placement – Currently, it sits just in front of the crank on the bottom of the crossbar. This location places it at some risk for damage from roadside obstacles.
Rework how PAS levels influence the throttle – At PAS 0, the bike offers no pedal assist and the throttle is disabled for some inexplicable reason. I always want the throttle to do its job when I ask it to. Maybe I want to ride at PAS 0 for low-speed riding where I don't want the throttle kicking in without my express consent (such as low-speed riding in a crowded area). Why can't I have the throttle in those situations?
LCD screen interface – Is hard to read and laborious to manipulate.
An obvious omission to this list is "use a torque sensor instead of a cadence sensor", but that's not necessarily a reasonable ask at this price point considering everything that comes in the box. But if they could, they should!
Closing Thoughts on the Step-Thru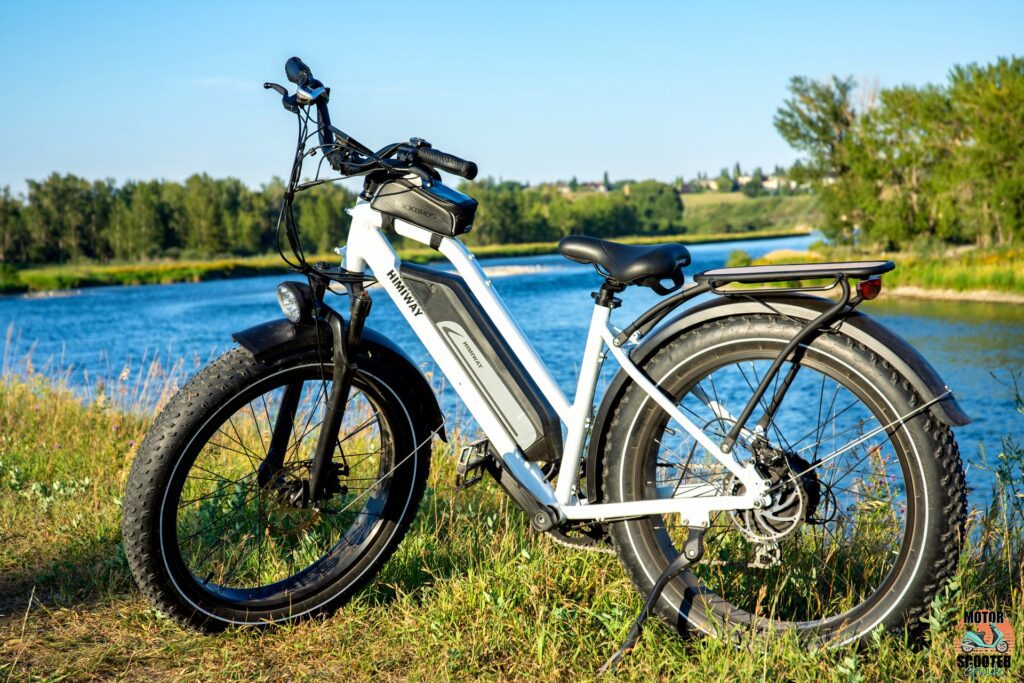 With an MSRP of $1,599, it's hard to be overly critical of the small things on the bike that could be a bit better. There are lots of bikes in the $1,500 range, and many well below that, but few offer the same blend of parts and included features. I paid an extra $150 for fenders on my Shred, for example, and I'll need to pony up another $35 if I want a brake light.
If your intended use case doesn't involve difficult drails, downhill riding, or overtly technical riding, the Cruiser Step-Thru is a great choice. It's comfortable and has plenty of range.
For someone who isn't a "biker", who doesn't need to have the latest in battery technology, and more importantly, for someone who is going to ride casually to enjoy themselves (vs. get a workout in), the Step-Thru is all the bike you'll need and then some.
And it's tough, too. Ask me how I know.