While it isn't the first folding ebike I've ridden, the 2023 Surface 604 Twist is the first one reviewed on webBikeWorld. See more ebike reviews here. 
Folding ebikes are an interesting breed. Designed primarily for commuting and convenience, a folding frame necessitates some compromises from its rider. They are often heavier, with less power and less utility as a bike, than ebikes with more typical frames. 
But the Twist is a bit of an exception. Surface 604 has seen fit to equip the '23 Twist with a torque sensor and a potent 500-watt hub motor that peaks at 750 watts of output and 80 Nm of torque. Paired with the torque sensor and the SRAM X5 9-speed drivetrain, and the Twist is surprisingly spritely. Air the tires properly and it's also surprisingly comfortable, too.
Words & Photography: Cameron Martel // Models: Max the Shih Tzu, Bryce McDermid, Melissa
Surface 604 loaned us this ebike for a week for the purposes of this review. I'd like to thank Ebikes Calgary for facilitating the loan. webBikeWorld does not have a financial relationship with Surface 604 or Ebikes Calgary.
2023 Surface 604 Twist Specifications
MSRP:

$2,399 USD

Where to Buy:

Surface604Bikes.com

(USA),

Ebikes Calgary

(Canada)

Warranty:

One-year components, three-year frame

Top Speed:

20 mph / 32 kph (Class 2),

25 mph / 40 kph (Class 3)

eBike Class:

Class 2 (Class 3 unlockable) 

Range:

Estimated 45 miles / 72 km (14 Ah battery)

Bike Weight:

62 lbs / 28.1 kg (including battery)

Weight capacity:

285 lbs (129 kg)

Motor:

Bafang 500-watt hub

Torque:

80 Nm

PAS:

Torque, 5 settings

Brakes:

Tektro Auriga hydraulic calipers with 180 mm discs

Gearing:

SRAM X5 9-speed

Battery:

48V 14.5 Ah

Wheels & Tires:

20" x 4" spoked wheel, CST BIG BOAT tires

Other:

Rear brake light
The Surface 604 Twist is a class 2 ebike, but the speed limit can be removed for class 3 operation.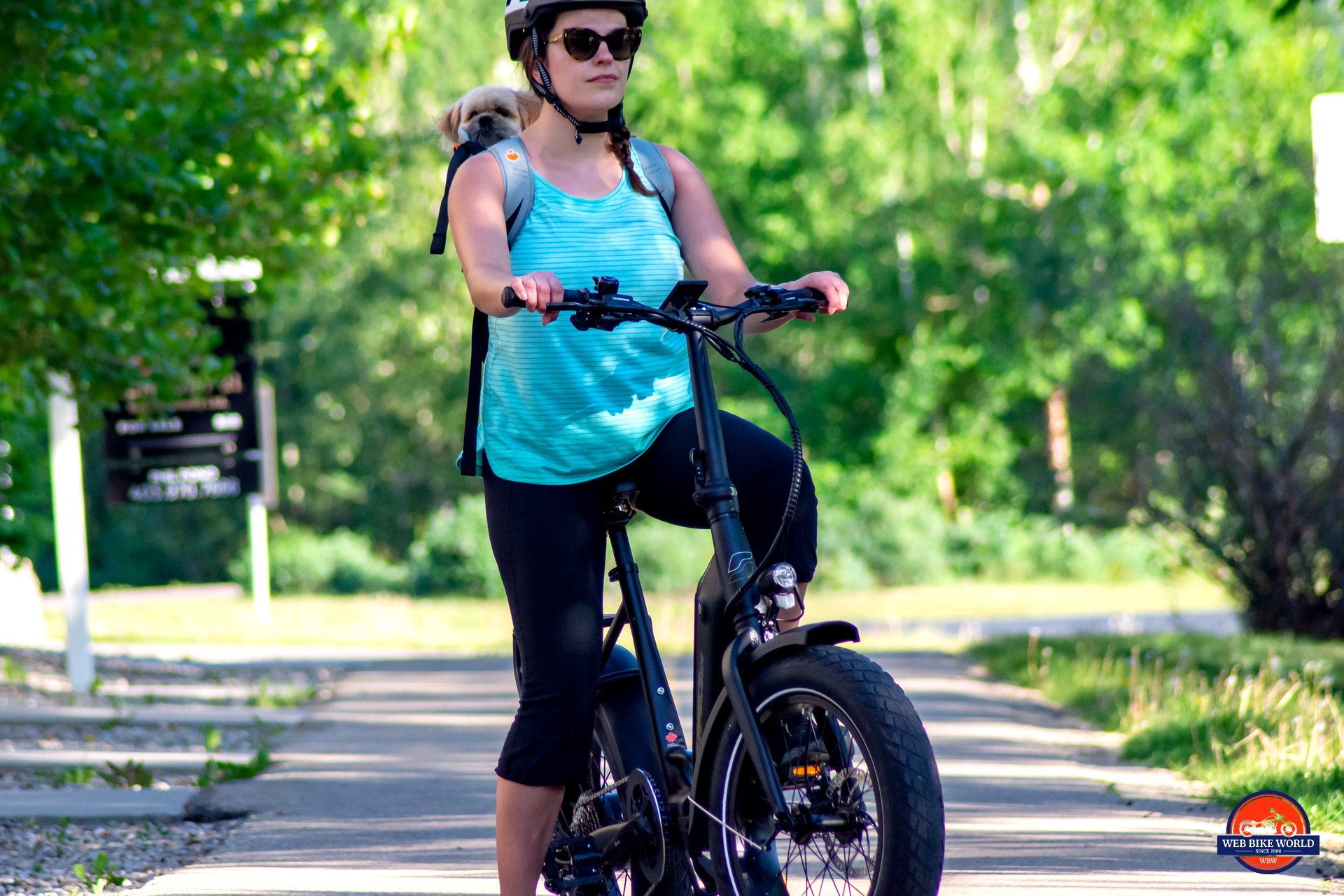 Who Says a Folding eBike Can't Be Fun to Ride?
Most folding bikes require serious concessions from the rider regarding capability, comfort, and range. Many inexpensive folding ebikes have a low range, entry-level drivetrain, and are heavy. In general, you don't want to ride them beyond what is required for your use case. 
This is because these types of bikes generally favor inexpensive drivetrains and simple cadence pedal-assist setups in order to keep the price accessible. The resulting ride is as much riding an appliance as it is riding a bike.
In other words, a folding bike is something that is usually reserved for utility and function vs. recreation or "the joy of riding".
Surface 604 is thinking a bit differently. The torque sensor is a significant differentiator considering the influence it has on how the Twist rides. Instead of awkward pedal assist that lurches you forward as soon as you start pedaling, the Twist's motor responds to the level of torque you're applying through the crank and provides proportional power.
In other words, the harder you pedal, the more power the Twist gives you.
Instead of the pedal assist acting as a cruise control, the torque-sensing drivetrain gives you bionic legs. Pair that level of control with a surprisingly rigid frame and beefy 4" thick tires, and the Twist is downright fun to ride.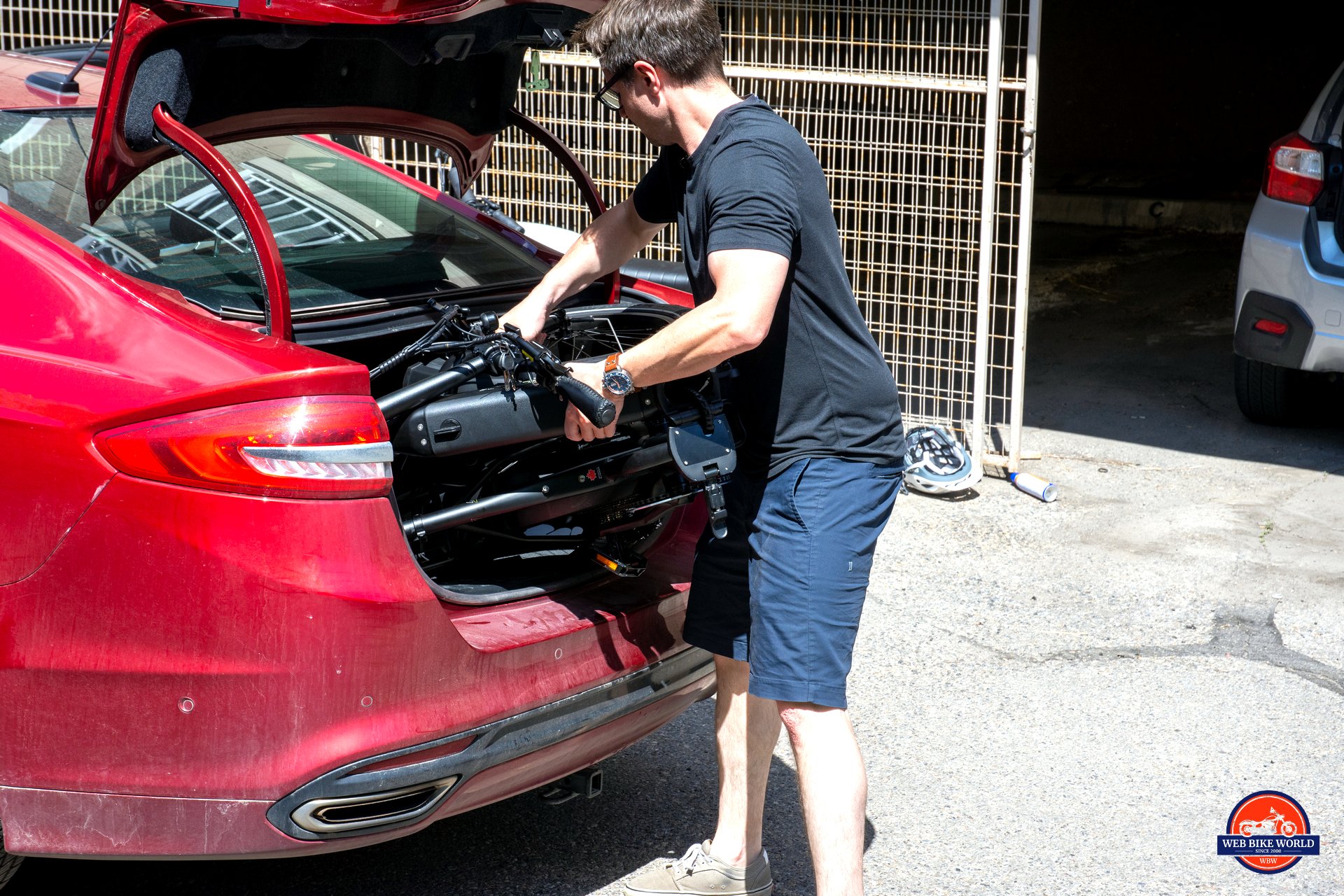 The Twist folds up into a nice package that should fit into your trunk just fine. It fits into my '17 Ford Fusion easily, and thanks to the choice placement of the rear rack and grab handle by the crank, the Twist is easy to load and unload from the car.
The handles mean that you could also take the Twist with you on the bus or train. It might be a bit awkward to maneuver with, but it's easy to carry, assuming you're comfortable holding 62 lbs. It's worth noting that the Twist is an average of 6 lbs lighter than other folding ebikes of comparable capability.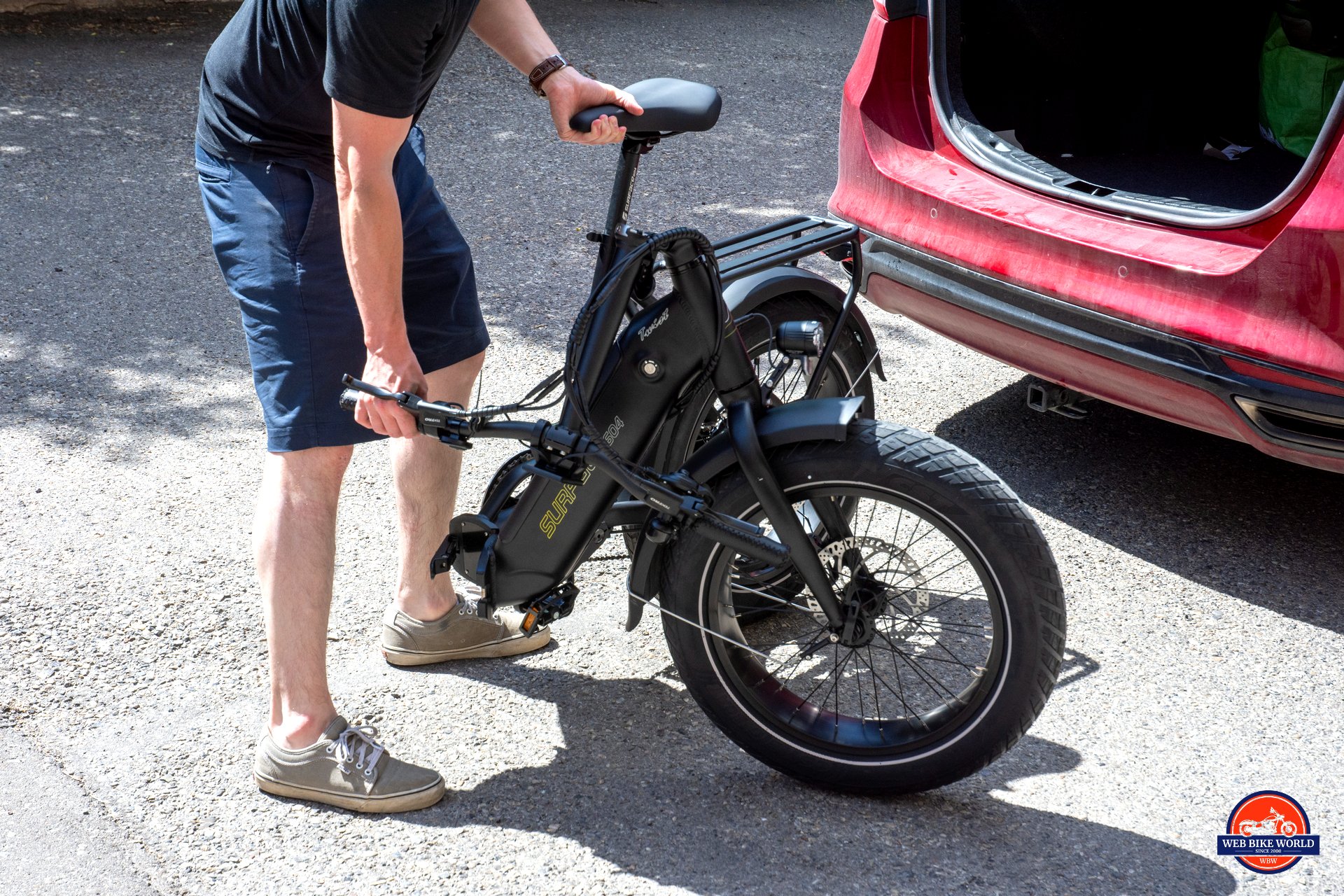 Unfold the Twist, lock in the two hinges (one at the base of the downtube, and the other on the head tube), and you're good to go. 
It takes about 2 minutes to unfold the Twist, lock in the hinges, and give everything a once over. Since it's easy to carry, the Twist would be an ideal companion for mixed commutes or for people who need to take their bike indoors when they get to their destination.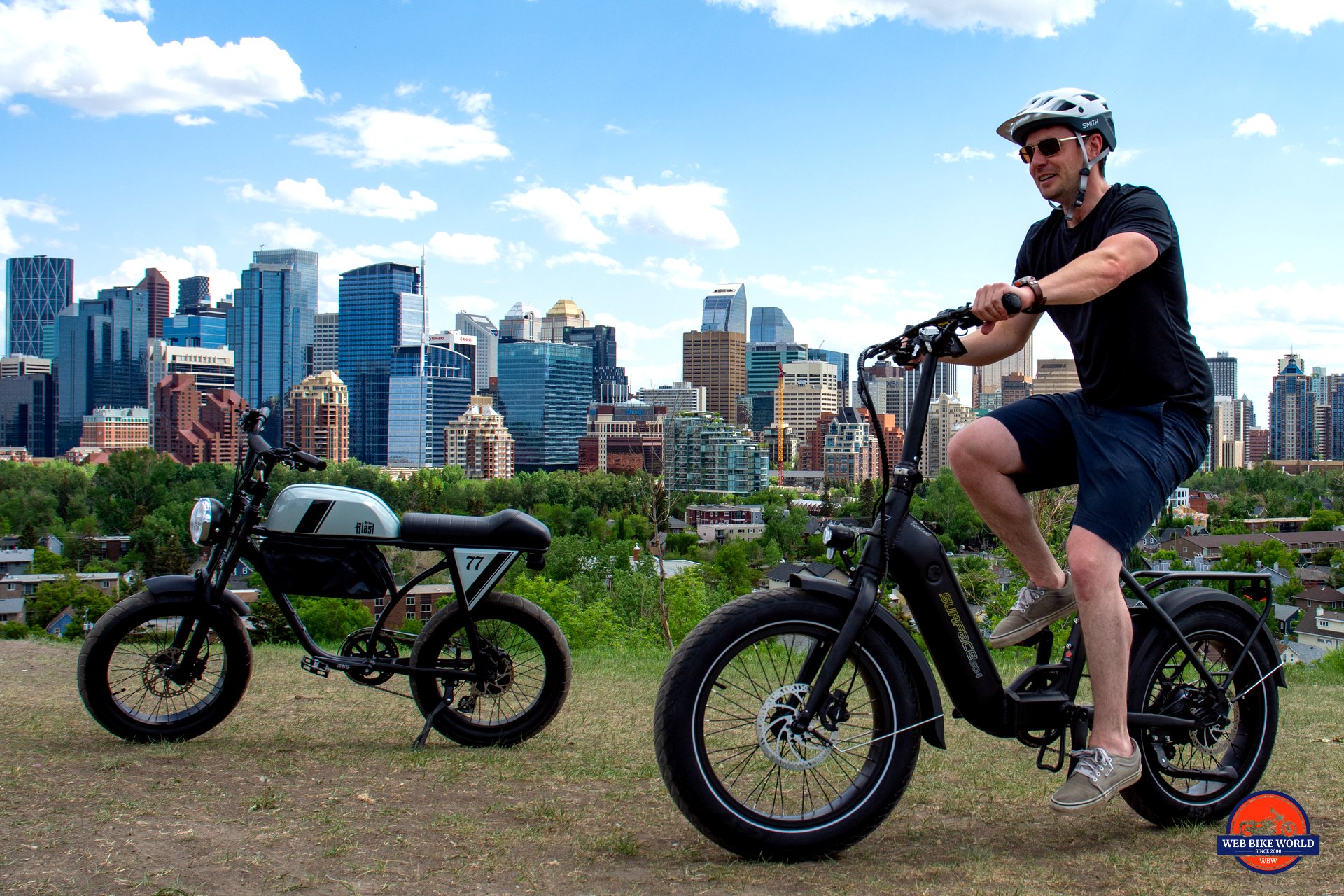 Riding Position & Comfort
Riders adopt a more relaxed and upright posture, which should work for just about everyone (and especially for people that have back or neck issues where a hunched-forward riding position may cause discomfort). This isn't an aggressive mountain bike, after all (but check our Surface 604 Shred eMTB review if you're looking for something more aggressive).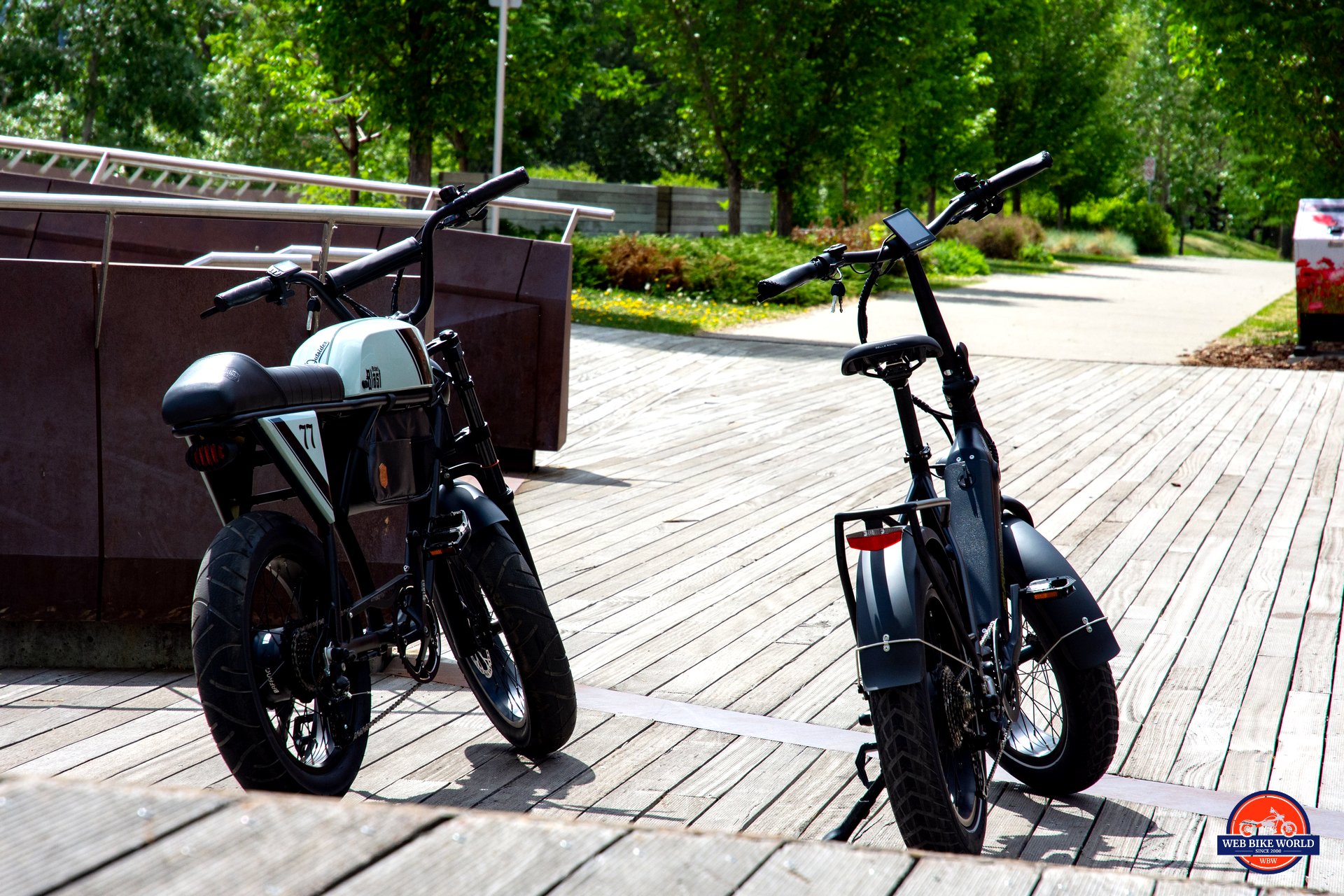 As seen above with the Michael Blast Outsider 4.0, the Twist will fit most riders, but those north of 6'2" will find the bike a bit small for them.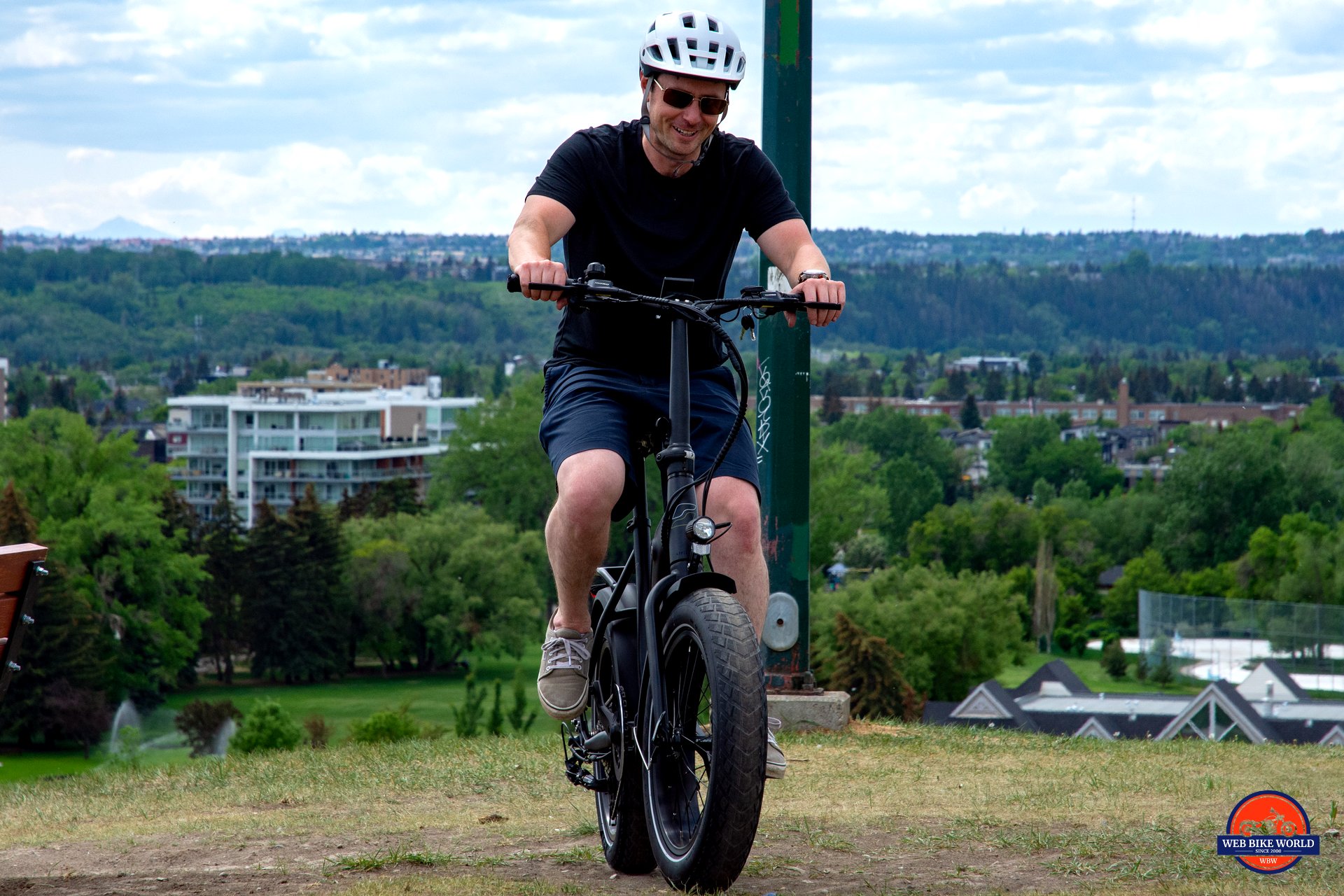 Hill Climbing & Throttle Capability
The torque sensor contributes greatly to the riding experience and lets you really enjoy the 80 Nm of torque that the 500-watt hub motor is capable of putting out. 
You'll be able to throttle your way around pathways and simple off-road trails easily. Small shallow hills also won't be a problem, as full-throttle power is happy to climb them for you. However, you'll need to add some pedal power for most hills as the motor alone won't pull you up.
The Twist is very capable of conquering the urban jungle. Feel free to throttle around on the flats and small hills, and enjoy the intuitive drivetrain and the 80 Nm of torque it puts out when you need to pedal up more serious climbs.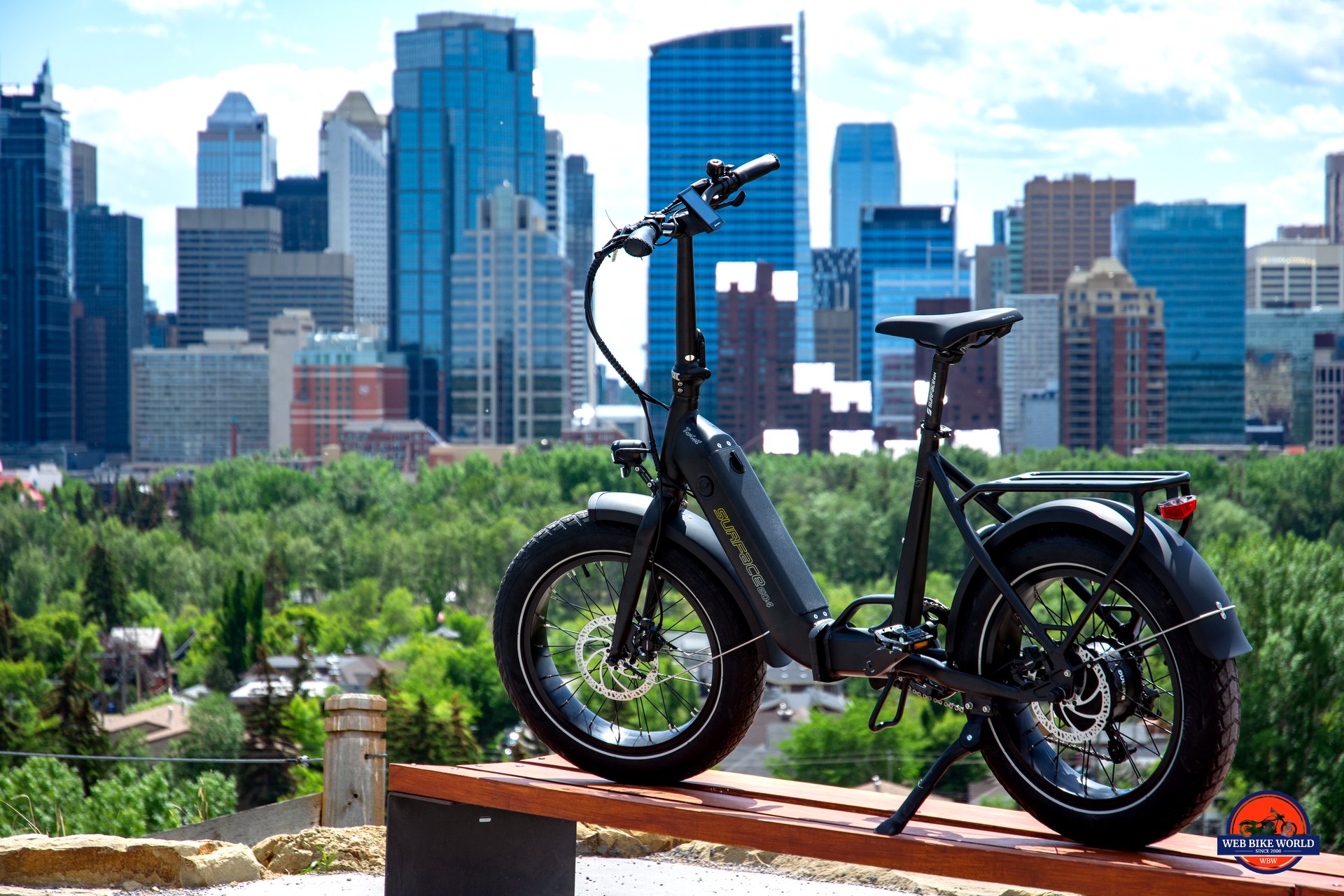 Build Quality & Components
This is an area where Surface 604 stands out compared to their entry-level peers. The build quality on the Twist is great, with clean welds and smart design choices throughout. Even though it's a folding ebike, the frame feels rigid and put together when unfolded and ready to ride.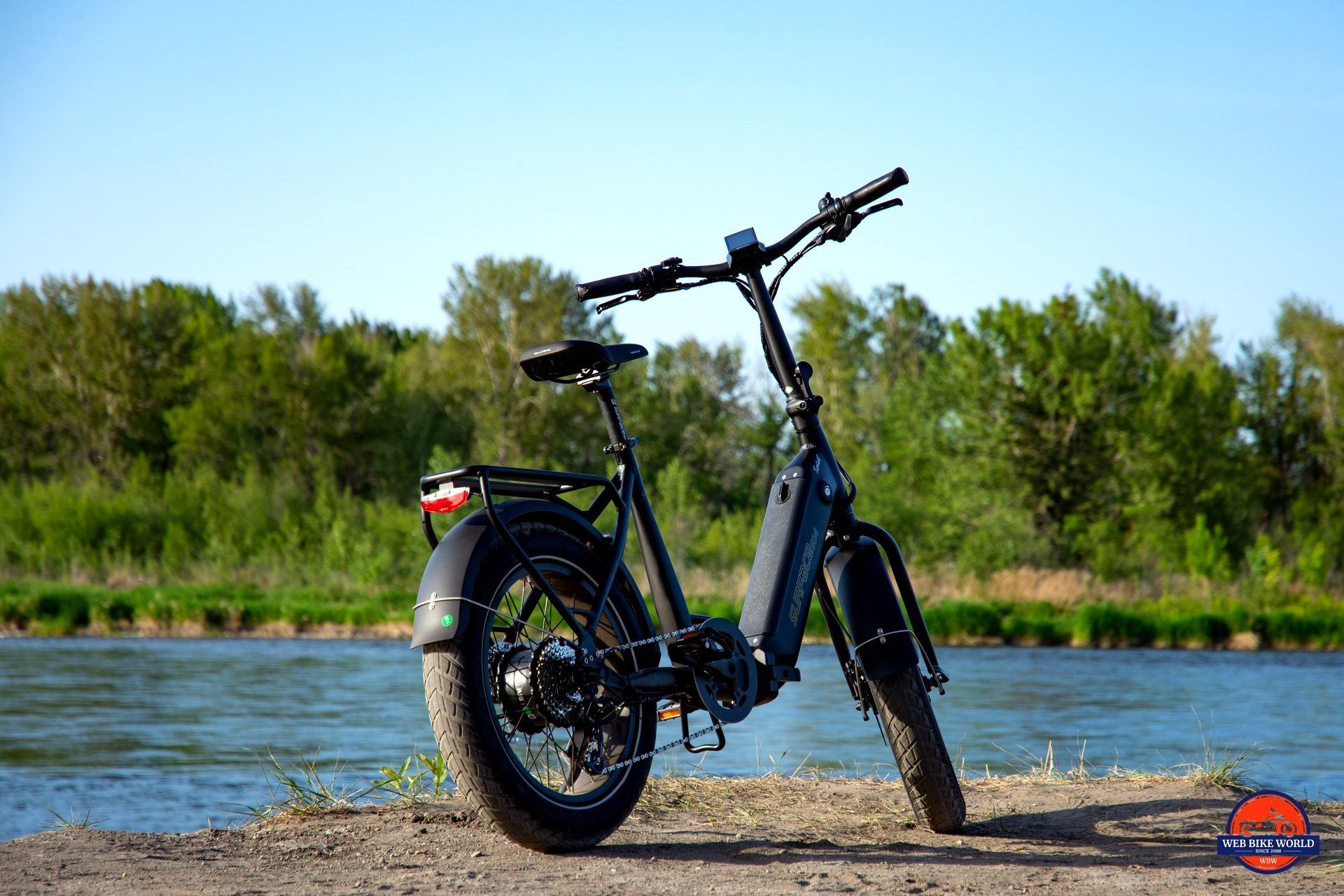 Frame
Surface 604 has put the battery in the downtube, facilitating a very accessible step-thru design. The downtube, as is the tapered and reinforced seat tube, is quite thick.
The integrated rear rack also feels robust and can carry cargo and be used as a grab point when you're carrying the bike.
Notably, the Twist is among the lighter folding ebikes in its class, weighing in an average of 6 lbs less than comparable folders.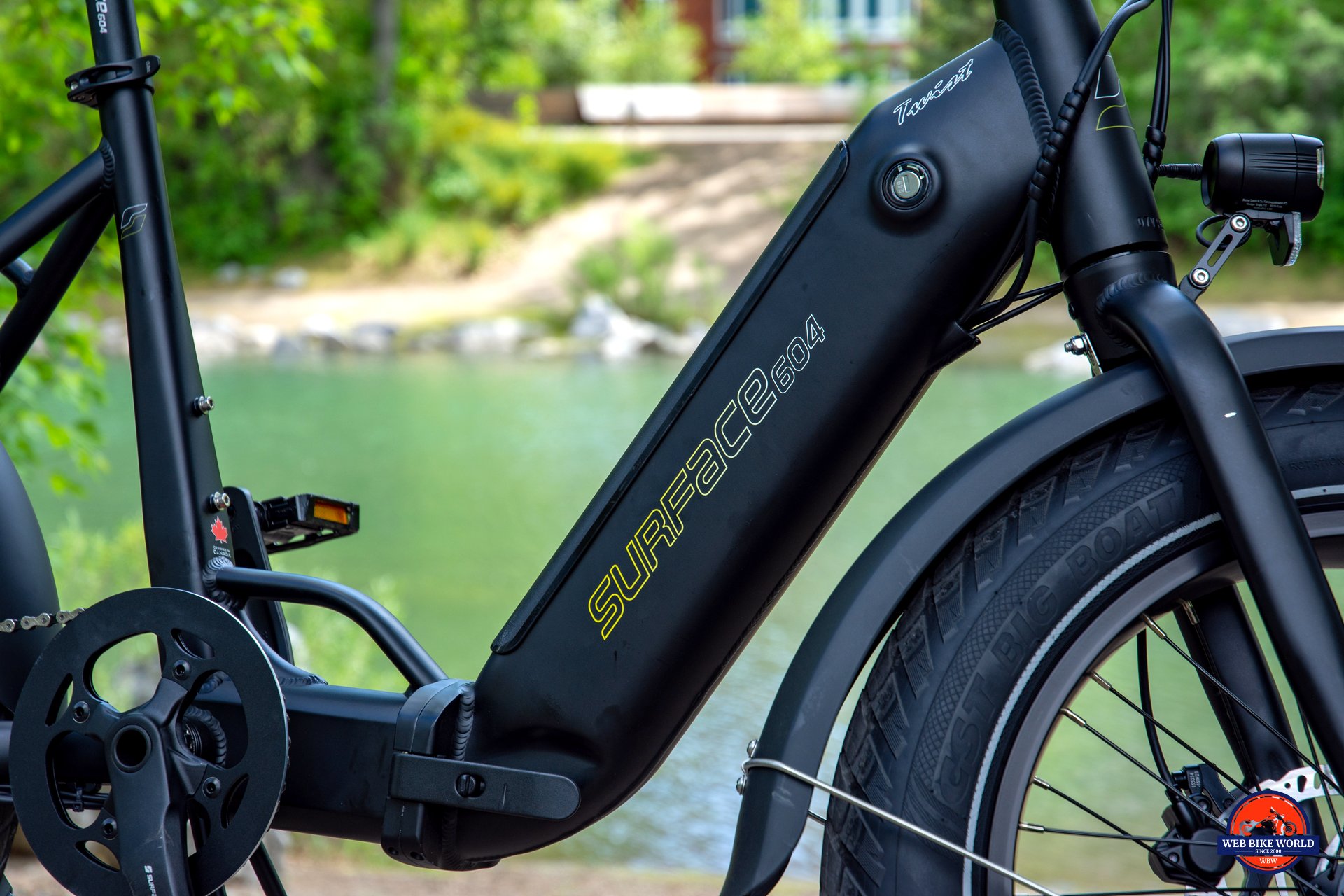 Hinge Mechanisms
These are the most critical components of a folding ebike. A failure in the hinge could result in a serious accident or injury, and so it is important that the folding hinges are both robust and secure once in position.
Surface 604 uses a beefy metal hinge that requires you to operate a locking button before you can manipulate the clasp. When you secure the hinge, you are rewarded with a satisfying click that tells you the clasp is securely closed.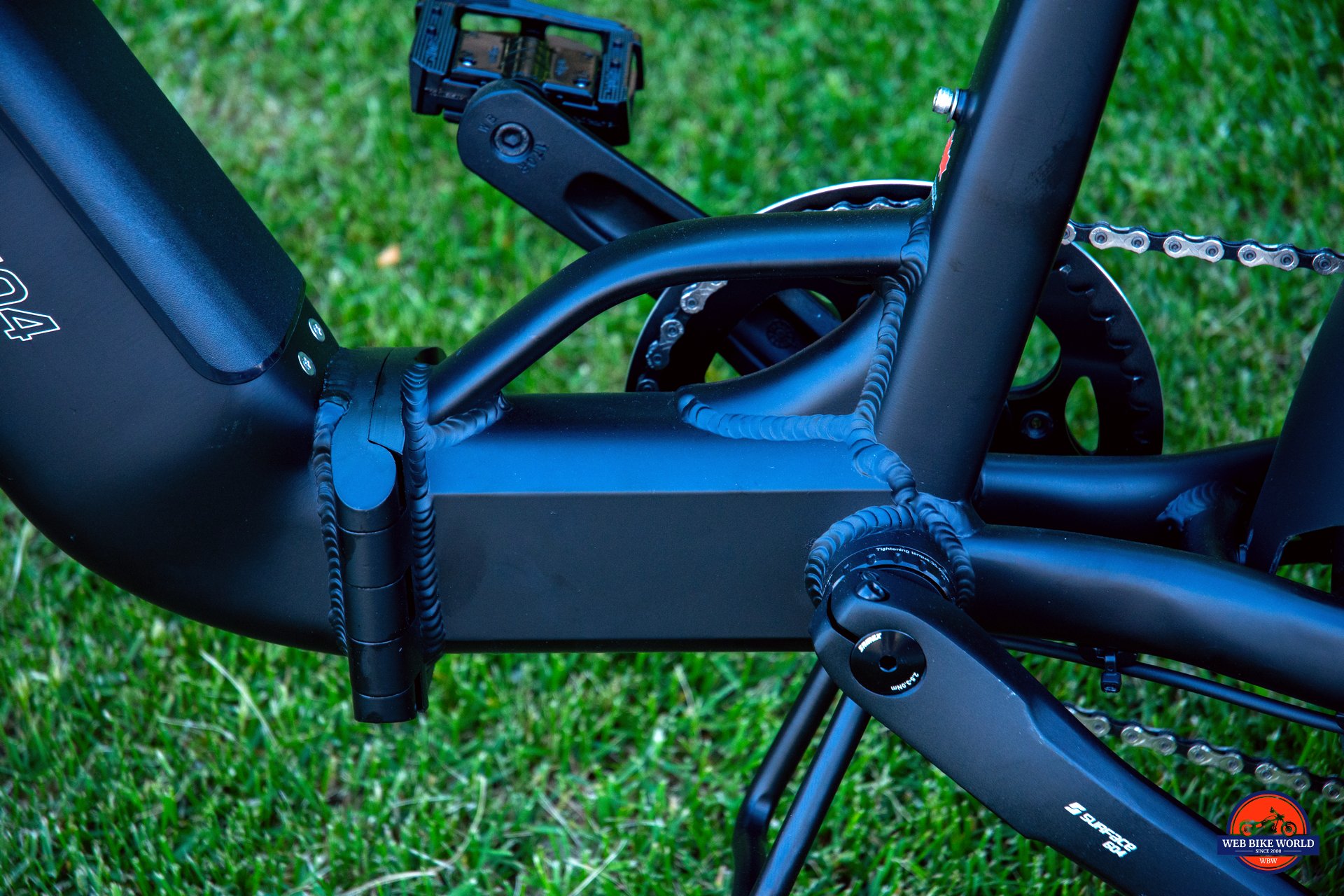 The hinge is completely made of metal and is welded to the frame. The reinforcement bar for the seat tub is also welded here, providing additional structural integrity as well as acting as a potential grab point.
This hinge is not easy to open and close, even when the bike is folded. It requires effort to manipulate it, and the clasp does not open unless you press its locking button at the same time. This two-factor design prevents accidental loosening or opening of the clasp.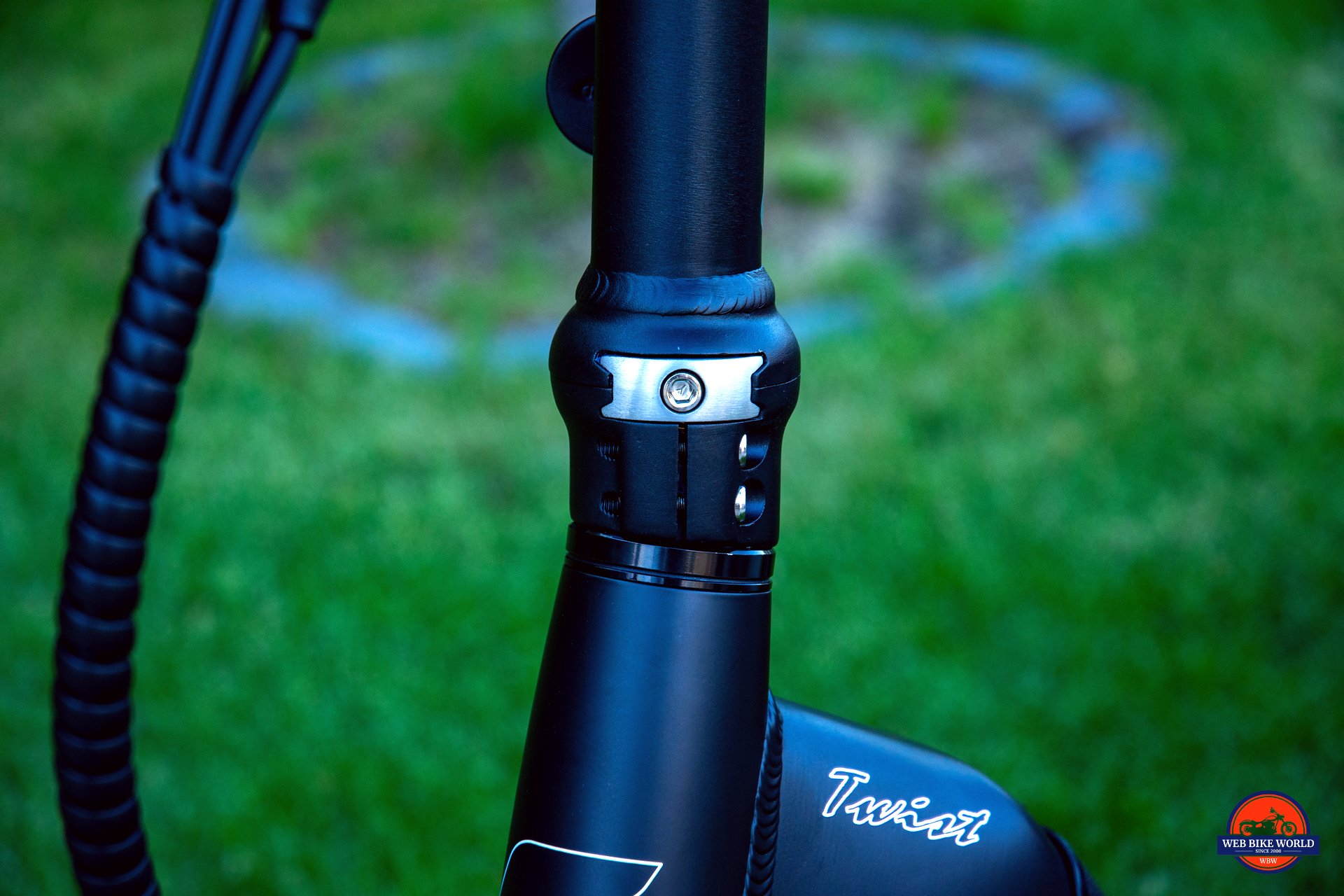 The head tub hinge utilizes a two-factor design as well, with a similar locking button that must be depressed before you can open or close the clasp.
Again, all the components are metal and feel robust when secured. And, like the main hinge on the downtube, the head tube hinge gives a nice tactile click when you lock it in place.
Both hinges are robust and welded to the frame. The mechanisms feel secure when operating and are surprisingly rigid when locked in place. I never once felt any looseness or wiggle from the hinges while riding the Twist.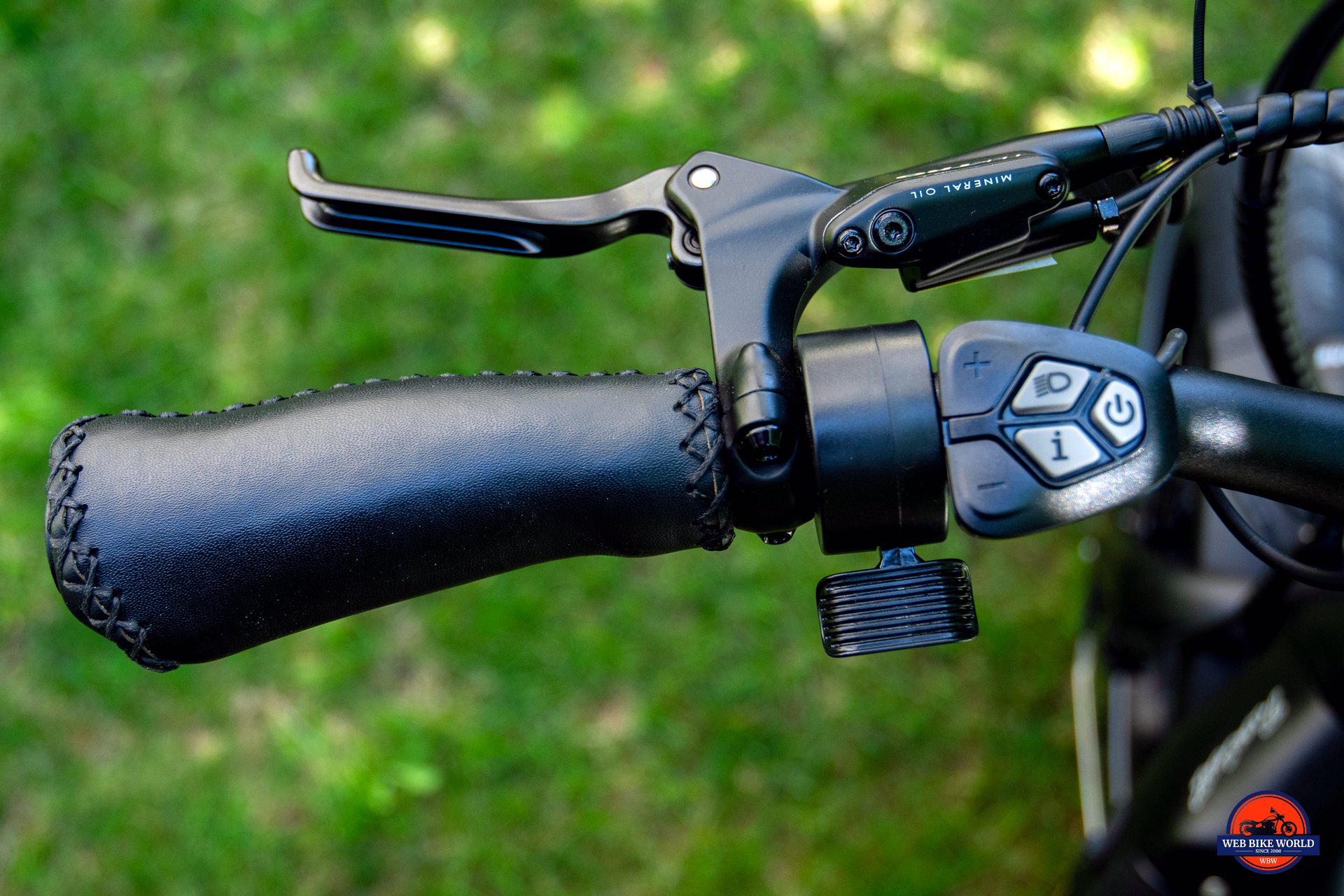 Handlebars & Shifting
The left handlebars have the leather grip, throttle, and display input. The throttle is comfortable to access with your left thumb, but the input pad is a bit of a stretch.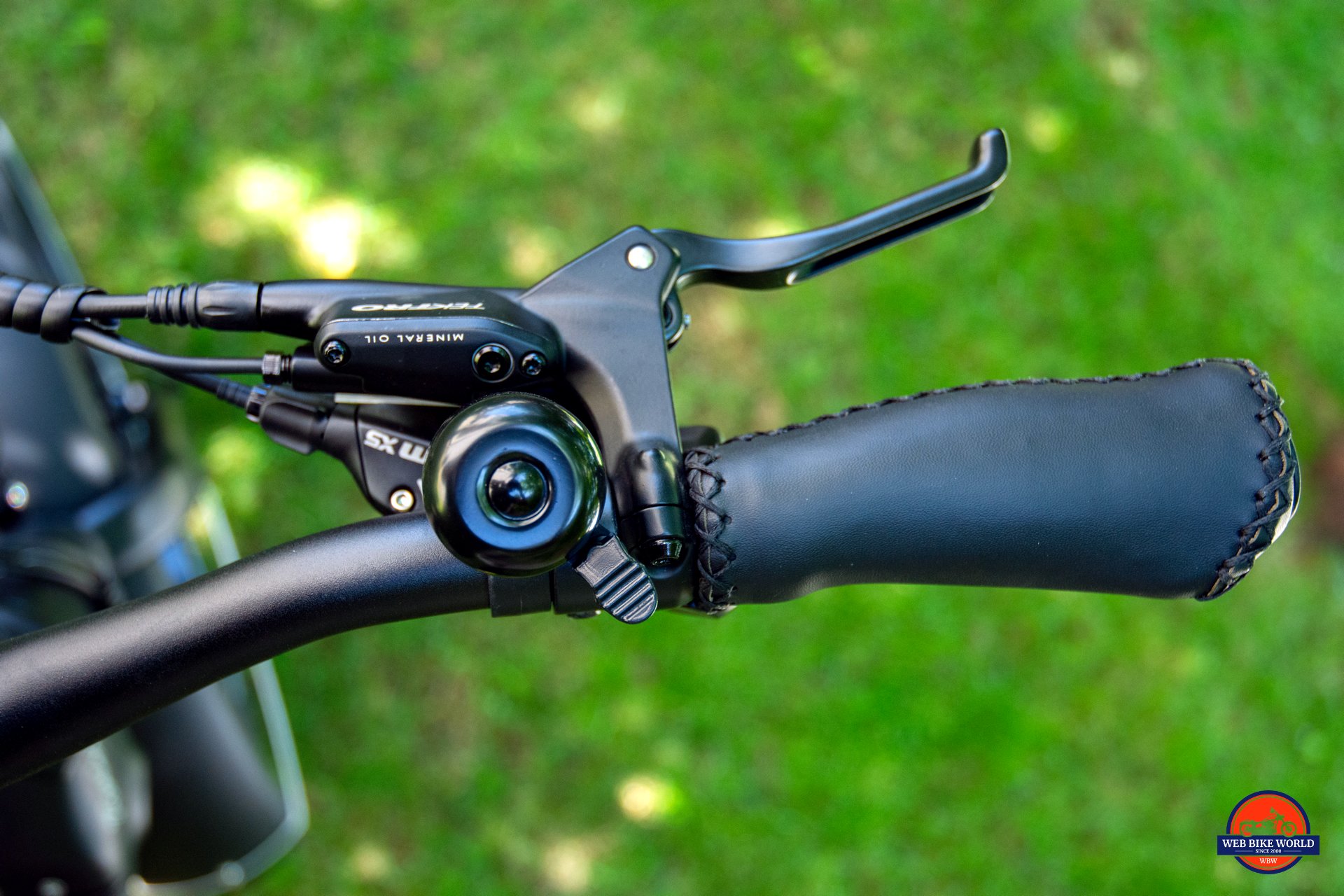 The right handlebars have a similar setup, with the shifter within easy access of your right thumb. Surface 604 also includes a bell pre-installed on the handlebars.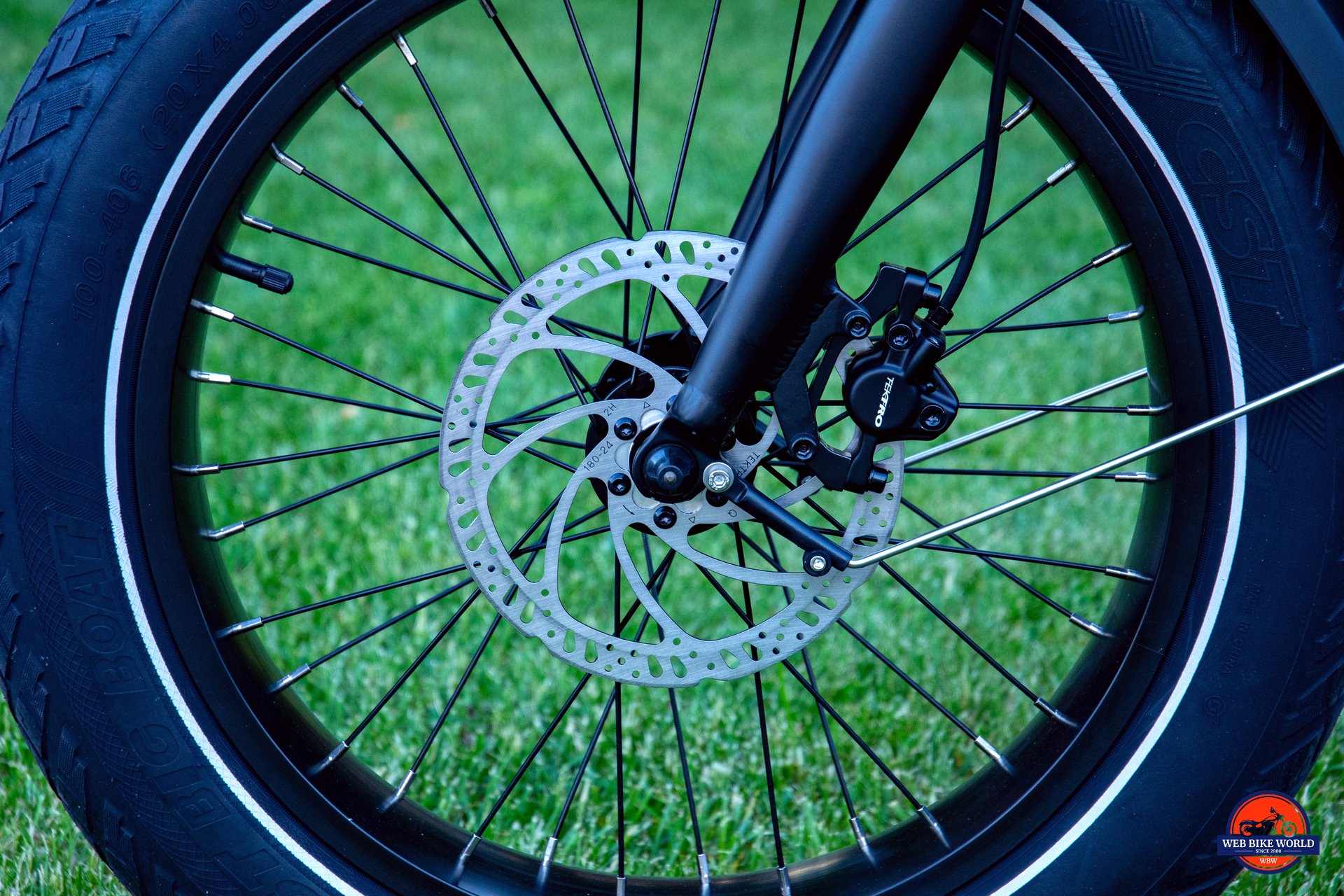 Tektro Auriga Brakes
Surface 604 has fitted the Twist with Tektro Auriga hydraulic brakes and 180 mm brake discs. This is an excellent combination for the drivetrain and suitable for the weight of the bike. The brakes perform well, stopping the bike aggressively and are resistant to brake fade as well.
Pulling either brake lever automatically cuts out the motor, and mashing the brakes will quickly bring the bike to a stop. You can easily lock up both tires with these brakes, so be mindful of your inputs.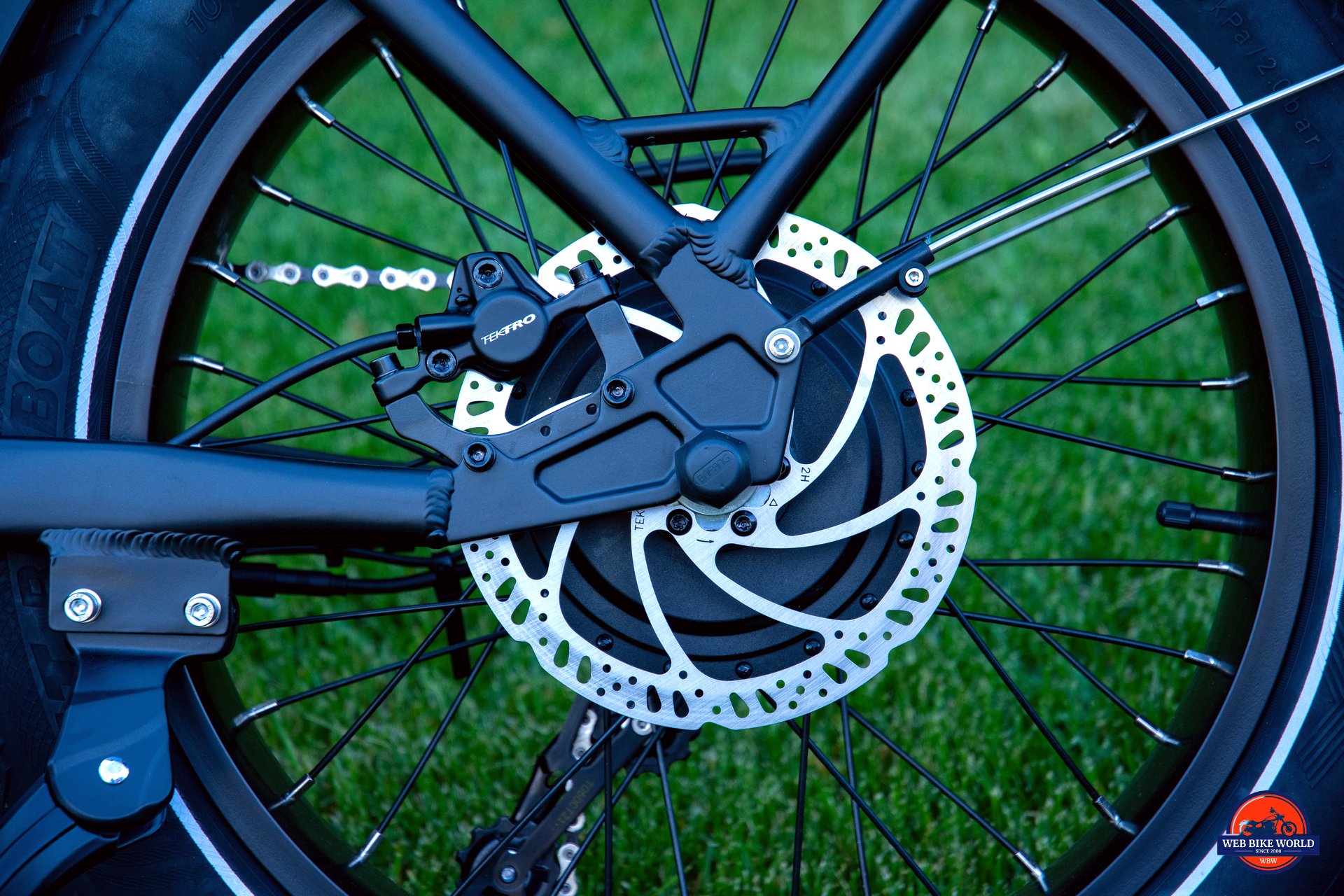 Many inexpensive folding ebikes ship with mechanical brakes, which in my opinion is a deal breaker. For casual riding, mechanical brakes are "fine", but they do not hold up for longer rides and often are underpowered relative to the weight of the bike they are installed on.
I like that Surface 604 has given the Twist hydraulic brakes and good-sized 180 mm discs. The bike stops easily and I always feel in control of the Twist when riding it (even under aggressive braking).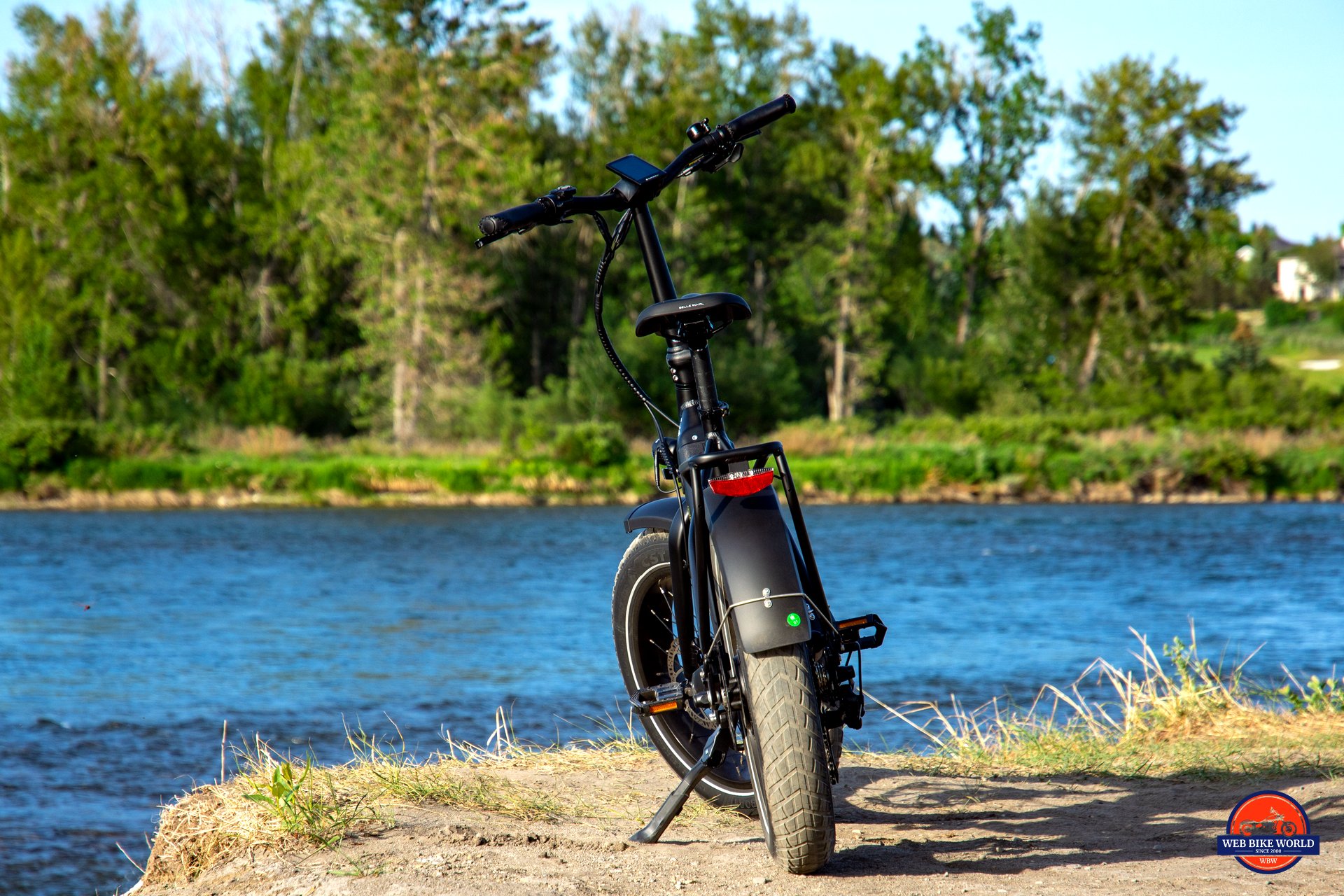 CST Big Boat Tires
When you first ride the Twist, don't be surprised if the amount of turn-in feels more aggressive compared to other bikes. The smaller 20" diameter wheels certainly feel different than bikes that have larger wheels, but you quickly get used to it.
Air the tires down to around 18 psi if you want to give yourself a bit of cushion for the ride, or keep them at around 25 psi if you want to minimize rolling resistance and maximize range.
The 20" x 4" CST Big Boat tires prefer pavement, but are also comfortable to ride in light dirt and groomed gravel trails. You'd want something a bit knobbier for off-road, sand, or more rocky terrain, but you also shouldn't be taking the Twist through those types of riding conditions.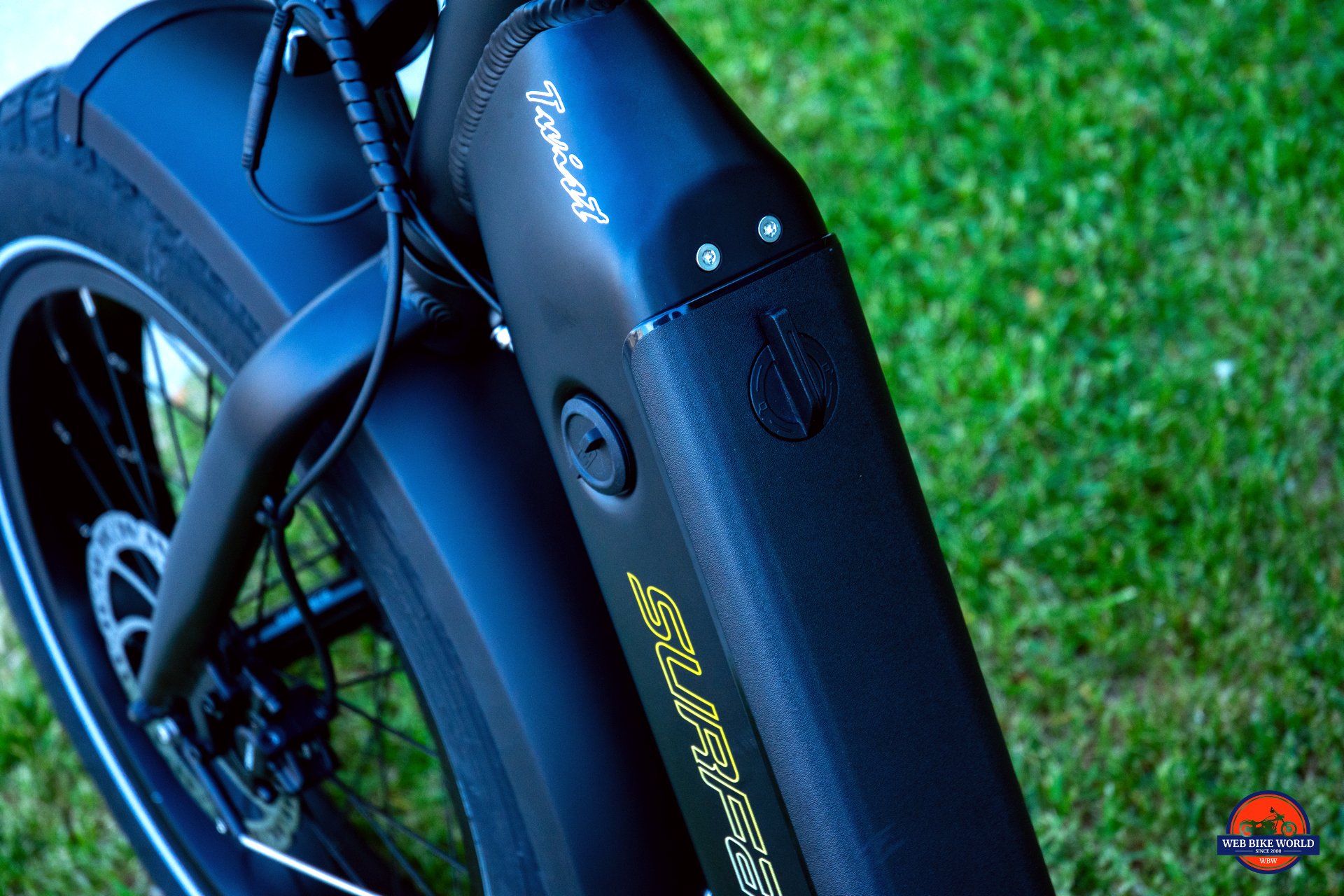 Buyers enjoy the standard 672 wh / 14 Ah battery, which provides around 72 km of range, and considering the folding form factor, that ought to be enough for most people.
The 14 Ah battery should charge from empty to full in about 3.5 hours.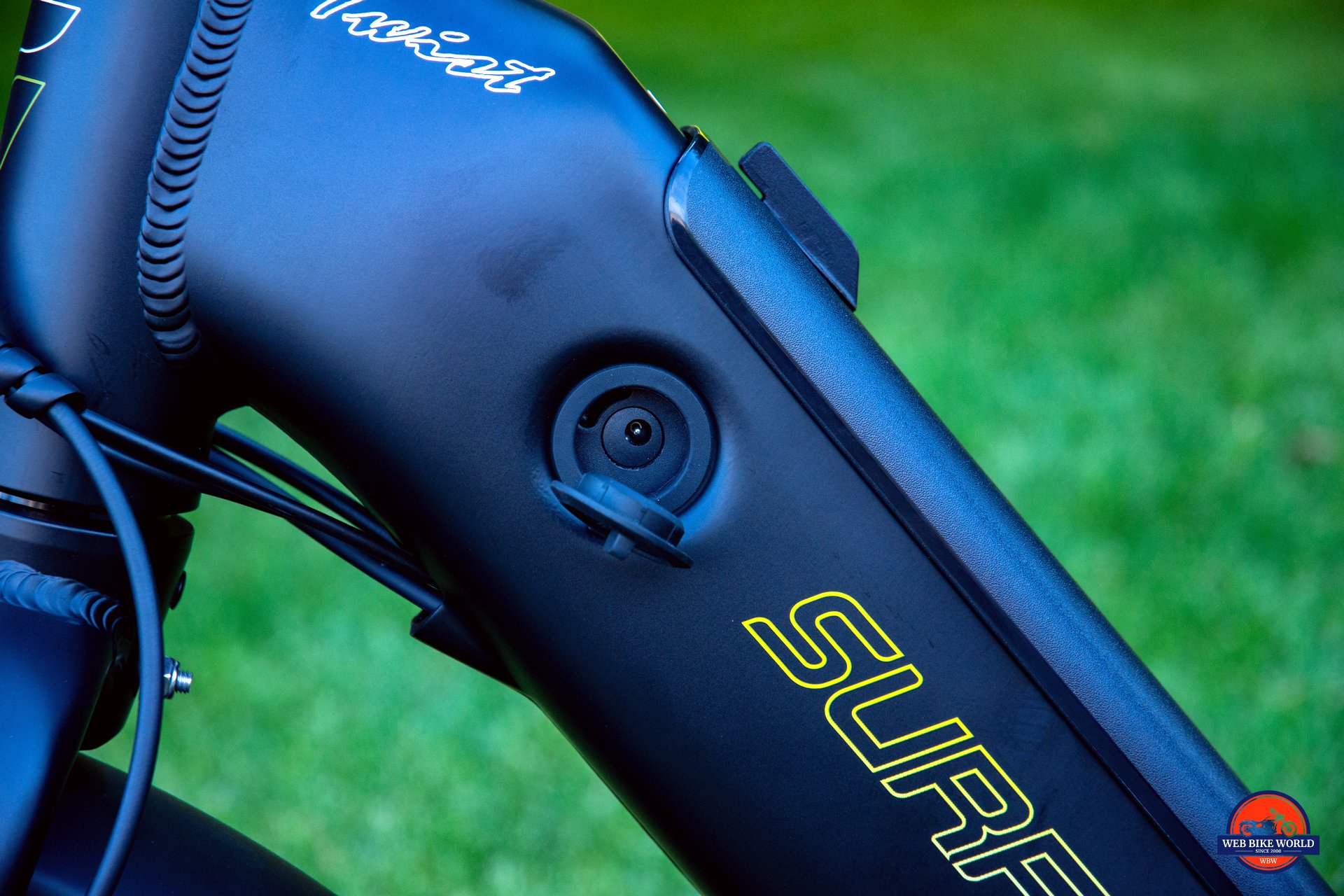 The charging port cover on the left side of the downtube hides the DC charger input. Keep this cover closed when you're riding to minimize dust and water making its way into the port.
To remove the battery, you need to unlock the battery cover with the dial on the top of the downtube. The battery weighs around 8.5 lbs.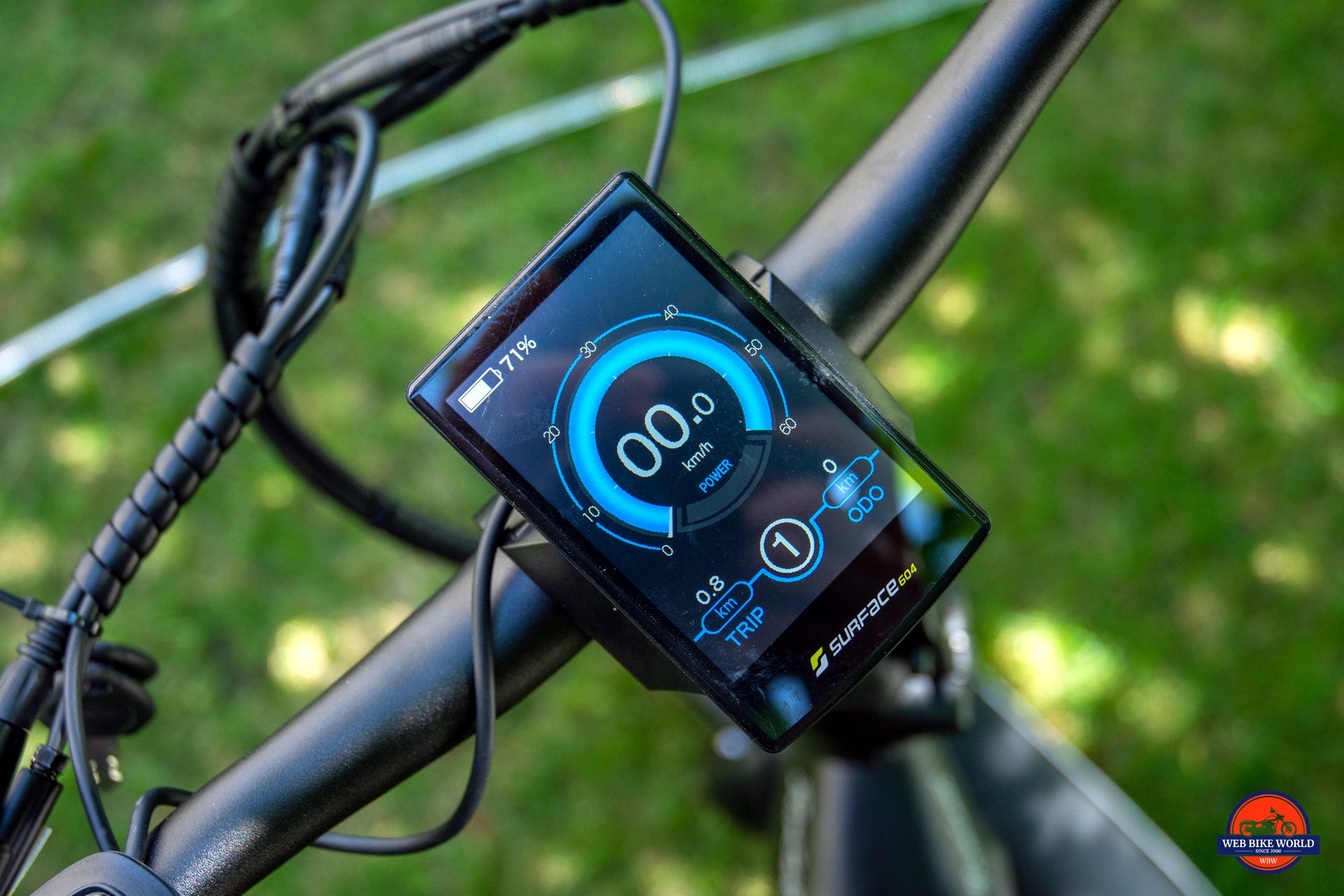 Display
The full color LCD display doubles as the nerve center for the Twist. The screen is bright and easy to read in most settings, though you may need to squint a bit in direct light.
The screen shows your battery life, speed, mileage, and pedal assist level. Use the "i" button to change your trip display. Press the top and bottom PAS inputs to enter the settings menu, and use the "i" button to adjust individual settings.
Unlocking the Twist
You can use the display to unlock the motor from its 32 khp / 20 mph class 2 stock speed limit. Before doing so, ensure you are aware of your local ebike laws (including bike speed limits). In case you're a bit rusty, here's a guide to American ebike laws, and here's one for Canadian ebike laws.
Note: Surface 604 does not endorse unlocking your ebike and specifically ships the bike to meet class 2 designation. Proceed at your own risk.
To unlock the Twist, adjust the maximum speed in the settings menu. If prompted for a passcode, use 0512.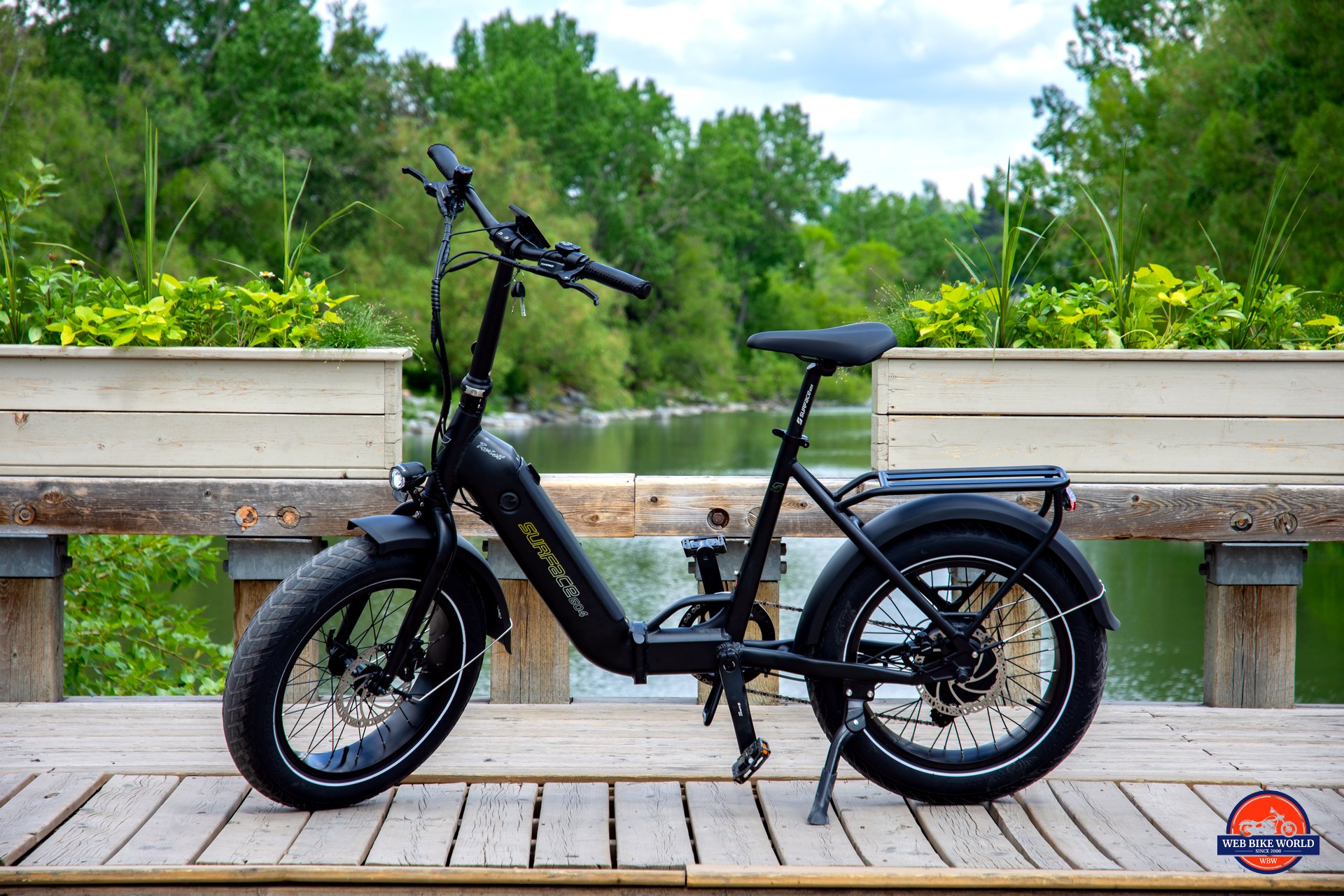 Frequently Asked Questions About the Surface 604 Twist
About Surface 604
Surface 604 is a Canadian company that is headquartered in Vancouver, Canada. Its bikes are designed in Vancouver and manufactured in China. In recent years, Surface 604 has been aggressively growing its dealer network and has more than 90 dealers across America and Canada.
Surface 604 offers a one-year warranty on major components, and a three-year warranty on the frame.
Resources you may find valuable:
What is the top speed of Surface 604 Twist?
The Twist will hit 20 mph / 32 kph out of the box (hence its class 2 classification). However, it can be unlocked to class 3 and achieve speeds of 25 mph / 40 kph (or faster if you're really pedalling).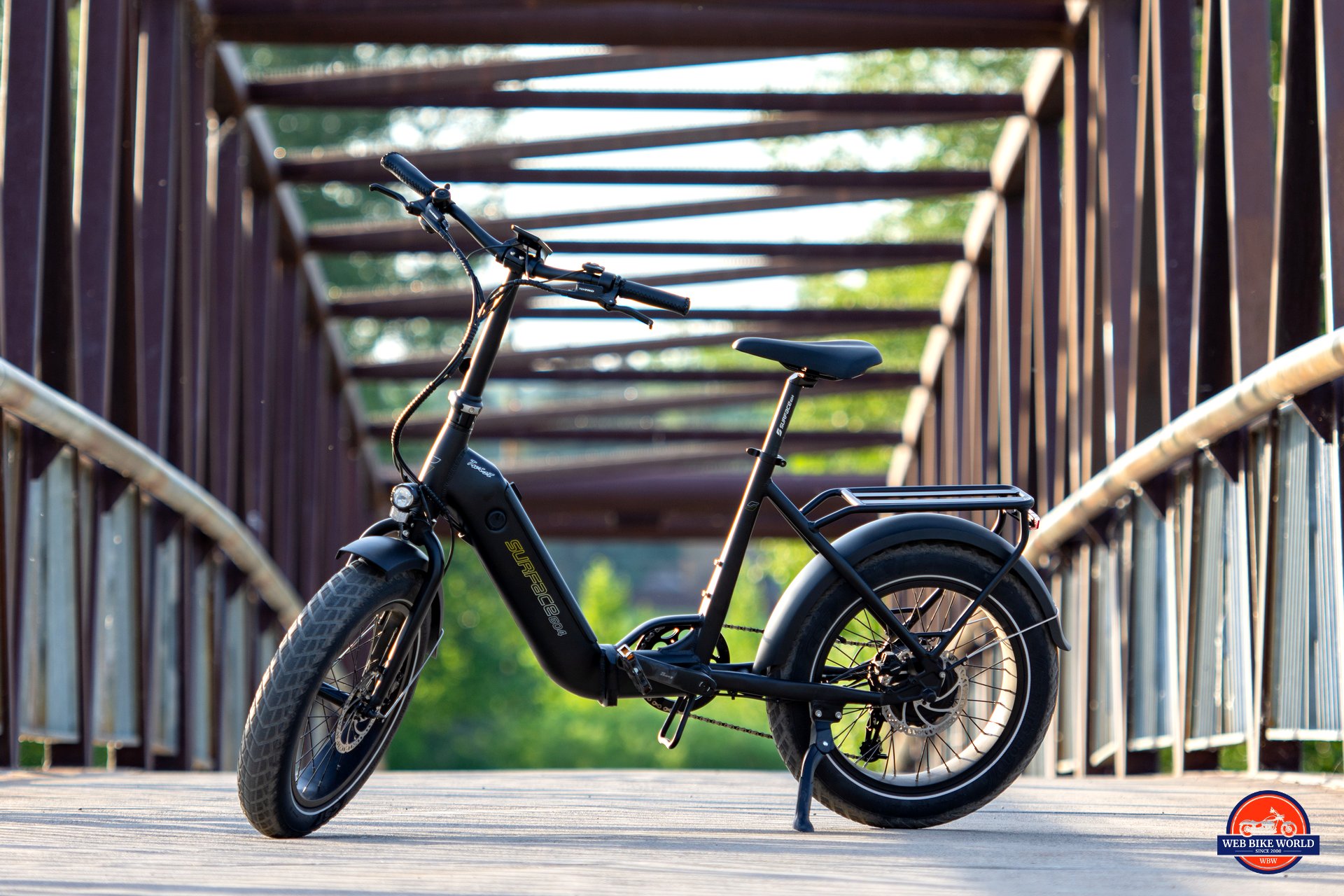 The Twist is One of the Best Folding eBikes You Can Buy
If you're wanting a folding ebike that minimizes the compromises required from the folding format, you won't find many better than the 2023 Surface 604 Twist.
Thanks to its torque-sensing drivetrain, the Twist feels like a bike when you're pedaling it. Its robust frame and hinge mechanisms feel secure, giving you confidence that you can actually enjoy your ride. The motor is both quiet and powerful, so you can ride just about anywhere you want.
At $2.399 USD / $2,899 CAD, the Twist is priced on the higher end of the folding ebike segment. However, it's not that much more than a much less capable folding ebike, and if you're planning on putting serious miles on your bike, it's well worth the additional investment.
2023 Surface 604 Twist Review Score
Review Summary
In the ultra-competitive folding ebike segment, bikes like the Twist are a rarity. With a solid folding frame, hydraulic brakes, a 9-speed drivetrain, and a 500 watt motor paired with torque-sensing pedal assist, the Twist may well be one of the best at this price point. It's a joy to ride and surprisingly practical.
Pros
A great motor + drivetrain combination
Torque sensor + hydraulic brakes
Easy to fold, unfold, and set up
Cons
No suspension means you need to air up/down your tires
Can get squirrely on bumpy terrain