Authors note: this review is an in-depth look at the 2023 Himiway Cobra Pro, from build quality to how it handles trails and light downhill riding. It's 5,500+ words long and has 25+ high-res photos. If you want to know what you're getting into before putting your hard-earned money down on a $4,000 ebike, this is the review for you.
Don't want to read a novel? Skip to the summary.
Quick nav:
2023 Cobra Pro Review Summary
If you don't want to read a novel, here is my review summary after three months of almost daily riding:
The Himiway Cobra Pro is $3,999 USD / $5,299 CAD as of April 16, 2023, and is price competitive in its segment

The Cobra Pro comes in two colourways: the "carbon fiber" King Cobra, and the camouflage Forest Cobra

The Coba Pro uses a Bafang M620 1000W mid-drive motor, which provides ample power in almost every situation (and almost too much for pathway riding when set in

sport

mode)

At PAS1, the Cobra Pro will comfortably and easily cruise at 18 mph / 29 kph in sport mode, or 14 mph / 22 kph in eco mode

Due to its weight and tire width, the Cobra Pro won't fit on most ebike racks; transporting this ebike will be challenging without a truck or large van/SUV

The front inverted air forks and four-bar rear linkage with air strut, paired with the 4.8" wide CST "Roly Poly" tires, provide a comfortable ride that is easily adjustable to your preferences

The Cobra Pro will likely have higher operating and maintenance costs than a less capable ebike due to its tire width, weight, and drivetrain

The Cobra Pro has above-average build quality and is an overall well-thought-out package

The stock suspension and brakes are sufficient for moderate riding, but if you intend on a lot of heavy trail or downhill riding, you may want to consider upgrading the brake rotors to 200 mm diameter, and the calipers from two-piston to four-piston 

Due to its weight, I am tangibly more reserved on downhill trails than on my lighter bikes; the bike has handled these trails well, but I must admit that I don't love taking it off large jumps… physics can suck if you know what I mean

It's big, heavy, and overpowered… and it's also some of the most fun I've ever had on two wheels
Note: Himiway provided this Cobra Pro at no-cost for our use in this review (and future pieces of content). Brands collaborating with us must agree to our impartial review policies. We do not have a financial relationship with Himiway. Thank you for supporting us. See all our ebike reviews. See the Himiway Cobra Pro website.
Words: Cameron // Models: Melissa, Max the Shih Tzu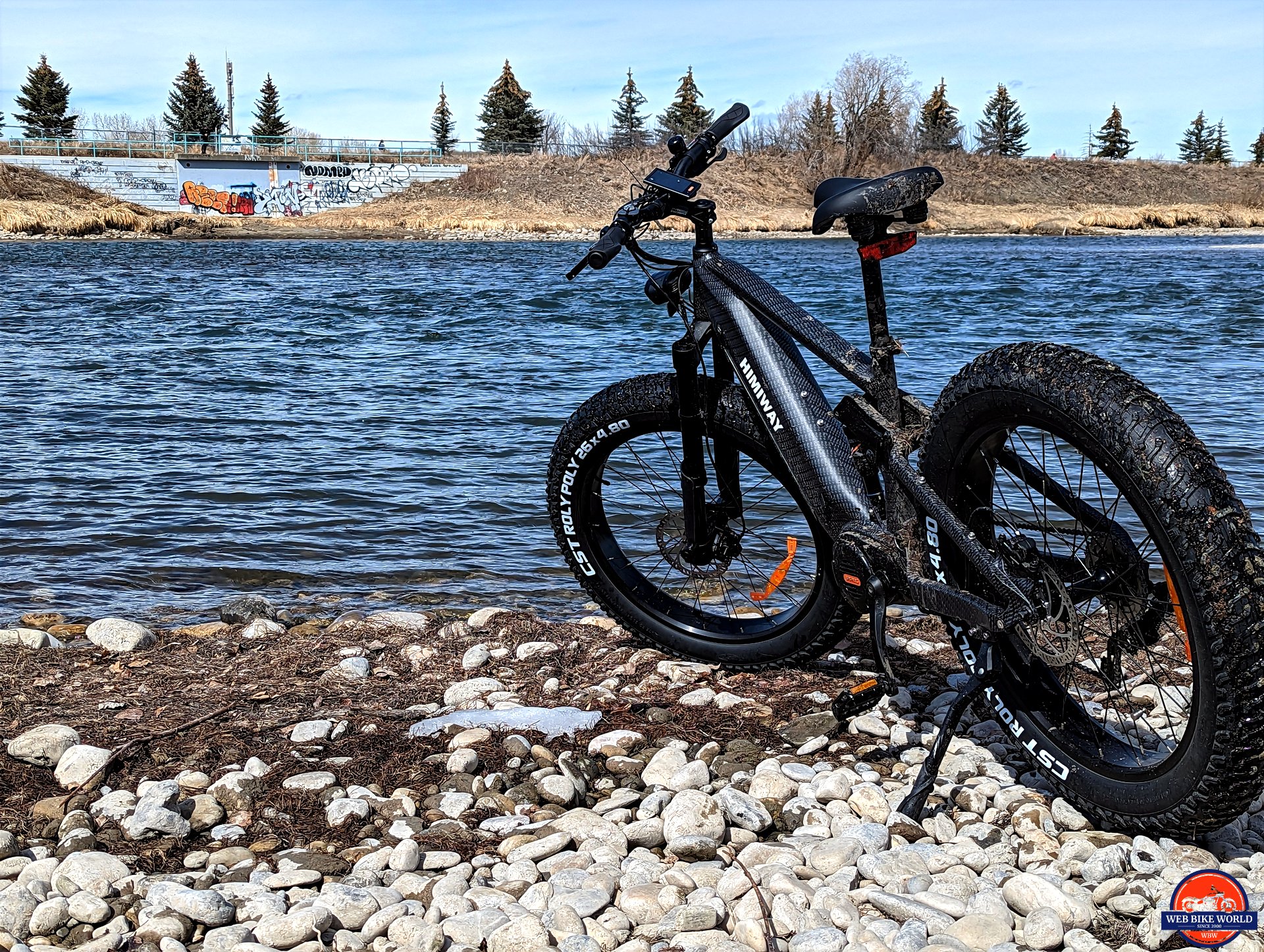 The Himiway Cobra Pro Will Take You Anywhere (& Maybe Even Farther Than That)
It's early April in Calgary, Alberta, and the air outside is still full of bite. 7 am on a chilly Saturday morning this early in the year is not warm, and the thermometer has yet to crest 0°C (32°F). 
Today I'm going riding, and I hope for the sake of my digit's dexterity that it warms up.
Since I assembled the Cobra Pro in early March I've been patiently waiting for the snow to clear and the air to warm up. A fattie like this is supposedly ideal for winter riding, mind you, but that's not what I have in mind for my first rides of the year.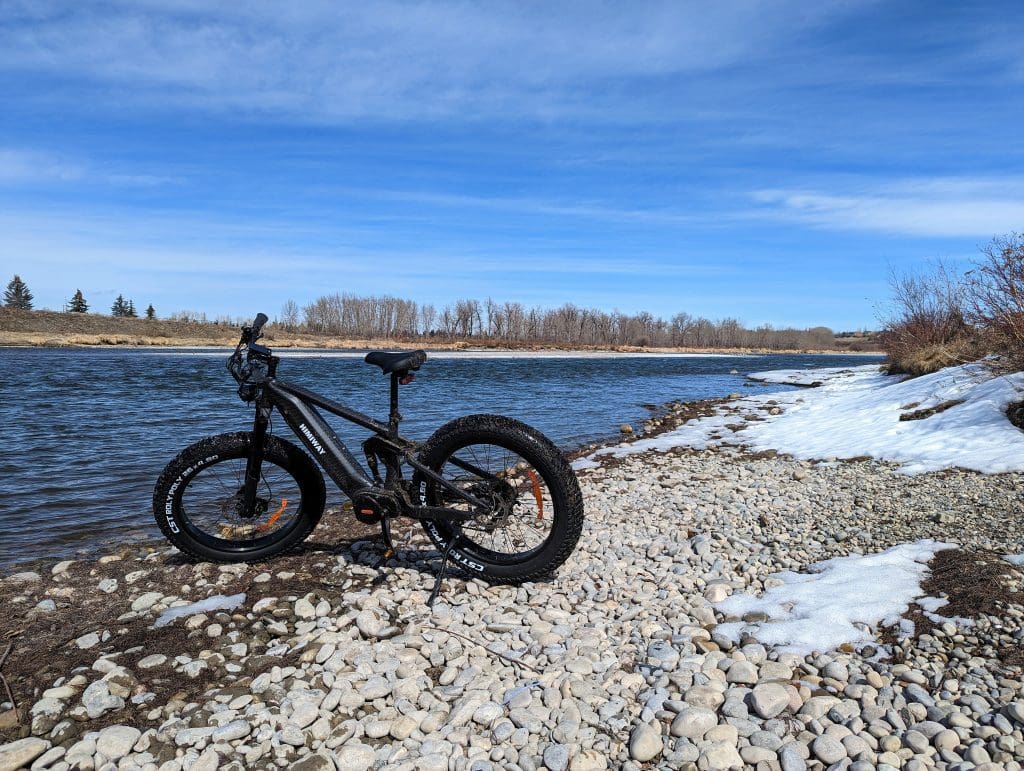 As the temperature climbs to a more acceptable 14°C (57°F), I'm ready to set off on the first of many rides where this Himiway will see me through varied inner city riding, single track trails, and light downhill.
As the days passed and the weather warmed, ride after ride, the Cobra Pro and I cruised along riverbanks, through light snow, and braved large debris and rocks. We commuted on the pathways and rode in, around, and through the bush. We pointed ourselves downhill and tried our hardest to stay upright the entire way down.
We slung mud with the best of them, and only in small part because I've yet to find fenders fat enough for this rear end.
As The Miles Pile On, The Smiles Keep Coming With Them 
A competitive entry in the full-suspension monster eMTB category, that the Cobra Pro is among the more affordable options in its segment in no way takes away from the capability of this bike.
I have five eBikes in my garage, and right now, it's this Himiway I'm saddling up with most. 
The Cobra Pro is a monster of a machine, and I don't think I've ever had so much fun on two wheels before (and that's coming from a guy that's owned 6 motorcycles over the years).
I rode the Himiway Cobra Pro for 300+ km in the making of this review. I had it serviced by a local bike mechanic, and I threw myself at it to see where its… err, my… limits are.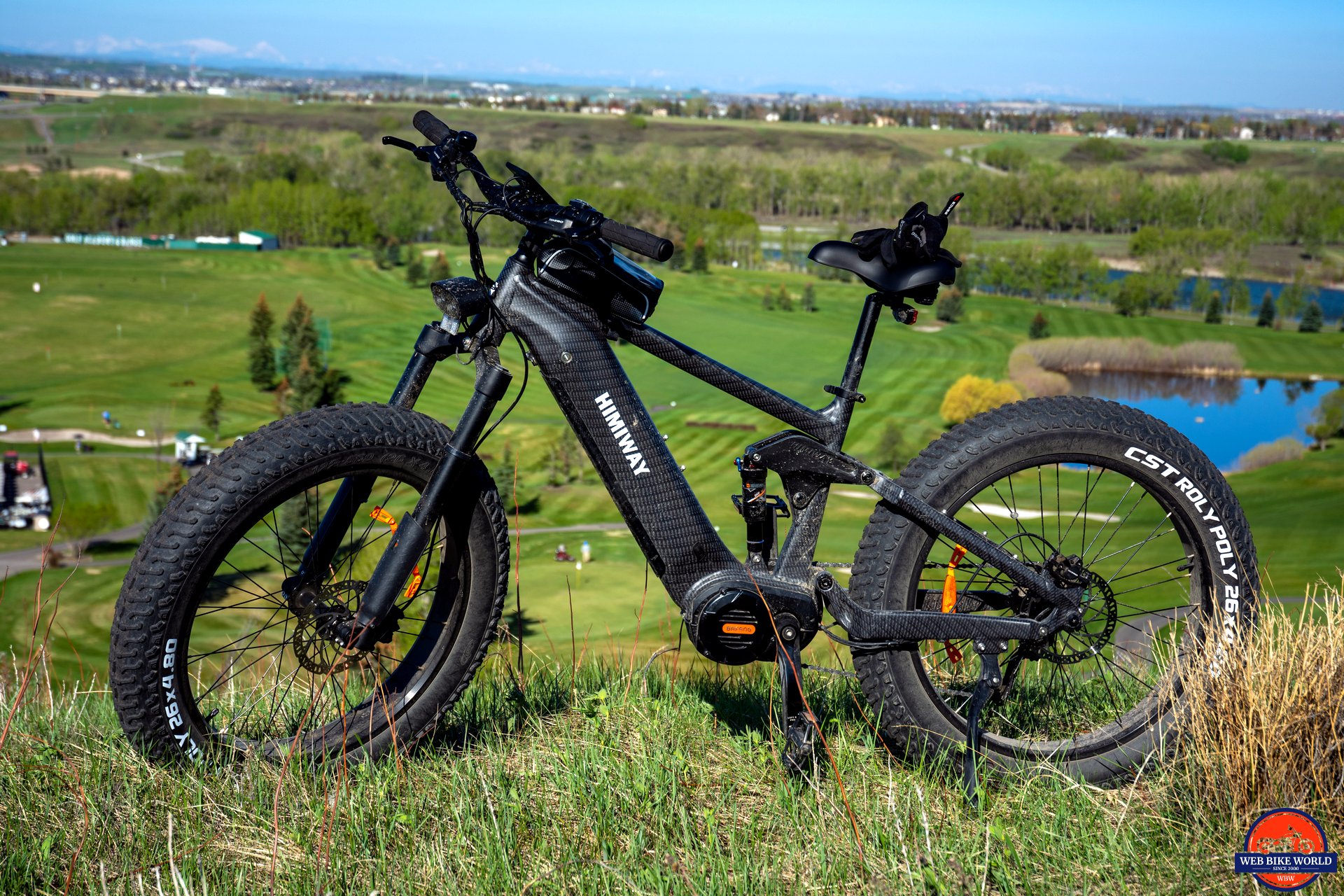 Himiway Cobra Pro Specifications
Motor:

Bafang M620 1000W mid-drive

Torque:

160 Nm

Battery:

20Ah Samsung or LG battery

Range:

Up to 128 kilometers / 80 miles

Pedal-Assist Sensor:

Torque, 5 settings

Top Speed:

49 kph (31 mph) class-3, requires unlocking

Derailleur:

Shimano Deore 10-speed

Shifter:

Shimano Deore

Brakes:

Tektro

180 mm hydraulic brakes

Tires:

26×4.80" CST

Roly Poly

fat tires

Weight (w/ battery):

Estimated 88 lbs

Where to buy: Himiway website
See all the specs and frame geometry at the Himiway website.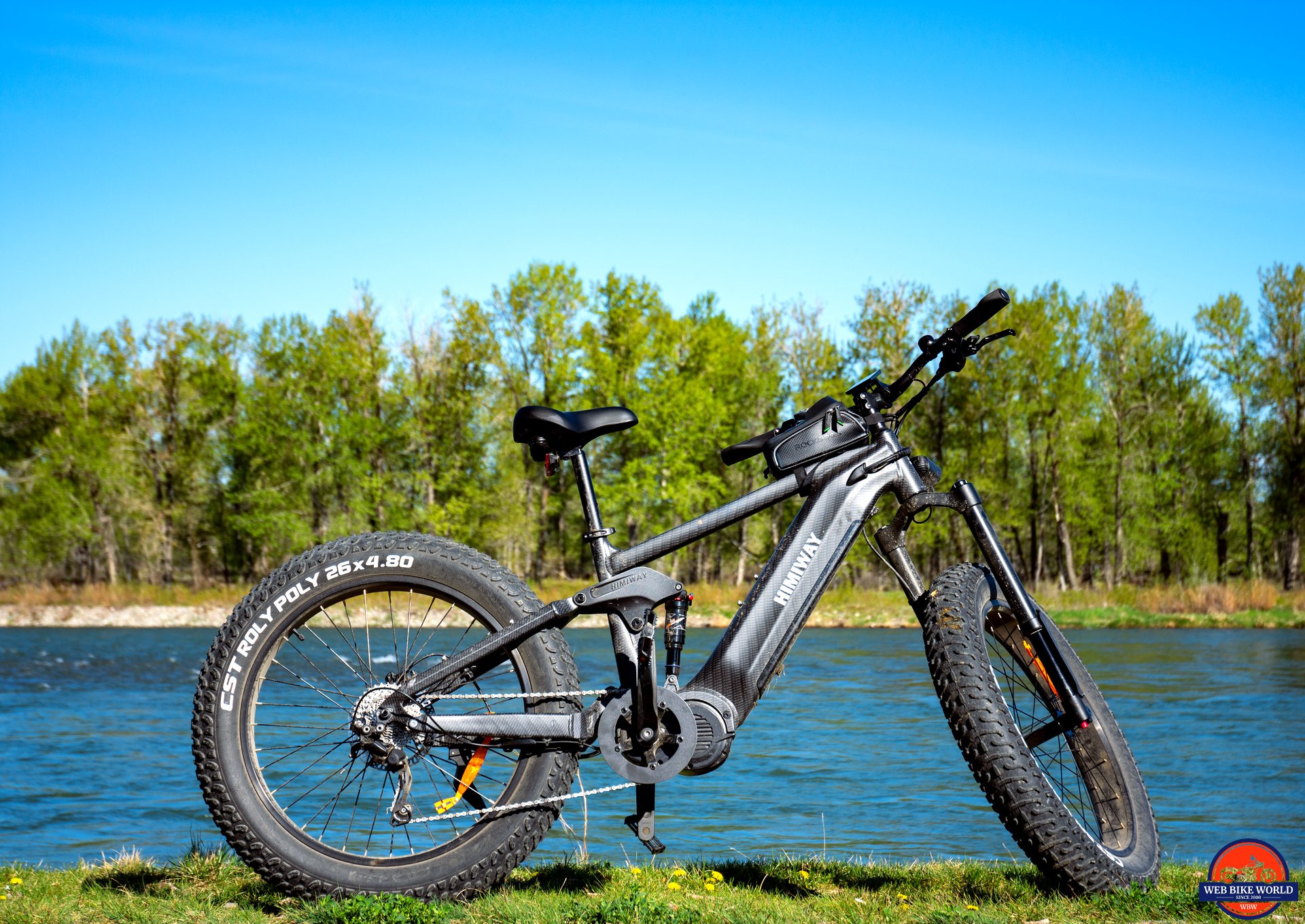 The Cobra Pro's Strengths
Himiway has created a capable and well-rounded machine. Strengths include:
Power and fun factor

– A thunderous 160 Nm of torque through the huge rear tire bites hard and moves the Cobra Pro with ease. 

Strong motor and battery combination

–

Take a 1,000W mid-drive and pair it with a 20Ah battery, and you get a solid 4-6 hours of riding in before the battery dips below 15%. 

Capable drivetrain

– The Shimano 10-speed drivetrain has snappy shifts and an easy to use thumb/index finger trigger, and the rear cassette offers a good blend of hill climbing and top speed gearing.

Adjustability and comfort

– You can adjust the front and rear suspension, as well as the tire pressure, to tune the ride to exactly how you like it. It is buttery smooth on most trails and a real treat to ride.

Easy to ride without pedal assist

– The Shimano Deore 10-speed gear set makes the Cobra Pro easy to ride as a bike (with no pedal assist engaged).

Value for money

– The Cobra Pro is one of few bikes bringing this type of horsepower to the sub-$4,000 segment, and one of the only with this motor, drivetrain, and tire combination. It's not the least expensive bike with this motor, but it's far from the most expensive and competes well at its price point.
Where the Cobra Pro Could Improve
The biggest drawback to this bike is its weight and the difficulty of transporting it (if you don't have a truck). Downsides include:
Weight (or a downhill mountain bike, 90 lbs is a lot) –

While the motor more than compensates for the weight while riding, in low-speed maneuvers, and in combination with the fat tires, the Cobra Pro is a bit clunky to finesse. When riding downhill, the bike's weight is unmistakable and something you must account for when planning corners, jumps, etc.

The 4.8" fat tires are too big for most ebike racks

–

This, in addition to the weight, means that transporting the Cobra Pro requires dedicated equipment. If you don't have a truck, confirm that your ebike rack will carry this thing. Using a 4.5" or smaller tire would make it much easier to transport via ebike rack.

Fenders

–

There aren't many fenders big enough for these tires, so prepare to get dirty.

Throttle placement – I find using the throttle difficult due to the wide positioning of the handlebar grips, throttle, and control unit. It's manageable, and if you have huge hands, perhaps even comfortable, but it never felt "good". For example, the Surface 604 Shred(s) I have in my garage has great throttle placement that I find comfortable to access

.

PAS configuration

– PAS 1 has

too much power

on most municipal bike paths, even in eco mode. Lowering PAS 1 to allow you to ride at 20 kph (12 mph) would make PAS more useful for these rides.
Brakes

– The stock two-piston brake calipers are

fine and

ebike rated, but four-piston calipers – alongside larger rotors – would give improved stopping power and consistency.

Front forks – The front forks are inexpensive air forks, and while they're sufficient for singletracks and light trails, you will reach their limits when riding aggressively downhill.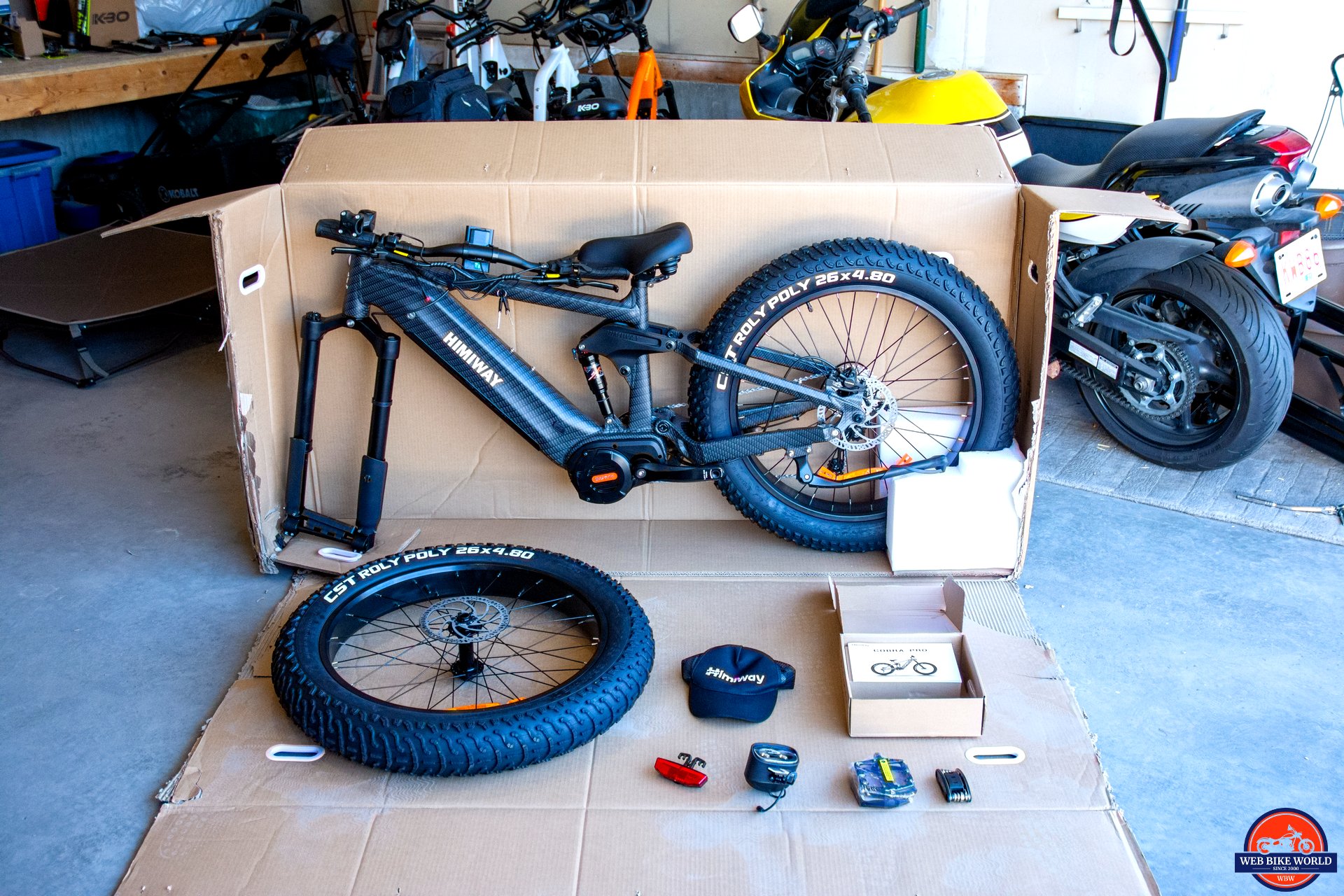 Himiway Cobra Pro Build Quality
At under $4,000 USD, the Cobra Pro is fairly priced. It's not quite "budget", but it is near the bottom of the price bracket for its segment.
See also: 
Most bolts were fairly secure out of the box, but check each one before your first ride and ensure everything is tightened appropriately.
The frame and headset feel good, with no excessive wiggle. Welds are clean, and everything is properly mounted and secure.
Cable management is pretty smart and the cables never get in the way. Wiring and cables are hidden as good as reasonably possible, and aside from a monster downtube (which hides the 960 Wh / 20 Ah battery), the Cobra Pro does a good job of "not totally looking like an ebike" (but anyone who knows anything about bikes will know that you're riding one).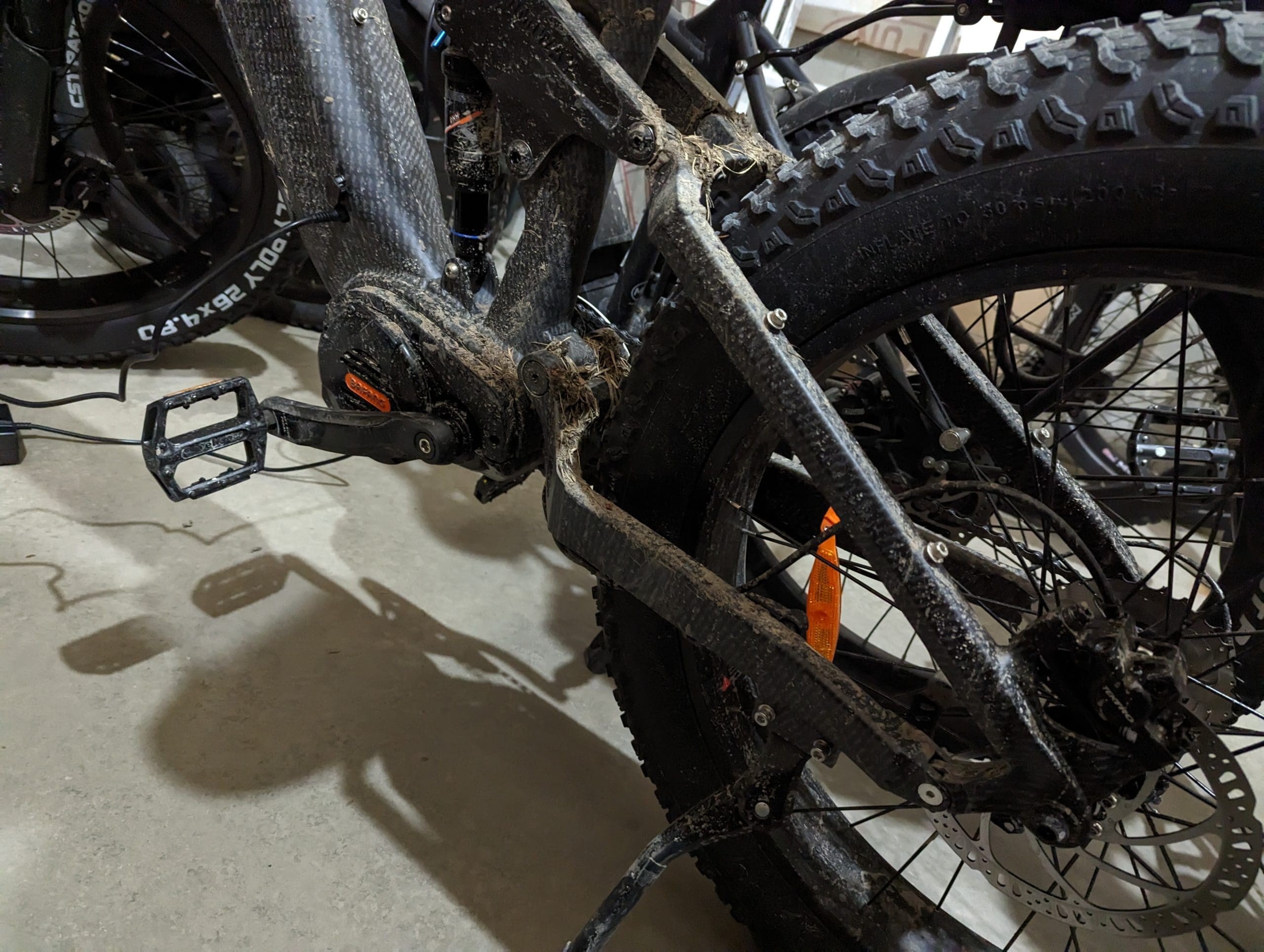 Motor Water Resistance 
As of this review, I have just over 155 miles / 250 km on the odometer, and I've taken this bike through a good mix of dirt, mud, snow, gravel, and larger rocks.
Not only has the faux carbon fiber paintwork/graphic held up well, but the motor and electronics have never once presented an issue… and I've been flinging mud and water with reckless abandon.
I wouldn't suggest submerging the motor, but given that the battery is tucked away in the downtube, the motor is reasonably waterproof, and the wiring is managed well, I feel confident in saying that you can ride this thing through all four seasons without it having any problems with that.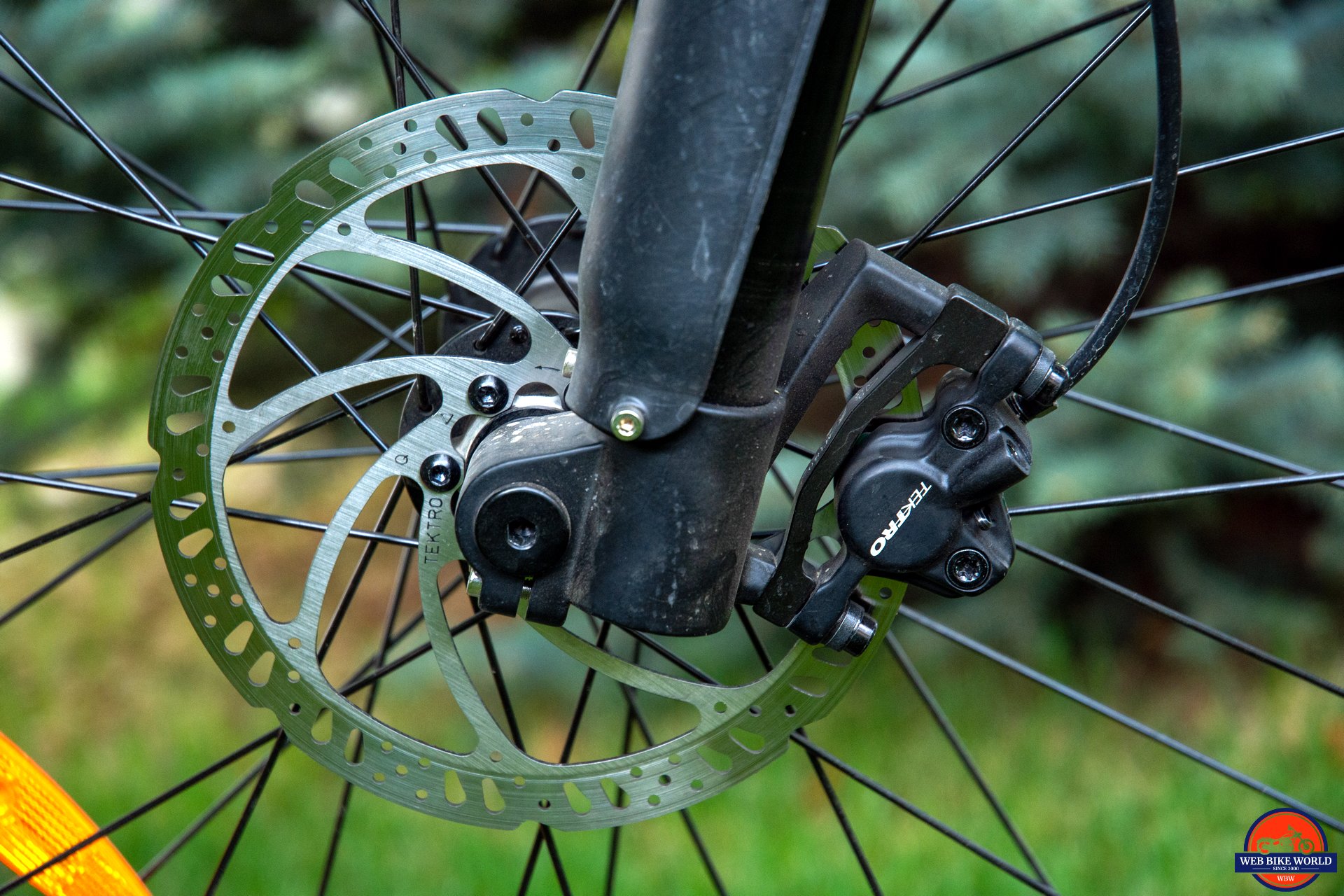 Brakes & Suspension
Out of the box, the brakes came installed/aligned correctly, and the lines did not require bleeding – nice!
The 180 mm Tektro hydraulic brakes do a good job controlling speed, but I did notice a bit of brake fade when using the brakes aggressively for long periods of time. Said fade happened after many back-to-back high-speed stops and did not happen during my "normal" riding, including downhill rides.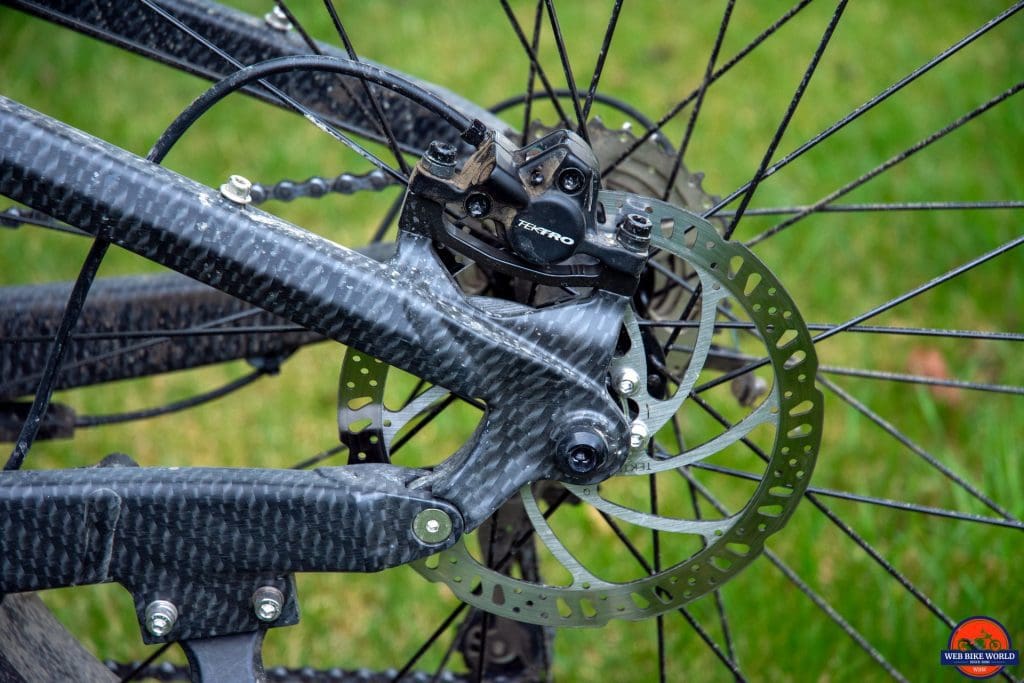 I'd love to see a set of four-piston calipers paired with 200 mm rotors, as this setup would better manage the weight and deliver superior and more consistent braking performance. An upgrade to this setup would only cost around $250, but I want to check to see if the stock forks are compatible with the larger rotors before committing to the swap myself.
Regarding the suspension, there's a bit of confusion online that I'd like to dispel.
The front forks are air suspension vs. the typical coil fork you see on bikes like this (and don't let Himiway's website, which lists it as a coil fork in one spot, mislead you – these are indeed air forks)

Himiway provided Gtmrk WB850-AIR-HLO as the part number for them

The forks have 100 mm of travel

The front and rear suspensions are adjustable via dials and air valves, should you wish to adjust them to suit your preferences
While the front forks aren't from a known brand like RockShox, they are competent enough and offer well beyond the 80 mm of travel that Himiway has listed on their website for the coil forks.
They aren't as buttery smooth as more high-end forks, but they give me a good sense of comfort vs. control, and for the price, I am satisfied with their performance. However, I have concerns about their long-term reliability due to the bike's weight (I can see myself investing in more robust name-brand forks once they wear out), and their limitations in aggressive downhill rides creep up on you.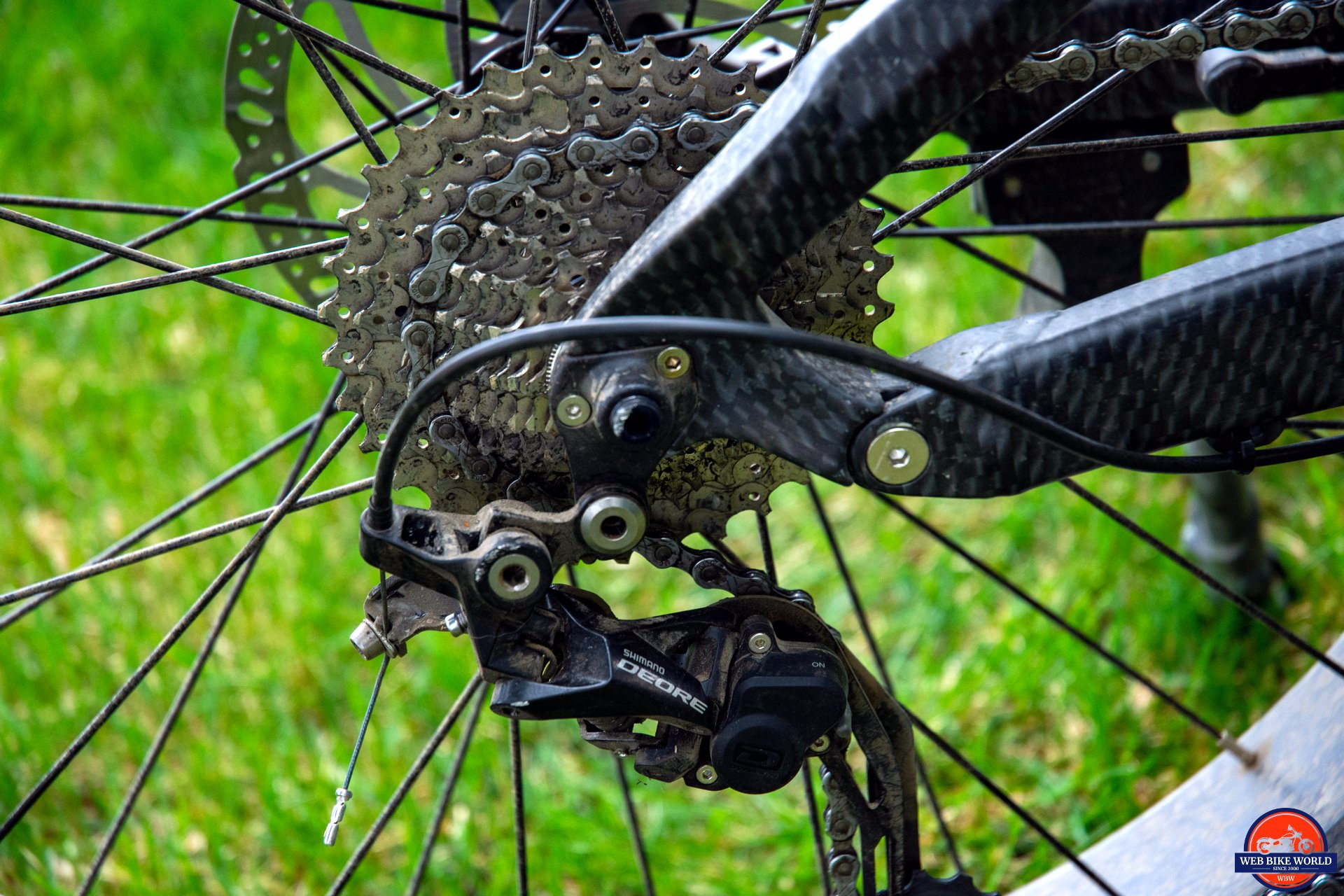 Cassette & Derailleur
The Himiway website lists the Cobra Pro as having a Shimano 11-34T BROWN/BK cassette, which is for 11-speed bikes. The cassette on the Cobra Pro I have on hand is a 10-speed cassette, but I have not verified the model.
The derailleur is a Shimano Deore long cage 10-speed (model RD-M6000-SGS). As you can see in the above photo, mine has taken a few impacts and has been robust enough.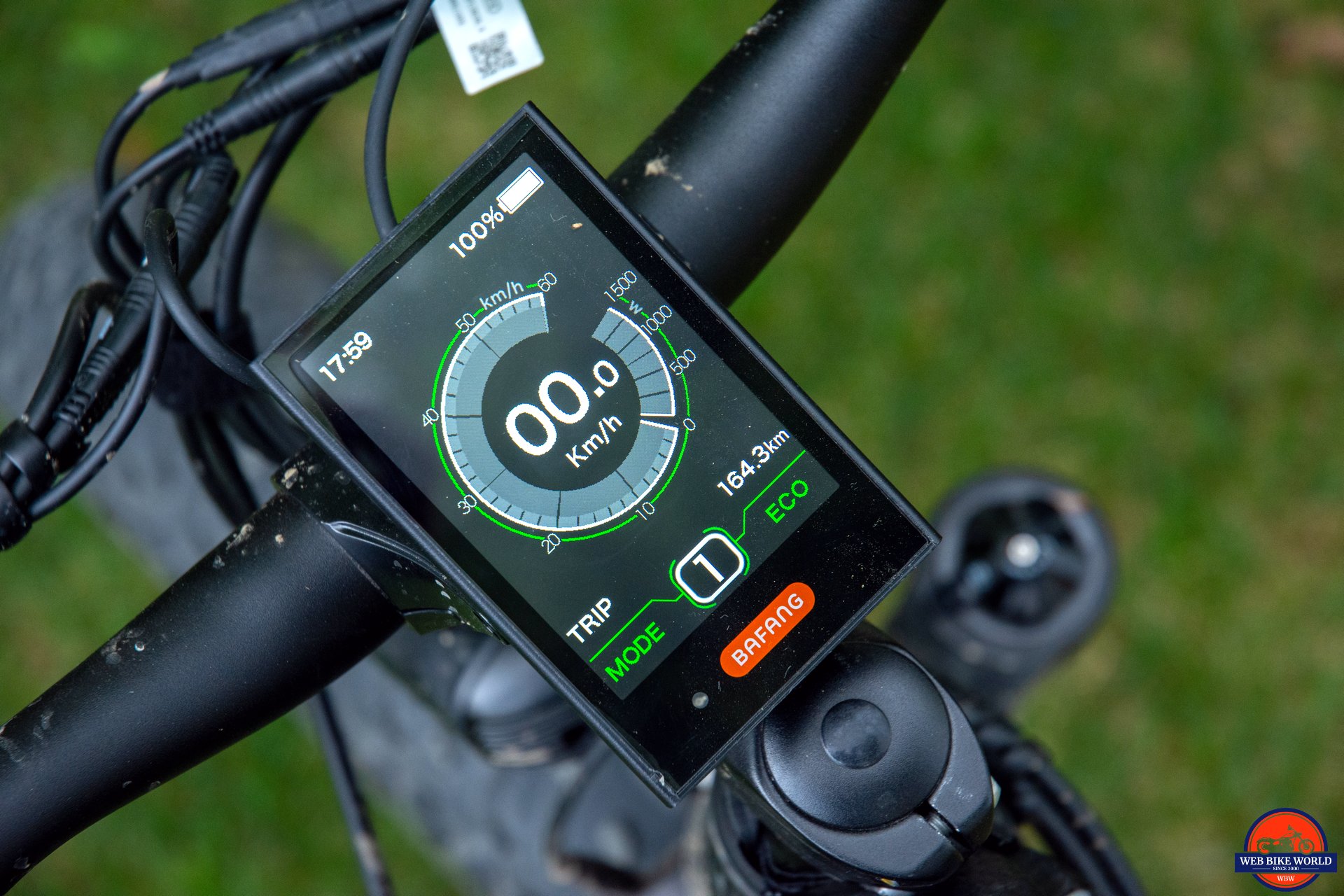 Electronics & Wiring
Himiway has hidden the wiring within the frame where possible. The aesthetic is clean, and while there is more wiring than what you'd see on a pure pedal power bike, it is minimized and not obvious.
The screen is a full-color unit that tells you the time, battery charge level, your speed, as well as how much power the bike is supplying.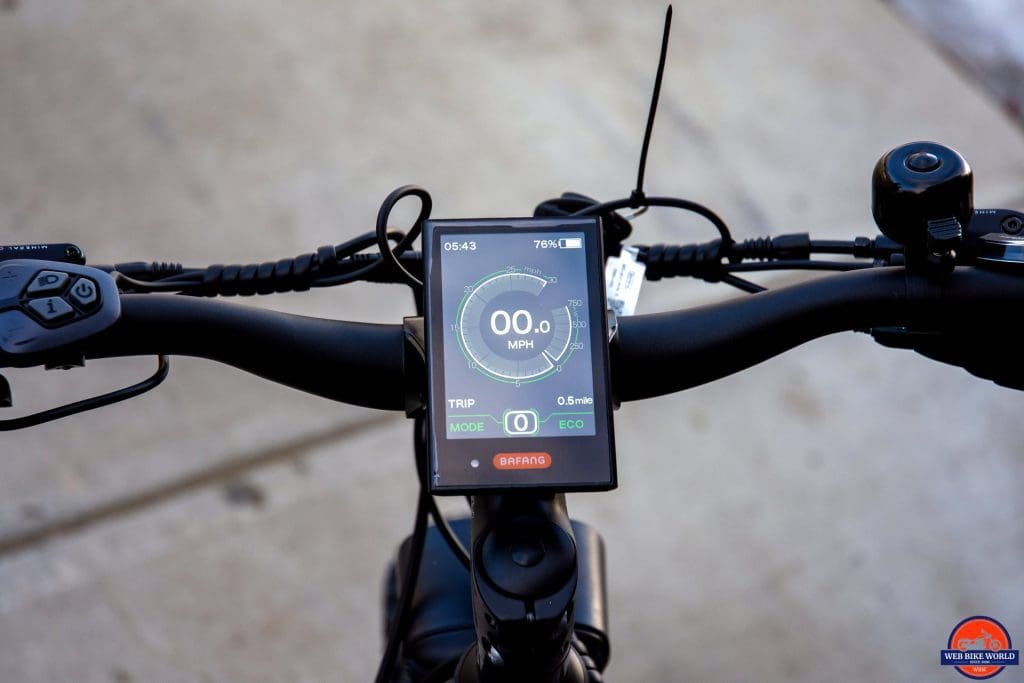 The above photo shows that the power dial (the small band at the 3 o'clock position) reads 0 – 750 watts. To get full power, you need to go into the menu (quickly press the "i" button twice on the left control to enter this mode) and then adjust the speed limiter (I set mine to max), which will then "unlock" the full 1,000 watts of continuous power (and 1,300 watts peak). 
See more: adjusting the electronics.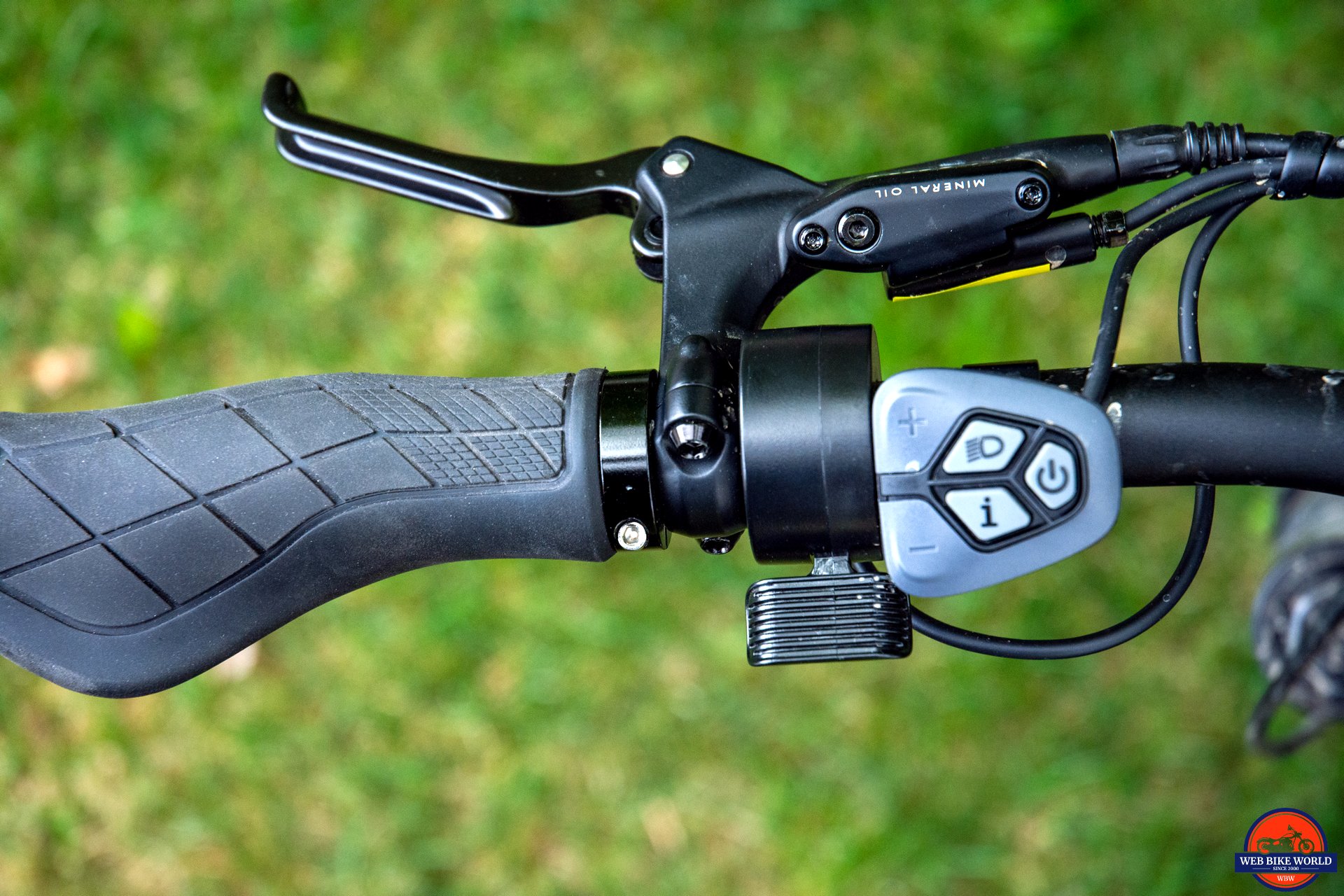 Handlebars
The handlebar grips are pretty good and are comfortable to ride with. The left handlebar has the throttle and the PAS selector/electronics input pad.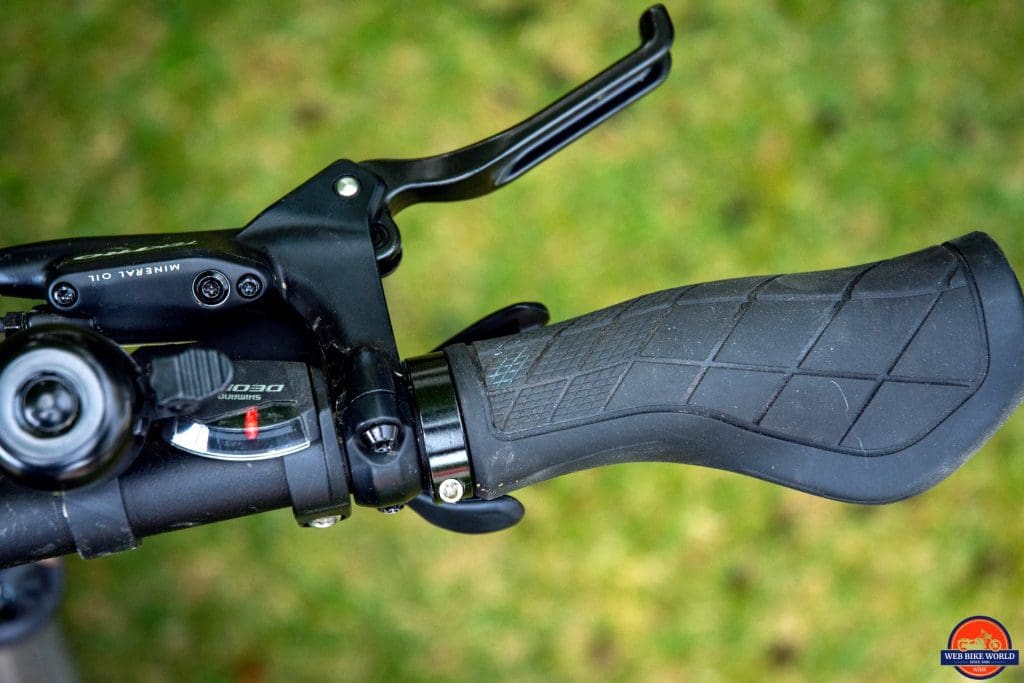 The right handlebar has the Shimano Deore shifter (bell not included – I picked mine up for $8 from Amazon).
Himiway Customer Service
My position as a reviewer makes it very difficult for me to accurately assess this, as I was provided this bike for review and have a "direct line" to Himiway. They've treated me well and are quick to answer any questions, but I can't speak to the customer-facing side of their service experience as I'm not a traditional customer.
However, they have a strength that most direct-to-consumer brands lack: an active and growing dealer network. These are not Himiway-branded stores, but individual dealers, bike shops, and other retail stores working with Himiway.
If you prefer to work with a local bike shop or dealer vs order online, here is a list of American dealers and Canadian ones.
From what I've seen, customer service is pretty good and responsive (the biggest complaint I'm finding is people frustrated with the delay in getting parts during the pandemic-related supply shortages). Still, I recommend you visit the owner's groups yourself and get a sense for yourself.
I don't think that I, or any reviewer that has a direct relationship with a brand, is in the appropriate position to speak to the customer service experience during a product review.
A Note About Himiway
They are quickly becoming a notable brand in the space. Their Facebook owner's group has 12,000 members, and they are routinely discussed on forums, Reddit, and other places where eBike conversations take place.
Himiway is selling tons of ebikes. I don't know the official number, but I bet they sold something like 65,000 eBikes last year, 50,000 in 2021, and are on pace in 2023 to sell somewhere close to 100,000. 
These are estimates, as Himiway has not disclosed that information to me. However, as an SEO specialist, I can access tools that help me make educated guesses. Considering that north of 24,000 searches/mo takes place on Google for the Himiway brand name, I am confident that Himiway has sold more than 100,000 ebikes in the past few years globally.
Posts on the owner's group and Reddit are the usual mix of praise and problems, but I'd say much more in the way of praise vs. problems. Considering that they are a pretty standard "bike in a box" and aren't adding gimmicks or other fluff to their bikes, this isn't surprising. 
We've had a 2021 Himiway Cruiser Step-Thru – one of their original models from their 2021 lineup – since early 2021 and have put north of 1,200 km on it (which isn't high mileage per say, but is enough to get a good sense of the bike). Outside of problems of our own making, the Cruiser has been a good bike that's required nothing beyond regular maintenance.
All this is to say that Himiway is one of the only "online" ebike brands with an offline presence and a seemingly stable and growing market position. For me, that's a significant strength when making a several-thousand-dollar investment in an ebike, as support and servicing from offshore brands that lack a local logistics center (Himiway has warehouses in North America) or dealer network can be challenging at the best of times.
Configuring & Adjusting the Cobra Pro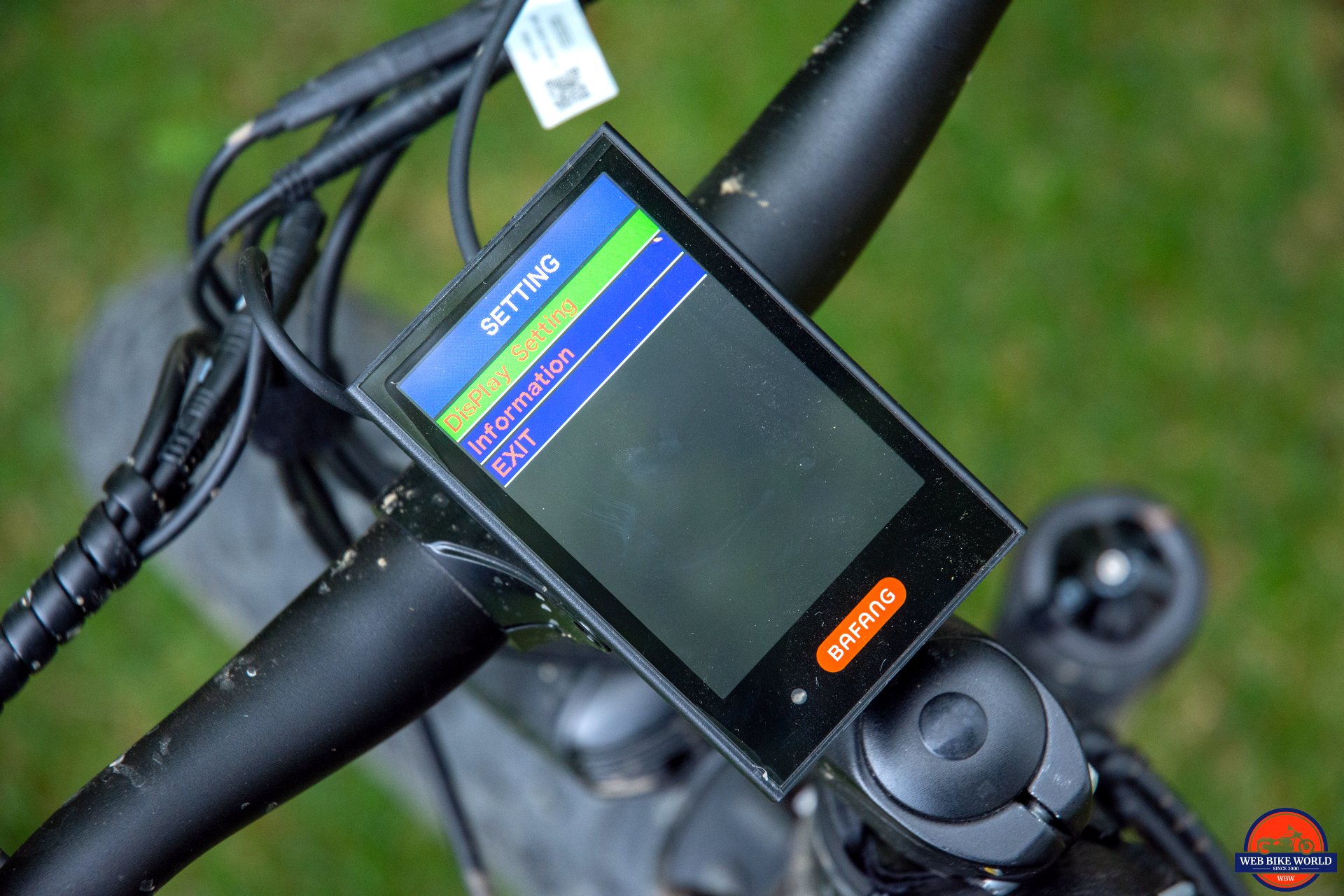 Adjusting the Electronics
The electronics are easily adjusted via the center display. Using the input pad on the left handlebar, press the "i" button twice quickly to enter the settings menu.
Use the + / – symbols to move the cursor up and down, and use the "i" button to press "enter" on your selections.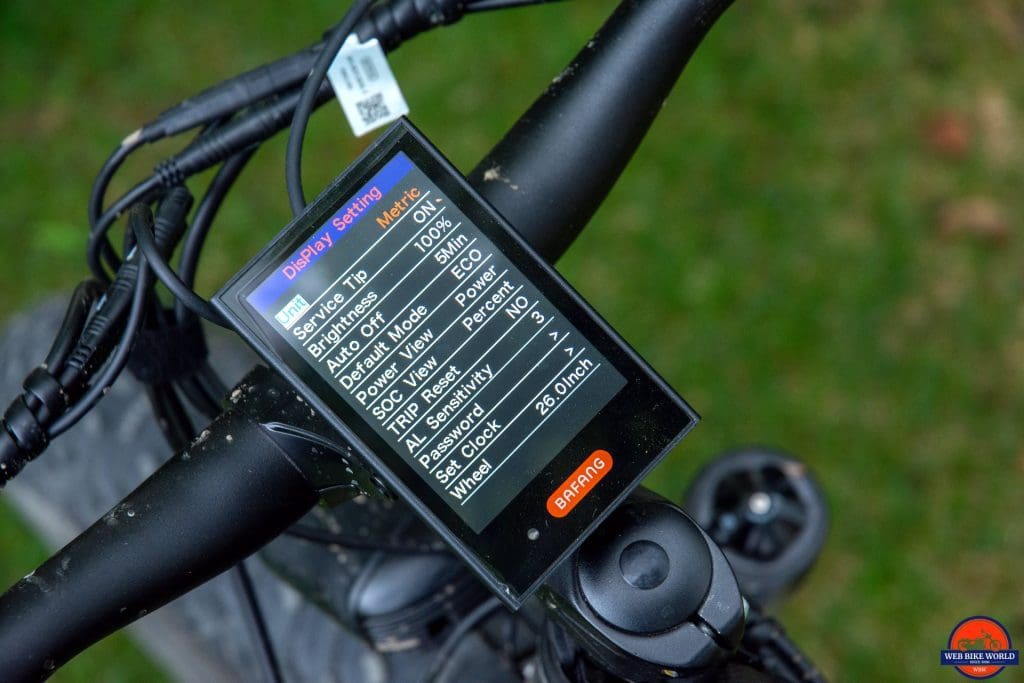 Select "display settings" to enter the customization menu. From this menu, you can adjust:
The time (24-hour display only)

Display brightness

The number of minutes before the bike automatically turns off after inactivity

Your drive mode (mine came out of the box in

sport

mode, but I prefer

eco

mode as it has gentler power delivery)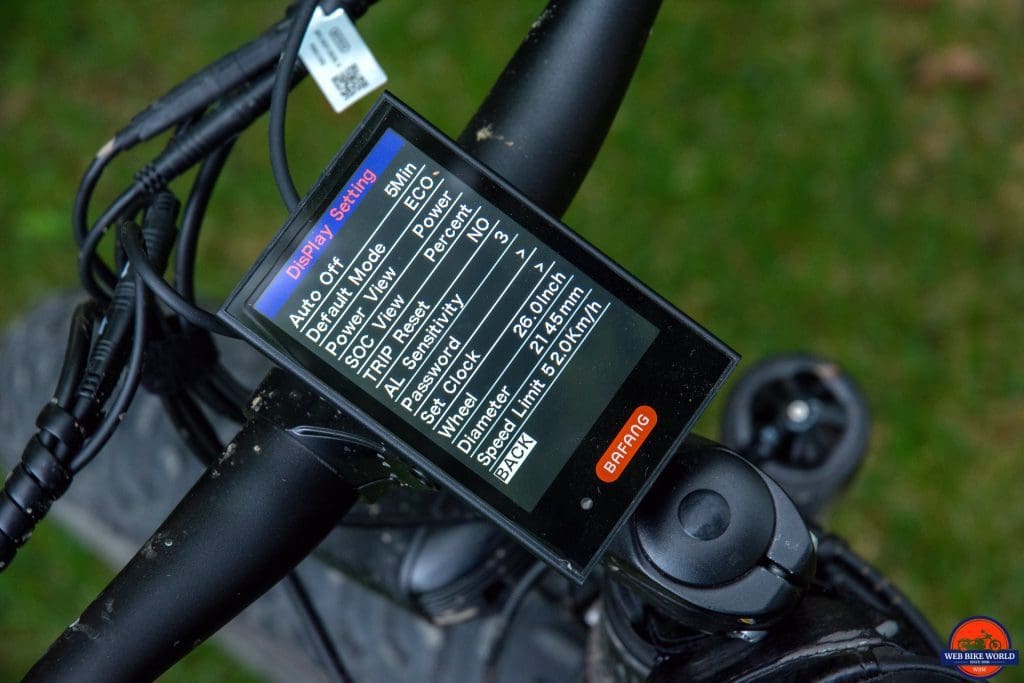 One important note: my Cobra Pro came with the speed limit set to quite low (around 20 kph if I recall), which capped the motor output at 750 watts. When I adjusted the speed limit to 52 kilometers, the motor power was unrestricted, and now up to 1,500 watts is accessible.
Fit, Riding Position, & Suspension
Along with the usual bike adjustments (handlebar alignment, seat heat, etc.), the Cobra Pro allows you to adjust the air in the front/rear suspension and the rebound/lockout for both.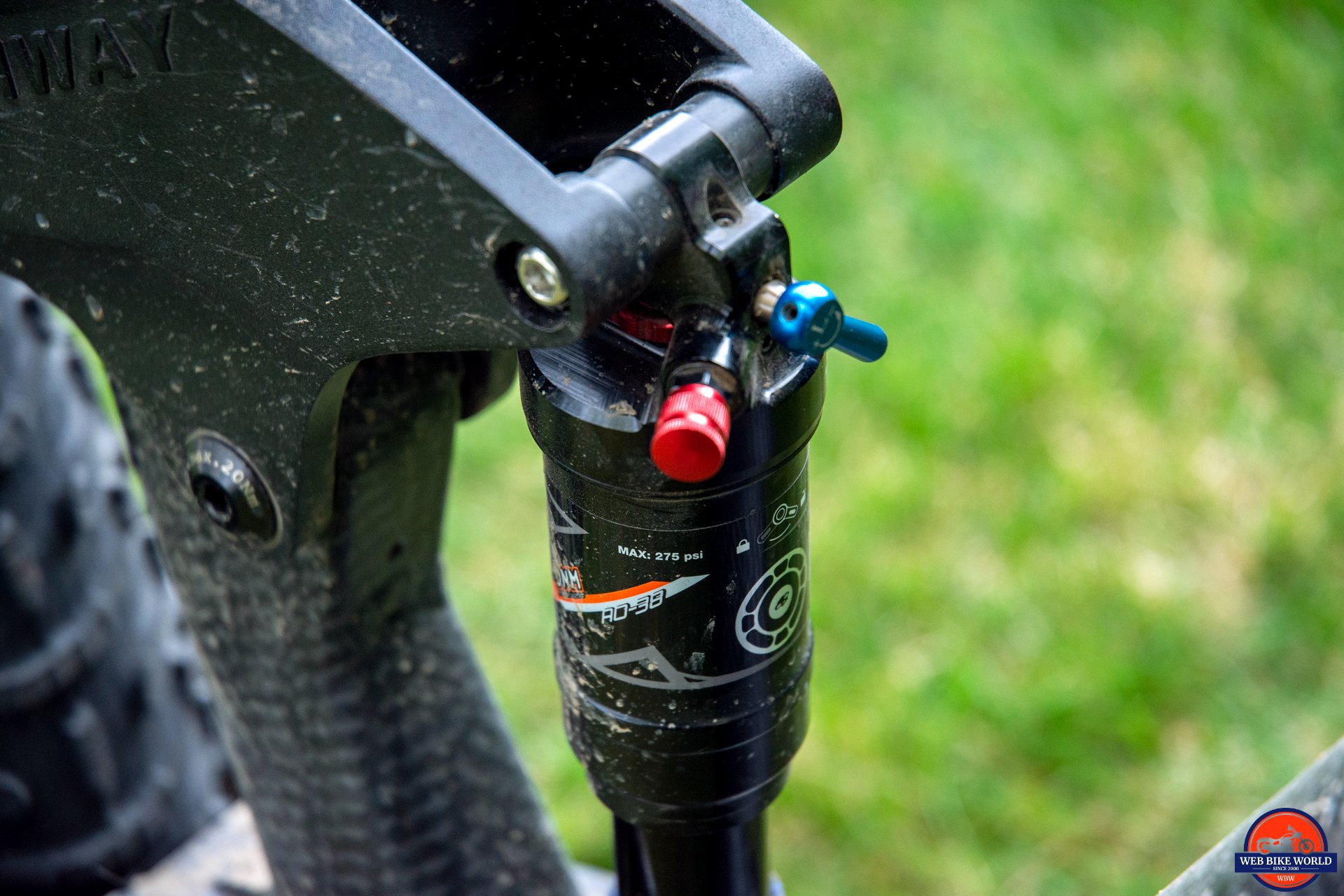 Out of the box, my rear strut was filled to 150 psi. As I am around 210 lbs, I increased this to 225 psi. The unit has a max of 275 psi. You can remove the red valve cover to access the valve. The blue switch determines if it is locked out or not.
The front forks also have similar adjustments: the front-right fork has the rebound adjustment, and the front-left fork has the air intake valve. I did not add any air to the fork, but did adjust the rebound to be a bit snappier.
Lastly, you can run the tires at 10 – 30 psi. For trail and pathway riding, I like them set to 24 psi. I reduce the pressure to around 20 psi for trail and downhill.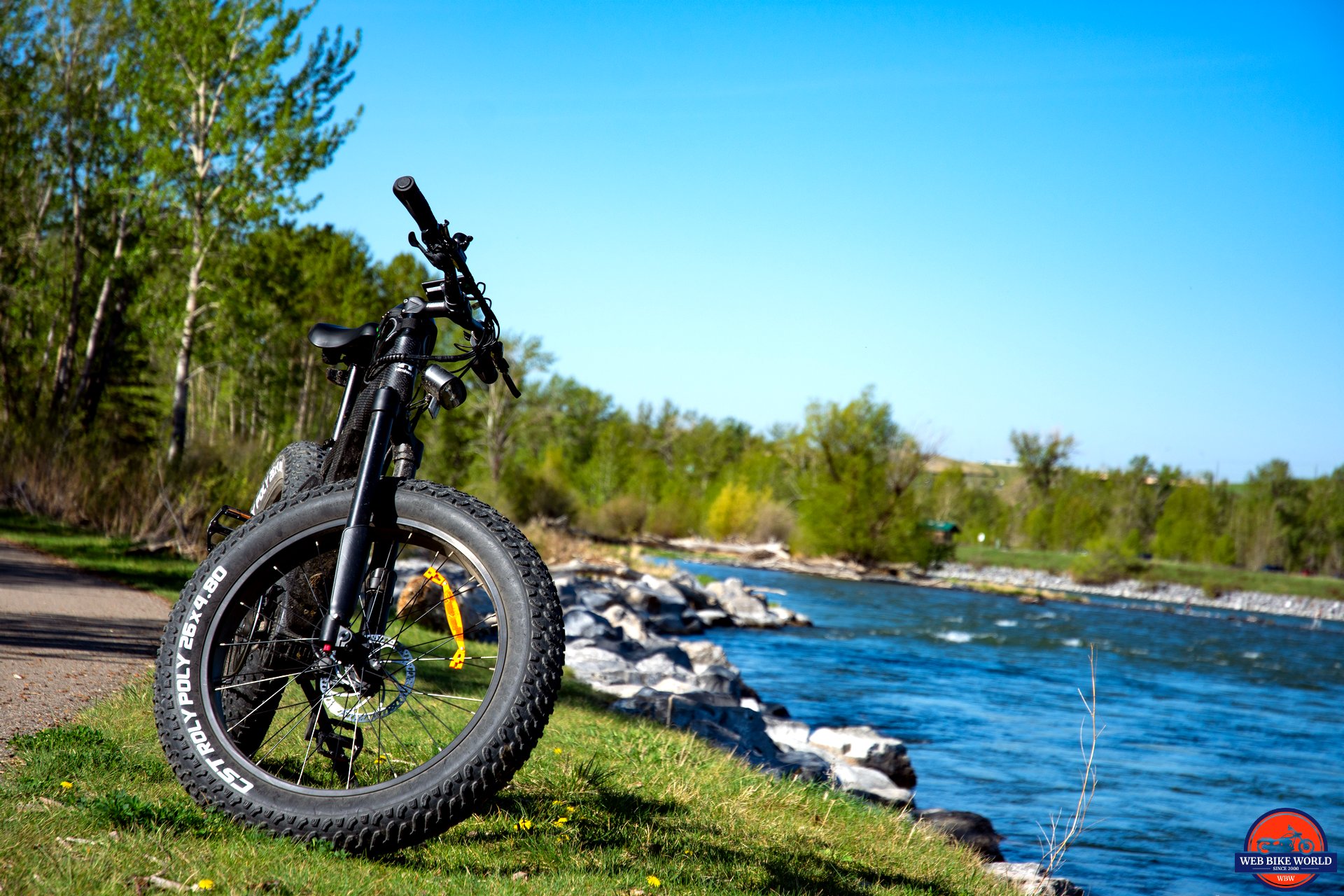 Riding the Himiway Cobra Pro
Riding Without Pedal Assist
Many ebikes are difficult to ride without pedal assist. There are a couple of reasons for this.
First, ebikes weigh more than standard bikes. Where a typical mountain bike might weigh 25 – 35 lbs, an entry-level commuter bike, such as the KBO Breeze, generally weighs just over 50 lbs. The Cobra Pro is almost 90 lbs. 
Despite its weight, the Cobra Pro cruises along flatish pathways pretty comfortably at PAS 0. I find it easy to keep in the 20 kph range, but be warned: you will immediately notice its 88 lb heft once the grade starts to climb even a little.
Shimano Deore 10-Speed Gear Set
The Shimano Deore 10-speed provides plenty of gearing for me and is pretty snappy on the shift. When pedal assist is turned off, it rides like any other bike. 
When PAS is set at 1 or above, engine power cuts briefly during shifting (or when you hit a bike bump) to preserve the drivetrain (160 Nm of torque feeding through the drivetrain during a shift isn't the best for it). I have noticed that the shift will take place about 10% of the time before the motor is cut out.
Paved Trails & Groomed Paths
The Cobra Pro rides buttery smooth on paved or groomed trails. Note that the Cobra Pro doesn't ship with a bell, though.
The fat tires may take a bit to get used to at first, especially when corner carving, but the Cobra Pro quickly feels like any other bike while on smooth trails (though the CST Roly Poly tires and the motor make a lot of road noise).
However, the Cobra Pro has arguably too much power to use pedal assist on paved pathways and groomed trails when you are in sport mode and borderline when you're in eco mode. Even at PAS 1, you'll quickly exceed most trail speed limits. 
I ride PAS 0 on flat pathways most of the time, as PAS 1 will have me at 25 kph (15 mph) almost effortlessly.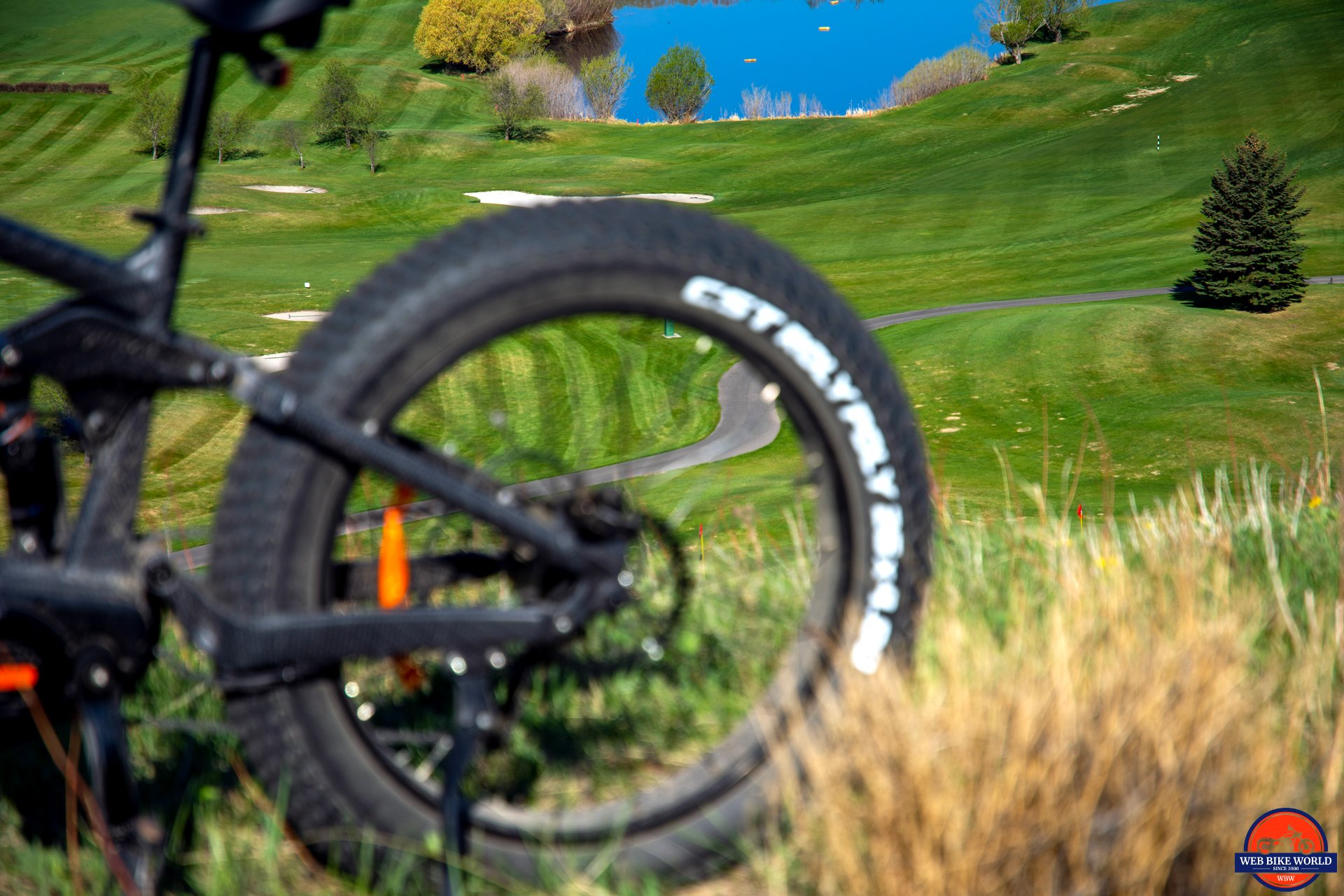 Single Tracks & Minor Off-Road Trails
This is where the Cobra Pro and I have spent most of our time together, and I think this is also where the Cobra Pro shines. These trails are also the most forgiving with respect to the Cobra Pro's weight.
The four-bar rear suspension, front air forks, and biiiig tires create a forgiving ride. Not only does this setup give you confidence to ride these trails a little faster than you would in a typical hardtail, but the bike seems to eat the trails up and spit them out as if they were nothing.
The Cobra Pro's suspension setup melts away the bumps, rocks, sticks, and other debris you'll encounter on these trails. 
I have a ton of fun with this bike on the single tracks, and I expect you will too.
Downhill Trails 
The hefty weight of the Cobra Pro brings itself into focus when you're riding downhill, especially when taking on more technical trails, jumps, and other types of obstacles. An experienced rider can manage it, but it will take less experienced riders some time to adjust.
The level of power being brought to bear means that you will likely receive more than one side-eye from fellow riders, especially if you're riding aggressively and pushing the limits of this ebike.
Despite its weight, the Cobra Pro will absolutely shred the trails. All it took was a few rides to adjust the rebound on the front forks to where I liked it, and off I went down (and up) the trails.
If you ride them aggressively on back-to-back runs, the brakes will start to squeal and complain. I noticed that braking performance tangibly declined at the tail end of repeated aggressive trail riding.
Because I know the bike is 90 lbs, I am less willing to throw it off jumps or some riskier trail obstacles. I pick and choose my airtime a bit more than I do on my Shreds, which weigh 35 lbs less, because physics doesn't lie, and I don't want to be on the wrong end of that heft.
Lastly, be sure to adjust the suspension lockout and rebound (and ensure you have the right pressure set), as those forks will be dealing with a lot of momentum when you're flinging this thing around.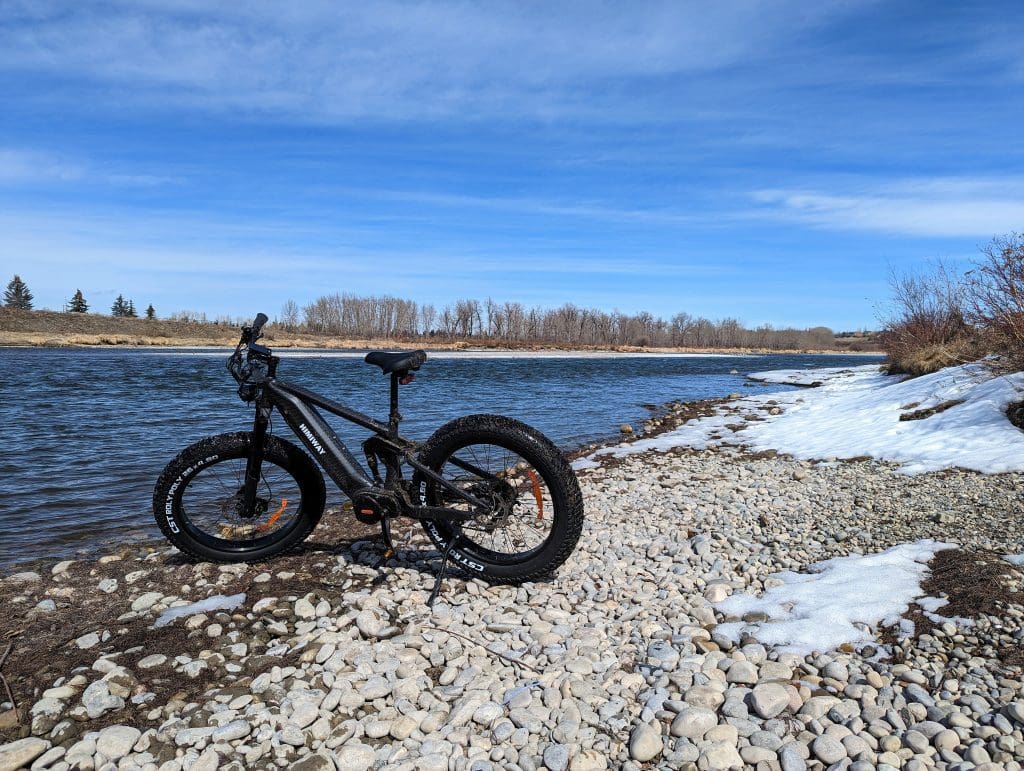 Sand, Gravel, & Loose Rock
Run the tires at a lower pressure (~14 – 18 psi) and have at it. I regularly ride the Cobra Pro along rocky beaches and feel comfortable doing it. I have similar sentiments for sand (though I don't recommend tackling sand dunes with the Cobra Pro).
My advice: keep the power low, keep the gear high, and run the tires at a PSI that feels good to you. And take it slow.
Overlanding/Cross Country in Dirt, Grass, & Mud
Feel like prowling the prairies? Perhaps you're doing some hunting, fishing, or another type of activity where you want something quiet and reliable to get you deep into the bush?
The Cobra Pro is up to the task. It's not even a contest.
Snow
The one type of terrain where the huge power from the motor transforms into somewhat of a liability, the Cobra Pro is as good as any other fat tire ebike on snow. Run the tires at a low pressure, keep the engine power down (or off), and ride carefully.
While I did traverse several trails laden with packed and loose snow, and the Cobra Pro did navigate me over said trails, there is an obvious discomfort that the bike (and any bike, frankly) has with snow. This is also the one use case where the high-power motor is as much a liability as it is an asset.
So go ahead and ride in the snow – the Cobra Pro can handle it, but it'll also still feel like riding a bike on snow.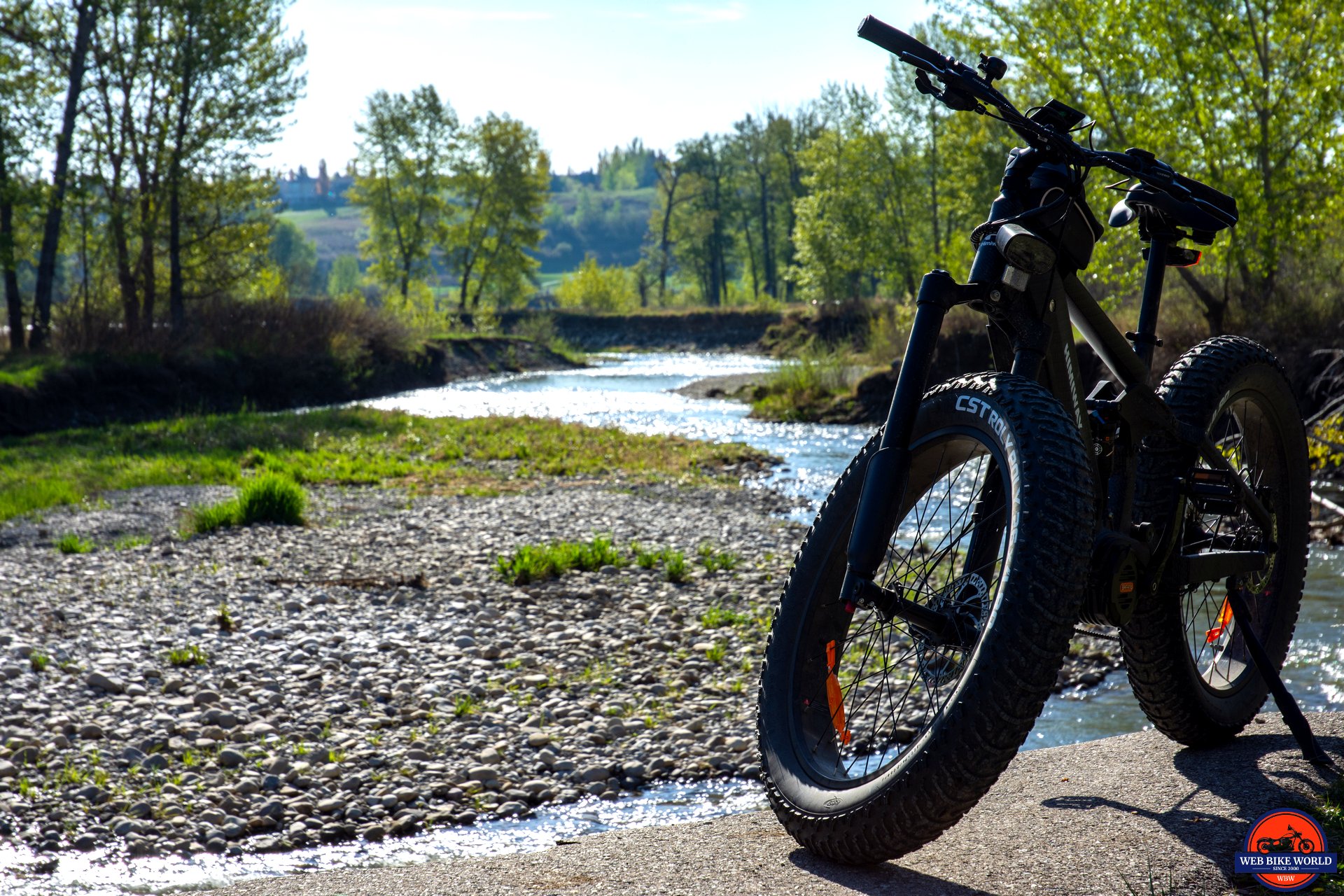 What's it Like to Live With the Cobra Pro?
If you aren't a longtime reader of webBikeWorld, you may not be familiar with our review style. With more than 3,000 hands-on product reviews since 2000, we have developed our personal review flavor emphasizing safety, value for money, and livability.
So let's discuss livability. 
Can you/should you commute with the Cobra Pro?
In my opinion, the Cobra Pro is not suited for commuting. 
It lacks fenders, and fenders big enough to cover the massive tires are uncommon, and it has no rear rack… again, the same sentiment regarding compatibility exists there.
This isn't to say that you couldn't ride it every day. The Cobra Pro should do just fine if your intended rides are mostly linear and clean. However, without fenders (or fenders easily available), you're going to get dirty and wet whenever riding conditions are anything other than sunny and dry.
And, more to the point, a monster eMTB is not the best type of bike for daily commuting. Sure, you can do it, but other bikes will be better suited for this use case.
Transporting the Cobra Pro
This is the Cobra Pro's most significant downside: it's a pain in the butt to move around if you aren't riding it or hauling it in the bed of a truck.
Don't have a truck? Good luck to you.
The bike is quite large: 90 lbs, yes, but also 82.6" long. This means that transporting it beyond riding it requires a truck or large SUV (and in the case of the latter, you'll still be taking the front wheel off to get it inside the cabin).
I've yet to find a single ebike rack that would fit on a car or small SUV capable of carrying the Cobra Pro. 
The 4.8" wide tires mean

most

ebike racks don't work out of the box (and those that will accommodate those tires usually need fat strap add-ons)

Even if the bike rack can accommodate the 4.8" wide tires, the 88 lb weight is generally too heavy. Some dual bike racks can carry 125+ lbs of weight… but only 60 – 70 lbs (max) per tray, meaning this chonker won't fit

With a 51.1" wheelbase and a 82.6" total length, even if the Cobra Pro weighed 60 lbs and had thinner tires, it

still

wouldn't fit on most ebike racks (most accommodate a max wheelbase of 50")
So, if you don't have a truck or large SUV to haul this thing around in, you'll find it quite challenging to pack it up for a day-trip on the trails.
Charging
The included charger has a small cooling fan that engages once charging occurs. Charging is pretty quick, with the bike taking under 6 hours to charge from empty. In my experience, 1.5 – 2 hours was enough to take it from 60% to 100%.
As with all ebikes, I recommend following a simple process when charging:
Make sure the charger and battery are not on a flammable surface (I charge my bikes on the concrete pad in my garage). 

Plug the charger into the battery

first

, then plug the charger into the wall

Do not leave the charger active for longer than you must
As with all batteries, do not charge the bike in freezing or excessively hot temperatures (you want it to be in the 10 – 25 Celsius / 60 – 75 Fahrenheit range) during charging.
Maintenance
When your ride has huge tires, hydraulic brakes, a powerful mid-drive motor, and is designed to go off-road, you should assume that it will need additional maintenance compared to less hardcore bikes.
A few things to consider:
The CST

Roly Poly

tires are around $60/each to replace.

The brake pads and rotors will wear faster due to the weight

The chain and cassette may wear faster due to the mid-drive motor

The suspension may wear faster due to the weight
None of the above would keep this bike out of my garage, though.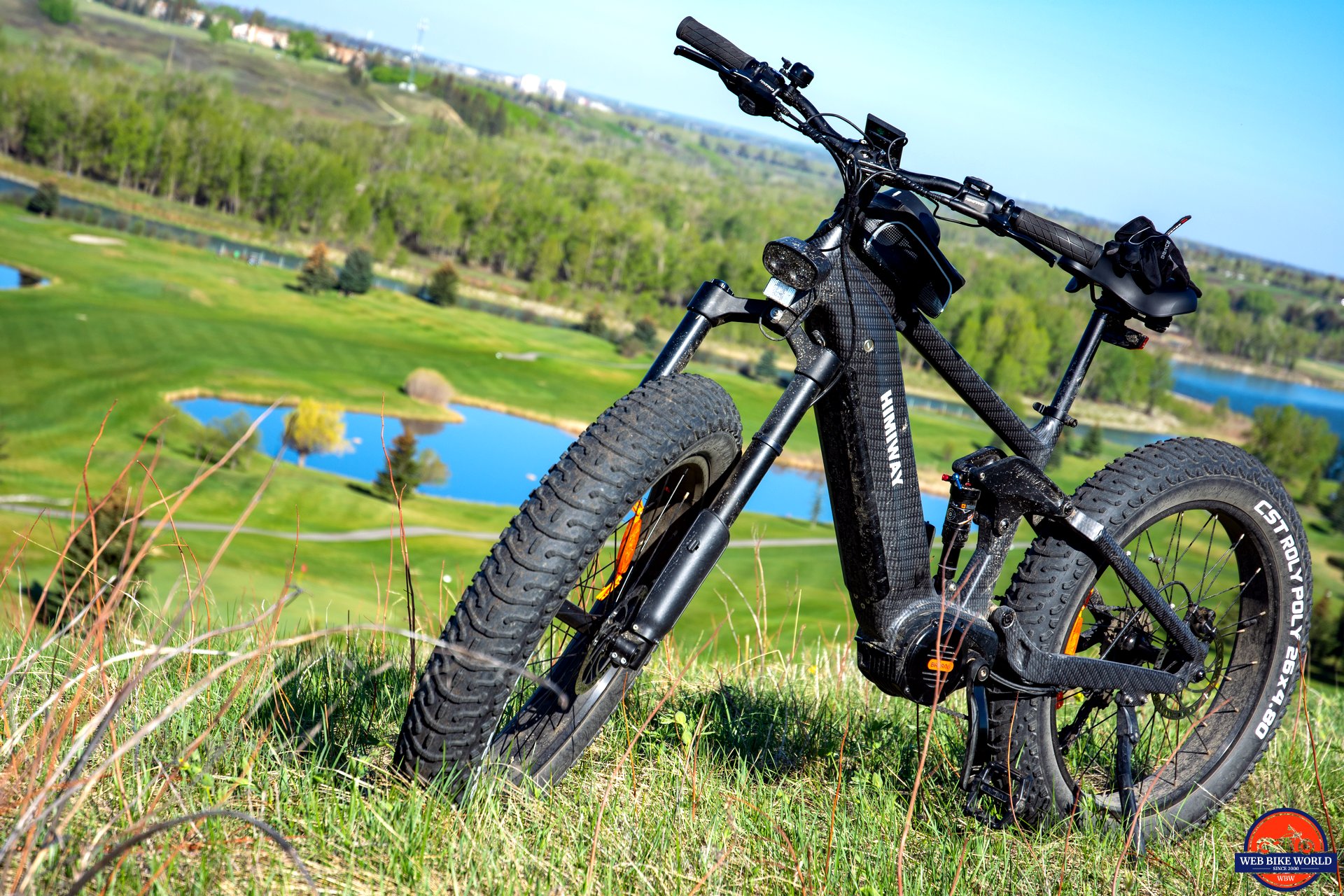 Frequently Asked Questions About the 2023 Himiway Cobra Pro
Can you ride the Cobra Pro in mud, snow, or water?
With 4.8" wide tires, this fat tire ebike can go just about anywhere. I suggest running the tires at 14 – 16 psi in mud/snow to give you better traction, and 20 – 22 psi for most other use cases.
The motor is water resistant enough and will manage it just fine as long as you don't submerge it.
What are the differences between the Himiway Cobra and the Cobra Pro?
There are five main differences between the Cobra and Cobra Pro:
Motor

– The Cobra uses a 500 watt (750 watt peak) rear hub motor paired with a torque sensor, where the Cobra Pro uses a 1,000 mid-drive motor also paired with a torque sensor. The Cobra produces 86 Nm of torque, compared to the Cobra Pro's 160 Nm.
Gear system

– The Cobra uses a Shimano Altus 7-speed system, whereas the Cobra Pro uses a Shimano Deore 10-speed setup.
Front forks

– The Cobra uses a coil fork with 80 mm of travel, whereas the Cobra Pro uses an air fork with 100 mm of travel.
Rear suspension

– I am unable to confirm the type of rear shock used on the Cobra, but it appears to be different than what is equipped on the Cobra Pro.
Price

– The Cobra comes in at $2,399 USD ($3,1999 CAD), whereas the Cobra Pro rings in at $3,999 USD ($5,299 CAD).
Is the Cobra Pro's front fork suspension coil or air?
It is an air front fork, though there's a lot of speculation on various Reddit threads and review sites. But it's got an air valve on the bottom of the left fork, so…
Is the Bafang M620 a good motor?
The Bafang M620 is a large and robust mid-drive motor. In the Cobra Pro, it peaks at 1,300 watts of power and makes 160 Nm of torque. It is considered fairly reliable, though these motors are known to put extra wear on the chain, gearset, etc., due to how much power they put through the drivetrain.
Is the Cobra Pro legal in Canada or the United States?
For off-road and overlanding use, the Cobra Pro is right at home and shouldn't press any issues. Things get tricky on paved/groomed trails and singletracks within municipalities or local state/national parks.
While this bike can be restricted to conform to class 2 and 3 designations, in practice, it's hard to tell which side of that line the Cobra Pro rides on.
The fact is that it's a big, powerful, throttle-equipped ebike. Before purchasing, make sure that it works for your use case and won't get you into trouble by violating local ebike legislation.
See also:
How do you shift with a mid-drive motor?
The Cobra Pro has a motor cut-out that engages anytime you change gears or hit jarring bumps on the trail. It cuts out briefly while the chain shifts gears, preventing the drivetrain from managing a lot of torque in the middle of a shift.
Aside from the above, you don't shift differently than any other bike.
See also: mid-drive vs. hub motors.
Will the mid-drive motor pull the bike from a dead stop or up hills?
A mid-drive motor is a bit different from a rear-hub motor. Where a mid-drive sends power through the chain and gears, a hub motor only applies power via the wheel hub. 
See also: mid-drive vs. hub motors.
I tested this function a fair bit and was surprised at how able the motor was to pull the Cobra Pro up hills on throttle only; it could do so on most hills, and only the really steep ones prevented it from doing so.
Assuming you are in the right gear, the Cobra Pro's mid-drive motor can accelerate the bike from a dead stop or up all but the steepest of hills. Now, should you is another question entirely.
My advice? If you want the motor to pull you sans pedal power, make sure you're in a higher gear so you don't put too much strain on the motor.
How long does the Cobra Pro take to charge?
I've charged the Cobra Pro from 5% to 100% in about 5 hours. It's fair to say a full charge from empty is 5 – 6 hours.
What is the Cobra Pro's range?
I can confirm a range of at least 55 miles / 90 km when using light to moderate pedal assist in a mix of light trails and singletrack riding. I still had another 20% of charge available when I returned from that ride, and I rode it hard on that one.
Himiway claims a range of up to 80 miles / 128 kilometers, and while I haven't gotten there during my testing, I can also see how that range would be achievable, assuming you keep the PAS levels low and pedal more than you throttle.
Is the Cobra Pro suitable as a "first" ebike?
This depends entirely on your experience level, comfort, and ability to handle the bike. Much like buying a liter bike as your first motorcycle isn't advised, if you aren't comfortable with ebikes – and mid-drive bikes in particular – you may find the Cobra Pro a lot to handle for your first ebike.
However, if you're a sensible adult that values your safety, I'm sure you can ride the Cobra Pro within your limits. Unlike a liter bike, the acceleration on the Cobra Pro isn't so visceral that it will pop the front tires or send you flying off the bike's rear.
If unsure, check out our guide on buying your first ebike.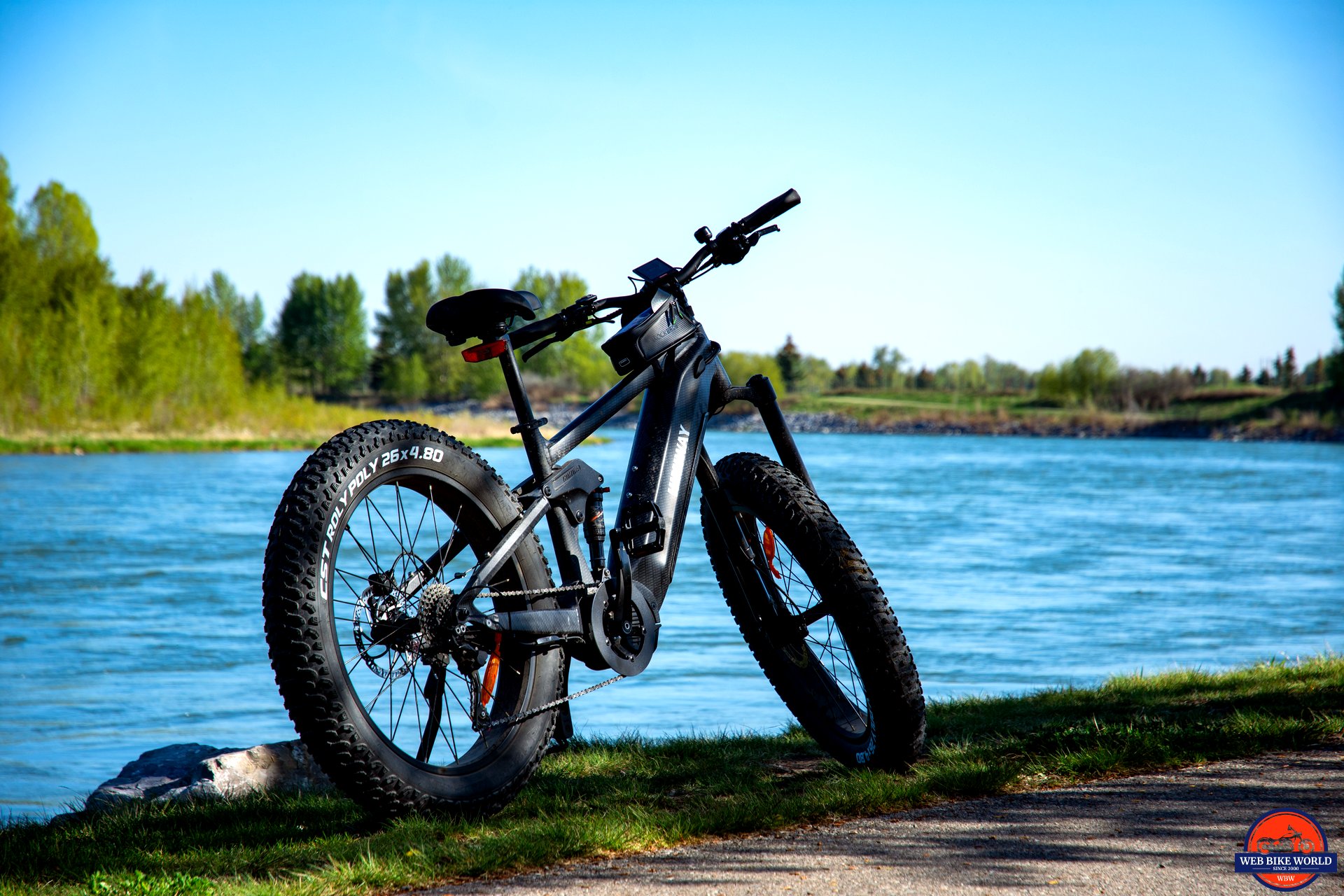 The Cobra Pro is a Contender for the Best Mid-Drive Full Suspension Monster eMTB Under $4,000
If you've got a truck and want an eMTB with the range to ride for most of the day and the ability to take you just about anywhere, the 2023 Himiway Cobra Pro may be that bike.
I like how it handles itself off-road, how comfortable the ride is, how easy it is to adjust the suspension, and how potent the drivetrain is. 
I also like that the Cobra Pro is comfortable on both trails and not, meaning that those that like to spend time in the country or the bush can enjoy this bike just as much as someone that spends their time riding the trails. It has tackled hundreds of kilometers of the Canadian prairie, much of which did not involve trails or pavement, and never complained.
I'm less of a fan of its 90 lb curb weight or the fact that you need a truck or van to take it anywhere. It being heavy means that it takes a bit more effort to control the bike, especially when riding fast or downhill, and its weight, combined with its size, prevents it from fitting on a bike rack. But make no mistake: nearly anyone can ride the Cobra Pro and learn to manage its weight. 
If you're comfortable controlling the Cobra Pro, this is a fantastic bike to take with you when you're riding singletrack, downhill, or overlanding, and frankly, it's a pretty good way to spend $4,000.