The 2023 Surface 604 Big Sky is the step-over cousin of the Sunny Day, which I recently reviewed and enjoyed. It's a near identical bike, aside from the frame. If you're currently cruiser-curious, both of these bikes should be on your radar.
Surface 604 has been expanding their lineup of late, adding several new models over the past couple of years. Their 2021 lineup had four models, whereas 2023 has 11 (though some models are variants of each other). 
The Big Sky is the fifth Surface 604 ebike I'll have swung my leg over. Also check out:
The Big Sky joined me on several rides over the course of a week. With solid forks and relatively thin tires, I stuck to the pavement and a few sections of well-groomed gravel and, all in all, enjoyed my time with it. 
Words & Photography: Cameron Martel
Surface 604 loaned us this ebike for a week for the purposes of this review. I'd like to thank Ebikes Calgary for facilitating the loan. webBikeWorld does not have a financial relationship with Surface 604 or Ebikes Calgary.
2023 Surface 604 Big Sky Specifications
MSRP:

$2,199 ($2,999 CAD)

Where to Buy:

Surface604Bikes.com

/

CalgaryEBikes.ca

Warranty:

1-year

Top Speed:

22 mph / 35 kph

Range:

Approximately 72 km / 45 miles

Bike Weight:

59 lbs (26.75 kg) with 20 Ah battery, 56 lbs (25.6 kg) with 14 Ah battery

Weight capacity:

285 lbs (130 kg)

Motor:

Bafang 500 watt rear hub

PAS:

Torque sensor with 5 settings, thumb throttle

Brakes:

Tektro Auriga hydraulic brakes with 180 mm front/rear rotors

Gearing:

Shimano Alivio 9-speed

Battery:

48V 20 Ah or 48V 14 Ah

Wheels: 27.5" x 2.4"
What's the Big Sky Like to Ride?
The Big Sky's 19" frame feels controllable and light on the front end – at least compared to other ebikes – in part due to its use of solid forks and normal-width tires. Tie that with a smooth pedal-assist system, and the Big Sky excels in its intended use case. 
On sidewalks, pavement, and pathways, the Big Sky is plenty comfortable. It's happy to be ridden fast or slow, and thanks to its torque-sensing drivetrain, you can absolutely inch it along. Along Calgary's often busy riverfront pathways, a torque-sensing drivetrain is much preferred to the more binary on/off cadence alternative.
Aesthetics & Design
Surface 604 spent some time working the frame to give it a distinct look, and you won't see many other ebikes out there with a frame that stands out quite like this.
The curved downtube is juxtaposed against an angular downtube, where the battery lives. The seat tube is slightly tapered and connects to the split mid-bar that completes the hardtail frame. From certain angles, you get a clear view of the split mid-bar which looks awesome.
Surface is fairly understated with their use of graphics, and the Big Sky is no exception.Currently, the Big Sky only comes in the gray and orange livery – and orange is sparingly applied to the logos and the bottom of the fork.
Wiring is tucked neatly into the downtube and hidden behind the chainguard; it's an organized and incognito package, which meshes with the cruiser vibe perfectly.
While the Big Sky stands out because of the unique design of its frame, it doesn't rely on outrageous graphics or other gimmicks to be seen. It just looks damn cool.
It Gets Bumpy Out There
"Thin" tires and solid forks mean that the Big Sky's ride can get bumpy when the terrain stops being smooth. Tree roots, cracks, and imperfections in the road surface are noticeable, though pretty tolerable when the bumps aren't huge. I wouldn't want to ride this thing off-road though – at all.
The tires are only 2.4" wide as well, which are thin by ebike standards. There isn't much opportunity to run them somewhat under pressure and use them to cushion the blow. You can a little bit, and it helps smooth the ride somewhat, but it's no replacement for a decent set of suspension forks.
You could pick up a suspension seatpost, which will go a long way in improving rider comfort, but be mindful that suspension seatposts add some height to the seat; shorter riders may find the addition a bit awkward.
Excellent Stopping Power
The 2-piston Tektro Auriga hydraulic brakes clamp down on 180 mm rotors on both wheels. This combination is a good setup for most use cases, including light downhill mountain biking (not that you'd be doing that particular type of ride on the Big Sky). Lever tension is reassuring, and the levers provide plenty of feedback.
Meant for a Good Time, Not a Long Time
While the seat and handlebars are plenty comfy, the lack of headlight or fenders means that the Big Sky is best enjoyed when it's sunny and dry. There is a headlight mount available on the forks, though, along with a pre-wired lead from the battery to plug it in.
And though the Big Sky doesn't come with fenders, you've got enough room to mount them front and rear if you feel so inclined. There are plenty of aftermarket options that would fit this bike.
Mixed Feels on the Chainguard
During my ride I wound up dropping a chain, which was a pain in the butt to get back on as I neglected to bring a screwdriver with me, so I couldn't remove the chainguard. It took me a bit longer to resolve than normal, but it only took a few minutes to get back on my merry way.
Plenty to Power Your Ride, Pedal or Otherwise
The Big Sky is configured with five levels of pedal assist; at the higher levels, you'll be climbing the urban jungle with relative ease, and if you feel the need to pedal, the Shimano Alivio 9-speed groupset is a slick unit to hammer through.
Surface does a good job tuning their pedal assist, and the dropout torque sensor really is the difference between magnificent and mediocre. The Bafang 500-watt motor outputs 65 nm of torque, of which 100% of power is available whenever you apply the throttle. 
Build Quality & Components
The Big Sky conforms to Surface 604's formula, which pairs a 500-watt hub motor with hydraulic brakes and a 9-speed Shimano or SRAM groupset. They choose above-average components that are price-appropriate and enjoyable to use.
Handlebars, Display, & Shifting
Surface 604 uses a full-color LCD display. Note the image above is actually of the Sunny Day's display, which is identical to the Big Sky (all the images of the Big Sky's screen were blurry, sadly).
The display has a USB port for charging your devices. You'll use the display to adjust settings, refresh the trip odometer, etc.
The left handlebar is home to the throttle and display control pad. You use the + / – symbols to adjust the pedal assist settings and navigate the display menus. The i button is your "enter" button. If you install a headlight, the headlight on/off switch is also here.
The right handlebar has your shifter and bell. I like that the Shimano Alivio has a gear position display, which I found easy to read under all conditions. 
The tapered leather handles are comfortable and slightly contoured for a more natural grip.
Brakes
Surface 604 has equipped the Big Sky with Tektro Auriga E350 two-piston hydraulic brakes and 180 mm rotors.
These brakes would be suitable for mountain biking, which is why Surface 604 also uses them on their electric mountain bikes. These brakes bite relatively hard and have good longevity. Pads are readily available, affordable, and easy to swap out.
Likewise, the rotors are readily available and pretty straightforward to replace. 
This brake setup should be easy to maintain and service, and since the rotors are mounted and accessible, swapping out parts as needed should be trivial. Overall, the brakes are a good choice for this bike.
Forks & Tires
There isn't much to say about the solid forks (they're fine).
The same is true for the Innova 27.5" x 2.4" tires, which have tread that extends right to the sidewall. These on-road tires are fine in dry or wet conditions, but I wouldn't take them in deep water, mud, sand, or dirt.
Paint & Graphics
The grey and orange colorway is accented by a pastel blue on the logo and iconography. As with other Surface 604's I've reviewed, the paint and graphics are of good quality. I like that Surface hasn't plastered the Big Sky with decals everywhere; just enough to be understated, and that works for me.
An Enjoyable Cruiser With Good Components & The Right Attitude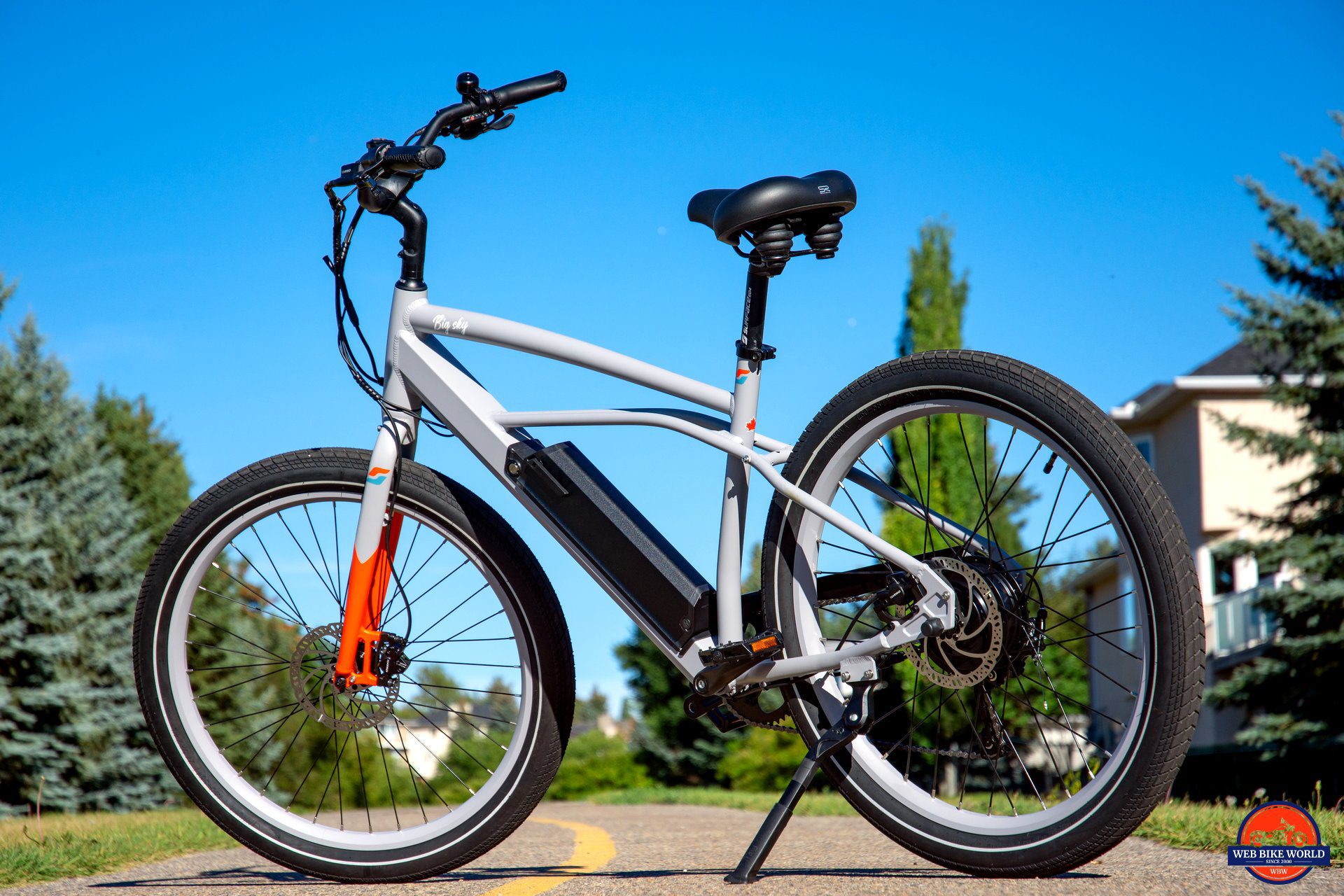 I have few complaints about the Big Sky, though I'd fit mine with fenders (I can take or leave the headlight, personally). Its attractive frame design suits its vibe well, and the overall aesthetic is good-looking without begging for your attention. 
The Big Sky comes with three 48V battery size options – 12 Ah, 14 Ah, and 20 Ah. If you plan on using it as a weekend warrior, the 12 or 14 Ah batteries should offer enough range. Starting at $2,199 USD ($2,899 CAD), the Big Sky is a competitive choice in the cruiser segment. If it suits your style, you'll enjoy the ride.
2023 Surface 604 Big Sky Review
Review Summary
The Big Sky is a good-looking cruiser that is also maneuverable, comfortable, and plenty potent. This class 2 (but class 3 ready) ebike is best ridden on the urban road, where the surface is smooth and the hills are gradual. Perfect for an every-day cruiser, with above-average components and good overall build.
Pros
Comfortable upright riding position
Intuitive torque-sensor pedal assist
Good looking frame
Cons
Needs fenders
No headlight (but comes pre-wired for one)