Not long after I published my Outsider 4.0 review in May, Michael Blast got in touch and asked if I'd swing my leg over the new and improved Outsider 5.0. Seeing as how I still had the 4.0 in my garage, I thought that this would be a great chance to get a sense of how the Outsider had evolved.
As it turns out, the 5.0 is indeed an evolution as opposed to a revolution, and it's grown where it counts: improved brakes, a bigger battery, bigger and better tires, and of course, a larger frame.
Looking for a cafe racer or scrambler ebike? Let's see if the Outsider 5.0 will pique your interest.
Words & Photography: Cameron Martel
Michael Blast loaned us this ebike for a week for the purposes of this review. I'd like to thank Ebikes Calgary for facilitating the loan. webBikeWorld does not have a financial relationship with Michael Blast or Ebikes Calgary.
Michael Blast Outsider 5.0 Specifications
MSRP:

$2,899 ($3,599 CAD)

Where to Buy: MichaelBlast.com / CalgaryEBikes.ca 
Warranty:

1-year

Top Speed:

22 mph / 35 kph

Range:

Approximately 50 km / 32 miles

Bike Weight:

82 lbs (37.5 kg) with battery

Weight capacity:

260 lbs (118 kg)

Motor:

Bafang 750 watt hub

PAS:

Cadence, 5 settings, with thumb throttle

Brakes:

Tektro Auriga hydraulic brakes with 203 mm front rotor, 180 mm rear

Gearing:

Shimano Altus, 7 speed

Battery:

48V 20 Ah

Wheels: 20" x 5" spoked wheels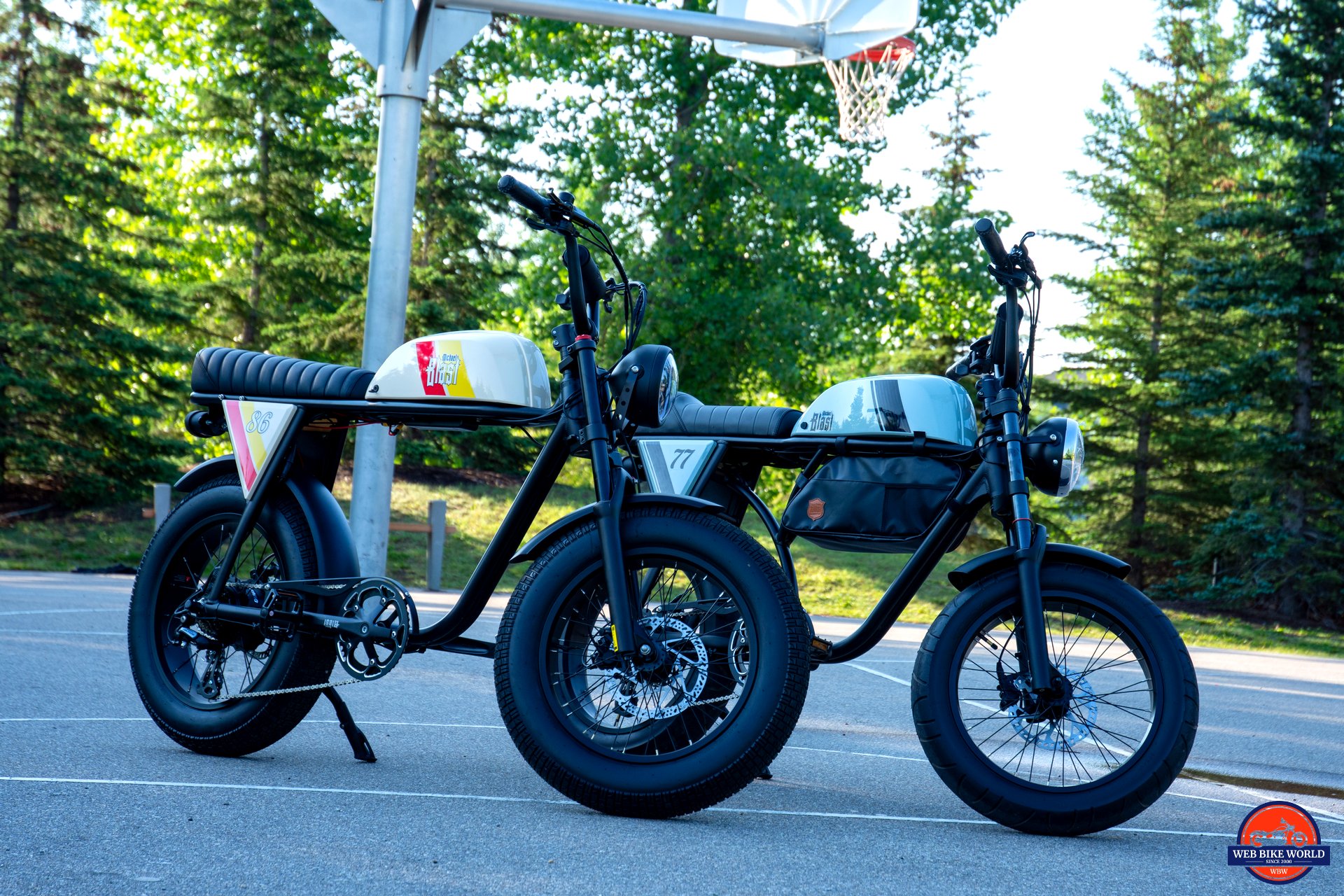 The Original Cafe Racer eBike Gets Updated With the New Outsider 5.0
The scrambler frame is a popular one, and these days it's not uncommon to see them being enjoyed out in parks and pathways. The Outsider from Michael Blast was one of the first scrambler style ebikes and it became a global sensation, winning numerous design awards in the late 2010s. The brand itself is known for how it styles its cafe racer ebikes.
As Powersports enthusiasts, we're used to our favorite models getting their glow-ups when they're due. In this case, the 5.0's enhancement is a universal application: it's a better-looking, better-performing version of an already good scrambler ebike. But, with the move to better brake and suspension components, alongside a much-improved battery, its fifth iteration – the Outsider 5.0 – is easily the best version of the Outsider. 
As much as I enjoyed the 4.0, there is no contest between the two: if you have to choose, pick the 5.0.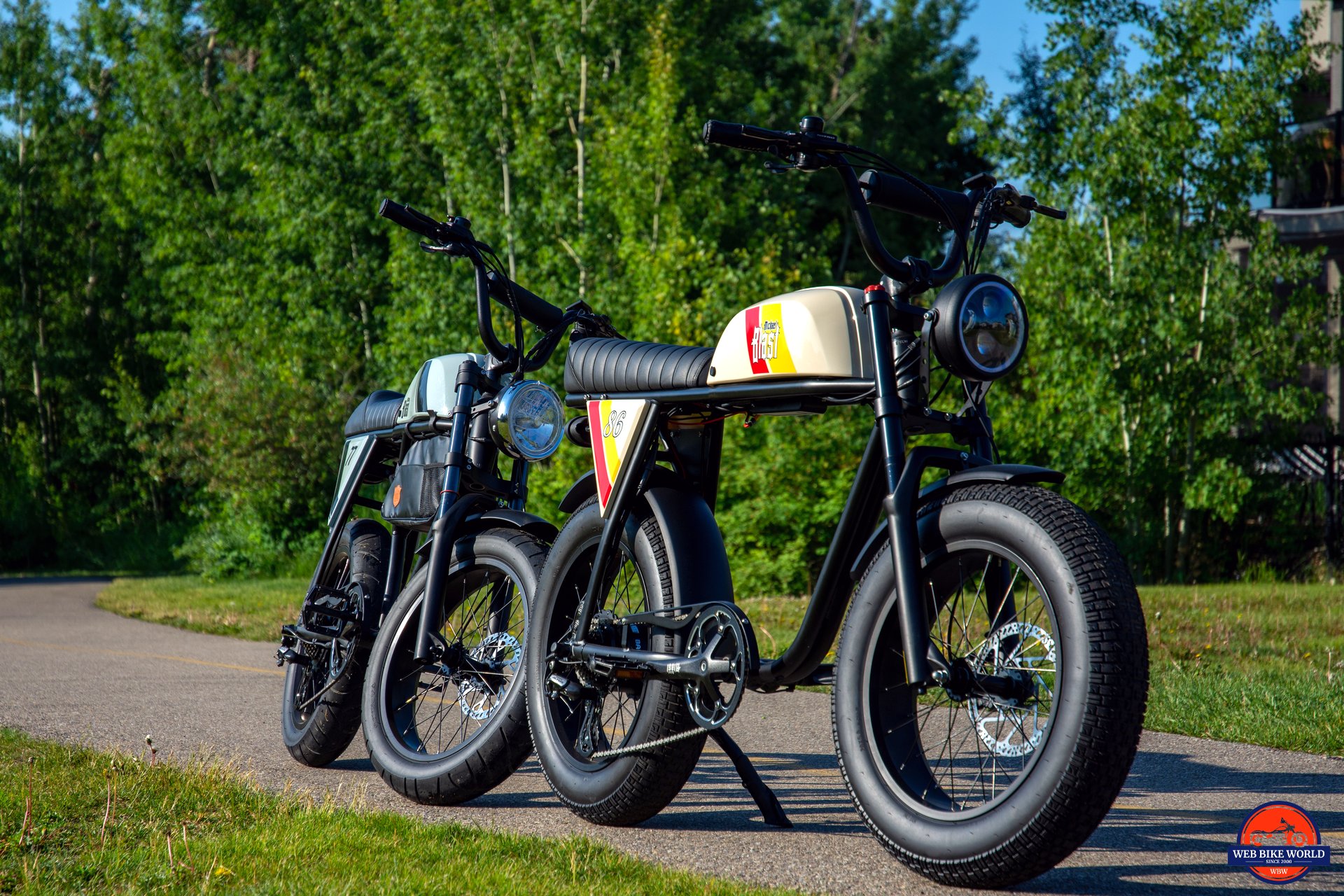 Compared: Michael Blast Outsider 5.0 vs. Outsider 4.0
At first glance, the most obvious difference between the two models is the size: the 5.0 is about 20% larger all around, including the battery. Check out this table calling out the key differences:
| | | |
| --- | --- | --- |
| Component | Outsider 4.0 | Outsider 5.0 |
| Motor | 500 watts standard, 750 watts optional | 750 watts standard |
| Controller | 20 Ah | 25 Ah |
| Battery | 14 Ah (17.5 Ah optional) | 20 Ah |
| Battery Capacity | Single battery | Dual battery mounts (optional) |
| Charger | 2 Ah | 3 Ah |
| Brakes | Star Union (generic) | Tektro Auriga |
| Seat | Single-person seat | Dual-person seat |
| Rack & Fenders | No rack, fenders optional | Rack and fenders standard |
| Display | Single mode display | Dual mode display (eco / sport) |
| Frame | Smaller frame | Larger frame |
| Tires | On-road tires | All-purpose tires |
From a spreadsheet perspective, the 5.0 is improved in every way. But there's more to the improvement than what's on paper; the Outsider 5.0 is a better ebike to ride.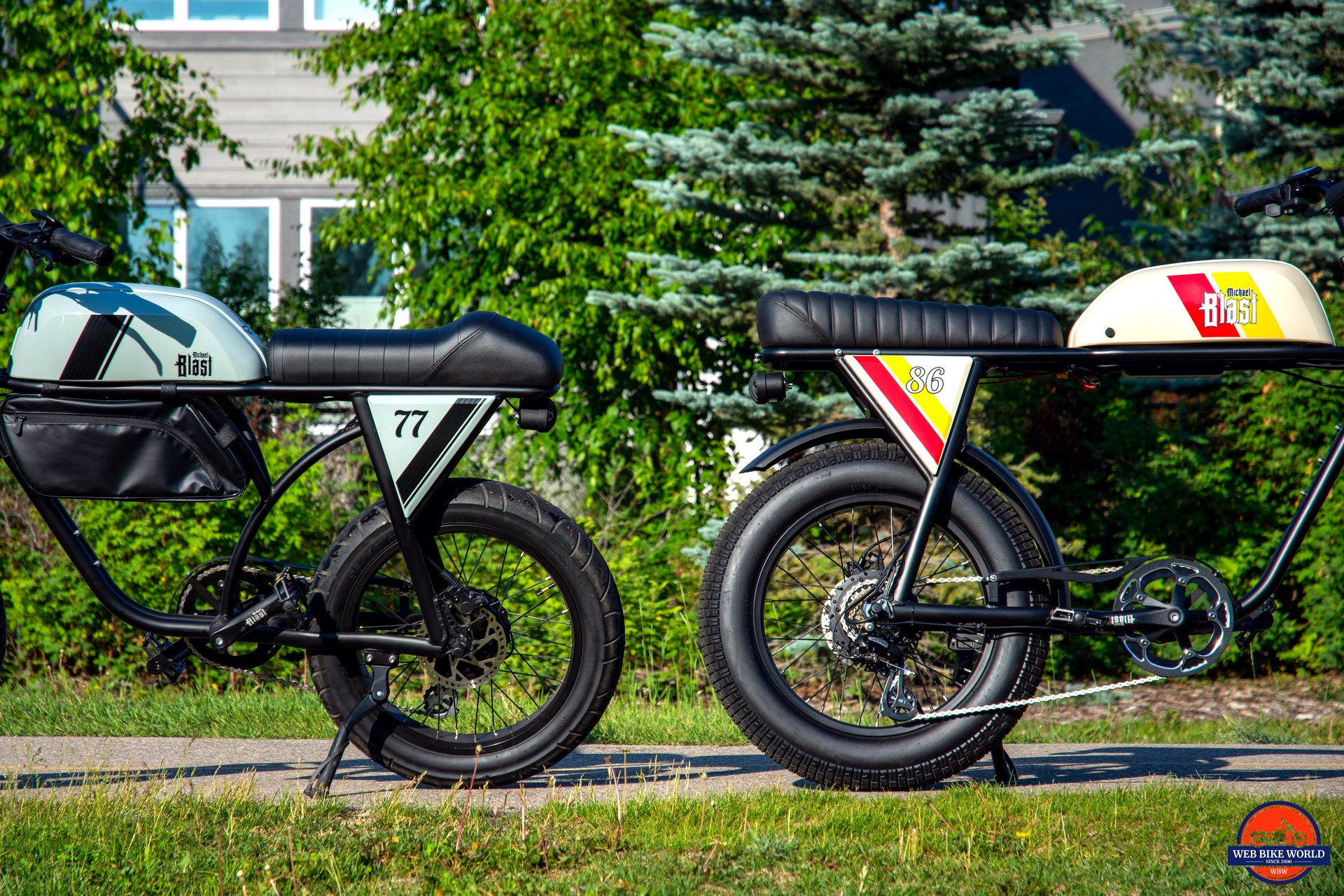 Its larger frame, beefier motor, and better brakes make it more comfortable to ride (and inspire a bit more confidence when doing so). The updated frame, in particular, makes the 5.0 much more comfortable for taller riders (such as myself); there is tangibly less leaning required, and the riding position is more upright.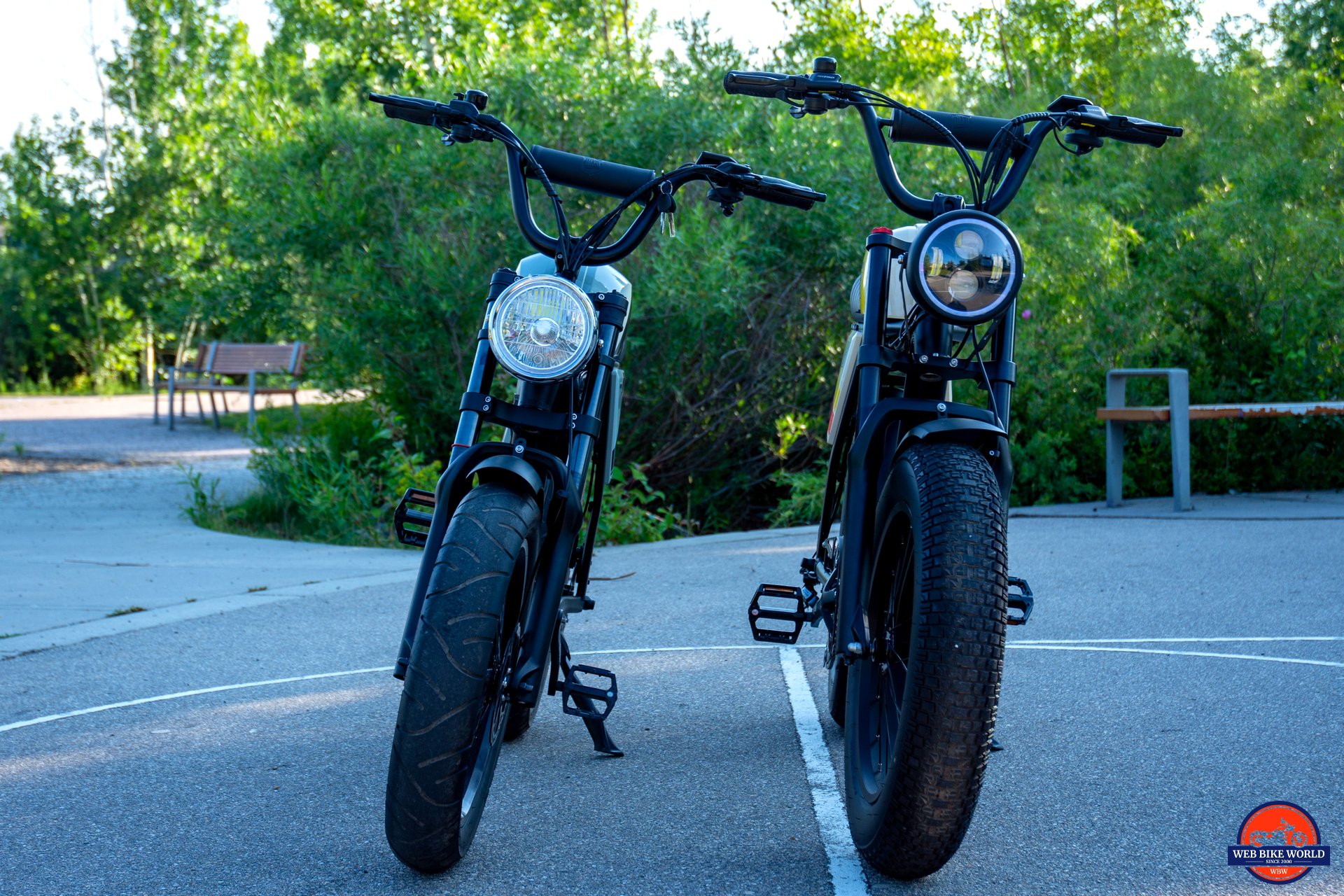 The tires have a very different tread pattern, and one that lends itself to gravel and dirt better than the tires fitted on the 4.0 (to be clear: you can take the 4.0 on dirt and gravel, but it's a bit more squirrely compared to the ones on the 5.0).
And nevermind the headlight, which is significantly brighter than the one fit to the outgoing model.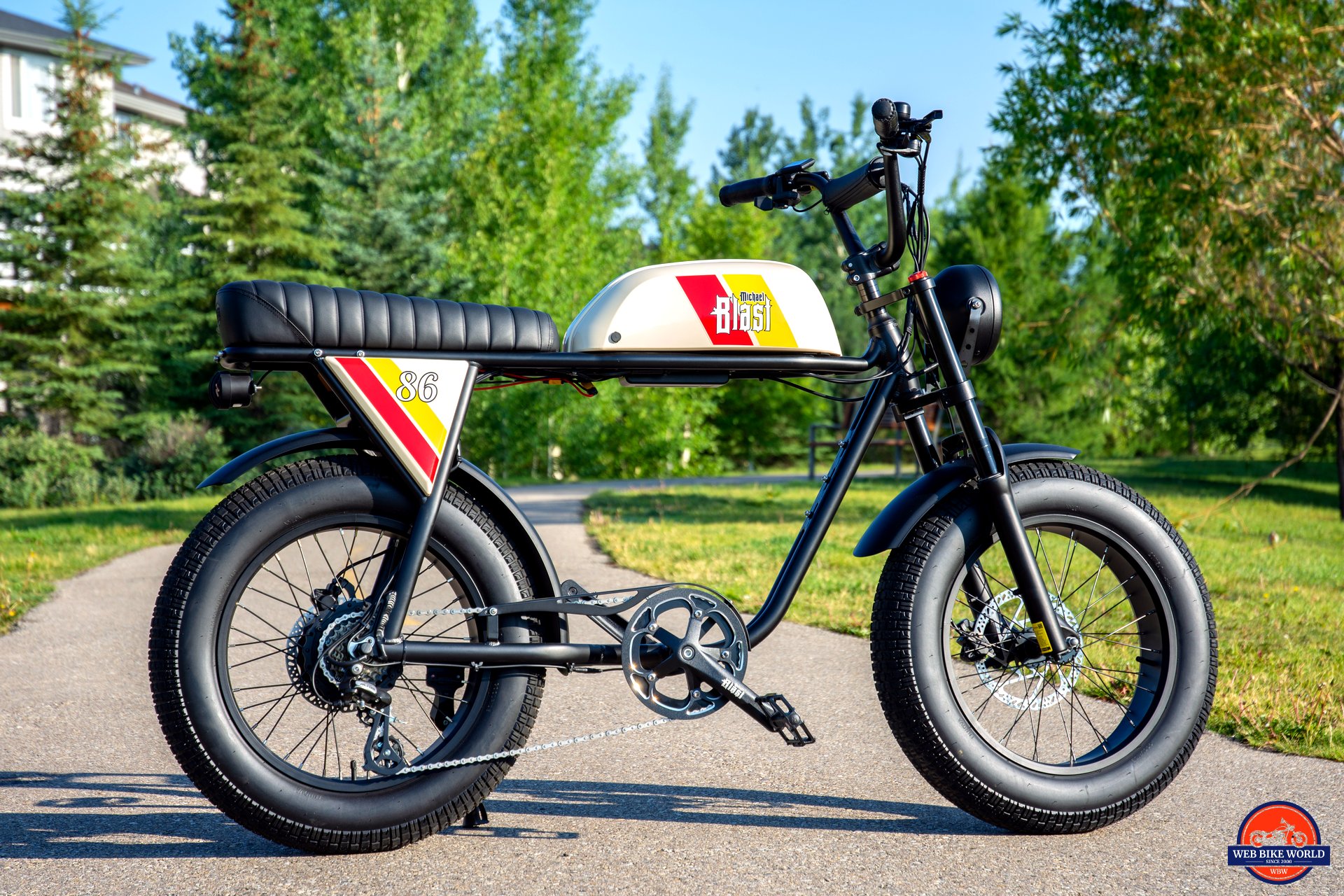 Build Quality & Components
The Outsider 5.0 appears to be built well enough, but keep in mind that I had the bike on hand for about a week, and so a long-term assessment of the durability isn't feasible.
Handlebars, Display, & Shifting
The bars adopt a relaxed shape; thankfully, the grips do not have the throttle built into them. Twist throttles are common, and perhaps some prefer them, but I would much rather have a thumb throttle (which this bike has on the left bars) as I find it easier to control.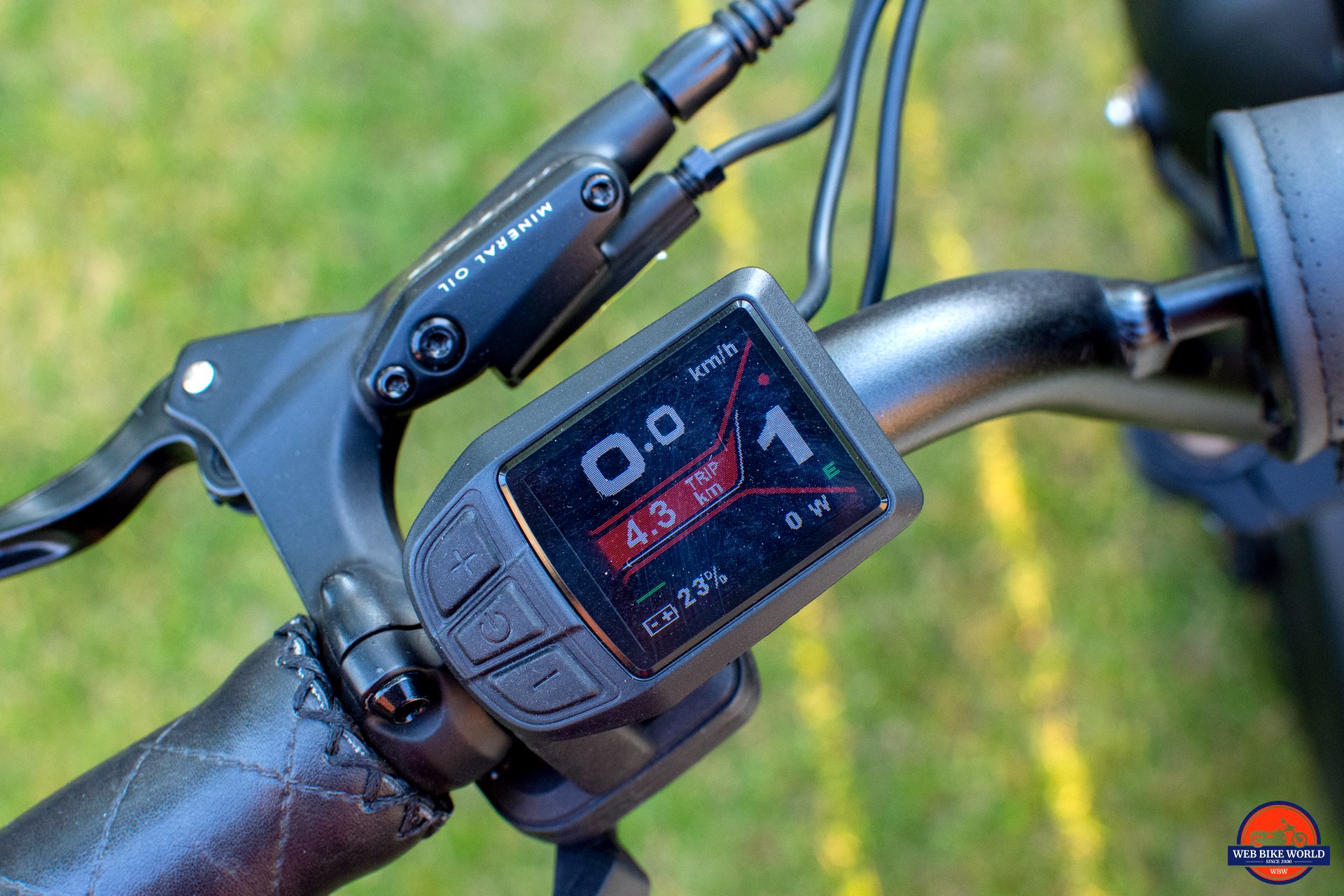 When it's not covered in a thin layer of sunscreen (oops), the display is legible and easy to read. The primary difference between the 5.0 and 4.0 here is that the display allows you to select between eco and sport mode, which changes the throttle response and the rear hub motor's engagement.
The right bars – which I inexplicably did not get a dedicated photo of – are home to the Shimano shifter, which is a competent unit given the use case of this bike.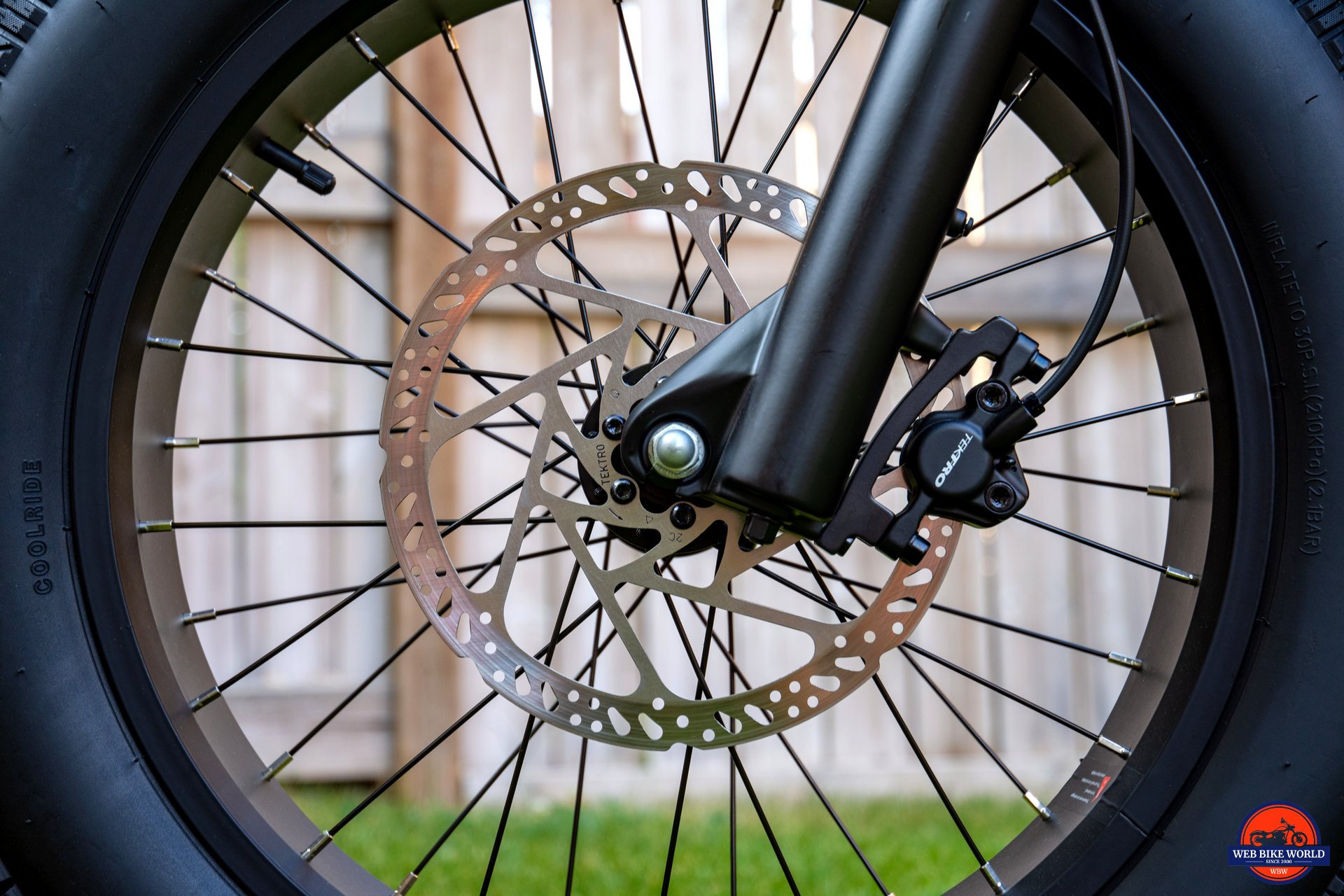 Brakes
The upgrade to Tektro Auriga brakes (from the Taiwan Star Union's on the 4.0) isn't something I expect most riders would notice, assuming you're riding this bike as its form factor intends. The Auriga's are competent and fully use the 203 mm front and 180 mm rear discs.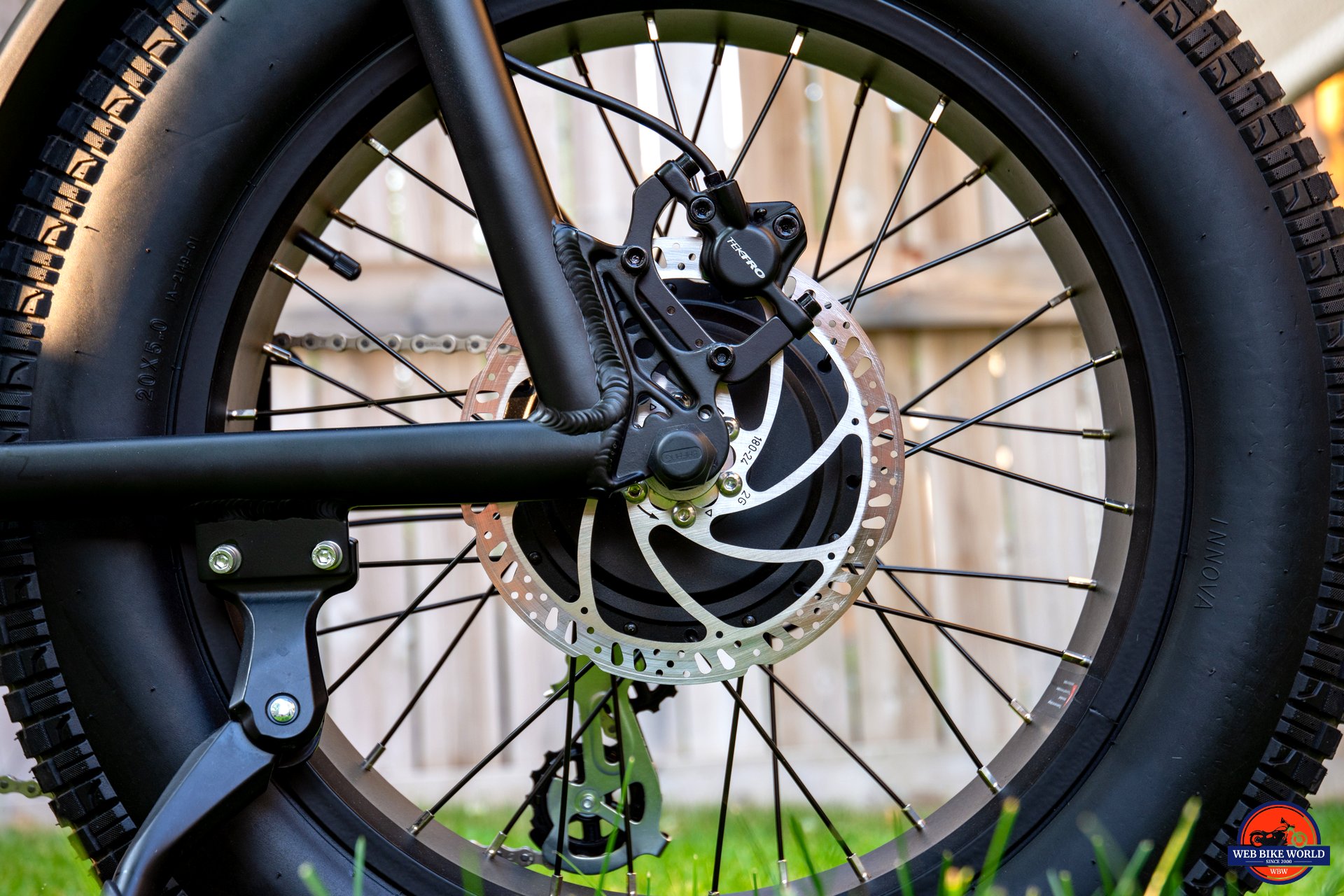 Braking feels tight, with great responsiveness and bite from the calipers. I made minor adjustments to the brakes to tighten up how the handle felt before my first ride, as they had a bit too much travel for my taste. This is a small touch-up and something that you should always do whenever taking delivery of a new bike or before your first ride of the season.
Because the Outsider 5.0 is a heavier than average ebike, you'll likely see brake wear faster than on a lighter bike (I noticed this on the 88-lb Himiway Cobra Pro I recently reviewed). Be mindful when riding aggressively, and check your pads every few hundred kilometers.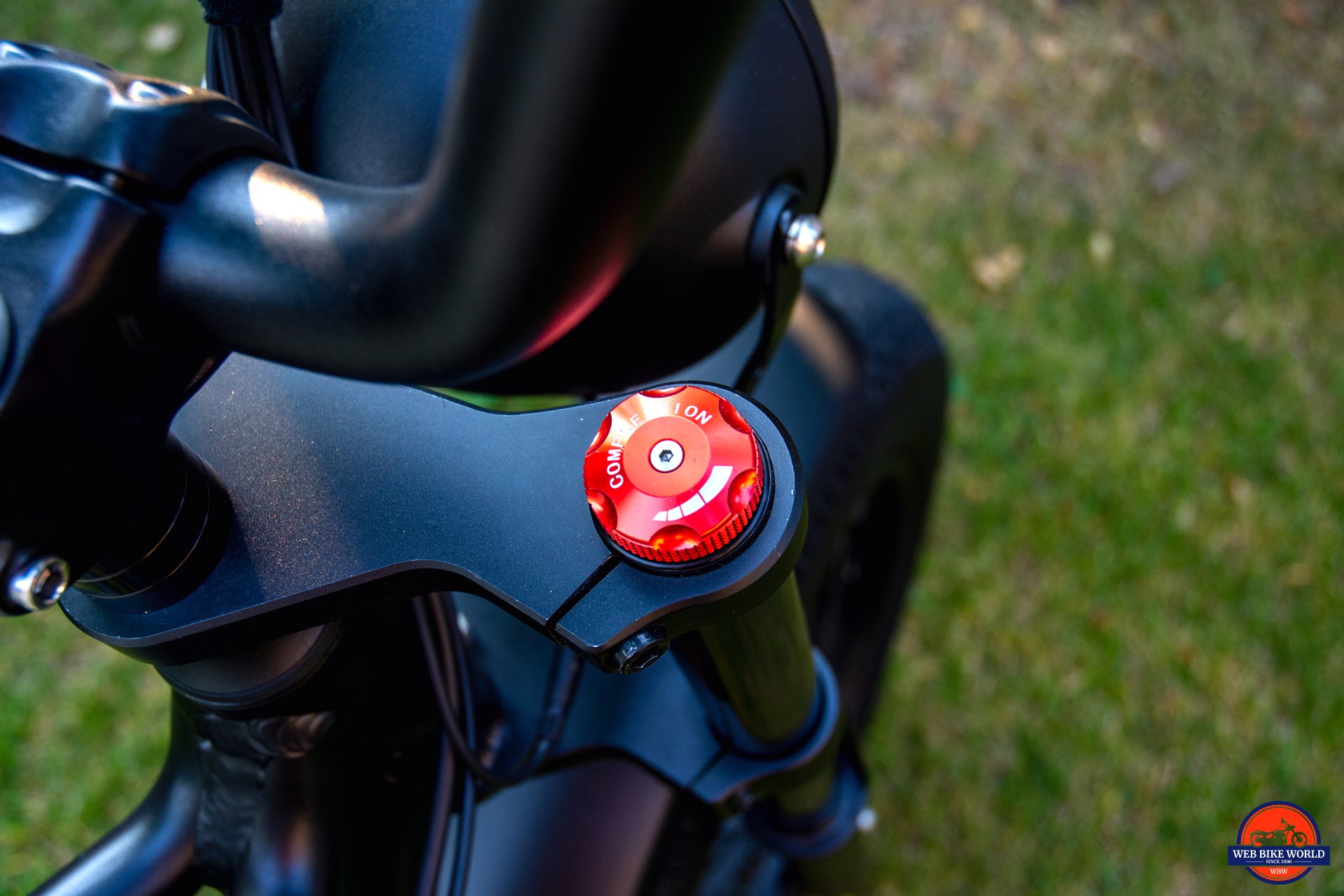 Front Suspension Forks
The front coil forks are fine-enough, allowing you to adjust the compression and preload. They have a bit of a pogo-stick feel when you have them wound tight; 10-15 minutes of tweaking and testing resulted in ride quality I was happy with.
On pavement and pathways, the Outsider 5.0 is compliant, and front "pogo-ness" isn't a factor. I noticed the bump factor most when going up or down curbs or on dirt trails with tree roots and rocks throughout.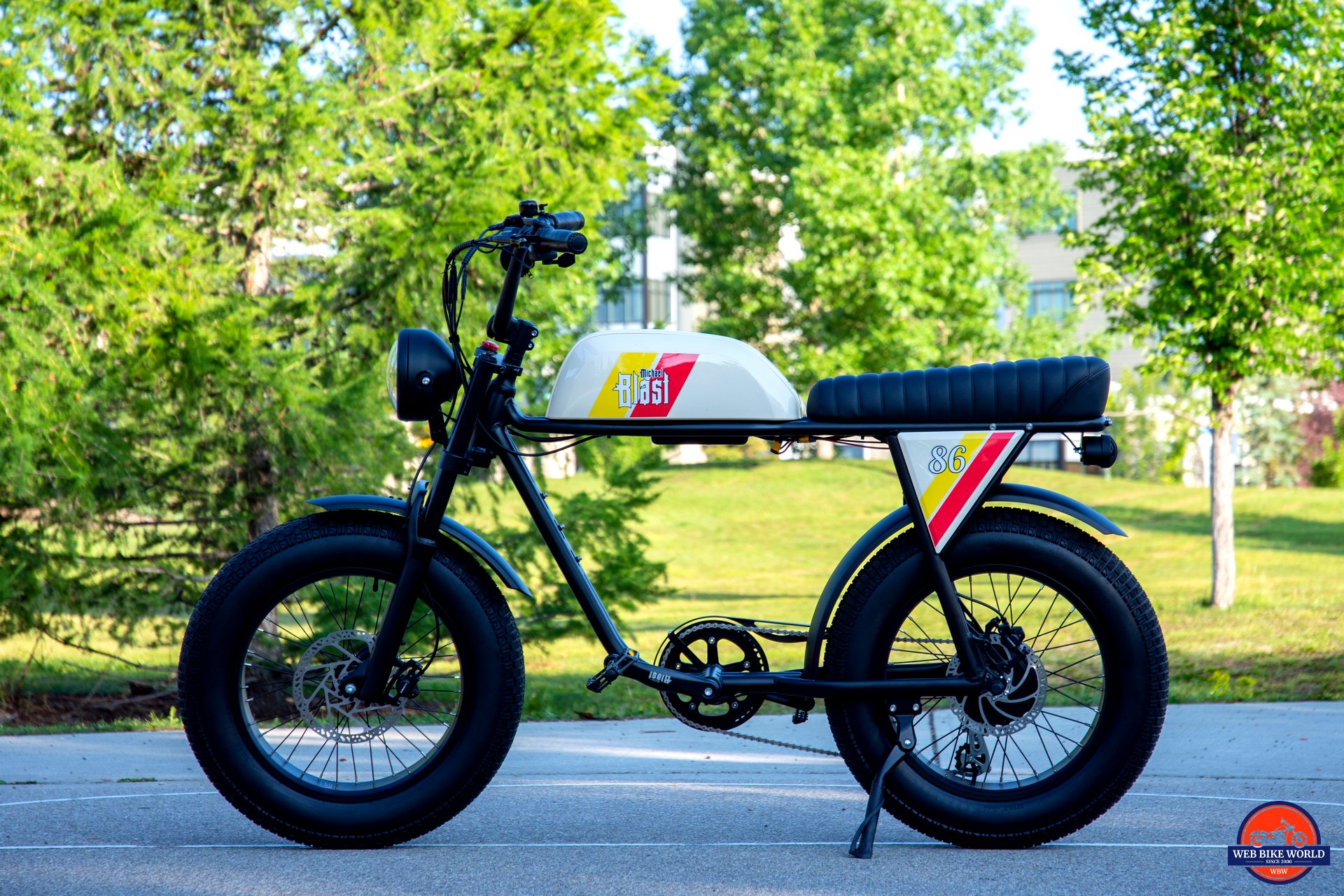 Paint & Graphics
The black frame and cream tank/rear fender look great on the model I have on hand, especially with the yellow and red "86" livery. 
The Outsider 5.0 comes in five colorways, with graphics often mixed and matched (I believe these are dealer installed).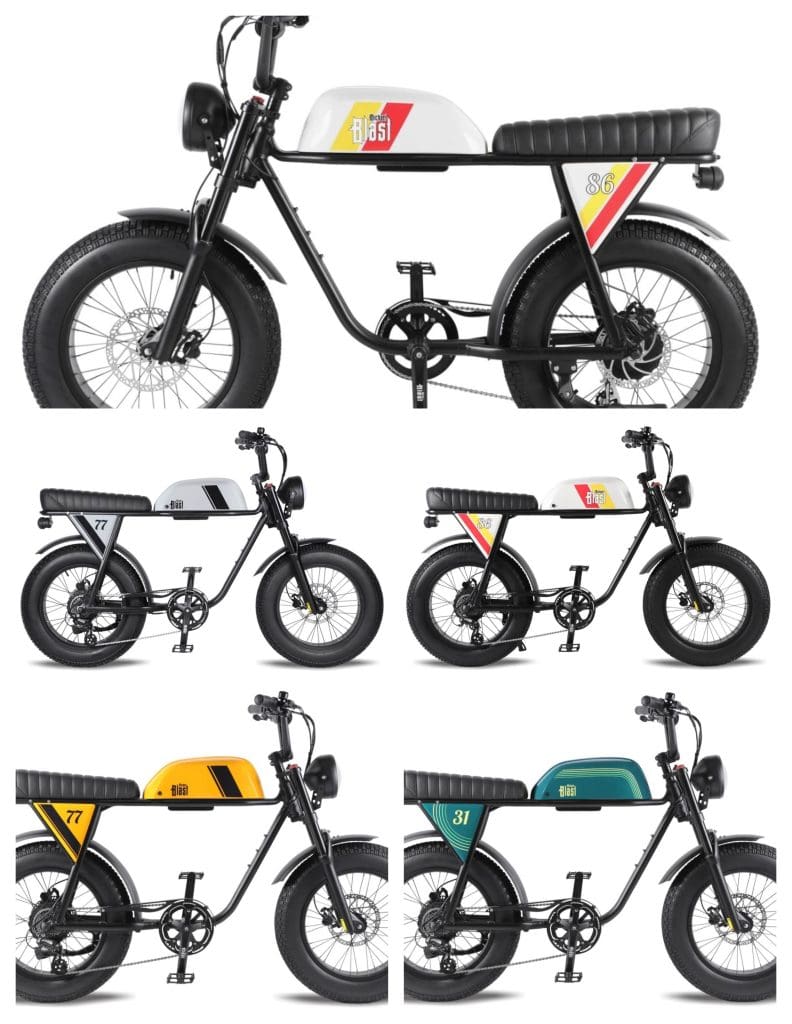 The green version is my pick, but all have their charms. The graphics and lettering are stickers vs. vinyl or paint; be mindful when washing the bike.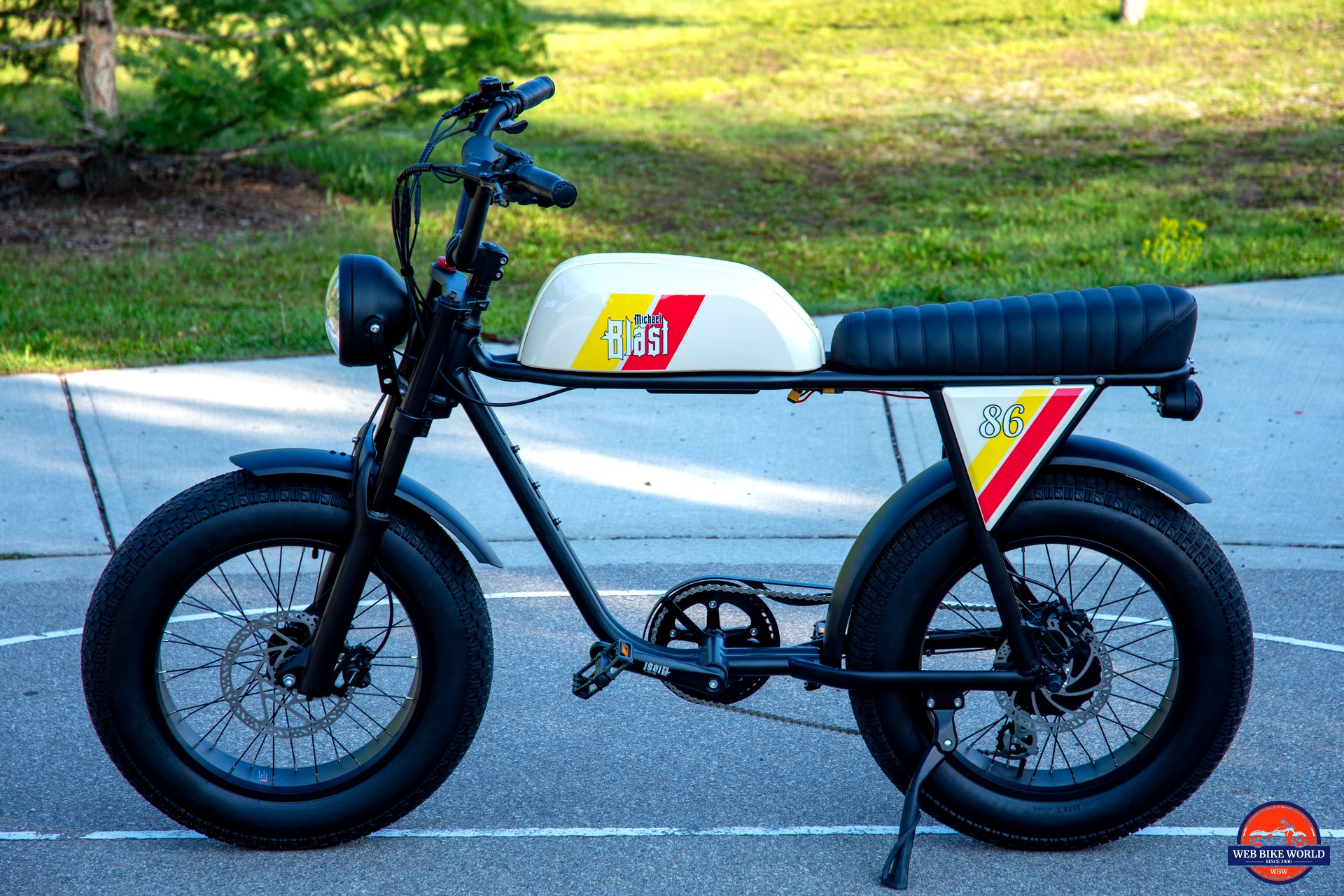 If You Want a Bigger, Badder Scrambler eBike, the Outsider 5.0 Has Your Number
To complete the cafe racer or scrambler look, you might opt for the tank bag (that the 4.0 shown in the photos has). More than one person has commented on how it ought to be illegal to ride a motorcycle on the pathway, which makes me laugh considering that, sure, it's motorcycle-esque, but come on… what motorcycle do you know that comes with pedals?
For an ebike that you'll use puttering about, riding to local cafes or touring the town, the Outsider 5.0 is a great pick. It's got enough range for an afternoon of riding around, enough power to move just about everyone that gets on it, and of course, those cafe racer good looks.
If you want an ebike with distinct cafe racer or scrambler vibes, this is a good-quality option backed by a reputable company and made with brand-name parts. I'd rock it in my garage.
Michael Blast Outsider 5.0 Review Conclusion
Review Summary
The Michael Blast Outsider 5.0 is a revamped and improved scrambler-style ebike with a bigger battery, tires, & motor compared to its predecessor. It isn't inexpensive, but it isn't *expensive* either. It's fun to ride, turns heads, and comes from a reputable North American brand with 10+ years in the space.
Pros
Awesome scrambler aesthetic
Good build quality and cable/wire management
Larger battery provides plenty of range
Cons
Somewhat expensive at $2,899 USD