Review Summary
The Pedego Boomerang might be the benchmark for low-step ebikes. It's got excellent construction and very capable brakes, but its price is premium considering the lack of front suspension and the use of a cadence sensor. Still, a great bike and definitely one you can buy with confidence.
Pros
Excellent dealer network & post-sale support
Good range from both batteries
Excellent construction & wiring
Smart battery placement keeps it out of your way while riding
Good looks are worth something 🙂
Cons
Battery placement makes the bike top-heavy with a very pronounced rear weight bias
Still using a cadence sensor in a torquey world
Mediocre LCD display
Pretty pricey considering last-years tech
4
A good-looking ultra-low step-thru.
Ahh, the Pedego Boomerang: the eBike that bills itself as "the world's most accessible eBike", and with an ultra-low 9" step, Pedego may well be on to something. As many reviewers will note in their writeups and videos, the Boomerang is the standard-bearer when it comes to accessible low-step bikes.
Standard-bearer, huh? I like the sound of that.
Just as with the 2021 Pedego Interceptor Classic that I recently wrote about, the Boomerang was rented for 3-hours from Pedego eBike's downtown Calgary storefront. For a very fair $65 CAD we were able to hop in the saddle of an almost brand-new Boomerang – perfect! Of course, they are sure to add you to a "buy our bike" email automation list after, but that's a small price to pay…
It was a gorgeous 24°C (about 75°F for my American friends) and not a cloud in the sky- perfect to go riding! So, armed with a rented eBike, gorgeous weather, and a rough idea of what we want to cover, we set out on an eBike that is widely lauded wherever it is reviewed!
I'm not going to lie…. I was excited to see how it would stack up.
---
We rented these bikes for 3-hours to ride and review. Our thoughts/opinions are based on that context and this review is not meant to be an exhaustive reflection at what long-term ownership may look like. Corrections and constructive criticisms welcomed. Leave your review in the comments below!
A Bit About the Boomerang
As-Tested Price & Features
The white 2021 Boomerang I'm riding here is the standard model, with a 26" frame, standard spoke wheels, and a 10Ah battery. The MSRP as-reviewed is $2,995 USD ($3,895 CAD).
Our Boomerang comes with all the stock goodies that you get – a twist throttle, 7-speed Shimano gearbox, a 500W hub motor, an integrated rear rack, and a front cargo bag (add-on accessory). This one also has the optional front and rear fenders, which adds $100 to the price.
Trim & Options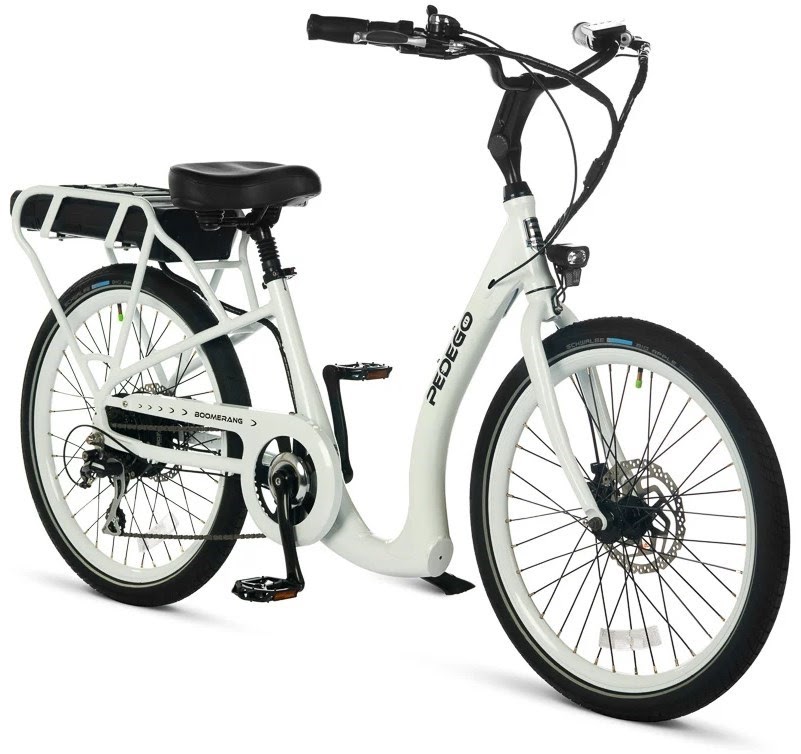 The Boomerang comes in two trims: The Boomerang Plus, and the Boomerang Platinum Edition. We have the Boomerang Plus model here for our ride.
You can get the Boomerang in either a 24" or 26" frame. Buyers of the 24" frame model can choose between three colors – teal, red, and white. Buyers of the 26" frame can also get the Boomerang in black, green, and a blue-green. 26" frame buyers can also upgrade the wheels to cast magnesium, which definitely ups the athletic ante.
Upgrading to the Platinum Edition adds front air suspension, a 10-speed gearbox, a torque sensor, an improved seat post, and a few other odds and ends.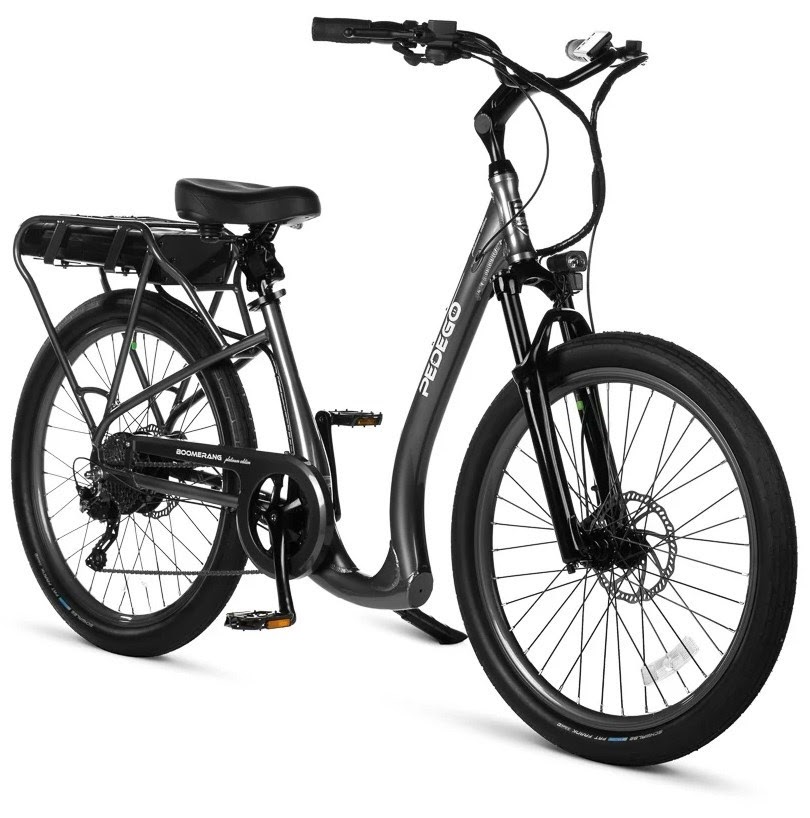 The upgraded bits are a nice shift up, don't get me wrong, but the price climbs accordingly. A Boomerang Platinum Edition with a 24" frame, standard wheels, and a 10 Ah battery is $4,000, and opting for the 52V 17.5 Ah battery and cast wheels brings the bike to $5,100.
Cha-ching!
Where the Boomerang is Meant to be Ridden
Lacking fork suspension, but thankfully equipped with a comfortable wide seat, the Boomerang is at home on paved trails. Like the Interceptor Classic, the Boomerang's setup is meant for casual/urban cruising.
Wide-swept cruiser-style handlebars and an absolutely cushy seating position will keep you comfortable for hours. The Boomerang (and Interceptor) have some of the most comfortable stock seats I've ever sampled while in the saddle.
So long as the trail is smooth, the Boomerang will be right at home.
2021 Pedego Boomerang Looks, Style, & General Appeal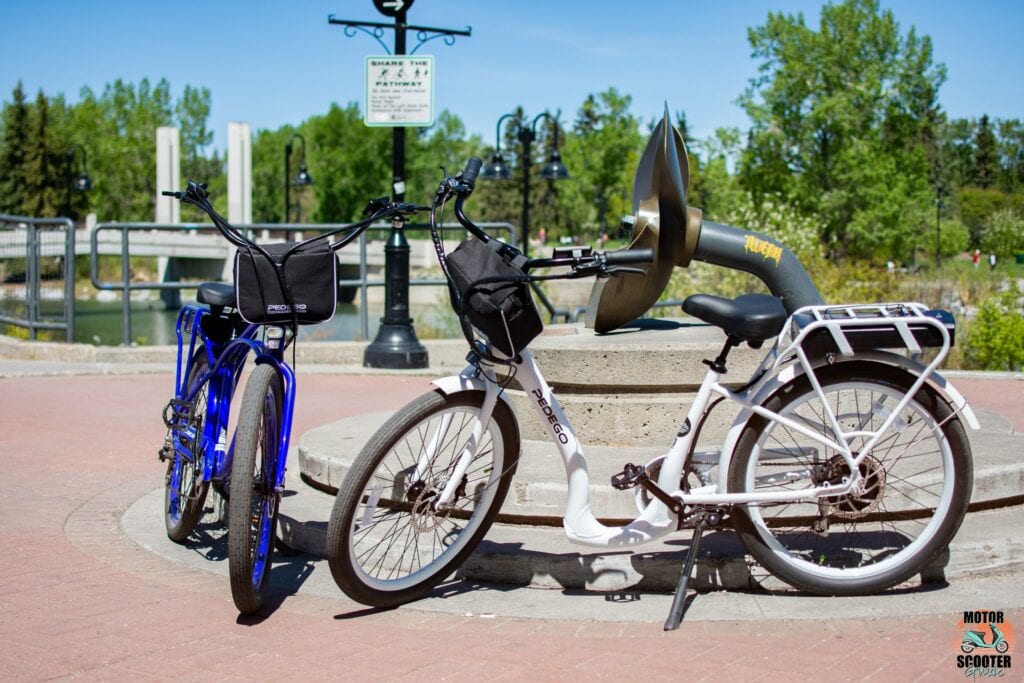 Where I felt the Interceptor looked fine but not good, the Boomerang is a downright handsome bike. The welds throughout are very good, and the bike's lines are unspoiled. The ultra-low step-thru frame is eye-catching, and the general style can only be described as "thicc".
I mean, just look at that rear end.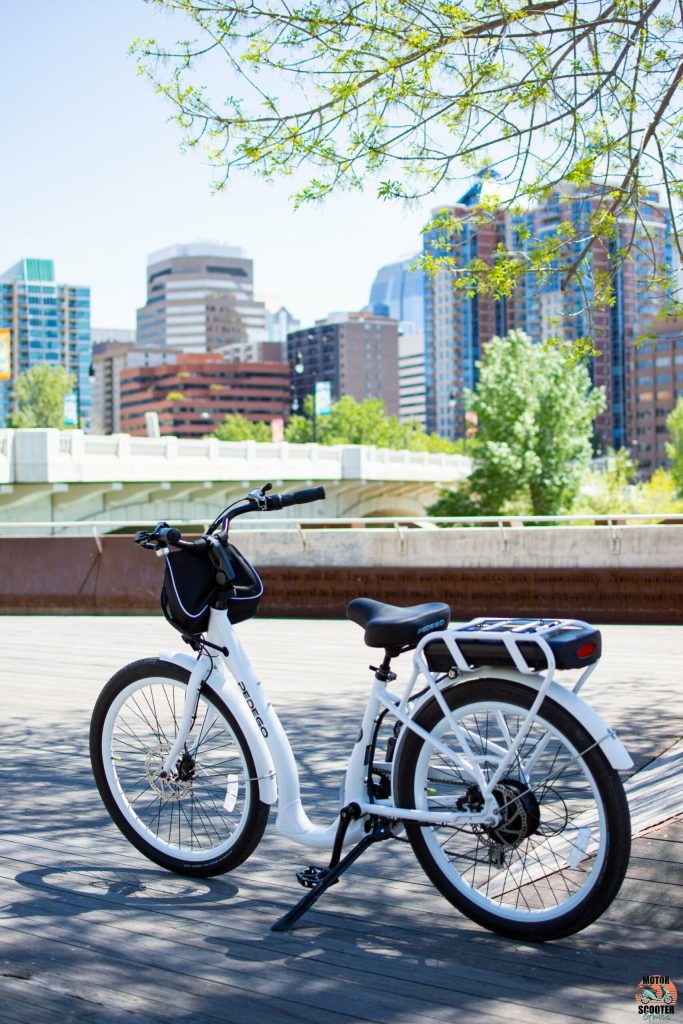 Much of Pedego's cruiser lineup for 2021 has got the integrated rear rack/battery mount, and while there's no denying the accessibility that it opens up (it's nice having no battery mid-frame for your legs to brush against), it also makes the bike have a pronounced rearward bias aesthetically. Hence, "thicc".
Give the Boomerang a front basket and I think you've got a well-balanced and very good-looking bike on your hands.
2021 Pedego Boomerang Specifications
Key specs:
Motor:

500W hub-motor

Torque:

45Nm

Batteries:

48V 10Ah or 48V 15Ah Samsung

Pedal-Assist Sensor:

Cadence w/ 5-levels

Top Speed:

32 mph (20 mph)

Derailleur:

Shimano Acera RD-M360 7-Speed

Cassette:

Shimano HG200 7 Speed 12-32 T

Shifter:

Shimano FT55 Tourney Right Handle Thumb Shifter

Brakes

: 180mm disc

Weight (w/ battery):

62.6lbs
See full specifications @ PedegoElectricBikes.com (specs PDF).
2021 Pedego Boomerang Value & Build Quality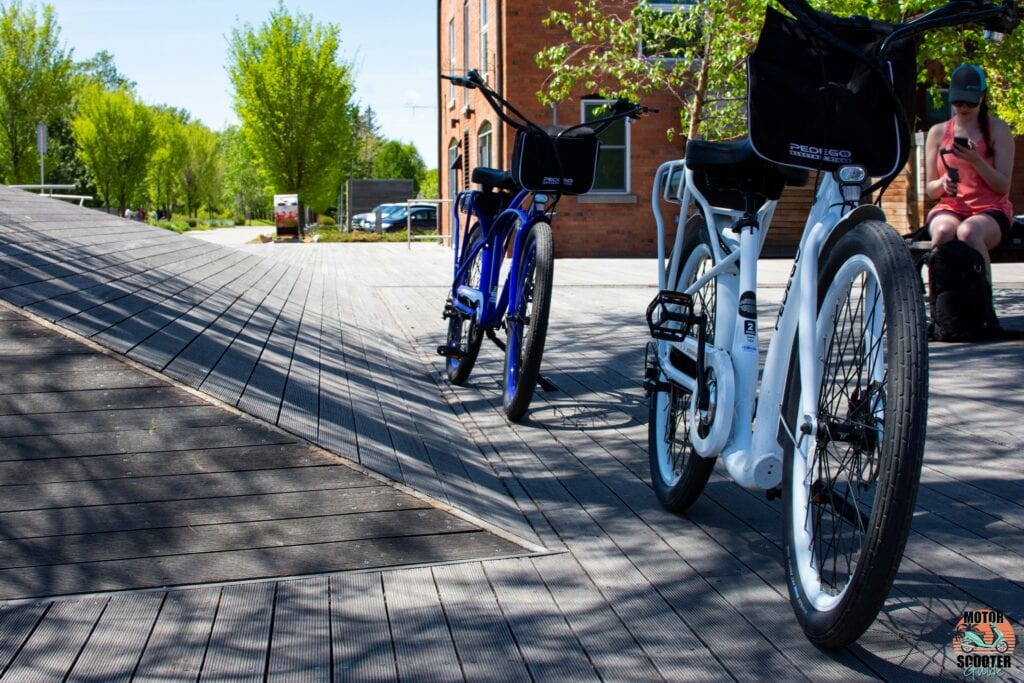 Pedego touts themselves as the best value eBike in America, and that may be true depending on where you place your value. If you're someone who values maximum performance for the money, the Boomerang is not your bike.
Not by a long shot.
This bike as I'm riding it would set you back $3,000 USD. That's not a lot of money for an eBike, but that is appreciable money for an eBike… and especially one that comes with a 500W hub motor and no front suspension. Never mind the lack of torque sensor or low-rent LCD display. From a parts point of view, this bike is priced on the expensive side of fair.
Allow me to direct you to a few related articles that help demonstrate this point:
And I could go on. As we continue to expand our coverage of 2021 model-year ebikes, it's becoming increasingly common to see step-thru's and low-step bikes with comparable specs to the Boomerang for much less money.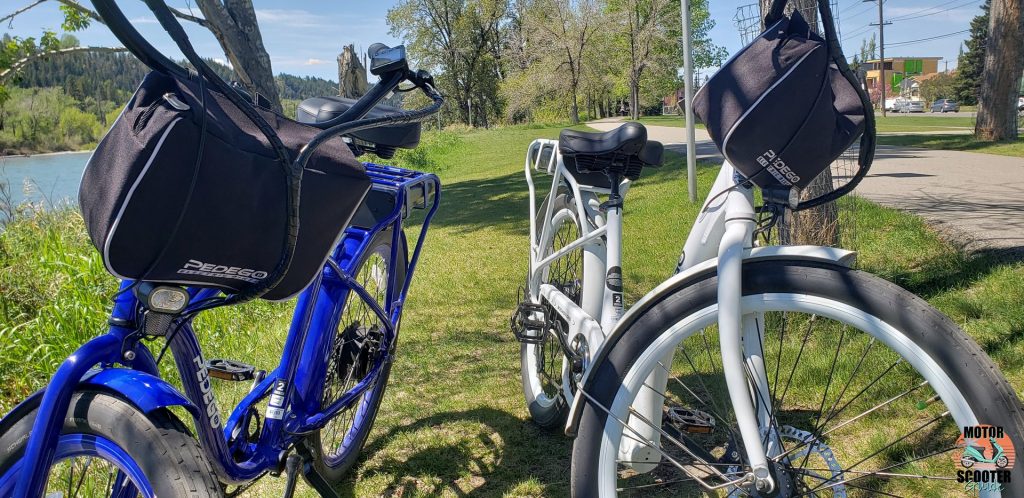 However….
Almost none of the brands we are covering have an extensive dealer network, and even fewer of them have a self-branded dealer network. Yet Pedego has 180 dealers across North America and is growing fast. Their bikes are made well and, when they do break, it's good to know that you have good post-sale support.
On the flip side, you have less expensive online-only brands, such as Himiway, that offer a good product at a very competitive price (Joe is in the middle of a long-term 2021 Himiway Cruiser review), but there's a downside to an online-only business model, and that is local parts accessibility and service.
And sure, any bike/ebike shop might be able to work on your bike, but there's something to be said about topical expertise. Considering the investment the bike represents, I want to know that the person maintaining it knows how to handle them.
2021 Pedego Boomerang Riding Ergonomics & Performance
Seating & Riding Position
The Boomerang's swept handlebars pair nicely with the upright seating position and wide seat. If you have back problems (as I do), you'll be happy to hear that the Boomerang has got your back. Heh. I have an L5/S1 herniation and found the Boomerang comfortable to sit on for the duration of our ride.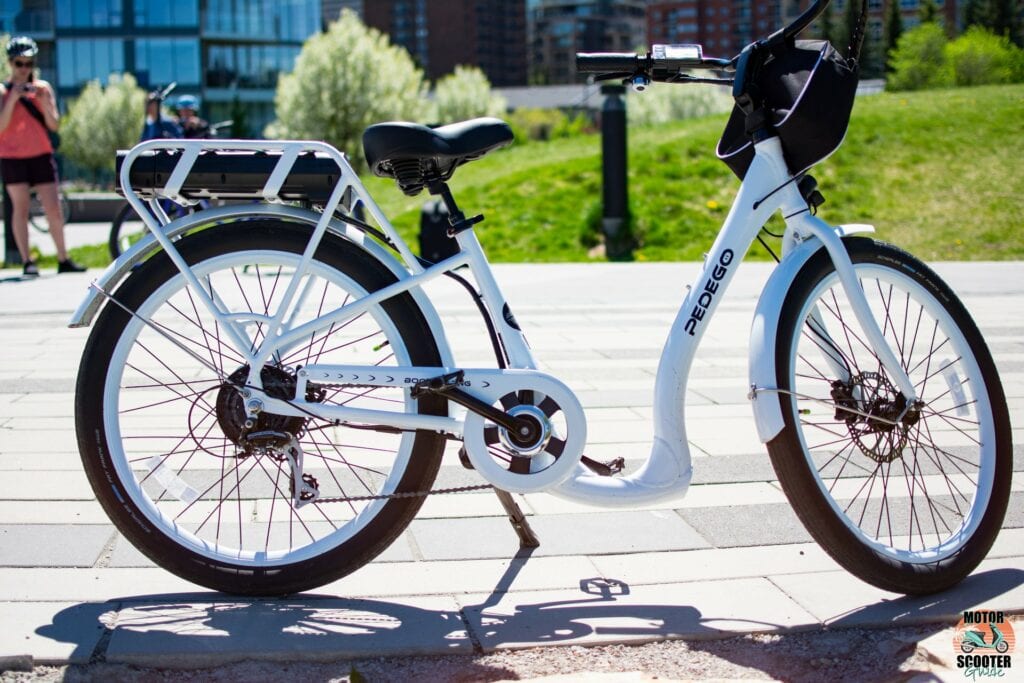 I only have one gripe with the riding position, and it's the same criticism I had of the riding position on the Interceptor: the shifter is just slightly out of comfortable reach, forcing you to extend and reach with your thumb to change gears.
If you ride the Boomerang where it's intended (urban paths), it's not much of an issue as the 500W motor provides enough assistance that you don't need to have the gear perfectly matched. But both Melissa and I noticed the reach on both the Boomerang and the Interceptor.
The LCD display is adequate but feels low-rent compared to other bikes at the same price point.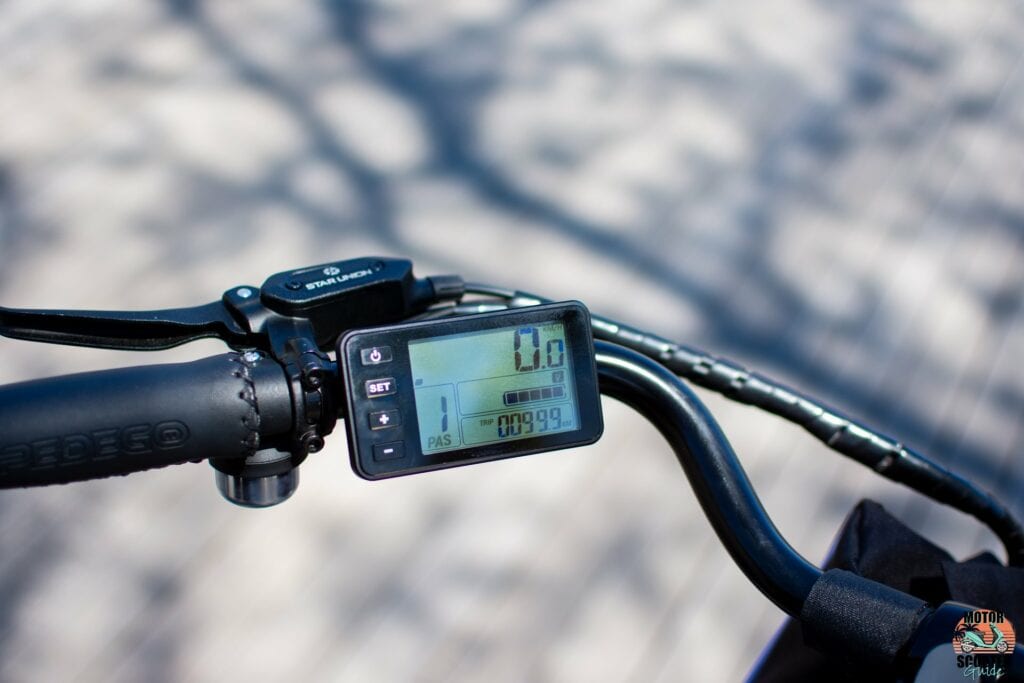 Interacting with the screen is easy and the screen does prioritize the right information, but it's also prone to glare and I found it hard to read at times. On the plus side, it is very responsive to inputs and accurate. Many bikes that feature fancier displays also have a touch of input lag (looking at you, Surface 604).
Powertrain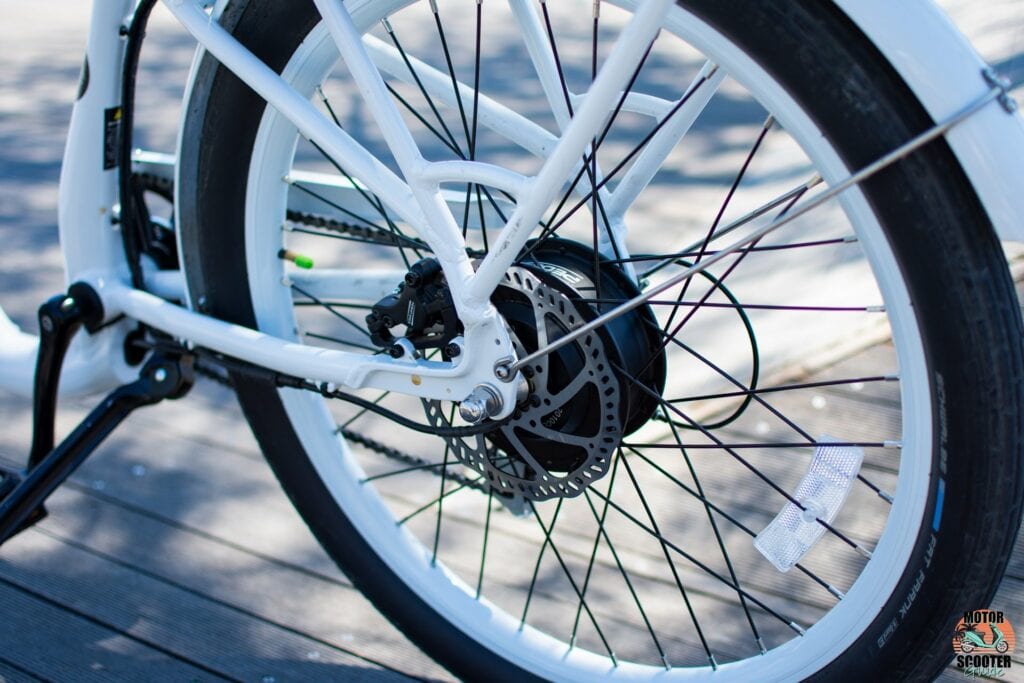 Like most entry-level ebikes, the Boomerang is sporting a 500W hub motor. A difference here is that Pedego is using a Dapu unit vs. the Bafang models typically found on inexpensive ebikes. The 500W geared hub motor produces 45 Nm of torque, which is adequate for its ideal use case, but underwhelming compared to other bikes out there. It's not uncommon to see a 500W motor putting out 65 Nm of torque or more.
Married to Pedego's PedalSense cadence sensor, the powertrain is capable but definitely not enthusiastic. The Boomerang will get up to 30 kph easily enough, but from there it's going to take a lot of work on your end to consistently ride faster.
The Shimano Acera / HG200 / FT Tourney combination is a good mix. These are not bottom-rung components. Solidly mid-level and that's what you'd expect for the segment.
Frankly, everything here makes sense for the price. The only gripe I have is that Pedego is still just offering a cadence sensor on a premium-priced entry-level bike. A torque sensor is a relatively inexpensive upgrade that makes the powertrain that much more intuitive.
Riding in the City
Our 3-hour ride took us just over 30 km of mostly inner-city riding, with some faster trail riding in a few spots. We also tried it on grass, but that stint didn't last long.
Lacking any suspension, the Boomerang is happiest on a paved pathway and if that's your ride, the bike is great. The seat is wonderfully comfortable – tangibly better than the Himiway Escape (review pending) and Surface 604 Shred (review pending) that I've also ridden recently – and the fattish tires help absorb some of the impact.
The 180mm brakes are quite powerful and offer you full control over any sensible riding. If you're hooning it and taking the bike beyond its abilities, you'll likely experience some lock up, but if you ride sensibly you'll never encounter it.
For most of our ride we were intermixing with other cyclists and pedestrians, and the Boomerang shined here for its ease of control and excellent maneuverability. Riding with the rear brake slightly engaged stabilizes the bike sufficiently for low-speed riding, and the brakes did not present demonstrable fade throughout the ride.
However, the cadence sensor reared its ugly drawback: it's either "on", or it's "off". Admittedly, Pedego's unit is better configured compared to other cadence sensor ebikes I've ridden, but there's still a pronounced "on or off" effect when the motor engages. Riding at low speeds means pedaling a quarter turn so the motor engages, and then coasting on the 1-2 seconds of throttle the pedal-assist provides.
Lather, rinse, repeat.
I found it perfectly adequate, if not better than most cadence sensors, but Melissa had plenty to complain about. Her basis of comparison is a '21 Surface 604 Shred that we purchased earlier this year, and the Shred happens to have a torque sensor. Company websites and brochures try to downplay the differences, but riding the two back to back simply makes those differences all the more obvious.
2021 Pedego Boomerang Closing Thoughts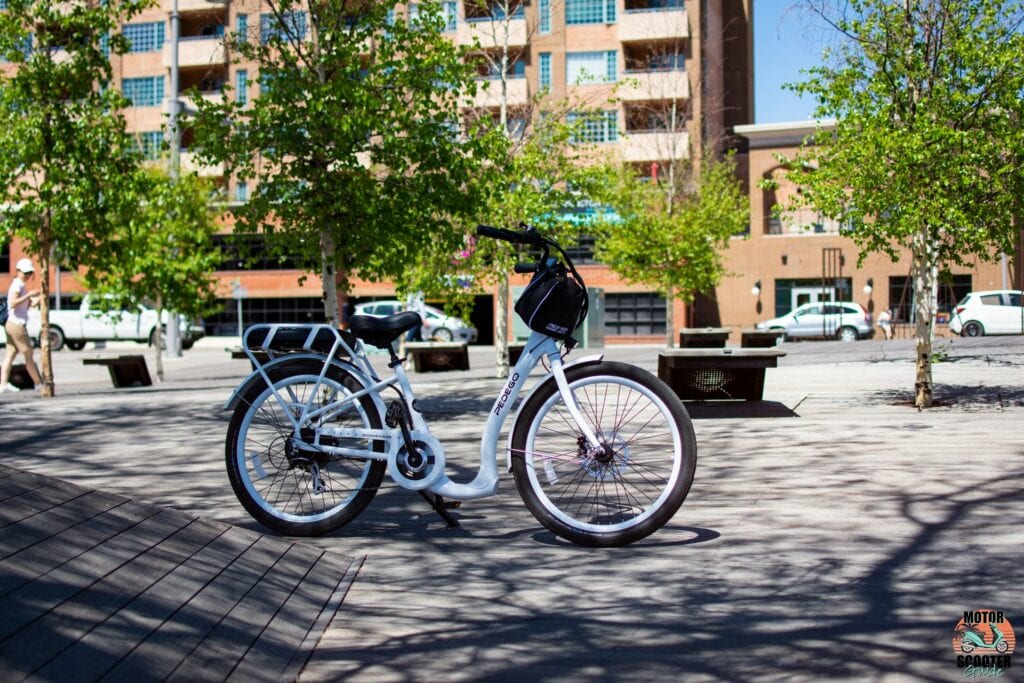 Renting a bike is far different than owning it, and going in with the intention to pay attention to the little things means that you're probably going to find some little things to pay attention to. That important context should provide a framework for this review.
I think that the Boomerang is a good bike, maybe even a great one, but it does come at a price premium and people ought to be aware of that before they buy. You're paying for the dealer network, the parts accessibility, and the convenience. You're paying for being able to stroll down to a dealer to grab a new part or service your bike.
And while the convenience features, such as the integrated rear rack and standard chain guard, are definitely nice, they are not much of a "value add" when they are factored into the price.
But if you can stomach the price, which as-tested is right around $3,000 USD, then you don't have much else to complain about. The lack of torque sensor, maybe, but if you're riding where the Boomerang was meant to be, you're also probably using the throttle more than the PAS anyway.
I rated the '21 Interceptor we rented just under 4 stars, whereas the Boomerang is 4 stars on the money. If it gets some front suspension and a torque sensor, it becomes a 5 star bike. And while you could get the Platinum edition which addresses both criticisms, it comes at a massive price premium.