Review Summary
The Interceptor is Pedego's most popular eBike, and Pedego says it's also the most popular in America. A comfortable riding position for most, as well as smart pedal-assist and capable power from the 500W motor, means that just about everyone will be able to hop on an Interceptor and enjoy the ride. It's not a perfect bike, but that doesn't keep thousands of people from enjoying this classic cruiser.
Pros
Excellent dealer network & post-sale support
Good range from both batteries
Lighter than some other cruisers at 58lbs
Excellent construction & wiring
Smart battery placement keeps it out of your way while riding
Cons
My wrists sat at an awkward angle regardless of seat height or riding position
Still using a cadence sensor in a torquey world
Mediocre LCD display
Pretty pricey considering last-years tech
I'm excited that eBikes are now part of my professional mix, and not just because they're a lot of fun to ride. Having spent the better part of a decade obsessing over the Powersports space, being able to take the same energy to the lighter side of the industry feels great.
Oh, and eBikes are tons of fun to ride. There is that.
And that brings me to the subject of today's ride: the blue 2021 Pedego Interceptor with the 26" classic cantilever frame sitting before me.
This deep blue cruiser is actually a rental from Pedego Calgary, where my wife Melissa and I each rented a new model – Melissa on a '21 Boomerang, and myself on the '21 Interceptor.
We're fortunate, as both bike rentals have relatively low mileage, meaning that we ought to experience these eBikes as they are (vs. as they might become once they're well-used and abused).
It was a gorgeous 24°C (about 75°F for my American friends) in sunny Calgary, AB. It's high-noon by the time Melissa and I set off from Pedego Calgary's downtown Eau Claire market locale, and from that spot we set out to explore Calgary's riverfront.
But, before we enjoy the ride, we need to explore the bike a bit first.
---
We rented these bikes for 3-hours to ride and review. Our thoughts/opinions are based on that context and this review is not meant to be an exhaustive reflection at what long-term ownership may look like. Corrections and constructive criticisms welcomed. Leave your review in the comments below!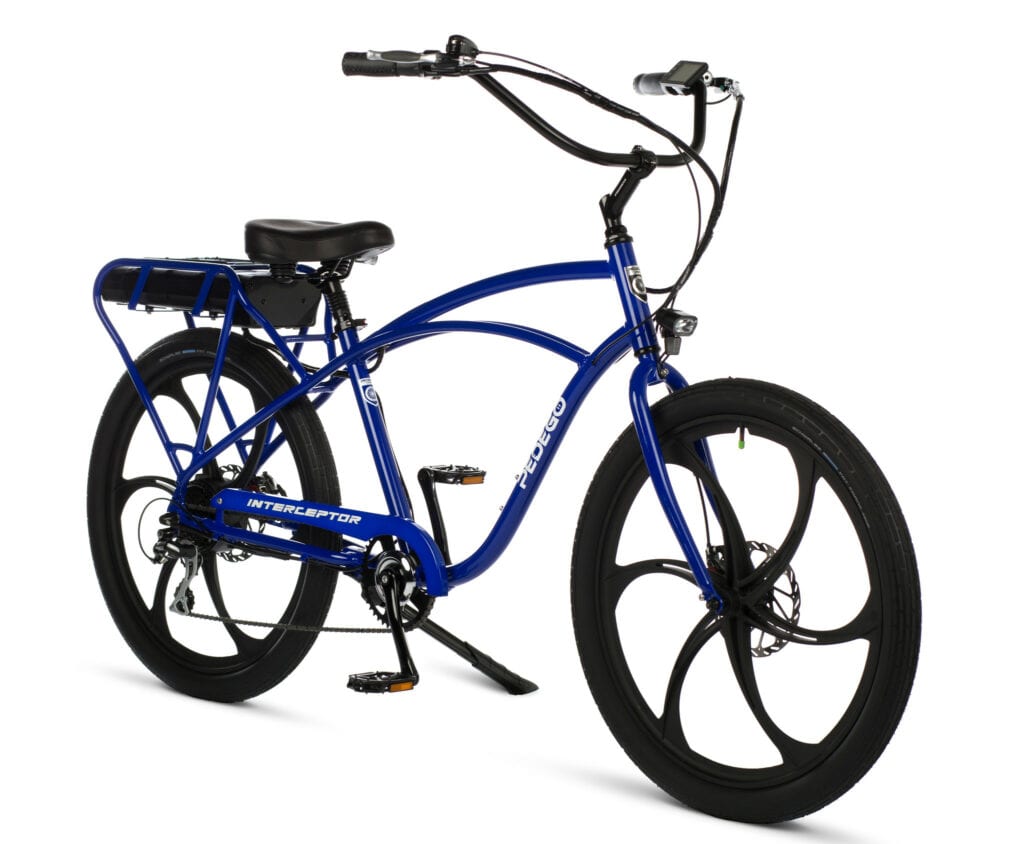 A Bit About the Interceptor
As-Tested Price & Features
The '21 Interceptor here is the standard model, with a blue 26" classic frame, standard spoke wheels, and a 10Ah battery. The MSRP as reviewed is $2,995 USD ($3,895 CAD).
Opting for the mag wheels adds $400 USD ($500 CAD) to the price, and upgrading to the larger 15Ah battery adds $300 USD ($400 CAD).
Notably, the Interceptor's rear rack comes standard as it is integrated into the frame.
Trim & Options
The Interceptor is one customizable bike in terms of how you can get it from the factory. It comes in two trims: the "Interceptor", and the top-trim "Platinum Edition".
Your standard Interceptor can be had with a 24" or 26" Step-Thru frame, or a 26" or 29" Classic frame. Depending on your frame of choice, you can opt to get your bike in eight colors. The 26" Step-Thru is the frame with the most options, with 8 colors and two wheel options.
You can opt for two batteries for the standard Interceptor, both 48V – one 10Ah and the other 15Ah. On the larger battery, riders should expect around 90 kilometers (or 60 miles) of range.
If you want all the toys, you can upgrade to the Platinum Edition trim, which comes with at least a $1,000 premium over the standard bike. Like the standard Interceptor, the Platinum Edition can be had in a variety of frame sizes: a 24", 26", or 29" Step-Thru, as well as 26" and 29" Classic options.
Platinum Edition buyers can choose between a 48V 10Ah, 48V 15Ah, or a 52V 17.5Ah. The 52V battery will net you a bit more power and range compared to the 48V packs.
Much of the hardware between the standard and Platinum bikes is shared, including the 500W motor (that outputs 45 Nm of torque), Pedego PedalSense cadence sensor, and most of the hardware tied to the physical construction of the bike.
A few notable differences between the Platinum model and the standard Interceptor:
Shimano SLX M7000 10-speed derailleur (compared to the standard model's 7-speed Shimano Acera RD-M360)

Shimano Deore M6000 10-speed cassette (vs. the Shimano MG200 7-speed on the standard bike)

Wellgo aluminum pedals

Front fork suspension with adjustable compression (the standard bike does not have front suspension)

Larger front chainring
Of course, there are a few other small odds and ends as well.
Both trim levels allow riders to opt for 26" cast mag wheels vs. the standard 24" spoked models, and they're a much better look in my opinion.
Where the Interceptor is Meant to be Ridden
Cruiser bikes are best kept on paved or well-kept gravel trails, and the Interceptor is no exception. Lacking front suspension (though the seat is suspended), you're going to feel much of the road surface and every bump on it.
Sure, the heavier steel frame helps mute some shock (vibrations travel through Carbon or Aluminum more freely in my experience), but you're still lacking the comfort that would be provided by front suspension.
As-is from the factory, the Interceptor is definitely your inner-city commuter, beachfront cruiser, or trail rider… as long as they are smooth and well kept.
2021 Pedego Interceptor Looks, Style, & General Appeal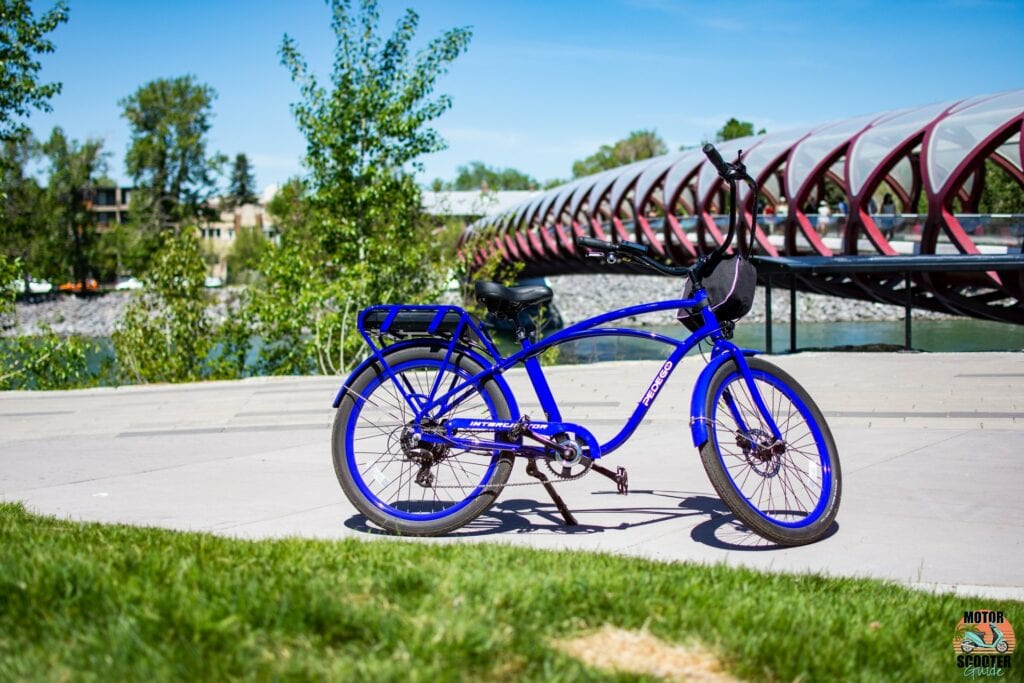 The Interceptor does an "okay" job executing on the cruiser styling: the top bar and mid-bar curves add some heft to the mid-section (as well as some structural reinforcement I would think), which is complemented by the extra-wide handlebars. But, a taller-than-average integrated rear rack, necessary in order to house the rear-mounted battery, means that all ends of the bike have similar visual bulk.
I'm not against the cruiser style as a whole, and I want to stress that the Interceptor isn't a bad-looking bike, but I think that these design choices detract from the classic cruiser look.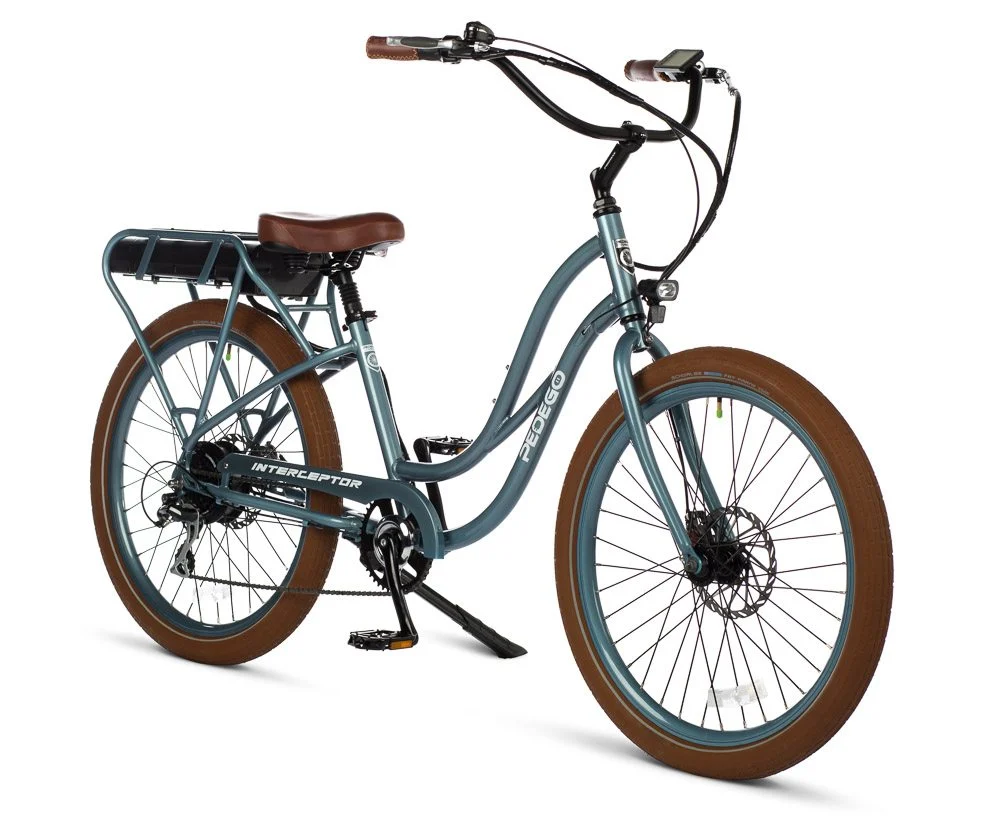 The step-thru frame, shown above, dramatically reduces the Interceptor's perceived visual bulk and turns the Interceptor into a light and airy bike. Of course, if you wanted a step-thru, you wouldn't be looking at something with a mid or high bar, so it's a bit of an apples to oranges comparison at this point.
The battery pack is mounted high above the rear wheel inside the integrated rear rack. I do like how this frees up the center profile of the bike visually, but again, it adds bulk to the rear (it also raises the center of gravity and influences the rearward weight bias). Smartly, the rear battery doubles as the brake light.
Visually, I think Pedego has some much better-looking bikes that fill a similar cruiser/commuter role (the Boomerang and City Commuter both accomplish similar things, but look much better doing so).
2021 Pedego Interceptor Specifications
Key specs:
Motor:

500W hub-motor

Torque:

45Nm

Batteries:

48V 10Ah or 48V 15Ah Samsung

Pedal-Assist Sensor:

Cadence w/ 6-levels

Top Speed:

32 mph (20 mph)

Weight: 58lbs
Derailleur:

Shimano Acera RD-M360 7-Speed

Cassette:

Shimano HG200 7 Speed 12-32 T

Shifter:

Shimano FT55 Tourney Left Handle Thumb Shifter

Brakes: 180mm disc
Weight (w/ battery): 62.5lbs
See full specifications @ PedegoElectricBikes.com (specs PDF).
2021 Pedego Interceptor Value & Build Quality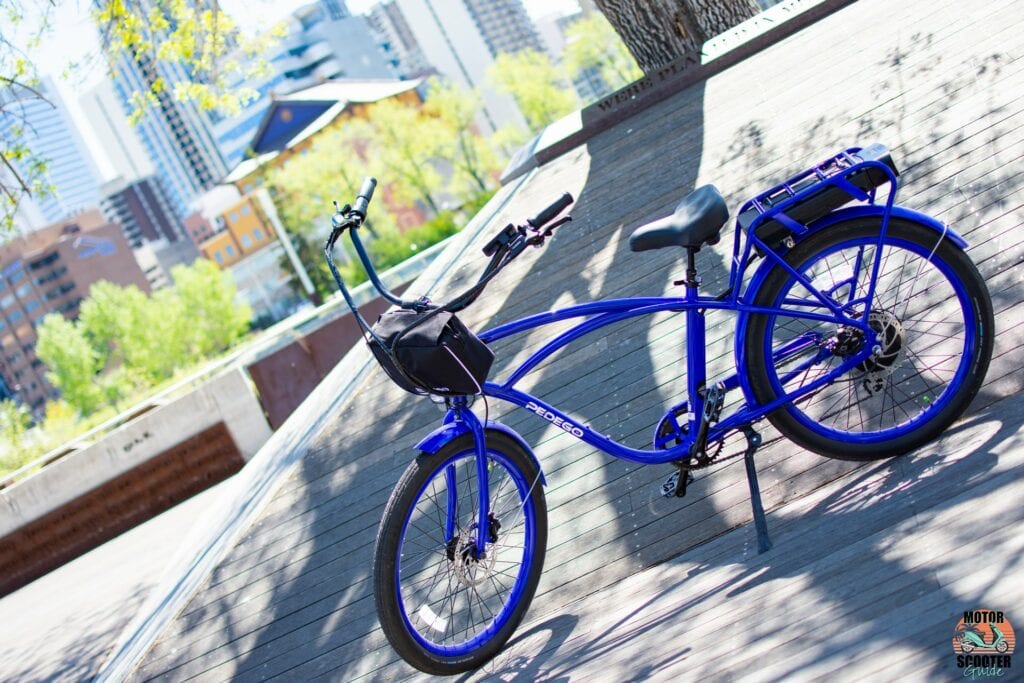 It's no secret that you pay a bit of a premium when buying a Pedego compared to an Alibaba, ODM-supplied, or wholesale brand.
FREY eBikes, for example, is able to offer the 2021 FREY CC – their front-suspended commuter bike with included rear-rack – for $3,280 USD, which is just 10% more than what you'd pay for an equivalent bike from Pedego… but with premium suspension, more than twice the power, and a torque sensor to boot. In fact, the entire 2021 FREY lineup is filled with high horsepower bikes with MSRPs below their direct peers.
On paper, the $3,000 starting price of the Interceptor looks like less of a good value, but you have to consider:
The extensive North American dealer/distributor network

Excellent five-year warranty

Easier accessibility of parts, maintenance, and repair services
Plus, when you look closely at the Interceptor, you can see the level of care and ability applied to its construction. Thanks to Pedego's large and accessible North American dealer network, it's actually quite easy to see the bike in person before committing to buy – something you can't do when buying an ebike online sight-unseen.
Not to mention that if something breaks, you know that you'll be able to access replacement parts and servicing.
Those things add value to the bike, though you won't find them listed in the specifications table. Having owned technically-awesome products with great specs but poor post-sale support, I will choose the better-supported product every time.
Through my work at webBikeWorld I've not only learned to appreciate the value that a well-built piece of equipment provides, but I've also seen what can happen when things fail or when good products struggle with poor support. With more than 2,500 extensive hands-on reviews of motorcycles, safety gear, and accessories, wBW has helped shape my perspective and I take advantage of opportunities to learn more whenever possible, such as the time I flew to SNELL to destroy some helmets in order to ensure we were providing informed and fair assessments of the helmets we were reviewing.
The point is, I've learned how to identify and appreciate things that are made well… and the Interceptor absolutely meets that description. Some of my observations include:
The full-length chain guard, which minimizes clothes to chain interactions

The integrated rear frame that is colour matched to the rest of the frame; the welds here are very clean and sturdy.

Excellent alignment of the attached accessories and fenders

Excellent wiring that is hidden where possible, and well-secured to the chassis otherwise

Minimal squeaks/creaks outside of what you expect on a bike

No panel/fender rubbing, weird vibrations, or other aberrations
In fact, a pretty rigorous inspection of the Interceptor doesn't show much to complain about. The center-mounted kickstand is an oddball choice, since you'll hit it with your pedals when it's deployed, and the high center of gravity is less than ideal. But otherwise? Nada.
It's just a well-made bike overall.
2021 Pedego Interceptor Riding Ergonomics & Performance
Seating & Riding Position
This is where most of my criticism for the Interceptor is derived, and it's also an area of personal issue. At 6'2" and with a 36" sleeve/45" chest, I find the wide handlebars uncomfortable to hold. My wrists were always bent at an odd angle, even when trying to adjust my riding position or the seat height. After an hour or so I found my wrists beginning to noticeably ache. Melissa, who is 5'8", made no such complaints during her time riding the Interceptor.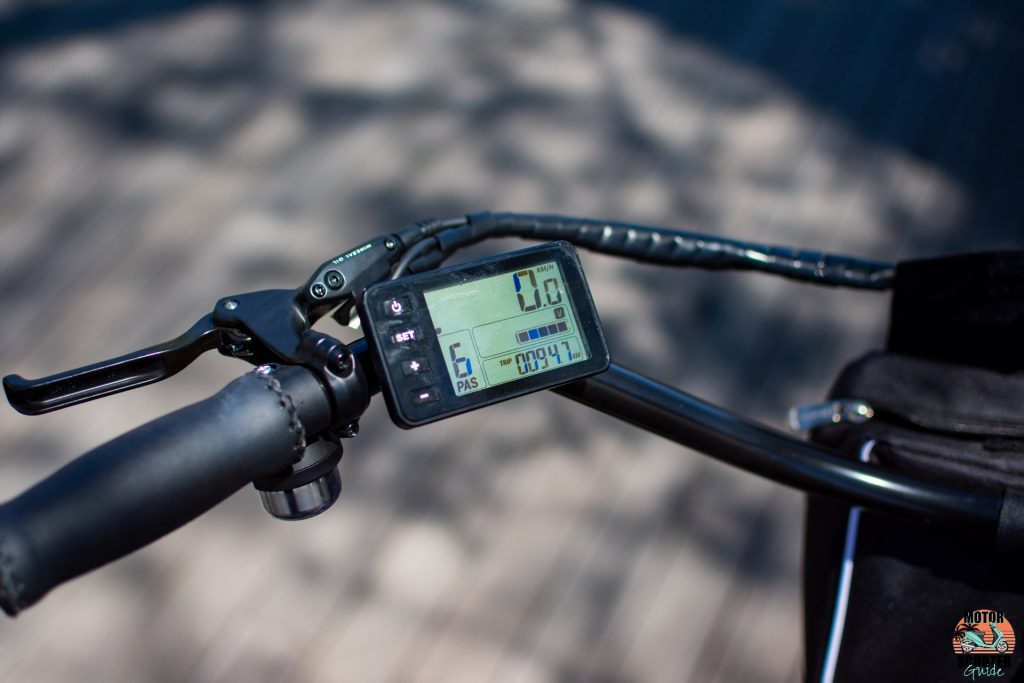 The left handlebar houses the LCD display and TEKTRO brake with an integrated bell. The display is relatively large on paper, but in practice feels much smaller. I found it difficult to read while moving, both because of the minimal display brightness/contrast in direct light, and the fact that it's on the left handlebar (forcing me to always look down and to the left). The screen is also prone to glare.
Compare that to the display on the 2021 Surface 604 Shred (and other 2021 Surface 604 models):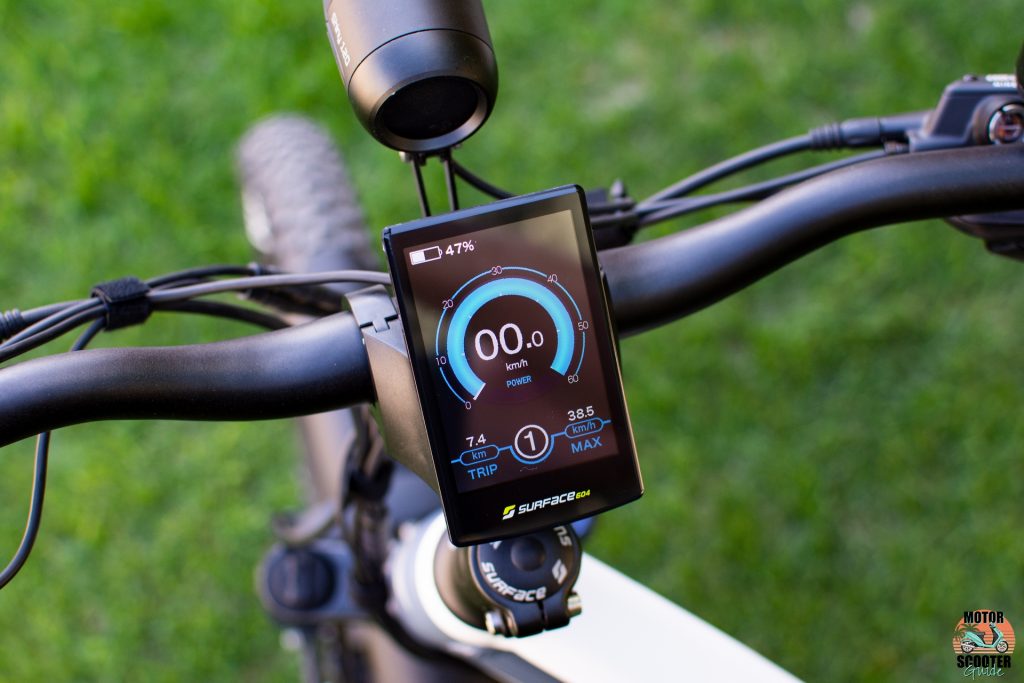 Now tell me which of the two looks absolutely primitive. Having ridden the two back to back, the superior visibility on the unit used by Surface 604 is significant and might be enough to dissuade me from buying the Interceptor if I intended to make the bike a daily commuter.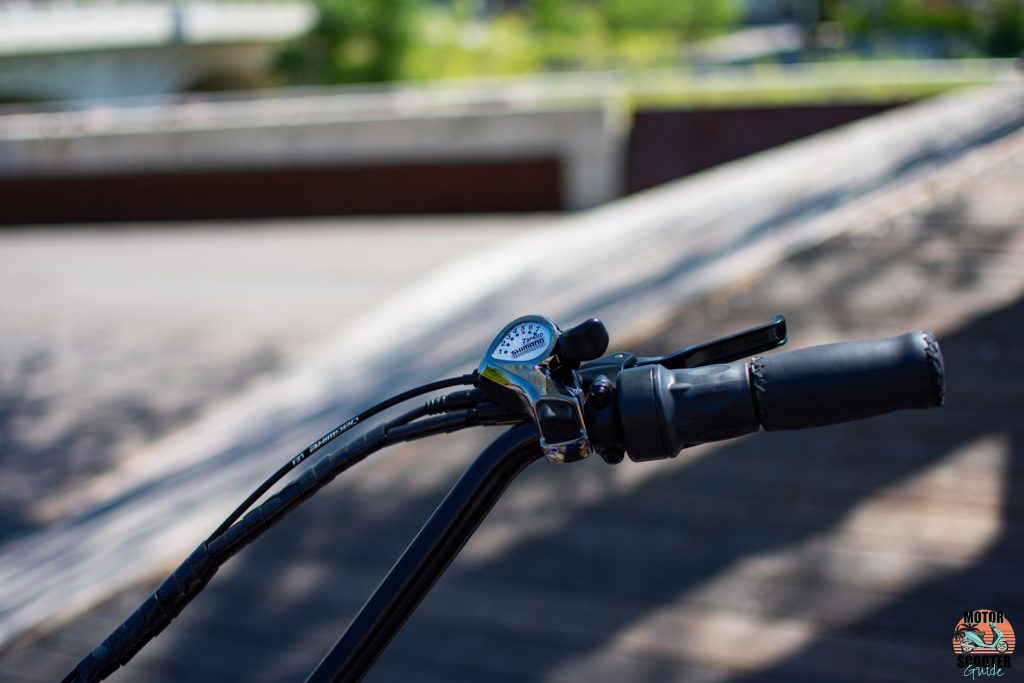 The right handlebar houses the twist throttle, second TEKTRO brake, and the SHIMANO FT55 Tourney shifter, which proved to be easy enough to use (though the switches are just slightly out of comfortable reach).
Once we move beyond the handlebars we get to one of the best parts of the Interceptor: the seat.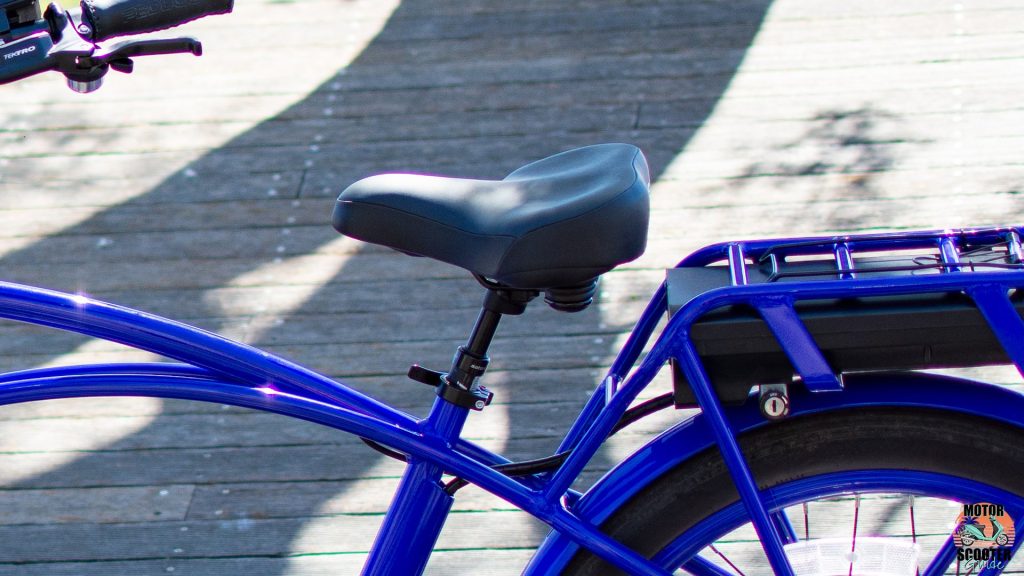 The extra-wide suspended gel seat felt great after 3 straight hours of riding. In fact, I could have gone for a few more. While I may have been jarred from the lack of front suspension on Calgary's riverside pathways, my keester floated on a gelatinous cloud of comfort the entire day. It was downright lovely.
Powertrain
Moving the 58lb Interceptor is a 500w hub-mounted motor that is good for 45 Nm of torque. The Interceptor is down on power here compared to some other 500W motors used by Surface 604, Cannondale, Aventon, and others. My '21 Surface 604 Shred makes 65Nm of torque from its 500W Bafang motor, for example.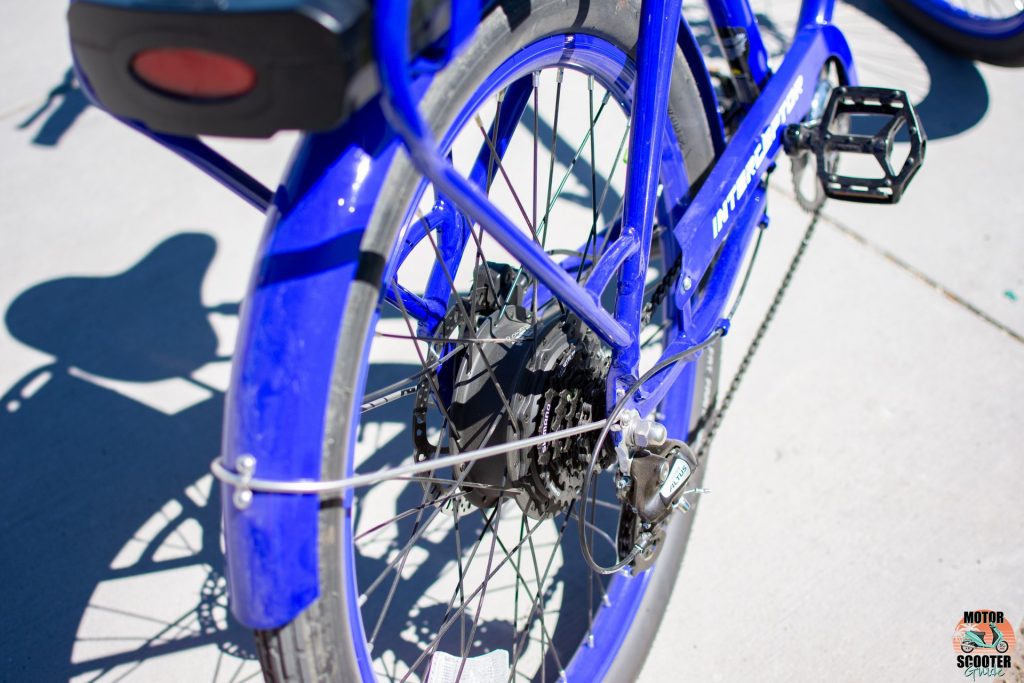 But the Interceptor also goes a bit further than some of the more powerful comparables. Again comparing the Interceptor to a Surface 604 (a '21 Rook), the Interceptor gets ~70 kilometers of range from its 10Ah battery, whereas the Rook only gets ~72km from a 14Ah battery. The bigger 15 Ah battery takes the interceptor to nearly 90km. Oh, and the Interceptor is lighter than most at 58lbs inclusive of the fenders and rear rack.
The Interceptor is a cruiser vs. a climber or a speed demon, and so the balance of power, range, and weight makes a lot of sense for its use case.
The engine may not get you screaming down the road, but it'll get you moving to its top speed of 32 kph (20 mph) relatively quickly. The cadence sensor is also quite good (for a cadence), and the 5 levels of pedal-assist offer anything from a gentle nudge to superhuman speed, but even a good cadence sensor feels awkward when compared against a torque sensor.
Riding in the City
Our 3-hour ride took us just over 30 km of mostly inner-city riding, with some faster trail riding in a few spots. We also tried it on grass, but that stint didn't last long.
Sticking to Calgary's riverfront pathways made for an easy ride. The speed limit on these paths is 20 kph (12 mph or so), and with the Interceptor in pedal assist level 1, cruising was effortless.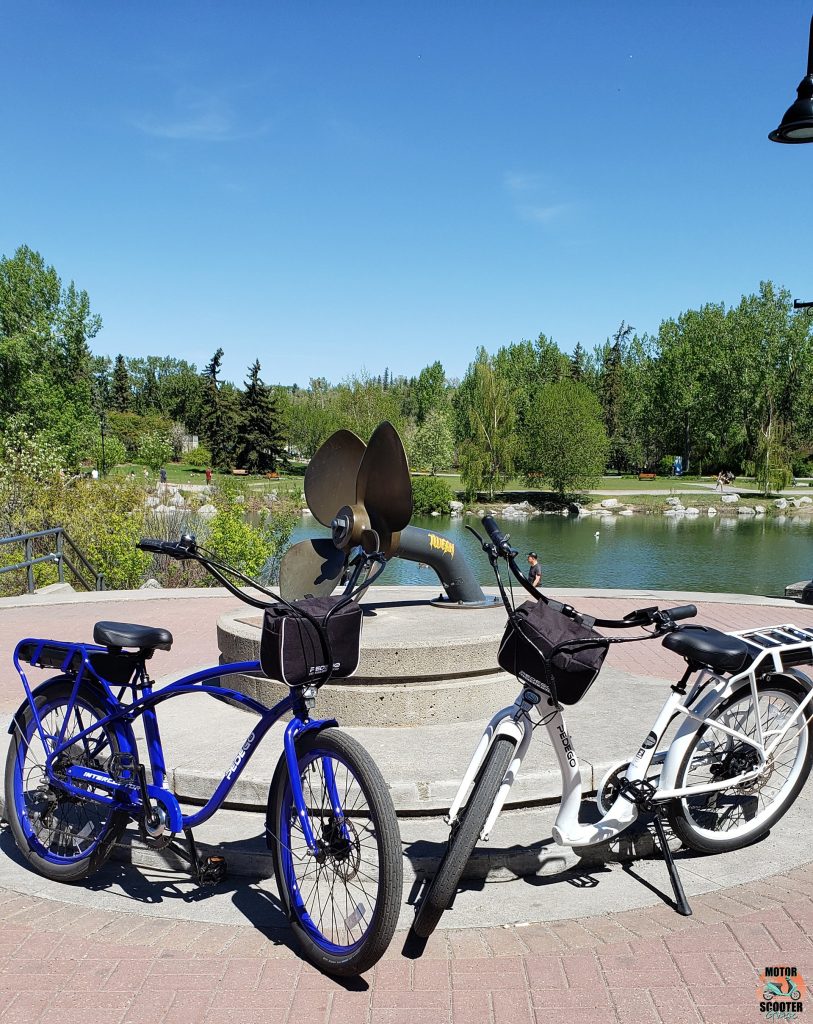 The unassuming styling and riding position also helps you ride incognito style, as the Interceptor is hardly a bike that screams for attention – nor do you while riding it. With the battery tucked underneath the rear rack, it also isn't immediately obvious to passersby that you're riding an electric. This makes for some fun when you pass "faster" bikes while pedaling much more casually than they'd expect.
The upright riding position is also more comfortable than the more hunched-over position on a mountain bike. Awkward wrist angle aside, the Interceptor makes for some comfortable cruising when ridden on its intended turf.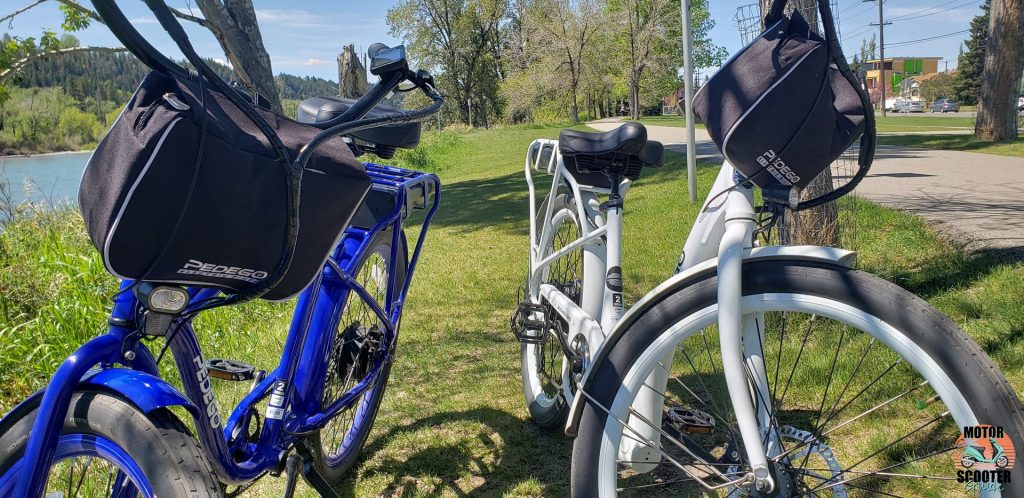 Pedal-assist level 3 makes for easy path riding. Once you're past pedestrians and are able to get up to a decent clip, staying in the 30 kph range is almost effortless. The Interceptor lets you dial in your workout, from a decent one to none at all. I was completely comfortable riding in city traffic at pedal assist 5.
The SHIMANO shifter and associated drivetrain make for snappy and problem-free shifts. I felt confident in knowing when to engage a shift, when to let off the throttle, and the like. I was able to do almost all my riding at a low pedal assist while making liberal use of the higher gears. Flipping through the gears and a slight blip of the throttle always got me moving at a pace I was happy with.
The engine shut-off switches in both brakes is a nice feature, especially since the cadence motor operates like every other cadence on the planet – it's either "on" or "off". In slow-moving traffic, it can be annoying to have it kick in with just a minor pedal movement. Being able to kill it immediately via the brake is nice.
Speaking of brakes, the 2021 model-year Pedego's have hydraulic brakes, and they're beefy enough to stop you quickly. I managed to briefly lock them up when I aggressively mashed the brakes in an effort not to make contact with a Canadian Cobra Chicken that had crossed my path while I was doing nearly 30 kph, but otherwise they proved predictable and well-suited for their task.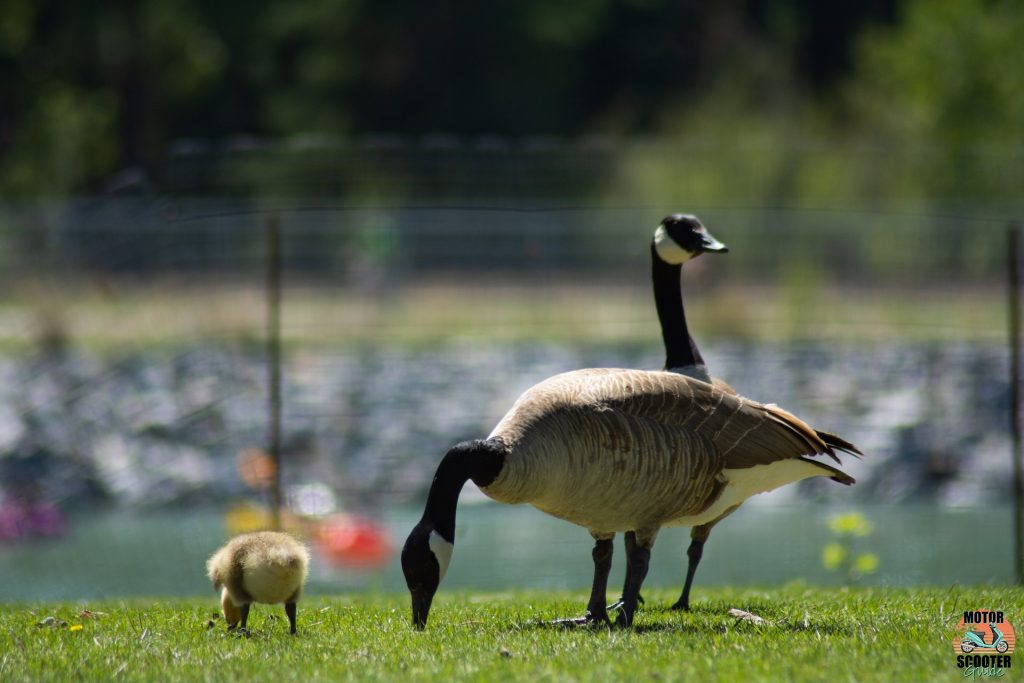 For path riding or daily cruisey-commuting, the Interceptor will do a fine job.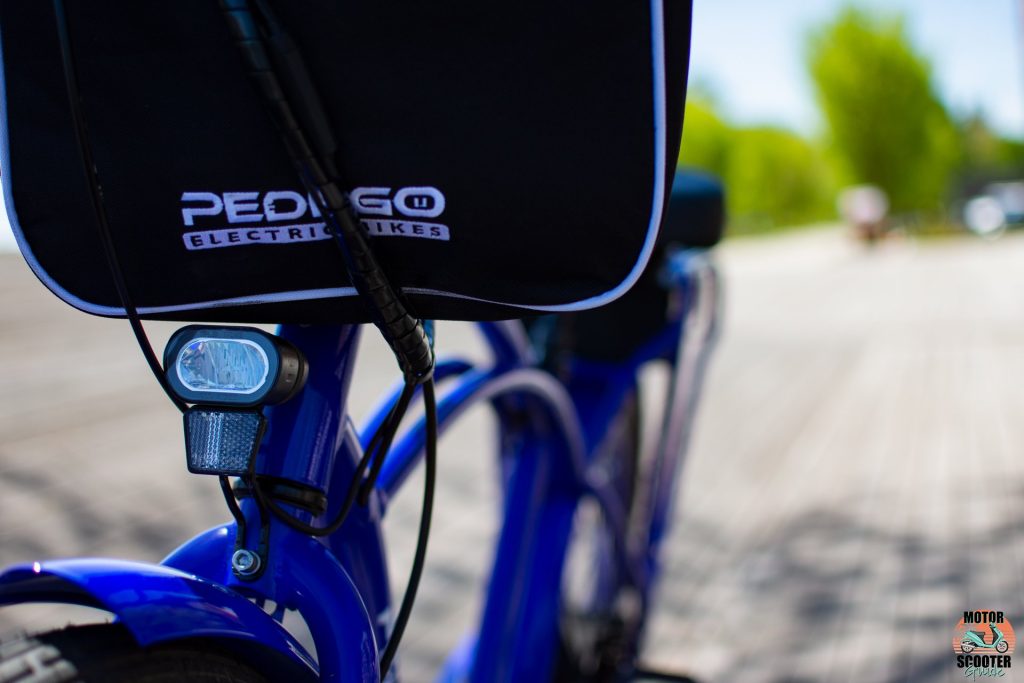 Unfortunately, all the refinement of the bike is gone the moment you leave a smooth trail as the lack of front suspension is very noticeable. Outside of a few short jaunts through the grass, which were enough to teach me not to do it, I kept the Interceptor on the paved pathways where it belongs.
2021 Pedego Interceptor Closing Thoughts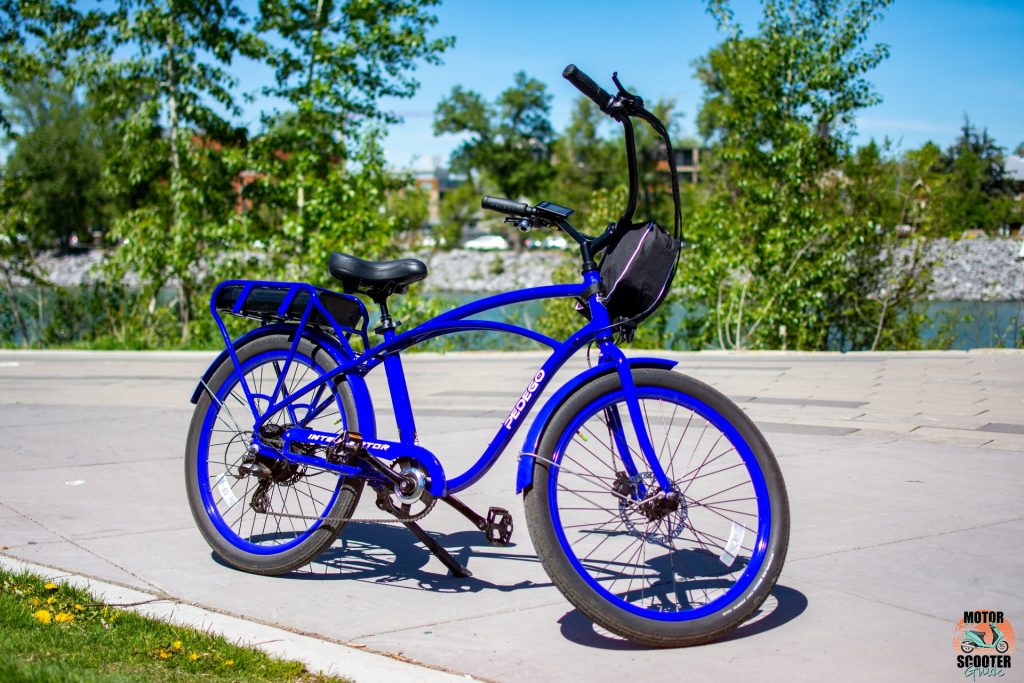 I have mixed feelings about the Interceptor. On one hand, it's a relatively good-looking and easy-to-ride eBike with plenty of power for city riding, cruising, and daily commuting. It's got an acceptable range and nice value-adds, like the integrated rear rack, that make it a compelling buy for someone looking for a bike that has it all.
But, it's also using an old-school cadence sensor (even if Pedego's is a more polished and fancy version) and it's quite expensive compared to several of its peers. Owners of '19/'20 model year bikes looking to upgrade may want to hang on to their bikes for a while longer if they're hoping for a torque sensor, and at this price, many other brands have bikes with torque sensors equipped.
Sadly, for me, the uncomfortable handlebar position means that buying an Interceptor is a non-starter. If anything, this is an example of why you should try on a bike before committing to buy it – so go pay your local bike shop a visit!
With a variety of colors, batteries, and frame sizes to choose from, the Interceptor may be one of the most personalizable eBikes you can buy right now. And, Pedego is doing better than most in terms of bike availability.
If you want the latest and greatest, and you're wanting something with plenty of power, you may find yourself disappointed in the drivetrain, which is geared more for efficiency than for excitement. If you're wanting a no-hassle bike that you can enjoy for years, and you're more concerned about range, stopping power, and longevity than raw acceleration, there's a heck of a lot in the Interceptor to like – I just wish you didn't need to jump into the much more expensive Platinum Edition to get front suspension.