Shark RSi Review
Shark RSi Helmet
by "Burn" for webBikeWorld.com
More:
Introduction
We were so impressed with the Shark RSR (review) that we named it as the webBikeWorld "Helmet of the Year" in 2004.
The RSR didn't necessarily break any new ground in helmet design, but the overall package and its extraordinary comfort made it stand out from the crowd that year.
The Shark RSi is another matter altogether, because its styling definitely sets a new direction for motorcycle helmet design.
I can only describe the RSI as having a sort of "Tribal Celtic" look which is very cool and which will definitely get noticed.
Breaking new ground with standout styling is is great, but what about function?
As it turns out, the Shark engineers did their homework. There's a lot to like about the RSi in addition to its exotic looks.
Quality
Our RSi Dual Touch Hologram is one of the first to arrive in the U.S.A. and it has DOT and ECE 22.05 approval.
So I'm assuming that this example is from an early production run, which means that maybe a misaligned vent or balky switch would be expected, but our example is absolutely flawless.
You would think that perfect quality would be de rigueur, but you'd be wrong. Just about every helmet that comes through our doors has some niggling little (or big) problem or two or more.
So it's a real treat to pull one out of the box and find that everything is perfectly aligned, with no loose threads, glue overruns, balky switches and the like. Other helmet manufacturers should take note...
Paint and Finish
The paint on the RSi Dual Touch Hologram is unique and is completely different than anything I've seen before. The finish is claimed by Shark to be an industry first. It's a combination of matte and gloss that looks absolutely fantastic.
There is almost no surface height difference between the two, and the perfectly applied deep gloss has a silky feel without a trace of orange peel.
The RSi is also available in Prime, Acid Fusion Tech and Alien paint schemes, but I think the Dual Touch Hologram design is the one that best suits this helmet's shape.
"Dual Touch" refers to the matte/gloss combination paint, while the hologram is a very cool tribal design located just behind the visor on each side of the helmet. It's applied underneath the clear coat, which adds to the quality look and feel of the helmet. No chintzy logos here!
Depending on the ambient light, the hologram broadcasts its rainbow colors for everyone to admire.
It's hard to capture the depth of color and the glow of the hologram with a camera, but take it from me, the RSi is a stunner. I can only hope that the helmet's finish will stand up to the daily abuses of riding. It will be a shame to have it marred by bug spatter!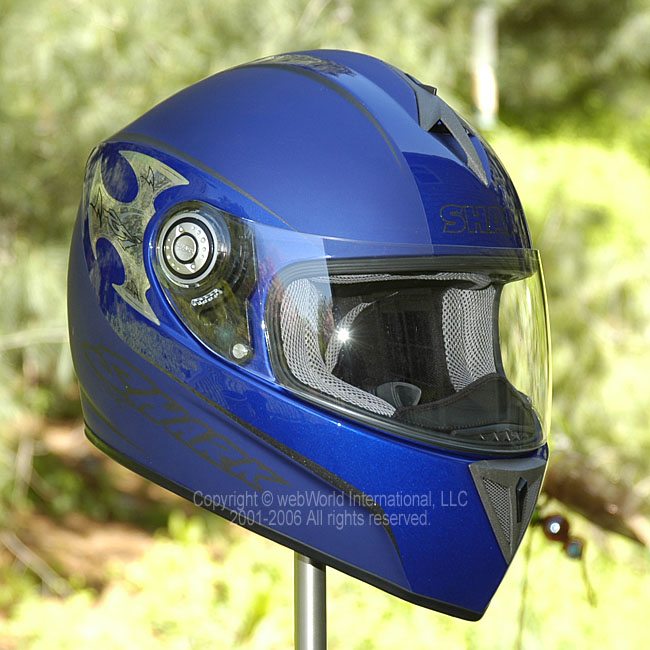 Helmet Shell
Shark offers the RSi in two shell sizes to fit heads from size XS to XL. The XL shown here seems to be true to size. Our opinion is that the RSi has a definite "long oval" internal head shape. Many of you have been asking for a review of a helmet with this shape, so here you are.
See the wBW Motorcycle Helmet FAQ page for a description of head shapes, which are an important consideration when choosing and fitting a motorcycle helmet.
The long oval shape seems to give the helmet a longer front-to-back internal shape up top and slightly narrower sides than, for example, the Arai Quantum II or the HJC CL-SP, both of which have "round head" internal shapes.
When I first plunked the RSi on my round head, I noticed the long oval shape as a snugness along the sides and a bit of extra room in the forehead. I wondered if this would become a bother when it came time to ride with it for a while.
Some helmets with this shape have become uncomfortable after only wearing them for 20 minutes or so.
Obviously this is not the fault of the helmet, but illustrates the importance of matching the helmet's internal shape to the rider's head. It's surprising how many motorcycle riders do not realize that helmets -- and humans -- have different head shapes.
In any event, I'm surprised to find that even though the RSI feels slightly tight on the sides, it still feels comfortable even on my slightly mismatched head shape.
The RSI's shell is made from Carbon-Aramid multi-directional composite fibers. The shell is very thin, yet the RSi meets both DOT and ECE 22.05 approval. My opinion is that this is the best combination of safety standards for motorcycle helmets.
At the Dealer Expo, Christophe Miravalls, Shark's Export Director, walked us through the Shark philosophy on helmet design.
If you're familiar with the recent discussion started by Motorcyclist magazine regarding softer outer helmet shells and their potential to reduce G-force impact to the head, you'll like what Shark has to say.
Apparently, they're a big believer in the Motorcyclist theory, and the new Carbon-Aramid shell on the RSi, which feels extraordinarily thin, is designed as a crush zone, spreading the impact through the specially designed and shaped foam liner to reduce impact.
Here's a photo of a Shark RSR helmet shell, illustrating the point.
The various air channels and the foam is designed to protect the rider's head by varying the duration and intensity of the impact with a "five-element internal shock-absorber with differentiated density" lining.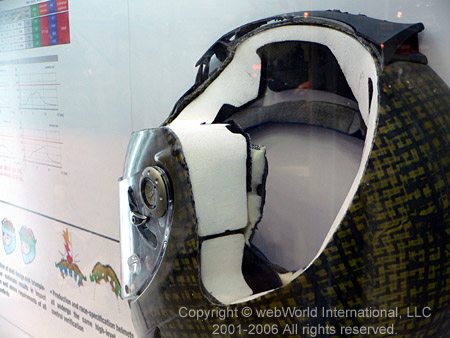 Helmet Weight
Our Shark RSi in size XL weighs in at 1565 grams, or 3 lbs. 7 oz. See the wBW Motorcycle Helmet Weights page for a comparison; the RSi is lighter than the Vemar VSR and the Suomy Extreme Spec-1R, which puts it in featherweight company.
Another way to look at it is in the graphic we developed on the data on the Motorcycle Helmet Weights page, which indicates where the RSI is located on a continuum of the weights of all the helmets we've reviewed.
Scale weight is one thing, balance on the head is another. The Shark RSi feels light, which translates to added comfort when riding. In addition, the sharper profile of the helmet is designed to help it cut through the air.
We found this to be effective, with the exception that when combined with the light weight, the helmet feels slightly more directional under certain conditions.
That is, we noticed more pressure when moving the head from left to right at high speeds, probably due to the decreased resistance to turning due to the lower mass.
Face Shield
The older Shark RSR face shield had a unique removal system that we found to be slightly balky. The RSI has a completely new and unique design that works very well and is without doubt the easiest face shield removal system any of us have ever tried.
A simple press on the center of the button is all it takes to remove the RSI's face shield. It's a wonderful system and I wonder if Shark has a patent on this unique design?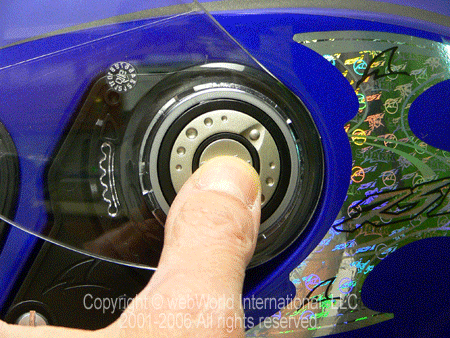 Shark says that the face shield is treated with an anti-fog and anti-scratch coating. It may be my imagination, but the RSI's face shield seems to have better optical qualities than most and I can notice a difference when riding.
The tab that opens the face shield is farther to the left than I'd like, one of the areas where the styling probably took precedence over function. It's not a big problem, but it takes some getting used to finding the tab compared to other helmets.
The lifting tab's location also makes the face shield twist more than usual when it is raised or lowered.
The face shield also doesn't have a strong "snap" when it's flipped closed, but so far this does not seem to affect the way the face shield seals around the eye port. I haven't noticed any unusual wind noise originating in that area.
Helmet Liner
The fabric used on the inside of the RSI is a soft type of micro-fleece. The liner doesn't have quite the "squishiness" of the RSR, but it's comfortable nonetheless.
The liner looks great and is finished well. There is also a nice finish on the inside of the chin guard, an area that is often overlooked.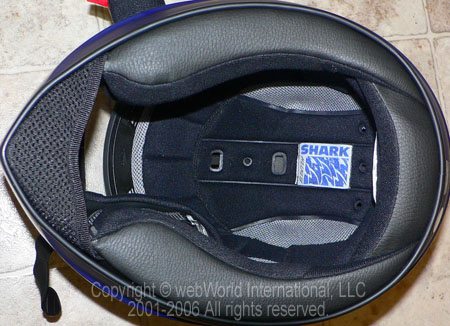 At the
w
BW
Amazon.com Store!
The ear pockets are shallower than other helmets, so I don't think the RSI would be suitable for anything but the thinnest speakers. This is probably one of the compromises of the helmet's unique shape.
Ventilation
We're starting to see a trend in motorcycle helmet design away from the heavy use of faux aerodynamic devices patched on top of helmets. All we can say is "good riddance".
We haven't found a single one that does anything more than add noise and something to break when the helmet drops.
The Shark RSI has a chin vent and top vent that are styled to complement the overall "Tribal Celtic" look, but they are also simple and they work. The rocker switches are easy to find when wearing gloves.
The vents provide about as much air flow as we've experienced on any helmet, whether designed for racing or not.
The foam liner has many deep channels and the liner uses mesh fabric in all the right places to bring fresh air on to the rider's head. This just proves our contention that simpler is better when it comes to motorcycle helmet vents.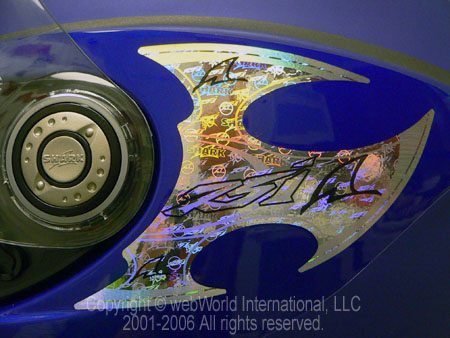 Noise and Sound Levels
The absence of any "aerodynamic" spoilers probably contributes to the RSI's low overall noise levels.
The lack of an of the high-frequency "whistling" noises that are usually associated with top vents and all of the other junk sticking out the top of many helmets again proves to us that smoother is also better.
I notice some wind rush noise around the bottom of the helmet under the rider's ear, but this may be because my head shape isn't a complete match for the helmet.
The helmet also has a more scalloped shape underneath and the distance from top to bottom seems slightly shorter than normal, again due to the unique design.
This may have caused a slight compromise in sealing at the bottom, which would be responsible for the noise emanating from this region.
We recorded an MP3 file of the RSI's sound levels; see the Motorcycle Helmet Noise page for a list of other sound files from helmets we've reviewed.
Note that we always wear earplugs and an extra helmet liner when we ride. See the wBW Earplugs and Hearing Protection page for more information and a list of earplug reviews that we've posted on the site.
Chin Strap
The RSI uses the tried-and-true D-ring attachment system. The chin strap has a rather short length that fits me with no problem, but note that it is noticeably shorter than normal. Instead of a snap at the tip, the RSI has a vinyl loop sewn into the strap. The loose end is secured by sliding it under the loop. The padding underneath the chin strap is also nice and comfy.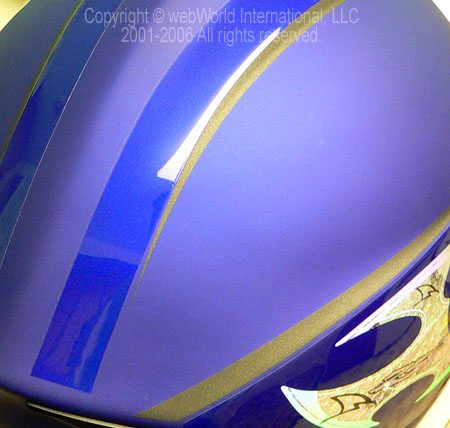 Conclusion
The Shark RSI exceeds the expectations we had when we first handled it at this year's Dealer Expo. It has a unique shape and features that are both beautiful and functional, with a couple of minor compromises.
w

BW

Review: Shark RSI Motorcycle Helmet
Manufacturer: Shark Helmets
List Price: TBD
Colors: Solids and graphics.
Made In: Thailand
Review Date: February 2006
Note:
For informational use only. All material and photographs are Copyright © webWorld International, LLC since 2000. All rights reserved. See the webBikeWorld®
Site Info page
. Product specifications, features and details may change or differ from our descriptions. Always check before purchasing. Read the
Terms and Conditions
!
Please send comments to
---
From "J.K." (05/11): "I recently purchased a Shark RSi Prime helmet as well, based on the information found here.
Thank you, thank you, thank you for publishing the guide for helmets and their features. I've spent countless hours of research trying to find one to fit my long-oval head and took a gamble on your guide by ordering a Shark.
There are no dealers that carry them so trying one on beforehand was not an option. I appreciate the information you've compiled."
---
From "V.B." (05/11): "I have been riding since I was 19 years old, I am 44 now. Safety, comfort, and fit are very important to me, and I always use a full face type. I recently purchased a new Shark RSI Prime Helmet. I have used it enough to know it's a winner. Quality is evident.
Love the looks, really love the great fit for my elongated oval head. Comfy interior, no forehead pressure! Flows more air than my former Icon helmet, a bit quieter too. Half price of the Arai Profile didn't hurt my feelings!
The tail of the chin strap is too long, but once you get the hang of the weird strap retaining clip it tucks up well. It does seem to take a little bit away from the peripheral vision, but I am quickly getting used to it.
Have rode at 65mph + highway speeds, and no issues with shield popping up as others have said. Very nice optics on the shield. Easy operation of vents with gloves on."
---
From "T.D." (9/09): "I thought I'd add my two bits in. I recently bought a RSI and I will agree with the review.
It's very light you don't feel the helmet pulling your head around when you turn it. The visor is super clear it really looks the same up or down and it never wants to lift when I'm on the highway.
The vents work very well I could really feel the air on my face when I opened the chin vent I have very thick hair so I can't say how the top works I did feel it somewhat.
I'm tall and have the long oval head type and it's the best fit I have ever had. I did feel the wind catch it a bit when I turn my head on the highway but not bad. It is very quite as well."
---
From "M" (6/09): "Without getting emotional or assuming that this is a widespread, general problem with Shark helmets, I'd like to relate my negative experience with my Shark RSi helmet - purchased new in 2008 and used in that season and the 2009 riding season.
The specific problem: When I turn my head to either side at speeds over approximately 60 MPH, the helmet visor simply opens. As I have read elsewhere, this is inherently dangerous to riders because it can cause the riders head to snap back and/or move involuntarily.
It seems logical that even that slight loss of visual control could be deadly and that was the conclusion of what I've read about this issue.
Furthermore, but less important and certainly subject to rider control by using earplugs, is the issue that in comparison to my Shark helmet, my previous Arai and OGK (primarily the Arai) were exponentially quieter than the Shark.
The visor defect combined with the noise issue do not bode well for any future purchase of Shark products in my future."
---
From "R.N.": "Just wanted to drop a quick note about the Shark RSI Helmet I just purchased.
First off I would like to thank the fine folks at webBikeWorld for providing such great reviews and information about motorcycle related products. Because of your review(s) I was able to narrow down my search for a new lid.
I was leaning towards an Arai Profile because my head shape is a long oval and I found, thanks to webBikeWorld, that the profile was a long oval shape.
But I had never spent that much money on a helmet before and wasn't certain I was sold on the Arai after seeing some other reviews about quality control.
So after some more research I found the review for the Shark RSI and it looked like a solid helmet with the features I was looking for.
I took your recommendation of purchasing through RevZilla and found that they had the Shark RSI Alien Graphics helmet on closeout for $249 which was right up my alley.
To my surprise the factory from where the helmet shipped was located right here in sunny Florida and I actually had the helmet in my hands the day after I ordered it. Now that's what I call fast shipping.
Just from picking up the box I realized the helmet felt much lighter than the bulky HJC Symax (flip up) I was currently using.
I took the helmet out of the box and was very impressed with the feel and look of the helmet. The paint is flawless and really busy which is something I was looking for.
Everything that was written in the review was spot on. I put the helmet on my head and really appreciated the fit. It was snug but not overly tight and there weren't any "hot" spots in the front or back which I felt with my HJC.
So I decided to hop on the bike and give it a whirl.
My first impressions on the bike were that it was much quieter in terms of bike and road noise. So much so I had to look down at the tach to see when I should shift because I could hardly hear the pipes.
However, at higher speeds it became obvious that this helmet does get a fairly loud "drumming" wind noise. But nothing some cotton in the ears can't fix.
I have to say this is definitely a great helmet at a great price and I am very happy with my purchase. Thanks again for all the information, can't wait to see how my Luggage Locker seat sack compares to the owner review on your website."
---
From "M.B.": "I picked up a 2007 Shark RSI Titan Matte White/Silver helmet recently. For me, it was the most expensive helmet I've ever bought (which isn't saying much): ~$300 on the 'Net.
The purchase was almost entirely based off of webBikeWorld's recommendations - and you seem to have been correct.
So far, I'm very impressed. The helmet noise seems to have been reduced to the point that I might not have to wear earplugs anymore. The helmet is very light and well-balanced; the pointy front-end design makes head-turning just that much more awkward.
The interior air flow seems good - I have a horrible habit of fogging visors, to the point that I put Fog City inserts onto all of my previous visors (absolutely nothing else worked for me).
The RSI kinda-sorta fogged up during a rainy ride yesterday - but it was much better than before (I put new Fog City inserts in, anyway).
Only ~120 miles with it - but so far, it's been an excellent purchase!"
---
From "R.L.": "After much research, I purchased a RSI helmet (Shuriken WSX) in May 2007, and it quickly became my favorite. It is absolutely the best helmet that I have ever worn.
Compared to my old HJC AC-10, the RSI is better in every way: lighter in weight, no wind buffeting, better fit for my slender face, well-sealed from rain, fast visor changes (less than 6 seconds, if you try).
My favorite feature is the anti-fog treatment which is IMPOSSIBLE to fog up!
The visor change is great too; it can be done without even removing the helmet. WOW! I am an all-weather rider, so these features are very important for comfort and safety.
So far, I have put 12,000 miles on the helmet in 4 months, including a number of 400+ days, with comfort the whole way. I have received continued compliments on the helmet's appearance, many from complete strangers and non-riders.
Obviously the Shuriken is eye-catching, but its performance is even better."
---
From "W.L.": "I got this helmet spring of 07 in the Blue hologram graphic to change the look up a little from my daily (HJC) AC-12 Vader helmet, and I've gotta say, these two helmets are excellent competition for one another!
They are both very light weight, and the aerodynamics integrated into the shell molds are top notch. As far as wind noise goes, (both) have rather shallow neck rolls for my taste, and most of the noise comes from there.
This is where the two helmets diverge. Quite to my surprise, I think the HJC is a better overall design! All three of the visors I have for the HJC are of excellent fit, and NEVER pop up unless I tell them to.
I'm disappointed to say (mostly because 1 Shark Visor costs what two HJC visors cost) that this doesn't hold true for the tinted Shark Visor. Quite a bummer, because the tint is awesome.
It's almost a blue or purple tint and adds an excellent contrast without deadening shadows. But the fact that it pops open for every head check is quite annoying.
Also, the ventilation on the HJC is quite a bit better than on the Shark. The only way I know the vents are open on the Shark, is by checking the levers. There is no difference in feel. Whereas the AC12's vents are quite obvious.
Mostly the chin vent, which is good, because unlike the RSI's TRULY fog proof visors, the HJC needs ventilation.
Overall, these are my two favorite helmets to date! Although now that (the Shark) RSR 2 in Duhamel Livery is really speaking to me (if not to my pocket book so much)! ........... Time will tell."
---
From "M.P.": "I picked up the Shark RSI about two weeks ago and figured I would put in my 2 cents since there was no other comments on the helmet. I had been wearing an Arai RX7-RR3 that I loved for the fit but it had gotten old and was time to replace it.
Anyway the Shark RSI has been the closest thing I have found to my old Arai (the new ones do not fit the same for me.)
We can start with weight, the helmet is very light as mentioned above but you really have to ride with it for a while to appreciate just how light it is.
The paint and finish is all top notch the interior is very comfortable and the fit is perfect for my more round oval shaped head. Also the hologram really is pretty cool looking (I have the exact same one reviewed above just in black).
As for wind noise, it is pretty quiet up top but I too have noticed some air getting in under the neck area where the neck roll just does not quite cover enough for me. It's not really that bad but it is noticeable.
The helmet is not as cool as my Arai was but I have yet to find one that is. It moves a decent amount of air but at lower speeds in Florida in the summer it does get hot in this helmet.
All in All I am very pleased with the helmet and out of my OGK FF4, Arai RX7-RR3 and Shark RSI I would say I like the Shark the best, it just has a great look and feel to it.
Since I have only had it for two weeks I can't comment to much more on it, that is just my quick thought on it. Maybe after I get a few out of state rides in it I will have more to offer."