The Breakdown
Scorpion's EXO-ST1400 Carbon might very well be the best value currently available in a full-on Carbon Fiber full face helmet. While there are some less expensive options, none seem to have the combination of features and build quality Scorpion has brought to the table. There's only one small detail that really brings the rating on this helmet down from 5 to 4.5 and it's possible that it could be remedied with some QC surrounding the internal visor.
Pros
Lightweight / Emergency cheek pad pulls / Excellent ventilation / Great price
Cons
Optical quality of visor optics could be better
Introduction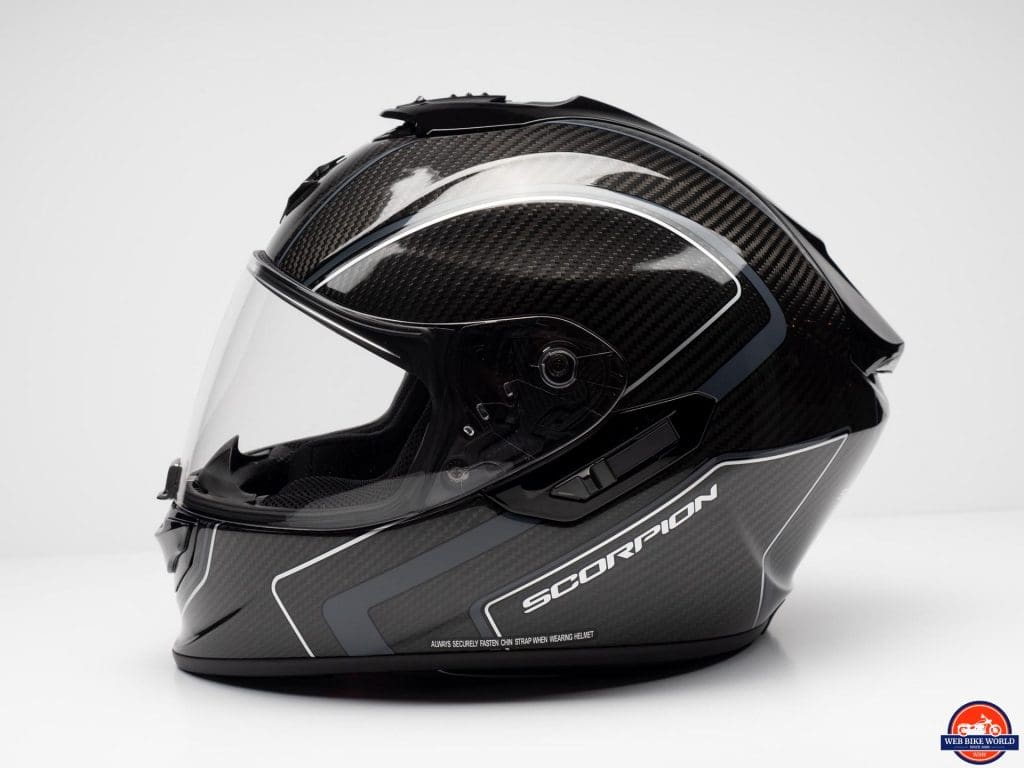 Carbon fiber. This material seems to offer considerable street "cred" to any piece of motorcycle apparel, accessory, or the hard part where this super strong material is employed. Despite what motorcycle accessory catalogs might show, not everything is better by simply being made from this material. Helmets, though, are one area I can get behind the use of carbon fiber.
The combination of lightweight and high strength make it an obvious choice for use in crash helmets. Combined with a quality EPS interior and lining, a carbon fiber based lid can offer equivalent protection to fiberglass and polycarbonate helmets while usually saving some weight.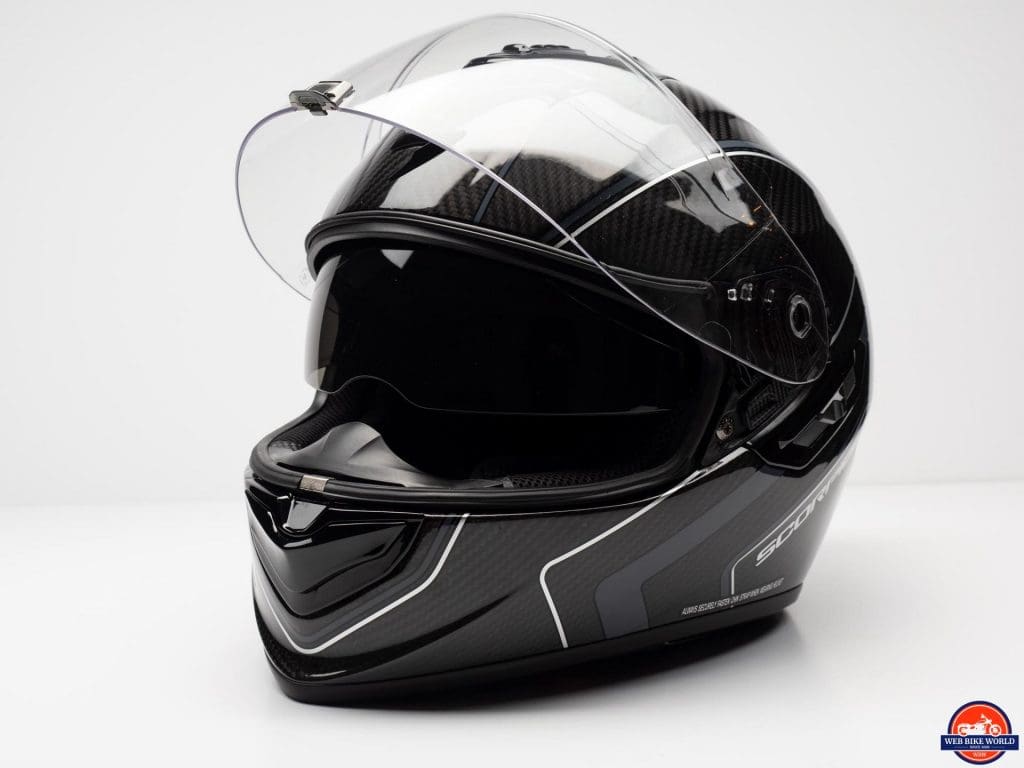 Those weight savings do come at a price and even though carbon fiber costs have fallen a bit it is still pricey compared to other materials. So when full face helmet using a carbon fiber shell shows up at my desk at around the $400.00 (USD) mark I'm going to be taking a close look to see what corners were cut to reach that price. Let's have a look and see if Scorpion has managed to leave those "corners" more or less intact.
Shopping Now? We Recommend:
webBikeWorld has worked closely with RevZilla over the years to provide our testers with products to review. In addition to being a great site to shop from, they're also a great partner.
RevZilla

Free shipping on orders over $40
30-day no-nonsense return policy
Excellent selection of all major brands
Awesome pricing
Amazon

Free shipping (with Amazon Prime)
30-day return policy
Excellent selection
Competitive pricing
The Scorpion EXO-ST1400 Carbon
The Scorpion EXO-ST1400 Carbon (referred to as ST1400 from here on) takes a carbon fiber shell and throws in practically every feature a modern, full-face, sport touring helmet could have. Seriously, there is a lot going on here. Before I get into the weeds, though, let's have a quick overview.
Like the majority of carbon fiber helmets, the ST1400 comes in black and not much else. There is a glossy and matte finish for the basic black and a "graphic" version called Antrim available in gray (shown) and Hi-Viz. Even with the graphics, the helmet is 85 to 90% black.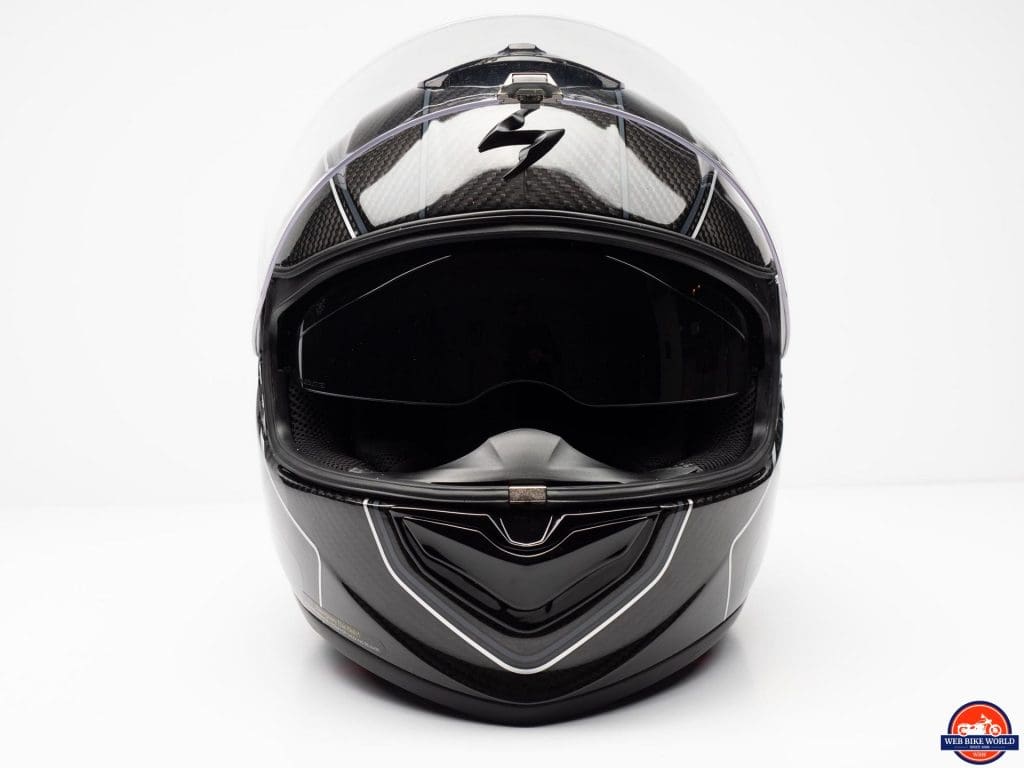 I do wish they offered some other options that provided more visibility and might reflect more sunlight in the hotter months. I get it that one might want to show off the "cool" carbon fiber weave of the shell but I'm over it. Maybe more colors will be available down the road?
Getting past my bias against black helmets the overall appearance is very nice. The graphics, as subtle as they are, are smart looking and clean. Close inspection reveals the decals overall are just slightly off center. It's as if the entire decal package was rotated clockwise (when looking down on the helmet from above) just a touch. I doubt most riders would ever notice this but it's there.
Venting is handled by two intakes, one at the chin bar and another at the top. Both vent assemblies are finished in a shiny black color and each has two open positions in addition to fully closed. A rear exhaust port is positioned at the back towards the top.
A double D-Ring setup is used to attach the chin strap and the view of the underside shows a carbon fiber "weave pattern" on a portion of the padding. This blends nicely with the weave pattern under the clearcoat of the shell.
Other Features
As I mentioned earlier Scorpion has placed a considerable feature set into this helmet. In addition to the carbon fiber shell which is itself, a feature, the ST1400 has;
An internal drop down sunshade
Scorpion's Airfit® cheekpad inflation system
An Everclear™ fog free main visor
An additional Pinlock® visor with an included MaxVision insert and
Emergency quick-release cheek pads
That's quite a feature set for the price point of $399.95 ($429.95 graphics version). Seems like something has to "give" somewhere along the way, right? Let's have a look and see if there is indeed a devil in the details.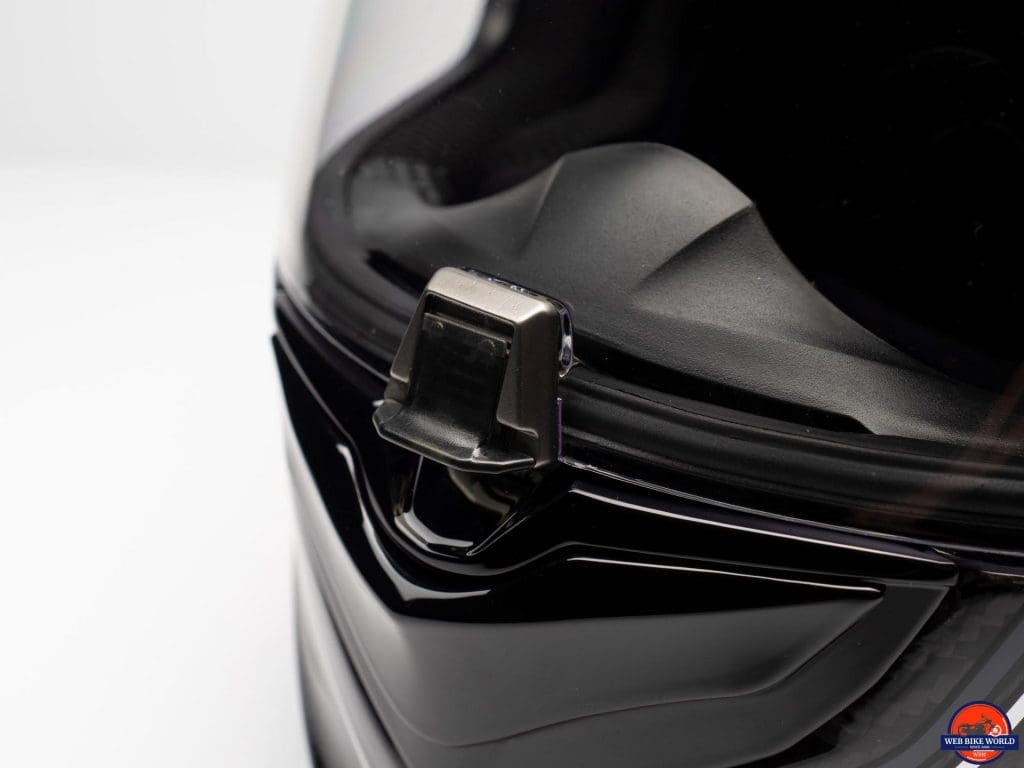 Paint & Graphics
The ST1400 might not have much in the way of paint/decals but the Antrim graphic does a nice job of breaking up the otherwise standard carbon fiber weave. As mentioned earlier, the decals do appear to be slightly off center in their application but it really is not easy to spot unless you're looking for it.
The clearcoat is very smooth with only a slight wave in the finish. The finish appears to be pretty thick and the shine is impressive. I prefer high gloss finishes on motorcycle helmets as they tend to be more resistant to having road grime and insects becoming stuck.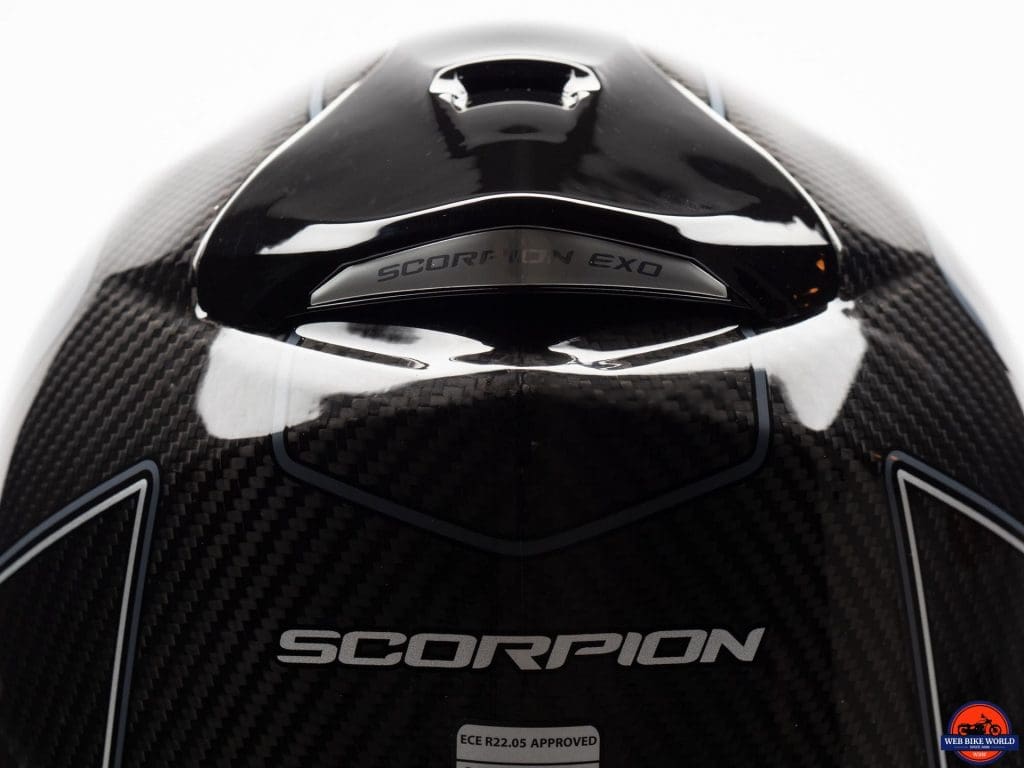 The same high degree of gloss is applied to the plastic vent hardware which itself is very smoothly painted giving the helmet an overall high-quality look. The only thing a little out of place, but necessary, is the DOT / ECE sticker on the rear which is placed on top of the clearcoat.
Overall I would give the ST1400 an "Excellent" for overall paint and graphics only missing an "Outstanding" rating due to the slight alignment issue with the decals.
Construction
The ST1400's carbon fiber shell is the star of the show here. The shell feels solid and relatively stiff without being overly so. In this application, carbon fiber needs to have some "designed in" flex in order to absorb shock properly otherwise the material can splinter from a hard impact.
There is little to no creaking or squeaking when flexing the shell giving the helmet a quality feel. The lower gasket between the liner and shell is well seated and smooth around the entire opening.
A chin curtain is installed at the front under the chin bar. It is made from a stretch nylon material and a carbon fiber patterned edge that matches the shell. The curtain is removable but it is much easier to remove with cheek pads out first as I found out when checking out the interior.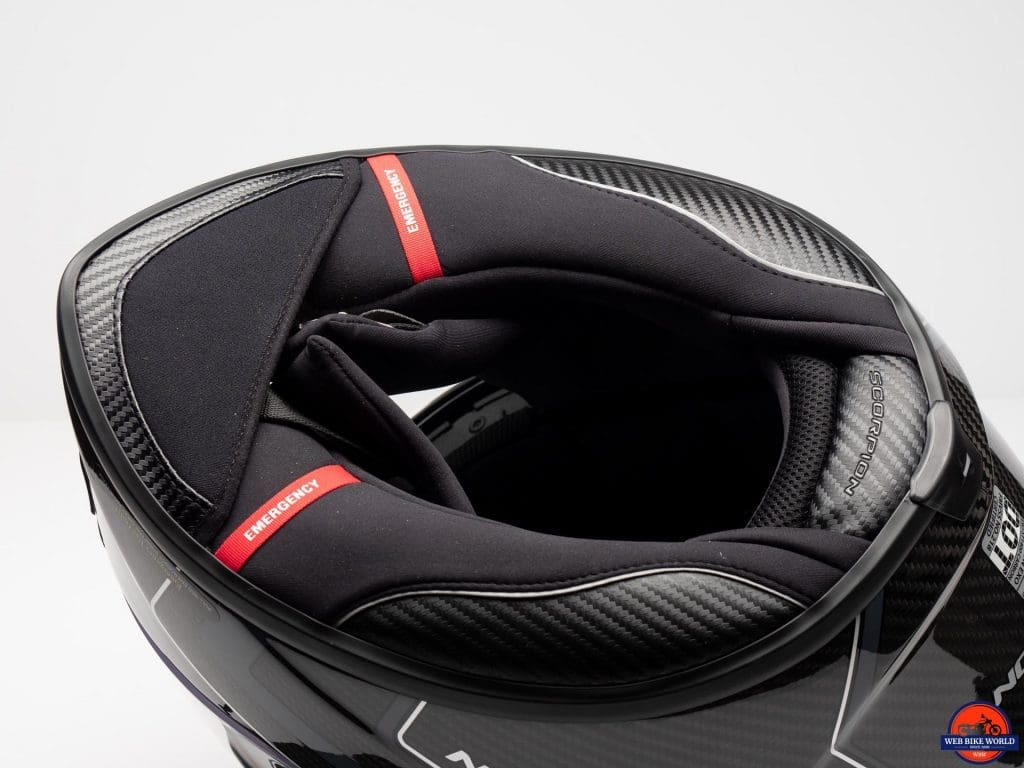 Speaking of the interior, the cheek pads and the liner use Scorpion's Kwik Wick III material which is smooth and slightly cool to the touch. It is designed to wick moisture away from the skin and has a smooth feel. It's not as plush as some helmets but it is certainly comfortable even when wearing for hours at a time.
The interior lining and pads are removable for cleaning/replacement and are held in place via plastic snap connectors and plastic edges tucked between the shell and EPS of the helmet. Red emergency pull loops are in place on the underside of the cheek pads which allow emergency workers to remove the padding, and subsequently, the helmet, should the need arise.
Underneath the cheek pads, one will see flat translucent tubing which makes up the bladders for the AirFit® system. These bladders are inflated using a large, rubber bulb in the back of the chinbar. Next to this rubber bulb is a small metal button used to deflate the system before removing the helmet. We'll take a closer look at the AirFit® system shortly.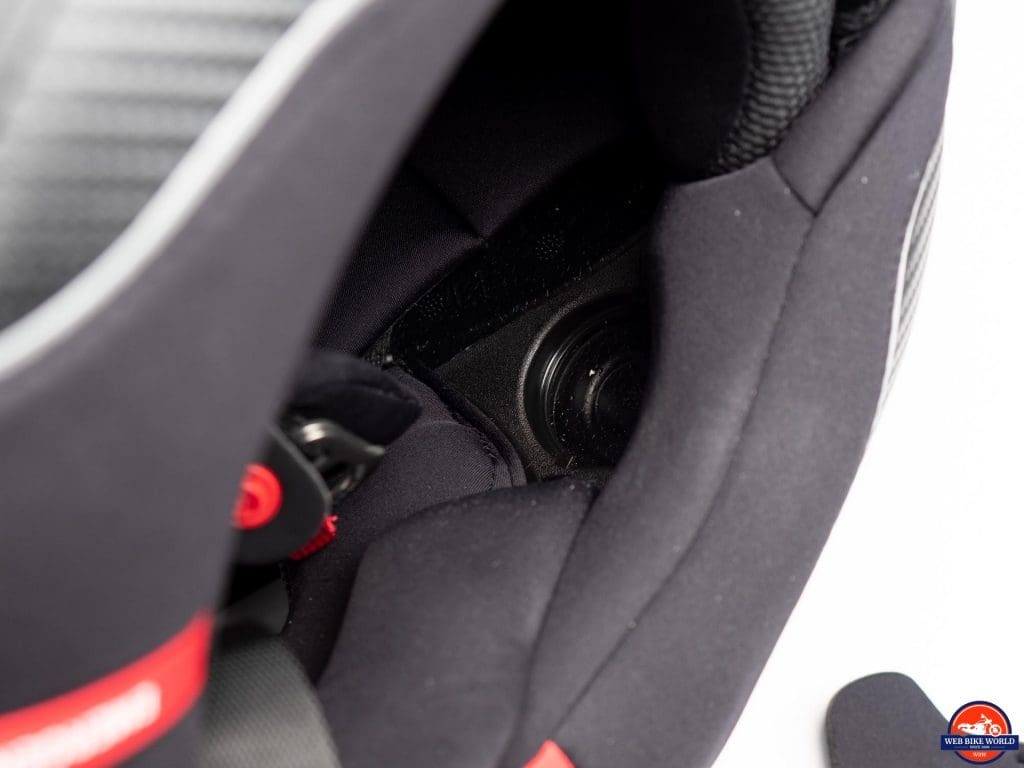 Scorpion uses three shell sizes to cover the five available sizes. The different shells help keep the outer size of the helmet from getting too "space-helmet-like" at smaller sizes. The shell sizes vs. helmet sizes work out like this; XS through MD share a shell, XL through 2XL share sizes, and L gets its own shell.
Speaker / Intercom Support
The ST1400 has cutouts in the EPS interior for the placement of speakers for a communication system. These are covered with removable padding that is easy to reinstall if desired. The openings should handle most helmet speaker systems, at least ones that are no larger than about 40mm.
The depth is good at about 10mm and again should work with most helmet speaker units. My own Sena 3S system has large and thick speakers and they do fit, but they are pretty much at the limit for the available space. For comparison, the 3S speakers are 39.9mm by 11.3mm (1.6 in x 0.4 in).
Helmet Weight
The ST1400 tips the scales at 1516 grams (3lbs 5.5oz) which is definitely in the lightweight range for full face helmets. I was a little surprised that a full carbon fiber shell helmet weighed a little more than the recently reviewed composite K5s helmet from AGV which clocked in at 1499 grams (3lb 4.9oz). My thinking is that the components of the AirFit ® system might be responsible for the extra weight.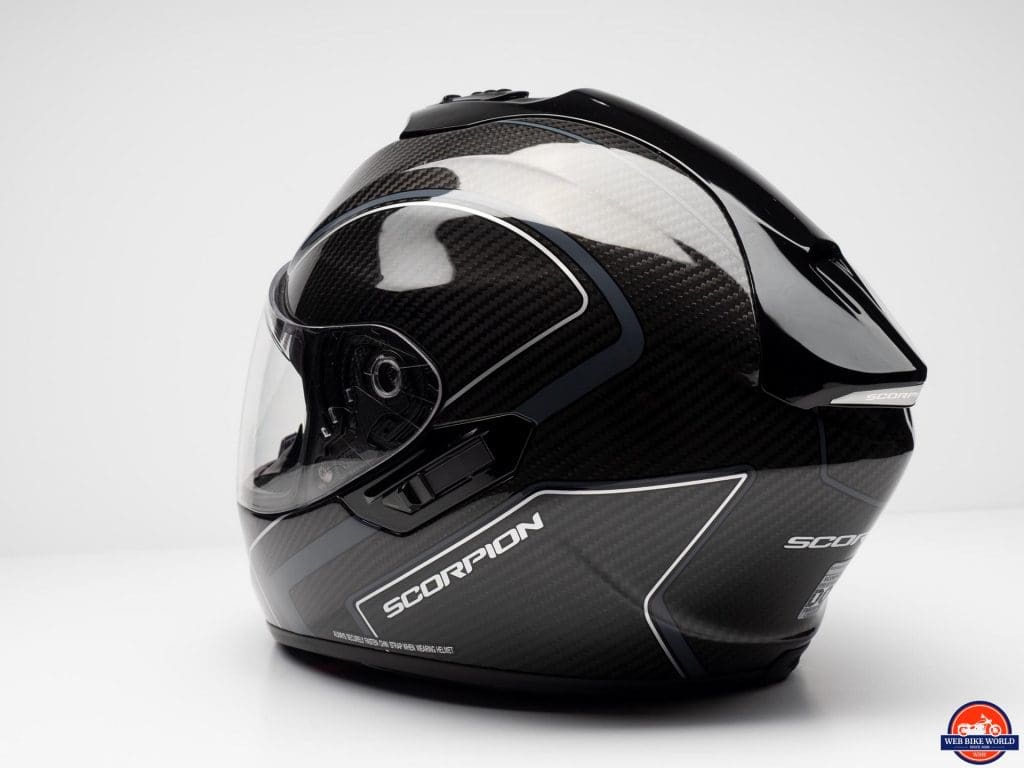 As expected, the helmet does feel very light in the hand and the balance feels very neutral. There was no tendency of the helmet while riding for it to drop forward like some helmets I've reviewed. Of course, as everyone's heads shape is going to be different, your mileage, as they say, will vary.
Fit & Comfort
This helmet in size large fits as expected and true to the 59-60cm size chart provided by Scorpion. The shape is intermediate oval with a good distance from chin to chinbar and the liner feels like it is resting well on top of the head. I haven't felt any hotspots or "light spots" on the top area since I've been wearing it.
The smooth Kwikick fabric is nice enough against the skin but as I mentioned earlier, it is not as plush as the type found in some helmets. The advantage to this smooth liner is it will resist pilling better than plush liners and it makes it look new longer.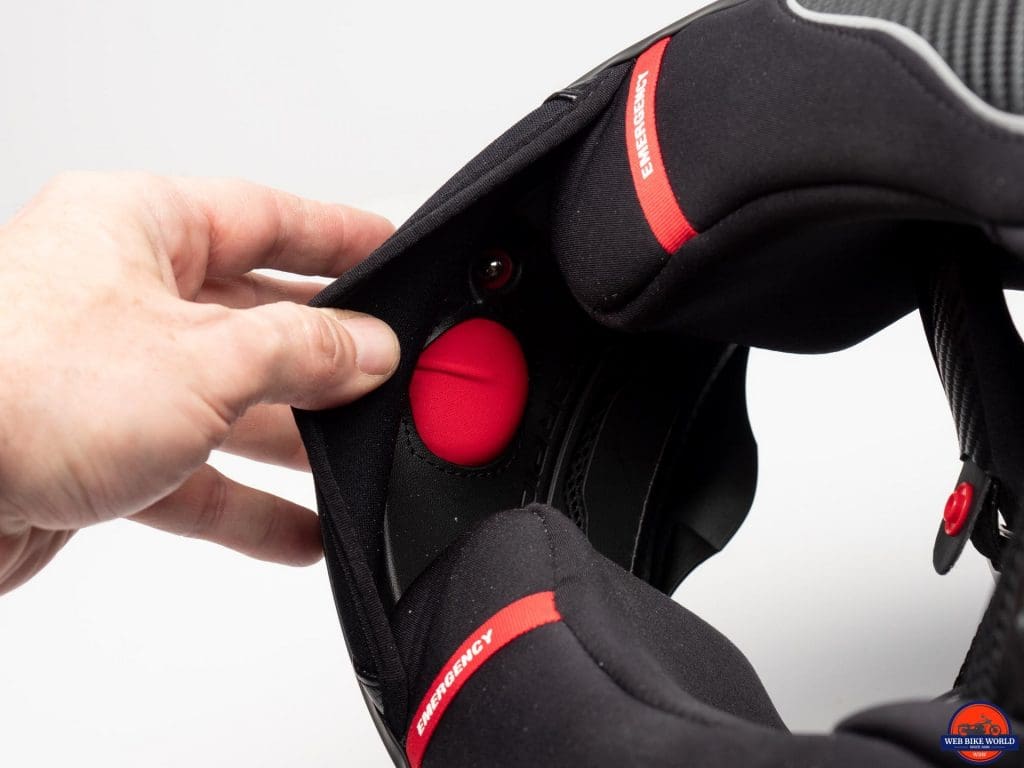 A properly fitted helmet will be snug when it is new and will then break in and more or less shape itself to the wearer. OVer time the padding can suffer from fatigue and it may loosen up the fit a little. Scorpion's Airfit™ system can be used to pump up small bladders behind the cheek pads. This can help extend the useful life of the padding by making sure the helmet remains snug even after the padding has "relaxed".
Additionally, if one is between sizes, the system can adjust the fit and help the wearer reach the "Goldilocks zone" of the correct fit.
Shopping Now? We Recommend:
webBikeWorld has worked closely with RevZilla over the years to provide our testers with products to review. In addition to being a great site to shop from, they're also a great partner.
RevZilla

Free shipping on orders over $40
30-day no-nonsense return policy
Excellent selection of all major brands
Awesome pricing
Amazon

Free shipping (with Amazon Prime)
30-day return policy
Excellent selection
Competitive pricing
On the Move
One thing that can ruin an otherwise good helmet is how well, or poorly, it cuts through the air at speed. I was pleased the helmet didn't fight me when turning my head or try to lift at speed.
Taking a close look at the shape of the helmet one can see it is not completely round but rather has multiple, subtle ridges around the shell. These likely add to the overall stability in the wind and the effect works well when turning for head checks.
Ventilation & Noise
Ventilation is handled by a chin vent and forward facing top vent as well as a rear facing exhaust vent up top. There are also two openings under the small, angular rear spoiler but these do not appear to have any sort of direct channel into the interior, at least not that I could find.
The chin vent has two open settings with the first allowing air to flow up directly to the visor interior while the second opening also allows air to flow straight through a mesh screen onto the wearer's face. The mesh opening is pretty thin but it flows a good amount of air for warm days and on cooler days it's enough to where one would likely close it which I did.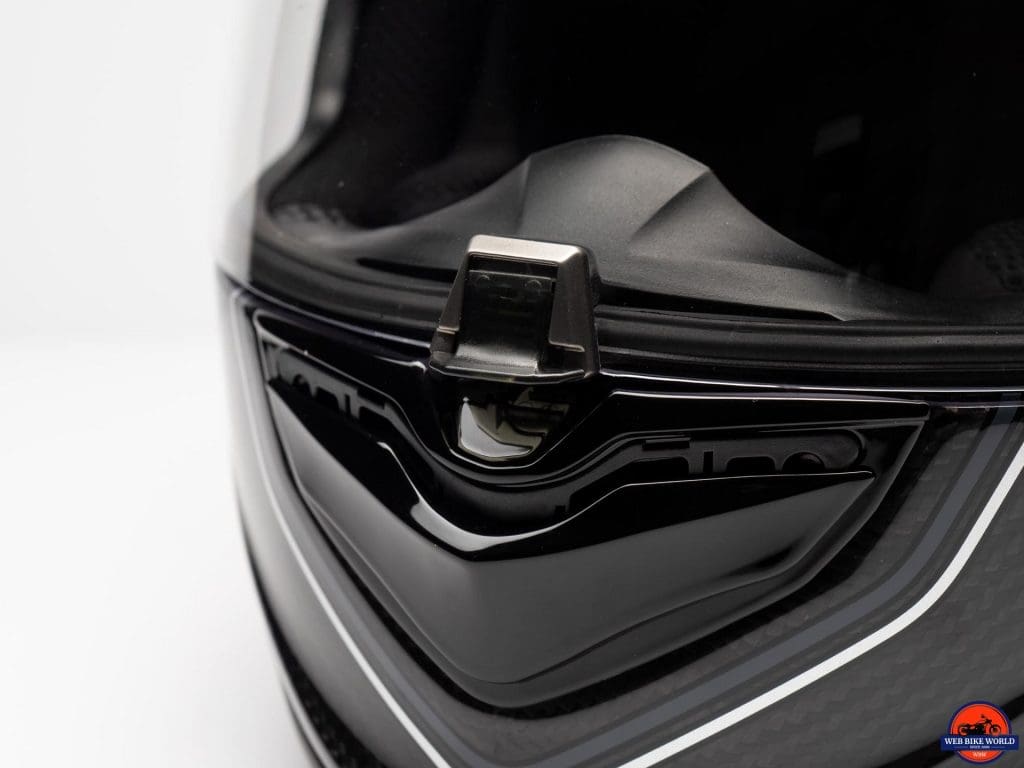 The top vent has a large scoop that actually pulls air into two openings that go directly to the interior. There are two positions for the sliding cover for full and partial flow but there is not a whole of difference that I could tell. The good news is that this vent works very well.
Even at lower speeds (20mph), one can feel air flowing through to the top of the head. This is a very good showing as so many helmets I've owned and reviewed seem to flow very little, if any, air through their top vents.
The sliding covers for both the top and chin vents take a deliberate effort to move and they have strong detents. When opening/closing them with the helmet on a table in front of me they feel a bit stodgy, however, in practice, it's a different story.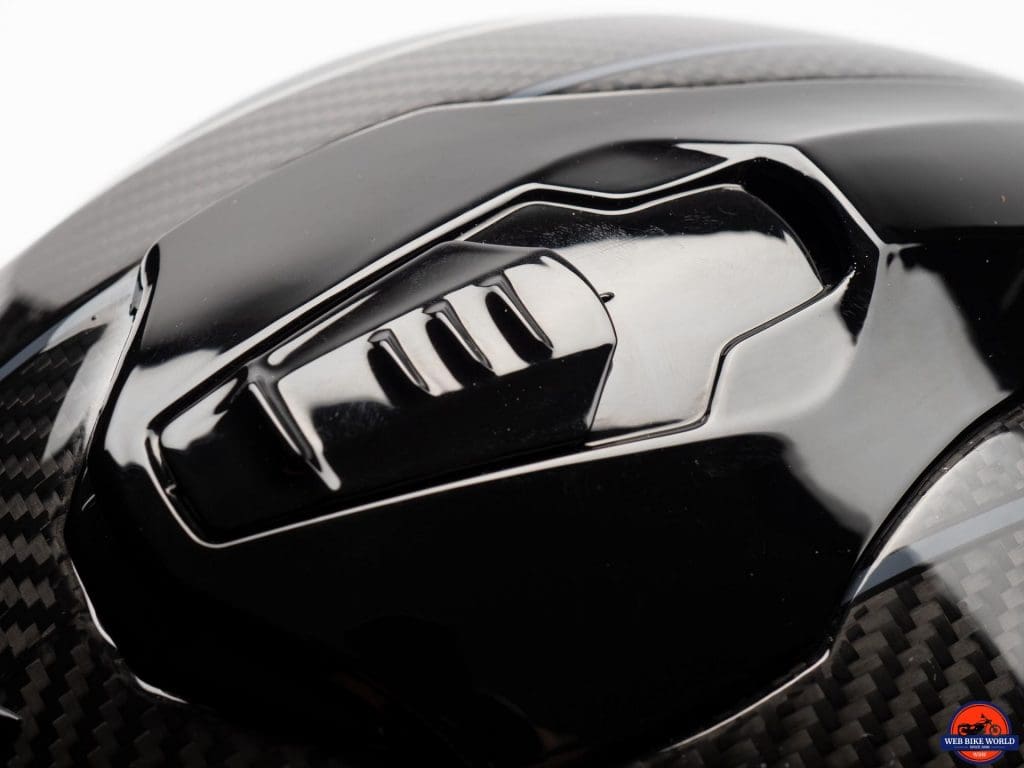 With the helmet on and wearing gloves, the action seems perfectly suited and one can easily slide the covers open and closed (and in between) very easily. If there was less friction it would likely be hard for one to find the intermediate settings.
The rear exhaust vents are likely doing some of the work of pulling air through from the top vent since, like the top vent ports, they have a direct path from the outer opening into the interior of the helmet. Light can be seen easily when shining a flashlight in them clearly showing the path is straight.
Noise Levels
I'm pleased to report that the ST1400 does a good job with noise control. There is what I would consider average wind rushing noise in the midrange but booming and other low frequencies are well controlled.
Good airflow can have a downside as large vents and scoops can induce whistling and other noise. Thankfully the ST1400 remains relatively quiet with only a small increase in wind rushing noise. I can get the occasional whistle if I turn my head just right but nothing that lasts. Overall noise is very well controlled.
Please keep in mind that I always wear custom-fitted earplugs when I ride including when testing helmets. Rider height and motorcycle specifics such as fairing, non-faired, etc can also affect noise levels so your own experience might be different from mine.
Visor & Eyeport View
The eyeport on the ST1400 offers a very good view from side to side and I found there wasn't much more I could have seen out of my peripheral vision thanks to the generous opening. The top to bottom view is a little larger than what I would consider average and it suits me just fine. I have always felt that really tall eyeports are great some of the time but on sunny days they can become a problem since they cannot block the sun easily (or at all).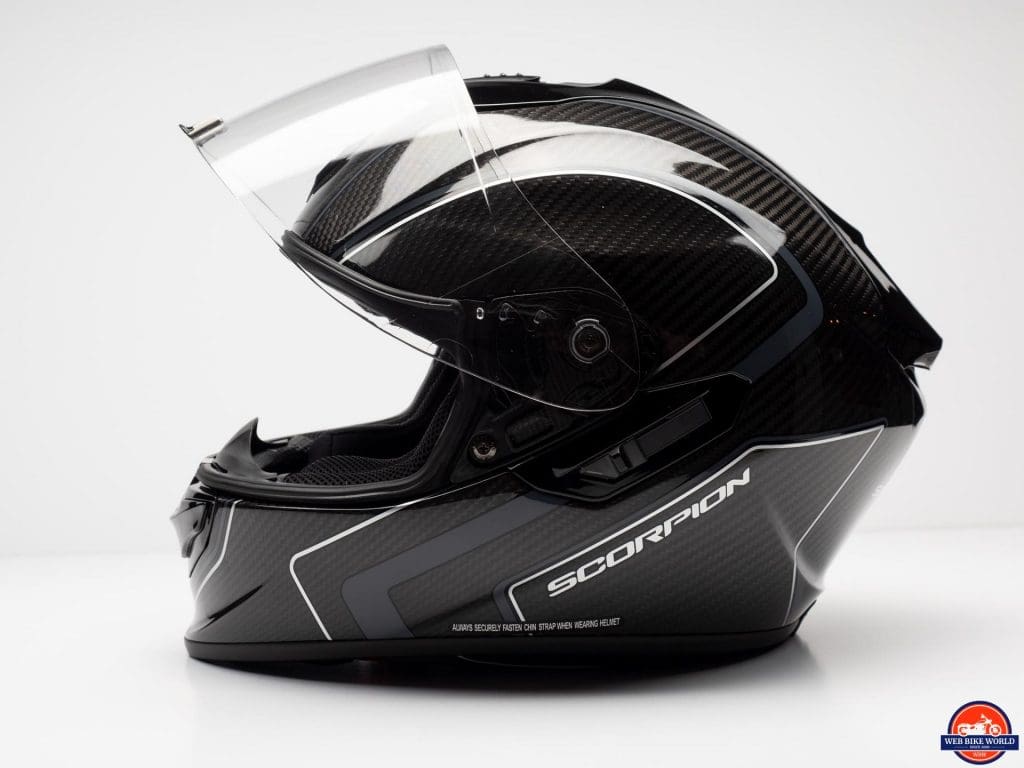 Main Visor
One of Scorpions Everclear ™ anti-fog visors comes installed on the ST1400. The special coating of the shield works well to minimize fogging. It seems to me Scorpion has continued to improve the anti-fog properties of this treatment as it appears to work better on this helmet than others I've reviewed in the past. It can still be overwhelmed when it is pretty chilly out and one tries to fog it up but most any treatment will give up under that kind of test.
My previous experience with the Everclear ™ treatment is that it has only lasted a few months but this is affected by how often and in what way the inside facing side of the visor is cleaned. Cleaning only when truly necessary will help extend the life of the coating.
If one prefers to use Pinlock® visors to prevent fogging, Scorpion includes a Pinlock® ready shield and a clear MaxVision insert. That's a nice touch considering the already low price point for this carbon fiber helmet.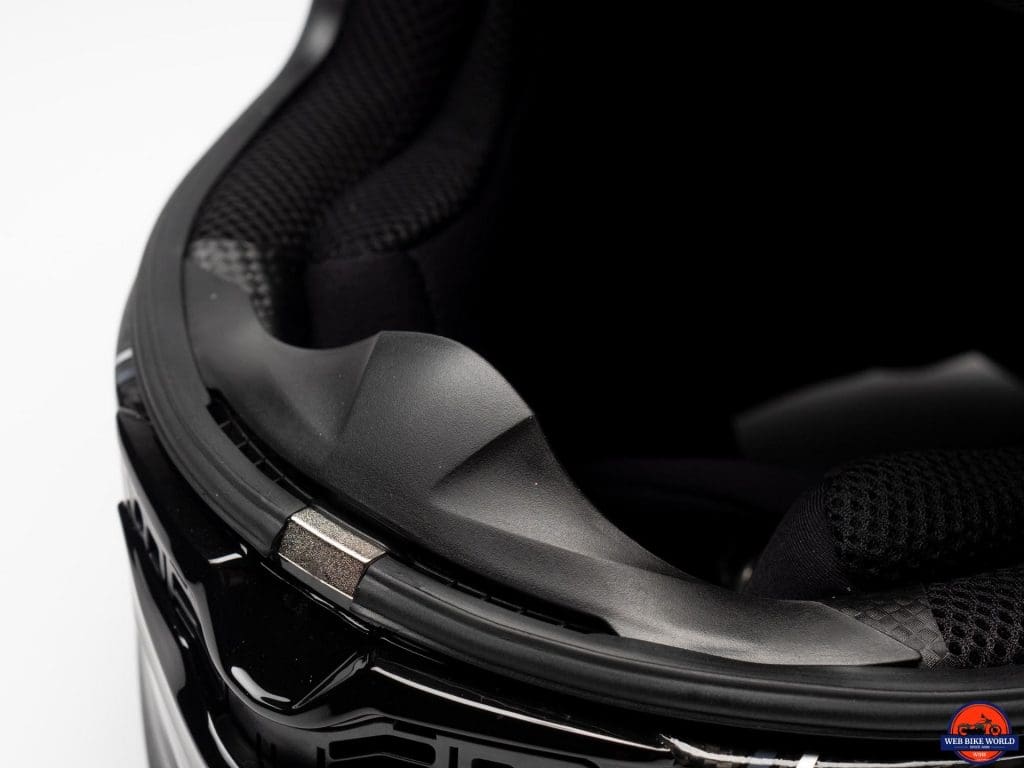 Pinlock® inserts have been my preferred weapon against fogging for several years so when the Everclear™ starts to wear I'll give it a go. I have to admit I'm getting spoiled by not having the Pinlock® shield right now since, even though they do work very well, they do reduce overall visual clarity just a bit.
Speaking of clarity, optically, the main visor offers very good, if not excellent, optical characteristics. For the most part, it is fine but as one looks through the upper area of the visor, a little distortion is visible if one is looking for it. If this were a racing helmet where one was expected to be in a full tuck it could be a little distracting but in the sport and sport touring space I think it is just fine.
Visor Sealing
Sealing of the main visor appears to be solid and testing with some water being poured over the visor top bears this out. Scorpion uses an elliptical cam setup (Ellip-Tec® II) that makes the visor snug up against the gasket as it closes.
The visor is open and closed using a central tab and lock mechanism. The lock makes certain the visor stays shut at high speeds. Pulling the visor down without locking it puts the faceshield in a "city" position allowing air to flow under a small opening and up to the interior for demisting and additional airflow.
Visor Removal
The removal system is pretty easy once one gets the hang of it. Simply raise the visor to the topmost position and then pull up the lever near the visor pivot. Pulling forward on the visor will release it from its place.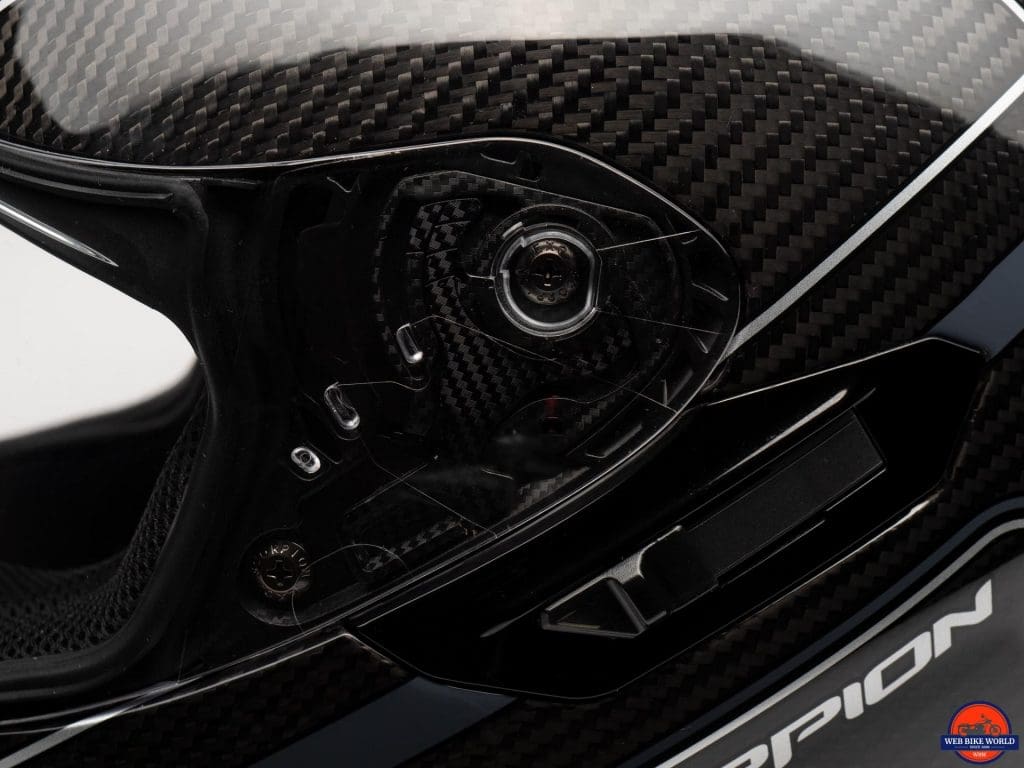 To reinstall the visor one places the two small tabs on the visor in their respective tracks while holding the lever up. Letting go of the lever once they are in place recaptures the tabs and that's it. The visor can actually be reinstalled without lifting the lever with a little practice.
Internal Sun Visor
The internal sun visor has a nice medium/dark smoke tint to it and I like it. Often these internal visors are tinted a bit lighter than I would prefer but this one is dark enough for me. I would still like to see it drop down about .5 inches (~12mm) lower though. This is a common issue that most internal sun shades face and my guess is it has to do with how much space is available internally above the forehead in order to have vents in place.
The visor is actuated by a sliding switch on the left side of the helmet right behind the main visor pivot. The action is a good balance of smooth versus deliberate and there is enough friction to hold the visor at intermediate spots between fully up and down.
The optical quality of the internal visor is one thing that really lets the rest of the helmet down. When I first received the ST1400 for review I noticed that just above and slightly to the right of center that there was a distorted area in the internal visor.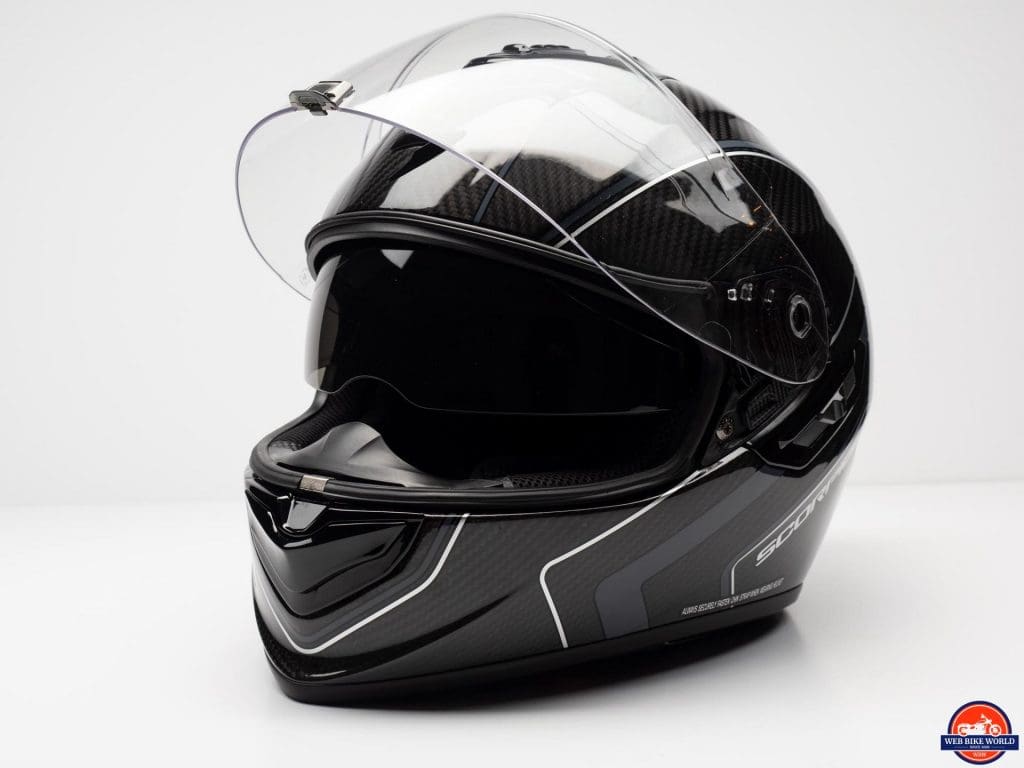 It seems often that internal visors have reduced quality compared to the main visors but this was very noticeable and right in my field of vision. I contacted our supplier and they were happy to send a new internal visor for me to try. I also sent them the one I had so they could see it.
The replacement visor is much improved but it does display a little more distortion than the main visor. The area affected is similar to the main visor in that it is in the upper area but it is a little more pronounced. It's not something that bothers me much now and, in fact, the ST1400 has become my "daily driver" so it obviously isn't a deal breaker. Perhaps I'm spoiled by the amazing optical quality I saw in my recent Shark Spartan review helmet?
On the plus side, I was surprised to discover that the internal visor also gets the Everclear™ anti-fog treatment. This is a huge win as far as I'm concerned. It has long been a pet peeve of mine that manufacturers come up with anti-fog treatments for their visors but the sun shades get no love. The sun does, in fact, come out on cold days too, ya know 🙂
Conclusion
There's a lot to like about the ST1400. Scorpion has managed to take a carbon fiber shell and load it with a "kitchen sink" level of features. While not the lightest full-face helmet around, one would be hard pressed to find one with all the features anywhere close to the weight of the ST1400.
A lot of features is good, but only if they are well executed and in this case Scorpion has done a good job. The ventilation is good, the internal visor is dark enough, and the helmet is comfortable for hours of riding. All of this adds up to a well-sorted helmet designed for sport and sport-touring riders.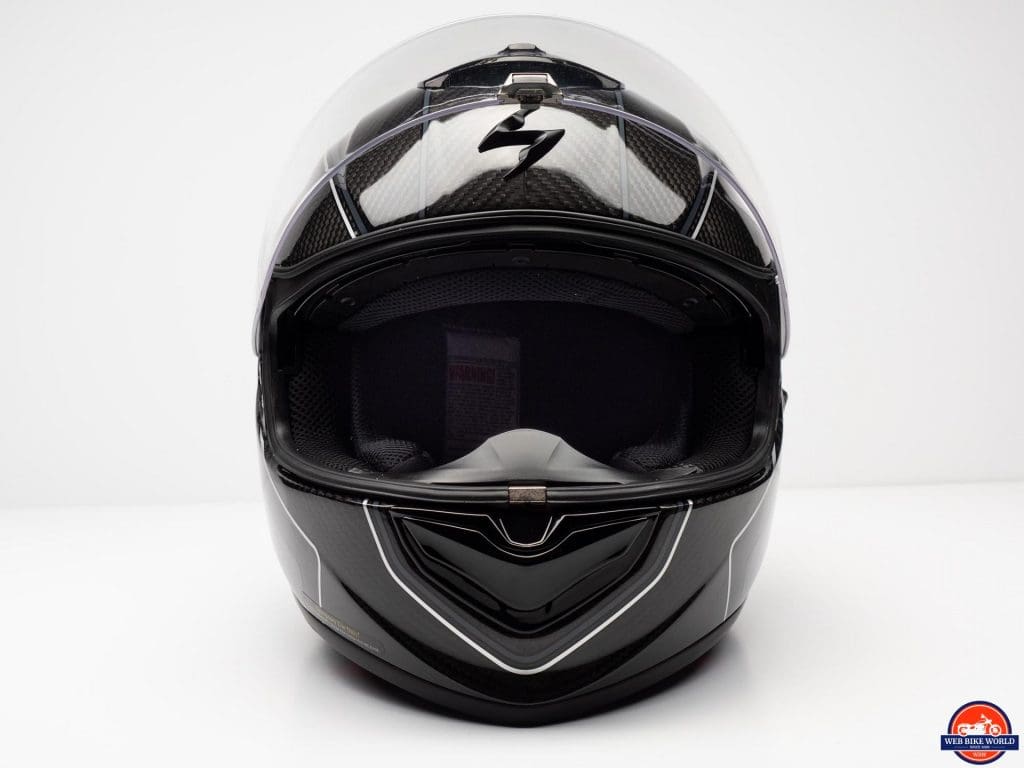 The only area I really have an issue with is the optical quality of the internal sun shade. Even the replacement unit suffered from some distortion although it was much better than the original unit. This is something that I'm particularly sensitive to so take that for what it's worth.
For the price of entry, I feel that Scorpion has really punched above its weight. I think it is a much better helmet than the price would suggest (for a carbon fiber model) and most everything has been very well executed. It doesn't have the plushest interior nor does it offer a variety of colorways but it succeeds and exceeds in almost every way that really matters.
Pros
Lightweight
Emergency cheek pad pulls
Excellent ventilation
Great price
Cons
Optical quality of visor optics could be better
Specs
Manufacturer: Scorpion Sports

Price (When Tested): $399.95 (Black Gloss or matte) | $429.95 (graphics)
Made In: China
Colors: Black, Matte Black, 2 graphic patterns
Sizes: S – 2XL
Review Date: April 2019
Shopping Now? We Recommend:
webBikeWorld has worked closely with RevZilla over the years to provide our testers with products to review. In addition to being a great site to shop from, they're also a great partner.
RevZilla

Free shipping on orders over $40
30-day no-nonsense return policy
Excellent selection of all major brands
Awesome pricing
Amazon

Free shipping (with Amazon Prime)
30-day return policy
Excellent selection
Competitive pricing
Scorpion ST1400 Helmet Image Gallery