Yamaha Warrior 350 Review, Specs and Information
The Yamaha Warrior 350 is a 397 lb sport class all-terrain vehicle(ATV) manufactured by the Yamaha Motor Company from 1987 until 2004. A 19 horsepower 4-stroke 348cc engine helped the stock Warrior 350 reach top speeds of 63 MPH. Seat height stands at 30.1 inches.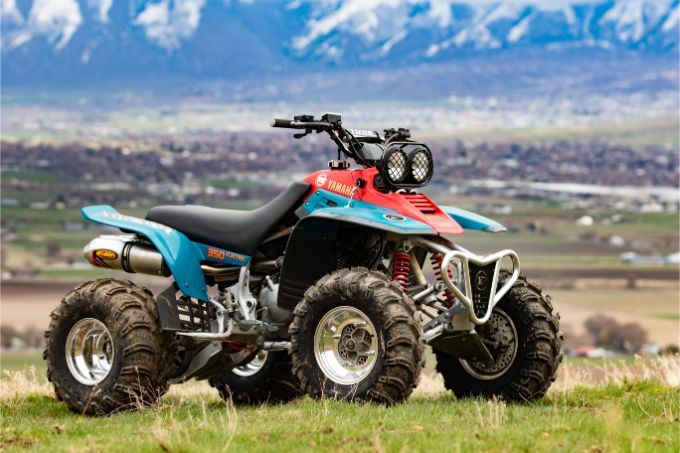 Yamaha made the Warrior 350 famous by giving it the world's first electric starter and after a 17 year production run it remains the top-selling ATV of all time.
Yamaha Warrior 350 Specs
Number of cylinders: 1
Engine strokes: 4-Stroke
Valve configuration: SOHC
Yamaha Warrior 350 horsepower: 19HP
Engine displacement: 348cc
Drive type: 2×4 two wheel drive(rear)
Intake type: Carburetor
Yamaha Warrior 350 weight: 397 lbs
Transmission type: 6-speed Manual
Does it have a reverse gear?: Yes
Yamaha Warrior 350 oil capacity: 2.6 Quarts w/filter change
Oil Type: 4-cycle 10w30 to 20w50 oil depending on outdoor temp
Warrior 350 value: avg $905 US stock according to Nada
Model Identification Code: YFM350
Front Tire size: AT 22 X 7-10
Rear Tire size: AT 22 X 10-9
Front Brake Type: Dual Hydraulic Disc
Rear Brake Type: Hydraulic Disc
Wheelbase: 47.2 inches
Fuel Capacity (gal/l): 2.4 / 9.1
Yamaha Warrior 350 Seat Height: 30.1 inches
Yamaha Warrior 350 Manual: Available online
Yamaha Warrior 350 Top Speed
A stock Yamaha Warrior 350 is capable of reaching speeds of 63 MPH on flat even surfaces according to the manufacturer. Potential top speed is affected by weather, rider weight, ATV condition and several other factors so your results may be slightly better or worse. If you decide to find out for yourself please do so responsibly, wear a helmet and visit a local race track near you.
Yamaha Warrior 350 Additional Information
Yamaha stopped producing the Warrior 350 ATV in 2004 to launch the Raptor 350 model. The Warrior 350 was equipped with a snorkel kit making it capable of ATV mudding and riding in shallow water. If you're curious about what it's like to ride a Warrior 350 you will find the strong mid-range pulling characteristics appealing. It's a fun and solid little ATV and because so many were produced it's readily available for sale used on most ATV classified sites.
Related Posts