Suzuki has unveiled its 2019 Katana sports bike as company President Toshihiro Suzuki remised they would unveil 10 new "large" bike models in 2020/21.
"There is much more to come from Suzuki," he said at the Intermot motorcycle show in Cologne.
2019 Katana
The 2019 Katana has several styling cues from the old Katana including sharp lines, sports screen, half-fairing, stepped two-tone seat, stubby black exhaust and rectangular headlight.
Modern styling changes and features include full LED lighting, a remote rear fender and a massive catalytic convertor underneath.
The biggest change is straight bars instead of clip-ons, so it might be ergonomically less painful to ride.
It was suspected that Suzuki would turbocharge the Katana, but it's naturally aspirated and water-cooled.
Power comes from a long-stroke version of the fuel-injected 999cc inline-four engine from the GSX-S1000F with 110kW at 10,000rpm and 108Nm of torque at 9500rpm.
Suzuki says  the "induction roar and exhaust note have been tuned to heighten the visceral riding sensation, while also adding to increased performance and combustion efficiency".
It also features a back-torque-limiting clutch, Suzuki's three-mode Traction Control System and new tyres with a tubeless inner structure designed exclusively for the Katana.
There are also Fujico disc brakes with Brembo front brake calipers and ABS.
Suzuki makes a point of saying the seat is comfortable, but its fairly high at 825mm.
Suzuki Australian says the Katana is expected to arrive during the third quarter of 2019 with final specifications and pricing announced closer to launch.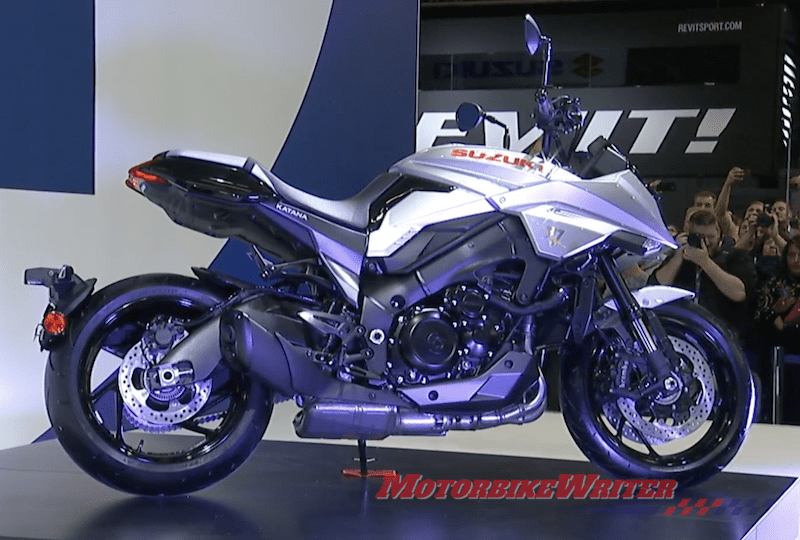 2019 GSX models
Suzuki also unveiled their 2019 GSX-R1000 and GSX-R1000R updated with bi-directional quick shift, stainless steel brake cable and cosmetic updates.
Their also released a GSX-S750 reduced power (35kW) version for European markets to attract learner riders. It would not suit Australia's Learner-Approved Motorcycle Scheme which is limited to 660cc.