UPDATED: A 1969 Harley-Davidson FLH Electra Glide belonging to the late Marlon Brando has been sold at auction for $US256,000, making it one of the top 50 most expensive motorcycles sold at auction.
It's a massive amount, but well short of its estimate of $400,000.
The Hollywood star owned several motorcycles and rode a Triumph Thunderbird in the iconic 1953 movie, The Wild One, but his 1969 Harley is believed to be the only Harley he ever owned and his only surviving bike.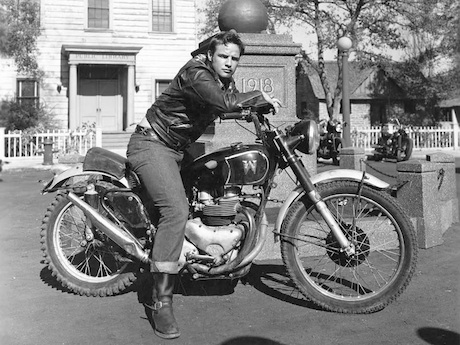 It was sold at auction at the Hollywood Legends Auction at Juliens Auctions in Beverly Hills California on June 27, 2015, as lot #791.
The auction price estimate was based on amounts paid recently for two bikes belonging to '50s rock and roll legends Jerry Lee Lewis and Buddy Holly.
Jerry Lee Lewis's FLH Duo Glide sold for $US385,000 in January and a 1958 Ariel Cyclone once belonging to Buddy Holly fetched $US450,000 last year.
The most ever paid for a motorcycle at auction was $US852,000 for a 1915 Cyclone owned by fellow Hollywood actor Steve McQueen.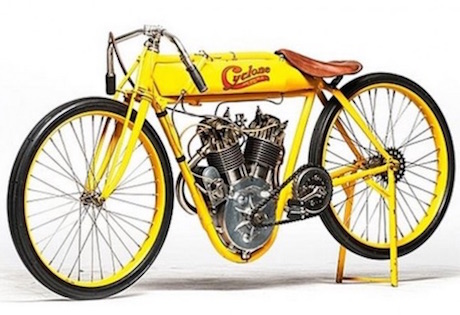 However, even that pales against the record $1.3m paid for the Captain America Panhead chopper from the 1969 cult film, Easy Rider. However, that sale is now in dispute over the authenticity of the bike.
Brando's Hog was accompanied by the original State of California Department of Motor Vehicles Notice of Transfer from Los Angeles Harley Davidson where he bought it on April 8, 1970, just before he started filming The Godfather.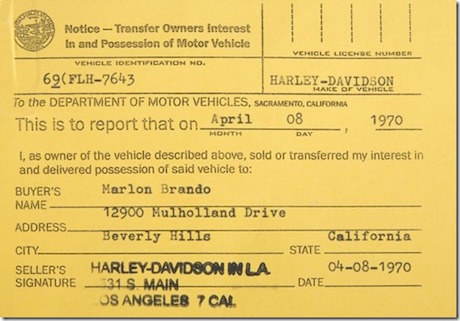 Brando starred in a lot of movies, but his portrayal of outlaw biker Johnny Strabler in "The Wild One" was one of his most famous, especially to many bikers. In fact, even fellow Hollywood legend Ann-Margaret recently said she went out and bought a bike after seeing the movie.
Brando was believed to be a big motorcycle fan and his Electra Glide has 13,859 miles (22,303km) on the odometer, all of which he is believed to have put there. Brando said he often went out for rides at night through the city. 
"It was wonderful on summer nights to cruise around the city at one, two or three am wearing jeans and a t-shirt, with a girl on the seat behind me. If I didn't start out with one, I'd find one," Brando once said.