Updated June 2019 to reflect replacing Scorpion EXO-T1200 with Scorpion EXO-R710.
Our Top Picks
Best Overall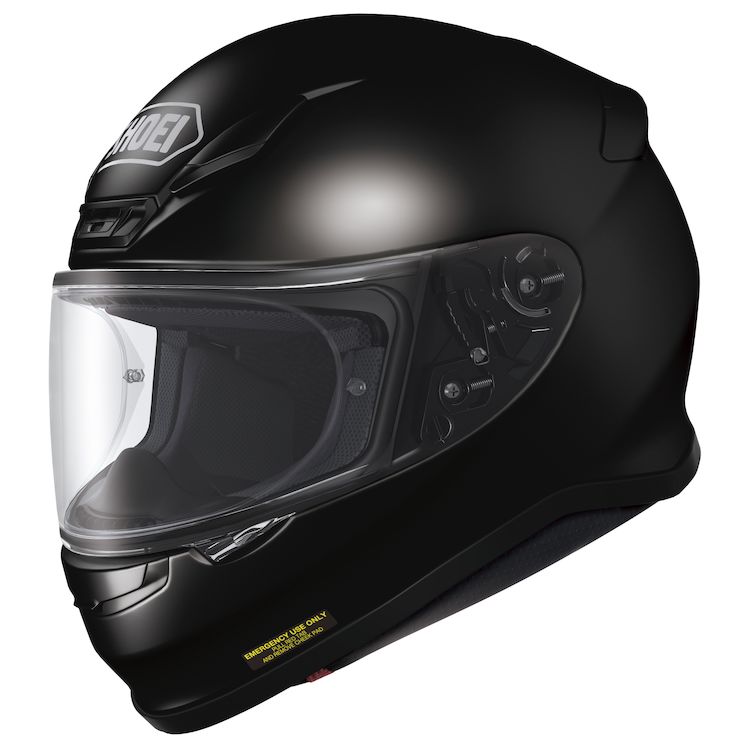 Best Value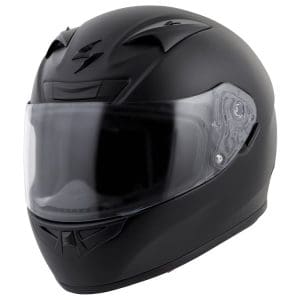 Fully Loaded
Other great options: Bell Vortex, Bell Qualifier DLX, AGV Corsa R
---
If you're in the market for a helmet that will provide you with the best protection available, a full face helmet is the route to go. These helmets are designed to not only protect just your head, but your jaw and face as well.
Although many different styles of helmets exist, full face are popular simply due to their outstanding protection. Modern full face helmets offer ideal protection and creature comforts that make the rider more enjoyable. Since 2000, we have reviewed hundreds of helmets and have a good idea of what makes a solid lid.
Before purchasing your next helmet, take a look at the following options we've put together to help you find the best fit for you.
Helmet Buyers Guide
Unsure whether or not a dual-sport helmet is right for you? Click here to visit our helmet buyers guide to get all the information you'll need before making a buying decision.
Best Modular Helmets
In Detail
Best Overall
With a beautiful new design improvement over the RF-1100, the Shoei RF-1200 is more than just a helmet – it's a life saver. Priced in the $500 range, the RF-1200 is a mid-priced helmet that offers riders premium fit and finish.
We chose the solid colorway as best overall as it provides all the same features as the graphical version, but saves you $100 and allows for personalized customization.
The RF-1200 is relatively lightweight and comfortable to wear as a result. This helmet comes complete with features such as a E.Q.R.S. (Emergency Quick-Release System) CWR-1 Shield System, superior ventilation, four shell sizes, and competitive quietness ratings within the market.
With hundreds of wBw and Revzilla users raving about the RF-1200, we had no choice but to rank it as the best overall. Alongside that, we already knew that Shoei helmets provide superior fit, finish, and overall quality that is second to none. In our own experience with the helmet (posted October, 2013) we found the RF-1200 to be an excellent helmet in every respect.
Buy The Shoei RF-1200
We receive a small commission when you purchase from one of our affiliate partners. Thank you for supporting us.
---
Best Value
When I reviewed the EXO-R710 earlier this year, I was blown away by its compelling value proposition. This is a SNELL rated/certified helmet for under $200, and it came in a slick matte black paint job to boot. After the first ride with it I knew I was in love.
This badass full face helmet is more than just a great price, too. It flows an incredible amount of air through its vents, is relatively lightweight, and is very comfortable to wear. I can go for hours with this lid on my noodle with no discomfort or neck pain. That's a rarity.
While the EXO-R710 isn't perfect – namely, that it doesn't come Pinlock ready – it's a damn good helmet and a hard one to beat. You can't overlook this beauty.
Buy The Scorpion EXO-R710
We receive a small commission when you purchase from one of our affiliate partners. Thank you for supporting us.
---
Fully Loaded
Moving up into a higher price category, our last helmet on the list is the Nexx XT1 Carbon Zero Helmet. This helmet has an aggressive appearance, satisfying all of your styling needs. Of course, this helmet doesn't provide just style for its wearer…
The large face shield provides a wide panoramic field of view, an extremely important feature in our mind. The Air Dynamic System includes two air intakes and 4 outputs, providing superior ventilation. We love that addition of the CoolMax liner and 3D cheek pads as they are anti-allergic and wick away sweat.
If that wasn't already enough, the Nexx XT1 is prepared for the NEXX X-COM BT, which is sold separately of course. We could go on and on about all the features this helmet has, but we figured we'll leave that to our in-depth review.
Buy The NEXX XT1 Carbon Zero Helmet
We receive a small commission when you purchase from one of our affiliate partners. Thank you for supporting us.
---
Other Great Modular Helmets
In Detail
The Bell Vortex Helmet has grown to become one of the top selling helmets under $200 since 2010. It's lightweight and incorporates many features that make it an extremely well-priced, value-focused helmet.
It offers riders the conveniences we've come to expect from a good helmet, such as integrated speaker pockets to facilitate a seamless bluetooth intercom system. The shield is made with clear NutraFog II technology, providing the rider with superior anti-fog, anti-scratch and UV protection.
As Bill said in his original review, the Vortex is a $450 helmet priced at $179. There's a lot of value built into this helmet.
Buy The Bell Vortex Helmet
We receive a small commission when you purchase from one of our affiliate partners. Thank you for supporting us.
---
Another steal from Bell, the Qualifier DLX is one of the best priced helmets, along with its cousin the Vortex. This helmet is apart of Bell's bang for the buck line, which includes the DLX, the Vortex, the Sprint, and the Arrow.
A transition photochromic face shield darkens in the presence of the UV light, while Bell's NutraFog II anti-fog coating still works its magic. Excellent all-around ventilation flow air through the chin bar with two vent ports, along with a brow vent.
The DLX is outfitted with a built-in port that accepts either the Cardo Q1 or Q3 intercom, the basic Cardo QZ, Sena SMH10, and the Sena 10S when used with an optional adapter.
Buy The Bell Qualifier DLX
We receive a small commission when you purchase from one of our affiliate partners. Thank you for supporting us.
---
If you're in the market with money burning a hole in your pocket, the AGV Corsa R is the helmet for you. Sure, you could go out and spend over a grand on helmet. But why? The Corsa R is going to provide you with the same outstanding comfort and functionality as a more expensive helmet would.
It has excellent ventilation as well as as other quality of life features, including a dual purpose face shield locking system, adjustable vents, extra quick face shield release system, and more.
The internal shape of the helmet is specifically designed to decrease the risk of collar bone impact should an accident occur. A reversible helmet liner allows for selection of a warmer or cooler side, something I wish pillow cases were able to do.
While its $800 price isn't inexpensive, keep in mind that this is a kevlar and carbon fiber helmet and is one of the lightest full faces available. It comes with four shell sizes and is DOT/ECE 22.05 certified.