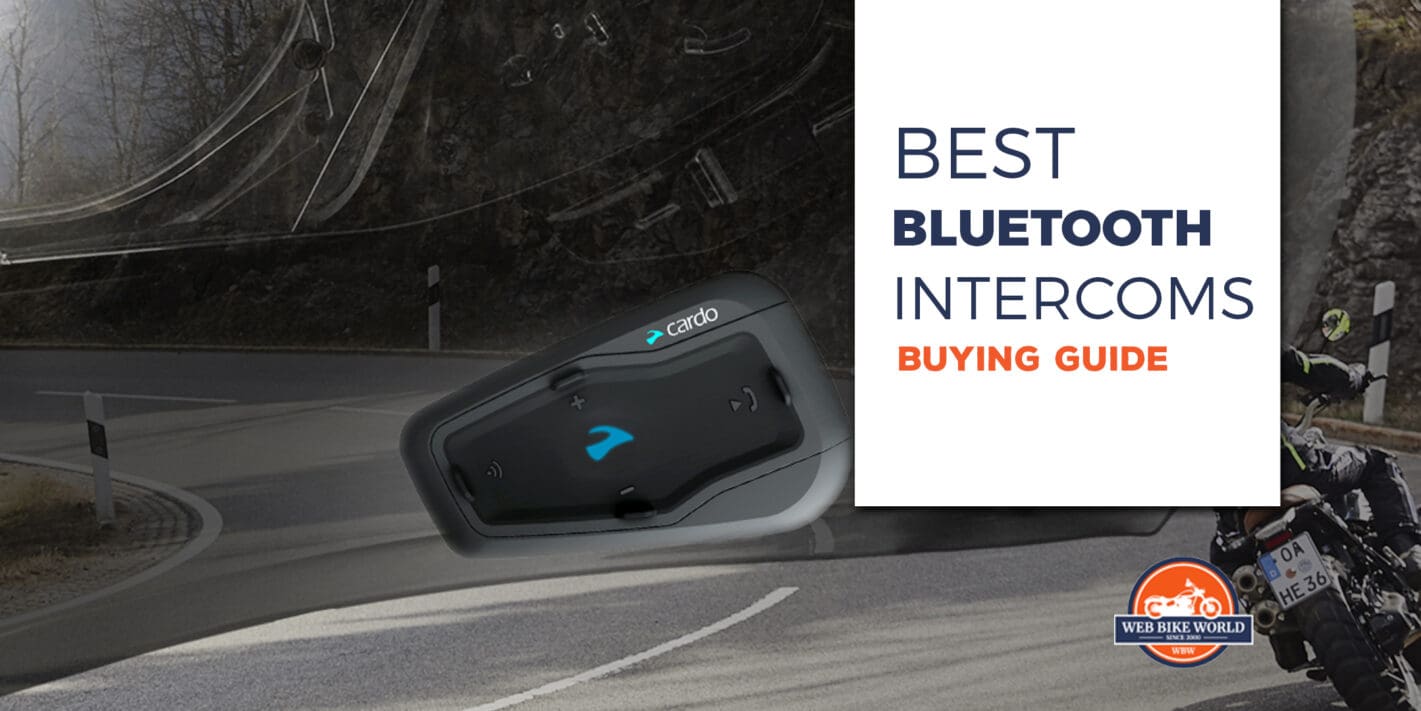 About Our Motorcycle Intercom Recommendations
What separates our recommendations from others? Well, for starters, we've hands-on reviewed more than 150 intercom units. Founded in 2000, our team at wBW has collectively tested more than 2,500 helmets, jackets, boots, gloves, intercoms, accessories, and more. We do not fluff reviews. A riders safety is heavily dictated by how they ride and what they wear while doing so. Our goal is to help riders make informed decisions about the gear they invest in to protect themselves.
wBW is funded by our audience. Our recommendations and reviews may contain affiliate links that earn us a small comission if you make a purchase after clicking them. This is the primary way we fund our website and pay our review team (and comes at no additional cost to you). We disclose our relationship with brands or manufacturers for transparency. For more information about our extensive review process, see our review policies.
Best Entry-Level Motorcycle Intercoms
Priced under $200.
UClear AMP Go 2 Bluetooth
Price: $140
Where to Buy: RevZilla | Amazon
Why?
If you're looking for a basic comms unit you really can't go wrong with the UClear AMP Go 2 models. Succeeding the long-lasting and well-loved Go models, the Go 2's are still aimed at the budget crowd while packing in almost twice as much tech as their predecessors.
Now using Bluetooth 5.0, the Go 2 also features a full-duplex intercom ability, which allows for you to talk naturally with a pillion or another rider, with an effective range of about 2,500 feet before a word or two might not make it through. The limiting factor for the unit is, however, that it can only connect with one other communication unit at a time—so it's best for people who ride two-up, or if you go riding with just one other person a lot.
More About the Go 2
In terms of Bluetooth capabilities, however, it has multipoint connectivity that allows you to link things like smartphones and GPS units. Battery life is also extremely good, with up to 12 hours of active talk time and several days of standby time. You also get a set of high-definition Boost 2.0 speakers to put in your helmet, a button mic to stick to the inner chin bar area, and a mounting plate that the Go 2 locks onto, which goes on the outer edge of your helmet.
In sum, it's a great comms unit that can easily be used for talking with another rider or pillion, and is also useful for music, voice commands, and making and taking calls—without requiring you to empty your wallet.
Our Review
The UClear AMP GO2 is an updated version of and replacement for the AMP GO system wBW reviewed in September 2019 and while expected before the end of 2019 it didn't arrive until early 2020. On the outside, there are no differences; but on the inside, much has changed: faster processing, Bluetooth v5.0, intercom range, and speaker boosts and from the Motion Series feature list some great audio and helmet environment tweaks available by interfacing with the CLEARLink App. The AMP GO2 is a worthy replacement for the AMP GO - easy to install, easy to use, with clear intercom communications and outstanding audio. It is one of the best entry level value-priced systems available.
Read our full UClear AMP Go 2 review.
Cardo Freecom 2+
Price: Up to $210
Where to Buy: RevZilla | Amazon
Why?
Cardo prides itself on being "the original manufacturer" of Bluetooth comms units for riders. While the debate over who actually was the first manufacturer is something you can find plenty of passionate arguments about online, the fact of the matter is that Cardo is one of the biggest names in comms units, bar none, for riders.
The Freetalk 2+ is what they've put out into the market as their budget entry, and it is named "2+" specifically because it's meant to be a two-way intercom. There is a Freetalk 3+ and a Freetalk 4+ you can also buy; the number denotes the available unit-to-unit connections the device can make simultaneously. As such, the Freetalk 2+ is like the UClear AMP Go 2 above, but with a few more features packed in.
More Freecom 2+ Details
The first of those features is that the Freetalk 2+ is much slimmer—so much so that when attached to its mounting plate on your helmet, it only sticks out about ¼ inch off of it. It also features one-touch click-to-link functionality, audio sharing between units, GPS connectivity, dual-channel Bluetooth 4.1, and even has a built-in FM radio tuner. Smartphone connectivity is also compatible with both OK Google and Siri voice commands, which can also control speed dialing and the ability to accept/reject calls.
Another thing about the Freetalk 2+ that is important for those in the wetter parts of the country is that it is certified IP67 waterproof, meaning you could technically go diving with the unit down to 15 feet and it would be perfectly fine. Also, you get the normal high-def speakers, button mic, and mounting plate in the package that most full kits come with. Battery life is in the 5 to 8 hour range, depending on what you use the unit for.
In fact, the only really negative thing about the Cardo unit is that, because of its tiny size and low profile, its range is limited to 1,500 feet or less. Still, that is more than enough for a pillion rider or riding with a buddy down the highway!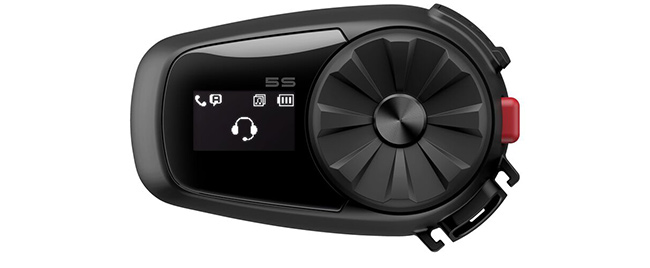 SENA 5S Bluetooth System
Price: $160
Where to Buy: RevZilla | Amazon
Why?
SENA is well known for being a company that loves to experiment. While Cardo is its biggest competitor (and both companies outsell UClear), it's SENA that will go so far as to make a full helmet with a camera and comms unit built-in or make comms units that are paired with helmet cameras. Through all that research and development, however, the customer benefits.
The 5S Bluetooth system is a perfect example of how that trickle-down of technology has made one of the best entry-level units you can get for your helmet. Bluetooth 5.0 with full multi-device connectivity (what SENA brands as "selective pairing") allows for GPS unit and smartphone connectivity, but what really impresses is that the unit can also "pair and remember" with up to three other SENA or other manufacturer OEM units using SENA Intercom Pairing, or SIP.
More 5S Details
The limitation is that, like the other entry-level units, SIP can only handle a two-way intercom—so it's best used with a pillion or another rider you head out on the road with a lot.
The other big feature of the 5S is that it has an LCD screen built-in, allowing for you to quickly check pairing status, battery life, and the like before slipping your helmet on. It will also allow you to change multiple settings without having to put the helmet on and listen for voice prompts to get the right option.
The 5S comes with a pair of high-definition speakers in the kit. However, it gives you both a button mic and boom mic option, so you can put this unit on open face and modular helmets as well as full-face ones.
Our Review
The new Sena 5S BT Helmet Communication System is physically based on the original SMH5 system, but outside and inside, it's a whole new approach…and a positive one. Featuring BT v5.0 for enhanced performance, including great battery life, it has new HD speakers and App EQ settings for a BIG audio boost, along with a small LCD for visual interaction when the helmet/system is not being worn. The updated Sena Utility App includes Sena Intercom Pairing (SIP) and allows user access to virtually every setting available from Sena's feature rich firmware. The Sena 5S is small, easy to install, easy to use and easy to afford, although it is more expensive than the original SMH5 series system. But the 5S is better in every way and a very sound investment.
Read our full SENA 5S review.
Best Advanced Motorcycle Incercoms
Priced $200+
UClear Motion 6
Price: $250
Where to Buy: RevZilla | Amazon
Why?
The UClear Motion 6 comms unit is one powerful little device, without a doubt. While it is a couple of years old now, it is still one of the best comms devices you can get—with the ability to connect with up to 5 other riders for a full 6 way, full-duplexing intercom system. It manages this using what UClear has branded as DynaMESH, a system that allows for both mesh and non-mesh units to be networked together, with automatic group reorganization depending on where in the mesh range the non-mesh units are.
The Motion part of the name comes from the fact that the unit can be controlled either using your fingers—or, when gloved, by waving your hand across the sensor area between the UClear logo and the status LED. It also speaks to the multi-hop technology built-in (this is one of the first communicators on the market to use it). What multi-hop allows is that for every compatible comms unit—for example, a UClear Motion 4 Lite or another Motion 6—it uses that unit as a range extender.
More Motion 6 Details
This is very useful for larger group rides of 4 or more people. For example, the lead bike may be out of the approximately-3,000-foot intercom range of the unit, but with multi-hop, you can still talk to the lead bike. The Motion 6 also comes with premium audio Pulse Pro 2.0 speakers and uses dual button microphones in your helmet to get the clearest audio possible to others on the intercom link.
Battery life, depending on usage, is rated from 12 to 18 hours, so you can easily get a full day's riding in without needing to worry about your comms dying. Another feature that comes with the Motion 6 after updating it to the latest firmware is that it also has full OK Google and Siri integration—and because of the dual microphones, there's little to no chance of your words getting lost in wind noise.
Our Review
The UClear Motion 6 is the base version of the new Motion Series from UClear. Featuring Bluetooth v5.0 (an industry first) and a mix of proven and new features, it represents a big advance in UClear systems while advancing a few Bluetooth helmet system benchmarks.
See our full UClear Motion 6 review.
SENA 50R
Price: $360
Where to Buy: RevZilla | Amazon | J&P Cycles
Why?
When we said the SENA 5S had trickle-down tech from higher-end comms units, the 50 series is what we were referencing. The SENA 50R is one of three units available (the other two being the jog-dial controlled 50S and the camera-and-comms combination 50C, which has a built-in 4K camera to record your ride with).
What makes the 50R the one to choose is that it is much sleeker than the 50S and uses a mount that keeps it much tighter to the helmet, reducing wind noise as much as possible. Using a combination of SENA's Mesh 2.0 tech and Bluetooth 5.0, this little unit has an astounding ability to pair with up to 24 (!!!) other units over 9 separate channel groupings, although voice comms can only be maintained between 6 riders at a time.
More 50R Details
This allows for larger groups to ride together, and with a quick button hold for a few seconds, you can switch from a casual channel to the lead/trail rider channel if they need to be updated on something. As well as having this incredible large-group capability, the 50R can also share audio across a channel, meaning you can broadcast music to your group if you so want, or you and a pillion rider can combine on one channel to talk to others.
All the other standard functionality you would expect from a premium comms unit is also included, including multiplexing multi-device Bluetooth connectivity, full smartphone integration with voice commands (OK Google and Siri), an FM tuner, speed dial, and call accept/reject with button and/or voice command. The kit comes with Harmon Kardon helmet speakers for premium audio, and you have a button mic and boom mic as well that the kit will work with in pretty much any helmet.
Battery life is between 8 (full mesh) to 13 (Bluetooth) hours, with the unit being supercharging enabled, so you can use a 5 Amp charging plug to get a full battery from dead in just 60 minutes. The 50R also has active noise canceling, digital SBC codec for inter-unit comms, and has a functional range of 3,500 feet within line of sight (1,500 feet with a moderate amount of things in the way).
Our Review
The new Sena 50 Series comprises the sleek low-profile small footprint 3-button 50R and the larger base mounted Jog Dial equipped 50S edition. Both are nicely finished with glass-look black inserts and burnished finish housings and both represent Sena's commitment to keep pushing the boundaries – new styling, loaded with features and arguably the best Mesh and Bluetooth intercom performance going. The small close to helmet fitted 50R and the larger 50S using the multi-functional auxiliary-input base provide a lot of options regarding helmet fitment. Mesh 2.0 communications are outstanding and Bluetooth performance is up a notch or two as well; best of all, the Mesh 2.0 capabilities are now available for 30K, Momentum EVO, and +Mesh users once new firmware releases are installed. And it all comes together inside the helmet with Sena's superb new HD speakers. Need something new and exciting to perk up the riding season, the 50R and 50S will do it.
See our full SENA 50R review.
Cardo Packtalk Edge
Price: Up to $399
Where to Buy: RevZilla
Why?
The much-loved Cardo PACKTALK Bold JBL was widely considered by most riders, reviewers, and technology enthusiasts to be the single best motorcycle helmet comms device on the market. It would take a major innovation to take away its crown.
Ladies and Gentlemen, meet Cardo's PackTalk Edge - the new king of motorcycle comms devices. Boasting several new features including Air Mount and Over-the-air software updates, and updated functionality such as 2nd generation Dynamic Mesh Communication and Bluetooth 5.2, it is fair to say that the Edge has once again raised the bar for motorcycle intercom systems. Did we mention the waterproofing, natural voice operation, automatic volume control, up to 13 hours talk time with 10 day stand-by? Again, Cardo proves they have no equal in motorcycle comms.
Why Invest in a Bluetooth Motorcycle Intercom for Your Next Ride?
While riding alone is how many of us find our zen—our motorcycle meditation, as it were—there is something to be said about riding with others. Maybe it's the shared passion for the hobby, or that special something that those who are stuck with four wheels just don't understand about why we do what we do. And while hand signals work in groups for conveying essential info, riding together is exponentially better if you can talk to one another.
This is where Bluetooth communication devices come into the scene. Before the start of the 2010s, the best that most groups had for communication (besides hand signals) were very expensive radio units—but over the past 10 to 15 years, technology has accelerated to the point where you can now talk with each other easily, even with significant distances between riders. Modern Bluetooth units almost all connect universally to a smartphone too, meaning that even on solo rides, you can make or receive phone calls, listen to music, or change GPS navigation destinations with your voice.
At WBW, "Best" Actually Means Something
Remember when you could open up a review of something, and when the publication—magazine, car show, whatever—said "best" they stood behind it? Yea, we remember, and we're bringing it back.
Here's how we do things:
We disclose our affiliate relationships—We make money via advertising and affiliate relationships on our website. It's how we pay our team and invest in things like sending Jim to Italy. And Japan. And France… wait… why do we always send Jim places?

We obsessively hands-on test—We wear and ride with gear before reviewing it, and we update reviews down the line if our opinions change. We look at real-world situations because that's the world we live in.

We're objective—Good gear is good gear, regardless of who made it.

We're value-focused—Why pay $500 if something for $250 is just as good? Our review scores and recommendations reflect best value. Brand only goes so far—the gear has to stand on its own.